CHAPTER 8
Animate Landscapes

NATURE CONSERVATION AND THE PRODUCTION OF AGROPASTORAL SACRED SPACE IN SHANGRILA
Chris Coggins with Gesang Zeren
The disenchantment of the world means the extirpation of animism.
—MAX HORKHEIMER AND THEODOR W. ADORNO,
DIALECTIC OF ENLIGHTENMENT
[A]bsolute space . . . is a fragment of agro-pastoral space. [It] appears as transcendent, as sacred (i.e. inhabited by divine forces), as magical and cosmic. [I]ts mystery and its sacred (or cursed) character are attributed to the forces of nature, even though it is the exercise of political power.
HENRI LEFEBVRE, THE PRODUCTION OF SPACE
BEFORE 1949, governance in the Sino-Tibetan borderlands was subject to negotiation, expedience, fortune, and alliance. The projection of state power from afar was mediated by local polities that resisted domination by following cosmological orderings attuned to local livelihoods and other interests. Local ritual practices and everyday understandings of sacred space helped deflect territorial claims by distant states; today they continue to challenge official distinctions between religion and politics, the human and the nonhuman, and nature and culture. In Diqing Tibetan Autonomous Prefecture, in northwest Yunnan, the formal governing bodies and cultural institutions of China and Tibet have long competed for influence, and political administration was tripartite from the sixteenth century to 1949. Tibetan monastic clergy of the ruling Gelugpa sect, who were linked to Lhasa, shared power with local nobility and representatives of China's Qing dynasty civil administration. Informal governance, the everyday, ongoing, and intimate relations between humans and their environs, necessitated still more intricate social arrangements in which space itself—inhabited by indwelling divinities—assumed power within the polities of town and village.
Many of these practices continue to produce meaningful landscapes in the basin and range country of Shangrila County today (see map 1, C). Here, snowcapped peaks loom above broad valley prairies known locally as "seas" (Ch. hai), the grazing grounds for yak, cattle, goats, horses, and pigs. Following the summer rains, the prairies flood, providing wetland habitat for the autumn migration of black-necked cranes and bar-headed geese. With the dry cold season, the floodwaters descend into subterranean limestone caverns to make their way down into the hot, dry gorges of the Yangzi, Mekong, Salween, and their tributaries, where cacti and drought-resistant scrublands form a sharp contrast to the humid upland forests nearby. Seasonal cycles of village land use and labor compose regular rhythms within the longer, broader patterns of regional production and trade. From at least the first century, horse husbandry was important in the local economy since horses were the key to transportation and a major trade item on the Ancient Tea-Horse Road (Ch. Chama Gudao)—a trade route with branches extending from Southeast Asia, through Yunnan, to central Tibet and India. In addition to their former role as producers and traders of horses for this long-distance network, Diqing Tibetans have long practiced agropastoralism, growing barley, buckwheat, potatoes, turnips, maize (in the dry valleys), and other crops, while also raising yaks in a transhumant pattern that rotates from high mountain pastures in summer and fall to valley pastures in the colder months. Transhumance-based agropastoral production requires large hinterlands for each village community, with a high degree of altitudinal zonation in familial and communal land use, common property resources, and frequent activity in a variety of landscapes from dry river valleys, to high valley wetlands, to alpine forests, and up to the montane tundra above the tree line. As with Tibetans of other regions, Diqing residents believe that deities reside within the land, the waters, the sky, and the subterranean realms. These beings are dangerous when disturbed but beneficent when propitiated appropriately and reverently, providing wealth in the form of livestock, crops, and other material and nonmaterial forms of good fortune. The sites of greatest power are associated with zhidak (Ch. shanshen), or territorial gods commonly abiding within mountains, and the political ecologies surrounding these deities present a significant provocation to contemporary assumptions about resource management, nature conservation, and the boundaries defining nature, personhood, and polity. (See Belleza 2005; Goldstein and Kapstein 1998; Huber 1999a, 1999b; Karmay 1994; Nebesky-Wojkowitz 1998 [1956]; Makley 2007; and ch. 9 in this volume.)
As Lefebvre (1974, 48) notes in the epigraph above, to consign agropastoral sacred space to the category of religion is to erase its political significance, for what he calls "absolute space" signifies sites that are always both "religious and political in character—a product of the bonds of consanguinity, soil and language." This description conforms closely to the territoriality of Tibetan communities; throughout the Sino-Tibetan borderlands, an enduring politics of supernature animates the shifting arrangements (alliances, conflicts, rapprochements) between humans and their no-less-idiosyncratic deities. In Lefebvre's treatment, absolute space prevailed in precapitalist societies, and did so with unconditional power, that is, without reference to other ways of dividing up and producing the lived world. Largely overtaken by the abstract space of capitalism, absolute space still "survived as the bedrock of historical space and the basis of representational spaces (religious, magical and political symbolisms)" (Lefebvre 1991, 48).1 Modern secular attempts to obliterate or appropriate Tibetan sacred spaces have included first the Marxist-Leninist-Maoist productivism enforced through a command economy; second, state-capitalist commodification of nature and culture within a liberalizing market economy; and third (and inseparable from the second trend), efforts to align these spaces with contemporary nature conservation. This latest effort may seem more benign than the first two, but it is both blessed and challenged by the discontinuity between modern conceptions of nature as a thing separate from humans and culture, on the one hand, and indigenous conceptions of animate landscapes as abodes and embodiments of deities endowed with personhood, on the other. Intervening in the borderlands of this discontinuity are Diqing Tibetans who are fluent in both cosmologies; it is to their work within the context of capitalist commodification of "nature" and "culture," along with ongoing political struggle in the borderlands, that we devote this study.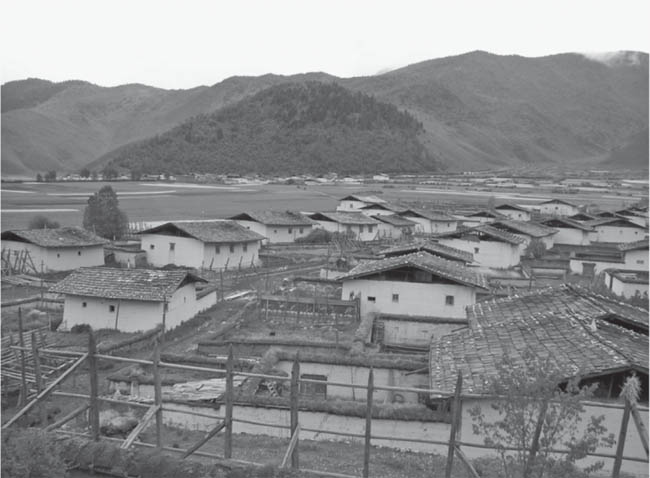 DIVINE ELOPEMENT IN THE BORDERLANDS
I learned my first lesson on the nature of marginal alliances in Diqing while standing on a vast alluvial fan that reaches down to the western edge of an even larger wet prairie called Napahai, in Shangrila County (see map 2). In late May 2004, while gazing out at Rising Sun Spirit Lake (Ch. Rizhang Shenhu) with Gesang Zeren (also known as Liu Zan)2 and Lazong Ruiba (Tib. Lobsang Rinpa), community organizers from the nearby village of Hamugu, I recalled the story that they had told that morning about the two god-mountains, Shika and Chuji, which soared above the Duji Gorge to the west (fig. 8.1):
Shika and Chuji came from the holy land of the Ngari (Ch. Ali) region, in western Tibet. Shika was a handsome, talented young nobleman, sincere and upstanding. From a young age, he loved his homeland dearly and reveled in a free life of adventure on the high plains and snow mountains, where he grew to be strong and hardy. Influenced by his social and physical environment, he understood the hardships of pastoral life and enjoyed helping the poor. Chuji was an upright and beautiful admirer—simple, hardworking, and diligent—a very good young woman who was born into the poor class of herders. All of her family worked as laborers on Shika's family estate. From a tender age, Shika and Chuji played together happily, riding horses, herding livestock, and growing as close as kin. Reaching adulthood, they had developed a deep affection for each other but never dared to express their love—such sentiments could not be shared between people of such different classes.
When Shika was about twenty, his family selected a bride who was also a member of the nobility. Although Shika was extremely vexed, he could not confront his parents. He could only ponder his situation and cry all alone through the night. At night, Chuji appeared in his dreams—a beautiful woman of elegant bearing. Shika realized deep in his heart that it didn't matter whether Chuji was from a poor family of serfs; there was no more beautiful and virtuous woman in the world. Perhaps through the work of the gods, the young people of the village arranged to have a tea party, where Shika found Chuji. They expressed their mutual love and, determined to stay together, cut ties with their respective social classes and decided to elope.
The next day, before dawn, they traveled to Yamdrok Lake to pray for the blessings of the Buddha. After several hours, a dakini emerged from the surface of the lake and said, "You two are of one mind in your mutual love, and you seek the blessings of the Buddha. If you can spend fifteen days and nights together, and keep the yaks with you, you will reach a land of clear streams, splendiferous flowers—a magical pureland. That is where you will establish your treasured home." She also added that if they could not spend fifteen days and nights, the marriage bond would fail. Before departing, the dakini gave them a pair of yaks, some yak butter, and fried noodles.
After that, the two rode the yaks day and night without stopping. Crossing snowy mountains and fording three rivers, they traveled for exactly fifteen days, and they finally arrived at a place with level ground and dense forests—a veritable sea of green—with a cliff emerging above the trees. Just below the top of the cliff lay a cave resembling a Buddhist temple. The two lovers wondered whether this could be the holy land that the dakini had described. The sun was just setting behind a mountain to the west. Shika untied the yaks' halter ropes and began to tie the yaks to a tree branch. The two lovers also began to prepare a fire and haul water. Before dark, a thunderbolt rang out, the sky turned black, and a huge downpour began. The yaks, spooked by the lightning and thunder, broke the ropes and fled into the forest. Shika bolted after them, searching high and low. He searched until dawn but could not find the yaks. His efforts to manage the yaks for fifteen days and nights had failed; he lost his chance to secure the bonds of matrimony with Chuji, and he was heartbroken. Remembering what the dakini had said, he wondered how this could possibly be his fate. He vowed never to marry, and then he turned into a zhidak. When Chuji realized that Shika would never return from chasing the yaks, she wailed loudly, crying ceaselessly. Her tears formed the Rising Sun Spirit Lake. This beautiful and virtuous herding girl, having lost her lover, prayed daily for Shika's good fortune and health. Afterward, she, too, turned into a zhidak [near Shika], the Chuji Spirit Mountain that lies just behind Hamugu Village.
The unconsummated marriage of Shika and Chuji can be glossed, in broad terms, as a legend of animation—an account of how inert matter, in this case, a pair of mountains, was endowed with life, breath, and personhood. In Tibetan tradition, the story conforms to Tantric conceptions of magic landscapes, and, as Gesang Zeren goes on to explain, in both oral and written versions, the Duji Spirit Cave, which is imbued with the powers of the lovers, served as an abode where a series of Nyingma, Kagyu, and Gelugpa masters performed three- to seven-year Tantric meditation retreats over the course of several hundred years starting before the 1600s.3 Tibetan and Chinese inscriptions on the cave walls explain much of this history, which is unique to Hamugu but in no way exceptional within the geographic context of the borderlands region. Many Tibetans in northwest Yunnan experience animate landscapes as agentive and volitional gods or spirits with personhood or, more aptly, super-personhood. These experiences disallow a distinct separation between "natural" and "cultural" environments and render "sacred geography" more a matter of everyday practice and ritual performance than one of absolute spatial demarcation (in a physical or cognitive sense) (Allerton 2009; Bird-David 1999; Mazard and Swancutt, forthcoming; Nadasdy 2011; Overstall 2005; Sullivan 2010; and Viveiros de Castro 1998, 2004). This perspective constitutes a cosmological subject position that stands in direct contradiction not only to the state and the Chinese Communist Party but also to the hegemonic, modern ontological position through which the world is made sensible by way of the endless process of "purification" and separation of the nonhuman and nature from the human and culture (Latour 1991, 11). In acts of religious or other ideological conversion, the agency of spiritual landscapes becomes a matter of ultimate concern; missionaries and modernizers attempt to purge the environment of its powers by inscribing it with normative signs and practices in a process of deterritorialization and reterritorialization (Agnew 2009; Deleuze and Guattari 1987). The colonized, or those who would be converted, often resist these efforts, engendering "new forms of conversation with the landscape, including re-enchantments, religious syntheses, [and] reassertions of the landscape's potency" (Allerton 2009, 235). In Diqing (and throughout the borderlands), these processes manifest themselves in the reclamation of Tibetan territorial identity through continuing (re)inscription of sacred places through both the writing of texts and the ritual demarcation of space. This reterritorialization has been both bounded and produced by state policy on religious practice and nature conservation in a period of transnational capital investment in ecological and cultural resources.
ECOLOGICAL CAPITALISM AND ANIMATE LANDSCAPES: RETERRITORIALIZING THE MARGINS
At the turn of the twenty-first century, northwest Yunnan was the epicenter of cultural, political, and economic changes that continue to shape the production of space, place, and identity throughout the Sino-Tibetan borderlands and beyond. First, as a project of governmentality and power projection over processes of place-making, the Great Western Development strategy unleashed a wave of capital investment and transnational mediation of landscapes designed to maximize cultural and ecological values in the name of "sustainable development" (Ch. kechixu fazhan) (Hakkenberg 2008; Hillman 2003, 2010; Kolås 2008; Litzinger 2004). The rapid mobilization of international and domestic environmental nongovernmental organizations and transnational investors was matched by a groundswell of local environmental and social activism and entrepreneurialism, along with intensive Chinese and foreign scholarship, media coverage, and explosive growth in tourism. Indigenous stewardship over natural resources became a guiding vision, a foundation for multiple regional and local economic development projects. Growing political and economic support for indigenous culture and ecology seemed to indicate the regional advent of both an "ecological phase of capital"—in which nature was no longer "treated and defined as an external and exploitable domain" (Escobar 1996, 47)—and "the culturalization of the economy" (Yúdice 2003, 19).4 Working in tandem, nature conservation and eco-cultural tourism provided a redemptive vision for central state planners, local state officials, and many people who call the area home.
Nature conservation and ecotourism in Diqing are largely premised on the idea that Tibetan agropastoral traditions of sacred landscape management are highly compatible with the scientific management of biodiversity in conjunction with new forms of community development (Salick et al. 2007; Hakkenberg 2008). Although the 2001 "discovery of Shangrila" in Zhongdian County has rightly drawn criticism and a plethora of scholarly and popular commentary (see the introduction to this volume), multilateral support for village-based restoration of damaged, compromised, and otherwise fragile landscapes can be lauded as among the first of its kind in China. These projects have been activated within a complex web of international discourse on indigenous knowledge and depend on international funding and at least tacit support from the Chinese government (see chs. 4 and 5 in this volume).
In conjunction with these discursive changes, many rural communities throughout Diqing have revitalized and reinvented sacred landscapes and local religious practices in an assertion of the village as a distinctly indigenous territory—one that is "Tibetan" to the extent that it was historically (before Liberation) endowed with an ecological conscience that obviated the need for modern nature conservation and policing by Han officials.5 As Gesang Zeren put it during our first meeting in 2004:
On the one hand, you could have forest regulations from the forestry officials, but in reality, if you wantonly take resources from the mountains, you will be penalized. If you enter the territory of a zhidak and fell trees, as some foolhardy young men dare to do, in the end there is the same result—the heavens penalize them. After they've cut a few trees, they get shoulder injuries. This is true. So once again, they're afraid to cut. They say, "This is Duji Cave, where the masters lived. We can't mess with anything." Then, in a few more years, people go for the big trees. After the logs are on the tractor, the driver's hand will be broken, or his leg will be broken. Again they'll be afraid; they will not dare to go in and cut, saying, "Oh, isn't that how I offended the zhidak?" After a while, though, [they] seek fuelwood to slide down the mountain. Two or three years ago, a family with a nine- or ten-year-old boy was pulling trees down the mountain; the mother was down below collecting firewood, and a tree slid down the mountain, killing her. Later, through ritual [involving a medium], we inquired about the situation, asking, "Do you think the zhidak has been offended?" and the voice of the mother coming off the mountain said that it was so. . . . So now we say, the zhidak will always demand its debt from those who offend it.
In terms of our ecological protection and our educational system, no other minzu have this [particular] traditional protection system. It is built into our culture. We don't need the government to invest a bunch of money in it. That would be ineffective. We ourselves have a traditional conservation system.
Sustainable development strategies advocated by Diqing officials enable animistic beliefs and practices to figure prominently in the reinscription of village landscapes in accordance with local cultural identities and aspirations. Here, "animate landscapes" refers to mountains, lakes, springs, trees, and other nonhuman environmental features that are believed to be the abodes (Wyl. gnas) of gods or spirits, the most salient among Diqing Tibetans being the zhidak, yullha, or gods of the locale, and the lu (Wyl. klu), serpent-like spirits that abide in or near trees and water sources (see the introduction and ch. 9 in this volume). Material from Gesang Zeren's writings and our ongoing dialogues, in conjunction with site visits and treks in Hamugu and its vicinity, illustrate how texts, the landscape itself, and complex, collective, community conservation and development initiatives inform the inscription process. These findings on animate landscapes are supported by field data from nine additional villages in Diqing.
In this context, animate landscapes are, in ontological and cosmological terms, radically different from, and not always commensurable with, scientific conservation practices and interests. While sacred landscapes and conservation objectives often coalesce around specific natural features—which are constructed in modern scientific ontologies as organisms, ecosystems, and geomorphic features—Tibetan geopiety is not a panacea for sustainable ecological development.6 The idiosyncratic personalities of specific gods, the significant disconformity between sacred landscape practice and modern conceptions of embodiment, and the ever-changing affective dimensions of labor and leisure complicate the notion that Diqing's animate landscapes are ideal foundations for nature conservation and sustainable development based on ecotourism. The degree to which local people are aware of this slippage is evident in the extent to which community development plans such as those in Hamugu involve a complex array of active management strategies intended to enforce community compliance and counter the demands and pressures of rapacious development projects, even those operating under the rubric of "ecotourism" (Ch. shengtai lüyou). Given these caveats, animate landscapes and geopiety in the prefecture appear to be durable components in the production of space; they hold important vernacular political standing in landscapes that demarcate the borders between "Tibetan" and "Han" and, in the popular imagination, between a sacred indigenous space that defines the center and a hegemonic, disenchanted world of possessive individualism that marks a vast and powerful periphery. The deeply political and territorial power of animate landscapes and the flexibility of animist cosmology may ensure that local religious beliefs and practices continue to articulate, albeit in less than predictable ways, with transnational networks of nature conservation and sustainable development.
GOVERNING ECOLOGICAL AND CULTURAL CAPITAL IN DIQING LANDSCAPES
The Sixth Plenary Session of the Seventeenth Communist Party of China Central Committee, which convened on October 15–18, 2011, marked a millennial high point in the governance of culture as a national priority. Its mandate was to "deepen reforms in the cultural system" and promote "national cultural soft power" in order to enhance China's status in international geopolitics. Noting the inseparability of cultural production from economic development and the "construction of environmental civilization" (Ch. shengtai wenming jianshe), the Politburo report called for greater "cultural awareness," "cultural self-confidence," and stronger guarantees of "the people's basic cultural rights and interests." While the promotion of cultural production and the culture industry were deemed critical to the future of "socialism with Chinese characteristics," the most direct reference to religious or spiritual culture was a call to more deeply establish the Chinese people's "collective spiritual home" (Ch. gongyou de jingshen jiayuan). Cultural mobilization was to be balanced by measures that would "safeguard harmonious social stability" and "guard against all kinds of potential hazards"; this required official vigilance and political responsibility for cultural development at all administrative levels (CCP 2011).
Constructing definitions of "culture" and "ecology" as an expedient for development requires lapidary precision; the central state's omissions and silences in policy formulation are as significant as clear and intricate theoretical calculations by the local (or regional) state. A collection of essays by Diqing's Party cognoscenti, Collected Essays from a Research Conference on Theories for Constructing Harmonious Society in Diqing Prefecture (Jiang Wenjuan 2006), calls for a "scientific outlook on development" (Ch. kexue fazhan guan) based on the protection of "ecological environments," biological diversity, "Harmonious Society," and "religious culture." The advent of ecological capital in Diqing is represented in terms of a turning away from the "traditional practices" of the production power state and the transition to the ecological state (see the introduction to this volume). The term "production power state" refers to resource management systems based on resource extraction, which were promoted by the CCP during 1949–99 (the preindustrial past is conveniently elided from this account):
In the past, people assumed that only by harvesting natural resources could they enter commercial markets, and only this could be considered natural resource utilization with use value for the people of Diqing; anything else was considered wasteful. This is a kind of traditional and one-sided viewpoint. It ignores a very important understanding of value, specifically that humanity's largest and most important capital consists of beautiful ecological environments with biological diversity and native vegetation as their essential structural features; in an intensely competitive market, this is Diqing's late-developing advantage. Only because of its existence, Diqing's mountains are green and its waters are clear, it is a landscape adorned with color, it is a renowned [UNESCO] World Heritage site, and thus the ecotourism resources are abundant. Only because of the existence [of this nature] can Diqing's rivers flow unimpeded, providing all minzu in the region with water for their livelihoods and productive activities, including a secure source of hydropower. Therefore, to protect and improve the precious natural ecology and biodiversity of this land is the most important historical mission of the people of Diqing. . . . Following the accumulation of experience in development practices, and informed by advancements in global thinking and the completion of scientific research for the establishment of Three Parallel Rivers [World Heritage site], people gradually realized that Diqing's most valued natural resources should be biological diversity, the uniqueness and preciousness of its ecological features, and its fragility. (Pan 2006, 77–78)
The author, a Diqing official, describes how in the 1970s and 1980s Diqing's forests were treated as vast and inexhaustible, and how the resulting wave of timber cutting—the so-called timber wars (between competing government agencies and individuals)—left much of the mountain range deforested and barren. Whereas in the 1960s the forest area was 1,309,000 hectares, by 1990 it had been reduced to 822,000 hectares (a 37 percent decrease), water resources dried up, the environment deteriorated, and geological hazards became more severe (Pan 2006). The moral of the story is that in the context of environmental history, the long-term economic value of nature in Diqing is found in the preservation of biological diversity and in "natural landscapes [that] are famed for their lofty heights, great depths, strangeness, and grandeur, [and furthermore] their spirituality, mystery, and elegance are what people yearn for" (ibid., 79).
In regard to the role of Tibetan spirituality and indigenous knowledge in the long-term management of Diqing's natural resources, the official party line is devoid of commentary. Of foremost concern is how best to guide religion into "mutually adaptive" harmony with socialism and to suppress "heterodox (or perverse) cults" (Ch. xiejiao) such as Falun Gong and Mentuhui (which is based on quasi-Christian doctrine). Religious belief is recognized as "[the believer's] objective spiritual need"; thus, it is reasoned that "only by earnestly respecting and protecting their freedom of religious belief and satisfying their spiritual needs can they be united around the party and the government" (Peng and Ma 2006, 63). "Normal religion" (Ch. zhengchang zongjiao) is valorized insofar as it contributes to the inexorable historical movement toward a socialist "middle class (materially prosperous) society" (Ch. xiaokang shehui), and while Tibetan Buddhism—the majority religion in Diqing—is deemed normal, it requires vigilant surveillance to prevent the "infiltration of separatist" proponents and the activities associated with the "Dalai Clique" (Peng and Ma 2006) (also see ch. 9 in this volume). As with all "believers," Diqing's Tibetan Buddhists are not to be told to abandon religion but instead instructed "to deeply love the mother country; embrace the socialist order; embrace CCP leadership; respect national laws, regulations, and policies; and pursue religion in ways that serve the highest interests of the country and the people" (Peng and Ma 2006, 66). When believers are brought into the ambit of socialist modernization, they will "emerge from the psychological illusion of a future paradise into the reality of establishing a hopeful life in the real world" (ibid.).
While ritual practices associated with zhidak, yullha, lu, and other genii loci could easily be classified as heterodox, they are not explicitly addressed as subjects for regulation or concern in CCP doctrine. Heterodox cults are defined by their criminality and associated with specific beliefs and activities, including brainwashing, kidnapping, excessive tithes, illicit sex, belief in the end of the world, and the exploitation of impressionable youth (Yang Hongying 2006). Because the cults are believed to be most active in remote villages where state surveillance is weak, emphasis is placed on the efficacy of training lower-level officials who represent the local state in rural communities. As is the case with "normal religion," heterodox cults are to eventually give way to Marxist philosophy, materialism, atheism, natural science, and law (ibid.).
REINSCRIBING SACRED LANDSCAPES THROUGH VILLAGE RITUAL PRACTICE
From 2004 to 2008, working closely with staff from the Tibetan Studies Research Center in Shangrila and with other local Tibetans, I conducted five rounds of fieldwork in nine villages of Shangrila and Deqin, focusing on the status of local beliefs and practices involving sacred landscapes and their ecological significance, especially in light of the severe suppression of religious activities between 1949 and 1979. In 2011, I returned to Shangrila for follow-up work with Gesang Zeren. I had known that Tibetan communities from Ladakh and northern Nepal to the Chinese borderlands share multiple local and regional variations of geopiety based on hierophany, the manifestation of the sacred within the mundane world (Eliade and Sullivan 1987). It quickly became clear that Tibetan geopiety is also associated with theophany, the manifestation of specific deities and spirits within mundane objects, in this case, terrestrial features such as mountains, forests, waterfalls, springs, and rocks.7 As part of a complex of theophanic geopiety, the history of Tibetan sacred sites predates Tibetan Buddhism. Tibetan-speaking communities distinguish three realms: the sky or upper region (Tib. nam; Wyl. gnam), the atmosphere or intermediate space (Wyl. bar), and earth (Wyl. sa), including lakes, rivers, and the underworld. These realms are porous, as is the distinction between the two types of beings that are mainly involved with the sacralization of mountains, especially neri, or "abode mountains," zhidak, and yullha (see the introduction to this volume). One class of beings is the fierce nyen (Wyl. gnyan), who are yellow in color and usually associated with mountaintops, where they live among trees and rocks. The other, the tsen (Wyl. btsan), is a very powerful class of beings who dwell in the atmospheric realm, where the sky touches the ground, especially at the summits of mountains or inside rocks.8 Nyen and tsen are among the most feared and respected deities in the region, having the power, as a Tibetan healer from Adong Village in Deqin County explained, to shoot holes into offending humans, causing more than 1,500 kinds of disease.9 Whereas nyen and tsen can traverse the three realms, and lha (higher deities) inhabit the sky or specific terrestrial sites or objects, the lu abide in or near water sources and trees. While residing in specific places any spirit may be called a sadak (Wyl. sa bdag) (master of the soil).10
Sacred precincts associated with deity-mountains are delineated roughly by a boundary between the upper and lower elevation zones near midslope. It is marked by transition points called rigua (Wyl. ri 'gag), "door of the mountain" or "barrier." In basic terms, the rigua marks a boundary between the divine world of the gods at the higher elevations and the mundane world of humans below (Litzinger 2004; Moseley et al. 2003). The term derives from the idea that humans must give up all resources that lie above the line to a mountain god that forever plays the role of host and may at any time exact revenge for transgressions of any kind. The line is not always sharp, clear, or straight, however, and the presence of human settlements below the line, yet within the mountain abode, is based on a contractual relationship of reciprocity between gods and humans. Tree cutting, hunting, or fishing even in certain sacred areas below the rigua line is believed to lead to retribution in the form of disease, natural disaster, or other misfortunes (see Gesang 2005, 2011; Huber 1999a; Ma and Chen 2005; Moseley et al. 2003).
While Khawa Karpo is the only neri in Diqing, there are hundreds of other sacred mountains that date from Tibet's pre-Buddhist cultural foundations in the Tibetan imperial era. Mountains associated with zhidak or yullha, specifically where nyen and tsen deities reside, can be classified as male, female, nuns, or monks. These mountain deities are worshiped by, and associated with, specific groups of villages, individual villages, or even individual households (Abe 1997; Coggins and Hutchinson 2006; Huber 1999b). As with the neri, the gods residing within these mountains "own" all of the local lands and have retreated to their mountain strongholds to allow humans to settle as guests in arable lands at their feet. As guests of these territorial gods of the land, humans are required to behave as one would with the master of a household in which one is a visitor. This pious regard is enacted through communal and individual rituals. Unlike the neri, the zhidak are not pilgrimage destinations. They compose a less literary, more oral, and yet universal Tibetan territorial practice.11 Their ecological significance is evident by the fact that although most of the Zhongdian basin was severely deforested by national timber-cutting operations from the 1970s to the 1990s, zhidak and yullha mountain forests are plainly visible on slopes behind villages across the basin. Some are forest patches that survived intensive logging due to their locations within rigua; others have been planted or have regenerated following the restoration of traditional religious practices since the 1980s.
Zhidak and yullha are inscribed in the landscape and in local consciousness through folklore and through a cycle of daily, monthly, seasonal, and annual ritual observances. For each mountain deity, there are also specific prayers for specific occasions, many of which have been preserved in ritual texts called songyi (Wyl. bsang yig). On the first, eighth, and fifteenth day of every lunar month, people visit shrines in the forests or at the foot of the mountain, where they offer barley, rye, wheat, buttermilk, wine, incense, and other items to the gods, who can be quite vicious when offended. The largest ritual occurs just after the new year on the Tibetan calendar, when each household is required to send at least one male representative to a predawn procession that ascends the mountain of the zhidak starting before dawn and often not arriving until the afternoon. Each man inserts a bamboo pole representing an arrow into a stone ritual cairn (Tib. zangbon; Wyl. rtse phung), barley wine and barley grains are thrown into the air, and prayers specific to the abiding deity are recited (see ch. 9 in this volume). These acts bind families and individuals within community and cosmos, leaving the visible symbolic mark of cairns and arrows atop numerous peaks in the region through all seasons. Due to traditional assumptions that women are ritually impure, most villages still forbid them from ascending summits of major male god-mountains; females can ascend with males during the new year renewal ceremonies only if a family has no male representative. In some communities, they can also climb mountains associated with female zhidak for ritual or other purposes. A forty-nine-year-old woman from Jisha Village told me that the restrictions seem fair to her; women conduct the main rituals at lu sites, give offerings to the zhidak and yullha at household and community shrines in the village, and, as she said, "Men have to leave the village to work, and they need more protection."12 The forests are as closely associated with the zhidak and yullha as are the mountains themselves, and these locales serve as refugia for spruce, larch, pine, oak, rhododendron, birch, and other subtropical and temperate tree species. As mentioned, though most sacred mountains are associated with entire communities, smaller mountains are exclusive sites or foci of worship for individual families and households. For example, in Nedu Village, which lies north of the Zhongdian basin but still within Jiantang Township, there are four zhidak and twenty-four yullha mountains, one associated with and worshiped by each household in the village.13
In addition to the forest and wildlife conservation function of traditional sacred geography, there are also hydrological conservation functions. Mountain forests not only conserve water in catchment zones above village settlements but also help prevent flooding during periods of high rainfall or snowmelt. Maintaining a supply of clean drinking water in dense settlements with an abundance of human and livestock wastes was no doubt an important impetus in the development of microgeographic forms of geopiety targeting water sources. In this regard, every village in my survey had community and household sites for the propitiation of lu. In the village center and its immediate periphery, individual families or groups of families manage small groups of trees as abodes for lu. Snakes, frogs, and other reptiles and amphibians are associated with lu, either as guardians, possessions ("livestock"), or representatives. It is not difficult to imagine that the presence of healthy individuals or populations of reptiles and amphibians near wooded water sources might be associated with the "wealth" of the lu and, in modern ecological terms, the quality of the water source. Lu are also considered to be guardians of secret treasures. Ritual acts at the familial lu sites are often prescribed by a local reincarnated master or tulku (Wyl. sprul sku) as a means of curing illness. Lu are closely associated with diseases of the skin, such as leprosy, and an offense against the lu, which can include contaminating a waterway, will lead to retributive illness. To cure a family member afflicted by a lu-related disease, of which there are more than 420, a person can bury tricolored cloth, grains, and other offerings in a cooking vessel at the base of one of the trees in the grove. As a Tibetan doctor and ritual master in Deqin County explained, "When the lu is sick, people can get sick."14 At such times, offerings can be made to the lu in order to heal it, just as herbal medicine is given to the patient.
In addition to familial groves, there are also larger communal lukong (Wyl. klu khang), "palaces" or "temples" for the lu in the form of small stone altars or cairns near community wells, springs, ponds, streams, or other nearby water sources, and these shrines are associated with water sources and surrounding groves and forests larger than those of household lu sites. Here, members of each family burn incense and make other offerings at regular intervals, and in spring and early summer, women gather to sing prayers for rain when the barley crops are young and vulnerable. Thus there is an association not only between the lu and terrestrial hydrology but also between these deities of the aquatic realm and atmospheric sources of precipitation.
ANIMATE LANDSCAPES INSCRIBED: COMMUNITY-BASED CONSERVATION IN HAMUGU
In 2002–3, Gesang Zeren and Lazong Ruiba established the Hamugu Village Center for the Protection of Indigenous Ecology and Culture. As Gesang Zeren explained in 2004:
Our village is remote and poor. The average income is not even ¥300; we grow enough grain to fill our stomachs. So many years after Liberation, our production systems—raising livestock and planting crops—are about the same. We have thirty-plus families, about 260 people. When we started this project, we already had some kind of foundation. When I was a cadre, I already had some idea about resource conservation. I had these ideas about conservation, and the government even contributed ¥400,000 for water resource management, to move water down from the mountain into the fields. The problem is that our people are poorly trained and poorly educated. Everyone depends on the crops. And if the heavens bring rain, we eat; if it doesn't rain, we don't eat. In twenty to thirty years, our standard of living hasn't improved much—we just fill our bellies—so we hope to begin to bring some benefits to our village. We already had an ideological foundation, and local people believed in us. If we told local people to do something, they would willingly do what we suggested. [Later on, he explained that the central government had forced them to meet unrealistic crop production quotas before the 1980s, so in a very real sense he contrasts his own leadership with the poor collective and commune leadership of the past.]
The first thing we did was to develop tourism resources. First, we needed to protect the resources, . . . so we had a big meeting with all of the villagers. It wasn't just us making rules, saying you should do this and that. Men sat down, women sat down, old people sat down. After much discussion and much work, we came up with a common understanding, a consensus, a path for protecting resources, a way out of our troubles. By developing common ideas, we figured out ways of protecting the resources; we had an action plan. Everyone agreed on this plan, and everyone signed the contract. Every household signed; the operating principles for ecological protection were agreed on by everyone. The contents include establishing a cultural ecology area. Why protect the culture and ecology? Because they are inseparable. Because Chinese influence has been too pervasive. The clothing I am wearing right now was made by Chinese people; the clothing I am wearing wasn't made by Tibetans. As different cultures come into contact, the local culture, the host culture, is itself diminished.
Gesang Zeren chronicled the history of Hamugu and wrote a guide to its sacred geography. He used my translation of it to apply for conservation and development grants from the state and from NGOs. Although not originally from the village, Gesang resided there with his wife, who was a villager, and before her death, he convinced each household to pool contributions and grant money from the World Wide Fund for Nature and a number of national organizations in China in order to erect a traditional rammed-earth-and-timber-frame building to house facilities for local environmental and cultural education. When the Pulitzer Prize–winning journalist and globalization pundit Thomas Friedman visited Hamugu during a tour of green development initiatives in Shangrila in 2005, he wrote, "The good, and surprising, news I found in Shangri-La was how much the poor villagers here were coming up with their own green growth solutions. For instance, the 39 families in the village of Hamugu have bundled their savings to build a lodge for ecotourists drawn by the wetlands. 'We just need a Web site,' the manager told me."15
In 2004, Gesang hoped that the center would include courses on literary Tibetan (few people in the region outside of Buddhist monasteries can read or write), English, and remedial standard Chinese, along with traditional artisanal skills, religious traditions, and ecological knowledge. From 2004 to 2008, villagers also maintained small-scale ecotourism services offering horse packing into the village's rugged hinterlands, a low-impact trek up the sacred Duji Gorge to spend a night in log herders' huts in a yak-grazing meadow next to Chuyun Spirit Lake, and a climb to the summit of Shika Mountain, which, according to local people, cannot be defiled by small numbers of hikers (fig. 8.2).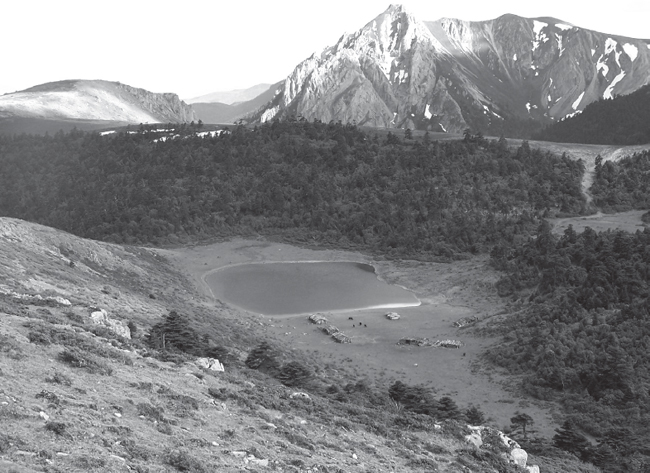 Gesang's role as an advocate for sustainable development is tied to his literacy.16 He is one of the few older villagers fluent in standard Chinese; he is also a former cadre and a gifted writer, and thus he became the primary interpreter of the landscape and local identity for a growing number of curious visitors. His written guide to Hamugu describes the village and its hinterlands in microgeographic detail, providing a textual "map" of the Napahai Prairie, which the village abuts in the valley, the Duji Gorge, the high-elevation yak-grazing meadows, the sacred lake, a cave where numerous spiritual masters attained enlightenment, and the myriad wonders of floral and faunal splendor associated with different elevation zones (listed with common names in standard Chinese) (Gesang 2005, 2011). As an interpretation of Tibetan geopiety made legible to outsiders, the work emphasizes the pastoral qualities of the landscape and the harmonious relations between humans and nonhumans, a peaceable kingdom infused with Buddhist values and teeming with biological diversity.
Autumn and winter transform the grassland into a golden-yellow sea. The distant and mysterious peaks, Shika and Meiduosila Snow Mountains, are reflected on the surface of the lake. At this time of year the spirit lake and prairie become a paradise for migratory birds. Huge flocks of rare species like the black-necked crane, bar-headed goose, ruddy shelduck, mallard, black stork, herons, and egrets congregate on the wet prairie. Now flying through the sky, now flocking together to display their aerial choreography, their resounding calls pierce the blue sky above the snow land plains. . . . According to tradition, the black-necked crane and the Tibetan people both prayed before the Buddha in ancient times, thus Tibetans across the generations have refrained from killing it or driving it off, and the crane vowed never to encroach on our croplands. The crane does not eat a single grain of barley, and on the head of the crane grow three barley grains. Although this is just a legend, Tibetan people have a profound respect for nature, and traditional beliefs concerning the natural harmony between humans and birds is amply illustrated here. . . . Hamugu residents inhabit white-walled Tibetan-style timber frame houses set among winding streams. All along the village pathways grow hawthorns. Upon entering the village one senses the simple respect and thanks that residents express toward the gods, who provide generations of villagers with blessings and protection. Daily work activities, household production and reproduction, rites and rituals, and important festivals all express deference for nature and ecological constraint. (Gesang 2005, 3)
During the same time period, the neighboring natural villages of Bulun, Cuogu, and Jinugu, which, like Hamugu, are part of Nishi Administrative Village, pursued a very different development plan. They leased their lands, which include the south side of Shika Mountain, to a Hong Kong–based corporation for fifty to one hundred years enabling construction of a cable car system from near the valley floor to the summit of the god-mountain. When the system was under construction in the summer of 2005, many Tibetans in the Zhongdian basin attributed a regionwide drought to Shika's anger, but there were no overt challenges to the project, and today the cable cars shuttle thousands of tourists to Shika's summit each year. By 2011, households in the three villages were earning an estimated ¥5,000 ($785) per year over their base income, while Hamugu households continued to pursue their own strategies of economic diversification.
Despite the efforts of Gesang Zeren, Lazong Ruiba, and other villagers, the Hamugu Village Center for Cultural and Ecological Protection as well as the village's small-scale ecotourism scheme failed to thrive, but Gesang did not give up hope. As he noted in June 2011:
In terms of marketing, a small village like this does not receive substantial support from the government. So while taking this idea into the marketplace, [one must note that] it is a "high-end" (Ch. gaoduan) mode of tourism; it is not facing the same kind of problems associated with mass tourism. The clientele come from relatively developed countries, and they are relatively wealthy people. They can appreciate the beauty of nature. We don't have the opportunity to connect with that kind of market, and this is a severe obstacle.
At that time, I asked him if he felt that the zhidak and lu were fairly stable cultural traditions, and he responded:
Of course! These traditions have been handed down over several thousand years! How could one say that tomorrow zhidak will suddenly be be gone?! For twenty or thirty years, before the Reform and Opening period, after Liberation (1949), it was widely propounded that ghosts and spirits do not exist. "Belief in gods is forbidden! Belief in ghosts is forbidden!" Did this change anything? Nope—no changes. Minority peoples' beliefs are inevitable beliefs. This has gained legal standing as the laws that ensure freedom of belief. This simply cannot be changed. Over thousands of years, it has been unalterable. In each dynasty, it has been unsusceptible to change. How can we now manage to go and change it? Even where science is fairly developed, economic knowledge stands as the scientific version of development. That is merely a kind of faith or belief as well.
CONCLUSION
The functionality of Diqing's Tibetan sacred landscapes in the protection of ecosystems is well documented (Hakkenberg 2008; Ma and Chen 2005; Salick et al. 2007), but it is important to keep in mind several fundamental ontological and cosmological distinctions, first, for a clearer understanding of animate landscapes and, second, for an appreciation of why they are not necessarily the gods' gifts to nature conservation. The materialist logic of agropastoral sacred landscapes is manifest in the fact that forests, wildlife, pastures, mountain slopes, water sources, and settlement sites are sustainable only if resource offtake is restricted to certain zones, times of year, and specific users. Restrictions must be maintained through systems of collective protection of the commons based on powerful affective associations such as fear, reverence, devotion, and the like. While this may go some distance toward explaining the ubiquity and durability of animate landscapes, it does not go all the way—animism encompasses a full range of subjects and objects, many of which fall far outside the modern Western social categories associated with "resource conservation" (see ch. 9 in this volume). In terms of origins, some anthropologists have argued that the high level of complexity required for human social behavior favored the evolution of social intelligence that was then extended to objects of nature ("erroneously" or not is a matter of perspective). Such a dichotomous view incorrectly presumes a fundamental a priori division "between the inanimate and the animate, between the non-human and the human, and between the natural and the social."17 It also assumes that "life and mind are interior properties of individuals that are given, independently and in advance of their involvement in the world." As an alternative view, Tim Ingold states:
To "talk with a tree" . . . is a question not of (mistakenly) attributing to it an inner intelligence and then configuring how it might decide to react to what one does but of perceiving "what it does as one acts towards it, being aware concurrently of changes in oneself and the tree." Responsiveness, in this view, amounts to a kind of sensory participation, a coupling of the movement of one's attention to the movement of aspects of the world. . . . Human beings everywhere perceive their environments in the responsive mode not because of innate cognitive predisposition but because to perceive at all they must already be situated in a world and committed to the relationships this entails. (Bird-David 1999, 82; italics mine)
The last point speaks to the ontological depth of being "situated in a world" and how our very responsiveness, whatever forms it takes, depends on the complexity of the social relations entailed therein. In Diqing, the personal idiosyncrasies of zhidak loom large. The remarkable array of transactions between god-mountains and local people captures their socially complex, idiosyncratic, and deeply affective interrelationships. Human fortunes may rise and fall with the wrath or beneficence of these powerful deities, gods who are not strictly bound by codes of conduct or a moral order but who respond, not always predictably, to acts of devotion or violation carried out by their mortal guests. Whether we consider them forces of nature or transcendent and sacred beings, zhidak comprise an absolute space that is fundamentally political.
In summary, the complex sociality of humans and supernature that composes agropastoral sacred space ensures the persistence of certain forms of ecological stewardship in Tibetan communities throughout Diqing. Geopiety is a strong foundation for alliances with conservation organizations (Ma and Chen 2005), but animate landscapes and their denizens cannot be reduced to the governable subjects and governable spaces of nature conservation alone, at least not for the time being.
CHAPTER
8.
ANIMATE LANDSCAPES
This research was made possible by the ASIANetwork Freeman Student-Faculty Fellows Program and the American Philosophical Society.
1Lefebvre (1991, 48) describes the political and religious nature of absolute space as "made up of fragments of nature located at sites which were chosen for their intrinsic qualities (cave, mountaintop, spring, river), but whose very consecration ended up by stripping them of their natural characteristics and uniqueness. Thus natural space was soon populated by political forces." Lefebvre's assumption of "natural space" is problematic but conforms to his project of establishing an emancipatory "rhythm analysis" in which "the laws of nature and the laws governing our bodies . . . overlap" (1974, 206). Building on Marx, Lefebvre posits that in the process of abstracting labor from its reproductive social and communal functions (during the rise of Europe's bourgeois towns and cities), abstract space became "[t]he dominant form of space, that of the centres of wealth and power . . . [which] seeks, often by violent means, to reduce the obstacles and resistance it encounters [in peripheral spaces]" (1991, 49).
2Gesang Zeren, a retired agricultural technologist who was persecuted during the Cultural Revolution because of his descent from a local family of nobles (Ch. tusi), played the lead role in organizing Hamugu community development projects. Like many Tibetans in the area, he has a Chinese and a Tibetan name.
3I have translated the oral and written accounts, which appear here in modified form.
4Yúdice (2003, 17) notes, "This culturalization of the economy has not occurred naturally; it has been carefully coordinated via agreements on trade and intellectual property, such as GATT and the WTO, laws controlling the movement of mental and manual labor. . . . In other words, the new phase of economic growth, the cultural economy, is also political economy."
5For more on the discursive formation of "indigenous space" in southwest China, see Hathaway 2010a.
6The term "geopiety" denotes the worship of and awe and reverence felt for natural landscape features or the spiritual forces that animate or dwell within them (Cosgrove 2000; Huber 1999a, 1999b).
7Eliade and Sullivan (1987) distinguish between theophany and kratophany (hierophany associated with supernatural power not associated with spirits or deities). On Tibetan theophanies, see also Belleza 2005; Huber 1999a; Makley 2007; and chapter 9 in this volume.
8Wang Xiaosong, personal communication, Zhongdian, Diqing Tibetan Autonomous Prefecture, 2006.
9Sinang Dorje, personal communication, Adong Village, Deqin County, Diqing Tibetan Autonomous Prefecture, 2006.
10Wang Xiaosong, personal communication, Zhongdian, Diqing Tibetan Autonomous Prefecture, 2006; and Giovanni da Col, personal communication, Shengping Township, Diqing Tibetan Autonomous Prefecture, June 2004.
11This is not to suggest that there are no texts associated with the mountain deities; see the description of songyi (Tib. bsang yig) in the next paragraph.
12Yangzong, personal communication, Jisha Village, Diqing Tibetan Autonomous Prefecture, 2006.
13Aun Paba, personal communication, Nedu Village, Diqing Tibetan Autonomous Prefecture, 2006.
14Sinang Dorje, personal communication, Adong Village, Deqin County, Diqing Tibetan Autonomous Prefecture, 2006.
15Friedman's (2005, 1) assessment of local efforts was laudatory, and he noted that the stakes were high for the country as a whole: "Put simply: if development doesn't come to Shangri-La and other rural areas, the divide between haves and have-nots will widen and destabilize China. But if the wrong development comes here, it will add to global warming and ravage the rural environment where many of China's indigenous cultures and species are nested."
16See Schein 2000 for comparison to "self-appointed scribes" among the Miao who served as collectors of what was perceived to be vanishing or imperiled culture.
17See Ingold's response to Bird-David and others in the forum discussion in Bird-David 1999.