4. Family and Personal Papers
Selecting Items to Preserve
Consider the time and resources required

Goals: Organize, describe, and rehouse

Calculate space & supply costs to help create stable environment

Focus on what's essential

Items that provide significant or vital information about a person, place or major event in your family

Photographs and videos

Diaries and journals

Letters and correspondence

Lifecycle events – birth, marriage, and death certificate

Diplomas

Military service documents

Genealogical charts and family trees

Are there gaps in your family's story? Consider interviewing your family for an oral history project to complement the items you're preserving 

Keep a sample of items that illustrate the era

These materials add a larger context to complement your personal or family history.

A bulletin from your ancestors' place of worship

Brochure from your family's annual vacation spot

Menu from a favorite restaurant
What NOT to Preserve
Duplicate copies of the same documents

Receipts and bill stubs for daily expenses and routine services

Items that don't add personal information

Newspapers – instead, create photocopies on acid-free paper

Anything that is moldy or mildewed to keep everyone safe and prevent potential damage to other items
Arrangement and Inventories
Arranging Materials

Provenance: Keeping track of the "who, what, where, and why of a record's creation"

Original Order: Storing documents based on how they were originally arranged by the creator. Avoid mixing collections together with multiple creators.

Keeping materials in series: Collections that are no longer in original order can be organized into series

Categories by document type and time

Example: Family Correspondence 1970-1979

Know what you have. Keep a list of storage boxes and inventories of their contents.
Preservation Considerations for Storing Your Records
Where to store your personal collections

Environmental Controls: Materials should be kept in a cool, dry, and dark location, like an interior closet. Warm, damp conditions can result in mold growth. Sunlight leads to embrittlement and fading of materials.

Humidity: Minimum of 30% and maximum of 50%

Temperature: No higher than 70 degrees

Keep it stable: temperature and humidity fluctuations are enemies to preservation!

Store collections where you will regularly see them or can easily check on them. Small problems, such as a minor leak or rodent intrusion, can ruin collections over time if they are undiscovered and unchecked.

Characteristics of common household storage areas:

Attics: Space often unused other than for storage, typically dry as long as roof is well maintained. Subject to big swings in temperature and humidity, often hard to monitor regularly, can be subject to insect/animal intrusion or roof damage.

Interior living areas: Reasonably stable temperature and humidity, easy to monitor and access for use. Watch out for pets, children, physical crowding that might lead to damage. Often where the least space is available.

Items on display: Beware of damage from prolonged exposure to light, especially from direct sun. Need to balance preservation goals with enjoyment of the items on display. Rotate items on display and in storage if feasible.

Basements: Stable temperature and humidity, commonly available space for storage. Can be subject to flooding from groundwater, overhead pipes, or water incidents in living areas. Keep materials off the floor on shelves or pallets, and consider covering to protect from overhead leaks. Relatively easy to monitor.

Garages: Often have space intended for storage and are relatively easy to monitor. Usually unheated and subject to big swings of temperature and humidity. Can be subject to flooding, keep materials off the ground on shelves or pallets.

Sheds: Intended primarily for storage, but subject to big swings of temperature and humidity, often subject to insect and animal intrusion, can be prone to leaking if not well constructed, and can go unmonitored if not in regular use.

Commercial storage units: Environments typically comparable to garages. Security issues from presence of numerous tenants, risk of loss if rent is not kept up. Fire sprinklers can be a source of water damage, so keep materials well packed and covered.

Where to store organizational records

Office buildings: Office work areas often have industrial HVAC systems which maintain temperature and humidity in a good, stable range. Lots of windows and always-on lights can lead to damage from light. Plumbing leaks can be a major concern, as can water damage from fire sprinklers. Basement storage areas have less problem with light, but increased threat from water damage and less-frequent monitoring. Professional facilities staff may add to monitoring capability.

Consider security of collections. Keep in locked storage if appropriate, keep accurate records of what is in storage, have protocols for organization staff to access, use, and potentially remove/return materials including access and circulation logs.
Collection Containers
Box and Folder supplies:

Acid free folders and boxes ensures longevity of physical materials.1

Archival supply companies:

These archival supply companies provide a wide range of conservation supplies, acid free boxes, tubes and tissue, polyethylene bags.

Note: Acid-free tissue may be ordered buffered or unbuffered. Buffered tissue is used for cotton, linen and jute. Unbuffered tissue should be used with silk, wool, and unidentified fibers. 
Electronic Records and Digital Preservation
Storage and Maintenance:

To ensure materials are not lost to technological obsolescence need to periodically convert and migrate files to new formats.

Keep several digital copies for backup in multiple storage systems – LOCKSS (Lots Of Copies Keeps Stuff Safe) 

Conversion: Updating materials from an older format to a current format (i.e. updating older word document files)

Migration: Moving data from one storage system to another (i.e. moving records stored on a floppy disk to cloud-based storage)

Storage Systems:

Secure server with regular systems backups

Cloud-based storage systems

Personal computer with external backup drive

For files you hope others will eventually preserve: Document what files you have, where they are stored and passwords needed to access them.
Examples of Preservation Issues to watch out for and avoid 
Metal fasteners (staples, paperclips, and binder clips) can cause physical and chemical damage; if staples make the most sense for keeping papers together, use stainless steel staples

Acidic paper (like newsprint) can cause acid burn, avoid this by interleaving paper between newsprint and other materials or photocopying content and discarding the newsprint

Records created by Thermofax, mimeograph, Verifax, ditto, and other duplication processes are often unstable; consider photocopying and discarding to prevent damage to other adjacent documents

Underfilled boxes can lead to slumping of materials inside which can lead to curved and distorted records

Beware of mold! Remove moldy materials from collection if possible or isolate from other records if necessary, to keep.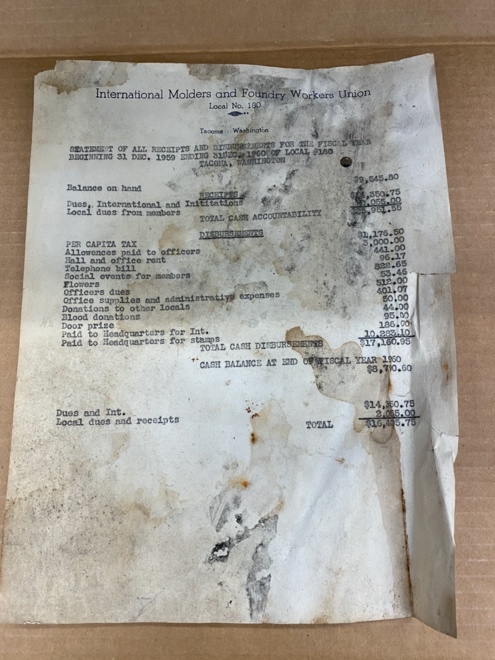 Resources for Preserving Your Personal & Family Collections
---
See pages 25-29 of Don't Throw it away! For more information about different types of archival storage supplies and environmental controls.↩