3 / The Dilemmas of Education in Tibetan Areas
Tibetan-language education plays an important role in the reconstruction of Tibetan culture, especially in the sense that teaching Tibetan in schools provides a venue for the expression of a common Tibetan identity.1 Yet, one of the primary goals of education in Tibetan and other minority areas is to consolidate "ethnic minorities" (Ch: shaoshu minzu) and persuade their children to become patriotic members of the all-inclusive family of China.2 Education is directed toward disseminating Chinese Communist Party (CCP) ideology, and officials of the educational system still state that the goal of minority education is to maintain socialism. More important, the educational system aims to subordinate local ethnic identities to national unity and at the same time convey the message that the minorities are "backward" (Ch: luohou) compared to the Han.
Concerns have even been raised that the Chinese educational system is assimilating Tibetans into the Chinese mainstream and wiping out a separate Tibetan identity altogether. The authorities evidently do not share these concerns but rather see it as their duty to help raise the "cultural level" (Ch: wenhua chengdu) of Tibetans. For instance, when asked by a foreign journalist whether Chinese schools were "killing Tibetan culture," the headmaster of the Beijing Tibetan Middle School stated that their intention instead was to "help Tibet develop with talented people."3 According to the Tibetan Centre for Human Rights and Development, a Tibetan exile nongovernmental organization (NGO), the problem lies in the Chinese belief that modernization equals sinicization: "Education is for them a tool through which cultural differences are suppressed under a hegemonic doctrine of Chinese supremacy. Where Tibetan history is taught at all, it is expressed in terms of a backward and barbaric land liberated by China, and Tibetan students are made to feel ashamed of both their background and identity."4
The standard curriculum in Chinese schools emphasizes patriotism and nationalistic sentiments. Chinese authorities have even promulgated guidelines for the implementation of patriotic education, directed particularly at young people, which were issued in September 1994. The guidelines call for highlighting patriotic education at various historical and scenic sites and creating an atmosphere of patriotism in different social sectors by emphasizing the importance of respecting the national flag, anthem, and emblem. Chinese schools thus start the week with a flag-raising ceremony, and patriotic education in one form or another constitutes a significant part of the curriculum in Chinese, "ideology and politics" (Ch: sixiang zhengzui), "ideology and morals" (Ch: sixiang pinde), and other subjects. While actively promoting patriotism, textbooks also disseminate the notion that minorities are inferior and backward compared to the Han. Moreover, most non-Han students feel that their language, history, religion, and customs are considered useless or insignificant in the Chinese school system.5
Although these problems should be recognized, there is another side to the story. First, the educational system may not have the ability to make minorities identify with the state and assimilate them into Chinese society. The implementation of this policy today may in fact produce the opposite effect: an increased emphasis on ethnic identity and cultural differences.6 Second, the Tibetan curriculum teaches Tibetan students to value their own traditions and offers Tibetans an opportunity to create their own version of Tibetanness. This is one of the reasons why many officials regard Tibetan-language education as a potential cause of local nationalism and a threat to stability.7 As noted by Janet Upton, the trans-provincial scope of the new Tibetan curriculum and its emphasis on the unity of Plateau culture also provide ways of breaching the provincial political boundaries that currently separate the Tibetan population into different administrative units.8 The curriculum thus creates a space for the construction of a Tibetan identity that encompasses all Tibetan areas. Finally, if the Tibetan written language is to survive today, it clearly needs to be taught in schools and used in official and everyday communications. The success of education in promoting or undermining a Tibetan identity thus depends largely on whether students are given the opportunity to learn the Tibetan language at school and whether they can overcome the problems presented by the educational system.
DEVELOPMENT OF BILINGUAL EDUCATION IN TIBETAN AREAS
In Amdo and Kham, public education was introduced on the margins of the Tibetan Plateau. In Qinghai, schools were first established in the Muslim communities around Xining, and by 1922 there were seven primary schools in the area. Not until 1934 was the first school in a Tibetan area set up in Jyekundo (Yushu), with only a few students. Another primary school was established in Golok (Guoluo) in 1942.9 In the following years, two more schools for Mongolian and Tibetan children were established in Jyekundo.10 The first public school opened in Mili (Muli) in about 1946.11 By that time, a number of schools were already operating in other Tibetan areas of Sichuan. Public schools were opened as early as the 1930s in Yunnan, in Gyelthang (Zhongdian) Town, and by 1950, Dechen (Deqin) County also had at least one public school.
Soon after the founding of the People's Republic of China, public education spread into many of the minority areas. The emphasis on educational facilities was originally connected with the CCP's strategy to solidify control of the border areas and "civilize" the people who inhabited the frontiers of China. During the 1950s, schools were thus set up throughout the Tibetan areas, and after 1952, young Tibetans were sent away to schools such as the Nationalities Institutes in Beijing and Chengdu. In 1955, the central government of China launched a school program for Tibet, and within a year, one middle school and sixty primary schools were open in the Tibet Autonomous Region (TAR). During the early years, many Tibetans welcomed these educational opportunities. Some monks with geshe degrees even sought employment in institutions such as the Central Nationalities Institute (Ch: Zhongyang Minzu Xueyuan) in Beijing.12
In the mid-1950s, newly established education departments in Tibetan areas issued their first guidelines on bilingual education. A number of primary school classes were set up as bilingual during the period 1956–58, but this process was soon interrupted by the Democratic Reforms campaign. During the Cultural Revolution, many schools closed down, and communes were instructed to establish their own schools. Commune schools taught only the Chinese language. The goals of the policy were mass education and at least basic literacy for all, but in practice many of the commune schools were oriented toward work rather than studies. Higher education in particular suffered a serious setback, and the Tibetan language was removed from the curriculum. Bilingual education and Tibetan-language instruction disappeared for a period of approximately twenty years, until about 1978, when minzu education was again promoted.
During the 1980s, officials in the education and ethnic affairs departments again emphasized the importance of developing programs suited to the special characteristics of the minzu and began discussing the best teaching methods for minzu primary and middle schools. Minority-language education was the main focus of these discussions, and the initial trend was to promote the use of minority languages in schools so that pupils could be educated in their native languages. China's Law on Regional Autonomy, passed in 1984, gave autonomous areas the right to train and employ cadres belonging to ethnic minorities, develop education and ethnic culture, and use local spoken and written languages. Regarding education in particular, the autonomous areas had the right to set up their own local educational programs—which included establishing schools, length of study, course contents, language of instruction, and procedures of enrollment—and to develop a type of education based on their ethnic minority characteristics.13
After the policy shift of the late 1970s, the teaching of Tibetan was gradually expanded during the 1980s, in the TAR as well as in neighboring provinces. In 1987, the TAR Congress passed a resolution stipulating that all junior middle schools were to use Tibetan as the medium of instruction by 1993 and that most subjects in senior middle schools were also to be taught in Tibetan by 1997.14 This policy was never implemented, however, and during the 1990s, bilingual education seems to have met with increasing disapproval, at least within the TAR. For instance, in 1997, Deputy Secretary Tenzin, of the TAR Communist Party, announced that authorities in Tibet were to begin introducing Chinese-language studies from the first year of primary school.15 According to the Tibet Information Network, citing Xinhua News Agency, the deputy secretary further explained that the regional government had reversed its 1987 decision on the expansion of Tibetan-language teaching. He described the 1987 policy as impractical and not in conformity with the reality of Tibet.
In Tibetan areas outside the TAR, policy shifts on bilingual education have not necessarily followed those in the TAR. Rather, each province had its own policies and guidelines, which were implemented differently from place to place. As a result, there are large variations among provinces, prefectures, and even counties, which means it is not easy to describe the situation in general terms. Nevertheless, in spite of great variation, some common features are discernible, particularly in methods of organizing bilingual education. One such feature is the system of having two parallel classes in schools for Tibetans: one taught in Chinese and the other in Tibetan.
In Kanlho (Gannan) Tibetan Autonomous Prefecture (TAP), in Gansu, and in Ngaba (Aba) Prefecture and Kandze (Ganzi) TAP, in Sichuan, we found that bilingual schools at the county level and above normally had two parallel "tracks" (Ch: ban), one in Tibetan and one in Chinese.16 According to this system of bilingual teaching, students in both primary and middle school are taught in separate classes in their principal language, although they follow the same curriculum in all subjects except language. Language instruction depends on the track in which the student is enrolled, either the "Chinese track" (Ch: Hanwen ban), with Chinese as the main language, or the "Tibetan track" (Ch: Zangwen ban), with Tibetan as the principal language. Chinese and Tibetan are usually taught in both tracks, but the curricula are different, as we will explain.
In Ngaba, we were told that the principal language (whether Chinese or Tibetan), which is the language of instruction, is also taught as a subject for the entire six years of schooling, while the second language is taught as a subject only up to about the fourth grade. In the Chinese track, primary school students are required to reach the third-grade level of Tibetan for admission to middle school, and students in the Tibetan track are required to reach the same level in Chinese.17 In addition, students in both tracks must attain the same level as ordinary students in all other subjects. In the schools we visited, the number of students in both tracks was usually about the same.
In 1982, the Ngaba Prefecture Education Department's teaching plan included a discussion of bilingual education.18 According to this plan, in pastoral areas inhabited by nomadic herders, children do not have the chance to practice Chinese language, and people in these areas prefer Tibetan as the language of instruction. Students in such areas should therefore receive their education in Tibetan, with Chinese language taught as a subject beginning in the fourth grade.19 The duration of primary school at this time was seven years. Upon completion of primary school, the students' level of Chinese was supposed to be equivalent to that of the fourth grade of primary school. The plan further stated that people in settled farming areas usually have a relatively good knowledge of Chinese. In such areas, Chinese should be the language of instruction, and pupils should start to learn Tibetan in the fourth grade.20 When pupils complete primary school, their Tibetan should be at the fourth-grade level and their Chinese should be equivalent to the first- or second-grade level of middle school.
Kakhok (Hongyuan) County, in Ngaba, provides a good example of how this system is put into practice.21 According to local officials in Kakhok, nineteen of the twenty-three primary schools in their county were bilingual, with 2,594 out of 3,074 pupils in bilingual primary schools (84 percent). Of the 2,594 pupils in bilingual schools, 1,543 were in the Tibetan track (59.5 percent), while 1,051 were in the Chinese (40.5 percent). In the Tibetan track, Chinese was taught from the first grade, and in the Chinese track, Tibetan was taught from the third grade. In the Tibetan track, Chinese was taught four to six hours per week and Tibetan was taught six to eight hours per week. In the Chinese track, students had four to six hours of Tibetan per week and six to eight hours of Chinese per week. When Tibetan-track pupils finished primary school, they were expected to have reached the fourth-grade level of Chinese, and Chinese-track pupils should have attained the fourth-grade level of Tibetan. Students usually continued in the same track in middle school. In the Chinese track, they had six hours of Tibetan and eight hours of Chinese per week. Tibetan-track pupils had six to eight hours of Chinese per week and eight hours of Tibetan.
In a bilingual primary school we visited in neighboring Dzoge (Ruo'ergai) County, the situation was described in similar terms.22 The school was a typical, county town boarding school in a predominantly herding area. There were six classes in the Chinese track, from first to sixth grade. Chinese was the language of instruction, with Chinese language taught twelve hours per week and Tibetan seven hours per week. The Tibetan track, however, had only three classes, from fourth to sixth grade, because the school boarded students from all county districts, and these students entered in the fourth grade. Tibetan-track classes used Tibetan as the language of instruction, with Tibetan language taught twelve hours per week and Chinese seven hours per week. We were told that although district schools did offer six years of education, students took an examination after the third grade, and the best ones went on to the boarding school.
Several educators told us that in schools with both tracks, students are free to choose which one they would like to enter, although there are restrictions on changing tracks after junior middle school. In practice, however, many students would find it difficult to change tracks, since pupils from village schools do not have a choice of tracks during their first years of schooling and others have been taught only one language.
The two-track system has enabled students to continue their education in Tibetan from the primary to the university level. In Gansu and Sichuan in particular, senior middle school graduates on the Tibetan track have several options. Students from Kanlho, for instance, have the opportunity to study at the Tibetan language department of the Hezuo Nationalities Teachers Training School.23 These students could pursue additional studies taught in Tibetan at the Tibetan Department of the Northwest Minzu Institute in Lanzhou.
In Ngaba, Tibetan-track students have the options of attending a minzu teachers training school or studying at the Tibetan department of the Southwest Nationalities Institute (Ch: Xinan Minzu Xueyuan), in Chengdu.24 The department had 240 students in 1999–2000, all Tibetans. Within the department, there were two tracks, one taught in Tibetan and one in Chinese, with about 100 students in each.25 The main subjects were Tibetan, Chinese, and English languages, but the department offered twenty to thirty subjects, including history, literary history, grammar, literature, tourism management, and computer science. We were informed that the central government in Beijing decides every year which subjects should be taught, when courses should be available, and for how many students.
In Kandze, Tibetan-track students could attend the Ganzi Tibetan School (Ch: Ganzi Zangwen Xuexiao), which is administered and funded by the Sichuan Province Ethnic Affairs Commission. At the time of our visit in spring 2000, the school had 597 students, all Tibetan.26 It had four departments: Tibetan-Chinese translation (four years); Tibetan art (three years); Tibetan language for teachers (four years), for Tibetan teachers from outside the TAPs; and Tibetan language (four years), which included classes in Tibetology, Sanskrit, and Buddhist logic.27 Tibetan astrology was also taught at the school. All courses were taught in Tibetan except for three subjects, which were taught in Chinese: Chinese language, translation, and ideology and politics. The school had thirty-six teachers in 2000, of which thirty-four were Tibetan.
After completing senior middle school, Tibetan students from Kandze may take university-level courses conducted in Tibetan at the local Kangding University, popularly known as the Khampa university (Ch: Kangba daxue), administered by the Sichuan Province Education Department.28 At the time of our visit, enrollment was about 2,000 students in seven departments: economics, Chinese, art, English, mathematics, administration, and Tibetan. The Tibetan students were said to comprise only about 10 percent of the students and were studying mainly in the Tibetan department. We were told that only 20 percent of the classes in the Tibetan department were actually taught in Tibetan.29 The Tibetan department had two main courses of study, one for teachers and the other for Tibetan-Chinese translators.
ACCESS TO EDUCATION IN TIBETAN AREAS
China has adopted a nationwide policy of compulsory nine-year education, but local governments in Tibetan areas, especially in rural regions, have serious problems implementing this policy. Education is poorly developed in these areas, resources are scarce, and, in may cases, teachers themselves are virtually uneducated. In herding areas in particular, many schools are described merely as teaching stations, known as point schools. Many point schools have only one teacher, who may not be qualified for teaching, and usually offer no more than a very basic level of primary education with extremely low-grade teaching, equipment, and books. Facilities are poor and may lack desks, benches, and sometimes even a schoolhouse. Pupils at all levels often are taught together in one class, and many of these schools offer only three to four years of basic education. Under such conditions, many parents prefer to keep their children at home and put them to work on the farm or in the household. Others are so determined to give their children an education that they send them to India to attend the schools for Tibetan refugees set up by the Tibetan government-in-exile in Dharamsala. Every year, an average of 3,000 Tibetans trek for weeks to cross the borders into Nepal and India, risking their lives on the high passes of the Himalayas. Nearly one third of them are children.30
In some of the Tibetan areas we visited, local authorities were struggling to make even a basic three-year education available to all children. In Tsochang (Haibei) TAP, in Qinghai, we were told that Dola (Qilian), Semnyi (Menyuan), and Dashi (Haiyan) Counties were able to provide a six-year education by the time of our visit in 1999. Kangtsa (Gangcha) County, however, had made only three or four years of education available to all. Kandze TAP, in Sichuan, is another area that has problems with the compulsory nine-year education policy. In 1984, the prefecture was divided into four areas, and each area was given a time limit for implementing "compulsory primary education" (Ch: puji chudeng jiaoyu). Chaksam (Luding) County was supposed to reach the six-year level by 1987; Dartsedo (Kangding), Gyesur (Jiulong), Rongdrak (Danba), Nyakchuka (Yajiang), and Tawu (Daofu) Counties were assigned the target date of 1995; and the deadline for Bathang (Batang), Chathreng (Xiangcheng), Dabpa (Daocheng), Drango (Luhuo), Kandze, Derge (Dege), and Nyarong (Xinlong) Counties was 2000. The remaining counties—Sershül (Shiqu), Pelyül (Baiyu), Serthar (Seda), Lithang (Litang), and Derong—were given until 2010 to provide six years of compulsory education.31 In 1987, these plans were revised and the dates postponed. By 1992, only three counties—Chaksam, Rongdrak, and Gyesur—were able to provide six years of education to all. According to contemporary statistics, this represented 37.8 percent of the pupils in the prefecture. In our interview with the prefecture educational authorities, we were informed that their expectations concerning compulsory education had been lowered even further. They were involved in plans to make a basic four-year education available for everyone by 2005 and hoped to extend it to six years a few years later. A document issued by the Tawu County Education Department in March 2000 states that the county was still only 72.7 percent of the way toward providing education covering the "first four years in primary school" (Ch: puchu).32 Other counties in Kandze are in a similar situation.
Not only is there the problem of local authorities being unable to provide educational facilities for all school-age children, but there is also a problem with parents neglecting to send their children to school. We received reports in some areas of the use of economic sanctions to force parents to send children to school. Either the parents had to pay a small fee for each day of absence or those who failed to enroll their children were threatened with a very large fine. In a village school in Drango County, Kandze TAP, parents were fined ¥0.5 (US$0.06) per day of absence from school. Apparently these penalties were responsible for increased attendance. In Matö (Maduo) County, Golok TAP, in Qinghai, we were told that the parents of children who failed to show up were fined ¥7,000 (US$885) and that "everybody sends their children to school." According to the principal of a school in a herding area, very few children did not attend school. He explained that the fine for nonattendance was so high that it "clearly states the importance of learning," and up to the time of the interview in July 1999, no family had refused to comply, since all want their children to "have some knowledge."33
After the introduction of new educational policies in the mid-1980s, the cost of education increased dramatically, while income levels remained relatively low, especially in rural areas. By the late 1990s, an increasing number of parents could not afford to send their children to school. Although we were told that tuition fees were to be levied only in middle school and above, primary schools in many places charged parents for textbooks and "miscellaneous fees" (Ch: zafei). For rural Tibetans at least, schooling became a heavy economic burden. The rising cost of education was a particular problem for boarding school students and those above primary level, where high tuition fees were common.34 In Ngaba Prefecture, for instance, miscellaneous fees amounted to about ¥100 (US$12) per year in primary schools in towns, excluding the cost of boarding. In middle schools, we found tuition costs as high as ¥1,300 (US$160) per year, with an additional ¥400 (US$50) per year for boarding. Tuition alone was commonly about ¥400–750 (US$50–95) per year, and boarding expenses as much as ¥90 (US$11) per month. In comparison, as of 1996, the average annual income of herders and farmers in Ngaba was ¥882 (US$108).35 In the neighboring prefecture of Kandze, annual fees in township primary schools were ¥150–300 (US$19–38), including books and miscellaneous fees. Middle school tuition was generally higher, often as much as ¥500–600 (US$60–75), excluding boarding expenses.
Primary point schools in herding areas and farming villages were reported to be free of charge, and local governments claimed they sometimes even provided grants for clothing and food. However, in schools we visited along the highways, in agricultural areas and in towns, even primary school pupils had to pay for textbooks and miscellaneous fees. In addition, the overall quality of point schools and their level of teaching were described by many as substandard.
Primary school enrollment rates reported by the local education departments indicate low school attendance in rural areas, especially herding areas. In Kandze TAP, the entrance rates reported to us were slightly more than 84 percent in town areas and only about 50 percent in herding areas.36 In Ngaba, the school enrollment rate for the prefecture as a whole was reported to be 90 percent, but in counties where herding is predominant, such as Kakhok and Ngaba, enrollment was considerably lower. In Kakhok County, local officials reported an enrollment rate in 1999 of only 69.4 percent.
Statistics also reveal that as of 1982, less than 27 percent of Tibetan school-age children (at the primary and middle school levels) in Qinghai were enrolled in schools.37 According to our own information from 1999, in Jyekundo TAP, Qinghai, enrollment rates in primary schools were still as low as 28.3 percent in two counties, Dritö (Zhiduo) and Dzatö (Zaduo). The primary school enrollment rate for Jyekundo TAP as a whole was reported by local officials to be 41.2 percent, with 81.6 percent in Jyekundo County, where the prefecture seat is located. In Malho (Huangnan) TAP, also in Qinghai, the primary school enrollment rate for 1998 was reported as 73.8 percent. Unpublished government documents from 1998 give the following enrollment rates by county: Rebkong (Tongren), 90.4 percent; Chentsa (Jianza), 95.6 percent; Tsekhok (Zeku), 43.4 percent; and Yülgennyin (Henan), 48 percent. The latter two counties are predominantly herding areas. In Golok TAP, we visited two counties where nomadic herding is predominant, Darlak (Dari) and Matö, and interviewed the local education departments. In Darlak County, we were told that only 40 percent of the nomadic children entered school, while the county average was 48.7 percent. In Matö County, the situation was similar, although the entrance rate was supposedly higher, at 64.1 percent.
It is often difficult to obtain accurate information on school enrollment from local officials. For instance, government officials in Kanlho TAP reported to us in 1999 that 90.1 percent of school-age children in their prefecture entered primary school, while 95–98 percent completed sixth grade. However, official statistics from 1997 state that only 84.5 percent of school-age children in Kanlho were enrolled in primary school.38 Interviews with school staff also indicated that the figures provided by the prefectural government were not accurate for the areas we visited. As noted by one local cadre, the high overall figures in some prefectures can be explained by the fact that almost 100 percent of school-age children in the densely populated towns attend school. However, the conditions are very different in rural areas where most Tibetans live, especially in herding and poorer agricultural areas. The enrollment rates for girls in herding areas were particularly low. One education specialist in Machu (Maqu) County, a herding area in Kanlho, estimated a 50 percent attendance rate for girls in his county. We found a similar situation in some of the schools we visited in Qinghai, where less than a third of the pupils were girls.
Dropping out is a major problem in most Tibetan areas. For instance, according to official sources from Dechen TAP, Yunnan, the yearly dropout rate in 1995 was 13.3 percent of primary school pupils and 12.2 percent of junior middle school students. In 1997, the yearly dropout rate was 9.5 percent of primary school pupils and 7.6 percent of junior middle school students. While 92 percent of school-age children entered school, only 54.8 percent completed sixth grade. Of those who finished primary school, 73.6 percent went on to middle schools, but only 56.4 percent completed junior middle school.39 The numbers were similar in Tibetan areas of Qinghai. According to a source in the Qinghai provincial government, during the late 1990s, approximately 30–50 percent of the pupils in Qinghai's bilingual schools failed to complete a six-year education. Our source noted that this was evidenced by a corresponding drop in the circulation of Tibetan-subject textbooks between the first and sixth grades of primary school. There are two likely reasons for such a decrease. Some pupils drop out of school, and others are unable to continue because their schools offer only three or four years of education.
In some areas, people live far apart in tiny settlements or still lead nomadic lives. Children have to walk for many hours to get to school, and roads may not be considered safe for young children. As a solution, the current trend seems to be to establish more boarding schools, especially in herding areas. However, the cost of boarding makes education particularly expensive for herding families. In the herding areas we visited in Kanlho TAP, boarding and textbooks in a county-level school cost about ¥500 (US$60) per year. In comparison, the average annual income of farmers and herders in Kanlho was ¥901 (US$110) in 1997.40 In these circumstances, it is very difficult for most Tibetans to send their children to boarding school.41
Boarding school students usually spend most of the year away from their families. In order to give the children more time with their families, some boarding schools organize the school year according to their own schedules. We visited one boarding school for nomadic children in Matö County, Golok TAP, where students stayed at school from March through December (including the summer holidays) and returned to their families between December and March. The headmaster, who had himself been raised in a local family of nomadic herders, told us that this particular school emphasized preserving the area's traditional lifestyle. He knew that several families passed the school at least twice a year and invited them to put up their tents on the wide grasslands near the school. In this way, the children could attend school and help shear the animals during the summer. In autumn, the families came once more to pay a nomad tax at an office near the school.42
Despite school schedules that accommodate the seasonal migration patterns of nomadic herders, the children still must spend long periods away from home. Many parents are reluctant to send their children to boarding school until they are old enough to take care of themselves, which is understandable in view of the poor living conditions at many schools. Furthermore, as we were told by a nomadic family in Golok, the education provided by schools is largely irrelevant for life in the Tibetan countryside. In addition, since the children must leave home to attend the boarding schools, it is difficult for their parents to pass on important knowledge and teach the children the skills necessary for a life of farming and herding.
Many parents in rural areas simply fail to see the need for education, since very few local jobs require schooling. Educators have also argued that the cultural bias in the curriculum creates problems. According to one Tibetan education specialist, since the curriculum is based on conditions in central China, the educational content has no connection to the real-life experience or knowledge of Tibetan students.43 This was confirmed by our interviewees. One man commented that as a child in school, he was perplexed when reading about traffic lights in his textbook, since he had never seen such a thing. In Chinese primary and middle schools, students spend a large part of their school day learning Chinese language, history, ideology and politics, and ideology and morals. The curriculum includes lessons on Marxist-Leninist ideology, patriotism, the thoughts of Mao, respect for the Revolutionary Heroes, and love of the CCP. This type of education has very little to offer rural Tibetan children.
Authorities have recognized that language represents one of the main problems in minority education. Minority children have difficulties competing with Han children for admission to institutions of higher education. The national entrance exam for universities has thus been made available in several minority languages, including Tibetan. A number of vocational schools, colleges, and universities also offer one- or two-year preparatory courses for minority students. Preferential policies give minority students increased access to higher education through a system of quotas and adjustments in admission requirements.
These policies, however, do not address the problems experienced by minority children in primary and middle school, when they are introduced to new subjects in an unfamiliar language. Students who receive a bilingual education also have difficulties. Their schedule, textbooks, and curriculum are the same as those of an ordinary school, except for the addition of a second language to their list of subjects. The heavier workload makes it more difficult for Tibetan students to compete in the educational system, whether they receive bilingual teaching or not. Many fail their exams and are unable to go on to senior middle school, college, or university. These problems are reflected in statistics on the ethnicity of middle school students. For instance, as of 1990, less than half the middle school students in Kandze TAP were minority students, while, according to the 1990 census, about 78 percent of the registered population were minorities, 75 percent of whom were Tibetans.44
According to Chinese sources, before 1954, about 90–95 percent of the Tibetan population was illiterate. The small literate population consisted of monks educated in the monasteries or people who belonged to the upper class, many of whom received their education in private schools. Although it is difficult to check the accuracy of such claims, if we were to use this data as a basis for comparison, we would find that in some Tibetan areas the situation today is not much better than it was before the People's Republic of China was established. When we visited Tsolho (Hainan) TAP, in Qinghai, in 1999, the prefectural government was involved in a project to combat illiteracy. Prefecture documents attested that 70 percent of young and middle-aged Tibetans were illiterate.45 The educational attainment of Tibetans is still among the lowest in China. According to the 1990 national census, 19.4 percent of all Tibetans had completed only primary school, 4.6 percent had graduated from junior middle school, 2.1 percent from senior middle school, and only 0.4 percent from colleges and universities. In comparison, 19.9 percent of Han living in the TAR had completed only primary school, 38.8 percent had graduated from junior middle school, 24.6 percent from senior middle school, and 7.6 percent from colleges and universities. Thus, less than 10 percent of Han living in the TAR had failed to complete primary school, while the figure for Tibetans (in all of China) was 73.5 percent. The illiteracy rate for the TAR in 1990 was 73.8 percent, the highest of all China's provinces.46
FUNDING EDUCATION
Chinese authorities explicitly acknowledge the importance of educating ethnic minorities as a means of speeding up economic development in minority areas and have allocated special funds for that purpose.47 In addition, both NGOs and local governments in the rich coastal areas are encouraged to contribute to the funding of education in minority areas. However, educational policies introduced in 1985 gave local governments final responsibility for funding their own primary and secondary education. Since the poorer counties are unable to provide adequate funds, these policies have created a disparity in quality of education between poor and wealthy regions. Many minority areas are among the poorest in China and are now experiencing serious problems, such as inability to pay teacher salaries, insufficient or poorly qualified teachers, and difficulties in providing education to all school-age children.48
County officials informed us that a local government typically would spend at least 30 percent of its income on education. In addition, the counties rely on financial support from the prefecture, province, and central government. For example, Tashiling (Lixian) County, in Ngaba, spent about half its income, ¥4,800,000 (US$600,000 ) in 1998, on education, mainly on salaries for its 700 teachers. The county had a total expenditure of ¥18,000,000 (US$2,200,000) and an income of only ¥10,000,000 (US$1,220,000). The balance was paid by the higher-level governments. In Haidong Prefecture, officials in Bayen (Hualong) County reported that they had more than 1,500 teachers and spent a total of ¥20,000,000 (US$2,500,000) annually on education; county income was only ¥15,000,000 (US$1,900,000). Educational expenditures accounted for 30–40 percent of county expenditures, or about ¥5,000,000 (US$630,000), while outside support was needed to cover the remaining ¥15,000,000 (US$1,900,000). Special funds from the central government are available for the construction of new schools in minority regions and poor areas; however, sources such as the Poor Areas Fund normally require the local government to provide 50 percent of the funding. Thus, it is difficult for the poorest local governments to utilize such funding.
Since the 1985 educational reforms, local education departments have been allowed to levy fees and taxes to provide funds for education. Funding strategies introduced in some Tibetan areas also include providing free grasslands and herds as income sources for individual schools. Fees collected from the parents of primary school children typically cover heating, cleaning, and wall decorations for the classroom. Students must often pay for their own textbooks and writing materials. Since these expenses have been increasing, some parents are unable to meet the costs. Officials in one county in Qinghai reported that more than 300 students in the county (4 percent of the students) were already unable to afford textbooks. Therefore, they initiated a system in which "one helps one," meaning that one government official subsidizes one student.
In several prefectures (including Golok and Kandze), we received information about an ongoing centralization process in which village-level schools were transformed into "key schools" (Ch: zhongxin xuexiao). Several village-level schools were merged to create larger boarding schools. The main reason for this type of restructuring was to provide better teachers and facilities. Local educators argued that the quality of education in these key schools is better than in the smaller, village-level schools. In addition, centralization of schools is cost-effective. As already mentioned, however, boarding schools tend to be more expensive for parents.
During our visit to Sichuan in the spring of 2000, the new policy Develop the Western Region, officially launched during the National People's Congress in February 2000, had stirred a new optimism among some officials in the education sector. Although infrastructure and telecommunications were among the main targets of the development plan, these officials hoped that funds would also be allocated to education. In Tawu County, Kandze TAP, we received a copy of a document produced by the education department, stating its strategy for taking advantage of the new policies on development. The article was titled "The Policy to Develop the Western Region. What Will Happen to Tawu? Seize the Opportunity, Promote Development, and Foster High-Quality Talents."49 This strategy contains eight steps for development and strongly emphasizes that education must be the first issue addressed. The plan suggests importing more qualified teachers from "developed" areas and establishing special classes in "developed" areas as ways of improving the standard of education.50 The document's authors contend that development cannot succeed without a well-educated and skilled population. Minority-language education, however, is not included in these eight steps for development, which mention only the need for a general strengthening of minzu education. This statement may be interpreted as the intention to educate more students of minority background rather than to provide a better education in the Tibetan language and culture. Education authorities also stressed that investments from the rich coastal areas of China are business, not development aid, and that investors expect returns on their investments.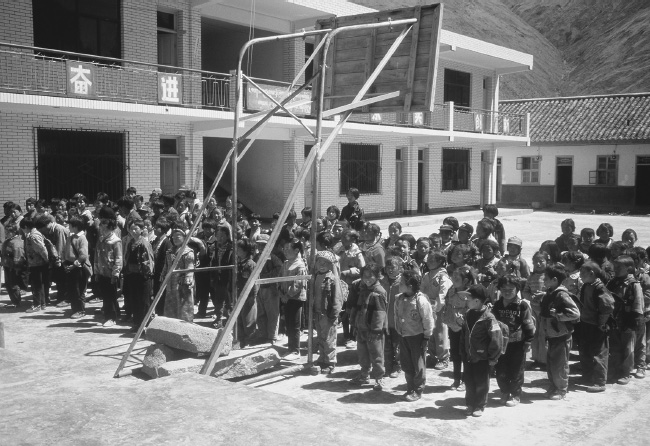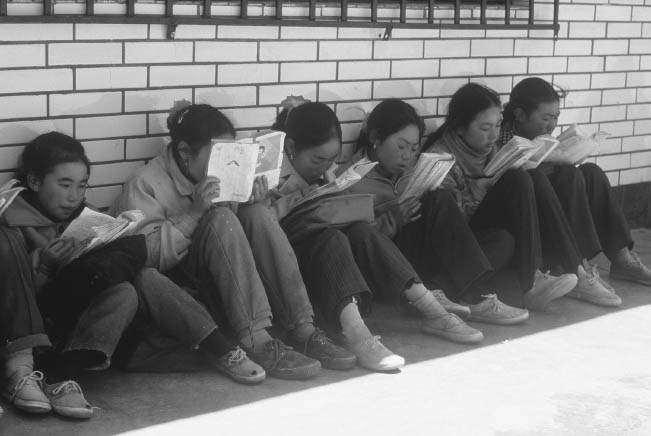 Bilingual education in several areas is partially or fully sponsored by national or, in some cases, international NGOs. In certain areas, local governments seem to rely almost entirely on NGO funding to provide Tibetan students with the opportunity to learn Tibetan. In Dechen TAP, for instance, we found that NGO funding played a very important part in the teaching of the Tibetan language in schools, while education in Tibetan was available only because of private initiative. During our stay in the prefecture in 1998, we visited three bilingual schools that received funding from NGOs. Two were sponsored by the Rokpa Foundation, a charitable organization based in Britain, and run by the Tibetan tulku Akong Rinpoche.51
NGOs such as the Rokpa Foundation help fund a number of Tibetan schools, for example, the Tibetan middle school in Gyelthang (Zhongdian) County, Dechen TAP, and in Kakhok County, Ngaba Prefecture, and the Kangding Tibetan Middle School (Ch: Kangding Zangwen Zhongxue) in Kandze TAP. When the Tibetan middle school in Gyelthang was established in 1994, the Rokpa Foundation funded half the construction costs. At the time of our visit in 1998, this school offered the only courses in Tibetan language above the primary level for Tibetan students in Yunnan.52 Since 1997, the Rokpa Foundation had also provided annual scholarships for 60 poor students at Kangding Tibetan Middle School. When we visited this school in May 2000, it had 317 students, 200 of whom were boarding.53 The students paid ¥200 (US$25) per term for tuition alone. We were told that 85 percent of the students came from farming or herding areas and were considered poor. The 60 sponsored students received ¥40 (US$5) per month from the Rokpa Foundation. In 2000, the Trace Foundation initiated a trial year of cooperation and sponsored another 60 poor students. Students were selected for scholarships on the basis of academic results and their families' economic situations. The school had a high reputation, and apart from languages, the students also studied Tibetan calligraphy.54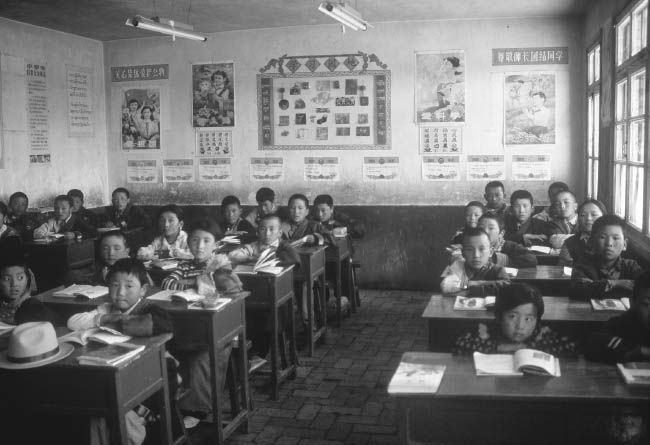 While most Tibetan schools we visited taught the general middle school curriculum, some also provided vocational training. For example, the Hongyuan County Tibetan Middle School in Kakhok had several vocational departments such as veterinary medicine and animal husbandry.55 We found that vocational subjects were taught in Tibetan, although the textbooks were in Chinese. The Rokpa Foundation supported the school and covered expenses for 180 senior students per year, mainly in the vocational departments.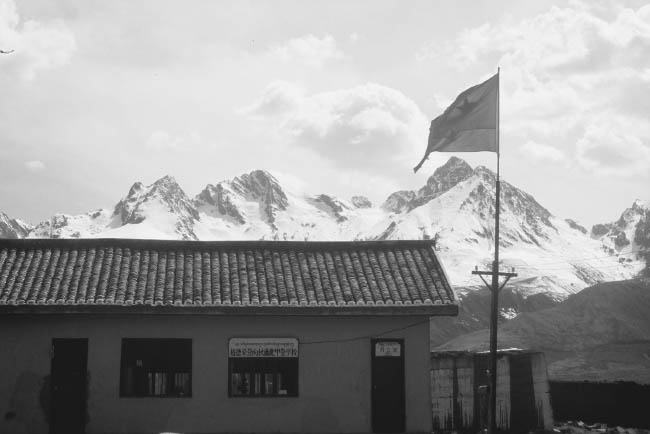 Private schools have in many cases been particularly successful in obtaining funding from foreign NGOs. In Tsolho TAP, we found that several private schools had opened during the 1990s and attracted foreign teachers to teach English. A few of these schools also received financial support from abroad. An educator in one of the private schools explained that the current attitude was that "Tibetan culture is worth protecting." Nevertheless, the curriculum at his school was the same as that of other schools, and the language of instruction was Chinese, with Chinese textbooks, except in the additional Tibetan-language class, which had textbooks in Tibetan. Even when a private school received funding from abroad, the curriculum was controlled by the local education department at the prefectural, county, and village district level.
MONASTERY-RUN SCHOOLS
Monasteries often play an important role as sponsors of private schools and particularly of schools that use Tibetan as the language of instruction. For instance, in Kandze TAP, we heard of a number of private primary schools (at least eight) that had been initiated and were sponsored by local tulkus. The classes in these schools were usually taught in Tibetan and focused on cultural education, including the Tibetan language. Some schools also offered classes in Tibetan art and medicine. The great majority of students in such schools were boys.
It appears that education authorities not only approved the establishment of private Tibetan schools but actually relied on these private initiatives to provide education in Tibetan. However, this did not mean that the establishment of private schools was unregulated. For example, according to information received from the Kandze Prefecture Education Department, the opening of private schools was subject to the following conditions: They must not be inside monasteries, they may use only recent and approved study materials, they must be administered by the local education department, their teachers must be assigned by the local education department, and teachers' wages must be no higher than the national level.
Despite the stipulation requiring approved study materials, one private school we visited was using traditional Buddhist texts to teach the Tibetan alphabet, reading and writing, and Tibetan grammar. These books were produced in the printing house of the monastery in charge of the school. The students ranged in age from six to thirty and were divided into four classes according to their knowledge rather than by age. According to the elderly monk who was their teacher, the pupils at this school did not learn Buddhism because they were "too young for that." The primary schools run by monasteries are usually considered standard primary schools. However, one source claimed that the majority of children sent to monasteries for basic education stayed on and became ordained monks later, when they reached the minimum age of eighteen.
Local charitable organizations also run schools that teach Tibetan. In Dechen County, for instance, we visited such a school adjacent to Dechenling Monastery. Its low cost was said to be one of the reasons parents preferred to send their children there, rather than to the nearby Dechen County Nationalities Primary School, which also taught Tibetan. The school had two teachers and about forty regular pupils between seven and nineteen years of age. Subjects taught in the school were Tibetan language, mathematics, drawing, and music. The textbooks were all in Tibetan and had been published in the TAR. The school received some funding from the Yunnan Province Religious Affairs Department and the Dechen County Education Department, but reconstruction work on the buildings had been performed entirely by volunteer labor.
Some of the monasteries we visited in Qinghai ran their own primary schools for village children. Most of these schools followed the national standard curriculum and taught Tibetan as well. We visited one such school where the advanced students even studied Sanskrit texts.
Several schools run by monasteries did not charge for tuition. Some private schools, such as the Jigme Gyaltsen Private School (Ch: Jimei Jianzan Sili Xuexiao), emphasized the preservation of the Tibetan language and culture while providing free education for poor children.56 We were told that this school was especially concerned with taking care of orphans. It was established in 1994 and is named after its founder, Jigme Gyaltsen, a highly educated monk and the abbot of the nearby Radya Monastery. In 1999, the school had 140 students between the ages of nine and twenty-eight. Most of the students were Tibetan and came from Qinghai, but that year a few were also from Gansu. A small number of students were Mongolian. The students undertook a five-year course of study with traditional Tibetan culture, which included Buddhist logic and Tibetan language and grammar, as the main subject. All classes, even English, were taught in Tibetan with the exception of Chinese language.57 The students also took a "labor class" (Ch: laodong ke), and at the time of our visit they were all participating in construction work by carrying stones for a new building. The school had both monk and lay students, all of them boys. Some of the monk students had studied in monasteries before joining the school and were planning to return for further monastic studies, while some of the lay students expected to go on to middle school after graduation. All students needed permission from their local governments before they could be admitted. Although the principal was the abbot of a Gelugpa monastery, there was reportedly no distinction made among the different Buddhist traditions. In 1999, the school had a staff of twelve teachers, five monks, and seven laymen.
TEXTBOOKS IN TIBETAN
With the exception of private schools, the bilingual primary and middle schools we visited used a series of textbooks known as the Five Provinces textbooks. These Tibetan textbooks are published cooperatively by the five regions and provinces that comprise Tibetan administrative areas: the TAR, Gansu, Qinghai, Sichuan, and Yunnan. The cooperative is managed by the Five Provinces and Regions Tibetan Textbook Coordinating Group,58 which was governed by the Qinghai Province Education Department at the time of our visit in 1999.59
The editing of primary school textbooks began in the early 1980s and was completed by the end of the decade. Junior middle school textbooks in all subjects were edited by 1995, and by 1999, the series included textbooks in all subjects for primary and middle school, although reference and exercise books for many subjects were not yet done. However, Tibetan-language teaching materials for vocational schools, colleges, and universities were not included in the series. Schools had to produce such materials for themselves, either individually or in partnership with other schools.60 In Qinghai, several projects were under way to edit new textbooks in Tibetan for courses above the middle school level. During our visit in 1999, the Qinghai Province Law School had just produced its own textbooks for courses in the Tibetan language and modern law, while the Nationalities Department of the Qinghai Province Teachers College had finished editing textbooks in Tibetan for most subjects, including mathematics, geography, physics, and chemistry. A great deal of effort was also being spent on producing dictionaries of Tibetan terminology for natural science subjects such as physics and chemistry.
The Five Provinces and Regions textbooks are translations of the standard Chinese (Mandarin) textbooks used all over China, except for textbooks used to teach Tibetan language, which are written specifically for Tibetan students and cover Tibetan subject matter. In addition to teaching basic writing skills and grammar, these textbooks are important as a means of conveying an understanding of Tibetan culture and a sense of Tibetan identity to Tibetan children. They present Tibetan literary heritage but also include a number of texts devoted to Chinese Communist ideology and daily life in Chinese towns.
The American anthropologist Janet Upton has concentrated her research on the content and use of Tibetan textbooks in bilingual schools in Ngaba Prefecture's Sungchu (Songpan) County. She notes of junior middle school textbooks that 24 percent of the texts are translations from Chinese, 47 percent are modern Tibetan, and 29 percent are what she terms "traditional" Tibetan.61 Of the latter, 5 percent are classical texts and 13 percent are aphoristic sayings. The remaining traditional texts are on calligraphy and grammar. According to Upton, the translated texts are somewhat more likely to be weighted with political messages.
The ideological content of Tibetan textbooks clearly reflects the particular aims of minzu education, which is focused on promoting the idea of China as the "great Motherland" of all the different minzu. In fact, only a few selections in textbooks for Tibetan language deal with Tibetan history and religious life. The third-, fourth-, and fifth-grade textbooks we collected in 1999–2000 make references to the Potala Palace and the Norbulingka (Summer Palace) in Lhasa and to Kumbum Monastery. The text about the Norbulingka mainly describes the beauty of the parks and gardens, while the text about the Potala Palace mentions two famous figures in Tibetan history who were responsible for the construction of the main buildings of the Potala: King Songtsan Gampo, the first religious king of the Tibetan Empire, and the Great Fifth Dalai Lama. As far as we know, the text about Kumbum Monastery contains the only mention of the plight of Tibetan monasteries before the Liberalization period. This passage tells the story of a boy whose mother tells him about the remarkable "flower offering ceremony" (T: me tog mchod 'bul) that takes place during the Mönlam Chenmo festival at Kumbum, when elaborate butter sculptures are displayed to the pilgrims. The boy grows up and eventually visits Kumbum, but the monastery is closed down, and he is very disappointed. However, all his expectations are fulfilled on his next visit, when the monastery is open and he is able to witness the flower offering.
In addition to texts written originally in Tibetan and texts translated from Chinese, one can also find texts translated from Russian, primarily modern Russian literature, and other European languages. Upton notes that a number of classical Tibetan texts have been altered, with references to religion removed or replaced by secular alternatives, and that this creative editing has "radically secularized the Tibetan past." She concludes that translated texts are not used to the same extent by teachers, or in exams, as are texts written originally in Tibetan and that modern Tibetan literature is in many ways the most important for students, both as a model of good writing and because contemporary authors "speak directly to Tibetan concerns."62
Until 1998, the central government subsidized Tibetan-language textbooks in the Five Provinces series. According to our 1999 interviews, however, those who edited the textbooks were no longer receiving payment for their work, and the central government had cut its printing subsidies for Tibetan textbooks. According to our sources, students in areas that were not subsidizing textbooks through local taxation would have to start paying the market price for textbooks. Although Tibetan-language textbooks have been subsidized by regional authorities in the TAR, this has not been the practice in Tibetan areas outside the TAR. The reduction in funding from the central government would thus make the situation particularly difficult in these areas, where Tibetan-language textbooks were already more expensive than standard Chinese textbooks.
BILINGUAL EDUCATION IN TIBETAN AREAS OUTSIDE THE TAR
By comparing the percentage of Tibetans in the population with the percentage of students in bilingual schools, we get a very rough impression of the extent of education in Tibetan in the four provinces under study, as reported by the local governments. The following table presents the available figures from all Tibetan-designated prefectures by province:
As table 3.1 shows, there are great variations among provinces and seemingly very little correspondence between the percentage of Tibetans in the population and the percentage of students in bilingual schools. However, the situation in Yunnan does seem to indicate that where Tibetans constitute a relatively smaller minority, bilingual education may be given even less priority than one would expect considering demography alone.
Sichuan
Sichuan has three Tibetan autonomous administrative units: Kandze TAP, Ngaba Tibetan and Qiang Autonomous Prefecture, and Mili Tibetan Autonomous County (TAC). Of the three Tibetan-designated areas, Tibetans constitute the largest majority, 76 percent according to the 1990 national census, in Kandze. Ngaba had a registered population of 48 percent Tibetans, while Mili had only 30 percent according to the same census.63 We visited Ngaba and Kandze in 1999 and 2000, and although they are neighbors in the same province, we found that the availability of bilingual education differed considerably. The percentage of Tibetans in the registered population is higher in Kandze than in Ngaba, and as we shall see, there are similar differences in the availability of bilingual schools in the two prefectures.
We interviewed officials in Ngaba Prefecture in 1999 and were informed that the prefecture had a total of 1,418 primary schools with 113,000 pupils.64 Of these, 233 schools (16.4 percent) were described as bilingual, located mainly in Ngaba, Kakhok, Dzoge, and Dzamthang (Rangtang) Counties and primarily in herding areas. The prefecture had 70 middle schools, with 29,400 students. Of these, 6 (8.6 percent) were said to use Tibetan as the language of instruction, and about 20 schools (28.6 percent) had Tibetan as a subject.65 Five counties lacked bilingual middle school education: Trochu (Heishui), Tsenlha (Xiaojin), Tashiling, Maowün (Maoxian), and Wenchuan (Lunggu). The number of students in middle schools teaching in Tibetan was 2,900. The total number of students in bilingual schools (primary and middle schools) was reported to be about 20,000 (14 percent of all primary and middle school students).

SOURCES: 1990 census and interviews with prefectural governments.
According to statistics from the education department in Kandze TAP, which we visited in 2000, the prefecture had 1,216 primary schools at the end of 1999, including small, local point schools. Of these, 821 were classified as bilingual (67.5 percent), but only 211 were classified as teaching in Tibetan (17.4 percent). The prefecture had 81,336 pupils in primary school, 50,386 of them in bilingual schools (61.9 percent). Of these, only 11,999 were reported to receive their primary education in Tibetan (14.8 percent).66 Kandze TAP had 40 middle schools according to 1999 statistics, including 18 junior middle schools, 19 senior middle schools, and 3 mid-level vocational schools. The Kandze Prefecture Education Department reported that 28 of these were classified as bilingual; 24 were taught in Chinese, while only 4 were taught in Tibetan. Of these, 3 were junior middle schools, located in Drango County, Kandze County, and Sershül County, and the other, the Kangding Tibetan Middle School, was a complete middle school (both junior and senior levels).67 The prefecture had a total of 8 mid- and higherlevel vocational schools with 4,423 students altogether in 2000. One of these was the Ganzi Tibetan School, administered and funded by the Sichuan Province Ethnic Affairs Commission. There were then 13,756 middle school students, and 5,412 of these were said to be attending a bilingual school (39 percent). Of these, 842 (6 percent) were being educated in Tibetan, while the other 4,570 students (33 percent) were learning in Chinese with the opportunity to take Tibetan as an additional subject. However, we were told that "bilingual" could also refer to schools where English is taught as a second language, which means that Tibetan is not necessarily the second language in a bilingual school in Kandze. Study of English is an entrance requirement at Chinese universities, and we were told that Tibetan classes are increasingly being replaced by English classes.68
Although the two Tibetan prefectures in Sichuan, Kandze and Ngaba, operate the same two-track system of bilingual education and thus appear to be following the same guidelines for the teaching of Tibetan, we found a remarkable difference in the availability of bilingual education. According to our interviews with government officials, only 14 percent of students in Ngaba Prefecture attended a bilingual school, whereas nearly 59 percent in Kandze did so. If we take into consideration the share of Tibetans in the population, we may assume that approximately 30 percent of Tibetan students in Ngaba and 77 percent in Kandze received an education in bilingual primary and middle schools at the end of the 1990s.69 Again, we see that bilingual education was disproportionately less available in areas with a smaller percentage of Tibetans in the population.
Gansu
Gansu has one Tibetan prefecture, Kanlho TAP, and one Tibetan county, Pari (Tianzhu) TAC, in Wuwei Prefecture. According to the 1990 national census, Tibetans constituted 48 percent of the population of Kanlho and 26 percent in Pari.70
When we visited Kanlho TAP in 1999, the education department officials we interviewed provided us with the following information. They reported that the prefecture had a total of 680 primary schools, with 67,812 pupils. Of these, 211 were bilingual primary schools, with 16,720 pupils (25 percent of the total). The prefecture had 27 middle schools, with 13,074 students.71 There were 10 bilingual middle schools, and 14 bilingual nine-year schools that included junior middle school students.72 Altogether, there were 4,062 students in bilingual middle schools in the prefecture (31 percent of the total). There were 4 mid-level vocational schools in Kanlho, and only 1 was described as bilingual.73 Bilingual schools in Kanlho were concentrated in three counties: Machu, Luchu (Luqu), and Sangchu (Xiahe). In these three counties, 126 out of 139 primary schools (90 percent) were described as bilingual. In the remaining four counties in the prefecture, only a small percentage of primary schools were bilingual. Of these, Batse (Lintan) County had the fewest, with only 3 bilingual primary schools out of 140 (2 percent).74
According to a study published in 1996, only 34 percent of schools for Tibetans in Kanlho taught in Tibetan.75 Education departments in both Sangchu County and Kanlho TAP reported that Tibetan was the language of instruction in primary schools in herding areas, whereas in "ethnically mixed areas" (Ch: zaju qu), the language of instruction was Chinese. Government officials further reported that in Batse and Drukchu (Zhouqu), Tibetan middle schools taught mainly in Chinese, and the remaining five counties all had classes in both Tibetan and Chinese in their Tibetan middle schools. This indicates that Tibetan students had the option of choosing a middle school education in Tibetan in most county towns in Kanlho. As might be expected, the counties where bilingual education and teaching in Tibetan were least available were those with the smallest share of Tibetans in their populations. Batse's registered Tibetan population was only 11 percent, while Drukchu registered 31 percent Tibetans in the 1990 national census. The remaining five counties in Kanlho had Tibetan majorities of between 61 percent and 90 percent.
Yunnan
Within Yunnan, Dechen is the only Tibetan Autonomous Prefecture. Although the population of Dechen consists largely of ethnic minorities, bilingual education has not been promoted.76 At the time of our visit in 1998, only two minority languages were taught in schools: Lisu and Tibetan. The prefecture education department reported that there were primary schools teaching Tibetan in all three counties in the prefecture.77 Two middle schools were also described as bilingual (Tibetan and Chinese): the Tibetan middle school and the medical school.78 The number of pupils in bilingual (Tibetan-Chinese) schools was 1,140, only 2.4 percent of the pupils in the prefecture.79 Compared to other Tibetan-designated prefectures, Dechen thus had the lowest rate of bilingual education. Moreover, education in Tibetan was close to nonexistent in the prefecture.
Qinghai
Qinghai has six Tibetan-designated prefectures, which we visited during 1999: Tsonub (Haixi) Mongolian and Tibetan Autonomous Prefecture, Tsochang TAP, Tsolho TAP, Malho TAP, Golok TAP, and Jyekundo TAP. Six of the seven prefectures in Qinghai are Tibetan autonomous, covering approximately 97 percent of the province. In comparison, Tibetan-designated areas cover only 44 percent of the total area of Sichuan, and even less in Gansu and Yunnan. Qinghai thus has the largest Tibetan-designated area of the four provinces in this study as well as the largest share of Tibetans in the population.80 We also found that of the four provinces, Qinghai had the highest rate of students in bilingual schools. However, due to major variations among the different prefectures, it is difficult to evaluate the conditions for bilingual education and teaching in Tibetan in Qinghai as a whole. In particular, we found significant differences in the availability of bilingual education in prefectures where Tibetans are in the minority as compared to those where Tibetans are a registered majority.
Table 3.2 compares the relative size of the Tibetan population in each prefecture with the availability of bilingual education, based on information from local interviews.81 The table suggests that the percentage of students in bilingual schools rises with an increase in the percentage of Tibetans in the population. It is important to keep in mind, however, that this kind of quantitative presentation of the availability of bilingual schooling says nothing about the quality of the schools.
As shown in table 3.2, four prefectures in Qinghai have registered Tibetan majorities: Tsolho, Malho, Golok, and Jyekundo. Tibetans in these prefectures composed between 58.5 percent and 96.5 percent of the total population, according to the 1990 national census. In these prefectures, the government reported rates that suggest at least 90 percent of Tibetan students attended bilingual schools. In two prefectures, Golok and Jyekundo, the percentage of students in bilingual schools was actually reported to be higher than the percentage of Tibetans in the population. In the other two prefectures, Malho and Tsolho, the reported share of students in bilingual schools was 90–97 percent of the Tibetans in the registered population. It appears that in these four prefectures, a very large percentage of Tibetan children attending school had the opportunity to learn Tibetan.
However, in the two prefectures with the smallest share of Tibetans, Tsonub and Tsochang, bilingual education was available only to an estimated 36 percent and 57 percent, respectively, of Tibetan students. We found a similar situation in Bayen County in Haidong, which is not designated as Tibetan but has about the same percentage of Tibetans in the registered population as does Tsochang (20.2 percent). Bayen reported a slightly higher percentage of students attending bilingual schools (10.3 percent) compared to Tsochang (7.3 percent). It is also worth noting that areas within Tsonub and Tsochang where Tibetans compose a particularly small share of the population did not appear to have bilingual Chinese-Tibetan schools at all.82
SOURCES: 1990 census and local interviews conducted in 1999.
Education conducted in Tibetan appeared to be less comprehensively developed in Qinghai than in Tibetan areas of neighboring Sichuan and Gansu. As far as we know, the system of parallel classes taught in Chinese and Tibetan that has been implemented in Sichuan and Gansu is not used in Qinghai, and some parts of Qinghai do not teach in Tibetan at all. Furthermore, in most areas, we found that Tibetan was used as the language of instruction only in primary schools, whereas the great majority of bilingual middle schools were taught in Chinese. At the middle school level and above, Tibetan was usually just an extra subject in minzu schools.
With the exception of Golok, it is difficult to find middle schools that teach in Tibetan in Qinghai. Primary school pupils who have been taught in Tibetan therefore experience a shift in the language of instruction if they continue to middle school. Furthermore, we found that higher-level education in Tibetan was limited to teacher training and Tibetan medicine. Although it is difficult to know the effects of this situation, there is evidence that Tibetan children fail to complete primary school more frequently than do Han children. In addition, statistics from both Jyekundo and Golok confirm that Tibetan students tend to continue to junior and senior middle school less frequently than do non-Tibetan students.
Tsochang. The Tsochang TAP Education Department reported that most Tsochang schools used Chinese as the language of instruction, while minzuschools used Chinese and Tibetan or Chinese and Mongolian.83 A school was defined as a minzu school if more than 65 percent of the students were from minority minzu. We were informed that at the time of our visit, every village had a primary school, every district had a boarding school, every county had a minzu middle school, and the prefecture had a minzu teachers training school, a minzu vocational school, and a medical school with a Tibetan medicine department.84 By 1999, the prefecture had 257 primary and middle schools with 35,462 students.85 According to the prefecture government, Tsochang had altogether 23 bilingual primary schools and 3 bilingual middle schools (10 percent of the schools).86 Of these schools, 3 taught in Chinese and Mongolian and 20 in Chinese and Tibetan. The total number of students in bilingual schools (including Chinese-Mongolian schools) was 2,575 (7.3 percent of the students), of which 2,346 were in primary school and 229 in middle school.87
Tsonub: The education department of Tsonub Mongolian and Tibetan Prefecture reported a total of 159 primary schools with 36,236 pupils and 50 middle schools with 16,435 students at the time of our visit. Tsonub's 43 bilingual primary schools, both Chinese-Mongolian and Chinese-Tibetan, had 4,348 pupils. Of these, 1,736 were in Chinese-Mongolian schools and 2,612 were in Chinese-Tibetan schools (7 percent of primary school students). Tsonub had 5 bilingual middle schools with 1,192 students. These included 4 Chinese-Mongolian schools, with 838 students, and 1 Chinese-Tibetan school, with 354 students (2 percent of middle school students).88 Tsonub's registered Tibetan population was 10 percent of the total according to the 1990 census, which indicates that roughly 72 percent of Tibetan primary school students attended a bilingual school in the prefecture. The equivalent figure for middle school would be 22 percent. Most of the bilingual schools in Tsonub were classified as minority minzu schools.89 Within Tsonub, only Themchen (Tianjun) County had a Tibetan majority (nearly 80 percent, per the 1990 census). In all other counties and districts, Tibetans composed less than 20 percent of the population. Themchen County also had 13 of the 18 minzu primary schools that were described as bilingual (Tibetan-Chinese) and the only Tibetan-Chinese bilingual minzu middle school in the prefecture. When we visited Themchen, the education department confirmed that the county had 13 primary schools, which all used Tibetan language for instruction and were described as minority minzu schools, and 1 "standard" (Ch: putong) primary school, which was located in the county seat. Officials also informed us that there were 2 middle schools in the county: a standard middle school and a minzu middle school where Tibetan was taught although the language of instruction was Chinese.90
Tsolho. The education department in Tsolho TAP informed us that the prefecture had a total of 446 schools with 54,704 students.91 Of these, 283 schools (63.4 percent) were described as bilingual and had a total of 28,802 students (52.6 percent). Officials explained that the prefecture leader provides guidelines for the use of Tibetan language in the prefecture. We were told that since 1996, all minority minzu students have been able to learn Tibetan, based on guidelines issued by the former prefecture leader. It was uncertain, however, whether the new prefecture leader, appointed in 1999, would continue this policy.92 The prefecture education department further reported that in minzu schools, all subjects in the first two years of primary school were taught in Tibetan. From the third grade onward, classes were taught in Chinese. The minzu middle schools were said to be the same as standard middle schools except for the addition of Tibetan-language classes.
Malho. Bilingual schools also appeared to be available to most Tibetan students in Malho TAP. According to the prefecture education department, Malho had 221 schools in 1999: 205 primary schools (110 of them bilingual), 14 middle schools (8 bilingual), and 2 mid-level vocational schools (both bilingual).93 These schools had a total of 25,583 students,94 whereas the bilingual schools had 15,318 students (61.6 percent of primary and middle school students in the prefecture). The education department was unable to provide precise information on the language of instruction in bilingual schools but stated that in primary schools, education was "mostly Tibetan," whereas in middle schools it was "mostly Chinese."
Golok. According to our information, middle schools that teach in Tibetan were regularly available only in Golok TAP, where every county was reported to have one Tibetan middle school with Tibetan as the language of instruction and one Chinese minzu middle school with classes in Tibetan language available. In addition, the prefecture had one standard middle school where Tibetan was not on the curriculum. The Golok TAP Education Department further reported that there were 89 schools in the prefecture in 1999: 13 middle schools95 and 74 primary schools with a total of 8,728 primary school pupils. Of the primary schools, 43 were "village district" (Ch: xiang) boarding schools and 31 were "village" (Ch: cun) schools. Although all the primary schools were officially classified as bilingual, the district-level schools used Chinese as the language of instruction, while the village-level schools taught in Tibetan. We were told that village-level schools generally used Tibetan as the language of instruction at least for the first three or four years of primary school.
Jyekundo. At the time of our visit to Jyekundo TAP, the prefecture had 142 schools: 129 primary schools, 10 middle schools, 2 vocational schools, and 1 province-level college.96 According to the Jyekundo Prefecture Education Department, all the schools were minzu schools and all schools in the prefecture were bilingual. The medium of instruction was said to be Chinese, although Tibetan-language classes were taught in Tibetan. According to this information, it appears that Jyekundo TAP is actually not using Tibetan as the language of instruction at the primary school level, which makes it an exception among other Tibetan areas of Qinghai.97 The total number of primary school pupils in the prefecture was 19,224, of which 18,560 were Tibetan (96.5 percent). The total number of middle school students was 4,118, of which 3,278 were Tibetan (79.6 percent). Jyekundo's registered population was 96 percent Tibetan according to the 1990 census, which makes the information that all schools were using Chinese as the language of instruction even more difficult to believe.
TEACHERS AND TEACHER TRAINING
A shortage of qualified teachers is a common problem in Tibetan areas. In Kandze County, we visited one of the prefecture's five "first-rate" primary schools and were surprised to discover that only two teachers had a senior middle school background. One, a Mongolian, taught physical education, and the other, a Tibetan, taught Tibetan language.98 The other teachers were even less educated. From two different county-level education departments in Golok TAP, we received detailed information about the educational background of teachers in the two counties. In Matö County, 60 of 103 teachers had graduated from junior middle school and taken an additional teaching course, 12 had completed senior middle school, 27 were educated as teachers, and 4 had completed only junior middle school. In Darlak County, 78 of 103 teachers had completed junior middle school, while only 18 were educated as teachers and 7 had other educational backgrounds. The last category was not defined.
In addition to a lack of professional teachers among the teaching staff, even those educated at the prefecture's teachers training school may not be well qualified. All graduates of such schools must take a national standard test in order to obtain their teaching certificates. According to the staff of the Guoluo Minzu Teachers Training School (Ch: Guoluo Minzu Shifan Xuexiao), the graduates achieved extremely low scores on this test. The average score was reportedly 0 percent, which meant that the new teachers were qualified to teach in Golok only. The average results by subject were math, 0 percent; Chinese, 6 percent; and Tibetan, 68 percent.99 Like many other minzu teachers training schools, the school in Golok offered a preparatory year during which students could improve their junior middle school qualifications, including their Chinese-language skills. The students had to pass an entrance exam. We were informed that passing scores were different for different types of students. The average minimum was 300, but the children of cadres could enter with slightly lower scores, and the children of herders could enter with a score as low as 188.100
In almost all the areas we visited, educators and officials in the education departments remarked on the need to raise the educational level of teachers, and departments in some areas had formulated specific plans for this purpose. The education department in Kandze TAP, for example, had established the goal that by 2005, all primary school teachers below the age of forty-five should have completed twelve years of school or the equivalent of senior middle school in order to teach.101 English is becoming a popular subject even in primary and middle schools, and in Tsolho TAP, the Gepa Sumdo (Tongde) County government supported a project, initiated in 1997, in which English teachers from Australia and the United States were invited to teach English to local teachers. We were told that, beginning in autumn 1999, all primary schools in the county were to teach English from the fourth grade onward.102
Tsochang is another prefecture that has made significant efforts to promote the education of teachers. One of the high-profile projects undertaken in 1999 was the construction of new buildings for the Haibei Minzu Teachers Training School. The impressive new buildings covered 5,800 square meters, including a conference hall of 1,100 square meters, the largest in the prefecture. The school was described locally as the "best prefecture-level minzu teachers training school in Qinghai." We were told that ¥8,000,000 (US$980,000) from the central government and ¥3,000,000 (US$370,000) from the prefecture government were being spent on the construction of buildings alone. The prefecture was spending an additional ¥2,800,000 (US$345,000) on equipment, including ¥200,000 (US$25,000) on forty computers. We were given a tour of the still unfinished classrooms and science labs, a linguistics lab, computer and music rehearsal rooms, a 230–chair lecture hall, a dance practice room, and a TV studio for broadcast classes. According to the headmaster, the school's classes would be taught in both Chinese and Tibetan.103
As in Tsochang, some teachers training schools offer parallel courses taught in Tibetan and Chinese. This provides an opportunity for students from the Tibetan track to continue their education in Tibetan and eventually become teachers at schools that teach in Tibetan. However, relatively few of the students in teachers training schools appeared to be receiving their training in Tibetan. For instance, at Ma'erkang Minzu Teachers Training School, one of two teachers training schools in Ngaba Prefecture, we were told that of a total of 644 students, only 118 were taking the Tibetan track. The school had three departments—Tibetan, Chinese, and athletics—and instruction in Tibetan was provided only in the Tibetan track of the Tibetan department.
In some cases, a particular effort has been made to train more teachers for bilingual schools. In the Tibetan school in Dartsedo, one of the few Tibetan-language vocational schools in Sichuan, a special class has been established to improve the language skills of Tibetan teachers, especially teachers from Tibetan areas outside of Kandze and Ngaba. In Qinghai, the province-level teachers college established an adult education department aimed at primary and middle school teachers from herding areas in the TAR, Gansu, Sichuan, and Qinghai. At the time of our visit, this department had more than 300 students and was offering three-year courses in Tibetan, physics, math, and chemistry, all taught in Tibetan. The Nationlities Department of the Qinghai Province Teachers College was also teaching natural science subjects such as math, geography, physics, and chemistry in Tibetan to ordinary students, the future teachers of bilingual schools in Qinghai. This was one of the few colleges that taught courses in the natural sciences in Tibetan.
The teaching of Tibetan was completely discontinued during the Cultural Revolution, which has resulted in a serious shortage of teachers trained to teach Tibetan in bilingual schools. Several of the young Tibetan students with whom we talked explained that teachers are perceived by Tibetans as highly valuable and that much of their motivation for becoming teachers was to keep the Tibetan written language alive. Their ambition was to teach in Tibetan, and after graduation, they planned to go back to their home villages and work in the local schools. These young students were well aware of the desperate need for qualified teachers. We also encountered a large number of enthusiastic teachers in Tibetan areas who told us that they were willing to accept low salaries in order to help preserve the Tibetan language and culture and saw it as their duty to teach in Tibetan.
CONTEMPORARY CHALLENGES FOR BILINGUAL EDUCATION
During the 1980s, the Chinese state adopted a number of policies allowing for bilingual education, which made it possible for many Tibetan children to learn to read and write their own language. Since the mid-1990s, however, the development of bilingual education has met with growing difficulties. When it is necessary to choose between a standard Chinese system and a bilingual method of education, the standard Chinese system is increasingly favored. There are simply not enough funds to provide extra teachers and subsidize more expensive textbooks.
Balancing the teaching of Chinese and Tibetan as subjects and as languages of instruction in bilingual schools represents another major challenge. During the 1980s and 1990s, a number of trial projects were carried out to test the benefits of teaching in Tibetan in schools for Tibetans.104 These projects generally received glowing reports, and as a result many educators acknowledged that Tibetan students are better off being taught in their native language, at least during their first years of schooling. In many Tibetan areas, however, primary school classes may be taught in Tibetan but middle school classes are taught in Chinese. Since most high-level education is offered in Chinese only, Tibetan students in these areas must learn Chinese if they want to continue their education beyond primary school. The inevitable shift from Tibetan to Chinese as the language of instruction creates difficulties for Tibetan students that Chinese-speaking students do not experience. Nor is it easy for Tibetan students in bilingual schools to master two very different languages, using two different scripts. Although Tibetan students usually know how to speak Tibetan, in bilingual schools they also learn written Tibetan, which often varies greatly from their native spoken dialect.105
Schools that instruct in Tibetan are located mainly in rural areas with no Chinese inhabitants. Teaching in Tibetan under such conditions is not necessarily an explicit educational strategy but may be a consequence of local teachers' lack of competence with Chinese, insufficient resources, and a general inattention to education. Although Chinese is one of the main subjects in the Chinese primary school curriculum, Tibetan children in many of the point schools in Tibetan areas may not be able to learn Chinese at all. When this is the case, Tibetan children are seriously disadvantaged and will in most cases be unable to continue to middle school. The unavailability of middle schools that teach in Tibetan thus represents a serious barrier for Tibetan students and causes many to end their education upon completing primary school.
The introduction of bilingual schools with parallel classes has remedied many of the problems faced by Tibetan students and represents an evident improvement. The two-track system has enabled many Tibetan students to learn both Chinese and Tibetan and to choose which should be their main language. Yet, despite the obvious advantages of this system, there are also difficulties. A major disadvantage for Tibetan-track students is the limited range of higher-level courses available in Tibetan. Apart from Tibetan medicine, which is taught in all Tibetan autonomous areas in mid- or higherlevel schools, courses taught in Tibetan are mainly in the subjects of the arts, mathematics, and language training for teachers in bilingual schools.106 In comparison, a wide range of courses is available in Chinese, including such subjects as natural science, economics, law, and business management. Forestry, engineering, and agricultural and veterinary studies, for example, are taught in Chinese only.
Not only are Tibetan-track classes limited in number but the number of students admitted to these courses has been decreasing, indicating that higher-level education is available to fewer students in the Tibetan track.107 Educators in Kanlho, for instance, described the situation for teaching in Tibetan as increasingly difficult. Decreased admission quotas for Tibetan-track students at colleges and universities mean that fewer of these students are able to continue their education after senior middle school.
Another problem is that choosing Tibetan as a second language precludes Tibetan-track students from taking English classes where these have been available. English is becoming more important for university studies and in tourism and is also critical for contact with foreign countries. Entrance exams for universities demand a basic knowledge of English. While many middle schools that use Chinese as the language of instruction now include the English language in their curriculum, the Tibetan-track students often must choose between Tibetan- and English-language classes. Although we were told that the entrance exams took this into account, the lack of English skills will affect career opportunities for graduates from the Tibetan track.
Formerly, under the "job assignment system" (Ch: fenpei zhidu), middle school graduates were assured a stable income and social security benefits in a "work unit" (Ch: danwei) that provided for their basic needs. In 1998, new regulations ended this system, leaving graduates from middle schools and colleges to compete on the open market. During our visit to Sichuan in 2000, we were told that immediately after this system ended, dropout rates increased in schools at all levels in the Tibetan areas of Sichuan. Tibetan students and parents were forced to reconsider their choice of education, including the choice of language, as an investment in future employment. Many realized that in an open job market, employment opportunities for Tibetan-track graduates are especially limited. Tibetans compete with Han for jobs, and desirable jobs often require a good command of the Chinese language. At the same time, there is much less need for people qualified in Tibetan. We interviewed an education expert in Kandze TAP, who said, "There is a limit to how many Tibetan translators are needed."
During our fieldwork, we found that the importance of learning Chinese was emphasized even in bilingual schools, where the use of Tibetan was regarded as a means by which Tibetan students could eventually gain an adequate command of Chinese. There was also a tendency to increase the use of Chinese in primary and middle schools, since fluency in Chinese was thought to increase students' chances of passing the entrance exams for middle school or institutions of higher learning. For instance, in Derge County, Kandze TAP, we visited a boarding school where all classes were taught in Tibetan. In an interview, the head of the school informed us that, starting in fall 2000, math would be taught in Chinese because increased instruction in Chinese would better prepare pupils for middle school. This view acknowledges the fact that Tibetan students must use the Chinese language to compete with Han students in most higher-level studies.
According to a report by local education specialists in Tibetan areas of Sichuan, bilingual education fails to fulfill "the needs of the people" in both nomadic and agricultural areas.108 Furthermore, the report notes that the teaching of science lags far behind instruction in the arts and humanities in minority education. It describes the quality of education in Tibetan areas of Sichuan as poor. Among the reasons given are a backward economy, a remote and difficult environment, limited resources, incompetent educational management, poorly qualified teachers, and inappropriate teaching methods. The report concludes that minzu education in Tibetan areas of Sichuan is also inadequate to meet the needs of society. A large number of graduate-level students cannot pass their final exams. For instance, in the junior middle school final exams in 1994, less than 20 percent of students in Kandze passed in the subject of Tibetan language, whereas about 45 percent passed in the subject of Chinese.109
A number of Chinese and Tibetan educational experts have openly expressed their views on bilingual education, recognizing that language training is one of the main problems in minority education.110 Their speeches and writings reflect a grave concern among Tibetan educators about the future role of the Tibetan language, in schools as well as in society at large. They note that an alarming number of Tibetans are incapable of reading and even speaking their own language.
Economic reforms, including those related to the funding of education, have weakened the role of Tibetan-language education. Since the beginning of market reforms in the 1980s, knowledge of Chinese has become increasingly necessary for people in minority areas, both for doing business and for obtaining government employment. The end of the job assignment system made market forces even more important. Even where Tibetans have a choice among standard Chinese education, schools that teach in Chinese with Tibetan classes, and education in Tibetan, many are now opting for standard Chinese schools or the Chinese track in minzu schools because they feel that a good knowledge of Chinese is more than ever necessary for finding a job. Some even contend that Tibetan is becoming a useless language. However, in many areas there is clearly a demand for more schools that use Tibetan as the language of instruction, and in some cases this option has been available only at private schools sponsored by monasteries or NGOs. The lack of funding has obviously been an important factor, but the politicization of the language issue may also have made local educators and officials reluctant to demand more teaching in Tibetan in public schools lest they be accused of local nationalism.
Education is taking on greater importance for Tibetans who wish to participate in the economic development of their region and avoid being marginalized in decision-making processes. In order to play a part in these processes, however, Tibetans currently have no choice but to become fluent in the Chinese language, study subjects taught only in Chinese within the standard Chinese educational system, and finally to work through the institutions of the Chinese state. For those who choose this path, the challenges are considerable and leave them few opportunities to learn to read and write Tibetan. Quite a few educated Tibetans resent this situation.
There seems to be little if any disagreement that the Tibetan language constitutes a vital aspect of Tibetan culture and that the survival of written Tibetan is important for cultural survival. But opinions begin to diverge when it comes to practical measures to ensure the preservation of the Tibetan language and how to combine this attempt with the equally important effort to provide opportunities for Tibetans in a social setting in which Chinese is evidently the most important language. Some tend to see the promotion of the Tibetan language and culture through the educational system as their main priority, whereas others argue that a strong emphasis on the Tibetan language at the expense of other subjects serves only to diminish opportunities for Tibetans to take part in the development of their communities.