4 / In Search of Tibetan Culture
When Chinese leaders give themselves credit for developing Tibetan culture, they are often referring to advances in publishing and broadcasting in Tibetan. A Chinese white paper of July 2000 characteristically describes not only government spending on education and "cultural relics" (Ch: wenwu),1 including monasteries, but also the development of mass media such as broadcasting, cinema, and newspapers and artistic production within modern literature, painting, and performing arts. In addition, the publication describes the further development of Tibetan medicine, museums, archives, and archaeological surveys and the celebration of traditional Tibetan festivals, concluding that both traditional and modern aspects of Tibetan culture are being encouraged and supported: "While developing and promoting its traditional culture, Tibet is also developing modern scientific and technological education and news dissemination at an unprecedented rate. It deserves careful reflection that, although Tibetan culture is developing continuously, the Dalai Lama clique is clamoring all over the world that Tibetan culture has become extinct, and, on this pretext, is whipping up anti-China opinions with the backing of international antagonist forces."2
In order to counter these claims of the Dalai Lama "clique," the white paper redefines Tibetan culture to include modern cultural expressions. In so doing, it confronts the very notion of Tibetan culture as an essentially Buddhist culture, which is how Tibetan culture has been represented in some of the publications produced by Tibetan exiles and Western nongovernmental organizations (NGOs). This is a clear example of a struggle to define Tibetan culture, with political implications that involve not only what Tibetan culture is but, even more important, what it should be.
In this chapter, we examine primarily the modern Tibetan culture promoted by Chinese authorities within numerous institutional settings. Publishing and mass media are prominent in communicating this cultural production, which includes contemporary art forms such as literature, theater, photography, and painting. We also discuss the use of the Tibetan language in local governance and daily life, look into the role of "culture departments" (Ch: wenhuaju) in promoting institutionalized cultural expressions, and examine the reinstatement of popular festivals within new political contexts.
LANGUAGE AND LITERATURE
During the early 1950s, Chinese Communist Party (CCP) policy was to use Tibetan as the main language in areas inhabited by Tibetans. In eastern Tibetan areas, the first government meeting about the use of Tibetan language took place in 1952.3 The authorities concluded that Tibetan should be used as the main language at all levels of government within the region, but reports and propaganda materials should be printed in both Chinese and Tibetan. Han cadres were to learn spoken and written Tibetan, Tibetan cadres should learn Chinese, and those who were able to learn quickly would receive prizes.4 At the national level and in several provinces, "minzu publishing houses" (Ch: minzu chubanshe) started to publish literature in minority languages, including Tibetan.
The Tibetan exile historian Tsering Shakya, who has researched the development of Tibetan literature since the 1950s, writes that the first stage of the CCP colonizing project in Tibetan areas during the 1950s was directed primarily at establishing an apparatus for governance.5 As far as language was concerned, translating Communist terminology into Tibetan and creating a new Communist lexicon were of paramount importance. At this stage, Tibetan intellectuals were recruited as patriotic personages to form, in Tsering Shakya's words, "a class of mediators between the past and the present." Literate monks represented one such useful elite for the new rulers.6
The skills of the old elite were needed in the first years of the People's Republic of China, but when the Democratic Reforms campaign was introduced, the old elite came under attack, and efforts to support use of the Tibetan language more or less ended. During the worst years of oppression, there was not much in the way of publishing in Tibetan or institutionalized cultural activities in Tibetan areas other than song and dance troupes praising Mao Zedong. With the onset of the Cultural Revolution in 1966, Tibetan-language publishing consisted of CCP propaganda materials and translations of news reports from Chinese newspapers. The Tibetan language was no longer taught in schools. All Tibetans who were educated during this period were taught in Chinese only, and a generation of Tibetan cadres is unable to read or write their own language.
Not until the Third Plenary Session of the Eleventh Party Congress in 1978 did authorities revise their policies toward ethnic minorities and begin to support the resurrection of minority languages. Around 1980, Chinese authorities began reintroducing the use of minority languages in the government of autonomous areas and sponsoring research and publications on ancient books, folk literature, art, Tibetan medicine, and astronomy. Modern Tibetan novels are being published, although they often are written in Chinese by Tibetan authors and then translated into Tibetan. Painters cooperatives have been established, and Tibetan opera is again being performed at arts festivals. Much of this cultural production is also available to a wider audience through radio and television broadcasting.
Radio broadcasts began in Tibetan areas in the 1950s, and today most local stations in these areas broadcast regularly in Tibetan, offering news and educational and cultural programs, mainly traditional music. Since the early 1980s, television's popularity has grown, and Tibetan-language programs are now transmitted to most areas of the Tibetan Plateau. Outside the Tibet Autonomous Region (TAR), Qinghai TV Station's Tibetan Department, established in 1984, is one of the main producers of Tibetan-language programming. Qinghai TV channels currently broadcast programs in Tibetan to most Tibetan areas and began satellite transmission in 1997. The staff of the Tibetan Department numbered forty-five persons in 1999. It has one department for news and another for features and other programs.7 We were told that in 1994, the station broadcast in Tibetan for fifteen minutes daily—ten minutes of news and five minutes of cultural programming. By 1999, the broadcast was one hour per day. According to Tibetan viewers, the feature programs presented mostly Tibetan traditional music, dance, and costumes.8 Programs produced in Qinghai are broadcast in the Amdo dialect, and although they are available in areas of Sichuan, we were told in Sichuan that Tibetans there, who speak the Kham dialect, often ignored the programs because of language problems. However, one Tibetan from Mili (Muli) Tibetan Autonomous County (TAC) in Sichuan said that he always watched the Qinghai channel because it confirmed his Tibetanness.9 This Tibetan even claimed that minorities in general liked to watch minority programs and that doing this made them feel closer to one another than to the Han.
A large number of feature films have been subtitled or dubbed into Tibetan. For instance, the Qinghai Province Film Translation and Production Factory has translated films into Tibetan since 1975.10 Most films are dubbed in the Amdo dialect, but some are also dubbed in Kham. Several prefectures and counties in Qinghai have local branch offices that subtitle or dub films into local dialects of Tibetan and other languages, such as Mongolian and Tu.11
According to a Chinese government white paper, by the year 2000 the TAR People's Publishing House had published more than 6,600 titles with a total distribution in excess of 78.9 million copies, of which 80 percent were in Tibetan.12 The Tibet Academy of Social Sciences in Lhasa established the Ancient Book Publishing House, which has recruited a number of specialists, while other institutions published various kinds of dictionaries, reference books, and monographs.13 The collection, research, editing, and publication of the Gesar epic, still popular among storytellers, was listed as a key scientific research project in the sixth, seventh, and eighth five-year plans of the Chinese state.14 Tibetan Buddhist literature, including the complete Tengyur (T: bstan 'gyur) and many works on Buddhist philosophy, has been collated, edited, and published as have a number of classic works on history and geography such as Red Annals (T: deb ther dmar po), Blue Annals (T: deb ther sngon po), A Feast for Wise Men (T: mkhas pa'i dga' ston), and Grand Exegesis of the World (T: 'dzam gling rgyas bshad). Works on Tibetan medicine include The Four-Volume Medical Codes (T: rgyud bzhi) and Blue Lapis Lazuli (T: ba' idurya sngon po). Tibetan lunar calendars are published every year by the TAR Tibetan Hospital in Lhasa and were sold in many of the areas we visited.
Most books in China contain a preface written by the author, editor, or other approved person. In a book that deals with anything Tibetan, this preface very often includes a passage about the positive economic and cultural developments in Tibetan areas over the last fifty years, references to Deng Xiaoping's theories, derogatory remarks about the old feudal Tibetan society, or dogmatic explanations of the historical connections between Tibet and China. Not surprisingly, critics have questioned the freedom of expression of Tibetan artists and cultural workers.15
TIBETAN NEWSPAPERS AND MAGAZINES
Freedom of expression has also been a major concern in the dissemination of news via broadcasts and printed media. The Tibetan government-in-exile claims that "the majority of publications from Tibet disdain the Tibetan people's perspective on their own history and culture; some of them openly ridicule Tibetan history, culture, and traditional wisdom."16 The commentary further accuses Chinese mass media of being a tool for spreading Communist Chinese propaganda while China erects a wall to hold back the flow of news from the outside world. In yet another attempt to define what Tibetan culture should be, the exile government claims that neither publishing nor the news media in China further the cause of Tibetan culture. Before discussing the content of Tibetan-language newspapers and journals, let us first look into their availability.
A number of newspapers and periodicals are published in the Tibetan areas within and outside the TAR. In addition to those published in the TAR, Qinghai, Gansu, and Sichuan all have their own Tibetan-language newspapers. Qinghai publishes Qinghai Tibetan News (Tso ngön Böke Sargyur),17 and Gansu and Sichuan publish newspapers that include Kanlho News (Kanlho Sargyur) and Ngaba News (Ngaba Sargyur).18 We were also told about a Tibetan edition of a newspaper published in Kandze (Ganzi) TAP but were unable to find a copy during our visit. Qinghai in particular has a good selection of periodicals in Tibetan, such as Qinghai Education (Tso ngön Lobso),19 Climb (Tsernyeg),20 and Life of the Party (Tanggi Tsowa).21 There are also Tibetan editions of Qinghai Judicial News (Tso ngön trimlu Sargyur)22 and Qinghai Science and Technology News (Tso ngön Tsenrig dang Trulche Sargyur)23 and even a children's newspaper, Snowland Youth (Gangjonggyi Chonu).24
In addition, a number of literary magazines are available in Tibetan. Those published outside the TAR include Light Rain (Drangchar)25 and Qinghai Folk Arts and Literature (Tso ngön Mangtso Gyutsal),26 both published in Qinghai, and Moonlight (Daser),27 published in Kanlho (Gannan) TAP. Light Rain, which publishes poetry and literary fiction, was established in 1981 and is one of the first magazines of its kind. The Qinghai provincial government provided subsidies, and the Trace Foundation contributed financial support and computer equipment. The magazine is currently distributed to subscribers in seventeen countries and is said to be the most popular magazine in Tibetan areas. It had a circulation of 8,000 in 1999.
Khampa Culture (Kangba Wenhua) is a Chinese-language magazine published in Dartsedo (Kangding), in Kandze TAP. In 2000, it had a circulation of 1,000 and was issued two to four times a year. The magazine is fully sponsored by the Kandze Prefecture Culture Department and is distributed mainly on an exchange basis with relevant offices and research institutes.28 The purpose of the magazine, according to an interview with one of the Han editors, is to maintain interest in Tibetan studies and increase local knowledge of Tibetan culture. The topics covered are, as he expressed it, art, literature, Buddhism, monasteries, and opinions and discussions about the Kham area and contemporary society.
The publications described above are available mainly by subscription. Although subscription costs have increased due to rising paper and postage prices, a number of readers have access to these newspapers and periodicals at work. Those who do not may find them at public libraries, which have been established in most prefecture seats and a few county seats. Larger bookstores in locations like Xining, the capital of Qinghai, sometimes stock a small selection of Tibetan periodicals, and Tibetan-language books are available in prefecture and county bookstores. All prefecture seats have a Xinhua Bookstore (Ch: Xinhua Shudian), and most of these sell books in Tibetan on subjects such as Tibetan Buddhism, religious philosophy, Tibetan medicine, literature, language, grammar, folk stories, Tibetan art, and biographies of famous lamas.29
All Tibetan-language newspapers are mouthpieces of the CCP at the prefectural or provincial level. This means that the news and opinions presented to readers are carefully selected according to the current policies of the CCP. There are no independent newspapers free to publish unbiased information and criticize the policies of the CCP. News broadcasts on radio and television are also censored by the authorities, and news in Tibetan is usually translated from earlier broadcasts in Chinese.
In fact, almost all news in Tibetan, broadcast and printed, is translated from Chinese. A substantial amount of published Tibetan-language literature, particularly in the natural and social sciences, is also translated from Chinese. Except in Buddhist studies, very little published literature has been translated from Tibetan to Chinese. Government reports and documents in Tibetan are mostly translations from Chinese, since their purpose is to ensure that government regulations are understood by all local officials involved in their implementation.
Literary and cultural magazines make up the clear majority of Tibetan-language periodicals. As far as we know, the only exception, currently published outside the TAR, is Qinghai Tibetan Science and Technology News, which was established in 1984 by the Qinghai Province Science and Technology Association. It is a four-page weekly and covers topics of interest to farmers and herders. It is likewise very difficult to find books in Tibetan on natural sciences, although there is a wide selection of Tibetan-language publications on Tibetan medicine, Tibetan literature and linguistics, biographies, Tibetan painting, and folk stories.
MODERN TIBETAN LITERATURE
Fiction has been a popular genre among Tibetan readers since the early 1980s. Authorities encouraged this literary style as a means of conveying political messages to the public. The genre deserves attention for its role in facilitating new interest in the use of the Tibetan language and generating public debate on the current challenges confronting Tibetans. Literary journals are the most important venue for contemporary fiction. Tsering Shakya has analyzed the content of much modern Tibetan literature, paying particular attention to the ideological role of contemporary Tibetan literary production.30 He views the emergence of new literature in Tibetan in light of the Chinese civilizing mission in Tibet. Chinese leaders have conceived of Tibet as a territory that is culturally as well as economically, socially, and technologically backward. Therefore, the emancipation of the serfs of Tibet meant not only socioeconomic improvements and technological development but also cultural empowerment. Language and literature thus became the main focus of colonial exchange.31
The TAR Writers Association started the first Tibetan-language literary journal, Tibetan Literature and Art (T: Bod kyi rtsom rig sgyu rtsal), in 1980.32 The first issue contained four short stories by Tibetan writers. As noted by Tsering Shakya, all four stories were translations from the original Chinese and had been published several years earlier in Chinese journals and reprinted in textbooks. Moreover, the theme of these stories was the dark period of feudal exploitation before the liberation of Tibet by the People's Liberation Army.33 Nevertheless, the first issue of Tibetan Literature and Art was important because it set a standard for the first generation of Tibetan writers educated in China. In the early period, Tibetan literary journals were dominated by stories about the evils of the old Tibetan society. After 1985, it became permissible to expose the crimes of the Gang of Four and praise the Four Modernizations, which led to the publication of a number of stories about the tragedies and sufferings of the people during the Cultural Revolution.34
Tashi Dawa (b. 1959), one of the most prominent Tibetan writers today, was the editor of Tibetan Literature and Art for several years. In 1992, he became vice-chairman of the TAR Writers Association.35 Despite this, Tashi Dawa writes in Chinese only. Although his father was a Tibetan cadre, Tashi Dawa spent most of his childhood with his Chinese mother in metropolitan Chongqing, then part of Sichuan. His literary career began when his story "Reticence" appeared in an early issue of Tibetan Literature and Art. Works by Tashi Dawa have been translated into both English and French.36
The most influential literary journal in Tibetan, Light Rain, is published outside the TAR, in Qinghai. A number of stories that appeared first in this journal were later reprinted in Tibetan-language textbooks. One of Light Rain's most notable contributions is its emphasis on stories originally written in Tibetan rather than translated from Chinese. There is a strong literary tradition in the Amdo region, and it is worth mentioning that some of the most outstanding Tibetan writers have been Amdowas, including the founder of modern Tibetan literature, Dhondrup Gyal (1953–1985), and the first prominent critic of Tibetan society during the Republican period, Gedun Chöphel (1905–1951). The writings of these two authors also figure prominently among the modern texts chosen for the Five Provinces series of Tibetan-language textbooks for junior middle schools. According to Janet Upton's study on education in Tibetan in Ngaba (Aba) Tibetan and Qiang Autonomous Prefecture, the biting style and critical reflections that characterize the writings of these two authors are being held up as models for a new type of Tibetan literary production.37 However, it is hardly a coincidence that they were also among the strongest advocates of modernism and delivered some of the most radical literary attacks on Tibetan traditionalism in recent history.
Literary production in Tibetan is supported and encouraged by the authorities for the role it plays in political education. Tibetan fiction writers have no opportunity to publish works that openly criticize the authorities or deal with issues that are too far removed from what are considered appropriate themes for the education of the masses. However, one of the characteristics of fiction is its ability to convey multiple meanings and allow many different interpretations. Tsering Shakya suggests that, despite evident Party control and restrictions on freedom of expression, Tibetan writers, intellectuals, and artists have been able through fiction to conduct an autonomous debate on the nature of Tibetan identity.38
TIBETAN LANGUAGE IN DAILY LIFE
While it is not difficult to find reading materials in Tibetan, the need or opportunity to use written Tibetan in daily life is limited. There has been debate among Tibetan educators and intellectuals about the viability of Tibetan as a language, and many contend that Tibetan is becoming a "useless" (Ch: wuyong) language. Some have argued that knowledge of written Tibetan is becoming unnecessary, while fluency in Chinese is increasingly important for dealing with modern life. According to one Tibetan education specialist in Sichuan, the documents, notes, and certificates in every government department are in Chinese. The post office requires that letters be addressed in Chinese, operator-assisted telephone calls must be placed in Chinese, and the instructions for all types of electrical appliances are in Chinese. Learning Chinese is therefore essential, but the ability to read Tibetan is of little practical value in daily life. In some areas, particularly where Tibetans constitute a small minority, even spoken Tibetan has fallen into disuse. Exposure to the Chinese language in daily life has caused many Tibetans to abandon their native language completely.
Loan words from Chinese are also entering the Tibetan language, especially words for modern appliances and technology and political and administrative terminology. In addition, many Tibetans mix Tibetan and Chinese terms when speaking Tibetan. This mixed language can be heard not only in towns and markets but even in monasteries. For example, at one of the larger monasteries in Qinghai, we were surprised when the monk we interviewed, who had attended the Buddhist college in Beijing, used Chinese terms in speaking of the "Buddhist college" (Ch: foxueyuan), "Buddhist ceremony" (Ch: fahui), and "tantra" (Ch: mizong), although the interview was conducted in Tibetan.
Many Tibetans have recognized the need to counter the trend toward sinicization and language loss by modernizing the Tibetan language, creating a standardized terminology for science and technology, and coining Tibetan terms for a range of new products and techniques. This work has already been initiated, and a system of approving new terminology has been established under governmental supervision. Tibetan has also become a computerized language. Word processing in Tibetan has been available since the early 1990s, and Tibetan software was being developed in the late 1990s. During our fieldwork, we noticed that even some monasteries were making use of Tibetan fonts. For instance, Drango Monastery (Ch: Shouling Si)39 in Drango (Luhuo) County had access to computers with such fonts, and every image in the side chapels bore a printed label in both Tibetan and Chinese. A local Tibetan cadre told us that the county government did not have computers with Tibetan fonts, implying that this monastery was better equipped.
TIBETAN LANGUAGE IN LOCAL GOVERNANCE
China's Law on Regional Autonomy of Ethnic Minorities (1984) stipulates that ethnic minorities have the right to develop and use their local spoken and written languages. This principle is also recognized in the 1982 revision of China's constitution. In particular, policy statements from Chinese authorities recognized the importance of using minority languages in local government documents and providing public information in minority languages. Despite well-intended policies, implementation has been a different matter. When resources are limited, the use of Tibetan in public affairs is not considered a top priority for local officials. In fact, the use of Tibetan language in local administration is being neglected in most Tibetan areas outside the TAR, especially in areas where Tibetans constitute a minority of the population. Very few Han cadres and officials know Tibetan. Since most government offices have Han officials among the office staff, it is difficult to use Tibetan in administrative work. It is also necessary for Tibetan cadres to use Chinese for communicating with their superiors in higher-level departments. Tibetan can be used to communicate only with other Tibetans in the local community. Socioeconomic and political conditions in Tibetan areas thus create a situation in which written and spoken Tibetan are increasingly becoming obsolete.
In Dechen (Diqing) TAP, for instance, with the exception of bilingual signs, Chinese is clearly the language of administration. During our visit, we were unable to find Tibetan-language newspapers or official documents of any kind in Tibetan. A survey conducted in the 1980s concludes that in Kanlho TAP, Chinese language was used in major sectors of society.40 Tibetan was used by herding and farming families, in monasteries, and in local commercial relations, but communication between ethnic groups was conducted in Chinese. The same report reveals that in Pari (Tianzhu) TAC, also in Gansu, Chinese was used extensively except within the monastic community, the Tibetan hospital, and minzu primary schools. Written Chinese was used in all county government reports, except those related to religion.41
In Qinghai, in addition to Chinese, written Tibetan and Mongolian are in ordinary use, and Muslims, such as Salar and Hui, use written Arabic for religious purposes only. After Chinese, Tibetan is the most commonly spoken language in the province, where the registered Tibetan population is 20 percent of the total population according to the 1990 census.42 In farming and herding regions in several of the Tibetan Autonomous Prefectures, few Tibetans understand Chinese. This is the case in areas such as Jyekundo (Yushu), Golok (Guoluo), and most of Malho (Huangnan), which were nearly all Tibetan before 1950 and where, according to the 1990 census, Tibetans still constitute a majority (96.5 percent, 88 percent, and 63 percent respectively). Han who arrived in these areas after 1950 are involved mainly in government administration, industry, and services located primarily in towns and along highways. This is also where the influence of the Chinese language is more obvious. We also observed, however, that a considerable number of Hui, who are Chinese-speaking Muslims, had opened restaurants along the main roads in Qinghai and appeared to have picked up some Tibetan language for business purposes.
In Golok and Jyekundo, Tibetan is still used by all Tibetans, including government officials. Generally speaking, village district and county administrations use Tibetan more than do prefectural administrations. Public meetings often are conducted in both Tibetan and Chinese, although some officials may use Chinese only. For example, when the provincial vice-governor delivered the opening speech at the horse race festival in Jyekundo in July 1999, he spoke exclusively in Chinese. Even though he is a Tibetan from Jyekundo and was speaking to a Tibetan audience at a Tibetan cultural event, he spoke in Chinese without translation. His only words of Tibetan were tashi delek, or "good luck," with which he ended his speech. Some of the locals who attended the ceremony reported that very few people in the audience were able to understand the vice-governor's speech.
In Tibetan-majority prefectures such as Golok and Jyekundo, Tibetan is used even in the prefectural administration. However, Chinese is the main language of administration in prefectures where Tibetans are less of a majority or in the minority, such as Malho, Tsolho (Hainan), Tsonub (Haixi), and Tsochang (Haibei). The predominance of Chinese became very clear during our visit, in meetings at which both Tibetan and Han officials were present. All meetings with government officials were conducted in Chinese as long as Han officials were present and sometimes even when only Tibetan officials were there. Even second-generation Han in several of these prefectures were unable to understand Tibetan. In the late 1980s, according to a study published in 1994, 95 percent of the herders in Tsochang had no understanding of Chinese, and the situation appeared to be unchanged ten years later.43 Still, high-level meetings in this prefecture were conducted in Chinese, except those of the religious affairs department, which were reportedly bilingual.
Many Tibetan areas currently have a translation office, which is mainly responsible for translating government documents between Tibetan and Chinese, providing bilingual signs and stamps for government offices, standardizing translations for the names of government offices, and interpreting into Tibetan during meetings if a participant does not understand Chinese well. Although local governments have used translators since the 1950s, new translation offices were established as recently as the 1990s in some prefectures. In Tsochang TAP, for instance, a translation office was established in 1996 with a staff of five.44 The office reported that by the end of 1998, 85 percent of government offices in the prefecture had bilingual signs and office stamps. We were also informed that government documents, especially those concerning farmers and herders, were written in both Tibetan and Chinese.45
Several translation offices have edited and printed old Tibetan texts as well as folk literature.46 The translation unit in Malho TAP, established in 1981, has a department that edits old books and manuscripts and another that translates government documents.47 The Tsolho TAP translation office translated and edited local Tibetan publications and conducted research on local culture, concentrating on folk literature and folk songs but including topics such as local cuisine. Translation units initially were set up to ensure that CCP policies, laws, and regulations were enforced even in areas where nobody knew Chinese. It now appears, however, that several of these units actively promote the use of Tibetan language in local governance, and some are even creating new interest for local cultural traditions.
INSTITUTIONALIZED CULTURAL EXPRESSIONS
At the end of the Cultural Revolution, institutionalized culture resurfaced in a new political context. Nevertheless, government-sponsored work units still employ the majority of artists and cultural workers in China. These cultural workers are organized as members of artists associations set up by the authorities and receive their training primarily in state-run schools or within their work units. This is also true of many producers of Tibetan arts and crafts, such as performers of Tibetan opera, song and dance troupes, modern painters, and even some painters of thanka and murals. The song and dance troupes are funded by local government at the county and prefecture level. They perform and compete at cultural festivals, athletic events, and celebrations. Prefecture and county government units such as the cultural relics departments are active in organizing these events and are also involved in a number of other public cultural activities.
Each prefecture seat has a "prefecture cultural house" (Ch: zhou wenhuaguan) or "people's arts palace" (Ch: renmin yishu gong). These sometimes house exhibits and organize cultural activities such as dance classes, art classes, and musical performances. Culture departments are also responsible for administering the local branch of the Xinhua Bookstore and libraries and occasionally publish literature on topics related to local cultural life.48
Culture departments sponsor popular culture not only for the local population but also for tourism, which is becoming an important part of the economy. For instance, in 1998, officials in Dechen TAP developed a five-point plan that listed as one of its top priorities the rescue of Tibetan culture, which was recognized as worthy of investment because of tourism. The culture department was key in implementing the plan. During interviews, we were told repeatedly that cultural resources were still underdeveloped and that the culture department intended to help promote handicrafts and folk arts, such as carving, pottery, drawing, and silverware. The officials explained that a survey of traditional handicrafts had already been conducted in 1997–98 in all minority areas of Yunnan, including Dechen TAP. According to the Center for U.S.-China Arts Exchange, the center's team of advisers designed the survey in collaboration with the Yunnan Folk Arts Center. The survey was conducted in 120 counties in Yunnan by 2,000 cultural cadres trained to use prevailing international research methodologies in combination with their own knowledge of specific minzu and villages.49 Based on this survey, Chinese authorities recognized a number of artists and craftsmen as national treasures.
Thanka
Painting
For many, Tibetan art has become synonymous with thanka painting, and in the Tibetan areas we visited, we found several places where painted and embroidered thanka are still being created by local artists. The two most famous areas are Rebkong (Tongren) in Malho TAP, in Qinghai, and Kandze TAP, in Sichuan. In both these areas, the prefecture culture departments have been actively engaged in promoting thanka painting.
In Malho, the culture department manages an art gallery and institute that support the revival of the art. The Rebkong area is famous for its painted and embroidered thanka, statues, murals, architectural design, and sculpture in wood, clay, and stone. At the Rebkong Art Gallery, we were informed that four village districts, all in Rebkong County, have been centers of art production since the early fifteenth century.50 One of the thanka painters at the Rebkong Art Institute explained that the craft used to be passed down from father to son but today the painters learn from teachers rather than within their families. The art institute was started in 1978, after the thanka painting tradition had suffered a twenty-year interruption (including the ten years of the Cultural Revolution). Most of the old thanka painters passed away during the Cultural Revolution, or escaped abroad, but there were still four famous artists in the area who served as teachers when the art institute was established. Together with many other students from the four village districts, this painter spent years learning from one of these artists. According to his estimate, as of 1999, there were about 1,000 painters in the four districts.51
At the time of our visit, the Rebkong Art Gallery was exhibiting several old and new thanka paintings and a few small statues. Despite the systematic destruction of all types of religious objects during the Cultural Revolution, some old thanka paintings had been preserved. A few were displayed in the art gallery, but the gallery staff reported that the oldest thanka paintings had been given back to the monasteries. Despite efforts to revive the painting tradition in Rebkong, the staff of the art gallery informed us that the quality of painting was not as high as it had been before the Cultural Revolution.
Dartsedo, the Kandze Prefecture seat, has become an important center for cultural activity in the Tibetan areas of Sichuan. The culture department established the Thanka Research Institute (Ch: Zanghua Yanjiuyuan) in 1986–87 and also finances its work. When we visited the institute, it had three employees. The newly arrived Tibetan office leader was an established painter himself and had received his training from an old master. In 1985–86, he worked directly under the tenth Panchen Lama. He designed the emblem of the Tibet Development Fund and the main door of the Buddhist college in Beijing. He also produced a number of paintings and scrolls for restored monasteries.52
We were told that Kandze TAP is the only Tibetan area that has such a project. The main tasks of the institute is to register artists of traditional Tibetan paintings, both secular folk art and sacred paintings, and to inform the public about their work. The institute's researchers travel extensively within Kandze, collecting sample artworks and interviewing artists. In their opinion, Derge County has the highest concentration of folk artists and the highest artistic level of traditional painting in the prefecture. Painting is still taught in the traditional way, by master to students, but at present it can also be studied at the "Tibetan school" (Ch: Zangwen xuexiao) in Dartsedo, the only known school with a department that concentrates on Tibetan art traditions. This school is administered by the provincial Ethnic Affairs Commission and thus recruits students from all of Sichuan. Its art department teaches thanka painting, Tibetan interior decoration, furniture decoration, and textile painting. All teachers are graduates of the school.
The first large-scale exhibition of thanka paintings, featuring sixty of the contemporary thanka registered by the institute, was organized in the spring of 2000. The exhibition revealed great interest among the general public and was visited by a large number of both locals and non-residents. Some Tibetan viewers were said to have prostrated themselves in front of the sacred thanka. The leader of the institute informed us that the idea behind the exhibition was to display the exceptional level of artistic talent within the prefecture. Local Han artists who had studied the thanka painting tradition had made a few of the paintings in this exhibition.
Kandze and Malho TAPs are not the only places where thanka painting has been revived. Labrang Monastery in Kanlho TAP is a center for cultural activity in Tibetan areas of Gansu. During our visit, we observed the work of one local artist who had studied painting during his youth, before the Cultural Revolution. In addition to thanka paintings, this artist had also created a number of murals for local monasteries.
Both Kumbum Monastery and Labrang Monastery regularly practice gyegu during important religious festivals. We were able to witness one such event at Kumbum Monastery, which has several giant thanka that are displayed for different occasions.
Cultural Sites and State-Sponsored Museums
Culture departments are responsible for the management of "key historical and cultural sites under state protection" (Ch: zhongdian wenwu baohu danwei). The government is obligated to provide financial support for preserving and maintaining such sites. Support could come from any level of government—national, provincial, prefectural, or county. For instance, Labrang Monastery in Sangchu (Xiahe) County, Kanlho TAP, is a national-level cultural site, and Sangchu County also supports several other sites.53
Culture departments are also in charge of museums. In 1999, we visited the Hainan Prefecture Museum, in Tsolho TAP, which is a history, folk, and relics museum. At that time, we interviewed its leader, a researcher and archaeologist who often worked in the excavation grounds. The exhibitions mainly displayed artifacts from archaeological excavations, but the museum had been closed for a long time. Most of the archaeological materials were said to be from pre-Han cultures along the Yellow River. The leader of the museum told us that the museum contained no "Tibetan" objects, although we were informed that 333 tombs from the "Qiang culture" were excavated in 1994.54
The Zhongdian Museum in Gyelthang is another historical and cultural museum. It opened in 1997 and contains eight large halls. Exhibits cover the history, development, natural resources, religions, folk costumes, flora and fauna, prehistory, and ancient history of the area. During our visit, the museum was featuring photographs of natural landscapes in Dechen and from the fashion show at the Khampa Arts Festival. Several other institutions also promoted the idea of Khampa culture. The Chinese-language Khampa Culture magazine is published in Dartsedo. We were also told about a museum in Dartsedo that was exhibiting "Kham material culture," but it was not open during our visit in spring 2000.
Kunming and Chengdu both have minzu museums that exhibit costumes collected during the 1950s along with cultural objects such as jewelry, musical instruments, utensils, tools, and other traditional objects made and used by the different minority ethnic groups. One museum in Chengdu is located on two floors of the Southwest Nationalities Institute administration building. The upper floor, which opened in 1991, resembles the prayer hall of a temple and contains a replica of a Tibetan Buddhist altar. The carved altar-piece was made in Sichuan in the 1930s. The room has elaborate woodcarvings, and on the walls are rare antique thanka paintings. We were told that it took three years to construct this floor and cost ¥60,000 (US$7,600) in 1991. About 1,000–2,000 guests visit the museum every year. Admission is ¥1 (US$0.12) for students, ¥2 (US$0.25) for others, and free for official guests. We were told that approximately half the visitors are university students.
Minzu
Song and Dance Troupes
Almost every Tibetan autonomous prefecture and county has its own "minzu song and dance troupe" (Ch: minzu gewutuan), which performs at local festivals.55 Some troupes also tour nationally and internationally, and in areas where tourism is a growing business, folk songs, folk dances, and music have been singled out as cultural products for tourist consumption. In a meeting with the culture department in Tsochang TAP, we were told that the members of the prefecture's song and dance troupe had been trained at the Army Art University, where the prefecture had sent thirty young students in the early 1990s. These students became the main members of the group, which in 1999 consisted of fourteen performers. The officials complained that the best dancers and singers left the prefecture and joined ensembles in large cities such as Guangdong and Shanghai. Since good artists were few, the prefecture planned to sponsor another twenty students who were to be trained in Beijing in Tibetan opera, or namthar, as it is called in the Amdo region. Members of government song and dance troupes in this area evidently need to go to Beijing to learn Tibetan opera.
The song and dance troupes also give theatrical performances. In Machen (Maqin) County, Golok TAP, we saw an evening performance commemorating the forty-fifth anniversary of the establishment of the prefecture in 1954. Two performers narrated in both Chinese and Tibetan. Most songs were in Chinese, but the theatrical sections were performed in Tibetan, without translation. This part of the show was very popular with the mostly Tibetan audience, which participated actively in the performance, shouting, laughing, and singing loudly. Interestingly, tickets for the show were distributed through government units and were not for sale to the general public.
Horse Race Festivals
The "horse race festival" (Ch: saimahui) is a popular event in all the Tibetan areas. In Golok TAP, the government sponsored a horse race festival for the first time in 1998. We attended the second festival in 1999, which coincided with the forty-fifth anniversary of the founding of the prefecture. Local song and dance troupes from different counties performed at the festival grounds during the one-week celebration, and fashion shows were held. Festival participants dressed in traditional Tibetan costume, or chuba, rather than in modern Western-influenced outfits. Traveling traders gathered to sell inexpensive consumer goods. Government officials and local entrepreneurs closed their offices for one week and worked out of tents at the festival grounds; we conducted several of our interviews with prefecture officials in such tents. Socializing is an important aspect of the celebrations, with participants consuming large quantities of food and alcohol in one another's tents.
Jyekundo TAP also has an annual horse race festival. It was organized in 1981 to commemorate the thirtieth anniversary of the founding of the prefecture. The festival was held occasionally throughout the 1980s, and since the fortieth anniversary of the prefecture in 1991, it has been held regularly during one week in late July. Tibetans from the entire prefecture gather at a site on the grasslands near Jyekundo Town to be entertained with competitions between county song and dance troupes, Gesar storytelling, horse and yak races, games, and other contests. At the festival we visited, the yak races were a favorite event and received the most attention from the crowd.56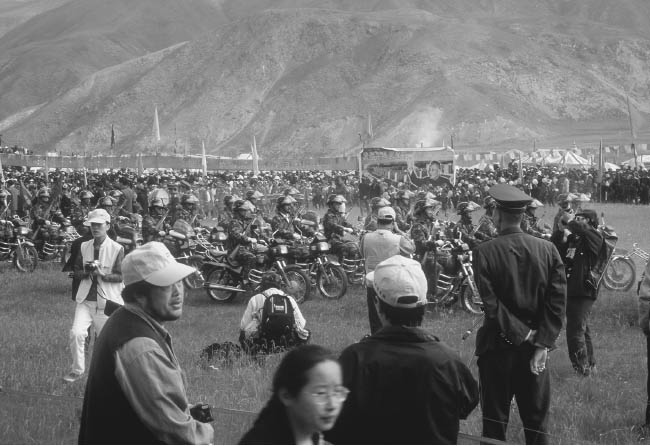 A display of "trades" (Ch: hangye) was a prominent feature at several of the festivals we attended. For instance, twenty-five work units and organizations—including schools, military and security forces divisions, banks, various government departments, the Women's Federation, and, surprisingly, two monasteries—were represented in the parade at the opening ceremony of the Jyekundo horse race festival. The monasteries had also prepared their sacred relics for exhibition in the city.57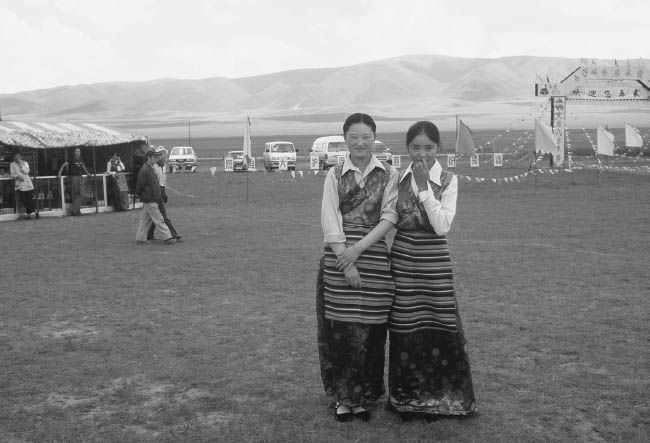 Government departments sponsored the popular Khampa and Neighboring Regions Arts Festival. In 1997, the fourth Khampa festival was held in Dechen TAP. The event takes place every four years in different parts of the Kham region, and the festival in Dechen included fashion shows and horse racing. From the photos displayed in the local museum, we could see that the fashion show featured grossly exaggerated forms of traditional Tibetan costumes. We were told that some of the costumes were so heavy that the models had difficulty walking. The old jewelry worn by the models was collected from many families, since no single family could have owned such a large collection.
Most of the participants at the festivals we attended were dressed in chuba, some of which were lined with the fur of endangered animals such as leopard and otter. Children were likewise dressed in expensive and elaborate chuba, matching their parents. In towns, a chuba is worn only for special occasions, and Western-style clothes are worn for everyday life.58 The price of a chuba depends largely on the fur lining and the quality of cloth. The most expensive might cost at least ¥10,000 (US$1,270), equivalent to the annual income of a government worker.
As we have seen, there is a wealth of evidence to support the claim that Tibetan culture is being developed in China today. However, what kind of Tibetan culture is being developed? Most Tibetan cultural expressions clearly are organized within a political setting in which popular culture is used to advance the political goals of the authorities. The horse race festivals are a typical example. These popular folk festivals retain many aspects of local traditions that have been reinterpreted within the current political setting. The combination of horse racing, folk culture, and commemorations of what is referred to as the "peaceful liberation" of these areas is striking. It appears that local officials are appropriating popular culture in order to disseminate the political propaganda of the CCP. Or could it be the other way around? Could it be that some local cadres are actually using political rhetoric as an excuse for promoting popular cultural expressions? One could at least argue that many local participants at these events are not only enjoying themselves but also making a conscious effort to revive Tibetan culture.
In the Reform era, government policy has allowed for the open expression of many traditional rituals and customs, but as Richard Madsen points out, "Many members of the indigenous communities have forgotten such customs and the younger generation never had a chance to learn them. So as they revive certain community rituals and customs, they are not so much carrying on tradition as inventing tradition. They are selectively taking partially remembered elements of the past and recombining them in new ways to meet the needs of the present."59 The Tibetan situation is no exception. What we observed in the Tibetan areas we visited may well be interpreted as a self-conscious reinvention of Tibetan culture.
The persecution of Tibetan culture during the Cultural Revolution left a void that the Chinese government has been attempting to fill in a politically controlled manner. The state thus actively promotes the revitalization of Tibetan and other minority cultures and at the same time tries to regulate cultural expressions and define what culture is and should be. This is done primarily through the establishment of cultural institutions that both stimulate cultural activities and guide cultural workers to comply with CCP ideas on the social role of cultural expressions. Yet, it is difficult, if not impossible, for the authorities to control every aspect of even the most institutionalized expressions of Tibetan culture. A case in point is the ability of contemporary Tibetan writers to convey multiple meanings and conduct an autonomous debate on Tibetan identity through literature.