5 / Culture As a Way of Life
Religion and literary heritage have played a vital role in the formation of Tibetan identity, both within and outside of Tibet. However, a new vision of Tibetanness has been emerging in the People's Republic of China. This is a vision of authentic Tibetan culture as the culture of the grasslands.1 Life on the grasslands is being eulogized in songs and paintings, poems and karaoke videos, glossy magazines and promotional tourist materials. This image of the grasslands is one of nomads and their herds roaming a beautiful landscape of snow-capped peaks and green pastures, blue skies, and crystal-clear waters. It is an image of Tibet that attracts increasing numbers of tourists from the crowded urban centers of eastern and southern China. Moreover, this image also appeals to many urban Tibetans, giving them a sense of identity not simply as members of a backward and superstitious nationality dominated by religion but as a people of the high plateau who have their roots in the very landscape of Tibet. This grasslands Tibet is precisely where they can find the greatest contrasts to life in the Chinese city.
Tibetan exiles have similarly identified the preservation of the grasslands and other environmental issues as important for the survival of Tibetan culture. In a number of statements, the Tibetan government-in-exile has held Chinese in-migration responsible for eroding Tibetan culture. For instance, in response to a Chinese white paper on Tibetan culture, the Tibetan exile government argued that China's Develop the Western Region campaign aims to exploit Tibet's natural resources and escalate the migration of Chinese settlers to Tibet, which poses a new and greater threat of extinction to Tibet's unique culture and national identity.2 Similar concerns are voiced in a recent report on environmental and development issues from the Central Tibetan Administration, the bureaucratic arm of the Tibetan government-in-exile: "Beijing is only interested in grabbing Tibet's natural resources for its own advantage and, in the process, is destroying an ancient lifestyle and culture through environmental degradation and population transfer of Chinese settlers."3
Not surprisingly, the Chinese authorities regard the campaign as entirely positive for the development of Tibetan culture. The following statement is a typical example of Chinese government rhetoric:
At present, as mankind has marched into the new millennium, economic globalization and informationization [sic] in social life are developing rapidly, increasingly changing people's material and cultural lives. With the deepening development of China's reform and opening-up and the modernization drive, especially the practice of the strategy of large-scale development of the western region, Tibet is striding toward modernization and going global with a completely new shape, and new and still greater development will certainly be achieved in Tibetan culture in this process.4
These and a number of other similar statements give the unfortunate impression that neither party has given careful thought to the issues. In their rhetoric at least, both the Chinese government and the Tibetan government-in-exile tend to ignore the very real dilemmas of finding sustainable and culturally appropriate paths to development in the Tibetan areas. This chapter takes the concerns raised by Tibetan exiles as its point of departure and examines the effects of changing settlement patterns and environmental degradation on the viability of traditional lifestyles and means of subsistence in the areas under study.
CHANGING SETTLEMENT PATTERNS
We have seen in the preceding chapters that demographic patterns influence the availability of bilingual schooling in Tibetan areas and that Tibetan language seems to become increasingly obsolete in areas where Tibetans no longer constitute a majority of the population. Changing settlement patterns also have negative consequences for Tibetans in terms of access to cultivable land, pasturage, water, and forest resources. Since the great majority of Tibetans still are farmers and herders (some 85–90 percent according to most estimates), these factors are crucial for the viability of their current lifestyles. Let us therefore take a closer look at some of the demographic changes that have taken place in the areas under study since the early 1950s.
Since the earliest years of the People's Republic of China, political strategy has been to move excess population to frontier areas and extract natural resources from these same "underdeveloped" areas. During the 1950s, the government urged people to move to the frontier areas, among them Qinghai, to help "build socialism" in the minority regions. This policy was first implemented in 1956, with the launching of the xiafang (rustication) campaign. One of the aims of this campaign was to transfer millions of people from the overpopulated areas of eastern China to frontier areas in the north and west. By resettling Han in minority regions, the campaign also sought to facilitate the integration of ethnic minorities and strengthen China's borders against invasion.5 In the course of the first two years of the campaign, some 600,000 settlers were sent to Qinghai, Gansu, Ningxia, Xinjiang, and Inner Mongolia.6 At least 40,000 were sent to Qinghai during 1956 alone.7 Many of the rusticated youth managed to return to their homes in the interior during the 1959–62 famines caused by the Great Leap Forward (1958), but the xiafang movement accelerated again during the socialist education campaigns of the mid-1960s.
Most of the voluntary in-migration of farmers took place in areas with the most favorable conditions for cultivation, such as the river valleys of Kham (Ch: Kangba) and eastern parts of Amdo. In addition to voluntary resettlement, Qinghai has been singled out for the establishment of large "prison labor camps" (Ch: laogai). The town of Terlenkha (Delingha) was originally a prison camp, and the Ge'ermu Prison Farm played an important role in the construction of Golmud (Ge'ermu). Between 1950 and 1990, a total of 160,000 prisoners were transferred to Qinghai from eastern China, according to internal sources.8 As a result, prisoners make up 5.2 percent of the population of Tsonub (Haixi) Mongolian and Tibetan Prefecture and as much as 18 percent of the population of Dulan County, the largest concentration of prisoners of any county in China.9
Dulan is also the move-in site for the controversial Qinghai component of the Western Poverty Reduction Project, a large-scale land reclamation project that involves the resettlement of at least 58,000 poor farmers from eastern parts of Qinghai, mainly Muslims and Han from Haidong. Initially, the World Bank was to provide funding, but Chinese authorities withdrew from the project on 7 July 2000, because of strong opposition from the bank's board of directors. This occurred after an independent inspection panel criticized the bank's managers for breaking a number of their own regulations during the planning process. The inspection panel concluded in its report that assessments made by World Bank staff failed to consider many of the most significant social and environmental impacts on ethnic minorities.10 Panel members reported that although the inspection team recorded many positive comments about the proposed project during its field visit, it also discovered some disturbing and dramatic examples of "what can only be described as a climate of fear, through which some individuals nevertheless managed, at great perceived risk, to express their opposition to this project." During our visit to Qinghai, we were approached by Tibetans who wanted to give their views on this project. We were told that, although they were afraid to express their true opinions, "no Tibetans want the World Bank project in Dulan to be implemented."
Chinese policy makers still seem to regard the Tibetan Plateau as a potential site for the resettlement of people from overpopulated regions of China. These planners apparently disregard the conditions on the Plateau, where only about 2 percent of the land is suitable for cultivation. Demographic changes have already affected patterns of land use, particularly availability of pasturage and forest resources.
LOSS OF GRAZING LAND
Beginning in the 1950s, state farms were established in some of the most fertile grazing areas on the Tibetan Plateau, initially to reclaim wilderness areas for agricultural purposes, including animal husbandry and forestry. These farms were first administered directly by the Ministry of State Farms and Land Reclamation in Beijing and employed People's Liberation Army (PLA) soldiers as workers. At present, the provincial governments manage these farms, and the Ministry of State Farms and Land Reclamation is a department of the Ministry of Agriculture. State farms are also managed by other departments within the Ministry of Agriculture as well as by the PLA and the Public Security Bureau. The Public Security Bureau uses prisoners as workers. In some Tibetan areas, such as Dzoge (Ruo'ergai) County in Ngaba (Aba) Tibetan and Qiang Autonomous Prefecture, state farms currently employ up to 8 percent of the population.11 As of 1991, state farms performed 10 percent of wool production in all of China.12
Reports indicate that more areas in Qinghai came under cultivation by prisoners in labor camps during the 1990s.13 In their study of the history of the Chinese gulag, James D. Seymour and Richard Anderson describe the economic importance of labor camps in Qinghai.14 They conclude that while the number of camps and prisoners has been decreasing since the early 1980s, and the overall market shares of laogai enterprises have been declining, production has been rising in some areas.15 Since the 1980s, the Laogai Bureau has been excluded from the most promising new industries, such as electrical power generation, oil drilling and refining, aluminum smelting, and chemical production. The bureau tried to compensate by making large investments in agriculture.16 In Tsonub, laogai still play a major role in the economy, and the prefecture's camps are described as among the most modern and productive in China.17 In 1987, the grain delivered to the prefectural grain bureau by laogai enterprises amounted to 51.3 percent of the prefecture's total.18 Among agricultural products, however, rapeseed (canola) for cooking oil has the highest market share, accounting for almost 10 percent of the province's total output in 1987. Rapeseed is becoming increasingly important, and since 1987 the policy of Qinghai's Laogai Bureau has been to emphasize rapeseed at the expense of grain. In 1995, prison farms increased the area under cultivation.19
For state farms and other enterprises engaged in large-scale rapeseed and grain cultivation, high-yield grasslands are an important asset. The widespread use of pasturelands for rapeseed cultivation can easily be observed as one travels across the Qinghai countryside, particularly around Qinghai Lake. The growing yields of rapeseed in recent years also testifies to a considerable increase in the use of grazing land for state farm cultivation. This is causing a serious shortage of pastureland for herders. Since the 1950s, new roads and transport facilities have accelerated the establishment of agricultural settlements on former grazing lands, particularly in the low-lying eastern parts of the province and the Tsaidam Basin in Tsonub. State farms, including army farms, were established on some of the grasslands best suited for cultivation. Overall in Qinghai, some 4,670 square kilometers of new agricultural land were registered between 1958 and 1989, including prime irrigated land.20
The Tibetan Plateau has about 480,000 square kilometers of land designated as "nature reserve" (Ch: ziran baohuqu), mainly in the Tibet Autonomous Region (TAR). The largest in Qinghai is the Hoh Xil Nature Reserve, which, at more than 47,740 square kilometers, covers 6.5 percent of the province. Although these areas are designated as protected, gold prospectors and poachers have encroached on some of them. In Hoh Xil Nature Reserve, an estimated 20,000 Tibetan antelope are killed annually, according to local sources, and only about 50,000 were said to remain in 1999.21 The degree of wildlife protection afforded by nature reserve status is questionable, but such a designation may in some cases further dispossess Tibetan and Mongolian herders, who may be prohibited from using these areas as pasturelands.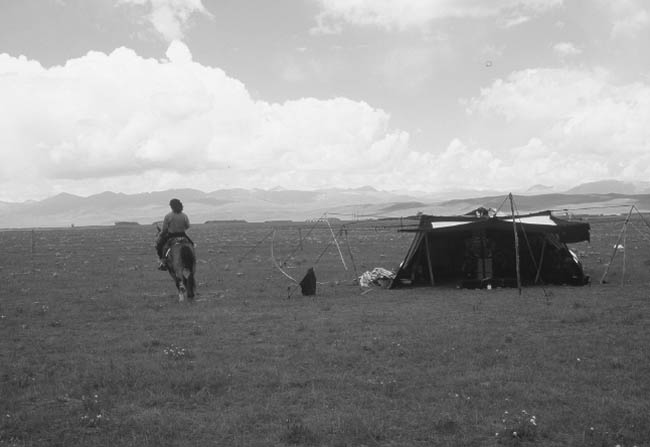 The government policy on pastoralism since the 1950s has been to locate nomadic herders in permanent settlements. Under a program with the slogan "fixed habitation and nomadic herding," the government set up veterinary stations and built schools, shelter sheds for livestock, and simple dwellings.22 This policy is actively implemented today, and several counties recently set goals for fencing grasslands and constructing housing for herders. For example, we found that Derge (Dege) County, in Kandze (Ganzi) Tibetan Autonomous Prefecture (TAP), initiated a long-term strategy during the 1980s aimed at settling the nomads in permanent dwellings by the year 2000.23 In Machu (Maqu) County, Kanlho (Gannan) TAP, the eighth Five-Year Plan (1991–95) set yearly goals for fenced acreage and new dwellings.24 In Kanlho, more than 50,000 mu of grasslands were fenced by 1992 and 450 dwellings built for the purpose of settling nomads.25 In addition, herders have been encouraged to plant fodder crops and build storage structures for hay and other winter fodder.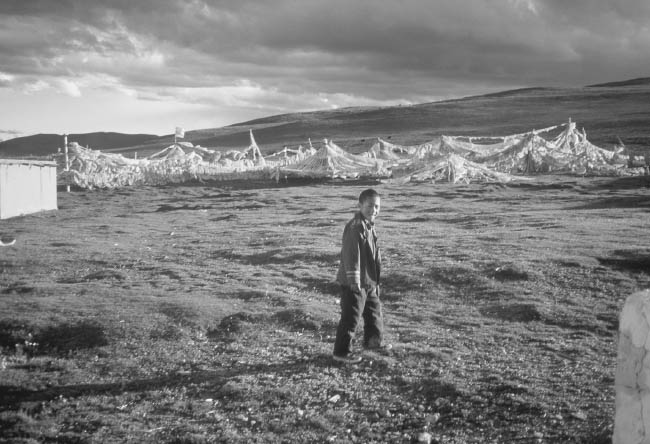 Before collectivization, pasture was communally or tribally owned, but after the onset of economic reforms in 1979, land rights were redistributed to individual families. In principle, households are assigned the right to use certain pastures, as specified in contracts with local authorities.
Since the implementation of the Household Responsibility System in 1980, overstocking has been blamed for pasture degradation and desertification. It has been argued that market forces may contribute to overstocking because herders now have the opportunity to generate cash profits from their livestock and, given increased access to consumer goods, have new incentives for maximizing the size of their herds. Some experts, however, question the actual increases in herd size and argue that the traditional grazing and management patterns that have reemerged result in the optimum and sustainable use of grazing land.26 Others claim that fencing, irrigation, and the use of hybrid seeds are inappropriate measures for raising the productivity of grasslands.27 Some researchers even claim that these policies may increase the potential for overgrazing and grassland degradation by reducing herd mobility.28 These and other policies may therefore be contributing to rangeland degradation rather than solving the problems. For instance, a report by a delegation of American experts on rangeland management suggests that pasture degradation may be caused by government attempts to manage common resources through ill-equipped centralized bureaucracies and inappropriate regulations.29
Another significant problem is the loss of grazing land due to state expropriation and encroachment by Chinese settlers. In addition to the actual loss of the land, such expropriation often obstructs migration routes between pastures and blocks access to drinking water. It is not surprising that we are now seeing evidence of popular resistance to these policies, such as the 1991 demonstrations in the Qinghai capital Xining demanding that grasslands be returned to the herders.30 Similar concerns were voiced by Tibetan cadres as well as civilians during our visit to Qinghai in 1999. Tibetan government officials told us in informal conversations that "the Chinese always destroy the grasslands."
The traditional herding practices developed by Tibetan nomads were rational responses to the resources and risks of the grasslands, and as such they have proved successful over the centuries.31 Yet herders are now prevented from participating in the formation of policies that affect them. Animal husbandry as a school subject is currently taught only in Chinese, and according to our experience, the majority of the veterinary station staff in herding areas are Han. It is evident from the way animal husbandry is taught and from the lack of Tibetan experts on pastoralism that indigenous knowledge about herding is not sufficiently put to use. On the contrary, we have the impression that the knowledge of herders is considered inferior.
LOSS OF FOREST RESOURCES
The depletion of forest resources is also a serious problem in many Tibetan areas, particularly in Kham. During fieldwork, we observed large areas where the forest cover had been completely removed and soil erosion was causing serious damage. According to Chinese officials, by 1998 Sichuan had lost almost all its forest reserves as a result of several decades of excessive logging.32 These conditions are also evident in the neighboring Tibetan areas of Gansu, Yunnan, and Qinghai. Chinese sources reported that government policies in Ngaba produced an annual timber harvest up to five times higher than natural production.33 Provincial authorities have been the driving force behind irresponsible forest practices, since forestry departments were compelled to meet their annual timber procurement quotas. In addition, this timber often had to be sold below production cost, forcing the forestry departments to cut even more in an effort to balance their losses and secure income for active and retired employees. Dictated low prices commonly made reforestation impossible.34
Timber was processed for the most part by provincial government enterprises, and very few jobs were created locally. Due to excessive logging, Tibetans have been deprived of their traditional forest resources, such as medicinal herbs. During our talks with Tibetan government officials, it became clear that some Tibetans are deeply resentful about this situation. They told us that although the forests are vanishing, locals are not benefiting economically. In one interview, an official claimed that "if we were only given the opportunity to use our forest resources ourselves, we would be the richest county in China."
Nonetheless, taxes paid by the provincial enterprises provided an important source of income for many local governments. For instance, in the 1990s, about 70 percent of Ngaba Prefecture's income came from revenues from logging managed by the Sichuan Province Forestry Department. Neighboring Kandze TAP has the second-largest forest area in China, covering about 10 percent of the prefecture.35 Before 1998, logging was the major source of income in several of the prefecture's counties. The highest forestry-based income in the prefecture could be found in Drango (Luhuo) County, where as much as 87 percent of the county income once came from forestry.
In the summer of 1998, there was serious flooding of the Yangzi River and its tributaries. Extensive clear-cutting by the timber industry was given the blame, and the central government decided to stop logging on the upper reaches of the Yangzi and Yellow Rivers in Yunnan, Sichuan, and Qinghai. Sichuan authorities subsequently issued their own ban on logging in natural forests in Ngaba and Kandze Prefectures and neighboring Liangshan Yi Autonomous Prefecture. Logging was banned by the end of 1998 in most Tibetan areas outside the Tibet Autonomous Region (TAR). Tibetan officials explained to us that the new policies were created to protect the lives of the people living downstream, not to save the remaining forests in Tibetan areas. One official commented starkly that "if those people downstream had not 'bled' [i.e., suffered from the flooding], we would not have been allowed to keep what is left of our forests." It is clear, however, that many Tibetan areas, especially in Kham, lost a vital income source with the loss of forestry revenues. These areas are currently struggling to find alternative sources of income.
Local officials in Tibetan areas of Sichuan confirmed in interviews that Chinese authorities have announced a range of reforestation schemes for affected areas. According to the Xinhua News Agency, the central government announced a massive forest-conservation project for all of China, at the cost of more than US$2.3 billion for the first phase, from 1998 to 2000.36 In Sichuan and the TAR, tens of thousands of former loggers are to be trained in tree planting. If these schemes are well planned and implemented, they could have a very positive effect on the environment in these areas. There are indications, however, that even reforestation may cause problems. For instance, the Sichuan government has announced that an area of nearly 90,000 square kilometers in western Sichuan that is now being used primarily for livestock grazing, covering approximately 38 percent of the total area of Ngaba and Kandze Prefectures, will be closed in order to facilitate reforestation projects.37 It is still not clear which areas will be off-limits for grazing, but there is a risk that many Tibetan herders in western Kandze and Ngaba will lose valuable pasture, which would constitute a serious hardship. There have been no announcements regarding possible compensation.38
INDUSTRIALIZATION AND THE POVERTY OF PLENTY
In addition to the adverse effects of deforestation and the rangeland degradation described above, industrialization is taking its toll on the environment. In the name of the Develop the Western Region policy, industrialization and the extraction of mineral and energy-based resources are currently being stepped up. What are the particular consequences of these developments for the livelihoods of local Tibetan communities, and to what extent are they providing economic benefits to Tibetans?
Recent exploration indicates that Qinghai has very large oil reserves, and the Tibetan Plateau and the Tsaidam Basin are rich in mineral resources.39 Although the western provinces of China are seen as underdeveloped regions, their resource potential is fully recognized.40 In the areas we visited, county and prefecture officials often gave us information about rapid increases in industrial output, yet the same officials told us that they cannot support themselves but must depend on support from the provincial and central governments. The main reason for this apparent contradiction is that in China, all natural resources belong to the state.
A report by two Chinese researchers, published in English in 1991, gives an unusually precise description of the current situation in the so-called undeveloped border regions of China, at least if we disregard the derogatory term "backward": "The poverty of life in the backward regions is staggering, yet even more astonishing is the wealth of natural resources to be found in the same regions. But what really gives pause for thought is what happens when the poverty-stricken inhabitants of backward regions are faced with rich resources. In a situation where gains should be proportional to effort, they get no return on their efforts."41
Neither is the environmental degradation caused by industrial development a secret to the Chinese authorities. For instance, in a symposium on the Qinghai Tibetan Plateau in Xining in 1998, researchers delivered a paper detailing the serious condition of the environment in the Tsaidam region.42 Environmental problems presented in the report include deforestation, lack of measures to prevent pollution, contamination of waterways by pollutants, and chronic leaks from oil pipelines. According to the researchers, existing laws regulating the extraction of mineral resources are not implemented.
On several occasions during our fieldwork, Tibetans expressed doubts about the Chinese development of Tibetan areas. Civilians also commented on the problems of industrial development. They reported that herders had lost their lands because of industrial construction and that pollution from industrial plants was giving local people and their livestock previously unknown diseases. We were also told that people are afraid to complain about such problems and that, in particular, talking to foreigners about these issues is done at considerable risk. We therefore suspect that environmental problems connected to resource exploitation are much more widespread than has so far been made known to the outside world.43
While logging is facing problems of resource exhaustion, hydroelectricity is a renewable resource that is gaining more and more attention and is currently regarded as a key industry for the development of the mountainous Tibetan areas. It has been estimated that more than half of China's exploitable hydroelectric potential lies within the Plateau region.44 Qinghai already has a number of large-scale dam projects, and Tibetan areas of Sichuan and Yunnan have been targeted for more. Hydroelectricity is a potential income source for local governments. However, large state-owned power stations are favored, in that county power stations are allowed to sell their surplus only after the power from state-owned stations has been fully utilized. Surplus power is then sold at a fixed price as contracted with other counties. This limits the ability of county governments to earn a stable income from hydroelectric power.45
In addition to these economic issues, there are several other local disadvantages to generating electricity with large-scale dam projects. Local communities often are displaced and fertile valley grounds flooded. Mountain rivers often carry a high sediment load, which causes sediment accumulation in reservoirs. Dams and reservoirs lead to stagnation of rivers, which in turn destroys fish stocks. By controlling flooding, dams deprive agricultural areas downstream of fertile soil. In addition, because much of Tibet is a seismically active zone, all people living downstream from dams are potentially endangered. Despite these disadvantages, local people are seldom included in the planning phase of hydroelectric projects or addressed as beneficiaries.46
The Tibetan intellectual Tsering Dundrup has argued that not only does help with development flow from the Han to the minority populations in China but a considerable contribution goes the other way, from the minorities to the Han.47 In his book, Dundrup gives an account of how minority peoples have helped China by protecting the borders and supplying natural resources to the Chinese state. The populations living in the border areas have served as an active buffer at the gate of the country. This is especially true in the case of the Tibetans. In Dundrup's opinion, this kind of support cannot be estimated in monetary terms, but he refers to statistics for Kandze TAP, where the central government in the period 1958–87 took out more than 12 million cubic meters of timber in addition to large amounts of gold and medicinal herbs. Dundrup challenges the image of the passively receiving minorities and creates a new image of actively contributing minorities.
DEVELOP THE WESTERN REGION
In March 2000, the central government announced a new plan, Develop the Western Region, which applies to the TAR and the four provinces that comprise Tibetan areas.48 Although its effects were not apparent during our visits in 1998–2000, we suspect that the campaign will be a continuation of the current practice of resource exploitation in the name of development, which has been going on since the 1950s. One new aspect of the current campaign is that multinational corporations are being invited to join in the exploitation, making the scale of operations potentially much greater and the consequences for the local environment and society much more serious. As of June 2000, more than 60 of the world's top 500 industrial enterprises had already invested in western China, including Ford Motor Company, BP Amoco, and Glaxo Holdings Ltd.49 Two out of ten key projects are located in Tibetan areas. One of these is the construction of a new pipeline from the Tsaidam Basin to Lanzhou in Gansu. The other key project is the establishment of a potash fertilizer plant that exploits the resources of the Cha'erhan Salt Lake deposit. Human rights organizations claim that pipeline construction and development of oil reserves in the Tsaidam Basin will result in the resettlement of large numbers of Han workers into traditionally nomadic areas.
As of 2002, the news media were reporting on new plans to develop the Tibetan region. One such plan was to construct a railway line between Golmud (Ge'ermu) and Lhasa. Another was for building a giant hydroelectric power station at Metok (Motuo) on the Yarlung Tsangbo River.50 With a capacity of 38 million kilowatts, this would be the world's largest power plant. In comparison, the capacity of the Three Gorges plant is 18 million kilowatts. Construction of this plant would probably require nuclear explosions to blast a tunnel through Namcha Barwa, a mountain in the Himalaya range. A series of large dams and reservoirs is also planned for the Mekong River. The potential downstream impacts are so serious that the Vietnamese government has protested. Also currently on the drawing board is a plan to divert water from the upper reaches of the Yangzi River system, mainly in Sichuan, to the northern provinces of Ningxia, Inner Mongolia, and Shanxi.51 The concurrent construction of the new gas pipeline from the Tsaidam Basin to Lanzhou will greatly facilitate the exploitation of oil and gas reserves in the Tsaidam Basin. All these large-scale development projects may have detrimental consequences for the fragile Plateau environment. In addition, Chinese authorities admit that the development plan requires the transfer of additional workers and technicians from other parts of China. The Ministry of Personnel announced in June 2000 that it was outlining preferential policies to attract professionals to the western region and planned to train thousands of senior technicians and civil servants for work in the west during the coming year.52
In several Tibetan areas, regulations are already in place to encourage outside investors to set up enterprises. For instance, in Dechen (Diqing) TAP, in Yunnan, the central, provincial, prefectural, and county governments established preferential policies, including tax concessions, priority in obtaining loans, and lenient land use fees.53 These policies are explicitly aimed at speeding up the exploitation of resources and opening up the market in areas inhabited by the Tibetan people.54 Such regulations are expected to become more and more common with the implementation of the Develop the Western Region campaign and China's entry into the World Trade Organization.
As mentioned earlier, all natural resources in China, above and below ground, belong to the state, including the land itself, which is not owned by groups or individuals but is leased or obtained by assignment. Land use regulations do not preclude reallocation of land used for farming or herding to industrial or commercial enterprises, even without the consent of those who are already using the land. Farmers and herders would then have the right to be reassigned new land or otherwise compensated; however, the amount of compensation would be decided by local authorities. According to regulations, wasteland is preferred for commercial crop cultivation, but the definition of wasteland, as opposed to grazing land, is open to interpretation. This makes herders, who are dependent on grazing rights, especially vulnerable to encroachment by commercial enterprises.
ALTERNATIVE PATHS TO DEVELOPMENT
Local communities are finding their own ways of adapting to changes in the larger society, such as by increasing their participation in the new market economy. In some areas, raw materials for the manufacture of Tibetan medicine have become important trade goods, in both the domestic and the international market. In other areas, tourism has become a promising income source.
In Tibetan areas of Sichuan and Yunnan in particular, tourism is now a major sector, especially in the more accessible areas where communications are reliable. Sungchu (Songpan) and Namphel (Nanping)55 Counties in Ngaba opened to foreign tourists as early as 1986 and have already established themselves as popular tourist destinations. The beautiful Jiuzhaigou Nature Reserve in Namphel was designated a state nature reserve in 1978, and in 1982 it became a state key scenic area. The reserve was officially opened to tourists in 1984 and by 1995 was receiving about 160,000 tourists a year, most of them Han. Tourism is also of growing importance in other parts of Ngaba. In 1999, a large skiing facility, with downhill tracks and lifts, was being planned in Tashiling (Lixian) County, targeting mainly domestic (urban Chinese) tourists.
In Kandze TAP, Chaksam (Luding) and Dartsedo (Kangding) Counties were opened for tourism as early as 1988, but the rest of the prefecture remained closed until December 1998.56 The Kandze Prefecture Tourism Department was established in 1991 and has since been involved in surveying the prefecture and selecting potential sites for tourism. A team from the Sichuan Province Tourism Department conducted research for one year in various parts of Kandze, and this work resulted in an internal tourism plan for the prefecture.57 The Kandze Tourism Plan includes a study of ecology and ecological tourism and covers the period 2000–2015. By 2015, tourism is intended to replace logging as the primary source of income for the prefecture. Tourism is booming, and between January and May 2000 alone, some 50,000 tourists visited the prefecture. The majority are Han, primarily from Sichuan's capital, Chengdu. The planners regard the natural environment, with its glaciers and hot springs, as the main attraction. However, they also see Tibetan Buddhist sites and local Tibetan (Khampa) culture as attractions, especially for tourists from outside the province. The Kandze Prefecture Tourism Department clearly wishes to promote Khampa identity and to establish Kandze as the place to experience the attractions of Kham (Kangba):
Kangba, the natural park!
Kangba, the last Pure Land!
Kangba, the happy land of rare birds and animals!
Kangba, the collection of Tibetan culture!
Kangba, the paradise of artists!
Kangba, the last homeland for human beings!
Come to Kangba, my dear friends. This is a place beyond your imagination. Here you will enjoy natural scenery. Here you will find yourself. Here you will obtain dignity of life and then you will enter into a higher realm.58
It is interesting to note that Tibetan culture is one of Kham's tourist attractions. In Tibetan areas of Yunnan, we found that Tibetan culture was promoted as a resource worthy of investment for the sake of tourism. As early as 1998, officials in the Dechen Prefecture government made the rescue of Tibetan culture a top priority. We were repeatedly told during interviews that natural scenery and culture were the two attractions for tourists in Dechen and that cultural resources were still underdeveloped.
Although tourism has significant advantages compared to resource exploitation, it is not without its problems. Western critics have pointed out the absence of religious and cultural sensibility in tourism development. Tourism not only influences the local economy but also affects religious sites. Local officials actually control the use of monasteries as tourist attractions. This entails providing access to monasteries for increasing numbers of tour groups. For instance, in Kanlho TAP, state-sponsored tourism is centered around Labrang Monastery, where the residence of the former abbot has been converted into a hotel.59 Package tours to Labrang have been available to foreign tourists since the 1980s, and during our visit there in 1999, monks were working as tour guides and selling tickets, generating revenue not only for the monastery but also for the government. Other monasteries, such as Kumbum Monastery in Qinghai, are also experiencing what some would describe as an invasion of tourists. In some monasteries, one can see signs asking tourists not to spit or smoke on the premises.
Another potential problem with tourism is the uneven distribution of profits. Many tourist services are provided by government-run hotels and travel agencies, which are managed by local tourism departments or other government agencies. Government officials also play a significant part in planning tourism development and sometimes have dual roles as administrators and entrepreneurs in private enterprises. Since they are working within the vestiges of a party-controlled, planned-economy system, their positions as officials give them a good opportunity to benefit financially from tourism. Still, at least some locals can profit from small-scale private enterprises such as renting ponies, vending, and operating private hostels and restaurants. Tourism also creates a market for handicraft and other souvenir items.
A range of cultural products is sold to tourists in the Tibetan areas, such as audio and video recordings of folk music and dances, thanka paintings, carpets, knives, jewelry, and wooden bowls. Those working in the tourism industry often dress in Tibetan costumes and may perform Tibetan music and dances. Tibetan festival tents accommodate tourists in so-called tent hotels. A variety of glossy magazines, postcards, and coffee-table books on aspects of Tibetan culture is produced for tourist consumption. A marketable and somewhat "folkloric" version of Tibetan culture is one of the main items on sale to tourists.
While the potential economic benefits for local communities are obvious, there are also several significant challenges connected to the development of tourism. One problem is that tourism may lead to disputes between local farmers and herdsmen who do not depend on tourism for their livelihood and those for whom Tibetan culture has become a commodity. For instance, in a recent study of the impact of tourism on local pilgrimage practices in Jiuzhaigou, Peng Wenbin concludes that tourism has created economic disparities among villagers and is introducing new strains and conflicts into local Tibetan communities.60
Where culture is a major attraction, there are inherent conflicts between the goal of preserving culture and the goal of promoting tourism. One of the major issues in the study of the impact of tourism on ethnic minority communities has indeed been whether tourism is a destructive force that causes the collapse of cultural meanings or is an aid to cultural survival.61 Whereas some studies are deeply critical of cultural commoditization, a number of works question the importance of tourism as an agent of change, and others emphasize that people (re)discover their own history and traditions by marketing their culture and begin to realize their own worth.62 In the case of Tibet, for instance, some of the cultural products on sale to tourists have become popular with Tibetans as well. In this sense, cultural production linked to tourism is a very important factor in the revitalization of Tibetan culture.
The rediscovery of culture through tourism may be particularly evident in situations that involve ethnic tourism, in which ethnic minorities are promoted as a major tourist attraction. In Tibetan areas, this creates a new awareness among local people of what their ethnic identity implies. As noted by Peng Wenbin, for example, Tibetan village leaders at the tourist site where he conducted fieldwork had become "keenly interested in constructing an 'authentic' image of Tibetans" and invited a dance teacher from another area to teach locals how to perform the most authentic dances in the newly opened Ethnic Culture Village. Peng concludes, "It is fair to say that with the advent of tourism, local village identity in Jiuzhaigou now has wider implications. It is being connected to areas perceived by the locals of Jiuzhaigou to be the core of Tibetan history and culture."63
As described by Mary L. Cingcade, ethnic tourism offers those involved the opportunity to represent their vision of Tibet. They do not necessarily have the same agendas, but certain representations constitute points of converging interests, such as in the production of folk culture: "Tourists get their fill of Tibetan folk culture while the Chinese government capitalizes on Tibetan folk life to boost tourism and finds an audience for its propaganda on harmonious political and ethnic relations."64
When tourists find their vision of authentic Tibet at sacred sites, this may also be an important asset for Tibetans who need funds to rebuild monasteries. Charlene E. Mackley, who has studied one such site, concludes that tourism there has created an outlet for the resurgence of traditional culture in the off-hours.65 This suggests that, regardless of whether or not Tibetans are benefiting economically from tourism, Western tourist demands for experiences of authentic Tibet have provided incentives for the restoration of sacred sites and offered Tibetans an opportunity to rearticulate Tibetan identity.
Mary Cingcade claims that the single most defining feature of the ethnic tourism agenda in Tibet is the search for Shangri-la, with Tibet seen as a peaceful, harmonious land untouched by the evils that plague developed civilizations and hence a symbol of those values that modernization has supplanted.66 The journey away from modernity is a phenomenon that may be catching on among Chinese urbanites as well as Western tourists. For instance, Louisa Schein cites the following remark made by two students of Chinese traditional painting, who had come to the Miao-minority village of Qiangdongnan to conduct research for their graduate thesis: "We chose Qiangdongnan because it is so fengfu [abundant, presumably in ethnographic novelty]. There's too much modernization in the cities! Do you know which places are really good, ones that preserve a lot of traditional customs [baoliu chuantong de dongxi]?"67
The difficulty with such a search for the premodern in Tibetan and other ethnic minority areas is that when tourism becomes the mainstay of local economies, the needs of tourists, rather than the needs of the local people, may dictate cultural preservation. This may give rise to conflicts between modernization efforts and the preservation of traditional lifestyles. When tourists demand experiences of an authentic Tibetan area unspoiled by the presence of anything modern, the needs of local people may even be forfeited. At the same time, the development of tourism may bring too-rapid modernization, causing cultural meanings to collapse by breaking down the socioeconomic ties that knit local communities together. This effect is noted by Peng Wenbin in his study on tourism in Jiuzhaigou, in which he argues that tourism can lead to an erosion of traditional values. Nevertheless, he acknowledges that tourism may "offer a space for Tibetans to reaffirm their cultural differences from the dominant group, thus reconstructing their ethnic identity."68
One established way of understanding culture is to tie it directly to the way of life of a particular group of people. In line with this view, many Tibetans believe that nomadic life on the grasslands defines the uniquely Tibetan and represents real Tibetan culture. As the Tibetan exile government and Tibet support groups have claimed, recent efforts to develop the Tibetan region may pose serious challenges to the nomadic lifestyle and other traditional means of subsistence. It is likely that recent policies intended to increase resource extraction and construct new infrastructure will cause an influx of large numbers of Han workers into Tibetan areas, which would further economically marginalize Tibetans. The environmental effects of these policies are also cause for concern. In addition, authorities are implementing plans to settle the nomadic population, fence the grasslands, and increase the output of agricultural products. One important consequence of these policies is that herders find themselves increasingly reliant on market forces.
As a means of increasing income levels and alleviating poverty in Tibetan areas, tourism represents an interesting alternative to resource exploitation. Tourism may benefit Tibetan communities economically and may also provide an important source of inspiration for those who want to revitalize Tibetan culture. Yet, the development of tourism may also aggravate economic disparities and lead to cultural commoditization. It is difficult to judge whether tourism in Tibetan areas is becoming a cause of cultural deterioration or a source of cultural revitalization. This depends not only on particular circumstances but on what is meant by "culture." It is clear, however, that tourism already has had significant effects on the understanding of Tibetan culture. These effects are becoming more evident as an increasing number of Tibetan communities find themselves in the midst of tourism development projects.