CHAPTER 3
LEAVE THE FIELDS
WITHOUT LEAVING THE COUNTRYSIDE
In February 2007, I was roaming the paths of Upper Jidao to complete a household survey in the village. By this time, I had lived there for more than five months, and I thought most everyone knew who I was, given the small size of the village. But starting in November of the previous year, the population of Upper Jidao had suddenly "boomed." Over the course of a few weeks, people began returning to the village to celebrate Miao New Year (held the middle of the tenth month of the lunar calendar). Mostly adults between the ages of eighteen and forty, they came back from manufacturing districts in Guangdong and Zhejiang in the south and east but also from as far north as Heilongjiang, bordering Russia.
While I walked around the village on this particular day, I heard voices from a house I had not yet approached. I knocked on the door and began my customary introduction, shouting, "Is anyone there? (you ren ma?)" Some children peered out over the second-floor railing, and after recognizing me, said to come upstairs; they were watching television. Once inside, I asked if the head of the household was available, and a teenager sauntered into a back room and came back with a middle-aged man whom he said was his uncle. The uncle seemed reluctant at first to talk; it was only after he realized that the children already knew me that he agreed to answer my questions. By this point in my fieldwork, the man's hesitation no longer surprised me—every year, researchers from prefectural, provincial, and national government offices came to Upper Jidao to collect data on rural livelihoods by interviewing village residents. Internationally prominent organizations such as Oxfam and (the now defunct) China Development Brief had also previously sent people to gather information about rural life in Upper Jidao. It was clear that some residents were tired of being studied.1
The man spoke slowly and carefully as I asked questions about his educational background, his opinions on tourism development, and his annual income. In his fifties, he was an example of why the well-intentioned tourism development plans for Upper Jidao simply might not work out—he was neither keen to participate in tourism nor particularly enthusiastic about the idea of having tourists in his home village. He had been working outside of Upper Jidao on and off for about fifteen years, once going as far as Xinjiang to work on a tomato farm. To get to Xinjiang, the man said, he had traveled with a group of migrant laborers through the cities of Chongqing, Chengdu, and Urumqi. Before that trip, he had worked in construction in Guangdong. Now he was working nearby in Kaili, also doing construction. The wages he earned went toward the costs of his sons' schooling—from room and board to supplies and other necessities. As we reached the end of the survey, I commented that he had traveled quite a lot. I concluded with my final question: Where might he like to go next if he had the chance to be a tourist? To this he replied, with no small degree of exasperation, "You can go anywhere as a migrant worker, but as a tourist you need money!"
In his statement lay the crux of this chapter's analysis: how travel and the idea of mobility can become valued in terms such as "freedom" and "lack." By "mobility," I am referring to both the ability to travel and to all of the attendant desires and notions of agency associated with this capacity to envision travel as a socially significant element of one's subjectivity and life experiences. What do these qualities that are so frequently attributed to mobility reveal about conditions in contemporary, modernizing rural ethnic China? This man's cogent assessment of his own travels prompted me to reconsider the consequences of mobility for tourism, development, and rural socioeconomic livelihoods. His exclamation hinted toward an approach to mobility that could capture the social, economic, and political potentialities at work and at stake in China today. By making the distinction between the mobility of migrants and tourists in terms of possibility (going anywhere) and economy (needing money), he highlighted precisely how travel and movement are integrated into emerging forms of imagination, opportunity, and modern subjectivities.
For many returned migrants in tourism villages, tourism and migration have become interlocking ways of envisioning identity and mediating their current economic and social circumstances. After all, in both Upper Jidao and Ping'an, migrant workers were returning to find their homes in the process of becoming tourist destinations for urbanites from some of the places the migrant workers had just left. In the ways that returned migrants recounted their own travels, it thus becomes possible to understand how villagers see, and one might say assert, themselves and their village in rural ethnic tourism. Moreover, from these individual stories of travel, potential, current, and former migrants were making sense of contemporary conditions. Travel was doubly positioned as a personal experience of growth and as a shared potential chance for an entire community to enter into modernization processes through tourism.
The case of tourism in rural China has much to contribute to analyzing the orders of mobility, or how different types of mobility come to be resignified in times of immense social change and the consequences of these symbolic shifts on local understandings of ethnic identity and rural livelihoods. In this chapter I draw attention to how mobility and immobility together generate the conditions of possibility for understanding economic opportunity, identity, and inequality in rural ethnic tourism villages. I do so by examining how mobility orders social relationships and how certain forms, such as tourism or migration, become valued in relation to each other. These understandings of mobility were ordered by residents in such a way as to provide the social structure within which individuals negotiated their situations and identities, even for those who did not, or could not, actually travel.
As I discovered during the winter in Upper Jidao, there were a lot of people from the village who no longer lived there on a regular basis. But in the weeks immediately prior to Miao New Year, as the village filled up with people, I wondered what kinds of stories they would tell about the city and what kinds of stories they would tell about their home. What did a familiarity with "the urban" contribute to ethnic minority people and rural places, especially when what constituted "the rural" was being re-presented and rewritten for tourism? As they spoke about their experiences elsewhere and returning to the village, their comments hinted at a developing sense of "traveler's knowledge," or a tourist's subjectivity, which could be employed and integrated with the plans for rural tourism development. How did they formulate a tourist's subjectivity toward understanding tourism development that was based, in part, on their own travel experiences? Their travels as migrants provided a mirror, albeit asymmetrical and imbalanced, for these individuals to reflect upon why and how travel as tourists could be desirable and enjoyable. In trying to promote tourism in their villages, the main question facing residents was, "What do tourists want?" What could village residents rely on to formulate an idea of what urban tourists might want from a rural village?
Memories of travel among residents of Upper Jidao of course predated the most recent phase of rural-to-urban migration. During the Great Leap Forward in the late 1950s, for example, some young men had been sent from Upper Jidao to work in factories in urban areas near Guiyang but also as far as Chongqing, then part of Sichuan. Other culturally specific patterns of travel include patrilocal marriage practices in Miao communities around Upper Jidao, in which the bride moves into the groom's family home, often in a nearby village. More recently, given increased transport links and opportunities to meet new people through school or work, the distances traveled by young women for marriage have been increasing; in Upper Jidao, I met young wives who were not ethnically Miao from other areas of Guizhou. In Ping'an, where it is common (though not universal) for a husband to join his wife's family after marriage, I encountered young men from all corners of Guangxi who had met their brides in vocational school or while working in Guilin. But, overall, the increasing distances traveled by residents of Upper Jidao and Ping'an were largely the result of labor migration—village residents had left to seek paid work and now returned with their new lives and new opportunities (made possible through their mobility) in tow.
LEAVING THE FIELDS, AND THE COUNTRYSIDE
By examining what "travel" means to village residents, it is possible to explore how domestic and global networks of labor and leisure are changing rural Chinese society and individual senses of possibility. Travel, for many villagers, was defined by its practical purpose to earn money, hence the interviewee's comment that while migrant workers may have the apparent "freedom" to travel anywhere, tourists are "limited" by the possession or lack of money. Although it would be a denial of the very real existing inequalities, structural biases, and social stratifications in China to suggest that by traveling as migrant laborers, rural people were also somehow the same as tourists, travel as migration could be, and indeed was, integrated into understandings of travel as tourism. The ability to make sense of travel was especially significant for residents of rural tourism villages, who by necessity had to contend with the mobility of tourists in order to make tourism profitable and worthwhile for themselves.
At the same time, discourses of rural "peasants" rooted in the land continued to shape policies promoting rural tourism, despite the parallel concern by the state to use tourism development as a means of social, economic, and cultural modernization. Indeed, from the perspective of tourism development, the assumption seemed to be that residents of Upper Jidao and Ping'an would simply be at home, ready and willing to participate in tourism.2 In the dominant framework of tourism, development, and Chinese modernity, urbanites were expected to want to travel, to obtain release from the pressures of city life; rural people were expected to want to stay home, to develop ways to not have to migrate as laborers. The different expectations of mobility for different groups thus make it critical to explore the orders of mobility, or how mobility comes to shape social experiences and identities, by beginning with an exploration of how migration functions in the lives of village residents. Only in this way is it possible to situate the experiences of tourism village residents within a larger landscape of travel in contemporary China.
The dramatic and massive phenomenon of internal migration in the postreform years has had enormous consequences for the country and its growth.3 Official statistics report that there were 242 million migrant workers nationwide in 2010 (Zhongguo Wang 2011). Analyzing the experiences and reasons for migration necessitates a variety of perspectives on the social, economic, and political aspects of migrant labor in order to understand the impact of migration on rural socialities and subjectivities.4 Coupled with the explosion in internal migration has been a significant increase in international migration, bolstering national discourses on the significance of Chinese diasporic communities in constructing and maintaining a contemporary Chinese identity around the world. Xin Liu (1997, 96), writing about perceptions of space and power by Chinese rural villagers and overseas scholars, outlines a structure of "social-spatial hierarchies" in China within which particular strategies of spatial meaning-making emerge. This hierarchical structuring of space/place through access to mobility characterizes everyday imaginings of social difference, and "travel and movement have reordered the power relations between different groups of people, and their identities are reworked according to the shifting images of various kind of selves and others" (ibid., 110).
Pál Nyíri (2006, 99), in assessing Xin Liu's argument, points out how the modern "Chinese subject was linked to mobility" through national discourses of being "'advanced' (xianjin), 'civilized' (wenming), 'cultured' (you wenhua), or 'high-quality' (you suzhi)," resulting in notions that "[overseas] migrants are symbolic figures because they represent the vanguard of modernity, not only by virtue of their connection to more 'advanced' nations, but also by the very fact of their mobility." Here, discourses of the "new migrant" in China, celebrated as a modern Chinese figure who successfully "makes it" overseas (Nyíri 2001, 2003, 2005a, and 2006), run parallel to the situation in villages where returned migrants are also considered to be a positive contribution to the community and its future. That international migration is so broadly celebrated while internal migration is largely presented as a problem in need of solution only further emphasizes the imbalances of mobility, particularly as a problem of socioeconomic class in China. It also mirrors, in a reversed way, the explosion of domestic tourism and the relatively more cautious approach of the Chinese government to international outbound tourism (see Arlt 2006).
These varying frameworks of mobility in postreform China illuminate how mobility can be ordered in ways that reveal particular desires, inequalities, and power relations. While overseas migrants may be perceived as vanguards of modernity, some forms of mobility are negatively assessed in development and modernization projects. In a 1983 study on rural development interventions undertaken between the governments of developing nations and international and national aid organizations and donors like the World Bank, Richard Rhoda (1983, 34–35) set out to examine the "common belief that improved conditions in rural areas will reduce rural-urban migration and consequently reduce the growth of urban poverty." Implicit in this belief is the idea that rural-to-urban migration is undesirable and potentially harmful to urban economies and living conditions. This type of mobility is seen as a social ailment in need of treatment, ideally by eliminating the mobility of rural people into urban spaces. Rhoda (ibid., 60) concludes that rural-urban migration appears inevitable, however, and that policy changes ought to focus on urban conditions rather than continuing to target rural areas as the only places in need of development.
A similar desire to keep the rural "in place" is present in the Chinese slogan "leave the fields without leaving the countryside" (li tu bu li xiang), in which there is an attempt to conceive of modernity without mobility—in other words, an immobile modernity. This linguistic sleight of hand suggests that rural people ought to move "away" from the unmodern (the fields) but simultaneously reinforces the idea that rural people are best left unmoving (not leaving the countryside). While modern development is apparently available to all, mobility and immobility are rendered absolute, paired to map neatly onto an urban-rural binary. This idea has been further reinforced for rural ethnic minority communities, where women in particular are seen as doubly bound to the land within a set of discursive practices Louisa Schein (2000, 100–31) has called "internal orientalism" (see also Gladney 1994), in which class and gender are asymmetrically structured in commonplace representations of ethnic minorities as rural women and majority Han as urban men.
The notion of travel as a social force is indeed so pertinent and so obvious that it is perhaps, as Schein (2006, 213) has argued, "a banal commonplace to note that people in China are on the move." More attention is needed to the particularities of movement—the questions of when, where, why, and what for—as well as the specific forms of travel engendered by rapid economic development at a national level and in response to China's increasing political economic links with the global marketplace. In this way, mobility must be understood as a scalar practice "in which the 'local' is positioned in relation to urban, provincial, national, and global scales" (ibid., 214). Schein discusses the experiences of Miao women who were "jumping scales" by living in Beijing as purveyors of Miao handicrafts for an urban market, by opening modern beauty salons offering urban styles in rural Miao villages, and by "marrying up" the scale from an ethnic minority village to a Han (more mainstream) location. But rather than abandoning the "lower scale" through their mobile transgressions, these women actually demonstrated an increased sense of the "local" (or ethnically Miao and gendered female) as they simultaneously courted the mainstream, male, non-Miao "Other" (ibid., 233–35). Subsequently, translocal Miao women not only moved up and out of certain political "scales," they also fostered new lateral connections between scales as they themselves embodied multiple social positions. How individuals understand social stratification, hierarchy, and change in the forms of migration and tourism is a key to conceptualizing the symbolic and social import of travel in contemporary China.
MIGRANTS AND TOURISTS
A critical approach to tourism and migration is an intervention toward breaking apart the persistent, commonplace expectation of rural communities and people as ideally immobile and, by extension, as relatively unmodern. This is a move toward unpacking how mobility is resignified in processes of modernization. As modernity and mobility are increasingly equated with one another, the converse has dominated policy perspectives on rural development. But even if rural villagers were to leave the fields without leaving the countryside, what would they draw on to formulate their new modern subjectivities?5 The emphasis on civilized behavior, high-quality individuals, and "neat and clean" villages encompassed in the campaign to build a New Socialist Countryside attempted to provide precisely these shared social and cultural meanings in addition to increasing rural incomes and economic productivity.
By addressing mobility as variously constructed through the particular "desires and emotions that drive migration and tourism" (Lindquist 2009, 150), the stories of travel told by returned migrants in Ping'an and Upper Jidao reveal how village residents learned to be touristic to better adapt their village-based tourism industries to potential visitors. To consider migrants and tourists together means attending to mobility's failures and its productive qualities, particularly in such contexts as contemporary rural China, where the socioeconomic conditions between tourists and local villagers are often quite unequal and many village residents have not (yet) had many opportunities to travel for leisure. In some cases around the world, migrant laborers have sought out work in tourism destinations, and in turn, their labor experiences in the tourism industries have engaged them in direct, face-to-face contact with tourist desires for education, relaxation, adventure, or enlightenment.6 This type of contact with tourism and tourists has the potential to change the values and meanings of migration and tourism.7 Travel becomes a practical way of finding employment by migrating and a discourse necessary to comprehend when developing tourism activities.
Whether labor or leisure, the act of travel comes to signify new conceptualizations of belonging, aspirations, and identity. For certain classes of wealthy individuals, tourism labor has become a way for them to seek employment as migrant laborers while enjoying the benefits of being in a tourist/leisure environment.8 Instances of "privileged travel and movement" (Amit 2007), perhaps best embodied by the figure of the contemporary expatriate, point to the social and class asymmetries unveiled in mobility. What is analytically important, however, is to resist elevating these privileged travelers to the level of symbolizing modern existential themes of displacement (following Clifford 1997, 2), because "what links various forms of contemporary travel are not global convergences but a host of asymmetries" (Amit 2007, 8). Likewise, the imbalances revealed by a "grounded" analysis of mobility at the specific places where tourism happens also shed light on how tourist village residents in less-developed places contend with migration and tourism as equal opportunity partners in their livelihoods and life chances.
The "asymmetry of tourism" as mobility is not only limited to the differences between tourists and migrants in a tourism destination; it also extends to the social relations between local residents, where individual mobilities affect community relations precisely because of the values associated with travel experiences. Hazel Tucker (2003 and 2010), who has conducted long-term research on tourism in Göreme (near the UNESCO World Heritage site of Göreme National Park and the Rock Sites of Cappadocia in central Turkey), notes that in many ways migration buttresses Göreme's tourism enterprises and development. With the rise of tourism, some returned migrant workers found their economic and social places in the village bolstered by their familiarity with the cultures and societies of the non-Turkish tourists. "[Migration] has blurred the boundaries demarcating the Göremeli community [and the tourists], and it has concurrently forced the villagers to reconsider their place in the world and to open their lives to 'other' possibilities" (Tucker 2003, 89). But locally the consequences of out-migration in Göreme include great variations in wealth, leading migrants to disparage or "look down" on those who have stayed and prompting some of those who have not left the community to view migrants with bitterness as sellouts (ibid., 88).
STORIES OF TRAVEL
In the landscape of travel for Upper Jidao and Ping'an, the two forms of mobility of greatest concern for villagers were tourism and migration, linked by the expectation that through successful tourism development, more tourists from urban centers would arrive and village residents could (and would) stop being migrants. Networks of travel, migration, and leisure tourism thus shaped the lives of these villagers through the efforts to construct rural China as a tourist destination. As international and domestic tourist flows intersected with the socioeconomics of rural livelihoods, mobility became a crucial concept to integrate into understandings of contemporary conditions. Both migration and tourism suggest the limits of possibility for rural villagers. And both restructure individual notions of self and identity (to be a migrant or to be a tourist "object"), especially in these villages that had to capitalize on the ethnic minority heritage of the residents to sufficiently attract tourists.
Some migrant workers returned home knowing what it was like to visit someplace else, knowing what was famous or which scenic spots existed in other parts of the country, and intrinsically drew comparisons between what they have by way of tourism resources at home and what other places are offering. This may be quite practical; Tim Oakes (2006b, 167) has described a case from the mid-1990s in Hainan, where two ethnic Li villages were transformed into "village theme parks" for tourists; the founder of the company managing these villages was himself a local who "had traveled extensively throughout China and had been impressed by the tourists sites in the urban centers of Beijing and Guangzhou. He had modeled his villages on these tourist displays. Displaying village traditions was, perhaps, one way of making villagers seem more modern." To do the work of tourism properly, villagers participated in mainstream models of what tourism, leisure, and rural ethnic identities entailed—and by seeing it firsthand elsewhere, as the man from Hainan did, he could literally bring tourism back to his village. Returned migrants also brought back ideas about who is a tourist, or what is needed to be a tourist versus another kind of mobile subjectivity—such as the assessment that migrant workers could go anywhere, because they were looking for money, whereas tourists needed to have money at the outset to go somewhere. This kind of experiential knowledge often was perceived as a form of social capital; in interviews, migration was always retrospectively considered for its potential benefits, despite the hardships that might have prompted the decision to migrate and the difficulties endured during the migration experience.
Four recurring themes emerged in my interviews with returned migrants: first, the advantageous notion of "experiencing the world" (typically expressed in the phrase jian shi mian, literally "to meet the face of the world"); second, the ability to articulate an opinion on what tourists want from a rural ethnic tourism experience; third, a confidence in one's own entrepreneurship and business savvy (often described as "business brains," jingji tounao); and fourth, a sense of dissatisfaction with the "way things are" in rural China and other difficulties in reintegration to village life. Of course, discussions about these four themes were not only limited to the experiences of returned migrants; however, their travel experiences contributed significantly to a new sociality in rural tourism villages, one that centralized the role of travel in assessments of individual identity, leadership, and ability.
These individual travel experiences were often first mentioned to me during the course of a household survey. In total, I video-recorded interviews with twelve individuals specifically about their travels. From these recordings, I selected five representative interviews for closer analysis—the stories of Ze, Fa, and Hua from Upper Jidao, and those of Mei and Feng from Ping'an (table 3.1). Of these individuals, Ze and Fa are male, both in their early forties; Hua, Mei, and Feng are female, and Hua is in her early forties while Mei and Feng are in their early thirties. All interviews lasted about an hour and were conducted in standard Chinese (Mandarin), a language skill that is explored in the following analysis. I began each interview by asking the individuals to tell their story, from beginning to end, and I posed clarification questions throughout.
Between them, their travels had taken them to the following cities and provinces of China: Beijing, Guangdong, Hainan, Heilongjiang, Shandong, Shenzhen, and Yunnan. Spanning from the very northern reaches of the country to the southern tropics, the travels of these individuals represent the vast distances and differences traversed these days by rural Chinese. Some worked in cities, such as Ze, who was a construction worker on the Beijing West Railway station; Mei, who worked as a live-in helper for an elderly Beijing couple; and Feng, who sewed suits and undergarments at a factory of six thousand workers in Shenzhen. Others had left their rural villages for agricultural areas elsewhere, such as Fa, who worked at an orchid farm in Hainan, and Hua, who did seasonal farm labor in Heilongjiang. Most people I spoke with had years of experience as migrant laborers, and many had done a combination of all types of work—in a factory assembly line, in industrial agriculture or forestry, or in the service sector, such as working as a nanny or in a salon. Some said they were back for good; others left the village shortly after the interview in pursuit of further opportunities and incomes.

The five stories, while unique in their own terms, intersected in meaningful ways to suggest a movement of ideas and impulses that contributes to the driving forces in rural ethnic village tourism today. Their stories shed light on some of the problems these communities are facing. In all of the interviews, the common thread linking migration and tourism was opportunity—for Fa, Feng, Hua, Mei, and Ze, migration meant opportunities for addressing immediate economic needs. As tourism development became further entrenched in the villages, migration was also an opportunity to understand what tourism was all about and how to be more successful in the industry. Of course, the interviews were premised on my interest in their travels, but each person's assessment of his or her experiences and histories revealed how mobility factored in their life choices, social identities, and future opportunities. Their mobilities were tempered by the social significance associated with differing forms of travel—from the compulsion to migrate as a means to meet family obligations to returning for a chance at success in village tourism.
TO MEET THE FACE OF THE WORLD
(
JIAN SHI MIAN
)
A slogan painted on a wall about a mile away from Upper Jidao plainly announced that rural villagers should prioritize continued education at home over migration (figure 3.1). However, the slogan could also be read in a different light—if it was precisely the urban familiarity, an urban perspective in other words, that was valued in migration, then able-bodied rural residents could give precedence to "an education in the city" before coming home. The educational opportunities afforded by out-migration were emphasized in a number of interviews I conducted; the ones who leave, people said, return with a better understanding of the world (in Chinese they used the phrase jian shi mian, which generally referred to having experienced life in the world outside of the village). Every interviewee mentioned the idea of having experienced the world when speaking of the positive advantages gained from migration. Other villagers would occasionally use a negated version of the phrase (mei jian shi mian, not having experienced the world, or not having seen the world) to describe people who were perceived as being less educated or having less common sense and worldliness.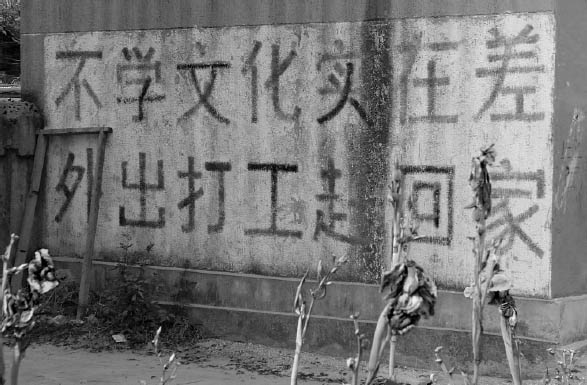 For example, in Upper Jidao, Fa was widely regarded as one of the more capable men in the village. I interviewed him in late 2006, when he and his wife had just returned from Guangdong. Other villagers had repeatedly suggested I talk to Fa about the village's tourism plans, because he had been a part of the village leadership subcommittee (xiao zu) in 2002, when the provincial government obtained the initial seed grant from the World Bank and consultancy services from the World Tourism Organization (UNWTO). Invited experts and planners from all over the world had come to assess the tourism potential of Upper Jidao, and as a part of his leadership position, Fa attended most of the training courses and went on the study tour to regional rural tourism destinations, including Ping'an, which was organized by the provincial government. When I arrived in Upper Jidao in 2006, Fa and his wife were in Guangdong, having left the village in 2005.
Years before, Fa had worked on an orchid farm in Hainan in the late 1990s; he returned to Upper Jidao in the early 2000s, when tourism development plans were in the beginning stages, participated a bit in village affairs since he had been elected to be a village leader, but he left again in 2005 to find work in Guangdong. Despite government plans, he said, there just wasn't any money to be earned in the village from tourism yet. For him, the advantages to be gained from experiences away from the village were less of a pull factor; rather, the push factor of very few opportunities to earn an income in Upper Jidao prompted his second migration. Coming back in 2006 was a big deal for him and for the other villagers; Fa was banking on tourism really being something soon. After our interview in December 2006, village residents again, in January 2007, elected him to lead the Upper Jidao subcommittee. But by June 2007, I was told Fa had left again for Guangdong. The reason was simple: he had a wife, children, and parents to take care of, and there was little money to be earned by serving in the village leadership. Fa returned to Upper Jidao in 2009, working again as a member of the village subcommittee as the accountant, keeping track of the village's burgeoning tourism income. He kept being elected to the village committee because to the other villagers Fa had "seen the world" and knew what to do—they saw him as someone who could go between places, literally and symbolically.
Here migration and tourism coincided in conflicting ways. Fa felt pushed out of the village because of increasing financial obligations to his family; the village residents, by reelecting him to the leadership committee, tried to pull him back in because of his proven experience and ability to walk the line between urban and rural environments, perspectives, and even languages. For Fa, travel was thoroughly woven into the fabric, the expectations and possibilities, of his livelihood. He acknowledged the contradictions inherent in trying to develop tourism in Upper Jidao; the problem, he told me, was that overall in the village, residents' education levels were too low. Too few people had experienced the world enough to understand what would make tourism successful and what wouldn't. The conundrum was obvious: without enough education and experience in the world, the village residents would never get tourism off the ground. Without steady sources of income in the village, those who had more responsibilities and family pressures would leave. Without people in the village, there would be no one to do the tourism work. Thus, in Fa's formulation, leaving was beneficial—if you eventually came back.
In Ping'an, Mei expressed the educative value of migration in more personal terms. I asked her about how she had found work during her years in south China and Beijing. "From 1999 onwards," she said, "I just went looking around to see if there was any suitable work; I just looked around—it was like doing research, researching myself." Unlike most of the others I met, who tended to travel in groups with relatives and friends from their home villages or regions when they migrated, Mei had struck out on her own. She had worked a number of jobs, from selling lumber to taking care of an elderly couple. In retrospect, she assessed each job as a chance to develop her skills, to see what she was good at and what she liked to do.
Villagers often pointed out certain practical skills and behaviors gained from experiencing the world. First and foremost, those who had migrated to other parts of China learned to speak standard Chinese. Being able to speak standard Chinese is critical for doing tourism; it is the first step to simply being able to communicate with tourists and other nonlocals, such as consultants, government officials, and potential investors. In Upper Jidao, for instance, much of the tourism work fell upon the shoulders of Qin, Teacher Pan, and Fa, when he was around—all of whom were well spoken in standard Chinese and therefore considered good candidates for interfacing with the outside world. Speaking standard Chinese comfortably was also a social distinction that was made immediately apparent to me as I conducted my household survey in both villages. As an outsider in Upper Jidao and Ping'an, standard Chinese was the lingua franca between myself and the villagers; it was taken for granted that I would not be able to understand, let alone speak, regional dialects and minority languages. As a result, the first people in each place whom I met were those who spoke standard Chinese. It wasn't until I was able to understand the regional Chinese dialects in each place that my networks expanded in a more meaningful way beyond those individuals who spoke standard Chinese because of their education or experience in other parts of China.
When asked what she had learned while being a migrant worker, Feng, who ran a shop and family guesthouse in Ping'an, replied: "I learned some sewing, standard Chinese, Cantonese, and a little bit about the outside world." She had even purchased tapes and books to teach herself Cantonese when she first went to Guangdong; in the mid-1990s, when she was there, many factories required their workers to speak or at least understand some Cantonese. She attributed her relatively good job in Shenzhen partly to her ability, upon hiring, to speak Cantonese; the factory manager was a Cantonese-speaking woman from Hong Kong who had taken a liking to Feng. Now, back in Ping'an, Feng said that Cantonese was sometimes useful as the village did receive a lot of tourists from Guangdong. However, she added, nowadays "most young people from Guangdong speak standard Chinese anyway."
Experiencing the world, and learning how to negotiate it, was crucial for these individuals, and the relevance of this education to working in tourism was not overlooked. Fa and Mei were both considered two of the more capable people in their respective villages: Fa's election to the village subcommittee was proof enough of the village's opinion. Mei, whose time out of the village she considered as personal research, was approached in mid-2008 by a representative of the Guilin municipal government about possibly becoming a Party cadre and serving in the local village and township government administration. When she asked this representative how he had heard of her, he replied that the other villagers had mentioned her.
WHAT DO TOURISTS WANT
?
Upper Jidao residents were extremely concerned with making sure they could appropriately and adequately address the perceived needs of tourists—this was the focus of many training sessions organized by the Guizhou provincial government as well as a frequent topic of conversation between myself and residents. Since most villagers said they had never actually been tourists before, they referred to media representations of tourism from television and magazines, as well as to firsthand encounters with tourists, tour guides, and government tourism bureau officials in the village, to frame their understanding of what tourists want. In Ping'an, because tourism had become a steady industry and source of income in the 1990s, village residents generally expressed a fairly confident grasp of tourist desires and needs. However, in both villages I noted that many of these opinions and perspectives had been developed from the personal experiences of returned migrants, who had come back with their own stories about visiting scenic spots, having seen something different while outside of the village, or perhaps having befriended (or at least interacted with) urban middle-class Chinese while working in cities.
Hua, in her mid-forties, was unusual because she exuded a boisterous, contagious personality even when speaking standard Chinese, which she had learned only by virtue of having gone to Heilongjiang to work on a large farm. She had left Upper Jidao just as the government tourism plans were getting under way in late 2002, so she had not had much firsthand exposure to tourism in the village. While in Heilongjiang, Hua said she would occasionally see television programs about Guizhou and ethnic tourism in Miao villages in particular; she thus came to equate ethnic identity with tourism in a one-to-one correspondence based on the lack of tourism she had seen in rural Heilongjiang, which was largely Han. "Once you come to our Miao home," she explained to me, "there is tourism; the Han don't have tourism." She continued, describing how one evening "on television there were our Guizhou [people] wearing Miao clothes; they were dancing, and the northeastern people [dongbei ren] said, 'Oh, this is Guizhou; it says so on TV. Wow, they are wearing such beautiful clothes. Is that your home?' And I said, 'It is.'"
Later, Hua recalled, the others asked her to bring some of her own Miao festival clothes back to Heilongjiang sometime: "They said, 'you bring the clothes and we'll try them on and take a picture!'" Hearing about the changes in Upper Jidao from her daughter who had remained in the village to attend the local middle school, seeing ethnic Miao visually represented on television, and being the ethnic "Other" herself in another part of China (rural Heilongjiang) taught Hua some of the things that potential tourists might enjoy or want in Upper Jidao. Her understanding of tourism was highly visual and based largely on what she had seen on television and the reactions people had to these images.9
Hua experienced tourism through television representations, where she literally became identified as the ethnic "Other" to her friends and neighbors in Heilongjiang. Other migrant workers occasionally had the chance to be tourists while away from home. Ze was one of a few individuals in Upper Jidao who had been to Beijing. He had gone in the mid-1990s, and when he mentioned his experience as a migrant worker there during my household survey, I told him that I was interested in hearing about his time there. Only many weeks after the survey did I manage to find Ze with a bit of time to sit down and talk about his experiences in Beijing (and in many other parts of China as well). He began by saying that the trip had happened a long time ago and he didn't remember much, but as soon as I began recording with my video camera, Ze recalled fluidly, "It was nighttime when we got on the train [bound for Beijing]. It wasn't as easy back then. We didn't have much luggage, there were a couple of us men from the nearby villages traveling together, we climbed through the windows of the train to get inside the carriages."
At first, Ze worked in a quarry outside of Beijing; after a year, one of his traveling companions returned to Guizhou, but he and another decided to go into the city to search for new jobs. They found some temporary construction labor—one of the biggest projects he worked on during that time was the construction of the Beijing West Railway station. On the rare off days that they had (and these might have numbered one or two a month at most, he said), or in between jobs, they went sightseeing. Ze visited the Great Wall, the Ming Tombs, the Fragrant Hills, the Temple of Heaven, the Temple of the Earth, and the Beijing Zoo. When I asked him about what he thought of his village's tourism prospects in light of his own tourist experiences, Ze thought for a moment and then said there could be some sightseeing—"like here, at our place it's to see the scenery [fengjing], to get up in the mountains and see the scenery." He compared it to going to the Fragrant Hills just outside of Beijing in the autumn to see the red foliage; it's what you do in the autumn in Beijing. He understood what the tourists who come to Upper Jidao village are looking for; like sightseeing in Beijing, where you go specifically to see a particular site (the Forbidden City, the Temple of Heaven), tourists come looking for something in Upper Jidao—namely, the rural landscape, a small village, a glimpse of the subsistence farming lifestyle of ethnic Miao people. Ze had a tourist's eye for Upper Jidao.10 All of this, he said, would need to be consolidated, signed, and marked to facilitate the tourist's encounter, much like the famous sites of Beijing, where the significance of the sights is promoted, named, and explained. Ze's take on Upper Jidao's tourism prospects was informed by his own experiences visiting tourist sites outside of the village, which had provided him with firsthand knowledge of where tourists come from and what tourists do.
Besides sightseeing, experiences with different places, lifeways, and (more often joked about) foodways—such as eating rice versus eating bread/wheat products or salty versus spicy flavors—were considered a part of the necessary knowledge required to do rural tourism properly.11 Like Ze's knowledge of tourist activities, such as sightseeing, a familiarity with mainstream appetites and tastes was also considered vital for tourism success. Some villagers in Upper Jidao had taken part in a training program organized by the Guizhou Tourism Bureau in the summer of 2006. A portion of their training, they said, was to learn how to cook for Han tourists, who, they were told, preferred to eat stir-fried foods rather than hot-pot style (where all vegetables and meats are cooked together in a broth at the table), which was the common way of eating in both Ping'an and Upper Jidao villages. Being able to cook other types of food besides their own cuisine could also be learned from experiences as a migrant worker; one evening, for example, I was invited to a friend's home for dinner in Upper Jidao, where her husband prepared Sichuanese dishes for me. Some Sichuanese migrant workers he had befriended in Guangdong had taught him, he explained.12
In Ping'an, guesthouses and restaurants hosted tourists from all over the country and the world, and being able to offer a diversity of food choices was a crucial part of each establishment's advantage in the village's competitive tourism industry. Feng said that her experiences in Guangdong and Shenzhen had helped a little in running her family business because she recognized the names of dishes and foods that tourists might sometimes want to order. Otherwise, she added, "some of the tourists come and order certain dishes that local people don't know, or that local people can't understand what they are. Local people don't know these dishes; they stay at home and are rigid [in their ways; si ban, literally 'dead wood']."
ENTREPRENEURSHIP AND BUSINESS SAVVY
Innovation was a critical component of being successful in tourism, and many ideas developed out of the personal experiences of individuals who had left the village for some time. In Ping'an, as competition increased, some residents created their own opportunities to improve how they could do tourism. The need and desire for this kind of knowledge was firmly integrated into understandings of how to run a successful business. In one instance, Lao's family, who operated three very successful guesthouses particularly popular with European and American tour groups, went for a time to Yangshuo, a popular tourist destination south of Guilin famous for its "West Street" lined with restaurants catering to foreign travelers. There, they said, they worked in the kitchen of a café, learning how to cook Western foods and eventually returned to Ping'an with a new menu and new food suppliers, from whom they bought items such as processed cheese, hamburger buns, frozen chicken cutlets, and frozen deep fried pork to expand their menu and offerings.
Creative business ideas extended beyond food. Mei, who had done "research" on her own skills and abilities during her time outside of Ping'an, was entrepreneurial through and through. Her mother, who was from Ping'an, married Mei's father, who was from Guangdong, and the family lived in Guangdong for a while when Mei was a child. She returned to Ping'an at the age of eleven when her mother passed away. From that time on, she was raised by her maternal grandparents in the village until she graduated from middle school at age sixteen. Mei joked to me that she was like her grandmother, who had a real head for business (jingji tounao)—once, Mei said, her grandmother noticed that billiards was popular with kids in the village. She promptly purchased two billiards tables and had them delivered up the mountainside to the village where she charged local kids a few mao (cents) a game. Mei's middle school teachers recognized her academic potential, and through a complex web of personal networks, they managed to find her a family in the city of Liuzhou, in Guangxi, who provided her with room and board while she attended a vocational school for two years.
At the suggestion of another teacher, Mei left Liuzhou in 1999 for Guangzhou, where she worked as an assistant to a factory manager for a few months. Over the next three years, she traveled from Guangzhou to Kunming and around Yunnan (where she tried to start a business buying and selling lumber), Zhejiang, and eventually to Beijing in 2000.13 Mei explained that a factory owner in Zhejiang had recruited her and some other young migrant laborers to go to Beijing with him to work in his company. Mei said they were taken to Beijing's Zhejiang village (Zhejiangcun), a migrant neighborhood in Beijing composed of mainly laborers and small business entrepreneurs from Zhejiang (L. Zhang 2001). She described the community as extremely corrupt and disreputable (hei). Mei left Zhejiang village with one of the other recruited migrant laborers after a few months, but they only managed to leave after they twice phoned the police and convinced an officer to demand that their ID cards, which the company owners had kept, be returned to them.
Mei stayed in Beijing for two years; her second job there was as a personal assistant/live-in caretaker for an elderly couple who ran a small business. Because their children had all moved away, Mei served as a stand-in filial daughter—cooking, cleaning, and generally caring for the couple at home and at work. During these years, Mei said, she kept in touch with her relatives in Ping'an through letters and occasional phone calls; in 2001, her uncle in Ping'an began sending her newspaper clippings on the rapid tourism development in the village. They wanted her to return, with her knowledge of business and her good command of standard Chinese, to open a guesthouse. Mei admitted that she was hesitant to return; although her job in Beijing was not particularly exciting, it was stable and well-paid. Her uncle insisted, and in 2002, Mei went back to Ping'an, where she immediately opened a souvenir shop at the parking lot and applied for permission from the local postal bureau to sell stamps. Hers was the first shop to officially sell stamps and mail postcards, bringing in quite a lot of new business and garnering the envy of many residents, who, Mei said, simply hadn't thought to offer this kind of service. Not much later, other families applied for postage licenses and, according to Mei, because the local county postal bureau did not want to foment anger in the village, every applicant was granted permission to sell stamps, thus diluting Mei's advantage of being the first (and for a time only) seller of stamps.
Mei never described her travels through China as tourism, yet her experiences outside of Ping'an clearly shaped her ways of thinking about tourism and business. More than the other village residents I knew, Mei regularly invited outside entrepreneurs (some of whom lived part-time in Ping'an) over to her house for dinner and attempted more collaborative projects with them. In 2007, she started building a new hotel in a joint-ownership agreement with a travel agency manager from Shenzhen, who invested in the construction materials and labor costs while Mei was to be in charge of design and management. Mei and her husband had already built one guesthouse in 2002, but rapid growth of hotels in Ping'an meant that this first one, with its shared toilets and simple rooms, was no longer competitive. She made it a point to meet as many researchers and scholars, including myself, as she could; she actively sought out information about other rural tourism destinations in China and even subscribed to the official newspaper of the China National Tourism Administration (CNTA). Of course, other individuals in Ping'an also demonstrated business savvy, often through their connections with domestic and international tour agencies. The guesthouse owners who had learned how to cook Western foods in Yangshuo worked closely with major travel agency operators and tour companies from across China and western Europe, using these connections to increase their own profits and ensure a steady business.
Being a migrant worker did not necessarily require one to be entrepreneurial, but for Mei, in retrospect, it gave her the chance to think outside of her known ways.14 She saw herself as a businesswoman, able to engage in any type of enterprise. Having been exposed to life in the cities, Mei felt that she understood what tourists wanted in a rural destination—namely, the convenience of the city (such as being able to buy stamps for postcards) and the rustic "feel" of the countryside. Her new guesthouse, for example, was one of the first in the village to feature individual balconies off each of the rooms. Likewise, in Ping'an, Feng said she'd opened a shop selling drinks, snacks, cigarettes, and soap next to her family's guesthouse because she had had some experience in shop-keeping while working in Guilin for a few years between stints in Shenzhen and elsewhere in Guangdong. For these women, migrating had meant not only working in industry but learning about industry. When they returned to live in the village, they brought some of this industrial "spirit" into their work in the tourism businesses.
RETURN AND REINTEGRATION
While returning to the village was almost always considered positive by other villagers and in public discourse—largely because the returnees could bring back their newfound knowledge, experiences, and (ideally) savings—it was not without problems as well. In Upper Jidao, returned migrants faced the difficulty that there simply wasn't enough to be earned from tourism yet. By 2008, tour groups visited Upper Jidao with some regularity, but Teacher Pan lamented that there weren't enough young people to do the performances properly. School-age children were not allowed to perform, he said; they had to attend school and could only participate if tour groups arrived on weekends or during school holidays. As a result, performances for tour groups in Upper Jidao included three segments featuring the village's elderly men and women. They took some pride in being different in this way, saying that by incorporating older songs and dances (and people) into their performances, Upper Jidao offered something that the other nearby tourist villages did not. Nevertheless, the other parts of the performances did not necessarily achieve the exuberance or scale of similar shows in nearby villages such as Upper Langde, where performances were often staffed by a professional dance troupe from regional towns.
As far as remaining in the village, Fa felt pushed and pulled between serving the village in a leadership capacity and seeking further income for his family. He opted for the latter, left Upper Jidao in late 2007, but returned in 2009; by 2012, however, although Fa was living in the village, he was no longer involved with the tourism plans, choosing instead to raise and sell vegetables. Hua left Upper Jidao in early 2007, fewer than three months after she'd returned from Heilongjiang, and had not returned on a more permanent basis by 2012. Ze, because of health problems, said he wasn't planning to leave Upper Jidao anymore, but if he were able to, he would; he did not, however, participate in the village's tourism activities.
In Ping'an, competition rankled relations between some locals and some returned migrants. For Mei, her lengthy time away from the village community limited her belonging in Ping'an, partly because she was more determined than most in attempting and succeeding at new business ventures. She occupied a peculiar social place because of her relatively recent "reintegration" into the village, and she was often derided by other village residents as not "really" from Ping'an—despite the fact that she spoke and understood Zhuang, was related on her mother's side to families in Ping'an, and married to another local Ping'an resident. Mei's education, her experiences outside of the village, and her entrepreneurial spirit set her apart from many of the other village women of her generation who had grown up in Ping'an with the tourism development and did not necessarily question the status quo. The knowledge and opinions Mei gained while traveling as a migrant were thus considered an advantage and a detriment. Some villagers scoffed when I mentioned I would be interviewing Mei about tourism in Ping'an: "What does she know?" one man asked bitterly, adding, "She's not even from here."15
Mei's first business innovation (selling stamps), along with her absence from the village during the early years of the tourism boom, marked her as an outsider to many local residents. To the villagers who started organized ticket sales and tours in 1996, Mei's entrepreneurial attitude was not very different from any other outsider coming into Ping'an around 2001 to do business, when the investments by the private management company radically increased tourism to the village. As these outsiders raised the bar for service and accommodations in Ping'an, village families, with their limited resources, struggled to compete. Copying Mei's innovations was seen as simply the next step in running a business in Ping'an. In small rural communities, copying can be a means of social and economic equalization; it "is another tactic in business competition, tending to ensure that one's business will at least remain equal with the others, even if it does not manage to achieve a higher level of success" (Tucker 2003, 111). Perhaps this is also what the local postal bureau considered when deciding to offer anyone in Ping'an a permit to sell stamps; the effect, from Mei's perspective at least, was to admonish her for being creative.
The key problem facing younger returned migrants and young people in the villages more generally was the problem of being a peasant in the nong jia le rural tourism formula, while the countryside was, discursively, still the "emaciated other" to the modern city in China (Yan 2008, 44). This was especially contentious in Ping'an, where the terraced fields required constant labor in order to be maintained. Because the fields were advertised as having particular aesthetic looks in each season, they had to be used and worked as fields, with crops that required plowing, seeding, planting, and watering. Someone had to do the agricultural labor to keep tourism afloat. To this, Feng, in her straightforward manner, said simply: "If I had the chance, I would go back to the city because I don't want to plow fields!" Most young people felt the same way. She added, "Nowadays, everyone is afraid of having to plow fields; they want to go out and see the world. Young people want to go with the modern world" and not be forced to stay and be farmers. If staying in the village means having to live a farming lifestyle, taking care of pigs, and waking early to go to the fields, Feng concluded, then "if I had the chance to live in the city, I would absolutely be willing [to do so]."
THE MONEY TO BE A TOURIST
Rural ethnic tourism, particularly in the model of nong jia le, cannot occur without someone in the role of the peasant, but it was precisely the rural Chinese person, as the "peasant," who was intended for change through development. To grasp at what rural tourism as development meant to the communities involved, these stories of travel provide necessary analytical and contextual depth to the experiences and imaginaries that influence and shape how tourism develops in a village community. Encounters with other, sometimes urban, places became stories told by village residents as they participated in national development and modernization programs like the New Socialist Countryside and efforts to create tourism businesses in their village. In all these stories of travel, the common thread linking migration and tourism was opportunity. For Fa, Feng, Hua, Mei and Ze, migration meant opportunities for addressing immediate economic needs, but also, as tourism became further entrenched in Upper Jidao and Ping'an, migration was an opportunity to understand what tourism was all about and to be more successful in this business.
Moreover, the nong jia le model of rural tourism emphasized the idea of home and the family, paralleling the idea promulgated by the national government that migrant workers ought to either return home or perhaps be able to establish a home where they now are.16 More important, in the case of rural tourism, it is the idea that rural homes are worth returning to and worth visiting that is nicely packaged in the idea of celebrating the happiness of peasant life through leisure travel. This is a way of envisioning rural life that is distinctly urban. Rural residents thus come home to see their villages through "urbanized" eyes, to see their homes as a destination, rather than as a starting point. In part, this is the result of the villagers' own exposure to seeing tourism (perhaps best exemplified by Hua watching Miao people on television while working in Heilongjiang) and their experiences as tourists and sightseers as well.
How Fa, Feng, Hua, Mei, and Ze came to talk about their experiences away from home exemplifies what is happening to rural places in China that are being drawn into national and global tourism industries. Rural tourism relies upon the distinction and juxtaposition between the urban and the rural in order to succeed. Rural village tourism necessarily writes this difference upon the bodies of the rural villagers; unlike a historical site, such as the Forbidden City, tourism in Upper Jidao and Ping'an demands that there are people living in the village to make it succeed and "worth visiting." This, in turn, is reinforced when villagers look to returned migrants as a resource and as valuable, necessary assets to successful tourism development. In Ping'an, a newer, younger generation of adults is poised to change the social, economic, and political conditions in the village. This next generation of guesthouse owners is comprised of the twenty or so college-educated young adults—many of whom are returning to Ping'an after finishing university (or during holidays) to help out with the family business. Increasingly, they are setting out new hotel and business plans for their families. Some of these younger residents, familiar and comfortable with computers and the Internet, have taken to advertising their hotels in local chat rooms and with dedicated websites, and the effects of this group of individuals on tourism in Ping'an should be observed, as they bring new methods, expectations, and interests to the fabric of village life.
As the younger village residents traveled for education, in recent years a group of older residents in Ping'an hired a local travel agency to organize group tours to Beijing in 2006 and to Shanghai in 2007 (figure 3.2). The cost of the trips was relatively affordable, about ¥1,300 per person all-inclusive for five days and four nights. For the participants and their families, this represented a significant step forward—finally, they were not only the toured but the tourists as well. Of course, this was not the first time that these individuals had left the village; some had been labor migrants in the past, and many still traveled to Guilin regularly to buy goods, visit relatives, and conduct business. But these trips were distinctly, and strictly, organized leisure. They were proper holidays with tour buses, photographers, and even a videographer who recorded the entire trip and then presented each participant with a set of video recordings once they had returned to Ping'an. It was not just the travel that was so exciting, although admittedly many people told me they did enjoy the flight, which was the first for most of them. The social distinction of being able to be a tourist, after two decades of being visited and seen by tourists, was equally memorable. Of course, only those families who were doing well enough in Ping'an's tourism business had the extra money to send their grandmothers and grandfathers on vacation. It is perhaps only mildly ironic then that these same rural communities relied on the tourism industries to make the money needed to be a tourist.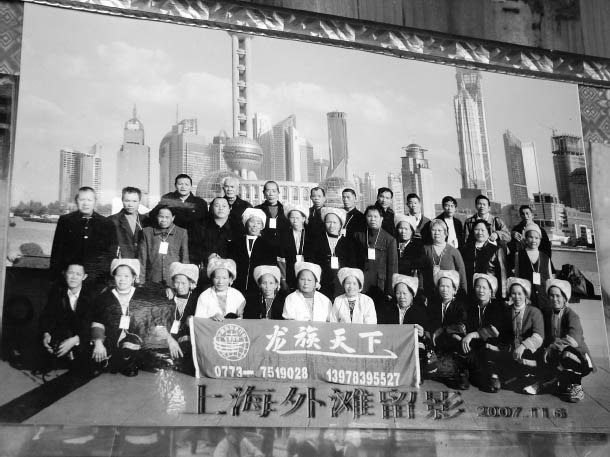 Returned migrants influenced tourism developments in their home villages by bringing their personal experiences in travel to bear on the future of their village tourism industries. Within this landscape of travel, mobility played a formative role in giving order and meaning to the identities and economic possibilities available. Through the stories of travel of five individuals, it is clear that the topics of experiencing the world, knowing what tourists want, entrepreneurship, and reintegration were all pertinent to the ways in which tourism was perceived as a livelihood and opportunity, much as out-migration was also already so understood. It is by tracing these changes in mobility that a more nuanced understanding of social transformation and modernization programs in rural tourism villages can be pieced together, thereby allowing for a closer examination of how both discourses of and experiences in travel operate in conjunction and in competition with each other.
ORDERING MOBILITY
By examining how mobility orders social relationships and how certain forms of mobility, such as tourism or migration, come to be valued in relation to each other, I have drawn attention to how mobility and immobility are integrated into how individuals make sense of economic opportunity, identity, and inequality in rural ethnic tourism villages. This "differentiated mobility" (Massey 1993), understood as "the uneven and unequal position of different groups and persons in relation to various flows and movements" (Chu 2006, 401), uses travel experiences and discourses to understand social relations and subjectivities. But as the stories reveal, different forms of mobility are not necessarily perceived as independent of each other; rather, tourism and migration as well as other travels are structurally ordered in meaningful ways, each informing the other and gaining greater significance as a result of their relationships. Such an approach to mobility studies is what John Urry (2007, 46) has dubbed the "mobilities paradigm"—a conceptual framework in which using mobility as an analytic and social process thus acknowledges that "all social relationships should be seen as involving diverse 'connections' that are more or less 'at a distance.'" The mobilities paradigm "forces us to attend to this economic, social and cultural organization of distance, and not just to the physical aspects of movement" (ibid., 54) because, after all, global "scapes and flows [or, the mobilities of people and things] create new inequalities of access" (Urry 2003, 5).17
Anthropological attention to the social formation of mobility can illuminate how different types of mobility and immobility are variously valued in relation to one another, the differences of these values for different social groups, and what the consequences of these values might be on lived experiences and social relationships. Urry (2002a, 264) has explained that "for many social groups it is the lack of mobility that is the real problem, and they will seek to enhance their social capital through access to greater mobility"; yet in rural China, mobility and immobility are understood in conflicting, though nonetheless desirable, ways. To start, rural ethnic tourism required village residents to be immobile. To that end, returning was highly regarded in tourism villages, but at the same time, experience outside of the village was considered imperative to doing tourism. Once tourism was successful enough for families and households, a new form of mobility was desired—travel as tourists. As such, mobility was ordered, and it was through these orders that returned migrants in tourism villages made sense of their past travels, anticipated the future arrival of tourists, and envisioned their place in present-day village life.18
In discourses of mobility, some subjectivities appear to be considered as more amenable to being mobile while others are viewed in terms of stasis and immobility. Immobility is not always discursively constructed negatively; in some instances, a "sedantarist metaphysics" works in relation to nationalistic discourses of refugee populations, where "in the national order of things, the rooting of people is not only normal; it is also perceived as a moral and spiritual need" (Malkki 1992, 30). The same claim for the moral need fulfilled by immobility may be applied to the development of rural regions as tourism destinations for domestic national and international tourists, who seek their own moral uplifting through the experience of the immobility of rural peoples and communities. If the tourist is a model of "modern-man-in-general" (MacCannell 1999 [1976], 1) partially by virtue of her or his mobility as a tourist, then the rural tourism village resident seems clearly positioned as the ideal unmodern-man-in-general. What links these notions of modernity and mobility together, then, is the particular order of mobility that allows for and encompasses a socially meaningful way of making sense of the inequalities produced by differing forms of mobility. Within this order, migrants and tourists each come to play a part in maintaining social stability, although differences of power, access, and perceived value still persist.
As the stories of travel reveal, there are important inequalities inherent in different forms of mobility. To consider the ordering of mobility is to acknowledge that choices about mobility, such as whether to migrate or to stay, hold consequences that extend beyond the economic or strictly functional but rather double back onto the very identities and social subjectivities of the individuals and communities themselves. Any ordering of mobility is always based on inequalities and certain inaccessibilities. Tim Cresswell (2006, 177) has argued, in examining migration policies and histories in the United States, that "the ways in which mobility is given meaning and then enacted is intimately tied to notions of sameness and difference." This creates the unavoidable entanglement of the politics of mobility and the politics of difference, encapsulated in the orders of mobility, which holds very real consequences for the persons who must negotiate these conditions. From the four common themes raised in the migrants' stories, the landscape of travel in which these individuals consider, deliberate, and make decisions can be seen as one in which mobility is simultaneously considered as an expression of potential, an assertion of place in the process of modernization, and as constitutive of unexpected inequalities. One's mobility can be an asset and a skill toward participating in new tourism industries, while remaining a threatening possibility vis-à-vis leaving the village community entirely.
In rural China, modernization plans are rendering ever more apparent the intrinsic contradictions of mobility by implicating subjectivities such as tourist/migrant within the lived experience of tourism as development. However, the aversion within tourism planning, as a modern phenomenon, to acknowledging the consequences of mobility (exemplified in noting that a highway in rural Guizhou could detract from the region's visual amenity), is similar to the impossible notion of "leaving the fields without leaving the countryside." It is a failed attempt to pretend that mobility is not somehow inherently shaped by differences, inequalities, and social distances. In taking up mobility as a conceptual framework, there must be a commitment to acknowledging and exploring reverse flows and stopped traffic—the problems created by mobility. This means taking seriously how migration can be both liberating and constraining in rural China, in this instance; how returning to the village can create new conflicts as well as provide for novel innovations toward solving old problems; and recognizing that sometimes some people may want to leave both the fields and the countryside, all in the name of being (and becoming) modern. Within the villages, however, ideas about tourism were often debated in terms of "the look" of the village and how residents negotiated the visual expediencies of tourism, which were changing personal opinions on tourism and altering the very appearance of each place. By tracing these changes, both experiential and visible, a more nuanced understanding of social transformation in rural ethnic tourism villages can be pieced together.