INTRODUCTION
The road was not just a facility for going and returning; it was also an opportunity to compare conditions and modes of life. It affected the peasants who set out on it, getting them used to strange places, showing them the way, permitting alien notions and a sense of different prospects to germinate in them or in those listening to the tales they told.
—Weber 2007 [1976]: 282
To be modern is to find ourselves in an environment that promises us adventure, power, joy, growth, transformation of ourselves and the world—and, at the same time, that threatens to destroy everything we have, everything we know, everything we are. Modern environments and experiences cut across all boundaries of geography and ethnicity, of class and nationality, of religion and ideology: in this sense, modernity can be said to unite all mankind. But it is a paradoxical unity, a unity of disunity: it pours us all into a maelstrom of perpetual disintegration and renewal, of struggle and contradiction, of ambiguity and anguish.
—Berman 1982: 15
Before 1999, to travel from Gongshan County's poorest and most isolated township of Dulongjiang to the Gongshan county town required an arduous three-day trek along a narrow mountain trail. Today one can travel between these two places by vehicle, following the completion of a ninety-six-kilometer road (see fig. I.1). Situated in a particularly rugged pocket of southwestern China, the new road passes through lush old-growth forests and several climatic zones as it cuts its way through the formidable Gaoligong mountain range. While transport into and out of Dulongjiang has improved dramatically, the journey remains highly treacherous. The road is frequently cut by wide bodies of rapidly moving water, and landslides are common. Even during summer, some sections remain covered in snow and ice (see fig. 1.2, in the first chapter). Using a four-wheel-drive vehicle, it still takes more than six hours to cover the relatively short distance between Dulongjiang and the county town. It is impassable during the winter months.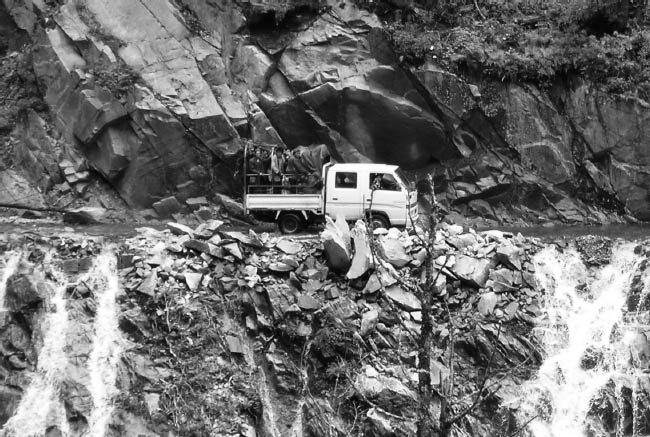 Dulongjiang is home to the Dulong (or Drung)—one of China's smallest officially recognized ethnic minority groups—and the road is a stark symbol of the Chinese Communist Party's (CCP's) ongoing strategy to socially engineer them and other ethnic minorities into the Chinese Party-state and industrial economy.1 The road is not just a conduit for the transport of goods and services into and out of a remote township. It also will increasingly channel Dulongjiang's cheap surplus rural labor toward the coastal-based factories and construction sites that fuel China's economic development.
The Dulong, along with people from the Lisu, Nu, and Tibetan ethnic minority groups, compose the majority of the population of the Gongshan Dulong and Nu Nationalities Autonomous County (Gongshan Dulongzu Nuzu Zizhixian; hereafter Gongshan). Until very recently, they lived as subsistence farmers, relying on shifting cultivation, hunting, the collection of wild vegetables and medicinal plants, and small-scale logging to sustain their household economies. Gongshan itself is particularly remote, and transport both within and out of the county was once difficult. Across the county's five townships, participation in outward migration for work as well as local off-farm work was extremely limited in the past. However, with new roads such as this one in place, ethnic minority farmers from Gongshan's outlying villages can now participate in labor export programs to China's coastal regions.
One mode of labor export involves local rural governments coordinating with urban-based employers to temporarily transfer teams of surplus rural workers to low-paid urban work assignments, and in September 2008, in what appears to be the first reported case of labor export from Dulongjiang, nineteen local farmers participated in a formal labor export program to Dongguan City, Guangdong (Nujiang Prefecture Labor and Social Guarantee Bureau 2008). Dongguan is one of China's largest centers for manufacturing and has become a prime destination for rural migrants seeking better work and income opportunities during the reform era (1978–present).2 These migrants generally take up low-skilled production-line work in highly regimented factory environments. Although factory life is in complete contrast to the agricultural livelihood normally experienced by Dulongjiang's subsistence farmers, it offers much higher income than life on the farm.
With that in mind, the new road also can be said to symbolize Gongshan's engagement with modernity. The road has contributed to the collapse of the spatial and temporal boundaries between what was once an isolated rural community and China's modern industrializing economy. With new infrastructure such as this in place, economic and social forces once peripheral to Gongshan are increasingly penetrating and shaping local society (see Giddens 1990: 18–19).
However, the experience of modernity can also be treacherous and dislocating. As on the road journey being made by the farmers in the truck pictured in fig. I.1, there will be many obstacles along the way, and unforeseen challenges lurk around the bend. For example, new outward migration for work opportunities will provide many Gongshan farmers with a more secure financial future. For others, the migration experience may prove traumatic. For all of them, the experience will fundamentally transform their way of life.
This book examines how people living in a rural county at the periphery of China's largely unindustrialized western regions are negotiating the large-scale social and economic transformations associated with recent economic development. It demonstrates that, contrary to expectations that ethnic minority communities in China's western mountainous regions will remain isolated and be left behind, these communities will be increasingly drawn into the industrial economy and dependent on the state.
The examination focuses on Gongshan County. Gongshan is located in northwestern Yunnan, in southwestern China, and is one of four counties that constitute the Nujiang Lisu Nationality Autonomous Prefecture (Nujiang Lisuzu Zizhizhou; hereafter Nujiang) (see maps 1 and 2).3 Until recently, Gongshan was relatively cut off from the national economy. However, since the late 1990s, economic development has transformed Gongshan's social fabric. This book explores how the implementation and strict enforcement of nine-year compulsory education (puji jiunian yiwu jiaoyu), the implementation of environmental conservation programs, the promotion of outward migration for work, and the expansion of social and economic infrastructure have contributed to the marginalization of traditional agricultural livelihoods and the community's closer integration with the national economy and the Chinese Party-state.
Contradictions and tensions underlie modernization in rural China. As a case study, Gongshan demonstrates that whereas rural modernization is associated with the expansion of economic infrastructure, improved access to public services such as education, and the opportunity for members of the rural population to exercise greater autonomy over their livelihoods, it also signals growing entrenchment within the development agendas of China's central government and the expanding market economy. A key objective of the central government's development agendas is the transformation of "low-quality" (di suzhi), "unproductive" subsistence farmers into "high-quality" (gao suzhi), "productive" industrial workers who can contribute to economic growth and stability. These development agendas reach deeply into contemporary rural society, where even the poorest and most geographically isolated rural communities are entangled in an increasingly dense web of governmental interventions that are transforming traditional ways of life.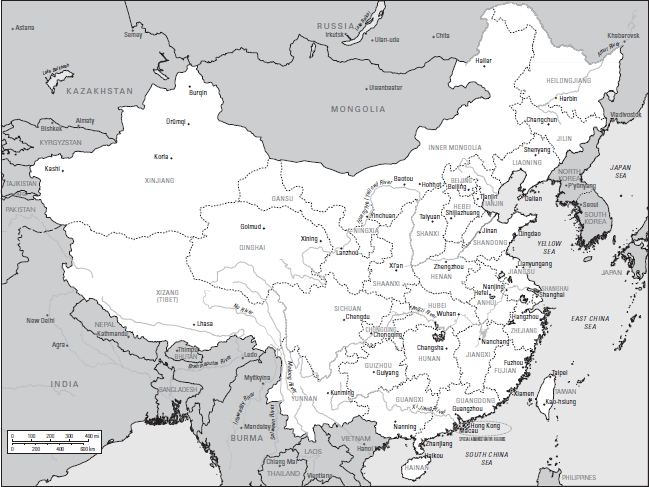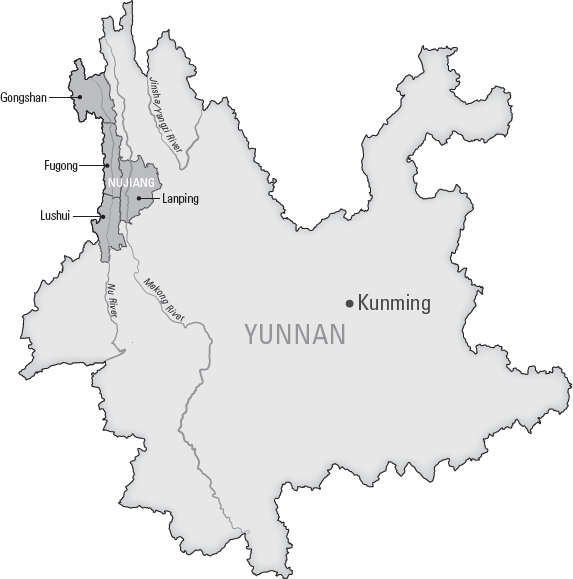 LIFE AT THE PERIPHERY
Gongshan sits at the northern end of the Nu River (Nujiang) gorge—one of the world's deepest river gorges—and is extremely mountainous.4 It is officially recognized as a "poor mountain area county" (pinkun shanqu xian) (Gao 2003: 4), and in 2008 nearly 65 percent of the population, or 23,251 people, were living below the national poverty line of ¥1,067 per year (China Nujiang Gorge Network 2011). Gongshan's 2008 average rural per capita cash income of ¥1,064 (ibid.) was less than one-quarter of the 2008 national average per capita annual net income of rural households (¥4,760.62), and was close to one-fifteenth of the 2008 national average per capita annual disposable income of urban households (¥15,780.76) (National Bureau of Statistics of China Online 2009: sections 9–22, 9–15).
While Gongshan's isolation and extreme mountainous terrain are major barriers to economic development, these conditions have enabled large numbers of plant and animal species to thrive, and today much of Gongshan is included within a biodiversity protection zone known as the Gaoligongshan Nature Reserve.
Gongshan's relatively small population is characterized by a high degree of ethnic diversity. According to official statistics, in 2008, Gongshan's population was 36,075, of whom around 96.5 percent were members of ethnic minority groups (China Nujiang Gorge Network 2011). The Lisu make up more than 50 percent of the county's population, followed by the Nu, 18 percent; the Dulong, 16 percent; the Tibetans, around 5 percent; and the Bai and Naxi, each around 2 percent (Gongshan Government Office/Gongshan Bureau of Statistics 2005: 3). Illiteracy is pervasive among the ethnic minority adult population, and many are unable to speak standard Chinese (Mandarin, the official language of the People's Republic of China). Officially, around 83 percent of the Gongshan population is engaged in agriculture (China Nujiang Gorge Network 2011).
Gongshan's farmers cultivate some of China's most marginal rural land. Population expansion in the time since China's Liberation by the CCP in 1949 has placed a great deal of pressure on this land. The scarcity of flat arable land means that most households cultivate steeply sloping agricultural land at high altitudes (see fig. 1.4, in chapter 1). There are also few readily exploitable natural resources, and there is limited scope for industry. The majority of households are highly dependent on government subsidies. Agricultural yields are very low, and Gongshan is a deficit grain producer—most households do not produce enough grain to cover their own needs, let alone to distribute to the government as tax. Gongshan has been an ongoing recipient of large-scale government subsidies and technical support since Liberation.
Although access to social services such as education and health care is gradually improving through campaigns such as "Build a New Socialist Countryside" (Jianshe Shehuizhuyi Xin Nongcun), there are still significant shortfalls in the level of subsidies provided, and most households remain economically vulnerable. For example, if a serious illness befalls a household member, it can severely affect the household's productive capacity and place the members of the household in considerable debt. In this context, family and fellow villagers play a critical role in lending money to and supporting households that are facing financial difficulties and hardship. Informal modes of reciprocal exchange of money, food, and other resources within families and among hamlet members are a common practice and help to bind communities together.5
The high costs associated with health care reflect only one of several major distortions that exist between local rural income levels and the cost of basic social services. For instance, while primary and junior high school tuition is now free for rural households, senior high school tuition and its associated costs are not. As a consequence, in some of the households surveyed for this book, parents are using most of their disposable income to keep their children in senior high school (field notes, September 30, 2006, January 20, 2008). These parents hope that once their children graduate, they will be able to find well-paid jobs in the county town and help to pull the family out of poverty. The annual salary paid to mid-level government work unit employees is equivalent to around eighteen times Gongshan's average annual individual cash income. However, because poor households located outside the county town are unlikely to have good connections with local government and there is a general lack of well-paid and stable off-farm work opportunities in the county town, many high school graduates return to their rural hamlets. Consequently, parents living in Gongshan's rural hamlets often view senior high school and its associated fees as an unnecessary financial burden.
During much of the reform-era geographical isolation, low educational levels and the inability to converse in standard Chinese kept the mainly ethnic minority population relatively detached from the large-scale economic transformation that was affecting other parts of rural China. Indeed, in other parts of China, temporary rural-to-urban migration has played an instrumental role in alleviating poverty and creating social mobility for the rural population. In contrast, until recently it was rare for people from Gongshan to travel outside the county. The social and economic environment was defined largely by local conditions, with most children experiencing a life of rural subsistence, as the generations before them had done. The formal education system was underdeveloped and offered limited utility. School completion rates were low.
Gongshan's ethnic minorities are subject to a particularly demeaning official and popular discourse that represents them as "backward" (luohou) and of low quality, with their subsistence lifestyles and harsh living conditions representing the antithesis of the development model prescribed by the Chinese Party-state. Governing authorities at all levels call the challenges to development in Nujiang's four counties the "Nujiang issue" (Nujiang wenti). According to this narrative, Nujiang's weak environmental carrying capacity, combined with isolation and a "poor," "low-quality" ethnic minority population, is hindering the development of the Nujiang economy. One of the key messages implicit within this narrative is that the traditional, subsistence-based livelihoods and agricultural practices of the local ethnic minority population are environmentally destructive. Critically, this official narrative not only is employed to explain Gongshan's failure to develop; it is also fundamental to legitimizing the government's development agenda for Gongshan's ethnic minority population, which, among other things, includes shifting them away from traditional agricultural livelihoods and toward off-farm work.
Gongshan society has undergone significant social and economic transformation in recent years. Apart from experiencing improvements to social and economic infrastructure, such as the Dulongjiang Road, introduced earlier, Gongshan's population has been subjected to a series of large-scale government development programs. Central among these programs are the implementation of the Sloping Land Conversion Program (SLCP; Tui Geng Huan Lin Huan Cao Gongcheng),6 the creation and increased policing of the national-level Gaoligongshan Nature Reserve, and the strict enforcement of the nine-year compulsory education policy. The Nujiang and Gongshan governments have been actively encouraging the transfer of household labor away from farming and toward nonagricultural work regimes via the promotion of programs such as "labor export" (laowu shuchu).
Here we are seeing not only the transformation of traditional ways of life, but also a shift in the role the local population is expected to play vis-à-vis the state and the encroaching market-oriented industrial economy. In this new and seemingly neoliberal milieu, local governing authorities expect Gongshan's subsistence farmers to take greater responsibility for improving their livelihoods and "human quality," or ren de suzhi, by actively engaging in and contributing to the strengthening of this economy.
There are, however, clearly defined limits to the level of autonomy that local governing authorities are willing to concede to the local population. Although Gongshan's ethnic minority population is being actively encouraged by local governing authorities to improve its human quality, this process is conducted according to a formula strictly defined by the government. Indeed, Gongshan's poor ethnic minority people are considered by the government to have substantially less capacity to improve themselves than other sections of the population. Consequently, they are subjected to significantly more authoritarian forms of government intervention in everyday life.7
Nevertheless, even when ethnic minority people from poor communities such as Gongshan engage with the market economy, persistent structural inequalities, particularly in education, severely hinder their capacity to engage in the market on an equal basis. While government discourse promotes education and labor export as avenues for alleviating poverty, improving population quality, and stimulating local economic development, the most that Gongshan youth can realistically aspire to, aside from local government work, is engaging in low-skilled, undervalued production-line work in the coastal-based factories that constitute China's industrial economy.
The analysis that follows is based primarily on ethnographic research I undertook during eleven months of fieldwork in China between May 2005 and January 2008. The fieldwork was composed of two extensive research trips (May–August 2005 and August 2006–January 2007) and one shorter, follow-up trip in January 2008. The ethnographic material is based on household surveys, participant observation, and interviews conducted with officials, teachers, parents, and students. My fieldwork was concentrated in Gongshan's Cikai township (see map 3, in chapter 1, and map 4, in chapter 2), which is also the location of the county town.
Careful negotiation was required to gain official permission to undertake fieldwork in Gongshan, which is part of China's politically sensitive ethnic minority border areas.8 At the time of my fieldwork, local government sensitivity to outsiders was compounded by ongoing criticism by civil society and the international press of the proposed Nu River damming project. My research access to Gongshan was greatly facilitated by my host university in Yunnan's capital, Kunming, which had links with local government there.9 Ahead of my departure for Gongshan, the university contacted the local government about my proposed research project. Those conversations led to my meeting with several county government officials soon after my arrival in Gongshan, during which I explained that my research focused on poverty alleviation programs and the "Open Up the West" (Xibu Da Kaifa) campaign in China's western peripheral regions, and that I proposed to use Gongshan as a case study. As a result of this meeting, the county officials provided a letter of introduction, allowing me to conduct research in Gongshan.
I used the Gongshan county town as my base, staying in local hostels at night and traveling to villages and schools by day. I originally had intended to base myself in several villages for extended periods. However, the county officials suggested that I stay in the county town for my own "safety."
Physical isolation presented its own challenges. While transport infrastructure has improved in recent times, the road journey from Kunming to Gongshan takes approximately seventeen hours and requires at least one change of bus. This journey was made more difficult when the road up the Nu River gorge between Liuku and Gongshan was blocked by landslides, which were not uncommon. I generally spent research stints of one month in Gongshan before returning to Kunming for periods of two to three weeks.
The first period of fieldwork (May–August 2005) was particularly difficult, as I had few local contacts and the informants I did meet were reluctant to speak candidly about the impacts of recent development programs. In order to attain a broad overview of social and economic conditions and refine my research threads, I conducted household surveys in several villages of varying proximity to the county town. These included generic questions on income, educational attainment, agricultural output, and the impacts of the nature reserve and the SLCP.
The second period of fieldwork (August 2006–January 2007) was much more targeted and rewarding. Building on my previous household surveys and discussions with local teachers and retired officials, I was able to isolate the key government programs contributing to the transformation of Gongshan society: land reform, mainly via the SLCP; the creation of the nature reserve; education reform, particularly school consolidation and the implementation of nine-year compulsory education; and labor export. I conducted both structured and unstructured interviews as well as further (but more nuanced) household surveys with local farmers, teachers, and officials (both current and retired). I initiated a poverty alleviation project at this time, which provided some particularly useful insights into the machinations of village life and local government; I return to this project in the concluding chapter of this book. This second period of fieldwork also allowed me to consolidate friendships with local families and retired officials, and our informal chats, often over an evening meal, helped me to build a picture of local life as well as to fill in some of the information gaps that inevitably appeared following my daily research trips to villages and schools.
Language presented one of the greatest challenges in conducting ethnographic fieldwork in Gongshan. Although I have a high degree of fluency in standard Chinese, many of the Gongshan-based informants whom I interviewed during the course of the research for this book spoke little or no standard Chinese. I was able to overcome this challenge by employing a local research assistant and translator. "Liu" was born in Gongshan and is fluent in most of the local languages as well as standard Chinese.10 During most of my interviews, Liu translated from the local language.
THE IMPERATIVE OF MODERNITY AND DEVELOPMENT
In contemporary China, modernity and development not only are implicated in creating and improving material infrastructure such as highways, urban skyscrapers, and mass communication networks, but also are connected with molding human subjects who are useful to the ongoing development and strengthening of the national economy. In contemporary China's "population quality" (renkou suzhi) discourse, official and popular narratives privilege modern, urban subjectivity while representing rural China as a backward repository of low-quality human subjects holding back national development. Paralleling neoliberal development regimes elsewhere, there is a growing tendency for government, understood in terms of the "conduct of conduct," or governmentality (Foucault 1991), to use a variety of techniques and forms of knowledge to shape the conduct of people from China's rural ethnic minority communities by evoking and working through their desires and aspirations.
At the same time, government development interventions are relatively blunt instruments for facilitating human improvement and often fail to effectively map the contours of the communities targeted for development.11 Development interventions from outside China illustrate that although modernity and development are associated with progress, modernization, and the creation of more comfortable material living conditions, they are also connected to social and economic dislocation and the fundamental transformation of community life. Furthermore, in many cases development is associated with a significant power imbalance, with communities having little control or choice concerning the development programs affecting them. Rather, it is something done to them "for their own good."
This book engages with development policy at both national and local levels. Its arguments, however, are based primarily upon ethnographic fieldwork in Gongshan. The fieldwork data illuminate how the Chinese Party-state manifests at the local level of Chinese society. Although central government policy statements clearly inform us of the details and rationale sustaining the development program at a national level, they tell us little about how policy is experienced at a local level. This analysis reveals how "the state has become implicated in the minute texture of everyday life" (Gupta 1995: 375) and illuminates how the state is both constructed and imagined. Primary-school texts used in Gongshan, for example, teach Gongshan children that they are citizens of the Chinese Party-state. During this learning, they also imbibe a "hidden curriculum," learning that they share a common set of values with their counterparts living in prosperous cities in eastern China, even though historically Gongshan's political relationship with China has been highly tenuous.
Deconstructing Modernity and Development
Modernity is a term that can be used to describe the massive ideological, social, and economic shifts that have transpired since the European Enlightenment. It was during the Enlightenment that scientific rationalism emerged to challenge religion as a source of authority for directing human progress and development. While the term modernity is highly contested in both western and nonwestern contexts, it is usually equated with a society that privileges scientific progress and human intervention, a capitalist system underpinned by a modern industrial economy, and freedom from political and religious oppression (Giddens and Pierson 1998: 94). Most important, it tends to reflect a society that "lives in the future rather than in the past" (ibid.).
Deconstructing "modernity" is important to our understanding of how modern societies are governed. Under conditions of modernity, the nation-state represents the hegemonic form of the polity. In this regard, a distinguishing feature of modern nation-states is their capacity to influence the conduct of disparate populations spread over vast territories via efficient administrative coordination.
Here, the concept of "governmentality" (Foucault 1991) is a useful theoretical tool for excavating the ways in which modern nation-states are governed. Governmentality is concerned with the modern "art of government," referring to, among other things, the government rationalities, institutions, and techniques geared toward acting upon and through the conduct and aspirations of the population to achieve the purposes of the government. It points to the rise of technocracy and reveals how the "thoughts" of politicians, bureaucrats, and development specialists are rendered "practical and technical" (Dean 1999: 18).
The identification, categorization, and targeting of specific sections of the population by government is a fundamental feature of governmentality. Michel Foucault discusses how in Western Europe in the eighteenth century the "discovery" of the population as an amalgam of individuals with measurable characteristics facilitated the shift toward this new art of government. He employs the term bio-power to encapsulate the disciplining institutions and biological interventions that emerged during this period and allowed government to survey and act upon the population in an unprecedented and meticulous manner: "The old power of death that symbolized sovereign power was now carefully supplanted by the administration of bodies and the calculated management of life" (1978: 139–40). Foucault describes a process wherein the collection and measurement of information about the population not only improved the state's capacity to detect societal problems and provide services and supervision conducive to societal well-being, but also provided conditions under which the human capacities of this newly discovered population could be harnessed and optimized by the state. For example, we see the emergence of medical clinics, through which the measuring and recording of different aspects of bodily health and function provided the state with a new, sophisticated mechanism for enacting state power through the population. Similarly, modern education systems are a strategic site for governmental intervention.
This new art of government has greatly facilitated the capacity of modern nation-states to govern and develop national economies. However, while First World economies have thrived as a result of this improved economic capacity, there are also more insidious effects. Foucault's underlying critique of modernity and the modern, liberal nation-state is that rather than engendering conditions for human freedom from state oppression, they actually are a more sophisticated and meticulous form of domination.
Just as modernity is underpinned by the understanding that "progress" is possible and desirable, so modernity is characterized by trauma and dislocation. For example, marginal, rural communities in the developing world find themselves grappling with outside economic and social forces that are generally beyond their control. This scenario is facilitated by a phenomenon that Anthony Giddens describes as "disembedding," wherein "distant events and actions have a constant effect on our lives" (Giddens and Pierson 1998: 98). Major advances in mass communication and transport and the freer flow of capital have bridged spatial and temporal divides among nation-states, as well as between central authorities and marginal communities. Thus even marginal communities are "lifted out" of their immediate economic context and exposed to national and global economic forces, which in turn reshape local contexts (ibid.). On the one hand, this disembedding can provide positive economic and social outcomes for less economically developed rural communities via the provision of better social services and employment opportunities. On the other hand, it can have a deleterious and irreversible effect upon local cultural practices, lead to social dislocation, and marginalize those members of the community who are not equipped to deal with the changes that are taking place.
The ideas of such theorists of modernity as Giddens and Foucault are useful when applied to China, but only with severe modification. Of most significance is their tendency to conflate modernity with liberal democracy and a shift toward indirect forms of government that depend upon acting through the freedom and desires of the population to achieve the ends of the nation-state. This tendency is obviously problematic when examining notions of modernity and government in contemporary China.12 On the one hand, during China's reform era, we have seen a contraction of authoritarian and direct forms of government intervention in society and a concomitant shift toward more liberal forms of government that depend upon the autonomous choices of the population (see Jeffreys 2009; Hoffman 2006). On the other hand, the CCP continues to maintain a monopoly over the political sphere and still relies upon overt techniques and practices to mold human conduct among some sections of the population (see Sigley 2004). To tackle this apparent contradiction and enable a sophisticated perspective on the ways in which contemporary Chinese society is governed, we need to turn to a nuanced analysis of government, one that blends neoliberal rationalities with authoritarian forms of government intervention (Sigley 2006). For example, Gongshan's poor ethnic minority farmers are subjected to a particularly paternalistic assemblage of government interventions that may be described as "authoritarian governmentality" (Dean 1999: 131–48), as they are regarded by governing authorities as incapable of improving their situation of their own accord. In contrast, we see that urban professionals are endowed with a high degree of autonomy in areas such as educational, work, and lifestyle choices. This also brings to light the hazards of invoking the term neoliberalism in our analysis of governance in contemporary China (see Kipnis 2007). Neoliberalism gestures toward small government, greater individual autonomy, and the absence of class differences. Gongshan's ethnic minority farmers are confronted with what appears to be a neoliberal discourse that implores them to, among other things, improve themselves via formal education, move away from their "backward" subsistence-based rural lifestyles and into more "productive" and better-paying off-farm work, and take greater responsibility for their destiny by actively engaging with the increasingly market-oriented economy. In reality, recent reforms in areas including education and agriculture have resulted in government having greater influence over people's lives. These programs have increased dependence upon government and significantly curtailed individual autonomy with regard to the operation of the household economy. Further, even when Gongshan's farmers make the sojourn to coastal areas to take up off-farm work opportunities, deep structural inequalities within the Chinese political economy mean that they do not enjoy the same access to social services as their urban counterparts and are relegated to the lowest-paid, most undesirable work assignments.
If we accept that modernity reflects the social and economic transformation of society as well as the collapse of spatial and temporal boundaries both within and among nation-states, then we can understand development as the vehicle for facilitating these processes. In contemporary times, we see the phenomenon of governmentality replicated in the development regimes of governments and international development agencies.
As with the term modernity, development is highly loaded and contested.13 It is not the purpose of this book to undertake a forensic examination of contemporary international debate about development. However, we can learn from this debate that while it is crucial to acknowledge the power of development policy and interventions to entrench communities within the political and bureaucratic apparatus of the state, it is also critical to note that local actors do not always maintain a passive position and that development policy is subject to local negotiation; indeed, many challenge the dominant and powerful systems of knowledge and practice that are being imposed. Further, optimal development outcomes tend to be achieved when programs are demand-driven and communities are appropriately consulted and engaged.
Through ethnographic examination of the implementation of a series of development programs in southwestern China, this book contributes to our understanding of how development is experienced and negotiated at the local level.
THE CHINESE DEVELOPMENTAL STATE
Marxism remains a central ideology of the CCP.14 A key premise popularly associated with this ideology is that societies progress through a series of strictly defined stages of material development, beginning with primitive society and culminating in advanced socialist society.15 Each stage of material development is characterized by a particular mode of production, relations of production, and level of "productive forces" (shengchanli) (Stalin 1940: 28–30). Stalin defines productive forces as "the instruments of production wherewith material values are produced, the people who operate the instruments of production and carry on the production of material values thanks to a certain production experience and labour skill . . ." (ibid.: 28; original emphasis). Progression to higher stages of material development is dependent upon changes to the productive forces of the population, described by Stalin as "not only the most mobile and revolutionary element in production, but . . . also the determining element in the development of production" (ibid.: 32). During the Maoist period (1949–76), the CCP dismantled all notions of private ownership and actively promoted collectivization as a means of harnessing the productive forces of the population and developing the agricultural and industrial economies.
While there were marginal improvements in the lives of the Chinese populace during the Maoist period (not discounting the deleterious effects of the Great Leap Forward [1958–61] and Cultural Revolution [1966–76]),16 by the mid- to late 1970s China's leaders were aware that the command economy had generally failed to bring prosperity to the Chinese people. In order to alleviate the rising discontent (particularly in the countryside) and reaffirm the power of the CCP, Deng Xiaoping officially launched a wave of radical economic policies that were intended to modernize China. The Third Plenum of the Eleventh Party Congress, convened in December 1978, marked a major turning point in CCP national development policy. Deng launched a wave of reforms at this conference, signaling a decisive departure from Mao's command economy. China entered a new era, known as "reform and opening up," which promised a better standard of living for the Chinese population.
A crucial outcome of the reform era has been the gradual, though not complete, dismantling of the socialist economy. While a sizeable proportion of the Chinese economy remains in state-owned hands, there has been a substantial expansion of the market economy. A loosening of restrictions on labor mobility has accompanied this shift. Overarching these changes is an increasingly neoliberal approach to economic development wherein Chinese citizens are expected to take individual responsibility for their economic livelihoods. One of the most important outcomes associated with these changes has been the migration of tens of millions of surplus rural laborers to urban areas. These workers have taken advantage of the low-skilled but (in comparison to agricultural work) relatively well-paid work assignments offered by factory managers and construction bosses. Politically, China remains a one-party state. While democratic elections take place at the village level, and there have been experiments with democratic expansion at the township level of government, there is limited space for public participation in forming state policy. The economic system is popularly referred to as socialism with Chinese characteristics or the socialist market economy.
As a result of the reforms initiated in the late 1970s, today many Chinese people experience standards of living that would have been unthinkable thirty years ago. For example, between 1978 and 2005, rural households' per capita annual net income rose from ¥133.6 to ¥3,254.9, more than a twenty-four-fold increase (National Bureau of Statistics of China Online 2006: section 10-2).17 Reforms there have been credited with removing more than five hundred million people from poverty between 1981 and 2004 (World Bank 2009). The CCP has overseen a dramatic expansion of the Chinese economy, which has in recent years become the world's second largest.
Critically, while many aspects of the economic development agenda pursued by the CCP since 1978 reflect a neoliberal rather than a Marxist ideology, other aspects of this agenda are decidedly nonliberal (see Kipnis 2007), with the Party continuing to represent itself as the only agent capable of providing the social and economic conditions that will enable the Chinese population to improve themselves and achieve higher levels of material and spiritual development.
With this in mind, it is not surprising to find that a development narrative dominates official and popular spheres in China. State-controlled television news programming focuses heavily on stories about economic development and infrastructure projects. Statistics and other economic data demonstrating increases in growth and output accompany these stories. At the grassroots level, this narrative manifests in multiple ways. This includes colorful local government billboards boldly announcing new economic development plans and development goals achieved to date (see fig. I.2). This narrative serves to legitimize the CCP's right to rule.
The Party's state development policy in the contemporary period has two main aspects. The first concerns material improvement and progress: the creation and fostering of economic conditions to facilitate prosperity and better living standards for the Chinese people. The second concerns improving the quality, or suzhi, of China's human resources. Population quality discourse features heavily in the development agenda advanced by Hu Jintao, who was CCP general secretary from 2002 to 2012. Hu promoted a "scientific concept of development" (kexue fazhan guan) in an attempt to balance the uneven social outcomes associated with China's rapid economic development.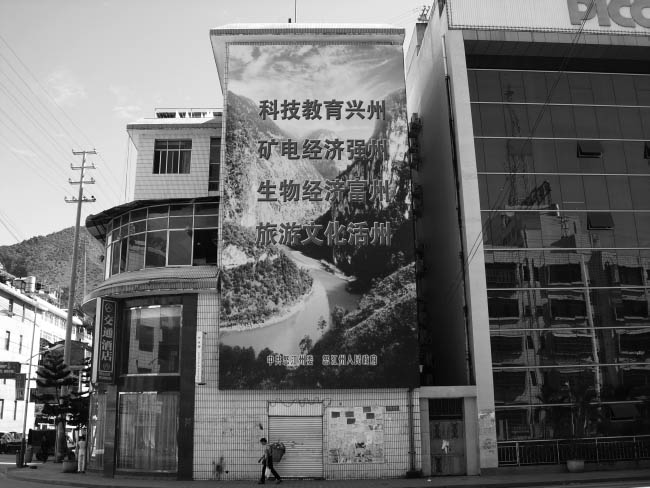 There is no English term that accurately reflects the connotations of suzhi (Kipnis 2006a). The western notion of human capital provides a close approximation.18 Suzhi has come to represent an important index of human development and is a central feature of the state's exercise of bio-power over the population. In this regard, the label "low quality" (di suzhi) is invoked to describe those sections of the population considered to embody low levels of cultural and educational sophistication and which undertake activities that contribute minimal economic and cultural value to the Chinese Party-state (see Jacka 2009). Examples of the sections of the population labeled as low quality include poor farmers, rural migrant workers, and ethnic minority people—such as those living in the county that is the focus of this book. These sections of the population are explicitly targeted in campaigns aimed at improving population quality. The dramatic social changes that have taken place in China during the reform era have also contributed to significant public interest in the cultivation of a generation of "high-quality" (gao suzhi) child subjects who will be able to deal with the challenges of the modern world (Greenhalgh and Winckler 2005: 44).
China's large rural population has been a major target of population-quality discourse during the reform era; it is often portrayed as a backward, low-quality Other holding back national development and as the antithesis of the modern, productive urbanite residing in major cities such as Beijing, Shanghai, and Shenzhen (Anagnost 1997a). It has been a focus of intellectual and official anxiety, "appear[ing] as a tumorous mass" and "lacking a consciousness of development that the post-Mao Chinese state has been striving to foster" (Yan 2003a: 495; original emphasis).
In Gongshan, official and popular discourse suggests that its rural ethnic minority population is an extreme subsection of the low-quality rural population that threatens to destabilize local and national development. Population-quality narratives feature heavily in official and popular discourse, playing a primary role in justifying government intervention in society.
Unequal Development
Population-quality discourse is informed by the substantial social and economic inequality that has accompanied China's economic reform process. During the first two decades of the reform era, the CCP directed both local and foreign investment away from interior and western regions in favor of coastal provinces such as Guangdong, Fujian, Zhejiang, and Jiangsu. The Party called for the "East to get rich," in 1988 instituting the Coastal Economic Development Strategy (Lai 2002: 433). According to a December 2000 article in the Economist entitled "Asia: Go West, Young Han," foreign investment in China's western regions during the first two decades of reform amounted to less than 5 percent of total foreign investment (29–30). Consequently, while communities along or near the eastern and southern coasts prospered, interior and western provinces were largely left behind. According to some estimates, more than 50 percent of China's wealth is concentrated in the hands of a small economic and social elite. Nearly 80 percent of production is concentrated in China's coastal provinces, while only 40 percent of the population resides in these areas (Dirlik 2006: 108–9; Goodman 2008; Naughton 2007).
The central government has become increasingly sensitive to this growing inequality, recognizing that it presents a serious threat to social and economic stability. Consequently, in recent years, rural communities in western China have been subjected to large-scale development campaigns targeted at creating conditions that will bridge the social and economic gap between eastern and western China. "Open Up the West" and the more recent "Build a New Socialist Countryside" are the most prominent of these campaigns.
These campaigns are part of a larger state agenda designed, first, to exploit the natural and cultural resources of the western regions for the purpose of expanding national economic growth and development, and, second, to further entrench the state's control and surveillance of China's peripheral regions, particularly Tibet and Xinjiang. The nominally "autonomous" Tibet and Xinjiang regions maintain a somewhat contentious status within the modern Chinese nation-state. For example, while China's governing authorities consider Xinjiang and its ethnically diverse population to be a part of the modern Chinese nation-state, some sections of its traditional Uighur population refer to Xinjiang as East Turkistan and have been very hostile toward what they regard as Han "colonization" of this region.19 At times, organized resistance against China's governing authorities has been considerable, and terrorist-type attacks against state institutions have been reported. China's governing authorities are very keen to crack down on these resistance movements (and it has done so quite successfully) and to bring development, prosperity, and "civilization" to the people of Xinjiang.
The "Open Up the West" and "Build a New Socialist Countryside" Campaigns
"Open Up the West" is the most prominent government program officially targeted at reducing the growing social and economic divide between China's coastal and western peripheral regions. In March 1999, former CCP General Secretary Jiang Zemin declared, during a speech at the Ninth National People's Congress (NPC), that the development of China's western regions was a key strategy in realizing national development and modernization goals (Lai 2002: 436). Launched in 2000, the "Open Up the West" campaign has focused on improving economic and social infrastructure in the less economically developed western and interior provinces and autonomous regions of Shaanxi, Gansu, Qinghai, Ningxia, Xinjiang, Sichuan, Chongqing, Guizhou, Yunnan, Tibet, Inner Mongolia, and Guangxi (ibid.: 432–36). The campaign is a key tenet in the CCP's strategy for entrenching its legitimacy among the ethnic minority groups living in these provinces and autonomous regions.
During its infancy, implementation of the "Open Up the West" campaign was inconsistent and did little to redistribute wealth and investment to China's western regions (see Goodman 2004). However, in more recent times the social and economic impacts associated with "Open Up the West" have become more pronounced, particularly in Tibet and Xinjiang. The central government's recent efforts to link Tibet to the rest of China via railway is an overt manifestation of the "Open Up the West" campaign, not only evidencing the physically transformative power of the campaign, but also underscoring its political and social engineering agenda.20 Some sections of the Tibetan population have been hostile to growing Han presence in what they consider to be their sovereign territory and continue to call for greater political autonomy from China. While Tibet has been subjected to the political authority of the CCP since the early 1950s, its physical isolation has been a barrier to local economic development during the reform era. However, if all goes according to the CCP's plan, the railway will help to facilitate further economic development in what until now has been a poor and economically marginal area of China. China's governing authorities are clearly expecting that the projected jobs and prosperity associated with this economic transformation will also engender a social and political transformation among the Tibetan population, one that will intensify their integration into the Chinese Party-state and extinguish any desire for greater political autonomy. "Open Up the West" again draws our attention to the hazards associated with applying the concepts of modernity and neoliberalism to contemporary China. On the one hand, the program is designed to enable neoliberal economic conditions in China's western peripheral regions that will provide opportunities for ethnic minority people living in these regions to act with greater economic autonomy, improve themselves, and increase their engagement with China's expanding market economy. On the other hand, it is part of a remarkably unliberal political agenda intended to subdue ethnic opposition and further integrate ethnic minority groups into the Chinese Party-state.
"Build a New Socialist Countryside" is another far-reaching campaign targeted at ameliorating social and economic inequality and engendering political integration. This campaign has directed unprecedented levels of central government funding toward the provision of subsidized social services in rural areas, particularly those located in western peripheral regions. Recent education reforms, including the implementation of free nine-year compulsory education throughout rural China, are a key example of these efforts.
Conservation Programs
In recent times, environmental conservation programs have become a strategic pillar of the central government's development agenda, playing a key role in shifting farmers living in western peripheral regions away from their traditional agricultural livelihoods and facilitating their integration into the market economy. While China's rapidly industrializing economy has been highly efficient in pulling hundreds of millions of people out of poverty and transforming small towns and cities into thriving modern metropolises, its natural environment has suffered extreme degradation (see Watts 2010). Since the late 1990s, the central government has implemented a series of large-scale environmental conservation programs in an attempt to restore China's natural environmental resources. Critically, communities in poor peripheral regions such as northwestern Yunnan are most likely to be adversely affected by conservation programs, prominent among which are a national logging ban and the Sloping Land Conversion Program, which employs subsidies to encourage farmers to convert their marginal agricultural land to forest. Since the 1980s, China has also converted large tracts of old-growth forest into nature reserves. The increased policing of the forest resources within these nature reserves since the late 1990s has impacted communities that traditionally relied upon these resources to augment their household economies. In reducing access to the resources that sustain traditional agricultural livelihoods, these programs have in many cases encouraged farmers to pursue off-farm work in local towns or the industrial cities in China's coastal provinces.
Development and Ethnic Minorities
Ethnic minorities in China are a population subset that is particularly affected by recent development programs. Under Communist rule, ethnic minority groups have been conspicuous targets of government policies centered on integration and population improvement.21 While in more recent times CCP development policy has contributed to major improvements in social and economic outcomes in ethnic minority areas, including Gongshan, it still tends to be highly paternalistic, and it demeans and subordinates ethnic minority culture to a Han way of life.
Although early CCP policy openly acknowledged and even celebrated ethnic diversity, it also subjected ethnic minorities to a rigid, Marxist-inflected historical materialist narrative that portrayed them as backward, of low productive forces (di shengchanli), and a hindrance to national development. Central to this narrative was the notion that societies progress through a rigid, linear index of material development: primitive, slave-owning, feudal, capitalist, and socialist.22 The Han were placed at the top of this index, with the vast majority of ethnic minority groups placed below them. The Han were represented as the vanguard, responsible for guiding "less advanced" ethnic minorities toward the telos of material development—socialism (Gladney 2004: 13). During the reform era, official concerns about population quality have become enmeshed within this narrative, both informing and providing justification for ongoing government development programs within ethnic minority communities such as Gongshan.
Historically, many ethnic minority communities, including the one that is the subject of this book, maintained a tenuous cultural and political attachment to the Chinese empire. Since 1949, the central government has imposed Chinese national identity upon China's ethnic minorities. Even today, many of China's ethnic minority people share stronger cultural identification with ethnic groups living beyond their national border than they do with their fellow Chinese citizens.
China officially recognizes fifty-five different ethnic minority groups; these groups constitute approximately 8.49 percent of the national population (National Bureau of Statistics of China Online 2011: section 3.5).23 While there is a high degree of diversity among and within these groups, they are concentrated in the less economically developed western provinces of Sichuan, Qinghai, Guizhou, and Yunnan and autonomous regions of Xinjiang, Guangxi, and Tibet.24 These groups include the Uighur, Tibetans, Hui, Yi, and Miao. China's ethnic minority population, totaling around 114 million, occupy approximately 60 percent of the country's land area. Many of the areas they occupy are politically sensitive border regions (Mackerras 2003: 1).
Overall, ethnic minorities experience lower standards of living compared to the majority Han population. Inequality between the Han population and ethnic minorities is not just a phenomenon of the Communist era. Over the centuries, growing population pressure and land scarcity in eastern China prompted large waves of Han to migrate west in search of less crowded agricultural land. In so doing, they gradually, though not always peacefully, displaced the less powerful ethnic groups that had traditionally occupied these areas, pushing them away from the fertile plains and toward marginal mountain regions, such as Nujiang.
The definition of ethnic minority in China is not straightforward. First, an ethnic label can have significantly different meanings even for people of the same ethnic minority group.25 Second, the official classification of China's ethnic minority groups has been and continues to be a highly politicized process influenced by official concerns about national unity—in the sense of the unity of the Chinese nation-state.26 Although I use ethnic minority in this book to describe the people who constitute China's officially recognized non-Han ethnic groups, this English term does not accurately reflect the historical and political significance of shaoshu minzu. In fact, there is no way to directly translate shaoshu minzu into English. Shaoshu simply means "small in number." However, minzu is more ambiguous. In the Chinese language, there is no semantic demarcation among "people," "nation," "nationality," and "ethnicity": because the single term minzu can be used for all of these terms, there is a blurring among the conceptions of nation, nationality, and ethnicity (Heberer 1989: 10–11). For instance, the Uighur and Dulong are both officially classified as minzu, even though there are considerable differences in the conception of these groups. Numbering nearly ten million and sharing a strong subjective ethnic identity, the Uighur are the dominant ethnic group in the vast geographical region of China's west known as Xinjiang. As well as sharing a strong ethnic identity, historically the Uighur have also demonstrated a distinctive political identity. Indeed, at various times prior to 1949, Uighur nationalists have attempted to create a Uighur nation-state completely independent of China. Thus it is relatively straightforward for us to conceptualize the Uighur as a "nation" of people, or the "Uighur Nation." Although the Dulong, too, share a subjective ethnic identity, they number approximately six thousand and are concentrated in a minute geographical area in the west of Gongshan. For these reasons it is difficult to conceptualize the Dulong as the "Dulong Nation." Groups such as the Yi further complicate our understanding of the term minzu. Large in number and located in the southwestern provinces of Guizhou, Sichuan, and Yunnan, the Yi are officially classified as one of China's minzu, yet the "Yi" are actually an assemblage of ethnic groups that when directly compared with one another share neither a common geographical area nor a common subjective ethnic identity in most cases (see Harrell 2001).
When the CCP came to power in 1949, China's ethnic minorities presented a significant policy challenge for the country's governing authorities. Just as the CCP was determined to promote an ideology that ethnic minority groups and the majority Han population were one harmonious entity living within the fabric of socialism, it was also keen to formally acknowledge ethnic minority cultural identity. The CCP settled upon describing China as a "unified country of diverse nationalities" (tongyi de duo minzu guojia) (Harrell 2001: 31). In official terms this description accorded ethnic minorities equal status with the Han. However, once the CCP embarked upon its Marxist-Leninist–inspired development agenda for China, any semblance of equality between the Han and ethnic minority groups quickly evaporated.
The Han-dominated CCP saw itself as a modernizing and unifying entity whose role included bridging the development gaps between what it perceived to be backward, less developed ethnic minorities (such as those living in Gongshan) and the more advanced Han population. Universal development and progress were absolutely fundamental to the CCP: while the CCP accepted ethnic diversity, there was an assumption that all ethnic minority groups living within the borders of the Chinese Party-state would conform to its highly prescribed program of universal development. This approach persists today. For example, fig. I.3 shows a government-sponsored billboard on the main road leading into the Gongshan county town. The billboard displays men and women from Gongshan's main ethnic minority groups (Dulong, Nu, Lisu, and Tibetans) wearing traditional costumes. The large red characters at the bottom of the billboard declare: "Unite together to struggle forward, together develop prosperously." Such displays are very typical of political representations of ethnic minorities in China (see Gladney 1998: 2).
The Ethnic Classification Project (Minzu Shibie) was an important initial step in the CCP's strategy to socially engineer China's multiple ethnic groups into the Party-state (see Mullaney 2011). Launched in the early 1950s, the Ethnic Classification Project was a series of expeditions undertaken by social scientists to China's frontier and border areas to investigate and officially categorize ethnic groups on behalf of China's governing authorities. However, rather than being an impartial social scientific investigation of China's complex ethnic tapestry, the Ethnic Classification Project was a reactive, politically expedient exercise designed to accommodate the large, rigid administrative apparatus being developed by the CCP.
For the first-ever National People's Congress (NPC), scheduled for autumn 1954, the CCP had guaranteed at least one of the twelve hundred seats for each officially recognized minority group, with larger groups allocated more than one seat. The inclusion of minority groups in the NPC would provide the newly established CCP with a potent symbol of its commitment to proportional representation of China's minority groups. However, at the time there was still a high degree of uncertainty about China's ethnic composition, making it difficult to apportion seats within the NPC. So when the central government undertook its first official nationwide census of the Chinese population, between July 1953 and May 1954, one of its key goals was to clarify the ethnic composition of China's population. Once this was known, the CCP could apportion NPC seats to reflect China's ethnic diversity (ibid.).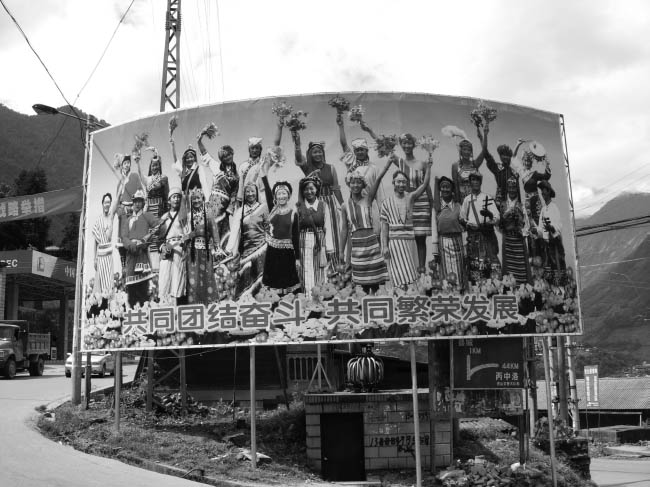 Nonetheless, the census results presented the governing authorities with a problem: more than four hundred ethnic groups were identified.27 If this number had been accepted, minorities would have constituted more than one third of the NPC but only approximately 6 percent of the population.
To ameliorate this situation and more effectively categorize China's ethnic groups, governing authorities organized the Ethnic Classification Project. The underlying goal of the project was to identify a discrete list of groups that could be accommodated within the larger political machinery that was being developed by China's governing authorities. Of the more than four hundred different groups that were identified via the 1953–54 census, fifty-five would eventually be classified as official ethnic minority groups, with the remainder collapsed into one of these fifty-five meta-groups or categorized as Han (which is also a minzu but not a minority) (ibid.).
In contemporary China, the notion that "historical" economic bases underpin the material development of different groups of people, and that with an appropriate level of intervention and guidance from Communist governing authorities "less advanced" groups can ascend to higher levels of material development, continues to play a decisive role in shaping policy and attitudes toward ethnic minorities. Government publications emphasize how productive forces and agricultural output in ethnic minority regions have increased under the guidance of the CCP. These reports seek to emphasize the superiority and legitimacy of CCP policy and the backwardness of ethnic minority livelihood practices. In Gongshan, local government officials still commonly describe their work as assisting less developed ethnic minority groups to achieve higher stages of material development, as in this statement made by a Dulongjiang township official in July 2005: "With the help of the CCP and Marxist thought, the people of Dulongjiang are moving from being primitive people to a socialist society. In doing so they are leaping forward and bypassing several levels of development. However, their productive forces are still not very high" (field notes, July 3, 2005).
Autonomy, Affirmative Action, and Economic Development in Ethnic Minority Regions
China's central government officially acknowledged China's ethnic minorities in the 1954 national constitution.28 Granting autonomy to areas populated by ethnic minority groups was a key feature of central government policy. Autonomy encompassed the right to self-administration and the protection of ethnic minority rights.
However, beginning in the late 1950s there was a dramatic shift regarding the treatment of ethnic minorities, and their special status and privileges were scaled back. Assimilation became the new norm as the highly charged political atmosphere of the Great Leap Forward and Cultural Revolution permeated their communities. Earlier policies directed toward embracing ethnic diversity and difference were supplanted by the dogmatic and often violent application of Communist doctrine, wherein the cultural differences of ethnic minority groups were construed as "class contradictions" that had to be eliminated. National organizations were shut down and religious practitioners and national intelligentsia persecuted (Barabantseva 2008: 580).29 The delivery of education in minority languages was also suppressed. As a consequence of this shift, the social and economic status of ethnic minorities deteriorated significantly, and tensions between the Han and ethnic minorities increased (ibid.).
At the beginning of the reform era, the central government became highly sensitive to social conditions in areas populated by ethnic minorities, realizing that previous policies and the Cultural Revolution not only had left ethnic minorities largely "underdeveloped," but also had engendered a high degree of antagonism toward the ruling Han elite (Heberer 1989: 6–7).30 In response, the central government embarked upon a more strategic policy toward ethnic minorities. The 1984 Autonomy Law was a cornerstone of the central government's approach, representing "an official upgrading of minorities, their autonomy, and their self-administrative bodies" (ibid.: 43). This new approach focused on improving social and economic conditions in ethnic minority regions, as well as on embracing cultural plurality. For example, article 4 of the Constitution of the People's Republic of China (PRC) states: "All ethnic groups have the freedom to use and develop their own spoken and written languages and to preserve or reform their own folkways and customs" (Central Government of the People's Republic of China 2004). As of 2007, China had 5 province-level autonomous regions,31 30 autonomous prefectures, and 120 autonomous counties, covering more than 60 percent of China's total landmass.
Since the mid-1980s, China's ethnic minorities have been a focus of direct government development programs. Further, according to a Chinese central government white paper entitled "Regional Autonomy for Ethnic Minorities in China" (Information Office of the State Council of the People's Republic of China 2005: section IV, part 2), since 1999 the central government has directed billions of yuan in funding toward the construction of transport infrastructure in poor rural areas home to ethnic minority people. The Dulongjiang Road, described at the beginning of this introduction, as well as the Qinghai-Tibet railway connecting the Tibetan capital, Lhasa, with Beijing, are egregious examples of this process. Ethnic minorities have also benefited from affirmative action policies, which permit most ethnic minorities living in rural areas to have more than one child and award extra points to ethnic minority students applying to colleges and universities.
Development policies directed toward ethnic minorities are intended not only to improve their material conditions; they also have a social engineering agenda aimed at engendering, among other things, competitiveness, open-mindedness, and adaptability to the market (Barabantseva 2008: 583). For example, government education and labor programs in Gongshan are explicitly directed at shifting the ethnic minority population away from their traditional livelihood practices and toward practices more compatible with the encroaching market economy.
Whereas conditions in ethnic minority regions have improved considerably during the reform era, autonomous ethnic minority areas are still subjected to political domination by the CCP.32 For instance, as an officially designated autonomous area, Gongshan is to a large degree administered by locally appointed ethnic minority officials; its titular leader is also a member of a local ethnic minority group.33 However, the vast majority of these ethnic minority officials are also members of the CCP.34 More important, these officials have little influence over the higher-level policy decisions emanating from Beijing that directly affect their community. In contemporary China, ethnic minorities, along with the rest of the Chinese population, are still subjected to a top-down system of government that provides extremely limited space for public debate or opposition to government policy decisions. Ethnic minorities remain subordinated to Han culture—ethnic minority diversity is acknowledged and even encouraged, but on terms dictated by the governing authorities. Further, policies enacted since the early 1980s have greatly facilitated the integration of the ethnic minority population into the Chinese Party-state. Indeed, the cooptation of the ethnic minority population into the Party and its development apparatus at the local level has been instrumental in institutionalizing CCP rule in ethnic minority areas such as Gongshan.
However, it is too simplistic to suggest that ethnic minority officials are passively subordinated to CCP policy and Han culture. Indeed, in many circumstances the ethnic minority officials charged with enacting policy on behalf of the Han-dominated governing authorities in Beijing also maintain strong emotional responsibilities and loyalties to the communities that are the targets of these policies. Their predicament can result in a sense of internal tension where they feel "trapped between the state and the local community" (Harrell 2007: 226). On the one hand, they may genuinely endorse the modernization program being pursued by the Chinese Party-state, believing that external intervention in areas such as education, conservation, and labor allocation will ultimately improve the economic and social position of their community; on the other hand, they feel an emotional obligation to defend the interests, rights, and cultural integrity of their community from the influence of Han culture.
Contemporary Representations of Ethnic Minorities
Reflecting the rigid classification project initiated in the early 1950s, official and popular representations of ethnic minority groups in contemporary China tend to be highly essentialized and simplistic, focusing on specific attributes such as clothing, festivals, dancing, singing, or cuisine that reinforce stereotypes about ethnic minorities (see fig. I.3; Blum 2001). Among the upper leadership of the CCP, it is believed that the "unhealthy mentality" of ethnic minorities is a major stumbling block to their development (Barabantseva 2008: 584). Such perceptions inform the highly paternalistic central government policies directed at ethnic minorities, which in turn perpetuate the construction of ethnic minorities as backward and unable to develop on their own accord.
The growth of ethnic minority cultural tourism during the reform era has exacerbated the exoticization of ethnic minorities. This is particularly so in Yunnan, where ethnic minority culture has become a major target of commodification. The provincial government has promoted Yunnan as a "Great Ethnic Culture Province" since the late 1990s, turning "ethnic minorities' culture from being primarily a signifier of 'backwardness' to a 'resource' to fuel economic development" (Wilkes 2005b: 23). Even in isolated, difficult-to-access areas such as Nujiang, governing authorities perceive ethnic minority culture as a lucrative vehicle for local economic development (see fig. I.2).
Ongoing Resentment among Ethnic Minorities
Although the relationship between the ruling Han elite and the ethnic minority population can generally be characterized as one of cooperation during the reform era, ethnic minorities do not passively accept Han intervention in their communities. While living standards may have improved considerably in ethnic minority regions since the 1980s, some ethnic minority groups continue to feel a high degree of resentment toward the Han population. This is particularly so in Tibet and Xinjiang, where increased Han migration is viewed by local minority populations as a significant threat to their cultural heritage and is often met with hostile resistance. In recent years this resentment has boiled over into violent riots in which Han migrants have been attacked and murdered and their shops destroyed.
Ethnic minorities also continue to experience much lower standards of living than the majority Han population. Although recent large-scale central government investment in ethnic minority areas has contributed to impressive improvements in economic and social indicators, overall it has been difficult for the central government to promote economic activity and generate off-farm work opportunities in the western peripheral areas occupied by ethnic minorities. Poverty remains a far more serious problem among China's ethnic minority population than among the majority Han population. According to figures published in the China Daily in late 2010, although ethnic minorities represent less than 10 percent of the total population, they constitute approximately half of China's rural impoverished population (December 23, 2010b). Further, in 2009, average GDP per capita in ethnic minority areas was two-thirds of the national average (ibid.).
High rates of poverty among the ethnic minority population are reflected in life expectancy and infant mortality figures. In 2000, residents living in a Han-dominated coastal city such as Shanghai could expect to live to an average of 78.14 years. Life expectancy figures were considerably lower in regions where ethnic minorities are concentrated. For example, in 2000, average life expectancy in Guizhou, Tibet, and Yunnan was 65.96 years, 64.37 years, and 65.49 years, respectively. Importantly, these figures were also well below the 2000 life expectancy national average of 71.4 years (National Bureau of Statistics of China 2004: 98). Schuster (2009) highlights the ethnic dimension of this disparity by comparing the health outcomes of Uighur and Han populations in Xinjiang. In 2000, the infant mortality rate among the Han people living in Xinjiang was 13.1 deaths per 1,000 births, while for the Uighur people living in Xinjiang the figure was more than seven times higher, with 101.7 deaths per 1,000 births. Further, the average life expectancy for Uighur people living in Xinjiang was a decade less than that of the Han population (ibid.: 434).
Historically, poverty also has been reflected in the area of education, wherein school completion and literacy rates among the ethnic minority population generally have been much lower than among the Han population. Here, large-scale changes are taking place. The central government recently has set aside unprecedented levels of funding in its efforts to improve access to education in the western peripheral regions, where China's ethnic minority population is concentrated. Key to this reform are the implementation and strict enforcement of free nine-year compulsory education. In Gongshan, these reforms have dramatically increased school enrollment rates, although illiteracy remains a serious problem among the adult population.
WHY GONGSHAN AND WHY ETHNOGRAPHY?
When I began the research for this book in 2004, I was keen to explore the nature and outcomes of development and modernization in peripheral rural communities in China. A literature review revealed that there was a need for such scholarly work. Studying societies from a micro-perspective not only allows us to investigate how development is played out locally; such research also can illuminate the government motivations that underpin development interventions.
Gongshan is ideal for a case study: it is not only at China's geographical periphery, but it is also home to a large non-Han population that, until relatively recently, has been largely cut off from the wide-scale social and economic transformations associated with the reform era. At the time of my fieldwork, Gongshan confronted a series of large-scale government development programs and was increasingly exposed to the forces of the market economy. I was keen to explore how the local community was negotiating these changes.
Upon arriving in Gongshan in May 2005, I was quick to apply popular academic critiques of development to what I was beginning to see in my research site. However, in time, the current arguments failed to account for the nuanced and differential impacts of development in Gongshan. During numerous interviews and surveys, I regularly recorded the grievances of locals regarding the impacts of particular government programs, such as "I'm worried that the diet the students receive at the [new central boarding] school may affect their development" (field notes, December 22, 2006), and "The government should give us ¥150 each a year to protect the nature reserve. We could then stop outsiders from entering. If everybody was compensated, everybody would protect it" (household survey, July 19, 2005). Nevertheless, it was also clear that overall living standards had improved remarkably in Gongshan in the previous two decades, and informants were just as likely to discuss the positive outcomes associated with development programs as they were to note the negative ones.
Development is rarely a neat and precise process, and government policies are a blunt device for dealing with the complexities of human society. There are countless problems associated with the various development interventions taking place in Gongshan, as well as major economic and social benefits. The development programs in Gongshan investigated in this book have caused considerable trauma and change for the local community; they have also benefited most people most of the time. Although Gongshan provides a striking example of the CCP's success in rolling out economic and social infrastructure and alleviating poverty in China's western peripheral regions, it also evidences its top-down, authoritarian approach to development and governance. Gongshan's modernization is taking place on terms dictated by China's governing authorities, with little, if any, opportunity provided to the local community to voice their opinions and shape the policies that are rapidly transforming their way of life. Is freedom the price of rapid economic progress? The absence of full-fledged democratic institutions and transparent government decision-making, as well as a free and open press and civil society, enables the CCP in many cases to bypass public scrutiny and develop and implement policy far more rapidly than governing authorities in other contexts can do. Would Gongshan have achieved its recent economic achievements if more transparent and democratic institutions and processes had been in place? Possibly not. But only time will tell if this approach to development is sustainable in the long term. For instance, how would the local community respond to a major economic downturn and the potential disappearance of opportunities, such as well-paid off-farm work, that were previously promised by the CCP's development model? Would the CCP's narrative that it is the only agent capable of engendering the highest levels of economic and social progress for the Chinese people survive this test? Evidence from other development contexts suggests that the most sustainable development outcomes are achieved when policies respond to local demands via in-depth consultation, when policies are openly reviewed and contested, and when communities take ownership and responsibility for those policies.