THE MEDICO-CULTURAL REVOLUTION
Like everything else in Tibetan culture and education, so also Tibetan medical theory and all precious cultural objects were destroyed. With a lack of Tibetan medical students, almost all hope for Tibetan medicine was lost. It was like a verdant tree drying out.
—Jampa Trinlé, Gso rig lo rgyus
Tibetan medicine and pharmaceuticals are a part of the motherland's medical treasure house.
—Barefoot Doctor's New Tibetan Medical Compounding Manual
IT was not until the height of what is generally known now as the Cultural Revolution (1966–76) that basic Communist health care arrived in rural Tibetan villages, delivered by the "barefoot doctors" (C. chijiao yisheng), locally known as amchi kangjenma or menpa kangjenma.1 Although this radically different story of how Communist health care spread beyond Lhasa and other administrative centers after 1969 is largely undocumented, examination of the role of Chinese and Tibetan medicine in this endeavor in rural Tsang illuminates the state of Tibetan medical knowledge at that time and permits comparison with rural and urban China proper.2
Stark shifts occurred in official policy and attitudes toward rural Tibetan medical doctors and Tibetan medicine practice, as is evident in accounts of amchi from Ngamring and textbooks available to them. One was the revolutionary Chinese medical work Chinese Herbal Medicines Common in Tibet (Tib. Bod ljong rgyun spyo krung dbyi'i sman rigs; C. Xizang changyong zhong caoyao, 1971–73), and the Tibetan medicine–specific Barefoot Doctor's New Tibetan Medical Compounding Manual (Sman pa rkang rjen ma'i bod sman sbyor sde gsar bsgrigs, 1975). Both complemented a bilingual edition of the famous Barefoot Doctor's Manual (Tib. "Rkang rjen sman pa'i" slob deb, C. Chijiao yisheng shouce, 1972). These are presented in the context of the drastic sociopolitical upheavals of the time and the almost complete demise of the Lhasa Mentsikhang. While after 1966 many Tibetan medical practitioners, institutions, and books were violently attacked as one of the Four Olds and suffered the consequences, regard for certain aspects of Tibetan medicine, especially its plant-based knowledge, began to change in 1974. Some Tibetan medical knowledge and practitioners were incorporated into China's "health care revolution," and "Tibetan medicine and pharmaceuticals" (Tib. bögi sorig dang menrik) were held to be part of the "motherland's medical treasure house" (Lhasa City Mentsikhang 1975: 1–2). Until then, Mao had singled out only Chinese medicine and pharmacology (C. yiyao), on October 11, 1958, as immortalized in "the Little Red Book," or The Quotations of Chairman Mao (Scheid 2002: 70; Taylor 2005: 120–23). Some Tibetan medical practitioners were invited to work in government county hospitals and newly established clinics, and some became barefoot doctors (table 4.1).
| | |
| --- | --- |
| AUGUST 1966 | The Great Proletarian Cultural Revolution begins in Lhasa |
| SEPTEMBER 1968 | The People's Daily national newspaper reports favorably on the work of the barefoot doctors and the Cooperative Medical Scheme as "newly emerging things" in two "model communes" in Shanghai Municipality and Hubei |
| 1968/9 | The barefoot doctor movement takes root across the country |
| 1969 | First publication of the Barefoot Doctor's Manual (Chijiao yisheng shouce) in Shanghai |
| 1972 | First Chinese and Tibetan bilingual edition of the Barefoot Doctor's Manual |
| 1973 | The Sino-Tibetan Herbal is published in Tibetan and Chinese editions |
| 1974 | A separate section for Tibetan medicine is established at the People's Hospital in Ngamring, fully formalized with two government-appointed Tibetan amchi |
| 1975 | "Tibetan medicine and pharmaceuticals" are included in the "motherland's medical treasure house" |
| 1975 | Publication of the Tibetan medicine–specific Barefoot Doctor's New Tibetan Medical Compounding Manual (the Tibetan Medical Manual) |
THE RED GUARDS ATTACK THE MENTSIKHANG
Mentsikhang activities were consolidated and expanded in the early 1960s, according to Janes (1995: 16–19). A new class of fifty Tibetan medical students was enrolled and various departments and in- and outpatient facilities created. In January 1963 the Mentsikhang was producing complex precious pills (rinchen rilbu),3 as Jampa Trinlé, the director of the Mentsikhang at the time, recalls in his Recollections: "The concern that some knowledge was about to die in today's society was gone" (2006: 32). Hopes for the survival of the Mentsikhang as a socialist health care institution were high. When the Tibet Autonomous Region (TAR) was officially established in 1965, a first Tibetan medicine exhibition was staged and First Study of Tibetan Medicine and Medical Materials was published, cowritten (in Tibetan and Chinese) by Jampa Trinlé, with three Tibetan medical experts, one biomedical specialist, and one Chinese medical colleague. They presented it to visiting representatives from the Central Ministry of Health, who, according to Trinlé, "praised the characteristics and rich medical materials" (2006: 29–35) of Tibetan medicine.
The Four Clean-ups, another name for the Socialist Education Movement (SEM, 1962–66), then began, aimed at cleansing "reactionary" and "corrupt" elements in political, economic, organizational, and ideological fields. The SEM demanded that students and their teachers engage in agricultural labor in addition to their medical studies and work. Many were sent down to the countryside, a move meant to curb bourgeois tendencies among the intellectual elites, making it difficult to continue teaching the newly enrolled Tibetan medicine class. The SEM was in many ways a precursor to the Great Proletarian Cultural Revolution, as the first reform implemented without concessions to the situation in central Tibet (Shakya 1999: 292–93).
The Mentsikhang's situation changed drastically in August 1966, after the revolutionary Red Guards from Qinghai Normal University began to target the Lhasa Mentsikhang. The Red Guards climbed above its main entrance to remove the original Institute of Medicine and Astrology sign, renaming it the People's Labor Hospital (Trinlé 2006: 36; Union Research Institute 1968: 605). This was one of numerous changes in the name and appearance of public streets, parks, and institutions in the city that summer.4 Yet given the scale of human loss and physical destruction to follow, these were perhaps some of the more benign acts of the Red Guards and "revolutionary masses" carrying out Mao's Great Proletarian Cultural Revolution.5 Its landmark campaigns included the destruction of the Four Olds and attacking remaining counterrevolutionaries in artistic, literary, and political circles, now understood by many historians as a way to purge Mao's political opponents (Shakya 1999: 314).
Although written nearly fifty years later and to a large degree following the CCP interpretation of recent Tibetan history, Jampa Trinlé's Recollections (2006) provide a relatively detailed account of Red Guard activities at the institution, including the class struggles and vandalism.6 Given his earlier optimism, the Red Guards' attacks came as great shock to Jampa Trinlé, as to others who had cooperated with the Communists or joined the party in the 1950s.
Already in May 1966 Mao had intensified his revolutionary policies and called on people to "completely criticize the reactionary bourgeois thought in academic, educational, press and literary-art, and publishing circles and seize the leading power in these areas" (Goldstein, Jiao, and Lhundrup 2009: 11–12). Goldstein, Jiao, and Lhundrup (2009) offer a detailed account of rapidly changing movements of the time, here summarized in broad strokes.
Tibet's Regional Party Committee, under the leadership of Zhang Guohua as TAR CCP party secretary, initially tried to take a slightly different approach to enacting Mao's so-called May 16th Notice of 1966. In contrast to other parts of the PRC where the "masses," especially young students, were encouraged to "search the capitalist-roaders who had infiltrated the Party, government, army and all cultural circles," in Tibet these activities were to be carried out under the leadership of a specially formed team under the control of the Regional Party Committee. Zhang Guohua, its leader, had served in Tibet and knew the local situation well. The earlier Democratic Reforms, the SEM's intensified campaigns against religion and "superstition," as well as the threat of introducing communes in central Tibet, had left the position of the CCP far from secure. Zhang was wary of further destabilizing the region. According to Trinlé (2006: 36), a work group of the Regional Party Committee, rather than the Red Guards, took charge of investigating the Mentsikhang for counterrevolutionary elements in June 1966.
Zhang Guohua's strategy soon collapsed, however, when students of the Lhasa Middle School, in collaboration with incoming Han Chinese Red Guards, became increasingly emboldened to follow directives from the "center" and Mao rather than the local CCP "power holders." In July, they began to attack key offices in Lhasa, in a search for counterrevolutionaries in the Regional Party Committee itself. As elsewhere, so also in Tibet: from August on, following Mao's extreme directives, destruction of the Four Olds and class enemies was delegated to the masses. For the first time, Jampa Trinlé and the Mentsikhang's two vice presidents, Kunga Phuntsog and Ngawang Chödrag, were exposed to public struggle sessions, or thamzing, where they were abused as "representatives of scholars" and their "offenses" published in the local newspapers (Trinlé 2006: 36). A revolutionary group of Red Guards was permanently stationed in the Mentsikhang and the institution's three-person leadership dismissed.
Then began the annihilation of the Four Olds. The Mentsikhang's library, the wooden block prints, and the thankas were either burnt or thrown into Lhasa's Kyichu River (Trinlé 2006). Similar actions took place in the homes of Trinlé and his colleagues. With the whole of Lhasa heaving with the destruction of the Four Olds, even the Jokhang and Potala became targets of the zealous young marsuma, literally "red army," in the terminology my Tibetan informants used for the Red Guards (Gyurme Dorje 2010: 23–25; Woeser 2006). According to Trinlé's account, there had been a directive from Zhou Enlai in Beijing, passed on to Zhang Guohua sometime in 1966–67, that the PLA should protect the Jokhang and the Potala from further damage (2006: 36–37). The Recollections state that Zhang Guohua himself added to this directive that classic medical texts should not be destroyed. This protected at least some works at the Mentsikhang, and "therefore the complete 80 color medical paintings and the leftovers of medical texts could be saved" (Trinlé 2006: 36–37).7 Thereafter, the Mentsikhang was largely embroiled in class struggle rather than carrying out medical work (Janes 1995: 20). Nonetheless, its staff also cared for victims of factional and PLA fighting and the ongoing class struggle in Lhasa, including the Tibetan victims belonging to the Gyenlok faction, attacked during the PLA's June 7 massacre in the Jokhang (Paljor 1977: 35).8 The Gyenlok faction (gyen log, "rebels") was one of two major political groups formed at the time, the other being the Nyamdre (mnyam 'brel). On this occasion, Mentsikhang staff compiled a report on the brutal ways Gyenlok members had been killed. As punishment for this report, Khandro Yangga, one of the Mentsikhang physicians, was exposed to thamzing (Paljor 1977; Hofer 2011d: 114–15).
THE VIRTUAL DISAPPEARANCE OF TIBETAN MEDICINE?
The increasing revolutionary fervor took over the whole of Lhasa City, soon extending to rural areas. This is described in a number of autobiographical and historical works, but most of these works focus on urban areas, with the notable exception of Pema Bhum's account from eastern Tibet (2001).9 By 1973 the Cultural Revolution–related activities would cause, according to Janes, "the virtual disappearance of the institution of Tibetan medicine" (1995: 20). Indeed, during the early years of the Cultural Revolution there was hardly any possibility of negotiating once one had been made a target of the Red Guards. This applied as much to government workers, such as the Mentsikhang's doctors, as it did to private intellectuals, scholars, and many ordinary people, including several physicians.
Tibetan writer Tsering Woeser's book on the Cultural Revolution includes a harrowing photograph taken by her father of a violent struggle session in Lhasa against a medical doctor and his family. They were mock-garlanded with leather medicine bags and foreign money as signs of their reactionary thinking, and forced to wear paper hats stating their "crimes" (figure 4.1; Woeser 2006, 2000: 150–51). The situation of Tibetan medicine in this period cannot be understood without taking into account the impact of CCP directives and demands. Nevertheless, some amchis managed to survive, and some even continued to practice and participate in transforming Tibetan medicine during this time. Such spaces existed in some rural areas, which became the new focus of official health-related work in the late 1960s and early 1970s. Tibetan medical practice and pharmacology began to occupy a space in this work, small as it was.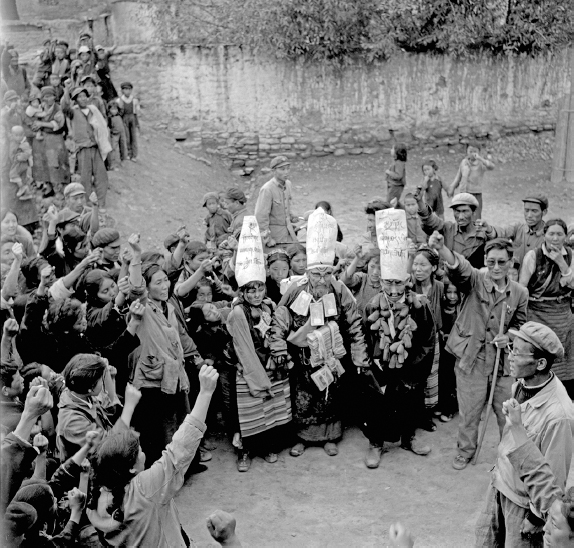 Persecution of Tibetan medical practitioners was initially just as harsh in parts of rural Tibet as it was in Lhasa, with its severity dependent on the previously established class labels and their associated punishments. Nevertheless, some amchi in Ngamring were able to continue their Tibetan medical work.
THE CULTURAL REVOLUTION IN RURAL TSANG
While the Lhünding Mentrong's library and its Buddhist and medical objects were saved during early attacks, in the summer of 1966, the Red Guards destroyed the physical buildings of the Mentrong and Lhünding Monastery. Fired with zeal following a local meeting at the township headquarters (in Tarkyü) where the new party line had been announced and the local masses encouraged, the marsuma came first to the Mentrong, then to the monastery. For several years, Rinchen Wangyal (who described the events to me) was struggled against "very hard," and he and his family were reduced to poverty. They were denied food rations, which were based on the so-called karma, or work points, that had become integral to earlier mutual aid groups (rogré) and were now carried over to production teams, the lowest administrative level of the commune (mimang künhré).10 A similar fate befell the Nyingkhang, the members and household of the locally powerful ngakpa clan, whose two oldest male members had served sentences in local prisons and labor camps in Kongpo and who were given as many as three "hats" at any one time. Such experiences were recounted numerous times during my fieldwork by those assigned unfavorable class labels during the Democratic Reforms. The attacks and denigrations were very harsh, which we can perhaps discern from Yonten Tsering's repeated assertions that his father had died a "natural death," rather than dying from Red Guard attacks or suicide.
Preserving Tibetan Medical Works
Few lay Tibetan medical practitioners escaped the personal attacks and destruction of medical text collections. Some hid their texts and were fortunate to discover later that the texts had survived the rains and fervent Red youths. This was the case for doctor Sonam Drölma from the Nyékhang at Tsarong and Amchi Tsewang in Ruthog. Tsewang's wife managed to hide a print copy of the Gyüshi and their family medical compounding work. Tsering secretly trained their two sons, Pema and Lobsang, as amchi. Thus despite commune obligations and the only permitted "literature" being Mao's Quotations, this family managed to transmit Tibetan medicine during that time (Hofer 2012). They also obtained the first modern edition of the Four Treatises as well as one of Yonten Gyatso's medical works, both published in 1976 in the PRC (Yonten Gyatso 1976).
An exceptional case was Yonten Tsering, who managed to save his entire medical and Buddhist text and thanka collection. When the Red Guards appeared at the doorstep of his one-room clinic on the ground floor of his former home, the Térap, he described all the texts as "medical works," though some were Buddhist texts. He added that they were necessary for his medical work helping the "People." Combined with his seemingly smooth relations with Communist cadres and villagers—he used to say that "everyone was my friend"—the strategy worked. The Red Guards did not touch him or his family's medical collection, and the physical building of the Térap remained intact.
However, according to elderly monks of the area and some textual records, not a single established monastery or nunnery in the county survived the destruction (Hofer 2012; Penpa Tsering 2013; Sherab Dorjé 1994). Buddhist medical practitioners, such as the Nyingma Chaug monastery's Tutop or Dewachen's Ani Pema Lhamo and her teacher, were physically attacked by the marsuma in repeated attempts to turn their thinking from "old" to "new." Most if not all of their texts and medical instruments, including materia medica storage boxes and spoons, and any leftover raw materials were burned or thrown into rivers. Only a few items could be saved. It was "a dark phase in Tibetan history, like when thick black clouds cast dark shadows everywhere," writes Jampa Trinlé in an official college history textbook on that time. "Like everything else in Tibetan culture and education, so also Tibetan medical theory and all precious cultural objects were destroyed" (2004: 135). This situation was aggravated by the lack of Tibetan medical students, until eventually "almost all hope for Tibetan medicine was lost. It was like a verdant tree drying out" (133). Tibetan medicine largely receded into the realms of silent knowing and secret practice and transmission. Doctors like Tutop and Ngawang Dorjé, who had been monks, practiced medicine covertly and with extreme caution. Tutop exchanged treatment for medical herbs that local people picked for him; Ngawang Dorjé did farmwork and assisted a barefoot doctor. Until 1972 he was unable to use his Tibetan medical skill.11
Continuing Tibetan Medical Work within New Parameters
At least two doctors in Ngamring County managed to gain partial approval from the local production team and commune leadership to continue their Tibetan medical work, although in greatly simplified ways. Yonten Tsering continued making and prescribing medicines as well as applying some external therapies from the ground floor of Térap House and on rounds to other villages. Due to the demands of his cadre responsibilities of registering harvests, participating in agricultural work, and working as a doctor, he made medicines mainly at night with the help of his wife. All the foreign medical ingredients had been used up, so he relied on local herbs and minerals, only making three kinds of medicines in the late 1960s. Yonten Tsering was not, however, officially a health worker or barefoot doctor, probably due to his previous class background. His medical practice was tolerated but not supported, apart from his receiving work points even when absent from agricultural work. He did not like to dwell on this time and always highlighted the positive aspects of his personal history and experience of reform.
The Bon monk Rabgyal provides a remarkable story of cooperation and negotiation with county and township cadres as well as unique circumstances. He had studied medicine in the 1940s and early 1950s at a Bon monastery near Lake Dangra Yumtso. Because Rabgyal was a monk when his parents died, their wealth was distributed among his brothers and he inherited nothing. He officially left the order to travel as a mendicant monk for several years, but his life took an unexpected turn in 1960, when Democratic Reforms came to Ngamring's pastoral areas. Rabgyal was made a local work team committee member (u yon) and commenced working as an administrator for the Communists in nomadic Tsatsé Chu. At that time a new administrative center was being established. During a trip to Sakya on official business to purchase grain for his nomadic area, he discovered that he could buy a large quantity of medicinal raw ingredients via a middleman. These had formerly belonged to three doctors who had been labeled "high-class reactionaries" and imprisoned. Their medicines were confiscated and renamed "reactionary's medicine" (lokchö men). With these newly acquired medicinal ingredients Rabgyal began his career as an amchi, compounding all his own medicines. From 1961 to 1975 he worked at the Tsatsé health clinic, with only one major interruption in 1969. He told me that adherents of the Gyenlok faction attacked Rabgyal's clinic that year. He referred to this event as a "great uprising."12 Rabgyal was not harmed and resumed his work shortly afterward. He relied almost exclusively upon Tibetan medicine and was never formally trained in biomedicine, only learning rudimentary diagnostic techniques from a colleague at the health post. Partly due to his age and difficulty in communication, I was unable to understand better how he navigated the requirements of relating to the state and times past.
Prior to 1969 few Tibetans had been trained as Communist health workers. I interviewed several of them, including some colleagues of Rabgyal, also from Ngamring. One was Ngawang, who had retired from long-term service as a health worker and the head of the Ngamring County Hospital. Another was Tashi, who in the 1960s had been sent to work in Tsatsé, initially as a veterinary health worker, and in 2003 was a retired government worker.
Ngawang came from a family doing farmwork in Ngamring County with no prior connection to medicine. When a Communist work team came to his village in 1960 promoting the new reforms, they offered Ngawang a place in an eight-month training course at a PLA First of August military base in Shigatse. He accepted. The Great Leap Forward's communalization of agriculture and its focus on industrial production were not implemented in central Tibet due to the gradualist approach of the 1950s. However, Mao's core principle during the Great Leap Forward of 1958–61, to catch up with the British in industrial and agricultural production, permeated other domains in central Tibet. This principle was widely promoted for medical and scientific learning, and through the countrywide official CCP and PLA propaganda. Ngawang and others in the training course were told they had to complete their study of medicine within months. He described the approach: "What you learn in eight years from textbooks, you will now learn in eight months from practice." His training included little theory, focusing mainly on practical observation and handson learning with senior Han Chinese doctors. He referred to the system he had learned using the term chiyi, an interesting compound word made up of chi (phyi), the Tibetan word for "outsider," "foreign," or "vast," and yi (yi), the Chinese term for "medicine," thus yielding "outsider medicine."13 This was a basic course in biomedicine, but because Mao and the national Ministry of Health promoted combined versions of Western and Chinese medicine (Taylor 2005), this training included exposure to basic Chinese medical ideas about the body and simple Chinese acupuncture.
When Ngawang returned to Ngamring County in 1961, he was dispatched with a medical kit and a dozen biomedicines to Tobé Xiang. He called his work that of a "barefoot doctor," referring to the campaign and massive paramedical health worker movement that began formally in 1968–69. Visiting patients in remote pastoral areas on horseback, he acted as both health worker and party clerk, recording information on harvests and numbers of livestock as well as dispatching government propaganda. He did this throughout Tobé District from 1961 to 1965, when he was transferred to a Tsatsé township health post to work in three capacities: civil administrator, secretary/clerk, and "barefoot doctor." That year the Ngamring health post was transformed into Ngamring Hospital and its doctors increased to six—three Han Chinese and three Tibetans.
While at Tsatsé township clinic, Ngawang acquired some Tibetan medical knowledge. The barefoot doctor campaign was gathering momentum in the autumn of 1968, characterized by self-reliance and experimentation with folk medicine (cf. Fang 2012). In Tibet, it began to open up opportunities, albeit at first limited, for experimentation with Tibetan medical therapies, mainly compounded herbs. Ngawang learned about these from exchanges with Amchi Rabgyal, who was then based at the Tsatsé township health post. In 1973 Ngawang was transferred back to Ngamring, where the hospital had become a "People's Hospital" and the doctors increased to nine. He served as the hospital director that year and in 1974 instituted a separate section for Tibetan medicine, with two government-appointed Tibetan amchi and its own two-room facility within the hospital. We can see this as an instance of the early integration of Tibetan medical doctors into the rural Communist health bureaucracy.
Tashi, who had been trained in Tibetan medicine by his maternal uncle in Shigatse during the 1950s, also received the PLA's First of August military medical training in 1960, following a combined biomedical and Chinese medical training, the latter mainly focused on acupuncture. After work at the county seat, he was posted to the Tsatsé township clinic in the late 1960s. He recalled the collaborative spirit in which he worked there with amchi Rabgyal and health worker Ngawang. He had acquired a Bon medical manuscript from Rabgyal in exchange for a thick sheepskin chuba, the trade exemplifying the value medical works had at that time, as texts were rare due to the widespread destruction. Although he depended mainly on about twenty "outsider" biomedicines, Tashi also used a smaller number of Tibetan medical compounds as part of his treatments, which met with the approval of local Chinese and Tibetan cadres.
In contrast to the limited medical exchange between lay medical doctors and their Medical Houses in the pre-reform period, Communist health work fostered collaboration and knowledge exchange between practitioners. Amchi and health workers shared a socialist health clinic that was funded by the local administration but relied on local people for medical work and gathering plants. This shared workplace bringing together doctors who were not related through kinship or religious affiliation, along with the political circumstances of the time, changed the way Tibetan medicine was transmitted. Departing from largely vertical axes of transmission from teachers to disciples, horizontal peer education was introduced and became part of the ethos of the barefoot doctors. In addition, at least at the health post in Tsatsé township, there was some experimentation with treatments from biomedicine, traditional Chinese medicine, and Tibetan medicine. In Tsatsé, even in the 1960s, Tibetan medical resources were integral to the work of the township health post. This was probably due in no small part to Rabgyal's forceful character, his connections with other leaders, and quite likely his ability to navigate the political requirements of the time.
His situation seems to be unusual, however, as the interviews I conducted suggest that Tibetan medicine and its practitioners were generally unwelcome in governmental health work prior to 1974. Rather, there was a brief but curious period during which a simplified version of Chinese medicine, as practiced in the China-wide barefoot doctor campaign, was seen as the politically safe option for Tibet—safer than relying on Tibetan or "folk" medicine. This new strategy is exemplified in Chinese Herbal Medicines Common in Tibet (1973a, 1973b).
THE BAREFOOT DOCTORS
One of many paradoxes of the modern history of Tibet and the PRC is that at the same time as the Cultural Revolution's propagators inflicted horrendous destruction and suffering across China, government health workers for the first time began to provide basic public and clinical health care to many rural village residents. At the core of this development was a massive public health initiative focused on the rural areas, its centerpieces being the barefoot doctors and the communal Cooperative Medical Services (CMS) scheme. These initiatives began in earnest in September 1968, the Chinese national newspaper People's Daily reporting favorably on the work of the barefoot doctors and the CMS scheme as "newly emerging things" (xingsheng shiwu) practiced in two "model communes": the Jiangzhen Commune, Chuangsha County in Shanghai Municipality, and the Leyuan Commune, Changyang County in Hubei (Fang 2012: 30–33). As in education and agriculture,14 the work of model communes was publicized and propagated by the CCP, the unquestionable political demand being that the rest of the PRC learn from and emulate them.
Historian Xiaoping Fang's 2012 study of the barefoot doctors in the context of medical modernization in a rural Chinese village provides a uniquely rich study of the campaign in Jiang Village, in Zhejiang in eastern China, from the bottom up rather than relying mainly on campaign texts or official reports. It is based on in-depth oral history, as well as anthropological and archival research carried out between 2003 and 2011.
In Jiang Village the new policies meant that health workers formerly attached to the so-called union clinics, which had been set up in most Chinese villages during the 1950s and operated on a system of fees for services, individual accounting, self-responsibility for profits and losses, and democratic management (Fang 2012), were converted to a system of barefoot doctors. The purpose of the barefoot doctors was to provide health care yet also work in the fields, contributing to production. As they were thought to be working on the paddy fields, they acquired the name "barefoot doctors." According to Fang, their overall numbers were vastly increased to meet the official target of one barefoot doctor per production brigade. Primary and middle school students were therefore selected and given short, two- to six-month training courses in basic Western and Chinese medicine, usually in local county hospitals. These Chinese women and men, and girls and boys, were then sent back to the production brigades with medical kits. Their main work involved prevention, including the promotion of sanitation and hygiene, rudimentary reproductive health advice, and service as a bridge to higher-level care at clinics, for instance accompanying patients and caring for them en route. At the same time, they provided low-cost medical treatment of common diseases of the rural masses by means of "one silver needle and a bunch of herbs," in the words of a popular saying of the time (Fang 2012: 2).
Based on their experience and training as well as exchanges with colleagues and use of The Barefoot Doctor's Manual,15 barefoot doctors tended to use several treatment modalities at one time. Their range of therapeutic options initially included biomedicines (painkillers, analgesics, antibiotics, etc.) and what were called "new techniques" (including seven-point acupuncture) and Chinese herbs. In due time, in Jiang Village a range of ready-made Chinese patent medicines replaced the compounds and decoctions made from Chinese herbs, which were often beyond the expertise of barefoot doctors. Incomes for the doctors were miniscule. Through an annual contribution made by commune members to the CMS, some of the barefoot doctors' expenses and a large part of the cost of their medicines could be covered.
The revolutionary, and indeed globally unique, barefoot doctor campaign grew out of preceding educational reforms, especially the SEM, which focused on practical learning and applicability. They combined with Mao's now famous attack on the Ministry of Health in June 1965, when he said: "The Ministry of Health is only able to serve 15 per cent of the total population, and this 15 per cent is made up of mostly the privileged. The broad ranks of the peasants cannot obtain medical treatment and also do not receive medicine. The Ministry of Health is not a people's ministry. It should be called the Urban Health Ministry, the Ministry of Health for the Lords, or even the Urban Ministry of Health for the Lords…. Stress rural areas in medical and health work!" (quoted in Fang 2012: 30). This became known as the June 26 Directive and informed all aspects of health work during the Cultural Revolution, with the last sentence—"Stress rural areas in medical and health work!"—also featured in the Quotations.
In the United States and Europe, a flood of reports in the early 1970s pointed to the successes of China's rural health campaigns, especially the barefoot doctors. Many uncritically repeated official PRC discourse, deftly spread through the Foreign Languages Press and Western journalists with access to party sources.16 Such coverage, along with China's admission to the World Health Organization (WHO) in 1974 and the English translation of The Barefoot Doctor's Manual (1977), made the barefoot doctor model widely known. It featured prominently in discussions at the WHO's 1978 conference in Alma Ata, a meeting henceforth hailed as having returned the focus of international health to preventive medicine and primary health care, not least through incorporation of traditional medicine practitioners in resource-poor regions, as demonstrated in China.
Despite this international fame, little scholarly work has been done on the social history of the barefoot doctor campaign across rural China. Many international and domestic reports were heavily influenced by Chinese official accounts and restrictions on research in the PRC. Others were inflected by the appeal of Chinese medicine in the wake of rising interest in Oriental medicine, especially in the United States. While there has been some notable anthropological work (Farquhar 1994; Hsu 1999; Scheid 2007), the study by Fang (2012) not only is the most in-depth but also advances a compelling argument. Fang argues that rather than serving as a vehicle to promote Chinese medicine in rural areas during the Cultural Revolution, or to spread the tradition more broadly within China, the barefoot doctors' work spread Western pharmaceuticals to a much wider population than had been the case. Along with the purge of established physicians and institutions of Chinese medicine, this contributed to the proliferation of, and ultimately preference for, biomedicines among rural Chinese today—with traditional medicine, in reinvented forms (as increasingly also in India and Tibet), in use mainly by the middle classes.
There are few references to barefoot doctors in the Tibetan biographical accounts (e.g., Dhondub Chödon 1978: 24–25) and few visual depictions (see figures 4.2 and 7.1). We have no in-depth study of the barefoot doctor campaign in Tibetan areas of the PRC to help us evaluate how it played out in rural Tibet and whether Fang's argument pertains there. However, we can find useful evidence of the campaign in works that were published in the early 1970s in Tibet.
Classical Tibetan medical works, including the Gyüshi, had been identified as reflections of "old" thinking and destroyed along with Buddhist and other Tibetan medical literature in lay and monastic libraries and collections. This was thought to make way for "new" thinking, fostered mainly through compulsory study of Mao's Quotations.17 This situation left health workers of any tradition and level with a dearth of study materials, the gap filled mainly by government publications of the barefoot doctor campaign.
Most prominent and epitomizing the campaign was The Barefoot Doctor's Manual (Chijiao yisheng shouce), produced by the newly established Revolutionary Committee of the Beijing Health Bureau in 1968–69 (SCMC, ZCMC, and ZCMRI 1969). An official Tibetan language translation was published in a Chinese/Tibetan bilingual edition in March 1972, titled Chijiao yisheng shouce: "Rkang rjen sman pa'i" slob deb (QTMCRCWTG 1972, figure 4.3). The publisher of the work was the Qinghai Tibetan Medical College Revolutionary Committee Writing and Translation Group, with the work widely distributed in the TAR, where apparently several Chinese editions of the work also circulated.
The Tibetan Barefoot Doctor's Manual is a faithful translation of the earlier Chinese editions and hence features no Tibetan medical content. At the point of publication, no efforts were made to adjust the manual to the Tibetan situation, and not even the use of Tibetan materia medica was endorsed. This changed when Chinese Herbal Medicines Common in Tibet (1971–73; henceforth The Sino-Tibetan Herbal) and the Tibetan medicine–specific Barefoot Doctor's New Tibetan Medical Compounding Manual (1975; henceforth The Tibetan Medical Manual) were published. While the Tibetan-Chinese bilingual edition of The Barefoot Doctor's Manual was, with one exception, no longer in the possession of people I worked with in Ngamring, health workers in Tsang used the other two throughout the 1970s, and some still refer to them today.
What was the officially conceived role for Chinese medicine and Tibetan medicine in the barefoot doctor campaign in Tibet as espoused in these two works? How did Tibetan medical doctors contribute to or benefit from them? Exploring these questions is crucial to examination of amchis' ability to work with and transmit their own tradition around the time these works were produced. The purge of the Four Olds, including many Tibetan medical practitioners and their classical works, continued unabated.
THE SINO-TIBETAN HERBAL
What we will call The Sino-Tibetan Herbal is essentially an exposition on revolutionary Chinese pharmaceuticals addressed to Tibetans in the Tibetan language. It covers many Chinese herbs and plants named in The Barefoot Doctor's Manual but diverges in one important respect: this work uses only Tibetan materia medica to compound the revolutionary formulas of the barefoot doctors. In the spirit of self-reliance, revolutionary health work in Tibet was intended to avoid importing Chinese herbs from great distances, instead using local materials proven in pharmaceutical research and having similar properties.
The Lhasa Health Bureau's Revolutionary Health Committee devoted considerable resources and research to this work. The results from early collaborations between Mentsikhang doctors and Chinese medical experts in the 1950s in Lhasa likely influenced the work. It is uncertain how long their research had been going on and who exactly was involved.18 The foreword to the book had already been written in December 1971, with the finalized Sino-Tibetan Herbal published in May 1973 in Tibetan (RCTARHB 1973a), followed by a Chinese edition in July 1973 (RCTARHB 1973b).19
The Sino-Tibetan Herbal was effectively the first modern work on Chinese medicine in the Tibetan language and was produced in European book format (figure 4.4). The Tibetan-language edition was distributed to health posts and barefoot doctors to promote the combined biomedical and Chinese medical work of the barefoot doctors. Several of my informants in Ngamring had used this work in the past.
The following offers a description and outline of the Tibetan edition. I retain as much as possible of the book's language and style, quoting liberally to give the reader a flavor of the revolutionary language of the time as well as the Tibetan neologisms reflecting the political landscape of the time. The work is analyzed with regard to the position of local medical, especially plant, knowledge and how this was conceived of in revolutionary health care between 1971 and 1973, as a "newly emerging thing" rather than one of the Four Olds.
Brief Summary and Outline
The full Tibetan title of the work is Bod ljong rgyun spyo krung dbyi'i sman rigs. It includes the Tibetan term trungyi (krung dbyi),20 a Tibetanized rendering of the Chinese term zhong yi (Chinese medicine). Trung (krung), the first part of the compound, was the new, politically correct term for the People's Republic of China, in contrast to Gyanag (China); while yi (dbyi) was directly imported from Chinese into Tibetan and used as a loan word, together making trungyi. The literal translation of the Tibetan title of the work would be "Chinese Medicines Common in Tibet." The title of the Chinese edition, Xizang changyong zhong caoyao, uses the term zhong caoyao, which specifically means "Chinese herbal medicines." As there are only a few medicines derived from animal origins in the book, I translate the Tibetan term menrik21 (types of medicines) as "herbal medicines," even though it technically can include other kinds of materia medica. The same reasoning informs my choice of Herbal as an abbreviation of the title. The attention of the work's editors and Mao himself was focused on material, herbal substances rather than on other kinds of expensive ingredients and theoretical sophistication.
The Sino-Tibetan Herbal is a small (15 × 10 cm) but thick work with 1,276 pages, making it almost as thick as it is wide. Its main feature is a section of 424 color plates depicting plants and a couple of animals, using a technique that combined the use of color lithography and photography. This technology was used here for the first time in the context of Tibetan pharmaceuticals. Previous illustrations of Tibetan medical simples had been drawn by hand, or were carved in wood and used in block-printing illustrated texts.22 Importantly, the term trungpé, previously used for medical simples in the Tibetan medical tradition, is not used in this revolutionary work.23 Instead it employs, starting in the introduction, the new Tibetan combined term sorig dang menrik,24 literally meaning "healing and types of medicines." Here this term is not specifically used for Tibetan medicine. This new compound term probably translates the Chinese term yiyao, "medicine and pharmaceuticals," used in the Chinese edition. It reflects the new emphasis on the material substances of traditional medicine and refers to the then widely used Chinese term yiyao, eternalized in the 1958 Mao slogan "Chinese medicine and pharmaceuticals are a national treasure house."
The work avoids mention of individual authors, commonly seen at the time as "bourgeois individualism" (unless of course one's name was Mao Zedong or Lin Biao), instead crediting the Revolutionary Committees of the TAR Health Bureau and of Tibet's Military Region (the precursor to the Tibet Autonomous Region, established in 1965).
The Sino-Tibetan Herbal's first page features three quotations from Chairman Mao:
Prepare for war. Prepare for emergencies. Serve the people.
Stress rural areas in medical treatment and health.
Chinese medicine and pharmaceuticals are a great treasure house, they should be diligently explored and improved upon.
This placed the work immediately within the political mission of the time and foregrounded its foremost exponent.25
Under the guidance of Chairman Mao's path of the Proletarian Revolution, medical workers and health staff in our Autonomous Region follow the unity of the Ninth National Party Congress and choose the victory route. Using Marxism-Leninism and Mao Zedong thought as weapons, further exposing and critiquing such liars as Liu Shaoqi,26 we promote class struggle, line struggle, and consciousness of continuous revolution.
Respecting the instructions of the great leader Chairman Mao "Chinese medicine is a great treasure, we should diligently explore and improve upon it," to implement Chairman Mao's strategy of "Prepare for war. Prepare for emergencies. Serve the people," [we] thoroughly explore and use the source of Chinese herbal medicines in our region to prevent diseases.
Through actively developing the public work of self-collection, self-growing, self-cultivation, self-manufacture of herbal medicines, we serve workers, peasants, and soldiers better, [we] serve the Socialist Revolution, promoting the construction of society and [stressing] medical treatment and health care for rural and nomadic areas. To support these [activities], we have edited the book called Chinese Herbal Medicines Common in Tibet and provide this book for all the health workers and barefoot doctors as a reference.
This book is published in both Chinese and Tibetan, and it includes 367 kinds of medicines, 424 colored pictures, [information] on the prevention and cure of widely encountered illnesses, and medical prescriptions of Chinese herbal medicines for prevalent illnesses. As we have not studied the works of Marx and Chairman Mao enough, and given the shortage of knowledge and time, there are surely mistakes. Comrades, please do criticize and point them out.
Here we can see that the work's purpose is stated in full revolutionary style, relying as much on Maoist thought generally as on policies espoused by the CCP in their seminal Ninth Congress of April 1969 (at which Lin Biao, the most influential figure in promoting Mao's personality cult, became China's second-in-charge).
The first part of the work (1–57) presents European-style botanical classificatory systems for plants and their parts, followed by basic Chinese medical ideas on collection and processing of herbs. It introduces key Chinese medical ideas such as the four characters27 and five tastes.28 There follows a general introduction to basic diagnostic and therapeutic ideas of revolutionary Chinese medicine, mainly the four diagnostic techniques (seeing, smelling and listening, questioning, and feeling the pulse) and eight medical principles (of diseases being inside or outside, hot or cold, xu or shu, and yin or yang; 51–53).
Under eighteen symptomatic headings (for instance, medicines to cure fevers, digestive conditions, diarrhea), hundreds of individual herbs and a few animal products (medical simples rather than compounds) are then listed (59–658). Every plant profile follows roughly the same form, covering approximately two to five pages each: name (often complemented with its Chinese name); appearance; location of growth in Tibet and particular habitats; time for collection; the item's "character," "taste/flavor,"29 and "effect";30 its chief application; and in some cases, additional notes.
The bulk of the book features the color images with Tibetan, Chinese, and Latin identifications given underneath (659–1082). The final section comprises another two hundred pages on the prevention and treatment of common diseases (1083–226), followed by an alphabetical list of herb names in Tibetan and Latin (1227–76). This last part is divided into nine subsections that categorize diseases into those that are göné (contagious),31 those caused by nöbu (viruses),32 internal diseases, external diseases, women's diseases, children's diseases, diseases of the five sense organs, dermatological, and those caused by sinbu (bacteria).33 Within each category, common conditions and diseases are listed. The categories and names of individual diseases and conditions are listed here much like those in the latter part of The Barefoot Doctor's Manual (QTMCRCWTG 1972). However, in contrast, where both Chinese and many Western medicines are listed, The Sino-Tibetan Herbal features only nonbiomedical, plant-based drugs found in Tibet. Several recipes are offered, combining the illustrated herbs and some animal products into compounds, stating ratios and preparation. Herbs are frequently also given as single-ingredient drugs.
No Tibetan categories of medical disease or diagnosis appear in this work. Only some physical symptoms common to Tibetan medical theory are included, for example that of chuser, which is, however, defined here in its biomedical physiological sense, whereas in Tibetan medicine the meaning is broad and multivalent.34
The Sino-Tibetan Herbal attests to a phase in which reliance on Chinese medicine was hailed as an important part of the barefoot doctor campaign in Tibet. In the spirit of self-reliance, using knowledge of local plants and materia medica derived from Tibetan medicine was seen as positive, even though Tibetan medicine is not referred to as such. The work's use of biomedical and Western botanical classification combined with Chinese medical and pharmacological frameworks with Tibetan ingredients demonstrates a kind of experimentation that sat squarely with Mao's call to bring medicine and health care to the rural masses.
In line with the revolutionary reforms to the Tibetan language at the time (cf. Pema Bhum 2001), The Sino-Tibetan Herbal abandons the use of many features in Tibetan. For instance, the intersyllabic point, or tshek, is omitted; instead a small round circle is used, reminiscent of the English period. The work also omits Tibetan numerals and traditional paragraph flourishes.
Tibetans' Use of The Sino-Tibetan Herbal
In Ngamring during the 1970s, The Sino-Tibetan Herbal, along with The Barefoot Doctor's Manual, was issued free of charge to township health posts, production brigade medical stations (in other words, the barefoot doctors), county hospitals, and county epidemic disease prevention stations (the latter two receiving larger numbers for training purposes). I found The Sino-Tibetan Herbal commonly preserved in Tibetan medical amchis' libraries to this day.
Yet prescription and compounding of Tibetan simples using Chinese techniques, as presented in the last part of the book, never really caught on in Ngamring. Instead, according to elderly health workers and doctors I interviewed, when the use of local herbal medical resources was considered, it was easier to use them in a Tibetan medical way, simply consulting with those who had been amchi or were now working in the government system. Namgyel and Tashi did this with Rabgyal at the Tsatsé health post. Moreover, starting in 1974, Yonten Tsering and Ngawang Dorjé, the doctors then appointed to the People's Hospital's newly opened Tibetan medicine section, taught cohorts of younger health workers and barefoot doctors to prepare Tibetan medicines. They used the color section of The Sino-Tibetan Herbal to instruct their students and help with identification of local materials during field trips. But they did not compound or use them as The Sino-Tibetan Herbal (or indeed The Barefoot Doctor's Manual) intended. They used the collected materials only to make Tibetan medicines for diseases and conditions defined according to Tibetan medical parameters. It was, in other words, a popular visual guide for students of Tibetan medicine to identify plants for use in Tibetan medical compounding. This remained so throughout the 1970s, and even into the early 1980s, given the almost complete lack of textual resources on Tibetan medicine, especially color illustrations of materia medica.35 Interestingly, this work was used in exactly the same way by exiled Tibetans in India.36 More evidence on the use of The Sino-Tibetan Herbal is required to assess if Chinese medical compounds were actually made in other parts of rural Tibet, based on local ingredients.
TIBETAN MEDICAL MANUAL
The introduction to The Barefoot Doctor's New Tibetan Medical Compounding Manual, for short Tibetan Medical Manual, also employs the mandatory overarching discourse of the Great Proletarian Revolution. It aligns itself closely with Mao's quotes and policies on Chinese medicine, rural health care, and public health, again beginning with the same three quotations on its first page. In addition to the title and name of the publishing house, the title page declares that the work is a "gift on the occasion of the ten-year anniversary of the establishment of the Tibet Autonomous Region" (iii).
Interestingly, the first sentence of the introduction adapts Mao's famous 1958 treasure-house slogan to one saying that "the Tibetan science of healing and pharmaceuticals [Bögi sorig dang menrik] are a part [chashé]37 of the great treasury of the motherland's medical science" (1). While The Sino-Tibetan Herbal only restated Mao's slogan that "Chinese medicine and pharmaceuticals are a great treasure house," this work, for the first time since at least 1966, refers explicitly to the Tibetan "science of healing and pharmaceuticals" being a part of this treasure house. In common with The Sino-Tibetan Herbal, the name given to "medicine" in this text combines again the Tibetan terms for "healing/medicine" (sorig) and "pharmaceuticals" (menrik), continuing the new emphasis on material, tangible substances.
The introduction goes on to laud Tibetan medicine's contribution to the health of the Tibetan people. Tibetan medicine's development was based, we read, on Tibetans' experience in "struggling with all sorts of diseases," absorbing "the essence38 of Chinese medicine [trungyi] and adding the great achievements made in medicine abroad"39 (1). In confident tones, it asserts that Tibetan medicine nevertheless has several advantages compared to Chinese and Western medicine: one needs less of it, it is more effective, and it costs less. Tibetan medicines are identified as easily portable, hence particularly convenient for remote rural areas. Tibetan medicine40 is reported to have contributed to the "(public) health revolution,"41 and specifically the consolidation and development of the barefoot doctor units (4). The authors and their institution then state their alliance with the party line of the Tenth Party Congress, second plenum, Mao's key instructions, and the wider political demands of the period by "promoting among the medical workers of our hospital class struggle, path struggle, and continued revolution" (3).
As for health-related political campaigns, the work aligns itself with Mao's instruction that "Chinese medicine and pharmaceuticals are a great treasure house, which should be explored and diligently improved upon" (printed in bold letters) and the June 26 Directive that rural areas should be stressed in medical activities (3). Guided by these two instructions, the authors write, "we quickly organized public activities to bring about changes to the fact that there are 1. no medicines, and 2. fewer doctors in farming and nomadic areas. We worked very hard based on [the principle] of self-reliance,42 making efforts to produce what we need by ourselves, promoting ways of overcoming difficulties, and ourselves collecting medical materials, compounding and using them" (3–4).
The Tibetan Medical Manual defines specific aims: to improve the health care of farmers and nomads, serve the Tibetan socialist revolution and construction, and provide a reference for barefoot doctors and medical staff in rural areas, "so they can study and move forward by carrying out research in their daily practice" (4).
The editors state that they followed Mao's instructions, "discarding the old, absorbing the essences,"43 "using the good of the old [medicine] today" and "using the good from foreign in Chinese treatment"44 (5). Based on these principles, the 480 formulas are said to rely on a combination of textual and practical sources, including Ju Mipham's medical compounding work45 and "many other medical works." This indicates a certain relaxation in official policy on medical research and classical texts. With regard to practical sources, they specify the "practice, research, and experience" of the staff of the Lhasa Mentsikhang and Shentsa Hospital in Nagchu (5). They highlight the politically correct experimentation and "sharing of experiences," relying on practical exchanges and outcomes rather than emphasizing textual or "theoretical" study. All ingredients for the compounds "are found in Tibet" (5).
The introduction ends on a note similar to The Sino-Tibetan Herbal, with the authors excusing themselves on account of their "incompetence in understanding Marxism-Leninism and Maoist thought, their shortage of practical experience, limited theoretical and political understanding, lack of intellectual and medical works, and lack of editing experience" (6), a standard disclaimer in publications of the time. The introduction by "the editors" is dated June 26, 1975, surely chosen to align the work with Mao's June 26 Directive of 1965, which criticized the Ministry of Health for its urban biases, aiming to redirect it and to "stress rural areas in medical work."
Structure of the Book
Following a detailed table of contents, the Tibetan Medical Manual begins with a tripartite general section. The first part describes five (of the seven) classic Tibetan medical "limbs" of making (herbal) medicines; in the second, the remaining two limbs are considered and four of the ten classic forms of medicines introduced, adding also "medicinal baths" (chum); the third part details methods of processing medicines and their main forms, namely liquid, powder, and pill medicines, with further information on dosage and timing in prescription.
The main body of the book is made up of medical compound names, listed under thirty-seven broad disease categories, which range from "lung disorders" to "infectious fevers," "tripa disorders" to stomach disorders, headaches, organ disorders, pediatric, gynecological, and sexual disorders, as well as a vast section on miscellany. The book ends with a comprehensive formulaic list of 374 medical simples (266–89), stating the name, one of six tastes, character46 (either warming [drö], cooling [sil], or neutral [nyom]), effect/benefit (pennü), and page numbers where they occur as part of the formulas in the main body of the text.
Names of authors are not mentioned in the work, and only the book's last page reveals the Lhasa City Mentsikhang as editor, indicating that this institution had again been renamed after the Red Guard designation as People's Labor Hospital in 1966.
Simplification, Renaming, and Reformulation
In the naming of medical compounds and the number and kind of their ingredients, we see a general simplification compared with earlier, widely used Lhasa Mentsikhang publications on medical compounding, for example Khyenrap Norbu's works, written before his death in 1962, such as Excellent Vase of Elixirs (reprinted by Tashigang in India in 1974) and Effect of Medical Compounds (n.d.).47 The work is also less complex than classical works such as the sections on compounding in volumes 3 and 4 of the Gyüshi.48
Many names of medicines have been greatly simplified and are drawn from the compound's major ingredient or the function of the medicine. In contrast, pharmaceutical works such as those by Khyenrap Norbu frequently employ poetic names for medicines, for example Trinsel 25 (Vermillion Voice 25) or Zhijé 11 (Pacifier 11). The more complex medicines were, the more "secret" and poetic their names.
Furthermore, the manual includes none of what are currently considered the most basic or classic medicines for each of the three core constitutions of the nyépa, such as Agar 8 for lung, Tigta 8 for tripa (although recipes for Tigta 5 and Tigta 9 are given), or Sendu 5 and its derivatives for béken. This absence needs to be interpreted in the context of the requirement for low-cost medicines made from local ingredients. For example Agar konyon49 is grown in India and sendu (pomegranate) is available in eastern but not central Tibet. To make Agar 8 was therefore difficult to impossible, hence the medicine is not mentioned in the work.
Tibetan Medical Manual compounds also feature far fewer ingredients for each compound, typically between five and seven. Only a handful of formulas feature as many as twelve ingredients.50 Often the work suggests using just one medical plant to treat a disease. In the pre-1962 texts, Tibetan medicines combined at least three ingredients, and the properties of just one medicinal would not have been discussed in the compounding literature (ngojor); these would have been discussed in the trungpé literature. But the use of a single plant or herb to treat diseases was the mainstay of The Sino-Tibetan Herbal and revolutionary Chinese medicine, and this seems to have rubbed off on the Tibetan Medical Manual. Only a few medicines in the text are supposed to be made in the form of butters (menmar) or baths (chum), which were probably considered expensive and wasteful.
While a majority of the medicines in the Tibetan Medical Manual are produced as powders and some as pills (rilbu), many were prescribed as liquids (thang), that is, boiled in water. The unusual preference for boiling herbs in liquids is easily explained, as it was one of the most common ways of using herbs in revolutionary Chinese medical practice.
While the Gyüshi categorizes eight kinds of source materials (Clark 1995: 131), the ingredients in the manual derive mostly from the herbal medicines category (ngomen) and, as such, are found mostly on the Tibetan plateau. The manual also includes some substances from common domestic and wild animals, but notably absent are the "precious ingredients" (rinchen), as well as many foreign ones from India (usually classified as "medicines from the plains" or "tree medicines"; see Hofer 2014b, 2014c). The political requirement of the day was low-cost Tibetan medicines made by and for peasants and nomads; such choices were in line with the spirit of self-reliance.
The standard structure for recipes here is statement of the names of ingredients and their ratios, followed by description of their "properties" (pennü). For example, Semde 5 (Peace of Mind 5) medicine requires: 5 ounces (sang) of ba spru, 5 ounces of tang kun gi 'bru gu (plant tang kun), 4 ounces of lca ba, and 3 ounces of go snyod 'bru gu, which should be ground and then made into either powder or pills and divided into six portions (20). This medicine's properties are described as helping "unhappy mind, dizziness, ringing in the ears, pains, blurry vision, and all lung diseases" (20–21).
There are few continuities between this revolutionary compounding manual and earlier Tibetan medical compounding texts such as those by Khyenrap Norbu or Ju Mipham. And there is also little in common with the kinds of medicines in common use in Ngamring prior to 1959 found in local medical text collections. The discontinuity lies mainly in the simplification and rationale of the Tibetan Medical Manual.
With its focus on low-cost, locally sourced, simple medicines, the Tibetan Medical Manual surely met official requirements for socialist primary health care in rural Tibet during the Cultural Revolution. The conditions of resource-poor settings and the limited means of the CMS scheme had to be considered, as well as the barefoot doctors' low levels of education and rapid medical training. And above all, the work was to serve the political purpose of fostering the "Tibetan socialist revolution and construction."
Any work of Tibetan medicine in the new regime clearly needed to escape the many accusations its practitioners had endured. Authors needed to create a rhetorical distance between their own work and assertions about the "old medical system," in which Tibetan medicine, according to the party line, had produced remedies too expensive for patients and containing "superstitious" ingredients, or preparations that "simply didn't work."51
Interestingly, in contrast to The Sino-Tibetan Herbal, few conditions in the Tibetan Medical Manual are classified in Western medical terms. Why would this work, which included "barefoot doctor" in its title, follow Tibetan medicine's disease classification and ideas of how the body worked? The Tibetan Medical Manual shows how in just a few years after publication of The Sino-Tibetan Herbal, Tibetan medicine had moved away from being one of the Four Olds. Tibetan medicine and pharmaceuticals were now becoming the much-hailed Communist health care revolution for nomadic and farming rural areas.
NEW BEGINNINGS?
Though well-known scholar-physicians at leading Tibetan government institutions, such as Tenzin Chödrak and Troru Tsenam, remained in prisons and labor camps until 1979–80, the early 1970s saw mounting efforts to rebuild a small but ever-growing degree of Tibetan medical practice, research, and education in government facilities. Although the exact impetus and timing of these shifts in Tibet is not yet clear, it was probably related to a wider trend across the PRC. In the early 1970s in the PRC, new allowances were made for a fuller practice of Chinese medicine compared to what had been incorporated into The Barefoot Doctor's Manual and related literature. Many Chinese medical academies, for example, reopened their doors, and private practice in some cases resumed (Scheid 2007; Hillier and Jewell 1983). How was Tibetan medicine reworked during this time, when classical works and Tibetan medicine courses were reintroduced?
From the Gyüshi to a Revolutionary College Textbook
In March 1974, the Vocational Health School of Lhasa City enrolled two cohorts of students to study Tibetan medicine at the middle school level. There were, however, no books available for teaching use—except The Sino-Tibetan Herbal. Jampa Trinlé, who had not yet been officially rehabilitated and was producing Tibetan almanacs in 1972–74, was forced to produce a textbook for the Vocational Health School students. The requirement was, according to his Recollections, that it would "accept Mao Zedong thought and dialectical materialism and the need to clean up idealism, such as feudalism and religious superstition" (Trinlé 2006: 39–43). The conditions for producing such a textbook as well as teaching the students were far from ideal. Trinlé constantly feared another round of struggles and accusations, hence he was reluctant to write the textbook and had to be forced. It is revealing that even in 1974, the instruction from his superior was that "no details" from the Gyüshi should be incorporated into the new publication.52 It meant that he had to scrap some earlier drafts he had used for the simplification of the Root and Explanatory Tantra. With the help of several remaining teachers and Mentsikhang colleagues, as well as the private physician Rinzin Nyerongsha, and based on clandestine borrowing of secretly held classical works from each other, Trinlé summarized and thus "cleaned up" the contents of surviving medical classics. His former colleague Ngawang Chödrak was largely absent from Lhasa at the time, having been struggled against, made to wear the "hat of lords," and then forced to undergo years of "education through labor" (Trinlé 2000: 456–57).53
Finalized in 1974, the textbook was then used in the three-year course. According to Trinlé, this work proved useful and was later officially published and distributed elsewhere in Kham, Amdo, and Inner Mongolia, where Tibetan medicine was again being officially taught (42).54 Since Trinlé does not mention in this section of his largely chronological and detailed autobiography the creation of the Tibetan Medical Manual, we have to assume that he was not involved in any significant way. However, through his description of the conditions under which he worked to produce the Vocational Health School textbook in 1974, he offers us a glimpse into the difficulties likely facing the authors of the Tibetan Medical Manual. At the end of their introduction they might be hinting at this in describing a lack "of intellectual and medical resources" (Lhasa City Mentsikhang 1975: 6), though this also may have been a standard requirement or a protective device for writers to distance themselves from the "scholarly elite" (the same phrase also appeared at the end of the preface to The Sino-Tibetan Herbal).
New Tibetan Medical Institutions and Training Courses
The Health Bureau's changing attitude toward Tibetan medicine soon began to manifest in the rural health care infrastructure. In November 1974, the People's Hospital in Ngamring County opened a two-room Tibetan medical clinic, where it employed three Tibetan medical doctors: Ngawang Dorjé, Yonten Tsering, and Tashi. Such units were also established in many other county hospitals that year.55
According to a locally written history by Wangnam, the Short History of Ngamring Dzong Tibetan Medical Hospital (1999), the Ngamring Tibetan amchi diagnosed and treated large numbers of patients,56 using both Tibetan pharmaceuticals and external treatments. In the beginning medicines were limited. Owing to lack of funds for medicines, People's Hospital staff, rural health workers, and local people were mobilized to pick medical plants.57 The three doctors then compounded medicines from the bulk of these materials and exchanged the rest for more complex, ready-made pills from the Lhasa Mentsikhang factory.58
Wangnam writes: "We were working hard to use Tibetan medicine, and we did well to support the 'mother-line's cause,'"59 demonstrating the kind of political phraseology required in 1999. The report states that between 1974 and 1988 eight training courses in Tibetan medicine were organized by the Tibetan medicine section, from which forty-six health workers from all over Ngamring County graduated, passing their exams with an average score of 82 percent. The document also reports that "they learned to identify five hundred different plants, so that they would be able to go to the mountain to pick medical plants and make simple medicines by themselves," testifying to an impressive degree of knowledge in the field and emphasizing pharmacology as the most legitimate way to present Tibetan medicine. As discussed earlier, the image section of The Sino-Tibetan Herbal was used in these courses. The report adds that two of the participating township and village doctors received kachupa-level degrees, part of the traditional degree system that had been previously used in Lhasa, indicating a certain reinvigoration of earlier educational practices.
The motivation behind these trainings that was stated in the document, "benefiting people in remote areas," clearly mirrors Mao's directives for stressing rural areas in health work. Although the report no longer includes extracts from the Quotations, it features political campaign slogans of the 1990s. The document ends somewhat predictably by stating that the Tibetan medical staff "have been greatly inspired" by the outcomes of the Third Plenum of the Eleventh National Communist Party meeting in 1978. This assembly had ushered in the most sweeping policy changes of the post-Mao era until the Third Forum on Work in Tibet in 1994. Both of these events would have a tremendous bearing on how Tibetan medicine was practiced in Ngamring and elsewhere. Although these consequences are not spelled out in the report, the outcomes of the Eleventh National CCP meeting led to the reincorporation of certain Buddhist aspects into medical work. Most significantly, according to my interviewees, it meant that doctors could once again openly study the classical works as well as return to their private Buddhist practice.
The few years that passed between the preparation and publication of The Sino-Tibetan Herbal (1971–73) and the Tibetan Medical Manual (1975) thus signaled the start of an ever-widening acceptance of and government support for Tibetan medicine and its use in rural primary health care. In the eyes of local Tibetan doctors, this support was further strengthened when the Tenth Panchen Lama visited Tibet in the early 1980s and became an outspoken supporter of Tibetan medicine. A photograph of his visit to the Tibetan medical section at the Ngamring People's Hospital was proudly hung in one doctor's home.

While almost all Tibetan medical work came to an end at the Mentsikhang between 1966 and 1973–74, in the midst of the greatest contraction of Tibetan medical practice, a few doctors in a rural part of Tsang kept up their work and, in some exceptional cases, did so even in government facilities. Tibetan medical doctors began to employ Mao's revolutionary discourse to relegitimate Tibetan medicine as a valid health resource, especially for rural areas.
Although doctors in Lhasa still had to be cautious in 1974 in compiling a medical textbook for a Tibetan medicine course, and presumably also when working on the Tibetan Medical Manual, their efforts continued. Together, the continuous work of doctors in rural areas and the production of new texts in Lhasa grew into a regionwide movement to revitalize Tibetan medicine. Until Mao's death in 1976, this took place at basic levels of clinical and pharmaceutical practice. Yet it lay the foundations for the reintroduction of more sophisticated Tibetan medical epistemologies after 1978, albeit with traces of "Mao Zedong thought and dialectical materialism," for instance in the ways many Tibetan pharmacology works are structured even today.
This situation of Tibetan medicine in the 1970s is in stark contrast to that of other aspects of Tibetan culture, particularly Buddhist religion prior to the significant Eleventh Party Congress in Beijing in 1978 (Goldstein and Kapstein 1998), but also to some extent with regard to the Tibetan opera, or ace lhamo (Henrion-Dourcy 2005, 2017)—although it is perhaps more difficult to draw comparisons here—and to the Tibetan visual arts (Harris 1999; Tsewang Tashi 2014). Comparisons of Tibetan medicine with these domains are particularly worthy of exploration in future work. As for Tibetan medicine, the government made much earlier allowances, starting in 1974 and in some cases unofficially even earlier. The greater continuity that resulted enabled Tibetan medical scholars, when they gathered in Lhasa in the early 1980s, to "recollect and recover what had been lost and disappeared during the Cultural Revolution" (Trinlé 2004: 134), relatively swiftly recuperating many aspects of their tradition. They began to write and to reprint medical works.
In terms of margins and centers of Tibetan medicine, it is from the widespread distribution of The Sino-Tibetan Herbal and the Tibetan Medical Manual in the 1970s and the increased numbers of students trained in Lhasa and then posted in rural Tibetan areas that Lhasa, as a center for government health care, for the first time comprehensively reached remote rural areas to provide health care. In the words of Veena Das and Deborah Poole (2004), these are instances when "the state inscribed itself" on the margins, using state welfare and political campaigns to affect the lives of doctors and ordinary citizens.
Accepting the currently limited source and archival materials, the extent of this development seems to exceed earlier efforts of the Lhasa Mentsikhang and the Tibetan government to extend their influence, for example through the child health campaign of the 1920s. And they of course occurred under radically different circumstances. The revolutionary political circumstances could not have been replicated elsewhere, even in the PRC of the 1980s, when the mass mobilizations and campaigns characteristic of the Cultural Revolution ended.
While the Cultural Revolution saw notable achievements in the realm of Chinese medicine, it was after Mao's death in 1976 that traditional medicine and qigong gained momentum in the PRC (Hsu 2009: 475). This also applies to the Tibetan situation. The start of the Vocational Health School training in Tibetan medicine, the efforts of Tibetan medical doctors working in rural health facilities, and the publication of the Tibetan Medical Manual provided the first-aid and survival measures for the severely damaged Tibetan medical tradition. In the spirit of the revolution, the Tibetan Medical Manual tried to simplify medical recipes and drugs but could now acknowledge that the research included study and distillation of classical works. This is reminiscent of the extensive combing of Chinese pharmaceutical texts described by Hsu (2008: 475–76), which eventually led to the "discovery" of the antimalarial drug artemisinin, or qinghaosu (Hsu 2006).60 Yet a full-scale rehabilitation, in particular of Tibetan medicine's more complex theoretical, philosophical, and Buddhist aspects, occurred only after 1978 and especially during the 1980s. Tibetan medicine was then revived in select monasteries, and leading Buddhist scholars got involved, such as Troru Tsenam, Nalanda Tsultrim Gyentsen, and Tenzin Chödrak, who had by then been officially rehabilitated.
Xiaoping Fang asserts that the barefoot doctor campaign in rural China contributed in the longer term to ousting Chinese medicine as a prime health care resource (2012).61 The situation for Tibetan medicine in Tibet was rather different. In the early 1970s, while the region relied mainly on Western medicines, the rhetorical praise of local medicines, both Chinese and Tibetan, as being a part of the nation's "treasure house," and their role in rural health as espoused during the barefoot doctor campaign, helped to rekindle Tibetan medicine at a crucial time. Even highly simplified publications such as The Sino-Tibetan Herbal and the Tibetan Medical Manual were important, and impressive on a scholarly level. They aided the practice of Tibetan medicine in various localities. Nationally they promoted Tibetan medicine as a functional heritage, establishing it as a part of the nation's "treasure house" and helping the tradition gain political support on local, regional, and national levels.