6
University Street to Stewart Street
Painting is the only bridge linking the painter's mind with that of the viewer.
—Eugene Delacroix (1798–1863)
This chapter starts with three venues—the Washington State Convention and Trade Center, the Sheraton Hotel, and US Bank Centre—each of which has a readily accessible, museum quality collection of works by Pacific Northwest artists. These venues are close to one another and worthy of a combined tour. Readily accessible commissioned artworks can also be found in a number of other buildings, including Benaroya Hall, the Seattle Art Museum, and Pike Place Market.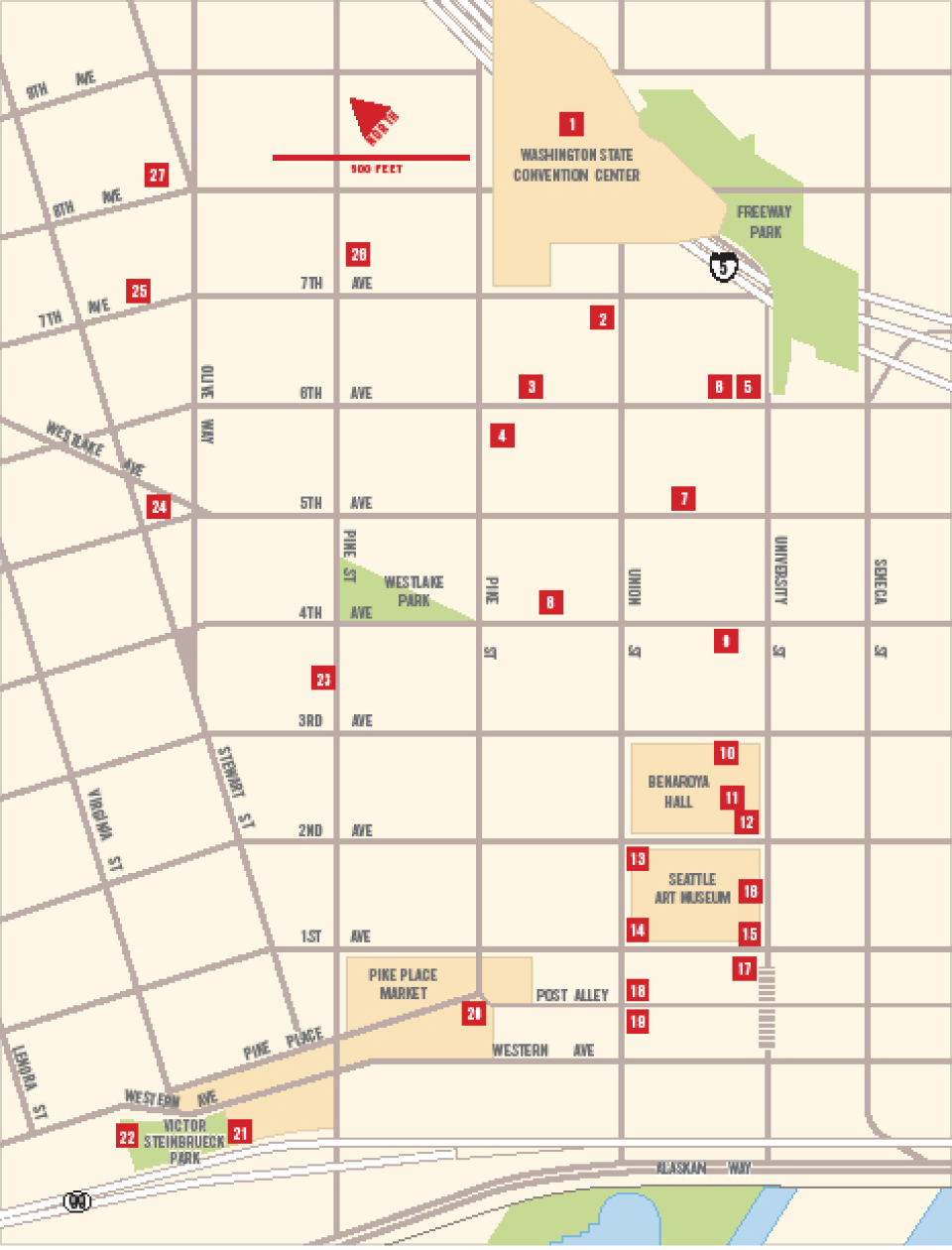 6.1 Washington State Convention Center Works
Seventh Avenue and Pike Street
Several commissioned artworks were included in the Washington State Convention Center when it was completed in 1988. Later expansions of the center provided a vast amount of wall space for displaying art, and the facility now has an impressive collection of art by a wide range of artists working in many mediums. The increased availability of space with the center's expansion was an artistic aha moment according to Phyllis Lamphere, who headed up initial efforts to amass the collection. She explains that representatives from all of the arts commissions, private collections, museums, and arts patrons were called together and asked, "Can you help us build a collection for these walls?" The center accumulated a collection (some of it on loan) that includes many of the best known Pacific Northwest artists who established critically acclaimed careers in the twentieth century.
Those who wish to explore the facility will find works by a wide range of artists, including Eustace Ziegler, Hilda Morris, Margaret Tomkins, Kenneth Callahan, Guy Anderson, Alden Mason, Richard Gilkey, Paul Horiuchi, Neil Meitzler, Glen Alps, James Lee Hanson, Michael Spafford, Doris Chase, Francis Celentano, Paul and Dante Marioni, Patti Warashina, Robert Sperry, Jacob Lawrence, Dale Chihuly, Nancy Mee, and Alfredo Arreguin. Signage is well placed to identify them, and the only restriction on viewing is that some may be in areas that are temporarily unavailable due to convention activities. The collection also includes a number of glass pieces from local studios and others associated with the Pilchuck Glass School.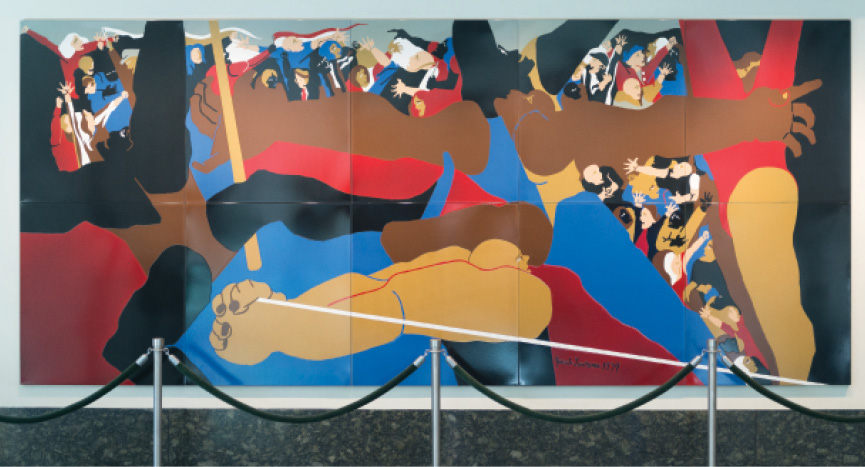 Two large sculptures welcome visitors at the center's entrance at the corner of Seventh and Pike. Hanging from the ceiling eighty-five feet above the lobby floor is Ann Gardner's Lebeg, a sixty-five-foot-tall mobile of nine elliptical forms covered in half-inch colored glass tiles with foil backs that shimmer in the light. The sculpture's name is Hungarian for "slight movement in the air," and the forms are very slowly moved by a small motor. The terrazzo floor below is Gardner's design. Lebeg was created in 2001 and funded by the Washington State Art in Public Places Program.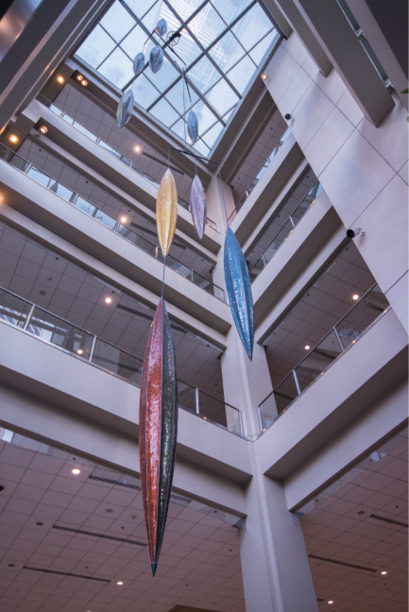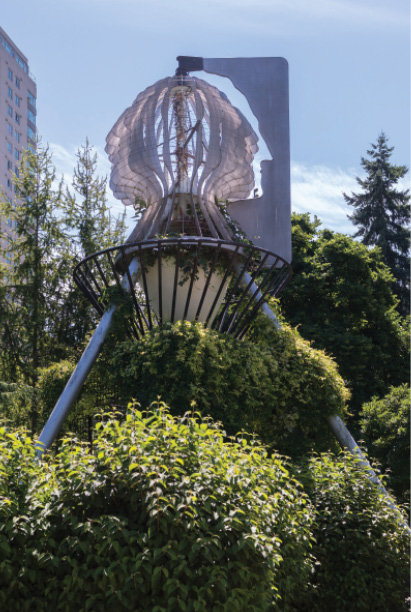 Near the elevators is Myth of the Sea, a large bronze sculpture created in 1970 by the late Hilda Morris and loaned by the Tacoma Art Museum. Morris was an abstract expressionist who was hailed as the leading Oregon sculptor of her time. Her craggy forms with voids and spires were described by a Portland Oregonian art reviewer as "more found than created, as though some particularly wise and lucky archeologist or geologist had rescued it, undamaged and spirit intact, from the past."

At the top of the escalators at level 3 is Jacob Lawrence's monumental Games, an eighteen-foot-long vitreous enamel on steel mural created in 1979 for the Kingdome. The boldly colored work (the artist's first in this medium) abounds with athletic activities and physical competition, with massive athletes in the foreground and an excited crowd in the background. No specific sport is represented in this mural. Rather, Lawrence vividly portrays the excitement and action of sports in general with his carefully placed interlocking shapes and spaces.
At level 4 is Richard Gilkey's sixty-foot-long Skagit Valley Triptych a 1974 work that provides three separate views of his beloved Skagit Valley north of Seattle. All are united by composition and theme and painted in his distinctive style of thick, subtle colors applied with palette knives rather than brushes.
An original commissioned sculpture at the center is Buster Simpson's Seattle George Monument, located outside of level 4 at the edge of Freeway Park. His twenty-eight-foot-high creation consists of a steel mesh cube topped with twenty-four aluminum profiles of Chief Seattle's head. The monument includes a supporting cone and tripod, in reference to Washington's career as a surveyor, and the sculpture is placed on a grid aligned to the Willamette Meridian, the main survey line of Washington and Oregon. Simpson has said that the cone and tripod also refer to the shape of an inverted Native American lodge. The wind vane that turns around the Seattle profile is cut in the shape of a profile of George Washington's head. Simpson envisioned Seattle's profile disappearing under a blanket of ivy that would grow up over the years and be trimmed by the turning wind vane into the shape of Washington's profile. After over a quarter of a century, the ivy has not grown up, but the profiles remain intriguing.
Between the Convention Center and Simpson's sculpture is a large basalt assemblage created by landscape architect Angela Danadjieva (see 5.26). Reminiscent of a classical Chinese landscape painting, Danadijeva's creation is part of the James R. and Mary Lou Ellis Plaza, which is dedicated to the enduring work of the Seattle attorney Jim Ellis and his wife. Ellis was a leader in the campaigns that created both Freeway Park and the convention center as well as the clean-up of a polluted Lake Washington in the 1950s, and the creation of the Mountain to Sound Greenway along Interstate 90 corridor in the 1980s.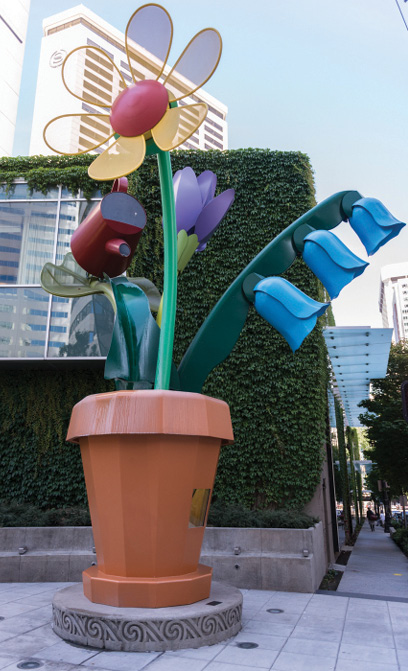 6.2 The Urban Garden, 2011
Ginny Ruffner
Painted steel and aluminum; H 27 ft.
Private commission
Seventh Avenue and Union Street
The Sheraton Hotel has often been criticized for an exterior that is inhospitable to pedestrians. In 2011 the hotel embarked on a program to improve its perimeter and a major step toward that goal was the installation of Ginny Ruffner's kinetic sculpture, The Urban Garden. Ruffner created a colorful collection of flowers—a purple tulip, a rotating yellow daisy, bluebells that open and close—that grow out of a nine-foot-high clay-colored pot, with a tipping red watering can that pours water onto a green leaf. The computer-controlled workings are visible through a window in the flowerpot. Ruffner is primarily known as a glass artist and is her largest and her first moving sculpture, The Urban Garden. She explains that moving objects are more intriguing, and she wanted a piece that could be easily accessed visually from many points of view. Ruffner notes that this sculpture reflects her feeling that Seattle is a beautiful, growing, flourishing place.
6.3 The Sheraton Hotel Collection
Sheraton Hotel, Sixth Avenue, between Union and Pike Streets
When the Sheraton Hotel opened its doors in 1982, it presented Seattle citizens and visitors with the most elaborate collection of art in any hotel in the region. Its collection has grown since then, and it remains available for public view. Throughout the hotel's lobby level are original works on paper or canvas by major names in twentieth-century Pacific Northwest art history including Mark Tobey, Kenneth Callahan, Richard Gilkey, Margaret Tomkins, Guy Anderson, William Cumming, Leo Kenney, Carl Morris, Walter Isaacs, Ambrose Patterson, William Ivey, Paul Horiuchi, Morris Graves, Louis Bunce, Jacob Lawrence, and Peter Millett.
Inside the Sixth Avenue entrance, at the Pike Street (north) end of the Sheraton's lobby level, and to the left is the Fountain Wine Bar & Lounge. That name refers to George Tsutakawa's silicon bronze Northwest Fountain (1981) installed within. At its entrance is Tsutakawa's sumi ink painting of Mount Rainier (1980). Along a wall to the right of the entrance is The Four Philosophical Elements, a four-part series of assemblages created by Dennis Evans in 2013. A sign on the wall describes the rich symbolism Evans incorporated into each piece.
In a glass case at the end of the Fountain Wine Bar & Lounge is Nancy Mee's Transition of Venus. The fifteen-foot-long glass and copper sculpture, created in 1982, is a fine example of the artist's use of vertical columns of thick glass shards fused together and often twisting and contorting. Mee explains that the continuing theme in her sculptures at that time is the transition between beauty and deformity, and the columns refer to deformed backbones often caused by scoliosis, a spinal abnormality that develops in younger women. This theme is derived from images Mee often saw as a college student when she worked as a photocopier at the University of Washington Medical School library.
Behind the reception desk is Alden Mason's twenty-four-foot-long painting Big Chief Seattle. Painted in 1982, it is one of the largest examples of his unique style of covering the canvas with richly colored acrylic paint squiggles.
Inside the lobby's Sixth Avenue entrance to the right is Obelisk with Phoenix and Esoteric Symbols, a sculpture created by James Washington Jr. in 1982. This red granite monolith has a collection of the esoteric symbols for which Washington was known. Creatures on its top include a reclining rabbit and a hatching bird. Designs on its front, back, and sides include a phoenix, symbolizing destruction and recreation or reincarnation; a loaf and a fish, symbolizing Christ feeding the multitudes; two arrows pointing in opposite directions that represent the circle of life; and geometric shapes and numbers that refer to Washington's personal philosophy.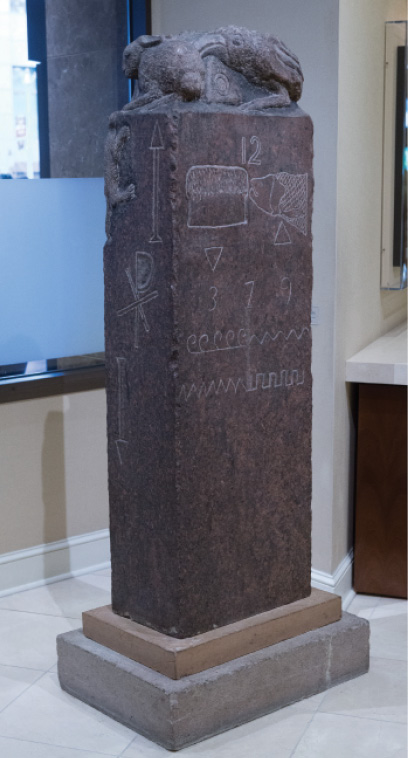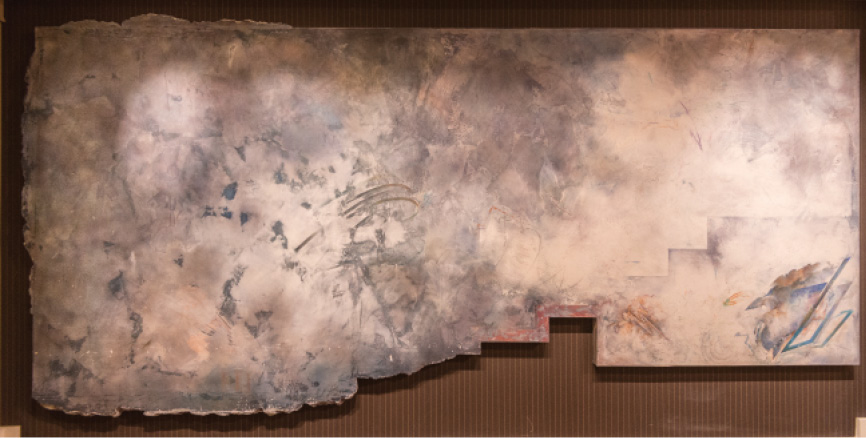 On the south side of the lobby is a twenty-seven-piece collection of glass created between 1980 and 1982 at the world-famous Pilchuck Glass School, located north of Seattle in Stanwood. Also on view in a large case is Flower Form #2, a collection of blown white glass forms by Dale Chihuly, one of the deans of studio glass art and a cofounder of the Pilchuck Glass School. Paintings and reproductions of paintings by Dale Chihuly can be seen on the lobby level and throughout the rest of the hotel.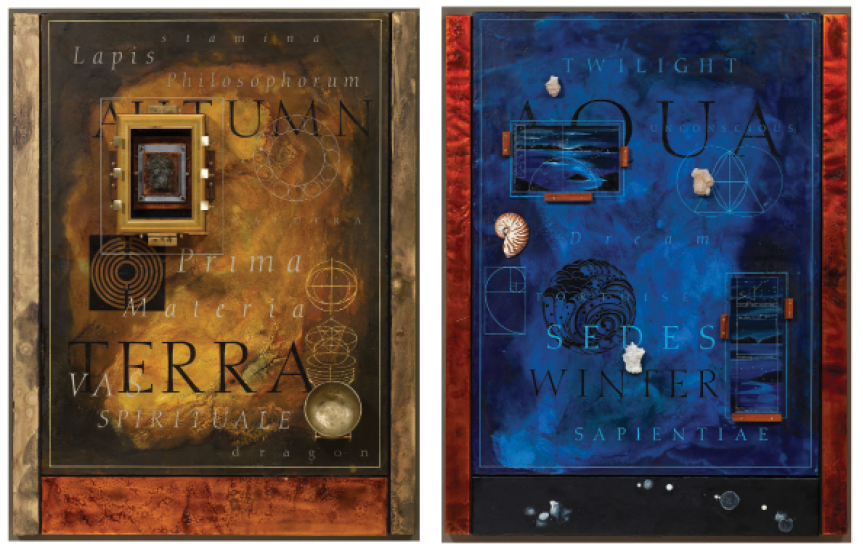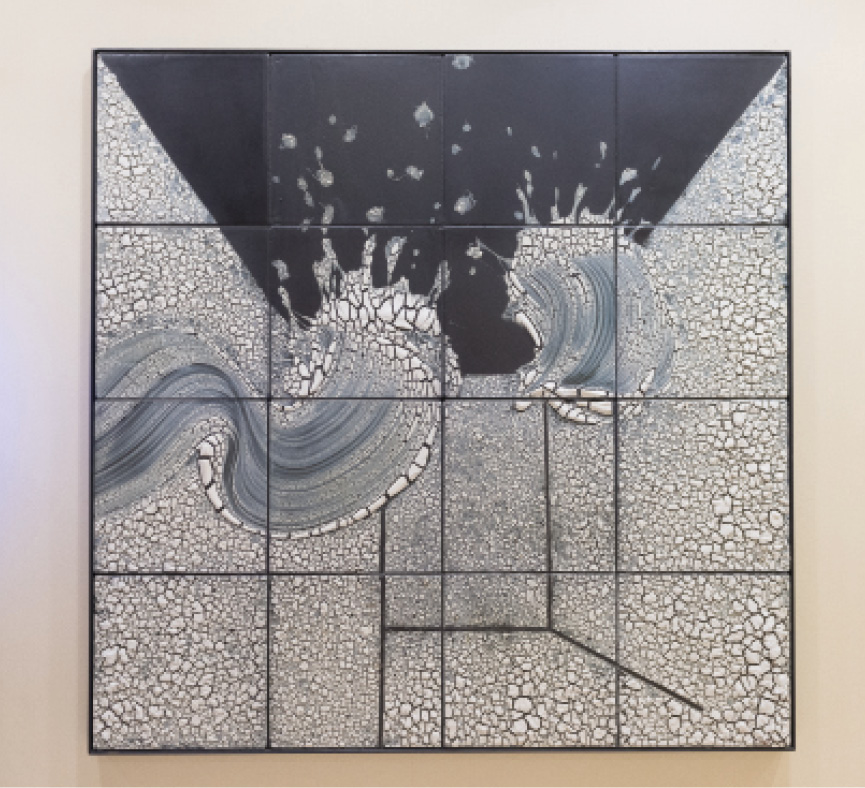 Also in the south lobby, towards the hotel's Union Street Tower, are two sixty-four-square-inch untitled murals created by Robert Sperry in 1982. They are splendid examples of the artist's distinctive treatment of ceramic tiles with a thick layer of slip (semifluid clay) to create a crackle glaze. The resulting effect is reminiscent of the surface of a dry lakebed. These two murals are composed of separate panels, as is also true of Sperry's massive mural created for the King County Administration Building in 1985 (5.3).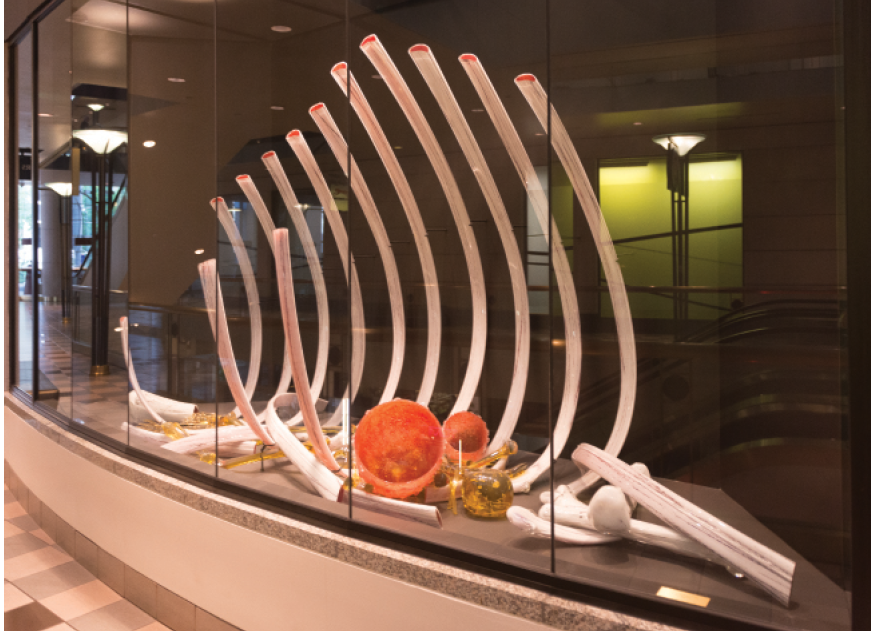 On the conference and banquet room level above the lobby on the Sixth Avenue side is Veil of the Siren, Disguise of the Mime (Genesis), by Mary Ann Peters. At the top of the escalator on the third floor is Projections 7 (Tides) by Jeffrey Bishop. It is typical of Bishop's work at the time with its brightly colored floating geometric shapes that project into a deep, dark background. Both of these paintings were completed in 1982.
Another major work, along the Sixth Avenue side, is William Hoppe's 1980 painting Latitude Zero, an eighteen-foot diptych that is a grid design of subdued colors.
6.4 Pilchuck Collection of Glass
US Bank Centre, 1420 Fifth Avenue
A very fine collection of art glass can be seen on the first three floors of the US Bank Centre across Sixth Avenue from the Sheraton Hotel. In 1989 the building's developers commissioned recognized artists affiliated with the renowned Pilchuck Glass School in Stanwood, Washington, to create glass art for their building. The collection is made up of almost forty works by artists from throughout the United States and Europe. Most of the works are located in separate display cases around the second floor, and information about each is displayed in the case or nearby.
While for the most part the artworks display the natural beauty of glass, William Morris's Artifact Series #14, Offering, the ten-foot-long installation located just beyond the top of the first to second floor escalator, is an early example of his ability to push the medium past traditional boundaries. Morris presents what appears to be an ancient site with prehistoric remnants partially framed by parts of a huge ribcage—as if the viewer has stumbled across an archeological dig containing human skeletal remains and artifacts, prehistoric evidence of an event, perhaps a ritual, the reason for which can never be known.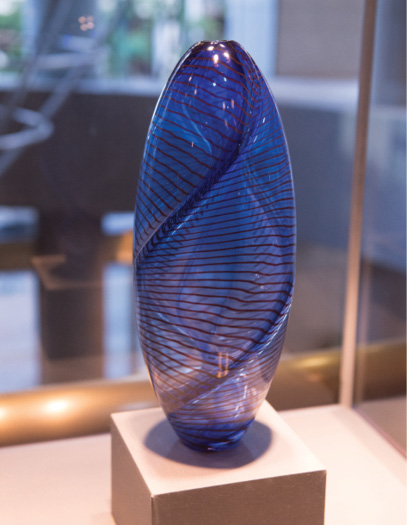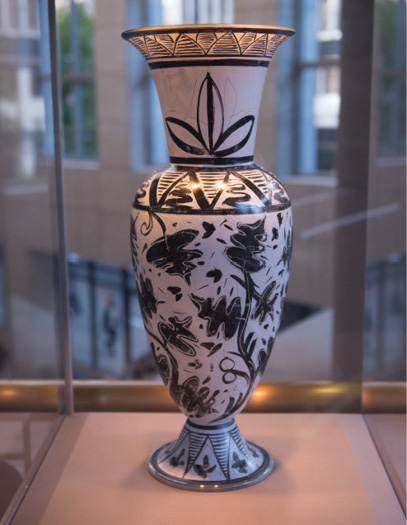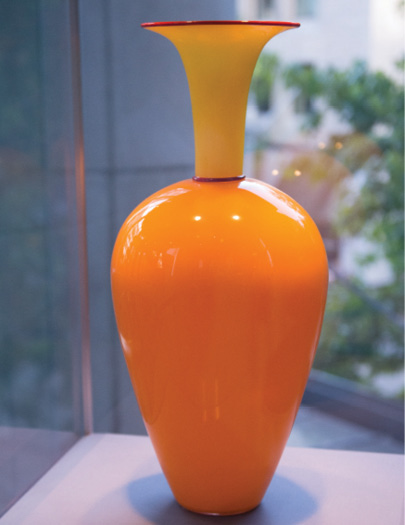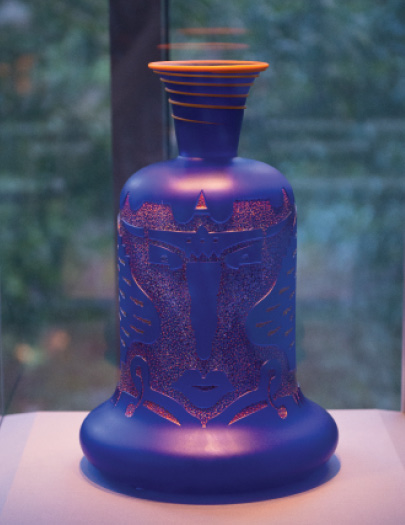 On the opposite side of the second floor is an immense, twelve-foot-long, seventeen-foot-high case containing Dale Chihuly's Puget Sound Persian Installation, a collection of his now-famous crumpled, thin glass disks of saturated rich colors with spiraling concentric lines.
The escalator from second to third floor is flanked on each side by The Duel, a mixed-media installation by Norie Sato. When operating correctly, the ghostly twelve-foot-high columns of etched glass, neon, and plastic laminate are lit from below by television images.
Hanging over the Fifth and Sixth Avenue entrance rotunda are two large commissioned mixed-media sculptures created in 1989. At the east (Sixth Avenue) entrance is Sun Ring, an eighteen-foot-diameter creation by Paula Rees. The theme of her design is Helios, the god of the Sun, taking the sun across the sky. On the west side, is Graham Graham's twenty-foot-tall, fourteen-foot-diameter Celestial Vessel, which refers to constellations traveling across the night sky.
6.5 Newari I and Newari II, 1982
Lee Kelly
Stainless steel; each H 7 ft. 9 in. × L 5 ft.
Private collection
One Union Square, 600 University Street, elevator lobbies
The two stainless steel sculptures in the One Union Square elevator lobbies are named in honor of the Indigenous people of the Kathmandu Valley and its surrounding areas in Nepal who are called the Newar and who speak a language known as Nepal Bhasa and Newari. At one time, Lee Kelly visited that region regularly to hike, mountain climb, and create small polished bronze sculptures cast by Newari artisans. These are Kelly's first stainless steel sculptures in Seattle's public places and each has accentuated sanded textured surfaces with white neon backlighting. They were commissioned by the building's developer, Unico properties. Kelly's other works in Seattle (on Capitol Hill and at the University of Washington) are outdoors and made of rusted weathering steel.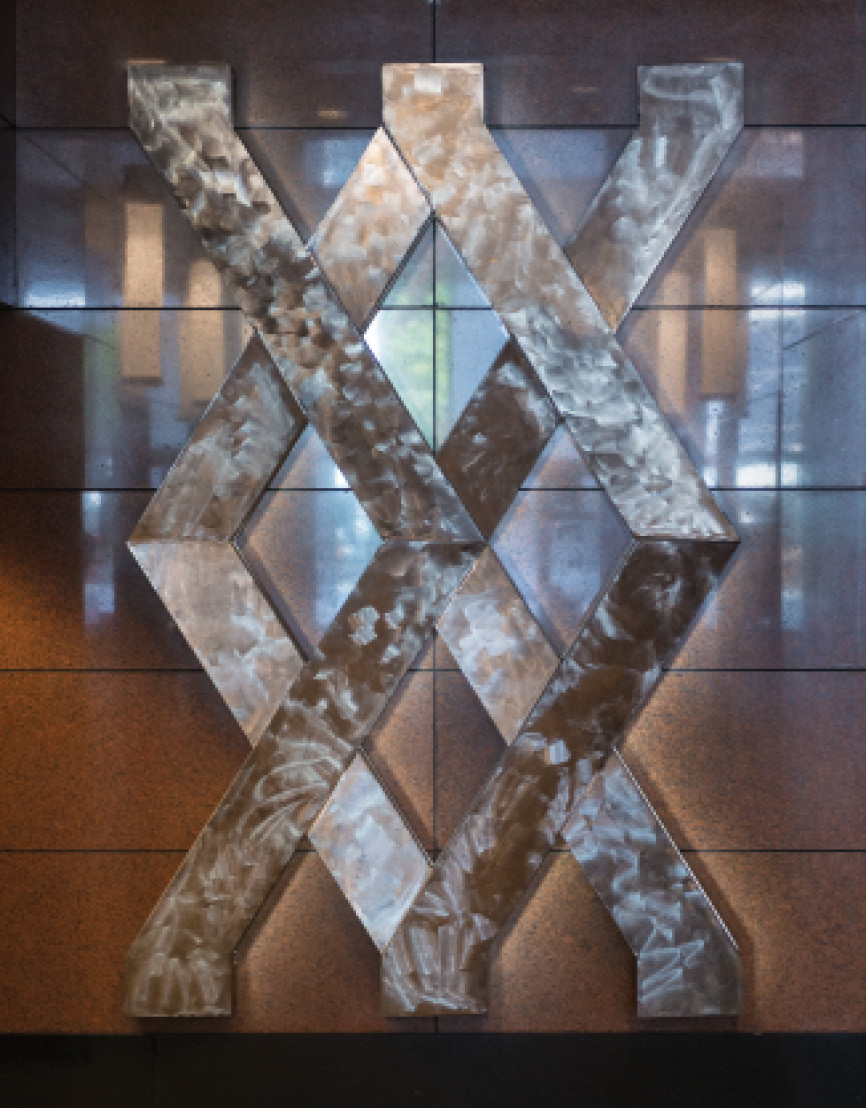 6.6 Salmon Dance, 1996
Ron Petty
Bronze; approx. H 9 ft.
Private collection
One Union Square, 600 University Street, Sixth Avenue lobby
Ron Petty's Salmon Dance is a series of four classical columns on top of which are three bronze salmon swirling through currents, perhaps spawning upriver. Each group is "dancing" together in unique poses. They were commissioned by the building's developer, Unico Properties. Petty has created a number of sculptures featuring creatures of our local seas, the best known of which is the Seattle Fishermen's Memorial at Fishermen's Terminal.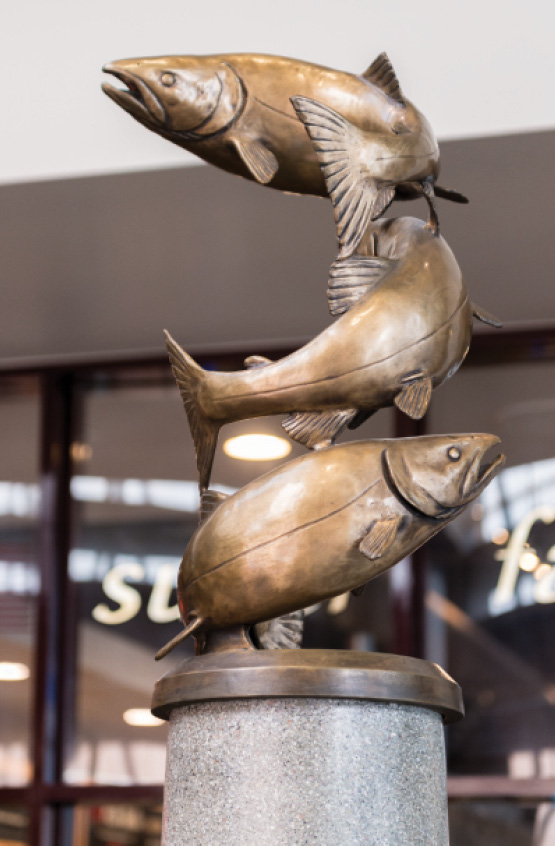 6.7 Seattle's Memorial Bronze Plaques and Medallions
The central downtown Seattle area is home to a collection of bronze plaques and medallions, most of which were placed in memory of twentieth-century business leaders, and they are worthy of a brief tour. Start at the Skinner Building, the 1926 Renaissance revival gem at 1326 Fifth Avenue. Inside its lobby is a bronze bas relief profile of its namesake, David E. Skinner (1867–1933), known as "D.E." It was created in 1926 by New York sculptor Leo Lentelli and placed there by Skinner's friends in the Metropolitan Building Corporation, of which he was a director. The company was created to develop the Metropolitan Tract, the original site of the University of Washington that consisted of the ten-acre rectangular section of land bordered by Seneca Street, Third Avenue, Union Street, and Sixth Avenue, which is still owned by the university. As a partner in Skinner & Eddy, Skinner's holdings included the Port Blakely Mill and Skinner & Eddy Shipbuilding on Harbor Island, which was an important shipbuilding firm throughout World War I. The company's later interests included the Alaska Steamship Company.
On the north wall outside of the Skinner Building's entrance is a bronze bas relief bust of David E. ("Ned") Skinner II (1920–88), created in 1990 by Everett DuPen. Ned Skinner was the grandson of D.E. and made what became the Skinner Corporation into a major Pacific Northwest commercial and real estate enterprise. He and his wife, Kayla, were prominent Seattle promoters and philanthropists. Skinner was an original investor in the Space Needle, a major supporter of the 1962 Seattle World's Fair, and one of the investors who acquired what became known as the Seattle Seahawks football team.
From the Skinner Building entrance, take the stairs at the Fifth Avenue Theater's entrance down to the Rainier Concourse, the tunnel that extends from Rainier Tower to the Two Union Square office building. The concourse walls are adorned with a collection of photographs from early Seattle. At the western end is one of the terra-cotta American Indian heads that graced the upper façade of the White-Henry-Stuart Building that was demolished to make way for the Rainier Tower. This particular head is not complete. The tunnel's low ceiling required removal of its lowest section. A complete head, and information about such architectural embellishments, can be found at 6.9.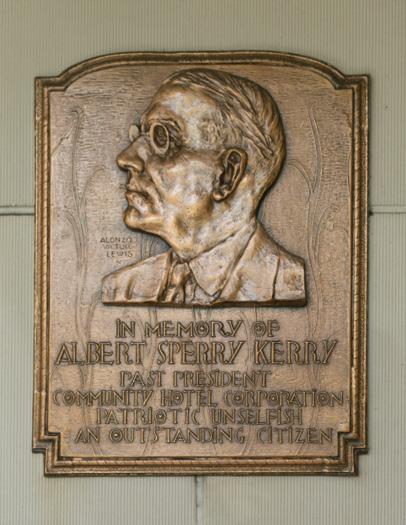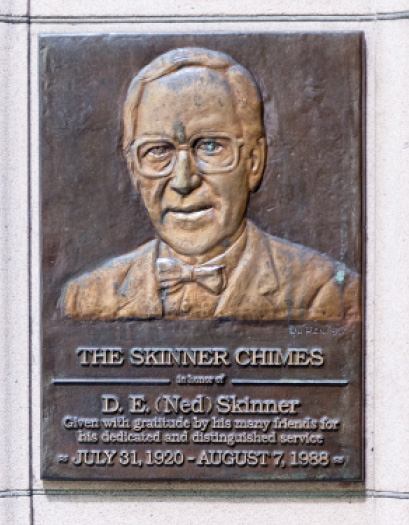 Bronze plaques in the concourse salute businessmen who, through their involvement with the Metropolitan Building Corporation, had a major impact on the development of the Metropolitan Tract. From 1908 to 1915 the company constructed the Stuart Building, the Cobb Building, the Stimson Building, the Seattle Ice Arena, and the Metropolitan Theatre. In 1962 the Metropolitan Tract was expanded to include the garage for what is now the Fairmont Olympic Hotel. Seattle sculptor Max P. Nielsen created the bronze relief medallion (circa 1916) of Chester F. White, a lumberman and original investor in the company. Nearby is a bronze profile of David E. Skinner created in 1926 by the Austrian sculptor Hugo Taglang. Compare Taglang's refined, classical approach (some may see a resemblance to a formal profile of England's King George VI) to that of the rougher surface of Leo Lentelli's rendition of Skinner referred to above.
Also included are bas reliefs (the sculptors of which are not identified) of John Francis Douglas, the founder of the Metropolitan Building Co., which leased the university's Metropolitan Tract properties from 1908 to 1954, and lumber and real estate magnates C. D. Stimson and C. W. Stimson (C. D.'s nephew). These medallions once stood on now-demolished buildings in the area. The most recent medallion shows Roger Stevens in profile. Stevens was the founder of what became Unico Properties, created in 1953 to manage and develop the property.
Nearby at the west side of the Fairmont Olympic Hotel's entry driveway off of University Street is a plaque honoring Albert Sperry Kerry (1866–1939), one of Seattle's leading businessmen, whose properties included what is now Kerry Park on Queen Anne Hill (donated to the city by Kerry and his wife, Katherine, in 1927). The plaque was placed in this location because Kerry, as president of the Community Hotel Corporation, was instrumental in the financing and construction of the Olympic Hotel, which was completed in 1924. A successful lumberman, Kerry's holdings included extensive timberlands and mill operations in Washington and Oregon. Local sculptor Alonzo Victor Lewis was commissioned to create the plaque shortly after Kerry's death.
The oddest story behind any plaque in Seattle is the tribute to Hannah Newman at the corner of Sixth Avenue and Union Street on the Washington Athletic Club building. The subject is shown in profile above the inscription: "Mrs. Hannah Newman, with courage and faith in the development of our city owned this ground from pioneer days until the erection of this building – 1930." This plaque was commissioned by Hannah's husband, John "Packer Jack" Newman (1863–1931), a Klondike gold rush packer and muleskinner. During his time in Alaska, Newman fell in love with Mollie Walsh, a charming young woman who ran a grub tent in White Pass during the Klondike gold rush. She was known as the "Angel of White Pass" for her efforts providing hot meals to tired and hungry prospectors. She ended up marrying another man and moved to Seattle. In 1902 her husband murdered her.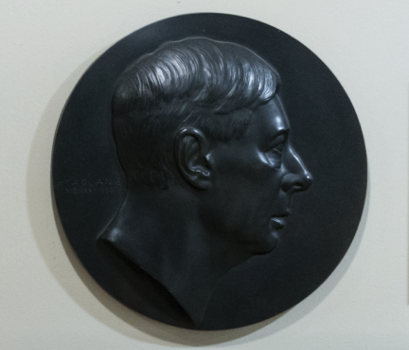 In 1930, a year before his death, the sixty-seven-year-old Newman commissioned James Wehn to create a bust of Mollie, which still stands in Mollie Walsh Park in Skagway, Alaska. Hannah was reportedly miffed at the attention paid by her husband to his first love. This inspired him to have Wehn create the Hannah Newman plaque. One hopes that peace prevailed in the Newman household.
Three other downtown plaques honoring Seattle businessmen can be found outside of the retail core. One, by James Wehn, is in the lobby of the Seattle Tower at 1218 Third Avenue, and it pays tribute to brothers David Bruce Morgan (1869–1943) and Tasso Mayne Morgan (1862–1918). The Morgans founded the Northern Life Insurance Company in Seattle in 1905. D. B. Morgan was in charge of the successful company when this twenty-seven-story art deco tower was completed in 1929. As noted on the plaque, it was placed there in 1931 by friends of the two men. It is presumed that Wehn finished it that year or in 1930.
In the lobby of the Hoge Building, at 705 Second Avenue, is a bronze bas relief profile of James Hoge (1871–1929). His business interests included part ownership of the Seattle Post-Intelligencer newspaper and the founding of the Union Savings and Trust Bank, which eventually merged with other banks to become the First Seattle Dexter Horton National Bank, of which he was chairman when he died in 1929. The bank eventually changed its name to Seattle-First National Bank, which was a prominent bank in this country until financial reverses led to its acquisition by Bank of America in 1982. The date on the lobby plaque is 1926, three years before Hoge's death. There are no records identifying the sculptor, whose initials "JWP" appear over Hoge's right shoulder. It may have been Chicago sculptor John Wallace Purcell. A list of artworks in Seattle public places created in 1956 by the Argus Publishing Co. says the artist was Jessie Phillips; however, records show that she was a young painter and illustrator of medical records, not a sculptor. John Wallace Purcell was an active sculptor at the time who worked in bronze. He was an instructor at the Art Institute of Chicago from 1925 to 1944 and exhibited his sculptures throughout that period. James Hoge's grandson believes it is likely that his grandfather would have selected an artist from "back East."
6.8 Stained Glass Window, ca. 1920s
Anton Rez
Stained glass; approx. H 15 ft. 6 in. × L 8 ft. 6 in.
Private collection
1414 Fourth Avenue
On the Fourth Avenue side of the Motif Hotel building, on the east side of the lobby near the doors onto the alley, is an often-overlooked stained glass window created in the late 1920s by Anton Rez (1896–1963). The detailed work depicts people laboring in major areas of regional commerce. This window was originally installed in the Joshua Green Building on Fourth Avenue. It was moved to its current location when People's National Bank, created by shipping and banking magnate Joshua Green (1869–1975), relocated its headquarters into its new building in 1972. Rez was Joshua Green's son-in-law, and he used the pool table at what is now the Stimson-Green mansion to lay out the stained glass design.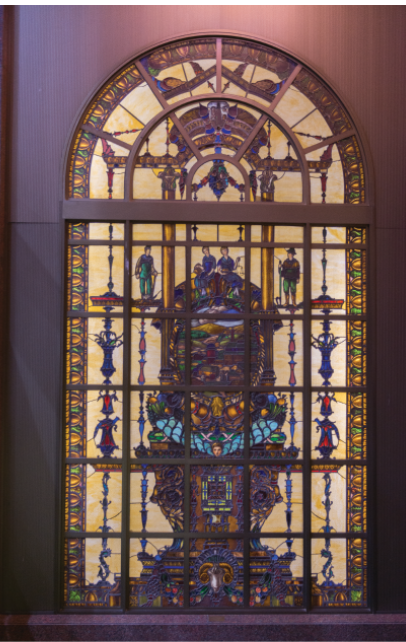 6.9 American Indian Head, ca. 1909
Victor Schneider
Terra-cotta; H 8 ft. 9 in. × L 3 ft. 5 in.
1309 Fourth Avenue
This large terra-cotta American Indian head was one of many that decorated the White-Henry-Stuart Building, which was across Fourth Avenue between University and Union Streets. Before the building's demolition in 1976, a number of heads were removed and purchased to enable future viewers to see how Seattle's grand old buildings were decorated. Similar heads can still be seen intact on the upper portions of the Cobb Building, at the corner of Fourth Avenue and University Street just south of this location. These heads, and many other terra-cotta adornments on Seattle buildings of the period, were executed by Victor Schneider, a Seattle artisan whose expertise was creating the terra-cotta architectural decoration that was so popular in the early 1900s. Each head weighs about eight hundred pounds and consists of eighteen parts. A slightly different design from the same building stands inside the Pike Street side of the Washington State Convention Center (see 6.1).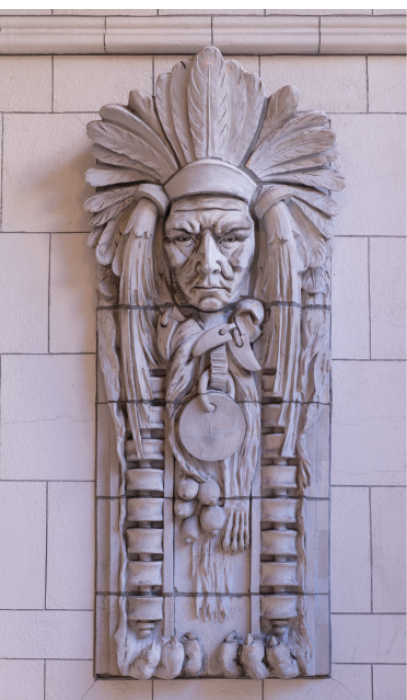 6.10 Benaroya Hall
Dale Chihuly and Anna Valentina Murch
Third Avenue between University and Union Streets
The chandeliers at each end of the Benaroya Hall lobby are Dale Chihuly's Crystal Cascade, two maelstroms of swirling clear patterned glass (with some flecks of gold leaf) that are vibrantly illuminated by lighting. Chihuly's works were a gift for the new symphony hall from Seattle philanthropists Jack and Rebecca Benaroya.
In the five twenty-by-twenty-five-foot niches in the upper walls of the arcade is Sky Tones, by Anna Valentina Murch, a piece best seen at night. The artist used colored lighting that modulates and dissolves to create the illusion of seeing sky through a building. The curved corners of each niche help dramatize the effect by adding the illusion of more depth and space. Murch had the lights programmed to respond to the comings and goings of the Benaroya audience. In the evening, the glow of her creation provides a visual experience for those inside and outside of the hall. Sky Tones was funded by Seattle's 1 Percent for Art program.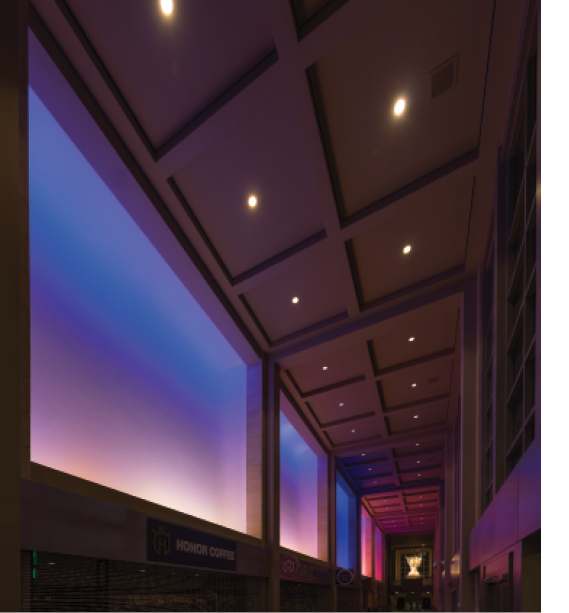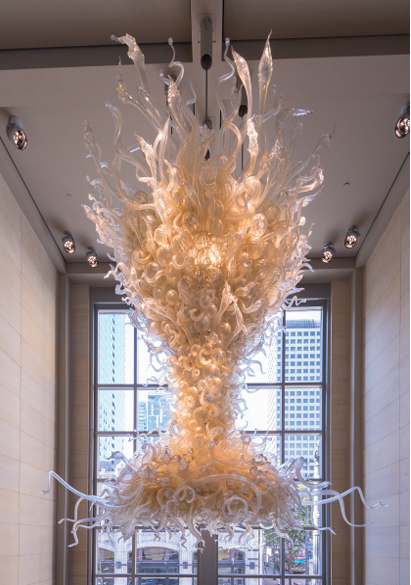 6.11 Metro Station Artworks, 1990
Bill Bell, Robert Teeple, and Vicki Scuri, with station architect Mark Spitzer
Mixed media
Metro Transit commission
University Street Station, Second Avenue and University Street
Mezzanine-level artworks in the University Street Station are the most high-tech creations of the 1990 Metro tunnel project. Boston artist Bill Bell installed twenty-four 16-by-32.5-inch computer-operated bars of lights that flash on and off and groupings of lightbulbs that flash sequentially across the wall to create unexpected patterns of movement, such as a running animal. Bell embedded the bars into the marble tile wall in what he described as "a random vertical pattern resembling falling red raindrops." Seattle artist Robert Teeple installed Electric Lascaux, a series of twenty-eight electronic displays in eight electronically operated light boxes that have light-emitting diodes flashing schematics and diagrams of twentieth-century technology as well as words and human faces.
The walls on the mezzanine level are graced with black-and-white granite designs by Seattle artist Vicki Scuri. She also created computer-etched designs on stainless steel door panels, which she likens to Braille or circuit board patterns. The reverse of those designs is etched on nearby black granite panels on benches.
The University Street Station also includes The Beltline, Vicki Scuri's elaborate graphic design of black, red, and speckled white-and-brown granite that covers parts of the walls and creates trace-like patterns on the floor. The designs change at doorways and where benches and information panels are located and continue up the escalators. Scuri describes her work as "a kit, with different modules placed in different manners . . . made up of asymmetrical designs for symmetrical spaces, that wrap around the station like an elastic band, or beltline."
Those attending an event at Benaroya Hall can pause at the main stairway and admire Robert Rauschenberg's monumental Echo, a twelve-by-forty-five-foot silkscreen transfer on polylaminate created in 1998 for the hall. Rauschenberg's artistic premise—that the commonplace has aesthetic potential—is evident in Echo, and he incorporated in it a collection of disparate photographic images of common subjects. Some are symbolic, others are not, and some arose from his involvement in photography, set and costume design, musical composition, and choreography—he worked for many years with Merce Cunningham as well as with Paul Taylor and Trisha Brown. In the 1960s Rauschenberg collaborated on several occasions with the composer John Cage. Thus, we see a photo of a John Cage manuscript, with text by Gertrude Stein (from the artist's private collection), and a Tibetan musical score. Also included are images of windswept palm trees, from his home in Florida, and trees in a swamp. He has said that those palms refer to the stormy scenes of a Wagner opera, while the calm swamp refers to pastoral pieces. Silkscreened photos of trumpets and violins can also be seen. A few other subjects include a bicycle, Gothic cathedrals, machinery, and a New York homeless woman pushing a grocery cart.
Echo was a commissioned gift for the new symphony hall from Virginia and Bagley Wright, prominent Seattle art collectors and philanthropists.
6.12 Garden of Remembrance, 1998
Robert Murase
Granite, concrete, and landscaping
Gift to the City
Benaroya Hall, Second Avenue and University Street
When Benaroya Hall was being designed, there were no plans to create anything on the L-shaped half-acre section of property at the southwest corner of the block. Seattle philanthropist Priscilla "Patsy" Bullitt Collins donated the funds to create a war memorial on the site. She wrote that her interest in doing so was not to make a political statement or to create a memorial to war, rather, "it is a reminder of war's costs and terrible pain." Collins's fiancé died in World War II. The end result is a place of reflection that honors Washington State residents who died in American wars from World War II on. The garden includes smooth granite walls and benches with rough-hewn granite elements and boulders, together with waterfalls, channels, and pools, all graced with deciduous trees and plantings. The engraved names of the thousands who died are oriented so that they are bathed in the glow of the western sun.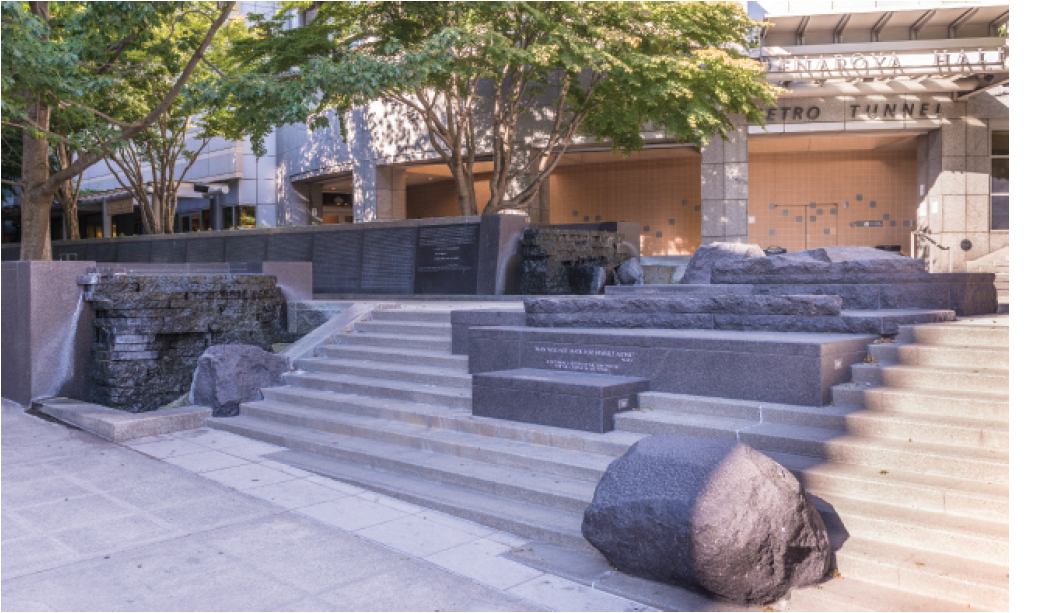 Engravings on granite walls include quotations of great thinkers, portions of soldiers' letters home, and a passage from Laurence Binyon's poem "For the Fallen." Engraved on the long wall in the north section is part of Archibald MacLeish's poem "The Young Dead Soldiers Do Not Speak."
Whether our lives and our deaths were for peace and a new hope, or for nothing, we cannot say . . . We leave you our deaths. Give them their meaning. We were young. We have died. Remember us.
Garden of Remembrance was designed by the late Robert Murase, one of the region's most highly regarded landscape designers. Murase was influenced by the stone sculptures of Isamu Noguchi, but at the root of Murase's designs are his Japanese ancestry and his sensitive use of stone and water to create elements present in Japanese gardens—meditative simplicity and the illusion of nature. Seattle architect John Nesholm described Murase, who hand selected each stone at the quarry and placed it on this site, as "a poet of stone and water."
6.13 Pulse 15, 2011
Charles Loomis
Stainless steel and glass; H 8 ft. × W 8 ft. × L 12 ft.
Private commission
Russell Investments Center lobby, 1301 Second Avenue
Pulse 15 is the vibrant collection of curved glass-covered rectangles that floats above the Russell Investments Center lobby. Each element consists of twenty-six pieces of kiln-formed glass attached to metal trusses and each is attached independently to create a whole in which no part touches the other. External lighting adds to the sculpture's presence. With this design, artist Charles Loomis refers to the vibrancy of Seattle's business community and the fact that Russell Investments is located in the heart of Seattle.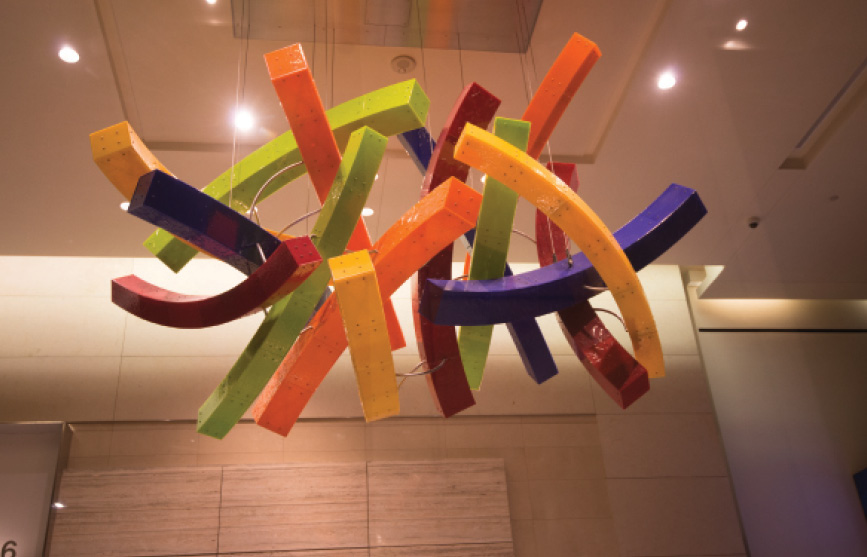 6.14 Mirror, 2013
Doug Aitken
LED tiles and photographic imagery
Seattle Art Museum collection
Seattle Art Museum, corner of First Avenue and Union Street
Doug Aitken's Mirror on the northwest corner of the museum's exterior wall is an ever-changing collection of photographic images that turns the building into what Aitken describes as a living museum. The principal feature is a huge screen that wraps around the corner at First Avenue and Union Street and shows photographic imagery compiled by the artist from hundreds of hours of footage he took throughout the city and the state. The images and what is done with them are created by a computer system that responds to changes to, and the levels of intensity of, many things happening at the time, such as weather and atmospheric conditions, pedestrian and vehicle traffic, and lighting conditions. The combinations of imagery are all unique and are not repeated. Much of Mirror's twelve-story height includes vertical bands of LED strips of vibrant lighting that move up and down the side of the museum. Best seen at night, Aitken describes his creation as liquid architecture.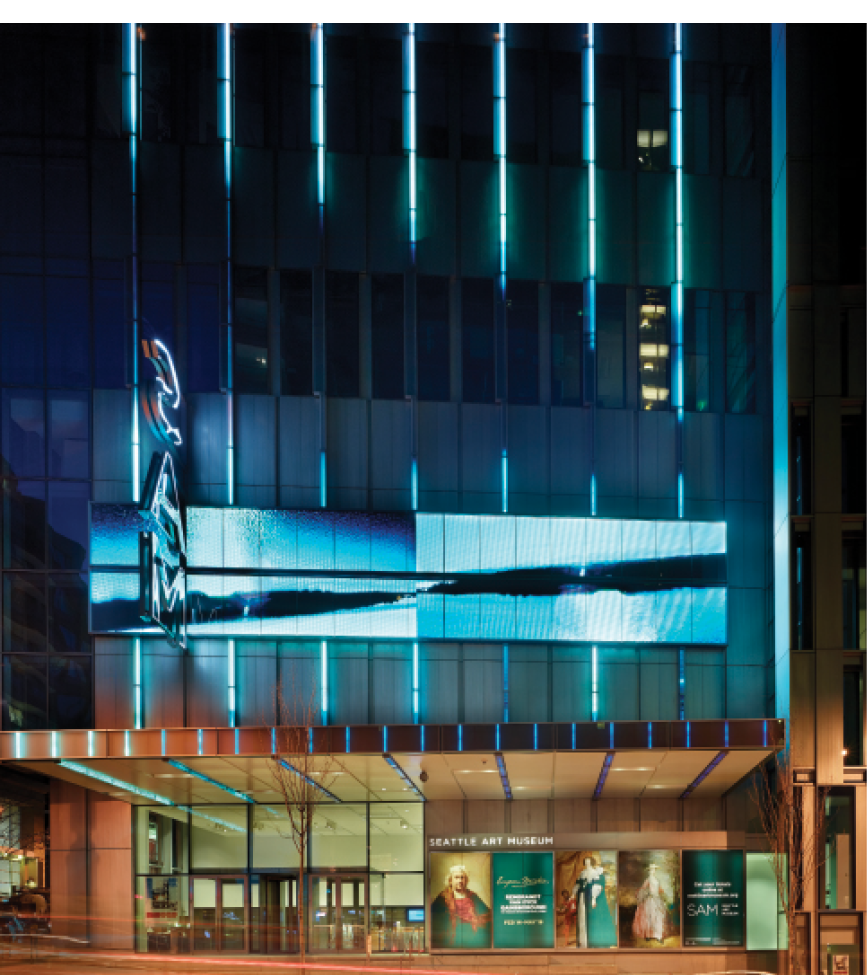 Aitkin created the work to "move on its own and constantly create its own sequences, patterns and composition. Like a minimalist musical composition. . . . However," he said, "the work must generate its own tempos and patterns feeding off the landscape, movement, temperature, light or darkness, wind or many other live organic things around it. Like choreography with no music, the images are left to define the composition and patterns live, today, tomorrow, and into the future."
Mirror was a commissioned gift of Bagley Wright who, in partnership with his wife, Virginia, was one of the region's most supportive patrons of the arts. Virginia Wright reported that when Aitken presented his concept to the museum, "Bagley immediately thought it was a great idea that would transform the building. I think he was right."
6.15 Hammering Man, 1992
Jonathan Borofsky
Painted steel and aluminum; H 48 ft.
City of Seattle Collection
Seattle Art Museum, corner of First Avenue and University Street
Standing at the corner of First Avenue and University Street is Hammering Man, a forty-eight-foot-high black silhouette created by American artist Jonathan Borofsky. Borofsky's working man holds a hammer in his hand, and his mechanized aluminum arm moves methodically up and down four times a minute. Borofsky has explained that "the boring, monotonous repetition of the moving arm implies the fate of the mechanistic world," while the man "symbolizes the underpaid worker in this new, computerized revolution. The migrant worker who picks the food we eat, the construction worker who builds our buildings, the maid who cleans offices every evening, the shoemaker—they all use their hands like an artist."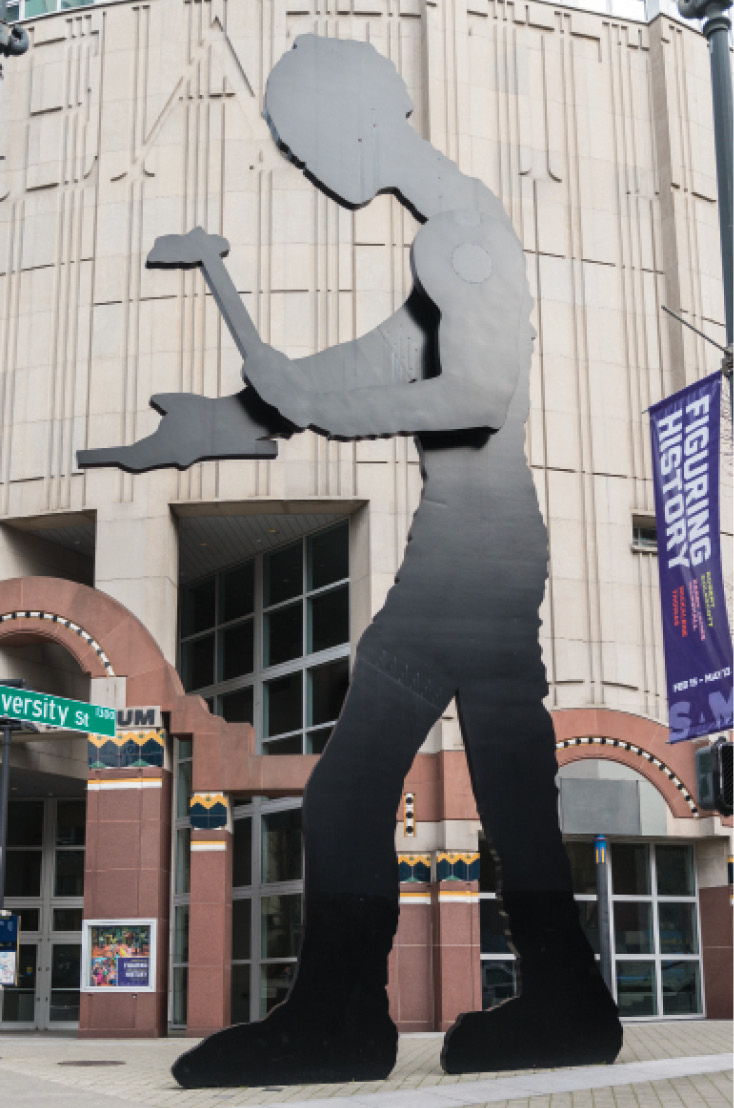 A three-horsepower electric motor runs the arm from 7:00 a.m. to 10:00 p.m. daily, and it rests each evening and into the early hours of the morning—and on Labor Day. "At its heart, society reveres the worker," Borofsky explains, Hammering Man is the worker in all of us. . . . Let this sculpture be a symbol for all the people of Seattle working with others on the planet to create a happier and more enlightened humanity."
Seattle's Hammering Man is part of Borofsky's goal of having this sculpture placed all over the world, hammering simultaneously to pay tribute to workers and to connect people throughout the world. A larger version hammers in Frankfurt, Germany (Seattle's is the second largest on the planet). Others of varying sizes have been erected in Japan, Switzerland, New York, Los Angeles, Minneapolis, and Washington, DC. Borofsky does not believe it is important to have an artist's name on a work. However, in keeping with his longtime preoccupation with numbers, each Hammering Man has a unique number painted on its base. Seattle's number is 3277164.
Funding for Hammering Man was provided by Seattle 1 Percent for Art funds, the Virginia Wright Fund, the Museum Development Authority, and private donations. It was commissioned as part of "In Public: Seattle 1991," a project to celebrate Seattle's public art program.
6.16 Chinese Tomb Guardians, Fifteenth to Eighteenth Centuries
Chinese artisans
Carved marble
Seattle Art Museum collection
Seattle Art Museum, corner of First Avenue and University Street
On a grand stairway inside the Seattle Art Museum, accessible through the doors at the corner of First Avenue and University Street and viewable through the windows of the Seattle Art Museum up the hill along University Street, are six impressive carved marble figures. They once stood along avenues called the Spirit Path, which led to important Chinese tombs. Along those avenues were statues of real and mythological creatures, as well as warriors and government officials, which guided the soul of the deceased and those paying homage to him or her along the path to the monument. More statues stood at the entrance and within the tombs to serve the deceased and ensure that what comforts existed in life could be enjoyed after death. The pair of camels and the pair of rams reportedly led to the tomb of Prince Zhu Gaosui, near Beijing. The prince, who died in 1436, was the third son of the Yongle emperor, whose reign during the Ming dynasty lasted from 1404 to 1424. The human figures are a civil officer and a military officer and were created in the late seventeenth or eighteenth century, during the Qing dynasty. As was the custom, they stood on one side of the avenue and faced identical sculptures on the other side.
These and four other funerary sculptures were brought to Seattle in 1933 by Dr. Richard Fuller, who, with his mother, Mrs. Eugene Fuller, founded the Seattle Art Museum. Pairs of tiger and lion sculptures are displayed in the museum's Volunteer Park facility. All of the sculptures were purchased from Gump's in San Francisco and stood for decades in front of the Volunteer Park museum. They were removed in 1987 for restorative work after years of deteriorating in the elements. The six downtown figures were placed in their new home in 1990. Because of their size, they were installed on the grand stairway before the building's final walls were in place. They were then encased in wooden boxes, and the building was constructed around them.
6.17 Moment, 2000
Buster Simpson
Stainless steel; H 16 ft. × Dia 2 ft. 10 in to 6 ft. 6 in.
Harbor Steps, north side, below First Avenue and University Street
Buster Simpson's Moment consists of two separate stainless steel coils that twist upward inside two cones composed of thin vertical stainless steel strips. A sense of movement is created as the viewer progresses around the piece, the result of a moiré pattern created by superimposing the similar unaligned sheets of metal strips. A beacon of light from beneath adds drama to the piece at night.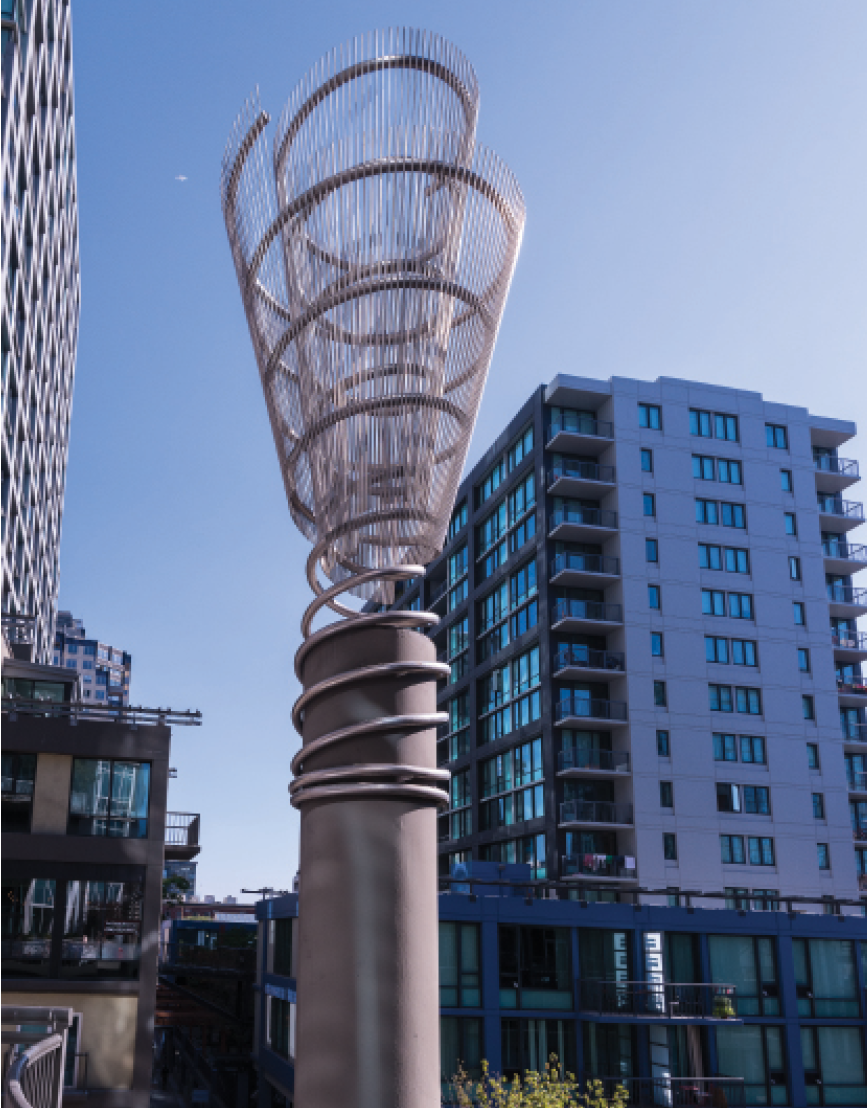 6.18 Four Seasons Hotel
99 Union Street
Standing at the far western end of Union Street, overlooking Elliott Bay is Gerard Tsutakawa's eleven-and-a-half-foot-high welded bronze Thunderbolt, which was created in 2008. The owners of this Four Seasons Hotel wanted Tsutakawa to create a work for this particular spot. He chose the upward thrusting form as a strong silhouette against the sky and further enhanced the shape by giving it a golden patina.
An impressive collection of works by Pacific Northwest artists are on display within the hotel, beginning with the lobby. Kenneth Callahan's Wind Song is an energetic collection of broad sumi-inspired brushstrokes in blue, brown, and reddish tones amid spontaneous calligraphic swirls and strokes of black. Brown Bingo, by Alden Mason, is an example of his widely acclaimed Burpee Garden series in which he used diluted oil paint to create exuberant pools of transparent colors. Paul Horiuchi's Massive Silence is a six-paneled screen with his signature collage medium that includes torn pieces of mulberry and rice paper. Night, an oil painting by Gaylen Hanson, shows the dark sky and landscape of Hanson's beloved Palouse region in southeastern Washington illuminated by a full moon. And Evening Light, a still life by Morris Graves, is a lithography, photolithography, and silkscreen reproduction that looks like his original 1992 work. Also on display is a large untitled oil painting created by Portland-based Carl Morris, a dean of Pacific Northwest abstract expressionism.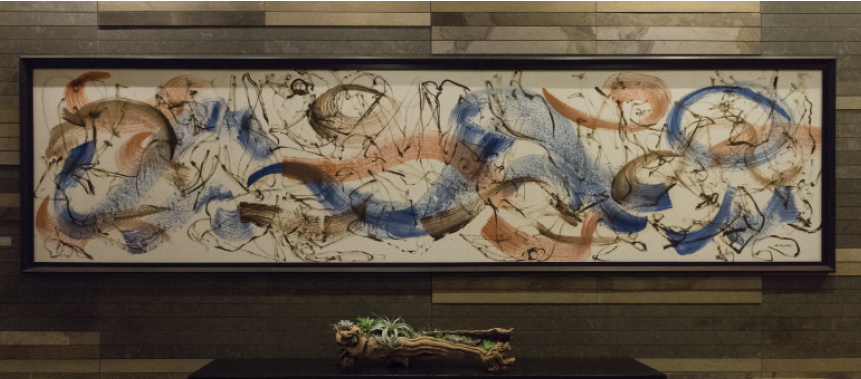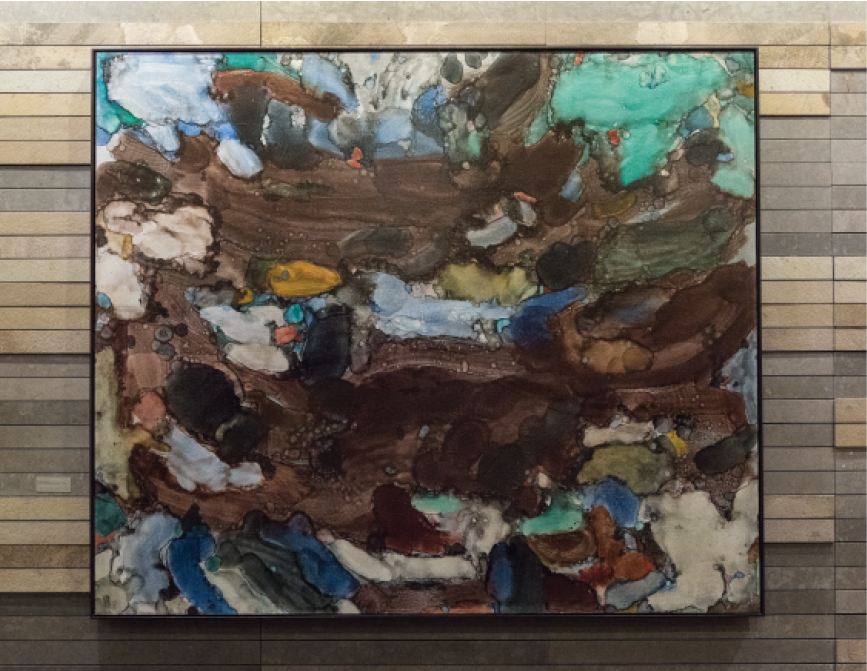 Around the corner to the left inside the entrance is a group of black-and-white photos of major Pacific Northwest artists of the same period represented in the hotel collection. These were taken by Mary Randlett, an artistic photographer who captured on film all of the major names in Pacific Northwest art. Some of those represented in the collection can be seen in Randlett's photos. If you number each row one to five from left to right, Alden Mason is fifth in the top row. In the middle row, Johsel Namkung is second, Morris Graves and Mark Tobey are fourth, and Kenneth Callahan is fifth. Carl Morris and his wife, sculptor Hilda Morris, are the subjects of the bottom row, number two.
At the top of the nearby stairs are two complementary black-and-white works. On the right is Sumi Painting, painted in 1959 by Mark Tobey, the patriarch of the Northwest School of art, the influences of which include Asian philosophy and religion. Next to it is Tinkum Road, a black-and-white photograph taken in 1986 by Johsel Namkung. It is reminiscent of a classical Chinese landscape painting. Namkung was a friend of many of the Northwest School artists, including Mark Tobey, with whom he practiced sumi painting. His photographic art was hailed for its creative execution and often painterly qualities.
6.19 Seattle Garden, 1988
Ann Sperry
Painted galvanized steel; H 4 ft. 6 in. × L 334 ft.
Seattle 1 Percent for Art Program
Seattle City Light Union Street Substation,
Post Alley and Union Street
Just below the Four Seasons Hotel and readily visible from the stairs leading down from the end of Union Street is New York sculptor Ann Sperry's Seattle Garden, a collection of painted steel flowers on top of the wall around an electrical substation. One of Seattle City Light's goals was to keep transients out of its substation, and Sperry created what she describes as "an impenetrable botanical fence." Her sheet steel plants consist of welded triangular sections topped with round flowers of various sizes. This fantasy garden is painted silver, and portions of some of the flowers are painted with splotches of subdued hues.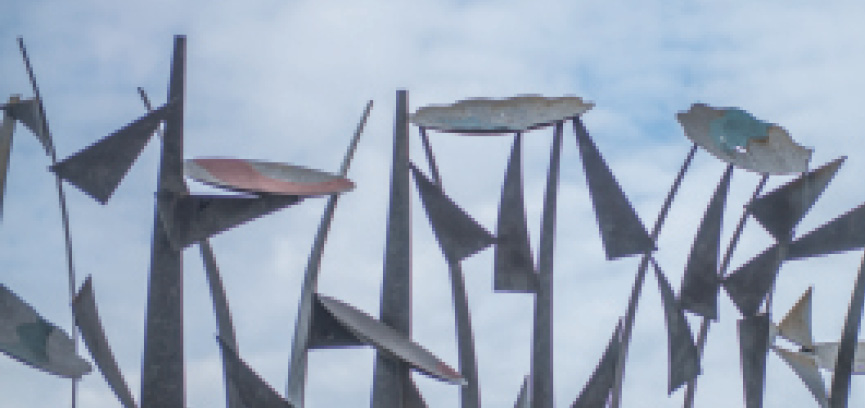 6.20 Pike Place Market
85 Pike Street
Five artworks at the Pike Place Market are featured here, and the most famous is Georgia Gerber's Rachel the Pig (Market Foundation Piggy Bank), a life-size, 550-pound bronze pig that was chosen through a competition to commission a piggy bank for contributions to the Market Foundation, which supports human service agencies in the market. The model for Gerber's sculpture was a friendly old sow who lived near Gerber's home on Whidbey Island. Gerber explains that she always strives to engage the viewer's imagination and likes to have her sculpture invite an interaction with its audience. The success of this piece is evident from the fact that Rachel has become the symbol for the market and one of the most photographed, and sat upon, sculptures in the city. Her form was used to make a large number of fiberglass replicas that were painted by artists and sold at a Pigs on Parade auction to benefit the market. Many of them are still displayed throughout the city.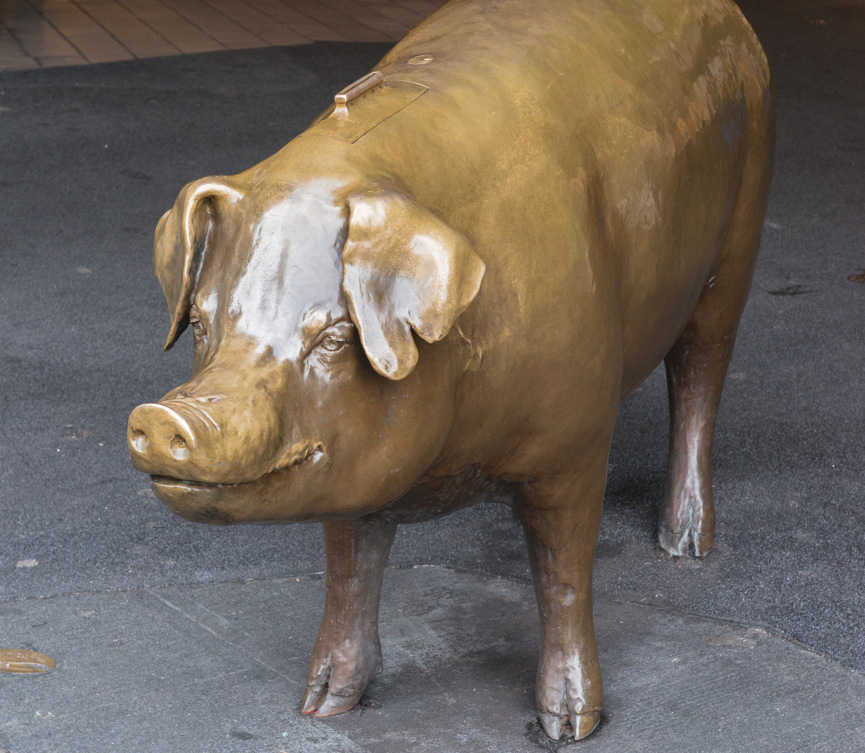 A second bronze pig sculpture by Georgia Gerber, created in 2011, is the 700-pound Billie, a friendly looking pig who sits upright with splayed front legs at the southern end of the market's new second level pavilion, just south of Steinbrueck Park.
A lesser known but important artwork at the market is Aki Sogabe's five-part, thirty-six-foot-long mural Song of the Earth, which is located on the rafters above the market's Pike Street entrance. It highlights the fact that before World War II and the internment of West Coast Japanese Americans, the majority of farmers who sold produce at the Pike Place Market were of Japanese descent, and they had a significant impact on the development of the market. Their internment and the resulting loss of their property ended an era that was impossible to revive. The first panel, Song of the Earth, shows workers clearing and preparing the ground. In the second panel, Song of the Farmers, farmers work the land. In Song of Joy we see Japanese Americans selling produce at the market. Song of Sorrow is a wartime scene of empty fields with Mount Rainier in the background. The last panel, Song of Memory, shows a line of Japanese, one of whom is a saluting American soldier.
Aki Sogabe is a local artist who is a master of kiri-e, the Japanese art of paper cutting. Her original paper works were enlarged and transferred to the three-by-five-foot steel panels in enamel porcelain. Song of the Earth was commissioned by the Japanese American Citizens League, among others, and was dedicated in 1999 on February 19, which is the Day of Remembrance for Japanese Americans. February 19, 1942, was the date of Executive Order 9066, requiring the internment of US residents of Japanese ancestry (see 1.10).
Just inside the market entrance at 1433 First Avenue, south of the main entrance, is Richard Beyer's seven-foot-tall Sasquatch sculpture. He carved this mythological creature of Pacific Northwest forests in the 1970s, and it is the earliest of his many works in Seattle's public places. Early in his career Beyer sold smaller versions of his Sasquatch carving from a stall at the Pike Place Market.
Hanging from the atrium ceiling above Beyer's Sasquatch is Pat Wickline's twenty-seven-foot-long Seattle Squid. Wickline has long been fascinated with squid, in particular the largest varieties, such as the giant squid, which can grow well over fifty feet long. It is the largest invertebrate on earth and has the largest eyes in the animal kingdom. This sculpture, created in 2001 of hammered copper, shows the squid as it would look swimming through the ocean depths, with eight arms and two longer arms with tentacles on the ends for grabbing prey.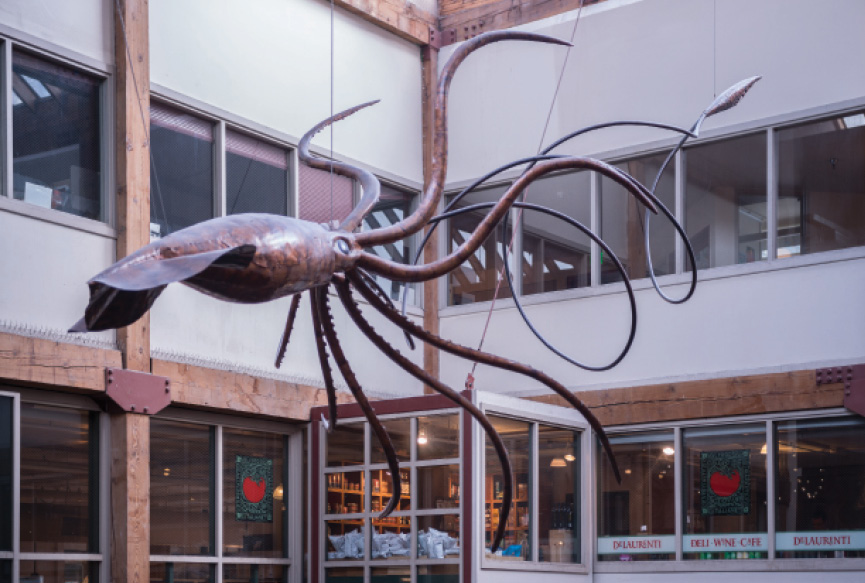 The most unusual light fixtures in the city can be found on the stairs west of the Pike Street entrance (behind and to the right of Rachel the Pig) that lead down to Western Avenue. They are seven stainless steel sculptures of individuals holding onto lights. This collection, created in 2011 by Dan Webb, is called Short Cut 7, and the artist placed them in unlikely positions—walking up walls, upside down on an overhang, standing at an open door inset into the concrete wall—to be discovered by pedestrians on the ordinary, plain stairwells.
Three artworks can be seen down on the Western Avenue side of the market. The most prominent is Western Tapestry, John Fleming's 250-foot-long mural of 1,670 colorful aluminum strips that extends along the east side of the avenue. Its four-inch-wide aluminum strips of varying lengths hang in twenty sections along the eastern side of the avenue. Blue, red, and green lights glow behind them. Fleming worked with approximately two hundred people from the community who painted their own unique designs on the strips, and then he arranged them into this vibrant tapestry extending along what was once a barren stretch of concrete.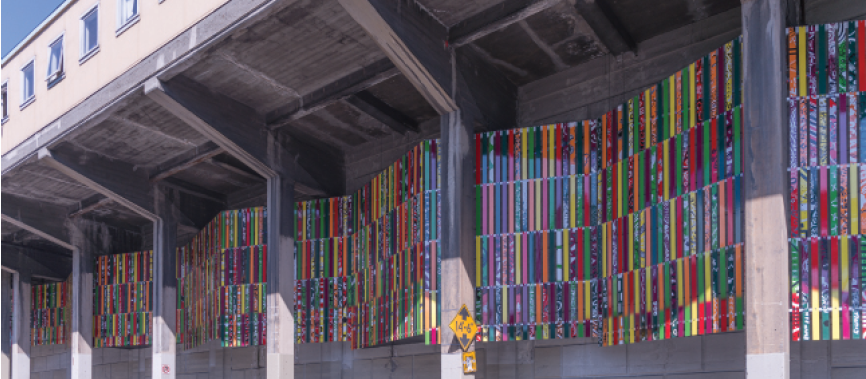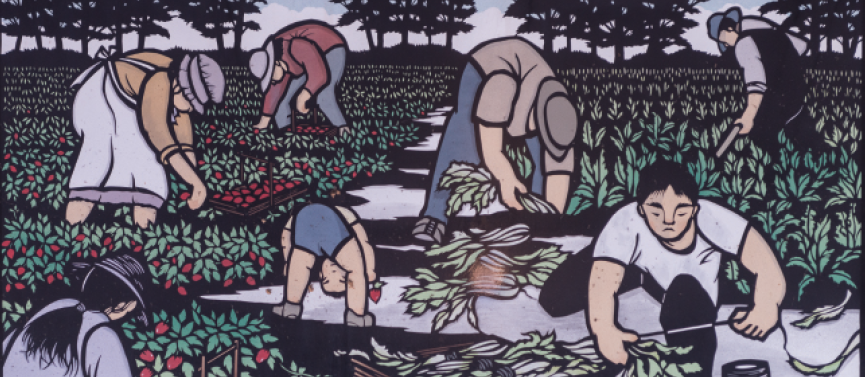 At the downhill end of Western Tapestry, at the base of the staircase, is A Point, an often unnoticed carved stone sculpture created in 1992 by Michael Oren (1948–98). This four-foot-high sculpture includes swirling waters and a city on a hill. The mountain form at the top is a precisely carved triangle on the reverse side. This piece reportedly honors Indigenous people of the area and may refer to the sacred nature of the spot where it is located. Oren was part of a residential artists' community that lived and worked from studios formerly located at the market. His friends installed A Point in his honor after the artist died in a motorcycle accident.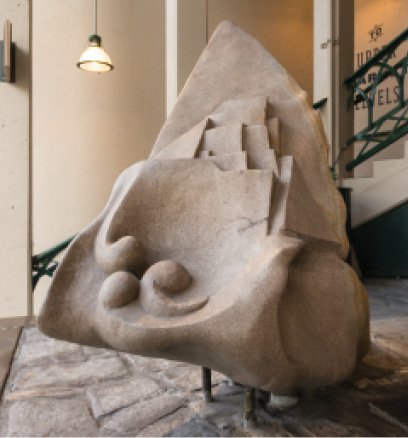 Across the avenue (at 1901 Western Avenue) is an entrance to the new west wing of Pike Place Market. Inside on the right-hand wall and up the stairs to the right is a set of colorful mosaic tile murals by Vashon Island artist Clare Dohna. At the entry level she salutes the bounty of the sea with a multitude of fish. Up the stairs and to the left off of the first landing is a mural of lovely birds, flowers, and insects. On the upper landing are nine framed murals of fruits and vegetables, with a few insects here and there.
6.21 Totem Poles, 1984
James Bender, Victor Steinbrueck, and Marvin Oliver
Carved cedar; each H 50 ft.
City of Seattle collection
Steinbrueck Park, north end of Pike Place Market
The totem poles in Steinbrueck Park show two approaches to totem pole design: the northern one is a traditional Northwest Coast Haida design, while the southern pole is smooth and topped with two eight-foot-high figures of a male and female farmer. The traditional pole was created by James Bender after a concept developed by Marvin Oliver. Bender and Seattle architect Victor Steinbrueck designed the adjacent pole. Bender carved both poles from trees that Marvin Oliver had selected and prepared for carving.

The traditional pole does not depict a legend, although its figures can be interpreted to stand for qualities of strength and abundance and other attributes of the city and the market. From the top, the figures are Raven holding a Salish woman's spinning whorl, Human holding a potlatch copper of prosperity, Little Human (a messenger), Killer Whale with a human face in its blowhole, Little Raven, and Bear holding Hawk.
The nontraditional southern pole was inspired by an Alaskan pole near Ketchikan that depicts Abraham Lincoln standing at the top of an otherwise unadorned pole; the Alaska Natives honored Lincoln by placing him at the top. In this case, the men and women who sell at the market are honored. The man and woman on the Seattle pole each wear "Honored Farmer-1984" badges that are similar to those the Friends of the Market presented to old-time farmers in 1981.
Victor Steinbrueck designed this park with Seattle landscape architect Richard Haag and included these poles as an integral part of the park's design to frame the scenes of Puget Sound and the distant Olympic mountains and the frequent colorful sunsets beyond. Steinbrueck described them as "a tribute to the cultural contributions and the heritage of our Native Americans." He also designed the green wrought-iron fence behind the totem poles that incorporates abstract floral designs. After Victor Steinbrueck's death in 1985, the park was named for him, a fitting tribute to the man who led the fight to save the market from destruction and replacement by developers.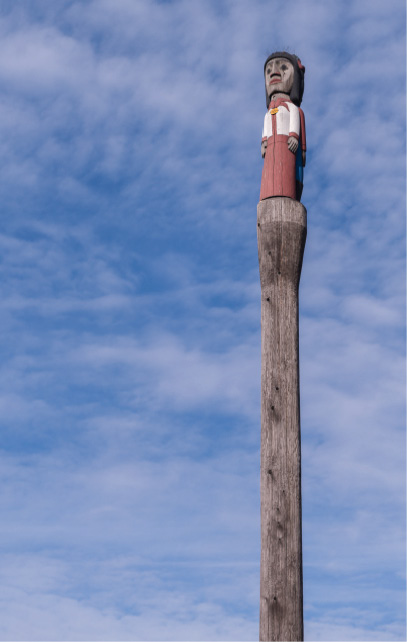 6.22 Tree of Life, 2012
Clark Wiegman
Patinated stainless steel; H 12 ft. 5 in. × L 6 ft. 5 in.
Gift to the City
Steinbrueck Park, north end of Pike Place Market
Clark Wiegman's Tree of Life was created to honor the many homeless individuals who die in Seattle each year. It is the central part of the Homeless Remembrance Project which was made possible through the efforts of Women in Black and WHEEL (Women's Housing and Equality Enhancement League). Tree of Life is in the shape of leaves, but many see the shape of a heart. Wiegman says that the sculptural form came to him more or less unconsciously during meetings with those involved with the project, and he didn't intentionally refer to a heart. What is clear is the cut-out shapes of maple leaves that refer to the second part of the project. Those cut-out spaces symbolize the hundreds of bronze leaf shapes that have been placed throughout the city, each one of which is a memorial to a Seattle homeless person who died while living on the street. The leaf placed closest to this sculpture is at Second Avenue and Bell Street. Tree of Life is stainless steel with a patina to make it look like bronze. It stands in the center of a base of tempered glass.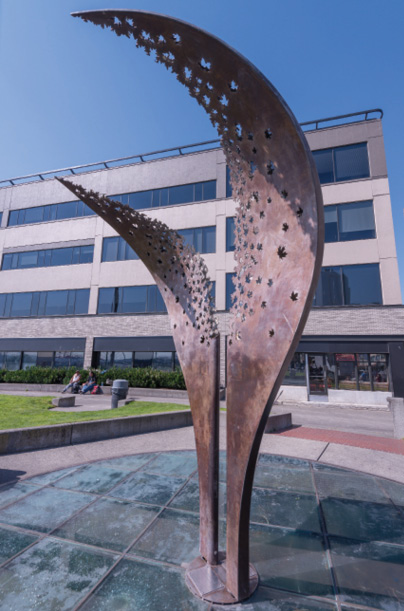 6.23 Westlake Metro Station Artworks, 1990
Heather Ramsay, Bill Whipple, Roger Shimomura, Fay Jones, Gene Gentry McMahon, Jack Mackie, and Vicki Scuri
Mixed media
Metro Transit commission
Westlake Station, Pine Street at Westlake Mall
At street level near the Westlake transit tunnel are two sculptural street clocks. Installed when the Metro transit tunnel was constructed in 1990, Heather Ramsay's fourteen-foot-high Pendulum Clock, of steel with a copper finish, stands at Third Avenue and University Street. It seems delicately balanced on a rounded base and leans at an angle inspired by how the passage of time made the Leaning Tower of Pisa lean. Running up each side are little brass mice that Ramsay included to "evoke a nursery rhyme and the relative distance each of us has traveled in time since childhood." Bill Whipple's seventeen-foot-high Question Mark Clock, installed in 1988 at Fifth Avenue and Pine Street, has its face framed by the top portion of a seven-foot-high stainless steel question mark that stands on a granite base.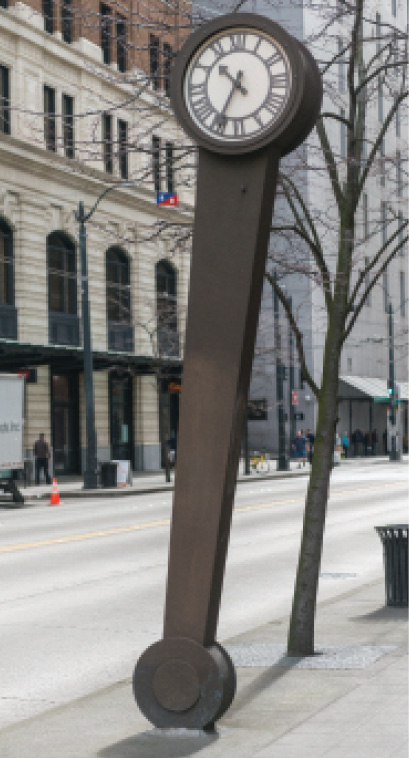 Inside the tunnel station are three vivacious ten-by-thirty-five-foot murals of vitreous enamel tiles created by Roger Shimomura in 1990. A vibrant combination of images from traditional Japanese woodblock prints and twentieth-century American life, the tiles include iconic examples of comic book and pop art, as well as his three children. Shimomura is best known for his complex and often humorous works that refer to the cultural clashes related to the assimilation of Japanese Americans into American society and his belief that this country is more of a "tossed salad" than a melting pot of cultures. The artist points out that this earlier work is an introduction to "more crystalized" bi-cultural themes of later years that emphasize the value of Japanese Americans retaining links to their heritage and culture.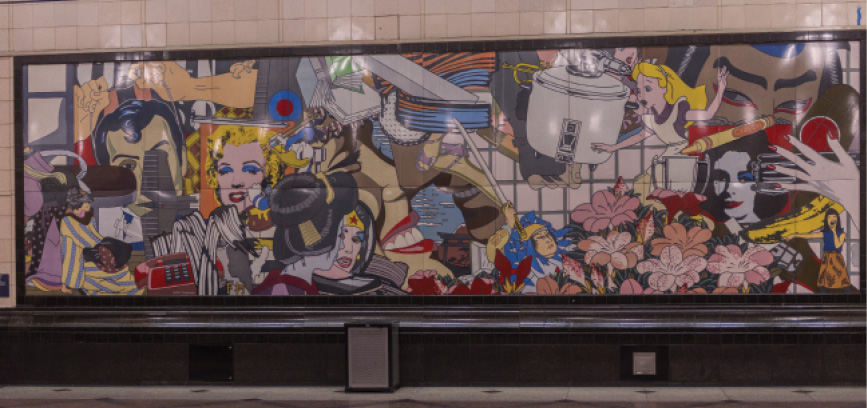 In an effort to bring sunshine underground, Fay Jones used bright yellow and blue as the principal colors in her mural that depicts a scene of oversized people dancing in front of the waterfront. She explains that her work is a "humorous and theatrical interpretation of Seattle as a waterfront city." Retail sales is the theme of Gene Gentry McMahon's mural and she refers to the bombardment of images one gets from passing retail displays.
A 32-by-116-foot section of the south station wall is covered with overhanging vines, leaves, and flowers created in terra-cotta tiles designed by Seattle artist Jack Mackie. Mackie also created the designs that were sandblasted into granite benches on the station platform level. Each bench appears to have been draped with patterned cloth.
Vicki Scuri's repeated series of twenty low-relief patterns composed of approximately twenty-five thousand cream-colored, one-square-foot tiles covers the station's platform-level walls in geometric designs that wrap around corners like fabric. Forty different tile designs that include shirt designs, portions of Japanese dress patterns and kimonos, zippers, and stitching are arranged in six-foot-square grids to create the twenty larger patterns. Viewed from different angles, the light upon the impressed forms changes the appearance of the creation. In addition, some tiles are blank and others are cropped, adding to Scuri's desired effect of a "patterned garment" for the station.
Across the tracks and east of the John Harte McGraw statue, next to the covered Seattle streetcar stop is Sequence/Consequence, Seattle's only subterranean artwork. From a distance it appears to be only a round disk embedded in the concrete, but just beneath its etched glass hatch cover is a neon double helix form than spirals into the ground. The artists included mirrors in the design to help create a seemingly endless field of light. Sequence/Consequence was created in 2009 by the artistic trio of John Sutton, Ben Beres, and Zac Culler, who work under the name SuttonBeresCuller. It was commissioned through Seattle's 1 Percent for Art Program.
6.24 John Harte McGraw, 1912
Richard Brooks
Cast bronze; sculpture H 6 ft. × L 4 ft. × W 4 ft.
City of Seattle collection
McGraw Square, Fifth Avenue and Stewart Street
John Harte McGraw (1850–1910) was a prominent figure in early Seattle history. A lawyer, businessman, and law enforcement officer, he was also the state's second governor (1893–1897). McGraw served as president of the First National Bank of Seattle and was president of the Seattle Chamber of Commerce. He was an avid and effective supporter of plans to build the Lake Washington Ship Canal. As King County sheriff, he protected life and property during the Seattle fire in 1889 and was a major figure in keeping the peace during anti-Chinese disturbances in the mid-1880s, which culminated in violent but thwarted attempts by angry citizens to drive the Chinese out of town. In his book Seattle, Past to Present, Roger Sale writes that "during the worst of the February [1886] troubles, Sheriff John McGraw was consistently sensible, cool, and strong."
After McGraw's death, citizens raised funds to commission prominent New York sculptor Richard Brooks to create this statue. It shows the governor with his overcoat draped over one arm and his right hand pressed down on a sheaf of documents on a small pedestal. It was cast in Paris and dedicated on July 22, 1913. Brooks also sculpted the William H. Seward statue in Volunteer Park.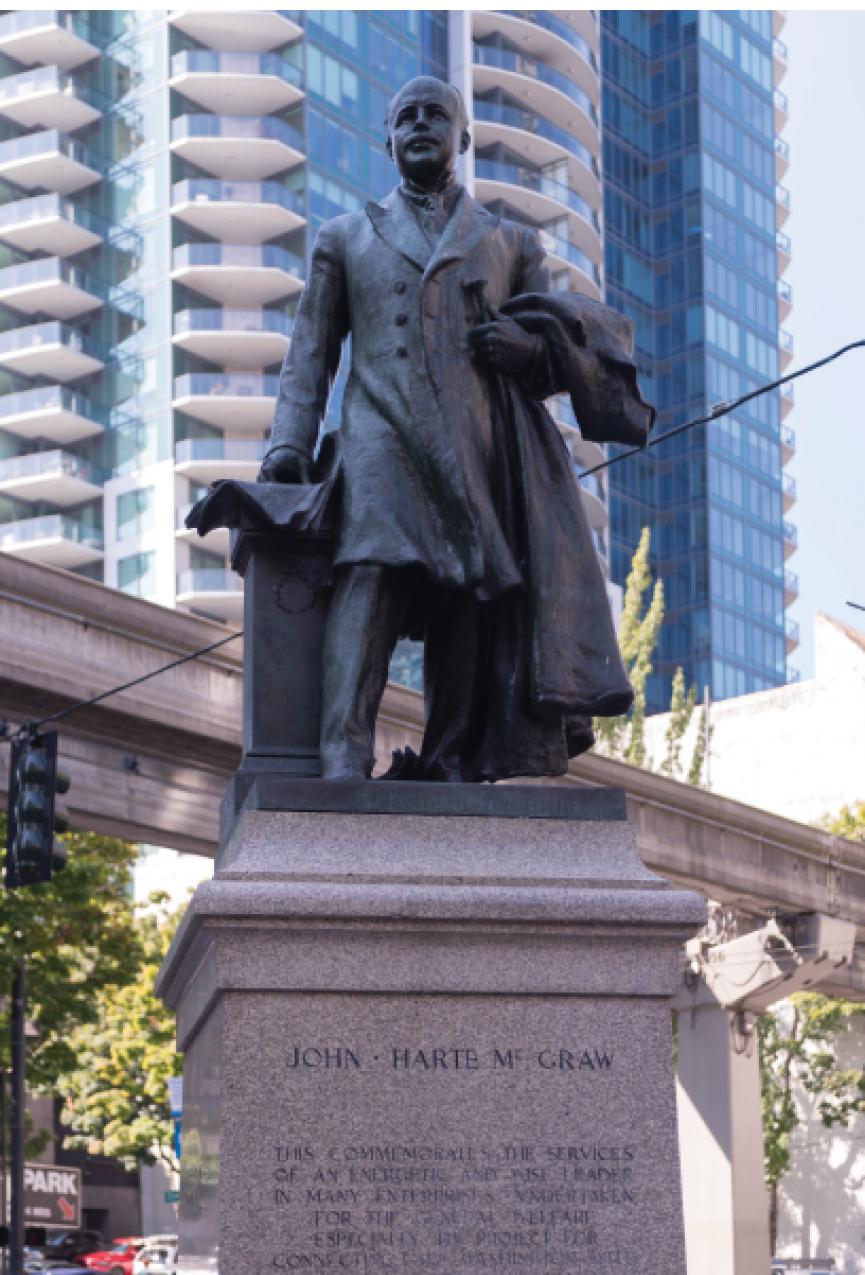 6.25 1700 Seventh Avenue Building Lobby
Deborah Butterfield, Deloss Webber, Joseph McDonnell, and Ann Gardner
Private collection
When Clise Properties built the 1700 Seventh Avenue Building, it graced the lobby with five significant artworks. In the center of the space is Deborah Butterfield's Green River, a majestic horse, sculpted in 2000 from discarded worn, rusted, and twisted metal. Seven feet high and ten feet long, it is typical of Butterfield's horse portraiture. She is known for her ability to capture the essence of each animal and imbue her subject with a unique energetic presence. Her horses are never running. Butterfield, an avid horse rider, does not believe that a sculptor can convincingly capture the power and grace of a running horse.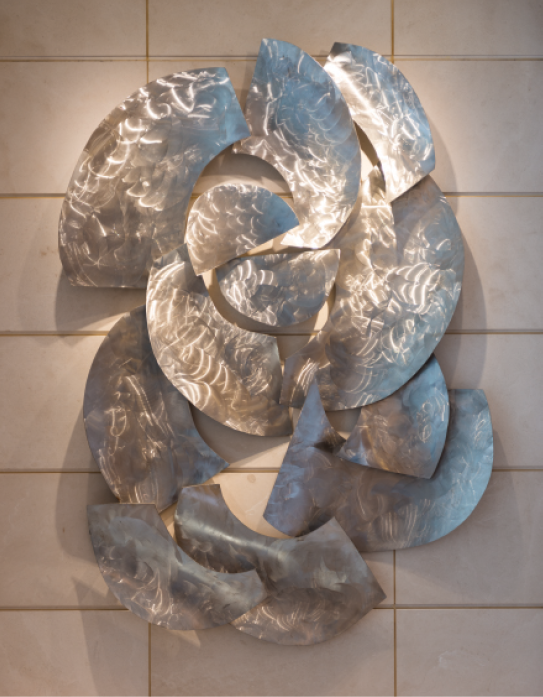 Adjacent to Butterfield's horse is Deloss Webber's Events and Incidents, Sphere #3, #5, #6 — three solid wood spheres of different sizes, each inlaid with bamboo strips. They are part of a series created in 2014 after Webber had gone through a divorce and lost a daughter. Webber says that although small, they "represent a sense of weight and resolution . . . each could be a burden or an obstacle to surmount. . . . What doesn't crush you," he says, "may give you a higher elevation from which to view your world."
On the south wall of the building's lobby is Joseph McDonnell's painted aluminum sculpture, Homage to Matisse, created in 2000. When McDonnell visited a Henri Matisse retrospective in New York he was "blown away" by the French master's vibrant collages of paper cutouts. He visited the exhibit three times, and afterward he started making his own collages, cutting shapes out of thin aluminum and painting them to enhance each element. McDonnell describes them as "three-dimensional paintings floating on a wall like leaves before the wind." They are mounted on a bronze panel, which adds depth to the floating assemblages.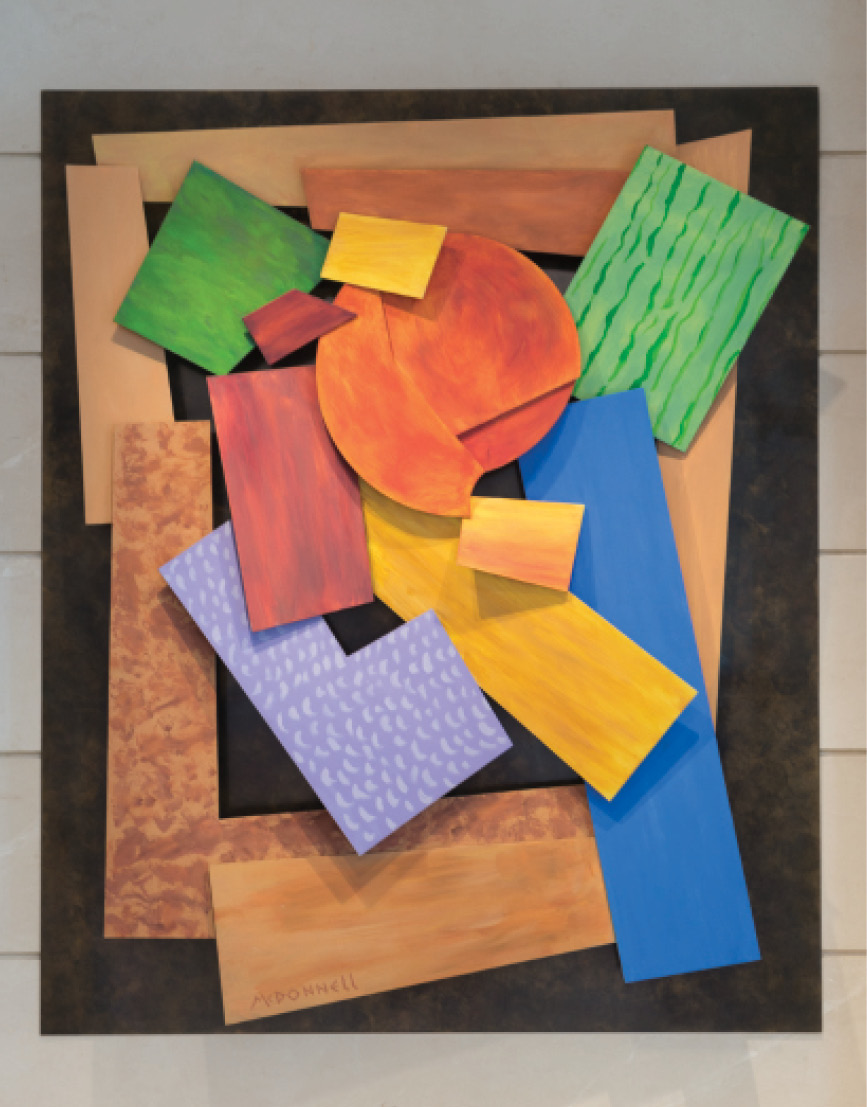 On the north lobby wall is McDonnell's Shad Run II, created in 2004. The origins of this collection of swirling, glistening stainless steel shapes are his memories of spawning American shad swimming up the Hudson River. The swirled surface texturing adds to the feeling of movement.
In the elevator lobbies are Ann Gardner's Yin and Yang, four-foot-high panels of iridescent glass tiles created in 2001 specifically for these spaces. Yang is gold and silver with joined convex panels bending in at the center. Yin consists of concave panels of bronze and bluish tones with the center bending outward. Gardner explains that the contrasting shapes "speak to the concept of how seemingly contrary ideas are opposite yet related to one another."
6.26 The Sculptor, 2014
Tom Otterness
Stainless steel on limestone; H 1 ft. 7 in. × L 3 ft. 8 in.
Private collection
Grand Hyatt Hotel, 721 Pine Street
The Sculptor is the main character in a 2014 exhibition of more than twenty of Tom Otterness's sculptures that related to the ancient story of Pygmalion, a sculptor who becomes enchanted with his carving of a beautiful woman. His prayers to the god Aphrodite for a bride are answered when his lovely sculpture comes to life. The roles are reversed in the Otterness exhibit and the sculptor is a woman, carved in his typical cartoonish style, standing on a limestone block and holding a mallet in one hand and a pencil in the other. She will finally succeed in creating the perfect man, after several failed attempts, and bring him to life with a kiss. The Sculptor was purchased by Richard Hedreen, who developed the hotel property.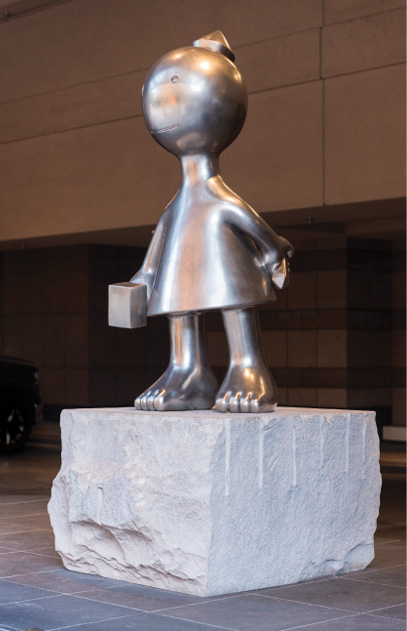 6.27 Hyatt Regency Artworks
Michael Heizer and Cecily Brown
Private collection
Hyatt Regency Hotel, 808 Howell Street
Inset into the wall of the Hyatt Regency Hotel lobby is Michael Heizer's Black Diorite Negative Wall Sculpture, an unadorned, 5.7-ton black diorite granite boulder set into a thirty-one-inch-deep rectangular box of rusted steel. Heizer did nothing to the boulder's natural pockmarked and craggy surface. This is consistent with his long history of creating sculpture with huge natural boulders that stand on their own to assume whatever character and inspire whatever response the viewer creates (see 3.22). He made his first negative wall sculpture in 1968 in order to "create an absence and then refill the same void." Black Diorite Negative Wall Sculpture was brought to Seattle from New York by the Gagosian Gallery for its exhibit at the 2017 Seattle Art Fair. Prominent real estate developer and art collector Richard Hedreen was immediately taken with it and purchased it for his new hotel building. Because of its massive size, Heizer's sculpture was installed early in the lobby construction process.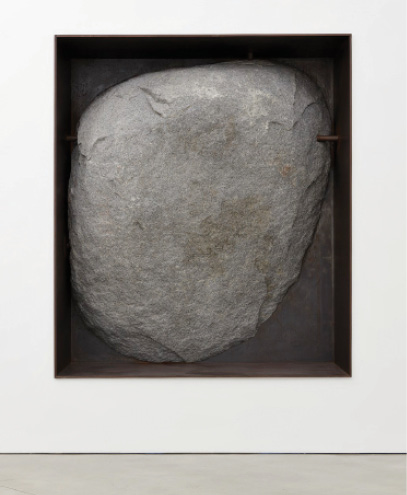 Hedreen's other major purchase for the hotel is Bring Me the Sunset in a Cup, a thirty-three-foot-long, ten-foot-high oil on linen triptych by London-born and New York–based artist Cecily Brown. Her vigorous and bold brushstrokes create vast fields of abstraction interspersed with hints of the human form. The abstract aspects of her painting style have been described as suggestive of Willem de Kooning and Oskar Kokoschka. Brown has said that she wants her paintings to grab attention and be impossible to merely walk past. Completed in 2018, this is one of her largest paintings and, thanks to the hotel's large lobby windows, it attracts the attention of many.