Conversation Starter: Strategies for Incorporating DEI into an Engineering Classroom
Resource added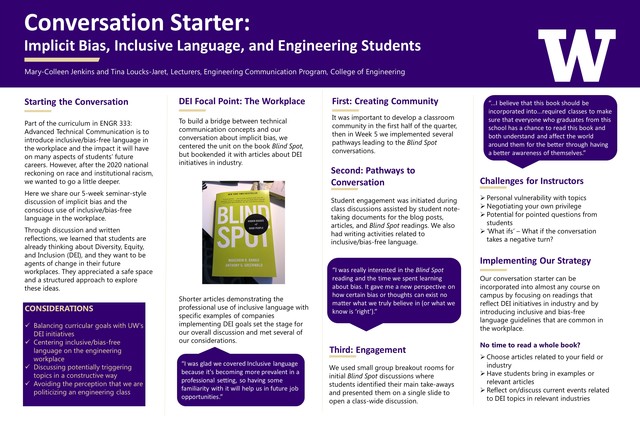 Full description
Video Presentation
Authors:
Mary-Colleen Jenkins, Engineering Communication Program, UW Seattle
Tina Loucks-Jaret, Engineering Communication Program, UW Seattle
Abstract:
Part of the curriculum in ENGR 333: Advanced Technical Communication is inclusive/bias-free language in the workplace. However, after the 2020 national reckoning on race and institutional racism, we wanted to do more.
Here we share our 5-week seminar-style discussion of implicit bias and the conscious use of inclusive/bias-free language in the workplace. We centered our class discussion on the book Blindspot, which we used in conjunction with other readings to enhance the connection between our conversation about implicit bias and the technical communication concepts taught in 333.
We had several goals: (1) balancing curricular goals with UW's Diversity, Equity, and Inclusion (DEI) goals, (2) discussing potentially triggering topics in a constructive way, (3) acknowledging the perspectives of international students as well as American students, and (4) remaining aware that students could perceive this discussion as politicizing an engineering class.
It was important to develop a classroom community in the first half of the quarter, so we waited until week five to introduce the readings, real-time discussions, and written reflections. We book-ended our dive into implicit bias via Blindspot with shorter articles demonstrating the professional use of inclusive language with specific examples of companies implementing DEI goals. Through discussion and written reflections, we learned that students are already thinking about DEI, and they want to be agents of change in their future workplaces. They appreciated a safe space and a structured approach to explore these ideas.
Instructors in all departments can adapt our strategy of integrating DEI into their courses by focusing on readings that reflect DEI initiatives in industry and by introducing inclusive and bias-free language guidelines that are common in the workplace.
Poster PDF
View a PDF version of the poster in Google Drive to enlarge the image or download a copy.
Comments
The presenter for this poster will be available to respond to comments during
Poster Session 2
on April 20, 3:45-4:30 p.m.