Integrating Principles of Anti-Racism and Inclusion into Classroom Teaching
Resource added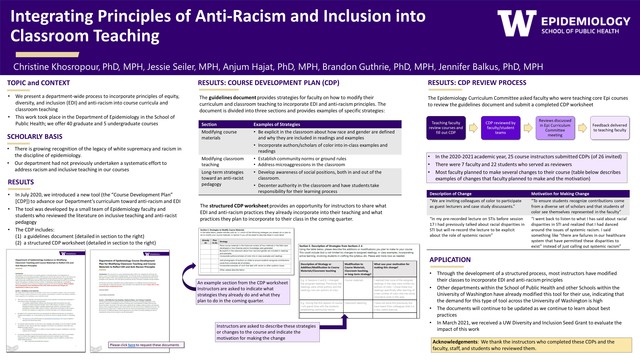 Full description
Video Presentation
Authors:
Christine Khosropour, Epidemiology, UW Seattle
Jessie Seiler , Epidemiology, UW Seattle
Anjum Hajat, Epidemiology, UW Seattle
Brandon Guthrie, Department of Epidemiology, UW Seattle
Jennifer Balkus, Department of Epidemiology; UW Seattle
Abstract:
Topic: A department-wide process to incorporate principles of equity, diversity, and inclusion (EDI) and anti-racism into course curricula and classroom teaching.
Context: The Department of Epidemiology in the School of Public Health offers over 40 graduate and 5 undergraduate courses.
Scholarly Basis: There is growing recognition of the legacy of white supremacy and racism in the discipline of epidemiology. Our Department has not previously undertaken a systematic effort to address racism and inclusive teaching in our courses.
Results: In July 2020, we introduced a new tool (the "Course Development Plan" [CDP]) to further advance our Department's curriculum toward anti-racism and EDI. The CDP comprises two components: (1) a guidelines document that provides strategies for faculty on how to modify their curriculum and classroom teaching to incorporate EDI and anti-racism principles; and (2) a structured CDP worksheet for instructors to share what EDI and anti-racism practices they already incorporate into their teaching and what practices they plan to incorporate into their class in the coming quarter. CDP worksheets for each class are submitted prior to the beginning of the quarter and are reviewed by a peer faculty member and at least one student in the Department; these reviewers provide written feedback on the CDP worksheet. To date in the 2020-2021 academic year, the Department has reviewed CDP worksheets for 18 courses. Most courses have committed to making several changes in their course (e.g., including more readings from scholars of color; discussing racism as a contributor to health outcomes; including mid-quarter feedback).
Application: Through the development of a structured process, instructors have modified their classes to incorporate EDI and anti-racism principles. Other departments may wish to introduce such a tool and process to advance the University's goal to become an anti-racist institution. The sustainability of this process will be investigated.
Poster PDF
View a PDF version of the poster in Google Drive to enlarge the image or download a copy.
Comments
The presenter for this poster will be available to respond to comments during
Poster Session 2
on April 20, 3:45-4:30 p.m.