Tying Culture and Science Together in Outreach Program Development
Resource added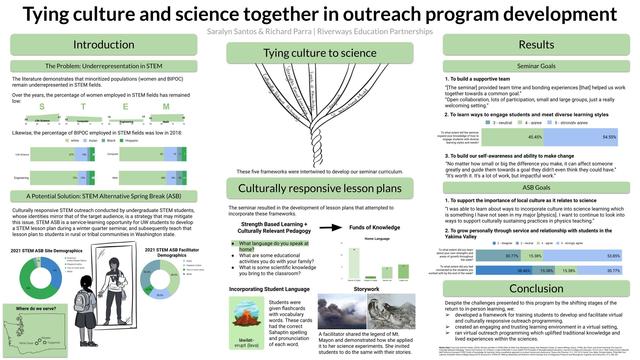 Full description
Video Presentation
Authors:
Saralyn H. Santos, Riverways Education Partnerships, Community Engagement and Leadership Education Center, UW Seattle
Richard Alejandro Parra, Riverways Education Partnerships, Community Engagement and Leadership Education Center, UW Seattle
Abstract:
The literature demonstrates that minoritized populations (women and BIPOC) remain underrepresented in STEM fields. Culturally responsive STEM outreach conducted by undergraduate STEM students, whose identities mirror that of the target audience, is a strategy that may mitigate this issue. STEM Alternative Spring Break (ASB) is a service-learning opportunity for UW students to develop a STEM curriculum during a winter quarter seminar, and subsequently teach that curriculum to students in rural or tribal communities in Washington state. Through the preparatory seminar, students learn about culturally relevant pedagogy, strength-based learning, funds of knowledge, and storywork. These concepts are then applied by the UW students to co-create a culturally responsive STEM curriculum. The seminar emphasizes how our facilitators can build on what the middle and high school students already know in order to facilitate the development of a STEM identity/relationship with STEM.
Due to the COVID-19 pandemic, our preparatory seminar and our STEM ASB programming will be conducted online, presenting new challenges for a seminar and program that were previously in-person. Through this year's seminar, we hope to learn how to create an engaging and trusting learning environment in a virtual setting and encourage dialogues across difference; how to train students to run effective virtual outreach programming; and, as always, how to uplift traditional knowledge and lived experiences within the sciences.
This project has the potential to provide a framework for training students to develop and facilitate virtual and culturally responsive outreach programming. It is our hope that even after the pandemic ends, this framework can be used to continue developing programming that extends beyond our current geographical constraints to be accessible to students across the state.
Poster PDF
View a PDF version of the poster in Google Drive to enlarge the image or download a copy.
Comments
The presenter for this poster will be available to respond to comments during
Poster Session 1
on April 20, 2:00-2:50 p.m.