Engagement and Professional Skills Training in a STEM Course
Resource added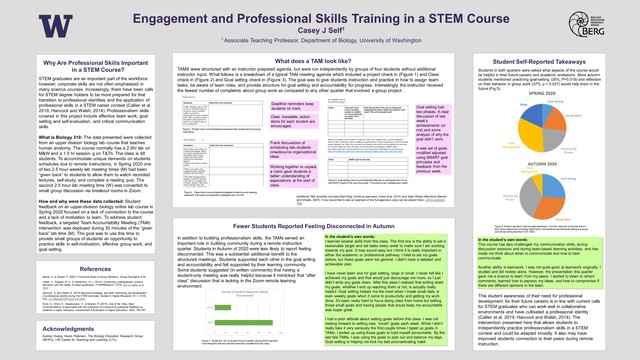 Full description
Video Presentation
Author:
Casey J. Self, Biology, UW Seattle
Abstract:
Student feedback on an upper-division biology online lab course in Spring 2020 focused on a lack of connection to the course and a lack of motivation to learn. In Spring 2020 one of two 2.5 hour weekly lab meeting times had been "given back" to students to allow them to watch recorded lectures, self-study, and complete a reading quiz. The second 2.5 hour lab meeting time was converted to small group discussion via breakout rooms in Zoom. To address student feedback, a targeted intervention was used to provide students an opportunity to practice skills in self-motivation, effective group work, and goal setting. In Autumn 2020 we implemented a 30 minute Team Accountability Meeting (TAM) during the first 30 minutes of the "given back" lab time. Meetings were structured with an instructor prepared agenda, but were run independently by the students without additional instructor input. Compared to spring quarter, autumn students were less likely to report feeling disconnected or demotivated (p<0.001). Autumn students were also asked what aspects of the course they found valuable; 89% indicated TAMs as a vital part of the course. Students in both quarters were asked what aspects of the course would be helpful in their future careers and academic endeavours. More autumn students mentioned practicing goal-setting (26%, P=0.019) and reflection on their behaviour in group work (37%, p = 0.027) would help them in the future. This student awareness of their need for professional development for their future careers is in line with current calls for STEM graduates who can work well in collaborative environments and have cultivated a professional identity (Callier et al. 2019, Hancock and Walsh, 2014). The intervention presented here that allows students to independently practice professionalism skills in a STEM context and could be adapted broadly.
Poster PDF
View a PDF version of the poster in Google Drive to enlarge the image or download a copy.
Comments
The presenter for this poster will be available to respond to comments during
Poster Session 1
on April 20, 2:00-2:50 p.m.