Penelope Unraveling Her Work at Night
Resource added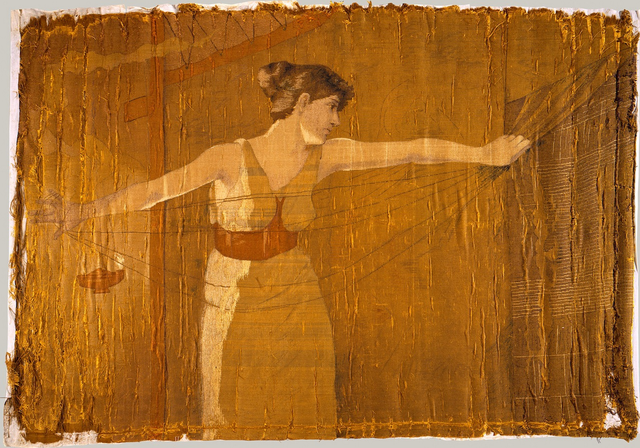 Penelope, loyal and resourceful wife of Odysseus, secretly unravels her day's weaving at night to postpone the completion of her web and remarriage in Odysseus's extended absence.
Full description
American silk embroidered with silk thread from 1886 45 x 68 in. (114.3 x 172.7 cm)
Penelope stands in the center facing out toward the viewer. She turns her head to her left to look back at her loom behind her, where the tapestry she is weaving is hung. A small oil lamp on the left indicates that the scene takes place at night. By the lamplight, Penelope unravels her weaving. When her husband, Odysseus, failed to return home to Ithaca immediately after the conclusion of the Trojan War, Penelope began to be courted by suitors who pressured her to pick one of them to marry. To avoid marriage to one of these suitors, Penelope asked them to allow her to first finish weaving a web to eventually be used as a burial shroud for Odysseus's father. Every day she would weave, but every night she would unravel her weaving, indefinitely postponing the day of remarriage (until her ruse was found out).
Download image "Penelope Unraveling Her Work at Night"
type

Image

created on

file format

png

file size

3 MB

creator

Dora Wheeler (1856–1940)

credit

Purchase, Sylvia and Leonard Marx Gift and funds from various donors, 2002

rights

Available for unrestricted commercial and noncommercial use without permission or fee as part of the Met's Open Access Program

rights holder

The Metropolitan Museum of Art

rights territory

Made in New York, New York, United States