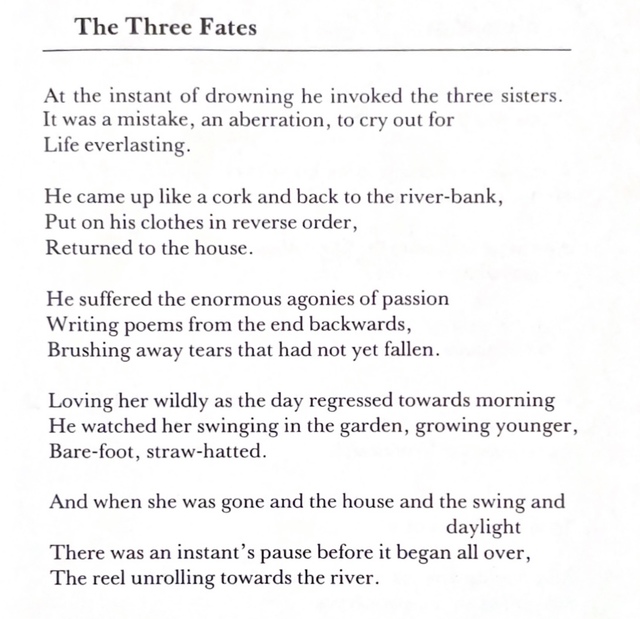 A photograph of the poem The Three Fates from "The Three Fates & Other Poems" by Rosemary Dobson.
Full description
The poem The Three Fates by Rosemary Dobson is the central piece in her poetry collection called "The Three Fates & Other Poems" published in 1984.
The poem describes a drowning man who calls upon the three Fates to give him eternal life, but instead of granting him life into the future, he relives his life in the past, repeating his miseries, unable to change anything. It documents his experiences of the effects of his life decisions before the decisions themselves, reinforcing that his path is not something he can escape.
Download image "The Three Fates"
type

Image

created on

file format

jpg

file size

211 KB

container title

The Three Fates & Other Poems

copyright status

Active

creator

Rosemary Dobson (1920-2012)

credit

Rosemary Dobson 1984

isbn

0 86806 132 8

original title

The Three Fates & Other Poems

publisher

Hale & Iremonger Pty Limited

publisher place

Sydney, NSW

restrictions

No part may be reproduced by any process without written permission from the publisher.

rights

Any fair dealing for the purposes of study, research, criticism, review, or as otherwise permitted under the Copyright Act.

rights holder

Hale & Iremonger Pty Limited

rights territory

Australia

version

First Edition