CHAPTER 4
OTHERING, EXCLUSION, AND DISCRIMINATION
The Communist government has attempted to shape and steer Chinese citizens' processes of identity formation via large-scale biopolitical projects, such as the Minzu Classification Project, which have created new categories of classification and new ways of differentiating the population. The government has also utilized education, language policies, and mass media to shape identity formation. Yet because processes formative to ethnic, national, and other social identities cannot be entirely planned and controlled, the outcomes of government campaigns remain to a certain degree unintended and spontaneous. Furthermore, because processes of identity negotiation are ongoing, their effects are temporary and nondefinite. The form, role, and functions of the Han minzu identity, along with the ways in which Han-ness is defined, are thus transitory effects of both the government's controlling attempts and the identity negotiations of Han individuals. Han-ness is one of a number of collective identities, one that is relationally entangled in complex identity networks. Home-place identities are an important component of these networks but they are not the only axis of distinction. At closer range, "the Han" disintegrate into a myriad of identity categories whose members struggle to position themselves favorably in social hierarchies and to influence the positioning of others.
To trace the identifications that matter to Han individuals in mundane identity processes, I asked them to provide examples of socionyms, or collective identity labels, that they use to refer to themselves when encountering other Han. I was also interested in what labels they use to identify their Han counterparts. The great majority of the research participants were visibly comfortable with this task and seemed to especially enjoy labeling others. I collected more than four hundred socionyms in this way. Next, I asked informants to discuss these labels and characterize the people they supposedly represent. This query generated more than five hundred characteristics (tedian) and associations. In order to highlight the stereotypical, repetitive content and the automatic, mechanical reproduction of most of these characteristics, I refer to them as "stereotypes" or "stereotypical characterizations."1
The collected socionyms and stereotypes offer a glimpse into the major differentiation paradigms among contemporary Hanzu. There appear to be five. Four are broadly place-based. First, Han individuals think of themselves and other Han in terms of regional differentiation. This is related to the aforementioned "home-place-determined mind-set," a belief that place imbues the people who originate there—the constructed nature of origin is blended out in this belief—with an "essence" that makes them similar to one another. The second paradigm of differentiation is between urbanity and rurality as two very different modes of being. Third is the distinction between Locals and Outsiders or Natives and Strangers. And fourth is the differentiation between Mainlanders, on one hand, and Taiwanese and Hongkongese, on the other. Admittedly, this last contrast was rather rare. In a few cases, a boundary was additionally drawn between the Hakka/Kejia and all other Han.2 Besides introducing major identification paradigms, socionyms and stereotypes offer crucial insights into how Han individuals position themselves and other Han in social hierarchies of power. Accordingly, the focus of this chapter's analysis is on categorization, fragmentation, boundaries, and social hierarchies reflected and objectified through the acts of labeling and stereotyping.
SOCIONYMS, STEREOTYPES, AND PROCESSES OF CATEGORIZATION
Socionyms and stereotypes are both the instruments and the effects of categorization processes. Stereotypes and ethnonyms, nationyms, and other forms of socionyms emerge during identification and differentiation processes. In this sense, they are a universal part of any boundary-making project. Naming, or labeling, and stereotyping "us" and "them" is also intimately bound to the negotiation of social hierarchies and power distribution. Self-ascribed names as well as names ascribed by others and to others "record a particular stage of struggles and negotiations over the official designations and the material and symbolic advantages associated with them" (Bourdieu 1991, 240). In these negotiations, agents "resort to practical and symbolic strategies aimed at maximizing the symbolic profit of naming" (Bourdieu 1991, 240). My research demonstrates that similar struggles occur between social actors who compete over symbolic resources related to naming on a scale not directly related to the state politics of categorization and designation. For instance, labels such as Beijing People or Shanghai People are proudly enacted and highly desired because they connote political centrality and economic advancement. At the same time, designations such as Sichuan Rats or Henan Vagabonds are used by Beijing and Shanghai People to establish an asymmetric relationship of power with those migrant laborers who arrive from Sichuan and Henan to the two megacities to seek wage labor. Hence, socionyms reflect and naturalize social hierarchies. They are also used to negotiate and objectify specific power relations.
Like naming, the aim of stereotyping is to construct and naturalize certain categorizations, social orders, and social relations. This aim is achieved when actors begin to recognize vague differences as significant and crucial or when they believe differences exist where there are in fact none (Tajfel 1969, 82; compare the notion of ethnicity in Barth 1996). For instance, though differences between Northern Han and Southern Han may not be apparent to an outsider, the stereotypes collected reveal a powerful belief that these two categories do exist and are diametrically and thoroughly distinct. Through ascription and active use of labels and stereotypes, the Han reify and naturalize these social constructs in discourse and enact them in social practice.
Stereotypes are based on the belief that all members of a given category are alike, that they are homogeneous and predictable on the basis of their membership in that category (Oakes, Haslam, and Turner 1994, 102). Yet stereotypes are not fixed, final images: when the sociopolitical frame changes, new stereotypes gradually arise. Competition-focused theories argue that stereotypes are strategic devices employed in certain contexts by individuals and by social, ethnic, or national actors to achieve certain ends. Stereotypes should thus be understood as products of competition between social groups over material as well as symbolic resources (Sherif 1967, 152; Tajfel et al. 1971, 172). Studies from social psychology especially reveal that, often, "status, self-esteem and beliefs override objective benefits in importance" (Leyens, Yzerbyt, and Schadron 1994, 52–53). Still, although notions of status and self-esteem are crucial to stereotyping, they fail to explain the not uncommon occasions in which members of a category hold negative stereotypes of themselves while maintaining positive stereotypes of others. Among my research participants, Subei People and Inner Mongolians frequently demonstrated this phenomenon. In response to the inability of competition-focused theories to explain such negative self-stereotyping, another function of stereotyping was formulated, describing stereotypes as devices that maintain the social status quo even at the expense of individual or group interests (Jost and Banaji 1994).
Stereotypes are thus employed to naturalize and reify. Stereotypes also "justify" existing relationships within ethnic, national, and other social systems, providing subjectively meaningful explanations for the processes and events that affect individual actors (Tajfel 1981; Hoffman and Hurst 1990, 206; Jost and Banaji 1994, 20). In their justificative function, specific stereotypes are thus ascribed to a group to validate certain behaviors and attitudes toward its members. Accordingly, Shanghai employers are said to avoid hiring Subei People because the latter are reportedly "backward" and "dishonest." Likewise, rural migrants in urban areas are patronized by Urbanites as supposedly "dumb" and "unsophisticated."3 Moreover, stereotypes function as "causal explanators": a subjectively meaningful understanding of events emerges through the stereotype-based identification of those actors responsible. Accordingly, a Henan Person unable to find work in Beijing will likely explain this event as rooted, at least in part, in the negative stereotyping of Henan People in today's China. Hence, stereotypes and socionyms function as subjectively accurate and subjectively meaningful representations of social, ethnic, and national categories and the relations between them (Oakes and Reynolds 1997, 64, 70; Spears et al. 1997, 5). Stereotypes and socionyms reflect and order the worldview of the people and groups that reproduce them, shrouding their logics of action and argumentation in an aura of seemingly obvious, universal conclusions.
LABELING, STEREOTYPING, AND SOCIAL BOUNDARIES
Although recent mass education and professional migration theoretically could have weakened place-based differentiation and the attachment to the "soil," the socionyms I collected during my research confirm that spatial categorization remains central to identification processes among the Hanzu. With visible pleasure, my Han informants provided numerous examples of socionyms they use to label other Han and themselves. Table 4.1 provides a representative sample of these socionyms elicited from my interviews (right-hand column) and the main paradigms of categorization on which they build (left-hand column).
These labels obviously do not represent tangible, clearly distinct groups. Like "the Han," all of these socionyms should be placed in quotation marks; they are identity labels creatively conceived by some Han to describe other Han (or themselves) and as such are flexibly and strategically interpreted and applied. These socionyms are capitalized throughout this book as a reminder that they are to be read as identity labels and not as analytical terms. For example, the designation Local Shanghainese (Shanghai Bendiren) nominally denotes a person whose ancestors lived in Shanghai for generations and who is thus "genuinely" local. In practice, however, the act of claiming this label, the grounds on which this claim is based, the reasons for which it is claimed, and the context in which it is used are all flexible and strategically motivated. In spite of this flexibility, the collected socionyms are helpful in tracing the identifications that matter to Han individuals, even if they are transitory and nonexclusive. They also help identify the boundary-making processes with which Han individuals engage.
Stereotypical characterizations are another important component of the mundane processes of boundary making. Gauging from the ease with which the overwhelming majority of research participants suggested these characterizations, it is apparent that stereotyping, like naming, constitutes a familiar element of everyday social interactions. During the interviews, stereotyping occurred without any great deliberation or hesitation. After identifying a number of socionyms (on average, between eight and ten), each interviewee typically introduced and discussed between twenty and thirty "characteristics." While some Han participants only briefly commented on these characterizations, others engaged in more lengthy explanations as to why, for instance, the Shanghainese are "shrewd" or Beijing People have a high "cultural quality." The hundreds of stereotypical characterizations collected comprise an enormous body of data that is impossible to analyze comprehensively in this study. Regional groups like Northerners, Southerners, Beijing People, Shanghai People, Cantonese, Sichuanese, Northeasterners, Subei People (among informants in Shanghai), Henan People, and Rural Han/Peasants were commented on with considerable frequency. These identifiers yielded characterizations from an overwhelming majority of my informants. Other identity labels yielded characterizations from a smaller number of informants, typically four to ten informants per term. These labels included Wenzhou People, Zhejiang People, Tianjin People, Shandong People, Hubei People, Hakka/Kejia, Dalian People, Hongkongese, and Xinjiang People. Still other identifiers were characterized by one or two informants each, including Sunan People (People from Southern Jiangsu), People from the Northwest, Jiangxi People, People from Shenzhen, Hangzhou People, and many others.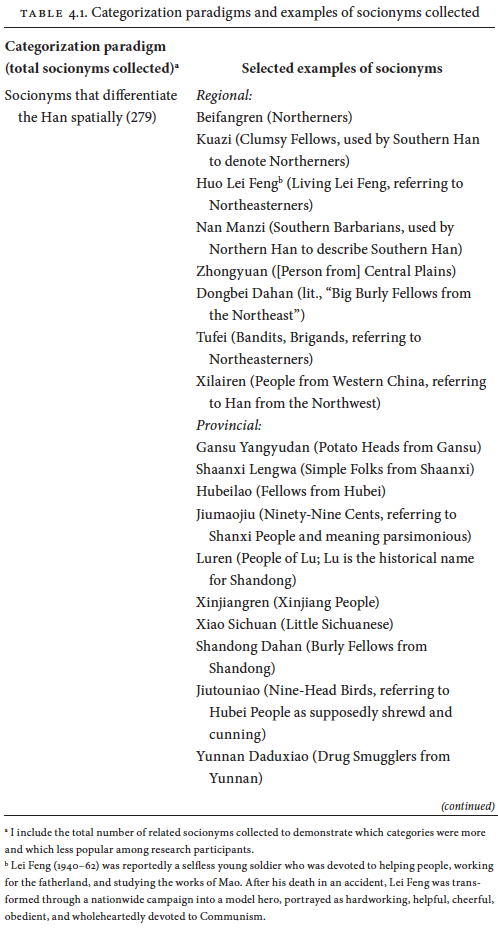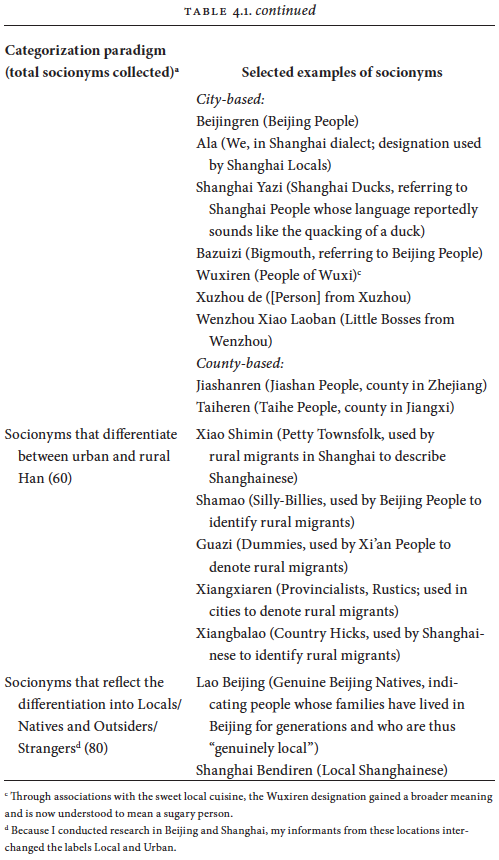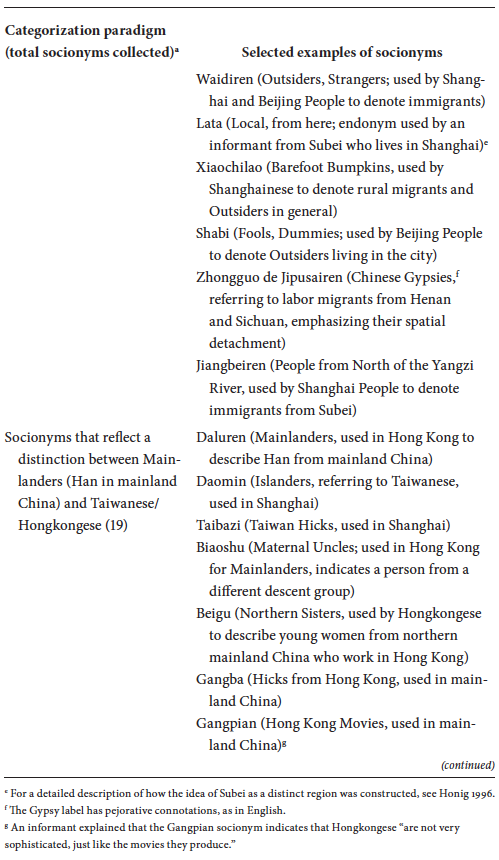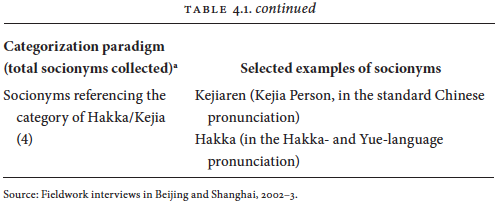 My research data clearly demonstrate that Han individuals tend to have multiple home-place identities and that they extensively utilize their agency to negotiate the question of spatial belonging. Yet these very same Han engaged in the act of stereotyping as if both socionyms and stereotypes referred to coherent groups of people and as if place-based identities were always a given. This contradiction, between the agency manifested in everyday identity negotiations and the primordial "home-place-determined mind-set" that informs how many Han imagine and discuss identity processes, permeates the material discussed here. Table 4.2 shows the major narratives that surfaced repeatedly in many stereotypical characterizations, along with selected representative examples of stereotypes quoted from the interviews.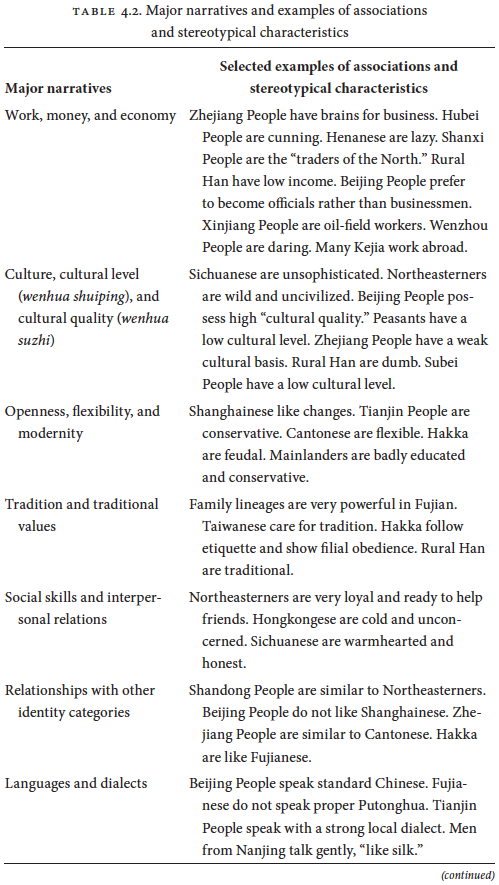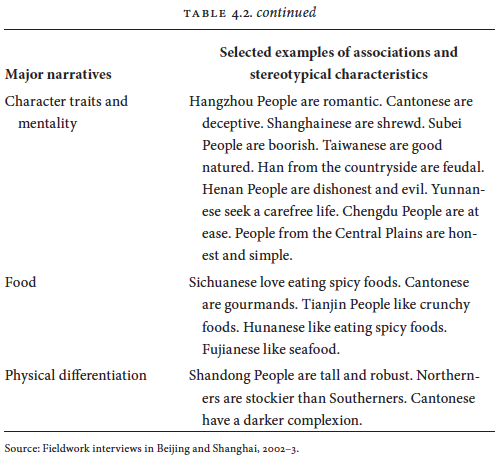 Stereotypical characterizations and associations further confirm the importance of regional and rural/urban distinctions. A more thorough analysis of stereotyping mechanisms and the contents of stereotypes also confirms the third paradigm of differentiation signaled through naming, namely that between Locals and Outsiders. In my research, due to research location, Locals are represented by Beijing People and Shanghai People. Outsiders are most saliently personified by the Subei People in Shanghai and by the Henan People in Shanghai and Beijing, but also more generally by migrant workers excluded in both cities. Furthermore, like socionyms, stereotypes demonstrate that there is some "othering" along the mainland versus Hong Kong/Taiwan boundary, though this type of "othering" was mentioned by only a few interviewees. Moreover, few informants discussed the political context of this relationship. Rather, they focused on how they believed Hong Kong and Taiwan Han differed from or were similar to themselves. This way of thinking is, of course, a "mainland thing." Had my research been conducted in Taiwan or Hong Kong, the results would have been very different with regard to this axis of differentiation. In Beijing and Shanghai, however, very few informants discussed Taiwanese and Hongkongese in terms of distinct political categories. Rather, Hong Kong and Taiwan Han were both included in the category of Southerners, along with the Han of Shanghai, Zhejiang, Fujian, and Guangdong. Because the "othering" along the mainland versus Taiwan/Hong Kong axis was only marginally popular with my interviewees, like the categorization of Hakka/Kejia, in the analysis below I prioritize the three dominant axes of distinction: regional, based on the rural/urban distinction, and based on the distinction between those who claim local belonging (Locals) and those who are spatially excluded (Strangers, Outsiders).
My approach to exploring these three modes of categorization, alongside the identifiers and stereotypes that manifest them, differs from the method of analysis proposed by many Chinese scholars (e.g., Xu 1999; Yang 1994; Yi 2002). Primordial and ecologically determined framing dominates these scholars' discussions of characteristics that people who "originate" in specific places reportedly inherit. The notion that home place—its soil, water, climate, and qi—determine character and human physiology focuses such analyses of socionyms and stereotypes on racialized notions of inheritance, evolutionary development of regional communities, racial predispositions, inborn qualities, and ecologically determined cultural differences (see Chen 2012).4 Quite differently, of interest to my analysis is instead the politics of naming and stereotyping among the contemporary Han. Not that history does not matter, especially its backward reading and teleological reinventions. Yet if we focus on the present day, we see acutely how stereotypes and socionyms are used to produce and naturalize social constructs (e.g., feudal Ruralites) and social hierarchies (e.g. Beijing People as having a higher "cultural quality"). Accordingly, attention must be paid to how these social constructs and hierarchies are objectified, to the language in which these naturalizations are framed (e.g., as "regional"), to boundaries they maintain and enforce, and to their historical contingency. Socionyms and characterizations are strategic devices employed to achieve certain aims, for instance, to influence negotiations over the positioning of "us" and "them." Hence, the discussion below focuses on how these labels are used in identity politics, boundary making, and power negotiations in contemporary China.
CATEGORIZATION AND THE MAKING OF SOCIAL HIERARCHIES
Regional or Place-Based Categorization
Much like the Chinese scholars referred to above, the overwhelming majority of my informants believed that people who share a home-place (region, province, city, or county) also share a set of historically and ecologically determined characteristics that supposedly predestine people of a common spatial origin for things like specific careers and occupations. Beijing People are thus thought to be destined for employment as officials and bureaucrats, Shanghainese and Cantonese as businesspeople, Anhui People as household helpers, and Sichuanese as small-scale traders. These place-based stereotypes also convey that different localities and the people who "belong" in them differ in terms of "culture." Informants often mentioned notions of "cultural level" and "cultural quality." While the former typically refers to education and the level of schooling, the latter is more complex. Interviewees' understanding of cultural quality reflects the notion of culture in the Confucian sense, along with more contemporary issues pertaining to economic success and modernity (xianjin).5 The closest identification with culture in the sense of rituals, courtesy, good manners, etiquette, and classical education was ascribed to Beijing People both by the Beijing People themselves and by others. However, while Beijing People tended to brag about this, others remarked that this characteristic made Beijing People lazy and arrogant, conservative big talkers but "small doers." The Southern Han—a collective label including Shanghainese, Taiwanese, Cantonese, and Fujian and Zhejiang People—were rarely associated with the same notion of culture as Beijing People. Instead, the Southern Han were described as having "respect for tradition" and as maintaining lineage-oriented family organization and the practices of ancestral worship. Somewhat paradoxically, these very same Southerners were simultaneously associated with development, advancement, flexibility, and modernity to a much greater and more explicit degree than the Northern Hanzu, including Beijing People.
The rapid development of commerce, industry, and the service sector since 1978 significantly increased individual wealth, particularly in urban areas. An accompanying effect of this development has been growing wariness and disgust toward agrarian lifeways. Informants most commonly associated such lifeways with the Han from Hebei, Shanxi, and Henan in northern China, popularly stereotyping them as "uneducated" (wenhua shuiping di), "backward," and "feudal" Country Rustics.6 By contrast, occupations in the business sector associated explicitly with southern China received more respect.7 Though these jobs were despised under Mao, the social regard for them has changed dramatically since the launching of economic reforms. Accordingly, research participants from both northern and southern China equally praised the Southerners as being "skilled businesspeople," "good with business," and "modern," even though they simultaneously described them as "lacking culture" (meiyou wenhua). This set of stereotypes was used to depict the Han of Fujian, Guangdong, and Shanghai as well as Taiwanese and Hongkongese. In contrast, the Northerners—including Han from Beijing, the Northeast, and sometimes also from Hebei—were ascribed a "lack of economic spirit" and "laziness" but were at the same time imagined as "immersed in traditional culture."
Somewhat surprisingly, the stereotypes reported rarely reflected the linguistic diversity of the Han. This likely corresponds with research participants being fluent in standard Chinese and could suggest that for the younger, educated generation of migrating Han, linguistic differences may be of lesser importance than for other social groups. Yet this seems somewhat unlikely. Linguistic differences are usually among the first to be observed and commented on during first-time meetings of Han from different locations. Moreover, in those sections of interviews focused specifically on languages and dialects, or when Northern and Southern Han were contrasted, research participants counted spoken language as one of the most significant dimensions of regional distinction. The relatively low number of language-related regional stereotypes is thus difficult to explain.
The differences in character (xingge) that reportedly exist between Han from specific regions, provinces, and cities were yet another axis of differentiation. It appears that almost any locality beyond the county and town level is associated with character traits that are broadly known. Accordingly, the Shanghainese are labeled "shrewd," Sichuanese women "hot tempered," and Hubei People "cunning" and "clever." In the interviews, the discussions of these traits seemed almost like a game: as soon as a socionym popped up, the interviewee rapidly composed a list of the traits reportedly characteristic of people from the specific area. It was a game played seriously and with much engagement, and the impossibility of such clear-cut classifications and generalizations was rarely discussed or considered.8
The final areas of comparison were regional food differences and physical differentiation. Regional cuisines and a fondness for certain foods were said to differentiate Han according to larger regions and provinces as well as to major cities. In terms of physical differentiation and body build, stereotypes generally implied that Han from the North are taller and more robust, while those from the South and from Sichuan are smaller and thinner. The majority of my informants connected these physical differences to distinct regional diets: flour products were believed to make people in the North robust; rice, a staple food in the South, reportedly made Southern Han small and slender.
The active and vivid contrasting of the North (Beifang) and the South (Nanfang) constitutes one of the most pervasive themes in the place-based characterizations. The overwhelming majority of research participants argued that Northern and Southern Hanzu differ, primarily in terms of character and temper, food, spoken languages, life habits, and mentality. The relationship between the two was typically constructed through oppositions: Northerners were believed to be "frank" and "lazy," while Southerners were "sly" and "industrious." Northerners eat noodles; Southerners live on rice. While in the North one speaks standard Chinese, in the South one speaks Wu, Yue, Minnan, and other languages that "are difficult to understand." The South was associated with linguistic diversity, while the North was depicted as a linguistically unified space. The pace of life (shenghuo jiezou) was reported as fast in the South and slow in the North. The North was culture, the South commerce. As one informant stated, and many others echoed, "The South stands in the opposition to the North." Yet unlike the relationships between rurality and urbanity, or between locality and outsideness discussed below, the relationship between Northerners and Southerners appears to be symmetrical. The divide between the two is clear, oppositions are readily built, and differences are quickly emphasized. But the popular saying, "In the South they are barbarian and in the North they are clumsy" (Nan man bei kua), depicts a symmetry in which both sides are equally equipped to ridicule the other. North-South divergences are obviously no modern invention, and overcoming them has been a national priority since the turn of the twentieth century.9 At that time, the nationalism-motivated revolutionaries hoped to divert the attention of the Han/Chinese from inter-Han divisions to an external "other," the Manchu. The strategy was somewhat successful: it did mobilize some Han and contributed greatly to the promotion of this unitary identity label. The Minzu Classification Project furthered this process, placing both Northern and Southern Han/Chinese in one minzu. Yet, that so many Han individuals continue to perceive Northerners and Southerners as significantly distinct proves that the Nationalist and Communist efforts have only partially achieved their unifying objective to create an understanding of "the Han" that would bridge this distinction.
Differentiation into Urbanites and Ruralites
The next important distinction was the one drawn between urbanity and rurality. Significantly, the majority of the socionyms and stereotypes that relate to this distinction were classified by the informants as abusive or pejorative. While the socionyms used to refer to Rural Han (lit., "Han from the countryside") or Peasants (Nongmin) are particularly unpleasant, the designations that Rural Han used to describe Urbanites also reflect neither fondness nor even indifference.10 In addition to the socionyms listed in table 4.1, these include Biesan (Wretched Tramps Who Live from Stealing), referring to Shanghainese; Jing Youzi (Sly Old Dogs), used to denote Beijing Urbanites by interviewees from rural Shandong and Inner Mongolia;11 and Xiaobie (Beggars), used by Beijing and Shanghai Urbanites to denote rural migrants in both cities. All the collected socionyms, as well as stereotypes, suggest that the boundary between Urban Han and Rural Han (the latter personified in urban settings by peasant migrant workers) is dense and distinct. Interactions across this boundary are strongly asymmetrical and limited. Though decisively a much more recent phenomenon, the relationship between Urban and Rural Han arguably comprises many elements of the Confucian civilization-wildness discourse developed in imperial China,12 with Rural Han ascribed the role of "barbarian other" by Han Urbanities in their social identification and stratification projects. As one informant claimed, unlike Rural Han, "Urban Han are civilized."
The boundary between urbanity and rurality emerges from the research data as equally important for self-identification and identification of others as the paradigms of home place and minzu. An overwhelming majority of research participants claimed that Rural Han and Urban Han form two distinct categories. Among the significant dimensions of difference were economy, mentality, occupation, living standards, and material conditions. Rural Hanzu were referred to as "poor" and having a "hard life," "low income," and "limited job opportunities." Every third research participant associated the countryside with a lack of economic development and low living standards. A statement by an interviewee from Shanghai is representative: "In the cities people have TV, and in the countryside there is not even running water." The next most common marker of difference was "mentality" and "thinking" (sixiang, guannian). Informants framed Rural Hanzu as feudal and backward, saying that "in the countryside, leftovers of feudal thinking are still alive" and that Rural Hanzu are "conservative" and "less open." Further, Rural Han were believed to show "unhealthy behaviors." For instance, "They marry too early and prefer sons over daughters"; they are "traditional"; they "treat men and women differently" and "have narrow horizons." Also, interviewees reported that in the countryside, "there is no marital freedom and children must obey their parents." Informants also posited that Rural Han are "poorly educated" or "have only basic education." In China's cities, on the other hand, "children receive nine years of compulsory schooling." Rural Han were further described as "dumb," "stubborn," and "unsophisticated." They were identified as having strong bonds with tradition and as resistant to change. In contrast to the majority of research participants, a few associated the countryside with "tranquility" and "pureness."
Overall, as Urbanites themselves, the majority of my informants connected rural Han-ness with economic backwardness, narrow-mindedness, feudal thinking, a lack of sophistication and education, low living standards, and a lack of material resources. In addition to being socially discriminating and exclusionary, the stereotypical markers that the urban informants used to differentiate themselves from Rural Hanzu felt almost hostile. The many denigrating designations, as well as the high frequency of adjectives like "feudal," "dumb," and "uneducated," call to mind the notion of peasants as the "inappropriate other" in discourses of propriety, civility, and modernity (Anagnost 1997, 77). Rural Hanzu have been constructed into a salient "other" by the class of educated and relatively well-off Han Urbanites, Hanzu who through this relationship reinvent their own economic, cultural, and social superiority.
Until the mid-nineteenth century, the rural/urban dichotomy was much less significant. Numerous scholars emphasize that urban and rural places constituted a well-integrated and interpenetrating system. Though differences between urban and rural populations were noticed and ridiculed by both sides, no clearly asymmetric power relationship existed between them in social and cultural terms (Cohen 1993; Lu 2010). In significant contrast to today's notions of the countryside, the majority of elite families in late imperial China had rural residences, even if some of their members lived part-time in cities. More than half of Shandong, Anhui, Henan, and Shanxi candidates for the highest jinshi imperial examinations in late nineteenth and early twentieth century were in fact from rural settlements (Skinner 1977, 266–67).13 Literati, philosophers, and painters likewise did not shun residence in the countryside.
In the twentieth century, China's rural/urban divide grew. This process occurred in part through the reframing of the countryside with Marxist vocabulary during the first half of the twentieth century. In the development of the Communist revolution, the countryside was constructed as a locus of feudalism, superstition, old culture, and old society, obstacles to national development to be overcome through socialist transformation. The "informed" and "rational" leaders were to demonstrate their efficacy by reforming the "inert" peasants (Cohen 1993, 154–55).14 The growing separation of the city and country was also encouraged institutionally. Increased through industrialization, the disparity between China's rural and urban populations climaxed with the introduction of the household registration system by the Communist regime in the late 1950s (Chan and Zhang 1999; Chan and Buckingham 2008). Household registration bound people to the location of their household and categorized them into rural and urban populations. These categories determined accessibility to state-provided benefits. Household registration as a system of social control also made spontaneous migration very difficult, particularly from the countryside to cities.15 Viewed as sites of potential bourgeois decadence and, accordingly, as threats to socialism, cities were intended by the Communists to remain small; they were to be divided into secluded and controllable working unit (danwei) compounds (Bjorklund 1986; Lü and Perry 1997; Bray 2005). As a result, the system of household registration not only incarcerated peasants in multiple ways, but also enhanced a general disgust toward rurality among the urban population and a view that spontaneous mobility threatened the social order (Siu 2007, 330).
Though the early Communist state invested little in the countryside, the urban population has received a variety of benefits from the government, including secure employment, housing, food rations, and health care (Chan and Zhang 1999, 821). The countryside as a place of banishment has been further enhanced with the practice of punishing political enemies by stripping these individuals of their nonagricultural urban household registration (Wang 2010, 221).16 In the fifty years since the implementation of the household registration system, Chinese citizens have come to form two caste-like categories: the agricultural population (which is, significantly, not entirely engaged in farming) and the nonagricultural population. Even today, these two "castes" have very different rights and opportunities (Whyte 2010).
Hence, though a major force in Mao's revolution, rural Han became marginalized through the apartheid-like division of city and country implemented during the High Communist Period. In post-1978 China, the marginalization of farmers further increased as Deng Xiaoping's reforms reinforced economic and social inequalities between China's cities—particularly municipalities and provincial capitals with high accumulations of investment and employment—and the countryside, from which millions of peasant workers (nongmingong) migrated in search of wage labor (Lu 2008). In the late 1990s, the government identified the countryside as the source and locus of most serious social and economic problems subsumed under the slogan "Sannong Wenti" (Three Problems of Rural China) (Day 2008).
Despite the growing phenomena of rural urbanization and industrialization and a general de-agriculturization of the countryside, the folk view that contrasts the rural/poor/farmer/agricultural with the urban/rich/worker/industrial has not yet been seriously challenged (Guldin 1996). With the relaxation of the household registration regime in the 1980s and 1990s, millions of rural Han have migrated to urban areas, thereby bringing rural and urban populations into large-scale, immediate contact for the first time in decades. Yet this process does not seem to have weakened the urban/rural distinction. Although in some areas of China, "townization" of village life and de-agriculturization of the village population (Guldin 1996) may be creating a new rural/urban continuum, my research suggests that increasing flows between large cities and the countryside have instead reinforced the rural/urban boundary. Along with a disdain toward rurality and "blind flows" (mangliu)—a term for nongovernment-initiated migration—the directly related fear of losing privileged positions in rural/urban hierarchies feeds the exclusionary discourses of ruralness that urban Han maintain and perpetuate (Lei 2003, 637).
Differentiation into Natives and Outsiders
The distinction between Natives or Locals versus Strangers, Outsiders, or Migrants constituted yet another major axis of categorization. Among the numerous collected identifiers that refer to the concept of locality, some related to specific places, like Lao Beijing (Genuine Beijing Person) or Lao Shanghai (Genuine Shanghainese). Others were detached from a concrete location and were more broadly applicable, such as Bendiren (Locals, Natives) and Waidiren (Outsiders, Strangers).
Places and individuals' experience of them are always socially constructed.17 Because of this, it is necessary to explore how spatial meanings are established, what is at stake, and who has the power to make places and ascribe them with meaning, in this instance as "outer place" versus "home place" (Gupta and Ferguson 1992, 11). Bargaining over nativity and belonging is, obviously, an inherent component of many localized power struggles.18 Like those who claim urbanity, those who claim nativity are not necessarily more urban and native than the individuals they intend to exclude from this category. A great variety of actors make claims to these labels for both instrumental and emotional reasons, and with varying degrees of success. One person may claim local status after having lived in, for example, Beijing for a couple of years, while another person will argue that only a third-generation native of Beijing is worthy of that categorization. These identity labels are open to negotiation, interpretation, and social bargaining over who is more "native" and who "belongs"; they are likewise fragmented and personalized in their meanings and applications. Thus, although identity labels relating to nativity or urbanity do not refer to any consistent group of people, they do stand for important categories of belonging as well as exclusion.
Differentiation between Natives/Locals and Strangers/Outsiders or, put differently, the attempt to reinforce the boundaries of nativity via the construction of strangeness, is a vividly present theme in identity negotiations of the contemporary Han. In urban, metropolitan settings, such as the primary settings of this study, this differentiation is often further entangled with the rural/urban paradigm to produce the socially and politically discriminated category of rural strangeness or migrant ruralness. In every larger city, different and locally significant Strangers/Outsiders are constructed. In my two fieldwork locations, this process manifests in the active assigning of the Stranger label to Subei People in Shanghai and to Henan People in both Shanghai and Beijing. These two identity categories—Subei People and Henan People—are used below to discuss the boundary of nativity and the competition that motivates the social exclusion of Outsiders as practiced in contemporary Chinese cities.
Today, the label Subei People is popularly used by Han individuals who claim nativity in Shanghai to identify Migrants/Outsiders from the northern part of Jiangsu who work and reside in Shanghai. Since the mid-nineteenth century, immigrants from this region have come in large numbers to Shanghai to escape war, famine, or floods in their home districts. Emily Honig (1996) reports that upon their arrival, these migrants often took over the lowest-paid and least desirable jobs, such as rickshaw pullers, dockworkers, construction workers, garbage collectors, night-soil haulers, barbers, and bathhouse attendants. These occupations have since become identified as "Subei jobs." The development of Shanghai and southern Jiangsu in the nineteenth century, and the economic decline of northern Jiangsu, spawned the idea of "Subei."19 Through this label, "natives" of Shanghai and southern Jiangsu were able to distinguish themselves from the impoverished immigrants of northern Jiangsu, with whom they shared not only the Chinese and Han identities but also provincial affiliation (Honig 1996, 149–51).
Although the category of Outsiders in contemporary Shanghai includes immigrants, especially rural immigrants, from all over China, Subei People still constitute the principal, most familiar "other" for those who wish to imagine themselves as Local Shanghainese. Shanghai People among my informants depicted Subei People as having "low cultural quality" and "narrow horizons" and as "conservative," "backward," "boorish," "unkind," "poor," "selfish," and "dirty." Subei People were also referred to as "cheats," "misers," and "savages." Socionyms used to label Subei People were extremely pejorative and included Subeiren (Subei Person), "a label pejorative in itself and used as a curse word," according to a number of interviewees; and Jiangbeiren (People from North of the Yangzi River), similarly classified by the informants as derogatory. Further, the socionyms Beiman (Northern Barbarians) and Jiangbei Zhulou (Swine from North of the Yangzi River) were mentioned. The Outsiders from Subei were described by my informants in particularly harsh, negative terms.20 Some informants nevertheless did recognize that the construct of Subei People as lowness and meanness personified was directly related to how Shanghainese wanted to imagine themselves. As one individual perceptively pointed out, "It is in the eyes of the Shanghai People that [Subei People] are backward." In Shanghai, a city that has grown by absorbing millions of migrants, struggles over nativity status are not only vivid and harsh but also particularly entangled. The verticalization of the relationship constructed between Shanghai and waidi (outside, outer place), with Subei as the most familiar personification of this "outside-ness," is a crucial component of social bargaining over belonging and nativity in the city (Gu 2002; Wan 2002; Yang 2002).
While the categories of Shanghai Locals and Subei Outsiders are products of the boundary-making processes that accompanied the rise of modern Shanghai, the stigmatization of another identity category associated with outside-ness, namely the Henan People, seems a matter of the last two decades (Ma 2002). Despite the overall economic development of eastern and southeastern China, Henan has somewhat lagged behind economically and in terms of educational and employment opportunities. This resulted in a massive outmigration of Henanese seeking employment in the cities. Among the most populous provinces in China, Henan thus became associated with millions of impoverished migrant workers, migrants who soon represented Outsiders, Strangers, and Country Rustics within the modernizing spaces of urban China (Ma 2002, 196–97). The category of Henan People is, next to Subei People, perhaps the most discriminated against category in both Beijing and Shanghai. Designations referring to Henanese include Henanren (Henan People), with informants saying repeatedly that "this name is, in itself, already derogatory"; Henan Bangzi (Henan Fools); Jiangnan Pianzi (Cheats from South of the Yellow River), and Zhongguo de Jipusairen (lit., "Chinese Gypsies"). Henan People were further referred to as "demons" and "bandits" and described as "evil," "dishonest," "lazy," "feudal," and "conservative."
In contemporary eastern and southeastern Chinese cities, Henan People often encounter employment discrimination—with some companies and shops openly refusing to hire Henanese21—as well as problems finding housing. Because of this, some Henan People conceal their home-place identity, instead presenting themselves as Shandong People, that is, as originating in the neighboring province. Also, by using different-sounding self-designations, such as People from Central Plains, Henan People try to blur their home-place identity. At the same time, because they find work and accommodation in urban destinations almost exclusively through their home-place networks (laoxiang guanxi), solidarity between fellow Henanese is maintained and even strengthened. The Subei People at the regional scale of Jiangsu and the Henan People—and to a lesser degree Sichuan People—at the scale of the whole country function as the embodiment of the discriminated and patronized category of migrant strangeness, not rarely combined with the equally despised rurality.22 Obviously, these labels are instrumentalized by those who claim the status of urban nativity to determine the social hierarchization and the distribution of symbolic and material resources. Although Subei, Henan, and Sichuan People, as well as Rural Han and Outsiders in general, also engage in negative stereotyping and naming of Locals and Urbanites, the influence of this collective voice is much weaker, with little impact on existing geographies of exclusion and discrimination.
CONCLUSION
Regional, rurality/urbanity, and nativity/strangeness differentiations were the three most significant paradigms of identification among my research participants.23 The intensity with which informants discussed these paradigms, and the hundreds of related socionyms and stereotypical characterizations collected make the common Hanzu identifier and the idea of shared Han-ness appear extremely remote at this scale of identity negotiations. The identity processes occurring around the oppositions of Ruralites/Urbanites, Locals/Outsiders, and Southerners/Northerners clearly demonstrate dependence on "them" in the making of "us," a key point of inquiry in studies of ethnicity. Accordingly, the North needs the South to become the North, Natives need to construct the category of Outsiders to become native, and Urbanites need Ruralites in order to be urban. These categorizations and differentiations draw attention to their historical and institutional contingency and to the ambiguous role the state has played in their making.
The regional and, particularly, the North/South distinctions are clearly historical. Their obviousness to nearly all informants indicates that the unifying efforts of the twentieth-century governments have done little to erase such divisions. On the other hand, the asymmetric relationship of urbanness and ruralness as well as the discriminatory differentiation between Locals and Outsiders seem to have even increased in the second half of the twentieth and early twenty-first centuries due to specific state policies. Although these two distinctions are universal and also at work elsewhere in the world, the discriminatory and abusive ways they are employed by the contemporary Han are particular. The introduction of the household registration regime that divided the Han into agricultural and nonagricultural populations had incalculable effects on identity politics of the Hanzu. In the post-Mao era, the accumulation of capital in China's cities further contributed to the marginalization of the rural population and gave rise to new classes of Outsiders (compare Chan and Zhang 1999, 843). Combined, these two processes effectively enforced deep social divides. Although arguably unintended, these policy outcomes nonetheless demonstrate how the state powerfully intervenes in collective and individual identity processes. The sheer number and the humiliating contents of socionyms and stereotypes ascribed to Outsiders and Ruralites illustrate that these paradigms of differentiation assume critical roles in identification and stratification processes occurring in eastern China's urban settings where minzu "others" are not easily found.
The fragmentation of Hanzu occurs along multiple axes. The large-scale categorizations and pairs of oppositions discussed above do not exhaust the possible processes by which Hanzu differentiate and "other" among themselves. In particular, studies from southern China introduce many existing distinctions, such as between Han land dwellers and boat dwellers, between "sea people" and "land people," and between Hakka, Punti, Hokkien, and Boat People.24 Language, home place, legends of ancestral origin, spatial distribution, and occupation are all significant differentiating variables in localized identity politics.
Socionyms and stereotypes reflect boundaries that fragment contemporary Han in everyday social interactions. These boundaries powerfully influence life opportunities of Han individuals and affect their social standing. While Subei People report experiencing job discrimination in Shanghai, Zhejiang People are commonly identified as excellent businesspeople solely because of their origin in this southern province. Further, Han from Beijing construct their cultural superiority over other Hanzu by referencing the imperial history of the city and the fact of "living at the emperor's feet." With something of a symbolic revenge, Southern Han ridicule the clumsiness of the Northerners, including Beijing People, and their rusticality. Urbanites ridicule the Country Hicks, and Natives look down on the Outsiders. Through this complicated game of difference and discrimination, Han individuals attempt to position themselves and others in intra-Han hierarchies of power that have practical effects on everyday life. They affect job and educational opportunities as well as one's chances on the marital "market." That individuals who engage in these fragmented identity politics remain classified as Hanzu does not diminish the relevance of these "otherings." The common Han denominator, as salient as it may appear vis-à-vis other minzu, does not have the power to erase or overshadow the power struggles, competition, and discrimination that persist among the Hanzu. Indeed, it appears that the Han identity has little potential for enforcing social solidarity. At this scale of interaction, identity as Han, shared nominally by all those involved and affected by these processes, feels like a distant concept. The Minzu Classification Project that officially established the unitary Han minzu did not terminate the intensive discourse of distinction among those it classified. In their daily, mundane social interactions, the so-called Hanzu disintegrate into a cohort of competing collective actors.