CHAPTER 2
CONTEMPORARY NARRATIVES OF HAN-NESS
Premodern and modern temporalities have produced distinct Han categorizations and very different and multiple versions of Han-ness, making it impossible to frame the contemporary Han minzu as a singular product of progressive national development. Yet Han-ness should not be understood as a randomly invented identity imposed on state subjects by the imperial, Nationalist, and Communist governments in a purely instrumental way. Rather, Han-ness draws its vitality from its place at the interface of the need for identification and differentiation that extends beyond kinship and locality bonds, and the need for a politically handy population category at the level of national politics. These two dimensions of Han-ness are mutually dependent. The way that Han-ness is narrated and framed in large-scale political processes has a great impact on individual scales of narration. Powerfully influenced by state-invented and state-enforced Han-ness, Han individuals employ these Han representations in their personalized identity politics and reproduce them in social and ethnic interactions. In interactions with locally specific "others," Han-ness acquires fragmented and localized meanings. This fragmentation, in turn, exercises a significant influence on state-driven discourses of identity.
The analysis below moves from a comparison of premodern and modern temporalities to an exclusive focus on contemporary China and explores questions of what Han-ness, or being Han, means today. Unlike most scholarly publications about "the Han," which tend to discuss the category's ethnogenesis or the processes of othering formative to it, my approach here is different.1 I focus on analyzing contemporary markers and narratives of Han-ness elicited from interviews, discussing what Han individuals themselves imagine Han-ness to be. This has implications for the contemporary debate on the meaning and roles of Han identity. My research data reveal that Han-ness, although to a certain extend conceived vis-à-vis its "minority others," greatly exceeds majority/minority bifurcations. Han-ness is equally constructed, for instance, in relation to home-place identities. The emic notions of Han-ness analyzed here not only illustrate processes in which "the Han" are constructed vis-à-vis their multiple and differentiated "others." Han individuals also invest the Han identity with meanings that make sense in their localized identity politics.
In the present chapter, I throughout place "the Han" and their most often evoked "other," "the minorities," in quotation marks. I do this for the same reason James Ferguson (1994) places "development" in quotation marks in his study of "development" in Lesotho. Quotation marks remind us to remain alert to possible reifications, ensuring that we do not begin to presume that "the Han" and "the minorities" exist as objective and unquestionable realities. Various markers of Han-ness analyzed here should not be taken to suggest that there is a coherent category of "the Han" that these markers objectively describe. On the contrary, the markers are generative and conflate to form a narration of "the Han" that must be analyzed in order to understand the category's political and social effects. Although quotation marks may negatively influence the readability of this chapter, the narrative quality of "the Han" must be emphasized for the sake of scholarly clarity.
DISCURSIVE MARKERS AND BOUNDARIES OF HAN-NESS
Discussions about what it means to be Han, about what characterizes Hanzu, and about the symbols of Han-ness formed the central axis of the interviews I conducted in Beijing and Shanghai. I refer here to the collected characteristics (tedian) and symbols (biaozhi) as "markers," as they mark the boundaries of Han-ness and its meaning.2 My aim in asking questions about such imaginary markers was to observe how individuals reacted to my queries and to identify any contrasts drawn by the research participants between "the Han" and their "others." The later analysis of interview materials focused on identifying the main narratives that the collected markers revealed and the corresponding images of "the Han" they objectified. Hence, my aim here is not to engage in a detailed analysis of all of the ascribed characteristics and symbols content-wise and argue why "the Han" are, for instance, believed to be "cunning" or "to have mastered many modern technologies." My interest is also not in discussing whether these statements are "true" or "false." Instead, the logic that motivates my analysis is to view these statements as part of identity negotiation processes. My goal is to extract from them the underlying narratives and discourses. The very act of ascription and the ways in which research participants conducted it is also instructive: it offers important clues about which identities matter, as well as when and for whom they matter.
During the interviews, conversations about markers of "the Han" and what it means to be Han today were particularly vivid. Many interviewees engaged in long monologues about what "the Han" are like and why. A great majority needed almost no time to consider the question; most responded immediately and thoughtfully. In a clear contrast to this overwhelming majority, a small minority of informants argued that it was not possible to talk about Han markers. Some of these individuals commented that boundaries between "the Han" and other minzu are difficult to draw. One individual argued, "The Han have intermingled with other minzu through intermarriage," and another claimed, "All the Chinese minzu are united and their cultures assimilated." A different informant stated, "It is difficult to draw a boundary between the Han and minorities [because] these have become similar to the Han." Others argued that "the Han" constitute an extremely fragmented category, one that renders attempts at generalizations about Han-ness impossible. Comments from these interviewees include that "Hanzu are a large category and there are various groups within it," and, "Hanzu lack the feeling of unity [and] lack the group spirit." Instead of emphasizing the boundaries between "the Han" and their "others," these informants stressed either the absence of boundaries or fissures within the category itself. Still, the overwhelming majority of research participants engaged with the question about Han markers without hesitation and with much verbosity. Han-ness seemed an obvious identity category to them, one that was meaningful and had clear boundaries that neatly separated it from its corresponding "others."
The queries about the meaning of Han-ness and about Han markers were among the opening questions in the interviews. At this point in the conversation, an overwhelming majority of research participants identified "the Han" in relation to other minzu of China. In these large-scale, nonlocalized juxtapositions, the Uyghur and the Tibetans figured most often as the salient "others" of "the Han."3 One interviewee also contrasted "the Han" with Americans and Japanese, "others" who exist beyond China's borders. In these relationships of internal and external othering, Han-ness is clearly perceived as a meaningful and important identity. Table 2.1 gives a representative sample of the markers collected. The left-hand column presents fifteen narratives identified by the markers; these are narratives synthesized from the hundreds of markers ascribed by the informants. The right-hand column lists concrete examples of markers quoted directly from the interviews.
A great majority of these markers reproduce specific power relations that bind the Han minzu, its "minority others," and the state. These markers are used not only to draw boundaries around the category but also to objectify the asymmetric power relationships in which it is engaged. A large number of these asymmetric markers pertain to the population size and distribution of Hanzu in China. Almost half of the research participants pointed out that Hanzu are the largest population and have the widest distribution of all minzu. "The Han" were accordingly represented as numerically superior and spatially encompassing. They were framed by the informants as being "at home" throughout the whole territory of China and thus distinct from "the minorities," who, with the possible exception of the Hui, are perceived to be spatially restricted to one region of the country. While one could argue that this is clearly not "true" or that China's territory comprises large regions where "the minorities" actually constitute local majorities, these markers nonetheless demonstrate that there is a firm belief in China as the land of "the Han," with the Han minzu "embracing" the entire territory.
Markers relating to "the Han" as a standard category devoid of unique characteristics were referenced by every fourth informant. Some informants also described "the Han" through negation, as those not having certain features associated with "minority" minzu; they argued, for instance, that "the Han" cannot dance and that they have no eating taboos. When contrasted with "minorities"—who have abundant characteristics and peculiarities—"the Han" in these statements appear invisible in their "thusness" (Harrell 2001, 295). While it could be argued that "the Han" have as many peculiarities as other minzu or, from the other end, that all other minzu are ordinary to their members, this is insignificant in narrative terms. Differentiation between those who are "ordinary" (yiban) and those who are "special" (you tese) reflects a specific relationship in which "the Han" become an unmarked category, an implicit standard constituting a reference point for others, similar to whiteness, maleness, and other "invisible" categories of identity.4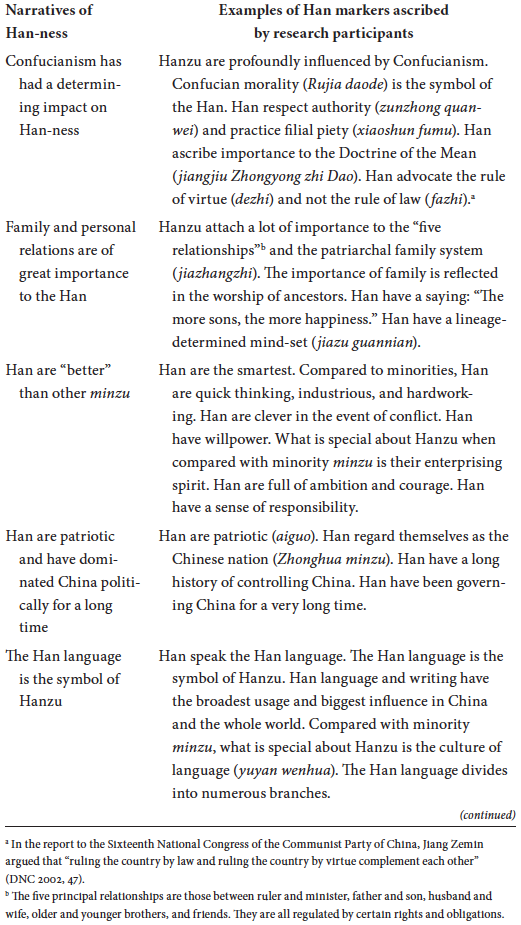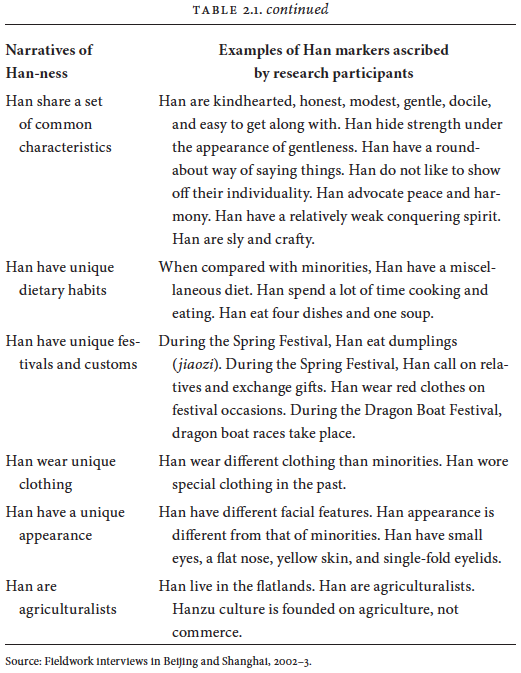 The next large group of markers linked Han-ness with modernity, advancement, and openness. Research participants repeatedly argued that "Hanzu are the most modern minzu." In this narrative, "the Han" are represented as the "vanguard of the nation" in both a technological and cultural sense. As those who "have mastered modern technologies," "the Han" are objectified as predestined to lead others indirectly constructed as less modern and open, in the pressing pursuit of progress and advancement. While "the Han" are here naturalized as modern and striving forward, other narratives additionally situate them as strongly rooted in the past. My informants claimed equally often that "the Han" have a uniquely long human history and powerful culture. A few interviewees further underscored that "Han culture" has successfully assimilated other "cultures." Here, then, the discourse of technological and cultural modernity is accompanied by a discourse of cultural and historical potency. The former looks forward, arguing that "the Han" embody the qualities needed to move forward and thrive; the latter argues that the reason for "the Han's" current power is historical—the backward and the forward views arguably comprising the necessary components of all ethnic and national narrations.5
Markers that less obviously refer to national narrations and power asymmetries are those related to Confucianism. Every third interviewee pointed out that the influence of Confucianism on "Han culture" could not be overestimated. While Confucianism could arguably be classified as a cultural marker, its intrinsic link to imperial power structures renders it clearly political as well. Even though the relatively anarchist Daoism has a similarly long and well-established history—and in the West is perhaps even more often associated with "Chinese-ness" than Confucianism—none of the research participants ever mentioned it as a symbol of Han-ness. Likewise, none of them mentioned Chinese Buddhism. That only Confucianism was singled out as a "Han symbol" suggests that its significance has less to do with Confucianism as a philosophical system per se and more with its promotion by political configurations as an official state cult for over two millennia and as a foundation of the system of imperial examinations. Confucianism significantly contributed to the creation of the "culture"/"barbarism" paradigm (Dikötter 1992), which continues to influence how Han imagine inter-minzu relations as well as how state power over ethnic borderlands is understood in contemporary China. Also, the representation of "Han culture" as able to assimilate other cultures is closely connected to the Confucian discussion of the acculturation of "savages" to the culture of the Central Countries. Despite the political ambiguity of Confucianism in the High Communist Period under Mao Zedong, many research participants surprisingly pointed to Confucianism as a marker of Han-ness, reflecting the revival of Confucianism in contemporary China.6 Likewise, the importance ascribed to family relations and kin obligations by additional interviewees appears to stem from Confucianism and the system of hierarchical social relations it put forth.7
The largest category of markers, referred to by a clear majority of informants, constructs "the Han" as "better" than "minorities" in a number of ways. These markers objectify "the Han" as more "industrious," "hardworking," "clever," and "enterprising" than "the minorities." Significantly, none of these qualities were ever ascribed by Han informants to other minzu in China. These characteristics powerfully signal that "the Han" locate their own minzu ahead of other minzu and demonstrate how this leading position is objectified through the continual characterization of non-Han minzu as lagging behind or "less than" (i.e., as less industrious, less hardworking, and less enterprising). This narrative constructs "the Han" as the driving force of the Chinese nation and state—a representation earlier formulated and utilized by both Sun Yat-sen and Mao Zedong—and reinforces specific imageries of inter-minzu relations.
Another group of interviewees ascribed markers that directly linked "the Han," the nation, and the state. These markers classified Hanzu as patriotic (implying that others are not?) and singled them out as having a history of political control over China. Although Manchu or Mongols could claim a history of political control over China too, the achievements of the Mongol Yuan and Manchu Qing dynasties have been somewhat veiled in Chinese historiography. The Han research participants variously characterized these dynasties as periods of cruelty, moral and material corruption, foreign oppression, and/or increasing isolation and marginalization of China. Considering that China governs the territory that was significantly expanded by the Mongols and Manchus, such narratives are somewhat surprising. Still, these formulations obviously do constitute part of the popular fragmented Han nationalism (see Leibold 2010), likely so because they have continued to facilitate the construction of the Han/Chinese dynasties and the Han/Chinese people as those who created and repeatedly restored political power and cultural order in the empire and the modern state.
Markers referring to language were the last main category intrinsically involved in power asymmetries. The informants who proposed them argued that the Han/Chinese language (Hanyu, Zhongwen, also Putonghua) is the symbol of "the Han."8 Indeed, it is "the culture of language" (yuyan wenhua) that makes "the Han" unique in relation to other minzu. "Han speak the Han language," it was argued. This normalized statement reflects, obviously, a massive linguistic asymmetry when we consider that in China, Naxi cannot just speak Naxi, or that Mongols cannot just speak Mongol, but must also be able to speak the Han language. Under the present linguistic status quo, "non-Han" need to acquire this national standard before they are able to access the national "linguistic market" (Bourdieu 1991, 45) and the resources available to those who speak it.9 Thus, a language-related marker like "Han speak the Han language" points directly to the political powers that locate "the Han," and specifically the northern Han, whose speech was selected as the foundation of the spoken standard at the very center of Chinese national narration.10
Unlike the markers discussed above, all of which reflect, imply, and naturalize certain power asymmetries, the final six narratives in table 2.1 do not narrate "the Han" through vertical relationships with other minzu. Rather, they reinvent "the Han" through horizontal comparisons, as a community that shares certain characteristics, physical traits, and cultural codes. These narratives include what the informants identified as typical character traits shared by "the Han:" a "kindhearted" nature, for instance, as well as a propensity to be "sincere," "indirect," but also "sly." Some research participants further highlighted the uniqueness of Han dietary habits and the link between Han-ness, agriculture, and life in China's flatlands, and they referred to specific festivals and celebrations as symbols of Han-ness. A small number of informants emphasized Han clothing and appearance as different from that of "minorities."11 Racialized notions of Han-ness and references to "two blacks and one yellow" (i.e., black eyes, black hair, and yellow skin), to "the Han" as "Descendants of the Dragon" (Long de Chuanren), or to "the Han" as a blood community were marginally popular with research participants. Despite the apparently growing resaturation of Han/Chinese nationalism with racial symbolism today (Sautman 1997; Cheng 2011, 2012), very few interviewees referred to these racialized attributes to express their idea of Han-ness.12 Racialized Han-ness was less often articulated than the Han-ness expressed through specific power relations and the contrasting of characteristics and cultural markers.
Historical Shift in Markers of Han-ness
Historical studies suggest that in imperial China, rituals, the patriarchal family structure, family names (especially monosyllabic ones), descent from Han ancestors "proven" through genealogies, and agrarian occupations (among many others) were all markers popularly associated with Han-ness/Chinese-ness. Accompanying the rise of Han/Chinese nationalism at the turn of the twentieth century, narratives of shared national descent, common ancestors, linear national history and national language, and the political bond between the Han minzu and the Chinese state began to be zealously promoted as new markers of Han-ness. This narration of "the Han" signaled a departure from imperial culturalism and the shift to a nationalist symbolic order. The popular narratives of contemporary Han-ness, as my research results suggest, are in many ways similar to those promoted in the Republican period, but expanded and enriched through new elements. These contemporary narratives not only reproduce "the Han" by delineating the category and differentiating it from other minzu; they also convey a number of asymmetric spatial imageries. First, these imageries objectify "the Han" as located ahead of others in an assumed linear progression via the Han category's associations with modernity and advancement. Second, narratives of numerical superiority and nationwide distribution create an understanding of "the Han" as all encompassing, located everywhere. Last, markers that relate to the Han language and script, which became the spoken and written national standards, locate "the Han" in the very center of the Chinese national narration and symbolically also above other minzu who must acquire the language of "the Han" in order to function successfully in the national community. Having their minzu first generated and then empowered by the political processes of the twentieth century, individual Han feel entitled to reproduce this Han narration in their individual identity politics, contributing to its maintenance and further perpetuation.
In the premodern period, Han-ness/Chinese-ness was a matter of degree of acculturation to empirewide or locally understood Han/Chinese lifeways and the ability to prove descent from Han/Chinese ancestors (Ebrey 1996). With the nationalizing project of the late nineteenth century, Han-ness became increasingly institutionalized. Since 1949, together with other minzu identities, it has been subject to Communist state planning and has been a domain of state interventions. The acquisition of identity markers and recognition by other Han, once essential elements of identity politics in premodern China, are insignificant to the official distributors of minzu identity labels today. Whatever similarities some "minority" people may share with "the Han" in terms of cultural codes, behavior, or language, they have no impact on a person's official classification. In the aftermath of the Minzu Classification Project, which effected a new ordering of the entire state population, institutionally confirmed descent is the only legal channel through which minzu identity can be transmitted.
This institutionality of Han-ness makes it appear very distant from the processes of ascription, flexibility of boundaries, and negotiability of identities associated with the notion of ethnicity in Western anthropological discourse. Still, this apparent rigidity of minzu boundaries does not prevent Chinese citizens from switching identity labels and reinventing genealogies and ancestors, just as they did in imperial times. Mette Halskov Hansen (2005) describes such inventions and switches in Xishuangbanna/Sipsongpanna in southern Yunnan, where some Han villagers acquire non-Han identities by inventing non-Han ancestors. Because "minority" minzu profit from a number of preferential policies—including access to higher education, employment in local government, and permission to have more children than Han are allowed to bear—non-Han identities have a high practical value and are worth acquiring in contemporary China.13 Consequently, some "minority" populations have grown at a much higher rate than the Han population. For example, the Hanzu population increased by 20 percent between the 1982 and the 2000 censuses. During the same time, the Bai minzu population grew by 64 percent; Miao, 77 percent; Xibe, 125 percent; and Manchu, 148 percent (Gladney 1998, 12–13). Obviously, being a non-Han today has its advantages. More and more Han are becoming parents of non-Han, as children of mixed-minzu couples are increasingly choosing to assume the minzu of the non-Han parent for themselves (Harrell 2001, 307). This indicates that although power relations reflected in the narratives of Han-ness seem to be clearly asymmetric, and the symbolic resources attached to "the Han" label immense, in practice other factors mitigate the attractiveness of this identity. The preferential policies of the past thirty years make it attractive for some Han, especially those living with non-Han in economically disadvantaged border regions of China, to assume non-Han identity labels.14 It would be worth exploring what effects such changes in minzu identity labels have on self-identification and identity negotiations of these naturalized Han.
DISTRIBUTION OF NARRATIVES: EDUCATION AND LANGUAGE
During analysis of the data I collected in the Han-dominated cities of Shanghai and Beijing, it became clear that great similarities existed between these data and those I collected during my fieldwork in the non-Han dominated village of Zuosuo in the southwestern borderlands of Sichuan in 1999. At that time, Zuosuo was inhabited by seven identity groups: the Na, Nahi, Nuosu, Prmi, Bo, Gam, and Han. These groups were officially divided into five minzu: the Mongol (Na), Naxi (Nahi), Yi (Nuosu), Tibetan (Prmi, Bo, Gam), and Han. One of my central questions was how local Hanzu defined their position in relation to other minzu villagers and what it meant to be Han in this multiethnic setting.
Among the locally significant markers of Han-ness ascribed by both Han and non-Han in the village were "Han burn incense," "Han have an ancestral tablet on the wall where the incense is burned," "Han raise chickens," "Han women wear embroidered clothing,"15 "Han marry," "Han worship the house spirit [jiashen]," "Han use mortars to grind grain," and "Han celebrate the Spring Festival." Further, in Zuosuo, where Hanzu constituted a clear minority, Han informants described "the Han" as having a "high level of culture" (wenhua shuiping gao) and an "advanced culture," as being "most numerous," and as "living all over the country." Han respondents also thought of "the Han" as having the "most advanced technology" and as being "more intelligent" than "minorities." The members of six other ethnic groups, in addition to using the locally significant markers, described their Han neighbors as unfamiliar strangers, people without markers (mei sha tedian) and without religion (meiyou zongjiao) but also as "most advanced" and "most numerous."
Besides the very specific, locally significant markers, there are great similarities between the narratives of Han-ness put forth in Zuosuo, a remote, non-Han-dominated village, and those articulated in the Han-dominated cities of Shanghai and Beijing. This invites us to consider the channels through which these markers are transmitted and popularized. Mass media, particularly television and radio, were inaccessible in the village in 1999, as there was no regular electricity. This seems to point to the propagating power of another channel for the distribution of ideas, namely centralized education.16 Significantly, the markers of Han-ness that were virtually identical to those collected in Beijing and Shanghai were almost exclusively reproduced by those Han and non-Han villagers who had received some years of official education and were able to speak Putonghua. Interestingly, not only elderly non-Han but also some elderly Han villagers who received very basic or no education at all, who lived among the Na in smaller hamlets on the Zuosuo plain, and who grew up in pre-Communist and early Communist power constellations speaking local dialects were unaware of the narratives of Han superiority. It is also possible that these people rejected such narratives as too distant from social practice. Even more significantly, some of the early Han settlers and their children ascribed superior position in the village to the Na, who were power and wealth holders in pre-Communist and early Communist times. In 1999, the Naru language—native language of the Na—was the lingua franca for all ethnic groups in Zuosuo, with the exception of more recent Han immigrants. This raises two questions: What is the role of language in the transmission of narratives of Han-ness and the corresponding narratives of "minorities"? And what is happening in schools?
Scholars from multiple disciplines—including history, sociology, educational sciences, and social anthropology—have proposed several answers to these questions. Some argue that schools play a crucial role in determining the workings of power in society, as they produce docile, self-disciplining bodies (Foucault 1991). Others additionally posit that schools encourage students to "accept a subordinate position in the centralized bureaucratic world of the . . . nation-state" (Keyes 1991, 89). In a class-focused analysis, state schools and examination systems reproduce and perpetuate class relations by favoring certain forms of examinations, transferring certain kinds of knowledge, and emphasizing the use of one legitimate language (Bourdieu and Passeron 1977). Schools also play a critical role in nationalizing projects, with curriculum serving as a transmitter of the imageries of state and nation as well as a discourse of national belonging and territorial integrity (Bass 1998; Hansen 1999). Yet while schools may attempt to reproduce class relations or national imageries, there are numerous examples of "schooling for citizenship" turning into "schooling for resistance," challenging the very structures and relations that education was expected to reproduce (Harrell and Ma 1999, 217). Although perspectives differ, attempts to theorize the workings of schools clearly demonstrate that state schools play a central role in the making of national communities and the reproduction of power relations in a society. Because of this, and because of their tentative potential as spaces of contestation, schools and other educational institutions are thus sites of increased state intervention and control.17
The school curriculum in China is centralized and relatively standardized, even in such distinct areas as Beijing, Xinjiang, or Sichuan. Though some freedom to develop supplementary teaching materials and select textbooks was introduced in the 1999 curricular reform, in all these locations education still popularizes uniform ideas and values, a centrally approved historiography, and state-approved national imageries (Chu, n.d.). Additionally, in the second decade of the twenty-first century, schooling continues to promote a minzu classification based on the outdated evolutionist models of Stalin and Morgan as well as on specific representations of majority-minority relations. Fei Xiaotong's (1988, 223–24) thesis that "the Han" are economically and culturally more advanced than other minzu and that only with the assistance of "the Han" will the "minorities" be able to successfully overcome their backwardness, still reflects much of what textbooks contain. The recently published fifth-grade Moral Education and Society textbook further reproduces this narrative by telling a story of Princess Wencheng of the Tang dynasty, who moved to Tibet to marry the king Songtsen Gampo: "Princess Wencheng brought grain seeds and vegetable seeds from inner China and taught Tibetan people farming and other techniques, such as flour-milling. . . . Princess Wencheng also introduced into Tibet the carriage, horse, mule, and camel, production technologies, and medical books. All these advanced the social progress of Tubo" (Chu, n.d.).
State schools play a key role in disseminating such progressive classifications, asymmetric representations, and specific national imageries and in shaping popular discourse about the minzu in China. Indeed, elementary-school textbooks still distribute images of "the minorities" focused on their embeddedness in nature, unique costumes, food, architecture, festivals, customs, and most importantly, dancing and singing (Chu, n.d.). "The minorities" are represented as dancing and singing away their time, while "the Han" focus on production, modernization and increasing the gross domestic product. The government's control of school curriculum, an education increasingly conducted in the Han language in ethnic areas (Johnson and Chhetri 2002; Clothey 2005; my fieldwork in Xinjiang, 2011–12), and the establishment of broad access to mass media in these areas (ZZWY 2010, 466–69; my fieldwork in Xinjiang, 2011–12) are of great importance in the perpetuation of majority-minority power asymmetries and their composing elements.
In Zuosuo, a community where Han constituted about 20 percent of the total population, there were twenty-four teachers at the junior high school. Seventeen of them were Han, four were Na, and one was Nuosu. Among the twenty teachers at the central elementary school, ten were Han, eight were Na, and two were Nuosu. In both schools, the sole language of instruction was standard Chinese.18 Although the Han teachers in these schools were devoted to teaching, tried hard to offer good-quality classes, and worked to improve their pronunciation with regular training in standard Chinese (as all spoke with a strong Sichuan accent), the narratives of Han intellectual, cultural, and technological superiority and the corresponding "minority" inferiority were nevertheless manifest in almost every conversation we shared. Somewhat unsurprisingly, I experienced a number of awkward moments when twelve- or thirteen-year-old Na pupils from the local school welcomed me to their homes and explained in standard Chinese that their minzu was "feudal" (fengjian) and "uncivilized" (bu wenming). Acquired most likely in school, such representations of "minorities" have enormous impact on identity formation. Larger political, legal, economic, and social effects of such narratives are equally significant. The popular perception (especially among Han in eastern China) of ethnic areas as thoroughly dependent on help from the "center," along with notions of "the Han" as agents of development and progress, are only a few examples of the discourses that these narratives fuel.
While Chinese textbooks formally stress equality and national unity, students are also sensitive to what is left out of the curriculum and to the very structure of the educational system (Hansen 1999, 258). When the curriculum does not discuss local culture, history, and ethnicity, and is not taught in locally used languages, it becomes an important sign of nonrecognition, a void that official textbooks implicitly endorse. Such "silences" are as instructive in the analysis of discourse as that which a discourse vocalizes (Foucault 1990). Nonetheless it is equally important to recognize that what schools try to do—distribute specific "knowledges," specific narratives of "the Han" and representations of "minorities"—is also contested. The high drop-out rates of "minority" students, as reported by Badeng Nima (2008) in Tibetan areas and also registered in Zuosuo, can be read as a form of resistance to these attempts. Furthermore, the incompatibility of the knowledge conveyed by the school curriculum with the actual lifestyles, occupational specialization (e.g., herding), cultural context, or religion of "the minorities" also motivates some parents to keep their children out of state schools, instead selecting monastic education (Davis 2005). Others may send their children to state schools for only a limited number of years to acquire basic reading and writing skills (my fieldwork in Xinjiang, 2011–12).
Moreover, the reception of narratives encoded in the curriculum is not uniform. Among Zuosuo residents who received education in standard Chinese, narratives of Han advancement and superiority were most openly challenged by the Nuosu. In conversations and in short written questionnaires distributed among the students of the junior high school, some Nuosu resolutely negated these narratives of Han-ness. They argued that there is actually a lot that Hanzu can learn from them. What "the Han" should learn was not always specified, but the respondents' sentiments were nonetheless clear. Interestingly, the Nuosu were perceived by all other ethnic groups in the village as "backward" (luohou) and "remote" (pianpi). Indeed, apart from the relatively few Nuosu who lived on the Zuosuo plain, most lived in mountainous locations, away from schools and other government and Communist Party agencies.19 The Nuosu from mountain villages said they chose to live in the mountains because the air is much better there, unlike the air on the plains, which reportedly makes them prone to diseases. This narrative is likely much more than an expression of health concern. The Nuosu community's geographic distance from the Party, government, and education agencies was of great significance in their contestation of the bureaucratic power located in the valley. This distance, along with other factors such as family education, a history of separation from the local community, and perhaps also the Nuosu being the nominal masters of the Liangshan Yi Autonomous Prefecture where Zuosuo is located, enabled the Nuosu to contest narratives of Han-ness popularized by the centralized education system, with Putonghua as the dominant language of instruction.
Today, fifteen years later, the power of education-transmitted representations of "the Han" and "the minorities" has likely waned in Zuosuo, owing to the influence of the area's booming tourism industry. Other ethnic areas in China demonstrate that "doing tourism" can lead to "minorities" formulating new ideas about their ethnic groups and repositioning themselves in ways at least partially independent from the evolutionist classifications and the modern/Han versus backward/minorities bifurcations (Chio 2014). Revalorization of "minority" cultures, at least in the self-perception of the affected "minority" people, is thus possible. The question remains, however, whether and how much this self-revalorization has changed the popular discourse of "minorities." It seems that Han tourism's age-old game of reification of "the exotic" and "the primitive" in ethnic areas continues, albeit perhaps in a more transactional and symmetric way in some communities (Chio 2014). Still, the insights from my fieldwork in Xinjiang demonstrate that narratives of backwardness, low cultural quality (suzhi di), superstition (mixin), chaos (luan), feudalism (fengjian), lack of civilization (bu wenming), and lack of hygiene (bu weisheng) in relation to "minority" lifestyles, marital practices, religions, and inhabited places remain prevalent. The use of the Han language, especially by young and linguistically inexperienced speakers, almost automatically activates these narratives, as in the example discussed below.
One evening during a family dinner in Aqsu in 2011, in a context similar to Zuosuo more than a decade earlier, two Uyghur minkaohan, students at a Chinese-language high school, discussed with me the "backward" Uyghur who practice "feudal" marital customs. In this case, the custom in question was the "chain marriage," a marital form in which Uyghur men and women marry, divorce, marry, and again divorce in relatively short intervals. It was clear that the Communist nomenclature used to discuss nonstandardized ethnic marital practices was already part of these teenagers' vocabulary, ready to be applied. It was also clear that the "backwardness" and "feudalism" rhetoric was as uncomfortable to their mother, herself a graduate of Uyghur-language schools, as it was to me, a foreigner. Embarrassed, she corrected her daughter in standard Chinese, saying that these customs are not feudal but are a Uyghur "tradition" (chuantong) in some areas of Xinjiang. This distinct linguistic sensibility draws attention to the role of the language of instruction and the influence of linguistic socialization on the reception of narratives of both "the Han" and "the minorities."
Like the selection of curriculum content, the selection of language of instruction in schools with a large share of non-Han students is obviously a political issue. First, it reveals which power holders are capable of determining the language of public schooling. Second, in multiethnic states, national language and the language of instruction are important political stakes that give one group an enormous advantage when compared to others. With its use of standard Chinese, China is an example of a state where political domination and language domination are closely intertwined and reinforce one another. National language that is "known and recognized (more or less completely) throughout the whole jurisdiction of a certain political authority, . . . helps in turn to reinforce the authority which is the source of its dominance" (Bourdieu 1991, 45). Even more significant to the material discussed above, a national language is never simply a means of interethnic communication. Instead, it is a transmitter of specific narratives, norms, and values that are encoded in every language (Kymlicka 1995).20 With the declaration of the northern variety of the Han language as the sole national spoken-language standard, and of the Chinese written language as the sole national written-language standard, the historical and contemporary narratives of "the Han" as well as of "minorities" became part of the legitimate national language. This national language standard, in turn, became the language of instruction for "the Han" and is becoming the sole language of instruction for many non-Han too. Through these processes, the asymmetric power representations and narratives of "the Han" and "the minorities" have acquired the power of being self-evident, which makes them difficult to trace and challenge, especially from within the system. Still, as some Han research participants from Shanghai and Beijing prove, along with some Han, Na, Nuosu, and Uyghur from Sichuan and Xinjiang, it is not impossible.
CONCLUSION
With their distinct power structures, objectives, ideologies, and world-views, two major temporalities in Chinese history—imperial and modern—have in discursive and practical ways produced different categories of "the Han." Historically and still today, the exact markers used to construct the boundaries of Han-ness are of secondary importance to the processes of boundary making and maintenance. Yet identification of these markers is helpful in locating the narratives that invest Han-ness with subjective meaning for the members of the category.
My research material demonstrates that Han-ness today is not conceptualized in terms of one or two key markers. Indeed, no single marker was proposed by the majority of research participants. Instead, most described what they understood as "being Han" using several "characteristics" and "symbols." Still, the narratives that motivated respondents were quite repetitive. In contemporary China, Han-ness is narrated in terms of numerical superiority, long history, cultural dominance, and character attributes that narrate "the Han" as hardworking, responsible, modern, and patriotic. Han-ness is also powerfully represented as an unmarked category, as "the ordinary" constructed as the reference point for other minzu. Also, great importance is attached to Confucianism as shaping the Han worldview. Finally, the Han language and script are referred to as markers of "the Han" and are represented as legitimate national standards.
The collected markers point to an inherent contradiction in defining Han-ness. Nearly a quarter of my research participants discussed the "invisibility" of "the Han" as those who do not have unique characteristics. Yet somewhat contradictory to this "invisibility," these same participants—and many others—proposed hundreds of "visible" markers of Han-ness. This suggests that Han-ness is invisible in some contrastive relationships, most prominently when juxtaposed with orientalized and exoticized "minorities," but not in others.21 Han-ness also exists beyond these majority/minority bifurcations. Contrasting Han-ness with "minorities" is merely one axis of comparison through which Han identity is constructed today. Its relationships with Chinese-ness, home-place identities, and lineage identities are other relevant axes. Although Han-ness may situationally "disappear" in these relationships too, this disappearance occurs in very different ways and for different reasons. While situationally invisible in some relationships, Han-ness is elsewhere an important and viable identity, one appreciated, for example, for its unifying potential. The identity's strength lies in the fact that it offers unitary space for Han who are otherwise divided in everyday life by discriminatory boundaries of occupation, spoken language, home place, or access to wealth. The large number of markers collected, and the zeal with which many Han discussed them, demonstrate that Han-ness is a well-established and powerful identity concept; one could even say it discursively "flourishes" when contrasted with its salient "others," the "minority" minzu being but one.
Han-ness connotes various symbolic resources that make it a worthwhile identity. Specific power relations ingrained in the discourse of Han-ness permit individual Han to reproduce these relations in their fragmented, individualized identity politics. As this discourse deploys power, those who are empowered by it further reinforce the discourse (Foucault 1972, 1990). In the same logic of entanglement, the political authority that produces and popularizes the discourse of Han-ness and objectifies the Han minzu as a dominant majority, is in turn reinforced by the very Han it empowers. As an additional twist, the state is also dependent on "the Han" as a national majority to maintain its territorial and institutional integrity. It is in this relationship of mutual interdependence that the Han narration is reinvented, maintained, and reproduced. The state educational system and the national language are two important channels through which this reproduction occurs. The now almost universally accessible mass media, but also word of mouth via the increasing number of migrants, also play a role in this process of distribution.
Because narratives are embedded in language, the Han language that became the national standard is an extremely important component of the Han narration. The language is intrinsic to the vertical and horizontal imageries of progress and advancement against which other minzu are measured. Together with the centralized education system, the Han language is thus largely responsible for the transmission of specific narratives of "the Han" and "the minorities" throughout the entire country, including its multiethnic regions. In these regions, the narratives influence local processes of identity negotiation, social positioning, and power distribution. The example of Zuosuo demonstrates how these narratives influence young people in particular through the process of school education and contribute to the gradual reshuffling of power relations in the village. As the centralized education system in ethnic borderlands becomes increasingly reliant on the Han language as the language of instruction, demand for Han teachers is growing. In many areas of Xinjiang and Qinghai, school job openings favor Han over "minority" teachers to fulfill the quotas for Han-language classes set up by regional and provincial governments. Consequently, the number of Han teachers in ethnic regions is on the rise, particularly in urban and semiurban areas and in secondary education. Besides the curriculum and the language of instruction, these migrating teachers are a third important transmitter of narratives of Han-ness throughout the country. While the narratives are certainly not uncontested, they are nonetheless embedded in the national language, which invests them with the potential to become self-evident and thus have continued influence on processes of power negotiation.
Han-ness is a vital and important identity. Yet however influential, it has not replaced other collective attachments maintained by Han individuals. Moreover, the situationality of identity choices and localized identity politics continue to blur neat boundaries of minzu classification. Thus, although the influence of the state on identity formation is substantial, it also has its limits. As "tangible" as the boundaries of Han-ness may seem in the markers analyzed above, these boundaries do not keep "the Han" narration from fracturing into dozens of non-minzu identity categories when the angle of observation is changed. On the other hand, Han-ness is also restrained by Chinese-ness, which as a national identity should nominally mitigate divisions and rifts caused by minzu and other categorizations. Thus, as concrete and powerful as it appears here, Han identity must be contextualized and related to other collective identities maintained by Han individuals. In so doing, we can trace when, how, and whether the category matters in individualized topographies of identity.