On a hot day in September 2011, we step into an old and not-so-white car. The day's journey leads to the town of Anand from the nearby city of Ahmedabad. Behind the wheel during the two-hour trip is Amrapali Merchant, Professor of Sociology at the Sardar Patel University in Anand.1 She takes the "normal" (free) road—not the new expressway that has a toll booth—and in doing so displays her impressive driving skills: she overtakes buses, trucks, two-wheelers, and buffalo-drawn carts, while successfully avoiding bumping into speeding cars, stray dogs, and the occasional cow that strolls onto the road. The rickshaws and buses we pass are packed—elbows stick out from windows. Food stalls and tea shops along the road abound. On either side of the road are the tobacco, ginger, and potato fields of the Charotar region, cold-storage facilities where farmers store their produce, small-scale factories and processing workshops that cater to the agricultural economy, and the occasional air-conditioned restaurant. It has rained and the road is muddy, so we keep the windows closed.
As the hustle and bustle of a rural road unfolds before us, Amrapali points at landmarks, tells stories, and shares her life philosophy inspired by Jainism. Finally, we enter Anand, cross the "overbridge" (an overpass) and head toward the main road that is the pulse of Anand: Anand-Vidyanagar Road. Just before the overpass, as we enter the town, Amrapali suddenly asks me, "What is your religion?" When I mention my Catholic family in the Netherlands, she continues:
All religions are pathways to God. Now, look outside the car. These houses you see weren't there before. This was just agricultural land. In 2002, there were riots here. Then, there was a lot of killing in the villages around here, and so many Muslims were murdered. After that, Muslims left their village and came here. Maybe 50,000 Muslims are now living in Anand. They occupy the gates of the town. Whenever you enter Anand, you pass Muslims.
As we cross the overpass, I look out the window but do not see much that indicates a Muslim presence (figure p.1). The sights that strike me on that day are the construction along the road, some churches—which stand out from the landscape due to their height and whiteness—and the blue patches of tents (which, I learned later, are the temporary homes of temporary laborers—both Hindu and Muslim—working in Anand's thriving construction industry).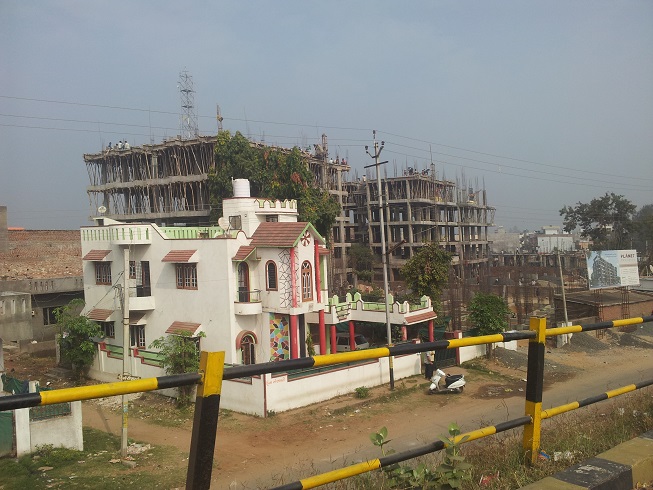 As we continue our journey through Anand, into the spaces I learn to perceive later as Hindu areas, Amrapali points out vegetable markets, the town hall, and the Sony store, where she stops to buy a computer cable. We pass the statue of Bhaikaka, the hero-engineer who is credited with designing the spacious and airy campus area of Vallabh Vidyanagar. Vidyanagar, as residents call it, is an educational hub of Gujarat, home to the Sardar Patel University and its many affiliated colleges and schools, and attracts students from all over India and Nepal. This is our destination. At Sardar Patel University I register to start my research. Amrapali makes sure I am assigned housing on campus.
It was initially through the directions of non-Muslims that I was able to see the Muslim spaces of the town from the outside. Like many other researchers who have studied the Charotar region, my research started with Hindu and Jain contacts. I could have remained in the campus area, which is seen by Muslims as a Hindu area, although Muslims also participate in it as students, staff members, and consumers. I could also have accepted the invitations of Hindu friends,2 who generously offered to host me during my research. But I had come with the aim of studying lesser-known perspectives. After two months, I found a Vohra family willing to rent out the apartment above their house to me, and I moved into the Muslim area that I had seen from the car window on my first day in Anand.
The stories I tell here stem from my experiences of living in Anand for ten months in 2011–2012, with repeat visits in 2014 and 2017, and from interviews and observations with overseas Gujarati Muslims in the United Kingdom (in 2012 and 2016) and United States (in 2015 and 2018). The aim of this research was to study one of India's Muslim areas in the making, and to see it from the perspective of those who participate in its making. During most of the research period, I lived in a housing society described by its residents as relatively well-to-do within the economically heterogeneous Muslim area. Housing societies (a group of neighboring houses that, like a subdivision, share joint regulations) tend to develop a feeling of commonality, in that residents are broadly aware of who their co-residents are and develop ideas about their shared characteristics. The residents of this housing society, which had twenty-four houses, described it as middle-class territory. They self-identified as middle-class people, and as Muslims. While a few neighboring housing societies consisted of Christians, most of the residents of the surrounding housing societies were also middle-class Muslims.
My encounters with this neighborhood started with my landlady, Shahinben Vahora (a pseudonym), and Minaz Pathan, a young woman who worked with me as a research assistant, both of whom had their own local networks. Shahinben no longer lives in Anand and has since moved to Australia, but at that time she worked as an English teacher in a Catholic school funded by the state government, and her husband ran a small business as a vendor on a pushcart. Her two sons had moved to Australia a few years before I arrived, and their remittances had been used to build an apartment on top of the house, as accommodation during their visits. The apartment became available for rent soon after the younger son's visit had ended. From here, I started participating in the social life of the neighborhood and in the regional and transnational networks of my neighbors.
The neighborhood study was shaped by participation in neighborhood life, interviews, and a survey I conducted in 147 Muslim households (Survey A).3 Besides walking around with Shahinben and Minaz, I visited organizations in the neighborhood and became a frequent visitor to a nearby primary school and a health clinic. It did not take long for my new neighbors and acquaintances to start inviting me to accompany them to places near and far: a shop, a school, a workplace, or the home of a relative. Through these invitations I became involved in a variety of movements and flows. The neighborhood study grew into a regional study by following my new acquaintances to the places that mattered to them in the surrounding villages and towns, and partly by developing my own contacts with Muslim associations.4 These journeys—on foot, on two-wheelers, or in cars or shared rickshaws—brought many topics, destinations, and pathways under the scope of conversation.
During these encounters, I also met overseas Indians from the United Kingdom and United States, visiting their region of origin. Some of these visitors were very busy, and they granted my project only a few minutes of their time; others welcomed my company and took me along for several days while they were arranging their affairs. As the transnational life of Muslims in Anand centers mostly on the United Kingdom, the United States, and Australia, I conducted follow-up research in two of these locations, following the leads of the British and American visitors I had met in Gujarat, who supported me in continuing my research among their families and communities abroad.5 In these ways, I gradually came to see how the neighborhood was embedded in the town, the region, and the transnational networks that surround it.