2

BUSTLING TOWNSHIP
A Muli Township in the Post-Mao Era
Although the pace of economic growth has been markedly slower in China's western regions, in recent years, the forces of the globalized economy have also reached the smaller cities and county-towns, even in the more remote mountainous areas of the Southwest. This development has been facilitated by the many infrastructure projects resulting from the central government's Opening Up the Western Regions (Xibu Da Kaifa) policy, initiated by Jiang Zemin in 1999, such as building roads to all corners of this part of China, constructing airports in smaller cities or in the many popular but often hard-to-reach tourist destinations, and upgrading and expanding railroad links. Nevertheless, change is slow to come in many villages that are farther away from towns and cities. These are often villages inhabited by ethnic minorities, many still living a precarious existence as subsistence farmers. They can observe the marked success enjoyed by local and in-migrating Han who are able to grasp the opportunities created by the new capitalist economy. At the same time, they can no longer count on the social security system and other principles of solidarity of the socialist state to help them when they are threatened by misfortunes such as bad harvests, floods, landslides, or illness. And to add insult to injury, while it is retreating in several areas vital for people's livelihoods, this same state is increasingly interfering in areas in which people used to have more freedom, such as family planning, state education, and land management. Under these conditions, communities such as those in Bustling Township turn their gaze inward and rediscover the values of their own cultural traditions. Ritual practices related to traditional cosmology and religious beliefs are reclaiming some of the terrain that was lost in Premi society during the previous decades.
ECOLOGY AND SUBSISTENCE
Bustling Township has a rugged, mountainous landscape with high peaks, deep-cut river gorges, and very little level land. The difference between the lowest and highest points is almost 3,000 meters, from a little more than 1,500 meters to a mountaintop at 4,500 meters. Roughly a third of the township is covered with forests, while the higher areas, or about 10 percent of Bustling Township's surface, are grasslands. Agriculture is possible only on those mountain slopes that are not too steep and were not covered by forests in 1998, when a general ban on logging was introduced. This amounts to less than 1 percent of the total surface of the township. The main crops are maize, wheat, and potatoes; other important crops are barley, highland barley, buckwheat, and beans. In and immediately around the villages, people tend pear, apple, walnut, and other trees. On the lower-lying slopes, there are some rice paddies (occupying less than 5 percent of the total arable land) and mandarin trees. The few cash crops are chili pepper (haijiao) and hemp. The average annual temperature of 15°C makes it possible for large parts of the township to have two annual harvests: maize, harvested at the end of October, and wheat, harvested in April or May. On sheltered south-facing slopes, wheat and maize can be grown at altitudes as high as 3,000 meters. In spite of moderate average temperatures and sufficient seasonal precipitation, the average yield of wheat in the whole township is still significantly below the national average.1
The forest areas provide the approximately three thousand inhabitants of Bustling Township with much-needed fuel for cooking and heating as well as materials for house construction. Forests also yield some medicinal plants and mushrooms as well as small game such as wild fowl. Extensive overhunting in the past as well as more recent, tighter controls on the possession of firearms and the enforcement of strict nature-protection regulations have combined to reduce the importance of wild game as a source of animal protein.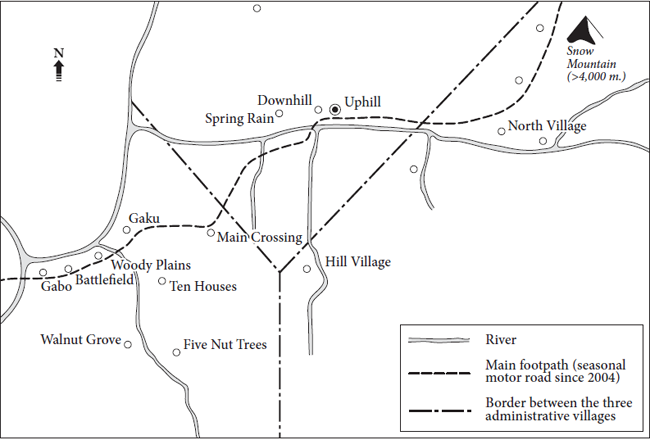 In addition to agriculture, people depend on animal husbandry for their livelihoods. Almost all households keep one or two oxen for plowing and threshing as well as pigs, goats, and chickens. Many households also keep a few mules or horses for transportation of goods and people. Variations in the number of animals depend mostly on the number of people in the household. A state-run yak breeding station (guoying muchang) employs some of the local people and provides families with daily necessities such as the yak butter they use in large amounts for making butter tea (P: modyè).
After de-collectivization in 1982, individual households received the rights to use collectively owned land. Under the "household responsibility system" (jiating lianchan chengbao zerenzhi), land in Bustling Township was allocated according to a ratio of 1.1–1.3 square mu per person in a household, with the quality of land and the micro-climatic conditions determining the difference. In higher areas, people needed more farmland because of harsher climatic conditions, while in some of the lower valleys, including in Uphill and Downhill, yields per mu were higher, and households in these areas did not need as much land.2 As elsewhere in China, the rural collectives (mostly the villages) remained the nominal owners of the land, and land could therefore be neither sold nor bought. Households were given only the right to use it and initially had no formal contracts substantiating their rights. The local government or Party could readjust the size of household lands when people died or when households increased in size. Since the enactment of the Land Management Law of 1986 (subsequently revised several times), households have been able to sign formal contracts with the rural collectives, allowing them to lease the land for thirty years and creating a more stable situation for households that depended mainly on agriculture.
Under normal climatic conditions, people in Bustling Township manage to produce enough food for subsistence, and 1998 was the last year the township received special funds for the "alleviation of poverty" (fupin).3 Nevertheless, there is little left over for selling or bartering. Moreover, of this surplus, only a few products can be transported conveniently on people's backs or on mules to the nearest market town, at least two days' journey away. Depending on the number of family members of working age, a household in Bustling Township typically generates between ¥2,000 to ¥5,000 a year, mainly by selling chili peppers at the market and also occasionally selling a mule or a horse. Another possible source of income is the collection and sale of Chinese medicinal plants. In 2003, one kilo of songrong—a pine mushroom used in Chinese medicine and known in the West under its Japanese name, matsutake—could be sold for ¥200 at the market in Yongning (P: Lingwu). The well-known Tibetan medicinal plant yartsa gunbu, or caterpillar fungus, is known locally as nadzawènwu and is used in Bustling Township as a general-purpose medicine and tonic.4 One small fungus of about five centimeters can bring in ¥10 at this same market.5 Since nadzawènwu is found higher up in the mountains, collection is a time-consuming job, and although the possibility of a lucky find keeps people looking for the fungi, sales do not generate substantial income for the township. Fungus harvesters usually spend part of the extra income on rice, yak butter, clothes, and a few other necessities and save the rest in case they have to pay for medicine, visit the hospital, or suffer bad harvests.
Although some rural areas in the richer coastal provinces began experimenting with limited medical insurance schemes in 2004, no such programs were available in Bustling Township. The impoverished township government also had no funds to set aside for welfare assistance. As a consequence, serious illness or chronic disease could quickly ruin a household and put a strain on families related to the household. My host family in Walnut Grove had to pay a hospital bill of ¥5,000 when their daughter had an operation for kidney stones. This not only drained their savings but also tapped the savings of many closely related kin. One family in Walnut Grove, whose head of household had a chronic disease, spent between ¥200 and ¥300 on medicine each year. This family was already one of the poorest in the village because one of the household's main wage earners could not work at full capacity. Their yearly income from selling products at the market did not exceed ¥800. When the margins for subsistence are that narrow, a little adversity can push many families into dire straits for a long time. The weather may wreak havoc, as when a landslide in 1998 washed away more than fifteen mu of good agricultural land and several families lost their major source of subsistence. Many of the ritual practices of the Premi in Bustling Township are directly related to controlling those forces deemed responsible for disease and the weather.
There is a limited local economy in which people sell or barter some of the surplus of home production, such as arje, locally distilled spirits. In general there is very little artisanal specialization, except for wood carving, some aspects of house building, and smithery. In Walnut Grove, there were four men who had special skills in woodworking and four in smith-ery, but they were first and foremost farmers and did not make a living from their crafts. The women in each family weave the traditional cloth that is still used in men's and women's clothing on the house-loom, which is found in every household. They make smaller items such as belts on a small foot-driven loom. A few people turn their craft into a business, albeit on a very modest scale. One of them, Adzarra, the "village head" (cunzhang) of Walnut Grove, made Tibetan-style knives using deer bone and yak horn. He made an average of ¥600 a year selling them to the local villagers, but even after adding his yearly wages of ¥150 as village head, his family still depended primarily on the products of their fields and animals for survival. The story of how he learned his craft does not indicate a tradition of inherited trades and crafts, as in villages in nearby Tibetan areas: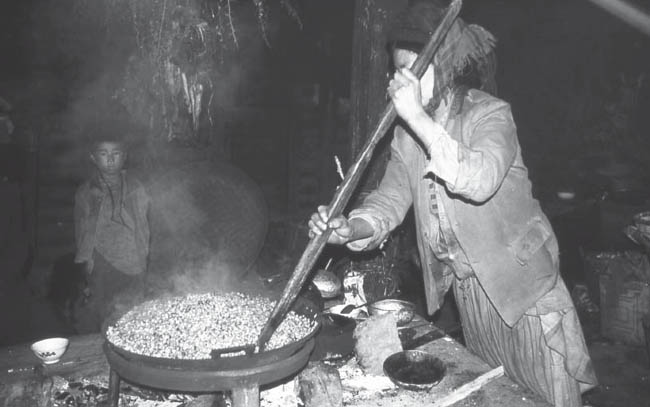 When I was young, my father came home one day from Shuiluo [an area in the east of Muli with several villagers inhabited by Gami, or Kham Tibetans] with a Tibetan knife. He was very happy with his knife, and tragedy struck the family the day his knife broke. My brothers and I tried to repair the knife, and finally we developed a technique and were able to make other knives as well. Now I sell some knives to people on demand. The small ones cost ¥30, the large ones ¥100. I can make around ¥600 a year. Actually, I have now taught the trade to somebody else in the village as well.
A friendly and self-effacing middle-aged man, Adzarra just laughed at my suggestion that he could try to start selling his knives at the nearby market town: "No, no, I am too old for that!"
The township included a number of younger people who had spent some years in other places such as the district- or county-town. Some were former students who had not passed the examination for higher secondary education. Others had worked in the logging industry or had jobs indirectly related to logging, for example, in transportation or road construction. All told, more then one hundred people from the township had worked outside Bustling Township in logging-related jobs, generating a yearly total income of ¥400,000. After the general ban on logging enacted by the Natural Forest Protection Program (Tianranlin Baohu Gongcheng), or Tianbao, in 1998, only a few of those people managed to find new jobs, mostly in reforestation projects funded by the county.6 The township government initiated a few projects for returnees, such as collecting and selling forest products and making small agricultural tools. For many people, the Tianbao policy not only had a devastating effect on their economic situation but also severely limited their prospects for establishing a life outside of agriculture. One of the returnees was a young man who lived in the house next to our government building in Uphill. He regularly came over to talk to me and my assistant, and we discussed issues relating to international politics or social issues in China and abroad. He had been working at a "state-run logging company" (guoying linchang) for several years and had finally saved enough money to buy his own truck. The end of logging made his prospects as a truck driver rather bleak, so he had abandoned the project and returned to Uphill, resigning himself to life as a farmer. He did not conceal from us his unhappiness with his lack of choices.
It is among people who have some outside experience and hope to make a living by doing something other than farming that the new entrepreneurs are to be found. There are perhaps not more than a few dozen such people in the township, and many of them live near the township government buildings. At the beginning of the new millennium, in Uphill, Downhill, and Walnut Grove, six families had obtained videocassette recorders (VCRs) that they operated with generators or very small water-driven power stations that produced just enough electricity to power the machines. For one or two mao, all members of one family could come and watch prerecorded TV programs or movies. This was clearly the highest price people were willing to pay, and the owners of the VCRs admitted that it would take a long time to earn back their investments. The smallest power station alone cost ¥3,000, and the generator-operated VCRs required expensive gasoline that had to be carried in by mule. Resigned to the tough laws of the marketplace, these enterprising families continued to run their business, viewing it as a service to the community rather than focusing on profit. One VCR owner explained to me that he liked having many people in his home. In villages without general access to electricity, books, or newspapers, and with few occasions to socialize beyond the family network, these video gatherings were especially valued by the younger people. After weeks without television, restaurants, telephone communications, or new things to read, my assistants and I easily empathized with young government cadres or returnees from the district- or county-town who would gather regularly to watch videos, drink beer, play cards, and complain that there was nothing else to do in Bustling Township.
The presence of the township government and the boarding school at Downhill and Uphill also created prospects for generating small amounts of additional income by meeting the needs of government employees, schoolchildren, and teachers. People came to take care of errands at the township government building, such as paying taxes, participating in official meetings, or obtaining official documents or certificates, and circulating officials from the district or county governments also visited. There were no fewer than seven "small shops" (xiaomaibu) next to one another in front of the government building. Several had been made by simply cutting a hole in the wall of a house along the path between the village and the government building and putting up a rack with two or three shelves behind it. The seller would sit inside, and buyers did not enter the house but made their purchases through the hole. All the shops offered approximately the same limited assortment of items: two kinds of cigarettes, one kind of beer, one kind of fizzy drink, candles, batteries, candy, and soap. But with supplies being brought in by mule from the market town on an irregular basis, more often than not many items within this limited assortment were sold out. In Uphill, where only a few families had electricity, it had once been impossible to buy candles for several weeks. None of those shops could support a family in the long run and are considered a source of extra income for a family, typically bringing in between ¥1000 and ¥1500 annually. Three of the shops are operated by old men who are unable to work in the field; the other four are run by young people. Two of those four had invested the money they had earned by working outside Bustling Township to buy their first stock, hoping they would sell enough to stay in business. The other two are young, unmarried women who work in the shops owned by their families. Both women had studied at the junior middle school in the district-town and had convinced their families to invest in a shop so that they could make enough money to avoid the fate of becoming a farmer.
Another brick building stands next to the government building, both in a similar state of disrepair. This used to be the state-run shop, and it houses several rooms that surround a courtyard. After the state shop closed sometime in the early 1990s, a farmer in Uphill leased the building from the government, intending to rent out rooms to temporary residents or the occasional traveler. During my stay in Uphill in 1999, his only customers were a teacher employed at the boarding school and a young woman who ran a little private health service. A young returnee also used a room for showing video films. All the other rooms were empty, and the whole place was in a terribly run-down state, with countless holes in the roof and a courtyard full of litter and empty beer bottles. The building stood as the sad embodiment of one more failed attempt at setting up a nonagricultural business in the township.
According to statistics compiled by the township government, 1,700 people in the township work in agriculture, but only 71 are employed in other sectors. These are mostly people working in the administration, the schools, and in the small shops. More than half of them live in Uphill.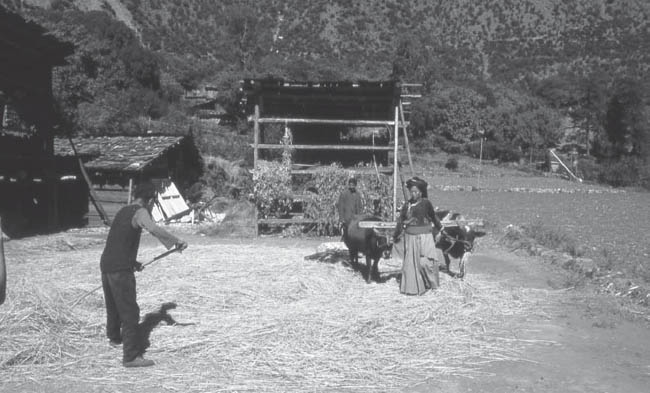 In 2001, the government built a motor road connecting Bustling Township to the district-town of Wachang and to Yongning in Yunnan. The road is unpaved and impossible to drive on when it rains. The cost of ¥26 per meter was financed with funds given to the county as part of the Opening Up the Western Regions policy. Although the main construction team consisted of Han from outside, two hundred local people were employed on temporary contracts, so-called mingong, and as such the construction of the road provided a temporary source of income for people from Bustling Township. The road passes through the township and village of Uphill, but many of the villages higher up in the mountains are still a long walk away from the road; it takes one and a half hours to reach it from Walnut Grove. Three years later, in 2004, only a handful of people had acquired motorcycles, and only one family in the whole township had scraped together ¥10,000 to buy a well-used Beijing Jeep. Because of the rough terrain, the unpaved road, and the large detour it makes, it takes a whole day to reach Yongning and a very long day to reach Wachang. This is only slightly faster than the traditional horse and mule transport, which remains the major form of transportation. Since people are not willing to pay enough for renting his car, the owner of the Beijing Jeep does most of his driving in and around the district-town of Wachang and only occasionally takes the long road to Bustling Township. As with many of the projects financed by the central government, the local government must pay for maintenance and incessant repairs to the road. In view of the generally bad condition of roads in Muli, Bustling Township is not a high priority, and local volunteers often make repairs to the final stretch of road to Bustling Township.
By 2004, it was not clear whether the road had brought benefits to Bustling Township, although it nevertheless represents the means for developing contacts with the outside. One of the more unexpected results was an influx of several hundred poor migrant workers from Guangxi who had come to tap the pine trees for resin.7 The workers live in temporary encampments in the woods—sometimes with their families—and buy a portion of their food and other supplies from the local population in Bustling Township. The company that collects the resin does not hire local workers, but these purchases provide families close to the encampments a welcome opportunity to sell some of their surplus, and in this way, the new road has brought some economic benefits.
POPULATION AND ETHNIC RELATIONS
The twenty-odd "natural villages" (zirancun) are organized into a number of "village groups" (cunminzu) and are then further grouped into three "administrative villages" (xingzhengcun or cunweihui). Following the official PRC categorization of minzu,8 60 percent of the approximately three thousand inhabitants of Bustling Township are classified as Zangzu, or Tibetan minzu; the second-largest group is the Mengguzu, or Mongol minzu;9 the third-largest is the Naxizu; and the Hanzu, or Han, is the smallest. In terms of local categories, using local ethnonyms in the language of the ethnic group, these official labels are unproblematic in the case of the Han and the Zangzu. The Han are called "Hsyè" by the Premi. The Zangzu correspond to "Premi" or "Ch'ruame" ("Ch'ruame" is the term used in Uphill and Downhill, but people there and in the rest of the township agree that it is just a dialectal pronunciation of "Premi"). The official minzu label of "Naxizu" corresponds to the people who call themselves "Nahin" in Bustling Township, and they are culturally closely related to the Naxi of Yunnan. The label of "Mengguzu" is a bit more problematic. Many of those classified as Mengguzu in Sichuan are people who call themselves "Na" or "Naze." In Yunnan, where most of the Na live in the area of Yongning, they have been lumped together with the Naxizu.10 A small group of about fifteen families in Bustling Township are Na people who migrated from Yongning to the area in the neighborhood of Walnut Grove eleven generations ago. The other Mengguzu are more closely related to the Naxi and call themselves "Rek'ua."11 The close connection with the Naxi is clear in their language and religious practice. The Rek'ua in Bustling Township also have dtô-mbà religious specialists who use pictographic texts in their rituals.12 Most Na in Bustling Township have either integrated their religious practice with the Rek'ua or use anji ritual specialists from the village of Walnut Grove.
The most general term used by the Premi in many areas to designate Na, Naxi, and Rek'ua is "Nyè-me" (Black People), which is in contrast to the autonym "Pre-mi" (White People). Such is the case in the northern villages, where people do not differentiate between—or are not even aware of—different subcategories of Nyè-me. In Walnut Grove, in contrast, distinctions are made. Here, the term "Nyè-me" is reserved for the Rek'ua; these people are also sometimes designated by their own ethnonym "Rek'ua," while the Na from Yongning are called "Lihèn." The Naxi of Bustling Township call the Na "K'uma." Na, Rek'ua, and Naxi use the word "Be" or "Bo" for the Premi.
The township can be roughly divided into three regions (see map 2). The northern villages, situated in the highest region, are inhabited entirely by Premi. The villages in the central region are also mainly Premi villages (some of the in-married women are Na or Rek'ua). This is also where the twin villages of Uphill and Downhill, and the seat of the township government, are situated. The southern villages are ethnically much more complex and comprise Rek'ua, Naxi, Han, and Premi villages, all in relative proximity to one another. One village, Ten Houses, is ethnically mixed and inhabited by Premi, Na, and four Han families. Two of the Han families are there because Han were sent to the village as cadres and teachers during the Democratic Reforms period of the 1950s. Walnut Grove is also one of the southern villages. These three regions are separated from one another by geographical obstacles, be they distance, steep mountains, or deep river gorges. The divisions correspond to the three administrative villages and are also reflected in patterns of social interaction such as marriages. None of the wives in Walnut Grove, for example, came from Uphill or Downhill. The Premi of the central and northern villages, who call themselves "Ch'ruame," speak a dialect that is quite distinct from the ones spoken by those living in the southern villages. They held that their pronunciation, which is more nasalized and has a significant number of Tibetan loanwords, is more "pure" and not as influenced by the languages of other ethnic groups as compared to the pronunciation of the Premi from the southern villages. These differences do not create problems of mutual understanding within the township but testify to the relative isolation of the two microregions and to a different history of settlement.
While historical notions of migration and village establishment are rather vague in Uphill and Downhill, the Premi of the southern village of Walnut Grove know the history of their village. According to Mesé Galon, the Party secretary of Ten Houses, to which Walnut Grove belongs:
Walnut Grove was established only six generations ago when Yandran Yishi, an anji from the Mesé clan, arrived with his wife and son from Yunnan at this sloping mountainside above the Naxi village of Battleground. The original inhabitants [of what would become Walnut Grove] had been wiped out by disease, and since more or less level land was scarce, it was a good place to build a house. The son married two wives: a Naxi woman from Battleground and a Premi woman from Ten Villages [also within close walking distance]. One of his daughters married a Naxi from Battleground who moved to Walnut Grove and built the first house of the Ak'ua clan. In the next generation, another Naxi man started neolocal residence in the village, marrying a Mesé girl, and this became the third of the three clans of Walnut Grove, the Bot'a clan.
Ethnic identity is largely defined and upheld through residence in separate villages and through notions of common patrilineal descent. In Bustling Township, there is extensive intermarriage between Na, Rek'ua, Naxi, and Premi. Ethnic categories are not of much consequence in daily life, and cultural differences are limited largely to language and ritual practice. People consistently downplayed cultural differences among these four categories, and although three of the four groups speak their own language, people also usually speak the language of the other groups. When Na or Rek'ua women marry into a Premi household, they start speaking Premi and vice versa. In view of the large number of such mixed marriages, the assertion that the Premi language spoken in the southern villages is less pure than that spoken in the northern villages may have some truth to it. During the fieldwork for this project, we often heard it said that there are some differences in the style of the women's traditional clothing or hairdo, and that the Na women usually wear larger earrings. Nevertheless, several times, people made mistakes when guessing whether an approaching woman was Na, Rek'ua, Premi, or Naxi. Linguistic differences are only the most obvious sign that three of these four groups were culturally more differentiated in the past. It seems that Premi are longtime inhabitants of the central and northern regions, but in the southern region, not only Premi but also Na and Naxi have histories of relatively recent migration. Although the ritual practice has some remarkable similarities, there are also obvious differences, the most prominent being the active dtô-mbà religious specialists of the Naxi and the use of pictographic texts by the Rek'ua. The Na invite both dtôm-bà and anji ritualists.
The village of Woody Plains is also situated in the southern region. It is inhabited by twenty-five Han families. Woody Plains was founded five generations ago by Han migrating from Yunnan, and today it counts five different family names. At first glance, the village does not look much different from other neighboring villages. A slightly closer look suggests that this may be a wealthier place. People are dressed a little bit better, children seem healthier, many houses have glass windows and concrete floors, and some families share a small power station that provides enough energy to power a few lightbulbs and a television set with satellite dish. The village boasts a couple of mechanized plows and a mechanized threshing machine. An even closer look reveals a markedly higher rate of school attendance and a higher level of education. But why would a village of Han farmers be wealthier than its close non-Han neighbors? The Han were not given more land in 1981, and before that, they had been as poor as any of the other villagers. The answer to this question can be found by mapping out some of the family networks in Woody Plains.
Zhang Wenming was nearing his thirties in 1999. Both his parents were from Woody Plains, but his family had migrated from a small village in Yunnan four generations ago. They still had relatives in Yunnan and kept in contact. He was the only one of the four children who had stayed at home, and he was gradually taking over all farming activities from his father. Both his parents spent most of their time in Uphill, where the family owned a shop. Besides running the shop with the help of their younger, unmarried daughter, they also provided banking services in Uphill. Zhang Wenming's older sister was married and lived in a neighboring township, and his older brother had settled down in the market town of Yongning where he was making a living by trading. Zhang Wenming's wife came from a village in Yunnan, which was close enough that they were able to maintain regular contact. They had a small boy of five months and a girl of six who stayed with her grandparents in Uphill in order to attend the township school. Although there was a school in the neighboring village that provided classes up through the second grade, the township school was thought to provide better education.
This family is no exception in Woody Plains. Many more households have family members working outside, most of them in market towns or administrative centers. Several other families have marriage relations with Han families far beyond the borders of the township. Such networks were established by maintaining family ties with the place where these families had migrated from and through further expansion of these links. Networks are instrumental in finding jobs outside the township, but language skills and a certain educational level are even more useful. Being Han and speaking Chinese are significant assets, even in areas with a majority non-Han population. In the small district-towns and market towns in multiethnic areas, Chinese serves as a lingua franca, especially when none of the many linguistic groups dominates either socially or numerically.13 Han children do not start school with the handicap of not knowing the language of education, and their rate of participation in secondary education is considerably higher. Outside income has created possibilities for investment in better agricultural production methods. Wide networks also provide better access to goods, and it was no coincidence that the shop with the most extensive assortment of products, lowest prices, and most consistent availability of goods in Uphill is run by Han, the Zhang grandparents. Zhang Wenming's brother who was working in the market town provided steady access to better and cheaper products. The Zhangs' shop is the only one in Uphill not run by local Premi, and a certain anti-Han sentiment among their potential customers is probably the sole reason that it does not completely overshadow the other shops.
There is a clear ethnic divide between the Na, Rek'ua, Naxi, and Premi on the one side and the Han on the other. Although the Han have been living in Bustling Township for at least five generations, there is not one mixed marriage between Han from Woody Plains and non-Han. Nevertheless, people in Bustling Township insist that relations between Han and non-Han are cordial and that there are many cases of friendship between the two "groups." Local Han are also fluent in at least one of the other local languages. Zhang Wenming stated that people from the neighboring Rek'ua village often came to watch TV in his specially built TV room. The one night I stayed at his place and watched TV, however, all of the twenty or so visitors were Han from Woody Plains. But there are more serious signs that relations between Woody Plains and the surrounding villages are not as smooth as people described. On a visit to the village in the company of the local police officer, Zhang told us that people from the neighboring Rek'ua village had been throwing stones at his house that afternoon. This appears to be only one small incident in a long line of conflicts between people in Woody Plains and those in the neighboring Rek'ua and Premi villages. Some of these conflicts involved real mob violence. On several occasions, there had been raids by large crowds, sometimes more than a hundred people from the neighboring villages. During such raids, people went from house to house and took whatever they could carry, including clothes and animals. On other occasions, groups of Premi and Rek'ua had surrounded several houses, one of which was Zhang's, and thrown stones until they were given some money.
Although nobody had ever been seriously hurt in such incidents, the Han villagers complained that they did not dare to travel alone anymore through the neighboring villages. Other Woody Plains villagers agreed with Zhang's assessment that all of this had started around the late 1980s and was caused by the ever widening economic gap between the Han village and its neighbors; before the privatization of agricultural production, everybody had been equally poor. Through their networks and by being part of the dominant culture in China, Han villagers are clearly in a better position to profit from economic liberalization. The other ethnic groups are left with many fewer opportunities to compensate for the loss of jobs directly or indirectly related to the timber business.14 At the same time, they see a steadily deteriorating level of state support, epitomized by the disappearance of free health care. Furthermore, the persistence of endogamy among the Han and non-Han communities in Bustling Township provides fertile ground for establishing a clear ethnic divide. That exogamy can cement peaceful relationships between different communities is a point made by Tylor more than hundred years ago (cited in Holy 1996: 124).
BUSTLING TOWNSHIP AND THE CHINESE POLITY
There can be no doubt that Bustling Township has been firmly integrated into the Chinese Communist state. In the village of Uphill, several brick buildings with white plastered walls stand out from the traditional log houses characteristic of this part of Southwest China. These buildings house the institutions the Chinese state has brought to one of its more marginal corners: the township government building, the state shop, the medical dispensary, and the township's full primary school. The buildings themselves could be viewed as highly visual symbols of Bustling Township's relationship to the Chinese state. They constitute a dominating presence in the landscape of Uphill, as a result of their rather disproportionate scale and the alien character of their architecture. At the same time, one is struck by their dilapidated state: only a few window panes have glass in them, the roofs are marred by missing or broken tiles, and the courtyards of several buildings are littered with broken beer bottles and other garbage. One might be tempted to extend the use of visual symbolism and see the sad condition of the buildings as a telltale sign of the retraction and consequent diminished prestige of the Party and the state in post-Mao China.
A "township" (xiang) is the lowest administrative level in China at which a complete set of government and Party functions is normally present. It is also the point of contact between the top-down system of administration of the Chinese state and the grass roots. It is through the cadres of the township government, the township Party leaders, and the township schoolteachers that the villagers are confronted with a personification of the Chinese state, which they refer to simply as guojia (country, nation, state). In Bustling Township, the local government and Party administration consists of fourteen people. As in other townships in China, at the top of the hierarchy stand a Party secretary and a vice-secretary, a township leader and a vice-leader. The township government counts an additional fifteen administrative posts at the central level, but this quota of "authorized personnel" (bianzhi)15 was never filled in the period 1999–2004. In 1999, only ten of the fifteen posts were filled, and in 2004, this number had fallen to six. All these cadres lived and worked at the township government building, a two-story structure with single rooms facing a courtyard. During the day, these rooms served as offices, and at night they were the sleeping quarters of the government employees. Cooking and eating took place in a separate building consisting of a row of tiny kitchens, each with its own fireplace. Three to four people shared a kitchen. Such a kitchen group also shared the tasks of buying rice, cutting firewood, and providing vegetables from the common plot of land belonging to the township administration. Overall, the people working at the government building were surprisingly isolated from the people in the village. Most interactions related to the work of administration, and there was little socializing between the two groups.
Some years ago, a small power station had provided electricity for the government building and the other state-owned buildings. Electricity was but a faint memory after the power station broke down and the county government did not have it repaired. The same sad story applied to the telephone connection: until several years ago, it was possible to make phone calls from the government building to the outside world. But when the telephone line—which stretched over tens of kilometers of formidable terrain, crossing deep gorges and steep mountains—was cut a few years ago, no money was available to make the necessary repairs, and the line continued to deteriorate. During my stay at the township government building, a radio powered by a small generator enabled communication with the outside world. Every morning at nine o'clock, a short report was broadcast to the district-town and information or instructions were received. Bad connections and recurring defects with the radio or generator made this an unreliable means of communication, but in addition to facilitating official business, it gave the people of the township a way of exchanging important information with relatives in the district-town, such as when someone in the family had become seriously ill or died.
The employees working and living in the government building came from all over Muli County, but mostly from within the district in which Bustling Township was situated. These cadres rotated between different administrative positions within Muli County and usually did not stay longer than the minimum three-year term. Except for the one employee who was responsible for providing practical assistance to the local administration, such as arranging for transport, none of these cadres was from Bustling Township. The policy of filling positions in local governments with people from outside the administered area and rotating them after the standard three-year term, or lunhuan, is the default over most areas in China. Several recent studies have pointed out that the job-rotation system, far from being on the decline, has been strengthened in recent years, enabling the center to maintain control over the lower levels of government and Party (Edin 2003; Pieke 2004). Holders of a "top position" (lingdao ganbu) at one level of the government or Party often hold another position at a higher level. In combination with the rotation policy, this means that, for example, a township cadre will be more loyal to the district or county than to the township (Edin 2003: 42, 47). While this policy may at first have been upheld in recent years as a means of countering corruption, it has also functioned as a very effective way to avoid empowering local communities. It is not entirely clear whether this is a conscious policy in Muli. In his study of the Lianmu Menggu in Shuiluo Township, also in Muli, Roland Naef wrote that seven of the local men worked as "Kader der chinesischen Partei" (cadres belonging to the CCP) and get regular wages from the state, which could indicate that they work for the local township government or the Party (1998: 88), although Naef does not specify further. It is also possible that things have changed since he collected his data in 1996 and that the situation in Bustling Township was more in line with official policy in the late 1990s compared to the situation in Shuiluo as described by Naef.
When government employees at the prefectural level were asked specifically about the policy of job rotation and filling township-level positions with people from outside the township, they replied that only the positions of Party chairman, township leader, and head of police had to be filled by people from outside the township.
In any case, the fact that most cadres in Bustling Township came from outside the township and only stayed there a short time has had serious drawbacks for the local people. People from outside Bustling Township often have a very limited understanding of local conditions and cultural practices. In 1999, only two of the fourteen cadres were Premi and two were Na, but none were from the township. The "township head" (xiangzhang) was a Premi from the neighboring township, and the vice-head was a Na.16 The rest of the cadres did not speak any of the local languages and most of them were not really interested in understanding local customs such as marriage patterns, clan relations, or religious beliefs. Some of the things the villagers told me were unknown to the township government workers who accompanied me on my interviews.
Moreover, the uncomfortable working and living conditions for government employees, even in the context of an already poor and underdeveloped county such as Muli, make Bustling Township a hardship post, and consequently, young men make up the majority of workers assigned to this township. Although it is possible to prolong one's assignment beyond the three-year minimum term, most seek a transfer as soon as their terms are up. Most cadres know at the start of their stay in Bustling Township that they intend to seek a job at a higher level of the administration that will involve transfer to the district- or county-town or to a township closer to their hometowns. Consequently, they usually are not interested in obtaining a deeper understanding of the place or learning any of the local languages. This cultural divide only strengthens local perceptions of the Chinese state and its representatives as agents of outside interference and control.
At first sight, it is not immediately obvious how the local government exercises its political power. One of its major tasks seems to be to fill a symbolic role similar to the buildings in which it is housed: in other words, to constitute a visual sign that Bustling Township is part of the Chinese state. Most of the routine activities are related to registering and monitoring all kinds of data: detailed figures of agricultural production and land use, number of births, income generated outside agriculture, and the like. During my stay in Bustling Township in 2000, all government employees were busy organizing and carrying out China's fifth population census. Another major occupation consisted of calling meetings in the villages once in a while in order to stress the importance of fire prevention, forest protection, birth control, hygiene, and children's school attendance. I participated in several such meetings, and in view of their ritualistic and uninspired nature, it is hard to see any but a symbolic reason for the meetings, to remind the local villagers that they are part of the People's Republic of China.
But several other modes of governance are clearly more than symbolic. The direct power of the administration becomes more apparent in its authority to issue permits and licenses, such as marriage certificates or permits to cut down trees or build or repair houses, which interferes with the villagers' social life and livelihoods in very concrete ways. Furthermore, the township government issues fines in cases of, for example, breaching the quota of three children per couple or illegally felling trees.
At the time of my visit, the most powerful person in Bustling Township was Secretary Vugo. He was a Nuosu in his late thirties and originally from the neighboring township, where a considerable part of the population was Nuosu and where his family was living. Besides being the township Party secretary, Secretary Vugo was concurrently filling the post of "chairman of the township National People's Congress (Renmin Dabiao Dahui)" (Ren Da zhuxi). As Party leader, he decided at any time what was the correct policy; consequently, no major decision concerning the township was made without his consent. Secretary Vugo mediated and propagated new policies and regulations from the higher Party and government levels to the people in the administration, the school, and the village. At several long meetings with villagers, government employees, or teachers at the township school, the Party secretary read aloud documents containing new policies formulated at the county level. At the same time, as chairman of the local National People's Congress, Secretary Vugo had a final say in local legislation, that is, the rules set by the villagers for local issues, in controlling the working of the government and approving candidates for the positions of, among other things, township head. Government employees solicited his opinion on all major issues, and he mediated conflicts between villagers or between villagers and the government.
In general, throughout my stays, which totaled almost half a year, I witnessed relatively little direct intervention by government bureaucrats in Uphill in the lives of the people of the township and even less in communities farther away from Uphill, such as Walnut Grove. Although people's lives were clearly affected by the policies of the Chinese Communist state, the lowest levels of its representatives meddled surprisingly little in village affairs. Many concrete issues were decided at the village level, either by the village head or at ad hoc meetings of village elders. Most conflicts were also solved at this level. Only very few conflicts or criminal acts had to be brought to higher levels. There was very little crime in Bustling Township, and most were minor cases of fighting related to alcohol abuse. One of the very few serious cases involved a native of Walnut Grove who had a career as a thief outside the township and was imprisoned in Xichang, the prefectural capital.
Once every month, a traveling district judge and his assistant arrived in Uphill. They toured continuously between the outlying townships of the district, on horseback and visibly armed. They stayed one or two days in the government building in order to settle unresolved conflicts and decide whether criminal cases needed to be taken to court. But such cases were rare, and during the three visits I observed, the judge had to settle only one conflict, which had started when two young men from a village close to Uphill got into a brawl after drinking heavily. Although heavy drinking among young men and the occasional fistfight were recurring problems in the township, they seldom escalated. But in this case, the parties involved had simply refused to budge, and in the end, the traveling judge had to broker a settlement.
The villagers most directly encounter state-imposed restraints in areas related to land use. They are not permitted to log additional forest areas, and people have been compelled to reforest some of the fields on the steeper slopes in order to counter erosion, reducing the amount of arable land. While geographical conditions already excluded most of the surface of Bustling Township from cultivation, the rigorous implementation of land use regulation in relation to marginal lands and forests provides a latent source of friction between the villagers and the township cadres. I learned that one small stretch of steep land at the edge of Downhill had been at the center of many heated debates between the cadres and the villagers, and that it had taken several meetings before the villagers agreed not to cultivate maize there but to plant fruit trees instead. Several times when I passed by the orchard with one of the local cadres, they pointed out the place as one of their more important achievements in educating the villagers in scientific land use.
In 2003, the Tuigeng Huanlin (Return Farmland to Forest) campaign reached Bustling Township, and the county government offered incentives for planting chestnut trees, peach trees, or Sichuan pepper. This campaign started in 1999 across Southwest China, and, like the Tianbao campaign, which banned logging, was a result of the 1998 flooding of the Yangzi. It targeted the mountainous areas of the upper Yangzi and Yellow Rivers, specifically, cultivated land on slopes of twenty-five degrees or more.17 In Bustling Township, the government was to provide the trees and compensation for loss of income for a period of five to eight years, depending on the kind of tree planted. Because large tracts of denuded but uncultivated land were available on the mountain slopes, the rationale behind this policy was poorly understood by the villagers, and people were worried about whether compensation would be paid in full and what would happen after five or eight years.18
At the same time, the strictly enforced rules on tree felling have created a veritable bottleneck for families who want to split their households and build new houses or expand their old ones. Yearly quotas for the number of trees to be felled are distributed from the county level down to the township and village levels. If a village has filled its yearly quota, it must wait until the following year to build. This is one of the main sources of tension between villagers and the Chinese state, especially because a real building boom has been taking place since the late 1990s (created partly by the need to make room for laid-off forestry workers and their families). For several years, township authorities tried to compensate for local conditions by taking a less restrictive attitude toward the felling of trees for house construction and repair. But in 2003, inspection teams from the provincial forestry department began to show up unexpectedly and fined people for chopping down trees without proper authorization. One family in North Village was fined ¥1,000 for felling a couple of trees to add a room to their house. Such bypassing of local authorities—and especially the size of the fines—caused consternation among the villagers and was a major topic of discussion during my visit in 2004.
Limited possibilities for expanding arable land can put a severe strain on growing families, especially when a son moves out of the parental home and needs a piece of land on which to support his own family. One traditional solution to such problems is the practice of adelphic polyandry (see also chapter 3). When two or more brothers marry one wife, and as such establish only one family, the land does not have to be divided. Polygamy, be it polyandry or polygyny, is officially forbidden in China, but in those ethnic minority areas where it has been widespread, the local authorities tolerate it to some degree and hope that intense propagation of marriage laws will gradually eliminate the practice.19
On the one hand, the practice of polyandry, and, to a lesser extent, polygyny, is clearly an issue with which the township government prefers not to interfere too much. On the other hand, local government officials are aware that it is forbidden and therefore downplayed its prevalence in the township when discussing these issues with me. The numbers of such marriages do not figure in official township statistics, and the few cases of polyandry in Uphill and Downhill were presented as holdovers from the old days. Nevertheless, at the level of the administrative village, the picture looks quite different. In the administrative village in which Walnut Grove is situated, the local Party secretary told me that of the 191 non-Han families in this area, 51 (or 26.7 percent) were polyandrous families: such marriages were very common and even a highly preferred form of marriage. In this case, the township government mediates between state policies and local customs. On the one hand, the government acts out its part in proclaiming marriage laws to the villagers, while, on the other hand, officials do not interfere with local practices and such marriages are generally registered by declaring only one of the brothers as the legal husband.
The same pragmatic attitude has prevailed in the case of birth control. Ethnic minorities are allowed three children, while the Han in the township are permitted only two. The government cadre responsible for birth control travels constantly to the villages to try to convince people to follow these quotas. He is also responsible for explaining and propagating birth control methods, a daunting task for a young, single man, but has not been particularly successful, and besides monitoring a birth rate that far exceeds the official limit, he also enforces the fines levied on above-quota births. Patrilineal inheritance means that it is still highly desirable for a family to have at least one boy, and therefore people kept trying to have a male heir even if the house is filled with girls. Of the forty-four families in Walnut Grove, there were eleven with at least four children; of those, four had four girls. Until 2003, the fine of ¥1,000 was considered stiff but obviously was not insurmountable, as testified by the unrestrained attempts to have boys.
However, starting in 2003, directives from the provincial authorities began to be strictly enforced, incorporating fines of at least ¥14,000. Villagers agreed that this would have the desired effect, because nobody in the township could ever afford such an amount. Township cadres vehemently denied that women were offered inducements to be sterilized. Although I did not pursue the matter through specific questioning, I came across no data that contradicted their claim. Sterilization campaigns have been conducted in many poor ethnic minority areas in Southwest China, and it is often one of the issues that create friction between the local community and the Chinese state. In Mueggler's study of an impoverished Lòlop'ò community in Yunnan, his account of the painful relationship between the local community and the intruding Chinese state begins with a description of a merciless campaign of forced sterilization of women under the age of forty (2001: 24).
Below the level of the township government and Party cadres, as elsewhere in China, there is the level of the "villagers' committees" (cunmin weiyuanhui), also called "administrative villages." This level includes a Party secretary, a vice-secretary, a village head, a vice-head, a militia leader, the chairperson of China's Women's Association, and a few minor officials, all appointed by the township government.20 Top posts at this level provide a monthly salary of ¥30. Below this level is the level of the "villagers' small groups" (cunmin xiaozu). In Bustling Township, this level corresponds to the level of the natural village, except for two of these small groups, one that consists of two separate villages (the twin villages of Uphill and Downhill, fifteen minutes' walking distance from each other) and one that comprises three. These are collective units, meaning that the villagers choose the "group leaders" (zuzhang), who receive a mere ¥150 a year. Both these levels are staffed with local people and act mainly as facilitators between the township government and the villagers.21 They perform tasks of registration related to income, agricultural production, and population; call meetings of villagers when requested by the township cadres; and explain some of the government's policies to the villagers, mainly in the areas of land use and agricultural practice. But these officials also wield more substantial power through their role in advising the township government on land use issues, as when a family has no heir and the land must be redistributed. Unlike many other areas of China, in Bustling Township, there were no regular rounds of general land redistribution.
BECOMING SOCIALIZED AS CITIZENS OF THE PEOPLE'S REPUBLIC
Many of the inhabitants of Bustling Township first encounter an embodiment of the Chinese state in the official state school, either in the form of one of the twelve "local village schools" (jiaoxue dian or cunxiao) or the "full primary school" (zhongxin wanquan xiaoxue) in Uphill. The village schools offer only the first two grades. Teachers at these village schools were almost all locals, and most taught in one of the local languages. After these two grades, the children could continue their education up to the sixth grade at the full primary school in Uphill, which was a boarding school. The school had eighteen teachers and more than 120 registered students. Here most teaching was done in Chinese, but teachers often would use Premi for explanations, especially in the lower grades. From the third grade onward, all children were taught Tibetan as well.
According to the school head, 99 percent of all children in the township between the ages of seven and eleven attend school as they are supposed to, in accordance with county and prefectural regulations that aim to implement six years of compulsory primary school. This is well below the national target of nine years stipulated in China's 1986 law on compulsory education.22 The children attend either the village school or the township boarding school.
Systematic household interviews in Uphill, Downhill, and Walnut Grove revealed that the 99 percent figure did not say much about actual participation in education. Most parents registered their children at school to avoid being fined, but many children did not attend school regularly. During my visits, at the school serving the village of Walnut Grove and a neighboring village, there were usually not more than twenty children present, five of them girls. At the same time, the village of Walnut Grove alone counted almost twenty girls between seven and eleven who should have been at school according to the county regulations. The situation was even worse in the higher grades: during my stay in Walnut Grove in 2000, none of the girls in the village was attending classes at the boarding school in Uphill. Reasons given for not sending girls to school were that they were needed to help care for the younger children or to take the family's domestic animals to pasture. If girls participated in education, they usually attended only the local village school, and this on a highly irregular basis. This pattern resulted in a marked age difference among the girls at the Walnut Grove village school, who were between nine and twelve years old in the second grade. Most of the boys in the village were also not attending school on a regular basis. In periods when all hands were needed at home or in the fields, classes were almost empty. This was typically during harvests or just after the autumn harvest when all families slaughter pigs in preparation for the Premi New Year.
The reason most villagers gave for not sending children to school was the financial burden involved. Although there is no tuition fee, there are administrative fees, including the cost of schoolbooks, of ¥150 a year. Fees are reduced for very poor families, but they still have to pay for schoolbooks. For the first five grades, books cost ¥24 per year, and the cost in the sixth grade is ¥32.5. There are also extra costs related to having children at boarding school. Here it seems that girls risk drawing the shortest straw: among the families I spoke with, when it was deemed too expensive to let all school-age children go to school, girls are the ones who usually stayed home.
While there is a significantly higher rate of participation in education for boys, the numbers for both girls and boys drop drastically from the third grade onward. This is especially true for children not living in Uphill and Downhill. It is a tough affair for a ten-year-old to make the half- or full-day walk twice every week to the boarding school, carrying all their food for the week, and then, moreover, to cook it themselves. Sometimes families solved this by waiting until children were a bit older before sending them to school. Two of the third-grade boys from Walnut Grove were thirteen, while pupils would normally be nine or ten years old. It is not surprising then, that the rate of participation in the higher grades of primary school and, consequently, in secondary education was markedly higher for Uphill and Downhill than for places like Walnut Grove. While the two areas have approximately the same population (a bit more than forty families each), more than twice as many people in Uphill and Downhill had finished "technical secondary school" (zhongzhuan) or "junior middle school" (chuzhong) or were in the process of completing such an education than was the case in Walnut Grove (twenty-two in Uphill and Downhill combined, and nine in Walnut Grove).
Poverty, traditional practices related to gender roles, and logistical impediments such as distance to the township school explain to a large extent the low level of participation in official state education. Asking people why they had dropped out of school also revealed other problems with the Chinese educational system in ethnic minority areas. Even though several teachers spontaneously used local languages in teaching at the village level, they were neither trained in nor had adequate schoolbooks for providing a truly bilingual education in which children are gradually introduced to Chinese through the use of their mother tongue. Since Premi and Na were not recognized languages in Muli, no such materials existed. Most education was centered on learning Chinese using normal Chinese-language schoolbooks. None of the children in the township, except for those in the Han village, knew any Chinese before entering the village school. The limited level of proficiency they attained during the first two grades did not prepare them for their continued education at the complete primary school in Uphill. Here much of the teaching was done in Chinese, since three of the teachers were Han and one was Nuosu; none could speak Premi or Na. But Chinese was not the only challenge: in many areas of Muli, children also had to learn Tibetan at school.
One of the few areas in which the Chinese system of autonomy for recognized ethnic minorities functions is in organizing courses in languages other than Chinese. In 1992, the county government began to implement a regulation adopted by the National People's Congress on teaching spoken and written Tibetan at various levels of the educational system.23 Since Premi were classified as Tibetans and constituted an absolute majority in Bustling Township, the township's full primary school introduced Tibetan courses in 1992. In the third and fourth grades, students have only one hour of Tibetan a week, but in the fifth and sixth grades, instruction in Tibetan increases to two hours a week. During these four years, the pupils work through two Tibetan schoolbooks, part of the national curriculum for teaching Tibetan in areas outside the Tibetan Autonomous Region. Unfortunately, for the Premi in Muli, Tibetan is basically another language rather than a related dialect. Because of the limited scope of teaching and the traditional teaching methods used, results were not really impressive.24 I observed one hour of Tibetan-language teaching at the sixth-grade level (the term had started two months before I arrived) and recorded the following field notes. The class consisted of ten Premi and one Han, all boys.
The students stand up when the teacher comes in and greet him in Tibetan. The teacher then starts writing a poem on the blackboard in Tibetan. He reads the poem word by word, first in the Tibetan way of spelling by which each letter is pronounced by its name, then by reading the whole word. The students repeat after him. When they have to read together aloud without him doing it first, it does not go very well. Then he explains the meaning of some words using Premi. The next fifteen minutes the students have to work by themselves, copying the poem on a sheet of paper first and then translating it into Chinese with the help of their textbook. They have clearly obtained a certain proficiency in writing Tibetan letters, but seem to struggle with the translation. One by one they go to the teacher's desk and present him with their translation. Then the class ends with the students standing up and greeting the teacher.
Because of the double language handicap, it is not surprising that very few students in Bustling Township pass the examination for entering junior middle school. In 1998, eight students passed the examination and went on to the "district junior middle school" (qu chuzhong) in Wachang. Almost two-thirds of the students in this school are official Tibetans—in this case, mostly Premi—and the rest are mainly Han. Tibetan is also taught two hours a week, and Han children are included in these lessons. But at this stage, another new language is introduced: English. As would be expected, very few Premi students manage to pass the final exam at the end of junior middle school. In 1998, none of the forty-seven students passed the examination for senior middle school; twenty-six had enough points to continue with a teacher training school, or "normal school" (shifan xuexiao), or a technical secondary school. In the latter category, the most frequently attended schools are the Muli Tibetan Autonomous County School of Hygiene (Muli Zangzu Zizhixian Weisheng Xuexiao) and the Muli Tibetan Autonomous County Agricultural School (Muli Zangzu Zizhixian Nongye Xuexiao), both in the county capital. Of these forty-seven students, nine were from Bustling Township, but only two were able to continue. The Premi and other Zangzu students who do not score high enough on general topics like Chinese language or mathematics to enter a teacher training school have another option if their Tibetan-language scores are reasonable: they can enter the Tibetan Language Section of the Kangding Normal School (Kangding Shifan Xuexiao)25 and become Tibetan-language teachers, usually in the full primary school in their home townships. This was the case with the two Tibetan-language teachers at the Bustling Township full primary school. But most students in Bustling Township do not obtain results good enough to be able to continue studying. As they are fifteen or sixteen years old when they finish junior middle school, they would have few other options than to return to Bustling Township. Before 1999, some of these people were able to find jobs as local village teachers, the so-called minban teachers. In 1999, this system was abolished, and all minban teachers had to pass a test to become regular teachers, a promotion that greatly improved their income. Since no new positions were filled during my visits to the school in the following two years, it was unclear whether people with junior middle school degrees were capable of passing this test immediately and taking up a teaching position.
As a result, there is limited participation in education in the township. Many children who attend school do not continue past the second grade offered at the village schools. The little that has been learned of, for example, Chinese language is never made operational and is quickly forgotten. Those who make it through their entire primary education obtain some workable skills in Chinese. In conversations with sixth graders, I could make myself understood in Chinese, but they had great difficulty in speaking it themselves. Probably more important than language skill is the basic knowledge they obtain, through the Chinese language, about the country and world they live in, albeit the officially sanctioned version propagated in national curriculum schoolbooks, explained by teachers imbued with this same version. I have not specifically studied how this education affected the views and understanding of children who drop out of the school system after the sixth grade, as the majority of Bustling Township children do. Interviews with people from Bustling Township who had different levels of education beyond primary school revealed a correlation between the number of years of education and the extent of internalization of official Chinese discourses on ethnicity, social evolution, politics, and so forth. People with only junior middle school degrees presented very diverse opinions on whether they were official Tibetans or Premi, or both, and showed very little consistency in their views of the difference between Buddhism as it was taught at the monastery and their local ritual practice. In contrast, Tibetan-language teachers at the township school in Bustling Township had thoroughly accepted official stances on religion, ethnic categorization, and social and cultural development. According to those views, there was no doubt that the Premi were Tibetans and therefore Buddhists. In their opinion, it was consequently also only natural that Tibetan is taught at school, and in this way, they were instrumental in perpetuating one of the more exotic results of the Chinese ethnic classification project.
The school system is the arena in which the state in principle has the greatest potential for making its presence felt in Bustling Township. Nevertheless, both as a project of mass emancipation and enlightenment and as a means of propagating the Chinese nation-state project, the impact of Chinese education is minimal in Bustling Township. At the same time, villagers experience a state that is retracting from several areas crucial for their livelihoods, including a partial breakdown of the social security system, the disappearance of job opportunities in the state logging company, and the removal of price guarantees for some agricultural products. Although local farmers in many areas of China view migration to find work in urban areas as a way out of their predicament, Bustling Township farmers lack education and language skills and know they cannot compete with the countless Han farmers flooding the towns and cities of the Southwest and beyond. Living standards have increased since decollectivization, and this improvement has made it possible for people to become aware of an increasing gap between Bustling Township and "the rest of China," thereby quickly eroding their initial satisfaction with the policy changes.
While the state is retreating from some domains of social and economic life and its ideological impact is waning, its interference in several other domains is mounting. In their article "Taxation without Representation in Contemporary Rural China," Thomas Bernstein and Lü Xiaobo write about a "deconcentration of the state" in China, describing a shift in state power during the Reform Period by which the state's presence does not evaporate but instead vertical decentralization goes hand in hand with horizontal expansion (2003). In Bustling Township, new, stringently enforced birth control policies as well as increasingly stricter regulations on land use and tree cutting are causing growing resentment. All these issues are national priorities in China, and therefore the local administration is under strong pressure to implement the dictates coming from the center. In other matters that—although clearly illegal—are concerns of a more local nature, such as the persistent custom of polyandry, regional representatives of the Chinese state show much greater tolerance.
In short, the role of the Party-state in guaranteeing people's livelihoods is quickly fading. At the same time, it is incapable of enforcing its version of cosmological truth through the school system. In a context of feeling marginalized and left behind, the subsistence farmers of Bustling Township turn increasingly to their remembered traditional cosmology, values, beliefs, and ways of organizing their social life. The relatively more relaxed official policies on the practice of religion and on ethnic minority culture during the Reform Period provide a political climate that enables a veritable revival and revitalization of local traditions. This is what the next chapters will address.