Demeter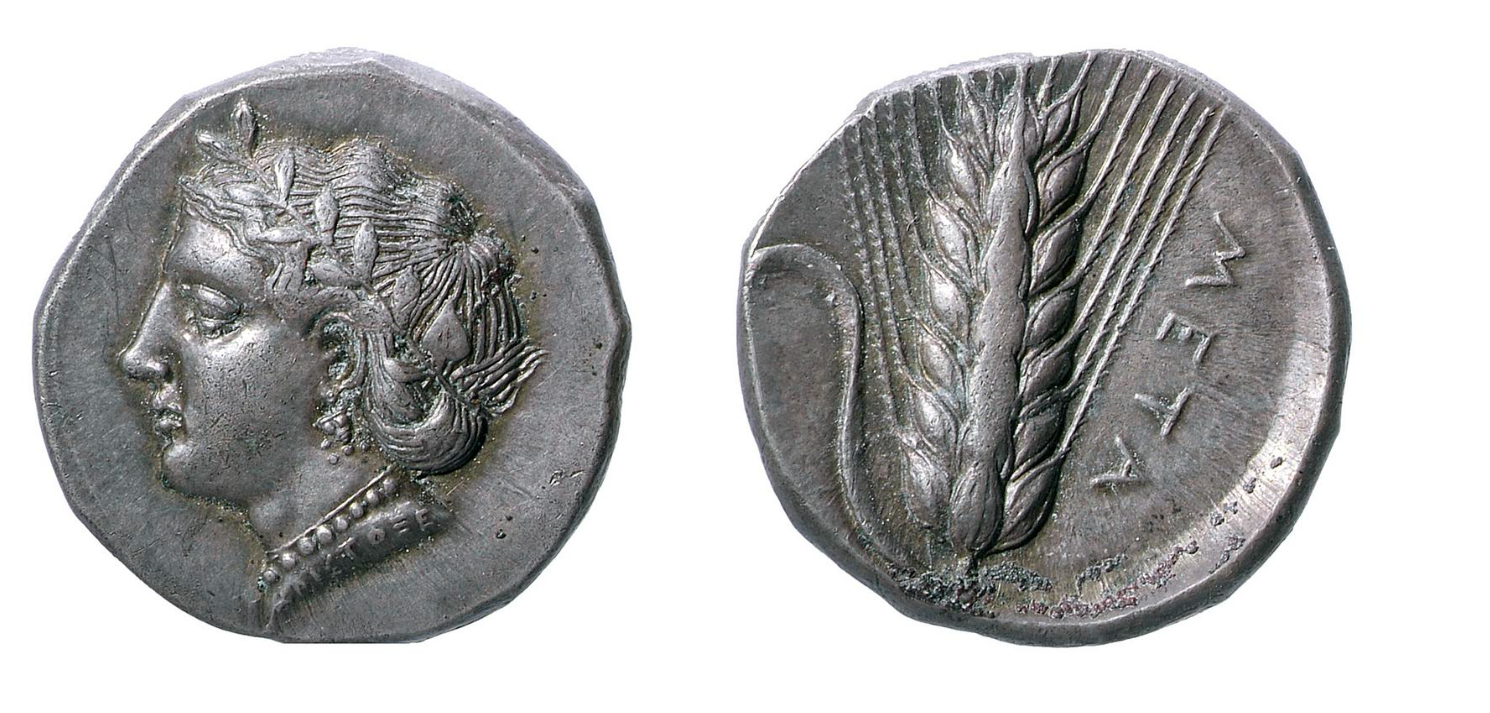 Anonymous, coin, 400BC-340BC (about), The British Museum, Metapontum (city - archaic), silver.
Denzel Lambino
Coins often are used as a form of currency and usually carry details that reflect a society's values and history. We see depicted in a coin from about 400 BC-340 BC the Greek goddess Demeter and grain. As explained by Marie La Fond in on UW Canvas Classics 430 "Lesson 5: Video #4: The Hand That Rocks The Cradle: Demeter" (2021) Demeter is the patron goddess of agriculture, fertility, and the harvest of grain. Agriculture itself is an important part of any functioning society and ultimately ties back to the economy, so for the goddess Demeter to be depicted on a coin must imply that in addition to her being significant to agriculture, she might have been a minor patron to business and trade for Greek and non-Greek alike.
Despite her role as a goddess of agriculture, Demeter is not foreign in utilizing currency to her advantage and ultimately punishing those who insult her. An example of Demeter's extended capabilities includes the mortal Erysichthon, who fulfills his hamartia and "cuts down the trees in a sacred grove of Demeter. Demeter puts an insatiable hunger on him. Erysichthon sells all of his possessions (including his daughter) to buy more food and more food, but just becomes hungrier and hungrier." (La Fond). All in all we see Demeter controlling her domain of agriculture which drives Erysichthon to his downfall via spending his life away to the point where he sells himself, that is eats himself. Demeter in this myth therefore successfully demonstrates her breadth as a patron of consumers, both of food and of purchase.
Although not mainly involved in business, Demeter, unlike most of the gods, in some alternative versions of her myth provides rewards in return for service. Much like paying a merchant in coins yields grain and harvest, some versions of the Homeric hymn to Demeter have humans provide help to Demeter by actively trying to find Persephone, which as a reward, Demeter gives humans the opportunity to perform agriculture (La Fond). This version of the hymn reflects a dynamic relationship between Demeter as merchant and humans as customers; Humans labor in finding Persephone and Demeter pays her employees in food. Although this alternative hymn did not mention Demeter's handling of money, she demonstrates an economic fairness to humans and upholds her end of a bargain.
Demeter as the patron goddess of the harvest may seem at surface level nothing more than monotonous, but when demonstrated as a figure on a coin, one can only assume how impactful the myth of Demeter was on the ancient Greek people. The fact that Demeter occupied what we can assume was currency greatly implies that other mythological figures may have been portrayed in outlets we would not have expected, yet likely have substantial reasons for being so. By examining both artifact and myth, we can see that even figures like Demeter often held greater significance than what literary myth and poetry can tell alone.
Caitlyn Hayley
'Meter'- loosely translated, however represented in Greek and Roman language as meaning 'mother.' Demeter, the goddess of fertility, both agricultural and biological, embodies this persona fully. The above images released by The British Museum, display a silver coin from an unknown artist. Created in approximately 400BC to 340BC, the coin was likely used as currency. Today, it stands representative of tradition. Within this text I aim to connect mythic appearances of Demeter: analyzing both the similarities and differences in connection to this coin. Secondly, I aim to personally evaluate the piece, as well as provide my interpretation of how Demeter's myths or 'lies' still may apply today.
The face of the coin exhibits many aspects of Demeter's traditional mythic garb. The artist behind the silver coin adorns her with a headdress as usual, adding fine jewelry such as a necklace and earrings. The attention to detail is unmistakable with the etchings of Demeter's 'ambrosial hair.' However, it is not the portrait that strongly identifies this coin with Demeter - it is the singular leaf of barley on the opposite side. I find the details presented within the piece to be quite astonishing given its approximated creation date. I am unable to translate the scribe below her necklace and wonder how it joins her story or the Metapontum society. At first glance, Demeter is represented in a luxurious light. This is not always the commonality for Demeter whose many myths revolve in hunger and famine. I appreciate that this coin speaks to her uplifting attributes and utilizes her image to depict a desired growth in both archaic and current society.
This depiction aligns with the more fruitful nature of the goddess. Strongly displaying her connection with agriculture and financial growth. I personally found a distinct tie and contrast between this piece and a traditional mythic narrative discussed in Professor La Fond's "The Hand That Rocks the Cradle: Demeter" 2021 lecture. Upon lying with a mortal, Iasion; Demeter becomes pregnant and gives birth to a son, Plutus - also translating to both 'wealth' and 'prosperity.' The Homeric Hymns to Demeter discuss this further and display two distinct versions of the deity: both as a giver and a taker.
Homer adds a strike to Iasion from Zues' thunderbolt, thus resulting in his death. In another version, Iasion is the first to be taught The Eleusinian Mysteries and instructed to bring them onto others. Regardless, Demeter's love for her daughter and pain for her loss take a direct hold on the world: resulting in famine and death. Second, we see a mother providing life to Demophoon. Homer, as recaptured by Morford in Classic Mythology 2018, states "Thus she spoke, and with her immortal hands she took the child to her fragrant bosom. And his mother rejoiced in her heart. Thus, she nursed in the house the splendid son of wise Celeus, Demophoön, whom beautifully robed Metaneira bore. And he grew like a god, not nourished on mortal food but anointed by Demeter with ambrosia, just as though sprung from the gods, and she breathed sweetness upon him as she held him to her bosom. At night she would hide him in the might of the fire, like a brand, without the knowledge of his dear parents. It was a source of great wonder to them that he grew and flourished before his time, for he was like the gods to look upon (338)." This coin, although not distinctly maternal, symbolizes a 'Mother Earth' archetype. Gracing others with blossoming gifts, and in another light, crumbling the earth beneath the feet of those who take aim upon it.
Lastly, when deciphering Demeter's myths, the connection to this piece, and their current application when shared: I find that I have taken a looser approach. Meaning, I believe that under today's interpretation, perhaps Demeter's connection between agriculture, fertility and wealth is not necessarily monetary growth as shown by the coin. Rather, the moral of the story is to remind of the life given by the land and emphasize the gift of family. Nutrition which provides the energy to live, grow, and build beyond current bounds and individuals whom without our world would be just as bleak. I believe Demeter serves as a reminder for the gift of appreciation.
Victor Lee
In many civilizations, engravings or depictions on currencies is one of many ways to honor the importance of an impactful figure or an event of that civilization. Much like how we choose to honor Abraham Lincoln on the head side of the penny and have the Lincoln memorial on its tail because of its relation to Lincoln, the Greeks also honor the Goddess Demeter and portrayed her significant relation to grain in this coin artifact. In this section, I will draw a connection between the Greek's perspective of Demeter from this coin to what we learned in class. Then I will identify any key attributes of Demeter learned in class that may have been lost in this artifact.
Due to the depiction of grain on the opposite side of Demeter, we can obviously understand that the Greeks first and foremost view of Demeter is her connection to agriculture. This lines up with what we learn in lectures as Marie La Fond in Lesson 5: The Hand That Rocks the Cradle: Demeter, states that " Demeter was a goddess of agriculture and was especially associated with grain". It is not hard for one to understand the success of a civilization heavily relies on agriculture but the Greeks, as shown in this artifact, really valued the importance of Demeter as one of the Deities that impacted their lives. In a culture that has Gods with such dominant presence such as Zeus, The King of Gods, it isn't out of ordinary to question why honor Demeter on their currency and not Zeus with his overwhelming importance? Once again from Lesson 5, Marie La Fond shed some perspective on the unique power Demeter has that even renders Zeus helpless in The Homeric Hymn to Demeter. In this narration, Zeus gave off Demeter's daughter, Persephone, as a bride to Hades without either of their consent. Because of this, Demeter's grief caused her to relinquish her duties as Goddess of Agriculture and "kept the seed covered, … resulting in a devastating famine." Because of the God's reliance on sacrifices performed by humans, the gods pleaded Demeter to return but to no avail. This led to Zeus eventually yielding to Demeter by sending Hermes to bring back Persephone. From this myth, we can gain a clearer perspective of Demeter's actual influence and power among the other Gods and possibly understand why the Greeks revered Demeter as they did and chose to honor her on the coin.
However, a significant narrative of Demeter that we have learned from Lesson 5 that may have been lost in this artifact or mistakenly unaccounted for is the narrative of Demeter's anger or grief of something that often leads to famine or hunger. As stated before in the Homeric Hymn, Demeter's grief led to a famine that devastated humans. In another myth, Demeter's rage from Poseidon raping her caused a worldwide famine. Another myth for good measures, had Demeter cast insatiable hunger on a mortal that angered her, resulting in him eating himself. All these myths outline a narrative that Demeter is a Goddess that humans should not anger as devastating famines can happen. From these narratives, it can be seen that the Greeks may think that many famines that they have faced may have been the result of humans angering Demeter. Then it is possible in some sense that the Greeks honor Demeter on the coin to appease her and prevent hunger or famine rather than actually admiring her for her attributes. Regardless of the actual reason, we still have a better understanding of just how impactful the goddess of agriculture is to the Greeks.
Morgan Smithson
Our object, a coin portraying Demeter, is one of several which have been found across the Mediterranean. Demeter, or Ceres as she was known to the Romans, was one of the key deities in the ancient Mediterranean and was worshipped throughout. When comparing our coin of choice to other Demeter-related coins in the British Museum, one can see many similarities as well as differences when it comes to iconography. Some of this iconography is clearly related to her role as the goddess of fertility, while others are more obscure.
Our object displays Demeter, wearing a wreath of olive leaves and a necklace on the obverse, and a leaf of barley on the reverse. As the goddess of "goodly crops", according to the Homeric Hymn to Demeter, Demeter is most often associated with a sheaf of wheat, or barley, depending on which was more prevalent in a specific region. In Metapontum, which owed much of its wealth to the abundance of barley it created, one can clearly see why they would choose this image, Demeter and the sheaf of barley, to decorate their coinage (Baldwin's Blog, 2020).
Many other coins minted in Metapontum in the British Museum's collection also feature Demeter on the obverse and grain on the reverse. However, a wide variety of other images are also present. Many coins feature other aspects of Demeter's iconography, such as snakes (traditionally associated with rebirth and fertility in nature), poppies (which often grew in wheat-fields) and the cornucopia (the horn of plenty which was associated both with Demeter and with Plutus, her son, the god of agricultural wealth), often in combination alongside sheaves of wheat or barley (MLS, 345). However, there are some which stand out. Several coins, often (but not exclusively) from Rome, the reverse instead displays a ploughman with oxen on the yoke, reflecting Demeter's role as goddess of fertility and crop-growing. Other coins show Demeter on her biga of snakes, while some show her holding torches, akin to those with which she sought Persephone, who also appears on some of the coins. One notable coin, from the Greek island of Syros, shows a bust of Demeter on the obverse and on the reverse portrays two Kabeiroi, enigmatic gods associated with the mysteries of Samothrace (MLS, 394) and possibly with Demeter and Persephone, such as this coin implies (Stillwell, 429).
Demeter's presence on such a wide variety of coinage - I have only referred to the British Museum's collection - echoes her importance across the ancient world, and the coinage itself displays the wide variety in iconography associated with Demeter. Much of this iconography relates to her role as a goddess of fertility, such as grain, snakes or ploughmen, but others are more obscure, relating to the story of the Homeric Hymn to Demeter, or associating her with more obscure, chthonic deities, with their own mystery religions. Thus, we can see that, while Demeter's role as a goddess of fertility was valuable in the ancient world, according to coinage at least, it is not her only role.
Work Cited
Baldwin's. "The Barley Coins from Metapontum." Baldwin's, 2 Apr 2020, https://www.baldwin.co.uk/news/the-barley-coins-from-metapontum/. Accessed 2 Aug 2021.

Coin: British Museum. The British Museum. (n.d.). https://www.britishmuseum.org/collection/object/C_1946-0101-341.
La Fond, Marie. "Lesson 5: Video #4: The Hand That Rocks The Cradle: Demeter" Greek and Roman Myth. University of Washington, June 2021, https://canvas.uw.edu/courses/1457478/pages/lesson-5-video-lectures?module_item_id=13108125
Morford, Mark, et al. Classical Mythology. Oxford University Press Academic US, 2018. [VitalSource Bookshelf].
Stillwell, Richard. The Princeton Encyclopedia of Classical Sites. Princeton University Press, 2017.