MEDUSA
Medusa With The Head of Perseus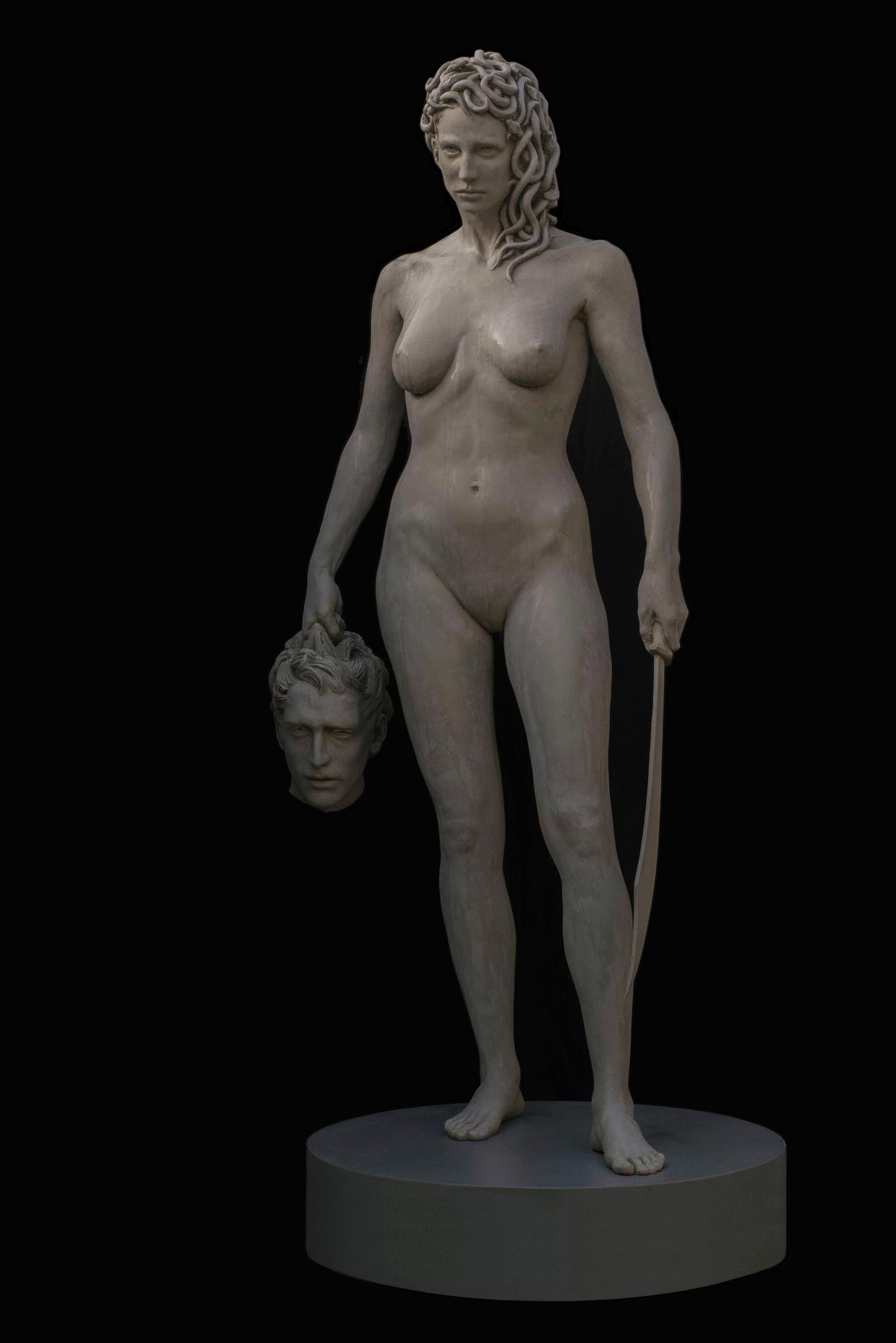 Luciano Garbati,  Medusa With The Head of Perseus,  2008, Collect Pond Park, Manhattan, New York, clay and cast in resin with fibreglass reinforcements.
Perseus with the Head of Medusa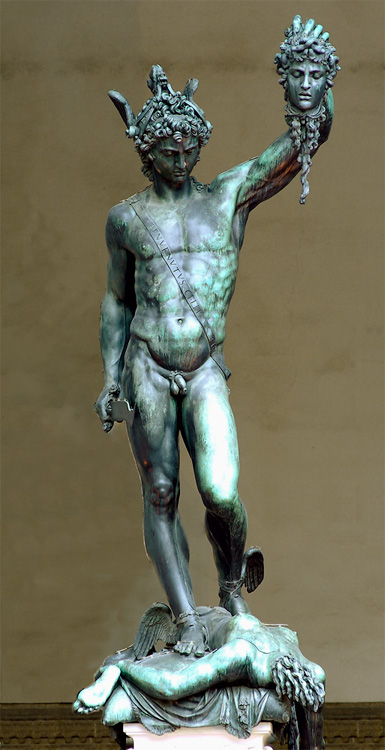 Benvenuto Cellini , Perseus with the Head of Medusa, 1545-1554, Loggia dei Lanzi, Piazza della Signoria, Florence, Italy, made of bronze.
Ben Gallagher
Daria Gileva
Medusa and Feminism
In 2008, an Argentine-Italian artist Luciano Garbati created his sculpture of Medusa holding Perseus' head in one hand and a sword in another. The artist was inspired by Medusa's tragic story and created this sculpture as a response to Benvenuto Cellini's prominent masterpiece called Perseus With the Head of Medusa. Little did he know that in ten years his artwork will become a symbol of a #MeToo movement. Since then, many have voiced their opinion about the statue and its significance to the feminism movement.
In Greek mythology, Medusa is the most famous Gorgon sister. Originally, it was believed that Medusa was always a monster, just like her other two Gorgon sisters (Morford et al., 543). However, in later versions of the myth, she was a beautiful woman who was raped by Poiseoud in Athena's temple. For breaking her celibacy and doing so in the temple, Athena punished Medusa by turning her into a monster (Ovid, 138-139). In both cases, in the form of a monster, her most prominent features were snakes instead of hair and her ability to turn those people who look upon her into stone (Morford et al., 543). Consequently, Medusa was the only mortal among three Gorgons and was killed by Perseus. She was beheaded not for her sins but as a "gift" to Polydectes and later was used as a weapon (Hamilton, 199). Her head was later put into Athena's shield as protection. That is the end of Medusa's unfortunate life as it was told in the myths.
Her death inspired many stories, paintings, and statues. One of the most famous depictions of her beheading is a statue made by Benvenuto Cellini. It depicts a victorious Perseus holding Medusa's head over her lifeless body. This statue inspired Garbati to create his work that would reverse the traditional narrative. While feminism was not what he had in mind while creating this sculpture, he tried to reimagine the myth through the victim's narrative, to show the woman behind the monster (Jacobs). This sentiment resonated with people amid the #MeToo movement and the sculpture became an unofficial symbol of triumph for women who became victims of male abuse. This was met with mixed reactions. While many reacted positively, others had criticized the choice to make this statute a symbol of female power (Attiah). I will focus on those two opposite opinions.
First, Karen Attiah represents those who stand against this statue being a representation of female power and victims of abuse. One of her main arguments is that this is an inaccurate representation of female power (Attiah). What this work does is exactly what it claims to do which is reverse their roles. Garbatti made Medusa empowered by giving her a sword, she became empowered by the measure of patriarchy. Medusa is using brute force to kill Perseus. This completely disregards that power is not the same as violence. Furthermore, Attiah argues that Medusa was already empowered. She had the power to protect herself from being violated by using men's gaze against them and turning people who look upon her into stone. This way she did not need to assume a men's notion (the motion of the violator) of power to be a symbol of female power (Attiah). Using this idea to empower women during the #MeToo movement would have made more sense than trying to reverse the roles.
Second, Faith-Marie Zamble sees the statute as it was intended to be seen by the author. She points out different arguments people have against it being the symbol of the #MeToo movement but she argues that despite it is still a valid representation of fighting injustice. Yes, Medusa uses the same violence that the man used against her while also not punishing the main antagonist of her story which is Poseidon (Zamble). However, Medusa is acting in self-defense against an immediate danger she has at the moment. She does not fight the system, she fights her aggressor. In this sense, Garbatti's Medusa is nothing but a call to action. It is a realization that women can't take the abuse any longer, they can't be silenced anymore. Centuries of portraying Medusa as a monster are over. Women are changing the narrative and punishing the people who abused them for so long. They take the sword away from the abuser's hand and put a stop to the injustice.
Eunbin Lee
        If someone is asked a question about who the female creature with snakes on her head is, undoubtedly every person will answer Medusa. Medusa is a worldwide known mythical creature for her unique features: eyes that turn any living creature to stone and hair made of snakes. She is also known for her romantic relationship with Poseidon, the god of the ocean, and because of these two factors, she is usually portrayed as the monstrous creature full of rage and cruelty. However, coming into the modern days, Medusa's story came about to have much more meanings and perspectives, giving strength to the Me Too movement and minorities' community.
In the mythic narratives, Medusa is one of the three Gorgons, who are the sisters with hairs of serpents (Morford et al. 172). Because of how terrifying they looked, anyone that looked upon them turned into stone (172). Despite being the only mortal one, Medusa was the lover of Poseidon and got impregnated (173). However, in one of the earliest preserved pieces of Greek literature, the Hesoid's Theogony,  Medusa was described as exceptionally beautiful and was erotically abducted by Poseidon (La Fond, "Destination Argos: Adventures of Perseus"). Despite whichever description of Medusa, Perseus was sent on a quest to return with the head of Medusa by the king of Seriphos (La Fond). Ultimately, Medusa was beheaded by Perseus and never got to see her children, Chrysaor and the winged horse Pegasus, while Perseus completed his quest (Morford et al. 543). Medusa's head was later possessed by Athena, the goddess of war, which she put on her aegis (180).
Based on this story of Medusa, a modernized sculpture was made. In 2008, Luciano Garbati created a sculpture, Medusa with the Head of Perseus, originally out of clay and then cast with fibreglass reinforcements in resin, which was later made as a bronze cast version to be displayed in Collect Pond Park, Manhattan ("Medusa with the Head of Perseus"). This sculpture does not exactly follow how the myth portrays Medusa, because a nude Medusa is holding a long sword on her right hand while holding Perseus' decapitated head on the other. Through this sculpture, Garbati aimed to show the commonly known story of Medusa in "Medusa's perspective and [to reveal] the woman behind the monster" (Jacobs). Once released to the public, however, the sculpture's meaning of a simple twist to the original plot changed to being "a symbol of triumph for victims of sexual assault" because of how Medusa was raped by Poseidon but later punished by Athena, accusing her fault of being raped, which does not make sense in our world (Jacob). Medusa with the Head of Perseus  represented "female rage" during the Me Too movement, showing how Medusa is actually a strong woman, who can protect herself from any danger that approaches and even kill the man who tried killing her (Jacob).
         Medusa with the Head of Perseus  being a representation of the rage of women and the Me Too movement is valid, but this sculpture can actually be interpreted as much more, as a meaning of the power of all minorities. Medusa is a female, however, she is not technically human and more close to being a monster because of the many serpents on her head. Of the many humane looking beings like gods, goddesses, and humans, Medusa stands out as not, being a minority herself. The sculpture of Medusa can potentially represent minorities who have not been able to speak up, be discouraged, and even blamed for things that they have not caused.  Having the strong aura by standing firm and tall, Medusa with the Head of Perseus  gives strength to all minorities that even they can express how they feel and think, without having to back down around the majorities.
Julia Blosser Schoemig
Myth and Meaning of Medusa Through the Centuries
Medusa, the famed Gorgon monster of Greek Mythology, evokes the image of a woman with snakes for hair and eyes that can turn a person to stone. Often associated with the word 'monster,' she is a mythical figure that has come to represent not only the mythic perception of Ancient Greece, but the social and political contexts of eras centuries after her conception.
            In mythic  narrative, Medusa is the only mortal of the three Gorgon sisters known for their ability to gaze upon men and turn them to stone. The hero Perseus was sent to kill the monster Medusa and bring back her head as a gift to King Polydectes of Seriphos (Morford et al., 541). With the help of Athena and Hermes, Perseus managed to kill Medusa and as he beheaded her, Chrysaor and Pegasus sprang from her body, her children by Poseidon (Morford et al. 543). In a later version of the myth, the Roman poet Ovid writes in his Metamorphoses  (8 AD) that Medusa was not born a monster but used to be a young maiden whose "beauty was far-famed" (Ovid, 176). Furthermore, in the same passage, Ovid says that she was "violated in Minerva's shrine by the Ocean Lord." In other words, Medusa was raped by Poseidon in Athena's temple. As punishment for this, Athena turned Medusa's hair into snakes, rendering her the monster that we see in the traditional mythic narrative.
            Benvenuto Cellini's bronze sculpture from the 16 th  century, Perseus with the Head of Medusa , reflects the traditional mythic narrative that we know from Hesiod's Theogony . The sculpture depicts Perseus, standing on the headless body of Medusa, while holding her snake-haired head up in triumph, which still has the ability to turn men to stone even after her death. The statue represents the myth itself, expressing ancient Greek thought and society within the context of the world they were living in. However, when the sculpture was made in the 16 th  century, it came to have its own sociopolitical  meaning within the context of 1554 Florence, Italy. The statue was made by Cellini but commissioned by Duke Cosimo d'Medici  I as a symbol of his political power. The duke was diverging from the practices of the past republic and used this art piece to send a (threatening) message to the people of Florence, represented here as the slayed Medusa (Carroll). Perseus slaying Medusa came to have renewed meaning in a new context centuries after the creation of the myth, and the renewal of the myth's meaning within a specific cultural context does not end there.
            The myth was revived as a societal emblem during the #MeToo movement that gained mainstream recognition in 2017. Luciano Garbati's 2008 sculpture, Medusa with the Head of Perseus  was initially intended as merely an inversion of Cellini's sculpture and the myth overall to reveal the woman behind the monster. Little less than a decade later, Garbati's sculpture was given new meaning in the context of #MeToo when it was "reimagined as a symbol of triumph for victims of sexual assault, when it was unveiled in Lower Manhattan, just across the street from the criminal courthouse on Centre Street" (Jacobs). Changing perspectives of the myth see Medusa as a victim of rape and victim-blaming when Athena cursed her. Medusa was then made to be a monster, what has become, to feminists of the #MeToo movement today, symbolic of female rage. The statue itself came to embody the concept of female rage and flipping patriarchal values on its head.
            From the conception of the myth in Ancient Greece to the political context of Cellini's sculpture to, finally, the modern perception of the myth as seen in Garbati's piece, Medusa has become so much more than just the myth of Greek society. She has been reborn in art and society multiple times, coming to represent more than the ancient storytellers who created her.
Works Cited
** MLA Format
Attiah, Karen. "The Epic Tragedy of the #MeToo Medusa."ProQuest, Oct 19, 2020,         https://www.proquest.com/blogs-podcasts-websites/epic-tragedy-metoo-medusa/docview/245 1938687/se-2?accountid=14784.
Carroll, Colleen. "Mythology in Art: Perseus and the Head of Medusa, 1545." Arts & Activities , vol.153, no. 4, May 2013, p.22.
Hamilton, E. (2011). Perseus. In Mythology: Timeless tales of gods and heroes  (pp. 196–206). essay, Grand Central.
Jacobs, Julia. "How a Medusa Sculpture from a Decade Ago Became #MeToo Art." The New York Times , The New York Times, 13 Oct. 2020, www.nytimes.com/2020/10/13/arts/design/medusa-statue-manhattan.html .
La Fond, Marie. "Myth and Ritual: A Complex Relationship." Canvas , 2021, URL
La Fond, Marie. "Destination Argos: Adventures of Perseus." Canvas,  2021, https://canvas.uw.edu/courses/1457478/pages/lesson-8-video-lectures?module_item_id=13108141.
"Medusa with the Head of Perseus." Wikipedia.  13 Jun. 2021, https://en.wikipedia.org/wiki/Medusa_with_the_Head_of_Perseus.
Morford, Mark, et al. Classical Mythology . 11th ed., Oxford University Press, 2019.
Ovid. Metamorphoses , edited by E. J. Kenney, Oxford University Press, 1987. Proquest Ebook Central , https://ebookcentral.proquest.com/lib/washington/detail.action?docID=684539 .
Zamblé, Faith-Marie. "GOD, MONSTERS, AND US." Sojourners Magazine, vol. 50, no. 1,            01, 2021, pp. 42. ProQuest,       https://www.proquest.com/magazines/god-monsters-us/docview/2511383313/se-2?accountid=14784 .