Theseus/Ariadne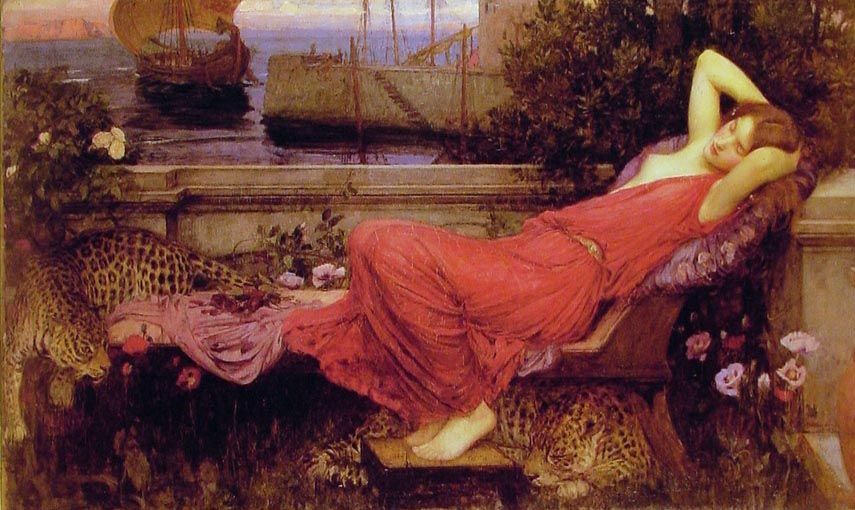 John William Waterhouse, Ariadne, 1898, private collection, oil on canvas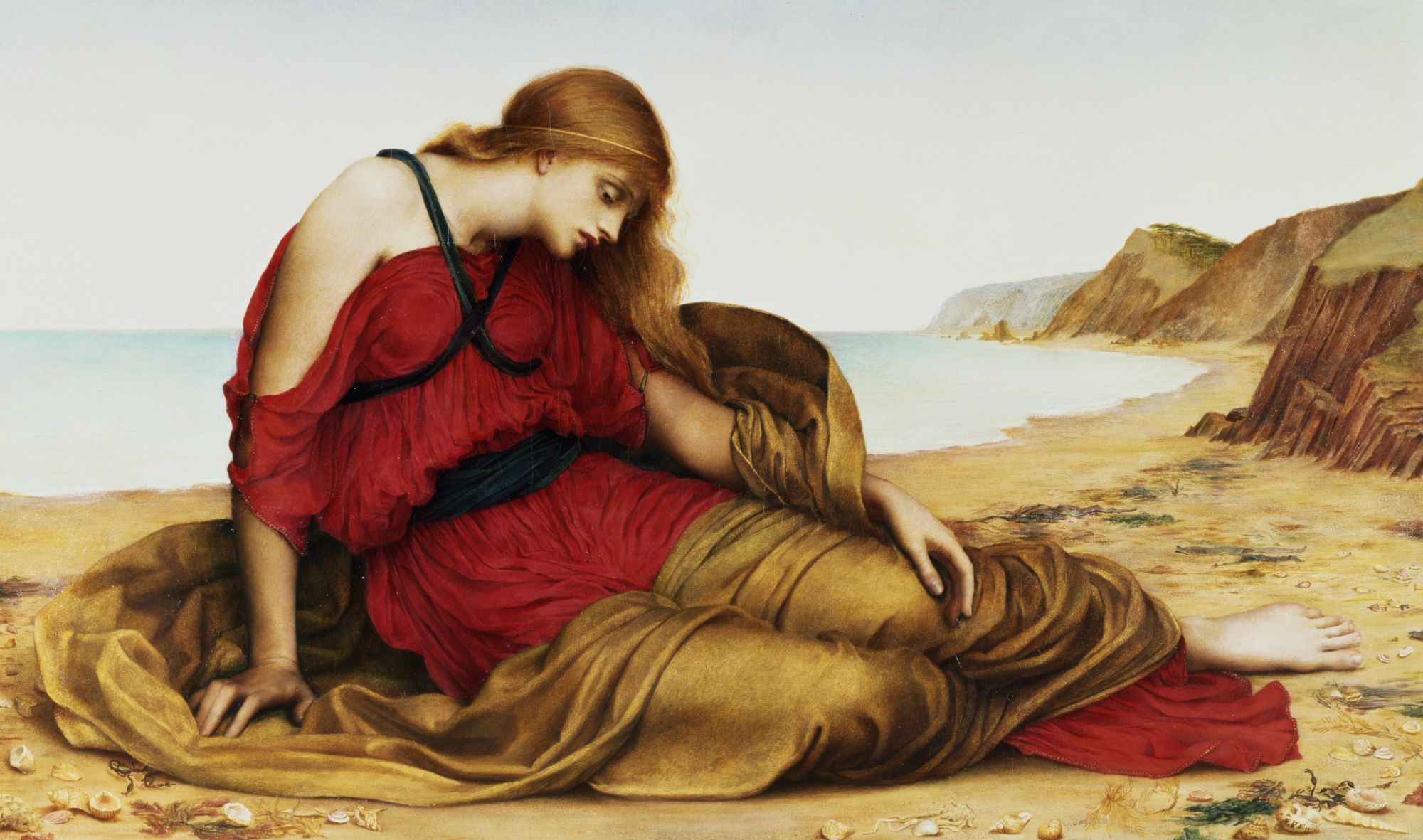 Evelyn De Morgan, Ariadne in Naxos, 1877, De Morgan Centre, oil on canvas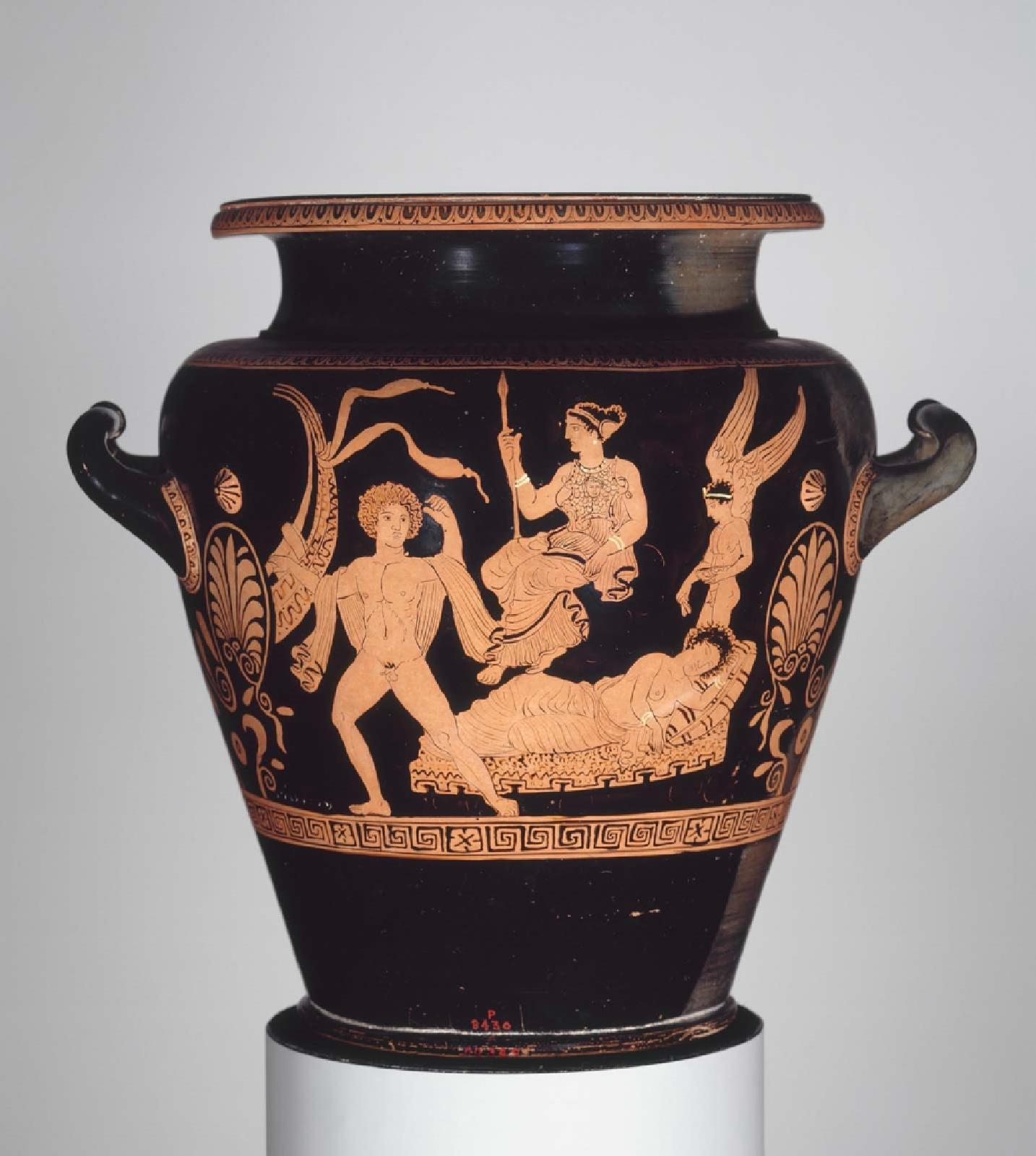 Unknown, Jar (stamnos), 400-390 B.C., Museum of Fine Arts Boston
Note
We are fully aware that these two curator's responses do not come from every member of the group. Despite multiple attempts to reach out to the other members of our group, the two of us have been wholly unsuccessful in reaching any kind of contact. As such, here are the two pieces from us.
Seoyoung Cho
The above stamnos is typical red-figure pottery created in the Classical Greece period around 400-390 B.C. Stamnos is one type of pottery in ancient Greece which is known to be used for storing liquid, especially wine. Therefore, most of the drawings on stamnos tend to be related to the story of the god of wine, Dionysus, just as how the shown painting includes the depiction of Ariadne, the wife of Dionysus, on the bottom right corner. The red-figure technique used during the Classical Greece period allowed a more sophisticated aesthetics of the human figures and, therefore, increased the understanding of the artwork. Going beyond the beauty of the sophisticated artwork, the painting poses a different perspective of heroism. Relating with the actual myth, the painting renders about the heroic characteristics of ancient Greece and their possible differences with the modern-day stereotypical image of a hero.
The painting on stamnos depicts a moment in the myth of Theseus and the Minotaur. Among the different variations of the myth, the painting follows the description of the myth from Ovid and Catullus (Morford et.al p.594-595) where Theseus abandons Ariadne after completing his task of slaying the Minotaur. The naked male figure on the left is Theseus who is rushing away from whom sleeping on the couch, Ariadne. The part that deviates from the actual myths is the figure holding a spear who is known to be the goddess Athene. In the painting, Athene is commanding Theseus to leave Ariadne while the winged god Hypnos drips the waters of the Lethe, keeping Ariadne fall asleep. Considering the epithet of Athene being the goddess of warfare, wisdom, and handicraft, it is apparent that Theseus following the words of Athene is a wise choice that will lead to success, hence implying Theseus's rise as a great hero.
Likewise, Theseus was praised by Athenians and became the king of Athens (Monroe et.al p.596). Given that Theseus became the great hero partnered with the scene of the painting, the expectations of heroes in ancient Greece might have been different from the stereotypical qualities of heroes these days. Recalling the heroic mediums such as comics and films, heroes often don't take advantage of other people and go through obstacles to save whom they love. However, in the painting and the myth, Theseus received a sword and thread from Ariadne which helped him slay the Minotaur but later abandons her in Naxos after completing his task. This action of Theseus very much deviates from how modern-day media portrays a hero but emphasizes his strong desires for success and initiative. Furthermore, unlike the actual myth, the painting gives a justification for the action of Theseus by illustrating him following Athene's command. As the gods' words were absolute and most powerful in Greek mythology, the command from Athene telling Theseus to leave Ariadne would have been considered as justice and what's the right thing to do. Thus, the painting conveys that the quality of heroes in Greek mythology such as having strong drives, initiatives, and will to follow gods are more valuable than being rigid and protective of their lovers.
Lucas Viele
The origins of the pieces Ariadne by John William Waterhouse and Ariadne in Naxos by Evelyn De Morgan are, in many ways, shared. Both Waterhouse and De Morgan were heavily associated with the Pre-Raphaelite Brotherhood, a group of modern artists founded in London in 1848 who aimed to promote the ideals exemplified in the work of the Renaissance painted Raphael ("Pre-Raphaelite Art"). The pair were painted a mere 22 years apart, and depict the same mythical figure. Despite these shared origins, however, the two pieces themselves could hardly be more dissimilar; one is a contemporary masterpiece and an effective exercise in then-modern art, while the other challenges precedent and examines myth from an entirely new perspective.
J.W. Waterhouse's Ariadne is an exemplary specimen of Pre-Raphaelite artwork. It features the princess Ariadne just as Theseus lands on Crete to slay the Minotaur. Ariadne herself is featured in a reclined position, her eyes closed. About her feet lie two leopards, which most likely symbolize Dionysus, and foreshadow her eventual marriage to him (Morford et al.). The style of the piece is pure high Renaissance; Waterhouse utilizes illusionistic painting techniques, maximizing depth with clear perspective and subtle shade shifts, casting the subject, Ariadne, in a warm light. There is also a focus on naturalistic realism, where each of the objects depicted takes a realistic form. Ariadne also has the classic "porcelain" look of many figures in Renaissance art, with alabaster skin and delicate features (Richman-Abdou). The direct reference to Graeco-Roman myth further establishes this as a neo-Renaissance piece of art.
The part of the myth Waterhouse chooses to focus on is equally as important. In this piece, he chooses to depict Ariadne before she meets Theseus, arguably the "high" of her mythic narrative (i.e., before her eventual abandonment). This focus is typical of Renaissance art; by the time Raphael and other Renaissance contemporaries had begun painting, the days of Greek and Roman paganism were far in the past, and mythology was understood as literature, not religious dogma. Renaissance artists understood Greek and Roman myth through heroism, greatness, and conquest of evil, and therefore often depicted their Greek subjects as thoroughly heroic ("Renaissance Art and Architecture"). As such, it would make sense that Waterhouse, as a Renaissance contemporary, would feature the most heroic or romantic scene of Ariadne and Theseus' shared narrative.
In her piece Ariadne in Naxos, Evelyn De Morgan takes a very different approach. Like Waterhouse, De Morgan was associated with the Pre-Raphaelites, and thus the work of classic Italian artists held much influence over her work. While her piece features the same character, the painting is quite different stylistically; gone is the hyperrealism, symbolism, and delicate nature of Waterhouse's Ariadne; in her place is a more simplistic figure with less defined features in a simpler setting. Gone too is the rich color of the Waterhouse; De Morgan's piece is done almost entirely in shades of ochre, with Ariadne's scarlet dress being a shocking splash of color on an otherwise monotonic and far less complex backdrop. In many ways, this piece is more reflective of the early Renaissance, with less of a focus on explicit form and more on purpose ("The Early Renaissance in Florence").
While the difference in style is certainly interesting, the mythological focus of these two paintings is a far more important difference. While Waterhouse's version views Ariadne at the pinnacle of her narrative, De Morgan depicts her at the bottom, when she is abandoned on Naxos by Theseus after he defeats the Minotaur. Unlike almost every other piece featuring Ariadne, including the Waterhouse, this scene does not depict Theseus as the heroic slayer of the Minotaur, but rather as an antagonist who abandoned his lover on an island far from her home. For the period, such an approach would have been highly unusual; perhaps De Morgan was utilizing her role as a feminist artist to critique the ways of old and to shed light on the less savory parts of traditional narratives ("Evelyn De Morgan").
Whatever the intent, it is abundantly clear that these two pieces, despite both coming from associated artists from the same small island, are different in style, form, and most importantly, function. One is an exercise in tradition in both appearance and meaning, while the other pushes boundaries, both stylistically and in purpose.
Works Cited
"Ariadne." Greek Mythology in Art, www.greekmythologyinart.com/ariadne-waterhouse.html.
"Ariadne in Greek Mythology." Greek Legends and Myths, www.greeklegendsandmyths.com/ariadne.html. Accessed 1 August. 2021
Britannica, The Editors of Encyclopaedia. "Ariadne". Encyclopedia Britannica, 11 Feb. 2020, https://www.britannica.com/topic/Ariadne-Greek-mythology. Accessed 2 August 2021.
Coutts, Allie, et al. "Ariadne and Theseus." Metamorphoses Project: Tracing Mythology through Time and Place, www.cornellcollege.edu/classical_studies/cla216-2-a/ariadne-theseus/Index.html. Accessed 2 August. 2021
"The Early Renaissance in Florence." National Gallery of Art, www.nga.gov/features/slideshows/the-early-renaissance-in-florence.html.
"Evelyn De Morgan." De Morgan Collection, De Morgan Foundation, www.demorgan.org.uk/discover/the-de-morgans/evelyn-de-morgan/.
"Jar (Stamnos)." Jar (Stamnos) – Works – Museum of Fine Arts, Boston, collections.mfa.org/objects/154074?image=. Accessed 1 August. 2021
La Fond, Marie. "Lesson 3 Video #3: Destination Athens: Athena and Her City " Greek and Roman Myth. University of Washington, June 2021, canvas.uw.edu/courses/1457478/pages/lesson-8-video-lectures?module_item_id=13108141. Accessed 1 August. 2021
Morford, Mark, et al. Classical Mythology. 11th ed., Oxford University Press, 2019, pp. 321-22.
"N13.4 Theseus & ARIADNE." Theseus & Ariadne - Ancient Greek Vase Painting, Theoi Project, www.theoi.com/Gallery/N13.4.html. Accessed 2 August. 2021
"Pre-Raphaelite Art." Tate, Tate Museum, www.tate.org.uk/art/art-terms/p/pre-raphaelite.
"Renaissance Art and Architecture." Oxford Art Online, Oxford University Press, www.oxfordartonline.com/page/renaissance-art-and-architecture.
"Stamnos." Wikipedia, Wikimedia Foundation, 26 Mar. 2020, en.wikipedia.org/wiki/Stamnos. Accessed 2 August. 2021
Richman-Abdou, Kelly. "The Captivating History and Enduring Influence of Italian Renaissance Art." My Modern Met, 31 Dec. 2017, mymodernmet.com/italian-renaissance-art-definition/.