Breaking the Silence in Break Out Rooms: Increasing Student Engagement
Resource added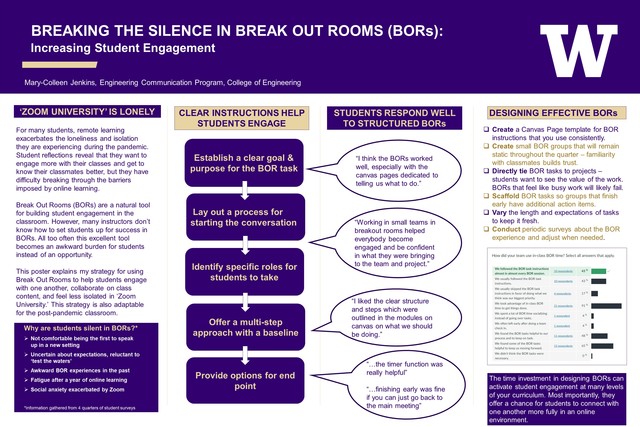 Full description
Video Presentation
Author:
Mary-Colleen Jenkins, Engineering Communication Program, UW Seattle
Abstract:
This poster explains my strategy for using Break Out Rooms to help students engage with one another, collaborate on class content, and feel less isolated in "Zoom University."
In collected surveys and reflections assignments, students report a lack of connection with other students in their online classes. Like never before, they are grappling with loneliness and isolation, and remote learning exacerbates these problems. Student reflections reveal that without frequent opportunities in their classes to spend time with peers, they do not know how breach this sense of isolation. This is especially true for students who are new UW.
Break Out Rooms (BORs) are a natural tool for building student engagement in the classroom. However, many instructors don't know how to set students up for success in BORs. All too often this excellent tool becomes a burden for students instead of an opportunity.
Silence is the biggest challenge to successful BORs. If students do not speak, they can't engage with one another. When this happens, BORs become a frustrating waste of time.
Successful BORs come from a balance between direct guidance from the instructor via specific written instructions and a class-wide expectation that students will take charge of achieving the BOR goals together.
Here I share tips for detailed BOR instructions that accomplish several things: (1) establish a shared goal, (2) give each student a role in reaching that goal, (3) connect the activity directly to course material, (4) help students use their BOR time effectively, and, (5) establish a foundation for student engagement with their peers.
This structure can be applied to any synchronous online course. The upfront work in designing the instructions is well worth the time. Instructors might notice attendance stays high and more students turn their cameras on and keep them on throughout the quarter.
Poster PDF
View a PDF version of the poster in Google Drive to enlarge the image or download a copy.
Comments
The presenter for this poster will be available to respond to comments during
Poster Session 1
on April 20, 2:00-2:50 p.m.