Collaborative Remote Hardware Lab Between 5 Universities in 4 Countries
Resource added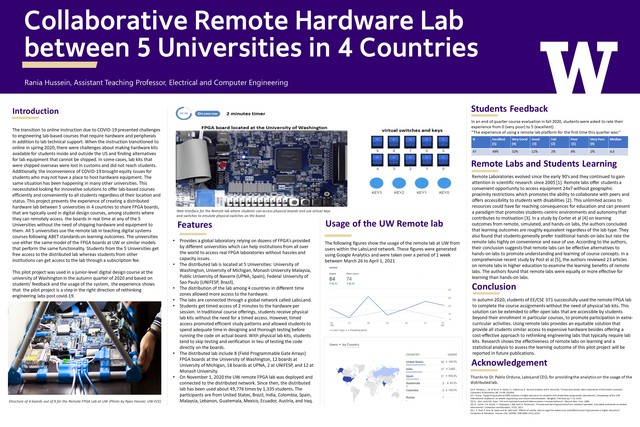 Full description
Video Presentation
Author:
Rania Hussein, Electrical and Computer Engineering, UW Seattle
Abstract:
The transition to online instruction due to COVID-19 presented challenges to engineering lab-based courses that require hardware and peripherals in addition to lab technical support. When the instruction transitioned to online in spring 2020, there were challenges about making hardware kits available for students inside and outside the US and finding alternatives for lab equipment that cannot be shipped. In some cases, lab kits that were shipped overseas were lost in customs and did not reach students.
Additionally, the inconvenience of COVID-19 brought equity issues for students who may not have a place to host hardware equipment. The same situation has been happening in many other universities. This necessitated looking for innovative solutions to offer lab-based courses efficiently and conveniently to all students regardless of their location and status. This project presents the experience of creating a distributed hardware lab between 5 universities in 4 countries to share FPGA boards, that are typically used in digital design courses, among students where they can remotely access the boards in real time at any of the 5 Universities without the need of shipping hardware and equipment to them. All 5 universities use the remote lab in teaching digital systems courses following ABET standards on learning outcomes. The universities use either the same model of the FPGA boards at UW or similar models that perform the same functionality.
This pilot project was used in a junior-level digital design course at the university of Washington in the autumn quarter of 2020 and based on students feedback and the usage of the system, the experience shows that the pilot project is a step in the right direction of rethinking engineering labs post covid-19. Assessing learning outcomes using statistical analysis is a work in progress.
Poster PDF
View a PDF version of the poster in Google Drive to enlarge the image or download a copy.
Comments
The presenter for this poster will be available to respond to comments during
Poster Session 1
on April 20, 2:00-2:50 p.m.