Chapter 4
THE QUEENDOM AND GRASSROOTS POLITICS

Despite differing approaches to grassroots politics, many China scholars argue that intensified reforms in China have resulted in accumulating tensions in the countryside and that peasants have responded by acting collectively in protests, sit-ins, demonstrations, and petitions and also by using legal means of expressing their frustration and dissatisfaction with the state.1 Rural agitators are usually "conscious of central government rules and adept at seizing on official rhetoric to press their claims" (O'Brien 2002, 146). In this way, they often situate themselves as supporters and defenders of central state agendas rather than as opponents and insurgents, seeking to legitimize their political claims in the hope that higher authorities and preferably even the central government will hear them and eventually address their grievances.
In the field, I was often surprised by the villagers' knowledge of the central government's political principles, such as "preferential policies for peasants" (huinong zhengce), including tax exemption and rural democratization. I was surprised because many of these mountain-dwelling Zangzu villagers were illiterate and could barely speak Chinese. How did they gain access to such knowledge?2 Demonstrations, sit-ins, and "group appeals to higher authority" (jiti shangfang) have also increased sharply since 2005. These concern mostly disputes over mining, such as damage to houses and desecration of holy mountains, as well as protests over the expropriation of land and the unequal compensation provided by governmental agencies and state-owned or private corporations for their development programs, mainly hydroelectric power projects.
Toward the end of 2008, a little more than half a year after the Tibetan riots, the demonstrations resumed and even intensified. A township cadre expressed consternation, saying of the villagers who went to a sit-in at the county hall in May 2009, all of whom were women, "I don't know where these illiterate people learned this 'trick.' Some of them may have never been to the county seat before." Local Zangzu not only have learned to use protest to voice their opinions but also have mastered it surprisingly well. The strategy of having only women demonstrators is based on the assumption that the government and police wouldn't dare to treat them roughly due to the general public's natural sympathy toward this "weak" group.
Why were local Zangzu villagers engaged in collective action? It became clear to me that their opposition had little to do with independence, as many outsiders or Tibet-cause advocates or sympathizers in the West and other parts of the world imagine. Instead, they were fighting for their rights as peasants and citizens in a mountainous region of China; they shared the same concerns as their Han counterparts throughout China and applied the same tactic of using "the regime's own words as a weapon" with which to safeguard their "lawful rights and interests" (hefa quanyi) (O'Brien 2002, 147).
It was apparent that cadres and villagers in Danba distrusted each other. Cadres sometimes called villagers "rogue civilians" (diaomin), while villagers accused cadres of being lazy, selfish, irresponsible, corrupt, and bureaucratic. Several Suopo Township cadres claimed that Suopo villagers were the "wildest" in Danba County because they dared to challenge the cadres' authority face-to-face, drove the township Party secretary into the river, vandalized a gold mine, and demonstrated against the government at the county seat. I also observed the frustration, anxiety, and conflict Suopo villagers experienced in their daily lives and in pervasive disputes within and among villages over elections, the distribution of social welfare, and rights to the land, water, trees, stone watchtowers, and gold mines, as well as in their interactions with township and county cadres.
Although cadres and villagers specify different reasons for their mutual dislike, they agree on one point, which is that the policies of the central government are very good, since both have benefited a great deal from expanding development projects in this Zangzu region.3 At first, this statement perplexed me. If state or Party policies are very good, why is there tension between cadres and villagers? Some cadres argue that villagers are "spoiled" by the central state's preferential policies, while villagers grumble about the good things from above that go bad on the way down because the local state is tainted by "vice." I came to realize that villagers are negotiating their own identities as members of a specific village, segment,4 and township, as Zangzu or Han and also as residents of Suopo Township and Danba County, and, finally, as Chinese citizens. Therefore, their dissatisfaction and frustration with local cadres is neither simply the amplification of their struggle at the grassroots level for their proper niche in the social and political structure of Danba nor only a struggle to reclaim the touristically lucrative "queendom" label. It is also the crystallization of internal and external differentiation and boundaries along the lines of locality, historical connections, culture and traditions, ethnic difference, and legal rights as Chinese citizens.
Suopo villagers declare that they are largely marginalized in Danba, based on their assumption that the county government has not attached enough importance to them. Many attribute this neglect to the fact that there are no native officials "at the court," namely, in county or higher-level governmental agencies. Villagers are most upset at present about the Suopo Bridge and the queendom issue. The bridge controversy has built up considerable tension and hostility since 2004.5 The queendom dispute exacerbated this situation and is the issue most frequently brought up by the Suopowa as proof of their marginalized status in Danba. Many villagers express their contempt for the county for displaying favoritism on this issue. It is believed that Danba's preference of Zhonglu Township over Suopo as the supposed site for the ancient queens' palace has to do with the influence of Zhonglu native officials "at the court." Villagers vehemently curse these officials, and many swear that they will take extreme actions whenever necessary to force the county to back down.
Extreme actions are defined by the state as demonstrations of any kind, including "violent" acts against government agencies, public places, and innocent civilians. Also condemned under this label are group appeals to higher authority without local governmental approval. In response to such actions, the Chinese government has adopted a hard-line policy toward its Zangzu subjects by increasing the presence of the army as well as intensifying political surveillance and propaganda in all Zangzu regions, including Danba. Nonetheless, in the past five years, demonstrations have escalated in scale and number in Danba. Faced with defiant public denunciations of local officials, the county government has threatened to label the participants "insurgents" who are working against the Party's "stability maintenance" (weiwen) policy, the first and foremost principle in Tibetan regions since the riots. Suopo villagers say they may resort to even more extreme actions for their queendom cause if the government continues to ignore their petition to reclaim the queendom; however, they recognize the need for caution since the endless propaganda about the "Tibetan situation" on TV and from cadres has reminded them that this may not be the best time for them to take action. If the queendom dispute were labeled a political riot, all their efforts would be rendered meaningless.
The queendom dispute has thus become a symbolic stage on which the Suopowa stand up against the "vicious" local authorities to redress all the wrongs done to them, yet they must weigh the situation and deal with it skillfully. They must be careful not to claim Tibetan independence or disapprove of Party rule. Their attitude toward the newly established tourism association at Moluo Village also speaks of this political ingenuity. The township government founded this association in an effort to make peace with the villagers by allowing them to manage tourism on their own. However, local elites and some villagers assert that this is a devious strategy intended to transfer the township government's duties as administrator of tourism to the Moluo villagers and thus avoid the inevitable frictions over tourism interests. One villager even uses a Chinese idiom to describe this phenomenon: "playing off the barbarians against each other" (yiyizhiyi). Nevertheless, some key members of the tourism association, as well as many ordinary villagers, realize that the association has provided a legal framework within which they can push their claims for the queendom and other tourism agendas further. It also gives them a means of minimizing the township's interference as much as possible while recognizing its leadership in name only, allowing them to enjoy any benefits, will be distributed through township cadres.
The queendom dispute invokes and enhances the common identity of the people of Suopo, who feel ill-treated by the county and who must fight together for their rights. Their collective identity is based on geopolitical affiliation and differentiation: Suopo Township as a unit of solidarity versus its rival neighbor Zhonglu and other townships and also versus county authorities. However, on the issues of who are the more authentic Suopowa and who have more justifiable and legitimate claims to descent from ancient noble queens, Suopo is divided. The most noticeable boundary marker is the Dadu River, which bisects Suopo. Another marker is the Zangzu-Han difference. Zangzu villagers from the two sections on the eastern side of the Dadu River consider themselves to be the more authentic Suopowa and bearers of the queens' heritage compared to those on the western side, who formed close historical ties with those on the eastern bank only after 1950 and were merged into Suopo Township in 1992. The Han immigrants, referred to as "the Han Gang" by their Zangzu neighbors, make up a little more than 6 percent of the Suopo population; they constitute a marginal layer of the Suopowa identity but are completely excluded from the queendom identity. Finally, an underlying male-versus-female struggle plays out in complex ways in the queendom dispute.
HEY, THE QUEENDOM IS OURS!
Not all villagers in Suopo know what the Eastern Queendom is, and some have never even heard of it. The legend of the queens is very popular, however, and they know that Suopo, along with a much larger region, used to be ruled by elegant queens who had the palace built at Jiadu (Suopo), in the midst of thick, dark forests, flanked by formidable cliffs on three sides. And they all believe that Zhonglu Township is "stealing" their queendom. Most do not blame the Zhonglu villagers and instead believe that county officials are responsible. The direct target is Mr. Tashi, a Zhonglu native and head of the cultural station, which is administered by the Culture and Tourism Bureau of Danba County. He is said to have taken advantage of his position to elevate Zhonglu as the site of the queen's palace, with another Zhongluwa standing behind him—Mr. Tsering, then vice-head of the county government and incumbent head of the county's People's Congress. The two Zhonglu natives, especially Mr. Tsering, are said to have manipulated their wide connections with other key county officials, who then voted for Zhonglu. Several representatives have been to the county seat on behalf of Suopo and accused the officials of favoritism.
The villagers' sense of frustration and unfairness has been channeled and guided by elites, who include local cadres, teachers, government employees, village heads, Bon priests and lamas, and others who have ample social and/ or financial resources at their disposal and thus the power to have their voices heard in the village. In the relatively egalitarian local environment, however, there is no clear-cut line distinguishing elites, whose authority is sometimes challenged.6 On the whole, local elites tend to be more keen on the queendom issue than other villagers.
Of the queendom advocates, Uncle Pema, a cadre of Suopo Township, is the best known in and outside of Suopo. Nicknamed the "King of the Eastern Queendom," he has devoted most of his time and energy to publicizing Suopo as the "authentic" site of the ancient queens' palace. One of his colleagues comments, "Uncle Pema cares about nothing but 'his queendom'." Very often, when I entered his room at the township, he was talking to villagers about "his queendom." I became one of his most loyal listeners, listening to him talk for hours about his favorite topic. Each narrative is literally the same: queendom legends; the analysis of why Suopo, not Zhonglu, is the site of the queens' palace; his squabbles with Mr. Tashi and encounters with Mr. Wang, one of the most important leaders in Ganzi Tibetan Autonomous Prefecture; and his interactions with scholars and the media, for whom he acts as local guide and queendom counsel. Uncle Pema's queendom research may contribute to Suopo's tourism development, so township leaders have freed him from most administrative work, giving him time to pursue his own interests. He is also assigned to assist the township government's head of tourism development in Suopo, especially in Moluo Village, the only village in Ganzi prefecture and Danba County that has been rated a Famous Historical and Cultural Village in China. In this way, Uncle Pema is recognized not only by the township as the queendom expert whose knowledge it can use for tourism's sake but also by most villagers as the spokesman for their queendom due to his position as a township cadre and his courage in accusing the county authorities of favoritism.
In 2005, Uncle Pema's newspaper article on the discovery of the queendom palace in Suopo rocked the county and even the prefecture, calling the county's stance on the Zhonglu queendom into question. Since then, he has been a determined defender of the Suopo queendom cause. He is confident that he will be able to collect enough evidence to authenticate his claim but worries that Zhonglu officials may find ways to prevent the truth from being revealed. Uncle Pema asserts that major county officials, including the Party secretary, have recognized the legitimacy of Suopo's claim but that propaganda and publicity lag behind, while Zhonglu continues to appropriate the queendom label that rightfully belongs to Suopo. According to him, the reason for Mr. Tashi's unethical behavior is that he has made a large investment in his hostel in Zhonglu and thus will not easily give up the lucrative queendom trademark.
Uncle Pema takes every opportunity to propagandize his version of the queendom legends and to relay the evidence he has gathered, especially to scholars, whom he considers to be unbiased. He is always eager to share his queendom expertise with visiting university teachers and scholars, in the hope that his petitions will be publicized through these scholars' writings. He also avails himself of the media to trumpet his queendom cause as newspapers, magazines, and TV stations move in because of Danba's increasing prominence in the Chinese tourism market. However, he became frustrated with some of the "irresponsible" media who sought to determine the agenda themselves instead of unveiling what he saw as historical truth.7 At one time, he was very interested in promoting the queendom to tourists and would meet them at the Suopo Bridge, volunteering to guide them and recount queendom legends. A local guide told me that on one occasion, his guests got so tired of Uncle Pema's harangue that they rudely told him to stop. This "indifference" has dampened his enthusiasm for publicizing the queendom to "unserious" and "uneducated" tourists.
Uncle Pema is fully aware that generating support among local villagers is essential for the success of his queendom cause. After all, his career is rooted in Suopo, and without the villagers' collaboration, he would not be able to regain his proprietorship of the queendom. As a Suopo native, he has wide connections among villagers. He is a hospitable host, and his room is often filled with villager guests who have come to the township on business. After offering them tea, he always takes the opportunity to lead his visitors into the world of the mythic queendom. Likewise, when he meets villagers on other occasions, it is not unusual for him to broach this subject. Unaffected by the sarcastic connotation of his "honorary" title, King of the Eastern Queendom, he persists in his campaign. His promotion of the queendom cause and determination to fight against county authorities have made him a rising star in Suopo Township. In his late fifties, he is now too old to run for township head after failing to be elected vice-head several years ago. "If I were younger, I could be [elected as] the head of the township government," Uncle Pema sighed. Indeed, his popularity has increased so dramatically that he might be able to secure enough support from the villagers.
In Uncle Pema's accounts of his queendom cause, he emphasizes Mr. Tashi's "piracy" and "spurious" claim that Zhonglu is the locus of the queens' palace. His sharp criticism and emotionally charged narration always evoke laughter and empathy from Suopo listeners. According to him, his solid evidence of the "authenticity" of his queendom-at-Suopo claim has often left Mr. Tashi speechless. Uncle Pema's proof is drawn mainly from popular legends, current place-names, existing relics, analysis of the geography and topography, and historical accounts. He claims that legends and place-names that build direct connections with the queendom cannot be found in Zhonglu; the greater number of stone watchtowers in Suopo shows that it is a more strategically important location, while Zhonglu is topographically unfit and arid; and various aspects of Suopo are more in accordance with Chinese historical accounts of the Eastern Queendom from ancient times, such as the architecture, wide use of hide boats, and the girls' puberty ritual.
Mr. Tashi, whom I have come to know well, argues that it is possible that the queens built their summer or winter palace in Zhonglu. Thus, Suopo and Zhonglu could band together to promote the queendom label. Uncle Pema firmly rejects this suggestion, arguing that Mr. Tashi has invested a lot of money in tourism and would benefit greatly from a tourism boom.
Uncle Pema convinced representatives of the county's People's Congress from Suopo, who are also village Party secretaries, to submit the proposal on the queendom (including the stone watchtowers) to the congress, but he is dissatisfied with the inaction of the congress and the county authorities at large. He suspects that Mr. Tashi and the Zhonglu clique in the county have set up a barrier to resolving this issue in favor of Suopo. Uncle Pema has considered posting a list of Mr. Tashi's misdeeds on every corner in the county seat so that Danba residents can judge for themselves. His position may seem radical to some, but his uncompromising style has made him a grassroots leader in Suopo.
Other village elites have played important roles in publicizing and popularizing the queendom discourse inside and outside of Suopo. Teacher Dorje and Teacher Namkha are two of these enthusiasts and proponents. Both are retired primary-school teachers with stable pensions.
Teacher Dorje has hosted the girls' puberty ritual several times since the late 1990s at so-called cultural festivals organized by the county. Due to his connections with county officials and knowledge of local customs and traditions, he is often asked to guide and host the VIPs and media representatives who visit Suopo, and he uses these occasions to promote the queendom and local culture. According to him, Gyarong culture is distinguished from those of other Zangzu subgroups by its "women's culture." However, the evidence that he uses to sustain his claim is almost exclusively from Suopo. He maintains that the essence of women's culture in Suopo is reflected in legends and customs that revolve around the queen and women as well as in the prestige of women in family and social matters. Like Uncle Pema, he has collected many legends about the queendom. He also suggests that many current customs in Suopo, such as the girls' puberty ritual, have been passed down from the queendom period.
The girls' puberty ritual used to be prepared for girls who reached the age of seventeen. During the New Year celebrations, villagers and relatives gathered together at the local monastery for this ceremony, and the girls wore their best clothes and fanciest jewelry. A poor family might borrow these things from relatives or neighbors. An important part of the ritual was that older women would help the girls style their hair in a unique way that few nowadays have mastered. It normally took half a day or more to arrange the hair in the shape of the two horns of the Khyung, the legendary bird in Tibetan tradition. According to Uncle Pema and Teacher Dorje, an ancient queendom tradition regarded the Khyung as its totem. This ritual was discontinued during the Cultural Revolution and was not revived until the late 1990s. These days, the primary purpose of the ritual is performance for tourists and media at the county's cultural festivals. Due to the lack of eligible girls, those who attend the ritual are not always seventeen-year-olds. In fact, some are married with children. Nevertheless, Teacher Dorje, among other local elites and some villagers, has declared to outsiders that this tradition was never diluted, that it is an essential part of local life, and that it represents a lineage connection with the ancient queens. This ritual has become the primary proof of the claim that local women are treated differently and more respectfully than in other cultures.
Teacher Dorje argues that in local tradition, women have enjoyed a prominent political position rarely seen in the Han and in other Zangzu regions. As every queendom advocate does, he cites the example of the three women who were received by Mao in recognition of their leadership skills, organizing capabilities, and working spirit. In Teacher Dorje's view, these Suopo women's achievements are inseparable from local cultural traditions that foster women's leadership capabilities and political wisdom and show that only Suopo is qualified to reclaim the queendom lineage.
Teacher Dorje claims that the county has not taken Suopo seriously or promoted it wholeheartedly. Sometimes, the county has even used the cultural resources and natural scenery of Suopo to advertise Zhonglu. In 2006, the Culture and Tourism Bureau asked him to guide a TV program team whose agenda was to shoot the site of the queendom in Suopo. The shoot lasted more than seven days. He had received the itinerary for the shoot but did not read it until the day he returned home. Only then did he realize that although the crew had shot footage in Suopo, the film would be presented as showing Zhonglu. He was so angry that he hurried to the county seat to confront the head of the Culture and Tourism Bureau and the film crew leader. Despite their claim that this was an accident, he assumed that county officials from Zhonglu had planned to do this all along. He was outraged but relieved that he had discovered the deception and protested. As he said, "If I hadn't seen this plan, I would have been thought of as a 'malefactor' [zuiren] to Suopo."
Teacher Namkha, another retired teacher, is a close friend of Uncle Pema's. Whenever they meet, their conversation on the queendom is endless. Teacher Namkha has collected hundreds of books in Chinese, which is very unusual even at the Danba County seat, not to mention in the countryside. Those he loves most are on Tibetan and Chinese history and culture. He attempts to reconstruct the history of the queendom through his understanding of these books and has written several articles on the queendom and local customs. His son, a dancer in the prefectural performing troupe, helps him type and edit his texts and post them on the Internet. A European specialist on stone watchtowers, who is engaged in the preservation of local cultural heritage, has asked Teacher Namkha to write on local tradition and also sent him a digital camera for shooting the scenery, folk customs, and anything else he thinks relevant. As he is a retired teacher with a good pension, purchasing a digital camera would not have been difficult for him; however, he cherishes this camera because it symbolizes international recognition of Suopo's unique cultural heritage. He has grown more infatuated with exploring and promoting local culture, reasoning that if a foreign scholar can travel so far to study Suopo, there is no excuse for him, a literate local, not to be fully engaged.
I befriended these three men and listened to their thoughts and ideas about the queendom, tourism development, cultural preservation, village politics, and so on. Common themes in their accounts are the uniqueness of Suopo traditions and the county government's indifference. For them, what makes Suopo stand out in Danba, in Zangzu regions, and in all of China is its "women's culture," as phrased by Teacher Dorje. All of them continually reminded me of the three women village leaders from Suopo who were received by Chairman Mao. They emphasized that only a most extraordinary person could be selected for such an honor, and it was remarkable that three people from the same township had received this opportunity. Even more unusual is that they were all women. These elite men point out that Suopo has the right soil for nurturing extremely beautiful, smart, and capable women who usually have the final say in family and village matters. They see this tradition as having come down from the ancient Eastern Queendom, not acknowledging the special circumstances of the 1950s and 1960s—the shortage of men in the village and the Party's promotion of the gender-equality ideology that made women's political prominence possible.
These three feel that the "glorious past" (represented by the above-mentioned women) has been ignored by the county government and have concluded that modern media could publicize their cause. In their encounters with correspondents and photographers from newspapers, magazines, and television stations, Uncle Pema and Teacher Dorje came to realize that some media just want something sensational, not the truth. Even worse, some use the footage shot in Suopo to advertise Zhonglu. They hope, however, to come across what they call "serious" media that can accurately present Suopo and its queendom. They also hope that scholars doing in-depth research can help publicize their cause. They all say that because they are not well educated, it is difficult for them to write and promote their ideas, so the impartial scholars will write about and for Suopo. After observing the popularity of the Internet at the Danba County seat in the past several years and its use by tourists, they have come to believe in its power. As Teacher Namkha, whose son uploads his articles on the Internet, argued, there is much less "political check" on the Internet compared to other state-owned media. Another advantage is its wide distribution.
Many other elites are also actively involved in the queendom cause. As mentioned, two Suopo representatives in Danba County's People's Congress, who are also Party secretaries in their respective villages, submitted their queendom proposal to the congress and went to the county seat with Uncle Pema to question authorities about their favoritism. Several other Party secretaries and village heads, as well as some other elites, joined in this endeavor. The reactions of village VIPs toward the "biased" county government have influenced how villagers view this controversy. Uncle Pema's dramatic portrayal of his "battles" with Mr. Tashi and with the "dark" forces intent on marginalizing Suopo has won their sympathy. This is partially because elites tend to have social capital or resources—such as money, power, guanxi (communal kinship ties and networks of personal connections), and education—and/or are in respectable professions (lama, teacher, cadre) that privilege their words and actions.
Nonetheless, the villagers' judgments and decisions are not always guided by elites but based on their own evaluation of situations. Their participation in the queendom effort is inseparable from their resentment toward the county and township governments for delays in resolving the Suopo Bridge issue and other concerns. The assumed unfairness and favoritism in the queendom issue just reconfirms their marginalized status in Danba and their expectation of being neglected by county cadres. The villagers' expressions of hostility or frustration are thus understandable and widely shared.
Elites play a role in channeling these popular expressions, either moderating or intensifying them. In certain circumstances, when elites feel it necessary to counter a deteriorating situation, they may take advantage of their social capital and direct others toward appeasement through coercion or other means; under other circumstances, they may choose to provoke others to heighten the tension. In Suopo, elites see the intensification of the situation as an opportunity to reject the county government's agenda and retrieve what had belonged to Suopo exclusively. What can elites gain from this?
Uncle Pema declares that what he does has nothing to do with his personal interests, and he anticipates no rewards from tourism. He claims to be working to benefit the people of Suopo and to satisfy his pride in the local queendom heritage. However, other villagers drew my attention to the fact that his hostility toward Mr. Tashi is connected with disputes over the construction of Uncle Pema's eldest son's new house in Moluo Village several years ago. Their old house was some twenty meters away from a stone watchtower, and they were going to build the new one at the original site. However, Mr. Tashi stopped them because, according to the county's new regulations on watchtower protection and safety, new houses built in Moluo must be more than fifty meters away from watchtowers. Although Uncle Pema finally managed to have the new house built after persistently petitioning the head of the Culture and Tourism Bureau, and after several clashes with Mr. Tashi, he lost the opportunity to collaborate with a European specialist who was said to have agreed to sponsor the construction because she wanted a room in which to live. As a consequence of Uncle Pema's prolonged disputes with Mr. Tashi, she purchased a house in another village instead and is said to have invested ¥40,000 ($6,265) in building a new village road. That being so, Uncle Pema sees Mr. Tashi as the one who spoiled this golden chance.
Uncle Pema's other two children, a son and a daughter, expect that they will benefit eventually from tourism development in Moluo. This son is a member of the newly founded tourism association in Moluo, and his wife sometimes sells local produce to tourists or serves as a guide. Uncle Pema's daughter and her husband are building a huge house at the entrance to the village, hoping that it can be turned into a hostel when tourism increases.
Teacher Dorje has invested in tourism, too. He opened one of the earliest hostels in Moluo and also plans to turn the newly finished house for his eldest son into a hostel when the time is ripe. It is expected that with the publicity of the queendom label and subsequent inflow of tourists, locals will benefit directly and the village Party secretary and village head, who endorse this cause, may be rewarded with the villagers' trust and support. It is likely that some of them, if not all, will benefit from tourism directly. For instance, one of the village leaders recently had a "mansion" built—the largest and most luxurious house in Suopo, which can accommodate more than a hundred tourists.
Most Suopo elites are invested in the queendom cause in one way or another with the expectation of being rewarded for their dedication. To quote one villager, "Why wouldn't they [elites] care about the Eastern Queendom? How could it be possible for them to do something that they will not benefit from?" This is almost a standard belief among villagers as to the motives of these elites. Many villagers gave me examples of how village heads or other elites used their power, money, and social connections to serve their interests. Compared to elites, common villagers are at a disadvantage. To quote another villager: "They [Uncle Pema and the two retired teachers] have nothing else to do. They are cadres. Just sit there and get the money. Unlike them, we are peasants, no money, no guanxi. We have to toil very hard every day from morning till evening. How can we afford the time and energy for that [the queendom cause]?" As this villager claims, the unequal distribution of social resources between elites and villagers results in their different degrees of dedication. There are, however, villagers who are also very keen on the queendom cause.
Reward and possible benefits from the cause are more than economic and include prestige and status in the village. Uncle Pema takes pride in his rise to prominence as the "King of the Eastern Queendom." Teacher Dorje said he almost would have "committed a crime" if he hadn't discovered the TV program's deceptive plan of substituting Zhonglu for Suopo. "How would I have the 'face' [courage] to live in the village? All the people would curse me for bringing these people here!" he exclaimed.
Then Teacher Namkha said, "We cannot leave the heritage of our ancestors unattended. I am getting old. How many more years can I live? I don't know. I just want to make use of the time collecting folk stories and customs and taking photos. I will leave all these [writings] and all my books for later generations, whether they want them or not. Maybe one day when they see them by chance, they will be amazed at what a splendid culture our Suopo once had."
The villagers' concern for reputation and pride in their local heritage, often accompanied by anxiety over its possible disappearance, are significant, as are their concerns about the queendom and pride in their collective identity as Suopowa who share "unique" traditions along with their marginalized status in Danba. Some say openly that if the county government does not treat them justly by restoring the queendom label, they will take extreme actions by demonstrating and appealing collectively to the prefecture, province, and, finally, to Beijing if the issues are not resolved. As one villager alleged, "This is the sky of the Chinese Communist Party. Big blue sky! The county government cannot darken it. There is always somewhere we can appeal in order to get justice. I just don't believe a little county like Danba would rebel [against the Party]!"
An important message conveyed here is the view that the center, Beijing, is an embodiment of absolute justice, while the periphery, Danba, is corrupt. This dynamism in the relationship between the center and the periphery is not unusual in a highly centralized state; in the Soviet Union as well, the people at the periphery often looked to the center (i.e., Moscow or a deified national leader like Stalin) for final justice (see, e.g., Brandenberger 2005).
Two important factors contribute to this phenomenon: first, turning to an omnipotent and merciful godlike ruler "high above" enables the marginalized to voice their pains in a highly centralized society where the outlet for accumulated grievances is limited; second, thanks to successful ideological inculcation campaigns, marginal peoples are convinced (or made to believe) that the center is their final hope for a better future. In China, the themes "Only the Communist Party can save China" and "The Central Party Committee is the great savior that will rescue Han commoners and especially minorities from the hellish pre-Liberation feudalism or serfdom" reverberate in the media, textbooks, official documents, and political meetings. Through incessant propaganda, the central government has also impressed both the Han minorities with its efforts to crack down on local cadre corruption and delinquency, conveying the message that the problem is always local and the center is the savior. These factors are instrumental in enlisting support for the central state from Suopo villagers and others.
Nevertheless, it would be simplistic to assume that the central Party-state as the ultimate source of justice is merely imaginary. The past decade has seen notable improvements in traffic and communication, educational, and other basic facilities in Danba, and local farmers have benefited from substantial government subsidies and preferential policies oriented toward the development of Zangzu regions. Thus, Zangzu locals have "tasted the sweetness," and their support of the central Party-state is not an unexpected outcome. Although it is true that material gains won't always engender loyalty among minorities, including the Zangzu and Uyghur, it is fair to say that economic and rural reforms do bring about positive change in the countryside, as millions of farmers in China acknowledge. Although these reforms have also caused increasing rural unrest, most collective actions target local state agencies, corporations, factories, and individuals, not the central government.
Why has the local state become the target of the villagers' anger in Danba and other places in China? Local officials and cadres are the ones who implement policies made by the central state and other higher authorities, and they must then interact directly with the grass roots. In the process of carrying out these policies, conflicts with villagers are inevitable. The opinion of both Danba cadres and villagers that the policies of the central government are very good explains some of the contention in Danba. County and township cadres often complained to me that "too many" preferential policies for local villagers have made the latter accustomed to "free subsidies." Without the constant inflow of financial or material support, the villagers would blame the county or township for being irresponsible and not doing its job or even for corruption. Simultaneously, it was impossible to distribute these benefits equally among villagers due to the limited amounts available and governmental agendas of providing special aid to certain groups such as the elderly, the disabled, or the poor. As a result, many villagers protested the "uneven" or "unfair" distribution. Since the county and especially the township oversaw the distribution of most subsidies, they naturally became the targets of local ire. From the point of view of many villagers, the present cadres are different from or the opposite of the pre-1980s cadres, who were said to be conscientious, altruistic, responsible, hardworking, and sympathetic.
The fact that conflicts have intensified in the past decade, especially in the past five years, as exemplified by the frequency and scale of collective action in Danba, is consistent with an overall increase in discord in rural China.8 Most scholars agree that this has much to do with general political relaxation and the segmentation of officialdom or the state.9 As is the case everywhere in China, Danba locals are finding more avenues for self-expression. The opening of such avenues is partly the result of the shift in the state-society relationship as societal sectors expand in scale and influence in spite of the unshaken Party- and state-centric ruling approach in China (Perry 2010); it also derives from the fact that some state officials and cadres "are disposed to champion popular demands" rather than invariably siding with the state (O'Brien 2002, 151).
Uncle Pema himself is a state employee who has been able to get along with almost all the other township cadres, especially the Party secretary and township head. He has kept the Party secretary—the most important leader in the township—informed of his plans for the queendom, his conflicts with Mr. Tashi, and his petitions to county authorities. According to Uncle Pema, his actions were approved by the Party secretary, who, however, warned him to be cautious. In my conversations with the township cadres, they all seemed in favor of Uncle Pema's queendom project, though their support was most often merely verbal. I later learned that some didn't really care much about this project, since it had little do with their work or political careers; however, they considered it "politically correct" to express their verbal support. This reserved support is based on their assessment of the situation: directly opposing the queendom project would invite criticism from Suopo villagers and offend their friendly colleague Uncle Pema, yet supporting the project publicly would likely invite negative ratings from county authorities who are often the target of the villagers' extreme actions.
Another important factor is that although township leaders did show interest in the queendom project and hoped to involve themselves even more, the lack of institutional and economic resources forestalled any action other than verbal support. Development of tourism and cultural heritage is always administered and monitored by the county's Culture and Tourism Bureau, and oftentimes the township government is expected only to assist the bureau in its work. The township often feels a sense of powerlessness as a result of its subordinate or supporting role in relation to county agencies. This affected its involvement in the queendom project. Suopo Township also had very limited administrative fees appropriated by the county government each year, which were used specifically for administrative matters and receptions for visiting county cadres and others. Thus, it had no extra money for developing this or other projects. It must apply to various county agencies for funding. The guanxi between township heads and county officials is sometimes an important factor in townships being funded. That is why even if Suopo Township leaders did want to support their villagers in the queendom dispute, they hesitated to fully endorse the Suopowa's claim for fear of creating a strained relationship with county authorities.
As a result, championing this popular demand verbally and prudently is the middle way and thus the best way for the township to follow. The reactions of the township's cadres to the queendom project also reveal that local state actors have their own agendas and interests; their decisions and choices are constrained by the concrete situation and are based on their thorough evaluation of the situation.
"
EMBARRASSED
"
HAN ON THE MARGIN
The queendom cause is a collective battle of Suopo villagers against the "prejudiced" county government. In this process, the Suopowa identity is fortified and invoked as a close-knit community that shares language, culture, territory, queendom lineage, and the common experience and destiny of being residents of an executive subdivision of Danba. In this way, the Suopowa are defined genealogically (blood and ancestry), culturally (language and culture), and administratively (under the jurisdiction of Suopo Township). Then who are the "authentic" Suopowa? How is the boundary of this category marked? The answer involves different degrees or scopes of internal identification. Originally, the term "Suopowa" referred only to the natives of the Suopo segment (the villages of Nongzhong and Gongbu), next to the Dazhai segment (the villages of Moluo, Zuobi, Basuo, and Laiyi) on the eastern side of the Dadu River. In 1950, a township named after the Suopo segment was founded in newly established Danba County to administer these two segments. The scope of the concept "Suopowa" was thus extended to Dazhai, which constitutes the second layer of the Suopowa identity. After the Pujiaoding segment with four villages on the western side of the Dadu River merged with Suopo Township in 1992, this concept expanded to include these four villages, making up the third layer of the Suopowa identity. Suopo Township's eleventh village, Dongfeng, is normally referred to as a Suopo segment, but its people, most of whom are Han immigrants, are not classified as Suopowa in most circumstances since they have no roots in Suopo. Nonetheless, in some situations, they are recognized by other villagers as Suopowa, though in a very loose sense, which accounts for the fourth layer (see fig. 4.1). After all, as residents of the same township, Dongfeng villagers share some common experiences with local Zangzu villagers, such as enmity toward the township and county governments. Consequently, a question arises: Does the queendom-at-Suopo campaign concern them?
Regarding the Dongfeng villagers' status in Suopo Township, a county cadre once commented, "Others [Zangzu Suopo villagers] think of them as beggars." "It is we who are really the minority here," said a Dongfeng villager. According to one of my eldest informants, who was in her eighties, at the time of Liberation in Danba in 1950, there were only three Han households comprising about ten people. Driven by endless warfare and starvation, they had fled here from other parts of Sichuan. After Liberation, more Han moved in, and now the Han population in Dongfeng is 215, accounting for roughly 6.5 percent of Suopo's total population. Except for a few Zangzu villagers who married in, all are Han or mixed-blood persons who are usually identified as "Zangzu" on their residence registration cards. In the other ten villages in Suopo Township, however, almost all residents are Zangzu. As a way of distinguishing themselves from the Donfengwa, the residents of the other ten villages normally refer to the Dongfeng villagers as the Han Gang, a term with negative connotations, designating these "rootless" people who are "different from us" in terms of their culture and mind-set and who do not belong to or own this land.10 In the 1960s, Dongfeng—with the most barren land in Suopo—merged with Moluo and became one "production brigade" (shengchan dadui). Having grown more and more disgruntled with the fact that the Donfengwa would be sharing their fertile land and diluting their work points,11 the Moluowa persistently petitioned the township and county government for a split; three years later, they were able to banish all of the Han Gang except for two households.12 As Dongfeng's population began to grow, the villagers started to expand their land downward to Moluo and upward to Gongbu. People from these two villages complained about this "shameless invasion."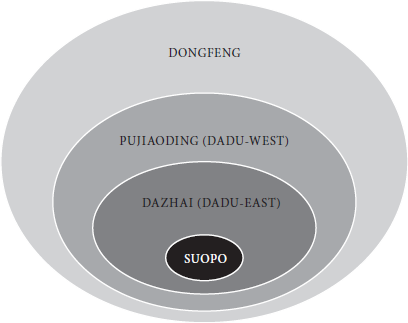 I often heard from Zangzu villagers that the Dongfengwa are clever in comparison to local Zangzu, meaning that the Donfengwa and Han at large are believed to have "economic minds" (jingji tounao): they, unlike the Zangzu, have learned how to make money. However, such words are not always used as praise. On the contrary, they imply pragmatism, selfishness, slyness, calculation, money hunger, and untrustworthiness. Some Zangzu villagers also believe that the Donfengwa do not possess virtues, such as caring for others or filial piety (xiao), since they assume that the Dongfengwa have no religion and thus do not worry about bad karma. However, many Zangzu villagers do recognize the Dongfengwa's strength. I often hear from Zangzu villagers that the Donfengwa are more hardworking than they are, and they express their admiration for the importance the Han attach to education. Nevertheless, the Dongfengwa do not recognize these qualities as virtuous because they have no choice but to be strong. As one Dongfeng villager in his early sixties said,
The policy toward Zangzu is very good. We [Dongfengwa] don't have [the same policy] . . . we all do odd jobs at other places. Our land is very infertile. For Zangzu, they just expect "the pie to fall from the sky" [tianshang diao xianbing]. What do they worry about? The state will take care of them. . . . I sent all three of my children to school, and they have all become cadres in other counties [of Ganzi Tibetan Autonomous Prefecture]. What can we do? If they didn't go to school, how would they feed themselves here? . . . I will labor here for a few more years. Then I will leave for good.
His impression of Zangzu villagers is shared by many other Dongfengwa, who feel that their Zangzu neighbors can simply wait for governmental support and do nothing. That is why they can be lazy. Some Dongfengwa also believe that many Zangzu locals are very dirty and stupid. "I am asked to plaster their new houses," said a Dongfeng villager. "Zangzu just cannot do it. They are unable to make the surface [of the wall] smooth. They never learn."
With both sides inclined to distrust and even to despise each other, how can Zangzu villagers expect the Dongfengwa to contribute to the queendom cause? Indeed, most Dongfengwa simply don't care about it. They reside on this piece of land, but many don't feel fully connected to it, so the legend about the queen that can be traced back more than a thousand years has nothing to do with them. Zangzu villagers don't bother to engage the Donfengwa in the queendom cause because the Dongfengwa are not qualified to claim any connection with the noble and elegant queens of the past.
Connection with the queendom is not, however, the only criterion for being identified as "Suopowa." Despite the fact that most Zangzu villagers do not count their Han neighbors as "authentic" Suopowa, they do share common interests and experiences as residents of the same township and often need to work together. Thus, the Dongfengwa are also part of the Suopowa although they are at the most peripheral layer of this identification. The Suopo Bridge issue is a common concern for the seven villages on the eastern side of the Dadu River, including Dongfeng. Like other villagers, the Dongfengwa condemn the inefficiency and favoritism of county officials.
The Dongfengwa raised another common issue, the gold mine that has affected four neighboring villages (Dongfeng, Gongbu, Nongzhong, and Moluo), and inspired their Zangzu neighbors to follow suit. The situation became so intense and confrontational that it convulsed the whole county. One night in May 2007, a detonation at the gold mine nearby caused cracks in some houses in Dongfeng. Led by the village head, most of villagers, some 140, stormed over to the gold mine to argue with its owner. Township cadres tried unsuccessfully to resolve the conflict. Dongfeng villagers accused the township's Party secretary and governmental heads of taking bribes from the gold mine's owner. Tension with the township escalated to the extent that two villagers drove the Party secretary into the Dadu River.13 Not until the owner promised to compensate villagers for the damage did they back down.
One former village head admired the Dongfengwa's courage so much that he claimed that "we Zangzu are just like a pile of loose sand. Look at them [the Dongfengwa]. How united they are! We should learn from them." Then Zangzu villagers did learn. With Dongfeng as their model, villagers in Gongbu and Nongzhong organized two big protests involving more than a hundred participants. They pressured the gold mine owner for more compensation by smashing machines and installations, and they demonstrated at the county government intermittently for a month. That is why some cadres argue that the Suopowa are the "wildest" of Zangzu, yet this expression of opinion by Zangzu villagers in Suopo owes much to the Dongfengwa's pioneering public display of outrage. With their actions, the Dongfengwa proved that they deserved to live there after all.
In a narrow sense, the Dongfengwa are not dedicated to the queendom, but the queendom dispute is entangled with other issues. The primary issues concern how the Suopowa themselves think of and respond to social changes and political reforms as a way in which to highlight their own identity as an internally bounded collective worthy of attention and respect, even at the cost of clashing with higher authorities. By virtue of this public demonstration of collective identity, Dongfeng villagers also contributed to the queendom cause by challenging the partisanship and nepotism of county authorities. Although a causal relationship between the Dongfengwa's protest and the ensuing protests of their Zangzu neighbors cannot be proved, it is fair to say that the Dongfengwa's act of defying authority spurred Zangzu villagers to act. Many Zangzu villagers applaud the Dongfengwa's daring and intrepidness. Most villagers believe that the county and township governments "bully the weak and fear the strong" (qiruan paying) and that if they continue to be as passive and obedient as in the past, they will never win respect from the county. Neither will they win back their queendom label. So some openly express the possibility of taking extreme actions if the county government continues to turn a deaf ear to their pleas. In this way, the Dongfengwa have been instrumental in inflaming the queendom dispute, which is not their direct concern.
Nonetheless, the "embarrassed" status of the Dongfengwa in Suopo has been reinforced rather than ameliorated through the queendom cause. Although the Dongfengwa's rebellious spirits serve as a model for their neighbors in the intensifying struggle with the county, the queendom identity leaves no place for the Dongfengwa. Roughly parallel to the different layers of "Suopowa" identification, the queendom identity has layers, too, which are defined by degrees of connection and proximity to the legendary queendom. Of the three segments of the township, the Suopo segment and the Dazhai segment are equally linked with the queendom. Although the claimed palace of the queens is located in the Suopo segment, these two segments have always been connected internally through kinship and marital exchange. Thus, both share a direct lineage with the queens. This is the first layer of queendom identity. The four villages on the western side of the Dadu River seldom shared ritual or public space where religious activities or other public events such as weddings and funerals took place, nor did marital exchange occur. This is largely a result of the obstruction of the Dadu River. After Liberation in 1950, these villages were first affiliated with another township before merging with Suopo Township. However, they share language and cultural traditions with the Suopo and Dazhai segments and thus are also assumed to be vaguely related to the queendom. This constitutes yet another layer of queendom identity. In contrast, the Zhongluwa, who share the same language and traditions and also have had frequent interactions with the Suopo and Dazhai segments, are excluded from this identification. The queendom identity appears to be a primary reflection of Suopo localism, which stresses the exclusive connection of Suopo with the queendom. Since the Dongfengwa have different blood and traditions, they are completely cut off from this identification (see fig. 4.2).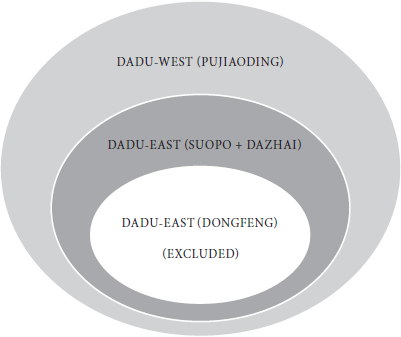 Queendom identity is thus a local, or township, identity that the Suopowa assert so that they can distinguish themselves from other townships, especially their rival, Zhonglu. It is also a compartmentalized internal identity in that it distinguishes between its first and second layers based on their supposed degree of lineage and cultural purity in relation to the ancestral queens. Finally, it marks an unequivocal line between local Zangzu and the Han. Thus, the Zangzu-Han difference is crystallized in the queendom reconstruction process. As a consequence, the landscape of the queendom cause becomes more nuanced and convoluted (see fig. 4.3). On the one hand, this cause calls for coordination among all villagers (including the Dongfengwa) in order to concentrate their strength in fighting against Zhonglu "thieves" and county authorities. On the other hand, this cause that underscores lineage and cultural purity and authenticity anticipates different degrees of dedication from the two Zangzu wings, which are divided by the Dadu River. The Dongfengwa are further marked off from Suopo's cultural map and the queendom plan.
However, the Dongfengwa may also benefit from the queendom cause. With the development of tourism as a result of the queendom publicity, the Dongfengwa may turn to the tourism industry as well. This may lead to some conflict: if tourists come and pay for the "unique" queendom culture of Suopo, what is the position of the Dongfengwa who are not affiliated? Since the Dongfengwa can be very assertive and rebellious, how will they handle this situation? Will they acquiesce to taking on the status of a rootless group in Suopo? Considering the fact that they have had increasing conflicts with other villagers over water, land, and other issues, it is likely that they will not easily give up their pursuits. That is why some cadres and Zangzu villagers maintain that "the Dongfengwa are too wild." Since the Dongfengwa's unusual wildness derives from their agitation over their peripheral status in Suopo, any action that further marginalizes them may provoke even wilder expressions of anxiety caused by their rootlessness. The interaction between the "wildest" Zangzu villagers and the "too wild" Dongfengwa problematizes the prospects of the queendom discourse and complicates the sociopolitical landscape of Suopo.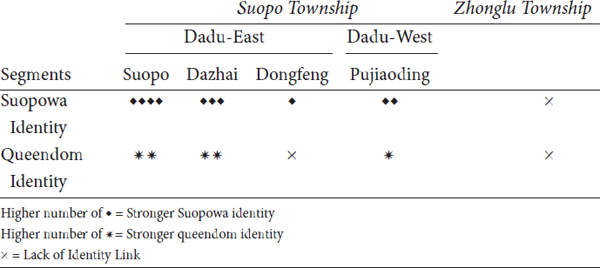 In summary, the Suopowa's struggle for the queendom label is embedded in the social and political transformation of Danba and China in general, which is characterized by increasing collective actions of rural sectors against the local state apparatus and other sectors. In this process, Suopo villagers are engaged in an identity politics that aims to define their manifold identities along the lines of Chinese citizenship, interethnic and intraethnic sameness and differences, regional and local ties, professional and peasant status, marginality and majority perceptions, and other political stances such as loyalty to the Party-state. Elites have played an important role in channeling the villagers' perceptions of the queendom dispute and engaging them in the fight for "justice." The township's middle-way approach—verbally endorsing the queendom claim—is based largely on the cadres' evaluation of their relations with both locals and the county, which exhibits intrastate variations and the different interests and agendas of multiple state actors. The relationship between the Han Dongfengwa and Zangzu villagers, which is prominent in this struggle, reveals more than Han-Zangzu ethnic, cultural, and genealogical differences, and their mutual relationships are informed by political goals and interests. The Zangzu villagers, like local state officials, are far from being a homogenized whole. They are internally united and/or divided by locality, queendom lineage, and other political interests.