Chapter 3
FROM THE VALLEY OF BEAUTIES TO THE EASTERN QUEENDOM

Due to its breathtaking landscape, exquisite Tibetan-style buildings, and unique customs, the media promote Danba as the Most Beautiful Countryside in China ( Zhongguo Zui Meili de Xiangcun). However, Danba's popularity among tourists has much to do with its fame as the Valley of Beauties (Meirengu). The media and tourists undeniably have played an essential role, but the local state, elites, and villagers have also actively participated in the process of forging the Valley of Beauties and the Eastern Queendom. Their involvement raises many questions: Are locals conscious of the negative or sexualized connotations of popular labels? How do their responses speak to the complex terrain of ethnic representations in China? How can we make sense of the competition over the Eastern Queendom brand and the brand's coexistence with "authentic" Khampa hypermasculinity? More specifically, why do Suopo men choose to feminize themselves in order to cater to the Han's or tourists' fantasies? Are they doing so because they intend to reverse the dominant power structure, or is their choice subject to more nuanced macroscopic and microscopic conditions that define them as more than potential "insurgents"? The making of the queendom and the Valley of Beauties is largely in the hands of men. If women are superior to men, as Suopo male elites claim, why are women not more active in the queendom project?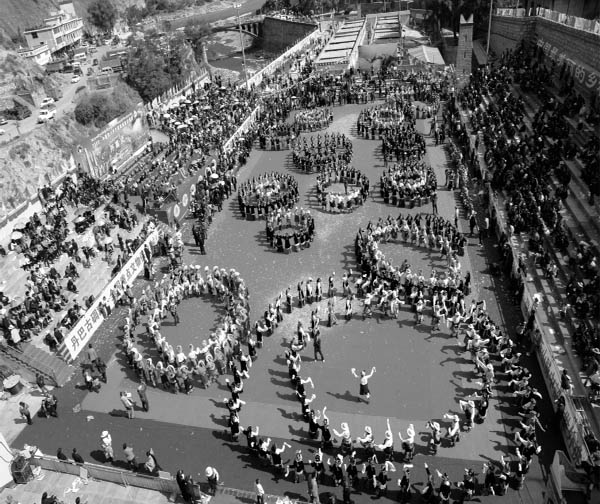 MAKING THE VALLEY OF BEAUTIES
The media's successful promotion of the "Valley of Beauties" label since 2001 has brought an increasing number of tourists to Danba each year. An important agenda for many tourists is seeing (and perhaps embracing) good-looking Danba women. The local government has been working closely with the media to enhance Danba's status as the land of beauties in the Chinese tourist market. Danba County has organized five Gyarong Charm Festivals (Jiarong Fengqingjie) since 2001 (see fig. 3.1) and invited TV stations, newspapers, and magazines to these events.
The most popular component of this festival is the beauty contest. Dozens of beautiful young women from all over Danba, wearing elegant clothing and magnificent jewels, gather at the county seat for this competition (see fig. 3.2). The winners are granted three levels of prizes: Golden Flower is first prize, Silver Flower is second prize, and Guava Flower is third prize. Journalists from important media are often invited to serve as judges. As a result, elaborate reports on and numerous photos of graceful and glamorous Danba women are spread all over China, especially on the Internet. This practice has contributed greatly to the soaring reputation of Danba as the Valley of Beauties.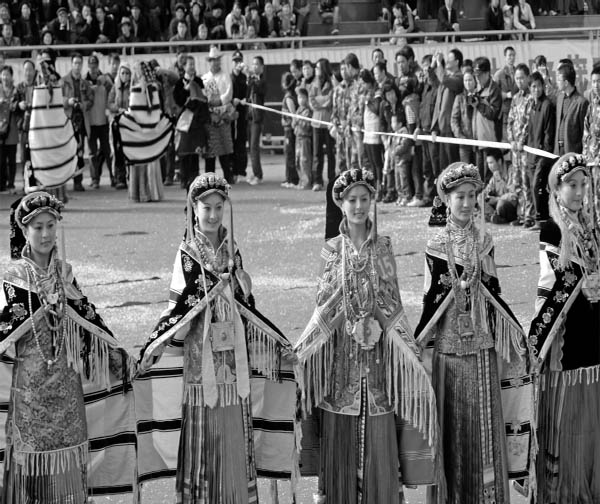 An ironic consequence of the escalating regard for Danba beauties in China is that a lot of tourists complain that they don't see very many beautiful women in Danba. Sometimes, locals respond that the beauties have all gone to big cities for jobs, leaving behind their mothers and grandmothers for the tourists' gaze. Hundreds of young Danba women have in fact been hired by singing and dancing troupes or companies in tourist attractions all over China and in such big cities as Chengdu, Beijing, Shanghai, and Guangzhou.
Many locals take pride in the "Valley of Beauties" label. They often authenticate and defend Danba's claim to fame in front of tourists. I have often heard local guides and others introduce courtship customs and free-love practices in Danba to tourists. In this way, locals cater to tourists' fascination with the "authentic" and "romantic" local traditions of the Valley of Beauties.
RESPONSES TO THE SEXUALIZED IMAGE OF WOMEN IN THE VALLEY OF BEAUTIES
Are locals aware that some tourists come to the Valley of Beauties not just for a glimpse of beautiful local women or to hear stories of "exotic" customs but for free love or romantic encounters with Danba women? During an early stage of tourism development at the turn of this century, many locals didn't realize that local women would become sexual objects for male tourists, but in the past several years in Jiaju, Suopo, and other parts of Danba, people often reminded me that some tourists had "other thoughts" when they came to Danba because of their fascination with the name "Valley of Beauties" or "Eastern Queendom." Some local people expressed concern about possible "degeneration" among the youth, especially girls, who participated in the tourism industry as local guides or receptionists, and about the corruption of local culture and traditions. In tourist-frequented villages such as Jiaju—best known for its magnificent architecture and landscape (see fig. 3.3), which attracts the largest number of tourists who visit Danba—there were often rumors among villagers that some girls had sexual relations with tourists. As one Jiaju man in his late fifties commented, "Now society has changed. The girls [in the village] used to feel very shy when they saw strangers. Today only the 'shameless' girls can make money. They would do anything for tourists for the sake of money. Sometimes two girls would be fighting with each other for a wealthy [male] tourist. Many elderly villagers say that these 'thick-skinned' girls have made all our Jiaju [people] lose face completely."
I knew an unmarried female guide from Jiaju in her early twenties who was often designated by county governmental agencies to be a guide for guests such as visiting officials and journalists due to her excellent standard Chinese (Mandarin), eloquence, and elegance. She was later offered a temporary position as a "receptionist" at the county's Reception Office, which received and entertained visiting VIPs and other guests of the county government and Communist Party committee. After one or two weeks at work, she returned home for a short break and was dumbfounded when her father asked, "Have you slept with someone?" although she knew that many villagers thought that the Reception Office was staffed by handsome young men and especially beautiful women who were good at speaking and drinking and might try every means to entertain guests, including sex. According to one villager, because of her job, some villagers labeled this girl a "Tibetan whore." Local female guides and other "flirtatious" girls who interacted with male tourists in an "overly friendly" manner were also portrayed in this way. Such labeling expresses the accumulated anxiety among villagers over the negative effect of tourism on local society, in which a money-driven mentality has disrupted traditional values including self-dignity and sexual norms for women.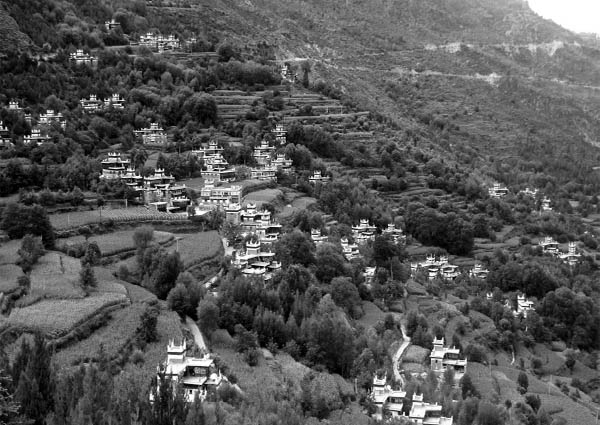 "Sexually open" Jiaju girls are often blamed for having sexual relations with tourists, while some locals claim that tourism and the Han, or abstract agents such as social change or money, have contributed in general to sexual exchange or moral decay. According to one high school teacher,
In the past, [local ] people lived a good life without much money. Now there is more money, and tourists also come. There are all kind of tourists—some are good, some are bad, and some just come here to look for women. They have destroyed everything. Now society develops, [but local] people are not happy anymore. Some women rely on their [beautiful] faces to make a living. . . . These are all caused by money.
Another view, represented by an elite man from Suopo, blames the Han and tourists as well as locals.
Many Han [men] came here just for women. They even asked me where they could find beautiful women for the night. What are they thinking about? They think they can do everything they want because they have money. We minority people have our dignity. But to tell you the truth, sometimes I don't know what to say. Some [local] people don't [have dignity]. They do everything possible for the sake of money. Even people from Jiaju are talking about their women. They [Jiaju women] don't know what they are doing. We Zangzu have precious traditions. What has happened? Some people [Zangzu] are even worse than the Han. I don't even want to talk about it [sighs].
This man was upset about the condescending attitude of Han tourists who believe in the power of money and impose a "dirty image" on local Zangzu women. He was also annoyed by "shameless" local people who exchange their dignity or bodies for money. In his view, Zangzu generally have higher moral standards than Han, who are believed to have no religion and thus lack restraint. However, because of the influence of tourists and "bad" Han culture, some locals have changed and become Sinicized. Therefore, the blame belongs both to the Han and tourists who have brought influences such as prostitution and to locals who cannot resist the temptation of immoral earnings.
To this elite Suopo man, "loose" Jiaju women are an object of ridicule and condemnation. I often heard some Suopo villagers accuse certain Jiaju women of being "promiscuous" and "selling their bodies." To quote one woman from Moluo, in Suopo Township,
While I was selling apples [to tourists] at the viewpoint platform [guanjingtai; a platform by the highway across the Dadu River from which to view the stone watchtowers in Moluo and several other villages in Suopo], I saw a bus come to a stop, and a [female] guide from Jiaju got off, followed by a group of tourists. A woman at the end of this group said to another one, "Tibetan whore" [zangmao; lit., "Tibetan cat"], pointing to this Jiaju guide who stood at the edge of the platform far away. I didn't know what she was referring to. I thought there was a cat somewhere, so I looked around but didn't see any. Then another young girl from my village told me that she didn't mean "cat," and she was talking about "prostitute." . . . I heard later that many Jiaju girls did such a thing with [male] tourists. What a shame! We Suopowa can never do it.
Two important messages are conveyed here: first, some locals have become conscious of the sexualized image of local women among tourists as their interactions increase; and second, condemning "loose" Jiaju girls delineates a boundary between "pure us" and "impure them." This negative attitude toward Jiaju women (and the money-loving Jiajuwa in general) was not uncommon among Suopo villagers. A direct reason for the general negative impression of Jiaju in Suopo is that many a person from Suopo has not been happy about the Jiajuwa's success in the tourist market. Many Suopo villagers blame the Jiajuwa for sullying Suopo's reputation by telling tourists that Suopo is "dirty," that there is "nothing" to see over there, that it is a "nest of tuberculosis," and that the Suopowa "always cheat tourists." In reproaching the Jiajuwa for decadence and corruption, the Suopowa oppose these insults and assert their own moral superiority. In their portrayal, Suopo villagers have held onto the authentic Tibetan identity, while Jiaju has been "polluted" by money and the "bad culture" of the Han. Suopo women are said to be morally superior to and better than Jiaju women because they uphold ancient tradition, which Suopo's queendom advocates will assert is the queendom tradition that is centered on women's prestige and dignity.
Therefore, although the Suopowa's embrace of the "Eastern Queendom" label can be easily read as an indigenous marketing plan in the tourist market, it is at the same time a conscious retrieval of their portrayal from the sexualized image and negative connotation of the Valley of Beauties. It also marks an ethical boundary that differentiates them from the "disreputable" Jiajuwa. Thus, what the Suopowa are stressing in the queendom discourse is not physical beauty but women's political wisdom and dignity—a conscious shying away from the Valley of Beauties discourse in favor of the Eastern Queendom discourse of women's authority.
"SUPERIOR" WOMEN, BUT THE MEN'S QUEENDOM
A popular explanation for the charm of women from Danba is that their noble blood is responsible for their unusual elegance and gracefulness, since they descend from the Xixia king and nobles, some of whose immediate family members managed to flee to Danba and neighboring places when their kingdom was destroyed by Mongol troops in 1227 (see, e.g., Xueniu 2003; Yang and Yang 2004).2 This story explains the abundance of beauties in Danba as well as the label "Valley of Beauties." In 2001, Danba County even sent several beautiful local women to pay a visit to their "ancestors" in Ningxia Hui Autonomous Region in northwest China, which attracted much attention from the media and the public (Wu 2001). Another common explanation is based on local connections with the Eastern Queendom (see also Xueniu 2003; Yang and Yang 2004). Local people are said to carry noble blood from the elegant queens. Danba locals, especially tour guides, often call upon these beliefs to explain the abundance of beauties in the Valley of Beauties. Nevertheless, the Suopowa's queendom discourse is very different from these two claims in that it focuses on women's status in sociopolitical life in Suopo rather than on royal blood.
To be more specific, Uncle Pema and other Suopo queendom advocates have been cognizant of the negative implication of the labels attached to the Valley of Beauties and the Eastern Queendom. Although they claim that Suopo women are elegant and beautiful, they argue that this does not make local women special but that it is their esteemed status and natural leadership that render them extraordinary. These Suopo elite men routinely mention what a glory it was for the Suopowa that three local women village leaders were sent to Beijing and received by Chairman Mao in the 1950s and 1960s. But if local women are more politically sophisticated, why are all the principal queendom advocates men? How did this men's queendom come about?
A simple answer is that the supposed superior status of women in Suopo's sociopolitical life is manipulated by local men for tourists and outsiders. Women's inconspicuous and indirect involvement in the queendom dispute is consistent with the low profile of women in local political matters in general, such as elections. At present, not one woman holds an important position in any of the eleven villages in Suopo Township. According to the two former women heads of Moluo Village who were sent to Beijing to see Mao, most of the young men were dispatched to various positions outside the village in the 1950s and 1960s, and thus women were obliged to do men's work, such as plowing the land and taking important positions that they had not sought. One was promoted to the village leadership because of her husband's position in the People's Liberation Army (PLA). As the wife of a "glorious" PLA officer, she proved her qualifications and loyalty to the Party but had to demonstrate her "redness" by taking more demanding jobs, like being village head. The other former village head indicated that she hadn't wanted to be a Party member because she had no idea what it entailed, and she hadn't aspired to village leadership because it required her to take on many more responsibilities. Due to her "red" class background of coming from a poor family and her diligence at work, she was promoted as a Party member first and then became the village head against her wishes. Although both of them demonstrated their excellent organizational skills and leadership by establishing Moluo Village as the Model Village throughout Danba County, it was not the so-called queendom tradition of valuing women over men that had put them into such positions. Moluo women's leadership and prominent role were instead a political product of a time and circumstance when eligible men were not present.
When that era was over, men returned and started to take over most of the important positions. In 1998, the last woman village head, who was well recognized for her uprightness, fairness, and working capacities, died of cancer, and since then, no woman has taken a village leadership position. Today, women's traditional roles as wives and mothers remain intact despite signs of positive change.3 Men dominate the political and nondomestic spheres in Suopo and Danba, and women are not actively involved in political matters.
When I asked Suopo women for their views on the queendom dispute, many expressed a negative attitude toward Zhonglu "thieves" and the complicity of county cadres. Nonetheless, very few were enthusiastic advocates for the queendom cause. They attributed their lack of involvement to low literacy, lack of skill at public speaking in standard Chinese, and preoccupation with farmwork and housework. A consensus is that the queendom dispute is a public matter that involves intensive negotiations with outsiders—township and county cadres, the media, and interested scholars or tourists. Since most women received little education, they are not confident about their negotiating and speaking skills, especially when the language used is Chinese. Most of them also claim that men have more time for political matters like the queendom struggle, while women have to take care of most of the household chores. It is interesting to note that many men expressed the same opinion on women's "indifference" toward this dispute.
At another level, theories of gender symbolism and hierarchy may shed light on Suopo men's enthusiasm for "their" queendom. As previously outlined, the powerful, such as colonial authorities and the political apparatuses they represent, may feminize Others by polarizing their normative notion of masculinity against subordinates' femininity as a way of justifying their own advantaged standing.4 Surprisingly, however, men in a marginalized group may apply the feminizing strategy to their women as well (Schein 1997). Why do they do so? One theory is that the dominant party has inculcated the less privileged group with the ideology of the "proper order" of the world, so that the latter simply copies, repeats, and maintains the order established by the former (see, e.g., Bourdieu 1977). The other theory is that the less privileged people, males in this case, are able to circumvent the ruling party's control by empowering themselves through objectifying "their women" and commercializing their own ethnicity and traditions (Schein 1997; Oakes 1998). This latter theory doesn't deny the constraints of the structure but argues that the less powerful can find ways to get around them.
The Suopowa's struggle for their queendom cause exemplifies the second interpretation. The men gain both economic and symbolic capital and assert their identities by selling Suopo women's "superior" status and "political wisdom" to the media and tourists while simultaneously reminding them that good appearance does not constitute the essence of their Eastern Queendom agenda. Thus, the Suopowa's queendom discourse is a challenge to the superficial popular discourse of the Valley of Beauties that has put so much emphasis on good looks and sexualized images of Danba women while ignoring the women's important role in family and society.
WHY SELF-FEMINIZATION?
As has been said, the Suopowa's queendom discourse attaches great importance to the significant status and unparalleled prestige of women in Suopo society. However, locals are engaged in more than promoting the political wisdom and high esteem of local women to the outside world: they are simultaneously feminizing themselves through propaganda exalting women's ingenuity and superiority vis-à-vis men throughout history. What complicates the picture is that they take pride in their masculinity at the same time. How can one make sense of this paradox?
The Suopowa speak a dialect close to the Kham Tibetan dialect, and this is cited as evidence of their status as "authentic" Khampa people whose culture is popularly characterized by virility among Tibetans and the Han. Some Suopo villagers I have encountered have a sense of superiority in comparison to other Gyarongwa, expressed by remarks such as "You Gyarongwa . . ." that declare their difference from other Gyarongwa. But if they are proud of their Kham lineage and masculinity, why don't they promote masculinity to the media and tourists as other Kham regions do? A practical reason may be that the assumed "women's culture" has been a part of traditions and customs as well as folktales and legends, and it is more convenient for them to embark on the queendom project.
Their claimed masculinity, however, is not well recognized by other Khampa people and the Han. Although they (and sometimes other Gyarongwa in Danba as well) are referred to as "Khampa" by the local state, the media, and tourists, they are marginalized Khampa, since other "authentic" Khampa do not accept them as equals. According to Suopo villagers who took odd jobs in other Khampa counties in Ganzi Tibetan Autonomous Prefecture, they were sometimes referred to as "fake Tibetans" or, even worse, "Han." Many villagers claim that they are Gyarongwa, so even if some Suopowa want to promote Khampa masculinity on a large scale, they may have difficulty obtaining enough support from within. Therefore, the Suopowa are at a disadvantage in competing in the tourist market for the authentic virility label with a broad area of Khampa regions in Sichuan, Yunnan, Qinghai, and the Tibet Autonomous Region. The feminine queendom model is much more viable and touristically appealing.
To some extent, self-feminization can be a strategy for seeking rewards from the powerful, including alleviated surveillance and loosened control. It may even serve as a challenge to the dominant structure. For instance, according to Mrinalini Sinha, Bengali elites' acceptance of the feminine image imposed by British colonists was not nonstrategic or passive, as it seemed to be:
On the one hand . . . the self-perception of effeminacy was itself an expression of the hegemonic aspiration of the Bengali elite: for the degeneration of the body of the elite Hindu male became the symbol of the negative impact of colonial rule on indigenous society as a whole. On the other hand, the self-perception of effeminacy also facilitated a challenge, however limited and contradictory, to the dominance of the colonizing elites: for the emasculation of Indians was also the basis for challenging specific colonial policies. (1995, 7)
The self-feminization of Bengali elites thus transformed the negative image of feminization into a critique of colonial policies and resistance to hegemonic colonial masculinity. The Suopowa's self-feminization may also be a challenge to the dominant structure and a strategy that accentuates the Suopowa's moral superiority. The queendom discourse about the superior status of women in Suopo is a public declaration that Suopo men value and respect women to an extent that men in other societies are unable to do. Suopo elites and villagers often express shock at the misogyny and low status of women in other Tibetan societies and among the Han. Suopo males thus know how to treat women "properly" and are morally superior to other Tibetans, the Han, and even Westerners. As real men, they are more masculine than all other men. As they highlight women's political wisdom and capacities rather than physical beauty, they emphasize the humanistic or gentlemanly aspect of masculinity instead of physical strength.
Suopo's elevation of women's status reflects the influence of the socialist gender-equality ideology of the Chinese state. A standard interpretation of women's status before Liberation in 1949 was that women were largely "owned" and treated as "property" by their families and thus were merely sacrificed to the feudal system. In seeking to revolutionize the new China and eradicate the residues of feudalism, the liberation of women from the tyranny of the outdated patriarchal system was an important task for the Party. Therefore, granting women equal status with men by law was at the top of the new government's agenda. The first Marriage Law of China, enacted in 1950, states that women have the freedom to marry or divorce and enjoy equal rights in all aspects of family and sociopolitical life. If women were to achieve this goal, the first step was to enter the public sphere that has been dominated by men (He 2008). The logic behind this statement is that women should take the same jobs as men and work as hard as men in order to prove their equality. As a result, femininity and womanhood were rejected. This view was developed to the fullest during the Cultural Revolution, when "the Iron Girls—strong, robust, muscular women who boldly performed physically demanding jobs traditionally done by men"—became a model for millions of women in China, including minority women (Honig 2002, 55).
Suopo women, too, took important positions and played a significant role in political life between the 1950s and 1970s. The two women leaders of Moluo Village who were sent to Beijing to see Mao and several other women in their seventies and eighties all mentioned that they had to work as hard as they could for the commune—like men—and gender was not considered an excuse for any dereliction of duty. The socialist sexual-equality ideology had a great impact on the Suopowa's lives as it did in every part of China. It was not merely the temporary absence of men that caused women to be promoted as village heads; their elevation had everything to do with Maoist egalitarian ideology.
All the major queendom advocates were born in the 1950s and had intensive experience with political propaganda. Since the Cultural Revolution, the concept of gender equality has resounded in Suopo and all over China. Women's rights in politics, education, employment, and property ownership, as well as their rights as free individuals, are promulgated through official documents, the media, and schools. Almost all Suopowa are conscious of this "basic national policy" (jiben guoce) of China.
Although the notion of gender equality informs the Suopowa's queendom discourse, Suopo elites went further by proclaiming the superiority of Suopo women. They did this both to be consistent with the popular image of a queendom where women are absolute rulers and men are their subordinates and to appeal to tourists. Suopo males have also earned symbolic capital in so doing—their masculinity is not weakened but is, on the contrary, reaffirmed and strengthened.
In China's ethnic landscape and tourism market, Danba people, including the Suopowa, are sexualized or feminized, as are many other minorities. This representation situates locals in an inferior position, which constrains their choices and neglects their concerns. However, it also sets in motion their own initiatives in reinterpreting cultural traditions and expressing their modernist pursuits as agents of local social development and political reconfiguration. As is showcased in Danba and more specifically in Suopo, although the labels "Valley of Beauties" and "Eastern Queendom" have negative connotations, they have enhanced the locals' sense of pride and identity construction as well. In interactions with tourists, many Danba people have come to recognize the negative effect of sexualized images of Danba, and some, like the Suopo queendom advocates, have presented an alternative discourse that gives prominence to women's unmatched intelligence and prestige as well as their moral superiority to others, including the Han. The Suopowa's queendom discourse highlights local agency in their efforts to define "who we are" rather than being defined as "who they are" by the Han or the state. Although it does play a part in challenging the asymmetrical power structure between the Han and minorities and between tourists and locals, it is fair to say that this alternative discourse is often a response to specific state, Han, and tourist agendas rather than constituting full-scale resistance against the dominant structure or the state. As is demonstrated in the way that the Suopowa discredit the Jiajuwa in delineating the boundary and declaring their superiority, different segments or individuals in a given minority group may find scapegoats by stigmatizing others for the negative effects of such a structure and unbalanced power.