Chapter 1
SETTING FOOT IN THE QUEEN'S LAND

The Suopowa's queendom discourse is not simply a product of tourism propaganda, nor is the uncovering of the Eastern Queendom (Dongnüguo) merely an accident. Occurring at a time of sweeping social and political changes, this discourse sheds light on the Suopowa's negotiation of various identities and their initiatives for strategizing marginality in pursuit of their political objectives. The Suopowa's peripheral status vis-à-vis the Han/state, and Tibetans has been critical in shaping this discourse, and their struggle exemplifies China's ethnic policy and Tibetan politics. How did the Suopowa and the Gyarongwa become "official Tibetans," or Zangzu, in the first place? And how does their contested Tibetan identity inform their choices and concerns through the queendom dispute? Was the queendom discovery coincidental? Under what circumstances was the queendom unearthed? And how has the queendom discourse been propagated?
MAPPING THE EASTERN QUEENDOM
Scholars point out that the title "Eastern Queendom" was used to describe two different political entities at the time of the Sui (581–618) and Tang (618–907) dynasties: one south of Cong Ling, or the Pamir Mountains (running across western China and southeastern Central Asia), or, more precisely, in western Tibet adjacent to the Himalayas (Shi 2009a), and the other somewhere between Tibet and Sichuan.1 The exact location of the second differs in Chinese historical sources: the Book of Sui (Suishu) and the History of Northern Dynasties (Beishi) suggest it was in today's Chamdo (C: Changdu) in the east of the present-day Tibet Autonomous Region, while the Old Tang History (Jiu Tangshu) and the New Tang History (Xin Tangshu) indicate that it was in the Dajinchuan region (today's Jinchuan and Danba Counties) in western Sichuan.2 Most scholars tend to favor one over the other, and thus no consensus has been reached. According to Guo Shengbo (2002), there are two other plausible explanations that have often been overlooked: first, that there were two Eastern Queendoms located somewhere between Tibet and Sichuan and, second, that the queendom in Chamdo migrated to the Dajinchuan region in western Sichuan. Guo espouses the second claim, arguing that the migration occurred in the first half of the seventh century when the rising Tibetan empire severely threatened the Chamdo queendom's survival or invaded its territory.
Many scholars acknowledge that the record of the Eastern Queendom in the Old Tang History is more accurate than the record in the New Tang History, which conflates the queendom in western Tibet and the one in western Sichuan. Nevertheless, some accounts of the Eastern Queendom in western Tibet in the Book of Sui are almost exactly the same as those of the Eastern Queendom in western Sichuan in the Old Tang History, such as the use of ornithomancy—divination by the use of birds—burial practices for nobles, the reign of a major and a lesser queen, succession practices, and housing styles. Some scholars argue that these two queendoms did have much in common, yet others assert that the queendom in western Tibet migrated to western Sichuan. According to Shi Shuo, it would have been nearly impossible for these two queendoms to share so many similarities considering the distance between them, diverse geographic and ecological environments, and different modes of livelihood; in addition, a move to western Sichuan would not have been practical (see Shi 2009a). Thus, Shi argues that the Old Tang History incorporates accounts of the queendom in western Tibet from the Book of Sui in its depiction of the queendom in western Sichuan. In his view, the name "Eastern Queendom" originally referred exclusively to the one in western Tibet and was also used for the one in western Sichuan at the turn of the ninth century. Therefore, the existence of one single title in documenting two different Eastern Queendoms in historical works has resulted in confusion for later historians and modern-day scholars. He concluded that the records of queendom customs and political systems such as ornithomancy, burial traditions, ruling and succession practices, and housing styles were incompatible with those of the queendom in western Sichuan and thus were historical accounts of the queendom in western Tibet instead.
Although there has been wider acknowledgment among scholars today that the Eastern Queendom was located in the Jinchuan region in western Sichuan, many have overlooked the distinction identified by Shi Shuo. Therefore, scholars commonly use various unfiltered accounts of different queendoms from the Book of Sui, the New Tang History, the Old Tang History, or other historical canons in describing the ancient practices of this specific queendom in western Sichuan. Some also identify these features among today's Gyarongwa residing in the Jinchuan region, who are believed to descend from the ancient queens and their subjects. In this way, an equation between Gyarong and the Eastern Queendom is roughly established.
Queendom traditions allegedly evident among the Gyarongwa include housing styles, women's clothing, an abundance of beautiful women, women's high status, and courtship and marriage customs; these are offered as proof of the "uninterrupted" heritage passed down from the ancient Eastern Queendom.3 According to the Old Tang History and other historical records, the queen lived in a nine-story building, while commoners lived in six-story houses. Some scholars equate these structures with the stone watchtowers (C: diaolou) that were and are still spread all over Gyarong (Wang Huailin 2006). Gyarong women wear a long cloak over their shoulders and a special kind of skirt with dozens of pleats or folds, both of which are said to have been inherited from the queens, and their beauty is claimed as proof that they carry the noble blood of elegant queens.
In the queendom, women supposedly had absolute control in the sociopolitical sphere and held official posts, leaving men with lowly positions such as aides and soldiers. Correspondingly, Gyarong women are said to enjoy high status at home and in society. Some authors interpret various queendom practices documented in historical works, such as polyandry (one woman with multiple husbands) and matrilineal kinship (children carrying on the lineage of the maternal line), as a sign of romance and free love. These scholars claim that Gyarong courtship and marriage customs such as "climbing the wall," in which a young man climbs the wall and sneaks into his lover's room at night, are equally "romantic" (Ma 2006; Wang Huailin 2006). Some also point out that the name of Gyarong and the names of other geographic features, such as the Dadu River, are unambiguously connected with the queendom (Ma Chengfu 2006; Wang Huailin 2006). In Tibetan, the full name of Gyarong and of the Dadu River start with "Rgyal Mo" (The Queen), suggesting that there was a queen who used to rule Gyarong, and thus Gyarong is the Land of Women, as is the Eastern Queendom.
Various scholars highlight these cultural and historical connections between Gyarong and the Eastern Queendom in order to justify their claims that the queendom used to exist in today's Gyarong, although the exact location of the queendom or its capital is in dispute. Some claim that it was situated in Jinchuan County, Aba Tibetan and Qiang Autonomous Prefecture (Aba Zangzu Qiangzu Zizhizhou), while others contend that it was in Danba County, Ganzi Tibetan Autonomous Prefecture (Ganzi Zangzu Zizhizhou). Proponents for each location are predominantly scholars, cadres, or officials originally from or working in that particular area. Both counties take advantage of media and scholarship to promote their claims. However, due to Danba's influence in the tourist market, as well as its association with the Valley of Beauties, its claim has received more attention. Nevertheless, even within Danba, two townships, Suopo and Zhonglu, compete for the queendom.
DEFINING THE FIELD SETTING
Danba County (30°23'–31°29' N, 101°17'–102°13' E) is under the jurisdiction of Ganzi Tibetan Autonomous Prefecture in western Sichuan, in southwestern China. It is an important eastern entrance to Ganzi prefecture from the Chengdu Plain. Its altitude ranges from 1,700 to 5,820 meters (5,577–19,094 feet). The county seat is 1,842 meters (6,043 feet) above sea level. The summit of Mount Murdu, the most important holy mountain in the Gyarong region, which lies within the territory of Danba, is at 4,820 meters (15,813 feet). Five major rivers run through Danba, of which the Dadu River is the biggest. Danba administers fifteen townships and 181 villages with an area of 5,649 square kilometers (2,181 square miles). It has a population of a little over sixty thousand. Zangzu make up 77 percent of the total population. The Han, Qiang, Hui, and other minority ethnic groups compose the rest of the population. In Danba, Zangzu residents speak four major languages or dialects. Roughly 37 percent of the total Zangzu population in Danba speak a Kham Tibetan dialect, about 34 percent speak the Ergong language/dialect, nearly 27 percent speak the Gyarong "official" language/dialect, and the remaining 2 percent speak the nomadic Amdo Tibetan dialect (Lin Junhua 2006b). Each language/dialect is incomprehensible to speakers of the others. As a result, Chinese, specifically the Sichuan dialect, has become the standard language of communication among various Zangzu groups in Danba.
Danba's economy was based largely on logging and agriculture until 1998, when China launched the large-scale Natural Forest Resources Preservation Project (Tianranlin Ziyuan Baohu Gongcheng), which aimed to protect the environment in the upper and middle reaches of the Yangzi River and the Yellow River. Due to the breathtaking landscape, magnificent stone watchtowers, and exquisite Tibetan-style farmers' houses as well as the area's reputation for an abundance of beautiful women, the Chinese tourist market has held Danba in increasing esteem since 2000, and tourism has become one of the pillars of Danba's economy.
The seat of Suopo Township is merely 5 kilometers (3.1 miles) away from the county seat. This township has an area of 138.8 square kilometers (53.6 square miles). It is composed of eleven administrative villages with 664 households and 3,333 residents. The Han make up a little more than 6 percent of the whole population, and most of them are from Dongfeng Village; Zangzu villagers normally refer to them as the Han Gang (Hantuan). Zangzu villagers in Suopo speak a Khampa dialect, but most men and the majority of women under the age of fifty can speak either fluent or comprehensible Sichuan dialect. The Dadu River cuts across the township, and Moluo Village, where the township government is located and also where I did most of my fieldwork, is situated on the eastern bank of this river. It has sixty-three households with a population of 232, of which only two are Han. Suopo is well known for its large number of stone watchtowers, and Moluo, with its cluster of imposing and spectacular watchtowers of different styles—quadrangular, pentagonal, octagonal (see fig. 1.1)—has been designated a Famous Historical and Cultural Village of China (Zhongguo Lishi Wenhua Mingcun) by the Ministry of Housing and Urban-Rural Development and the State Administration of Cultural Heritage.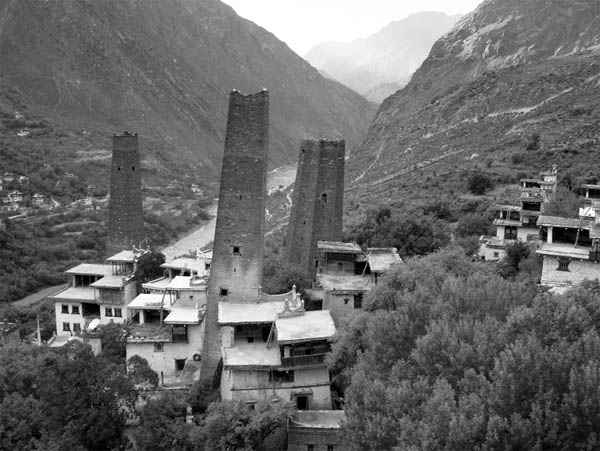 Danba, including Suopo, is part of the Gyarong region, which is situated on the southeastern fringe of the Qinghai-Tibetan Plateau.4 Most parts of Gyarong are included in today's Aba Tibetan and Qiang Autonomous Prefecture in Sichuan, while Danba belongs administratively to Ganzi Tibetan Autonomous Prefecture.5 Gyarong as a whole covers an area of roughly 160,000 square kilometers (61,776 square miles); it is more than four times as big as Taiwan (Quedan 1995). This region used to be ruled by officially recognized tusi, local chiefs, or the kings.6 Gyarong is popularly referred to as the Eighteen Kingdoms of Gyarong (T: Rgyal Rong Rgyal Khab Bco Brgyad). The Gyarong region is inhabited not only by the Gyarongwa but also by Tibetans from two other Tibetan subgroups—Amdo Tibetans and Khampa Tibetans—as well as ethnic Qiang, Han, Hui, and others. The overall number of the Gyarongwa is about 300,000.7 Gyarong has several distinct languages/dialects, and linguists are still debating their classification. Despite such linguistic differences, generally speaking, speakers of various dialects recognize each other as Gyarongwa.
INSIDER FROM THE OUTSIDE AND OUTSIDER FROM THE INSIDE
I am a Gyarongwa, and my native tongue is the "official" language of Gyarong (Rgyal Rong skad). As a Gyarong local, I have been constantly questioned by other Tibetans about my own and the Gyarongwa's Tibetan identity. Consequently, along with other Gyarongwa, especially intellectuals, I am required to constantly negotiate both my Gyarong identity and my Tibetan identity. Thus, as an insider, I have empathy for the Suopowa's struggle for the queendom brand as well as their denial of Gyarongness. Due largely to my local connection, many Suopowa whom I encountered and interacted with believed that, as "one of them," I could understand their frustrations and concerns. Thus, I was able to witness various aspects of the locals' daily lives and hear about their frustrations, hopes, and desires during my one year of fieldwork in Suopo (June 2008–June 2009) and multiple short trips for fieldwork in 2007, 2010, 2011, and 2012. I also gained the trust of Uncle Pema, a Suopo township cadre and the principal queendom advocate, and members of the Moluo Tourism Association, who expected that as a scholar from Gyarong, I would undoubtedly play a part in preserving and promoting local cultural traditions, including queendom legends and customs. Thus, I was invited to participate in their meetings as their "cultural consultant" and offer my suggestions for the association's agendas and development programs. Likewise, due to my local roots, I had relatively easy access to more than forty township and county cadres and officials, most of whom talked freely about the nepotism, power struggles, and bureaucracy prevalent in Danba, cadre-peasant relations, and governmental agendas as well as discussed China's Tibetan and other policies.
I am also an outsider. My outsiderness matters not only in terms of how I was treated by locals but also in how I reflected upon my own position. Sometimes the Suopowa saw me as "one of them" because of my Gyarong background and local connections. Nevertheless, due to the difference between my native Gyarong tongue and their Khampa dialect—a sign of their "authentic" Tibetan origin—some people referred to me as "(one of) you Gyarongwa." Since I was from outside Suopo, I didn't have lineage and sociopolitical ties with them, either. Therefore, for many of them, I was merely a curious unrelated observer who would leave for good at a certain point. In my intensive interactions with the Suopowa, I came to realize how little that I, a Gyarong local, had known about them. This had much to do with my anthropological training in the United States. I have been exposed to different ideas and thoughts in books, lectures, and discussions as well as to the complexity and diversity of American society. I have also cultivated sensitivity toward things I had taken for granted; I now think twice about the "thick" meanings behind them. Being brought into direct contact with the concepts of ethnicity and other identities as "constructed," "imagined," and "invented" has revolutionized my mind. Such experiences have been instrumental in developing my new perspective toward Tibetan and Gyarong societies and identities. I started to drop the essentialist frame of mind that had inclined me to propagate Tibetan greatness and Gyarong distinctiveness and to see Tibetan and Gyarong identities as "naturally born" rather than socially constructed and politically informed. In this way, I have become an outsider to Tibetan and Gyarong societies.
When I looked at Suopo and Gyarong as an outsider, a completely new world opened up in front of me, as if I had never known the local society. What struck me most in the field were the Suopowa's global outlook and complexity. Many villagers I encountered did not hesitate to express their concerns about the queendom dispute, Suopo's marginalized status in Danba, the bureaucracy of the township and county government, village elections and factionalism, the prospects for tourism, the consequences of the Tibetan riots, the Beijing Olympic Games, China's international status, the United States' role in the world, and so on. Although they are often dismissed as narrow-minded "peasants" (nongmin), their knowledge of domestic and world affairs and of various policies in China showed me how complicated and modern the Suopowa really are. Their multifarious concerns also kept reminding me of what a labyrinthine web of connections the queendom dispute invokes. Thus, I became more and more aware that by looking at the queendom dispute merely as a village or regional matter, one runs the risk of losing sight of the complexity and intricacy of the whole picture.
DISCOVERING THE EASTERN QUEENDOM
Few Danba locals had heard of the Eastern Queendom before 2004. The spread of the name "Eastern Queendom" has much to do with Mr. Wang, then head of the Propaganda Department of Ganzi prefecture. Mr. Wang is very interested in the Eastern Queendom's history and culture and has been writing about it since the early 2000s. He argues that the queendom did exist and that Danba still maintains many of its cultural traditions, such as the courtship and marriage customs, the architectural style of stone watchtowers, women's dress styles, religious beliefs (e.g., Bon, or Bon po, an indigenous Tibetan religion), life rituals such as the girls' puberty ritual, and so on (Wang Huailin 2006). He claims that some of these cultural elements can also be found now at Lugu Lake on the border of Sichuan and Yunnan—the well-known Women's Country (Nüerguo)—and some other places but that Danba was the hub of the queendom culture as well as its political center. At first he didn't specify the exact location of the palace of this queendom in Danba. Since he was one of the most important officials in Ganzi prefecture, his words had considerable weight among Danba officials. Danba County's Party committee and government started to collect evidence of the queendom's historical existence throughout the county. This task was carried out chiefly by two units: the Propaganda Department and the Culture and Tourism Bureau.
The county's action was not simply about taking orders from higher authorities but also had much to do with its ambitious project of advancing Danba's image in the Chinese tourist market. County officials were fully aware that the queendom label would be "exotic" and "mysterious" enough to attract the attention of tourists, so they ordered the appropriate department to search Danba for more substantial proof, such as relics, folk tales, and traditions, that would authenticate this claim. When the Culture and Tourism Bureau sent its instructions down to Suopo Township, the township head (xiangzhang) had no clue what the Eastern Queendom was but assigned the task of investigating it to his subordinate, Uncle Pema. Uncle Pema was regarded as the best person for this assignment because, as a Suopo native, he knew the local people and language and was keen on the study of local legends and history. However, according to him, he was completely at a loss when given this task because he had never heard of the Eastern Queendom. He started to think about writing something on local legends so that he would not be blamed for doing nothing, and in the process of collecting Suopo legends, he became convinced that there must be a connection between Suopo and the Eastern Queendom. In Suopo, stories about the queens were very popular with villagers. Local legend says that a queen from somewhere else fled to Suopo hundreds of years ago; she kept moving her residence until she found the ideal site for her palace on a cliff where the topography formed a natural barrier against invaders. The ruins of the palace still remain, and some locals were said to have seen an apparition of the queen and her retinue there before the 1980s. Since the queen was known as the "queen of (or from) the East" (shar mo rje [?] rgyal po), this coincides perfectly with the name of the Eastern Queendom. Uncle Pema was convinced that the legendary queens in Suopo must be the ones who had ruled the Eastern Queendom. Since then, he has become a devoted and energetic advocate of Suopo as the site of the queendom's palace.
Having made up his mind, he began to write out the queendom legends he had recorded. However, since he had only a primary school education, he thought it would be too hard to complete the task by himself. In May 2005, an old friend, the vice-head of Danba's Propaganda Department, who had worked in Suopo Township in the 1980s, came to inspect the township. After being ushered into Uncle Pema's home, he happened to see the draft. He was very excited about this great discovery but also concerned about its consequences. If what Uncle Pema recounted here was newly invented instead of being authentic legends, Uncle Pema and this official, who was in charge of the collection of queendom legends, would have serious problems, since the county government had already endorsed Zhonglu's claim to being the site of the queendom's ancient capital. Uncle Pema assured his friend that everything he had written was a truthful account of popular local legends that had been passed down since ancient times. Convinced of Uncle Pema's sincerity, this official promised that he would edit the manuscript and have it published by the local newspaper. The article was given the sensational title "The Capital of the Eastern Queendom Comes to Light" (Dongnüguo guodu fuchu shuimian). This article proved to be a great shock for some key officials at both the prefectural and county levels. The prefecture's Propaganda Department telephoned the head of Danba County's Propaganda Department several times on the same day, ordering the latter to investigate. The head of the Danba Propaganda Department was also summoned by the county's Party secretary to explain the situation, and Uncle Pema and his friend became the focus of attention. Uncle Pema was more than happy to see the commotion this article generated since it sent an important message to the county government that the queen's palace was located nowhere but in Suopo.
Uncle Pema's discovery put the county's leading officials in a delicate situation: they couldn't dismiss his assertion out of hand because Mr. Wang, who represented higher authorities, was impressed with the article and expressed his support for its claim after completing an investigative journey in December 2005; however, the county had already started to promote Zhonglu Township as the capital of the queendom. As a result, the Danba government decided to take a wait-and-see attitude. In my interviews with Uncle Pema, local elites, and villagers, most argued that the leadership's ambivalent attitude resulted from the fact that some important county officials were Zhonglu natives and were believed to be manipulating the queendom agenda. Uncle Pema and his supporters were upset about this "fact" and urged the county to deliver justice to Suopo by withholding its support for the Zhonglu clique. Suopo queendom advocates took advantage of the media and other opportunities to present their campaign to a wider public. Their claim was supported by more and more villagers, who pressured the county to reconsider its queendom agenda. As a consequence, the county government had to take the Suopowa's claim more seriously in order to prevent the Suopowa from taking radical actions against them. This explains why although Zhonglu Township was officially renamed Dongnügu Township (Township of the Eastern Women's Valley) in 2007, the change was never made public, and it is still known as Zhonglu Township.
Uncle Pema has played the most important role in promulgating Suopo's queendom discourse. He not only "discovered" the Eastern Queendom but also successfully engaged a large number of Suopo elites and villagers in the struggle for the queendom label that had been "stolen" by Zhonglu with the supposed complicity of county officials who were acting out of favoritism. Uncle Pema and his supporters contend that the Suopowa are "authentic" descendants of the ancient queens, that queendom traditions such as the girls' puberty ritual remain vital in local life, and that the queendom heritage is evident in Suopo women's status, which is higher than men's. A frequently cited example is that three female village heads of Suopo were sent to Beijing to meet with Chairman Mao Zedong in the 1950s and 1960s because of their exceptional leadership and extraordinary capacities, which were unmatched by men.
BECOMING MARGINALIZED TIBETANS
Gyarong had relatively independent political entities, distinctive traditions, and a characteristic identity in relation to other Tibetans long before Liberation in 1950. However, the Chinese government's nationwide ethnic identification project has had profound impacts on the Gyarongwa's identity construction, as it has for all officially identified ethnic groups in China including the Han. The Gyarongwa's classification as Zangzu, or "official Tibetans," has evoked their Tibetan awareness, but that classification has contributed to their marginalized status within the Tibetan ethnic group. This situation underlies their struggle to find their proper niche among Tibetans and in China's ethnic and political landscape.
When China launched its ethnic identification project in 1950, the newly liberated Gyarongwa were first identified as Gyarongzu (zu means "ethnic group"). But because of persistent petitions and protests from former nobles who were recruited by the Party into the leadership in today's Aba Tibetan and Qiang Autonomous Prefecture in Sichuan, the Gyarongwa were officially recognized as Zangzu in 1954; however, the Gyarongwa's Tibetan identity has been questioned by other Tibetans and scholars ever since. The majority of Tibetans either deny the Gyarongwa's Zangzu status or proclaim the inadequacy of their Tibetanness. As a result, many Gyarongwa feel that they are marginalized, and some choose to identify with the Khampa, as the Suopowa and other Danba people tend to do. In extreme cases, they do not reveal their Gyarongness in their interactions with other Zangzu.8 In reaction, some Gyarongwa emphasize their uniqueness and invaluable traditions in comparison to other Zangzu, a claim that has gathered momentum through the process of tourism development. Nevertheless, most Gyarongwa take pride in both their Zangzu status and their Gyarongness. This creates a dilemma for the Gyarongwa identity—they are Tibetans, at least officially, yet they are not Tibetan. This dilemma has informed their struggle to find their place in the Tibetan family as well as in China's ethnic and political terrain.
The controversy over the Gyarongwa's Tibetanness has to do first with the disputable place-name and group name Gyarong: Rgyal Rong or Rgya Rong. Most Tibetan scholars agree that "Rgyal Rong" is the correct spelling and accurate appellation from ancient Tibetan texts (Btsan Lha 1994; Dmu Dge 1997). "Rgyal Rong" is said to be an abbreviation of "Shar Rgyal Mo Tsa Ba Rong," which means "the temperate agricultural area ruled by the queen in the east" or "the temperate agricultural area around Mount Murdu in the east." The slight difference between these two interpretations derives from the connotation of the expression "Rgyal Mo." Both groups of scholars agree that "Rgyal Mo" literally means "the queens," but the second version goes further by saying that "Rgyal Mo" is the short form of "Rgyal Mo Dmu Rdo"—the full name of Mount Murdu, the most sacred mountain in this region. However, another common interpretation identifies the name of Gyarong as Rgya Rong (Ma 1944). "Rgya" literally means "Han," so "Rgya Rong" means "the agricultural area close to the Han region."
The existence of these two divergent interpretations suggests the ambiguity of Gyarong's origin and history.9 Therefore, deciphering the meaning of the term "Gyarong" is often regarded by scholars as a first essential step toward bringing Gyarong's history out of obscurity. As far as strong advocates for the spelling "Rgyal Rong" are concerned, relating the Gyarongwa to the Han is a serious misinterpretation of Gyarong's Tibetan origin. Rejecting the general claim that Gyarong was not Tibetanized until it was taken over and governed by the Tibetan empire from the seventh to ninth century, these advocates argued that Gyarong has been ethnically Tibetan since antiquity, as documented in Tibetan literature (Dmu Dge 1997; Btsan Lha 2007). However, a relatively mild reading of Gyarong's history and origin by other proponents for this spelling is that the Gyarongwa are a hybrid of different peoples who were later assimilated with the expansion of the Tibetan Empire. Therefore, they contend that the Gyarongwa descend not from a single line, namely, Tibetans, but from multiple sources as recorded in ancient Chinese literature: Ranmang in two Han periods (206 BCE–220 CE), Jialiangyi in the Sui dynasty (581–618), and Xishan zhuqiang (various Qiang peoples of Xishan) in the seventh and eighth centuries, as well as invading Tibetans in the seventh to ninth centuries.10
Although Tibetans most commonly refer to this region as Rgya Rong, "the agricultural area close to the Han region," their emphasis is often not on geographic proximity but on cultural and ethnic closeness to the Han. If the Gyarongwa are not so different from the Han, how can they qualify as Tibetans who have a distinctive language and unique cultural traditions? The legitimacy of the Gyarongwa's Tibetan identity is thus questioned.
The most noticeable difference between the Gyarongwa and other Zangzu is linguistic, and in most cases, the latter's doubt of Gyarong's Tibetanness is based on this easily perceived distinction. People from other Zangzu regions and the Gyarongwa themselves argue that the Gyarongwa speak a totally different language that has little similarity to "standard Tibetan." Although native speakers of one of the three primary Tibetan dialects from three major Tibetan subregions—Central Tibet (Ü-Tsang), Amdo, and Kham—cannot necessarily communicate with one another very easily, linguistic variations among these dialects are largely perceived as differences within a single language.
What other Zangzu refer to as "Gyarong language" is, in fact, only one of several languages/dialects spoken in the Gyarong region, although it is the principal one in Gyarong and is spoken by the largest population. It is often labeled the "official language of Gyarong" (C: Jiarong guanhua; T: Rgyal Rong skad). So far, scholars have not reached agreement on the academic classification of this language. Some contend that since its vocabulary, expressions, and pronunciation are close to ancient or classical Tibetan,11 it is the oldest existing Tibetan language. Others claim instead that it is a subcategory of the Tibetan language family (Luo and Fu 1954; Qu 1984). Some hold that it is an independent language category parallel with Tibetan in the Tibeto-Burman language family (Lin Xiangrong 1993). And finally, some maintain that it belongs to the Qiangic language of this same family.12
There are several other major distinctive languages/dialects spoken by the remaining Gyarongwa: Ergong, Amdo, and Khampa dialects as well as the Qiang language. Some scholars assert that Ergong should be classified as a distinctive language in relation to the "official" Gyarong language (Sun Hongkai 1983; Huang Bufan 1988), but others claim that it is the western dialect of the "official" language (Qu 1990; Lin Xiangrong 1993). Most nomads in Gyarong speak the nomadic Amdo Tibetan dialect, while many other local residents speak a Khampa Tibetan dialect. The Suopo people I worked with speak this Khampa dialect, and a little more than one-third of the total Zangzu population in Danba uses it (Lin Junhua 2006b). A group of people in today's Heishui County in Aba Tibetan and Qiang Autonomous Prefecture speak the Qiang language, but they don't identify themselves as Qiangzu, an officially recognized independent ethnic group in China. Instead they have often been classified—though vaguely—as Gyarongwa.
Therefore, Gyarong's ethnolinguistic map is very complicated. Since the majority of Gyarong's population speak either the "official" language or Ergong, communicating with other Zangzu is nearly impossible. Even those who speak a dialect that is recognized by scholars as a Khampa one have difficulty conversing with people from other Kham regions because of their distinctive accent. Yet, since the Suopowa and others in Danba who speak this Khampa dialect are so embedded in Gyarong—a region that is popularly perceived to be geographically and culturally close to the Han—many Khampa Tibetans don't even count their native tongue as a Khampa dialect or even as a version of Tibetan. This holds true even though there is a substantial variety of dialects among different groups of Khampa Tibetans, who also have considerable trouble understanding one another. This reveals the power of popular images of Gyarong distinctiveness among Tibetans and how little these images have been affected by the arguments of scholars and linguists.
Tsanlha Ngawang from Gyarong, a scholar of classical Tibetan and Gyarong language and history, has continued to argue in our conversations that the "official" Gyarong language is the closest to ancient Tibetan and that this fully demonstrates the truth of the Gyarongwa's Tibetan status. However, his influence is limited to the academic field, and his scholarship has not had much effect on the generally disapproving attitude of other Zangzu toward the Gyarong dialect and the Gyarongwa's Tibetan identity.
If the Gyarongwa's Tibetan origin and identity are ambiguous and disputable, why did the central government reidentify them as Zangzu in 1954? This may have happened in part because, despite the historical and linguistic ambiguity, Tibetan cultural elements in Gyarong are easily visible to outsiders. Religion is the strongest Tibetan element that has been highlighted by the Gyarongwa and other Tibetans. By the 1950s, almost the entire Gyarong population was either Tibetan Buddhist or Bon. As in other parts of Tibet, most households sent at least one male child to the monastery to become a monk. Monks, particularly reincarnate or learned lamas, enjoyed very high esteem among the nobles and the general public. Monks who learned scripture well and/or who had financial resources, especially those from the Gelugpa tradition, or Yellow Hat Sect, would normally be sent by their families and monastery for further study at one of the three major Gelugpa monasteries in Lhasa (Ganden, Drepung, and Sera). The returnees, particularly those who managed to earn the highest monastic degree of geshe, automatically gained tremendous respect among the Gyarongwa. Other easily recognizable Tibetan elements include architecture, traditional foods such as tea, yak butter, and tsampa (roasted barley flour),13 and certain customs that are normally religious in nature, such as mountain worship and the celebration of Tibetan religious festivals. Therefore, the work team the central government sent for its ethnic identification project couldn't deny Gyarong's Tibetanness, although the locals were temporarily identified as an independent ethnic group, Gyarongzu, based largely on the team's classification of the Gyarong language as distinctive.
Some of Gyarong's former nobles who had become important high-ranking officials in the newly founded Sichuan Tibetan Autonomous Region (today's Aba Tibetan and Qiang Autonomous Prefecture) insisted that Gyarong had been part of the Tibetan ethnic group since ancient times and simultaneously affirmed that the Gyarongwa shared cultural traditions (religion) and lifestyle with other Tibetans, despite the work team's explanations and linguistic categorizations. Eventually, the central government agreed to change its ethnic label from "Gyarongzu" to "Zangzu." In the early 1950s, the political situation was still volatile and a number of rebellions had arisen in Tibetan and other regions. Thus, support from those who had been tusi and nobles, and still had the loyalty of their former subjects and commoners, was essential for the Party's maintenance of stability in Tibetan regions. This compromise awakened both the Gyarongwa's consciousness as Zangzu and their sense of marginalization among Zangzu.
In point of fact, the ethnic identification project has had a very profound impact on officially identified ethnic minorities and on ethnic relations in China. One direct consequence is that people from segregated villages and regions who had limited contact with other groups or people who were rarely conscious of being an integrated ethnic community were now "unified" under an ethnic umbrella created by the state (see, e.g., on the Zhuang, Kaup 2000). Before the 1950s, Tibetan societies were so diversified that they had a limited sense of shared political, national, or even religious identity. Except for Central Tibet, which was literally a unified political entity under the Dalai Lama and the Tibetan Kashag government, other Tibetan regions, including Gyarong, had been ruled separately by more than eight hundred tusi as well as by officials dispatched by the Nationalist regime. In Gyarong, the whole region was traditionally under the control of a number of tusi, but by the early twentieth century, all the official titles of Gyarong tusi had been rescinded by either the Qing court or the subsequent Nationalist regime, which established administrative units in Gyarong and designated or appointed their own officials to govern the region. In reality, however, most tusi retained considerable power in their territory and continued to exist until 1950, when the Chinese Communist Party finally abolished the system.
Although the Dalai Lama's spiritual influence went far beyond the Central Tibetan region, there were varying degrees of discord and the development of separate identities among different schools of Tibetan Buddhism, not to mention between the believers of the Bon religion and those of Tibetan Buddhism. The three principal Tibetan subgroups—Central (Ü-Tsang) Tibetans, Amdo Tibetans, and Khampa Tibetans—were also mutually exclusive to the extent that even today many Central Tibetans don't recognize people from Amdo and Kham as Tibetans or "authentic" Tibetans. Due to linguistic and other differences, the Gyarongwa had developed even less collective identity in relation to any of these Tibetan groups.
Therefore, in a real sense, it was the Chinese central government that created a unified Tibetan nationality. With the awakening of an ethno-national identity among all peoples labeled "Zangzu," a popular conception began to evolve among those designated as such. According to this ethnic stereotype, Zangzu share a common origin, a glorious history, and a set of cultural traditions, and the bonds among the various subgroups have never been weakened. This perception has given rise to a Tibetan ethno-nationalism that is not necessarily about Tibetan independence. It is often just a sense of pride and reaffirmation of Zangzu uniqueness and unity. Many Zangzu, particularly intellectuals and lamas, take delight in the idea that the Zangzu have a "superior" culture and traditions vis-à-vis the Han and others due largely to the great tradition of Tibetan Buddhism, which they characterize as a faith of profundity and compassion. This pride has much to do with the influence of the Dalai Lama, whose reputation as one of the most important spiritual leaders in the world has convinced most Zangzu of the vitality and supremacy of Tibetan Buddhism.
Most Gyarongwa share this pride, too. They are proud of being members of this great ethnic group and of having such a charismatic and world-renowned spiritual head. However, the Gyarongwa's distinctiveness still makes them stand out as "different" from other Zangzu. Since, in the view of some Zangzu, the Gyarongwa are actually culturally close to the Han or very much Sinicized, they are sometimes seen by other Zangzu to be pro-Han and thus pro–Chinese government.
The Gyarongwa are often confronted with questions about their cultural identity and their relationship with the Han, as I can illustrate from my own experience. On an afternoon in March 2009, after shopping at Wuhouci14 in Chengdu, the capital of Sichuan, a lama friend and I were looking for a taxi to take us to Kangding, the capital of Ganzi Tibetan Autonomous Prefecture. While we were walking to a hotel where many drivers from Ganzi prefecture park their cars, two young Tibetan men stopped us, inquiring in Tibetan, "Are you going to Kangding?" After we answered in the affirmative, they asked where we were from.
I said, "We are from Danba."
They seemed somewhat surprised and asked, "Why can you speak Tibetan?"
My friend replied, "Isn't the Gyarong language Tibetan, too? It is an ancient dialect. We [our ancestors] used to speak the same language."
Then these two men told us that their car would head for Kangding "in just a short while." As my friend and I were chatting with each other while we were waiting, a Tibetan woman came up and asked the drivers when they were leaving. One man whispered that they might not leave until the next morning if they were unable to get enough passengers. I told them that we couldn't wait any longer, and they asked what we would do then. My friend said that we would go to Baigongling Bus Station to purchase tickets and leave from there for Danba directly the next morning. The following conversation then took place between one of the two Tibetan men (A) and my friend (B):
A: Why do you want to go there? Do you want to go there to stay at a Han hotel, eat their food, and take their bus?
B: Whether it is a Han bus or a Tibetan bus, it is the only bus that will take us back to Danba. . . .
A: You Danba people just love the Han. Whatever they do, you will follow.
B: What do you mean? You hate the Han? What clothes are you wearing [they were wearing Han-style clothes]? Do you love hot pot [a typical Sichuan food popular with Tibetans]? You don't eat Sichuan food at all? Don't treat us like this. Aren't we the same [Tibetans]?
Seeing the atmosphere heating up, I stopped my friend, and we left. But he was still upset, saying that "many [Tibetan] nomadic people are just like this. They don't know much. They are not really open-minded. They just say that we are not Tibetan. It is not good to have such divisions among us."
This attitude toward the Gyarongwa is not unusual. Some Zangzu complained that the Gyarongwa didn't stand behind other Zangzu in the Tibet riots in 2008 and instead acted "as if nothing had happened." In early 2006 in various Tibetan regions, people started to burn otter, leopard, tiger, and fox pelts, which they had normally used for their hats, clothes, and adornments. This action came in response to the Dalai Lama's call for an end to the killing of wild animals and the illegal wildlife trade by Tibetans at the Kalachakra ceremony held in Amaravati, Andhra Pradesh, India, in January 2006. However, nothing happened in most Gyarong regions. A lot of Gyarongwa continued to purchase these pelts and wear such "fancy" clothes. Later I heard many complaints from other Zangzu who couldn't figure out "what was wrong with the Gyarongwa." According to my lama friend, a well-respected Buddhist master, the Gyarongwa were "too practical" and too concerned about "secular stuff" and didn't devote themselves to religious matters as much as other Zangzu. This view is shared by many Gyarongwa and other Zangzu, although it is hard to measure what is "too practical" and "too secular."
As in all other Tibetan regions, most monasteries in Gyarong were destroyed during and after the Democratic Reform (Minzhu Gaige) of the late 1950s. Although the 1980s saw a vigorous religious revival, the restoration of monasteries and religion per se in Gyarong was less impressive than in most other Tibetan regions. As a result, the importance of monasteries as well as Tibetan religions proper in local society has decreased to varying degrees in most parts of Gyarong. Besides political control and limited funding as well as perceivable Sinicizing processes,15 the lack of systematic monastic training and the scarcity of important religious figures and learned lamas in Gyarong is a major factor in the dilution of religious identity among many Gyarongwa. Before the 1950s, it was a general practice for monks to go to Lhasa and important temples in other Tibetan areas for further learning, and when some of them came back with prestigious religious degrees, they usually had a significant influence on the general public and even nobles. It was not until the early 1980s that this practice resumed. However, the government continued to regulate and monitor the activities of monasteries and monks, and it discouraged monks from traveling far to mix with those from other Tibetan regions in the name of learning scripture. The systematic monastic training in Lhasa and many other places was not fully restored either. As a result, after the old learned lamas passed away, they were replaced by young monks who lacked sophisticated monastic training and thus did not have their elders' influence. This is the problem faced by most monasteries in Gyarong. I have heard many complaints from Gyarong villagers about the lack of great lamas in their region. Without important and charismatic religious figures, the Gyarongwa's faith in the monasteries and religion has been seriously affected.
With esteemed religious figures, how would the situation be different? Maerkang ('Bar Khams), the capital of Aba Tibetan and Qiang Autonomous Prefecture, is a cultural hub in the Gyarong region. Many locals there have very strong religious beliefs. This is probably due to the fact that, since the 1980s, some elderly monks who fled to India in 1959 have come back and a number of children and youth have found their way to India to learn scripture there. Some of them were able to return after years of rigorous monastic training. Despite the political control and surveillance, the returnees and other lamas have been able to renovate or rebuild quite a few monasteries and establish monastic schools where they can train novices, thanks to tremendous support from local villagers, businessmen, and even officials and cadres.16 The reason for this enthusiastic local support has to do not only with the locals' religious beliefs and their desire for the restoration and development of religion in this region; it is also linked to the shining example set by learned lamas. These lamas' mastery of religious philosophy, personal decorum, and charisma has exerted great influence on the locals' perceptions of religion and thus on their religious identity.17 For instance, several years ago, a village head in Maerkang told me that many village parents let their children quit elementary school in order to attend a local monastery because these parents were frustrated that the boys didn't learn "good things" from school—they often fought among themselves, played truant, didn't do their homework, and didn't help much at home after school. Just several months after having been sent to the monastery, they were transformed: they started to work hard, talk politely to the elderly, and care for their parents. He attributed these positive changes to the influence of great masters at this monastery. Later I heard many similar claims about the significant influence of outstanding lamas on the local community. As a result, local religious identities have been reinforced. However, in many parts of the Gyarong region, the lack of such charismatic religious figures has taken a toll on religious identity.
The dilution of religious identity for the Gyarongwa is a complicated issue. In other Zangzu regions, there has been anxiety about the negative effect the Party's Zangzu and religious policies and modern forces like commercialization and tourism have had on religious identity, but the situation is extreme in Gyarong. This shift toward secularization marginalizes the Gyarongwa among Zangzu, as Tibetanness often boils down to demonstrating reverence for the Dalai Lama. Zangzu are united as a close-knit whole by their tremendous love for this great leader, so the Gyarongwa's "indifference" to the call of the spiritual leader and less devotion to religious matters disqualify them as "authentic" Tibetans in the eyes of other Zangzu.
Suopo's case is even more complicated. The majority of the Suopowa practice the Bon religion. Bon is an indigenous religion in Tibet, but with the rise of Buddhism in the eighth century, it suffered serious setbacks. When Bon priests eventually lost their ground in Central Tibet, some escaped to Gyarong. With the support and patronage of local kings, Bon flourished in Gyarong. However, in the late eighteenth century, Emperor Qianlong of the Qing dynasty ordered the eradication of the Bon religion in Dajinchuan (today's Jinchuan County) and Xiaojinchuan (today's Xiaojin County). He labeled Bon a "vicious cult" (xiejiao) because it had "colluded" with local kings against the Qing troops dispatched to subdue the rebellions and had the Gelugpa replace the Bon (see Peng 2003). Although the Qing court didn't take such drastic measures against those Bon Gyarong kings who were not involved in the rebellions, this policy of advocating Buddhism while curbing Bon in Gyarong signaled the further erosion of Bon's status. The situation remains unchanged today. Thus, due to the disparity in influence wielded by Buddhism and Bon, many common Tibetan Buddhists accuse Bon of "heresy," with some even claiming that Bon is "un-Tibetan" or not Tibetan enough—an ironic assertion considering that Bon is the indigenous religion of Tibet. When the Suopowa seek temporary employment in other Khampa counties in Ganzi Tibetan Autonomous Prefecture, many don't reveal their religious background for fear of discrimination.
These examples show that although the Gyarongwa are officially recognized as Zangzu, their Tibetan identity has been constantly challenged and disputed. But how do the Gyarongwa look at and evaluate their relationship with other Tibetans? In my interviews with dozens of Gyarong villagers, nearly all expressed the idea that they are "different from other Tibetans." The most frequently mentioned difference is language, followed by cultural differences, especially the "wildness" of Tibetan men from Kham or nomadic regions, whom they believed to be short-tempered and easily provoked into fisticuffs or even knife fights. They also mentioned the male supremacy or "male chauvinism" of "typical" Tibetan men who don't help much with household chores and treat their wives badly, in contrast with Gyarong men, who do most of the heavy labor at home and care more for their wives. Another common opinion is that other Tibetans are usually too religious, having an almost fervent faith in their lamas and spending excessive amounts of money and time on religious matters. Sanitation and foods were frequently mentioned, too. In these villagers' views, "typical" Tibetans, especially nomads, are not clean and don't care much about cleanliness in clothing, food, and housing. They also commented on the fact that nomads eat very simple traditional food like tea, yak butter, tsampa, and yak or mutton and don't even know how to cook properly. However, not everything about "typical" Tibetans or nomads was negative. Some of the villagers who have had frequent contact with the former argued that they are straightforward, honest, and, once friendship was established, trustworthy and loyal, unlike "sophisticated" and "practical" farmers, including the Gyarongwa. Nevertheless, on the whole, these villagers' portrayal of Tibetans and nomads, who were said to be too "uncultivated," "conservative" (regarding men's attitude toward women), overreligious, and unclean, expressed a sense of superiority.
In contrast, from the perspective of many Gyarong elites with whom I interacted—including state employees, scholars, teachers, lamas, and others—despite differences between the Gyarongwa and other Zangzu, what really mattered was that they were all Tibetans. Like my lama friend, these elites were frustrated with other Zangzu's demeaning attitude toward the Gyarongwa. But from my friend's point of view, this attitude arose from ignorance of the fact that the Gyarong language and culture are classified as among the most authentic subcategories of Tibetan language and culture. Thus, authenticating the Gyarongwa's Tibetanness has become a great concern. Tsanlha Ngawang's proposition that the "official" Gyarong language is the ancient, classic Tibetan and that Gyarong has always been part of the Tibetan ethnicity was quite influential and well received in academic circles, where he was much respected for its erudition and rigorous reasoning. Some Han and Zangzu scholars with whom I am personally acquainted have been convinced by his works and have used some of his concepts to buttress similar claims. But beyond the academic field, do common Gyarong villagers care about their Tibetan identity at all? Or do they make an effort to prove their Tibetanness?
In general, the Gyarongwa are fully conscious of their status as Zangzu, the label imprinted not only on their registration records and ID cards but also in their minds, thanks to the ethnic identification project and ethnic policy implemented by the state. They identify themselves with other Zangzu as "a single unity," but only with increasing interactions with outsiders—Tibetans, Han, and tourists—has the issue of how to best represent themselves and reconfigure Gyarong-Tibetan relations become an immediate and important concern to the common Gyarongwa. As indicated above, when encountering other Zangzu, the Gyarongwa tend to highlight their common Tibetan identity, and from time to time, some do so by concealing their Gyarongness and Bon background. When the Gyarongwa interact with the Han in Han regions, they may just claim their Zangzu status, since most Han have little knowledge of Gyarong. However, when tourists come to Gyarong, locals are faced with inquiries about their relations with other Zangzu because local dress and customs are different from what tourists expect to find among Tibetans. Several local guides and villagers in Danba consulted me on Tibet-Gyarong relations as well as other issues on Tibetan and local history because they didn't know how to answer tourists' questions.
In their interactions with tourists, they have developed "standard" interpretations of Tibetan and local history and culture, assuring tourists that they are not only authentic Tibetans but also the most unique Tibetan subgroup. They take pride in their Tibetan heritage but realize that the local culture is what tourists come for and so immerse themselves in it. In this way, they not only subvert other Zangzu's discourse of their non-Tibetan identity but also assert their uniqueness among the Zangzu subgroups.
The Suopo case is even more distinctive. The Suopowa speak a Khampa dialect; thus, many of them claim that they are real Tibetans, unlike other Gyarongwa who speak various non-Tibetan languages. However, as mentioned, their assertion is not usually accepted by other Khampa people. As a result, a paradox emerges: some Suopowa feel that they are marginalized by other Khampa people for their "impure" Tibetan language and "contaminated" Tibetan blood, while the Suopowa feel superior to other Gyarongwa because of their "purer" Tibetan blood. The Suopowa are aware that their Bon religious beliefs further disqualify them as "authentic" Tibetans in the eyes of some "radical" Tibetans. In an effort to subvert this negative stereotyping, Suopo elites constantly reminded me and other outsiders that Bon in Suopo has taken such a broad-minded approach that it coexists peacefully with Buddhism.18 An example of this harmonious relationship is said to be the locals' great reverence for Berotsana, a renowned translator and master of Buddhist scripture and one of the first seven monks ordained in Tibet. Berotsana was banished to Gyarong by anti-Buddhist forces in the court of King Trisong Detsen in the eighth century. After arriving in Gyarong, he started to propagate Buddhism and gathered a large following (Dmu Dge 1997), although one might logically expect that the Suopowa or Bon believers would have had a strong animosity toward this Buddhist master. Suopo elites suggest that local admiration for Berotsana reveals the tolerant open-mindedness of both the Bon religion and the Suopowa. In doing so, they seriously challenge the degraded portrayal of Bon and assert their sense of pride in this liberal religion.
In their campaign for recognition, the Suopowa, especially elites, have also long denied the translation of the place-name Suopo (T: Sog Po), which in "standard" Tibetan means "Mongols." This interpretation suggests that the Suopowa are descendants of Mongols, who were said to have come and settled in the area in the thirteenth and fourteenth centuries (see, e.g., Wang Huailin 2006). Suopo elites oppose this explanation, declaring that they have nothing in common with Mongols and thus proclaiming their "unadulterated" Tibetan origin and culture.
The Suopowa's reactions toward perceived negative labels suggest that their Khampa or Tibetan identity is insecure and that they must find a counterexample, other Gyarongwa with "impure" Tibetan blood, to serve as a foil in order to authenticate their claim. Suopo possesses a unique resource in the stone watchtowers that have become a well-known tourist site in China and which Suopo elites and villagers assert is the most unique and invaluable representation of the best of Tibetan architecture throughout all the Zangzu regions. Suopo has 175 remaining watchtowers that are hundreds of years old and make up nearly one-third of the total number of such buildings in Danba County. Due to their important historical and cultural value, the Chinese government has nominated them for World Heritage status.19 These exquisite and imposing high-rise structures stand in the breathtaking landscape of Suopo, making them a magnet for tourists. The Suopowa make use of the towers as an example of both their distinctiveness and their Tibetanness. They also take pride in their folk songs and dances as being the most unique and thus the most "authentic" in Danba, Gyarong, and even the whole Zangzu region. These forms of heritage, however, can also be found in Gyarong and other Zangzu areas. It is the ruins of the palace of the matriarchal Eastern Queendom as well as the supposed queendom traditions that set Suopo above all the rest.