El Bukieto de Romansas (A Bouquet of Ballads)
Ladino Transcription and English Translation of a collection of Sephardic Jewish Ballads
by
Ke Guo
Dr. David Bunis
Hazzan Isaac Azose
Dr. Anthony Geist
Paco Díez
Contributor:
Dr. Susana Weich-Shahak
This project transcribed and translated the Sephardic Jewish song book collection El Bukieto de Romansas published in Istanbul in 1926 by Binyamín B. Yoseph. It is a collective effort from a community of scholars, Sephardic cantor (Hazzan), and musicians.
--Why do we do this project?--
The language of Ladino, or Judeo Spanish/Judezmo, is an extremely endangered language. It was the language spoken by the Sephardic Jewish communities after they were forced to leave the Iberian Peninsula at the end of 15th century. For centuries, the written Ladino language used the Hebrew rashi script. However, people have switched to the Latin alphabet for written prints from the mid-2oth century, and the rich historical archives in rashi script is no longer easily readable even for the Sephardic Jewish communities.
The original book of "El Bukieto de Romansas" was written in Hebrew rashi script. For this reason, many of the ballads recorded in this book were left in oblivion. This project of transcription and translation brings back many of the Sephardic Jewish "romansas" that were once well-known in Istanbul at the end of 19th century.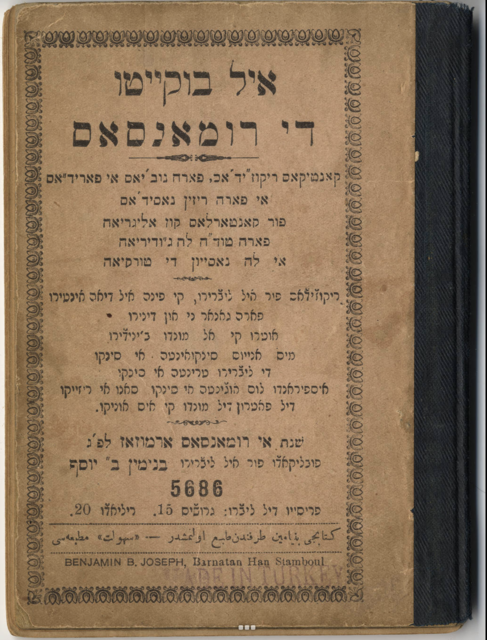 Project Content
This text has 0 annotations

This text has 0 highlights

This text has 0 annotations

This text has 0 highlights
rights

This work is licensed under a Creative Commons Attribution-Noncommercial-No Derivative Works 4.0 International License. If you wish to copy and redistribute the material, you must follow the license terms: 1) Attribution — You must give appropriate credit, provide a link to the license, and indicate if changes were made. You may do so in any reasonable manner, but not in any way that suggests the licensor endorses you or your use. 2) NonCommercial — You may not use the material for commercial purposes. 3) NoDerivatives — If you remix, transform, or build upon the material, you may not distribute the modified material.
original publisher

Binyamín B. Yoseph

original publisher place

Istanbul, Turkey

publisher place

Seattle, WA

rights holder

Ke Guo, David Bunis, Isaac Azose, Anthony Geist, Paco Díez, Dr. Susana Weich-Shahak