7/ The Hakka Paradox in the People's Republic of China
Exile, Eminence, and Public Silence
Most of this book considers Hakka identity outside China. But 90 percent of the world's approximately 37 million Hakka speakers live in the People's Republic, largely in an area referred to by overseas Hakka and by mainland Hakka scholars as the "Hakka heartland," the thirty-three "purely-Hakka" counties straddling the mountains between western Fujian, eastern Guangdong, and southern Jiangxi (Min-Yue-Gan) (Chinese Encyclopedia 1988:237). Mainland Chinese are strikingly less vocal about Hakka identity than are their outside cousins, and many still reject the word Hakka. For reasons that are examined below, since the establishment of the People's Republic in 1949 until quite recently, little has been written of Hakka identity on the mainland, and Hakka identity has not been publicly expressed. Hakka language, on the other hand, is frequently discussed in print.
Although common language is not necessarily an indication of the existence of a conscious "ethnic identity" (see Introduction, this volume), it does offer a potentially powerful social bond and may also serve as a badge of identity, especially when it is a language (such as Hakka) that few outsiders learn. As a linguist, I attempt here to place the recent upsurge in contemporary mainland studies of the Hakka within a broader historical context, with a special emphasis on language. My focus is not explicitly on how people on the mainland perceive of themselves as Hakka—since, given their silence, this is very difficult to assess. I am more interested in what those who are often assumed to be Hakka by other mainland and overseas Hakka—by virtue of their language, place of origin, or self-ascription—have done, especially with regard to revolution. In the twentieth century many individuals from Hakka regions of China fought for Communist revolution. Yet within mainland China much of that history remains shrouded in silence, and it is not openly expressed as "Hakka history."
The word Hakka is a hostile Cantonese coinage, as clear an epithet for impoverished wanderers as "Gypsy" or "Okie." A defining feature of guests (ke) is that they will eventually go home. But Hakka migrants, lacking a viable native place to return to, have been forced to define themselves against an ethnic other. Although their emergence has been uneven, Hakka consciousness and scholarship have been traced back about two centuries by mainland scholars, to the massive migrations to coastal Guangdong, Sichuan, Hong Kong, and Southeast Asia. There, gazetteers first described Hakka language and customs as distinctive in order to refute Cantonese charges that they were "barbarous." Hakka associations sprang up, especially in treaty ports and in Southeast Asia. Similar ethnic attacks during the 1920s to 1930s, the peak era for so-called "race science," stimulated a "flourishing stage" of Hakka scholarship, during which Luo Xianglin, a Hong Kong Christian, responded with his pioneering work. A "silent era" followed on the mainland, from the Japanese attacks of 1937 to the end of the Cultural Revolution (1966–76). Mainland writing about Hakka during that time was "as scarce as phoenix feathers and unicorn horns." Yet during this same silent era, socialist revolution had unusual appeal to land-hungry mainland peasants in Hakka regions. Some became heroes, or even China's highest leaders, including Deng Xiaoping. But, for a variety of reasons, these leaders did not identify themselves as Hakka. Once contacts with overseas Chinese resumed during the reform era, mainland Hakka created a "flourishing revival" of Hakka scholarship. They are also revising Hakka identity, rendering it with new, positive views of non-Han minority culture and "otherness."
Stigmatized groups may accept or reject the dominant group's assessments. The construction of Hakka identity closely follows Henri Tajfel's (1974) model for intergroup relations. Groups that reject inferior status often assimilate with the dominant group and demand equality. But they may also redefine negative characteristics and create new dimensions for comparison. The most convincing demands for Hakka equality are often voiced by sophisticated, highly educated multilinguals. The process of redefinition is farthest along precisely where Hakka have assimilated most to prosperous, anomic, highrise urban life in Taipei, Hong Kong, and Calcutta, as the other chapters in this book make clear. Redefining negative characteristics is also easier once they can be safely rendered historical. Public expressions of Hakka culture have long discussed migration and poverty in terms of mobility, thrift, and endurance. Now, in the People's Republic, socialist ideals reinforce emergent comparisons. "Barbarism" is redefined as valuable exchange with minority culture; heterodoxy as openness to reform, including women's rights; and constant fighting as military service that forged a modern nation. What is not voiced publicly, but is a matter of pride within mainland Hakka circles, is the role of Hakka in communist revolution.
The silence is confined to twentieth-century mainland history. Hakka traditions are often familiar to missionaries and Western anthropologists who were forced to concentrate their field research in Hong Kong and Taiwan after 1949. But ethnography has mostly ignored national politics. Many overseas Hakka support the Worldwide Hakka Federation, but its anticommunist and Christian constituencies shun Chinese Communist Party history. Non-Chinese sources discuss ethnicity, but are often uninformed, careless, or vague. And the people referred to as Hakka are little known outside Hakka districts of the People's Republic. "What's a Hakka?" asked a scholar from the Chinese Academy of Social Sciences. His confusion was not unusual.
Few non-Hakka on the mainland know that Deng Xiaoping is considered a Sichuan Hakka or that in 1984 half of China's highest government body, the Standing Committee of the Politburo, came from Hakka backgrounds. In 1988 individuals from Hakka regions of the country appeared at three times the chance rate among China's 105 highest officials—those at the level of minister (buzhang) or above (Li Gucheng 1988). Silence is reinforced by the tangled status of ethnicity in China, the antitraditionalist thrust of the revolution, and its still-painful aftermath. But a paradox exists between the concentration of Hakka on the mainland and their public silence until the late 1980s. Partly, they are overwhelmed by numbers. The 33 million mainland Hakka-speakers are only 3 percent of the population. People of Hakka descent, not necessarily Hakka-speaking, form a much higher percentage of the outposts of "cultural China," in Taiwan (2 million, at least 10 percent), Hong Kong (600,000, 10 percent), and Singapore (700,000, 25 percent). But the actual numbers of Hakka overseas are far smaller than in the People's Republic (table 7.1); and far smaller than their voices might indicate.
Orthodox Communist history describes revolution in seamless, de ethnicized terms, moving smoothly from the founding of the Chinese Communist party in 1921 to the labor organizers of the 1920s and the peasant activists of the 1930s, who founded collective governments known as soviet bases. The Red Army then made its heroic Long March from the southern soviets to a new base at Yan'an in the Northwest. Mao Zedong and the Party fought on from there until they expelled first the Japanese and then the Nationalists, taking national power in 1949. The public record does not mention that Hakka were deeply involved at each stage as Party founders, labor and peasant organizers, and military heroes. Six of the nine main soviet bases were in Hakka country. The Long March led largely Hakka-speaking soldiers from Hakka village to Hakka village up through Sichuan (see maps 7.1–7.4). After 1949 the People's Republic had many Hakka leaders, especially in the military. One list of eleven early Communist "national heroes" is 27 percent Hakka, nine times the chance rate. They include two Long March leaders, marshals Zhu De and Chen Yi, as well as Song Qingling, who married Sun Yat-sen before becoming a leader in her own right.1 Yet mainland publications virtually never mention the Hakka background of these individuals—not even in a forty-one volume set of biographies of Party heroes—in vivid contrast to the routine highlighting of the identity of minorities. Memoirs are equally silent. The subject of Hakka participation in the Communist revolution remains so sensitive that a foreign article was among the first to raise it in print (Erbaugh 1992).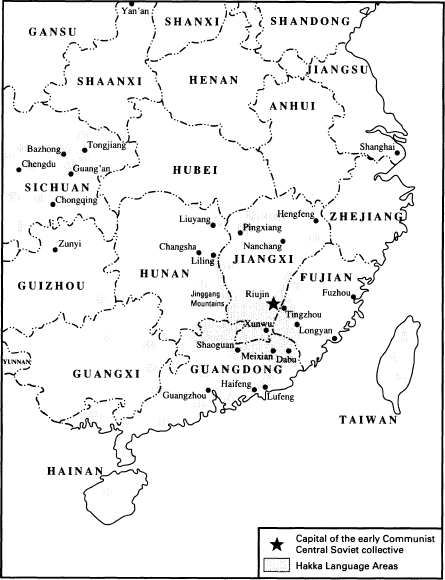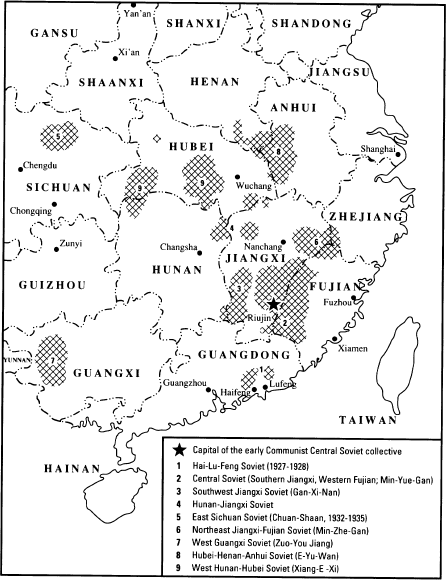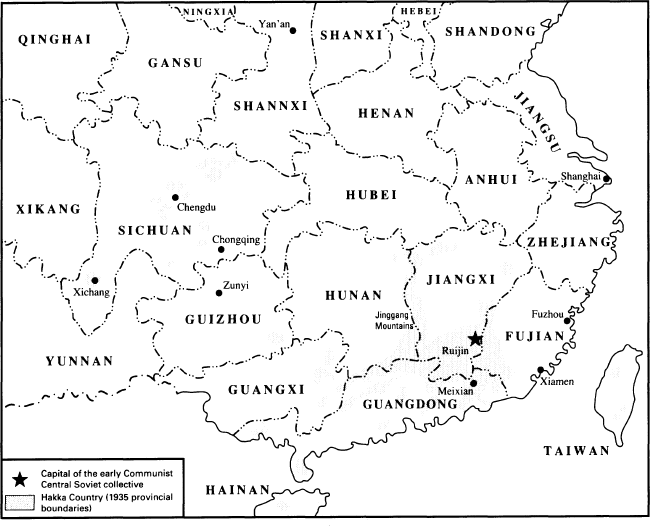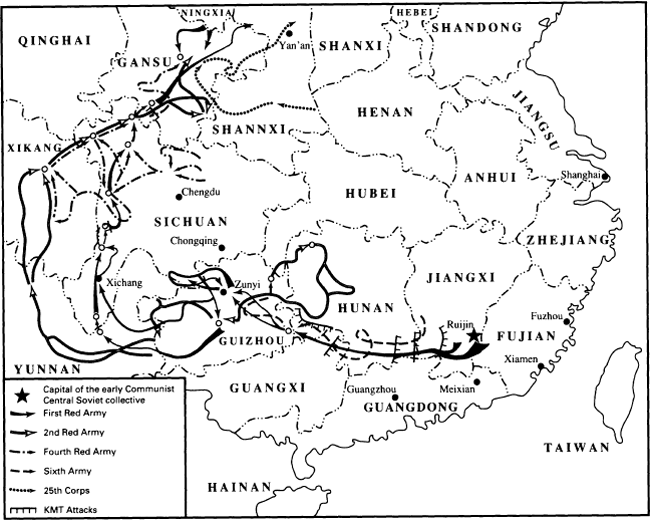 OBSCURING FORCES: HAN UNITY, OFFICIAL CATEGORIES, AND GUEST IDENTITY
Why are Hakka so obscure? Three converging factors mask their presence: ideals of Han unity; official categories that do not easily accommodate Hakka; and the slow, uneven construction of Hakka identity. Seamless cultural unity is a traditional Chinese ideal, one which Hakka defend as ardently as do other Han. Hakka who achieve national success are hailed for their achievements as Chinese. The Taiping rebels of the nineteenth century did not proclaim a Hakka Kingdom, but a Heavenly Kingdom. Rulers from the Qinshi Emperor to Mao Zedong are hailed for unifying the empire, whatever the cost. Unlike many of his contemporaries, Mao never studied abroad. And, unlike them, "he never wasted time worrying about his Chinese identity. . . . He was effortlessly and supremely confident about being Chinese, almost the way Churchill was about being English" (Wang Gungwu 1991a:263). Many campaigns denounce "localism" (difang zhuyi), "splittism" (fenlie zhuyi), and lack of unity. But "centralism" (zhongyang jiquan zhi) has positive connotations.
Many Chinese consider public discussion of local ties to be inflammatory or in poor taste. Discomfort with diversity remains strong. One scholar commented that public discussion of Hakka identity might embarrass them. But local ties are basic to the personal connections underlying the power network. Nominal political position often understates clout, since the legal and legislative systems are weak. Deng Xiaoping resigned all his official posts in 1989, but remained the paramount leader. The backgrounds of leaders remain largely beneath the surface. Revealing the concentration of Hakka leaders could spur charges of nepotism, an offense to both traditional and revolutionary morality. The only mainland leader routinely identified as Hakka was Marshal Ye Jianying, a proud native of Meixian, Guangdong, the Hakka "capital." But Ye was invoked almost as a token, and tokenism honors the individual as a substitute for attending to group concerns.
Inapplicable official categories pose a second barrier. History and policy are centralized in China, promulgated from northern capitals. Terminology can be archaic or incorrect, such as referring to the Hakka as "the Cantonese."2 But the basic categories—dynasty, clan or lineage, and province—render peripheral people literally borderline, or marginal. Repeated migration also diluted the Hakka presence in dynastic histories. Multisurname villages may have less interest in writing elaborate lineage histories, and local history is often literally provincial. A study of Fujian revolutionaries, for example, will omit events just across the border in Jiangxi or Guangdong. The Hakka have no province (or rich former colony) to call their own. Yue Cantonese control both Guangdong and Hong Kong, while the Fujian Min dominate both Fujian and Taiwan. But Hakka are scattered athwart at least six provinces. Regional economic subsystems center on lowland market hubs (Skinner 1977a:212, 216; 1977b) whose boundaries are just as unforgiving; Hakka straddle the boundaries of at least five of the eight major systems.
Neither the mainland nor Taiwan publishes even provincial population breakdowns for Hakka-speakers (or any other Han ethnolinguistic group). Table 7.2 offers an estimate, in which percentages are virtually the same as in 1928.
A third issue is the slow and uneven construction of a conscious Hakka identity. No scholar disputes the northern origins of the ancestors of today's Hakka. The issue is when and how Hakka developed a separate identity. How did they come to be distinguished and to distinguish themselves from the millions of other poor migrants and "shed people" (pengmin) (Averill 1983)? What did they adopt from their non-Han neighbors, especially the She (a Miao-Yao people who often call themselves Shanmin, "Mountain People")? And why did they remain distinct from the Cantonese and the Min? Hakka enthusiasts sometimes erroneously apply the rough, binary categories of the Song dynasty population registers—of Han "guests" (ke) versus aboriginal "natives" (zhu), a dragnet that can include virtually every Han south of the Yangtze. Current scholars conduct increasingly careful debates over whom to include—neither every southern migrant nor only Hakka-speaking residents of the heartland (Wu Fuwen 1992, Wang Hongyou 1992, Wang Tsu-de 1992). Even Chinese popular vocabulary offers finer ethnic distinctions than does English. "Descendants" (houyi) of an ethnic group are aware of their ancestry, even though they have assumed a different dominant identity. "Members of a certain bloodline" (xuetong), in contrast, remain unaware of their roots.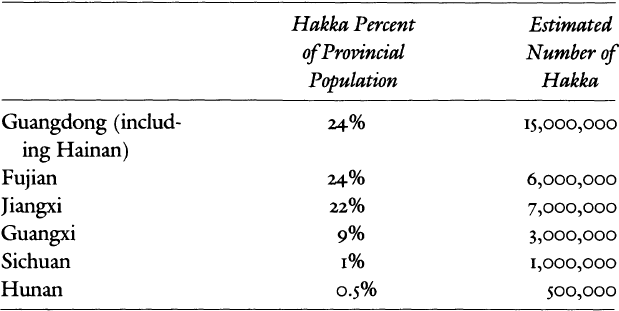 Many Hakka refuse the Hakka (Kejia) label. Guangdong Hakka prefer the politer forms "guest person" (ke ren) or "guest in the population register" (keji). Others prefer "person who has come" (lairen) (Moser 1985:239). In Guangdong, Punti (Bendi) implies Cantonese ethnicity. But Hakka natives of the long-settled Fujian and Jiangxi heartlands also call themselves Bendi.3 Many peasants in 100 percent Hakka areas hold a village-based identity, with no special ethnic label for themselves. If pressed, they may call themselves "Tingzhou people," for the small Fujian town (since renamed Changting) that 90 percent of Hakka forebears passed through. But in 1992 when some Changting and Ninghua residents were asked, in Hakka, whether they were Hakka, they replied, "No, how could we be? It's those people down in Dabu [Taipu] who are Hakka" (Wu Fuwen 1992).
Native-place identity is central to—and literally worshiped in—the dominant Han tradition. Emily Honig (1992) discusses how native place functions much like race or religion in the construction of ethnic identity. Self-ascribed Hakka, however, ground their identity far more in shared language and culture, arguing that the ancestors fled south in order to preserve the best of northern Han culture. Migrants would dig up the ancestors' bones and carry them in jars to each new settlement. Overseas and treaty port Cantonese and Fujian Min organized mutual assistance associations by clan or native place. But Hakka associations were based on language, and called "associations for those who revere the true [Chinese] tradition" (Chongzheng Hui) (Cheng 1992, Yen 1992).
Migration can spur the creation of a new identity, especially in encounters with a hostile ethnic group. Honig (1992) analyzes poor northern Jiangsu peasants who take village-based identity for granted until they migrate to Shanghai. Language is their only major cultural difference from the more prosperous Wu-speakers of Shanghai. Mandarin-speaking, but poor, the migrants find themselves lumped together under a hostile new label as Subei (from "north [Jiang]su"). As such, they face virulent prejudice in work, housing, education, and marriage. Yet recently they have begun to accept the Subei label, and use it to unite in constructing a positive ethnic identity.
The very recent Hakka migration to mixed areas revised the "guest" identity in ways unimagined for those in the heartland. Guesthood gradually became a badge of honor in Southeast Asia, where migrants drilled their children on their Hakka identity. One woman recalls a household routine, shared by many families in Sarawak, of sitting on her grandfather's lap each morning, as he asked, in Hakka:
"Who are you?"
"Ah Kher [her name]."
"What kind of person is Ah Kher?"
"Ah Kher is a guest person [ke ren]."
"What kind of guest person?"
"A guest person from Dabu." (M. Lo 1992)
Language is the most important Hakka cultural identifier. Like the Subei people, modern Hakka resemble other Han in almost every custom. But Guangxi Hakka considered the refusal to speak Hakka language a betrayal, banning violators from ancestral halls and their names from family tombstones (Yang Huandian et al. 1985:184). Guangdong Hakka say "Go by your dialect, not your surname" (Ren sheng, bu ren xing) (Cohen, this volume). Sichuan Hakka still say, "You can sell off your ancestral land, but never sell out your clan's language" (Neng mai zu tian, bu neng mai zong yan) (Cui 1985:10).
Hakka (Ke) counts as one of the seven main Chinese dialects.4 Some claim that it is very close to Mandarin. But a thousand years' residence south of the Yangtze has rendered it a southern dialect, so close to the Gan dialect of Jiangxi that they used to be classed as a single Gan-Hakka dialect (Jerry Norman 1988:210–13; see also Liang 1985). The separation of the dialects may well date to a period of rising Hakka consciousness. Cantonese, Min, and Wu dialects vary so dramatically that villagers often cannot understand their neighbors a few miles away. The fact that Hakka is clearly intelligible across its entire territory is a testimony to recent migration. For example, Sichuan Hakka-speakers visiting Guangzhou in 1982 overheard Hakka teenagers from northern Guangdong speaking a dialect identical to their own (Cui 1985). Hakka can serve as a common language, much as Yiddish allowed Ashkenazi Jews to communicate all across Europe and the United States. But Hakka also offered a valuable natural code in wartime, since it is not mutually intelligible with either Min or Cantonese. Many Hakka have long been multilingual, such as Deng Xiaoping, who learned both Mandarin and French in a Catholic middle school. By now, almost all Hakka speak another dialect in addition to, if not instead of, Hakka.
HAKKA IN REVOLT: A SYNERGY OF SITUATION AND HISTORICAL OPPORTUNITY
Was Hakka participation in revolution a matter of chance? Did it develop only after Shanghai Party leaders fled to the nearest defensible hinterlands, which just happened to be Hakka? Obviously, a synergy developed between Hakka peasants and Party leaders transplanted to Hakka country. But the record shows that Hakka-speakers and peasants in Hakka regions also participated heavily in the very beginnings of revolution. Although Hakka have a widespread reputation for involvement in rebellion and warfare, their socioeconomic situation undoubtedly made socialist revolution attractive, helped them survive it, and even helped shape its course.
Cantonese and Min antagonists have described Hakka as rootless, poor, barbarian fighters. Stated more neutrally, Hakka were highly mobile newcomers, poor, heterodox, militarily active, and had close links to minorities. As migrants, they had fewer local ties to discourage rebellion, and were more hardened for guerrilla war. But poverty is likely to have been the most important factor in attracting individuals from poor Hakka regions to revolution. As late migrants, they typically lived on the worst, rockiest land, often as squatters in areas devastated by war, famine, or plague. The Hakka heartland includes the poorest counties of Fujian, Guangdong, and Jiangxi. Fujian as a whole is 95 percent mountains, with less arable land per capita than any other province (Benton 1992:124). Guangdong is 70 percent mountains. And Meixian prefecture has three of the poorest counties in Guangdong (Wuhua, Fengshun, and Dabu). The other four Meixian counties are also poor, plagued by bad soil, high mountains, poor transit, little industry, and very high population (Jiaoling, Mei, Pingyuan, and Xingning counties) (Han Suyin 1965:28; Moser 1985:253; Vogel 1989:242). In the early twentieth century so many Meixian men labored overseas that women outnumbered men six to one (Han Suyin 1965:28). Nationwide, Hakka-speakers were much less likely to be landlords, and much more likely to be tenant farmers, miners, soldiers, blacksmiths, masons, or barbers. In western Fujian only 15 percent of peasants owned land; rents ranged from 60 to 80 percent of the crop. Over 25 percent of males were jobless wanderers (liumang wuchan) compared to 5 percent nationwide (Longyan Committee 1987:2, 35, 185, 190).
Westerners sometimes ask naively whether the Hakka are an official "national minority" (shaoshu minzu). The Hakka themselves traditionally insist that they are Han, preservers of a purer Han culture than that of either the Cantonese or northerners (who have been "corrupted" by the Mongols and Manchus). Persistent claims that the Hakka are not Han are incorrect. All Han Chinese intermarried with non-Han, especially in the South (Jerry Norman 1988:210–13). Hakka have often been outraged by hostile comparisons with the minorities. Guangdong Hakka protested a 1930s government publication describing them as "barbarous" and "speaking a bird-like chatter" (S. T. Leong 1985:316). In 1958 they protested a Beijing University publication calling them a national minority (Yin 1958).
Hakka have, however, often had unusually close, positive relations with non-Han peoples, especially the She. Unlike most minorities, the She traditionally live intermixed with the Han in small dispersed settlements scattered from Zhejiang across Fujian to Guangdong. Many Hakka traditions show a strong She influence, if not direct borrowing. Intermarriage has long been common, and Hakka with the surnames Pan (pan), Lan (blue), Zhong (bell), and Lei (thunder) almost certainly have She ancestors. Even Hakka mobility may have been stimulated by the adoption She-style swidden agriculture. Both groups relish contests in which "mountain songs" are sung. She women's status is higher than that of most Han women, with frequent matrilocality and equal inheritance. Hakka women around Changting traditionally dressed much like She, in aprons with colorful embroidered borders, silver jewelry and headdresses, and "boat-shaped topknots" wrapped in red yarn (chuanzi ji). Many She speak Chinese, especially Hakka. The She language itself is so strongly influenced by Hakka that it is sometimes mutually intelligible. Outsiders find it hard to follow the distinctive pronunciation, but it is fairly standard across She territory. Before 1949 the overwhelming majority of She were extremely poor tenant farmers or woodcutters (Benton 1992:270; Chen Yuanxu 1992; Chinese Encyclopedia 1986:393–95, 1988:239; Jiang Binzhao 1992; Li Mo 1993; Ramsey 1987:285).
Although this reputation may have been in large part constructed in retrospect by ethnically conscious Hakka, Hakka do appear to have been more receptive than other Han to new, heterodox, ideas. Religion and ancestor worship in Hakka regions are reputed to often be less elaborate, and shamanism more widespread. Hakka also disproportionately converted to Christianity, as Nicole Constable discusses in this volume. Xunwu City, a Jiangxi market town of 2,600, had five churches (and thirty brothels) in the 1920s; in nearby Shanghang, Fujian, six churches occupied a sixth of the land in the county seat (Longyan Committee 1987:4; Mao 1990:116, 211). A relative open-mindedness, coupled with poverty, may have made many people from Hakka regions of China more receptive to both Taiping and Communist reforms. Women's liberation is said to have met less resistance among Hakka. Hakka tradition already encouraged women to avoid footbinding, keep substantial sums from their dowries, and work outside the home for cash, often plowing or doing other heavy work. Ideals also supported female education and discouraged daughter-selling, concubinage, and prostitution.
Hakka academic achievement is less widely known. Handicapped by a lack of financial networks and isolation from markets, Hakka parents had less incentive to urge their sons toward business, and were more likely to direct them towards academic accomplishment. By the late nineteenth century, an unusually high percentage of Hakka passed the imperial exams. Even in Xunwu County, four hundred scholars (xiucai) passed, as did Zhu De himself the year they were abolished. Some 80 percent of Meixian males were literate. But the poorer the region, the less schooling parents could afford. Mao Zedong estimated the literacy of Xunwu males at 40 percent in 1934, and half of those knew only about two hundred characters, scarcely enough to keep accounts. Only 10 percent of men were literate in western Fujian. But even this compared favorably to 1 percent literacy around Yan'an (Longyan Committee 1987:190; Mao 1990:191, 194; Moser 1985:240; Smedley 1956:67–69). In addition, a disproportionate number of Hakka studied abroad, including Deng Xiaoping, Ye Jianying, Chen Yi, and Zhu De.
As was described by Sharon Carstens (this volume), Hakka also have a reputation for military prowess. Because Hakka often were at war with their neighbors, even their architecture reflects life under siege. Whole mixed-surname Hakka villages in Fujian, Jiangxi, and Guangdong often lived—and still live—communally in tulou, huge, circular, multistory fortresslike complexes. These rammed-earth structures are easy and cheap to build, but elegant and well insulated, with all living units of equal size and shape. Outside windows on the lower floors are mere rifleslits. But huge central courtyards, some as big as football fields, let in light and air. Courtyards contain the communal ancestral shrine, wells, lavatories, granaries, vegetable gardens, and animal pens. Residents can survive inside for several months.5
Land wars with Punti fueled the Taiping Rebellion, led by Hong Xiuquan, the Guangdong Hakka who called himself the "second son of God." Hakka tenant farmers, miners, and artisans joined in huge numbers. Taiping communalism, land reform, and opposition to footbinding harmonized with existing values, as did the promotion of women officials. The Taiping "heavenly kingdom" also promoted vernacular language reform, using both spoken and written Hakka to reinforce solidarity against outsiders, facilitate communication among Taipings of all ranks, and mislead the enemy (Liu Cun-han 1992; Shih 1967:49, 226–28, 305–306, 315). Taiping law banned regional rivalries and stressed equal treatment for Hakka and Punti (Wang Qingcheng 1992). However, in Guangdong many Punti joined the Taiping rebels, then expelled the Hakka members. Other statutory ideals lapsed as the Taipings occupied ravaged Hangzhou, occupied Nanjing for three years, and devastated fifteen provinces, leading to some thirty million deaths. After the Taipings were put down, the Hakka-Punti land wars killed nearly a million people, including tens of thousands in Taiwan. The government relocated many Hakka away from Guangdong, and set up Hakka quotas for military and civil service exams (Lamley 1990; S. T. Leong 1985:288–90, 295). But Taiping-based paramilitary societies remained common, especially among hilltop Hakka.
By the late nineteenth century, Hakka rebels foreshadowed national revolution with an intricate combination of communal organization, protest, cultivation of sympathizers inside the government, and military strength outside. One Guangdong observer noted:
These scattered [Hakka] settlements form a confederation among themselves, and forthwith demand a reduction of the ground-rent. . . . But, lest the Government should interfere, they are careful to inform the mandarins beforehand that they will pay lawful ground-rent to them. Besides, in many public offices in the Kwang-tung province, the subordinate employees are Hak-kas. As this class of village wars is looked upon as harmless by the authorities, they only interfere to squeeze both parties. The Punti employ bravos to fight for them, while the Hak-kas fight their battles for themselves, and that is why the latter always win. (Eitel in Thomson 1898:77–78)
HAKKA AND NATIONALIST REVOLUTION
As a group, Hakka never came close to Cantonese, Fujianese, or Shanghainese financial success. But the role of Hakka individuals in civic leadership has increasingly become a focus of pride. Wang Gungwu argues that overseas Chinese Hakka, stigmatized and outnumbered, pioneered a modern Chinese national identity. In the early twentieth century, they downplayed their embattled local history to invoke a broader Chinese heritage as they pressed for the creation of a modern republic. This broader identity spread first among overseas Fujianese and Cantonese, then entered China itself via the overseas activities of Sun Yat-sen (Wang Gungwu 1991b, 1992). Modern revolutionaries also downplayed regional differences as they pushed toward national solidarity.
Hakka regions produced many revolutionary leaders. But they did not appear to readily identify themselves as Hakka. Explicit proof of Hakka background—not to mention an attribution of Hakka consciousness—is extraordinarily elusive. Other subgroups are less obscure. Determining who is a Xiang or a Wu is simple; they live in compact areas where talking about ethnicity is a local hobby. However, because Chinese biographers scrupulously list birthplace, and because most Hakka villages were ethnically homogeneous a century ago, and Hakka today recognize a network of place names as a code, one can surmise the probable Hakka identity of various leaders on the basis of place of origin, language, and/or self-ascription.6
Sun Yat-sen provides the ultimate example of a national leader who remained silent about his possible Hakka background. His Hakka roots cannot be documented securely. Non-Hakka southerners would be horrified if they were. Sun is invariably discussed as a national hero, the "father of the country" (guo fu), especially in Taiwan, where his "Three People's Principles" remain the preeminent ideological statement. "Sun the Silent," as his biographer Paul Linebarger called him, despaired of Chinese unity, and criticized China for being "a sheet of loose sand" (1925:246). Referring to himself as a Hakka would have damaged both his fund-raising and his political base. Yet most Hakka, and many Hakka historians, including Luo Xianglin, claim Sun as their own (Luo 1933, 1954 [1943], 1965; Benjamin Yang 1990:160). Sun's descendants are said to disagree, but one son, Sun Ke, headed the Worldwide Hakka Federation.
Details from Sun's life are provocative. He grew up in a mixed Cantonese area of the Pearl River Delta where Hakka were recent migrants, but quite assimilated. His family lived in the mixed-surname village of Choy Hung (Mandarin: Cui Heng), which most men left behind to labor overseas (Linebarger 1925:37–38, 57–62). He attended a village school that was traditional, but admitted girls (Restarick 1931:5). The teacher was a Taiping veteran who inspired Sun with tales of Hong Xiuquan (Schiffrin 1980:22). When Sun went to Honolulu at age thirteen, he was said to have spoken Hakka and been nicknamed "Hong Xiuquan" (Moser 1985:247). He described how, on the times he returned home, the fortresslike village houses were often under attack by marauders: "The first matter for my care was to see my rifle was in order and to make sure plenty of ammunition was still left. I had to prepare for action for the night" (Shinz 1989:369). Sun also trained as an herbal healer, a traditional Hakka profession, which he integrated with Western medicine. He spoke Hakka with Hakka supporters, Cantonese with Cantonese, and was more comfortable with English than with Mandarin. Also suggestive is that the Tongmeng Hui, a secret society closely associated with Sun, liberated Tingzhou in 1911 and named it [Sun] Yat-sen City (Li Yuming et al. 1986:35; Qui 1992).7
The chief evidence against Sun as a Hakka reconstructs his genealogy as non-Hakka (Tan 1963). Evidence from language and footbinding is more circumstantial. Scholars at Sun Yat-sen University who analyzed recently discovered phonograph records of his speeches heard a strong Pearl River Delta Cantonese accent in both his Mandarin and Cantonese, but no trace of a Hakka accent (Lin Jiayou 1992). Sun's biographer, a friend who interviewed him over several months, devotes a chapter to footbinding. Sun asked his mother to unbind his sister's feet. She refused, exclaiming in horror, "Would you have your sister as a Hakka woman or a Chinese woman? Would you have her as a stranger or as one of us?" (Linebarger 1925:81). The biography includes a family photograph showing Sun's mother and two sisters-in-law with bound feet. But neither Linebarger nor other scholars note that it also includes two women relatives with unbound feet. A recent, lavish mainland biography reprints the portrait, but crops it off at the knees (In Memory 1981: plate 40). Footbinding was not, in fact, unknown among prosperous, upwardly mobile Hakka in mixed areas of Guangdong and Sichuan. Sun's background probably cannot be resolved. Possibly he had mixed ancestry. Possibly he was a Hakka-speaking Yue Cantonese.
COMMUNIST ORGANIZING
The 1911 republic tried to promote ethnic and political harmony. But even inside the Nationalist Party, the rift between left and right widened toward civil war. Many grew increasingly attracted to anarchism, or to international communism, whose ideals included an eventual "withering away of the state." Different dialects were eventually to give way to one national language.
The founders of the Chinese Communist Party were self-consciously modern intellectuals, enthusiastic organizers of the May Fourth era rejection of Confucian and other traditions. Three of the twelve young men who attended the 1921 founding meeting in Shanghai were Hakka (according to the criteria described above), eight times the chance rate. Almost as surprising, they came as delegates from China's three most cosmopolitan cities—Guangzhou, Beijing, and Shanghai. Zhang Guotao, born in Jishui, Jiangxi, came from Beijing University to represent Beijing. Chen Gongbo, of Nanhai, Guangdong, was a radical journalist who represented Guangzhou. And Li Da, of Lingling County, Hunan, who represented Shanghai, headed a progressive Shanghai girls' school. Many of the founders faced troubled futures; several died very young. But the three Hakka seem especially problematic, further obscuring their history. Both Zhang Guotao and Chen Gongbo represented a losing faction, the Party's theoretical wing, which argued that revolution was premature. Zhang Guotao defected to the Nationalists in 1938. Chen Gongbo looks even worse. The definitive Chinese reference work, the Ci hai (Sea of words) (1979), identifies him as a traitor (hanjian). Chen, who wrote a Columbia University thesis on the Party founding, joined the Japanese occupation government. China executed him in 1946. Only Li Da led a thoroughly honorable life, as a sociology and law professor rumored to have ghostwritten many of Mao's works.8
Hakka were also prominent in the labor movement. Orthodox Marxists held that the urban proletariat would lead the revolution. Hakka workers, militant and far from home, organized some of the most successful unions. Peng Pai organized the many Guangzhou ricksha pullers who were fellow Hakka natives of Hai-Lu-Feng (Galbiati 1985:177). Most of the anarchist-organized unions of Guangzhou barbers and teahouse clerks were Hakka as well. And Su Zhaozheng, a probable Hakka from Guangdong's Zhongshan County, organized the highly effective Hong Kong Seaman's strike of 1922 and the Guangzhou—Hong Kong strike of 1925–26; he remained on the Party's Politburo until he was killed in 1929 (Klein and Clark 1971). Many miners were Hakka, and some of the most militant dug coal at Anyuan in northwestern Jiangxi. There, Li Lisan, the most important Communist labor organizer, organized the Anyuan strike of 1922, an icon of eventual Communist victory. Li, a probable Hakka, was an orthodox Marxist, born in Liling County, Hunan, across the border from Anyuan. He retained a faith in worker revolution as he became the most important leader at Party Central in Shanghai. But workers formed less than one half of one percent of China's population; the Communists were nearly wiped out before they finally recruited among the peasants (Shaffer 1982:3).
Peasant revolution struck orthodox Marxists as implausible if not absurd. But peasants made up 85 percent of China's population, memories of the Taiping Rebellion remained strong, and Hakka peasants proved particularly receptive. When radical land reform came to Pingjiang on the Hunan-Jiangxi border in the late 1920s, radicals confiscated land outright, then often farmed communally, in patterns nearly identical to Taiping land policy in the same area (Benton 1992:353). The use of Hakka dialect as a common language helps explain how highly mobile outside activists managed to organize the overwhelmingly illiterate, linguistically splintered South. When Mao reported that about half of Hunan peasants were organized in 1927, five of the thirteen counties he considered "almost completely organized" were heavily Hakka (Pingjiang, Liuyang, Liling, Leiyang, and Chen). Mao probably spoke very little Hakka, though he may have understood a good deal. His social survey of purely Hakka Xunwu County in Jiangxi, just seventy kilometers up the valley from Meixian, relied on a research team and interpreters. It transcribes Hakka vocabulary, song lyrics about poverty and battle, and dialogue between landlords and peasants who are borrowing grain or selling a son (Mao 1990:37, 40, 164–65, 168, 174–76, 189, 254–55).
Mao and other organizers also had important, early success in the Jinggang Mountains between Hunan and Jiangxi. Gregor Benton describes how the boundary between the Punti and Hakka was "razorsharp." The Punti controlled the official government, while Hakka militias and two Hakka bandit chiefs battled constantly over land, schooling, and other resources. The Communists recruited the chiefs, who completely controlled access to the mountains, but then had to placate them. Rifts widened between the more educated Punti Party members and the Hakka fighters; one saying went, "The Party is Tu [Punti (Bendi/tu)], the gun is Ke" (Benton 1992:380–82). Mao's report from the Jinggang Mountains deplores these conflicts. He politely refers to the Hakka as keji, but describes Hakka-Punti hostility as a "peculiar feature" of border regions, one that weakened revolution because it undercut class struggle (Mao 1967:93–94).
Activists also organized rural collective governments known as soviet bases (suweiai, a Chinese transliteration of the Russian term for "popular collective government"). During their peak around 1932, the soviets governed some forty million people, seizing landlords, redistributing land, and organizing literacy, health, feminist, and military programs that pioneered many post-1949 nationwide innovations. Six of the nine most important soviets were in heavily Hakka areas (map 7.2). Leftists were under constant attack, so organizers deliberately sited the soviets in isolated areas with poor communication. The use of Hakka dialect offered partial protection for messages to distant allies. These had to be carried or memorized by an often-illiterate messenger; or sent by shortwave radio, often without the use of code. Hakka market women were particularly effective couriers. The first successful soviet was on the Guangdong coast at Hai-Lu-Feng (map 7.2, no. i, 1927–28) and was organized by Peng Pai, son of a local landlord family so assimilated that it spoke Hakka only on ritual occasions. Peng Pai, who learned more Hakka to become effective, also worked with Lin Boqu to organize branches of the Peasant Association all across Guangdong. Lin, a probable Hakka from Hunan's Liling County, headed the Nationalist Peasant Department before he became a pioneering communist organizer. The Peasant Association attracted many Hakka, especially unhappy soldiers. The head of the Meixian Peasants Association, Gu Dacun, detained many landlords, was military director of a short-lived East River Soviet, then survived its annihilation to lead five thousand guerrillas (Galbiati 1985:123–26, 180–83; Harrison 1972:142, Lu and Liu 1983).
Revolution also came early to western Fujian. Local reformers, many educated in Xiamen, had pushed for mass education in the vernacular from 1919 on. Organization was unusually strong, especially in Yongding. "Local pragmatists" carried out land reform before the Party ordered it, but tried not to make it too harsh. All men and women over age sixteen could vote (except criminals, landlords, opium addicts, and adherents of any religion, whether Daoist, Christian, or shamanist). A variety of schools and night classes were organized. The women's movement was unusually strong, with campaigns whose slogans included "male-female equality," "freedom of marriage," "don't adopt a baby bride for your baby son!" "abolish foot binding!" and "abolish concubinage!" The indigenously organized Western Fujian Soviet, with its capital at Changting, eventually controlled ten counties. Five were purely Hakka (Changting, Shanghang, Wuping, Yongding, and Ninghua); the remainder had substantial Hakka populations (Qingliu, Guihua, Liancheng, Longyan, and Jianning). Before, the soviet peasants had been able to afford rice only three months a year; by 1933 a ban on rice exports (reinforced by a Nationalist blockade) let them eat rice six months a year (Longyan Committee 1987:7, 14, 120, 185).
Lethal Nationalist attacks, especially the 1927 massacre of Shanghai leftists, forced many leftists to flee for their lives. Party Central moved out of Shanghai to a Jiangxi soviet at Ruijin, a purely-Hakka county just thirty kilometers from Changting, protected by mountains one thousand meters high (map 7.2, no. 2). This became the Central Soviet, controlling twenty counties, four of them purely Hakka (Ruijin, Huichang, Anyuan, and Xunwu). Most of the remainder were heavily Hakka (especially Yudu, Xingguo, Ningdu, Shicheng, and Guangchang). Just two (Nanfeng and Liquan) fell outside Hakka territory. The Southwestern Jiangxi Soviet in the Jinggang Mountains (no. 3), was strongly Hakka (especially Ninggang, Suiquan, Yongxin, and Chaling counties). The Hunan-Jiangxi Soviet (no. 4) included heavily Hakka Pingjiang and Xiushou counties. Meanwhile, in Sichuan, Zhang Guotao and his army organized an Eastern Sichuan Soviet (no. 5) around the miserably poor Hakka highland towns of Bazhong and Tongjiang, where one thousand families supported two hundred opium dens (Chang Kuo-t'ao 1971:312–27; Benjamin Yang 1990:134). The Northeastern Jiangxi—Fujian Soviet (no. 6) was largely in Min and Gan country, though many Hakka lived in its capital at Hengfeng. Soviets outside Hakka country included the West Guangxi Soviet (no. 7), the Hubei-Henan-Anhui Soviet (no. 8) and the Western Hunan—Hubei Soviet (no. 9). Hakka were not native to Yan'an or Shaanxi.
Mountain revolution desperately needed good relations with minorities. The She, one of the very few non-Han groups to join in with enthusiasm, brought important strengths. The She had organized centuries of mountain rebellions, and were famed for their solidarity as fierce, stubborn fighters. Class and ethnicity formed an unusually close match among this very poor group. After one She joined the Party in 1927, peasant associations spread widely, most She areas became revolutionary bases, and many villages were sovietized. Revolutionaries with the characteristic She-Hakka surnames Pan, Lan, Zhong, and Lei formed a fair percentage of the western Fujian fighters (Longyan Committee 1987). The She also supported rebellion by providing sentries, safe houses, hospitals, a clothing factory, a weapons repair shop, and a prison. Women and children carried messages using the She language, an excellent natural code (Benton 1992:270–72; Li Mo 1993; Longyan Committee 1987:222–69).
In Vietnam too, a strikingly similar socioeconomic configuration seems to have made socialist revolution attractive to one particular minority. The Tay (Tho, Dairen) are an ethnic Tai subgroup, related to the Thai. Their cousins across the Chinese border in Yunnan include the Zhuang (who also showed early enthusiasm for revolution), as well as the Dai, Nong, and Liao. Like the She, the Tay faced grinding mountain poverty, but had relatively good relations with a dominant group, widespread bilingual skill, a fairly complex economy, and considerable contacts in town. The Tay carried out land reform in 1945, hid Ho Chi Minh and other guerrillas, and fought with the Viet Cong. Many became heroes, and a Tay now serves as president of Vietnam's National Assembly (Chinese Encyclopedia 1986:87; A. Terry Rambo, personal communication, 24 February 1994).
FIGHTING AS A WAY OF LIFE
:
GUERRILLAS, LONG MARCHERS, AND YAN
'
AN
Fighting became a way of life for hardened, local militias. Many of the toughest fighters were also the most independent. Separatism posed constant problems. Hakka warlord Chen Jiongming led repeated battles against the Republican government for the secession of eastern Guangdong and western Fujian. Sichuan, Fujian, and Hunan provinces tried to secede as well. Paramilitary secret societies also continued to rebel; both Deng Xiaoping's father and Zhu De were leaders in the Older Brother Society (Schram 1966). Dissatisfaction in the Nationalist Army increased throughout the 1920s, and even officers began to defect. But as late as 1927 the only real Red Army was the local, heavily Hakka, Hai-Lu-Feng Army. Its commander, Zhu De, joined forces with his old Berlin classmate Ye Ting, a Guangdong Hakka who had once supported Guangdong secession. Both participated in the prophetic Nanchang Uprising, considered the founding of the Red Army, when a whole Nationalist division defected to the Communists in 1927. Zhu and Ye led two thousand soldiers away through the Hakka mountains and soviets of Guangdong.
By 1929 Zhu De, backed by Chen Yi, wanted to "enlarge Communist operations" into the Hakka heartland of eastern Guangdong. Mao opposed this as bad strategy. Zhu attacked anyway, and was defeated. By 1930 the Central Committee opposed setting up additional soviets on the Guangdong-Fujian-Jiangxi border, and condemned further expeditions there as putting local short-term gains ahead of national revolution. Western Fujian guerrillas defied orders to attempt a link-up with the Meixian guerrilla Fang Fang and the East River Guerrillas, but were defeated outside Meixian in 1931. Almost immediately afterward Li Lisan proposed liberating all of Jiangxi. The Western Fujian Soviet vowed to liberate the whole nation, starting with Hakka country. They attacked Dabu, were defeated again, and saw their ranks drop from three thousand to four hundred (Kuo 1968:24–28; Longyan Committee 1987:132–36). Yet Fujian radicals grew increasingly radical, particularly on the border between Hakka and Min country, where gangs forced women to bob their hair. Radicals banned "superstitious practices," including burning incense or ritual candles, worshipping the gods, tomb sweeping, fortune telling, and extravagant weddings, down to the bride's parents' gift of a chicken. These moves disproportionately affected the more prosperous and ritually active Min. A bitter purge ensued (Longyan Committee 1987:137–39), but an entire Nationalist Army of twenty thousand, mostly Hakka, defected to the Communists soon after (Benjamin Yang 1990:64).
The Nationalists tightened their blockade around the soviets, banning even the import of salt to these landlocked counties. Seasoned infantry and aerial bombers stepped up their attacks, forcing the Communists to abandon the soviets in a withdrawal that came to be called the Long March. Zhu De and Ye Jianying led the main flank of the marchers out of the Central Soviet in October 1934. An extremely high percentage of the eighty-six thousand marchers were from Hakka regions. Preparations were minimal, though Zhou Enlai negotiated a fairly smooth evacuation with the Guangdong Hakka warlord Chen Jitang. Ren Bishi (a Hunan Xiang, as was Mao) and Xiao Ke (a probable Hakka) scouted the early route around Xiao's native territory on the Hunan-Guangdong border (Alley 1977; Longyan Committee 1987:218–19, Benjamin Yang 1990:100–103). But ragged troops spent a year under constant attack, zigzagging north over nearly ten thousand kilometers of mountains, deserts, swamps, and the Tibetan plateau, before they found refuge at Yan'an (map 7.4).
The early route moved from Hakka village to Hakka village, where marchers were better able to beg for shelter. Peasants along the route were often angry and out of supplies, but early casualties were low. Hakka fighters had a greater chance to fade into the mountains, and desertions reached twenty thousand even before a gory battle at the Xiang River, on the border of Hakka country. Only about thirty thousand marchers reached Zunyi in Guizhou, where Mao's peasant faction finally gained the upper hand and ordered a linkup with Zhang Guotao in Sichuan. But Zhang declared the Long March a failure and deliberately marched his troops out of range. Zhu De mediated, but disputes continued. As the marchers fled up the Tibetan plateau, survival came increasingly to depend on negotiations with angry minorities with excellent historical grounds for hostility. One of the few effective negotiators was Liu Bocheng, a probable Hakka from a mixed Han-minority area of Sichuan. Even Liu's adulatory official biography mentions his recollection that "listening to my explanation, the Yi looked rather doubtful" (Hsiao Hua 1978:74–76). Less then twenty thousand of the original marchers reached Yan'an (Harrison 1972:245–50, Benjamin Yang 1990:105–106, 125).
Chances of survival were just as poor, and the atmosphere even more demoralized for those left behind "to carry on the struggle." Some thirty thousand stayed back at the Central Soviet—mostly sick, local fighters with only one gun for every three revolutionaries. Their commander, Chen Yi, lacked even the code to decipher the final radioed instructions from the Central Committee. Nationalist troops rapidly took over sixteen thousand prisoners, and executed many. Benton (1989, 1992) analyzes the grisly aftermath in the former soviets, which came to be known as the Three-Year Guerrilla War of 1934–37. The Nationalists killed the families of leftists down to the infants, sold women into prostitution, and burned whole villages and forests. In some places, where they placed a bounty on severed heads, they collected so many that they accepted pairs of ears instead. They also killed many She and burned their villages, some three times over. By April 1935 a Nationalist report boasted: "There is not a dwelling that has not been burned, there is not a tree that has not been felled, there is not a fowl or a dog that has not been killed, there is not an able-bodied man remaining" (Benton 1992:68).
Yet Gregor Benton describes how many leftists survived underground. Chen Yi, a marked man, stepped inside a house only twice in three years. Nationalist soldiers had particular difficulty if they did not speak Hakka (Harrison 1972:242–43). The Nationalists forced whole villages into exile, but people slipped back to work in the mountains making charcoal or paper, gathering herbs, or chopping wood. Sometimes, when the Nationalists forced peasants to chop down the forests that hid the guerrillas, leftists could persuade them to come late, leave early, and chop with the dull side of their blades. Survivors of some former soviets recovered better than others. Much depended on luck. And the better the roads, the easier the Nationalist attack. But Benton also analyzes other factors, in addition to raw heroism, that aided survival. Numerous overlapping factors allowed the survivors of the Western Fujian Soviet to recover better than most. The area was isolated enough for shelter, but had sufficient connection to the coast to receive information. The mild climate allowed year-round forage and sleeping in the woods. Human factors were also critical. The soviet had been indigenously organized, making it flexible and sensitive to local people. The Central Soviet, in contrast, where transplanted intellectuals conversed in Russian until the eve of the Long March, had particular difficulty in recovering. (Eliminating Central was the top Nationalist priority.) Leaders at Western Fujian were better educated than those at many other soviets, such as Western Hubei–Southern Hunan, and so were able to write appeals to sympathizers in the cities or inside the government. Self-reliant women and solidarity with the She were other important assets (Benton 1989:62, 1992: 67–68, 96–98, 125, 485; Chen Tiejian 1983:107).
Hakka Long Marchers became guests again when they finally reached Yan'an. Southern rivalries cooled in the North, where the use of Mandarin linked refugees from all over China (S. T. Leong 1985:285). There Mao consolidated his power, brokering the integration of the urban idealists with peasant guerrillas. Mao was probably ambivalent about the Hakka, grateful for their militancy, but relieved to have their power diluted. Zhang Guotao had a final falling out and defected to the Nationalists in 1938. But many southern guerrillas, including Chen Yi, survived to find their way north, where they formed the core of the New Fourth Army. Mao also led a rectification campaign in 1942, which set the rules for political loyalty that were enforced until the late 1970s. Rectification forced all factions to focus on their changed situation at the new base. It also targeted abuses associated often, but not exclusively, with Hakka guerrillas, especially "mountaintopism" (shantou zhuyi), the tendency for local chiefs to ignore central authority. Eventually Chen Yi, Zhu De, and many other Long Marchers led the battles that overthrew first the Japanese and then the Nationalists.
POST
-1949
NATIONAL POWER
:
ETHNIC SILENCE, HIGH POSITION
Hardened by decades of civil war, the Communists sought a "scientific" socialism with strong central control when they took national power in 1949. They acted immediately to weaken local loyalties, with severe impact on local traditions. Native-place associations were closed, only government-sponsored religious organizations were permitted, and "feudal" or "superstitious" customs were suppressed. Beijing also tried to forge better relations with the minorities by strongly discouraging "Han chauvinism" (da Han zhuyi) and designating minority nationalities to receive subsidies and affirmative action. Han subgroups, including the Hakka, were explicitly forbidden to apply. The one major area of tolerance for local culture was language. Nationalist policy had suppressed the dialects, while the Communists tacitly encouraged bilingual education. And traces of Taiping language reforms lingered in new promotions of simplified characters and a highly accessible vernacular style.
Many Hakka heroes became national leaders. Chen Yi served as foreign minister and in many other high posts. Li Lisan became minister of labor. Guo Moruo, who did dangerous reconnaissance in wartime Chongqing, headed the Academy of Sciences. The president of the Chinese Medical Association was Fu Lianchang. Raised in a Changting Christian orphanage, Fu made the Long March, then led strong campaigns against venereal disease and prostitution, and for birth control and public health. Deng Xiaoping administered Sichuan, assigning Hu Yaobang, his loyal Jiangxi Hakka Long March subordinate, to Deng's own home county. (Mao followed the same patronage pattern when he assigned his successor, Hua Guofeng, to administer Mao's home county in Hunan.) Land reform was at least partly modeled on Hakka communal agriculture. Ye Jianying designated three counties in Meixian prefecture as land reform models (Fan and Ding 1983:80). The chief agricultural planner of the Great Leap Forward (1958–60) was Vice Premier Tan Zhenlin, a Hunan Hakka veteran of the Jinggang Mountains period and the Three-Year War. The Great Leap, which led to disastrous famine, probably marked the peak of his career. Hakka were especially prominent in the military. Ye Jianying became commander in chief of the People's Liberation Army. Of ten seasoned fighters who were named marshals (a rank above general), three were indisputably Hakka: Ye Jianying, Zhu De, and Chen Yi. Two more were probably Hakka: Liu Bocheng and Nie Rongzhen. Fang Fang, the Meixian guerrilla, held many posts under Ye Jianying before transferring to overseas Chinese liaison, where his ability to speak Mandarin, Cantonese, and Hakka were real assets.
The Cultural Revolution was particularly difficult for many Hakka leaders. Mao's faction promoted a Yan'an-style ideology. This emphasized self-reliance, which resulted in suspicion of foreign contacts, and also encouraged struggle against enemies, a collective economy that promoted the countryside over the cities, and strict Party discipline for everyone, including intellectuals. Overseas ties became a severe liability, as did any support for a market economy. Mao's faction may have felt some animus for their Hakka coworkers. The military, certainly, had remained relatively outside the Maoists' control. Chen Yi, Ye Jianying, Tan Zhenlin, and others tried vainly to reverse the Cultural Revolution with the "February Adverse Current" of 1967. Deng Xiaoping was denounced as a villain second only to soon-to-be deposed Chairman Liu Shaoqi. Deng was exiled to an old Jiangxi base, where he oiled machinery and played bridge until he was rehabilitated in 1973. When he fell again in 1976, Ye Jianying secretly flew him to safety in the Guangdong Military Region, then lobbied his case with the Central Committee. When Deng was rehabilitated again in 1977, Ye backed him strongly against Mao's handpicked successor, Hua Guofeng (Franz 1988:211, 252–53, 258). In the shadowy world of late Cultural Revolution palace politics, Mao's faction invoked Yan'an with increasing fervor. "Localism" and other offenses associated with Hakka guerrillas became code words for attacks on Deng and his group. Attacks were often worded as denunciations of Zhang Guotao, the Hakka fighter who had defected in Sichuan nearly forty years before. Meanwhile Deng's faction developed a competing Long March iconography featuring many Hakka heroes.
THE DENG XIAOPING ERA
:
HAKKA POWER, ICONOGRAPHY, AND POVERTY
Deng's return in 1977 rehabilitated many Hakka leaders. Both real and symbolic power increased, despite continued poverty in the Hakka heartland. The high point probably came around 1984, when Hakka individuals made up half the Standing Committee of the Politburo, eleven of the 105 top leaders, and many of the lower rank. The heritage of strong women is not evident, though Nie Rongzhen's daughter, Nie Li, is a colonel general.
Long March iconography proliferated, as Deng took care to highlight his own role in early communism (Alley 1980; Franz 1988; Thompson notes to Mao 1990:30–31). Dozens of Long March biographies and memoirs appeared, still without mentioning the word "Hakka." Newspapers published accounts of reunions between Long Marchers and their now-middle-aged children, whom they had been forced to leave behind to be raised by peasants in the Hakka heartland (Huang Ping 1988). Long March iconography came to be used by a variety of groups. Intellectuals who had resisted Maoism often invoked Ye Ting, the military hero who had been court martialed, then killed in 1946. Popular new posters pictured him wearing a romantic cape as he scratched poems of resistance onto his prison walls. Many viewed Hu Yaobang as a patron of intellectuals. A hagiographic biography, which linked Hu's virtues directly to a Hakka-chauvinist account of his heritage, was published in Hong Kong and circulated informally on the mainland (Yang Zhongmei 1988). The student demonstrations of 1989 began when the seventy-three-year-old Youth Leaguer died suddenly in mid-April, his death becoming the excuse for the early deployment of massive activities organized for the anniversary of the May Fourth reformist student movement of 1919. By late May the frail, elderly Marshals Nie Rongzhen and Xiang Xiangqian (of Shanxi) wrote Deng Xiaoping to urge tolerance for the demonstrators. But Deng and the military recycled Long March iconography to glorify the geriatric mania for central control, which culminated in the Beijing Massacre on 4 June 1989. After the massacre, the icons only increased, part of a propaganda campaign to glorify the army and thus, indirectly, justify Deng's role. Cultural troupes toured the long-ignored Hakka soviet base areas on the Fujian-Jiangxi border to perform "local songs" for retired veterans (Min 1989, Zheng Hanming 1989).9 A propaganda poster honoring the fiftieth anniversary of the Party founding featured a portrait of Deng, surrounded by Long March images, with the wild geese associated with exile and reunion flying overhead (Yang Guchang 1991).
Still, Hakka areas remained poor, despite the success of individual politicians. Peasant lifespan doubled nationwide after 1949, and income increased. But the rural interior remained behind, and neither Yan'an nor Hakka peasants have prospered. Hakka leaders apparently avoided the common corruption of pumping huge sums into their home districts. Deng has never returned to the hometown he last saw in 1920 (WuDunn 1991). And the government investment that came was overwhelmed by high population and baseline poverty. During 1950s land reform, old Fujian base areas, including Changting and Qingliu counties, were so poor that people who had sweet potato porridge to eat were classed as landlords. During the Cultural Revolution an intellectual mother and daughter sent to Qingliu found themselves the only literate females in town (Fu Ping, personal communication, 12 February 1988). Xiamen Red Guards also made their way to villages near Qingliu, Changting, and Liancheng, hoping to recruit the peasants whom they had heard were "brave but ignorant, and therefore easier to command." They found that 80 percent of the peasants had never been to the county seat, most women were illiterate, and even salt was scarce. The city teenagers fell ill on the local diet; one banker's son snorted that the place was like "Black Africa" (Ling 1972:297–304).
China's poorest regions are in the extreme Northwest, far from Hakka country. But even in the 1980s and 1990s Meixian, Changting, and Ruijin remain poor and isolated, at least a day's grueling drive from the nearest railway, a severe handicap for trade. Many villages are connected only by unpaved road. Meixian Prefecture still has the poorest counties and highest population density in Guangdong. Annual per capita income for the Meixian metropolitan region was only US$108 (401 yuan) in 1985 (Moser 1985:253; Vogel 1989:242–47). Western Fujian Hakka counties remain the poorest in the province. Few official figures are available, but gazetteers offer provocative details. By Chinese standards, the county seats remain very small and lacking in amenities. Changting City had 380,000 people in 1982, Liancheng City had 150,000, and Qingliu City 170,000. The economy rests on agriculture, with manufacturing restricted mostly to bamboo products. Even recommended tourist spots bear grim testimony to the aftermath of war, among them martyr's cemeteries for those executed by the Nationalists, sites of long-destroyed buildings where Zhu De or Chen Yi once slept, the caves where they hid, and the Changting prison where writer Qu Qiubai was shot (Li Yuming et al. 1986:32–36; 1987:43–48). Even so, Hakka country, including western Fujian, has grown much more prosperous since the Cultural Revolution. Ming historian Cynthia Brokaw spent nearly a month in the small Liancheng County town of Sibao in autumn 1993, researching a long-defunct imperial-era publishing industry. She reports that Sibao had five thousand people and no running water. Communications were difficult over narrow mountain roads, and the two telephones in town often did not work. However, food was adequate and people did not appear malnourished. Electricity was available, if erratic. The town had acquired a few television sets, and built a movie hall to show a weekly martial arts film. The cultural level is said to be unusually high. Boys finish grade school or junior high, although girls often drop out earlier. A high school is available at the county seat. Almost everyone can speak some sort of Mandarin. Distinctive Hakka traditions survive and people speak Hakka. Elderly women wear a blue tunic with black trim, said to be a traditional Hakka woman's garment. Elaborate silver jewelry is on sale at the market, and some children wear protective silver amulets. Many Daoist ceremonies are celebrated. And the town boasts a tiny new Hakka Studies Center (Brokaw, personal communication, 20 January 1994).
EMBRACING OTHERNESS: OUTSIDE CONTACTS AND REVISED IDENTITY
Mainland scholars date the revival of Hakka studies directly to Deng Xiaoping's 1977 return, when reformers reduced central control, encouraged local market economies, and aggressively solicited overseas ties. The Hakka, like the Cantonese, the Min, and the Wu, took advantage of decreased Party scrutiny to revive many local traditions. They are also busily revising Hakka identity. The Long March veterans remained relatively free of ethnic corruption, and appear not to have spawned a new Hakka clique. By 1992 no Hakka remained on the Standing Committee, and the only probable Hakka among the fifteen members of the 1989 Politburo had stepped down.
Outside contacts are probably the most important stimulus for the construction of a distinctive Hakka identity. Tens of millions of overseas Chinese have come to the mainland looking for their roots, stimulating the revival (and revision) of many traditions. Many pay to be buried on Chinese soil, with traditional Daoist funerals, music, and opera (Dean 1988). Their investment also boosts the economy; even tiny Sibao boasts a fancy new house built with overseas funds. Belated attempts to solicit overseas Hakka investment to match Cantonese and Fujian capital are underway. When the word "Hakka" finally came out of the closet and into the headlines of People's Daily in 1991, it solicited overseas funding for Meizhou urban renewal, a Hakka folk festival, and a proposed Beijing Museum of Overseas Chinese History featuring Hakka history (Renmin ribao 1991, Nie 1991).
Assimilation can render ethnic distinctions acceptable, especially if they are nostalgic. The visible results of the Hakka revival are scholarly work and positive recognition of minority connections. The most conspicuous revivalism comes from the most nearly assimilated urban groups. Taiwan Hakka led the way in December 1988, inspiring their mainland cousins with fourteen thousand protestors who demanded that the Nationalist government "return our mother tongue" and permit the use of Hakka in government, schooling, and broadcasting. As Howard Martin describes in this volume, Taiwan Hakka culture centers and speech contests proliferated and Hakka Magazine published accounts of highly varied activities (see also Chiu 1992; Huang Hsuan-fan 1993:57–65). Beijing then attempted to appear more tolerant of local language and culture than was Taipei. Mainland Hakka enthusiasts took advantage of the opening.
Scholarly recognition offers supreme prestige. "Hakkaology" (Kejiaxue), a newly named academic field that embraces the "guest" label, was launched in December 1989. Meixian hosted an international conference, conducted in Hakka, and used overseas support to upgrade the local teacher's college into Jiaying University. Over sixty Hakka studies centers sprang up nationwide, even outside Hakka country at East China Normal University in Shanghai and the Academy of Social Sciences in Beijing. A newly founded International Association for Hakkaology held its convention at the Chinese University of Hong Kong in 1992.10 Forty mainland scholars, many of them non-Hakka, presented papers, along with twenty-eight Hong Kong, Taiwan, or overseas Chinese, and nine Japanese and Western researchers (including Erbaugh, Johnson, and Martin of this volume).
Most presentations and discussions were in Mandarin or English, with simultaneous translation. The sole presentation delivered in Hakka language came as a peace offering from a bilingual Hong Kong Cantonese pastor. Most authors avoided comparison with other Chinese, and described the Hakka in flattering terms. Poverty was not discussed. Party history remained off limits, except for an earlier version of Mary Erbaugh's paper (1992), which went unchallenged. But the papers were also highly informative and ventured into much previously taboo mainland territory, including the Daoist ceremonies now performed in Fujian (Dean 1988, Lagerwey 1992, Ye Mingsheng 1992). Others reached out toward Taiwan and overseas by discussing the diaspora, Christianity, and Sun Yat-sen. Several solicited investment, and interpreted Deng Xiaoping's visit to the booming Shenzhen Economic Development Zone (in part-Hakka Bao'an County) as support for Hakka entrepreneurs. Discussion was friendly but frank. Many lobbied for greater access to the mainland: "What do you mean you're 'still investigating' whether Sun was a Hakka? You have all those materials you won't let us see!" "Why can't we meet on the mainland?" Calls for professionalism abounded: "By that definition, the entire U.S. is Hakka too!" "Every Hakka genealogy I've ever seen has ancestors in the 'northern nobility'!" Some decried the study of Hakka in isolation, or compared only with northern Chinese, since Hakka language and customs share so much with those of other southerners. Many urged circulation of primary materials and foreign studies (Chen Shenglin 1992, Wang Hongyou 1992, Wang Tsu-de 1992). Some warned—accurately—that some early Western and Japanese studies had solicited Hakka support for the imperialists.
The biggest surprise was the positive view of minorities. Confident that Hakka have finally been accepted as Han Chinsese, several scholars discussed positive minority influences on Han culture (Chen Shenglin 1992, Jiang Binzhao 1992, Li Mo 1993, Zhang Youzhou 1992). Mainland affirmative action is desirable enough that many Han now switch to minority registration on their official identification cards. The She remain one of China's smaller minorities, numbering only 630,000. But this number is a phenomenal 71 percent increase between 1982 and 1990 alone.11 Most of the increase comes from switched registration, almost certainly by Hakka. David Wu discusses how a switched ethnic registration need not require a change in culture, but it does change the interpretation of the new identity (1991:167–68).
Mainland minority policy now also serves as a model for Han local culture lobbyists, even in Taiwan. Taiwanese, Hakka, and indigenous activists have goaded the Nationalists toward greater language and political power by using both the Western term "human rights" (ren quan) and the socialist term "minority nationality." Tibet provided a startling model in 1987 when Taiwanese protestors invoked a Beijing proposal to make Tibetan the primary working language of Tibet; this is far more liberal than anything the Nationalists allow on Taiwan (Huang Hsuan-fan 1993:56). (Beijing scuttled the plan after the 1989 riots in Lhasa.) Mainland Hakka scholars who criticized the Academy of Social Sciences for ignoring local Han subcultures carefully avoided the term "minority nationality," but referred to the Hakka as a "subethnic group" (minxi), a recent coinage, possibly inspired by English. They argued that the Hakka are distinct according to Stalin's four criteria for defining a minority nationality: distinctive language, territory, customs, and identity.
ASSIMILATION VERSUS COMING OUT
Hakka pleasure in "coming out" is understandable. Reticence in discussing recent politics reflects an embattled history, as well as possible backlash. Cantonese and Fujian local cultures are experiencing revivals at least as strong, and far better financed. Glorifying Hakka culture could later backfire via a revival of negative stereotypes. In fact, Cantonese who dislike the communist regime use old anti-Hakka stereotypes to excoriate the Long March as the "Hakka Road," to denounce Mao Zedong with far-fetched claims that he had Hakka ancestors, and denounce Deng Xiaoping as "that little Hakka" (Friedman 1995:556–58). Hakka invocations of Deng Xiaoping's support may play well in 1994, but what will happen when Deng dies? Many also look uneasily at Eastern European ethnic revival and civil war.
Nationwide reforms have superseded many of the Hakka customs that once seemed progressive. The value of Hakka as a common language has been undercut by the success of a Mandarin vernacular, even as decades of peace (and better technology) make it obsolete as a code. Peace devalues local militias. The southern economic boom could hardly have less use for peasant rebels—or communal agriculture. Chinese women now have at least statutory equality, and outside work for cash. Overseas Chinese can take surprising pride in a strong China, whatever they think of its government. A strong nation can actually permit freer expression of local identity. Pride in a modern nation, which Hakka helped to pioneer, can dilute the more parochial local passions, and permit even sojourners to view the nation as their native place.
I thank Dick Kraus and Cynthia Brokaw for much information and many critiques. Much of the political history in this chapter is documented in greater detail in Erbaugh (1992). Kind permission has been granted by China Quarterly to duplicate material from "The Secret History of the Hakkas: The Chinese Revolution as a Hakka Enterprise" (China Quarterly 132:937-68)
1. Three other heroes are Hunan natives from the Xiang dialect area: Mao Zedong, Peng Dehuai, and Liu Shaoqi. The non-Hakka non-Hunan heroes are: Li Dazhao (Hebei), Qu Qiubai (Jiangsu), Zhou Enlai (Jiangsu), and Dong Biwu (Hubei).
2. English readers can be confused by the Hoklo, who are not Hakka at all but Min people from southern Fujian living in Guangdong. Hoklo is the Cantonese pronunciation of the characters for "Fu[jian]" and "fellow," pronounced Fu lao in Mandarin. "Hokkien" (Min for "Fujian") also refers to people of southern Min ancestry.
3. In Hong Kong, Punti defines an important legal status for those whose ancestors settled in the New Territories before the British lease of 1898.
4. The others are: Mandarin (the mother tongue of about 75 percent of mainlanders); Wu (native to 6 percent, near Shanghai); Cantonese (3 percent of the mainland, 93 percent of Hong Kong); Min (2 percent of the mainland, in Fujian; and 75 percent of Taiwan); Xiang (2 percent, mostly in Hunan); and Gan (2 percent, mostly in Jiangxi). See Jerry Norman (1988), Ramsey (1987), and entries for individual dialects in Chinese Encyclopedia (1988).
5. I had an opportunity to visit several southwestern Fujian roundhouses outside Shuyang Village in Nanjing County in 1989, and in August of that year, Han sheng magazine devoted an entire issue to the Fujian roundhouses (see also Lung [1991:37–42, 72–75] and photos in Mao [1990]). Many roundhouses were built as recently as the Cultural Revolution, the last time collective labor was readily available. Although they are often called "Hakka houses," historians agree that the Hakka copied the style from the southern Min, the builders of about a third of the surviving fortresses (Fang 1992). U.S. spy satellites used to scrutinize the roundhouses as suspected nuclear missile silos.
6. In central Guangdong, however, Hakka villages often alternated with Cantonese and/or southern Min ones. The place-name criteria also misses Hakka who were born in major cities. For this study I have examined biographies and memoirs of more than two hundred leaders, collating their birthplaces with dialect maps. I count as Hakka those individuals born in one of the thirty-three Chinese counties that were purely Hakka in 1933, and for whom I find a supplemental reference as Hakka. "Probable Hakka" are natives of purely Hakka counties, or of the additional 150 strongly Hakka counties, for whom I find no additional Hakka documentation. Unless otherwise stated, biographical information comes from Klein and Clark (1971).
7. Luo Xianglin's genealogy uses a copy of a partial family tree supplied by Sun's older sister. It also rests, bizarrely, on Linebarger's romanization of the name of Sun's ancestral village. Unable to find anything corresponding to "Kung Kun" on the East River, Luo argues that Sun used a nickname because of a Hakka taboo on identifying one's ancestral village to outsiders (1954:15).
8. The founders were: Mao Zedong, He Shuheng, Dong Biwu, and Zhou Fohai (all from Hunan); Chen Tanqiu, Li Hanjun, and Liu Renqing (all from Hubei); Wang Jinmei (Shandong); Deng Enming (Guizhou); and Bao Huiseng (Guangzhou) (Song 1986, vol. 1:139–40). Zhou Fohai also went over to the Japanese. Biographical details come from their entries in the Ci hai (1979), Boorman and Howard (1967), Klein and Clark (1971), and Zheng Fulin (1988). Party founder Li Da is not the Li Da in the People's Liberation Army. An orthodox Cultural Revolution account of the founders appears in Han Suyin (1972:90–94).
9. But after the massacre, outraged Chengdu students who, like Deng, were natives of Guang'an, rushed back to the Deng family graveyard to dig up the bones. They found soldiers already in place to arrest them (Chan and Unger 1990).
10. Additional sponsors included the Centre d'Anthropologie de la Chine du Sud et de la Péninsule Indochinoise of the Centre Nationale de la Recherche Scientifique in Paris; the Aw Boon Haw Foundation (of the Tiger Balm fortune); and the Hong Kong Hakka Association. Asiaweek (Yazhou zhoukan) honored the conference with a cover story on the Hakka for its Chinese edition (but not the English one) (Xin 1992). To encourage communication, the References in this volume note the affiliation of the authors of the Hakka conference papers cited in this chapter.
11. China's overall population increased only 12 percent. Minority population jumped 28 percent, largely from switched registration (Beijing Review 1990).