Introduction
Liangshan and Its Entrepreneurs

In Liangshan Prefecture in the mountainous far south of Sichuan Province, many members of the Yi, or Nuosu, ethnic group have become entrepreneurs in the past two decades.1 These entrepreneurs operate under conditions that differ significantly from those obtained in China's coastal areas. The world market, internationalization, and globalization do not yet determine the structure and development of entrepreneurship in Liangshan. Instead, connections with the local and ethnic community and to local development are the significant forces in an entrepreneur's success. As one of the entrepreneurs interviewed for this volume stated, "We operate in a completely different setting here. Just look at the work of our county government and try to understand it." In addition, Nuosu entrepreneurs operate according to different values, and have different goals and priorities, from entrepreneurs belonging to the Han majority ethnic group in most of China. To understand Nuosu entrepreneurs and their place in local society, we must understand the society itself, including the social and political structures within which the entrepreneurs and their activities are embedded and the values that guide the entrepreneurs.
A WORLD APART WITHIN THE CHINESE STATE
At the beginning of the third millennium, Liangshan still showed few traces of globalization as defined by Anthony Giddens: an intensification of worldwide social relationships through which distant places are connected, so that events in one place are stamped by processes that happen in another place many miles away (Giddens 1995: 85). In 2001, it took us sixteen hours in an off-road vehicle to travel fewer than 100 miles from Xichang, the seat of the prefectural government, to one of the counties where we conducted research. We drove along mountain tracks that had been blocked by rock-slides, traversed flooded streams that thundered down to the valley below, and passed trucks that had skidded in the mud and fallen over the precipice. In the small, poor, and grimy market town whose population was 97 percent Yi, we met people from distant hamlets and high mountains who had hiked downhill for many days to reach that county town at over 6,000 feet above sea level. They carried baskets filled with agricultural goods to trade for handicrafts or industrial products at the market. There was little entrepreneurship to be seen in this town. Because there were only a few large-size entrepreneurs here, I had some time to observe the county government's everyday routines and working operations. In my travel diary I noted:
The county government headquarters stands opposite the government guesthouse. The doors are wide open; I can see without difficulty into the offices and have counted 18 office rooms. It is afternoon, 2.30 P.M., still two and a half hours to go before the end of the official workday. Some offices are unoccupied. Most of the male and female officials present are busy talking, reading, knitting, washing their clothes, staring into space while sunk into thought, or smoking. None of them appear to be carrying out administrative tasks. One of them has just carried an empty beer crate out of his office and put it in the corridor. A telephone rings. After the phone-call, the tranquility is interrupted by hectic activity. Everywhere, people are sweeping and cleaning.
A short time later, the director of the county government general office arrives and checks the premises for cleanliness. He notes the results and, seemingly satisfied, he goes away. Quietness settles on the offices. Now and again, visitors call in to chat or to smoke a cigarette with one of the civil servants. In the guesthouse courtyard, the deputy director of the tax office is playing cards with friends. He explains to me that today the county Party Secretary is absent; his chauffeur has driven him to Xichang, the prefectural capital, regarding an urgent matter: his sister needs to be taken to the train station there. Her holidays are over and she has to return to her school in Chengdu, the provincial capital. Considering the duration of the round trip, the earliest he will return is tomorrow.
The deputy mayor of the county walks by shortly afterwards. He calls out to me that he will not be able to keep me company for dinner and drinks tonight, because he is on his way to friends where one can eat and drink extremely well. He says that he deeply regrets this but, "everyone has his obligations." In the office building, it has become quieter; the end of the workday approaches gradually. While locking up his office, an official tells me that he has worked from 9 to 12, and since 3 o'clock, so it is now high time for him to return home. The director of the Bureau for the Administration of Industry and Commerce (also its Party Secretary), who had me give him a German name yesterday (Felix or, as he pronounced it, Felicksäh), looks in and expresses his regrets that he, too, will be unable to entertain me tonight. A bimo (a priest) will be visiting him tonight to purify his house from evil spirits. As it is unknown exactly what type of evil spirits are present, a ritual to drive out unknown spirits will be performed. This ceremony will last until morning.
Meanwhile, in the courtyard, a lighthearted mood prevails. The deputy director of the tax office and his friends are drinking and singing songs while playing cards. In the office building, there is something going on as well; laughter breaks out and the mood has brightened. Empty beer bottles have been carted out to the door, and a female staff member is roasting corn for her colleagues. Around 4 P.M., most of them head home. 'Wo zoule' (I am leaving now) can be heard for a while until the last person has left the building.
How can this impoverished county with an average annual income of US$50 per person afford such an inefficient administration? On the streets, Yi men squat together in groups and abandon themselves to alcohol. Cloaked in felt capes and otherwise inadequately garmented, they are immediately recognizable as extremely poor. There are mostly women at the market; the men are out developing social contacts. This seemingly irrational behavior of the county administration provides a window into the world in which Nuosu entrepreneurs operate: the dual world of the Chinese state market economy and the Nuosu clan-based society.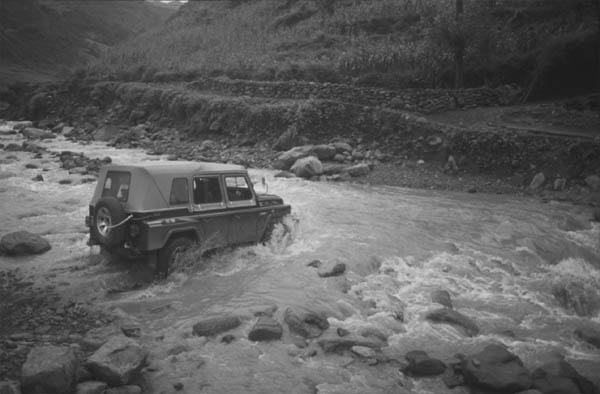 In fact, county authorities are not frequently called upon to address local issues because the local population possesses its own organizational structure, the clans, which help to resolve everyday problems and regulate work as well as social life. The administrative officials are perceived as instruments of social control who had best be avoided, and the top-down administrative structure operates very differently from, and often in conflict with, local organizational structures such as the clans.
Nuosu social organization includes many obligations to clan members, both material and moral in nature. Dining and drinking together strengthens community and shared identities and, at the same time, is a method of networking; it is expected social behavior and has little to do with corruption. Within this scheme, the fact that one of the men observed drinking and playing cards works as a tax officer is insignificant. Social obligations take priority over political or administrative obligations. That the Party Secretary could not be at work for several days because he had to take his sister to the station is accepted as his social duty and responsibility toward his family. No one here would understand if he were he to neglect his duty and such neglect would make him an outsider, someone who has become like a "Han," a person with whom others would avoid contact.
Nevertheless, local authorities do provide some order, as in the hygiene inspection I described above. The county government is responsible for cleanliness in public spaces, an important factor in controlling disease epidemics. Two years earlier, a cholera epidemic had broken out during my stay in another county in the same region. Within a few hours, all the officials had been mobilized; accompanied by medical personnel, they were allocated and dispatched so that every village and township in the county was provided with treatment, prophylaxis, and information. By threatening to hold the Party Secretary and the mayor personally responsible for any further deaths, the higher Party officials rapidly succeeded in bringing the epidemic under control.
It should be clear by now that entrepreneurial processes and local political patterns in Liangshan cannot be measured with the yardstick of rationality and efficiency alone. Our analysis must take into account a dualism: most Yi perceive the (local) state to be a Han state, in spite of the fact that most local officials are Yi. However, there also exist ethnic institutions in the form of clans and clan law that exert authority over social and political life. Different social systems and cultures cultivate different modes of rationality and contain distinct logics. Even the concept of morality, often considered universal, is interpreted differently depending on the culture. For instance, the majority of Yi entrepreneurs perceive Han entrepreneurs' quest for profit as a sign of moral decay, which validates their sense of Yi ethnic superiority. Yi attitudes toward the Han mode of doing business could be interpreted in terms of modernization theories as "yesterday's values." We could also argue that a trend toward individualization naturally occurs during civilization processes that eventually replace the moral economy with the market economy. However, the Yi people in Liangshan have made and promise to make no such transition. The moral economy and the state and market institutions exist in their present form because they are embedded in Nuosu society and consonant with Nuosu rationality, even if they seem irrational to an outsider. "Every society," writes Isaiah Berlin, "possesses its own positive points, its own values, its own kinds of creative activity that are not measurable by the same standard." Berlin argues that each society must be understood on its own terms—understood and not necessarily evaluated against a universal standard (Berlin 1995: 23).
In the interest of promoting and establishing their concept of modernization, the Chinese central government has promoted the elimination of traditional values and forms of organization and their replacement with more modern values. If we agree with Michael Walzer that liberty requires that we shake off involuntary fetters (Walzer 1999: 12), what will take the place of the eroding clan structures in this instance? Who or what will maintain social and economic security? If the clans ceased to exist, the result would be not "freedom" but the opposite state of captivity and defenselessness, because the clan generally represents the sole social, cultural, and symbolic capital that individuals and groups possess. In order to understand entrepreneurship in Liangshan, we must understand the social role played by local processes and their embeddedness in local knowledge, and that requires field research.
The problem for entrepreneurs and for local officials is that they are embedded and must assert themselves in two different albeit ambiguously defined worlds: the world of the Yi and the world of the Han. Though they stand in contradiction to each other, the two worlds are not very distant from one another. This volume is concerned with Liangshan Yi entrepreneurs in the historical context of changing national and regional economies, at a time when the two worlds coexist and the entrepreneurs must operate in both of them. The entrepreneurs' position is to be understood through using a combination of conceptual frameworks and new descriptive material gathered through field research. Before presenting the main ideas of our study, I shall briefly introduce the Liangshan Yi and the area in which we conducted our field research.
The Liangshan Yi (Nuosu) and Their Region
The Yi belong to the Tibeto-Burman language group and are the sixth-largest ethnic minority in China. There are about 8 million Yi people in China, primarily in the southwestern provinces of Sichuan, Yunnan, and Guizhou, with a small number in Guangxi. Approximately 2 million Yi, the Liangshan Yi in southern Sichuan Province and some Yi in northwestern Yunnan Province, call themselves Nuosu in their own language. I will switch from Yi to Nuosu when I am talking about specific features of Yi society in Liangshan such as clans, religion, and language. This is because our observations of Liangshan Nuosu Yi society do not necessarily apply to Yi in other areas, such as those in most of Yunnan and Guizhou. However, when I am talking about how they contrast with the Han, I shall use the term Yi. When referring to official data about the Liangshan Nuosu Yi, I use the term Yi, because that is the terminology that the authorities use; when referring to our own survey, I use Nuosu.
Up until the mid-1950s, the Nuosu in Liangshan had, to a large degree, managed to maintain their social, political, and cultural institutions. Liangshan was more or less independently controlled by various Nuosu clans, which played a particularly important role in Nuosu society, both as economic units and as a source of solidarity.
Even today, the Nuosu are embedded in clan groups whose members are descended from common ancestors. Members of a clan bear the same family name and regard themselves as related to each other by blood, which, as a rule, they genuinely are. Clan members commit themselves to the same obligations toward each other as immediate kin, such as the mutual duty to provide help and support. A clan may encompass tens of thousands of people, as with the Shaga clan in Ganluo, with more than 20,000 people and ten lineages (Ch: fen zhi). Some clans, such as the Shama Qubi, the Hielie, and the Jjike, are spread out across Liangshan. In rural areas, clan members often live near each other and form stable units with common spheres of economic activity, religious practice, and social solidarity.
Animism and animistic beliefs shape the religious thinking of the Nuosu; sickness, death, and unhappiness are all ascribed to the influence of spirits. Because spirits can bring evil, there are many rituals to keep them under control, and the bimo, as a priest and magician, serves as the intermediary between the spirits and the people (see Bamo 2001). The Nuosu have their own script, which was formerly used primarily by the bimo for ritual purposes.
The majority of the Nuosu live in Liangshan Prefecture, which encompasses 60,423 square km and includes 16 counties and one prefectural city (Xichang, the seat of the prefectural government). At the end of 2001, Liangshan had a population of 4,059,000; of this number, 43.4 percent were Yi and 52.9 percent Han. More than one-fifth of the Han live in Xichang. The remaining 3.7 percent belong to various other ethnic minority communities. "Tibetans" (Ch: Zangzu)2 are the largest of these groups, with a population of 63,882 in 2001.
The Da Liangshan mountain ranges (Great Cool Mountains) close in on a lowland plain surrounding the Anning River north and south of Xichang, and they rise to a height of almost 12,000 feet; the average elevation is between 6,000 and 7,500 feet above sea level. Some of the Liangshan Nuosu also live in northwestern Yunnan province (primarily in Ninglang County) near the Sichuan border. Others live in Mabian and Ebian Autonomous Counties northeast of Liangshan Prefecture, in Hanyuan and Shimian Counties to the northwest of the prefecture, and in the area around the steel-producing city of Panzhihua to the south.
Liangshan is rich in mineral resources such as copper, iron ore, gold, silver, coal, lead, tin, zinc, and rare earth metals, and in water resources for generating energy. Since the 1950s, due to national policies, particularly during the Mao era, these resources have been tapped primarily for industrial use outside the prefecture. The autonomous prefecture itself has derived little benefit from resource extraction; the raw materials are transported to other regions at cheap prices, and the expensive finished products are beyond the means of the local population.
The Liangshan region was heavily forested in the past, too, but almost the entire forest stock was cut between 1950 and the early 1990s, and the timber was utilized for industrial purposes in other regions.3 Nowadays most of the mountains are bare and for some years now, laborious attempts have been made to reforest them. Some of these attempts have been successful; many have not.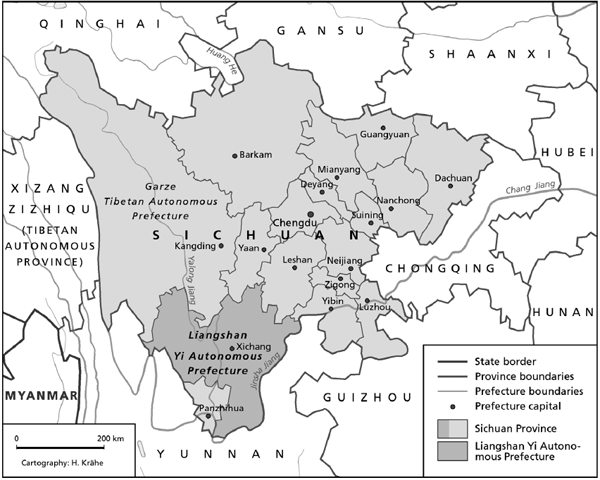 Poverty and Entrepreneurship
By national standards and in comparison to other minority areas, Liangshan Prefecture is among the poorest and least developed regions of China. This is particularly true if we disregard the industrial and cultural center Xichang, which has a predominantly Han population. At the end of the 1990s, 12 of the 16 counties in Liangshan Prefecture and 390 towns and townships (Ch: zhen and xiang) in those 12 counties were officially registered as "poor." In 1992, "poor" meant that the county population had an average annual per capita income of less than 200 yuan (approx. US$25). At that time, more than half of the Nuosu in Liangshan had a yearly income of less than 200 yuan and were counted as "very poor" (Jike Quri 1999: 39; Qubishimei and Yang 1992: 33). According to official reports, the situation clearly improved during the 1990s. At the end of 2001, 11 percent of the rural population in Liangshan, or 400,000 people, was still living below the sub-sistence level. However, these figures do not include those who had recently slipped below the poverty line (due to bad harvests, natural disasters, or a significant rise in medical costs); recent figures suggest that 1.84 million people, or 45.3 percent of the population of Liangshan, have an annual income of less than 1,200 yuan (approx. US$148) at their disposal, and 1.63 million people have an annual income of less than 1,000 yuan, which was considered the poverty line in 2002 (Xiao Lixin 2002: 10).
In 1997, half of Liangshan's population had no access to electricity and 95 percent of the villages were not integrated into the road network. The twelve poorest counties had an average annual income of 13 million yuan and had to be provided with 300 million yuan in state subsidies. Through the 1990s, these counties had difficulties paying wages, providing social welfare, and maintaining infrastructure (Sun Qingyou 1997: 61–62).4 There were very few outside investors and, during our stay in Liangshan, many professionals told us that they intended to leave the area because of the poor economic conditions. Since the early 1990s, similar to other regions inhabited by ethnic minorities, Liangshan has faced a serious brain drain and an outflow of investments.
Most counties and townships in Liangshan are highly in debt, perpetuating conditions of continuous poverty. In August 2001, the regional newspaper, Liangshan Ribao, reported that in the year 2000, county and township governments had an average debt of 269,700 yuan, or an estimated 37.1 percent of the average annual fiscal revenue; the article claimed that the situation was very serious for the prefecture. In 2000, the combined debt of all 609 zhen and xiang was 164 million yuan, up from 41 million yuan in 1990; one township alone was 7.4 million yuan in the red (Liangshan Ribao, 8 August 2001).
The difficult traffic and transport conditions are a significant factor in the region's poverty, as is the lack of qualified labor. In 2002, for instance, sections of the Xichang-Ganluo, Xichang-Yanyuan, Xichang-Jinyang, Butuo-Zhaojue, Jinyang-Zhaojue, and Xichang-Meigu roads were in poor shape, and road construction between Xichang and Zhaojue and between Xichang and Butuo caused considerable travel delays during our period of research. Heavy storms during the rainy season had washed out many of the roads (the stretch between Xichang and Mianning was an exception) and in 2002, all of these stretches were under construction, with the goal of paving the most important connections between Xichang and individual counties. However, it is doubtful that the repair will ensure their safety from future floods, landslides, and rockslides. Though some roads are still in appalling shape, there is now a freeway from Mianning almost to Panzhihua; this road brings no practical benefit to the people living in the mountains.
As a rule in China, the areas inhabited by ethnic minorities (50%–60% of the total land area) are less developed and poorer than the regions where the ethnic majority (Han) lives. Nearly half the areas designated by the central government as "poor areas" are located in the so-called minority areas. There are few state firms in such areas and in those that do exist, the employees mostly come from Han regions. High unemployment is accompanied by poverty and corresponding social problems such as high crime rates, drug addiction, and migration. One Chinese study found the limited development of the private sector to be a major reason for the underdeveloped economy of Western China, and most of the minority areas are located in the West (Zhang Houyi and Ming 2000: 4). Conventionally, the poverty of the minority areas is attributed to the social backwardness of the people, which in turn is attributed to their remote location and their lack of contact with the more advanced economic and educational systems of the Han areas (see Zhao 2000: 5–19). But if we look at the policies followed by the Chinese Communist Party government in the last fifty years, we find that the effects of disadvantageous natural conditions have been greatly exacerbated by wrong-headed and misguided schemes of economic, educational, and cultural development.
Since the 1950s, Chinese national economic policies have paid little heed to specific local and regional conditions in regions such as Liangshan and have put promoted inappropriate policy measures such as the destruction of the organic foundations of life (including the forests), the one-sided emphasis on growing cereal crops, the ill-conceived development priority given to heavy industry, and, within the industry, an undue emphasis on making cheap raw materials available to interests in Central and East China. Because all of these factors have significantly contributed to perpetuating poverty in Liangshan, it is more than shortsighted of some social scientists to blame the Yi for causing their own poverty through their "backward-looking, traditional views and customs" (see, for instance, Li Wenhua 2000: 8). To remedy the poverty of minority regions, the central government decided as early as the beginning of the 1990s to support the founding of private enterprises in minority areas more than in other areas. However, the support merely consisted of simplifying the business license application process with the local authorities. Minority regions do not have the financial means to support private enterprises, and banks extend lines of credit to private individuals in these regions only in exceptional circumstances. This may change under the "Development of the West" program established by the Chinese leadership in 1999 that prioritizes the rapid development of China's western provinces (including Sichuan and, therefore, Liangshan). National integration and nation building are central aspects of this program directed at ethnic minorities and the regions in which they live.
In Liangshan, a large proportion of state-run and collective companies (those owned by villages, for instance) were closed down in the 1990s and government efforts to keep larger enterprises running have been unfruitful. For example, a Nuosu cadre in Xichang told us that the state had attempted to save the ailing steelworks in the prefectural capital by providing a subsidy of 100 million yuan but that this had not accomplished anything. He argued that this money would have been better spent on creating jobs for local Yi. State companies hardly employed any Yi, and if they did, then only a few and primarily as security staff. In the mid-1990s, only one of the 60 managers in charge of state companies in Liangshan was a Yi (Yang Hui 1995: 81). This cannot be explained simply by referring to deficiencies in formal education among the Yi; rather, in many areas, the charges against the minority cadres were that they lacked the "party spirit" and were ideologically and politically unreliable (see, for example, He Mingwei 1995).
The historical causes of poverty can more apparently be traced to the policies of the People's Republic of China (PRC) government in the last fifty years than to geographical remoteness or any supposed ethnic backwardness. Continuous poverty is an important reason why developing the private sector and an entrepreneurial stratum has emerged as the main economic strategy for Liangshan. As a key process in overcoming underdevelopment, poverty, and unemployment, both the prefectural leadership and the local population hope that that the private sector will help solve Liangshan Yi's economic and social problems. A large majority of the private entrepreneurs we interviewed professed that they believed either fully (Yi: 60.5%, Han: 42.9%) or partially (Yi: 53.1%, Han: 52.4%) that the private sector was the most important sector for economic development in Liangshan. Not a single Han and only four Yi entrepreneurs rejected this opinion.
The Comparative Context of Liangshan Entrepreneurship
In recent years, the role of entrepreneurs in development and transformation processes has become an important research topic not only in the field of economics but also in the social sciences (Birley and MacMillan 1997; Burns and Dewhurst 1996), and radical changes in Eastern Europe have contributed to this growing interest.5 For example, Ivan Szelenyi (1988) investigated the reemergence of entrepreneurs in Hungary and Bernhard Lageman et al. (1994) studied the revival of entrepreneurship in Poland, Hungary, and the Czech and Slovak Republics. Rapid economic development in East Asia in the 1980s and 1990s, particularly in China, has also raised a host of questions. How significant is the emergence of entrepreneurship to political development? What are the preconditions for the emergence of this entrepreneurship? Besides their economic function, what role do entrepreneurs play in social and political processes of change?6 The development of a "new middle class" and its sociopolitical functions have further stimulated this discussion, and the new entrepreneurship is credited with an important potential for creating economic and social change.7 However, the extent to which the middle and entrepreneurial classes influence political change is sometimes overestimated; not only do members of these groups hold different political aims and opinions, but also, as in any authoritarian political constellation, the entrepreneurs operate less through conventional political channels and more through informal social and political participation. They may use their social relationships or networks to bargain informally with state officials, for instance, thus influencing values, attitudes, social and consumer behavior, which changes society as a whole. Until now, the discussion about the development of entrepreneurship has included little material on entrepreneurship among the autochthonous minorities in multinational states or on the consequences of the emergence of a modern, industrial entrepreneurship in otherwise non-industrialized societies. This is partly because ethnic minorities, who have limited access to capital, education, and other resources, often choose or are forced into the more marginal areas and niches of the economy, while the more modernized sectors are often the domain of the numerically or ethnically dominant group. On the other hand, as our findings among Yi entrepreneurs demonstrate, entrepreneurs from minority groups may accumulate experience and capital in the trade and informal sectors, which are characterized by informally organized and unregistered self-employment and where they can learn through trial and error, before venturing into more formal economic arenas.
What academic literature does exist on economic actors from minority ethnic communities can be divided into two categories: the first concentrates on immigrant groups and ethnic intermediaries, or middlemen, and the second concentrates on the trade and informal sector. Consequently, research on the economic behavior of ethnic minorities has focused on the more traditional domains such as agricultural or artisan activities, the economic behavior of immigrant minorities, and on trading minorities, peasant peddlers, and professional traders. In contrast, our study combines research on entrepreneurship among minorities with research on entrepreneurship as an aspect of social change.
The literature on China contains numerous studies of the private sector8 as well as a few explorations of the private sector in areas where ethnic minorities live,9 but all these investigations are concerned only with Han entrepreneurship. Studies of individual and private enterprises in areas with minorities only refer to quantitative development in these regions or to political economy questions, such as how to encourage private trade in a certain area through administrative support. The published investigations are neither sensitive to minority economic culture and values nor do they use comparative and interdisciplinary methods for researching the new ethnic entrepreneurship and its effects on the ethnic group's society. This study, on the other hand, seeks to understand entrepreneurship in China by examining literature on the nature of entrepreneurs and ethnic entrepreneur-ship, and by understanding the role of entrepreneurs in contemporary China.
Entrepreneurs as Economic and Social Actors
For our particular purposes, it seems most fitting to consider the economic and the social roles of entrepreneurs together. In this study, the term entrepreneurs refers to people who have founded and currently run private enterprises or who have taken over state or privately owned businesses that they now manage and develop independently,10 and among them, those who left the secure state sector for situations that are economically, politically, and socially risky, or even deviant, show a great deal of innovation in their work.
The ideal-type entrepreneur is the active Homo economicus who plans and founds an enterprise that he owns and/or takes the initiative in leading independently and responsibly, while taking either personal or capital risks (Gabler 1984; see 1768–69). The semantics of the word "entrepreneur" indicate an active subject, and entrepreneurial activities necessarily set dynamic economic processes in motion. Joseph A. Schumpeter, one of the most important theorists of entrepreneurship, attributes entrepreneurs with creative, innovative behavior and leadership qualities. Their function is to recognize and exploit new possibilities in the economy. He also points out that entrepreneurs act more out of social or economic ambition than out of intellectual aims, and that they frequently have to defend themselves against accusations of deviant and antisocial behavior (Schumpeter 1928, 1987a, 1987b).
Economic theories distinguish between those approaches to the study of entrepreneurship that emphasize the distribution of income, focus on market processes, and address entrepreneurs as economic innovators and creators, and those that examine the relationship between entrepreneurs and their enterprises (Casson 1990: xiii–xx). Our approach considers the interconnectedness of economy and society. Karl Polanyi points out that economic activities are embedded in social relations; in addition to securing individual interests in material ownership, they also secure social status and demand, and define social attitudes and values (see Polanyi 1977a: 68–79, 1977b). In agreement with Polanyi, who emphasizes the non-economic motives that operate within economic systems, the sociologist Mark Granovetter argues that economic action is embedded in interpersonal relations and institutions and is subject to informal norms. This embeddedness materializes in formal institutions (for example, in laws) or informal institutions (for example, in clans, lineages, families, ethnic communities, and social networks).11 This insight is particularly important when we consider Nuosu entrepreneurs operating in the dual system of the Chinese state market economy and the Nuosu clan-based society outlined above.
The economic side of entrepreneurship12 does not reveal anything about its social and political role. There is no doubt that collective activities undertaken by entrepreneurs produce processes of social and political change and that entrepreneurs are substantially involved in forming and influencing the entire system within which they operate, not just its economic aspects.
Far from acting autonomously or within a vacuum, they are embedded in their social environments and relationship structures. For entrepreneurs, social relationships are a necessary prerequisite for successful business dealings. Particularly if founding and directing an enterprise is regarded as a process not as an event, an entrepreneur's social and political commitments are critical to fulfilling the enterprise's economic functions (Birley 1996: 20). Because of the process-like nature of running a business, the entrepreneur has to act beyond the economic sphere in order to maintain, develop, and expand the enterprise. For Nuosu entrepreneurs, operating simultaneously in the growing quasi-capitalist Chinese economy and the social world of Nuosu clans and clan control, maintaining their business enterprises requires a particularly sensitive balancing of the requirements of these two worlds.
In addition, entrepreneurs rely upon several other relationships and social structures that provide security and minimize risk to their enterprises: a stable legal framework, individual relationships with politicians, bankers, and state authorities, and organization into interest groups. In particular, activities undertaken by interest organizations can be characterized as political activities because they attempt to secure advantageous situations for the interest group or enterprise in economic, legal, and political spheres. Thus, entrepreneurs' interests must reach far beyond the economic sphere, even if those interests ultimately serve to secure their economic activities, and, in maximizing their own interests, they also promote economic and social change. Again, Nuosu entrepreneurs must pay attention to and cultivate formal state structures at the same time that they maintain their contacts in the world of village and clan.
The anthropological distinction between "big men" and entrepreneurs might shed light on this balancing act (see Sahlins 1963; Finch 1997). "Big men" are local leaders who engage in business in order to meet their social obligations and preserve their social prestige, which they do through lavish gift-giving. In contrast to entrepreneurs, they are required to spend a significant part of their wealth on their supporters or factions. There is some similarity between Nuosu clan leaders and Melanesian "big men"; some of the Liangshan entrepreneurs, as leaders of their clans, indeed have significant moral obligations toward their clans. However, there are also marked differences between "big men" and Nuosu entrepreneurs, whose primary obligation is to the market and who fulfill moral obligations only as a secondary goal. An entrepreneur's accumulated wealth is largely reinvested rather than being consumed by supporters or traditional communities, as is the case with "big men." The majority of Nuosu entrepreneurs are aware of the contradiction between the demands of social obligations and those of the market, and they attempt to find a balance between the two. In this sense, Nuosu business people teeter uneasily between the roles of big man in local clan society and entrepreneur in the wider Chinese and world economy.
Ethnic Economy and Ethnic Entrepreneurs
An "ethnic economy" exists when an ethnic minority creates its own private economic sector, which includes employers, co-ethnic employees, and the self-employed (Light and Karageorgis 1994: 647–48). "Ethnic entrepreneurship" refers to the model of business deployed by entrepreneurs of an ethnic minority who rely on formal networks (ethnic institutions and organizations) within their ethnic community or informal support from friends and family in order to do business, and who use ethnic resources in their businesses. Ivan Light and Carolyn Rosenstein define ethnic resources as "sociocultural features of the whole group, which co-ethnic entrepreneurs actively utilize in business or from which their business passively benefits" (1995: 171). These sociocultural features include ethnic culture, ethnic networks, employees and management personnel from the same ethnic group, business relations with other members of the ethnic group, and ethnic identity and trust as social and symbolic capital in the sense in which Pierre Bourdieu uses the terms (Bourdieu 1998: 175; for details, see Light 1973). The concept of ethnic entrepreneurship is also restricted to businesses that operate within a limited environment, whether defined by the geographical territory where the business is located or by the area covered by the business.
This raises the question: Are there specific types of ethnically created economic behavior? N. Smelser and R. Swedberg argue that such behavior exists if "co-ethnicity influences economic choices" (1994: 650). Other authors have argued that a great number of field studies would be necessary to establish the role that cultural and structural factors play in encouraging or obstructing ethnic entrepreneurship and to determine how these factors should be understood and differentiated (see Aldrich, Jones, and McEvoy 1984: 236).
One controversial theoretical issue is the question of the social causes of the emergence of ethnic entrepreneurship and there are four theoretical models in the academic debate. Prejudice theories maintain that the dominant ethnic majority discriminates against minorities and blocks their chances of upward social mobility, forcing members of the minority into self-employment. Culture theories emphasize a society's cultural predispositions toward entrepreneurship; they ask, for example, whether a "merchant ideology" exists in the ethnic community and whether entrepreneurship is just a "way of making a living" or a "way of life" (Mars and Ward 1984). Context theories consider the social context and social, economic, and political institutions as crucial determinants of the development of entrepreneur-ship. And situation theories postulate that specific historical circumstances determine the emergence of ethnic entrepreneurship (Auster and Aldrich 1984). Frank Young (1971: 142) and Everett Hagen (1962: 215–31, 248) also argue that ethnic entrepreneurship is a group's reaction to the real or imminent loss of status, and call this response "reactive ethnicity." Ivan Light (1987: 207) argues that reactive ethnicity is not only a social movement in response to discrimination and the loss of status but that it also fosters entrepreneurship and solidarity within an ethnic group.
Do these theories explain Nuosu entrepreneurship? Theories about cultural tendencies can be easily discounted because there are no cultural expectations of entrepreneurship among the Nuosu; in fact, the clan system and its social obligations complicate life enormously for most Nuosu entrepreneurs. I prefer a mix of context theories (the institutional framework for entrepreneurship has changed with the beginning of reform policies), prejudice theories (entrepreneurship as an opportunity for upward mobility, an option blocked by policies during the Mao era), and situation theories (the reform situation as a starting point for entrepreneurial activity) to explain the emergence of entrepreneurship among the Nuosu. A reactive ethnicity emerges due to an unequal distribution of power between an ethnic minority and a majority. This may happen due to the denial of political rights and access to resources, capital, employment, and education to minority groups, or due to a demand on the minority to be integrated into and subordinated to the majority.13 In the case of the Nuosu, we could also argue that self-employment is a result of a desire for individual autonomy and group independence, and it enables the minority to evade Han control. Ethnic entrepreneurship could then be viewed as an ethnic departure from the Han-dominated economy; however, this explanation is troubled by the fact that many Nuosu people consider entrepreneurial activity to indicate "Han-like" behavior (N: hxiemgat sup). So in order to understand Nuosu entrepreneurship, we must look to multiple explanations: traditional thought (disposition toward or against business and business thinking),14 situational conditions (access to resources, poverty, unemployment), institutional circumstances, and social infrastructure, including incentives such as class mobility.
Entrepreneurship in China
Nuosu entrepreneurs engage in trade not only in the context of two cultural and institutional worlds, but also in the context of burgeoning entrepreneurship of all sizes and scales in China during the Reform era, from 1979 to the present. Entrepreneurship did not emerge as a theme in China, especially in remote Liangshan Prefecture, until a few years after the beginning of the reforms. New entrepreneurs have begun to emerge with the revival of private economic activities, now that a legal private sector has returned and restrictions on it have been lifted. For instance, in 1987 the limitations on the number of employees permissible on a business's payroll were removed and the legitimacy of this sector was legally safeguarded. At the outset, the private sector was seen only as a supplement to the state-owned economy, but a constitutional change in 1999 made the private sector legally equal to the state sector. The reasons for this shift included a crisis in state-run businesses, a simultaneous job shortage and surplus of people entering the workforce, as well as expectations of increased public income through taxes from the private sector. Pressure from a surplus of rural labor and, since the beginning of the 1990s, the attempt to resuscitate the state sector through large-scale layoffs and the closing of unprofitable businesses have resulted in the concentration of new jobs in the private sector.
According to official data, by the end of 2001, there were probably more than 100 million people in China working in the private economy—in "individual enterprises" (Ch: getihu, the "individual economy" or family-run businesses), with seven or fewer employees, and in "private enterprises" (Ch: siying qiye), with eight or more employees. The officially categorized "private entrepreneurs" alone accounted for 2.03 million people in a workforce of 22.5 million, and 24.33 million "individual entrepreneurs" employed 47.6 million workers. Urban-based businesses made up 67.3 percent of the private enterprises and 46.4 percent of the individual enterprises.15 In 1978, when such enterprises were reauthorized, individual enterprises employed about 330,000 people; by the turn of the century, they employed more than one hundred million. However, although the private sector encompasses small-, medium-, and large-scale registered businesses, many entrepreneurs are not included in the official statistics.16
Unregistered enterprises comprise illegally run individual and private companies, people holding second jobs in addition to regular ones, rural collective enterprises that are actually in private hands, businesses nominally owned by straw men but actually owned by government officials, and the many non-rural companies that are nominally state-owned or collectives but are actually privately run. Added together, these unregistered groups working in the private sector of the Chinese economy totaled between 250 and 300 million, or 35–40 percent of the total workforce in 2001.
The reasons for the statistical underestimates are political, economic, and social. The need for political safety and correctness in a context in which state and collective firms are still ranked higher than private companies encourages misclassification, as does the desire to obtain membership in the Chinese Communist Party (CCP). Until the 16th Party Congress in November 2002, private entrepreneurs were ineligible to become Party members, an important entry point to political networks. Economic factors, such as better access to credit, tax advantages, more extensive information about markets and better support from local authorities, as well as higher social prestige also contribute to underestimating the number of entrepreneurs.
Among businesses not counted in the official statistics are enterprises with partial or total foreign investments, joint stock companies, limited liability companies, enterprises that are misregistered in terms of type of ownership (enterprises classified as collective and state businesses but privately run), or unregistered businesses (the shadow economy).17
Entrepreneurs in China are not a homogeneous group. Apart from the scale at which entrepreneurs operate—there are large, medium, and small businesses—entrepreneurs may be former local Party officials or state bureaucracy cadres18 who continue to have connections with these institutions, or they may have no political background or official contacts. Werner Sombart distinguishes between "powerful" and "cunning" entrepreneurs. Former bureaucratic employees become "powerful" entrepreneurs by using resources available to them from previous jobs, such as cultural capital, connections, and networks. "Cunning" entrepreneurs behave like "conquerors" and tend to rely on their entrepreneurial trading potential (Sombart 1987, vol. 1, part 2: 839). Entrepreneurs also have different reasons for becoming self-employed. Dissatisfaction with the working conditions of their employment causes "push" entrepreneurs to start their own businesses, while "pull" entrepreneurs are attracted to social and financial opportunities and give up their jobs for this reason (see Amit and Muller 1996). Some entrepreneurs take the initiative to make use of existing market opportunities and incentives in urban areas or more developed regions while others find opportunities based on privileges or social connections with members of the local political elite and sub-elite. Entrepreneurship may also be the best choice when faced with a limited array of employment options, especially for those with blocked prospects of upward mobility, and for the unemployed and the pensioners. Li Fang's discussion of motivating factors is similar (Li Fang 1998: 87–88) but he distinguishes between three types of entrepreneurs: able rural people (Ch: nengren), urban speculators (Ch: daoye), and state administration employees who "dive into the sea" (Ch: xia hai), that is, become self-employed (ibid.: 58). However, this categorization is based on negative stereotypes, makes blanket judgments, places urban entrepreneurs on a level with speculators, and overlooks social strata within the group. Despite the limitations of such classifications of entrepreneurs in China, however, the different categories exist among the Nuosu and are, thus, potentially useful in understanding the specific role of Nuosu entrepreneurs in Liangshan.
Entrepreneurship in Liangshan
Having set up the local and comparative context for Nuosu entrepreneur-ship, we can return to the specific topic of this book: the impact of entrepreneurship on Nuosu society and social organization, on Nuosu group consciousness, and on local-level relations between Nuosu and Han. Our thesis is that the emergence of entrepreneurs has had an important effect on local politics, social change, and ethnic relations in Nuosu society.
Liangshan local politics are a multifaceted process determined by local Party officials and various other social actors who participate in debates, decision making, and shaping the implementation of local decisions. In this work, I am concerned with the social and political roles of Nuosu and Han entrepreneurship rather than with their economic and fiscal functions.19 I explore the extent to which Nuosu entrepreneurship has had an impact on local officials and development, including development policies, by addressing the following questions. Are an ethnic economy and "ethnic entrepreneurship" with strong network structures developing as a result of economic reorganization according to market economy principles and structures? What role does the mobilization of ethnic resources play in this process? To what extent do entrepreneurs benefit from their ethnic surroundings? Do they enjoy advantages from ethnic solidarity with clans, co-ethnics, and/or officials that are denied to non-Yi in the Liangshan region? The interrelationship between entrepreneurship and local governments is significant to these questions. Nuosu entrepreneurs distinguish between local and central governments; they primarily interact with local governments, composed mainly of Yi officials, but do not consider them as trustworthy and sincere as central government authorities.20
The development of an entrepreneurial stratum has had social consequences for Nuosu society, including for social organization, group consciousness, and social structures (the clan or lineage). In asking how institutions are changing in response to economic and social processes of change, I am primarily interested in the social relations in which Nuosu entrepreneurship is embedded and the changes that the entrepreneurship causes in these relations.
Their embeddedness in the dual system of social and economic relations presents Nuosu entrepreneurs with "the trader's dilemma"—the tension between making a profit and the moral obligation to share income with the clan community (see Evers 1994; Schiel 1994). On the one hand, they must give in to the market and ignore non-economic considerations, and, on the other, they must fulfill their obligations to their community, clan, and lineage. This is because the economy is embedded in a wider social context (see Polanyi 1977a, 1977b) or, in the words of Marcel Mauss, "exchange is not simply an economic transaction, but a total social phenomenon" (quoted in Schiel 1994: 16).
Recognizing entrepreneurs' dual role as social actors in the marketplace and as members of an ethnic group (Yi) enables us to understand the processes through which Nuosu social structures are changing. Individual Nuosu entrepreneurs possess what Mark Granovetter calls "multiple collectivities" (1974)—they simultaneously operate as individuals and as members of personal-relationship groups such as clans, and ethnic, regional, or language groups. Their market behavior cannot be entirely "rational," because they are embedded in a network of social interactions and affective behavior patterns that include kinship and social relationships, define social status, and involve values, norms, and trust (see Granovetter 1985; Evers 1995: 3ff). Hans-Dieter Evers calls this the "power of emotions in market transactions" (1995: 4).
Local Han entrepreneurs were included in our surveys, both to ascertain differences between Han and Yi economic and social behavior and to examine ethnic and economic segregation. Does entrepreneurship reinforce segregation, and is there a cultural division of labor between Yi and Han entrepreneurs? Are new ethnic tensions building up due to market competition and the growing possibility of being out-competed? To what extent do Yi and Han entrepreneurs differ in their entrepreneurial behavior and economic thinking? Does ethnic entrepreneurship strengthen ethnic identity and ethnicity? People who belong to the same ethnic group (Ch: minzu) share a common language and culture, which may encourage a degree of familiarity and empathy in their business relations. The Nuosu Yi language is important in this context because it not only facilitates networking but also activates exclusion mechanisms and strengthens feelings of separation between Nuosu and Han. Does this worsen the us-versus-them dichotomy and solidify barriers between the ethnic groups? Shared ethnicity may be successfully used as a business resource,21 but is it true that development in a periphery "advances the bargaining position and organizational capacities of ethnic groups," and does this increase the ethnic group's mobilization potential against the central state (Olzak and Nagel 1986: 2)?
RESEARCH METHODS
This book is based on extensive field research conducted over a four-year period, from 1999 to 2002. The research was carried out in cooperation with the Institute for Nationalities Studies of the Liangshan Yi Autonomous Prefecture and the Faculty of Economics at the College for Agriculture in Xichang, and was sponsored by the German Volkswagen Foundation. Field research was conducted in 10 of the 16 counties that make up Liangshan Prefecture. Our research team visited Ganluo and Mianning in 1999, Zhaojue and Yanyuan in 2000, Leibo, Meigu, Butuo, and Puge in 2001, and Xide and Jinyang in 2002. The empirical part of this research was carried out using a combination of qualitative and quantitative research methods that provide different types of information and are appropriate to particular aspects of the research. For example, politically sensitive questions, such as those related to ethnicity or ethnic identity, could not be posed in questionnaires. Altogether, 138 private entrepreneurs were interviewed using a questionnaire and qualitative interview techniques, for which a series of semi-standardized, open-ended questions was prepared. In each county, 8 to 10 local county, township, and village officials were interviewed, and statistical data and written material were obtained from Party and government documents and publications.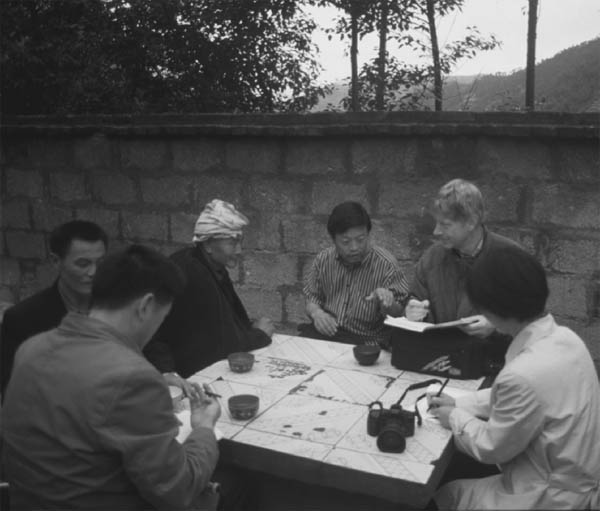 We collected information from 21 entrepreneurs each in Zhaojue and in Meigu, 17 each in Leibo and Yanyuan, 16 in Ganluo, 15 in Mianning, 13 in Jinyang, 9 in Butuo, 7 in Xide, and 4 in Puge. Because there were only a handful of enterprises in some counties, the number of entrepreneurs interviewed varied greatly among the counties and we also had to give up our original intent to interview only industrial entrepreneurs and decided to include some people with larger companies in the tertiary sector (department stores, restaurants, and shops).22 Our interviewees included entrepreneurs from as many different lines of business as existed locally. Only 16 entrepreneurs were female; 3 of them were Han and they primarily owned businesses in the tertiary sector—trade, producing garments (particularly local Yi entrepreneurs), larger restaurants, etc.
Since we were interested in comparing Yi and Han entrepreneurs' economic and social behaviors, we included Han entrepreneurs in our study at a ratio of about 2 Yi : 1 Han, which enabled us to focus on Yi entrepreneurs and still collect enough information on Han entrepreneurs to make a comparison concerning differences in social and economic thinking and behavior, different uses of social and ethnic resources, and their perceptions about each other.