6
Entrepreneurs and Social Change

Nuosu entrepreneurs are embedded not only in local political structures but in social structures as well, and frequently serve as agents of social change. Opportunities for social influence are often found in such ethnic resources as family ties, moral obligations toward a clan or lineage, and the assumption of clan or lineage leadership, and increasingly are evident also in non-kin relations and processes of individualization.
ETHNIC RESOURCES
Nuosu ethnic resources include clan and lineage networks, connections to Nuosu cadres from the same clan, and resources within the ethnic group or within the same clan. Membership in a clan is one of the most important ethnic resources for Nuosu. The clan represents cultural and economic capital as well as political, social, and cognitive capital. It functions as an inside network with myriad connections. The clan can become a primary economic resource for entrepreneurs; the clan as a whole or some of the clan members may possess financial resources for founding companies or organizing economic activities based on a division of labor. Clan membership is gaining significance as an ethnic resource and its growing significance finds expression in the shared language of clan members.
The clan can also be classified as social or ethnic capital. The term "social capital" refers to the relationship structures that connect individuals with their families and communities. Portes and Sensenbrenner divide economically related social capital into four major types: value introjection, reciprocity transactions, bounded solidarity, and enforceable trust. The moral aspects of economic transactions can be described as a process of value introjection. Value imperatives accumulated through the process of socialization become consensual beliefs, which then determine moral considerations in economic situations. Reciprocity transactions are a package of mutual social duties and obligations. Bounded solidarity is defined by norm-oriented behavior, moral obligations, and individuals' situational reactive sentiments within their group. The fourth aspect is enforceable trust in which norm-driven obligations generate confidence within a group, where rewards and sanctions are linked to group trust (Portes and Sensenbrenner 2001: 114).
These four factors are generally embedded in social relationships and can be transferred to an ethnic context. However, within the Nuosu ethnic context, ethnic capital refers specifically to the clans, not to the larger Nuosu ethnic community. The definitive attribute of clan social relationships is that each individual knows how he or she has to behave toward other clan members. But since these values (patterns of reciprocity, norms, solidarity, and behavior) are equally binding for all Nuosu clans, they can also be perceived as markers of ethnicity. They have been internalized by every member of the group and can be fundamentally distinguished from Han relationship patterns. These values are a clear marker of separation between Nuosu and Han; they generate symbolic and cultural capital, which, in turn, maintain their identity and protect the group.
Under institutionally and legally uncertain conditions, entrepreneurs often recruit workforce and administrative personnel from their own families or clans, and for external processes, too, they count on family members who have access to the needed resources. The main reasons for including family or clan members in an enterprise are that family or clan members are seen as more trustworthy, loyal, and hardworking. Reasons for avoiding family hire have to do with conflict resolution and the danger of becoming unprofessional. To borrow Niklas Luhmann's term, depending on the clan enables people to be "resistant to being disappointed" (enttäuschungsfest) by their employees, because their expectations of other clan members' behavior are based on shared norms of trust and mutual assistance (Luhmann 1999: 56). In general, lineage or clan relationships still play a paramount role in Nuosu society and are based primarily on trust. Clan members feel that a sense of collective responsibility, bounded solidarity, trust, shared identity, and loyalty exists between them. This extends to economic considerations, for example, when a fellow clan member is given a job in which a high degree of responsibility and loyalty is expected. Such relationships of trust can be used to gain access to labor, credit and loans, customers, and suppliers.
Kinship relationships figure in internal and external functions. Inside a company, this refers to employing and cooperating with members of the family or kin (clan members).1 Kin relations played an important role in almost all of the Nuosu companies we surveyed; in some companies, all the leading company positions were in the hands of kin. Many rural enterprises in Liangshan can be classified as "clan enterprises" (Ch: jiazu qiye), which refers to enterprises owned or operated by a clan and/or run in the interest of the clan (Yao and Wang 2002: 10, 56). Clan enterprises can also be enterprises in which a significant number of the employees are members of the entrepreneur's clan, however; or at least the primary company functions are in the hands of the entrepreneur's clan members. In our survey, more than one-quarter of the investigated Nuosu enterprises (25.9%) could be classified as clan companies. Respondents had different opinions about employing and otherwise allowing the participation of lineage and kin members in their own companies. Many entrepreneurs welcomed such involvement and argued that it was risky and even dangerous to trust people who were not family members. In difficult times, kin would work without payment if necessary; they were reliable, obedient, and, above all, a relationship of trust existed with them.2 One entrepreneur argued that outsiders were seldom truly reliable even when paid at the best rates.
Other Nuosu entrepreneurs were of the opinion that, with increasing company size and modernization, the benefit of employing kin gradually diminished in favor of employing non-kin. Family bonds and obligations often impaired company management procedures; and criticism or laying off employees due to poor or inefficient work could lead to massive, intra-familial confrontations. Family members were often less easily controlled or guided, and irrational behavior patterns could lead to conflicts.3 These entrepreneurs argued that their family and kin's work performance could not be measured in the same way as the performance of other employees. There were behavioral expectations embedded in their working relationships, and it was difficult to criticize or to transfer them. For this reason, some entrepreneurs paid off their clan members and kin, providing them with capital for founding their own companies, and were thus able to separate their professional relations in a harmonious manner.4
However, the benefits of employing kin or lineage members must be decided on a case-by-case basis. In highly insecure political, legal, or social environments, it may be that a family company based on trust is able to operate more flexibly and securely than others. Wong has argued that a lack of trust in the system is a major reason why entrepreneurs prefer family or clan enterprises (Yu 2001: 54; Wong 1991: 15). Moreover, employees whose familial obligations tie them into a close relationship with an entrepreneur are more prepared to continue working when a company finds itself in economic difficulty. A lack of confidence in the government also contributes to the success of family companies (Bowen and Rose 1998: 443). Because local institutional development is still weak, building trust is extremely necessary as a strong force of local development.
In some companies, the transaction costs of employing kin and clan members are too high, for example, in sectors with fixed specifications concerning work times, such as the construction industry, or in mining, where frequent accidents may lead to internal clan conflicts. Entrepreneurs in these industries thus develop evasive strategies, employing people from outside of the clan or sometimes Han. If the transaction costs of not employing clan members are too high, for instance when companies are within clan territory or when clan resources are required (for cheap labor, capital, and raw materials, for example), entrepreneurs generally hire clan members. At the same time, trusting relationships with kin may compensate for economic difficulties and legal uncertainties.
The issue of company employment on the basis of clan membership is a topic of frequent and controversial discussion in China. Generally speaking and in communist China in particular, employment relationships based on social or familial relationships have been regarded as disadvantageous for company development. However, recent reassessments in China have shown that there are specific advantages to this employment strategy. In cases of an economic crisis or a downturn in business, clan employees reduce company difficulties by making interest-free credit available, temporarily working without pay, or engaging themselves more strongly for company interests due to greater loyalty and trust.5
The field of New Institutional Economics argues that existing economic structures should be evaluated as intelligent strategies for solving problems rather than in comparison to "traditional" economic structures. Transaction costs can be lowered through existing economic structures and, in times of economic and political insecurity, trusting relationships are more important than rational, impersonal relationships (see Granovetter 1995: 129–30; Yu 2001: 58–59). However, our findings show that this hypothesis is only partially true. The advantages of employing kin or clan members, such as loyalty, trust, self-exploitation, selfless commitment to the required work, and more effective social control, have to be economically balanced against numerous disadvantages, which potentially have very high social costs. These costs include the danger of conflict with kin and clan members, tolerating unsatisfactory work in order to avoid conflict, and tolerating a discrepancy between existing and required worker capabilities.6
On the other hand, kin or clan relationships play an important role in acquiring investment capital for founding a company. Since private entrepreneurs as a rule have hardly any access to bank credit, clan or lineage members are an important source of (interest-free) credit; clan members who are entrepreneurs may provide credit or members who enjoy good relations with banks and credit institutions may support entrepreneurs in acquiring credit. If the clan has any solvent entrepreneurs, there may also be an existing system of mutual support, and clans or lineages themselves may also act as guarantors. This is not only the case for bank credit but also for private credit. In the case of the latter, the honor of the clan is the basis for trust and determining credit worthiness. One entrepreneur told us, should a German company provide his enterprise with investment capital, his clan would act as the guarantor! Familial or clan relationships also play an important role outside the company, especially when family members and kin are leading functionaries in state or party organizations; these relationships facilitate access to resources, investment capital, markets, and information.
Networks of entrepreneurs within individual clans assist with the sale of the goods produced by their clan members and with acquiring supplies, credit, subsidies, or customers. Clan networks can also support the creation of paired production and marketing companies. In one case, a group of clan members jointly founded a production firm in Ganluo County, while another group founded a transport company to carry manufactured goods to cities like Xichang and Chengdu, where other clan members opened retail shops in which to sell the products. The clan can also be a political resource. Legal problems with the police or with other authorities can be dealt with through clan networks. This takes place informally, however, because the government does not view the clan as an acceptable form of organization. The clan thus functions as a bridge between individual members and the state, taking on tasks such as mediation and social control.
New clan networks appear to be developing in addition to the above mentioned clan associations. In one case, an entrepreneur organized a clan association including clan members who were county, prefectural, or provincial officials. He argued that obligations to the clan were more binding than Party obligations. Above all, he emphasized that these relationships were based on equality, since all clan members had equal rights. At the annual torch festival there was a "small gathering" of all the association members and every three years there was a "large gathering" of members, and the costs were shared by all participants. This example shows that clan associations make up a classic ethnic network.
Migration processes and a growing degree of social mobility have led to the formation of such associations in order to protect the clan and its functions. Clan members have begun to organize according to location; for example, in Xichang, the Loho clan has a branch association consisting of 32 families. The association has a "managing director" who is responsible for organization, group cohesion or team spirit, contacts, information, and finances, and business costs are shared through levies. These groups represent a way of resisting the weakening of the clan and its members' reciprocal obligations due to geographical and/or social distances between them.
Especially because the Nuosu have no other representative organizations, the clan associations can be seen as a type of interest organization. Other forms of organization are currently not viable because of rigid state control. Yet, the existence of clan organizations (Ch: jiazhi xiehui) shows that informal organizations will emerge, filling the vacuum created by the absence of autonomous interest associations. Such formalized, quasi-modern institutions further serve to strengthen clan ties.
Non-clan social relationships and networks are two other important ethnic resources. These networks consist of informal relationships between essentially equal social actors; unequal actors have a relationship of patronage. Network relationships are based on cooperation and loyalty, and successful networks are maintained by building confidence and preserving mutual trust (Frances et al. 1991: 14ff.; Reese and Aldrich 1995: 124ff.). Networks connect individuals and groups of individuals, institutions, and smaller clusters in which the network members are active. Because each individual is a member of multiple networks, each member serves to connect networks with each other. Thus, a network extends far beyond simply a collection of individuals.
For the entrepreneurs we interviewed, such relationships and networks function in the following three ways. In economics terms, networks facilitate resource preservation and exchange, the exchange of goods and services, as well as cooperation in production. Social connections to important decision makers assist members in obtaining economic advantages when setting up their companies, such as easier access to markets, credits, information, raw materials, state sector commissions, tax remission, or reductions, and networks also facilitate information exchange. On the political level, networks increase the influence of business-oriented interests by assisting members in gaining political advantages (obtaining public positions, party membership, getting around political restrictions) and defending them against disadvantages (by influencing local officials and preventing excessive restrictions). On the cognitive level, networks help strengthen identities. Members provide cognitive and affective support for each other and ensure their recognition inside and outside the group. Networks also foster specific expectations and norms on the basis of members' various commonalities.
Again, these network functions contain the four economically related attributes of social capital described earlier this chapter, i.e., value introjection, reciprocity transactions, bounded solidarity, and enforceable trust. Ethnic networks presuppose these markers of social capital in order to be able to operate with any degree of success in the economic sphere. However, Portes and Sensenbrenner argue that compliance with group norms involving enforceable trust is stronger in the face of external discrimination than under more pluralistic and equal conditions. Ethnic networks (for instance, clan associations and networks between entrepreneurs and local officials) therefore play a crucial role in Liangshan. However, if access to economic resources and to social and/or professional advancement outside an individual's own group is more promising, or if the group is not able to fulfill the expectations of group members, the cohesion of that community and the observance of community norms will be weakened (Portes and Sensenbrenner 2001: 124).
Ethnic resources also include Nuosu labor and connections to Nuosu cadres. Nuosu labor is less costly than Han labor, as long as the workers are either members of the same clan as the entrepreneurs are or have other highly trusting and loyal personal relationships with them. Entrepreneurs use their personal, ethnic, and kinship affiliations with local cadres to create clientele-like ties with the local bureaucracy. In turn, indigenous cadres use their positions to create ethnic political machines. Because of the considerable ethnic resources available to Nuosu, many Han entrepreneurs feel that they are disadvantaged and that the local authorities confer privileges on the Nuosu enterprises. Some Han said that this was an important reason why they would like to leave the Liangshan area.
MORAL OBLIGATIONS
Despite the economization of Chinese and Nuosu society, entrepreneurs have enabled the clans and lineages to maintain and even increase and diversify their economic functions. The Nuosu use clan networks to optimize their business opportunities and secure competitive advantages over Han entrepreneurs. New entrepreneurs make use of the economic division of labor within their clan and reciprocate by providing social services for the clan. As mentioned above in the discussion of social capital and financial support, our study confirms James Scott's hypothesis that clan members who become well off will be expected to share their wealth with other clan or village members, or support and assist them in some other way. This moral obligation, which Scott (1976) calls "the moral economy of the peasants," has changed very little in Nuosu society. However, as the market grows, Scott expects this principle to be challenged by personal profit maximization, causing the principle of mutual help to decline in value.
Is Scott's hypothesis also true for Nuosu entrepreneurship? The interviewed Nuosu entrepreneurs had very different opinions regarding their clans, ranging from considering the clan a burden to thinking of it as an indispensable support system. Although Nuosu entrepreneurs complained about their considerable obligations to their clans, the majority could not shirk these duties. As a result, some decided to hire only non-local Nuosu and to give monetary support to the clan and/or to individual clan members. This choice represents the trader's dilemma. When the clans are poor and a single or a few entrepreneurs are obliged to subsidize them, the clan quickly becomes a strain.
Financial obligations toward the clan can be more or less burdensome, depending on the business situation. In the difficult founding and/or the initial phases of a firm or during business crises, such obligations are a heavy load to bear. In times of prosperity, on the other hand, giving behavior can be tailored specifically to contribute to the entrepreneur's acceptance and his or her social prestige within the community. Marin Trenk notes, "Many entrepreneurs feel 'their wealth is their ruin.' Their kin's demands are their undoing. But at the same time, entrepreneurs feel the challenge of becoming the 'big man', both within and outside kinship circles, is socially more important" (Trenk 1991: 514).
Economically successful clans that have produced a number of entrepreneurs play a strong economic role in society and enjoy great prestige. Clan entrepreneurs support each other financially and in the search for markets. Some entrepreneurs organize worker training sessions, or build roads and schools for the villages in their clans. Cadres provide advantages to Party members and/or entrepreneurs from their own clans.
Nuosu entrepreneurs assist their clans in a number of ways: by providing family support during illness, poverty, and debt; helping to pay school fees and other educational expenses, as well as expenses such as dowries; financing ritual festivities such as weddings and funerals, the construction of new houses, the purchase of vehicles and appliances, water and electrical projects, television stations and satellite dishes, schools, reforestation programs, and road construction; providing employment in their companies; and providing start-up capital for new companies.7
Annual financial support or donations to the clan vary between a thousand and tens of thousands of yuan, or even greater than one hundred thousand yuan, depending on the entrepreneur's financial capacity. In total, hundreds of thousands of yuan are spent on community services every year. However, monetary contributions are not the only investment in community solidarity; people constantly try to secure jobs and loans from their kin who are entrepreneurs. In his research in Bali, Clifford Geertz points out that entrepreneurial success "will lead to a higher level of welfare for the organic community as a whole," even when massive obstacles impede the expansion of entrepreneurial activity (Geertz 1963: 123). The obligation to employ clan members can be one such obstacle. Many Nuosu entrepreneurs evade their social obligation to employ clan members by seeking Nuosu personnel from outside their clan and/or the county. One entrepreneur argued, "If I hire workers from elsewhere, I can choose the most able and competent people, but if I hire from within the clan, I have to take on the laziest and most incompetent."8 However, employing and training clan and family members may create a snowball effect, which supports Geertz's concept of increasing overall community welfare. Acquiring technical knowledge prepares able staff members to become self-employed, sometimes with financial support from another entrepreneur.
Financing schools is a particularly significant community service that entrepreneurs may provide for their communities. In counties where entrepreneurs have funded schools, official publicity increases the impact of their achievement, which then stimulates emulation. In Ganluo County, an entrepreneur from the Jjike clan constructed a large clan school, Jjike School, in his native village, which was exclusively populated by members of his lineage. Members of the Jjike clan from other counties traveled there to view the school, which inspired them to construct schools in other areas.
In general, there are two types of donors—those who fund productive activities and those who make donations to meet personal goals or for non-productive, ritual purposes. Productive donations are a form of symbolic capital that can be used to develop social capital. Social recognition is generated within and outside the clan, especially amongst the local political elite. These donors are often designated "model workers" and obtain positions as deputies of the various People's Congresses or People's Consultative Conferences. One of these donors, a successful entrepreneur in the construction industry in Ganluo, distinguished himself by building a school and by financing road construction, reforestation programs, and programs to combat poverty. As a result, he was named deputy director of the county office for water and electricity supply and given a deputy position in the National People's Congress. His success was rewarded commercially as well; he was able to employ four retired cadres who had connections throughout the county and the prefecture as managers and "advisers" in his business. They included a former Ganluo County deputy Party leader, the former county head of finance, a former bank director, and a highly placed engineer from eastern China. This is one example of how symbolic capital can be transformed into social capital and then into economic capital.
The second group of donors gives money, goods, and services not for productive use but to meet their basic needs, overcome everyday problems, or for ritual purposes. Such donations fulfill social obligations, and meeting these obligations generates social capital within the clan or the village. Payments for ritual purposes are especially important in determining a person's position within his or her clan. In addition, spending on rituals can demonstrate a clan's power to outsiders. For example, one entrepreneur told us that he had had 110 cows slaughtered at his mother's funeral, which promoted his prestige within the clan and promoted the clan's prestige externally as well.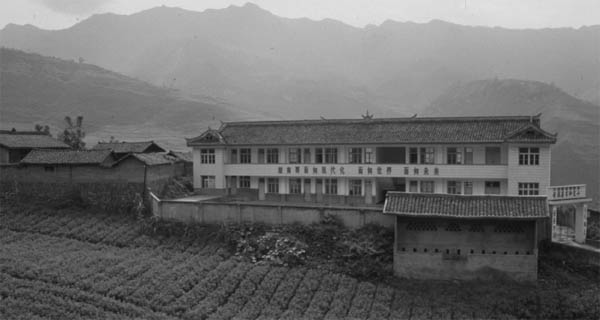 Our interviews showed that funding unproductive activities was generally considered a burden by the entrepreneurs whereas subsidizing community institutions and thereby generating stronger symbolic and social capital was not. County and township governments that lacked the funds to develop infrastructure especially encouraged entrepreneurs to make donations. The local authorities also attempted to promote the perception that entrepreneurs are exemplary actors in local development. However, moral obligations toward the clan still play a meaningful role in the entrepreneurs' lives and many of them perceived this obligation in a positive light. "The money we earn is not just our own," declared one entrepreneur, "it also belongs to the clan as a social community."9 This perception captures the double role of the entrepreneur. On the one hand, the entrepreneur is a member of a kinship network; on the other hand, the entrepreneur has to consider the interests of his or her company and survive in the market. As the company's significance increases in the eyes of the entrepreneur, the clan and the package of traditional values that it represents decrease in importance. This generally has repercussions for the clan and its values.
Emile Durkheim suggests that division of labor is an important step in the development processes. Increasing the division of labor indicates that social structures are changing, and new forms of social solidarity and social order are developing. For Nuosu, the trend is increasingly toward forming social relationships beyond the immediate clan and village communities, which contributes to the intermingling of individuals and groups. One result of this intermingling is the creation of markets, competition among producers, and specialization among suppliers. What Durkheim calls "mechanical solidarity," as marked by a strong collective consciousness, starts to decline as communities become differentiated. Above all, entrepreneurs' newfound mobility and their increased migration into other areas or into cities weaken both social control and the cohesiveness of traditional social organizations. Many entrepreneurs feel that the clan does not play much of a role in their business activities and tends instead to be a burden. Such views illustrate a weakened collective consciousness and a growing process of individualization.
These trends fuel the development of organic solidarity, which is characterized by division of labor based on specialist and individual organizations and institutions (Durkheim 1992: 289). Both money and commercialization play important roles in this process of change. An "expansion of the self" accompanies the possession of money and its consequences include breaking away from traditional social ties and relationships. Though new forms of relationships and ties develop, these are associated less with the clan and more with social structures that transcend clan boundaries. Money creates institutions that go beyond the clan, i.e., larger business or commercial circles with interconnected interests, obligations, and dependencies (see Simmel 1994: 405ff.; Heinemann 1987b: 333–34). Our interviews demonstrate that many Nuosu entrepreneurs perceive the clan as diminishing in its social function. The strength of the clan's social role may depend on the decline or increase in its economic role. Our survey shows that slightly less than a third of the Nuosu entrepreneurs interviewed have business relations within the clan; more than two-thirds (69.1%) do not. This is not remarkable for a society in which market events and entrepreneurship have historically played only a marginal role. In fact, factors that transcend clans are becoming increasingly important for entrepreneurs. In their role as clan members, entrepreneurs face the following dilemma: they are obliged to take care of kin or clan members by providing jobs or material gifts, despite the fact that these people contribute little or nothing to the development of their firms, and this hinders them from operating effectively in the market. In this respect, the ethnic network of the clan is somewhat disadvantageous for entrepreneurs, who must minimize their sense of ethnic solidarity in order to survive financially.
Of the Nuosu entrepreneurs surveyed, 49.4 percent wished to increase their support of their clan; 33.3 percent viewed the clan as a reason for the backwardness of Nuosu entrepreneurs; 28.4 percent said they would support their clan if they had more money; 19.8 percent thought that supporting their clan was not important; 18.5 percent supported their clan through donations; 14.8 percent thought that supporting the clan was important for succeeding in business; and 2.5 percent thought that having relatives in high positions was important for succeeding in business.
For many Nuosu entrepreneurs, the clan plays a decreasing role in their decision making. The majority did not see supporting the clan as a life goal, and only a relatively low percentage expressed a desire to support their clan if they had more money. As many as a third explicitly felt that the burden of supporting the clan is partly responsible for the underdeveloped or "backward" state of Nuosu entrepreneurship. Entrepreneurs express ambivalent opinions about the clan. While many complained about the clan's burdensome nature, others felt that payments made in support of their clans distinguished them in a positive sense from the Han.
However, despite critical voices, Nuosu scholar Mgebbu Lunzy (Ma Erzi) explains the continued importance of the clans,
Although entrepreneurs may argue otherwise, the clan is still significant to every individual. Even if entrepreneurs say they do not employ their own clan members, there will still be clan members in their company administration or in the security departments. Clan members are really the only people who can be trusted.10
The clans as institutions have also come to represent new ideals. An entrepreneur describes the clans' function in promoting equality:
Within the clan one has to reach unity, otherwise nothing works anymore. Money does not play a decisive role; having money contributes only marginally. In the clan, we are all equal, even high-up cadres, because they are also clan members.11
This equality is somewhat of a fiction, if not because of the traditional social stratification of the past, then because of the economically elite status of the entrepreneurial stratum in the present. However, the idea of equality gives clan members the feeling of having an equal right to participate in clan activities. Every clan member has a vote at clan gatherings where difficult questions and problems are resolved through a process of consultation and discussion. Many entrepreneurs term this process "grass-roots democracy," with the interpretation that democracy has always been an important component of Nuosu society.
Another change, which we have not researched extensively, is in female entrepreneurs' roles and positions within their clan. Successful female entrepreneurs have become more self-confident and are increasingly accepted as independent clan personalities.12 A female entrepreneur in Jinyang explained that until 1978, Nuosu women had generally been peasants or housewives. When she embarked on the process of starting her own business in 1994, the clan did not help her; she achieved everything through her own efforts. In her clan's defense, however, she noted it was much too poor to have supported her. A few years later, her clan had become a considerable burden on her; she transferred money, bought clothing, and paid for a number of children's basic needs and school attendance. On the other hand, her entrepreneurial activities had increased her prestige within the clan and people listened to her opinions. Before, she had never even visited Xichang, the prefectural capital. Since becoming an entrepreneur, she had traveled to the two most important cities in Southwest China—Chengdu and Kunming. However, despite such success stories, the prevailing opinion within the clans is that (Nuosu) women should not take part in business activities and that only "bad" women engage in self-employed work or open restaurants. Although traditionally females occasionally became shamans or leading clan figures, women today are still restricted from doing business.
ENTREPRENEURS AS CLAN HEADMEN
Entrepreneurs' positions within their clan improve if they are economically successful. Many larger entrepreneurs have effectively become clan leaders (N: suyy or ssahxo), giving rise to the popular saying, "A good company can make you a headman (Ch: touren)." Out of 81 Nuosu entrepreneurs, 27 admitted that they were popularly accepted as such "leaders"; either their opinions were decisive (Ch: shuo le suan), or they were invited to participate in making important decisions and sought for advice. Becoming a clan touren was not traditionally tied to particular rules about birth, descent, or membership. A touren was (and still is) not an elected person; he was a person whose character (intelligence, courage, wisdom, and trust) and abilities were widely accepted as superior and who automatically grew into the role of a leading figure.13 However, there was also competition in becoming a touren; the candidate had to prove himself well versed and capable at mediation, warfare, handling relationships, including conflicts, with other clans and the local authorities, defense of clan property, and increasing clan wealth. Because increasing the clan's wealth enhanced its influence, in principle, the clan leader was the administrator of the clan's collective property. The more capable a person was in these arenas, the more rapidly he could obtain political leadership, though it was a competitive advantage to be the son of a renowned clan leader or to possess good connections and influence.
Because clan leadership was tied to political competition, not to mythological or religious concepts, the leader's power was traditionally legitimized by collective loyalty based on his demonstrated successful performance. The Nuosu clan leader thus resembled the Melanesian concept of "the big man" described in the introduction.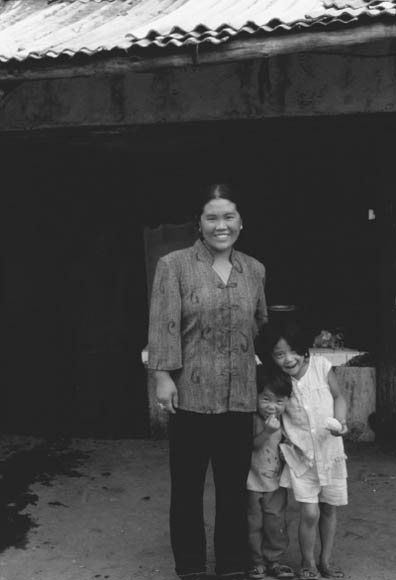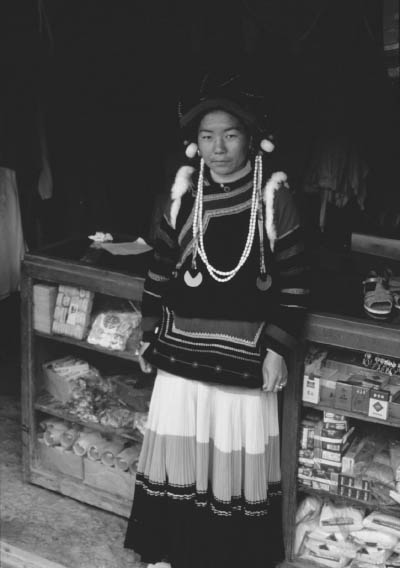 A study of the traditional functions of such clan leaders identifies three important preconditions for their general acceptance: courage and success in clan feuds; the ability to handle and efficiently mediate internal and external clan affairs; and the ability to accumulate wealth. In a sense, there are also three kinds of leadership—money (N: suga), law or mediation (N: ndeggu), and bravery and fighting (N: ssakuo).14 Although the key to all three is the ability to handle civil and military matters well, economic success is not an entirely new criterion for evaluating clan leadership. However, the criteria for leadership today have been altered by social and economic transformations; the primary requirements for leadership now are skills in dealing with internal and external clan business and economic successes that contribute to the clan community's prosperity.
Many entrepreneurs differentiate between a touren, who is the face of the clan for the outside world, and a family manager, who runs the clan almost like a firm and takes care of its economic development. Some clans have begun to resemble companies, instead of companies coming to resemble clans. For example, entrepreneurs with internal leadership functions appear to take on the role of a clan manager rather than that of the traditional touren. This is precisely the situation that entrepreneurs are referring to when they say that they are not the clan leader but they make all the important decisions or are involved in making them.
The requisite for leadership today is for an entrepreneur to enjoy prestige or close connections within the clan. Someone whose father was a clan leader, for instance, or someone who is well rooted in a clan village, as are the rural entrepreneurs in Yanyuan County, would be a likely candidate for a leadership position. At the same time, becoming a clan leader also depends on whether an entrepreneur has contributed to infrastructure improvements in his home village, such as constructing schools, roads, water pipes, electricity channels, and clinics, or by instituting reforestation programs. Almost all Nuosu entrepreneurs who exercise clan leadership functions have made appropriate donations of goods. Another high-prestige activity appears to be to directly assist in reducing poverty. Entrepreneurs contribute to this effort by creating jobs and offering vocational training.
NON-KIN RELATIONS
Entrepreneurs build many different sets of relationships outside their clan or lineage. Business cooperation transcends clan boundaries and entrepreneurs often maintain relationships with people they know from past activities or jobs (as cadres, workers, etc.). Connections with friends and with people with whom they have shared experiences ("tong relationships") are especially important and will be explained in more detail in the following section. Even if the clan continues to be dominant in the social sphere, many entrepreneurs argue that friends and other people with whom they have non-kinship relationships now play important roles in accessing credit or business support. Some even complain that, in addition to the burden of supporting clan members, friends have become another burden. Others emphasize their village community's growing role in building social relationships insofar as these communities are not identical to the clan or lineage.
The role of clan-transcending networks is increasing, as is the role of "tong relationships." Commonalities (Ch: tong), represent shared experiences, which are the most important basis for social relationships (Ch: guanxi). Belonging to the same ethnic community is a central factor in social and tong relationships, but the tongban (classmate), tongbao (regional compatriot), tonghang (colleagues in a specialized field), tongshi (work colleague), tongxiang (from the same village or township), tongxue (schoolmate), etc., are also special relationships.
A private entrepreneur's networks include not only those with whom he has close relationships but also those who hold important positions, for example, as a manager or a cadre, and who can be of use to him. At the same time, tong relationships are not based purely on economic advantage but also on friendship and trust. Mutual assistance and support are understood as investments in the future and do not require direct service in exchange. The reciprocal obligation may become due at a later date, but may also never be realized.
For companies in urban areas, including county towns, relationships with classmates and former colleagues play a more significant role than for rural firms, where familial or village relationships carry more weight. Relationships between cadres who shared experiences in the same local Party organizations or Party schools are also very important. Whereas clan and kin relationships are born out of traditional Nuosu social structures, tong relationships emerge from Chinese institutional structures. The two relationship types blend in interesting ways in today's society, not just among entrepreneurs but also among cadres and intellectuals.
The increase in non-kin relationships establishes an imperative for consolidating a common, shared Nuosu identity as members of an ethnic group, not merely kin groups. A shared identity based on ethnic lines rather than clan lines is indeed in the process of growing, because social and economic changes and migration are weakening the clans' social grip on individuals. At the same time, a gradual process of economization is taking place within the clans. Clan socioeconomic functions continue to grow as families and clan members contribute capital and labor. Entrepreneurs aid in this process as well as in the process of forming clan-transcending bonds of solidarity, as mentioned above. Because the entrepreneurs see themselves as both clan members and as members of an (imagined) Nuosu entrepreneurial community, the ethnic group becomes a social space in which they expect solidarity, and ethnic solidarity among entrepreneurs reinforces ethnic identity. The new ethnic self-confidence has an impact on inter-ethnic relationships, as do easier access to cash, the acquisition of many new consumer goods, and the development of new skills and knowledge. Ethnic solidarity is forming in other areas of life as well and, in some cases, it extends beyond the Liangshan Yi (Nuosu) to other Yi groups from Yunnan or Guizhou.
INDIVIDUALIZATION
At the same time that ethnic solidarity is growing, a process of individualization is also emerging. Individualization is a crucial component of modernization processes and a significant element of social change. We found notable expressions of growing individualization.
Of the 78 Nuosu entrepreneurs in our survey, 86.4 percent emphasized a good future for their children as an important life goal; 85.2 percent thought commercial success depended on their own abilities; 77.8 percent gave high priority to having a happy family, 48.2 percent prioritized higher social prestige, 43.2 percent prioritized individual happiness; 20 percent considered an interest in self-employment to be the primary motivation for founding their company; and 19.7 percent declared that they individually would alter unfavorable decisions of local authorities.
Our interviews demonstrate that the entrepreneurs increasingly emphasize the well being of their own companies and their nuclear families. Entrepreneurship inherently requires a more individualistic outlook, implying a decreased focus on larger social frameworks such as clans, even if entrepreneurs have not been able to withdraw from their traditional social obligations. As table 4.8 shows, more than 40 percent of the Nuosu and almost 40 percent of the Han believed that individual happiness was an important goal in life. Only 14–15 percent (both Nuosu and Han) stated that it was not important to them. This is also a significant indication of growing individualism.
Of course, young people are generally more individualistic. A young Nuosu entrepreneur in his twenties declared,
I only believe in myself. I don't care about the "three representations" [Ch: sange daibiao] or anything like that! I need personal freedom—that's something I learned going to a private middle school in Chengdu. I believe the best way to get this is by becoming an entrepreneur.15
Young entrepreneurs with a high level of education and hence a stronger sense of alienation from Liangshan society (in the above case, through schooling outside Liangshan) show a higher degree of individualism. Although this scenario is not widespread in rural areas, it is increasing among young Nuosu, including young entrepreneurs, in Xichang and outside Liangshan.
ENTREPRENEURS AS AGENTS OF SOCIAL CHANGE
Although strong traditional ties (clan, kinship) retain their pivotal significance for entrepreneurs, a gradual shift toward strong post-traditional ties, such as tong relationships, is taking place in all the counties. This gradual change in (social) resources intensifies social and personal insecurities and generates deviant behavior in disoriented young people. However, social problems appear to be less serious where clan communities and traditions remain dominant, for instance, in Meigu, compared to counties where the sense of community has been weakened. In Meigu, the development of the private sector has been more successful than in many other counties and yet, interestingly, socioeconomic changes there do not seem to have weakened the clans.
Political or social uncertainty and unpredictability increase the economic functions of companies that employ an entrepreneur's clan members, or clan companies. So long as particular services are not publicly available (for instance, access to credit), kinship, guanxi, and networks serve as resources. Clan communities attempt to counteract the gradual erosion of their importance, as described above, through new organizational forms. In addition, the state, which struggled against the clans for many years, has discovered the clan's role as an instrument of social order and stability.
Without a doubt, the thinking of many Nuosu entrepreneurs is still rooted in a moral economy. Nuosu economic behavior is tied to non-economic relationships and concepts of social morality; market logic is not the decisive factor in entrepreneurial matters. Some even criticize the market economy for causing social norms to slacken. The transition from a moral economy to a market economy creates an ambiguous situation: social interaction and prestige are less and less determined by local morality, and goods and relationships become increasingly commercialized. Entrepreneurs are eventually forced to behave in rational ways dictated by the market if they want to survive, which is the trader's dilemma. Some of the entrepreneurs have recognized this dilemma, as shown by their desire to not employ clan members in their companies and their preference for helping clan members by providing money, donations, and material support.
Concurrently, the market creates new and separate value systems based on economic equality in the market, where the buyer and the seller meet on equal terms. These values are not based on the subordination of the individual to the group (clan) or on hierarchies on the basis of age and gender, though such non-economic characteristics can still be applied within religious communities, parties, and interest groups.
Entrepreneurs have increasingly become the pacemakers of progress. They not only reflect market conditions and technical progress but also develop significant prestige within their respective clans or ethnic communities. By not abandoning important elements of Nuosu culture, they promote the maintenance of culture and cultural renewal. However, processes of industrialization are separating economic activities from traditional family activities, and workplaces are becoming increasingly impersonal. At the same time, clan-transcending frameworks in business and everyday life are causing both entrepreneurs and their employees to think in terms of clan-transcending categories rather than clan structures. These frameworks facilitate the transition from a clan identity to an ethnic identity.