8
Entrepreneurs and Ethnic Identity

Nuosu entrepreneurs' discourse on questions of status and identity very often echo the arguments advanced by Yi researchers, whose work is well known in Liangshan. Entrepreneurs, a new economic and social elite, are helping shape a new Nuosu collective consciousness.
In addition to the obvious identity markers of time (Nuosu history) and space (Liangshan as "home"), economic success contributes to identity formation as well. Ethnic identity, which arises from proximity in a shared social space, is a collective process. The identity formation effect of entrepreneurship thus can take place only in interaction with other status groups. In this milieu, entrepreneurs are both carriers of ethnic symbols and agents of modernization who actively shape identity.
IDENTITY
Several different senses of the concept "identity" are relevant to the Nuosu situation: identity as a collective pattern, as proximity in a shared social space, as a warm loyalty or "us" feeling, and as a process.
In very general terms, identity refers to the ego-identity as a part of the collective identity. The individual identifies himself or herself with collective players based on imagined commonalities. These players—to use a modern term— can also be collectively understood as a cultural network. Through this identification, an individual finds his or her own identity as well as a pattern of orientation. This pattern molds a person's thinking and behavior, as well as his or her images of others and of the self. Ethnic identity refers "to the individual level of identification with a culturally defined collectivity" (Hutchinson and Smith 1996: 5).
However, identity is not simply a cognitive process, nor is it merely an invented or imagined process. It requires specific preconditions beyond cognition, in order for cognitive identifications to come into being at all. Ethnic identity is characterized by proximity to others within a shared social space. Blood (kin), territory, history, or myths, along with shared language, religion, and customs, form such nearness within a social space among the Liangshan Yi. Although these factors may appear to be constructs, in the consciousness of those concerned, they still represent commonalities by which one group discerns itself from another. The core factors of identity are the question of the differences from others, the continuity of these differences, feelings of self-appreciation as an ethnic community, and a common territory representing the body of this community. Stuart Hall, a cultural theoretician, stated that cultural identities are unstable points of identification or links that are formed within the discourse on history and culture. It is not a "being" but a "positioning" (Hall 1994: 30).
The concept of "circles of loyalty" is also helpful to our discussion of ethnic identity. Such circles consist of people with common belief and affiliation systems. Rosenberg differentiates between "warm" and "cold" loyalties. "Warm loyalty" refers to emotional relationships experienced as "natural," such as family, kinship, clan, or ethnic group relations. "Cold loyalties" are rational-artificial relationships with external organizations, such as parties, clubs and associations, and state institutions. Warm circles create closeness within a social or ethnic space in which the warmth or nearness is characterized by a proximity in behavior, historical memory, symbolism, and symbolic codes or languages (Rosenberg 2000). The shared language of the Nuosu is the primary vehicle for communicating the warmth, the loyalty, and the "us" feeling. As previously discussed, a group's distinction from "others," the "them" group (in this case, Han), is a central part of individual and collective identities in that group. Within this paradigm, identity formation is a kind of "warming up" of identity factors that were previously cold. If people experience a warm feeling for the "Yi nationality" or for China, the project of ethnicity building or nation building has succeeded profoundly.
New approaches to the study of identity are based on the idea of identity as a process, not as a static concept. Identities adapt to social changes and "learning" takes place during rapid processes of change. Reflections on a people's history, traditions, and future form new identities. Dittrich and Radtke argue that "identity consists in the ability to master continually new situations" (1990: 30). To put it concisely, an identity means that someone must identify with a group. The group is not only a perceived collective, it is also characterized by certain commonalities that generate a strong "us" feeling (warm loyalty). In applying such general identity concepts to Nuosu entrepreneurs, we find four important factors that affect the creation of identity among them. These include time and space as markers of an ethnic identity, economic success as part of a growing individual and ethnic self-consciousness, the dual role of entrepreneurs as carriers of ethnic symbols and as agents of modernization, and food and alcohol as identity generating markers.
TIME AND SPACE AS ETHNIC MARKERS
Time (Nuosu history) and space (Liangshan) are important markers of identity for Nuosu. In the following section, we will discuss the changing historical discourse among Yi scholars and the corresponding process among Nuosu entrepreneurs. We will also examine the concept of Liangshan as homeland and its role as a stimulus for entrepreneurs' efforts to develop their native areas.
The reconstruction of the Nuosu ethnic identity by Yi scholars and Nuosu entrepreneurs is an attempt to create a collective identity by combining historical, territorial, language, and ethnic factors and/or symbols (Eisenstadt 1996: 21). History (time) marks societies, their cognitive road maps, and their identities. Kolakowski correctly emphasizes that a historical memory is a precondition for national identity (1995: 53). Undoubtedly, historical events and processes can be constructed in retrospect and instrumentalized. In the 1950s, the Communist Party classified the Nuosu social structure as a "slave-owner society." By this act, Nuosu society was attributed with being historically backward and primitive in comparison to the Han, who had supposedly reached the higher stage of "feudalism." Classification as a slave-owner society has been institutionalized and is represented symbolically, for example, in the name "Nuosu Slave-owning Society Museum" in Xichang. This classification has also been part of educational socialization since the 1950s and many Nuosu, including entrepreneurs, have internalized it. In schools, students learn that their ethnic group is economically and culturally backward and inferior to Han culture (see Harrell and Bamo 1998). This is reflected, for instance, in a statement made by a leading county official during a welcoming speech given by the Butuo County leadership. He noted, "the traces of a slave-owning society are still relatively strong here [in Butuo]."1 This is a symbolic expression of the attitude, "We are poor and backward here, and the customs of the local Nuosu are still very traditional."
Li and Harrell argue that the Nuosu describe their past in genealogical terms and less in terms of historical events. The Yi neither initiated nor controlled the study of "Yi history" as an area of knowledge (Li and Harrell 2001). This began to change in the 1980s, when Yi scholars started to question the cultural classifications developed by the Han; for instance, Wu Ga states, "the Chinese narrative of the Yi history and Yi ethnicity is a sinocentric view of history" (Wu Ga 1998: 46). The scholars have also put forward their own interpretations and theses; during times of social pluralization and political liberalization, people begin to question the construction of a national culture by those in power.
Numerous Yi scholars have assessed Yi history and culture from a completely new vantage point and have gained new insights. For example, it has been argued that the Yi were the earliest descendants of the Yuanmou people, whose fossils are the oldest to be found in Asia. The Yi would thus not only be the ancestors of the Han but also the oldest of "yellow race," including the Japanese, and they would be the ancestors of the Native Americans. Symbols found on 10,000-year-old ceramics excavated in northern Yunnan have been linked to the Yi script, which Yi scholars have also connected with the Banpo script, found on ceramics produced by an 8,000-year-old Neolithic culture and excavated in northwest China. The finds of the "Sanxingdui culture" in 1986, near Guanghan in Sichuan Province, date back to between 2,000 and 3,000 BCE and have also been associated with the Yi. Thus, Yi scholars argue that in addition to the assumed single center of old Chinese culture, there was another original cultural center that was the Yi. This conclusion has led to additional claims: the legendary emperors of the Xia, Zhou, and Qin dynasties were Yi ancestors; Taoism was created by the Yi; Laozi, the name of the founder of Taoist philosophy, is a Yi name and means "born in the year of the tiger," and so forth.2
It is not our intent, however, to evaluate the arguments of this discourse in a historical context. "History," argues Georg Elwert, "can at the same time be both false and productive. It is false or flawed as a historical report, but it is innovative as a model projected onto the past of what societal relationships should be" (2002: 33). In this vein, our interest lies in the conclusions that Yi scholars reach and in the arguments they use to make the following points. First, that the Yi were the ancestors of the "yellow race," including the Chinese, the Japanese, and Native Americans,3 and, secondly, that the Yi script, which is approximately 10,000 years old, is the oldest script in the world. The argument follows that it is, therefore, also the progenitor of the Chinese script as well as of the scripts found in Mesopotamia, Egypt, India, and in the ancient Mediterranean.4
Yi scholars challenge the Han historical worldview by valuing their history and culture above Han history and culture. This is in significant contrast to the Han historical interpretation, which claims that the Han brought history and culture to other peoples, who were always socially and politically inferior to them. For example, in a book published in 2000 based on the work of the Yi scholar Liu Yaohan, Fu Shouzong argues that historical research has established that the cultures of the Yangzi River watershed, especially in Liangshan and other Yi areas in Yunnan, were considerably older than those of the Yellow River, where Chinese culture is commonly thought to have originated. Thus, he concludes, "the Yi lands are one of the cradles of Chinese culture and civilization" (Fu 2000: 6). According to these Yi authors, the Han descended from the Yi, and not vice versa. By challenging the claims of Chinese history per se, such writings fundamentally question the classification of the Yi as a historically backward "slave-owner society." Moreover, according to Li and Harrell, such interpretations of Yi history also extend a positive value to China and Chinese culture:
Using the antiquity of Yi writing as a kind of Chinese writing, connected at least in its origins with Han writing, [helps] rescue China from the national shame of having invented writing later than certain other ancient civilizations (Li and Harrell 2001: 13).
In this way, the new historical identity of the Yi takes shape and claims uniqueness for itself. This identity is further expressed through scripts. A Yi poet noted that Guo Moruo (1892–1978), the greatest Chinese scholar of ancient scripts, was unable to decode the symbols on the Banpo ceramics, whereas a Yi bimo was able to recognize 54 of the 56 symbols (Harrell and Li 2003: 378). This reinforces the argument that Yi culture, not Han culture, is the oldest and has had the longest uninterrupted existence in the recorded history of the world. Anthony Smith uses the term "continuous perennialism" to refer to the claim that an ethnic group has continuously maintained its national identity for millennia. Such a claim is part of a constructed collective memory or, to use Eric Hobsbawm's term, an invented tradition that refers to history and historical events and is part of the collective identity (Smith 1999: 5). Not only entrepreneurs but also cadres, artists, and other members of the intellectual elite frequently refer to the historical elements mentioned above and unquestioningly declare them to be the objective truth. This is certainly a reaction to Han historical arguments and positions. Many Yi feel that Han arguments paint an incorrect picture of reality and are based on historical injustices and past acts of violence perpetrated by the Han.
We have given a few though rather detailed examples to demonstrate the reach of historical discourse in re-evaluating Yi history and reshaping Yi identity. This discourse manifests itself in the historical view held by Nuosu entrepreneurs who promote the same arguments, challenge the concept of the Nuosu as a slave-owner society, and reject the view that theirs was a cruel and exploitative society prior to the 1950s. They show pride in their ancient history, their script, and in bimo culture, which are for them clear signs of their superiority over the Han and Han culture. Statements made by Nuosu entrepreneurs during our interviews showed that this historical perspective has already been incorporated into local knowledge and is accepted as the truth.
However, some entrepreneurs have thoughts about history that go even further. They claim that their traditional culture was destroyed during the Democratic Reform in the mid-1950s and the Nuosu were brutally persecuted. They argue that, historically, Yunnan Province was actually Yi country. In the 1950s, because the Communist Party was afraid of the Yi, it separated them into various ethnic groups, working on the principle of "divide and conquer." Another entrepreneur pointed out that the Yi had possessed a large independent territory during the rule of the Yuan Dynasty (1271–1368); this area was reduced during the reign of the Ming Dynasty (1368–1644), leading to an uprising among the Yi in which 30,000 Yi were killed. At that time, many Yi fled into Liangshan. During the era of the Qing Dynasty (1644–1911), the Yi gained a greater degree of autonomy, which was preserved throughout the Nationalist regime; the Communists eliminated this autonomy.
During our interviews, entrepreneurs also referred to contemporary issues. Their ideas were stated in such a way as to create ethnic boundaries and can be understood as expressions of ethnicity. Although they are individual and not group statements, viewing them together reveals a common theme running through them.
We Yi formerly had our own empire, the Nanzhao Empire. The bearers of this state were the Yi, not, as some historians falsely assume, the Bai. Only through violence was it possible to integrate us into China. (Entrepreneur from Ganluo)5
Traditionally, we did not have a slave-owner society. Up until 1956 we had a "production responsibility system" (Ch: shengchan zerenzhi).6 Before the "Democratic Reform" [1956–1957] there was no poverty here; every family owned cattle and had enough to eat. That changed after the reforms. Our health care system was also much better than it is today. (Entrepreneur from Mianning)
The Han chopped down our trees [during the Great Leap Forward], and nowadays they accuse us of destroying the environment. The facts show who the real destroyers are. (Entrepreneur from Zhaojue)
Fifty percent of what the Han write about the Yi is complete nonsense. (Entrepreneur from Xichang)
It is true that opium was grown here, but it was only intended for sale to the Han. For the Yi, the use of opium was taboo. (Entrepreneur from Yanyuan)
In the middle of the city [Xichang] there is a large memorial in memory of the supposed blood-brotherhood between Marshall Liu Bocheng [of the Red Army during the Long March] and a leading Nuosu figure. [The blood brotherhood gave Liu permission to move unchecked through Yi areas.] In reality, Liu Bocheng paid the Yi protection money (Ch: baohufei) so that we would leave the Red Army in peace. That is a fact but nobody dares to say it openly. (Entrepreneur from Puge)
Historically, the Yi have never been ruled by anyone apart from the Communist Party. Just to be honest for once—we would be more developed by now if the Democratic Reforms hadn't happened. (Entrepreneur from Meigu)
Earlier, we did not want to have anything to do with the Han, and we avoided places where there were many of them. We believed they would bring us illnesses. (Entrepreneur from Butuo)
We are not concerned about whether these example statements represent the truth. They are used simply to illustrate several widespread sentiments among the Nuosu: that they have their own glorious history, which has been falsely interpreted and assessed by the Han; that the relatively harmonious social and economic order of the Yi was permanently disturbed by their integration into the socialist project; and that if they had had the opportunity, they would have developed better and more quickly by themselves.
Entrepreneurs' positive historical self-image and negative evaluation of other social groups promotes their own ethnic identity and self-confidence. However, this evaluation also helps them to come to terms with their devaluation through official historiography as well as to handle the injustices they have experienced since the 1950s. Entrepreneurs old enough to have experienced traditional Yi life noticeably idealize this society. The Yi have also experienced a loss of independence, especially by the defeat of the armed rebellion in the 1950s and the massive repression that followed, as well as by the liquidation of the upper class. They have therefore adopted a very resigned attitude and their thoughts have turned inwards. Entrepreneurs between the ages of 35 and 55 years are ambivalent about their role. On the one hand, they possess a strong bond with their own ethnic group; on the other hand, they have been massively exposed to Han culture and the political campaigns of the Mao era, which ripped Nuosu culture apart— discriminated against it, demonized it as backward, and destroyed it.
Entrepreneurship in a modern sense cannot non-exist in a slave-owner society; the emergence of Nuosu entrepreneurship could therefore be seen as an indicator that the "backwardness" of Nuosu society has finally ended. The entrepreneurs, as agents of modernity, are the avant-garde of the Nuosu and thus enjoy equality with the Han. One entrepreneur explained:
The slave-society is a symbol of backwardness, and under conditions of backwardness, we Yi people did not develop the institution of entrepreneurship. Times have changed now. We already have a considerable number of Yi entrepreneurs and Yi officials. Why shouldn't we be able to modernize ourselves through the efforts of our own talented people?7
This sentiment is not only an indicator of processes of change, but also of an economic elite with a growing self-consciousness that contributes to reevaluating history and thus to altering Nuosu identity.
In addition to history (time), territory (space) is a concrete reference point for the Nuosu identity. What the Chinese term "Liangshan" (Cool Mountains), is for the Yi "Nuosu Muddi"—the Land of the Nuosu. They have settled this area for over a thousand years. A large proportion of the Yi in Yunnan and Guizhou see this region as the homeland of their forefathers and of all Yi (Harrell 2000b: 3ff.). Nuosu Muddi is therefore a "personal place," i.e., a territory that possesses a particular sense of closeness or unity for the Nuosu, to which they are drawn, and which they regard as their ethnic territory and cultural center. The beauty of the natural landscape and their feelings associated with the homeland are expressed in literature and songs, and also reflected in everyday symbolism. Mountain and animal symbols suffuse Yi religious imagery as well as patterns in traditional clothing and everyday commodities, such as dishes and bowls. Harrell fittingly termed these images "mountain patterns" (2000b).
For the majority of the entrepreneurs, the close relationship to the homeland is a driving force behind their modernizing endeavors. The "development and modernization" of Liangshan is an important part of their justification for increasing their entrepreneurial impact and giving "development aid" to their native villages in the form of infrastructure, education, and social benefits. An entrepreneur in Meigu stated:
Of course, I am not able to develop the entire area of Liangshan, so I will contribute to my village first. I have funded the construction of the roads leading through my village, and I also intend to build a primary school here. It is not only the clan that counts, but also the village. If someone needs bricks for a new house in our village, I will provide them free of cost. If someone needs money to start a new business, I will support him economically. I want not only to develop my own business but to develop this village as well.8
A large entrepreneur in Yanyuan indicated a similar motivation for improving his native place:
Without a doubt, I am the most important entrepreneur in this county. I have provided employment to Yi and to Han; I have contributed to local development by constructing roads, bridges, and schools and by providing electricity, medical care and running water. Thus, I have contributed to the prosperity of this formerly extremely poor area. Consequently, the relationship between the nationalities [Nuosu and Han] has improved a lot. The Yi used to steal from the Han and vice versa. Their relationship has changed, because I have arranged for both to prosper now. . . . Why did I return to this poor area even though my business was very successful in Xichang? I felt that we Yi are looked down upon and discriminated against by the Han. People who are poor are perceived as lazy. Others believe that we Yi are heavily involved in crime and are drug addicts. We can only change this image by striving to develop Liangshan and by generating new economic, social and political prestige and standing. I am determined to contribute to such a change!9
Comments like these indicate that Nuosu Muddi as a personal and ethnic place is also a source of pride and a space of safety. The entrepreneurs know their way around Liangshan, and they are bound to various ethnic and social networks there. They view themselves as having a certain responsibility for Liangshan's development, which they trace back to ethnic components. Interview respondents identified a range of "invented" commonalities and circles of loyalty, which the majority applied to themselves in their role as ethnic entrepreneurs, not as individuals. Nuosu entrepreneurs see themselves as daring, socially responsible people who possess socially shared knowledge and who contribute to the development of their local and ethnic environments. They want to ensure the long-term existence of the Nuosu ethnic community by pioneering economic development and raising the educational standard in Liangshan.
ECONOMIC SUCCESS AND ETHNIC SELF-CONFIDENCE
Economic strength is an important prerequisite for increasing political autonomy. Because Liangshan Prefecture depends heavily on state subsidies, it can hardly become entirely self-sufficient. The subsidies give the state control over the development projects that it finances. Furthermore, a greater degree of autonomy presupposes that emerging social groups will have acquired sufficient power to negotiate with the state over social concerns. Intellectuals and entrepreneurs represent such strategic social groups.
The success of economic development processes is tied to ethnic competition and control of economic resources. The definition of ethnic identity through competition or as a process of confrontation is, therefore, an important economic consideration. Paul Brass has characterized the formation of ethnic identity as a process of threefold confrontation: a confrontation within the ethnic group for the control of material and symbolic resources; a confrontation between ethnic groups in the form of competition for rights, privileges, and resources; and a confrontation between the state and the groups that control it and local population groups on their territory (Brass 1985: 1).
In our study, the first process can be identified in the confrontation between Nuosu entrepreneurs and Nuosu cadres; the entrepreneurial stratum has begun to control both material and symbolic resources of the Nuosu, thus challenging traditional control by Nuosu cadres. The entrepreneurs' self-confidence in their new status as a strategic group is growing, and it is reflected in their role in society and in the economy. They show pride both in their entrepreneurship and in belonging to the stratum of entrepreneurs that has contributed so much to the development of "their" local communities. Such pride also promotes a consciousness of their own abilities and of the possibilities for success as an ethnic group. "We Yi have proven that we can become successful entrepreneurs—more successful than the Han," said one Yi entrepreneur.10
The second process of ethnic confrontation that Brass discusses is even more evident in Liangshan than the first. Ethnic resentment and segregation result from market competition. Past economic disadvantages of the Nuosu have caused the percentage of self-employed Nuosu to be markedly lower than the percentage of Nuosu within the population. There is a cultural division of labor, as we have seen—Han are employed in higher paying, more technical positions, and Nuosu have the more menial jobs. Some entrepreneurs make use of ethnic resources by working in close cooperation with Nuosu cadres in an attempt to counteract discrimination. Han entrepreneurs thus feel more strongly disadvantaged and discriminated against by local government officials, and resentful toward Nuosu entrepreneurs.
The third form of confrontation—that between the state and local population groups—is more complex to trace, insofar as the Nuosu are up against a state institution that controls not only Liangshan Prefecture but also the entire country. Confrontations are sparked both by questions of autonomy and by development politics. However, as far as development politics are concerned, nowadays, the "state" no longer moves development forward— entrepreneurs have taken the lead in realizing the development potential of the individual counties.
ENTREPRENEURS AS CARRIERS OF ETHNIC SYMBOLS AND AS AGENTS OF MODERNIZATION
Ernst Cassirer declared that people's understanding of the world and of the self consists of symbols; forming symbols and understanding them was for him the hallmark of being human (Cassirer 1994). Ethnic symbols bear ethnic messages, which serve an important function in creating ethnic identities—ethnic symbols thus may be said to form the key aspect of ethnicity. For Nuosu, ethnic dress, traditional wooden drinking vessels, wooden bowls, the traditional ethnic dish tuotuorou (lumps of boiled meat), drinking and love songs, local cigarettes and alcoholic beverages, the bimo as an ethnic institution, and traditional architecture are all important symbols. Primary schools founded by entrepreneurs and focusing on teaching the Nuosu language and script also serve symbolic functions, representing ethnicity as expressed through collective transactions.
Every entrepreneur we interviewed wished to document his or her ethnic identity by putting on traditional clothing for the photographs, serving tuotuorou, and using wooden plates and spoons decorated with traditional patterns and symbols. These objects are found in every entrepreneur's household and function both as everyday commodities and as symbolic objects, in that they symbolize the difference between Han and Nuosu everyday life and demonstrate that the entrepreneur belongs to the Nuosu ethnic group. These objects therefore carry cultural codes for social identity and collective memory. Moreover, as this symbolism encompasses all clans and represents all Nuosu, the entrepreneur, as an imagined agent of modernity, carries on the symbolism of collective tradition as well.
Symbolic buildings and the decoration of personal space represent a person's status and identity as well. Larger entrepreneurs such as Ahou Muye from Meigu County, Jize Ji Amu from Yanyuan, and Jjike Jiajia from Ganluo have built new houses in traditional Nuosu style, with traditional interior furnishings—furniture bearing traditional symbolism, collected bimo texts, amulets, and fetishes. Jize Ji Amu lives in a large house built in the traditional style of tusi living quarters, with spartanly furnished interiors.11 "I have furnished the interior area very meagerly so the local officials will not become envious," he explained. However, the indoor fireplace in Jize's house was made of high-quality stone from Leibo County, and spirits were served in silver Tibetan bowls from neighboring Muli County. His company's administrative building, several different department buildings, and buildings in the company's forested recreation area were all constructed in the traditional style. Items on company information boards were all written in Nuosu script, and only a few were also written in Chinese.
A Nuosu entrepreneur in Meigu County who manufactured traditional commodities from wood and leather echoed the opinions of many Nuosu when he stressed the superiority of his goods to Han-made products. His materials, including wood, leather, and natural paints, were organic and environmentally friendly, and thus his products were "green wares." He argued that since Nuosu everyday commodities were made of wood, they were less fragile and longer lasting in contrast to Han pottery.
Most restaurants in county towns are Han restaurants with Chinese food. A small number of restaurants offer Nuosu specialties and provide traditional Nuosu utensils for eating and drinking as well. Although nowadays ceramic crockery, glasses, and chopsticks are used in everyday life, guests who eat in entrepreneurs' homes are served in traditional Nuosu utensils: black, red, and yellow painted wooden cups instead of glasses, spoons with long stems instead of chopsticks, and wooden bowls instead of ceramic plates. Hosts explain with pride that this is Nuosu custom and a tradition. In spite of, or perhaps because of, the dominant use of Han-style commodities in everyday life, the use of Nuosu utensils for guests exudes a certain air of solemnity.12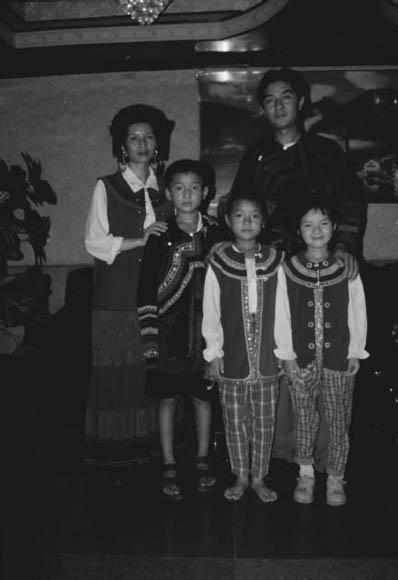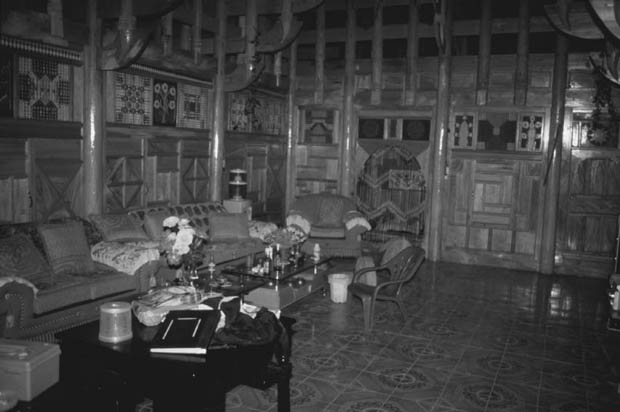 As ethnic reference figures, both carriers of modernity and preservers of traditions, entrepreneurs define themselves through ideas of shared Nuosu ancestry, history, and culture. They share the perception of a commonly experienced cultural threat to their people and feel that their cultural lifestyle should be preserved. Entrepreneurs further define themselves through their shared language and script, as well as by declaring the bimo carriers of cultural, social, and symbolic capital, religious traditions, and traditions of cult and knowledge.
However, only a minority of the entrepreneurs, mainly the larger ones, believe that they are carriers and protectors of important traditional cultural elements. For many, the necessity of surviving in the market, their low educational level, and the pursuit of individual self-interests overwhelm such idealism. Overall, a somewhat pessimistic attitude prevails in reference to the backwardness of Nuosu economic development, the loss of language amongst the more educated and the young people, as well as in reference to Han political and cultural dominance.
Political socialization, especially among members of the CCP, and educational socialization in schools have created an internalized, crushed historical self-image and divided ethnic consciousness. Meanwhile, the use of the Nuosu language and script is also declining. Particularly in urban areas, Nuosu is becoming a private language and is only used for political propaganda or in literature and poetry. This is true to a much greater degree for local officials and Party members than for other Nuosu. At home, many families only speak standard Chinese, which of course is also the lingua franca of everyday, urban, public life. The children of the larger entrepreneurs, of the educated, and of the officials have switched to speaking mostly Chinese. Especially in Nuosu families in Xichang and in urban areas outside Liangshan, young people's use of the Nuosu language is decreasing dramatically. More and more of the entrepreneurs' children are being educated in elite schools in Xichang or being sent to schools outside the prefecture, where they only speak and learn standard Chinese. Consequently, one entrepreneur's view that the Nuosu and their "culture" have a gloomy future is certainly close to reality.
Up to this point, we have been referring to Nuosu entrepreneurs as agents of modernity. This is an ambiguous term. Modernity in the form of local development and social change is accompanied by modernity in the form of a threat to local customs, language, and culture. The entrepreneurs' "modernization" is manifested in a change in lifestyle and this new lifestyle has a tremendous impact on young people. Entrepreneurs set social and symbolic (ethnic) standards through the example of their prosperity, consumer behavior, habits, and lifestyles. For example, large entrepreneurs often drive more expensive cars than leading local officials. The local population evaluates expensive cars as a measure of an entrepreneur's success. For example, one Nuosu entrepreneur in Yanyuan bought a Chrysler Jeep from the United States despite the immense import tax. There are, however, strong local variations in consumer behavior. Not every entrepreneur pursues an extravagant lifestyle. Ostentatious consumption also varies between urban and rural areas and between larger and smaller entrepreneurs. In counties where entrepreneurs have higher incomes and more elegant lifestyles (such as Xichang, Ganluo, and Mianning), luxury is put on display (though only in Xichang, Chengdu, Kunming, or other cities outside Liangshan, not in the entrepreneurs' home counties). A growing number of Nuosu entrepreneurs have also been sending their children to expensive private schools outside Liangshan.
Large TV sets, refrigerators, washing machines, video recorders, stereo systems, air-conditioners, cars, video cameras, the newest mobile phones, comfortable apartments, and luxurious residential interiors (with modern Western furniture) are all important status symbols and, at the very least, signs of modest prosperity. Many large entrepreneurs own at least one house and often additional property. Because private entrepreneurs earn significantly above the average income, their expenditures are correspondingly high, reflecting their unmistakably higher standard of living.
Lifestyles, or patterns of behavior and tastes, also serve as significant social markers. Some lifestyles include what sociologists term "conspicuous consumption." Such lifestyles generate symbolic differences and form a "proper language" (Bourdieu 1998: 23, 24). They symbolize membership in a particular stratum or group and mark a boundary vis-à-vis others who do not belong to the group. The entrepreneurs display their lifestyles as an icon of their entrepreneurial achievements. Owning a house or an apartment and certain brands or styles of cars, such as limousines; consuming expensive brands of alcohol and cigarettes; installing expensive electronic consumer goods; regularly patronizing expensive restaurants and karaoke bars; as well as sometimes having attractive young girlfriends are recognized lifestyle components that identify an individual as a member of the new (ethnic) entrepreneurial stratum. This is true for both Nuosu and Han entrepreneurs. However, there is also a specific lifestyle among Nuosu entrepreneurs that includes building houses in the traditional Nuosu style, and symbolically collecting silverware, historic relics, or, in some cases, old and rare cultural objects.
Conspicuous consumption also shapes lifestyle in other ways. Eating together in expensive restaurants promotes the formation of entrepreneur networks and group consciousness among entrepreneurs who can regularly afford such luxuries. Gastro-politics are a way of building business relationships with officials and other important contact persons. They belong to a way of life for entrepreneurs who spend a considerable portion of their profits on hospitality. At the same time, however, gastro-politics contain and convey ideas about what it means to be a "guest," about group behavior, and about classifying the status of the entrepreneurs. This process forms values and a "social language" (Chang 1977: 248–49). Particularly in urban areas, brand awareness or going to certain recognized restaurants and amusement establishments serves less as a symbolic display of wealth and more as behavior that documents business success, self-confidence in status, and upward social mobility.
This style of consumption also affects non-entrepreneurial Nuosu. Entrepreneurs who live such lifestyles are role models, particularly for young people as well as for officials and small entrepreneurs. Increasing numbers of Nuosu seek this kind of lifestyle and believe that it can be achieved through entrepreneurial activity because of their expectations of the profits associated with entrepreneurism.
We did not interview non-entrepreneurs among the Nuosu to ask about their attitudes toward business people. There may be some envy and some may feel that entrepreneurs, like the tusi in the past, "live like Han." However, our impression is that the majority of the local Nuosu people, particularly the younger ones, admire the entrepreneurs' success and wealth, and intend to emulate them. Their admiration is strongly related to whether or not the successful entrepreneurs support their communities, whether they behave "like Han" or like Nuosu in terms of their customs, clothing, and lifestyle. There may also be a generation gap in people's assessment of entrepreneurs and their behavior—older people may partially reject them while younger people may support them.
As agents of modernity, Nuosu entrepreneurs thus contribute to shifts in attitudes and values. They are trendsetters and role models, for example, regarding prosperity, wealth, property, and luxury. They are also role models for behaviors and values concerning competition, economic freedoms, innovation, and market behavior, and they promote new structures as well, such as organizations representing their interests, local level public income structures, and the labor market.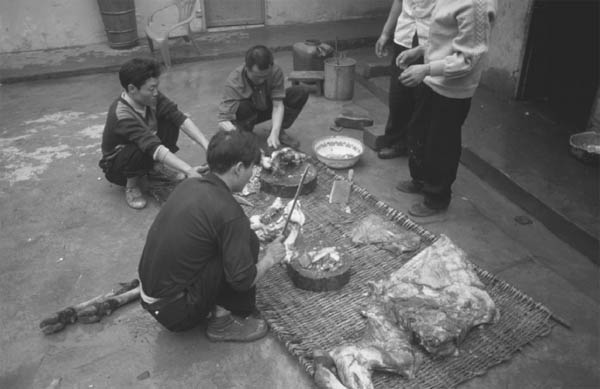 A key characteristic of entrepreneurs is innovation. Innovation is not only an economic action, but also has to do with social change and with the reassessment of values. Entrepreneurs interpret values differently and question old patterns of thinking. The transformative nature of entrepreneurs as producers of change has been overlooked in the literature about them.
FOOD AND ALCOHOL AS MARKERS OF IDENTITY
For our interviews in rural areas, we were generally invited into homes and treated to the traditional rituals of hospitality. An animal (a sheep, a pig, or a cow) was slaughtered and eaten together, accompanied by generous amounts of alcohol. The dishes were always the same: tuotuorou, served with round, flat buckwheat cakes (N: mgefu or mgamo), garlic soup, and potatoes boiled with the skins.
Communal food and alcohol consumption serves a social function; eating the same dishes and drinking and smoking together create rapport and build community. Marcel Mauss has pointed out that gifts of food or invitations to share a meal are particularly binding social conventions (Mauss 1990: 27ff.) because food and drink are a form of communication as well as markers of a person's ethnic belonging and social position. Moreover, food and alcohol can define ethnic distinctions that can be used to mark boundaries between the Nuosu and the Han.
However, alcohol is often consumed excessively, particularly in public spaces. In our discussion, we will not treat alcohol as a pathological "problem" (as in "problem drinking") but rather as a socializing and equalizing phenomenon, as a "social act, performed in a recognized social context" (Douglas 1991b: 4). Dwight Heath has argued that alcoholism seems to be virtually absent, "even in many societies where drunkenness is frequent, highly esteemed, and actively sought" (Heath 1975: 76; see also Heath 1994: 357–61), and this is the case in Liangshan Yi society. In fact, Nuosu primarily drink in groups. Thus, alcohol is used to generate social capital, for instance, in the interest of initiating or developing social connections, network building, promoting social communication, or, when drinking with strangers, overcoming strangeness. It is an expression of hospitality, a form of interaction that unifies people and binds them together. To reject drinking is an affront that can break bonds. Some argue that the high mountain climate fosters the consumption of hard liquor. Others argue that the reasons for excessive alcohol consumption are the problems of adapting to processes of industrialization, urbanization, and de-peasantization, or to malfunctions of the political system (See, for example, Bennett 1985: 408; Chase 1985).
Yi scholar Pan Wenchao writes,
The alcohol culture of the Yi is a part of the outstanding Yi culture. Alcohol is a material carrier that reflects the make up of the production and life culture of the Yi. Politics, economics, military affairs, religion and an entire canon of customs cannot be separated from alcohol consumption. Alcohol has always been a part of Liangshan Nuosu life. There is a Nuosu proverb, "Spirits are as precious to the Yi as tea is to the Han." (2000: 1)
According to Pan Wenchao, liquor serves many important functions in Yi society. Drinking liquor together founds friendships, encourages relationships and the sharing of feelings, solidifies clan relationships and love relationships between the sexes, serves a ritual purpose at funerals and religious ceremonies, creates confidence, seals blood-brother relationships, cooperation and alliances, and settles conflicts and disputes. Liquor is also a restorative medium and a medicine (ibid.: 1).
Consuming alcohol also has a strong ritual aspect. Simply out of principle, people will urge others to drink, and to drink every glass in one shot. This is true regardless of a person's ethnicity and even for foreigners. Anyone who considers himself or herself a "real Yi" is forced to drink, irrespective of whether or not he or she enjoys drinking, or is healthy enough to do so. Dinner occasions in particular are used to drink as much alcohol as possible, and such occasions are frequent. The Liangshan Nuosu Yi perceive themselves as "lao da," the heartiest drinkers among all Yi groups, and look down on other Yi and Han on this account. Being able to hold one's drink is perceived as a sign of superiority, particularly in comparison to non-Yi, and as a part of the ethnic identity.
However, heavy drinking is an invented Nuosu tradition. It is a symbolic rule that "seeks to inculcate certain values and norms of behavior by repetition, which automatically implies continuity with the past" and establishes its own past by "quasi-obligatory repetition," Eric Hobsbawm argues (1984: 1, 2). In fact, widespread and excessive alcohol consumption is a "popular memory," to use Hobsbawm's term, and not at all "traditionally" conditioned, as Han and many Nuosu claim. In fact, the erosion of community authority, rituals, and solidarity have resulted in an increase in the uncontrolled consumption of alcohol. Opinions differ widely about the nature of this invented tradition. For example, one leading county functionary thought drinking alcohol was "women minzu tese"—a characteristic of our ethnicity. A Nuosu entrepreneur disputed this idea, pointing to the bad influence of the Han:
The habit of always emptying a glass in one shot is a new custom adopted from the Han. In the past, this custom did not exist amongst the Yi. Young men would never dare to get drunk in the presence of their elders and would always only sip [Ch: biaoshi] their drinks. Spirits were only drunk on festive occasions such as marriages or funerals. It is wrong to say that downing a glass in one shot was an Yi zu de guiju—a general principle for the Yi.
Historically, traditional drinking behavior was bound by strict rules as demonstrated by such proverbs as, "The earth is ploughed from below to above; spirits are drunk from above to below." In other words, older and more highly placed people should be allowed to drink first. Another saying goes, "Spirits are for the old; meat is for the young" (Ma Xueliang 1989: 338–39). The limits to drinking are explicit in the saying, "He who drinks one bowl is a good fellow; he who drinks two bowls is a hero (N: ssakuo); he who drinks three bowls is a piece of dog-skin (N: kenji)."13
Today, however, alcohol plays an important role in establishing or creating social capital, as well as in strengthening Nuosu ethnic identity. The ritual of shared consumption strengthens the group's inward cohesion and delineates a boundary of ethnic exclusion from the Other (Han). From a social-psychological point of view, enjoying alcohol as a group can be considered "constructive drinking" (Douglas 1991a) because it encourages social integration and defuses latent conflicts. However, social decline and poverty often lead to increased alcohol consumption. A state of intoxication not only enables people to forget their everyday problems, it also stills hunger and causes a physical feeling of warmth. Studies in other parts of the world demonstrate that the use of alcohol among ethnic minorities is commonly a way of dealing with the feelings associated with social transformation, i.e., the danger of the disintegration of the group.
Nuosu, including Nuosu entrepreneurs, have multiple individual and collective identities. They are members of many different social groups: they are citizens of China and members of the Yi nationality, of the Nuosu-Yi in Liangshan, of particular Nuosu castes, clans, lineages, and village communities; they are members of the Party and/or the entrepreneurial stratum, and of other small social groups or associations. They are both Chinese entrepreneurs and "national minority" entrepreneurs. Although they can switch between the various identities and between different frames of reference and boundaries,14 each identity is still bound into different circles of loyalty and warmth, which creates a hierarchy of identities within each individual's consciousness. There no such thing as a static identity; identities develop in dynamic processes. These multiple competing identities are unequal and exist in a disequilibrium that fundamentally challenges the consideration of the Nuosu and of Nuosu entrepreneurs as a homogenous group.