RUINS
THE GENEVA ACCORDS, SIGNED ON JULY 21, 1954, SILENCED MOST OF the guns. Slowly over the summer, combatants and governing bodies regrouped, abandoning forts and tactical zones they had established over nine years of conflict. In central Vietnam the Việt Minh moved to the north while French forces and State of Vietnam militias such as the Việt Binh Đoàn moved south. This period lasted three hundred days and permitted civilians and foreign observers alike the first glimpses of areas that had long been hidden behind battle lines. Evacuating French troops left behind caches of spent and abandoned weapons in urban posts. Most foreigners concentrated on the post-Geneva transition in the larger cities: Hà Nội, Hải Phòng, Đà Nẵng, and Sài Gòn. Very few made it to Huế or to rural areas of central and southern Vietnam.
Despite its proximity south of the new border and demilitarized zone following the seventeenth parallel, Huế and the central coast receded further from the limelight of nationalist performances, the protests and parades taking place on the streets of Hà Nội and Sài Gòn. On the central coast, the Geneva Accords brought a shadowy transition characterized by unchecked movements of soldiers, foreign and Vietnamese, recently released from active duty but not yet allowed to return home. Bands of French African soldiers camped on mountain slopes in former Việt Minh terrain while noncommunist Vietnamese militias competed with one another for control of lowland villages. In the first year of cease-fire until July 1955, the Sài Gòn government continued a breakneck expansion of port, airfield, and military facilities at Đà Nẵng, but only a trickle of this burst of American-funded military aid reached Huế and the airfield at Phú Bài. The idea that central Vietnam with its ancient delta villages and troubled hills might now be a noncommunist zone bore little relation to facts on the ground.
Before the Geneva Accords, the Việt Minh's interzone governments claimed uncontested authority over large swaths of the central coast and the hilly interior. These areas were subject to ocassional French bombing raids and paratrooper operations, but since 1947, the Việt Minh organization had worked mostly unchallenged to develop new citizens, new soldiers, and new communes. They were the first Vietnamese state-building organization to integrate large areas of the central coast's mountains into their networked nation of trails, clandestine logistics hubs, and radio transmitters. A map produced by American advisers in 1954 titled "The Viet Minh Situation in Indochina" (figure 4.1) shows the extent of these networks.
Unlike some key battle zones of the Indochina War in the north, much of the land in central Vietnam saw little damage until after the war's end as tens of thousands of soldiers regrouped north and south. Ironically, it was the nature of the peace, not the war, that brought ecological ruin to many highland areas. The three-hundred-day regroupment meant that large areas of Việt Minh–evacuated hills and mountains were left without a replacement government. Party histories of the period describe life behind Việt Minh lines before the cease-fire as relatively orderly but subject to ambitious land reform, conscription, and literacy programs.1 The relocation of Việt Minh forces and party leaders north of the DMZ produced a political vacuum in the interzone that all but eliminated nine years of socialist nation building.
Many works by Vietnamese and foreign historians have examined the ebullient fervor with which Hồ Chí Minh and communist leaders in the north engaged in "building state socialism" while Ngô Đình Diệm and American allies in the south forged a Republic of Vietnam.2 Far from these crash programs in the capitals, however, life in the margins was more chaotic and splintered. In Huế rival militias sparred with the new national army. Diệm's younger brother Ngô Đình Cẩn built a secret police unit and a network of business interests that by 1963 exerted a strong influence over the region's politics and economy. He did all of this without holding any official office. He recruited a secretive network of junior officers from the VBD and from networks of fellow Catholics and local businessmen. Working through the Cần Lao (Workers) Party that supported his brothers Diệm and Nhu, Cẩn's network of spies and police commandos worked in a vaguely titled Special Works Division and pursued alleged communist agents and anyone who might rival the Ngô family.3 The United States was intimately involved in military construction and training around the Huế area by 1959, but its political influence with Cẩn was nonexistent.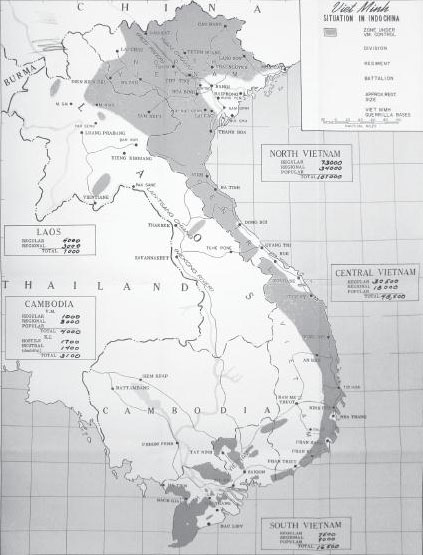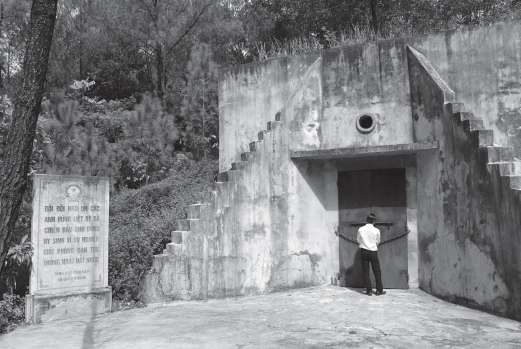 Today in Huế, Cẩn is most famous for his association with a special prison and interrogation center operated by his special police in the hills near Nam Giao. Chín Hầm (Nine Bunkers; figure 4.2) is now a national historical site and a memorial to over one hundred people who were taken by police and tortured there.4 As a site of well-documented suffering for all of Cẩn's "enemies," the Nine Bunkers serves as a useful lens for exploring the ways a landscape of military and imperial "ruin" left behind after years of fighting and decades of colonial occupation played into this post-1954 period of extrajudicial torture and killing. As anthropologist Ann Stoler and others suggest, the term "ruin" reflects a "privileged site of reflection."5 Certainly today, with the site's individual prison cells preserved as historic reminders of the abuses of the American-Diệm era (1954–63), these ruins serve a highly constructed state-centered purpose of intentional reflection. Far less clear, however, are the ways that new ruins produced by the evacuation of French military forces in 1956 may have given rise to a man generally described (in communist and noncommunist works alike) as a monster.
Cẩn mobilized a secret police network that quickly established clandestine settlements and outposts atop the ruins of the evacuated tactical zones. All of this he and his supporters did in spaces left behind after the evacuations of Việt Minh and French soldiers and the chaotic arrival of northern refugees and American aid workers. The Geneva-mandated evacuation, the sudden drawdown of French troops, and a flood of American equipment and weapons produced the spaces and opportunities that enabled Cẩn's ascent.
To understand why he chose to work through a special police network and not military or official government channels, one must appreciate the extent to which Vietnamese military commanders were allied either with French or American military networks. Cẩn's deliberate choice to appear in public wearing the traditional áo dài robes worn by mandarins and his refusal to appear in public with American officials suggest a careful attempt to craft an identity not tethered to the colonial past, to socialist networks, or to the growing American military infrastructure. Like so many Vietnamese, Cẩn made do amid the physical and legal debris of a prolonged anticolonial war. While the party-sanctioned biography of Cẩn duly marks out his many crimes against the resistance, one senses at some level a measure of respect even from party authors for the extent that his Special Works Division built a formidable security infrastructure independent of people whom Cẩn viewed as sympathetic to French colonial hangers-on or subservient to American military advisers. As an American consul suggested in his reflections on Cẩn in 1961, the rapid expansion of this homegrown "shadow government" in Huế was in many ways a response with deep local support among Vietnamese who shared a resistance to the legacies of colonial and Cold War destruction.6
LEAVING THE INTERZONE
In the weeks after the conclusion of the Geneva Accords in August, the Việt Minh government of Interzone IV worked to remove the troops, political officers, archives, and equipment from its tactical zones south of the seventeenth parallel to portions of the interzone in the north. The Geneva Accords cut Interzone IV in half, and communities in the provinces of Thanh Hóa, Nghệ An, Hà Tĩnh, and Quảng Bình received thousands of people relocating from south of the DMZ. Beginning in August 1954, the province's party leaders gathered for final goodbyes at Hòa Mỹ, overseeing the removal of personnel and offices to the north. From August 17 to 19 almost three thousand party cadres (cán bộ), military fighters, and civilians left Huế and started the trek north. On August 20 in Quảng Trị, another two thousand persons joined these northbound migrants. By October the northern half of the interzone had received over twenty-six thousand evacuees from Quảng Trị and Huế.7
This orderly departure masked what party officials and local supporters recognized as a devastating gutting of Việt Minh government, communications, and security. As it completed the removal of its people and offices, Interzone IV's new leaders issued the following words to party members who chose to stay behind: "Continue solving problems, agree with the provisions [of the Geneva Accords], follow the mission and new way of the Central Committee, fix mistakes, and address shortcomings. Staff at all levels have to see the [new] situation of Trị Thiên and the South…. The basic Party organizations must maintain confidentiality and ensure close ties with the masses. The work of reorganizing Party cells, choosing new Party members must be selective and proceed gradually, avoiding any shocks to the Party. Regular retraining of cadres is also needed to strengthen local organizations."8 In effect, these words did little but soothe. The higher-ups relocating north had no inkling of the violence with which the new southern government would bring to Việt Cộng in the area (Việt Cộng nằm vùng). A party history of the tactical zone at Nam Đông reports that after the removal of most of the province's staff, remaining party members returned to the lowlands, where they were often imprisoned or killed by the Diệm government's "denounce communists, kill communists" (tố cộng, diệt cộng) campaigns. Many cadres stayed in the hills and relied on comrades from the highland groups to help them survive anticommunist purges in and around Huế.9
Months after the Việt Minh units departed, bands of French African soldiers moved into the abandoned tactical zones. Heavily armed bands of Senegalese and Moroccan soldiers (including the goums) camped in abandoned Việt Minh areas and declared to South Vietnamese officials that they intended to stay. A memo by the province's police chief noted that the Moroccan soldiers were generally friendly to area persons and were not violent. One group camped at a waterfall below the former tactical zone at Nam Đông. When local people gathering fuelwood approached, the troops gave them bread. The police chief also noted that a French military plane made routine airdrops of food and supplies, suggesting continued military support of this effort.10
The consequences of this expansion of French soldiers uphill were not just political but ecological. Without any clear government authority, foreign troops and landless locals attempted to extract anything they could for their camps and to earn money. Peacetime freed them to cut forests without fear of attack. A new forestry chief in Huế attempted to counter the destruction. Nguyễn Hữu Đính wrote that nine years of war had taken a heavy toll on the region's forests, but after August 1954 destruction of the pines "grew like a storm." He estimated that over 1 million trees were cut in the nine months following the cease-fire.11 Đính and his colleagues implored French military commanders to rein in this forest destruction, comparable as it was to looting in the cities.12
CHAOS IN THE OCCUPIED ZONE
For the villages along Highway 1, the social and physical impacts of the Geneva Accords in the months immediately after their signing are poorly understood. State of Vietnam and French military records provide glimpses of the chaos and violence unfolding in such places as Hương Thủy and Dạ Lê. In the villages along Highway 1, Vietnamese military units and paramilitary police associated with a spate of pro-French political parties took advantage of the cessation in hostilities to track down and detain communist rivals. Similar to Ngô Đình Cẩn's shadowy government of Personalist Party members and special police, these paramilitary police did not fully belong to the province or the state.
One of the largest such forces camped near Huế was the Bảo Chính Đoàn (BCD; Primary Security Division). This paramilitary force was made up mainly of northerners; it relocated south of the DMZ from the Red River delta. It enjoyed support from members of the royal family as well as many pro-French Vietnamese in a Greater Viet Party (Đảng Đại Việt). In Huế by September 1954 a fledgling Vietnamese national army shared power with the BCD and VBD, separate paramilitary groups jockeying for control in many lowland villages. Eager to forge a new space for themselves, the BCD agressively pursued alleged communists too.
In one incident of BCD-related violence, the post-Geneva province chief in Huế wrote to the central Vietnam delegate—another provisional governmental position created by the French—about two alleged communists caught by BCD police in Thanh Thủy Thượng Village. Two BCD platoons stopped two individuals without legal identification papers at a checkpoint. As they apprehended them, the two individuals called out to fellow villagers for help. Instantly, over three hundred villagers surrounded the BCD platoons, threatening them with bamboo spikes to let the two neighbors go. The platoons radioed in to a Vietnamese National Army (VNA) post at Dạ Lê for backup, and a company of soldiers soon arrived. They dragged away twenty-one villagers and the two detainees to the district jail.13
In these new spaces opened up by mass relocations and large supplies of surplus arms, bitter local contests also erupted between Vietnamese loyal to France and those who resented the French, feeling caught between destructive French military actions and Việt Minh military pressure. The newly formed VNA was divided from the top down, as officers challenged each other and on occasion South Vietnam's leaders. From his first days as prime minister of South Vietnam in August 1954, Ngô Đình Diệm and his brother Nhu built networks of anti-French, Catholic allies to challenge the pro-French commander of the National Army, Nguyễn Văn Hinh. In Sài Gòn, American diplomats and spies assisted Diệm with President Dwight D. Eisenhower promising to directly support the National Army with a "crash program" of aid once it cut off relations with French advisers.14 Especially in the Ngô family's home lands around Huế, a pro-Diệm network led by Ngô Đình Cẩn worked to draw in significant numbers of lower-ranking officers from the paramilitaries, mounting a grassroots effort of sorts, even within networks in historic villages.
French military intelligence reports from the Huế Sector in August 1954 reported these "anti-French activities" with great alarm. One such report, dated August 3, 1954, describes on the local scale how such campaigns worked. One Sergeant Hiếu accompanied two national guard soldiers from the post at Phú Bài airfield to a meeting at the house of Mr. Ngô Thảo in nearby Phù Bài Village. The sergeant, an intelligence service informant, reported that all attending were Catholic. His recounting of Mr. Thảo's discussion bears reading in full to convey the extreme range of military options being considered and the deep divisions within the anticommunist ranks. He said:
Ngo Dinh Diem will travel shortly to America to ask the armed intervention of that country against the French and the V.M. [Việt Minh] If Ngo Dinh Diem lets the French share Vietnam, it is because he hopes that a US reaction will materialize in the atomic bombing of the V.M. area. France looks, after the division of Vietnam, like a prostitute who offers to everyone, even a leper, for money. It's a treacherous enemy that we must fight before the V.M. who are our countrymen. Our duty, patriotic Catholics, is to effect all anti-French propaganda. This propaganda must emphasize the loss of prestige of France after the Geneva conference.15
While diplomats and heads of state negotiated in Sài Gòn, Paris, and Washington, similar conversations broke out in homes, garrisons, and schools across Vietnam. Contrary to popular notions that the Geneva Accords effectively ended French involvement in Vietnam, these struggles revealed the depth of hostilities between Vietnamese and French forces even within the same military organization. Just a few days after this event in Phù Bài, another French military informant reported that an anti-French faction of local forces in central Vietnam led an assault on the army post at Dạ Lê on Highway 1. They took 28 Vietnamese soldiers hostage; only 2 escaped. More importantly, the anti-French faction made away with 17 submachine guns, 14 rifles, 2 cases of grenades, and other equipment.16
In some respects, the Geneva Accords prolonged the chaos by stipulating (in Article 2) that the French Union military forces had three hundred days to regroup at bases and camps in the south. Around the bases at Huế, this meant that European French commanders and French African troops remained in control of security at key ports and airfields until May 1955. Phú Bài airfield remained a center for French military commanders during this period, and occasional conflicts with Vietnamese workers and military units highlighted the unusual stresses of post-Geneva life.
As more Americans and military personnel traveled by air to Huế, Phú Bài airfield became a stage for local people, too, to air their grievances directly with Americans. One of the first such incidents took place in September 1954. After an American plane touched down, over two hundred workers mobbed the delegation on the tarmac. After July 1954, the French military stopped paying their salaries. The workers had not been paid for two months, so they protested to the new foreign advisers for their salaries. French military police, afraid for the safety of the Americans, fired tear gas into the crowd and severely injured two women. An investigation into the "politically sensitive" incident involving senior American officials, French troops, and Vietnamese workers blamed delays in establishing new transfers of American funds from Sài Gòn to Huế. The United States had, even before 1954, been indirectly paying for the airport services; it sent payments to the French military commission that in turn paid the Vietnamese.17
Besides working out new ways to pay for and operate formerly French-controlled installations, the South Vietnam government began the difficult and necessary work of excavating military materials while attempting to build new military infrastructure. French forces, upon evacuation, hastily buried caches of machinery, munitions, and weapons. In some cases, they dumped weapons in the rivers, and in others they covered bunkers with dirt. Vietnamese officials in Huế recorded scores of caches uncovered after French units evacuated; the hills around Huế were littered with them. One report dated May 25, 1955 lists the details of one such find: a mountainous junk pile of American-made brakes, radiators, pieces of GMC trucks, and totaled jeeps.18 Vietnamese police and military units, desperate to maintain stocks of ammunition and arms, noted with alarm the systematic destruction of weapons. One report dated March 9, 1955, described French barges loaded with ammunition leaving the beach at Thuận An, either to salvage the munitions or dump them offshore. French troops along Highway 1 moved heavy guns, rifles, carbines, and pistols to dump in the rivers too. Wherever possible, Vietnamese police and troops intercepted them to recover these American-made weapons.19
For South Vietnam, salvaging French military waste was critical because the Geneva Accords limited new purchases of weapons. Second, the possibility of unmanaged caches meant that rival groups or Việt Minh cells might recover the weapons themselves. Finally, this military junk produced challenges for American advisers to the Diệm government since most of the abandoned equipment was of American origin, materials lent or given to France through the mutual assistance programs.
AMERICAN AID AND THE GLOBAL AIRSPACE
Besides retrofitting South Vietnam's military, American aid played a profound role in connecting Vietnamese landscapes to a global air network. Where French troops had in 1947 returned to Vietnam by sea and reoccupied urban strongholds and ports, Americans arrived at airfields and used them as critical nodes for nation building. Their unprecedented emphasis on air spaces was in many respects a byproduct of the boom in aircraft manufacturing during World War II, especially of one plane, the C-47 Skytrain, a militarized version of the DC-3 (figure 4.3). As a plane designed to transport troops, bombs, and cargo, the C-47 played a pivotal role in the American D-day invasion at Normandy, dropping paratroopers behind German lines. Douglas Aircraft's sprawling plants in Southern California produced thousands of planes, as did Allied plants in Britain, Russia, and postwar Japan.20 After 1945 the US military began selling off planes, and they found homes in the air fleets of American-backed nations such as South Korea or in private military charters such as Chennault's pro–Chinese Nationalist CAT group. The plane became an icon of early Cold War struggles from the Berlin Airlift to the Indochina War.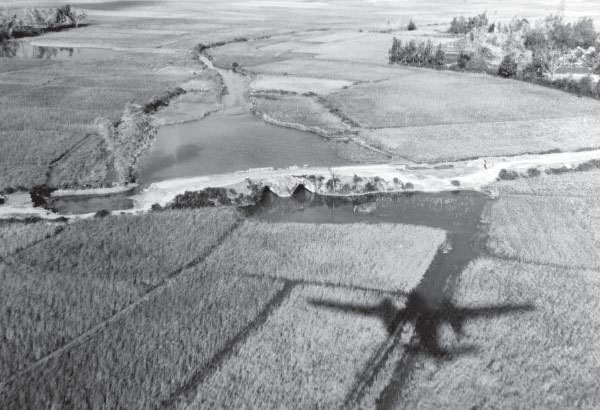 After the Geneva Accords, DC-3s went into service for a South Vietnamese airline, Air Vietnam, and militarized C-47s helped form the South Vietnamese air force. More DC-3s and C-47s arrived in 1956, providing many people with opportunities to travel by air across the country and overseas to such destinations such as Manila, Tokyo, Bangkok, and the United States. The planes had become global symbols of American aid from Berlin in the 1948–49 airlift to urban and mountain airfields across Asia. Their low landing speed allowed them to land on shorter runways, and the all-metal construction of the C-47 permitted landings on dirt. They provided a physical air platform for linking up remote airstrips in the central highlands with Sài Gòn and a regional network of affiliated fields in Southeast Asia and Japan. Vietnamese bases and military organizations became linked into the network of air spaces in this military aerial economy and into an American-directed network of offshore contractors, technical experts, and military logistics managers working at key air materials areas in the Philippines and Japan. Given strict limitations on military personnel placed inside Vietnam, the United States relied upon this extraterritorial Pacific network to provide training and repair damaged equipment.21
On the ground in Vietnam, the American advisory mission was limited by the Geneva Accords to several hundred staff, but with connections to a global military logistics network they managed an unprecedented flow of military materials in and out of Vietnam. In the first years after 1954, the operation was complicated by commitments to France and Vietnam. The United States had supplied the French military in Indochina with airplanes and equipment since 1950, and US military personnel such as airplane mechanics were already deeply rooted in French military operations at bases in Đà Nẵng and Sài Gòn by 1953. After the Geneva Accords, American military aid in Vietnam was bifurcated between the old program for France (in Indochina), the Military Assistance and Advisory Group–Indochina (MAAG-Indochina), and the new MAAG-Vietnam.22 In 1955–56 MAAG-Indochina facilitated the exit of French forces and their equipment while MAAG-Vietnam worked with abandoned French equipment and salvaged airplanes for the Army of the Republic of Vietnam. Because the Geneva Accords placed strict limitations on military buildup, MAAG-Vietnam had to salvage existing equipment without drawing criticism from international observers sent after the 1954 cease-fire.23 This simultaneous export and import of military goods brought a flood of activity to the docks at Đà Nẵng and Sài Gòn. In one month, September 1956, MAAG staff signed off on US$230 million of materiel—trucks, ammunition, and aircraft—leaving the docks with French forces. In the same month, they managed the overhauling and import of 25 C-47s for South Vietnam's air force, seven hundred trucks, and several thousand tons of ammunition. While this equipment was heading into the port at Đà Nẵng, over fourteen thousand junked vehicles awaited export for similar repairs.24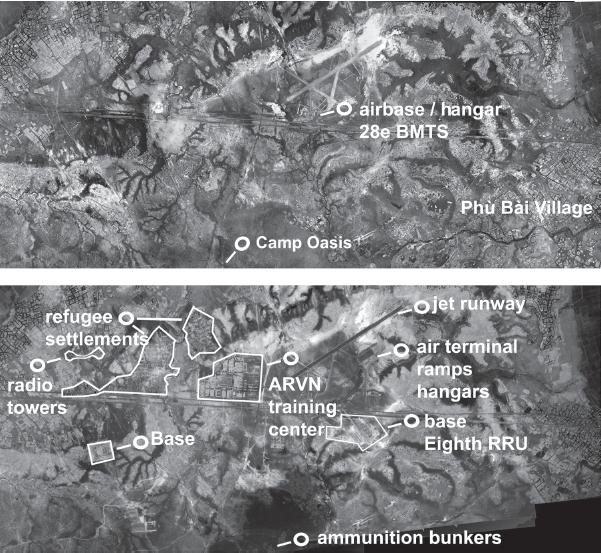 While MAAG and TERM (Technical Equipment Recovery Mission) staffers in Huế never numbered more than a dozen, they played a pivotal role in 1955–56 in directing the refurbishment of an ARVN division and expanding facilities around Phú Bài. They linked ARVN military units to a global infrastructure of military bases, supply depots, and repair facilities. A comparison of historical air photography from 1952 and 1963 shows the extent of this American-supported construction around Phú Bài (figure 4.4). While Phú Bài was small compared to Đà Nẵng, by 1963 it included radio antenna farms, runways capable of landing jet aircraft, an army base, several refugee settlements, a military administrative compound, and new ammunition bunkers. Airfields like Phú Bài became hubs of this American aerial economy. Longer runways, modern control towers, weather stations, high intensity lights, visual omni-ranges, hangars, and bunkers guided this traffic.
Besides rapidly urbanizing the dunes and bare hills of Vùng Phèn, the American focus on Phú Bài provided an opportunity for Vietnamese officials to move military personnel and the ruins of decades of colonial military occupation from sites inside the city, especially Nam Giao. A Vietnamese adviser for the region took advantage of the American construction to push ARVN military units out of the city. He noted that French officers and the goums had camped amid Nam Giao's royal sites and tombs since 1947. By eliminating the military post and opening the site to the public, he hoped to reopen a "historic monument of state culture and religion." He asked the MAAG office in Huế to remove buried piles of artillery shells and his military colleagues to relocate to Phú Bài.25
SHADOW GOVERNMENT IN FRENCH AND VIỆT MINH RUINS
If the DC-3 was a symbol of US aerial influence, the Nine Bunkers was a fitting symbol for Cẩn's reign in the cities and villages of the central coast. He held no official office in the RVN, but after the Geneva Accords he quickly assembled a network of anti-French, mostly Catholic loyalists from area businesses and the police who used the family's political party to build a regional empire.26 As had the communists, he used a political party to connect leaders in military and civil affairs at all levels. His Cần Lao Party allowed him to coordinate loyalists, promote cronies, and punish critics.27 He formed a special cases unit in the province police and claimed the abandoned bunkers on Ngữ Tây Hill near Nam Giao as a site for extralegal interrogations and torture. He lived nearby with his mother and a former nanny, Mụ Luyến, who people regarded as his mistress, the "first lady of the Advisor of Central Vietnam."28 Abandoned since the mid-1940s, the bunker complex functioned as a dark space. It held not only communists but any "enemies" of the Cần Lao. Cẩn's special police rounded up such adversaries as "French spies," the manager of the Morin Hotel, and, after a series of protests in 1963, Buddhist clergy and students.29 While rumors in Huế swirled around the abandoned bunkers, by 1956 Cẩn's network reached far beyond Huế to Đà Nẵng and down much of the coast. In Huế he combined use of the Nine Bunkers prison site with what American intelligence observers feared were "death squads" to engage in targeted assassinations of suspected communists and political rivals.30 More than his brother Nhu in Sài Gòn, Cẩn was adamant in keeping his special police unit separate from CIA operatives too. Americans at the US consulate in Huế remained largely cut off from the Cần Lao networks.
In such villages as Dạ Lê and Phù Bài, the Cần Lao enforced support by insisting that all members of village councils and police offices be members and therefore subject to regular training courses in Huế. Anthropologist James Trullinger, based on his interviews with residents in 1975, describes in more detail how this new organization coerced locals to participate. Besides swearing allegiance to the Cần Lao, village councilmen serving at the time engaged in common abuses of power such as renting out communal lands in exchange for bribes. Whether they supported the Cần Lao or not, villagers knew that in order to rent land or obtain "public" medical services, they needed to pad the pockets of the village council. Those councilors in turn paid part of these bribes to district and provincial Cần Lao Party officials for the "privilege" of collecting them. Village councilors were also required to ensure the party's success at the ballot box through coercion or ballot box stuffing.31 Most threatening however, especially to families who had children in their teens, was the requirement that all village youth join the party's Republican Youth, an organization modeled directly after the Hitler Youth with similar brown shirts and militaristic assemblies. Those children who did not attend rallies or assist local military forces were deemed antigovernment or, worse, as "Vietnamese communists in the region."32
This pyramid-like corruption scheme resulted in private enrichment and funds traveling up the chain of command, but it rarely returned benefits to the village. Council members in Dạ Lê realized this in 1956 when they attempted to regain control of their village's school from the district military commander. Only the richest residents in the village could afford to send their children to Huế for school, but the village school promised education to all. Residents had built the school from their own funds after the August Revolution in 1945, and the school operated from August 1945 until February 1947, when French soldiers invaded and claimed the school grounds, turning it into a military post. After July 1954, the ARVN continued to occupy the school grounds, keeping the school closed.
The village council—all loyal Cần Lao members—first asked the local military commander and then wrote directly to President Diệm in 1956. They explained their plight and asked him to relocate the military down the highway near Phú Bài. That summer and fall, in a series of exchanges between the village council, the province chief, the central Vietnam regional delegate, and the Ministry of Education, everyone repeatedly agreed that the school grounds should be returned. However, no office volunteered the funds to pay for the school's reconstruction or the creation of a new military post. The province chief finally asked the village to contribute funds to pay for a new miiltary post if they wished to regain the school.33 This failure of local Cần Lao partisans to bring even the most essential nation-building benefits back to the village highlights the stark limits to development or aid beyond military bases and certain privileged groups.
Besides building its political networks in the lowland villages, Cần Lao partisans also pushed their influence hillward, establishing refugee settlements directly on top of the two largest Việt Minh tactical areas, Hòa Mỹ and Nam Đông. Strictly from a landscape perspective, a development focus on these abandoned sites made sense, as both were logistical hubs located on transportation corridors linking the lowlands to key highland valleys. From a more symbolic perspective, however, these two former tactical zones were critical nodes in the social and logistical networks that the Việt Minh had developed with participation from highland groups. Hòa Mỹ and Nam Đông were "cradles of the revolution" (cái nôi của cách mạng), not just defensive bulwarks. They were centers where many highlanders became literate (in Vietnamese), joined party ranks, and participated in the defense and governance of the interzone.
The Cần Lao's special police thus viewed both of these highland gateways as special targets in their reign of terror. They directed the province's allotment of American bulldozers, road-building equipment, and funds for refugee resettlement to raze the grounds and then repopulate both sites with refugees from the north, most of them Vietnamese Catholics from the Red River delta. This joint sedentarization and gentrification program produced a facade of a refugee settlement at each location while special police and military units hunted for the region's remaining communists. Their violent tactics in the lowlands all but eliminated former Việt Minh political cadres in lowland villages while several hundred Việt and highlander members hid out in the hills. Local party histories describe this moment as one of the darkest in its history. At the signing of the Geneva Accords, some 23,400 persons were party members in Thừa Thiên–Huế; by 1958 the number had dwindled to several hundred.34
While the province government in Huế presented these settlements as models for a nationwide agricultural development center (dinh điền) scheme, American visitors to both sites expressed deep skepticism. In the southern highlands and the Mekong delta, the US Operations Mission supported the government's refugee program to establish new settlements for thousands of individuals. On the central coast, however, marginalized by Ngô Đình Cẩn, Americans had little contact with these projects and viewed them as thinly veiled fronts for Cần Lao domination. The American consul in Huế, John Heavner, paid a visit to both sites in 1959, as they had been built with US equipment and funds. At Hòa Mỹ he noted that Cẩn's party followers directed the aid money into a Cần Lao business growing kenaf for paper manufacturing. American food aid and equipment supported the settler-workers while profits directly benefited Cần Lao loyalists. At Nam Đông, he noted a similar mix of military and civic aid. Bulldozers cleared debris for new military posts while settlers depended on food aid arriving on trucks.35
At Nam Đông in particular, this new wave of development was a radical departure from earlier Việt Minh settlements in both ecological and social terms. Ecologically, the new settlement emphasized intensive agriculture in what had always been a swidden system. Further, the construction of an all-weather road from Huế opened up the valley's forested slopes to clear-cutting, triggering mudslides. While in the past Vietnamese had ventured to Nam Đông by foot trails, the new road brought in half-ton GMC trucks, bulldozers, and armored vehicles. With materials arriving on flatbed trailers, a roadside town emerged with military post, school, dispensary, post office, and government office (figure 4.5). However, once the refugees arrived at their rows of hastily built homes on a new grid of gravel roads, they struggled to build an agricultural economy from the razor-thin topsoil. They remained dependent on aid. An RVN summary of the settlement at Nam Đông enumerated various schemes to expand rice paddies and plant industrial crops. None of the plans worked, and the instant community of resettled northerners remained dependent on aid shipments and the protection of the ARVN outpost across the river.36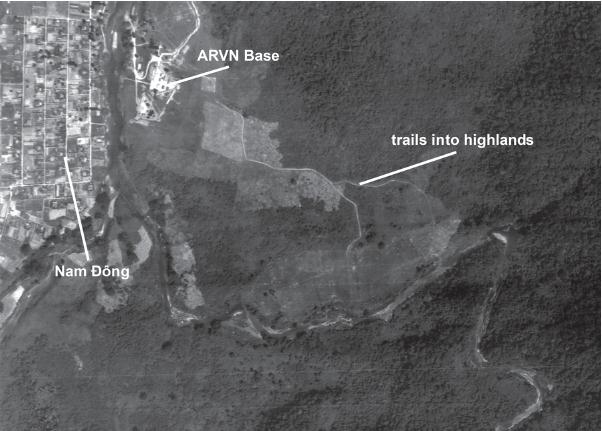 This new development model at Nam Đông, a suburb-like village with gridded streets and a nearby base surrounded with guard towers and fencing, was also a radical social departure from the Việt Minh community that predated it. The RVN government, especially President Diệm, insisted on establishing sedentary agricultural communities in the highlands, a move that alienated the Katu people who had farmed swidden plots there for centuries.37 Many RVN officials still viewed the Katu as "savages" (mọi) and fostered a divide between lowland settlers and the Katu. The settlement featured ethnic Vietnamese army posts and was developed exclusively for ethnic Vietnamese, cementing Katu support for the communists. The Việt Minh by contrast continued to encourage swidden cultivation partly as a means to survive and partly to retain vital Katu support. Lacking roads and foreign aid, they relied on Katu crops such as cassava. When party leader Lê Duẩn visited in 1953, he urged Katu comrades to "turn the hilly wilderness into swidden gardens."38
The relationships that Việt Minh leaders forged with the Katu during the interzone years proved resilient even during these RVN intrusions. American anthropologist Gerald Hickey noted this with Katu people and spoke publicly about the RVN's deep alienation of highland groups, drawing attacks from the Diệm government. Hickey encountered this tension firsthand when he visited a settlement a few mountain ridges south of Nam Đông in 1957. He traveled upriver from Đà Nẵng with a Katu-Việt merchant and an American missionary. Upon reaching the Katu village, he met men wearing loincloths, their long hair decorated with boar tusks. At the village, the group met with a village chief in a room decorated with the spears used in the group's "blood hunting" raids. When the American group attempted to present the chief with a donation of American medical supplies and rice, the chief surprised them by declining, explaining "the 'Viet Minh' would not like it." His son had "gone north" in 1954, "and the Viet Minh would be angry if we took food from [Westerners]."39 Relationships between the Việt Minh and the Katu were key to sustaining highland trails.
REMILITARIZING THE HIGHLANDS
The refugee settlement at Nam Đông marked the beginning of a new American-backed military struggle in the highlands. The base-like settlement with its fenced-in grid and triangular footprint of an ARVN military post became a center for launching new raids in surrounding hills. The Ngô family and the Cần Lao Party ramped up police sweeps (càn quét) across South Vietnam in 1958–59 while stories of corruption and torture from the Nine Bunkers spread on the streets of Huế. This settlement at the end of the road was precariously perched on a political and ecological boundary where government-controlled land gave way to steep slopes and forests returning to Việt Cộng influence.
The combination of military sweeps and development campaigns insisting on the sedentarization of the highlanders triggered a new communist-led military response. Organized by communist and Katu leaders who had fled into the mountains, local self-defense units began to fight back.40 Party cadres established a new headquarters four kilometers from Nam Đông and started their own campaign to "suppress traitors" (trừ gian) via harassment and assassination of RVN officials who participated in the sweeps. A party history of Nam Đông district notes that in 1957 party cadres assembled a self-defense force including lowlander cadres who had escaped sweeps in the lowlands, Katu youth, and some who had returned from the north. They rebuilt weapons stockpiles and trained the youth in guerilla warfare, forming the self-defense units into platoon-sized groups. They redoubled their efforts, too, to expand trails across the high ridges to Laos and North Vietnam.41
These local trail-clearing actions were born out of necessity, but they quickly demonstrated to such party leaders as Lê Duẩn in Hà Nội the value of trails should North Vietnam throw its support into a new war. Development of trails running through Laos, outside RVN borders, allowed delivery of new weapons and the return of experienced military officers who had gone north in 1954. Cẩn's police and paramilitary units had destroyed much of the underground network in the lowlands and hills during his reign of terror, but parts of the most remote trails in the highlands had survived. The Trị-Thiên Committee (a spinoff of the Interzone IV Committee) began work on a section of this new trail in Laos in 1956. As Cẩn's bulldozers expanded settlements, bases, and all-weather roads to Nam Đông and the more remote A Sầu Valley, the Laos trail became vital for maintaining communications from Hà Nội to parts of the south. By 1958 as Lê Duẩn promoted his "Road to the South" strategy with party leaders in Hà Nội, a few dozen travelers passed through its rest stations nightly. The trail outside Thừa Thiên–Huế Province had eight rest areas each a day's walk apart from the other. Each stop was managed by a Vietnamese cadre and nine youths from area highland groups. Katu, Pacoh, and other groups supplied the rest areas with tubers, manioc, and dry rice raised in swidden plots.42
The targeted assassinations of RVN officials and rumors of soldiers returning from the north caused even more repressive, violent responses from Sài Gòn. In May 1959 Diệm announced the draconian Decree 10 / 59 authorizing tribunals of ARVN officers to try suspected communist members, issue death sentences, and carry those sentences out immediately. These military tribunals became roving death courts; some even traveled with a portable guillotine. Local military commanders at the district level could detain anyone, determine whether he or she had committed treasonous crimes, and then determine a sentence without appeal.43 Besides an immediate response from the party in the north to aid their southern brothers in arms, this suspension of any semblance of due process brought mass protests from students, Buddhist groups and, decisively, ARVN military leaders who had built extensive ties with the United States through officer training schools and frequent visits to other American-allied countries.
In Hà Nội that May, Lê Duẩn called for party comrades to reopen the trail system. He had already made trips to the Soviet Union to guarantee Soviet support and secret trips south of the DMZ to advance the plan with southern comrades. Party leaders were already assembled in Hà Nội for the fifteenth plenum, and Lê Duẩn used the opportunity to gain support for southern communists' military resistance. They passed Resolution 15 creating the 559 Transportation Group, a military division responsible for developing the trail system. After passage, China and the Soviet Union immediately pledged their support with the trucks, guns, and ammunition needed to rebuild a liberation army in South Vietnam.44
Farther away in Honolulu, the escalation of fighting in such places as Nam Đông and broader American concerns about Diệm's military tribunals caused a shift in US military advising too. On May 25 the US commander in chief, Pacific authorized American military personnel to accompany RVN military units on operational missions. Before 1959 the United States was prohibited by Diệm from sending US soldiers on operations with the ARVN; meanwhile, US Special Forces teams roamed much of Laos and reported on the trail building.45 This decision did not commit ground forces, but it permitted MAAG advisers to visit RVN forts and outposts at Nam Đông and Hòa Mỹ. It also allowed US soldiers and spies opportunities to forge closer relations with ARVN commanders outside the watch of the Ngô family or their Cần Lao networks. These advisory visits contributed to rising fears in American intelligence communities that traffic on the trails through Laos might ignite a global conflict in the small country's rugged mountains.
At Nam Đông, the first battle in this new era took place in July 1960 during part of the party's General Uprising, timed to coincide with the sixth anniversary of the Geneva Accords. Party cadres and self-defense forces participated in a cluster of raids on RVN posts. They netted automatic weapons that the MAAG had delivered to RVN troops. Working with a mix of Việt and ethnic minority cadres, they expanded this local force from several dozen in 1960 to over a hundred by the year's end. They counted in their ranks key party officials of the Katu minority as well as several dozen Việt cadres who lived secretly among refugees in the settlement. Some Katu who had gone north in 1954 had now returned, too, now fluent in Vietnamese with military and political training.46
The July General Uprising worsened dissent between ARVN commanders and the Diệm government, causing a coup attempt that ended with ARVN military rule in the hills and mountains of Thừa Thiên–Huế. The November 11, 1960, coup attempt in Sài Gòn ended Cẩn's influence in the highlands and replaced it with military commanders. In Sài Gòn the commander of ARVN forces for Đà Nẵng and Huế, General Trần Văn Đôn, joined with other generals in the coup while his lieutenants advanced on RVN administrative posts in the hills. Diệm averted an overthrow by giving ARVN generals a greater say in regional and national governance, allowing them to take control over the border regions too. This lesser part of the conciliation, giving the generals and their officers control of such posts as Nam Đông, was a decisive turning point for the war in the highlands. It opened up these remote posts not only to more military units but to new levels of American military involvement as special forces and CIA counterinsurgency teams moved in.47 Rather than redress local complaints or even attempt rapprochement with the highlanders or former Việt Minh supporters, the First Division initiated a wave of new offensives in 1960–61 to attack the trail networks. Down in Huế, the province chief (a Cần Lao loyalist) complained bitterly to South Vietnam's prime minister how this burst of new military operations was turning the entire district into a war zone.48
MAPPING INSURGENTS
The new military rulers in the uplands province introduced new political maps with light and dark pink shadings that conveyed their singular aim of counterinsurgency (figure 4.6). While such maps fed into national military planning for the RVN, they also informed American military allies who had for years been drawing up similar maps in neighboring Laos and Thailand.49 The authors of this map used dark pink shading to indicate areas still largely under the communists' control. They used a lighter shade of pink to indicate lighter opposition in the hills west of Hòa Mỹ and southwest of another evacuated area, Khe Trái. As a cartographic projection of the ARVN's ambitions in 1960 for mopping up these bases of communist support, the map presented communist-controlled regions in symbolic terms very familiar to American counterinsurgency experts at the time. Small pie charts in each highlands commune showed, via colored sections, the approximate percentage of people who were "Việt Cộng in the region," still a majority across the hills. Lighter pink shading indicated areas with diminished support, and colored or empty circles indicated villages that supported a particular side or had been abandoned, respectively.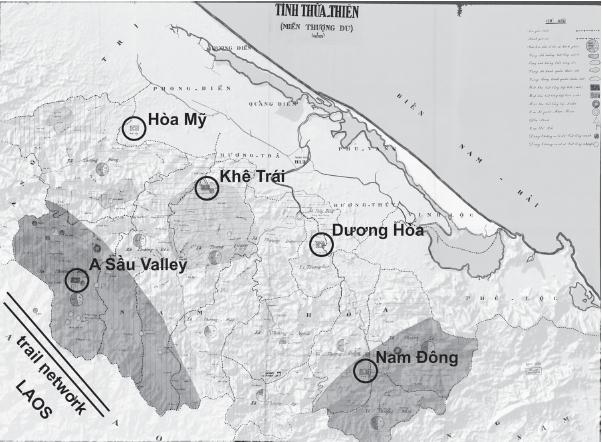 Excerpts of this map (plate 2) highlight the map's deep pink areas, the hills around Nam Đông and the A Sầu Valley. They bear closer inspection, for they show how ecological and political boundaries coincided, often separating ARVN posts from communist base areas by only a few kilometers. Reconstituted communist self-defense units and cells, pushed almost to annihilation during years of unrelenting police sweeps, extended their political and communications networks to the sources of streams on the highest slopes. ARVN troops could not easily penetrate the dense forests without support from Katus and highland groups while communist partisans retained the older practice of navigating by rivers and mountain ridges with help from native highlanders.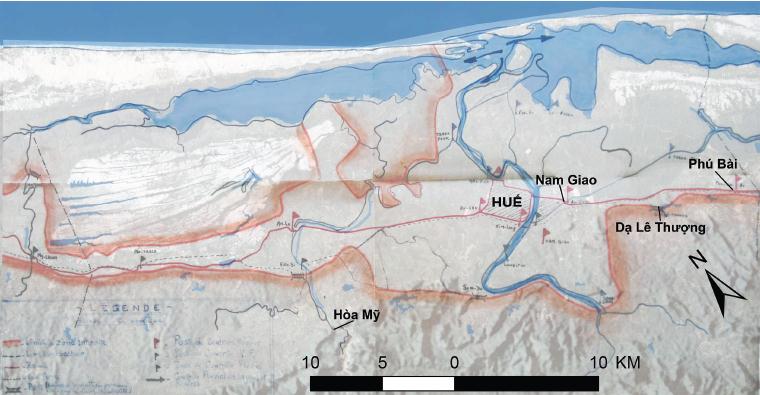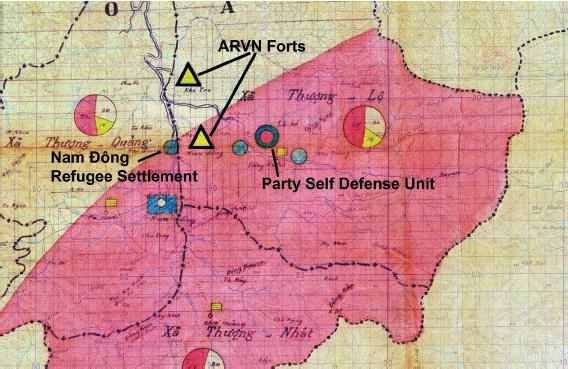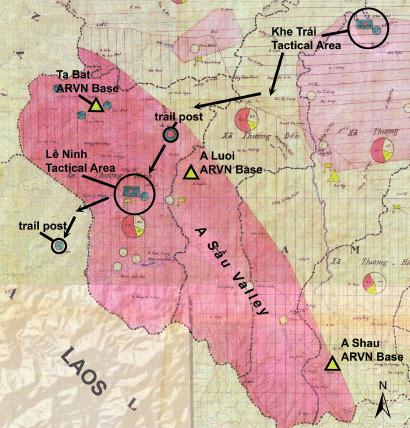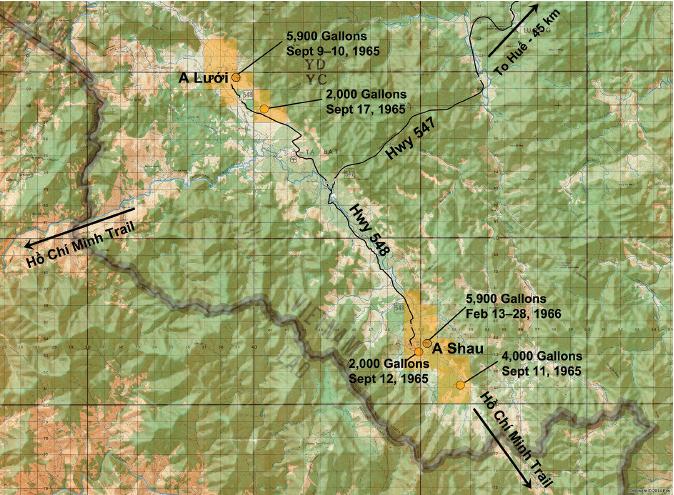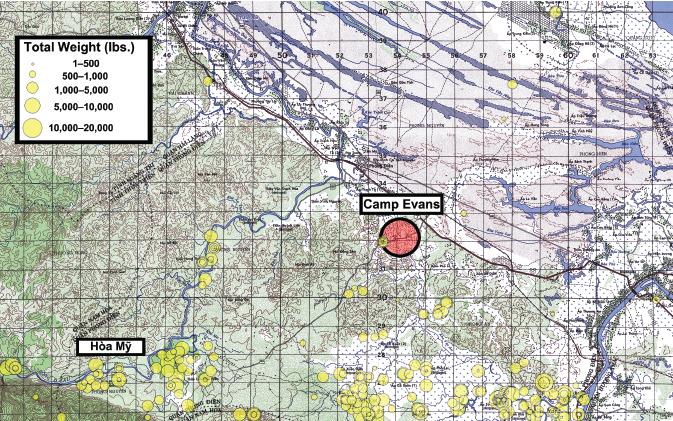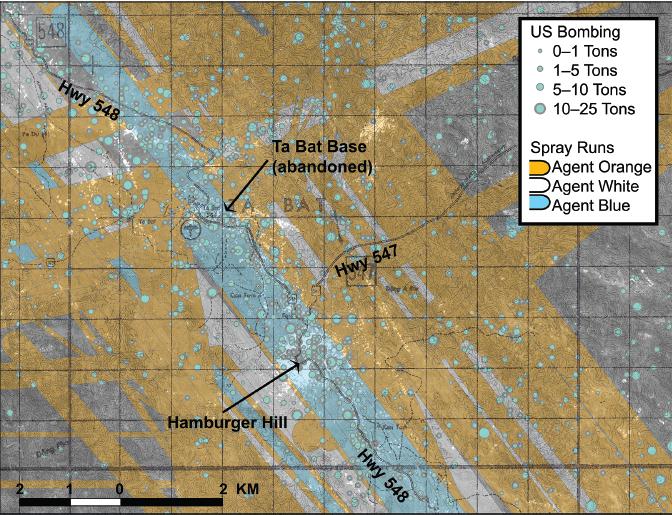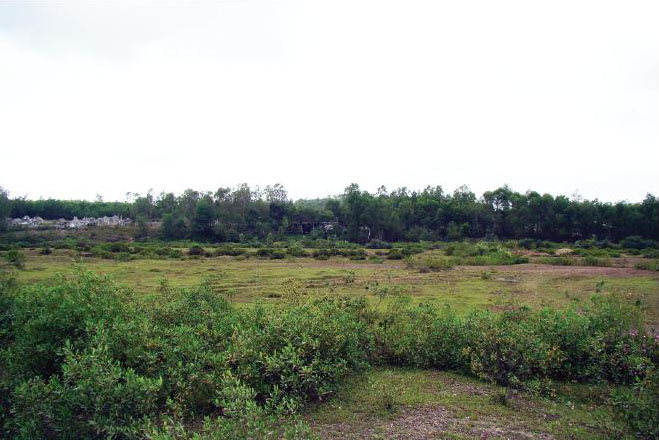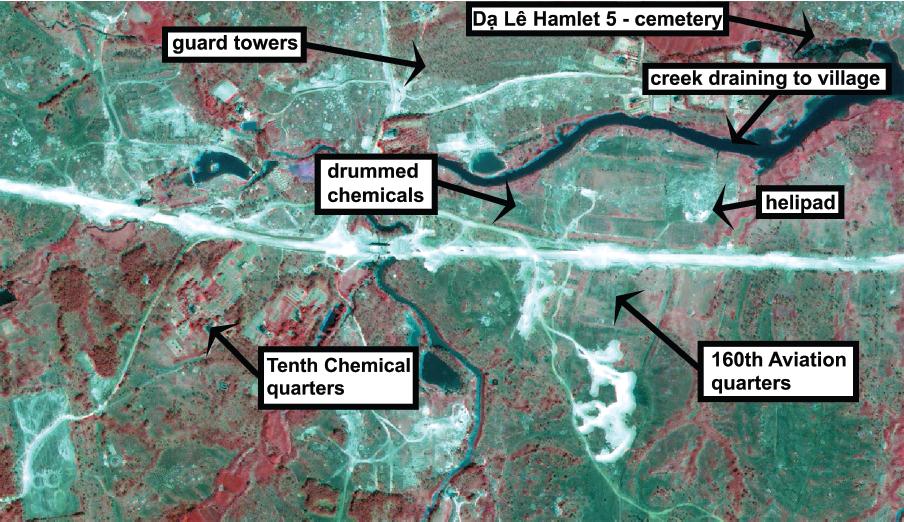 In this new era of increased military support to ARVN bases from South Vietnam and US counterinsurgency programs, the A Sầu Valley became a new focal point in a quickly globalizing conflict (plate 3). During the First Indochina War, this valley was largely outside the travels of French and Việt Minh forces alike. Việt Minh trails closer to the coast were sufficient for conveying troops and supplies north. However, as Cẩn's police units swept through Hòa Mỹ and Nam Đông in 1957, local party leaders retreated to this remote valley to forge new networks. From a tactical sense, however, the valley terrain was highly problematic. Two high ridges of mountains from one to two thousand meters high walled in a valley floor several kilometers wide that ran forty kilometers before exiting at both ends into Laos.
Only after development of trails in Laos became essential did communist groups focus on the A Sầu Valley. Controlling the valley required climbing its thickly forested rocky slopes. ARVN bases were located along the eastern side; the middle base at A Lưới included a small settlement zone, somewhat like Nam Đông, that was previously a Việt Minh area. One road connected A Lưới with Huế over thirty kilometers of rugged terrain, and a jeep track connected the three ARVN bases. Communist self-defense units reestablished control of an old Việt Minh tactical area, Khe Trái, and built a new one along a critical east-west gateway from the middle of the A Sầu Valley into Laos. A post across the border in Laos was a key communist rest area, a vital link in the new trail network.
This resurgent communist program of trail building supported larger attacks, culminating in December 1960 with the formation of a National Liberation Front to, once again, link up these local efforts into a coordinated national campaign. The NLF's declaration called for the creation of a national military, the Peoples Liberated Armed Forces (PLAF), in South Vietnam and a revolutionary government in areas liberated from the RVN. The pace of battles around outposts like Nam Đông and A Lưới picked up in 1961, as American officials grew more worried about the collapse of the RVN.
FORTIFYING THE LOWLANDS
After the 1960 coup, the city streets of Huế and villages along Highway 1 functioned as an increasingly important performance space both for supporting the NLF and fighting the Diệm government. The old villages of the Inner Road in particular provided daily examples of the deep sectarian and ideological differences ripping traditional society apart. Cẩn's paramilitary approach with Cần Lao cronies and "brownshirt" youth triggered increasingly violent responses from pro-NLF residents in the early 1960s. After the formation of the NLF, communist groups retaliated against the most abusive of the Cần Lao officials and started nighttime attacks on military convoys on the highway. These triggered increasingly violent and sectarian responses from Cần Lao units. Residents of Dạ Lê Village described one retaliation, a sweep operation that took place on Wesak Day, a Buddhist holiday, in 1962. At approximately 5 A.M., several hundred army soldiers moved in a line from the highway through the village. Three PLAF commandos fled but ran into another group of waiting soldiers and were killed. The sweep resulted in about thirty other men being detained and interrogated while the Cần Lao paramilitaries looted chickens, ducks, a sewing machine, and cash. One peasant recalled that after every sweep, "they made more friends for the V.C."50
While villagers, Buddhist monks, and students at Huế University increased their protests about the Ngô family's abuses, Cẩn attempted to contain the widening array of protesters by turning one of the oldest villages on the Inner Road, Thanh Thủy Thượng, into a strategic hamlet (ấp chiến lược). The strategic hamlet program was a favored strategy of Cẩn's brother Nhu in Sài Gòn, but he assented to build one along Highway 1 as a showcase likely to appease Americans traveling into Huế from the airport. Cẩn had openly disagreed on the utility of strategic hamlets in central Vietnam's coastal villages. Instead he preferred to use paramilitaries who volunteered and trained in a military-style boot camp with indoctrination into the Cần Lao Party. The US consul in Huế in 1961, John Helble, noted that in central Vietnam strategic hamlets mostly began and ended with iconic bamboo fences. Helble and local American counterinsurgency specialists concurred that Cẩn's paramilitary strategy was more effective than Nhu's strategic hamlets because it recognized that insurgents were "more deeply rooted in the village than the Government has been willing to admit."51
Perhaps just to appease Americans or Sài Gòn bureaucrats, the provincial government built its "showcase" strategic hamlet at Thanh Thủy Thượng, conveniently located on Highway 1 between the airport and Huế. Thanh Thủy Thượng was one of the oldest Vietnamese villages on the central coast, and youth of the village had participated in revolutionary struggles since the August Revolution. The main village area had for centuries existed with little changes in house plots or buildings in the narrow coastal strip lying between the highway and railroad and the rice fields. In this urban-like strip of land, family shrines and a Buddhist pagoda sat surrounded by houses and hedgerows of the village's founding families. Highway 1 and the national railroad bisected this strip, separating it from the hilly back slopes.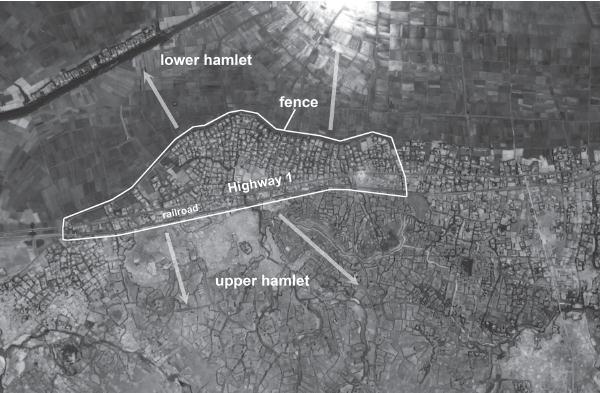 While Cẩn's sentiments toward the fortification project may have been minimal, locally, the construction of barricades and manning of checkpoints was deeply disruptive. By fencing in just the residential portion of the village, cutting people off from estuary fields in the lower hamlets and ancestral tombs in the upper section, the chief effect was not protection but a new form of militarized enclosure. Villagers were forced to build three rows of bamboo stockades separating the residential area from their fields and tombs (figure 4.7). Once complete, every resident had to produce papers upon entering and leaving this stockade, even if traveling to rice fields or the hills. Residents in Thanh Thủy Thượng had to face Popular Force soldiers at each checkpoint, and their children were required to serve in these units as well as Cần Lao patriotic organizations such as the Republican Youth. A commune history describes this strategic hamlet as a "prison camp," as the barricades deterred many people from leaving their homes for fear of abuse or shakedowns at checkpoints.52
While the strategic hamlet program was by most accounts deeply restrictive, the construction of barricades and increase in military checkpoints on Highway 1 reflected the Huế government's mounting concerns over the communists' gradual regaining of the upland territories. Since 1961 PLAF platoons had engaged in dozens of battles against ARVN patrols around the mountain bases. They extended their controlled areas across most of the A Sầu Valley and the mountains surrounding Nam Đông. At midnight on March 3, 1963, Company 105 of the PLAF attacked the ARVN camp at Hòa Mỹ, pushing the boundaries of the liberated zone almost to their original area in 1947. In a one-hour assault, they killed twenty-seven ARVN soldiers, took six Cần Lao officials hostage, destroyed two tractors, and took two tons of rice along with the post's radios, guns, and ammunition.53
The attack on Hòa Mỹ was both strategic—demonstrating the PLAF's capacity to strike in the hills—and symbolic. The first Việt Minh tactical zone established in 1946, after 1954 Hòa Mỹ had become one of Cẩn's pet development projects. Both sides understood the historical and tactical significance of Hòa Mỹ as a gateway into the highlands, and the PLAF's destruction of the camp, turning it to ruins again, sent an important message to the population. Cẩn had sent loyal Cần Lao operatives to manage the settlement and defended it with two platoons of paramilitaries. As a development site close to Huế, Hòa Mỹ attracted more official and foreign visitors than the mountain sites. Greater foreign attention resulted in richer stocks of rice, medicine, tractors, and especially guns.
This string of NLF victories in early 1963 was followed by waves of RVN political reprisals that produced a firestorm of media attention on Diệm's government and Kennedy's "special war" at home in the United States. In Huế on May 8, 1963, the army and police fired live ammunition into a crowd of Buddhist protesters, killing nine, including two children who were crushed under armored personnel carriers. The Buddhist Crisis escalated that summer when a monk from Huế, Thích Quảng Đức, immolated himself in protest in a Sài Gòn street intersection. From June until the army coup that eliminated the Ngô brothers on November 2, the American consul in Huế, John Helble, provided Washington with regular updates on protests and police actions on the streets of Huế. The old imperial city on the narrow coast, just sixty kilometers south of the DMZ, became a focal point for global concerns about an escalating war.
Cần's final day in Huế on November 5, 1963, marked a surprising reversal to the homegrown authority he built in the shadows of an American- and Sài Gòn–driven buildup of military and civilian aid. After years of avoiding direct contact with Americans and other foreigners in Huế, Cẩn sought safe passage via American aircraft and the State Department. He showed up at the consulate in the back of an old Citroën, lying on the floor while a man dressed as a priest drove. Consul Helble cabled Washington for instructions and asked Cẩn where he would like to go for asylum. Cẩn replied, "Tokyo." A few hours later, Helble together with a CIA officer and American military advisers drove in a convoy to Phú Bài airport, where a CIA-owned C-46 landed and picked Cẩn up without incident. The plane whisked Cẩn off to Sài Gòn's Tân Sơn Nhất Airport, where the Vietnamese military intercepted the plane, dismissed Helble, and took Cẩn into custody.54 The postcoup government tried him in April 1964 and executed him in Huế on May 9, one year and a day after the RVN troops in Huế had fired on Buddhist protesters.
A NEW WAR BEGINS
The deaths of Diệm and Nhu and the arrest of Cẩn marked an important turning point not only for RVN-US relations but also for the NLF and North Vietnam's position in the war. At the ninth meeting of the central committee in Hà Nội in December 1963, the party formally committed the material and personnel of the People's Army of Vietnam to support NLF operations south of the DMZ. By early 1964 PAVN soldiers openly participated in combat operations against RVN troops, threatening the ARVN posts at Nam Đông and A Lưới.
Although most American histories of the Vietnam War begin with an alleged North Vietnamese torpedo boat attack on US navy ships in the Tonkin Gulf in August, in Huế a real battle involving PAVN troops and the killing of US soldiers began one month earlier at Nam Đông. Soldiers in two PAVN divisions fought with PLAF units to wage a concerted series of attacks on the mountain bases and along Highway 1. Consul Helble in Huế was one of the few Americans who reported this act of war to Washington, and for unknown reasons senior American diplomats and military commanders buried the story. Helble was celebrating his farewell party at the consulate on July 2 after completing a long tour as Huế's American consul. During the party in his villa, a courier notified the ARVN's First Division general that PAVN and PLAF forces had blown over forty bridges on Highway 1 and were attacking the ARVN military post on the highway just seventeen kilometers north of Huế. Two captured soldiers wore PAVN unit insignia, and they confessed that their battalion-sized force (six hundred men) had camped and trained with PLAF units for ninety days in the A Sầu Valley before commencing the attacks. Helble cabled this news to Washington, as it constituted a direct attack by North Vietnamese soldiers across the DMZ on Americans. William Westmoreland, a new American commander at a rapidly expanding headquarters for the Military Assistance Command Vietnam (MACV) in Sài Gòn, discounted Helble's report and denied PAVN involvement.55 The combined attacks that summer marked Hà Nội's decision to wage all-out war in the south, and this concerted uprising (đồng khởi) focused on demolishing the RVN's strategic hamlets and, if possible, overrunning the mountain bases supported by US Special Forces.56
Regardless of Westmoreland's political maneuvers with Washington, for the American soldiers camped at Nam Đông war began decisively on July 6, 1964, when the PLAF 802nd Battalion supported by PAVN troops attacked the American special forces A-team there. Approximately nine hundred communist troops attacked the special forces camp with artillery and human wave assaults just after midnight. Twelve Americans served in the A-team with a protection detail of sixty Nung ethnic minority soldiers, highlander mercenaries who fought with French troops near the mountainous Chinese border before 1954. Outside the American camp was a base with over three hundred ARVN troops. Anthropologist Gerald Hickey, one of the only Americans to have studied the Katu, happened to be at the camp the day before to interview local Katu residents. He describes the American group's defense in a chapter titled "Victory at Nam Dong" in his memoir, Window on a War. Roughly one hundred of the ARVN troops secretly supported the NLF and attacked sleeping comrades to reduce the defenses while opening a hole in the base perimeter for the attacking NLF battalion. The Americans, Nungs, and remaining ARVN soldiers emptied their arsenal on the attackers, holding the offensive off until morning when American planes arrived from Đà Nẵng. The grisly scene that morning included over one hundred ARVN soldiers dead, sixty PLAF dead, several American soldiers dead, and one Australian soldier dead. Marine helicopters transported scores of wounded combatants and civilians to hospitals in Đà Nẵng.57
RUINATION
In a period that most political histories of the Vietnam War describe as either a peaceful interlude or a time of competing nation building, the view from the ground in Thừa Thiên–Huế was more one of violently targeted ruination. Physical vestiges of the French–Việt Minh war, the Nine Bunkers and the former tactical zones, became focal spaces for new military activity. In the hands of Cẩn's secret police, the Nine Bunkers were reborn as a space for torture, and the former "cradles of the revolution" were reborn as model settlements ruled by Cần Lao party loyalists and military authorities.
In sites such as Hòa Mỹ and Nam Đông, the outward appearances of constructive activity—building refugee camps and roads—masked a targeted form of annihilation by replacement. Through paramilitaries and the Cần Lao, Cẩn worked hard to destroy traditional village relationships, dissolving forms of communal autonomy that had survived since colonial rule. Whether through police sweeps or by surrounding a village with barricades, these actions brought violence and corruption into village life, as the government encouraged children to report on parents and neighbors to act against each other. Finally, the combined PAVN-PLAF assaults on Hòa Mỹ and Nam Đông in 1964 marked a retaliatory form of ruination, largely destroying what ARVN troops and American funds had built.
Evacuated Việt Minh camps and evacuated French bases became signposts for what was, from 1954 to 1964, a most violent period. Cẩn drew globally from such groups as the brownshirts of Nazi Germany to give a logic to his program of destruction. His followers understood the deeper colonial and communist contours of the landscape. Into this deeply inscribed, militarized space littered with physical and political wreckage came American soldiers and an American military intent on socially and physically reengineering the landscape yet again.