Introduction

PRODUCING SHANGRILAS
Chris Coggins and Emily T. Yeh
ON a clear, cool day in late October 2006, we are driving north along National Highway 214 near Deqin (Tib. Dechen) in Diqing Tibetan Autonomous Prefecture, in northwest Yunnan. After passing Feilai Temple and rounding a curve high above the upper Mekong River, we suddenly face Khawa Karpo,1 a massive mountain looming beyond the deep gorge, guarded by a range of ice-clad peaks sparkling in the autumn sun; this is one of the most powerful deities in cultural Tibet. Ma Jianzhong, the director of the Nature Conservancy (TNC) office in Deqin, and the driver, Pema, whoop simultaneously, "Ohh lhaso lhaso lhaso! Lha rgyal lo! Wooo!" (Victory to the gods!). Although we are headed to northern Deqin County to conduct field research on yullha (Wyl. yul lha) and zhidak (Wyl. gzhi bdag), two types of local deities associated with lesser sacred mountains and depicted as warriors, ancestors, and ancestral divinities, there is time to stop the jeep and take a short break to behold this spectacle of supernature (Karmay 1994).2 We gaze in wonder at the craggy features of the seven major horns, with their surrounding cirques, cols, and arêtes, and at the sacred Mingyong glacier, which descends in a hanging valley from a firn field bounded by a high head-wall. Like tens of thousands of tourists who visit each year, we also take photographs. I (Chris) have never seen Mount Everest (Wyl. Jo Mo Glang Ma), but I sense that Khawa Karpo is beyond compare. The summit of Everest rises 8,850 meters above sea level, 2,110 meters higher than Khawa Karpo's main peak (6,740 m), but scientific measurements operate within a different set of myths. Khawa Karpo is more than a common warrior god. It is one of the eight neri (Wyl. gnas ri), or "abode mountains," the holiest mountains in Tibetan Buddhism, and the name denotes both the god himself and the mountain where he resides. Originally a fierce nyen (Wyl. gnyan), or mountain demon, he was transformed into a protector of the Dharma by Padmasambhava in the eighth century.3
According to tradition, to climb to the peak would defile the deity, who would abandon the abode, and Khawa Karpo has never been climbed. Though Everest is also a sacred mountain, it is not one of the neri. Since Edmund Hillary reached the pinnacle of Everest in 1953, reputedly commenting to his colleague W. G. Lowe at base camp, "Well, George, we knocked the bastard off," more than 3,100 people have followed. This is not to say that alpine impulses have not been a serious threat to Khawa Karpo as well; between 1987 and 2000, many attempts on the peak were made by climbers from China, Japan, and the United States, but all without success. The best-known failure occurred in 1991, when a Sino-Japanese climbing team approached the peak on the second of January. When the team was all set to conquer the mountain the following morning, news of the final assault reached officials in the county seat of Deqin, and word spread quickly to people in the streets. Hundreds of Tibetans gathered at Feilai Temple to pray and to protest the god's submission to the climbers. Women reportedly yelled curses at Khawa Karpo and raised their skirts to insult the deity in protest while demanding an explanation for its submission. Lamas were deployed to pray for the mountain's well-being. The next morning, the entire team of seventeen climbers was wiped out by an avalanche that was observed by people in herding camps below. Supplicants later asked Khawa Karpo for forgiveness for their insulting behavior but thanked him for ending the assault on the mountain. There was concern about the lost corpses and how their spirits would be pacified. On the high slopes above Yubeng Village, a series of rituals was performed for the souls of the dead and the purity of the mountain (Litzinger 2004).
Scientific logic demands that the reader pay close attention here. Clearly those climbers died for reasons having nothing to do with mountain deities, the invocations of lamas, or the prayers and protests of lay believers. But the driver from Deqin who takes me to the foot of the Mingyong glacier, which lies along the 240-kilometer circumambulation (Tib. korwa; Wyl. skor ba) route, assures me that the connection is incontrovertible. Clear skies in the morning show that Khawa Karpo is happy and my visit is blessed. Clouds shrouding the mountain's head in the afternoon are Khawa Karpo's anger on display—Japanese tourists are visiting the glacier, and the driver makes it clear that the attempted assault on the peak is part of a longer history of Japanese atrocities perpetrated on China. Whether or not Khawa Karpo discriminates between heroes and villains in the Second Sino-Japanese War, the Dechenwa know that the mountain is ever vigilant over those who enter and exit its domain.
By the year 2000, TNC and Deqin County officials had successfully petitioned Beijing to ban mountaineering on Khawa Karpo and its neighboring peaks, and since then, no expeditions have been permitted. However, this did not solve the problem of contamination by exogenous forces and interlopers, and Yubeng villagers continued to voice concerns about the spiritual and environmental impact of both the climbing incident and the growing local tourist industry, despite the fact that the latter brought them unprecedented levels of income. In 2004, when global warming had been implicated in the glacier's dramatic retreat, a Yubeng Village leader named Ahnanzhu described his perceptions of the connection between the forces of globalization, global warming, and local environmental change.
A little ways up above our village, up where the waterfall is, on the side of the river, there were large flat sections of ice that a plane could have landed on—I can remember this from when I was young. As I grew up, I saw that the glacier was receding year by year; . . . in the past [before tourism], our village didn't produce as much smoke [and ash;] . . . there wasn't much smoke and other forms of pollution, so the glacier was stable. Since then, there has been an increase in pollution year by year; smoke and dust increased year by year, and the glacier began to recede. . . . [The climbing accident] had a big impact on us [as well]. Throughout history there have never been such big impacts on the mountains. We have never had large-scale threats, sudden disturbances like deforestation, [and] the threat of road building. . . . People's lifespans have also shortened. In the past, people could live for over a hundred years; these days, people live to seventy or eighty at the most.
Similarly, in a participatory film made by several local Diqing intellectuals in 2002, Mingyong villagers discuss at length the causes of the melting of the Mingyong glacier. One states:
Especially after the year 2000 there are more people coming; the pollution is serious and now there's electricity. These three problems put together make the situation really bad. In the past, people couldn't even go up [the glacier]. Now even the cows can make it up. If there were no people going up, no littering, and no electricity use, the glacier could recover naturally. If the current situation continues, the glacier will continue to recede. Before, the Japanese ascent team was buried [under ice and snow]. Three years ago, they discovered their corpses on the glacier.4
Here again, glacial retreat is understood primarily as a local phenomenon that results from human violations of sacred space, rather than being seen through the lens of anthropogenic global climate change.
In each of these vignettes, one mountain massif is a congeries of narratives, beliefs, performances, and claims, many of which fail to conform neatly to the tidy ontological and epistemic categories of "nature" and "society" that are central to directives from the Chinese Communist Party (CCP) to build the "ecological state" (Ch. shengtai lizhou or shengtai liguo) and to establish a "harmonious society" (Ch. hexie shehui). However, it would be wrong to assume that these disconformities and hybrid ontologies are not products of the formal political orderings that emerge from governance. For TNC staff members mentioned above, Khawa Karpo is simultaneously a major Tibetan pilgrimage site—the domain of very powerful and idiosyncratic deities (whose beneficent, dangerous, and capricious qualities demand attention)—and the centerpiece for what is supposed to become an internationally prominent protected area, the Meili Snow Mountains National Park, the cultural and biophysical features of which they must assess with scientific precision. Thus the mountain stands at the center of their labors and provides grounding for their claims to professional expertise, while also animating a field of personal memories and meanings associated with the home place and home region. The driver speaks on behalf of Khawa Karpo's powers of surveillance and defense, as the mountain recollects dark atrocities in the form of menacing clouds high above our heads. Ahnanzhu gives voice to the anxiety that he and other residents of Yubeng Village experience vis-à-vis transnational conservation interest in the area and international environmental discourse on global warming (by this time, villagers have been interviewed on this subject by journalists from the New York Times, among others5); radical changes in household economies and internecine relations following a massive influx of trekking and horseback-riding tourists, both domestic and international; and the knowledge that the individual and collective health and fortune of village residents are contingent on a relationship of reciprocity with Khawa Karpo.
These scenarios reveal relationships between the shifting and competing doxa of religious and political ideologies and the habitus of everyday lives, relationships that are mutually constitutive with rapid infrastructural development, exponential growth in domestic and international tourism, and a wave of state and private environmental projects based on new forms of governmentality that prioritize "ecology" and "culture."6 While these two terms assume the universality of Western secular, scientific discourse, they are, of necessity, grounded in particular landscapes, which are themselves material and symbolic, physical and ideational, and, in Tibetan contexts, quite capable of personal expression. While we do not conceptualize landscapes from a foundationalist or determinist perspective, each of the case studies in Mapping Shangrila explores ways in which landscapes are deployed—often as foundational evidence—in contests for epistemological authority. The cultural landscapes of the Sino-Tibetan borderlands are, as elsewhere, media for the social construction of territory, nature, and personhood. Our contributors adopt an interdisciplinary approach, examining the political ecology of changing landscapes and power relations in Tibetan communities during a period of unprecedented growth in the economic and political infrastructure of the People's Republic of China (PRC).
Although often relegated to the margins of "western China," "the Chinese frontiers," or "outer China," the Sino-Tibetan border regions historically have shaped and defined a vast peripheral zone between imperial polities, China and Tibet, whose expansions and contractions ensured a series of competing territorial claims by distant sovereigns supported or resisted by distinctive local and regional sociopolitical formations (Coleman 2002; Epstein 2002; Huber 2002; Peng 2002; van Spengen 2002). Despite their distance from the centers of political power and economic dynamism, the Sino-Tibetan borderlands are integral to understanding social and environmental change in the contemporary People's Republic of China. The margins are not a realm of exotic practices but rather "a necessary entailment of the state, much as the exception is a necessary component of the rule" (Das and Poole 2004, 4). Thus, a Beijing-centric or eastern-seaboard-centric view of China's rise is incomplete. Not only do Tibetan regions constitute roughly one quarter of PRC territory, but dynamics of middle-class subject formation, the creation of national geographic imaginaries, processes of state territorialization, and principles of ecological governance are worked out here, creating these places in relation to and mutually constitutive of the capitalist powerhouses of the east.
A necessarily imprecisely defined region, the Sino-Tibetan borderlands we refer to encompass much of the Tibetan cultural regions of Amdo and Kham. Despite our focus on Tibetan communities living in these borderlands, they were and are ethnically and linguistically complex and fluid. Indeed, part of our project is to investigate the multiple landscape and identity effects of the marketing of these borderlands as reified representations of Tibetan culture that have accompanied the Great Western Development (Xibu Da Kaifa) strategy. The actual heteroglot nature of these borderlands, which is obscured by such development efforts, is particularly pronounced in the farming areas east of Xining, where Tibetan agriculturalists sometimes live in the same villages as Han, Salar, Tu, and others, as well as northwest Yunnan, where Tibetans, Lisu, Han, Naxi, Yi, Bai, Hui, and others have long lived in proximity and sometimes in mixed communities. The Chinese government census taken in 2010 shows that in Diqing Tibetan Autonomous Prefecture, Tibetans make up 32.36 percent, Lisu 26.72 percent, Han 18.34 percent, Naxi 11.60 percent, and Yi 4.16 percent of the population. In neighboring Ngawa (Ch. Aba) Tibetan and Qiang Autonomous Prefecture, in Sichuan, Tibetans compose 54 percent, Qiang 17.58 percent, and Han 24.55 percent of the population, with others making up the remaining 3.37 percent (China Statistical Bureau 2013).
In addition, these borderlands, where various ecological, cultural, and political zones intersect, were for many centuries organized into small chieftainships and kingdoms with allegiance to neither the Chinese nor Central Tibetan empires. In the early twentieth century, Kham was an agglomeration of up to twenty-five independent or semi-independent polities, and a series of autonomy movements demanding "Khampa rule for Kham" arose in the 1930s (Peng 2002; Thargyal 2007, 183). In Amdo, the Golog deliberately sought to remain ungoverned by any state. Joseph Rock (1956, 127) recorded a Golog herder saying in 1908, "We Golog have . . . from time immemorial obeyed none but our own laws," and a folk song recorded in 1951 asserts, "Against the orders of the Dharma King of Tibet I rebel! Against China I rebel! . . . We make our own laws!" (N. Norbu 1997, 3).
These Sino-Tibetan borderlands experienced and reacted to multiple civilizing projects, including not only those of distant imperial polities but also the "mandalization" of Tibetan nomadic communities by the major Gelug institution of Labrang Monastery (Makley 2007). The ethnic intermixtures, the historically weak, overlapping, and fragmented sovereignties of the Sino-Tibetan borderlands, and competing civilizing projects suggest that Zomia is a fruitful concept with which to approach them.7 This is not a claim that the Sino-Tibetan borderlands are part of Zomia as a particular world area centered around highland Asia (cf. van Schendel 2002) or that they are perfectly described by Scott's (2009) observations of non-state spaces of Southeast Asia as characterized by mobility, religious heterodoxy, egalitarianism, and swidden agriculture. Instead, Zomia-thinking is useful for turning our attention to state effects on populations of the Sino-Tibetan borderlands.
These state effects were and are not uniform. While some of the social formations of the "shatter zones" of the Sino-Tibetan borderlands, particularly pastoral communities, intentionally chose to remain beyond the reach of taxation, conscription, and enslavement by central states, some of the larger chieftainships and kingdoms adopted many of these very same practices. As Michael Hathaway points out in chapter 6 in this volume, it is also likely that some groups were drawn to the region through "selective connections" to economic, religious, military, and governmental engagements in a border zone connected, internally and externally, by a web of highland trade and transport routes. Thus, we do not treat the borderlands as one monolithic region having one distinctive set of claims to Tibetan culture or national identity. Nor do we assume that the region is fully subordinated within post-Liberation techno-administrative boundaries or that incorporation into the People's Republic signifies an inevitable decline of cultural identity.
Since 1949, when far-western China fell within the range of the civilizing project of the high modern state, foreign observers and even many inhabitants of the borderlands have assumed that the territorial sovereignty of the People's Republic of China is an inexorable and accelerating process; to launch a substantive political challenge to the legitimacy of the state seems beyond the means of the many. The political fate of a region with an area greater than the national territories of more than two hundred of the world's countries now seems sealed within the techno-administrative signifiers and practices demarcating counties, prefectures, and provinces extending from northwest Yunnan and western Sichuan, through eastern Qinghai, and well into southwest Gansu (map 1).8
Despite the claim that Zomia "makes no sense" after 1950 (Scott 2009, 19), the framework retains currency in its attention to the ongoing process of how borderland groups are "simultaneously situating themselves to make strategic and political claims vis-à-vis . . . nation-states, while also remaining deeply committed to the 'ungoverned' aspects of their identity" (Shneiderman 2010, 292). These strategic claims arise from the very projects used to manage and incorporate the borderlands in colonization efforts. Such projects are carefully orchestrated "mappings," the creation of territory itself as a political technology (Elden 2010) and its associated epistemological projects that enhance "legibility" for governance (Scott 1998). Rather than annihilating cultural others, these strategies reify new categories of culture and nature and give rise to new, often ungovernable realities.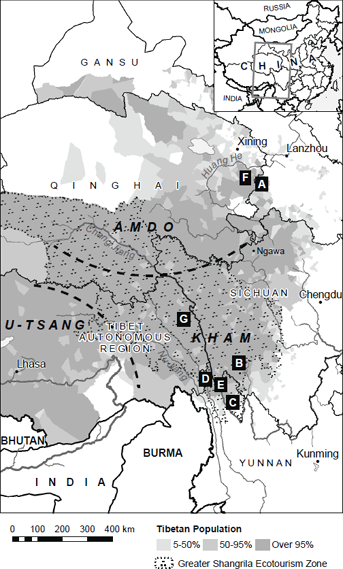 In the Sino-Tibetan borderlands, a key mapping has been ethnolinguistic classification, which took place during the Republican era (1911–49) and especially during the first decade of the People's Republic, when the state enlisted ethnographers in a campaign to impose cultural legibility on all peripheral regions and marginal peoples. Based on rapid, systematic field assessments, this classification became the objective standard for the new taxonomy, leading to the radical simplification of cultural geographic complexity, particularly in the ethnically diverse borderlands.9 The delineation of ethnic groups, based almost exclusively on linguistic evidence (and often eliding emic conceptions of heritage and ethnonational affiliation including traditional ethnonyms), has provided the foundation for a multi-ethnonational state in which fifty-five minority minzu (shaoshu minzu), form a constellation of subaltern peoples whose destinies revolve around the executive nation-within-the-nation—the approximately 92 percent of the population that constitutes the Han majority. The "fifty-six-minzu model" has in fact become "ethnotaxonomic orthodoxy" in official discourse and popular culture (Mullaney 2011, 117), an imagined community of "Chinese people" (Ch. Zhongguoren or Zhonghua minzu) representing a multiplicity of ethnicities, each of which receives official recognition in exchange for allegiance to, and incorporation within, a multiethnic China (Anderson 2005).
In light of this ineluctable regime of cultural absorption, containment, and control, one must keep in mind that civilizing projects often intensify ethnic consciousness among peripheral peoples, engendering ethnogenesis (including renewed and reconfigured ethnic and national identities) and simultaneously affecting values and perspectives of the "civilized self" and the "barbaric other" in colonial centers of political and economic power (Harrell 2000). More specifically, in the Sino-Tibetan borderlands, the project of PRC state incorporation has generated new forms of Tibetan unity and an affinity for a Tibetan nationalist project that did not previously exist (Kolås 2008), as seen in the widespread geographical and social scope of the 2008 protests (Barnett 2009; Yeh 2009d).
Even with the minzu classification system established as an ontological condition of nationhood in China, ethnic identity in the borderlands continues to acquire new modes of expression in response to new forms of governmentality. Since the late 1990s, the official story of western China, including the Sino-Tibetan borderlands, has been one of state beneficence in the form of development. The Harmonious Society and ecological modernization have, in this civilizing narrative, enabled multiethnic cooperation in projects that enhance sustainable development. Citizens are expected to be grateful for favorable policy initiatives and the infusion of unprecedented levels of capital investment by the state, private corporations (domestic and multinational), and nongovernmental organizations (NGOs), particularly environmental NGOs. Development, in other words, has become a raison d'être of the state, the foundation of state legitimacy (Chatterjee 2006; Gidwani 2008; T. Li 2007; Ludden 1992; Wainwright 2008; Yeh 2013). This is true across postcolonial states the world over, but the dynamics of development as state incorporation are particularly pronounced in China's Sino-Tibetan borderlands, where landscapes, livelihoods, and worldviews have been dramatically transformed over the past several decades.
As a project of raising the standard of living and providing various forms of improvement and welfare, development targets specific populations, rather than operating at the level of the individual. In other words, it is a form of what Michel Foucault called "biopower," a science of government that aims to improve the condition of the population through calculation and the production of knowledge about the characteristics of a population as a whole, such as life expectancy and birth rates. In Foucault's words, the emergence of biopower as the right to "make live and let die" came to complement sovereign power as the right to "take life or let live" (Foucault 2003 [1976], 241). Unlike disciplinary mechanisms, which work by regulating individual bodies through surveillance and the organization of space and movement, the security mechanisms that characterize biopower work to optimize the population's state of life.
The emergence of the population as an object of calculation and knowledge enabled the art of government, or governmentality. In contrast to sovereignty, the purpose of government is not governing in and of itself but rather securing the welfare and the biological and economic condition of the population. This is accomplished by acting on the population through a set of calculated and rational ways of securing, or conducting, its conduct. Development can be understood as a form of government in that it deploys a variety of techniques and micropolitics that structure fields of action for its subjects; it is a set of practices that tries to accomplish rule by creating governable subjects and governable spaces.
With development operating as a form of governmentality aimed at fostering certain kinds of life, it is evident that state power in the Sino-Tibetan borderlands cannot be understood as sovereign power alone, though its application has become more pronounced since 2008 (discussed in detail in the introduction to part 3). Instead, it is a triad of "sovereignty-discipline-government" with different emphases and points of articulation between these modes of power operating at specific conjunctures (Foucault 1991,102; Moore 2005). In tracing the trajectory of development as well as environmental protection at work on the landscapes of the Sino-Tibetan borderlands, we can also trace specific ensembles of sovereignty, discipline, and government. These bear heavily on the landscape, practices of representation, and individual bodies. In the case of the latter, microtechniques of power are evident not only in specific punishments meted out to those perceived to challenge the prevailing order (see ch. 10 in this volume) but also in the wave of political resistance taking the form of more than 120 acts of self-immolation in the borderlands since 2009 (discussed in the introduction to part 3).
During the first decade of the twenty-first century, securing the welfare and the biological and economic conditions of the population of western China has required massive investments of China's surplus capital. In conjunction with increased access to the international market in cheap fossil fuel and abundant domestic coal supplies, in 2000, the state implemented a series of projects as part of its Great Western Development strategy. The aim of this program is to reduce the economic disparities between western interior regions, in which minority minzu predominate, and eastern coastal provinces, but it has also been interpreted as an effort to reconsolidate state power.10 In addition to major expansion of the "hardware" of development—road and air travel networks, hydropower generation, and telecommunications systems—the Chinese Communist Party has worked diligently to increase its soft power in the region, encouraging transnational and local cooperation in the conservation and development of natural and cultural landscape resources. State-led efforts to capitalize on landscape amenities in the Sino-Tibetan borderlands have gone hand in hand with a turn away from some older strategies of resource extraction, particularly in forestry, while other forms, such as mining and hydropower development, intensify (Lafitte 2013). The exploitation of hydropower resources in the Sino-Tibetan borderlands remains critical for China's national strategy of energy development, and recent approval of a major dam-building project in the Nu River valley in Yunnan shows that what the state calls "green energy" flies in the face of research predicting a wide range of negative social and ecological impacts in southwest China and neighboring countries in Southeast Asia (Brown, Magee, and Xu 2008; Jacobs 2013).11
Such selective definitions of "green" are critical as CCP planners now contrast an older model of a "production power state" (Ch. shengchan qiangzhou) with a newer "ecological state" (Ch. shengtai lizhou, also shengtai liguo). The centrality of ecological construction projects in Yunnan, Sichuan, Gansu, Qinghai, and the Tibet Autonomous Region suggests that these cannot be understood merely as "minority issues," as might be suggested by a view of the borderlands as neglectable margins, but rather are essential elements in the central state's narrative of China's ecological modernization and the emergence of the ecological state. This is exemplified in the 1998 national logging ban in the upper Yangzi and Yellow River basins (the headwaters of both rivers are on the Tibetan Plateau) and the 1999 nationwide Sloping Land Conversion Program, which converts agricultural lands with greater than twenty-five-degree slopes to forest lands. Both of these policies forced rural communities in Yunnan, Sichuan, Qinghai, and Gansu to abandon some of their most important economic activities, especially logging. At the same time, the state has promoted a quasi-neoliberal development model for the Greater Shangrila Ecological Tourism Zone (described in part 1), in which border cultures and landscapes are viewed as renewable resources, available for endless reproduction and "subject to the laws of supply and demand" (Litzinger 2004, 489). Indigenous cultural landscapes and alpine ecosystems have thus become both marketable commodities and precious environmental resources in a global trade network that alternately (and sometimes simultaneously) commercializes, exploits, re-creates, and protects desirable landscapes while restructuring, to varying degrees, the spaces of everyday life and subjectivity. Since the establishment in 2001 of Shangrila County in Diqing Prefecture, Yunnan, the state, NGOs, and local people have become increasingly engaged in the physical and symbolic transformation of landscapes throughout the Sino-Tibetan borderlands.
Projects of the ecological state in the Sino-Tibetan borderlands also include the establishment of national- and international-level nature conservation areas and support for ecological and ethnic tourism, both of which have undergone exponential growth (map 2). Taken as a whole, these rapid developments in governance, technology, and ideology have helped catalyze myriad local responses and innovations that are both manifested in and enabled by changes in rural and urban landscapes. Our case studies delve deeply into the relationship between landscape, ecology, subjectivity, geography, and power in this rapidly changing region, shedding light more broadly on the role of international and interregional dynamics driving social and environmental change in contemporary China.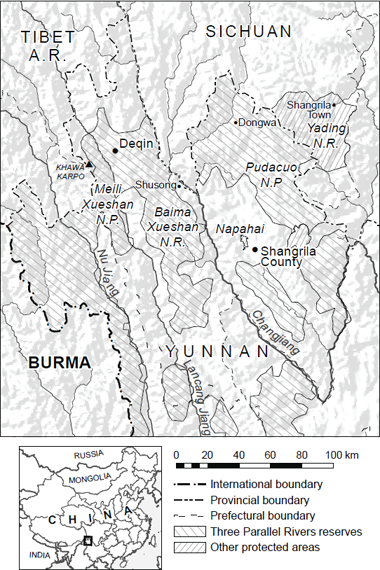 The three main foci of this volume are examined in three parts. First, in exploring "shangrilazation," our contributors examine practices of governance and representation in Sino-Tibetan borderland areas where cultural economies are reconfigured for tourism-based development, and how these new mappings—processes of making legible and tractable "Shangrilas"—contradict and overlap with indigenous geographies, engendering spaces of convergence, tension, or outright resistance. Second, the volume examines the construction of the ecological state, analyzing new forms of state power as worked on and through nature conservation, and how these intersect with multi-scalar political ecologies of resource use, commodification, and trade. Third, the chapters that follow explore in greater depth the making of new identities, subjectivities, and notions of personhood among Tibetans as well as Han in relation to struggles over territory and sovereignty engendered by tourism, conservation, and statist development.
These dynamics are not unique to China. Beyond the Sino-Tibetan borderlands, in state peripheries across the postcolonial world, the power triad of sovereignty-discipline-government also increasingly assumes the form of capital investment in nature and culture treated as renewable, market resources. While the logics of the ecological state and tourism-based development are attractive to many parties across the political and theoretical spectrum, the cases presented in this volume provide an argument for careful scrutiny of how state practices and effects are manifest in landscapes, ecologies, and subjectivities. It is our hope that this volume will shed light on other geographies of shangrilazation around the world, and how they articulate with social movements even as they constitute new forms of utopian seduction.
INTRODUCTION
1We use the spelling "Khawa Karpo" as a phonetically friendly alternative to the standard Wiley transliteration Kha ba dkar po. It is also seen in the literature as "Kawa Garbo" and "Kawagebo." In China and the West, this massif is most widely known as Meili Snow Mountains, or Meilixueshan. For discussions of the "Khawa Karpo" versus "Meili" naming issue, see J. Guo 2000b and Litzinger 2004. We thank Robert Moseley and Renée Mullen for their notes on this important toponym.
2Samten Karmay (1994) places the yullha (gods of the locale) and zhidak (territorial deities commonly abiding within mountains; literally "owners of the base") at the center of the laic, secular "mountain cult" that constitutes the heart of traditional Tibetan national identity and is still largely independent of Buddhist and Bön doctrine. According to legend, the first Tibetan (Yarlung) king, Nyatri Tsenpo (Wyl. gnya 'khri btsan po), is believed to have descended from the sky at birth, suspended by a mu cord (Wyl. dmu thag), to the summit of Lhari Gyangto, a sacred mountain in Kongpo, and to have ascended by the cord at death. This became the way of Tibetan kings until the mu cord was severed, at which time they became mortal. Local sacred mountains cults are, in a strong sense, reiterations of this mythic pattern, serving as ritual centers in the "unwritten tradition of the laity" that demarcate both national identity and loyalty to local and regional polities (see chs. 8 and 9 in this volume).
3For the etymology and cultural history of gnyan, see J. Xie 2001 and Karmay 1996. Both provide evidence that belief in these ubiquitous spirits evolved from the ancient worship of argali (Ovis ammon hodgsoni). Karmay (1996, 66–67) notes, "In popular rituals, it normally refers to the spirits that occupy the intermediate space in the vertical axis of the universe: the lha in the heavens, the gnyan in the middle and the klu on the ground. . . . [T]he gnyan are normally understood as being the gzhi bdag as they are thought to dwell at high altitudes, such as mountain tops. . . . The term gnyan is variously translated by Tibetologists." The word often has a connotation of "awesome" or "feared."
4Glacier (Bing Chuan) (Kunming: Yunnan Yinxiang Publishing House, 2002), film. Camera, Zhaxi Nima; editors, Zhaxi Nima, Silang Norbu; producer, Guo Jing, Team for Participatory Video Education, Baima Mountain Culture Center, 31 minutes.
5Erik Eckholm, "A Holy Place in China Fights for Its Life, Body, and Soul," New York Times, June 10, 2001.
6For more on fields, habitus, and doxa, see Bourdieu 1990. We adopt these terms with the objective of showing how they are mutually constitutive with and within cultural landscapes that define the biopolitical regimes of the Tibetan borderlands today.
7Zomia is a region defined by Michaud (2010, 187–88; following van Schendel 2002) as extending from the highlands of Pakistan, Afghanistan, Tajikistan, and Kyrgyzstan through the Himalayas, the Tibetan Plateau (including Qinghai), and northwest China's Xinjiang region, and south to the lower end of the peninsular Southeast Asian highlands. James Scott's (2009) map of the region does not extend northwest of northeastern India and the southern Himalayas or north of southwest China, but his sociopolitical definition is hypothesized by many as applicable to a broader region: "Zomia is the largest remaining region of the world whose peoples have not yet been fully incorporated into nation-states. Its days are numbered. Not so very long ago, however, such self-governing peoples were the great majority of humankind. . . . I argue that hill peoples are best understood as runaway, fugitive, maroon communities who have, over the course of two millennia, been fleeing the oppressions of state-making projects in the valleys. . . . Most of the areas in which they reside may be aptly called shatter zones or zones of refuge" (Scott, 2009, ix).
8We include here the Tibetan areas of Yunnan, Qinghai, Sichuan, and Gansu.
9See Harrell 2000; Litzinger 2000; Mullaney 2011, 2010; and Schein 2000. Although the Beijing ethnographers charged with delineating ethnic groups in Yunnan during the classification (shibie) project of 1954 were expected to follow the four criteria of Stalin's natsia (nationality) model—common territory, common language, common mode of production, and common psychology or culture—Stalin theorized that these could be realized only in the capitalist mode of production. Peoples who had not entered the capitalist mode of production could not be "nations," but only "clans," "tribes," or "tribal federations." The ethnographers, who were not Party members, did not accept this mandate and instead developed the ethnonational classification (minzu shibie) system based on ethnolinguistic criteria and the "ethnic potential" of the many groups who sought recognition. The goal was not to describe already existing "imagined communities" but to "outline a set of plausible, or 'imaginable' minzu categories that it would be feasible for the state to actualize in the post-Classification world—categories that would be 'good enough for government use'" (Mullaney 2011, 16–17). In the process, hundreds of applicant groups were categorized within what became the state's fifty-six minzu, and these were inscribed, actualized, and "placed," in techno-administrative fashion, within the system of autonomous counties, prefectures, and regions.
10The policy is aimed at six provinces (Yunnan, Sichuan, Qinghai, Gansu, Shaanxi, and Guizhou), which encompass the Sino-Tibetan borderlands, as well as Chongqing Municipality and five autonomous regions (Xinjiang, Ningxia, Inner Mongolia, Guangxi, and Tibet). The total target region comprises 71.4 percent of the area of China but only 28.8 percent of the population (Goodman 2002). From 2000 to 2009, average annual growth in gross domestic product (GDP) in the western region was 11.9 percent, higher than the national growth rate over the same period. According to the China Western Development Network, this accounted for an increase in the proportion of regional to national GDP from 17.1 percent to 18.5 percent; http://www.chinawest.gov.cn/web/index.asp (accessed October 31, 2013). See Goodman 2002, 2004a; Lai 2002, 2003; Oakes 2004, 2007; and Shih 2004.
11With a total capacity of 145,070 megawatts, the six hydrobasins within or immediately downstream from the Sino-Tibetan borderlands represent roughly 64 percent of the energy potential found in China's twelve major hydrobasins (calculated from data in Brown, Magee, and Xu 2008).