RAISING THE STAKES IN NATIONALIST XINJIANG
SHENG SHICAI WAS THE FIRST ETHNOPOPULIST TO SERVE AS governor of Xinjiang. But he was by no means alone in his admiration of Soviet affirmative action policies. In the summer of 1941, as German panzer divisions raced across the Ukrainian steppe, Sheng invited a Nationalist diplomat from the Chinese embassy in Moscow to visit Urumchi. En route to Xinjiang, the envoy passed through the Soviet national republics of Kazakhstan and Uzbekistan. "Though native peoples are installed in office," he wrote in his report, "every important lever of decision-making is controlled by the Russians." The envoy, noting that Sheng had adopted a similar approach in Xinjiang, was duly impressed. "In just two years he achieved impressive results, and there appears to be no downside to this approach. In the future perhaps we can employ similar tactics for our own profit."1 For his part, Chiang Kai-shek needed little encouragement on the matter. Now that Wang Jingwei, who had become a Japanese "collaborationist," was out of the picture, the Generalissimo, charged with governing actual non-Han borderlands for the first time in his career, had adopted his rival's one-time ethnopolitical portfolio. Of paramount importance were the lessons of the Jin Shuren trial: the idea that an ostentatious display of non-Han ethnopopulists in the public sphere could help construct a narrative of Chinese political legitimacy along the borderlands.
It should therefore not surprise us in the least to learn that Chiang Kai-shek, far from begrudging the duban his decade of estrangement from the central government, instead took great pains to enshrine a legacy for Sheng far more positive than that accorded to Jin Shuren. In 1945, when Isa Yusuf Alptekin and Masud Sabri attempted to use the Sixth Party Congress to treat Sheng in much the same manner as they had Jin a decade earlier, the Generalissimo would have none of it. "Yesterday one of our colleagues accused Comrade Sheng of wanton mass murder during his time in Xinjiang," Chiang announced. "Yet the fact that Comrade Sheng was eventually able to use his talents to deliver Xinjiang back to the central government is a contribution to both nation and party. Everyone here needs to understand this. Let us look at the larger picture, and stop fixating on culpability for the past."2 Part of Chiang's statement can simply be attributed to the discourse of national humiliation, embodied along the non-Han peripheries by the fate of Outer Mongolia and Tibet: so long as Xinjiang did not become "the next Outer Mongolia" (wai Meng zhi xu), incidental unpleasantries accrued during the course of Sheng's rule could all be forgiven.
But there was more to Chiang's support of Sheng. The Generalissimo was among the most determined of advocates for granting Isa and Masud their own prominent ethnopopulist platform in Xinjiang. But he was also supremely envious of the political discipline and organization evinced by the Soviets and Chinese Communists in their bid to mobilize the common masses. When Chiang studied Sheng's time in Xinjiang, he saw someone who had taken the best of what the Soviets had to offer and used it to great effect against its original innovators. In short, Chiang saw in Sheng an ideal version of himself, before the trials and tribulations of the past fifteen years had stripped his party of all cohesion and discipline. As a result, Isa and Masud were free to criticize the abstract sins of past Han officials like Jin Shuren, in addition to advocating for Uighur ethnocultural autonomy in the present. But they were not allowed to tear down the entire ideological edifice that held together the diverse peoples and lands of China. With a few key adjustments, Sheng's ethnopolitical platform represented the future of Chinese stewardship over the non-Han borderlands. Much like Khoja Niyaz Haji under Sheng, men like Isa and Masud were a pragmatic means to an end. They were not an intrinsic source of pride for their patrons.
In emulating much of what passed for political engagement in Xinjiang during the era of the duban, the Generalissimo put himself at odds with the conservative wing of the party. Wu Zhongxin, a founding member of the party and the man chosen to replace Sheng as governor in 1944, was one such person. Wu's sympathies are evident in his diary, where he constantly ruminated on the actions of those who preceded him. For Wu, Yang Zengxin was a surprising source of pride, given the old governor's demonstrated hostility toward revolutionaries of all stripes. Conversely, when Wu reflected on Sheng Shicai and his methods of keeping the peace, he was far more judgmental. While the duban earned full merit for "his ability to preserve Xinjiang as part of Chinese territory," Wu wrote, "his means of conducting foreign and military affairs, in addition to economic and political matters, were so extreme that they have made it quite difficult today to resolve their complex legacies." Wu eagerly recorded every rumor and piece of gossip about Sheng that came his way, only to cross them out later while preparing his manuscript for publication. For his true feelings toward Sheng and his political career, we need only read Wu's musings after bumping into the former duban in Chongqing, where the stresses of life after Xinjiang had taken their toll. "It seems that, in accordance with the tenets of Buddhism," Wu concluded, "he has descended to the lowest depths of hell as recompense for his past crimes."3
These two very different interpretations of the legacy of Sheng Shicai represent the tensions within the Nationalist Party over the ethnopolitical posture best suited to governing Xinjiang. On the one hand was Chiang Kai-shek, who thought Sheng's progressive ethnopopulism and use of provincial outsiders had facilitated "the greatest accomplishment in the history of the Nationalist government." On the other end of the spectrum was Wu Zhongxin, who reserved heartfelt praise for Yang Zengxin, the architect of an ethno-elitist alliance composed of conservative non-Han personages and career northwest Han officials. In his day, Yang had despised men like Sheng. Sheng returned the favor, ritually scorning the "feudal" mindset of his robed predecessors. Though the Nationalists were avowed revolutionaries (and thus closer in spirit to Sheng than Yang), by the early 1940s their motto tended to be a pragmatic "whatever works." What brought together the two poles of Yang and Sheng—or Wu and Chiang—was the discourse of national humiliation, evident in the jarring loss of Outer Mongolia. Staring down the Soviet Goliath in Xinjiang would require both conservative and progressive ethnopolitical postures. What neither Wu nor Chiang yet knew, however, was just how far beyond their comfort zones they would have to push their respective agendas.
For their part, the Soviets engaged in deep introspection following their betrayal by Sheng. No longer would they commit resources to constructing a Chinese narrative of political legitimacy in a non-Han land. Instead, the time had come to tear down the very edifice of ethnopolitical enlightenment they themselves had once taught the Han to build in Xinjiang.
MANUFACTURING AN INSURGENCY
The origins of what would eventually become known as the Ili rebellion have long constituted one of the most scrutinized and contentious subjects in the history of modern Xinjiang. Under the microscope is the question of agency—in other words, who bears the brunt of responsibility for the initial outbreak of the rebellion and its subsequent expansion? Was it mostly an "organic" Uighur and Kazak rebellion against Han misrule, or was it largely concocted and manipulated by Moscow? Using contemporary Chinese-language news reports, memoir literature, and the archives of the British and American consulates, previous scholars have proposed a wide range of answers, running the gamut from "justified" Muslim resistance to a Soviet puppet state.4 None of these studies, however, has been able to draw upon documentation of the rebellion from the perspectives of Soviet and Chinese archives. The remainder of this chapter will do precisely that. Taken in isolation, the unwavering conviction of Han officials in Xinjiang that the insurgency was conceived, implemented, and manipulated by the Soviets from start to finish naturally invites a healthy skepticism. When the evidence presented in the Chinese archives is consistently corroborated by the Soviet archives, however, it becomes increasingly difficult to maintain a stance of agnosticism regarding the causes and course of the rebellion.
On May 4, 1943, the Politburo of the Central Committee of the Communist Party of the Soviet Union passed a new resolution regarding the Chinese province of Xinjiang. According to the minutes for this meeting preserved in the Soviet archives, it called for the creation and support of "national revival groups" along the Soviet borders with Xinjiang. The types of aid envisioned, openly acknowledged by the authors of this document as "illegal," were staggering in scope: comprehensive propaganda efforts, covert infiltration and aggressive sabotage, military education and logistical support, and large-scale operations on the battlefield. Moreover, these "national revival groups" would be created "on the territory of Xinjiang among Uighurs, Kazakhs, Kirgiz, Mongols, and others composed of both local ethnic personnel as well as specially trained personnel from Soviet Central Asian republics." Three years later, Stalin and Lavrentii Beria, the Soviet minister of internal affairs, conferred medals on everyone who had helped carry out the May 4th directive. During the planning and execution stages, the neighboring Soviet Central Asian republics of Kazakhstan, Uzbekistan, and Kyrgyzstan were ordered to allot a fixed amount to be used for training, arming, and transporting non-Han insurgents. The goal was simple: drive Sheng Shicai out of the province and install in his place an administration composed of indigenous Xinjiang residents loyal to the Soviet Union.5 In other words, the Soviets wanted to return to the early days of Sheng, when Uighurs and Kazaks had briefly occupied visible positions of authority in his cabinet. Only this time, there would be no Sheng. In fact, there would be no Han officials at all.
Such a monumental project was to be inaugurated by an unabashed flaunting of what John Muccio, an American diplomat in Urumchi, referred to as Soviet "swank." "The Soviet Consul-General has two very large FAS limousines," he wrote. "[They] gain face with their cars and the pretentious consular compound—one large block square—they maintain, housing about 180 members of the consular, Sino-Soviet airlines, Sino-Soviet cultural institute, and hospital staffs."6 This swank was particularly useful for convincing potential recruits that Moscow would reward those who labored on its behalf as well as protect them from any backlash their activities might engender with the Chinese authorities. Soviet archives reveal that, in 1943, the five Soviet consulates in Xinjiang were tasked with canvassing their corners of the province to determine which site offered the best conditions for fomenting an insurrection against Han rule.7 While the detailed findings of the consul in Ili—the future capital of the East Turkestan Republic—have not come to light, reports from Kashgar have, thanks largely to the efforts of clandestine Nationalist agents who managed to track down Soviet recruits.
As it turned out, swank had its downside. To unravel the trail of Soviet plots in Xinjiang, Nationalist agents needed only shadow conspicuous symbols of Soviet power. "I was chatting with Ibrahim at the entrance to the Kyrgyz school," reported a Kashgar security agent in August, "when suddenly an official Soviet car drove quickly past us, heading toward Tokkuzaq Street. We immediately followed the vehicle to Gulshdin, where it stopped briefly, then sped away. A man appeared where the car had stopped, so I rushed forward to apprehend him. As we struggled, a bag attached to his waist came undone and flyers fell into the gutter. After I yelled for Ibrahim to come help me, we were able to tie the man up and collect all the flyers."8 The man they caught went by the name of Sadiq, the head of the local Uighur Association for Ethnocultural Advancement. He was typical of the men targeted by the Soviets. A product of Sheng's Soviet-inspired ethnocultural institutions, Sadiq was familiar with Soviet rhetoric yet thoroughly disillusioned with Sheng's vow to realize such promises on the ground.
According to Sadiq, his contact in the Kashgar consulate was a short, fat man he referred to as "Shapin." In exchange for generous sums of cash, Sadiq carried out assignments on Shapin's behalf. Shapin was most interested in determining what the Uighur masses of the southern oases thought of the Chinese government. Shapin ordered Sadiq to canvas village sentiment toward government conscription efforts and rumored immigration plans. "When you go to the countryside this time, I want you to pay close attention to whether the people are talking about these matters, and then report back to me," Shapin allegedly told him. When Sadiq failed to find evidence of local discontent, Shapin opted for more proactive measures. Handing Sadiq a stack of Uighur-language pamphlets, he ordered his spy back to the countryside. "Take these leaflets to the people and disseminate them among the peasants and akhunds." This time, Sadiq's mission was to "wake the people."9 Upon the conclusion of this meeting with Shapin, Sadiq was ushered into a vehicle, dropped off on Tokkuzaq Street, and immediately apprehended by the Kashgar police.
The Soviets apparently pursued similar tactics with other recruits. A Uighur man by the name of Ariz was told to "investigate public opinion and write up a report," then hand it over to a man who would utter the phrase, "Two fewer books, please." A Tajik man by the name of Zemi, tasked with smuggling firearms into Tashkurgan, was assured that "the Soviets are not just recruiting you alone to go to the Soviet Union. We have people all over the place disseminating propaganda." In Khotan, a Soviet agent working under the cover of a geological mission conducted a social experiment. "Twenty days after I depart, under cover of night, post ten billboards in public that read as follows: 'Our akhunds have sold us out to the Han, our extinction is imminent.' … Pay attention to the public response, and report immediately to Kashgar. Then, after another ten days have passed, post more signs, under cover of night, that read: 'There are 800,000 of us Khotanese living here. Why do we not wake up and fight for our rights?' Again, pay attention to the public response, and send your reports along to Kashgar." Only when the Kashgar Police Bureau forwarded this stack of confessions to Urumchi did it finally begin to dawn on the Nationalists just how industrious the Soviets had been. "It is evident from these reports," wrote Wu Zexiang, a special agent sent to Xinjiang by the Ministry of Foreign Affairs, "that the Soviets have dispatched a considerable number of spies who are agitating all over the province."10
What was their message? A Kazak-language brochure seized near Tacheng provides an apt summation:
Following the invasion and occupation of Xinjiang by China over a period of many centuries, there came a decade of colonial policies by Sheng Shicai. The people have been oppressed, cheated, exploited, subjugated, and made ignorant. Our leaders have been eliminated, and now the Han and their armies control the entire province. The Solon, Kazak, Kyrgyz, Mongols, Tatars, Uzbeks, and other oppressed peoples have all become the slaves of Sheng Shicai and his running dogs. We cannot take this anymore. Let us initiate a glorious battle for freedom and equality.
From the street corner scuffle with Sadiq in Kashgar, the following critique was gleaned from one of his pamphlets: "Sheng duban proposed the concept of national equality and established the shells of cultural organizations in various districts. These organizations were just a means to an end, a veil, and one that everyone has now seen through…. At the locality, are there any district or county magistrates today who are Muslim? No, they are all Han, and no matter what crimes they commit, they always go unpunished." Additional leaflets drew attention to the prospect of mass Han immigration and mocked Sheng's affirmative action platform. Back in Urumchi, there was little doubt that such handbills were the products of Soviet presses. "These Kyrgyz, Kazak, and Uighur pamphlets," observed the same ministry official, "are printed on the presses of 'a certain party,' and are absolutely not something that could be produced in Kashgar."11
After canvassing their corners of the province, the Soviet consulates in Kashgar, Ili, and Altay submitted their reports to Moscow. The Kashgar consul, convinced that his spies were missing ubiquitous signs of anti-Han discontent, reported on the intense hatred for Han in his district. He added, however, that any uprising in Kashgar "must allow the participation of the Muslim clerical establishment; otherwise we will not be able to develop the struggle for national liberation." Since a movement united by nothing more than religion could turn just as easily against the Soviets as against the Han, Kashgar was promptly removed from the list. The consul in Ili submitted a much more positive report, drawing attention to the sizable community of Soviet-educated intellectuals living in the area. Promoted to office during the early days of Sheng's reign but now thoroughly embittered at their expulsion from government, these men would serve to offset the influence of Muslim clerics, who were viewed as key but unpredictable allies.12
So it passed that Ili was selected as the most promising site for a Soviet-led rebellion against Han rule. Just as the pro-Soviet outlook of Ili's Muslim elite worked substantially in its favor, so too were most other clandestine recruits culled from among those familiar with Soviet politics and culture. The chief training grounds for the insurgency appeared to be in Tashkent and Almaty, the capitals of Soviet Uzbekistan and Kazakhstan.13 In January 1944, Feng Zuwen, the consul-general for all five Xinjiang offices in Central Asia, reported on the "frequency last year of suspicious Uighur expatriates applying for a visa to pass through Irkeshtam Pass on their way to Kashgar." After further inquiries revealed intimate dealings with the Soviets, Feng ordered all such applications to be rejected. The Andijan consulate compiled a list of twenty-four agents whose covert dispatch to Xinjiang was known to be imminent, and forwarded it to Urumchi for future reference. The consul in Zaysan kept tabs on twenty expatriates believed to have been sent to Moscow for training, then whisked back to Tacheng and Altay for undercover missions.14 If Yang Zengxin would have been pleasantly surprised to learn of the pro-Chinese mission assigned to Uighur expatriates during Sheng's reign, his paranoia would have been fully vindicated by the subversive tasks finally entrusted to them during the 1940s.
Back in Xinjiang, Soviet consular staff continued to make overtures to the non-Han commoners. In Ili, they set up free Russian-language schools, hospitals, and film venues. They drove to the distant countryside and steppe to hand out candy and consumer goods, inquire into the health of the locals, and disseminate Soviet citizenship papers. "Whether these actions constitute the first steps toward initiating a major conflict along the borders," the Ministry of Foreign Affairs warned Chongqing, based on reports from its men in the field, "it is too early to surmise." In Urumchi, the Soviets targeted battle-tested White Russians, many of whom would become key generals for the insurgency. Tracts designed to tug at the heartstrings of expatriate Russians in Xinjiang were placed between the pages of books sold at the Soviet International Bookstore. The same store also distributed leaflets in Uighur extolling "how wonderful life is for Uighurs in the Soviet Union." Yaqub Beg, the leader of a briefly independent Islamic state in Xinjiang during the nineteenth century, was presented as a national hero.15 Those inspired by these tracts were assured that the Soviet consulate would protect them should they need protecting. In the spring of 1944, when Chinese police in Urumchi tried to escort a White Russian to prison, their route happened to pass by the Soviet consulate. "Suddenly the consulate opened its front gates, and the criminal broke away and rushed into the compound," a police report read. The Soviets refused to produce the man in question, instead accusing the Xinjiang authorities of "provocative" behavior.16
The five Soviet consulates in Xinjiang could do little to stop the meticulous documentation of their clandestine activities by Nationalist agents deployed throughout the province. If Moscow wanted to retaliate before the formal outbreak of the rebellion, the natural place to direct their retribution was toward the five Xinjiang consulates in Soviet territory. Aware that all five consulates were submitting detailed reports to Chongqing regarding activities in their jurisdictions, Moscow decided to make life miserable for their staffs. "I went to the local foreign relations office to pick up our monthly provisions," wrote Sun Wendou, an employee in the Zaysan office, in early 1944, "and was told that they had not yet arrived…. This is nothing more than an excuse." Repeatedly rebuffed, Sun soon found himself with provisions barely sufficient to last two weeks, with similarly diminishing supplies of horse feed. In Semipalatinsk, the situation was similar. "Ever since we returned to the central government," wrote Wen Songling in August 1944, "the attitude of the local authorities has changed considerably toward us." Wen detailed sudden resignations of hired help, denial of firewood, refusal of foodstuffs, broken door locks, derailed telegrams, and disconnected telephone wires. "The weather is still warm now, so we can bear such neglect at present," Wen observed. "But if this situation continues into the winter, our lives will become miserable."17
It did, and they were. By October, a downcast Sun submitted his resignation, adding, "We are waiting here to die." His resignation rebuffed, Sun and his colleagues were soon forced to prepare their own meals and sweep their own floors. But mealtime pickings were scarce. "They will not even give me a single potato or head of cabbage here."18 When the temperature dropped below freezing indoors, Sun was forced to scavenge for cow dung to light a fire. Faced with a struggle for mere survival, Xinjiang's consular staff no longer had any time or energy to report on Soviet activities, which, of course, was precisely the point. "My entire staff is shivering from the cold," wrote Wen Songling in Semipalatinsk. "We cannot get any work done." Based on the posture of their Soviet handlers, Sun Wendou was decidedly pessimistic about the future. "Since it seems that this is all being done for the sake of revenge, there is little hope that the situation will change." Fu Bingchang, the Chinese ambassador in Moscow, came to the same conclusion. "Whenever I forward our reports to the Soviet foreign ministry, the manner of their response suggests that this is all being done in the spirit of revenge."19 Not to be outdone, Sheng Shicai appears to have tried to make life equally intolerable for Soviet consular staff in Xinjiang.20
By the spring of 1944, preparations for the Ili rebellion were nearly complete. And if that meant Sheng's days as duban were numbered, then it was Osman's job to initiate the denouement. "Under favorable conditions," wrote the Soviet consul in Altay, "Osman's Kazaks can play a decisive role in preparations for an uprising in Altay." Once conquered, an Osman-controlled Altay would be expected to merge with the coming movement in Ili. If handled correctly, Osman, the Soviets believed, could eventually "contribute a large portion of the district's population." In 1941, after spurning Sheng's offer to negotiate a peace treaty in Urumchi, Osman took refuge along the Bulgin River, near the border with Outer Mongolia. In late 1942, petty disputes between his Kazaks and local Mongols over grazing rights suddenly faded when Russian generals appeared on the scene. For the next two years, Osman received generous helpings of arms and military training, the only stipulation being that he direct both at Sheng. Osman's favorite tactic was to launch a surprise attack on one of the duban's garrisons, then flee into Outer Mongolia. If just one of Sheng's men crossed the border—as they did in March 1944—the Soviets had all the excuse they needed to rain down a hail of bullets and bombs from the sky. After this, Osman struck north and, with twelve Soviet planes providing cover, occupied the town of Chingil with ease. Taken prisoner in retreat was a young Mongol soldier who confirmed Nationalist suspicions that the Soviets were responsible for Osman's sudden resurgence. "We were told that we were here to help the Kazaks resist government troops," he informed his captors.21
For his part, Sheng had seen enough, and demanded to know when the Nationalist government was going to file a formal note of protest with the Soviet ambassador. Chongqing, however, had little to gain by sticking out its neck for the duban. If the Generalissimo raised a fuss, "naturally the Soviets, via pretty phrases and misleading words, will deny all involvement, and then we will have no other recourse." The Soviet response to such protests could be predicted with distressing regularity. "We are currently investigating the matter and will get back to you shortly," Chongqing was duly informed in September. "But we have encountered such problems before, and our investigations have never confirmed the accusations brought forth," the memo read. "The Sino-Soviet border is extremely long," it continued, "and investigations over this vast area are extraordinarily difficult to undertake."22 What the Nationalists did not want Sheng to know was that troubles for the duban were blessings for Chongqing. After the Osman fiasco, Sheng figured this out for himself and attempted to pull off one last reckless return to the Soviet fold. In the summer of 1944, he placed under sudden arrest more than seventy Nationalist officials posted to Xinjiang, accusing them of spying for the Chinese Communists in Yan'an. To Stalin, Sheng characterized his Nationalist prisoners as Japanese spies. Both accusations were painfully outlandish, a sign of just how desperate Sheng had become. In August, the Generalissimo responded with a simple message, hand-delivered by Nationalist emissaries to Urumchi: Sheng was to report to Chongqing to take up the post of minister of forestry and agriculture. In the event the subtext was not obvious enough, Chiang also moved several fighter jets to the Gansu border and ordered Nationalist armies to march on the provincial capital.23
Sheng's eleven-year tenure as duban was over. He duly submitted his resignation and boarded a plane to Chongqing. In a letter delivered to Sheng upon his resignation, Chiang Kai-shek aired his assessment of the duban's decade in Xinjiang. "For over ten years now you have maintained and protected the borders, keeping them perfectly intact," he wrote. "Words can hardly describe the unspeakable hardships you have endured. Since the founding of the Republic, no one has succeeded as you have in preserving the nation's borders."24 Unfortunately for the Nationalists, however, Sheng's departure had no discernible effect on covert Soviet activities in Xinjiang. This they had long feared. According to one of Chiang Kai-shek's top generals, "The question of personnel is only secondary. The chief concern is still the Soviet Union itself…. If the Soviets have no intention of improving relations with us, our removal of one major official will have no impact."25
He was right. The border raids, training camps, weapons smuggling, and Soviet denials continued apace, in spite of Sheng's departure.
THE ILI REBELLION
Mere days after he stepped off the plane in Urumchi, new governor Wu Zhongxin received what he later referred to as a "cryptic" report from Kashgar. "Just before the last consul in Kashgar returned to the Soviet Union, he told his staff not to talk to anyone. When the new consul arrived, he also told his employees not to talk, assuring them that they would know why in two months' time." Several weeks later, Wu learned of a Kazak uprising in Nilka County, just south of Ili. Those reports, full of suspicious details, seemed to confirm the words of the departed Kashgar consul. According to intelligence passed along to the governor, thirty Kazak bandits had suddenly morphed into six hundred well-heeled soldiers. As they approached provincial garrisons, the rebels waved flags brandishing the words East Turkestan Republic. Further sleuthing led Wu to believe that professional Soviet soldiers had been disguised within their ranks, and that poor vagrant men had been recruited with free cloth, eggs, tea, and sugar. A few days later, after broadcasting strident anti-Han propaganda throughout the countryside, the bandits, now clearly made up of Kazaks, Tatars, and White Russians, moved toward the affluent oasis of Yining, the urban jewel of the Ili valley. There they picked off Han policemen in a wave of sniper attacks. At the same time, the Soviet consulate in Ili unveiled a machine gun on its roof, ostensibly for "defensive measures."26
On the morning of November 7, 1944, with disconcerting reports from Ili on his mind, Governor Wu made his way to the Soviet consulate in Urumchi to celebrate the twenty-seventh anniversary of the Bolshevik revolution. The Soviet consul bent over backward to accommodate Wu, adjusting the ceremonies to the governor's schedule and giving Wu the honor of first toast. Afterward, he escorted Wu to his vehicle, where the governor praised Stalin as a "remarkable leader." Had he known of the horrific bloodshed then taking place in the streets of Yining, Wu might have tempered his praise. Several hours prior, a well-armed force composed of White Russians and Kazaks had fanned out onto the streets of Yining and proceeded to occupy a middle school. From there they fought their way into several key buildings, chosen with an eye toward waging an extended siege. Confronted with state-of-the-art machine guns, heavy artillery, and ample vehicular support, approximately two thousand Han residents, officials, and officers retreated to three defensive locations: an air force training camp, a Chinese temple, and the municipal airport. According to eyewitness reports, those captured were stripped of their clothing, then shot in the head.27
For Governor Wu, there could be no doubt that the Soviets were responsible for the mayhem in Ili. Multiple eyewitness accounts confirmed the participation of Soviet soldiers and generals, the latter directing all major offensives. The rebels were frequent visitors to the Soviet consulate in Ili, where they held meetings and procured weapons. From a mountaintop perch, one witness described a view of "endless convoys of vehicles traveling back and forth between Yining and Khorgas Pass both day and night." Armed with such intelligence, Wu cabled Chongqing to request antiaircraft weapons capable of defending the capital. "The insurgents have no planes and no aircraft personnel," Chiang's befuddled secretary wrote back, on the logical assumption that these must be indigenous rebels. "How can they bomb Urumchi?" Wu scrambled to organize reinforcements but knew full well they would prove insufficient. "Xinjiang does not have the resources to deal with this problem all on its own," he wrote in his diary. The governor's pessimism proved well founded. Long before his reinforcements reached the outskirts of Yining, the rebels pinned them down and cut off their retreat. Many lost limbs to frostbite, while others were forced to eat leather.28
Over the next two months, the defenders trapped in Ili found themselves in increasingly desperate straits. In late January, the survivors, having retreated from the temple and air force training camp, converged on the airport. When food ran out, they slaughtered camels, dogs, and horses to eat. The last telegrams from Yining, sent at the end of January, crushed Wu's heart. "We have no more blood to spill or bones to break," the governor read. "When are reinforcements due to arrive? Should we continue to starve and await our deaths, or is there a chance that we might be able to link up with reinforcements if we were to break out of our encirclement?" Once the suicide attempts began, the surviving generals made plans for a desperate break through enemy lines. On the evening of January 30, 1945, over a thousand survivors charged through the encirclement and headed straight for the wintry countryside. Three days of frantic pursuit ensued before the rebels caught up, opening fire indiscriminately. The last few survivors scattered to the wind. By the time Wu learned of these developments a week later, all vestiges of Chinese authority had disappeared from the Ili valley. "The bodies of over a thousand of our revolutionary soldiers are now buried beneath endless heaps of snow," Wu concluded.29
The loss of Ili introduced a sense of urgency into Nationalist deliberations on the ethnopolitical future of Xinjiang. If the wanton bloodshed was not enough to give pause, the shrill rhetoric emanating from Ili certainly was. "Before long we will march on Urumchi," declared Ali Han Tore, the leader of the rebels, after the fall of the city. "We will overthrow the Han government and drive all the Han out of this province."30 An Uzbek mullah who had fled the Soviet Union in 1931, Ali Han Tore rose to power as part of a broad Soviet coalition that included both secular intellectuals and Muslim religious leaders. Captured Kazaks later reported that the original rebel leaders were "elected by local Islamic gentry." Real military power in the field, however, was placed in the hands of Soviet or White Russian generals.31 The Soviets viewed Ali Han Tore as a charismatic Muslim cleric from the Ili valley who could bring legions of foot soldiers on board. During the early stages of the insurrection, his fire-and-brimstone rhetoric provided a clear rallying cry: drive the "heathen" Han from "our" land. "God is on our side," he told his followers. "To my Muslim brethren, I say this: you must be on guard and you must be brave. When the time comes for our final victory, we will drive the barbarous Han out of our homeland. We will throw them out of our precious ancestral land of East Turkestan." To hear Ali Han Tore tell it, the Han, "a people of little culture themselves" who "consider us a lower race," were "the enemy of God." It goes without saying, then, that the idea of Xinjiang belonging to China was an "absurd fallacy."32
Soviet archives largely confirm the preceding account of the Ili rebellion as documented by Governor Wu and his agents in the field. V. A. Barmin, the only historian to have gained sustained access to Soviet archives on this subject, concludes that there is "no doubt" early rebel success was due in large part to "the assistance provided to them by the Soviet state." Barmin openly laments these actions as "illegal." Formally, of course, all such assistance was "undertaken at the request of the Prime Minister of the ETR, Ali Han Tore." In reality, however, it was common knowledge that the Soviets were providing copious weapons, equipment, instructors, and soldiers to the insurgency. Barmin, based on his reading of available Soviet archives, describes "sustained, serious, and tangible support."33 Other documents that emerged only recently from the Soviet archives paint a similar picture. Stalin and Beria corresponded over the precise number of officers and soldiers of "Central Asian nationalities" to be decommissioned from the Red Army and spirited into Xinjiang, along with the number of serviceable fighter aircraft (nine) to be stationed in Ili. Their avowed goal was to create "intolerable conditions for the Chinese troops in Xinjiang." A general-major by the name of Yegnarov, sent to Xinjiang by the People's Commissariat for Internal Affairs, surfaces in these files to report on his personal direction of rebel forces in the field and the brisk traffic back and forth across the border. Ali Han Tore also appears, writing personal letters to Stalin thanking him for "giving us comprehensive aid in this cause."34
In April 1945, two months after Ali Han Tore became a household name in Nationalist circles, Chiang Ching-kuo, the Generalissimo's Soviet-educated son and minister of education, stopped in Urumchi on his way to Moscow. Governor Wu played the role of host. "He suggested that we might now adopt the idea of some of our comrades in other clans, and try to appoint some of their talented people to government positions," Wu noted in his diary, adhering to the official party line of "clans" (zongzu) and "tribes" (buluo) rather than "ethnicities" (minzu). Ching-kuo also recommended "placing representatives from other clans as heads of government bureaus, with a Han occupying a secondary post." Eventually, he told Wu, the Nationalists might even consider appointing someone from another "clan" as deputy governor of the province. Wu might have been forgiven for thinking that he was talking to a Soviet adviser rather than the Generalissimo's own son. Wary of just whom Ching-kuo and his father were considering for such posts, Governor Wu assured his guest that he had already made considerable progress toward the cultivation of non-Han personnel. He then laid out all the details of his ethnopolitical vision for the future of Xinjiang. As the Generalissimo and his son were about to learn, Wu was an avid sponsor of an ethno-elitist platform of political difference.35
Over the past six months, Wu told Chiang, an illustrious group of non-Han figures had joined the governor's camp. Just a week after his arrival in Urumchi, Wu had scoured Sheng's prisons for signs of the old hereditary elites. "Among the imprisoned are many Kazak leaders," Wu noted. "If we used men like Prince Ailin in a prudent manner, we just might be able to quell the Kazak uprising." The incarceration of Prince Ailin had sparked the first Kazak uprising in 1940 and opened the door for Osman Batur. Wu sent Ailin numerous gifts in jail before eventually securing his release. "From here on out," Wu told the prince, doing his best impersonation yet of the long departed Governor Yang, "I will take the moral policies of Confucius as my guide, supporting and caring [for the Kazaks] as if they were my own younger brothers." Visibly touched—according to Wu—Ailin promised to rein in the insurgents. He then told Wu all about the good old days under Yang Zengxin. "In the past, we Kazaks lived peacefully and without incident," Ailin told his newfound patron. "It was only when the government started to imprison Kazak leaders that a handful of bad elements took the opportunity to incite a rebellion." Before long, Ailin and his wife began to make overtures to some of their followers in the Altay region, where they achieved instant results. "The nomad bandits have been deeply touched by the return of Prince Ailin to Altay," some Kazaks reported back to Urumchi, "and are submitting in droves…. They are calling Governor Wu the 'savior of the nomads.'"36
Next up were the Mongols. Wu learned that Manchuqjab, khan-wang of the Torguts, was still languishing in an Urumchi jail cell after seven long years of incarceration. With the departure of Sheng, droves of Mongols from Karashahr lined up to petition Wu for his release. The new governor was only too happy to comply and in return received declarations of loyalty from the representatives of seventy thousand Torgut Mongols. Manchuqjab, bitter and depressed, took somewhat longer to warm up to Wu. When he finally did, however, Wu promptly returned all the khan-wang's wealth, property, and armaments, which had been confiscated during the Sheng era. According to reports from the newly appointed Han official in Karashahr, the rehabilitation of Manchuqjab and his wife had encouraged their substantial following to turn a deaf ear to Soviet overtures. "The magnanimous overtures of Governor Wu have greatly moved us," Wu learned from a Mongol emissary. For the remainder of his tenure in Xinjiang, Karashahr and its Mongols, which had once played an integral role in the downfall of Governor Jin, were staunch allies of the Nationalist government. "It was said that there had been much restlessness among the Karashahr Mongols previously," Wu observed in early 1945. "But the release of Manchuqjab Khan and the return of his wife … have put their minds at ease and quelled their unrest."37
Looking to complete the resurrection of Governor Yang's non-Han cabinet, Wu next sought out Burhan Shahidi, the Uighur-speaking Tatar "dependent intermediary" whom Yang had once rescued from the Russian civil war. Wu found him, like so many others, wasting away in an Urumchi prison, his home ever since the duban had him recalled him from the Zaysan consulate and placed him under arrest. "He is just the sort of educated professional that Xinjiang needs more of," wrote Wu in his diary. "During his seven years in prison, he spent his days translating the 'Three Principles of the People' and the works of the Generalissimo into Uighur. This is most commendable." Recognizing his value—and fortuitous dependence on the Chinese state—Wu offered Burhan the prestigious posts of commissioner and head of public security in Urumchi, making him the first non-Han ever to hold these posts. "[His appointment] clearly shows the government's commitment to ethnic equality and public welfare." It also reinforced the governor's belief that the Nationalists had no need of ethnopopulist posturing derivative of the Soviet experience.38
Wu rested his case with a plea to utilize only "local Xinjiang leaders of real influence and power," who are "loyal to the nation." Such men, which Wu was convinced could be found "all over the province," were worthy of an invitation to Chongqing, where Wu would "escort them … for a personal audience with you." For Wu, the reason his entreaties all seemed to fall on deaf ears was because so few of the Nationalist brass had actually visited Xinjiang. "A small number of uninformed people in the central government," he wrote in his diary, "knowing little about the actual situation, mistakenly believe that all of Xinjiang's problems are rooted in ethnicity." To hear Wu tell it, it was these "uninformed people" who had "irresponsibly condoned and encouraged Masud." If Wu's colleagues would only listen to him, they would learn that Xinjiang's real problems stemmed from nothing more than shoddy transportation infrastructure and incessant foreign meddling. Wu thought it of the utmost importance for "senior officials from inner China to make a trip out here and live in Xinjiang for a few months. Then they would experience a great awakening."39 They would see, he hoped, that the ethnopopulist discourse of Masud, Isa, and their Soviet foils was an artificial and deceptive political agenda that lacked resonance on the ground. According to Wu, such a platform paled in comparison with the tangible prestige and influence of conservative upper-class non-Han elites, who exerted a real presence among their communities and had long leaned toward the Chinese central government.
Unfortunately for Wu, one of those "uninformed people" who had "irresponsibly condoned and encouraged Masud" was Chiang Kai-shek. As far back as 1942, just two months after Sheng had turned his back on the Soviets, the Generalissimo went out of his way to condone the increasingly bold pronouncements of his Uighur protégés in Chongqing. When Chiang's inner circle of strategists became alarmed at reports that Masud and Isa—then in Lanzhou—were calling for self-government or even independence for Xinjiang, one of his aides took the liberty of drafting a directive recalling the pair back to Chongqing. According to the report, such inflammatory rhetoric was old hat for Masud and Isa, who had "demanded independence for Xinjiang a decade before, when they openly called China an imperialist country." Wu had agreed back then with the decision to recall Masud and Isa. And yet, the Generalissimo "alone holds a dissenting opinion, and has simply instructed [the governor of Gansu] to keep an eye on them."40
Before long, Chiang went even farther, instructing the Ministry of Foreign Affairs to devise a plan that featured Masud and Isa in a prominent role in Xinjiang. The ministry, having already received early reports on clandestine Soviet activities, considered "a set of principles on ethnic equality" that would "inspire patriotic sentiment among Xinjiang's Muslim peoples, so as to combat the detrimental effects of foreign propaganda." Bu Daoming, head of the West Asia Division, submitted a draft proposal to Chiang for "making the nationalities content both in their political and daily lives, so that the Soviets cannot instigate them from the sidelines." One of Bu's proposals was for a "provincial senate in which representatives of the nationalities could participate." Though the Generalissimo urged caution on the idea of a senate, his belief that the Nationalists needed their own proponents of a non-Han ethnopopulist platform in Xinjiang remained firm. "I have already received notification from the Generalissimo himself," noted Wu in late 1944, as Ili lay in a state of siege. "He has instructed [Chen] Guofu and [Chen] Lifu to find a way to use Masud."41
Two months after Chiang's son departed from Urumchi, Wu traveled to Chongqing for an audience with the Generalissimo. On June 15, 1945, Wu did his best to convince his boss of the folly of sending Masud and Isa back into Xinjiang. Chiang wasn't listening. "Can Masud and the others return to Xinjiang now?" he asked Wu over tea. "They can return anytime," Wu replied. "But they harbor incorrect 'East Turkestan' thoughts. We must first rectify this shortcoming." In the notations following this incident in his diary, later to be crossed out, Wu vented his frustration. "Whenever border figures are treated too generously during their time in the central government, I fail to see any good come out of it. Quite the contrary, they bring nothing but trouble to the state."42 Wu could scarcely believe his ears. Perhaps with an eye toward posthumous vindication, the governor took great care in his diary to record the "absurd proposals" of his Uighur colleagues, all of which were sure to "sabotage national unity": that Xinjiang be renamed East Turkestan; that the people of Xinjiang govern Xinjiang; that the central government not be permitted to station troops in, or sponsor migration to, Xinjiang; and that the various nationalities of Xinjiang all be considered part of the Turkic—not Chinese—race.43
As Wu and Chiang sparred over the ethnopolitical face of the Nationalist government in Xinjiang, events on the ground continued to develop. After a dark and miserable winter, Wu Zhongxin welcomed the summer snowmelt. "The cold spring beyond the pass is something those living in inner China simply cannot imagine," he wrote. "The snow does not melt, and everywhere the ground remains an endless expanse of white."44 In the summer of 1945, however, the long-awaited thaw simply brought more heartache. In May, several thousand Kazaks joined forces with Mongols and raided the Altay region. Soviet planes were spotted every other day or so, and one Kazak detachment was sent south to attack Barikol. In June, Ali Han Tore ordered the armies of the East Turkestan Republic back on the warpath. A thousand rebels made a beeline south through the Heavenly Mountains, toting heavy artillery behind them. Though their sights were set on Kucha, the severed heads of ten Han men were found strung up along the road outside Aksu as well.45
Then, on July 2, officials in Tacheng sounded the alarm. Bandits had appeared in the surrounding countryside, and entire villages had defected to their side. Vast caravans of pillaged livestock headed toward the Soviet border, where their cargo was exchanged for firearms. Lacking reinforcements, Wu watched from afar as the bandits took over the countryside and approached Tacheng. A White Russian general led the assault, on orders signed by Beria and approved by Stalin. Though most Nationalist officials managed to escape to the Soviet Union, ten thousand Han civilians were not so lucky. Trapped behind the city walls, they soon met a gruesome fate. On July 31, Wu received his last telegram from the Tacheng authorities, marked "extremely urgent." "Their weapons are state-of-the-art and they have heavy artillery. The sound of wailing shakes the earth…. Lacking appropriate words, I send my tears with this telegram."46
With the fall of Tacheng, the Ili rebels continued toward Altay. By now, Osman's Kazaks were expected to play only a supporting role. The latter struck first, however, raining heavy artillery upon the streets of Altay. In one sustained succession of six assaults, more than three hundred bombs cascaded over the city walls. The only bodies on the battlefield were Han, as "the Kazak warriors tie their feet into their saddles, so that their horses transport the dead riders away." The regional zhuanyuan, Gao Boyu, informed the governor that "if no bomber planes come to our assistance within the next twenty-four hours, the entire district will be lost." Three days later, the Ili army from Tacheng finally drew near, stopping along the way to occupy Burjin. On September 5, Gao zhuanyuan sent his final telegram. "If you were planning on sending any reinforcements, it is now too late," he wrote. "Soon there will be nothing more to report from Altay. This is my last telegram." Altay fell to the rebels two days later, and it was reported that every Han resident not married to a Kazak was slaughtered.47
Before he fled the city, Gao warned Wu that "unless you fight back, the same suffering will be visited upon you. Before long, Urumchi will become the next Altay." Rebel movements appeared to confirm Gao's prediction. In late July, the Ili march on Tacheng was matched with an eastern drive toward Jinghe, the first town out of Ili on the road to Urumchi. After a heavy artillery attack on Nationalist forces at Jinghe, the Ili rebels struck forth for the Manas River.48 Then the Japanese surrendered to the Allies, and the rebels paused. During the interlude, Chongqing and Moscow signed the Sino-Soviet Friendship Treaty, a document containing wide-ranging implications for China's northern borderlands. In exchange for Stalin's pledge to refrain from intervening in the affairs of Xinjiang and Manchuria, the Nationalists formally recognized the de jure independence of the Mongolian People's Republic, long known to them as Outer Mongolia.49 "As far as China is concerned," Wu wrote after learning details of the accord, "the recovery of the northeast is of paramount importance. This should also make it easier to settle the situation in Xinjiang."50
It thus came as a profound shock to the governor when, less than a week later, the Ili rebels renewed their advance on the Manas River. "The bandits are now vigorously expanding, obviously in fulfillment of some planned and organized joint movement," Wu observed. Though the Soviets had promised not to meddle in the affairs of Xinjiang, "in reality, they are still unwilling to release their grip." During the first week of September, as the rebels closed in on the approach to Urumchi, General Zhu Shaoliang ordered his men to make a stand. By all accounts, the fighting was intense. The Soviets rose to the challenge. "There are frequent reports of heavy weaponry and brand new firearms among the rebels," Wu wrote. "Vehicles transport grain and ammunition, and new soldiers appear in their ranks." On September 4, the rebels reached Dushanzi, where the Soviets had once operated lucrative oil rigs under Sheng. The next day, two bombers strafed the approach to Wusu, less than two hundred miles from the capital. Refugees poured into Urumchi, and Nationalist officials sent their relatives out of the province. By contrast, the American consul, typically skeptical of Chinese charges of foreign instigation in Xinjiang, was baffled. "He first expressed extreme concern over the recent bombings," Wu noted, "and then asked me, 'Where did the planes come from?'" The day after the bombings at Wusu, Liu Zerong, a Nationalist official from the Chinese embassy in Moscow, arrived in Urumchi. Convinced that the Sino-Soviet Friendship Treaty—which he had helped broker—would lead to an immediate ceasefire, Liu met Wu with a smile on his face. It fell to the governor to bring him down. "You place too much trust in other people, my friend."51
The imminent threat to Urumchi finally pushed Chongqing into decisive action. Prior to that, Wu lamented, the central government had not sent a single bullet for the defense of Xinjiang, echoing a similar complaint broadcast by Yang Zengxin more than a quarter of a century earlier. Pushing the melodramatic envelope, General Zhu threatened to commit suicide if the Generalissimo did not send help. If tangible supplies or troops could not be sent, Wu begged Chiang to at least send a "big official." On September 13, his prayers were answered: General Zhang Zhizhong stepped out onto the runway at the Urumchi airport. Zhang, then the head of the political department in the Military Affairs Commission, was one of the most respected figures in all of China. He had distinguished himself in several high-profile, tense negotiations with the Chinese Communists, rightfully earning an epithet as China's "peace general." He was briefed on touchdown. Rebel armies were two days from Urumchi, and the capital was on the verge of starvation. Under no illusions regarding the chief force behind the rebels, Zhang walked straight to the Soviet consulate and delivered an ultimatum. "The rebel army must halt its military movements immediately. This will allow both sides to send representatives to engage in formal peace talks," he said. "If military operations continue to expand, I am afraid that there will be no opportunity for a peaceful resolution."52
In exchange for their services as "mediator," the Soviets asked that Chongqing submit a proposal for Sino-Soviet economic cooperation in Xinjiang. Zhang agreed. With that, hostilities came to an abrupt halt. In London, Molotov informed Wang Shijie, the Chinese minister of foreign affairs, that the situation in Xinjiang "was simply transitional in nature, and that we should not overly concern ourselves with it." Wang himself suspected that recent events "had all been planned prior to the signing of the Sino-Soviet treaty."53 In other words, the military aggression on display in late August and early September belonged to an earlier Soviet blueprint, and the fulfillment of its provisions trumped any promises made in the Sino-Soviet Friendship Treaty. After the meeting in London, less than twenty-four hours were to pass before the Soviet consulate in Ili made an astonishing announcement. The Ili rebels, he said, had asked the Soviets to mediate peace talks with the Nationalists. As other historians have pointed out, had this truly been the case, it would have been a coincidence of cosmic proportions. There had not even been enough time for a single telegram to make a round trip from Moscow to Chongqing, much less to Urumchi and Ili.54 Furthermore, having sliced through Nationalist armies like steel on tinfoil, it beggars belief to think that Ali Han Tore would have suddenly experienced a complete change of heart. Quite the contrary, it is clear that Moscow, having pushed Chongqing into a compromising position, had now decided to call off the rebel advance and wait for the economic concessions to roll in.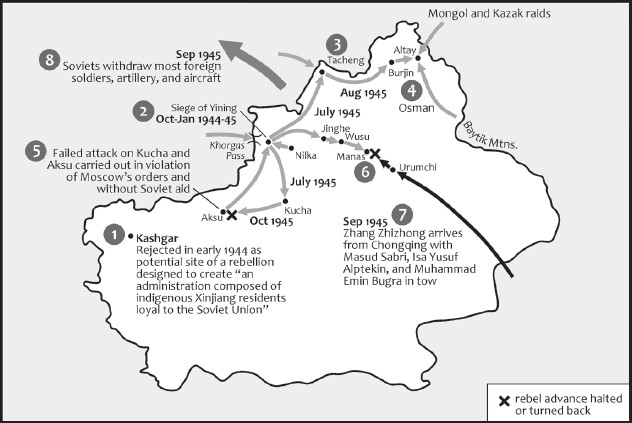 It was no mystery to Governor Wu why the rebels had stopped their advance. "According to reports," he wrote in early October, "most of the Soviet members of the Ili army returned to the Soviet Union in late September." In fact, following the arrival of Zhang Zhizhong in Urumchi, not only had Soviet personnel been recalled from the front lines. In addition, every last scrap of heavy artillery and modern weaponry, including all aircraft bombers, had been pulled from the rebel camp. What remained were Uighur and Kazak foot soldiers sporting the same rusty rifles and ramshackle artillery wielded by their Nationalist counterparts. In other words, just enough firepower to fend off a Nationalist advance, but nothing that might enable them to further their gains. The reason was simple: the Soviets had achieved their goals. The gold and mineral mines in Altay, the beryllium mines in Koktogay, the trade hubs of Ili and Tacheng, and the oil fields of Dushanzi—all had been wrested from Nationalist control. Viewed as collateral damage were the deaths of fifteen thousand Nationalist soldiers and ten thousand civilians, most of whom were Han.55
To consolidate its newfound gains, Moscow now needed to put out the fire. The original rebel leaders in Ili, however, having been promised sovereignty over all of Xinjiang, refused to lay down their arms. Tasked with sending representatives to the peace talks in Urumchi, Ali Han Tore informed his followers that they were to ignore the ceasefire.56 At the same time, his men laid siege to Aksu, the only city in southern Xinjiang to come under sustained attack. This offensive was carried out in direct violation of Moscow's directives, which focused on the mineral-rich steppes of the Kazak north rather than the agriculturally rich Uighur oases of the south. Three weeks after rebel armies in northern Xinjiang halted their advance, the battle for Aksu continued, but this time without Soviet aid. On October 6, after a month of encirclement, Nationalist forces lifted the siege. Without Soviet help, the tide quickly turned. President Ali Han Tore openly criticized the fickle calculus of the Soviets. His profound disillusionment with his once magnanimous patron echoes through the Soviet archival record. In letters to Beria and in meetings with General-Major Yegnarov, he warns that the people of Ili are starting to believe Chinese claims that "wolves in sheep's clothing" are acting as "champions of Islam" in Ili, and that they had been "sold out by the Bolsheviks."57
In response, Moscow, likely suspicious that Ali Han Tore was the real instigator of such rumors, facilitated his swift replacement with a new crop of leaders. It was time for secular ethnopopulist intellectuals to take over. By early 1946, Ali Han Tore had exited the scene, seemingly without a trace. Though a Chinese source asserts that he continued to reside in Soviet Uzbekistan until his death in 1976, the only thing known for certain is that he was never seen again in Xinjiang.58
THE NATIONALISTS FIGHT BACK
By the autumn of 1945, the Soviets had achieved what they had set out to achieve: to re-create the era of Sheng Shicai without Sheng—or any Han replacement, for that matter. To legitimate its newfound gains, Moscow needed the Chinese central government to acknowledge that the rebellion was essentially indigenous in origin. And that meant negotiations, in which the Soviets offered to act as "mediators" for the Kazak and Uighur leaders who had only recently replaced Ali Han Tore. On September 11, General Zhang Zhizhong wrote to Governor Wu from Chongqing. "The Generalissimo is very concerned about recent events," he told Wu. "If the rebels are willing to send a representative to talk with us, then I will bring Masud, Isa, and Emin [Mohammed Emin Bugra] to Urumchi to facilitate communications. What is your opinion?" Wu, despite his conviction that Masud, Isa, and Emin—the latter active in Nationalist circles ever since accepting Isa's invitation to emerge from exile in Afghanistan in the early 1930s—were peddlers of a "narrow-minded ethnic nationalism with ulterior motives," was powerless to object. "If the arrival of Masud and company will benefit the situation," he replied, "then by all means they are welcome."59
Try as he might, Wu never understood just how Zhang's team of Uighur ethnopopulists was supposed to benefit the situation in Xinjiang. "If the talks [with the Ili representatives] proceed smoothly," Wu learned after their arrival, "then we will not let Masud and company meet with the bandit representatives. If the talks experience difficulties, however, then we can consider using them as intermediaries."60 From Wu's perspective, this made little sense. Wouldn't the strident anti-Han rhetoric of the Ili rebels become even worse once Masud and Isa joined its chorus? Foremost in Wu's mind were the belligerent pronouncements of Ahmetjan Qasimi, the secular, Soviet-educated successor to Ali Han Tore. "The current era is an era in which invaders get punished," he wrote in early 1946, in the midst of the talks.61 What Wu failed to realize was that Masud, Isa, and Emin had not been brought to Xinjiang to be used as grist for the Soviet mill. Instead, they were intended to buttress Nationalist claims to speak on behalf of a mass non-Han constituency in Xinjiang. Their job was to demonstrate to the people of Xinjiang that the Nationalists were not as intolerant and chauvinistic as the anti-Han rhetoric from Ili had made them out to be, thus negating the sole claim to political leadership proffered by the rebel leaders.
For how could anyone accuse the Nationalists of Han chauvinism when they sponsored and condoned the sinophobic activities of Uighur dissidents operating within their own party? John Hall Paxton, the American consul in Urumchi, was one of those impressed by Nationalist demonstrations of ethnopolitical tolerance in Xinjiang. In a confidential report dated November 20, 1947, and entitled "Charges by Secretary General Aisabek [Isa Yusuf Alptekin] of Chinese Oppression of the Natives of Sinkiang," Paxton highlighted the remarkable way the Chinese administration suffered "a considerable party … among the Muslim natives that is restless under Chinese control, critical of its abuses and eager for increased liberties for the native inhabitants of the area, without any reason to suppose that it is under Soviet influence." During an extensive interview with Paxton and Eric Shipton, the British consul, Isa "stated over and over again that he was without any hope that the Chinese would do anything to redress the grievances of the Turki people or grant them any real liberty." Taken aback by Isa's tirade, Shipton characterized the rest of his talking points as "an indictment of Chinese rule in the province." For their part, Chiang Kai-shek and Zhang Zhizhong were fully aware of Isa's truculent critique of Han rule in Xinjiang but regarded his statements as "exaggerated" and "not shared by the majority of the Turki people."62 And yet this was precisely the sort of person they wanted to hold up as the non-Han face of the newly "enlightened" administration in Xinjiang: an intractable pessimist who never missed an opportunity to excoriate the Nationalist government to anyone and everyone who would listen. This was the sort of Uighur ethnopopulist with whom they wished to associate themselves, even if his views were not, according to Zhang and Chiang, representative of the majority of Uighurs in Xinjiang.
Governor Wu was a nervous wreck. "Since the middle of last month," he wrote in November, "these three people have been running around instigating the populace and exhorting young people to demand high-level autonomy…. Masud tells the Muslim clergy to take up the issue in their weekly sermons, and counsels the people not to be afraid of speaking up anymore. Our detractors now openly insult the government and say that the Han have lost their strength. They demand the transfer of power and threaten to take up knives, axes, clubs, and rocks to exterminate us." Wu could hardly contain himself. "When General Zhang invited them to Xinjiang, he intended for them to help resolve the Ili affair. Instead, they have organized and incited the masses, and stirred up a wave of discord." Editorials in the Nationalist press echoed the governor's concern. "On the surface they follow the central government," opined a Shanghai pundit, "but behind the scenes they are collaborating with the Ili rebels. Uighur akhunds who used to gravitate toward the central government have now joined their ranks." Wu concluded his analysis by lamenting how "the rhetoric of Masud and company is exactly the same as that of the Soviets and the Ili bandits."63
That, of course, was precisely the point. How far were Chiang Kai-shek and Zhang Zhizhong willing to push the envelope of ethnopopulist posturing? "It is said that Masud will be given the post of an inspector-general of Xinjiang," Wu learned in February, with no small distress. "I have nothing against him personally, but he propagates a pan-Turkic doctrine that will split our country apart." Two days later, the governor learned that his paranoia did not run nearly deep enough. The inspector-general post had been intended merely as a stepping-stone. Masud's ultimate destination was the governor's quarters.64 This realization created considerable friction between Wu and Zhang, whose personal friendship dated to the earliest days of the Nationalist Party. When Wu urged Zhang to exercise extreme caution with Masud, Zhang finally had to reprimand his friend. "You and I agree on 80 percent of our ideas on how to rule Xinjiang," Zhang replied. "But our viewpoints regarding Masud and the others are different. I still intend to use them, as a counterweight to the Soviet Union."65
General Zhang dominated Xinjiang politics for the remainder of the republican era, first as successor to Wu (1946–47) in Urumchi, then as northwestern commissioner (1947–49) based in neighboring Gansu. Zhang led negotiations with Ahmetjan Qasimi and the rest of the Ili camp, while trying to implement economic and political concessions pleasing to their Soviet patrons. Once Moscow was satisfied with the progress of the talks, Ahmetjan began to sing a radically different tune. In 1946, he assured Zhang that "our national liberation movement is not directed at any particular ethnic group, but only at that group's ruling class and its authoritarian government." These mild statements were worlds apart from the fire-and-brimstone pronouncements of Ali Han Tore. They were also considerably tamer than the anti-Han sentiments now routinely expressed in Uighur-language periodicals published under the liberal forbearance of Zhang's administration in Urumchi. In 1946, one such journal, Khan Tengri, lionized several departed heroes of the Uighur intellectual elite by decrying their deaths at the hands of "the bloodthirsty swords of the tyrannical Chinese butchers." Other articles decried the "oppressive imperialist and colonialist policies" of the Chinese government, which had kept the people of Xinjiang in a "state of ignorance and slavery." One even went so far as to lump Governor Wu Zhongxin with Sheng Shicai, labeling him as a proponent of oppressive policies that had denied "political freedom" to the non-Han peoples of Xinjiang.66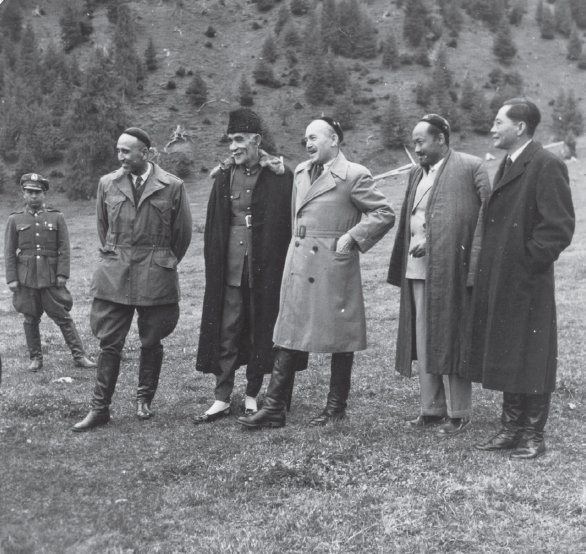 This was all very surreal for Wu, who began to complain of a weak heart and begged the Generalissimo for a transfer out of the province. His wish was granted in the summer of 1946, as Ili representatives relocated to Urumchi to join a coalition government under Zhang. Wu left his successor with a cabinet of non-Han personages steeped in the imperial regalia and titles of a bygone era. They were delivered to General Zhang as a symbol of what a conservative politics of difference could still accomplish in Xinjiang. Zhang and his team of Uighur intellectuals were committed to an ethnopolitical vision of Xinjiang that located legitimacy in progressive representatives of the "people," not in their social "betters." Wu, however, wanted nothing more than to show Zhang that the "people" were little more than a deceptive pretext, and that the living embodiments of the old order still exerted very real power on the ground. To make his point, Wu drew attention to his crowning achievement while in office, one that bore fruit just as he departed Xinjiang for the last time.
COURTING OSMAN BATUR
"If I could just get these Altay bandits to submit," Wu wrote in early 1946, "it would bring succor to the people, considerably weaken the Ili camp, and constitute a devastating blow to the Soviet Union, the bandit manipulator."67 For the governor, the insurgencies of Altay and Ili represented entirely different phenomena. Ili, guided by the "bandit manipulator" from Moscow, merited an international response orchestrated at the highest levels of the Chinese government. There was little that Wu, the governor of a single province, could do about it. But Osman had shed his blood long before it became useful to Moscow, reacting "purely against the oppressive policies of the former duban." In fact, the only reason Osman even became a batur in the first place was due to the specific policies of Sheng Shicai, who had imprisoned two rungs of hereditary Kazak leadership before him. Whereas the Soviets had recruited an ethnopopulist constituency from scratch, Osman merely stepped in to fill the shoes of a departed noble. Handled correctly, therefore, he just might prove receptive to "trading in his weapons of war for silks and jade." Wu's plan was to imitate the tactics of imperial administrators throughout history: in return for demonstrations of loyalty to the Chinese state, Wu would confer upon Osman and his descendants entry into an exclusive and conservative club of hereditary elites.68
Initiating contact with Osman proved more difficult than Wu had expected. Watched closely by his Soviet handlers on the Mongol border, Osman did not learn of Wu's arrival in the province until nearly four months after Sheng Shicai had left Urumchi.69 Prior to the creation of the East Turkestan Republic, Osman's chief appeal to Moscow lay in his ability to inflict damage on Chinese military forces. In other words, he was the only self-made ethnopopulist in Xinjiang who commanded a martial following. But the Soviets wanted native non-Han leaders indebted to themselves. Self-made men who had facilitated much of their own rise could not be reined in easily once strategic objectives were met or altered, as had been the case with Ali Han Tore. After Sheng left the province, Soviet support for Osman lost its raison d'être. In mid-1944, Moscow brought in a Kazak named Delilhan Sugurbaev to serve as a more pliant version of Osman, consigning the one-time batur to house arrest in Mongolia.70
Governor Wu, catching wind of developments across the border, encouraged Prince Ailin and his wife to send their agents back to the Altay steppe. In just one month, they achieved encouraging results. Three of Osman's top leaders, disheartened by their batur's dramatic demotion and confronted with the imminent return of the prince, indicated their desire to submit to the government. Wu was ecstatic. "Without firing a single bullet, our pacification efforts have already succeeded. The eastern marches may soon be at peace." Immobile and abandoned, Osman began to look for an exit strategy. He slipped messages across the border, conveying his greetings to Governor Wu. "The people do not listen to my rallying cry anymore," he admitted to one of Wu's agents. "I am fully aware of how the Outer Mongols intend to treat me. Before long, they will throw me in jail or they will kill me." At the same time, two of his former comrades-in-arms made a pilgrimage to Urumchi, where they vowed to initiate their own pacification missions. "In the past we used to fight against the Communists," one of them said. "And now we are supposed to listen to them and act on their behalf? Just think for a moment how stupid this is." Taking aim at the separatist rhetoric of the East Turkestan Republic, he spread the message that "no country in the world can be composed of so few people [as us]. We were born in China. We are Chinese."71
Alarmed at the sudden success of Kazak recruiting efforts inspired by the return of Prince Ailin, the Soviets abandoned their ethnopopulist posturing and tried to match Governor Wu move for move. In early 1945, Osman, fearing the rapid eclipse of his once promising career, tried to curry favor with Prince Ailin, sending him a tribute of eight horses, fifty sheep, and two yurts. The Soviets responded by urging the Mongols to bestow upon Osman the title of khan, something that only an ostensible descendant of Chinggis Khan—the embodiment of the nomadic aristocracy—could do. Wu believed the Soviets were using the title of khan "to cheat and deceive" Kazak youth. We might describe their tactics more dispassionately as resorting to a conservative politics of difference, deployed to parry the conservative assault of Governor Wu and Prince Ailin. The fact that the Soviets felt the need to rehabilitate a Kazak ethnopopulist with the trappings of imperial conservatism likely came as sour vindication to Wu. It was also a shrewd strategic move, one that put Wu back on the defensive. Before long, Osman "Khan" sent out orders to apprehend Prince Ailin's emissaries and deliver them to the Mongol authorities.72
Although the Soviets had outmaneuvered Wu, the governor refused to admit it. "Osman is an incorrigible man," he fumed in August. "We are now resolved to exterminate him." Over the coming weeks, however, Wu's anger gradually abated as new details trickled in regarding the siege of Altay City, the final offensive of the Ili rebels. The presence of Osman "Khan" notwithstanding, the Soviets had entrusted logistical command of the operation to Delilhan Sugurbaev, with Osman's men confined to a less prestigious supporting role. Apparently, the manipulation of Osman was merely a ploy to contain Wu and Ailin's conservative brand of influence in Altay. Moscow was still not willing to trust a self-made man like Osman. The final insult came in early September, when the city fell. "When Osman arrived at Altay, he heard that a Soviet official had been sent from Ili to assume control over the city," Wu learned. "He turned away and left immediately." The realization that his khan moniker had been a sham all along finally disabused Osman of any further illusions regarding the Soviets. "We fought the government for many years, long before the uprising at Ili," he announced. "They were inspired by our lead. We were the original vanguard. So how can we just sit by and allow them to come in and take over our affairs in Altay?"73
Osman's open defiance of Delilhan and the Ili rebels was quickly brought to the attention of Soviet officials in Moscow. Beria, the Soviet minister of internal affairs, observed that the "Kazak Robin Hood" does "not intend to recognize the government of East Turkestan … and believes himself to be Khan of the Altay." Though Osman ultimately accepted a face-saving post in the new coalition government as zhuanyuan of Altay, the days of exposing himself to the whims of great power politics were over. Instead, Osman raided Nationalist and Ili garrisons alike, in the process recruiting a new Kazak constituency from scratch. Governor Wu, while deploring Osman's methods, could not help but admire his pluck. "He was the earliest of all the rebels," he wrote, "and the Altay Kazaks love him." More than anything else, it was Osman's uncanny ability to re-create a loyal following seemingly at will that most impressed the governor. "The people are embracing Osman with enthusiasm," Wu learned after the fall of Altay, "and turning their backs on Delilhan." One month after accepting the zhuanyuan post, Osman withdrew his men from Altay, sent an exposé of illegal Soviet mining activities to General Zhang, and commenced large-scale raids on their camps.74 He was now a loyal ally of the Nationalists.
Osman's successful recruitment to the Nationalist fold stood as supreme vindication for Governor Wu. Born into a shepherd's family in Koktogay, Osman was a nobody whose rise to power was made possible only by Sheng Shicai's sidelining of the traditional Kazak elites. Having based his legitimacy as batur on a form of Kazak ethnopopulism that no longer reflected new sociopolitical realities under Prince Ailin, however, Osman quickly faced the limits of his potential. When the Soviets transferred their support to Delilhan Sugurbaev, an ethnopolitical creature even more artificial and dependent than Osman, the prestige of the latter suffered. The return of Prince Ailin's emissaries to Altay ultimately forced Osman to salvage what little remained of his self-made name by taking a subordinate yet prestigious position under Governor Wu's reconstituted conservative order. In response, the Soviet decision to designate Osman as khan was an attempt to beat Governor Wu at his own game. It worked, for a time. Ultimately, however, Osman came face-to-face with the hollow authority of his khan title and opted to embark on the re-creation of a new ethnopopulist constituency unbeholden to either the Nationalists or Soviets. His ability to do just that allowed him to join the Nationalists voluntarily from a position of strength, owing nothing to the Mongols, Prince Ailin, the Soviets, or Governor Wu.
As Osman's tumultuous saga clearly demonstrates, the clash of conservative and progressive platforms of political legitimacy in 1940s Xinjiang offered tremendous potential for an ambitious non-Han actor such as himself. In 1943, when the Soviets made the fateful decision to exploit, rather than conceal, the Han crisis of political legitimacy in Xinjiang, they effectively fired the opening salvo of an ethnopolitical tug-of-war in which each side endeavored to sponsor as much non-Han agency as possible. On every point of contention, there was room for two at the table: Osman and Delilhan, Masud Sabri and Ahmetjan Qasimi. As Russian and Chinese officials competed to prove just how enlightened they were in all affairs susceptible to charges of colonialism or imperialism, a brief window of upward mobility and access to resources opened up for their Uighur and Kazak beneficiaries. In a game of constant one-upmanship, however, it was only a matter of time before the possibilities of harmless ethnopolitical bluffs exhausted themselves. By 1947, anyone who understood the rules of the game must have started to wonder: just how much farther could the envelope safely be pushed?
ZHANG ZHIZHONG'S COUP DE GRÂCE
On May 28, 1947, Zhang Zhizhong resigned his post as governor. For his successor, Chiang Kai-shek appointed Masud Sabri, the first-ever native-born governor of the province.75 The impact was immediate. Halfway around the globe, in Southern California, the Los Angeles Times called Masud's appointment "unprecedented," while Zhang, claiming that Nanjing was bowing to native wishes to see "a Xinjiang man rule Xinjiang," portrayed it as a demonstration of Chinese "respect for the political rights of minorities."76 As governor, Masud remained remarkably true to form and continued to issue incendiary statements regarding Chinese rule in Xinjiang. "Today, the government of China is telling the world: 'We are democrats and are struggling for democracy.' But regardless if imperialism is white or blue, it always oppresses minority nationalities or even tries to annihilate them and wipe them out."77 To his detractors, General Zhang played down Masud's well-known separatist rhetoric and instead highlighted the benefits of a Uighur figurehead adored by the non-Han masses of Xinjiang. "Masud is a highly virtuous gentleman, who enjoys a senior position of authority among the Uighurs," wrote an anonymous journalist in China News. "But in truth, even though Masud has ascended to the governorship, he wields very little real power." Assuring his Han audience that Zhang, "the real power behind the throne," was still in command, the author characterized Masud as Zhang's "ace card."78 The political calculus on display here is almost identical to that of the Nationalist report on Soviet affirmative action six years earlier, with which this chapter opened.
Masud's appointment was the banner event of Zhang's elaborate propaganda campaign against the Soviet-directed rebellion in Ili. With Masud's presence effectively negating the novelty of Ahmetjan Qasimi as leader of the Ili camp, Zhang felt secure enough to hit the road to publicize his ethnopolitical "enlightenment" to audiences in inner China. With a Uighur and Kazak dance troupe in tow, Zhang embarked upon a three-month tour of Shanghai, Nanjing, Hangzhou, and Taiwan. His colorful entourage initiated a frenzy of media reportage. To his Han audiences, Zhang played up the idea that long-estranged branches of the Chinese family were about to reconnect. For their part, Isa and Emin were given free rein to propagate a pan-Turkic agenda designed to appease their constituencies back in Xinjiang. A striking example of just such a dichotomy appeared in the pages of the official party newspaper, the Central Daily News, which reprinted a sample of Uighur calligraphy likely provided by Isa on behalf of the dance troupe. The Uighur version, penned in Arabic script, read as follows: "Let us forever develop our national art of Turkestan" (Türkistanniñ milliy sänitimizni abadi rawajlanduraili). A classic expression of Isa and Masud's pan-Turkic platform, this message was reinforced elsewhere with ubiquitous images of mosques in Turkey. In its Chinese translation, however, the Uighur message was rendered somewhat differently: "Develop the culture of Xinjiang" (fazhan Xin[jiang] wenhua). In a similar vein, the Chinese newspapers, instead of focusing on Turkish mosques, chose to print pictures of Uighur performers paying homage to Sun Yat-sen's shrine in Nanjing.79
The Soviets, recognizing Zhang's multifaceted campaign for the threat it was, attempted to cast the new governor as an ultraconservative "reactionary" associated with the chauvinistic "CC Clique" of the Nationalist Party. As Masud took the oath of office in Urumchi, rebel authorities in Ili organized massive protests through the streets of Yining demanding his immediate resignation. According to internal reports, the Ili rebels had much to fear from Masud's appointment. Uighurs were heard to claim that "good things will happen during the era of Masud," and many proceeded to thank the central government for giving them the "blessing" of Masud. As a result, Ahmetjan decided to expose the Nationalist plot for what it really was. "To those who do not understand how the colonialists operate, here is what they do. They say: 'We have given you a leader from among your own people.' They say this to attract people to their side and fracture our indomitable, united front of national liberation." According to Ahmetjan, Masud was nothing but an ambitious careerist, a man who "babbles manure" for a living. He had deceived himself into thinking the Nationalist authorities would allow the realization of his pan-Turkic "fantasies." On the contrary, Ahmetjan claimed, he was simply doing the work of the Han colonialists for them.80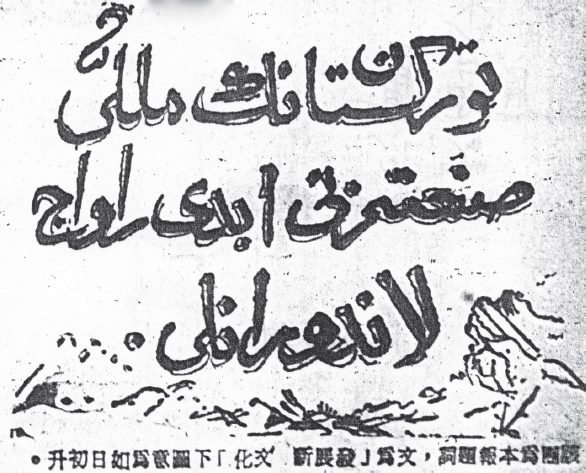 What is most fascinating about the reaction from Ili is its call to reinstate Zhang Zhizhong as governor of Xinjiang. Nearly a year into Masud's governorship, long after the Ili representatives had withdrawn from the coalition government, Ahmetjan still demanded "the dismissal of Governor Masud as a precondition for any return to Urumchi for further talks." Nothing can better illustrate the futility of taking seriously the charges of "Han chauvinism" and "Chinese colonialism" levied by the Ili camp. Because the goal had never been to bring about "enlightened" Han rule in Xinjiang, but was rather to facilitate the perpetuation of a Soviet economic monopoly in the geologically rich regions of the north, nothing the Nationalists could do would ever satisfy the Ili rebels. The unprecedented level of vitriol directed at Masud—the living embodiment of a Chinese commitment to precisely the sort of ethnopolitical tolerance demanded by the rebels—was in direct proportion to the severity of the blow Nanjing had managed to land against the ethnopopulist platform of the Soviet proxy government in Ili. The irony of the situation must have been apparent to many: in calling for a demonstration of Nationalist commitment to indigenous sensibilities in Xinjiang, Ahmetjan insisted on the reinstatement of a Han governor from Anhui. As such, there was simply no way Chiang Kai-shek would consider withdrawing Masud. According to the Ministry of Defense, the call for Masud's removal was "the most difficult demand to meet, and the primary source of the current impasse."81
If Masud served as an antidote to the rebel mind, then Osman offered Zhang an opportunity to strike at the rebel heart. By 1947, the Kazak batur had successfully negotiated his entry into an elite club of conservative Kazak allies formally aligned with the Chinese state. "I am an official in service to my country, and I have a duty to defend its territory," he announced in 1947. "To protect our national territory, we Altay Kazaks must deliver a severe blow to any evil power attempting to destroy national unity."82 Among his newfound peers, however, Osman was perhaps the least dependent upon resources from Urumchi for his continued political survival. This fact would become more and more apparent as time wore on. In April, Osman set up camp in the Baytik Mountains, four days northeast of the capital. He immediately clashed with Mongol border patrols, from whom he took eight hostages. In June, the Mongols announced that severe repercussions would ensue if the hostages were not released within forty-eight hours. Osman ignored the order. As promised, four or five unidentified aircraft crossed the Chinese border and laid waste to Osman's camp. For the next two months, Osman and the Mongols traded bullets and casualties all along the mountainous border. Kazaks flocked to Osman's banner in droves. In just four months, he increased his following more than eightfold, peaking at 1,700 warriors.83
The aerial assault on Osman—executed by the Mongols but almost certainly countenanced by the Soviets—coincided with Masud Sabri's appointment as governor. As the Soviets knew all too well, the two phenomena were intimately related. For his part, Osman, emboldened by his success over the summer, set his sights on Altay. Though Zhang told him to stay put, Osman again ignored the order. In late August, Osman reconquered Chingil and drove out Soviet mining camps in Koktogay. Several weeks later, he laid siege to Altay and drove Delilhan from the city. Nationalist authorities declared that Osman was "acting entirely on his own initiative," a rhetorical move that made the recovery of rebel territory appear to enjoy the spontaneous support of Kazaks desirous of a more proactive Nationalist role in the province.84 Faced with the stunning loss of Altay, the Ili camp fell into disarray. Then, in a move that surprised almost everyone, Osman continued to ride westward to conquer Tacheng, far outside his customary route of pastoral migration. At this point, Moscow, now deeply committed to mining operations in Altay, had no choice but to rearm Delilhan Sugurbaev and send him back into the fray. He returned to Altay at the head of an army with six tanks. Confronted with such an onslaught, Osman wisely abandoned his gains and retreated to the Baytik Mountains.
As expected, Osman soon received the same vitriolic treatment accorded to Masud. In his speeches, Ahmetjan condemned Osman as a "dog," "rapist," "enemy of the people," and an "agent of Nationalist fascism."85 As with criticisms of Masud, the goal was not to explore any sort of common ground between potential non-Han allies, but rather to neutralize a rival narrative of ethnopopulist legitimacy in Xinjiang. Viewed from this perspective, Ili's hyperbolic response bears testament to the blow that Zhang's Kazak and Uighur allies had managed to land against the Soviets. The Ili camp demanded both "the arrest of the so-called 'Altay bandit Osman'" and his arraignment before the people "for a public trial as a precondition for any return to talks in Urumchi." Judging by their "tone of language and grotesque posturing," Zhang concluded, "I do not see any willingness to meet us halfway. Thus the situation will only get worse, and the current deadlock is likely to intensify."86 Zhang could not have been much surprised by these developments. Like the Soviets, the Nationalists had little intrinsic interest in fostering non-Han agency for its own sake. The goal was simply to stop the rhetorical bleeding of the Chinese body politic begat by the Ili rebellion and little more. Judged by that standard, by late 1947 the Nationalists had met the Soviet test in Xinjiang.
Nevertheless, the incessant raising of the ethnopopulist stakes in Xinjiang carried troubling implications of its own. With Ahmetjan Qasimi president of the East Turkestan Republic and Delilhan in nominal control of its armies, Moscow had placed "proletarian" Uighurs and Kazaks at the top of a "national" republic, thus violating its own taboo against replicating the principles of affirmative action outside the borders of the Soviet Union and its satellites. With Governor Masud in Urumchi and Osman Batur on the field of battle, the Nationalists had aped the Soviets to perfection, in the process completing their transition from a conservative to a progressive brand of the politics of difference. In the back-and-forth struggle to construct and deconstruct narratives of Han political legitimacy in Xinjiang, both the Nationalists and the Soviets had finally exhausted their capacity for innovation.
Everyone knew where the script of national determination was supposed to go from here. For fifteen years, the people of Xinjiang had been promised an ever greater share of the ethnopolitical pie. These mostly hollow pledges nevertheless gave rise to a very real logic of rising expectations, one with a momentum all its own. Therefore, if independence for the non-Han peoples of Xinjiang was not in the offing—and it most certainly was not—then some sort of surrogate compensation must be found. In the event, it would fall to the Chinese Communists to determine just what sort of compensation would be offered.