THE BIRTH PANGS OF CHINESE AFFIRMATIVE ACTION
IN OCTOBER 1949, THE CENTRAL COMMITTEE OF THE CHINESE Communist Party received a report from Deng Liqun, a special agent sent to infiltrate the Ili valley two months prior. "Some of the young people out here," Deng wrote, "are wondering why the new Chinese leadership is not adopting the Marxist-Leninist principles of national determination as a means to national liberation." Instead, "they say we are merely implementing regional autonomy. How do I respond to such queries?"1 Deng's report highlights the thorny legacy of rising expectations in Xinjiang that would confront the new leadership in Beijing after 1949. Over the past two decades, the Soviets had alternately concealed and exploited the Han crisis of political legitimacy in Xinjiang by playing various permutations of the affirmative action card. The general trajectory, however, was toward an ever larger political role for the non-Han masses of Xinjiang. Thus ethnocultural autonomy under a Han warlord bereft of territorial claims had gradually given way to a sinophobic East Turkestan Republic firmly wedded to the administrative boundaries of Ili, Tacheng, and Altay. The Nationalists, negotiating from a position of weakness, were forced to engage the Soviets on their own terms. As a result, they too did their part, however reluctantly, to reinforce the notion that men like Masud Sabri and Osman Batur represented the real ethnopolitical future of the province.
During the latter half of 1949, the Chinese Communists, for reasons entirely unrelated to anything that took place in Xinjiang, gradually supplanted Nationalist authority throughout the northwestern regions. In nearly all matters of ethnopolitical import, however, the people of Xinjiang could have been forgiven for thinking the Nationalists had never left the province. Both parties were committed to placing Kazaks and Uighurs in prominent positions of largely symbolic authority. For example, Burhan Shahidi, the Uighur-speaking Tatar appointed to succeed Masud as governor in early 1949, was retained in that post for another six years by the Communists. Though both parties were determined to rein in the Ili rebels, the Communists, aided by the Soviets, had a far easier time of it. In the end, the East Turkestan Republic would be recast by party historians as the Three Districts Revolution (sanqu geming), whose leaders had always intended to merge with the progressive forces of Chinese Communism. In line with this retelling, the anti-Han pogroms carried out in Ili, Tacheng, and Altay were largely written out of official narratives.2
Most importantly, however, the Nationalists and Communists were both committed to some form of administrative autonomy as a surrogate compensation for the national ideal. (In the Nationalist version, this was glossed as gaodu zizhi, or "high-level autonomy.") The only difference is that the Communists could dial back the rhetoric of the past two decades from a position of strength, a distinction of no small significance. Let us recall for a moment the specific causal agent of the political malaise that had undermined every single central government administration since the late Qing: foreign powers, who deprived China's ruling class of the opportunity to harness domestic resources for domestic consumption. In a sense, the great misfortune of the Nationalists was their precocious rise to power. Simply put, until the foreign powers left China, whoever held custody of the central government was destined to bear the brunt of repeated onslaughts on the very foundation of their narratives of political legitimacy. For the Nationalists, the enormous expenditure of capital and resources necessary to meet the Western and Japanese threats saddled them with an additional handicap, one largely evaded by the Communists: the superficial but necessary incorporation of numerous warlords, whose independent bases of support severely undercut the ideological and organizational cohesiveness of the party.
By contrast, the early setbacks of the Communists and their retreat to the margins of inner China proved to be a blessing in disguise. As Jay Taylor has shown, unlike the Nationalists in Nanjing, Mao Zedong, holed up in the hinterlands of Shaanxi, was not forced to watch his considerable investments in German industry and munitions destroyed by the Japanese. Nor was he obliged, as a show of good faith to the Allies, to send his best fighting forces to the Burma theater, where, under the command of Joseph Stilwell, far too many perished. In Yan'an, Mao did not have to engage in protracted conventional warfare against vastly superior Japanese forces, nor did he have to integrate capricious warlords into his chain of command. As the Communist Party expanded by leaps and bounds during wartime, Mao was able to maintain an organizational discipline and ideological purity of which the Generalissimo could only dream.3 In 1945, when the Communists finally emerged from Yan'an, they could maneuver their forces without fear of succumbing to foreign assaults on their narratives of political legitimacy, as had already happened to the Nationalists. The surrender of Japan and the Allied renunciation of extraterritoriality two years prior had taken care of all that.
The same conditions that allowed Mao to achieve a swift victory over the bruised and battered Nationalists also enabled the Communists to adopt a less concessionary approach to matters of ethnopolitical import. In response to the concerns of Ili youth expressed in Deng Liqun's telegrams, Premier Zhou Enlai was sympathetic yet firm. "Without a doubt, every nationality has a right to self-determination," he explained. "But now the imperialists are attempting to split Tibet, Taiwan, and even Xinjiang from our country. Under such circumstances, we will call our state the People's Republic of China, and not a federation." Wang Enmao, the new party secretary in Xinjiang, seconded Zhou's statement. The idea of a Chinese "federation," he added, "in which Xinjiang would become a republic within the People's Republic of China," represented "incorrect" thinking.4 It was that easy. No need to sponsor public demonstrations of public penance for the suffering of non-Han frontier peoples, as Wang Jingwei and Chiang Kai-shek had once felt obliged to do. No need to convene contentious conferences that gave non-Han officials like Isa and Masud a platform to berate their "chauvinistic" Han colleagues and demand "high-level autonomy" for Xinjiang, as the Nationalists had felt compelled to do in 1945. With foreign patrons for disaffected non-Han figures now in short supply, the Communists no longer feared what a spurned successor of Masud or Isa might do. After 1949, those who disagreed with Zhou's and Wang's statements were confronted with a short list of options: flight (Isa, Emin, and Yolbars), imprisonment (Masud and Manchuqjab), or execution (Osman and Janimhan, the Kazak provincial minister of finance for the Nationalists).
The profound disparity of resources available to the two parties along the non-Han borderlands also illuminates the tone of pronouncements for public consumption. As anyone familiar with the official writings of Chiang Kai-shek and other top leaders is well aware, the Nationalists were not known for progressive statements regarding non-Han peoples and their eventual integration into the Chinese state. The most famous distillation of the official party line can be found in China's Destiny, ghostwritten by Tao Xisheng and published under the Generalissimo's name in 1943. In it, Chiang concluded that the differences among China's various ethnicities were attributable to "regional and religious factors, and not to race or blood," and that the "various clans actually belong to the same nation, as well as to the same racial stock." Wu Zhongxin, an enthusiastic promoter of the Chinese melting pot, once told Masud that "those peoples who followed the Han have risen high, while those who turned their back on the Han have disappeared."5 As we have seen, however, the words and actions of these same "chauvinist" Han look very different when viewed from the unpublished archival documents they did not intend for public consumption. As we saw in the previous chapter, behind closed doors the Nationalists evinced a remarkable degree of flexibility, pragmatism, and compromise.
In stark contrast to the Nationalists, the Communists have cultivated a reputation for being far more "enlightened" than their predecessors. After all, they formally recognized the existence of fifty-six official nationalities within China, making sure that representatives of each group filled seats in the National People's Congress. It was also the Communists who finally enshrined the Soviet ethnopolitical model along the borderlands, unveiling the Xinjiang Uighur Autonomous Region (Xinjiang Weiwuer Zizhiqu) in 1955. But if we confine our analysis to substantive action rather than abstract discourse, it soon becomes apparent that there is a direct relationship between the strength of the state and the ethnopolitical discourse it chooses to broadcast. For example, in 1884, when imperial administrators conferred provincial status upon Xinjiang for the first time in history, they did so in an attempt to project a centralizing reach that the state did not actually possess. Similarly, the Nationalist refusal to recognize distinct ethnic groups, preferring talk of subordinate "clans" and "tribes," was a rhetorical strategy rooted in weakness. After all, why give China's border peoples yet another pretext to collude with foreign powers by formally acknowledging their lack of historical ties with the Han race? With the Communists, the opposite was true: Beijing could afford to recognize a multitude of non-Han nationalities and grant them some form of regional autonomy on paper precisely because they no longer feared that such concessions could be realized on the ground.
There is a great deal of irony in all this. The Communists, while talking a more progressive talk, walked a far less permissive walk. The National People's Congress, which included representatives of each newly recognized ethnic group, was never anything more than an ornamental government body whose job was to rubber-stamp whatever legislative proposal came its way. The Communist equivalent of Masud Sabri berating his Han colleagues in 1945 was a staid political ritual exactly one decade later in which fifty-seven delegates to a conference in Urumchi submitted their views on the proposed designation of a Xinjiang Uighur Autonomous Region. The first words out of the mouths of thirty of them were "I completely agree" (wanquan tongyi). Eleven others expressed their "firm" or "complete support," while two decided to hedge their bets by both "completely agreeing" and "firmly supporting" the proceedings.6 Would that Chiang Kai-shek had enjoyed such ideological and political conformity! As for the Xinjiang Uighur Autonomous Region, time would eventually make a mockery of the very name, which today describes a region lacking either a Uighur majority or any semblance of political autonomy.
And yet the Nationalists, who talked an embarrassingly chauvinistic talk, had walked a comparatively progressive walk. They did so out of necessity, to be sure, but with tangible implications nonetheless.7 In the more than six decades since the Nationalists withdrew from Xinjiang, no Uighur or Kazak figure has ever managed to exert as much influence on Chinese policy as did Isa, Masud, or Osman. It is now clear that the Nationalists were obliged to tolerate a degree of non-Han agency that their successors would never seek to replicate. Conditioned by the geopolitical crises of the 1940s into a brand of "progressive" ethnopolitical pragmatism, the Nationalists, had they somehow emerged victorious from the civil war, might well have found that they had no choice but to bow to certain elements of the logic of rising expectations that they themselves had helped to foster.
Ultimately, however, this is all an exercise in counterfactual speculation. By early 1950, the Communists had extended their writ throughout the province and were eager to prove the superiority of their ethnopolitical platform. Not surprisingly, this would entail dramatic structural and rhetorical transformations. First and foremost, the Communists attempted to pick up where the late Qing state had left off. In practice, this translated into a revival of the integrationist thrust that the beleaguered Manchu court had tried but failed to implement more than half a century earlier. Then, as now, the goal was to guard against rival foreign empires who might use the pretext of "national liberation" to further their economic interests in Xinjiang. From a structural perspective, the key innovation was the creation of the Xinjiang Production and Construction Corps (Xinjiang Shengchan Jianshe Bingtuan). Described by one scholar as "an empire almost to itself," subordinate only to Beijing, the bingtuan represented the reassertion of political, economic, and cultural ties between Xinjiang and the Han heartland. It was an overwhelmingly Han-dominated organization, composed in its early years almost entirely of demobilized Communist and captured Nationalist soldiers.8
The Production and Construction Corps fulfilled every political and economic goal once aspired to by the late Qing court. By funneling millions of Han migrants into Xinjiang, it strengthened cultural and demographic ties to the inner provinces and struck a blow at any attempt by political dissenters to portray Xinjiang as "deserving" its own Uighur nation-state on the basis of ostensible ethnocultural homogeneity. It also oversaw massive agricultural reclamation projects and the development of new boomtowns in areas of the region rich in natural resources. In addition, the Production and Construction Corps received enormous investments of capital from the central government. None of this had been possible during the late Qing or republican eras, when the center had no money to give and chronic political disunity discouraged the cultivation of ties between the Han governors of Xinjiang and the rest of China. But even during relatively quiescent times, few Han governors possessed the wherewithal to manage the fallout sure to ensue as a result of such a bold repudiation of the politics of difference. The cultural, economic, and political integration of Xinjiang with the rest of China, while deemed essential, was a very risky proposition. After all, the last time a Han official had overseen large-scale Han migration to Xinjiang—Jin Shuren in the early 1930s—the apocalyptic Hami rebellion was the result.
Thus it was the job of Chinese Communist ethnopolitical discourse to mitigate the inevitable backlash to its integrationist thrust in Xinjiang. But before we examine how this integrationist approach was experienced on the ground, let us examine the response of top Communist leaders to the delicate question posed by Uighur intellectuals to Deng Liqun in Ili: why is Beijing giving us less than the Soviet blueprint allows for?
JUSTIFYING REGIONAL AUTONOMY
Examined in light of the legacy of the Qing empire, the decision to turn Xinjiang Province into the Xinjiang Uighur Autonomous Region makes perfect sense. Quite simply, it was an attempt to recapture the spirit of differentiation inherent in the administrative status originally assigned to the province prior to 1884: a non-Han dependency (fanshu or shudi) of the Qing empire, sharing little in common with the inner Han provinces (neisheng) of the heartland. The Communist move was merely a formal recognition of what had long been apparent in practice. In 1909, when the Qing court oversaw China's first-ever general elections, all provinces were allowed to nominate and elect candidates for their assemblies—all provinces, that is, except Xinjiang, whose "special conditions" precluded its participation. Later on, even as Nationalist officials duly referred to Xinjiang as a province in official paperwork, some policymakers despaired over the ways Xinjiang remained "special," and thus resistant, to integration with the rest of the country. Governor Wu's refusal to elevate Uighur expatriates to prominent office in Urumchi had been based on his adamant belief that such appointments made Xinjiang appear even "more special" than it already was. In fact, he and some of his colleagues reasoned, the Nationalists should be trying to make it less special, so as to guard against Soviet plots aimed at exploiting its unique conditions.9
So Xinjiang clearly had always been special. In and of itself, this was not necessarily a bad thing. Indeed, the politics of difference depends upon the preservation and often valorization of ethnic and spatial distinction to achieve its strategic goals. Difficulties arise only when the Chinese state no longer proves capable of acting as the sole source of mediation and legitimization for the special conditions in Xinjiang. This is a crucial point. Chiang Kai-shek had no problem placing men like Masud Sabri in the governor's seat, so long as the Nationalists—and the Nationalists alone—had put him there. But the Soviet installation of Ahmetjan Qasimi in Ili was totally unacceptable, even though many of his public pronouncements were less provocative than those of Masud. The Chinese Communists picked up where the Generalissimo had left off. In practice, this meant that Beijing would need to find a way of reinforcing certain categories of difference while orienting that difference toward the Chinese state. This is a tricky balancing act for any state. Writing about the Soviet Union, Francine Hirsch has called this process "double assimilation": by subscribing to a set of characteristics allegedly common to all members of a particular ethnic group, the members of that group acknowledge their subordination to the state that defines and institutionalizes such categories in the first place.10
The People's Republic of China was that new state. In place of Nationalist "clans" and "tribes," the Communists went to great lengths to codify fifty-six nationalities, each of which acknowledged its allegiance to Beijing by participating in institutions designed to reinforce a sense of state-sponsored difference.11 Whether created from scratch or simply inherited from republican forebears, each nationality was to regard itself as one of fifty-six fraternal twins: different in appearance (culture, language, etc.) but identical in paternity (the Chinese state). All were united in looking to Beijing to sponsor their collective progress toward socialist modernity. It is for this reason that the phrase empire of nations, first coined by Hirsch for the Soviet Union, is nearly as applicable to the People's Republic of China as it was to its Eurasian neighbor. The goal was to see how the politics of difference could facilitate the acquisition of wealth and power for the metropole. The only difference lay in what was meant by difference. In place of the conservative ethno-elitism championed by imperial administrators and some of their republican admirers, we now find the language of progressive ethnopopulism. This was well suited for justifying the encroachment of the state into the economic and private lives of its subjects, much as it had for Han warlord Sheng Shicai two decades earlier.
Thus far the Communist approach looks very much like the Soviet approach. The chief distinction is to be found in the obligation of the fraternal nationalities of China to recognize a Chinese rather than Soviet father. That single distinction would make a world of difference. Though many of these fifty-six nationalities could ultimately trace their institutional genesis to a Soviet blueprint, no one but the Chinese Communists could now claim the authority to regulate and legitimate their affairs. This was the political breakthrough eagerly sought but never achieved by the Nationalists. For the Communists, recovering national sovereignty enabled the creation of a unique political discourse still with us today: "socialism with Chinese characteristics." Though this phrase dates from attempts in the post-Mao period to reconcile the contradictions of Leninist governance with market economics, we can see its rhetorical forebears in the ethnopolitical platform of the 1950s. Such a convenient and flexible discourse allows the Chinese state to claim that it is only doing what more developed states have already done, but in accordance with the special conditions of China. Simply put, unlike the Soviet Union, the People's Republic had no intention of giving its nationalities their own "national republics," complete with the right of secession. This radical departure from the Soviet affirmative action blueprint needed to be justified, not least because the peoples of Xinjiang—more than any other region of China—were intimately familiar with the Soviet model.
The discourse brought to bear upon this problem is best described as Soviet affirmative action with Chinese characteristics. Its messenger was Premier Zhou Enlai, who delivered a sweeping lecture on the subject two years after the creation of the Xinjiang Uighur Autonomous Region. The reason the Bolsheviks had given some of their non-Russian peoples their "own" national republics, Zhou said, was because the Russian state had emerged from the same "colonialist" impulse that characterized other European empires. To make amends for the "imperialist" legacy of the czarist era, the Bolsheviks needed to prove that they were different from other Western powers. The creation of national republics, along with their associated right of secession, were thus tangible demonstrations of ethnopolitical progressivism, without which no one would have taken seriously the Bolshevik commitment to a new world order. China, however, was different. "As everyone knows," Zhou asserted, "imperialism came from the West." As a result, China could be a victim of imperialism but not its perpetrator. And since imperialism was a uniquely Western phenomenon, it followed that granting national republics as a show of imperialist remorse and negation did not apply to China. Western powers, Zhou claimed, had embarked upon linear conquests far from their own borders. But the spatial and human dimensions of China looked more like an ever expanding and contracting amoeba, in which Han and non-Han "naturally" mixed and merged.12
So went the rhetorical justification for Soviet affirmative action with Chinese characteristics. Because China did not emerge from the Western imperialist tradition, the only criteria capable of determining the proper relationship with its minority peoples should derive from the lessons of Chinese history, not European or even Russian history. As for the lessons of Chinese history, Zhou claimed, they teach that the people of China have mixed and merged in a natural and harmonious fashion, eschewing the violent displacement so characteristic of Western history. It was precisely such violent displacement that had once forced the Bolsheviks to come up with the idea of establishing national republics, as a drastic tonic for a uniquely Western vice. But since China is a stranger to this vice, Zhou insisted, imbibing its tonic is unnecessary and counterproductive. As a result, granting independence or national autonomy to any non-Han peoples within China would be akin to forcing a healthy patient to take medicine for a disease he does not have—an analogy Communist leaders were fond of drawing. This, in turn, would weaken China's defenses against the future return of the ever-predatory Western imperialist powers.13
The logic of Soviet affirmative action with Chinese characteristics is also evident in the discussions that took place regarding the name to be applied to the new autonomous region in Xinjiang. Mao himself proposed Xinjiang Autonomous Region, preferring to omit formal mention of the Uighurs as its "steward." Prominent Uighurs in the Communist government, however, expressed far more concern at the inclusion of Xinjiang than the omission of Uighur. Burhan Shahidi apparently echoed the sentiments of many when he told Deng Xiaoping that "some of the ethnic groups in Xinjiang are not very fond of these two characters." What he meant was that Xinjiang—variously translated as "New Dominion," "New Territories," or "New Frontier"—connoted a relationship with the rest of China that could easily be construed as colonialist or imperialist. He proposed replacing it with Tianshan, the Chinese name for the "Heavenly Mountains" that divided the province into distinct northern and southern halves.14
Mao would have none of it. He insisted that Xinjiang remain. One month later, Deng Xiaoping duly broke the news to Uighur cadres. "The name Xinjiang does not contain any sense of an insult to the minority peoples, and therefore a change to Tianshan would be inappropriate," he wrote. As a concession, Mao agreed to the insertion of Uighur, so long as Xinjiang retained its position at the front of the line. The end result was a curious amalgam. Though the new autonomous region "belonged" to the Uighurs, it was branded with a Chinese name that sounded much like those given to New World colonies in North America and Australia (e.g., New England, New South Wales). Mao's logic, of course, was irrefutable: since China is incapable of practicing imperialism, the name Xinjiang could not be interpreted as the rhetorical embodiment of an imperialist past. To agree to its omission would constitute a tacit admission that China was, in fact, capable of acting just like the Western imperialist powers. When stripped of its associated discourse, however, the new name merely represents one of many pragmatic attempts undertaken by Han statesmen during the twentieth century to reconcile contemporary "best practices" of empire imported from abroad with the domestic discourse of Chinese nationalism on which nearly every Han revolutionary had been weaned. Uighur Autonomous Region embodied the former, the retention of Xinjiang the latter.
If the Communist discourse on borderland "autonomy" skillfully elided any mention of the geopolitical pragmatism behind it—that the legacy of national humiliation lay behind the decision to eschew both a federation of republics and the right of secession—we are still left with the question of why Beijing decided to territorialize its own version of "autonomy." Neither Sheng Shicai nor the Nationalists had seen fit to do so, and the Communists clearly had no compunctions about adapting the Soviet model to suit "Chinese conditions." From a purely strategic point of view, it would seem that the ethnocultural model pursued by Sheng—also known as the Austro-Marxist platform—offered the least chance of separatism while retaining the discourse of progressive ethnopopulism. After all, cultural autonomy still provides the state with its coveted role as an evolutionary sponsor of substate nationalisms, while simultaneously denying the "beneficiaries" of such autonomy the administrative tools necessary to merge political activism with preexisting ethno-territorial categories. One suspects Beijing's reluctance to revive Sheng's program to be rooted in the duban's execution of numerous Communist cadres (including Mao's brother), while aversion to the Austro-Marxist model might be attributable to its heretical status in the contemporary political culture of the Soviet Union.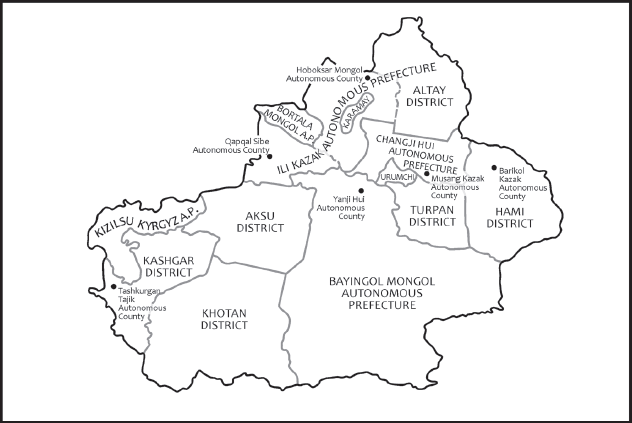 Whatever the reason, the end product was an awkward ethnopolitical regime. It asked non-Han peoples to aspire to a national consciousness while settling for regional autonomy. As the sociologist Rogers Brubaker has shown, for most people in most circumstances, there is likely to be nothing at all provocative about this. The discourse of ethnopolitics is far too abstract to figure much in the daily lives of most people, and it usually takes a backseat to economic matters. There are, however, several circumstances in which ethnic conflict can rise to the fore, of which two are relevant for our purposes here. The first is a sudden influx of alien migration perceived by local residents as disruptive to preexisting economic relationships. The second is when the demographics of a particular locale are no longer weighted in favor of a single ethnic group but are instead split roughly between two or more groups of unequal economic status.15
During the 1950s, these two conditions did not yet obtain in most of Xinjiang. In the provincial capital, however, a sizable population of Uighurs, Hui, and Kazaks did brush shoulders with the massive influx of new Han migrants. The factory floors of Urumchi provided the backdrop. Close analysis of rare municipal party reports concerning modes of interaction among the state and its Han and non-Han workers in Urumchi provide a suitable litmus test for the ethnopopulist discourse of the new state.
UNVEILING AFFIRMATIVE ACTION IN URUMCHI
In October 1949, as the People's Liberation Army poured into Xinjiang, a Nationalist officer in flight to India passed through the southern oasis of Kucha. The local Han magistrate invited the officer into his home. Once inside, the officer met his host's Uighur wife and two children. His curiosity got the better of him.
"The Uighurs of southern Xinjiang are against Han men marrying their women," he said. "But here you are, and you have gone and married a Uighur girl. How come they don't resist our immigration?"
His Han host shot back, "What is there for them to resist? All the children born here speak Uighur. Not only that, there are plenty of akhunds who say openly in public that 'even if a hundred thousand Han come out here, we will simply assimilate a hundred thousand Han. What are we afraid of?'"16
This exchange between a Nationalist officer in retreat and a lonely Han official in Kucha speaks to the ways shifting demographics can exacerbate or mitigate what is often thought of as ethnic conflict. As Brubaker discovered among Romanian and Hungarian communities in Transylvania, towns marked by a clear demographic majority weighted toward one ethnic group were least likely to become sites of ethnic conflict, even when local politicians from the majority group went out of their way to antagonize the minority community. By contrast, ethnic tensions and ethnic conflict were most likely to occur in places divided more evenly between two ethnic groups, particularly if such parity had been brought about by demographic trajectories experienced within living memory.17 When the Han official in Kucha explained why local Uighurs did not oppose his marriage to a Uighur woman, he was giving voice to the first set of conditions, which had facilitated Mongol and Manchu rule before him. Simply put, an isolated handful of alien elites in no way threatens the socio-economic fabric of the community as a whole.
Indeed, for the duration of the Mao years and in some places right up until the present day, circumstances conducive to ethnic conflict have been absent from much of Xinjiang. The reason is simple: Han migration, managed on principles of difference familiar to China's imperial predecessors, was an intentionally segregated process. As a result, Han migration and its attendant capital investment—both embodied through the Xinjiang Production and Construction Corps—were largely funneled into agricultural reclamation sites or new industrial boomtowns located far from preexisting Uighur or Kazak communities. In this as in other matters, segregation was deemed the height of prudence. Thus a study of ethnopolitics after 1949 must focus not so much on the highly segregated and exclusionist bingtuan, but rather on places where representatives of different ethnic groups interacted and intermingled on a regular basis, under state supervision and with the possibility of state intervention. After all, though statistical charts quickly reveal the presence of majority-Han districts and counties throughout Xinjiang, it is not difficult to find entire cities and counties that have remained overwhelmingly Uighur, particularly in the south. Mao Zedong repeatedly butted heads with proponents of such a segregationist approach. Whenever the Chairman pursued one of his labor-intensive economic campaigns, he criticized the idea—apparently well entrenched—that non-Han peoples must be insulated from "disruptive" mobilization toward a socialist future.18
Prior to 1949, few if any oases in southern Xinjiang were home to a Han demographic exceeding 5 percent of the population. In most cases, the percentage was far lower, a realization belatedly cherished by those who ventured north in search of work after the Communist takeover. Upon experiencing difficult conditions in an Urumchi factory, a group of Uighur petitioners from Kashgar declared its intention to "go back home even if you put a bullet in our heads." Others expressed "discomfort" in the workplace by requesting a transfer back to what they referred to as the "pure Uighur" oases of the south.19 As a result, it fell to Urumchi, with its 60/40 demographic ratio in favor of the Han, to serve as a bellwether for the government's ethnopolitical platform. That such a bellwether exists at all is quite new. Prior to 1949, no Han administration had been able to sustain its penetration to the ground level of society for more than a few years at a time. As such, the only organic ethnopolitical platform of any substance was that which had obtained among conservative elites, and it was upon this basis that claims to Chinese political legitimacy had long been made, in practice if not in name. Even when Osman Batur managed to recruit an ethnopopulist constituency following the imprisonment of Prince Ailin and other hereditary Kazak nobles, he proved quite willing to adopt the traditional title of khan and transfer his loyalty back to Urumchi once it became clear that Governor Wu was committed to both Prince Ailin and the old ethno-elitist order.
After 1949, however, the first traces of a stable, organically grown ethnopopulist constituency began to emerge in Xinjiang. This means that we can finally take stock of the state's claim to a narrative of political legitimacy in a non-Han land on the basis of the progressive ethnopopulist agenda long peddled—but never fully realized—in the region. Such a dramatic reorientation of our analytical priorities necessitates a paradigm shift of sorts. As one scholar has shown with respect to Soviet Kazakhstan, the vast majority of ordinary citizens typically do not assess the culturally alien state in terms of the "colonialist" abstractions so familiar to intellectuals, historians, and political elites. Instead, the critique from below tends to focus only on those aspects of state discourse relevant to the daily lives of upwardly mobile urbanites, who generally want to rise up through the system, not subvert it.20 Thus, while political activists in Ili continued to promote geopolitical abstractions such as "Han colonialism" and "eggshell autonomy" well into the 1960s, Uighur smelters in the August 1 Steel Factory complained of far more pedestrian matters: dirty dormitories, pork-filled baozi, and a lack of on-the-job training.
On that note, let us take a closer look at what the first generation of Uighur, Hui, and Kazak "proletariat" in Xinjiang encountered in the factories of Urumchi. Before they ever set foot in the workplace, they would have been inundated with state-sponsored "development discourse" and the idea that "elder brother" Han were in Urumchi merely to train the non-Han peoples to take their places. The journalist Chu Anping painted a heartwarming portrait of this tutelage process. Not only did the Han "respect the local customs and unite with their fraternal ethnic neighbors," he wrote, but they also assumed an active and positive leadership role. When Uighur workers "enter the factory floor for the first time, it is apparent that they need constant care and attention from their Han co-workers, both in technical skills and in daily living." According to Chu, the Han did not shirk their responsibility. When one Uighur employee needed additional guidance outside normal work hours, her Han supervisor visited her dormitory and chatted until late into the night. On one occasion, when this same worker accidentally spent all her wages and was unable to purchase her next meal, her Han boss "purchased several dollars' worth of food tickets and delivered them" to her. As another Uighur worker put it, her Han manager routinely "treats me better than my own mother does."21
Woven into Chu's anecdotes is the silhouette of a pragmatic economic hierarchy that would consistently bedevil implementation of the state's ethnopolitical platform. Two irreconcilable priorities are in evidence here, resolved only in Chu's flight of literary fancy: while the Uighurs were supposed to be "masters of their own house" (dangjia zuozhu), that house could only be built with a massive influx of Han economic and technical assistance. As party secretary Wang Enmao put it several years later, during the first eight years of Communist rule, "the value of materials sent from the inner provinces to Xinjiang has amounted to two million tons." Meanwhile, he claimed, "Xinjiang has only sent a meager fifty thousand tons in return." The only reason Xinjiang had attained fiscal solvency for the first time in half a century, he continued, "is because the central government has invested an enormous amount of capital into Xinjiang's economy."22 And since that investment naturally favored those with advanced skills and education undertaken in the official language of the new state, Han migrants to Xinjiang quickly became the new de facto masters of the house. Had these new Han migrants treated their non-Han understudies as Chu Anping's reports claimed they did, the disconnect between economic and ethnopolitical policies might not have been a problem.
Unfortunately, they did not. As the municipal branch of the Communist Party in Urumchi was soon to discover, the imperatives of industrialization left little time or energy for such altruism. After a series of non-Han strikes broke out at the October Automobile Repair Factory, July 1 Cotton Factory, and August 1 Steel Factory, the party carried out its own internal "ethnic policy inspection" (minzu zhengce jiancha). What they found was discouraging. Meetings were conducted exclusively in Chinese, while documents written in Uighur either "piled up" or "disappeared." In the factory, "none of the dispatches, announcements, door plates, slogans, or labor regulations are written in Uighur, and even some places with a 'danger' sign lack Uighur translation." Hiring decisions were based almost entirely upon the applicant's fluency in Chinese, a criterion that consigned one otherwise talented Uighur cadre to a demeaning career as a janitor. The interview process for Uighur and Kazak job applicants was often limited to a single question: "Do you understand speech or not?" (ni dong bu dong hua). In one case, an indignant reply was recorded: "We're humans, too, you know. How could we not understand speech?" By "speech," of course, the Han interviewers meant standard northern Chinese (Mandarin), the default language of all state-led economic activity. Despite repeated admonitions from the party, the only people who bothered to study Uighur, Kazak, Mongol, or Kyrgyz were Uighurs, Kazaks, Mongols, and Kyrgyz, a duty required of them by the newly "enlightened" government. The Han, free to ignore repeated admonitions that they study minority languages, could instead learn Russian or English, thus dramatically expanding their opportunities for professional advancement.23
For those Kazaks and Uighurs who did manage to land a job, the factory floor turned out to be an unusually hostile place. Libraries lacked even a single book not in Chinese, and work unit entertainment catered almost entirely to a Han audience. (In two factories, only 7 of 391 phonograph records were in Uighur or Kazak.) Contrary to Chu's heartwarming portrait of Han supervisors patiently cultivating Uighur understudies, "many Han cadres claim that ethnic cadres lack ability, cannot accomplish the work, and cannot communicate with them." Some work units were "unwilling to receive ethnic cadres transferred from other units, and they attempt to devise methods for getting rid of those they already have." No one wanted to devote precious time to training non-Han workers. "They believe incorrectly that minority cadres are all of a certain type, and completely shirk their leadership responsibility to assist them." Han treated non-Han with open contempt, "even to the point of despising them." Tricking Muslim colleagues into eating pork-filled baozi and then laughing at them in the cafeteria was openly tolerated, as was the quartering of pigs next to the Muslim dormitories. Han cadres "believe that ethnic cadres are dumb and suitable only for crude tasks." Another added that perhaps "another thirty years" of training might help. One Han worker said that he would "prefer to teach three Han rather than one Uighur" and that "a few are better than many, and none is best of all." In response, Kazak and Uighur workers chose to remove themselves from the workplace: extended sick leave and suspicious vacation time became frequent topics of discussion among Han managers.24
Not that all managers were Han. At the August 1 Steel Factory, the deputy director of production was a Kazak, one of several non-Han cadres who were said to "feel ill at ease in the workplace." The deputy director did not mince words: "Every day I go to my office, but there is no one I can talk to and nothing for me to do. So I sit at my desk all day and waste away. Everyone calls me deputy director, and this sounds swell. But in reality, I have nothing to do with the work that goes on around here. Sometimes I don't even know that the director has left for a business trip until after he returns, to say nothing of taking over in his absence." As a result, he chose to "spend most of the day at home rocking his baby," occasionally showing up at work just to "pull a few handles." It soon became apparent that Uighurs and Kazaks in positions of visible authority were usually "just for show." When one Uighur received a prestigious promotion from personnel to production, "he was extremely happy." Of course, that was before he learned he was expected to show up for work but not to do any work. When a colleague asked him if he was busy, he exploded in anger: "I'm busy as hell! I'm so busy I can't get all my work done!" Eventually he requested the revocation of his "promotion" and a transfer back to his more humble yet substantive work in personnel.25
These helicopter promotions of non-Han workers to positions of conspicuous but hollow authority did more than undermine the dignity of the recipients. They also generated considerable resentment among their Han colleagues, who "think that all achievements are theirs alone, and say that the revolution was made by the Han." To understand the perspectives of these recent Han arrivals, we should note that few had chosen to relocate to Xinjiang. In fact, in later reminiscences about their early days in the northwest, the two most common refrains emphasized their "dispatch" from the inner provinces and the considerable "hardship" they experienced as a result. In other words, most of them had been sent to Xinjiang against their will, to apply their advanced education and skill set to an environment deemed far more backward than the provinces from whence they came. As a result, in an ironic inversion of the state's affirmative action discourse, these Han migrants felt entitled to special treatment in Xinjiang. "In all of Kucha," bragged one Han accountant in the local bank, "you won't find a single person capable of doing the work I do."26 In light of their perceived sacrifices and sufferings, the last thing these urban Han migrants wanted to see was Kazaks and Uighurs, often illiterate in Chinese, promoted to positions of privilege based purely upon the accident of their birth.
This disdain carried over into the workplace. "They do not respect the customs of the local ethnic groups," one report observed, "and view short hair and Han fashion as the definition of 'progressive,' while reading the Koran at funerals and doing namaz prayers are seen as backward." Han cadres were overheard to say things like "Namaz is something rich people do. You can do it all you like, but God won't give you a penny." In the workplace, Han openly criticized their non-Han colleagues for taking paid leave during religious holidays. "Who pays for your salary during such a long holiday?" asked one Han man who could not take such time off. In retaliation for such piecemeal demonstrations of respect, some Han went out of their way to denigrate their "undeserving" colleagues by ordering Uighur subordinates to transport pigs or tricking them into eating pork-filled baozi. No opportunity was missed to remind non-Han colleagues that all real and important tasks were reserved for the Han, regardless of what the state said. One insult pointed out that "the pilots of airplanes and drivers of vehicles and tanks are all Han. You guys aren't fit for such work."27
Faced with such dysfunction in the workplace, the party made a great show of official concern. Complaints from Han migrants were singled out and criticized as instances of "Han chauvinism," and attempts were made to solicit the opinions of Kazaks, Uighurs, and Hui. Yet few believed the party would make any sincere or sustained efforts at amelioration. "Talk won't solve anything," one man was heard to say after a meeting convened to discuss the issue. Another predicted that the ethnic inspection campaign "was just a passing wind" and that nothing would change. "While the ethnic policy inspection is going on, there are Uighur posters and Uighur-language films. After the inspection they'll all disappear." He was right. "On the first Sunday after the inspection concluded," the official report noted, "this is exactly what happened. Not only were there no Uighur-language films … but none of the announcements on the wall or in broadcasts were in Uighur … and all movies were projected exclusively in Chinese." The report concluded on a pessimistic note. "We believe that the chief cause of the problems listed above is that the party's ethnic policies are not being studied sufficiently, and most people have only a superficial understanding of them. Another reason is that most people concede only that our ethnic policies are important in principle, but then fail to undertake any tangible actions on the ground to implement them."28
The findings of the Urumchi Municipal Party Committee might be taken as an apt summation of the tensions inherent in the Soviet and Chinese versions of affirmative action. That is, nationality policies were important in principle, and an initial good faith effort would be made to realize them in official institutions and regulations. In reality, however, the desire to overtake the industrialized nations of the world as quickly as possible meant that economic development would always constitute an infinitely higher priority than issues of ethnopolitical import. And much as was the case under Jin Shuren two decades earlier, the demographic and economic imperatives of a developing Xinjiang oriented away from the Soviet Union inevitably required a massive influx of Han labor and capital. The difference after 1949, of course, was that Beijing was finally both able and willing to leverage its military and political resources to safeguard its investment. In an age in which national determination is valorized, however, the state needed to continue to maintain the pretense, however transparent, that the "natives" were the real stewards of progress in Xinjiang.
The more Beijing developed Xinjiang, however, the harder it became to camouflage the Han presence. In 1954, municipal authorities in Urumchi grew alarmed at a steady stream of unregulated Han migrants from the inner provinces. Some fled persecution, others called on relatives, but common to all was the misinformed perception that "money is easy to make in Xinjiang." Armed with an exaggerated sense of self-worth on the non-Han frontier, they refused offers of manual labor, instead demanding managerial cadre positions. When some took to begging on the street, party authorities began to deplore the "extremely negative effect" imparted by these itinerant Han.29 It was precisely with such vagrants in mind that Yang Zengxin, hoping to alleviate indigenous fears of unchecked Han migration, had once advertised Xinjiang's oxen as "emaciated" and the local economy as "catastrophic." When that failed, he drafted the worst of the Han migrants into a decrepit military establishment that effectively quarantined them away from the natives. With the land at peace and the transportation infrastructure intact, however, the Communist state no longer had any need of the old governor's tactics. A handful of illegal migrants notwithstanding, Beijing wanted nothing more than to resettle millions of Han workers to Xinjiang.30 So long as they skirted around long-established native communities, these Han migrants offered few downsides: vulnerable, pliant, and expendable, they could be used in appalling labor conditions without fear that their discontent might be exploited by foreign powers.
The Communist state thus valued two types of Han migrants: urbanites for their education and technical skills, and peasants for endlessly exploitable labor. Though it should not come as a surprise to see Beijing leveraging its most readily available and least costly human resources in Xinjiang, it is important to note the unintended consequence of such demographic dependence: a non-Han populace that felt excluded from the economic boom taking place right in its own backyard. The Urumchi Municipal Party Committee was not ignorant of this sentiment. During its investigation of select factories, it found that "minority workers are very insistent on receiving political and technical training, and they hold many opinions on these matters." Some of these opinions held that "we have not done a sufficient job in nurturing minority cadres or in helping them perform their tasks. They generally feel that they have titles but no authority, are unable to perform in a managerial capacity, and thus cannot accomplish any work." Much as was the case across the border in Soviet Kazakhstan, discontent stemmed not from integration into a culturally alien system, but rather from exclusion from that system and its hierarchy of material rewards. According to the committee report, one person expressed precisely this fear: "I don't care about any of the other stuff. I'm only afraid that no one will teach me any useful skills."31
Similar refrains echoed well beyond the factory floors of Urumchi, in one of the few other regions to witness substantial interethnic mixing in Xinjiang. In May 1957, the party secretary in Ili, obliged by Mao's injunction to criticize the party's shortcomings during the Hundred Flowers movement, inadvertently gave voice to a wide swath of discontent among the people of his district. More than two years had passed since the designation of Ili as a Kazak Autonomous District, he observed, yet "not a single governing document has been issued in Kazak." Official signs were still written only in Chinese. Never mind highly placed non-Han cadres "just for show"; in Ili, many government and party offices—invariably the most important ones—still lacked even a single non-Han cadre. Industry, the lifeblood of the socialist economy, was dominated by migrant Han. "Some people say, 'This isn't a Kazak Autonomous District, it's a Chinese Autonomous District.'" One memorable critic characterized the system of regional autonomy as "eggshell autonomy" (danke zizhi). Plans to convene a meeting to discuss the issue were met, just as in Urumchi several years earlier, with jaded skepticism. "Whether we discuss it or not hardly matters," one Kazak cadre responded. "It's all the same in the end."32
In the summer of 1957, the Anti-Rightist Campaign revealed even more strident critiques of Chinese Communist policies in Xinjiang over the preceding decade. Saypiddin Azizi, the Uighur who succeeded Burhan Shahidi as the civil governor, took aim at unnamed critics of the regime in a lengthy speech later published in full. "Some people," he alleged, had called for an "independent Uighuristan or an East Turkestan Islamic Republic." Saypiddin himself received letters denouncing "Han party members who have stripped us of our land, our wealth, destroyed our religion, and turned the people of Xinjiang into homeless vagrants." Other anonymous critics characterized the arrival of Han migrants as a "natural disaster," described Han cadres as the new "landlord class," and branded all Han in Xinjiang as "colonialists." The natives of Xinjiang were "like slaves," subject to "assimilationist policies." Those who held real power in party and government "are all Han," while those non-Han who accepted hollow positions of authority alongside them were "Han agents," "running dogs of the Han," or "ethnic Khitay [Chinese]." Despite Saypiddin's insistence that such sentiment was confined to a few egregious proponents, he acknowledged its prevalence throughout "government offices, industry, and schools."33
As is clear from these examples, Communist attempts to fashion a new narrative of Han political legitimacy on the non-Han frontier met with a great deal of resistance among those Uighurs and Kazaks who could still remember the inflated promises of previous decades. The pivot upon which nearly every critique of the new government turned was the success or failure of the state's new ethnopopulist platform. Ever since the 1930s, Han governors and Soviet consuls in Xinjiang had peddled such platforms in piecemeal fashion, with varying degrees of success and sincerity. By the 1950s, however, the Chinese Communists were finally expected to deliver tangible and sustained results on the ground. Had they done so, the discourse of "elder brother Han" helping to develop Xinjiang for the non-Han minorities might have evinced a viable staying power for many more decades. Ideally, from Beijing's perspective, charges of "Han imperialism" or "colonialism" would have searched in vain for a receptive audience in Xinjiang. But if the preceding analysis of Chinese Communist affirmative action in Urumchi and Ili is indicative of trends throughout Xinjiang in later decades, there is only one conclusion that the historian can reach: the ethnopopulist platform of the Chinese Communist state was hollow and insincere. Top party leaders were eager to pay it lip service but not to ensure its realization on the ground. As a result, the integrationist structural transformations undertaken on the ground in Xinjiang after 1949 have been continually plagued by the lack of an ethnopopulist discourse and constituency to match.
So long as the discourse of national determination is valorized in world politics, Han political and economic leaders in Xinjiang will feel the lack of a demonstrated record of ethnopopulist success capable of defusing aspirations among Uighur intellectuals for substantive political enfranchisement. The opportunity to develop just such a discourse arose in the first decade of the new state, but the state failed miserably to meet its own barometer for success. Beijing has been dealing with the consequences of this failure ever since. Outside China, however, Xinjiang has attained an international profile only over the past several decades, in stark contrast to the Dalai Lama and the Tibetans. In light of the fact that the Communist platform of ethnopopulism in Xinjiang crashed and burned almost immediately upon takeoff, amid a period of sustained and sometimes traumatic economic, demographic, and political transformations, this lack of international attention to Xinjiang during the Mao years begs explanation. We must therefore ask the following question: why has global awareness of Xinjiang, targeted for accelerated Han migration and economic development far earlier and far in excess of that aimed at Tibet, lagged so far behind that of its southern neighbor? Did no one hear the cries of disillusionment that accompanied the protracted birth pangs of Chinese affirmative action in Xinjiang? Or were other, more powerful forces at work, intent on silencing any attempt to draw global attention to the fate of China's largest remaining colony?