RISE OF THE ETHNOPOPULISTS
IN EARLY 1933, MOU WEITONG, HEAD OF THE XINJIANG CONsulate in Tashkent, received a pair of disturbing telegrams from Ili and Tacheng. The military commanders stationed there had asked him to "procure, without delay, a large amount of military weapons," in exchange for raw commodities. "Wherever there are many troops," Mou promptly wrote to Governor Jin Shuren, "there will be chaos. And wherever one finds many weapons, there he will find rebellion. I cannot stop the chaos in Xinjiang, but neither will I contribute to a rebellion." Reports of raging violence across the border convinced Mou that Jin's days as governor were numbered. The consul-general decided to send out feelers to the Nationalist government in Nanjing. "Various agents have recently arrived in the Soviet Union to purchase a massive quantity of firearms," he reported in April. "But Xinjiang is Muslim territory. If we suppress popular uprisings with force, it will be sure to create hatred and enmity with the Han." He ended his report with a vow to take action. "So long as I am in office, I cannot bring myself to just sit here and watch quietly as foreign munitions are used to lay waste to our borderlands." To Jin, Mou advised a swift exit. "I beseech my governor to sacrifice himself for the sake of Xinjiang. I hope you do not sacrifice all of Xinjiang for the sake of one man." He assured Jin that if "you were to explore exit strategies, the central government would be sure to give you one."1 Mou took care to forward all these telegrams to Nanjing, where Nationalist officials reached an ominous conclusion. "There is no single person capable of putting all the pieces back together," noted one assessment.2 Of course, not all of the belligerents in Xinjiang did want to put all the pieces back together. The Nationalists, however, could be counted among those who did. To do so, they would need to draw upon a vision far more inclusive than the narrow Han nationalism that had fueled the revolutionary movement ever since the late Qing. On April 12, 1933, opportunity knocked. Former confidantes of Jin, supported by a White Russian contingent, chased the governor out of Urumchi and elected General Sheng Shicai as military governor (duban) of Xinjiang. Sheng was confined to the vicinity of the capital, now under constant siege by Ma Zhongying, the Hui warlord from Gansu. When word of these developments reached Nanjing, the Nationalists decided that the time had come to make their presence felt. Their means for doing so was to send a "pacification commissioner" to Urumchi, for the ostensible purpose of mediating among the various battlefield contestants. The real purpose, however, was to identify possible allies and attempt to seize power.
Suggestions for the formulation of an ethnopolitical message appropriate to Xinjiang came pouring into Nationalist offices. Consul-General Mou counseled Nanjing to send "a prestigious, high-ranking official who holds no prejudice against either Han or Muslim." Though he thought it best to send an official who was not prejudiced against Muslims, Mou was adamant about the composition of any new cabinet in Urumchi. "Above all else, you cannot allow any Muslim figure to obtain a position of real authority in Xinjiang." The Nationalists heard the opposite from Muslim associations in Beijing and Nanjing. "We should send a loyal Muslim official who thoroughly understands the Nationalist political platform, and who is capable of obtaining the trust of people in the northwest." Others, such as Shandong governor and former warlord Han Fuju, only recently integrated into the Nationalist fold, strained to conceal personal ambitions. Han begged Nanjing to allow him to "march my armies on the northwest, where I will first quell the rebellion, then cultivate the wastelands."3 Based on these representative samples of advice, Nanjing had much to choose from: an inclusive multiethnic administration led by Han officials, a Muslim-led coalition premised on the tenets of nationally subordinate self-rule, or a muscular platform of Han-dominated economic development.
By early May, the Nationalists had made up their mind. Wang Jingwei, head of the civil government and Chiang Kai-shek's chief rival for control of the party, took the lead. Noting how difficult it was to "communicate the reputation and prestige of the central government to the distant borderlands," Nanjing announced that it had selected Huang Musong, the vice-minister of foreign affairs, as "pacification commissioner" to Xinjiang. Huang, who would be sent on a similar mission to Tibet the following year, found Urumchi in shambles. "Though the residents appear calm," he wrote back to Nanjing, "the streets of the city resemble a riverbed, with filth and garbage strewn all about…. If we do not thoroughly renovate the government here, the situation will soon be beyond repair." The message Huang brought was one that Yang Zengxin likely would have approved, with minor modifications: an ethno-elitist alliance subordinated to Han rule. While searching for "a powerful general upon whom I can bestow a title and work together with," the vice-minister also visited the Urumchi prison, where he sought out the dispossessed heir to the Hami throne. In accordance with Wang Jingwei's instructions, Huang promised the hapless heir to restore his noble titles, plus compensate him for any wealth confiscated by Jin—that is, should the Nationalists take control of Xinjiang.4 In other words, had Huang had his way, real power would have continued to be concentrated in the hands of a few Han and Hui strongmen, with a supporting cast of symbolically important Muslim elites drawn from the hereditary nobility and united under recognition of a larger umbrella organization situated in China proper: the Nationalist Party.
Huang, however, did not have his way. Without a single soldier to his name, the vice-minister's attempts to meddle in Xinjiang's civil war quickly led to his ouster. As Huang himself admitted, "the details are exceedingly complex, and the general situation is far more complicated than I had expected. There is much that I simply do not understand. If I slip up even slightly, conflict is sure to break out." Sure enough, after backing an unsuccessful coup attempt against General Sheng, Huang found himself under house arrest and his co-conspirators executed. The price of the vice-minister's release was nothing less than the humiliating confirmation of Sheng Shicai as duban of Xinjiang, a man with whom no one in Nanjing wanted to work.5 With Huang's ignominious departure from the northwest, Wang Jingwei formulated new plans in Nanjing for a second attempt to infiltrate Xinjiang. The pretext revolved around the need to formally inaugurate Sheng's position as duban, an occasion in which the Nationalists had a legitimate excuse to participate.
This time, Wang sent Luo Wen'gan, the minister of foreign affairs, to Urumchi to oversee the oath of office. On September 7, immediately after the ceremony, Luo made overtures to Zhang Peiyuan, a Han general in Ili, and Ma Zhongying, the Hui warlord then based in Turfan. Once again, General Sheng's nose for conspiracy began to twitch, and he launched a preemptive attack on Turfan. Luo tucked tail and fled to the Semipalatinsk consulate. On October 12, he cabled Wang in Nanjing: the time to act had come. "The way I see it," Luo wrote, "Sheng cheated us to get his title, and the central government conceded it only to keep the peace. Because Sheng still has not reformed his immoral ways, we have no choice but to take him out and remove a pox on our nation and people. Otherwise, no one will have any respect for the central government anymore."6
On December 29, 1933, Nanjing's endgame was revealed. Zhang Peiyuan set off from Ili with several thousand troops, intent on reducing Urumchi to rubble. Two weeks later, on January 12, 1934, Ma Zhongying set seven thousand of his best men against the walls of the capital. Had either Zhang's or Ma's armies survived for more than a week, there is little doubt that Urumchi would have fallen. Sheng Shicai, outnumbered and outgunned, had absolutely no chance of surviving the coming pincer attack. Then, as promised by Minister Luo, Ma Zhongying would have received jurisdiction over southern Xinjiang, while Zhang Peiyuan would have been given the northern half, both men paying something more than lip service to Nanjing.
But it was not to be. On December 30, only one day after General Zhang had set forth from Ili, seven thousand Soviet soldiers, under cover of tanks, warplanes, and massive artillery, sneaked up behind Zhang and decimated his battalion. Six days later Zhang committed suicide, brain-flecked shrapnel staining the snow. Back in Urumchi, Ma Zhongying continued his assault on Sheng. Two weeks later he was on the verge of breaking through the city gates. Then, on January 18, Soviet planes appeared in the sky and rained a hail of bombs on his encampment. Ma and a smattering of survivors fled south, never to threaten Urumchi again. In a dizzying change of fortune, Sheng duban, instead of lying maimed beneath the rubble, somehow stood triumphant atop it. There was only one question on everyone's mind.
What had just happened?
THE RISE OF SHENG SHICAI
To fully understand this dramatic turn of events, let us take a look at a page from the Chinese customs ledger at Nilka Pass for a single winter's morning in early 1934, drawn at random from the Xinjiang Uighur Autonomous Archives in Urumchi:
A convoy arrived at 10:30 a.m., with 9 vehicles, 18 drivers (lead driver named Qurban), 625 blocks of tin (27,500 pounds), 164 rounds of ammunition, 272 empty iron canisters, and 7 empty wooden canisters. Released at 11:30 a.m.
At 11:30 a.m. another convoy arrived, with 57 vehicles and 103 drivers (en route to Xingxing Gorge), 640 barrels of oil (97,428 kilograms, 53,466 kilograms less than before), 11 rifles, 36 "seven star" revolvers, 8 turtle guns, 1,100 bullets, and 56 Soviet commercial representatives.7
The resources described on this ledger represent only a piddling fraction of the enormous amount of industrial and war matériel that Sheng had managed to procure from the Soviet Union against the credit of his duban office.
But why would the Soviets choose to support Sheng, a relatively unknown Han general, against any number of Muslim leaders in the field? After all, in an age that valorized national determination, any one of them could construct a narrative of political legitimacy in Xinjiang far more convincing than that of Sheng, who was an ethnic and political outsider to the region. To answer this question, we must reconstruct the early days of the Soviet state in Central Asia with the aid of Russian archival documents. In 1921, when White Russian general Andrei Bakich occupied the Altay region and Turkic expatriate laborers in Andijan were openly calling for an attack on Ma Fuxing in Kashgar, the Soviet Politburo broached the idea of creating two separate states in Xinjiang: the Republics of Kashgar and Jungaria, to be set up in the southern and northern parts of the province. They would be modeled on the national republics then being molded throughout Soviet Central Asia. Lenin overruled the proposal, sparking a decade-long debate with the Comintern regarding Moscow's proper stance toward the revolutionary potential of "subjugated" peoples the world over. The Comintern viewed the Chinese administrators in Xinjiang as purveyors of a "greedy and barbarous colonization" and described its Han rulers as "slavemasters."8 As a result, in 1931, all eyes were on the uprising in Hami. The Comintern saw in the movement led by Khoja Niyaz and Yolbars the "characteristics of a national liberation movement" and urged dispatching Soviet-trained Turkic expatriates into Xinjiang to help direct its course. "We must resolutely oppose any platform that provides assistance to the Chinese authorities in their suppression of the uprising."9
Stalin vetoed the Comintern proposal. Instead, on June 23, 1932, the Politburo decided to approve sales of US$200,705 worth of munitions to Governor Jin Shuren for use against the rebels, a preview of the much larger aid package given to Sheng less than two years later. Turkic supporters of the rebels were demoralized and lodged complaints with the Soviet consulate in Tacheng. Aware of how the Soviet state claimed to empower formerly subjugated, colonized people elsewhere via affirmative action policies, the protesters expressed disbelief. "We were quite sure that if oppressed peoples rise up against their oppressors for the sake of liberating their nation and homeland from occupation," the petition read, "the Soviet state would treat such peoples with sympathy, and defend them from oppression…. We believe that these rumors are false, because the Soviet authorities profess to be defenders of the oppressed."10
This they certainly professed. But profession is several steps short of implementation. The problem is that Soviet nationality policies were designed for exclusive use within the sovereign borders of the Soviet Union and its socialist satellites. In other words, Uighur expatriates living within Soviet Central Asia had every right to expect the creation of a Uighur autonomous entity of some sort, whether as a region, a county, or some other such administrative unit, lodged within the boundaries of a much larger national republic (such as Kazakhstan or Kyrgyzstan) under Soviet control. For people resident in Xinjiang yet envious of the ostensible political autonomy conferred upon their transnational brethren, however, Comintern blueprints for national liberation movements could not compete with Soviet realpolitik.11 Throughout the 1930s, Soviet economic and political interests in East Asia translated into support for a Han warlord who would neither secede from China nor be subject to the dictates of a resurgent central government. After all, an independent Xinjiang—or any single portion of Xinjiang—might encourage secessionist sentiments among Moscow's national republics next door, while the installation of Nanjing's preferred ally in Urumchi would surely bode ill for the Russian economic monopoly in the province.
Cognizant of the real power behind Sheng's office, the Nationalists quickly attended to damage control. Once it became clear that the armies of Ma Zhongying and Zhang Peiyuan had been eliminated or otherwise marginalized, Fu Zuoyi, the governor of Suiyuan and nominal ally of the Nationalists, rushed to his telegraph. "The entire nation is rejoicing now that the central government has discovered a pillar of loyalty and administrative talent [in the northwest]," Fu wrote to Sheng. "During these times of trouble along our borderlands, we must place absolute trust in Chiang and Wang … and pay no heed to the inevitable rumors." Nanjing strained to squelch precisely those rumors that described how the Nationalist government had tried to destroy the same duban upon whom it had conferred its own reluctant blessings just six months earlier. "The central government is fully aware of your extraordinary concern for the nation," came a telegram from Tianjin, "and Chiang and Wang trust you completely. Do not listen to malicious rumors." From Qinghai, Ma Lin, a distant relative of Ma Zhongying, told Sheng not to believe anything he read in the newspapers. "Due to obstructions in communication and transportation, rumors have circulated unchecked throughout the nation, often appearing in the newspapers. Such things are truly regrettable, like gnat droppings in an otherwise flawless piece of jade."12
What Sheng thought of these disingenuous telegrams we do not know, only that he did not destroy them. As records from the Soviet archives show, Sheng was far more preoccupied about this time with trying to impress his Soviet patrons. In telegrams addressed to Stalin, Sheng highlighted his lifelong interest in socialist ideologies, a crude understanding of Marxist-Leninist dialectics, and a burning desire to join the ranks of the Communist Party of the Soviet Union. Incredibly, he even laid out an elaborate plan to foment a new communist revolution from Xinjiang, link up with the beleaguered Chinese Soviet in Jiangxi, and overthrow the Nationalist government in Nanjing. Stunned by Sheng's fawning confessions and reckless proposals, Stalin informed the Soviet consul in Urumchi that Sheng's letter had "made a depressing impression on our comrades." Concluding that only a "provocateur" or a "hopeless leftist having no idea about Marxism" could have written it, Stalin issued a blanket repudiation of each of Sheng's points, warning that "if our instructions are not taken into consideration we will be forced to deny aid to Sheng." Sheng wisely retracted his original telegram, assuring Stalin that "the instructions you have given me are unquestionably correct."13 With that, an uneasy alliance was born.
Meanwhile, back in Nanjing, the industrious Wang Jingwei returned to the drawing board and planned for his next assault on Xinjiang. This was part of a larger strategy designed to increase his influence within the party vis-à-vis Chiang Kai-shek. This time, however, frustrated by Soviet intervention, Wang would change tack, set aside the ethno-elitist blueprint of Governor Yang, and begin to formulate his own ethnopopulist approach to Xinjiang.
Jin Shuren was to be its first target.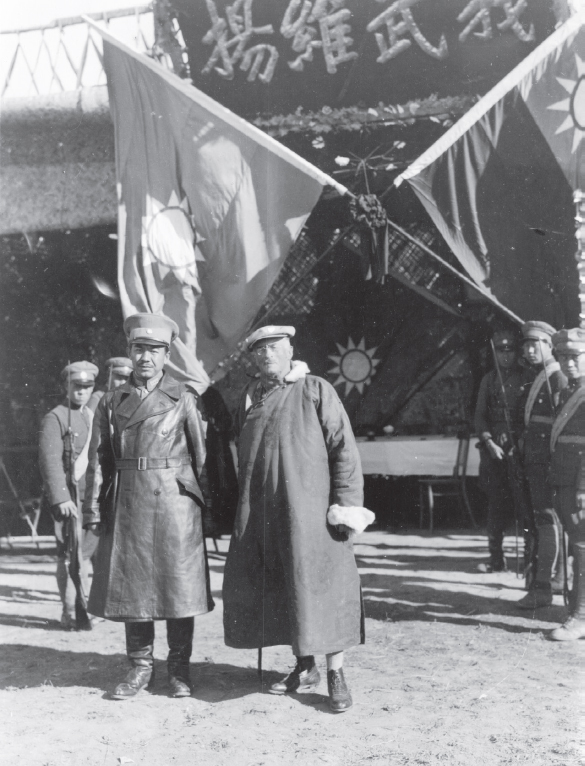 On July 12, 1933, Jin Shuren, the now disgraced governor of Xinjiang, completed an exhausting three-month journey from Urumchi to Tianjin. After the April coup, he had traveled first via military escort to Tacheng, then by rail from Novonikolayevsk to Vladivostok, and finally by boat to Tianjin. "Due to hardships incurred during my journey," he wrote to Wang Jingwei in Nanjing, "my old illness has flared up once more. After I have recovered, I will call upon your office and dutifully submit my report in person."14 Wang, however, had no intention of listening to Jin's story over a cup of tea. On October 30, the day after Jin arrived in Nanjing, Wang ordered his arrest and indefinite incarceration while awaiting trial on four counts: signing an unauthorized trade pact with the Soviet Union in 1931 (the arms purchase); absconding with provincial funds; wanton destruction of Xinjiang; and forced appropriation of peasant land. When Jin hired an expensive lawyer from Shanghai and began to defend himself in the press, the stage was set for a cause célèbre.15
Yet the Jin Shuren trial actually had little to do with Jin Shuren. Its real point was to put on public display the Nationalist government's newly enlightened stance regarding the ethnopolitical future of Xinjiang. In practice, Nationalist emissaries Huang Musong and Luo Wen'gan, in their attempts to seize power in Urumchi in 1933, had acted much like Hami rebel leaders Khoja Niyaz and Yolbars two years prior. That is, in the name of the nation and the common man, each had secretly formed alliances with political figures from the old ethno-elitist order. Despite a liberal helping of revolutionary discourse, in practice they looked much like Governor Yang. If the Nationalists wanted to challenge the Soviet grip on Sheng Shicai and Xinjiang, they would need to do a lot more than simply talk like the Soviets. They would need to act like the Soviets, too.
In practice, this meant taking under their wing prominent Uighur intellectuals from Xinjiang who were willing to broadcast the language of ethnopopulism on behalf of their Nationalist sponsors. In 1933, Muslim councils in Beijing had urged Nanjing to pay more attention to its image in Xinjiang. "The key to national defense lies not in military armaments but in the minds of the people." This job was entrusted to Isa Yusuf Alptekin, a former translator in the Tashkent consulate. For reasons not entirely understood, Isa left the consulate in 1931 and made his way to Nanjing. Once there, Huang Musong saw the value of an educated native from Xinjiang and decided to include Isa on his mission to Urumchi. Upon his return to Nanjing, Isa began to refer to himself as a "representative of Xinjiang" and was allotted funds to publish a host of periodicals concerned with border affairs.16 In these, Isa advocated for the political enfranchisement of Muslim peoples in Xinjiang under the "enlightened" stewardship of the Nationalist government. He was also given license to criticize any Han ruler in Xinjiang, past or present, who was not an ally of Nanjing. Isa's agenda proved immensely useful for the new image Wang Jingwei hoped to project to the people of Xinjiang: by locating political sovereignty in the common Muslim masses, Isa positioned himself and his Nationalist patrons as ethnopopulist allies of the poor and downtrodden non-Han peoples of the northwest.17 As Yufeng Mao has shown, Wang's Xinjiang initiatives were part of a much larger propaganda campaign waged by the Nationalists during the 1930s and 1940s, designed to leverage China's Muslim peoples to cultivate goodwill throughout the Middle East.18
Isa also served as a magnet for other educated Uighurs from Xinjiang who had been excluded from the old ethno-elitist order. In 1934, Isa managed to bring Masud Sabri—a future Nationalist governor of Xinjiang—to Nanjing. A native of Ili who had spent more than a decade abroad completing a medical degree in Istanbul, Masud was well known throughout Xinjiang. His tenure in Istanbul, against the backdrop of World War I, turned him into an intransigent Russophobe, an endearing quality for the Nationalist brass. But he was also considered to be a progressive advocate of cultural modernization among "his" people. From 1917 to 1928, Yang Zengxin twice shut down Masud's Uighur schools, twice threw him into jail, and thrice interrogated him—all clear signs that he represented a threat to the conservative ethnopolitical order. In 1931, when Jin's administration began to crumble and Turkic militants established a short-lived separatist state in Khotan, Masud forsook medicine for good and plunged into politics. Before long, disillusioned with the movement in Khotan, Masud crossed the Himalayas into India, where he accepted Isa's invitation to begin a new career in Nanjing.19
In 1934, Wang Jingwei gave the public profile of both men a significant boost when he allowed Isa and Masud the strategic honor of bringing formal suit against Jin Shuren. The courtroom proceedings for Jin's trial were dominated by the theatrics of Isa and two of Masud's sons, who portrayed the Hami uprising as a revolutionary Turkic national liberation movement, much like Khoja Niyaz and Yolbars had before them. They also provided the newspapers with a deluge of sentimental grandstanding that made Jin look like an insensitive lout. "The judge then showed Jin a photograph of an akhund [killed in the fighting] and asked him if he knew this man personally. Jin replied, 'Lots of people were killed in the fighting. I didn't know any of them.'" Though ostensibly a forum in which to broadcast the ethnically neutral justice of the Nationalist government, no one could fail to miss the potent symbolism of Uighur prosecutors excoriating a Han defendant. From the beginning, Jin's conviction was a foregone conclusion. On June 29, 1935, the court pronounced his guilt, labeled him a "national traitor," and handed down a sentence of three and a half years in prison. Upon his release, Jin retired from politics and returned to his hometown in Gansu. A lifelong devotee of the opium pipe, he died in 1941, at sixty-two.20 He has not been remembered fondly.
The Jin Shuren trial in Nanjing had proven to be the perfect stage for Wang Jingwei to showcase his increasingly sophisticated strategy for the future recovery of Xinjiang. The key elements would remain part and parcel of the Nationalist approach to Xinjiang for the next two decades, long after Wang ended his career in disgrace and ignominy. The formula was simple: elevate non-Han figures to positions of conspicuous prestige, then permit them to criticize the frontier policies of anyone who was not the Nationalists. More often than not, Isa's rhetorical targets were Han or Hui officials. As the years wore on, however, he and his Turkic colleagues increasingly took aim at the Nationalists. The limits of such criticism thus had to be constantly renegotiated, usually through trial and error. In the context of Nanjing's attempt to infiltrate Xinjiang in the early 1930s, the ethnopopulist rhetoric of Isa and Masud proved most useful as a counter to Soviet affirmative action, which, all along Xinjiang's borders, located sovereignty in poor and "downtrodden" non-Russians. But the Nationalists were nothing if not flexible, and they continued to cultivate aristocratic non-Han elites as well, so long as they learned to speak in the name of the nation. After all, Japan, with its entrenched interests in China's northeast, consistently peddled a conservative politics of difference: Tokyo's answer to Soviet populists of "humble" origin in Outer Mongolia was to elevate men like Puyi, the last emperor of the Qing dynasty, to the throne of Manchukuo.
Shut out of the northwest for the next decade, the Nationalists had plenty of time to determine the proper balance of progressive ethnopopulist and conservative ethno-elitist strategies of difference for Xinjiang. In 1937, Yolbars, a representative of the latter, fled Hami and joined Chiang Kai-shek in Nanjing. Mohammed Emin Bugra, a Uighur politician living in exile in Afghanistan and a representative of the former, accepted an invitation to join Isa and Masud in the wartime capital of Chongqing. The next time the Nationalists marched into Urumchi, this cabinet of non-Han personages, both conservative and progressive, would all have major roles to play and bigger Han scapegoats to skewer.
AFFIRMATIVE ACTION IN XINJIANG
Back in Urumchi, Sheng Shicai had a decision to make. What, if any, posture should he evince toward the kangaroo court then vilifying his predecessor in Nanjing? Sheng had every reason to gloat over Jin Shuren's downfall. Four years earlier, during a scouting mission in Nanjing, Jin's agents had recognized Sheng's superb martial qualifications and urged the governor to offer him a job training soldiers in Urumchi. Sheng accepted, but Jin, ever wary of this Japanese-trained mercenary in his midst (prior to his arrival in Nanjing, Sheng had served a Manchurian warlord named Guo Songling and studied in Tokyo), used him sparingly. Even in disgrace and exile, Jin could not bring himself to say anything nice about his former general. "Sheng Shicai is merely of ordinary talent, a man whose ambitions far outstrip his abilities," Jin wrote to Nanjing in 1933. "He will not be able to maintain peace along the borderlands."21 So, in 1934, when the Nationalist courts sent a formal request to Sheng for damning evidence against Jin, he might have been expected to leap at the chance to consign his former boss to the gallows.
He did not. Certain incivilities, of course, were in order. "Jin has a corrupt mind, and his worldview is outdated," the High Court of Xinjiang informed Nanjing in December, undoubtedly with Sheng's approval. "He delegated tasks poorly and left office without any accomplishments to speak of." Speaking ill of Jin was one thing, appropriately relished; condoning a Nationalist show trial against a one-time governor of Xinjiang was quite another. "As for the present accusations against him … we find that all of his actions were proper and justified by the circumstances at the time, and do not constitute grounds for legal culpability." The High Court of Xinjiang proceeded to defend the 1931 land reform efforts in Hami as "in accordance with the doctrine of our late premier Sun Yat-sen that we should eliminate systems of feudal governance," and reminded the courts that the Turkic peasants of Hami had themselves long petitioned for the abolition of the khanate. Those who sought to accuse Jin of anything other than gross incompetence were engaged in "nothing more than malicious slander."22 In the final analysis, any initiative with the potential to ingratiate the Nationalists with a popular audience in Xinjiang boded ill for Sheng. It was thus little wonder that he chose to repudiate the charges against Jin.
Moreover, Sheng scarcely could have failed to note the uncomfortable parallels between his own precarious position and the current Nationalist posture toward Xinjiang. Sheng and the Nationalists were responding to an apocalyptic war waged in response to what was widely perceived—or at least widely propagandized—as a Han colonization project. Both needed to come to terms with an unprecedented outburst of anti-Han vitriol in the public sphere, and both found themselves facing strident calls for the expulsion of all Han from the northwestern borderlands (even some Hui subscribed to this platform, as the pronouncements of Ma Zhongying revealed). Yet try as they might, there was simply no way to disguise the fact that both Sheng Shicai and Chiang Kai-shek belonged to an ethnocultural community regarded by Khotan insurgents as "yellow filth." For his part, Sheng, unlike Yang and Jin, was not even a career northwest official. "Sheng is from the northeast," a central government report noted. "With respect to a platform of national determination, he is not qualified to fill the post of either duban or chairman in Xinjiang."23 If the duban hoped to last even half as long as his predecessor, he would have to justify the installation of yet another Han governor in Urumchi, and he would need to do so in the aftermath of substantial bloodshed directed against its reoccurrence. He needed exactly what the Nationalists were slowly cultivating in Nanjing by means of Isa and Masud's association with the Jin Shuren show trial: a Han narrative of ethnopopulist legitimacy.
Yet Sheng was in a hurry. He needed an instant narrative of legitimacy. Fortunately, the Soviets were prepared to sell him precisely that. The "goods" came in the form of a rehabilitated Han administration newly legitimized by a modified application of Soviet affirmative action policies and economic stimulus packages. The "price" was to turn Xinjiang into an exclusive sphere of Soviet interest, with a near complete monopoly over the extraction of the province's agricultural and mineral wealth. Of necessity, the first few years of Sheng's tenure as duban were marked by providing the promised "goods." As early as May 1934, a team of Soviet engineers drew up plans for four thousand miles of highways, bridges, and tunnels, all oriented westward toward the Turksib Railway in Soviet Central Asia. From 1935 to 1937, Moscow extended eight million U.S. dollars in loans to the duban, while welcoming more than three hundred students from Xinjiang to study in Soviet universities (by contrast, Jin had sent five students to Germany). On the ledger of somewhat less savory initiatives, Sheng also received instruction in the ways of a Stalinist police state, quickly recruiting a network of secret police and plainclothes informants to go along with Urumchi's expanded prisons and execution grounds.24
In 1934, and again in 1937, the Soviets also undertook three separate military operations designed to destroy Sheng's rivals: Zhang Peiyuan in Ili, Ma Zhongying in Urumchi, and Ma Hushan in Khotan. The Soviet treatment of Ma Zhongying—who, unlike Zhang Peiyuan, survived the battle for Urumchi in early 1934—is one of the enduring mysteries of modern Xinjiang history. For the past several decades, the only thing historians knew for certain was that he willfully crossed over into Soviet territory in July 1934, leaving behind one of his generals, Ma Hushan, to take command of their Hui army at Khotan. Though no reliable evidence ever emerged to support the theory, it was simply assumed that the Soviets had somehow managed to convince Ma to enter the Soviet Union in hopes of using him as a bargaining chip against both Sheng Shicai and Ma Hushan. Recently declassified Soviet archives now confirm this strategic calculus beyond a doubt. Documents dating from 1935 to 1937 reveal at least eight references to Ma and whether he should be "released" back into Xinjiang. These discussions reached a climax in the summer of 1937, when the Politburo announced that "the Soviet government is ready to permit the departure of Ma Zhu-ying" upon the condition that Ma Hushan lay down his arms and agree to work within the new Sheng-led order. Instead, Ma Hushan's decision to renew hostilities with Sheng soon thereafter likely sealed Ma Zhongying's fate, especially if he was suspected of playing a role in Ma Hushan's return to the battlefield. Following a terse Politburo decree of July 29, 1937 ("Do not release Machuin [Ma Zhongying]"), his name does not surface in the archives again. It is interesting to note, however, that as late as January 1944, Han officials stationed in the Xinjiang consulates in Soviet Central Asia continued to believe that Ma Zhongying was still alive and capable of being "released" back into Xinjiang.25
The most visible transformation, however, came with the introduction of Soviet nationality policies. To assist Sheng in implementing affirmative action in Xinjiang, Moscow sent to Urumchi a sizeable contingent of Han and Turkic expatriates who were already familiar with the Leninist-Stalinist line. These men included Han members of the Chinese Communist Party undergoing education and indoctrination in Moscow, along with former residents of Xinjiang's southern oases. The latter were long resident in Soviet Central Asia and long hopeful of exporting Soviet nationality policies back to their homeland. Yang Zengxin had maintained the utmost vigilance against their return. These expatriate Turkic activists championed replacing the ethnonym Turban with Uighur, and they agitated vociferously for the political enfranchisement of Xinjiang's non-Han peoples along Soviet lines. Until now, Moscow had kept them on a tight leash, forbidding the exportation of affirmative action policies intended for use only within the Soviet Union and its satellites. Now that Xinjiang had become precisely that—a Soviet satellite—these "Uighurs" were at last permitted to cross the border. Yet they were saddled with one very ironic caveat: they could apply their knowledge of Bolshevik nationality policies only in support of the Han warlord whom Moscow now regarded as one of its most important strategic allies: Sheng Shicai.26
In adapting Soviet nationality policies for Xinjiang, Sheng eschewed one long-standing condition: that every nationality be institutionally tethered to a physical plot of land bearing its name. In omitting this cherished stipulation of Stalin's, Sheng hewed closer to what was known as the Austro-Marxist line than the Bolshevik line. Thus, unlike the Soviets before him and the Chinese Communists after him, Sheng made no attempt to establish "autonomous" regions, counties, or other such administrative units in Xinjiang, and certainly not in the name of the Kazaks, Kyrgyz, Uighurs, or Tajiks. Xinjiang was still a "province" formally indistinct from any other province of China, and Ili County was still Ili County, not the Ili Kazak Autonomous County (as the Chinese Communists would label it). The defining feature of Sheng's administration was ethnocultural autonomy, not territorial autonomy. Other than this, however, Sheng's approach, with some other slight variations, generally aped that of the Soviet Union. His chief advisers were Garegin Apresov, the Soviet consul in Urumchi, and Yu Xiusong, a Han member of the Comintern. Yu urged Sheng to preside over "national representative conferences," where leading nobles and community leaders traveled to Urumchi for an audience with the duban. The idea was to convince the people of Xinjiang that Sheng was genuinely interested in sharing power and that the days of exclusive Han governance were over. Nothing embodied this promise more than the appointment of Khoja Niyaz Haji, the former rebel leader of Hami, as deputy governor of the province. After the Hami rebellion, Han narratives of political legitimacy in Xinjiang hinged on ostentatious demonstrations of political equality with non-Han peoples. As a result, Khoja Niyaz was by no means the only such representative to be incorporated into the new government.27
Unlike those of his predecessors, however, the viability of Sheng's regime depended upon much more than merely a pragmatic alliance of non-Han personages, many of whom had only recently begun to speak in the language of revolutionary ethnopopulism. To reach the mass of indigenous commoners ignored by Yang and Jin, Sheng sponsored two new organizations: the Anti-Imperialist Society (Fandihui) and the Association for Ethnocultural Advancement (Minzu Wenhua Cujinhui). The Anti-Imperialist Society was the official mouthpiece of Sheng's administration, and it constituted the first and only organization into which a resident of Xinjiang could gain admission as a card-carrying party member. The very name of the organization was strategic: if Sheng defined himself as an enemy of "imperialism," it became much harder for his rivals to tar him with the brush of "colonialism." (Two decades later, the Chinese Communists would adopt the same rhetorical approach, even going so far as to insist that those who participated in an anti-imperialist national liberation movement were fundamentally incapable of practicing imperialism.)
Under the direction of the Anti-Imperialist Society, residents of Xinjiang experienced a revolution in print culture. Every time they went to the market, they paid in bills displaying both Chinese and Uighur script. By 1936, there were 260 different booklets, magazines, journals, pamphlets, and newspapers available for purchase on the streets. Later, the society consolidated operations into a single flagship monthly journal, Anti-Imperialist Frontline (Fandi zhanxian), which soon tallied a print run of 5,000 to 15,000 copies, in both Chinese and Uighur editions. To reach distant nomads and rural residents, the society organized "back to the homestead" work teams, composed of students and low-level government functionaries who spent their summers circulating Sheng's message to their hometowns and tribes. Hoping to hone the persuasive capabilities of these work teams, the society sponsored speech competitions and training sessions in public rhetoric. "Though we have many kinds of print materials … if we want our message to penetrate to the farthest corners of the province and take root in villages and marketplaces, we must hone our skills in public speaking and household persuasion, and communicate via the simple language of the streets."28
Those literate in both Chinese and a native language suddenly saw their political stock skyrocket. One Mongol official was targeted for promotion based on the fact that "he is fluent in Chinese, thoroughly conversant in the government's policies, and has spent much time translating the speeches of the duban and other important figures."29 Any man so linguistically endowed would have been sent to the annual national representative conferences, where he—or, for the first time, she—would be able to learn the ins and outs of Soviet affirmative action policies. "Other than the Soviet Union, which is the only country in the entire world to have completely and correctly solved its nationality problems," Yu announced in 1937 to a group of Mongol representatives, "Xinjiang is the only place to have adopted a correct nationality policy."30 Yu was determined to prove that, thanks to the "scientific" remedies of the Soviet approach, ethnic tension in Xinjiang was a thing of the past. Such a miracle was supposed to have been achieved by revoking "the special privileges of former ruling groups such as the Han" and elevating into visible positions of authority representatives of all fourteen nationalities now determined to populate the province. As Yu frequently reminded his audiences, "from the deputy chairman to provincial committee members, from deputy departmental heads to deputy bureau heads, from deputy divisional heads through various organizations throughout the government, everywhere are representatives of the various nationalities."31
The work of the Anti-Imperialist Society was largely relegated to the realm of discourse, in that it attempted to shield Sheng from hostile charges of "Chinese imperialism" or "Han chauvinism." By contrast, the tasks assigned to the Association for Ethnocultural Advancement tell us much more about the concrete transformations the duban intended to pursue on the ground. The association, compartmentalized into nine sub-bureaus devoted to the affairs of one or more closely related nationalities (Han, Uighur, Hui, Mongol, Kazak-Kyrgyz, Sibe-Solon-Manchu, White Russian, Tatar, and Uzbek), was charged with bringing the cultural levels of "backward" peoples up to par with those of "advanced" peoples. At least, that is what it claimed to do. In reality, the available archival evidence—admittedly lean—suggests that the association and its nine sub-bureaus were committed to an extractive economic agenda couched in the language of ethnocultural populism. If successful, the association would help Sheng accomplish two pressing goals. First, he would be able to pay off his Soviet creditors with surplus agricultural product culled from "unproductive" nomadic pastures. Second, he would succeed in breaking the power of entrenched non-Han elites by investing the non-Han masses below them with political agency. In other words, Sheng would become the first governor to develop Xinjiang's natural resources on the basis of an inclusive progressive platform rather than an exclusive conservative one.
The Association for Ethnocultural Advancement was tasked with the creation and promotion of attractive pretexts with which to lure non-Han commoners to Urumchi. Once there, they enrolled in new institutions designed to indoctrinate them in the Soviet-inspired policies of the duban. In his drive to foster a mass non-Han ethnic constituency, Sheng poured sizable resources into cultural and educational initiatives. In missives exchanged among Sheng and the heads of the various sub-bureaus, for example, the expense of a Mongol Lama temple in Urumchi—a symbol of the old order—is justified for its potential in converting Mongol youth. "The Mongol people are simple-minded adherents of the Lamaist faith, and are steeped in superstitions," wrote a man named Saliq, head of the Mongol Association for Ethnocultural Advancement, to Sheng. Therefore, "it would seem best to establish a Lama holy site in Urumchi, which would then give Mongol youth a reason to come to the capital. Once here, they can worship freely as they please, while simultaneously being compelled to enroll in a course of study that will introduce them to the new education." This way, the Lamaist religion would "naturally dissipate," and Mongol youth would become "fully cognizant of the government's policies." In another directive, Sheng made it clear what he expected of anyone—in this case, a nomad—who received food and board in Urumchi. "In the future they are to return to their pastures and thoroughly indoctrinate their people's minds with our policies."32
Education offered an important venue for attracting non-Han recruits capable of eroding the authority of their elders back home. Within a year of taking office, Sheng approved compulsory student quotas for each nationality and region of the province. In the spring of 1935, one of the first groups of Kazak and Mongol youth enrolled in an elementary school designed specifically for the children of nomads. The Bureau of Education, working in tandem with the association, initially expressed satisfaction at the fulfillment of the quotas. Before long, however, the students' lackluster performance became cause for concern. Four students left school without explanation, three returned home due to "special circumstances," and a staggering thirteen—nearly half the class—showed up on the first day with festering ulcers and boils covering their bodies. After these were sent home, only eight students remained to attend classes. Clearly their Kazak and Mongol elders back home had not sent the most fit and promising youth to Urumchi. Why? For many, it was a simple economic calculus. "Some people say," a newspaper editorial observed, "'Our family is poor and we live on a day-to-day basis. Our children must stay home to help, making it impossible to send them elsewhere to study.'"33
For others, however, an alarming pattern had begun to emerge. When young men and women ventured out to the provincial capital, they tended to return home with ideas threatening to the old ethno-elitist order. This was not a coincidence: Sheng's policies were deliberately designed to undermine the conservative status quo and create an ethnopopulist politics of difference centered on the non-Han masses. At first, some younger non-Han elites, such as Manchuqjab, khan-wang of the Torgut Mongols, thought it possible to stave off Sheng's antagonism by aping his rhetoric. In late 1936, when Manchuqjab made the momentous decision to relocate to Urumchi—a decision he would live to regret—he offered an assessment of his peers back home that was tailor-made to please the duban. "The current chief is a doddering old man, who spends his days reciting the scriptures and ignoring matters of state," the khan-wang wrote to Sheng. "To carry out our tasks of improvement, we must promote a talented new person. The current incumbent is not the man for the job."34
For those who did not come to the capital, Sheng chipped away at their authority from afar. One such opportunity came in early 1936, when Sheng learned of the plight of eleven-year-old Patima, a Uighur girl whose prepubescent marriage in a southern oasis had culminated in injuries to her genitalia. "The marrying off of adolescent girls is an age-old custom among the Kazaks and Uighurs," the report noted. Sheng's response was firm. "Post bulletins banning this custom, and convene all village heads and tribal chiefs to explain to them that this practice is henceforth to be strictly forbidden."35 Though we are more likely today to side with Patima and Sheng than with the wealthy Uighur clerics implicated in her abuse, we should note that such a decree undermined precisely those conservative power holders with whom Sheng saw himself in competition: men of long-standing wealth, title, or both. Unfortunately for Sheng, his agents searched in vain for signs of compliance with the new decrees. "[The people here] know nothing of official government policies," reported a downcast official from Karashahr in late 1938. "Though our various leaders have enthusiastically propagated government policies, speaking until our tongues are dry and wisdom depleted, we can claim less than one enlightened convert out of every hundred people."36
Faced with a gradual circling of the ethno-elitist wagons, Sheng shifted to less admirable tactics. A Soviet historian has described the "soft-line" and "hard-line" policies deployed in support of the new affirmative action platform in the Soviet Union.37 While he takes pains to stress the synchronous nature of the two (i.e., executions for nationalist zealotry did not necessarily preclude further stimulation of nationalist pride), in the case of Sheng Shicai, a clear progression from soft to hard-line tactics appears to be in evidence. The turning point came in 1937.
"On December 4, 1937, at two o'clock in the afternoon," came a report from Wulungu Lake County, in the Altay region, "we convened a meeting of approximately five hundred people. We explained the sentences of death for the most heinous offenders and announced the liquidation of their property. The audience responded with thunderous applause." Throughout the late fall and early winter of 1937, the people of Xinjiang were repeatedly regaled with harrowing accounts of traitorous officials occupying the highest echelons of power. These officials were said to have been "bought off by the imperialist powers," to have served secretly as "running dogs of the imperialists," and to be bent on "the mass murder of our compatriots."38 The endless meetings were necessary not only because the charges were so fantastic but also because the purported offenders were so well known. In the three months from August to October 1937, more than eight hundred government officials received invitations to political gatherings held throughout the province. Upon their arrival, agents from Sheng's security network placed them under arrest and escorted them to a jail in Urumchi. Among the most prominent were deputy chairman Khoja Niyaz Haji, former Kashgar daoyin Ma Shaowu, Soviet consul Garegin Apresov, and Comintern agent Yu Xiusong. All four men were eventually executed.
The immediate context for the political drama of 1937 was the hysteria of Stalin's great purges in the Soviet Union. We know very little of the substance—if any—behind Sheng's accusations. It is clear, however, that the men and women tossed into prison included nearly everyone who had risen to positions of power during the past three years. Seemingly the only people immune to arrest were members of the duban's own patronage network, most of whom dated their relationship with Sheng to the days of Jin Shuren. It was not a purge directed toward any particular nationality; if anything, by the time he left Xinjiang, Sheng probably had more Han blood on his hands than that of any other ethnic group. Shrewdly parroting the discourse of "Trotskyites" and "running dogs of imperialism" then in vogue across the Soviet border, the duban saw an opportunity and pounced. After years of warfare, the rehabilitation of a viable government administration in Xinjiang had led Sheng to incorporate numerous Han and non-Han adversaries into office. Once enemies on the battlefield, Sheng did not trust any of them in the halls of power. Therefore, just as Soviet affirmative action had expertly disguised the recrudescence of Russian imperial power, so too did the Stalinist show trials in Moscow deftly legitimize Sheng's consolidation of power in Urumchi.
The terror of the "great purge" in Xinjiang fundamentally shifted the balance of power between Sheng and the entrenched non-Han elites of the province. The latter now knew exactly what the duban was capable of and what might happen to them if they continued to resist his intrusions into their communities. Furthermore, it was apparent to all that the Soviet Union stood firmly behind Sheng, as clearly demonstrated by Moscow's acquiescence in the execution of Consul Apresov. As a result, models of appropriate demonstrations of loyalty to Sheng were duly circulated. In 1938, the Incarnate Lama of Tacheng received praise for "voluntarily stepping aside and letting the pastures bordering Heshi County undergo household registration and be donated for urban construction." Conversely, held up for vilification were those tribal chiefs who "do not let any outsider settle on their pastures. As a result, no one is able to commit to serious cultivation, and the land lies fallow for decades."39 Progressive local leaders were those who welcomed Soviet-trained veterinarians and their vaccines, and did not begrudge the collection of "surplus" sheep resulting from projected increases in herd size.
Still, compliance with the new directives from Urumchi could only go so far. In the end, Sheng was determined to take out all vestiges of the old ethno-elitist order, erecting in their stead the structures of ethnocultural populism, if not its substance. Less than a year after the purges, Qiu Zongjun, Sheng's father-in-law and the minister of provincial administration, urged his daughter's husband to abolish the hereditary titles of the non-Han aristocracy. "It would be best if this tribe could request the implementation of a local administration and dissolution of the old titles of nobility on its own initiative," Qiu wrote of one Mongol community. "Then, after we carry out their request in accordance with the relevant statutes, those who are upset with the administrative change will have no pretext [to retaliate]."40 Just one year earlier, such a request likely would have gotten nowhere. After 1937, however, local power holders who chose not to emulate Urumchi's depictions of model behavior did so at their own risk. By the time Sheng had left Xinjiang, not a single non-Han eminence from the days of Yang and Jin still retained his liberty. Among those languishing in jail, regretting their decision to meet with the duban in Urumchi, were Manchuqjab, the khan-wang of the Torgut Mongols; Prince Ailin of the Altay Kazaks; and the descendants of the Muslim princes of Kucha, Hami, and Turfan.
If Sheng's promises of Soviet-style affirmative action turned out to be hollow, his desire to develop the resources of Xinjiang was not. Partly it stemmed from his promise to bring the fruits of socialist modernity to his subjects. Mostly, however, the impetus came from Moscow, to whom Sheng was grossly in debt. In 1938, Mao Zemin, the younger brother of Mao Zedong, passed through Xinjiang en route to Moscow, where he hoped to receive medical treatment. Ten days after his first meeting with Sheng, Mao, working under the pseudonym Zhou Bin, was named deputy director of the Ministry of Finance. He was appalled at what he saw. "In little more than five years," he wrote to his brother in April, Sheng "has recklessly printed thirty billion silver taels and taken out twenty million yuan in foreign currency loans. Who knows what other unconscionable acts have been committed here?"41
The problem was not that Xinjiang lacked a tax base capable of financing its government, provided its rulers—like Yang—were in a position to refrain from investing in the military. The problem was now the Soviets themselves, who acted in a capacity analogous to the Qing government half a century earlier: as a financial wet nurse for a fiscally famished province. Unlike Beijing, however, which dreamed of wealth but settled for sovereignty, Moscow wanted nothing but wealth. As such, it expected to receive a lucrative return on its investment. And that meant sooner or later, Sheng would have to pay his bills—or else. "If we had a similarly vast revenue in northern Shaanxi," Mao noted, referring to the Chinese Communist headquarters in Yan'an, "we would find ourselves with an enormous surplus. But when we consider the unconscionable size of the foreign debt here, the situation is simply unsustainable."42
Mao appears to have spared no effort in trying to relieve Sheng of his Soviet creditors, who continued to finance one-third of Xinjiang's annual budget. But the late 1930s witnessed the rise of the wartime economy in Moscow, and Mao simply could not capture enough "floating capital" to satisfy Sheng's creditors. Had he done so, it is unlikely the duban would have placed Mao in charge of one of his least reputable organizations: the Rebel Assets Committee. Having failed to sate the Soviet behemoth by "soft" economic initiatives, Sheng and Mao turned to "hard" methods. The Rebel Assets Committee, though injurious to Sheng over the long term, proved a seductive short-term salve. Charged with seizing and managing the wealth of anyone deemed a "rebel" by the state, the committee soon found itself in charge of considerable assets. To take just one example, the confiscated estate of former deputy chairman Khoja Niyaz Haji consisted of seventy-six camels and four thousand sheep in Urumchi; five irrigation canals, one factory, and a hundred wells in Turfan; five thousand sheep and sixty irrigation canals in Hami; a house and tillable fields in Wushi; and one flower garden in Kucha.43
During Sheng's tenure as duban, anyone who went to jail could expect the majority of his family's assets to be confiscated. Though estimates vary, a veteran of Sheng's security force later put the number of executions in Urumchi at 14,000. As this does not include the many more people who were imprisoned but later released or anyone outside the capital, we can probably concur with the assessment of another former official, Guang Lu, that the total number of people jailed during Sheng's tenure as duban was likely close to 80,000—in other words, 2 to 3 percent of the population of Xinjiang.44 So many people were thrown into prison on trumped-up charges that visitors to elementary schools in Urumchi began to comment on the striking prevalence of female teachers. Half the students said they had no father at home. In 1944, with Sheng's departure, his Nationalist successor was inundated with twenty to thirty petitions per day from relatives of the duban's victims. While Sheng was in office, urban residents had been known to recite the following maxim: "Whether you go to jail now or go to jail later, only one thing is certain: sooner or later, you will go to jail."45
The evidence suggests that Sheng's security apparatus identified prominent subjects of some means, then lodged trumped-up charges against them to facilitate confiscating their wealth. Education and the military, two of the most costly institutions funded by Sheng and the Soviets, seem to have been the chief recipients of these confiscated assets. In 1939, poor classroom conditions in Khotan prompted a local official to register his intent to "move the entire current group of students to the seized courtyard of the rebel Ablajan, where they will hold class and assume lodgings." Another school received 150,000 taels worth of auctioned-off "rebel assets" for "educational and cultural expenses."46 In Hami, rebel assets helped purchase sixty-three camels for the local military garrison, while seized buildings were used to quarter troops.47 Anything not funneled into the military or schools appears to have found its way straight into the coffers of Mao's Rebel Assets Committee in Urumchi. "We have taken possession of former magistrate Chen's rebel assets," reported an official in Yarkand in May 1940, "and auctioned off his interests in copper and steel for $1,477.26 in foreign currency. We will soon transfer these funds from the branch bank in Yarkand to the Rebel Assets Committee in Urumchi. The remaining five hundred pounds of copper will be delivered on the next truck out."48
Sheng extracted financial capital from the people of Xinjiang in another way, too, this one more tactfully disguised. Donation campaigns were run for almost anything that could be construed as a public cause. When the streets of Urumchi turned into a muddy morass in the spring, municipal authorities launched a "public hygiene" campaign. Though the Sino-Japanese War was being fought far from Xinjiang's borders, the patriotic slogan exhorted residents to maintain "healthy bodies if we are to drive out the Japanese bandits!" In late 1936, a devastating earthquake in Lanzhou, the capital of neighboring Gansu, provided the pretext for a "disaster relief" campaign. The residents of Kucha County submitted 122,000 silver taels for the victims, while thirteen wealthy donors in Weili turned in 250,000 taels.49 Despite the supposedly "voluntary" nature of these donations, clear quotas were imposed. In Urumchi, all public servants were told to donate two days' salary for the front line in Suiyuan. During the public hygiene campaign in 1941, an Urumchi shopkeeper observed that, due to a lull in business, "I am unable to submit my donation. I beg you, sir, to look upon me with pity, and order your subordinates to collect my donation in accordance with the lowest possible household regulations, as relief for your people."50
In those cases where overt quotas did not apply, a measure of subtle coercion did. In late 1937, one of Sheng's generals turned a covetous eye on the property of native-place Han guilds from Hunan and Hubei. "Currently, these buildings stand as the private possessions of a minority of the population, and provide no benefit whatsoever to the general masses," he noted. "Without instigating any suspicions, I propose that we send someone out to make contact with the guild heads, convince them of the greater good they will be serving, and explain to them that we are not confiscating their property."51 Of course, the guild heads were free to decline the general's entreaties. But in a climate where any person of means was liable to be thrown into prison on imaginary charges, they did so at their own peril. The clearest indication of the use of coercion, however, is to be found in the preemptive justifications of the collectors. "The donations I collected this time were solicited without an ounce of forceful coercion," wrote an agent for the Mongol Association of Ethnocultural Advancement in September 1939. "I took only from rich nomads who were willing to assist. No poor nomad was compelled to donate." Collection agents working for the Anti-Imperialist Society also denied any wrongdoing. "These donations of sheep and jewelry were offered without the slightest bit of coercion, and every one of them was entirely voluntary."52
That Sheng's agents in the field now felt compelled to defend their collection methods suggests that the duban had experienced a backlash of sorts, one sufficiently worrisome to prompt a modest retrenchment of operations. By this point, after years of imprisonments, executions, and compulsory donations, Sheng had every reason to be anxious. After all, in resorting to shady tactics for the repayment of Soviet largesse, he had inadvertently endangered the most precious thing Moscow had given him: a convincing narrative of Han political legitimacy in Xinjiang. The acute pushback Sheng felt from the residents of Xinjiang in response to his incessant donation campaigns forced the duban to try to rein in his officials. That, of course, was easier said than done. "In every district, despite repeated directives to the contrary, [local officials] continue to run rampant donation campaigns among the masses," Sheng wrote in 1940. Henceforth, there would be no more mercy for offenders, and "anyone who proposes or advocates donation campaigns must be assumed to be a running dog of the imperialists, intent on sabotaging the policies of our government."53 Local officials, who had grown dependent upon such "donations," resented Sheng's change of heart. Attributing any and all misunderstandings to "errors in translation," they appealed to Sheng with the justness of their cause. "I was just about to proceed with collection duties for this year's famine preparation donations," wrote the magistrate of Korla County in the fall of 1940, "when I received your orders that all donation campaigns should stop." The magistrate appealed for an exception. "Can I continue to collect these donations or not?"54
By the late 1930s, the view of Sheng among the people of Xinjiang could not have been anything but negative. His avowed commitment to a program of ethnocultural populism had merely been a political façade designed to help him break the power of the non-Han elites and confiscate their wealth. His highly touted program of economic development for the masses turned out to be a thinly veiled siphon of provincial wealth, payable to the Soviets, who themselves had betrayed their own oft-publicized principles by propping up a power-hungry Han warlord. For non-Han intellectuals who had bought into the first three years of the new administration, the Sheng-Soviet alliance turned out to be an unholy union. Thus far, however, Sheng had proven himself merely a proponent of equal opportunity exploitation for the people of Xinjiang. Now, bereft of administrative talent and in desperate need of qualified candidates to fill government vacancies, Sheng was at the point of no return. During his last few years in office, the duban would embark on a series of initiatives that would make him look very much like the harbinger of Han colonialism that the Comintern had always believed him to be.
After the purges of 1937, lack of administrative talent, always a problem in Xinjiang, became even more acute. Not only had Sheng removed his provincial rivals, Han and non-Han alike, but he had also imprisoned much of the Han and Uighur personnel sent to him by Moscow. As a result, complaints about unqualified officials and widespread vacancies began to flood the duban's office. "Ever since these two officials fled their posts," wrote a Mongol from Karashahr in May 1938, "affairs of state have gone untended. I alone certainly cannot assume the burden."55 Sheng's security agents began to scour the countryside for suitable replacements, at one point embarking on a weeklong search for talent in the Altay region. The local security bureau reported on "mannerisms of speech and body language" and cast in a positive light youth born of mixed Han-Mongol marriages. "Since they are Han, they are completely loyal to the government." Other candidates were required to undergo an exhaustive vetting process designed to ensure complete political reliability. One candidate was ready to depart, but his local handlers "await the duban's detailed investigation and directives before we send him to Urumchi."56
As is evident from these quotations, the cultivation of non-Han talent not connected to the old ethno-elitist order of Xinjiang took considerable time and resources. Meanwhile, there was a great temptation to install locally prominent Han in vacancies throughout the province. After all, in republican Xinjiang, only Han were likely to meet all the criteria established by the Sheng administration: humble birth, ample education, and lack of ties to existing religious or tribal institutions. "The positions of deputy county magistrate and deputy bureau magistrate should all be filled with Han officials," wrote the district magistrate of Karashahr in early 1939. "This will enable us to carry out our work."57 Even better for Sheng would be if they were vulnerable outsiders entirely dependent on his patronage. Such was precisely the criteria fulfilled by several hundred Chinese Communist cadres sent from their base in Yan'an to lend fraternal assistance to the Soviet Union's favored duban-in-arms. Between 1938 to 1940, upon the explicit instructions of Sheng's Soviet advisers, they were posted throughout the southern Uighur oases. "Ever since taking office as magistrate of Moyu County," Sheng observed in late 1940, referring to a suburb of Khotan, "Nasirjan has not had any accomplishments to his name. Relieve him of his post and fill the vacancy with Chen Jiexu, deputy director of the Khotan Tax Bureau." Ten Han cadres were sent to Khotan alone, where they undertook the delicate task of divesting the locals of the very firearms they had used to shoot Han like themselves just five years earlier.58
Of course, Sheng turned to the Chinese Communists because they were educated, resourceful, and vulnerable, not necessarily because they were Han. This last point cannot be emphasized enough. In fact, the clearest indication that Sheng was not engaged in a Han-led disenfranchisement of indigenous leaders lies in the fact that he eventually executed a considerable number of the Yan'an cadres, including Mao Zemin, the younger brother of Mao Zedong. All that, however, occurred behind closed doors. As far as the non-Han peoples of Xinjiang were concerned, the Han governor had marginalized or killed every one of their established leaders, replacing a visible majority of them with Han officials. By the time Sheng left Xinjiang, virtually no Turkic or Mongol official—or any Han whose influence predated Sheng's rise—occupied a position of political substance. Very few of Sheng's subjects had the means to resist him, if for no other reason than that they knew the Soviets still stood behind the duban, warplanes and machine guns at the ready.
Even had the Soviets withdrawn their support for Sheng, what hope was there? Moscow had already helped Sheng collect his subjects' firearms, destroy their armies, imprison or execute their leaders, deprive them of the next generation of talent, and insulate the province from any outside force with whom they might possibly form an alliance. The only place in Xinjiang where one or more of these conditions still failed to apply was Altay, home to several tribes of Kazaks and Mongols. Not surprisingly, then, it was in Altay that many of the pivotal events of the next decade were to occur.
THE BIRTH OF A KAZAK ETHNOPOPULIST
Long the least integrated and most remote region of the province, Altay lacked even a rudimentary road connecting it to the provincial capital. Yang Zengxin once called it the "most desolate and remote region" (juedi) in all of China. Though Altay's steeded nomads could reach Urumchi in mere days, convoys of mechanized transport could take weeks to go in the other direction. Clear up until the 1950s, access from Urumchi was typically achieved not in a straight beeline to the northeast but via a roundabout journey first to Tacheng in the northwest, then east to Altay City (formerly Chenghua Si). Faced with the unlikely prospect of defending Altay with soldiers from Urumchi, Yang Zengxin had attempted to curry favor with the Altay Kazaks by decreeing a lower tax burden for them than for any other nomadic group, along with the right to bear arms—a rare privilege—in the event the Outer Mongols crossed the border. And since Altay had played only a marginal role in the warfare preceding Sheng's rise, it was not devastated in subsequent mopping-up campaigns. As a result, as the new decade approached, anyone looking for a viable source of resistance to the status quo would have done well to look toward Altay.
The first signs of trouble arose in 1937, when Sheng issued a blanket order abolishing the nomads' right to hunt. "We have always depended on hunting to survive," protested a Kazak chief. "If we cannot hunt, we will be unable to maintain our livelihood."59 Though Sheng was not bent on starving the nomads of Xinjiang, he was determined to deprive them of firearms. And since Sheng was now a close ally of the Soviets, the nomads of Altay in theory had nothing to fear from the Mongolian People's Republic, which deferred to Moscow in all matters of foreign affairs. Therefore, if deprived of the legal right to hunt, Kazaks and Mongols no longer had any pretext to retain their firearms. Unfortunately for Sheng, the Kazaks and Mongols of Altay did not see things this way, and no weapons were forthcoming. In response, the duban invited their chiefs to Urumchi for a "meeting," where he promptly placed them under house arrest. The game was blackmail: chiefs for guns.60 The plan backfired when one leader defied the duban, gathered his followers, and fled the capital. Though Sheng sent emissaries out to assure him that his "life, wealth, and status would be safeguarded," most of the duban's entreaties fell on deaf ears.61 In early 1940, under cover of night, a team of Kazak raiders laid siege to a security bureau in Koktogay and ambushed a firearms liquidation depot. Their message to the duban was carved on the bodies of their victims, dumped unceremoniously at the gates of Altay City: corpses without eyes or tongues, and hearts and intestines dangling from their torsos.62
Sheng responded by strafing the Altay steppes on repeated flyby missions. The Kazak rebels, soon fifteen hundred in number, shot down several warplanes. In September, Sheng brokered an uneasy peace with a series of concessions. He promised to close down local security bureaus, release imprisoned leaders, and cease confiscating firearms. Yet Kazak unease continued, fueled by the increasing presence of Soviet prospectors. The wartime economy of Europe had altered Moscow's priorities in Xinjiang. No longer did the Soviets demand only cotton, sheep, leather, silk, and oil from Sheng. Now they wanted the building blocks of industrial war munitions: tin, aluminum, copper, gold, silver, wolfram, and beryllium.63 For Lu Xiaozu, the onetime daoyin of Altay during the days of Governor Yang, this explained the sudden surge of Soviet interest in the region. "Its rich deposits of metals are known throughout the nation," Lu observed in 1945, a year after being released from the duban's prisons. According to Lu, the departed governor had long ago recognized Altay's importance in an industrial world: "[Yang] said, 'Northern Xinjiang is more important. Even though southern Xinjiang has an abundance of agricultural products, their accumulated value still comes nowhere close to the worth of the Altay mountains.'"64
Moscow's response to the duban's reports of Kazak unrest was to push Sheng aside and further enshrine its access to the mines of Altay. In November 1940, the Soviets submitted for Sheng's approval a document that would allow them the right to unearth tin and other "ancillary minerals" in Xinjiang for a period of fifty years. Sheng, swimming in debt, duly affixed his seal. In later years, the Xinjiang Tin Mines Agreement (formerly referred to as the "Sin-Tin" accord) would be described by Chinese policymakers and historians as the most humiliating, unequal treaty to be signed in China since 1915, when Japan submitted the Twenty-One Demands to Yuan Shikai. For Sheng, the increased Russian presence in Altay only made things worse. The following summer, Koktogay flared up yet again. This time the Kazaks took aim at Russian convoys prospecting for gold, beryllium, and other precious metals. Altay officials begged Sheng to send reinforcements. "Because we lack any authority capable of keeping the peace out here," wrote an alarmed official in Burjin in 1941, "our ability to develop agriculture has been compromised."65 Sheng reverted to familiar tactics. He invited those still willing to risk a meeting to proceed to Altay City, where officials there convinced them to fly to Urumchi. Not surprisingly, Sheng had them arrested on touchdown.66
Left to his own devices, Sheng likely could have contained the Altay rebellion. Incarceration and machine guns had silenced previous rivals, and there is no reason to think they would have proven any less effective in this case. By the summer of 1941, however, the Soviets, besieged on the European front, were more desperate than ever before for war matériel. Sheng, deeply in debt to Moscow, could no longer drag his feet. In the following years, as Soviet mining expeditions continued to agitate the Kazaks, mounting bills for other expenses came due. Most of them were paid for with Altay minerals and the products of animal husbandry. In 1942, Sheng was forced to authorize the ruinous sale of 50,234 horses at basement prices. An additional ten thousand were taken in 1943 as "donations" to the provincial government, this time entirely from Altay pastures. The following year, Sheng repaid an aeronautics debt with 400,000 head of sheep from Tacheng and Altay, purchased at prices well below market value.67 While the Soviets bled the turnip white, Sheng could only exhort his public servants to be more frugal, write on both sides of the paper, fix broken office chairs, ride bicycles to work, and stop drinking tea. Before long, the duban ordered everyone in Urumchi to turn off the lights, an austerity measure implemented during working hours.68
By 1942, Sheng was a pauper. Not only was the treasury bankrupt but so too was his vaunted ethnopopulist platform. Indeed, by this point, the only non-Han ethnopopulists of any substance to be found in Xinjiang were those that had taken up arms against the duban. After Sheng jailed the second batch of emissaries from Altay, a Kazak shepherd named Osman stepped into the void. Openly hostile to Sheng, Russians, Mongols, and any Han settlers in his midst, Osman quickly earned a unique calling among his Kazak peers: batur, an honorific bestowed upon self-made "heroes" of non-noble birth. Several years later, when Osman's social "betters" were finally released from prison, they looked down upon this Kazak upstart with scarcely concealed scorn. "Osman is a shepherd from Koktogay," noted the wife of Prince Ailin. "He is a nobody."69 Yet it was precisely such non-Han "nobodies" that Sheng had vowed to elevate to positions of true wealth and power. When that wealth instead flowed to Moscow and all power gravitated toward Sheng, the hollow ethnopolitical rhetoric of the duban became ripe for appropriation by others.
The most famous of these "others" was Osman Batur, whose charisma and presence soon won him the mass Kazak constituency Sheng had once promised to cultivate. "Over the past four or five years," Osman announced in 1943, with charismatic aplomb, "I have toiled without cease and have not slept at night. I have endured the cold of winter and the heat of summer. When I sleep, it is on a bed of horse droppings, with a hard rock for my pillow. All day long, I spur my steed across riverbeds and do battle with the enemy." For those not yet resigned to Orwellian compliance with the Soviet-inspired rhetoric of Sheng, Osman was an exhilarating breath of fresh air. "We are not animals," he continued. "We are the same as any other people. And when we see that the actions of the duban do not match his words, how can we not rise up and fight for the interests of the Kazaks?" For many, Osman was the embodiment of everything Sheng had promised but failed to deliver. He called for local Kazak self-government, the formation of a Kazak militia, an end to Han settlement of Kazak pastures, and active resistance to the Han officials in Sheng's government. The pride that Osman felt in his imagined community of Kazak braves was tangible. "If, among you, there are any heroes who wish to fight for the future of our people, then come with me. Grab your guns and mount your horses. Otherwise, you may as well turn your back on the customs and traditions handed down to us from our ancestors."70
Osman would not go away. Invited to Urumchi for "negotiations," he instead fled south to the Bulgin River. Though Sheng continued to pursue Osman, events in Europe soon overtook developments in Xinjiang. With the Soviets fighting for their lives at Stalingrad, Sheng sensed an opportunity to divest himself of his creditors. In July 1942, the duban pulled off an astonishing about-face. Without warning, he executed those Chinese Communists still in his employ, invited to Urumchi a delegation of Nationalists from their wartime base in Chongqing, and offered to cede all authority for the foreign affairs of Xinjiang to Chiang Kai-shek. The Generalissimo was understandably thrilled. "For all matters pertaining to Xinjiang," Chiang rushed to inform the Soviet ambassador, "your government must now deal with the central government of China. You are not permitted to discuss anything with Sheng duban." In his diary, Chiang referred to the recovery of the northwest as "the greatest accomplishment in the history of the Nationalist government."71 For Moscow, it was an astonishing affront, all the more so due to the many outstanding bills on Sheng's ledgers. It did not surprise anyone, then, when the Soviets turned to Osman to recover Sheng's debt.
THE HAMI REBELLION DEFERRED
Sheng Shicai was the first Han official to pursue a platform of ethnopolitical populism in Xinjiang, one designed to unite its Soviet-defined nationalities under a single Chinese roof. When the discourse is stripped away, however, it is apparent that Sheng pursued the same agenda of intensified resource extraction and industrial development to which his reviled predecessor, Jin Shuren, had once aspired. To the extent that Jin and Sheng countenanced the imposition of a Soviet economic monopoly in the province, Moscow supported this agenda, as evidenced by its arms sales to Jin and comprehensive aid packages to Sheng. As long as such outside support was tendered with interest, however, the entire enterprise merely constituted a deferred reckoning. When the bills finally came due—as they did, with a vengeance, at the turn of the decade—Sheng began to look remarkably similar to Jin Shuren, only with a vastly superior regime of rhetorical sophistication and coercive machinery at his disposal. In both cases, the impetus for change was the same. That is, the moment Xinjiang became enmeshed in larger geopolitical competition, the inability of the Chinese central government to finance a competent standing army necessitated raising an army with provincial resources. As Xinjiang's resources were invariably insufficient, their diversion to the military quickly destabilized the ethnopolitical balance.
Jin Shuren was a casualty of the first destabilization. For a time, Sheng Shicai avoided being a casualty of the second by adapting the ethnopopulist discourse and institutions of Soviet affirmative action into Xinjiang. When those institutions proved to be window dressing on a program of resource extraction far more intense than anything Jin had ever attempted, Sheng resorted to the tools of a Stalinist police state to safeguard his position. But when the Soviets began to take by force what Sheng and Mao Zemin repeatedly proved incapable of producing, the day of reckoning finally arrived. Its poster child was Osman Batur, a Kazak ethnopopulist entirely of Sheng's making. At this point, the only way to avoid a repeat performance of the Hami rebellion—this time in Altay—was to write off the balance owed to the Soviets by transferring the bill to the Nationalists. This is precisely what Sheng tried to do in the summer of 1942, while the Soviets were preoccupied with the Germans. But someone had to foot the bill of costly modernization projects in Xinjiang, and Moscow had no intention of letting the Han stewards of Xinjiang fly the coop. By his act of stealth and ingratitude, Sheng had merely gotten himself off the hook.
Now it fell to the Nationalists to reap what Sheng had sown. In so doing, they would find themselves pulled into an elaborate ethnopolitical bluffing match marked by a degree of Kazak and Uighur agency unique in the twentieth century.