4
Comparative Profiles of Nuosu and Han Entrepreneurs

Unlike Han, Nuosu are either native to the counties surveyed for this book or from other counties in Liangshan. As members of the indigenous population, they are tied into the local social structures (clans and lineages) and are therefore more capable than Han of mobilizing and using local relationships to their advantage. In their book The Established and the Outsiders, Norbert Elias and John L. Scotson point out that indigenous people who have lived in a local area for a longer time possess more power than do outsiders. This power stems from a greater degree of group cohesion and collective identity, more effective local channels of communication, and a feeling of superiority over those who have immigrated from outside the area (Elias and Scotson 1990; Brandstätter 2000).
The Han in these counties are either immigrants from Sichuan and other provinces who have settled more or less permanently in Liangshan for business reasons, or who are members of the families of cadres or skilled workers transferred to Liangshan Prefecture since the 1950s. This is especially true in counties where Nuosu are the majority of the population. Consequently, most Han are less integrated into local structures. Entrepreneurs who are recent immigrants do not perceive their lives to be centered on community structures in the counties in which they live; they are mainly interested in taking advantage of local opportunities for making a profit in a relatively short period of time. Interviews with such entrepreneurs revealed that they planned to move away afterwards, and that they would leave the area as quickly as possible if they experienced a downturn in profits. We interviewed a total of 81 Nuosu (65.3%) and 43 Han (34.7%) entrepreneurs (see table 4.1) who were mainly between 30 and 55 years of age (Nuosu 87.6%, Han 93%). The distribution of business types among Nuosu and Han entrepreneurs is shown in table 4.2.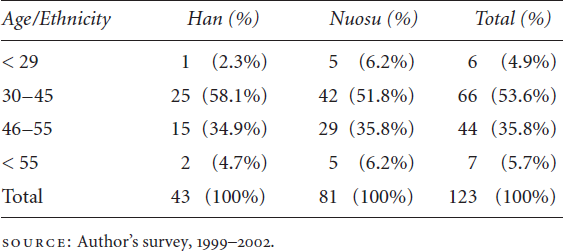 A majority of the entrepreneurs own different companies or are active in multiple economic sectors in order to insure themselves against economic crises and unpredictable circumstances. For example, a 43-year-old Nuosu entrepreneur in Ganluo County owned a road construction firm, with 11 Nuosu employees; an electric utility, with 17 Nuosu employees out of a total of 33; a tree farm, with 5 Nuosu employees; and a cattle ranch, with 3 Nuosu employees. He held a 50 percent share in a newly founded electric utility, a 25 percent share in the county electric utility company, and a 25 percent share in an employment company operated by the county bank. A 52-year-old Nuosu entrepreneur in Meigu was the owner of a distillery, an electrical appliances factory, a cattle feed factory, and had shares in an electric utility, a transport company (operating two trucks), two yak farms, with 700 yaks worth over 360,000 yuan, a 1,670-hectare cereal farm in Leibo County, and 15 hectares of leased land to be reforested. Economic insecurity drives this trend among entrepreneurs to be involved in multiple business activities as it provides a safeguard against potential losses due to poor performance in certain business sectors.
The majority of private enterprises were established prior to 1995 (Nuosu 70.4%, Han 69.1%), although a large percentage of these were established prior to 1989. Table 4.3 shows some continuity in the establishment of new businesses although the degree of year-to-year fluctuation is still very high.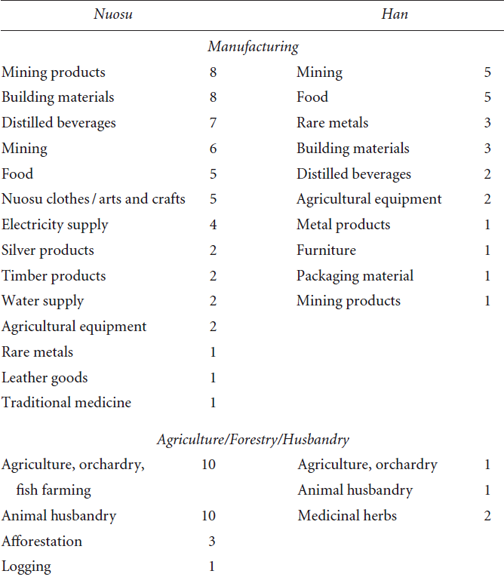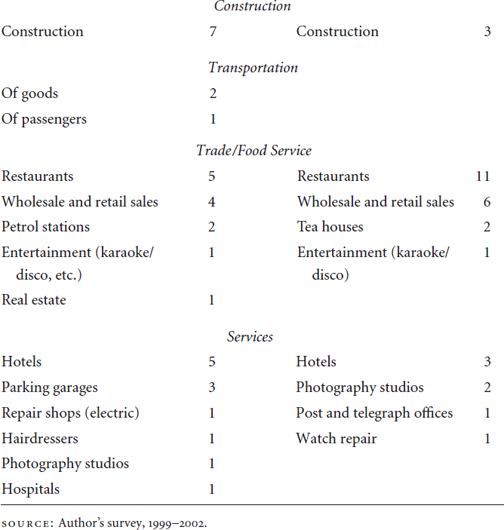 EDUCATIONAL BACKGROUNDS
More than one-fifth of the Nuosu entrepreneurs have not attended school. However, some of these entrepreneurs without formal schooling have a basic knowledge of the Nuosu script. Some declared with great pride that their knowledge of the Nuosu language and script corresponds to a senior secondary school level. In contrast, all interviewed Han entrepreneurs had at least attended primary school. Almost one-third of the Han and less than one-fifth of the Nuosu had formal education beyond junior secondary school.
The Nuosu entrepreneurs' lower level of education compared to Han entrepreneurs is an important reason why more Han than Nuosu are active in the private sector (see table 4.4). Most of the Nuosu entrepreneurs are thoroughly aware of the importance of education in upward social mobility and consequently deplore their deficit. A considerable number have sent their children to schools in Xichang or to elite boarding schools (Ch: guizu xuexiao) outside Liangshan Prefecture (for example, in Chengdu, the provincial capital) and are intent on sending them to university or enabling them to study abroad. A significant portion of the entrepreneurs, especially those with school-aged children—39.5 percent of the Nuosu and 30.9 percent of the Han—declared without prompting that their goal was to enable their children to have a university education. For some, the goal of financing their children's university education was even their incentive for becoming self-employed.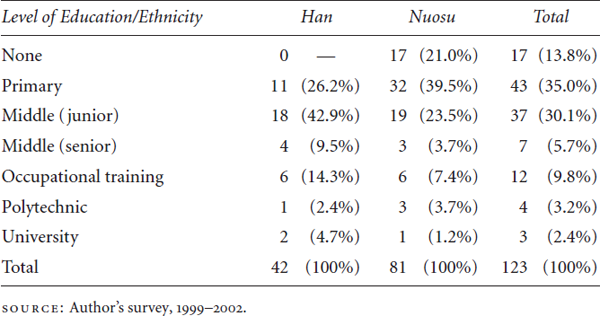 REASONS FOR BECOMING AN ENTREPRENEUR
For Nuosu entrepreneurs, the possibilities of earning higher incomes and increasing their living standards are the most important reasons for becoming entrepreneurs. As table 4.5 shows, more than half of the Nuosu entrepreneurs stated that they had become entrepreneurs for this reason. This distinguishes Nuosu entrepreneurs from Han entrepreneurs, among whom the desires for economic independence and for self-fulfillment play the most important role. Our qualitative interviews with Han and Yi entrepreneurs revealed that a greater share of Han conceived "interest in being self-employed" as a kind of self-fulfillment, whereas only a few Yi held such an interpretation of the phrase. In a survey conducted in Liangshan and in surveys of other regions of China,1 an "interest in being self-employed" among Han was interpreted as the desire for self-fulfillment (Han 50%, Nuosu 20%, in the Liangshan survey alone). This is reflected in the survey results in table 4.5 as well.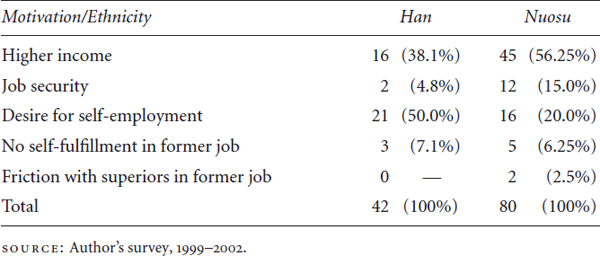 Because they lack the necessary capital for founding a company, unemployed people only rarely become entrepreneurs; they become involved mostly in the individual sector. For many people, working as an individual laborer is a transitional stage of learning by doing, during which they acquire capital, learn management skills, and gain specialized knowledge.
PROFESSIONAL CAPITAL
In addition to educational opportunities and social resources for founding a company, entrepreneurs also need "professional capital," which includes previous business experience, professional skills, and personal qualities that facilitate business success (Mars and Ward 1984: 11). Before becoming entrepreneurs, many Han are active in the private sector—primarily in the individual economic sector—or they work as managers of county or town/township enterprises, technicians, or employees/workers. Whereas a significant number of Han entrepreneurs gain professional capital through previous technical training, many Nuosu entrepreneurs are former peasants, cadres, or employees/workers of other companies. Almost one-fourth of the Nuosu entrepreneurs (23.5%) had been cadres at the village, township, or county level, though mostly at the village level (see table 4.6). This explains the Nuosu dominance in many sectors of the bureaucracy in Liangshan. Due to their work and training within the Party, cadres possess better education, organizational skills, and knowledge, as well as access to different networks. This enables them to shift more easily into the private sector.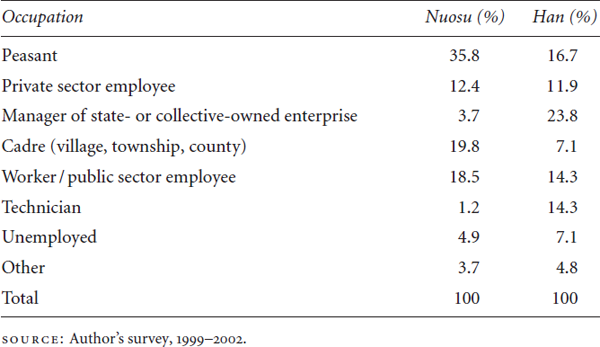 In contrast to Han entrepreneurs, many Nuosu entrepreneurs come from an agricultural background, and a small percentage are bimo. Han entrepreneurs have experience in state and collective enterprises as managers (16.7%), technicians (19.1%), and skilled workers (16.7%). For Nuosu, and to a lesser extent for Han, previous employment or training in a company, regardless of its form of ownership, is an important prerequisite for becoming an entrepreneur. While Han entrepreneurs are predominantly from peasant families (42.9%) or families of skilled manual workers, most of the surveyed Nuosu entrepreneurs are from peasant families (75.3%). For the surveyed Nuosu, entrepreneurship tended to represent social betterment. Many of them have gained experience in village and local businesses, or as employees in individual and private firms.
Most of the entrepreneurs' spouses had previously worked in the agricultural sector (Nuosu 56.3%, Han 38.1%). Almost a quarter of the Han entrepreneurs' spouses had been employed in companies in the state sector, compared to only 15 percent of the Nuosu spouses. Among the Nuosu spouses, the percentage of female officials (13.8%) was relatively high. It can be concluded that at least some of the spouses were able to assist their wives or husbands in their work, either through their work experience or through social capital (such as social connections with officials).
SOCIAL CAPITAL
More than half of the surveyed Han and Nuosu entrepreneurs found social connections (Ch: guanxi) to be an indispensable form of social capital, bringing significant advantages to their businesses. Most of the entrepreneurs (Han 90.2%, Nuosu 72.5%) had donated money to the authorities or for social purposes, for instance, for building schools, hospitals, and roads; these figures do not include donations to their clans. However, the goals of such gift giving vary, and it is necessary to differentiate between voluntary and forced donations. Whereas voluntary donations either raise the donor's prestige or improve guanxi with the local bureaucracy, involuntary donations prevent the loss of guanxi and circumvent administrative exploitation. Because most Han entrepreneurs do not have close social relationships with the local bureaucracy, they have to make more (forced) donations and invest more money to develop such relationships. Nuosu entrepreneurs are already embedded in local clan and other social networks and thus spend less money on developing guanxi. However, the clans also directly or indirectly place social obligations on Nuosu entrepreneurs to make donations. The Han do not feel this sense of obligation although a relatively high percentage complain about the authorities' "requests" for payment.
It is also important to keep in mind the difference between altruistic and instrumental motivation. People who are altruistically motivated donate to support people or communities in need or, according to Granovetter, "because of identification with in-group needs and goals." Instrumental motivations cause people to make donations in order to fulfill reciprocal obligations (returns of favors), gain higher social prestige or improve relationships with local authorities (see Portes 1995b: 15). For Nuosu, donations of financial support are based less on the calculated benefit to the individual than on an unquestioned social dictum: the common interest comes before individual interest, and all members of the community must support the common interest. This is particularly true for wealthy community members who are reminded of their community's contributions to their success and of the need to reciprocate. By making donations, the entrepreneurs demonstrate that they are not only pursuing their own interests but are also conforming to traditional social norms and obligations. Those who fulfill these obligations enjoy social respect and recognition. Bourdieu has termed this type of capital "symbolic capital" because the economic dimension of "naked interests" and "egoistic calculation" is diminished and the economic capital is transformed into symbolic capital in the form of social charity. The symbolism lies in the actions, interests, and considerations that are non-economic or even hostile to business (Bourdieu 1999: 215ff.). By means of donations, economic capital is thus converted into symbolic capital.
There is a high degree of social pressure to make donations and meet obligations to the community because most Nuosu found their companies in the same towns in which they were born and raised. The Han are mostly the descendents of people who were sent to Liangshan by the government or who migrated there after 1949 from other parts of China, which explains why Han are considerably less obliged to give money.
TYPES OF ENTREPRENEURS
In the introduction, we noted the difference between push and pull entrepreneurs. Pull entrepreneurs are attracted to social and financial business opportunities and give up their existing jobs to pursue entrepreneurial ventures; they find the adventure of economic independence exciting and actively make the choice to become self-employed. Push entrepreneurs, on the other hand, are driven into occupational independence by such factors as unemployment, conflicts within the companies where they are employed, and dissatisfaction with the working conditions of their existing positions (See table 4.7).
For both groups, the pull effect is much greater than the push effect although the employment situation of the Nuosu influences the pull factors as well. However, the two groups differ in terms of their entrepreneurial motivation. The Nuosu's primary motivation arises from material grounds—Nuosu entrepreneurs either want to increase their incomes (for example, managers of state sector companies who become self-employed, or individual laborers who expand their operations), or they see no other escape from a low standard of living than to take the initiative and start their own business. For some, the fact that their spouses do not have jobs or that they wish to provide a good education for their children also plays a role in their entrepreneurial initiative. Non-material factors play a greater role in Han entrepreneurs' decisions than amongst the Nuosu.
We could attempt to classify entrepreneurs according to their different reasons for choosing self-employment, which could include their ability to make use of market opportunities and incentives (mostly in urban areas and more developed regions), blocked prospects for upward mobility, the acquired privileges and social connections of the political elite and sub-elite classes (particularly at the local level), and survival strategies (by the unemployed and pensioners). However, these individual factors cannot be separated from each other because the desire for independence and entrepreneurship is often created by a complicated mix of different needs and intents. Thus, it would not be possible to divide the entrepreneurs we interviewed into exclusive categories.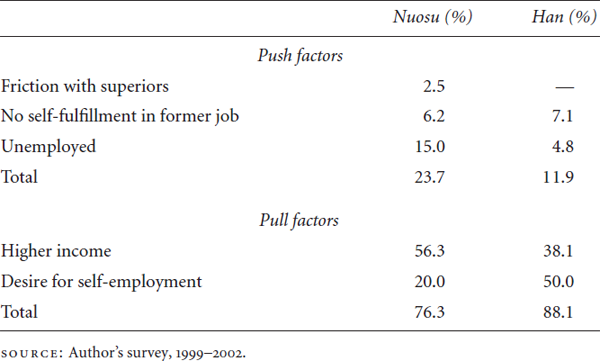 However, some general patterns do emerge among entrepreneurs in certain categories. The percentage of Han who make use of market opportunities and incentives is recognizably larger than that of Nuosu because they have emigrated from other areas for the express purpose of taking advantage of market opportunities. However, a percentage of the cadres' children also fall into this category, as do people with particular market skills or knowledge.
The Nuosu who become self-employed because of blocked upward mobility are mainly children of the former upper stratum who, until the 1980s, suffered through being labeled "class enemies." This category includes children whose fathers actively took part in the uprising against the "Democratic Reforms" in the 1950s and consequently were punished with compulsory labor.
Others become entrepreneurs because they find opportunities through their social connections with members of the political elite or because of certain advantages—for example, some entrepreneurs' parents were officials and some others acquired investment money. The children of cadres, of persons with social capital, or of people with other important social relationships (such as leading clan persons) are often among those with investment capital.
In some cases, people from other areas migrate specifically to a county in which they have relatives in high positions. In Butuo, we met an entrepreneur who had settled there because the county Party Secretary was his relative and this social capital provided him a significant economic advantage. A number of entrepreneurs found silver reserves buried by members of the upper class during the "Democratic Reforms" and used them as their starting capital. In other cases, entrepreneurism is a survival strategy for those who have no other options for making a living. It is also a survival strategy for people whose companies have gone bankrupt or for dependents of former slaves kidnapped by the Nuosu in Han territories (see examples later in this chapter).
The traditional crafts professions need some additional explanation, as the makers of traditional consumer objects out of leather and wood, clothing, silver jewelry, and saddles for horses, for example, cannot be put in any one of the four categories. Craftsmen earn a passable income less because of market demand than because of the traditional importance of their work. These people draw on their own clan traditions and pursue traditional crafts (making silver, lacquerware, etc.) through the support of their clans. They further the entrepreneurial legacy of their fathers and grandfathers who pursued the same craft within a different historical context. Although these firms extensively employ family members, the owners of such companies can certainly be classified as entrepreneurs. This type of entrepreneurial activity can be termed a "family handicraft tradition."
A small but certainly interesting group of people includes those who were previously self-employed or entrepreneurs and wish to regain that status. This group has been designated as occupying an intermediate stage toward entrepreneurship. Though we only met a few, we found that they understand themselves to be entrepreneurs even when they are temporarily still earning salaries and filling leading company positions. If they classified themselves as entrepreneurs, we included them in our survey, which amounted to two additional people.
Another specific group consisted of (mostly Han) entrepreneurs whose parents or grandparents had been kidnapped from Han territories and enslaved in Liangshan. Prior to the Democratic Reforms, they had belonged to the lowest Nuosu caste. We interviewed four members of this group who considered themselves to be assimilated and socialized Nuosu Yi and are registered as members of the Yi group. However, certain other people, such as the local cadres, treat this as a taboo subject, and we were asked by the locals not to discuss it any more. Some of the descendents of Han slaves we met were praised as model entrepreneurs because they had worked their way up the social scale from being beggars and illiterates to entrepreneurs with social prestige.
The following cases are individual examples and not intended to be representative. We provide these case studies in order to describe a wide range of situations, where each case represents one individual's particular story.
SIXTEEN ENTREPRENEURS
The following short biographies illustrate different categories of entrepreneurs and the effects of factors such as blocked prospects for upward mobility, the use of market opportunities and incentives, privilege, survival strategies, intermediate career stages, and family business on career development.
J. (Nuosu), Yanyuan
J. was born in 1948 as the single child of a so-called slave owner in Yanyuan County. He came from an old family of clan leaders; both his grandfather and great-grandfather had been clan leaders, and his father was the leader of one of the largest clans in Liangshan. His father actively took part in the uprising against the Democratic Reforms, and was sentenced to six years in a labor camp when J. was 12 years old. At that time, his parents passed him off as a girl so that their only son would not be forced to take part in the uprising against the Hans. His father died in 1962 in the labor camp in Dechang County, and his mother was sentenced to be re-educated through work on a state farm. J. was left completely on his own at home, so, an uncle took a little care of him now and then.
During the Great Leap Forward (1958–1960) and in the years following, there was almost nothing to eat; because J. was still very young, he was classified as only a supplementary laborer and received one potato per day for his nutrition. He did not own a complete set of clothes, and in the winter, he suffered terribly from the cold, trying to keep warm at night amongst the cattle. In 1959, he was sent to primary school, but the school was ten kilometers away, so, it was a long journey to get there, and after his father's death, he was no longer permitted to attend school because he was the son of a slave owner. He was forced to look after the village sheep and expressly forbidden from reading books. Though his books were confiscated, he read in secret and even taught himself to write. He was so successful in these endeavors that by 1965, when the political circumstances had become less tense, he was hired as a part-time teacher at a village school in spite of his youth. What this position actually entailed was that along with teaching, he also had to work in the fields for half the day. He received an allowance of three yuan per month for his teaching activities until 1969, when he became a regular teacher at a village school.
This was also a period of extreme difficulty for him because the Cultural Revolution was in full sway. Although no one in the village knew exactly what the revolution was for, Red Guards came to the village from outside and declared that the former slave owners had to be "criticized." In 1967, three members of J.'s clan, his grandfather, his grandfather's second wife, and his uncle, were beaten to death during a "public criticism session," and their entire property was confiscated. He and seven other members of his family were lined up in a row and, one after the other, were subjected to criticism and beaten mercilessly.
He felt that there was no future for him in society. Nevertheless, he sought a new path for himself and even strove for a bit of freedom, but at that time there was no concept or possibility of personal liberty for him. He immersed himself in learning quotes by Chairman Mao—some of which he remembers even to this day—and recited them repeatedly to protect himself. The village people said that if he had been born into another family he would have had a great future, because he was highly intelligent. By his own request, he was assigned a job with a group that installed water pipes. His production brigade (nowadays administratively classified as a village) permitted him to take on this work, which removed him from the harmful surroundings and improved his general situation. He became the director of the group's food department.
In 1972, he was transferred, again at his own request, to a newly constructed dam in Yanyuan County, where he worked for three years, acquired knowledge of hydrology, and even passed an exam to become a hydrologist. Consequently, he was transferred to a hydrological station in Baiwu Township, where he worked for another two years. While in Baiwu, he became involved in a dispute with the township Party Secretary, who was a former slave of a Black Yi family and had taken part in the armed insurrection in 1956 and fled into the mountains afterwards. In the heat of an argument the Party Secretary declared, "I'm going to shoot you, you damned slave-owner." J. bared his chest retorting, "Go on! Shoot!" Because J. had not taken part in the uprising, he told the functionary that he had even dirtier hands than J. himself. This remark led to J.'s immediate dismissal. He returned to his home village, was sentenced to a year's forced labor, and from then on was sent to look after the cattle.
In 1977, beekeeping experts came to Yanyuan from Zhejiang Province in order to start businesses there. Since this subject interested him intensely, J. asked them to teach him the necessary skills. He proved to be such a quick learner that one of the experts called him "a great talent" and gave him a beehive. Since private economic activities were still forbidden at that time, J. began to keep bees in the name of the production brigade although in reality they were his own. In 1980, he became self-employed as a "special household" (Ch: zhuanyehu) and obtained 10,000 yuan in credit from the state with which he purchased 20 new beehives. He later expanded his range of products to include queen bee pollen. The Party Secretary in Xichang was so impressed by the quality of his products and by the expansion of his production activities that he granted him 50,000 yuan in credit. J. then expanded his operation to 12 employees and 400 beehives. By 1981, he had an annual income of 300,000 yuan. He purchased a small Japanese bus for 15,000 Yuan and became the first private entrepreneur in Liangshan Prefecture to own his own motor vehicle. In 1982, due to his economic success, he was offered a membership in the national beekeepers' association.
Nineteen-eighty-two was to be his most successful year. He took part in an international beekeeping congress in Beijing and became a member of the national committee of the beekeepers' association. He obtained a residence permit (Ch: hukou) for the urban area of Xichang, passed the driving test, and earned more money than ever before in his life.
In a group discussion at the beekeepers' congress, a deputy minister of agriculture was so impressed by J.'s remarks that he allocated him two motorized vehicles from the state. With this encouragement, J. founded the first private company in Liangshan Prefecture in 1983, though at that time it still had to be officially registered as a "collective company." Soon he was dubbed "the bee king," and he began processing honey and expanded both his marketing network and sales methods, including bartering. He was so successful that he became the youngest member of the Prefectural Political Consultative Conference and was distinguished by being the only large, private Yi entrepreneur. He was even nominated to become a member of the Standing Committee and thus a member of Liangshan Prefecture's political elite. In 1984, he was accepted into the Communist Party.
In 1985, while attending a foreign trade fair in Chengdu, J. learned that a Japanese businessman was interested in buying 10 tons of matsutake mushrooms, which were very popular in Japan. He began to purchase matsutake wherever he could find them. With the profit he made from these transactions, he founded a taxi firm and purchased real estate in Xichang, where he set up business offices. In 1987, he made a total profit of 10 million yuan from the matsutake and was able to obtain 20 million yuan in credit. However, he had to accept severe losses for the first time in 1988, selling his houses in Xichang when the price of mushrooms fell in the Japanese market.
Because of this experience, he lost the desire to continue his business activities and decided to become a cadre in 1989. Developments after the Tiananmen massacre on June 4, 1989, also created problems for the private sector; from that point on, polemicists among the cadres called for private companies to be converted from capitalist to socialist enterprises and declared that private entrepreneurs were exploiters. This was the last straw for J. First, people had called him a slave owner, now a capitalist exploiter. He was fed up. In 1989, through clan guanxi, he became the director of the Bureau for the Administration of Rural Enterprises in Ninglang County, Yunnan. He transferred back to Xichang in 1992, where he worked as an assistant to the director of the Prefectural Bureau for the Administration of Rural Enterprises, thus becoming an official "government cadre."2
J. then invested his entire capital and all the credit he could obtain (16 million yuan in total) in his native area, Baiwu Township in Yanyuan County. In the mid-1990s, he founded a forest recreation center with hotel accommodations, catering, opportunities for fishing, riding, swimming, boating, relaxing, playing, and hiking. He addressed problems of poverty in the surrounding villages by building roads and donating money to build schools, clinics, and electric and water utilities. He organized the installation of drinking water pipes, electricity lines, and television connections for all the villages and, in this way, contributed to these villages' development and prosperity.
Relatives and friends had advised him that he should make further use of his business talents and abilities, and he had considered whether it would be wise to leave Xichang, where he was doing well, and return to Yanyuan. He had finally decided to return to his home county with the goal of contributing to eradicating poverty there. According to J., raising people's educational level was the key to eliminating poverty; the Nuosu were discriminated against and looked down on not only because they were poor, but also because they were uneducated and considered lazy. Many Han associated the Nuosu with drug addiction and crime. That perception had to change. J. believed that the Nuosu had to develop themselves so that they could acquire economic, social, and political prestige. He noted that although he could invest his capital in Xichang, he would actually be able to do something for people in Yanyuan. He felt that although one day he would be gone, at least he would have done something useful for others.
At the time of our interview in 2000, J. owned apple orchards, timber firms, and fish hatcheries, as well as the forest recreation center mentioned above. He had also founded apple-processing plants, funded schools and healthcare centers in the villages, and financed the building of streets and bridges. He owned guesthouses and restaurants and was in the process of constructing a 1 million-yuan storage center with refrigerated storage rooms for fruit and meat. He told us that he was planning to build a "green" sales center with storage rooms, administrative buildings, guestrooms, and restaurants, and that all the food there would be produced using ecologically sound methods.
At the time of our visit, he was married to his third wife, who was in her early twenties. He had five children. His wives, he explained, had cost him a million yuan; after his divorces, he had settled incipient clan feuds with large sums of money.
In 2000, he was the most important entrepreneur in the county and a model prefectural level entrepreneur. J. told us that he had created jobs for both Nuosu and Han and had contributed to the prosperity of what had formerly been a very poor area. This had also brought about an improvement in the relations between the ethnic groups. Earlier, Han and Nuosu had stolen from each other; now, they were all prosperous and there were good relations between them.
According to J., there had been a lengthy dispute in 2000 among officials in Yanyuan about whether or not they should allow him to continue his business activities, but his success had settled the issue. J. said of the Party, "The Communist Party is a force which we entrepreneurs energize, nourish and keep alive."3 Although he was an entrepreneur, he continued to function as the assistant to the director of the Bureau for the Administration of Rural Enterprises in the prefecture. He was also an acting member of the Standing Committee of the Political Consultative Conference, as well as the deputy chair of the Federation of Industry and Commerce of the prefecture.
S. (Nuosu), Meigu County
When interviewed in 2001, 52-year-old S.—who came from a well-respected Black Nuosu family—owned a liquor distillery, a variety of factories producing cattle feed, bricks, and electrical appliances, and four farms (one for agriculture, one for forestry, and two for yaks), and he also held shares in an electricity company. During the time of the armed insurrection in 1957–1958, his father received a long sentence in a labor camp. His mother died of grief in 1960 and his father in the labor camp in 1962. He was raised by a former slave of his parents and although he did not have any school education, he taught himself to read and write the Nuosu script as a child. He told us that he unfortunately only understood a little of the Han language. Somewhat regretfully, he added that if only he and other Nuosu entrepreneurs in the area could speak and write Chinese well, there would be no stopping their success.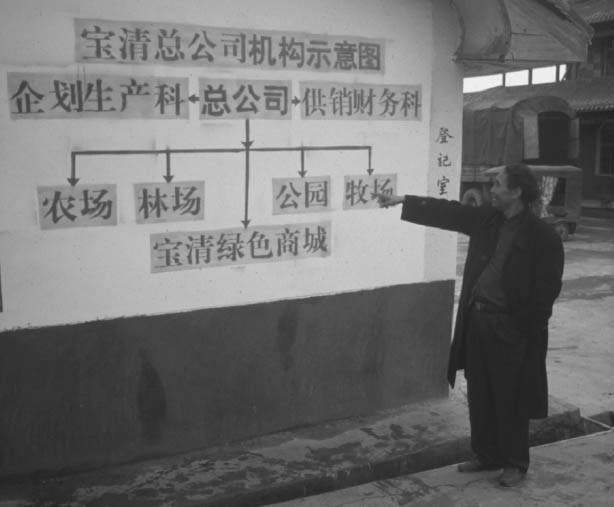 During the Cultural Revolution, he spent some time in Chengdu as a vagrant in order to avoid the "criticism and struggle sessions." By 1977, word had spread that he was highly intelligent and a quick learner, and he was given a job as the deputy director of a cooperative brick factory in his township. In 1982, he founded his own brick factory and acquired two transport vehicles with which to run a small transport firm. In 1994, he leased a large area of forest from a state forest farm and, in 1997, he bought a large farm in Leibo County with 20-year land use rights. At times, he employed over 1,000 Nuosu as temporary workers.
The main motivation for his activities, he explained, was his desire to become rich. The clan was not able to help him; rather, he had actually helped them. He donated a large number of fruit trees and Sichuan peppercorn trees to his village and, in 1990, he was voted village head and has remained in that position ever since. He told us that the inhabitants correctly believed that he would be able to assist them in developing the village. He possessed good contacts outside the village, supported the villagers with money and advice when necessary, and financed the infrastructural connection of the village to water and electricity networks. As the de facto leader of the clan, he visited Beijing in 1989, when a court sentenced two of his clan members to death for stealing 90 yaks valued at approximately US$5,700 (about 50,000 yuan). Although he spoke no Chinese, he was able to prevent the death sentence from being carried out.
A. (Nuosu), Puge County
Forty-eight-year-old A. was an entrepreneur in the construction business from Puge County when we interviewed him in 2001. His brother was the county magistrate of a different county. A. attended primary school for only three years before the "Socialist Education Movement" in 1964 forced him and his brothers to leave school due to their parents' class status, and prevented them from returning. He was sent to a village to work in agriculture. After the fall of the "Gang of Four" he belonged to the last group permitted to attend a technical college without having passed an appropriate entrance exam. In 1979, A. completed a course in agriculture at the technical college in Zhaojue.
His first position after graduation was as an accountant in his native township. In 1983 he was transferred to the County Agricultural Bureau and, in 1988, to the Bureau for Land Administration, where he eventually became the director. He left in 1993 and founded a construction company because he believed that he would be able to fulfill his financial goals as an entrepreneur. By 2001, his company had 145 employees. He acquired 1,800 square meters of land in Xichang but lived in Chengdu, where he also owned a mid-sized restaurant, a hotel, and an amusement center. He stated that he would like to change his firm into a joint venture enterprise with a foreign partner because private sector companies are very vulnerable, still subject to major problems, and do not receive fair treatment by the government. The partner firm would not need to invest money; instead, he sought long-term political protection for his company through the partnership.
He told us that in the building and construction sector, a company would quickly collapse without good connections to the local authorities. The competition was tough and it was becoming increasingly difficult to obtain profitable commissions. He was considering moving into a new line of business, namely, setting up a company to act as guarantors to creditors. It would be the first of its kind in the prefecture—new and very promising, but with a high risk.
His future goals were to separate the company ownership from the management and to find a suitable successor, but this was proving to be very difficult. He confided that, as a rule, only four types of people were available: those who were potentially trustworthy as well as competent, those who were trustworthy but not competent, those who were competent but not trustworthy, and those who were neither trustworthy nor competent! None of these kinds of people were really suitable for his purposes. Although his own children had an excellent education, he did not consider any of them as his successor.
W. (Nuosu), Mianning County
At the time of our interview in 1999, 49-year-old W. was the owner of a tile factory in Mianning County. After completing secondary school, he had become a non-state-employed, community-supported teacher (Ch: minban laoshi) in a village school and, in 1970, he was accepted into government service as an official teacher. He sat on the 1972 Commission for the Revision of the Nuosu Script for the Prefecture. In 1975, he began researching Nuosu literature through a research institution, later becoming involved in popularizing the Yi script and in reforming the wedding and marriage system. However, in 1980, he was sentenced to six years in jail for his involvement in a drunken fight in which his opponent, the county magistrate, was beaten and heavily injured. He was also expelled from the Party. After his release, he once again became a secondary school teacher until founding his current company and becoming self-employed in 1992.
B. (Nuosu), Puge County
B., who has formally studied Chinese, owned a large, modern hotel complex with thermal baths, restaurants, a swimming pool, and shops at the time of our visit in September 2001; he was 26 years old. His father had been Wu Jinghua's bodyguard4 and had later became the director of the United Front Department of the Puge County Party Committee. His father had once helped a poor, sick Han Chinese man who lived in Puge and had been labeled a "class enemy"; out of compassion for the man, he had paid for his medical treatment and for his medicines, which had saved his life. During the reforms, the man, who was originally from Chengdu, became a successful and prosperous entrepreneur. In the 1990s, out of gratitude for B.'s father's help, he built a hotel and donated it to B., who was then a cadre at the Bureau for Economic Administration.
At that time, it was still forbidden for an official to simultaneously hold office and be an entrepreneur. Thus, a new legal provision was devised: while remaining in office, B. was allowed to become the general manager of the hotel. In formal terms, he continued to receive a cadre salary while his work at the hotel was supposedly on a volunteer basis. Concurrently, B. was also the managing director of the county's Company for the Development of Tourism on Luojing Mountain.
Though the local officials were fully aware that B. was both an entrepreneur and an official, they did not consider him an entrepreneur. In those days, he told us, it was still too early for him to openly declare that he was self-employed, because it could have caused many difficulties for him. Since the hotel helped the county implement its tourism development strategy, B.'s double function was tolerated.
G. (Nuosu), Meigu County
When we interviewed him in 2001, G. was the 31-year-old owner of a Meigu department store (wholesale and retail). He owned nine subsidiaries in different townships in Meigu, which were leased to other managers and for which he was the sole supplier, as stipulated by the contract. G. had never been to school and was illiterate. He had not been allowed to attend school because his grandfather had been executed during the armed uprising and his father classified as a slave owner. One of his brothers was thrown into jail for several years during the Cultural Revolution but, by 2001, he had become an entrepreneur in the construction industry. Another brother was also an entrepreneur in the construction sector, and a third was the deputy director of the Meigu Party Committee's Propaganda Department and the head of the county trade union. Previously, his family had been very prosperous but had become impoverished due to Mao's policies. During the Great Leap Forward, his sister died of starvation.
Until 1990, G. had worked as a peasant and lived in poverty stricken conditions. Then he passed his driving test and obtained a job as a driver at the local Bureau for Animal Husbandry through clan connections. He was employed there only temporarily and did not obtain a permanent position. In 1992, the Construction Bank employed him as a chauffeur for a year. Because he often drove through the countryside, he came into contact with many businesspeople, and, in 1993, he set up his own firm. Subsequently, the development bank gave him a loan so that he could expand his business.
By 2001, the county's wholesale food sector was mostly under his direction. He purchased grain from markets in other areas and sold it to the local government; this freed the local government from the burden of growing grain and allowed it to make land available for afforestation projects.
A nephew assisted him with the administration of his company and he told us his next goal was to purchase a piece of property in Xichang and found additional companies there. He had no difficulty obtaining credit because he was achieving a turnover of up to 400,000 yuan per day. In the meantime, he had acquired a large number of rental houses; the income from these alone would suffice for him to make a living. He also traded in real estate and purchased realty, which was still officially forbidden. He told us that shortly before our interview, he had purchased a piece of land for 25,000 yuan and then sold it for 60,000 yuan.
G. regretted that he had never had the chance to get an education and wanted to give his five children, three sons and two daughters, the chance to pursue higher education. The three oldest attended an elite school (Ch: guizu xuexiao) in Meishan, Sichuan; though the two youngest were still in kindergarten, he wanted them to have the opportunity to go to university when they grew up. He and other entrepreneurs often invited educated people for lectures or to dinner to listen to their opinions and learn from them. He remarked that listening to others is also a method of learning.
H. (Nuosu), Mianning County
H. was 42 years old at the time of our interview in 1999. He attended a primary school for only three years but taught himself Chinese. He was from a well-known, traditional bimo family and, as a child, he was initiated into the knowledge, art, and techniques of the bimo. By the age of 13, he had carried out rituals by himself. Strictly speaking, this was forbidden but they lived high up in the mountains where nobody paid any attention to this prohibition. His clientele were mostly located in mountain villages and often sought him and his father out to ask for advice or to perform rituals. Even the county Party Secretary was amongst H.'s clientele and H. claimed to have healed a number of patients from illnesses that medical doctors had diagnosed as terminal.
To supplement the low income from his work as a bimo, he earned money through other activities after the Reforms. He worked as a logger and a cattle dealer, manufactured plant oils for export, and prospected for rare earth metals. In 1996, he purchased a hotel and, in 1998, set up an electric company, retaining 50 percent of the shares. He was the manager of the utility and a member of the board. At the time of our interview, he was still working as a bimo, not for financial reasons but because of the family tradition, his love for the work, and because he was in great demand. When he had earned enough money, he wanted to work only as a bimo again.
E. (Nuosu), Meigu County
E., born in 1945, breeds pigs and, although he is illiterate, owns a liquor distillery. In the 1960s, he was accepted into the Party and was active as a cadre at the village level, and later became the Party Secretary of a production brigade and of a township. In 1984, he was transferred to the Bureau for the Administration of Rural Enterprises where he was the director until 1993. He left his functionary position, possibly because of the fact that he has eight children, and although he has no specific position, he still belongs to this work unit. In 2000, the year of our interview, he founded his own firm, mainly because his wife was unemployed, and he needed to be able to finance his children's education.
V. (Nuosu), Xide County
We interviewed 48-year-old V. in 2002. He is from a family with a centuries-old tradition of manufacturing lathes, hand-painted lacquered wooden containers, and other everyday wooden items commonly used by the Nuosu. He proudly told us that his family has been practicing this craft for seventeen generations, i.e., for 500 years. He attended primary school for only two years but can write the Nuosu script. While still a child, he learned the traditional handicraft from his father and he was skilled in all aspects of this handicraft, including selecting suitable wood and paintings, as early as when he was 12 years old.
During the Cultural Revolution, ethnic arts were criticized as "feudal"; his craft was forbidden and he was assigned a job in a company run by his production brigade. However, at home he continued to produce the traditional vessels. After the revival of ethnic arts in the early 1980s, he got a job as a designer in a state-owned ethnic art factory. In 1982, he was given the post of deputy director of this state company but due to poor product quality and limited markets, the company went out of business. In 1992, he founded his own private firm and resumed practicing his traditional work as a self-employed artisan. All of his twelve employees were members of his clan. His heartfelt desire was that one day his eldest son should continue the trade. The wares now being produced in his factory are actually not traditional wares but have been adapted and changed to suit new markets.
He was named a Sichuan Province Ethnic Folk Arts and Crafts Master in 1987, and since 1982 he has been a deputy of the Xide County Political Consultative Conference. This position is extremely important for his business because it helps to him advertise and sell his products. In addition, he has become recognized as a headman (Ch: touren; N: suyy) within his clan, which perceives the continuation of the lacquerware handicraft tradition not merely as a continuation of ethnic art but also as the continuation of the importance of the clan.5
C. (Nuosu, Son of Han Parents Formerly Enslaved by Nuosu), Meigu County
In 2001, we met 43-year-old C. who is a resident in the township of Hongqi, Meigu County. Though he is illiterate, he has become a mining entrepreneur. His parents were Han who were kidnapped in Yunnan and taken to Liangshan as slaves but he regards himself a Nuosu because he was born and raised in a Nuosu area. As a child, he survived by begging and collecting garbage. In 1979, he got a temporary job on a forest farm, which is still recorded as his official place of employment. In 1997, along with two other sons of former slaves, he purchased a large coal mine for 400,000 yuan. The county gave them considerable credit for this venture, partly because they were sons of former slaves and had no permanent jobs. All of the employees at the mine were Nuosu because, according to this entrepreneur, he had little to do with Han and because Nuosu were much cleverer than Han were.
K. (Nuosu), Ganluo County
K. was 43 when we interviewed him in 1999. He only attended school for three years and worked in a smithy and as a farmhand after leaving school. At the age of 18, he became a laborer in an explosives factory, and then he did a three-year stint with the railway police. He held a series of other jobs, too; he became a blacksmith and cattle breeder, a cook in a factory that produced non-military goods, the film projectionist for a local township government, and then a blue-collar worker in a liquor factory. When this factory went bankrupt, he purchased some horses and began a private, horse-drawn transport company. In 1983, he learned to drive, became a driver for the local government, advanced to driving trucks for the county's grain department, and eventually leased a truck from them. He became a chauffeur for a bank in 1987 and remained in this position until signing a contract to take over a mine in 1989. Out of his profits from the mine, he has donated a primary school to his native village.
In 1981, he began to get commissions to build roads, and he founded his own company in order to connect his native village to the road network. His intent was not only to make local resources such as metal and wood available to the market but also to enable the village inhabitants to take their agricultural produce to the local markets; he saw this venture as an opportunity to combat poverty. Between 1996 and 1998, he was also the deputy Party Secretary of Aga township, his native area. In 1999, K. was elected a deputy of the National People's Congress (the national parliament) as well as deputy director of the county's Bureau for Water and Electricity Supply.
His dream had always been to drive an automobile, which corresponded with his deeper desire to see, at least once in his life, the world outside of Liangshan Prefecture. This impulse to get to know the rest of the world was important in his becoming an entrepreneur. Most of all, he regretted that he had received no education. He supposed that this limited him in his development as an entrepreneur and commented that this was a great problem for both Nuosu and Han.
Y. (Han), Zhaojue County
Y., a 49-year-old owner of a brick factory when we interviewed him in 2000, was raised in poverty in a peasant family in Nantong, Sichuan. Because they were so poor, he became active in the shadow economy in the 1970s and founded a private "underground company" (private companies at that time were still illegal) and even trained apprentices. After that, he told us, he spent some years in a labor camp but did not say why. Some years afterwards, he claimed, he studied at the University of Industry in Wuhan. He did indeed show us a certificate but it became clear during the interview that he had only attended this institution for a short period of time and had paid a high price for a fake certificate of completion.
In 1984, he was transferred to Zhaojue County where he worked as a technician in a state company and rose to the position of deputy director. He then worked as an engineer in a rural company until it went bankrupt. After that, he became self-employed. He said that one of the main reasons for this decision was that enterprises founded in minority areas like Liangshan did not have to pay any taxes for three years. A third of his employees were his relatives and laoxiang, workers from his native village in Nantong. He stated with certainty that it was not possible to find any skilled workers in the Liangshan area.
However, his success depended on a man he had got to know during the Cultural Revolution and who later became minister for agriculture in Beijing. This man helped him obtain a large amount of credit as starting capital. He also helped him build up social capital; by the time of our visit, Y. had become a member of the Political Consultative Conference of the county and had been honored as an "outstanding manager." He was also the head of his company's trade union.
According to Y., although he was in fact the executive director of the enterprise, another man functioned as a figurehead. This arrangement had enabled Y. to get his hands on the property on which the factory stood. As a consequence, he had to pay part of his profits to the Nuosu clan who had leased this land, which actually belonged to the village. His company had also been registered as a "village-owned" collective firm until the tax department designated it a private company, which meant that it would have to pay higher taxes.
L. (Han), Zhaojue County
L., interviewed in August 2000, was born in 1950 in Zigong, Sichuan. He owns a copper mine and is a member of the Buddhist faith. In 1964, he finished primary school and worked first as a peasant and then as an individual laborer. In 1969, he was temporarily employed at a mine and then with the railroad. He migrated to Liangshan Prefecture as a railway worker in 1971 and, beginning in 1974, he labored in different mines in Zhaojue, always as a temporary worker (Ch: linshigong). He became a small entrepreneur on a subcontracting basis for a road-building project in 1981. In 1983, he officially took over a copper mine, which had previously belonged to the Zhaojue county government, but at the same time continued his work in road building. He owned houses in Zhaojue and Xichang. He had sent money to his clan and made donations to build and repair schools in his native area.
M. (Han), Butuo County
We interviewed 52-year-old M. from Anyuan, Sichuan, in August 2001. After serving in the military, he migrated to Butuo in 1975 because poor economic conditions in his native area prevented him from finding suitable work. An uncle from Butuo, a worker at a state electrical appliance factory, wrote to him that former members of the armed forces were generally considered competent employees and had good employment chances in Butuo; Han relatives of current factory employees were especially likely to find a job. M. became a temporary worker in the same factory as his uncle and worked there until 1978.
M. eventually got a permanent job in a collective company but was unsatisfied with his position. He told us that he had wanted to work in a state-owned company. As a former soldier, he had expected to get a better job offer, and he had been so frustrated that he had intended to return to his native village. Before he left, however, he was offered a job working in the grain department cafeteria where his aunt was an employee. His experience as a cook while in the army and the fact that he knew how to cook in the northern Chinese style worked in his favor. Because his employers were satisfied with his performance, he obtained an urban residence permit and was then able to invite his wife and children to Butuo.
M. had also been trained in making watches. After self-employment became legalized, he began a watch repair business in Butuo, where there was not a single watchmaker. His wife took over his job at the cafeteria in order to keep their apartment, which the local government grain department only rented out to their employees.
In 1996, M. opened his own restaurant using his profits from making watches. When his wife became ill, he gave up repairing watches and instead specialized in making noodle dishes at his restaurant. Through his work at the restaurant, he was exposed to the grain trade and finally became a grain trader. This trade brought in more income, which he needed to support his children—his daughter worked in a kindergarten and his oldest son had a diploma from the technical school and was a township cadre.
L. (Han), Butuo County
L. was 37 years old at the time of our interview in 2001 and he was the director of a feed processing plant. He had earned a degree in chemistry at the East China University for Technology in Shanghai and afterwards been employed in various feed processing plants in Sichuan. In 1992, he obtained a position in a Chinese-foreign joint venture company, where he gained two years of experience before deciding to become self-employed. He founded a company with two friends but when the partnership broke up due to differences in opinion, L. switched to working for a large, privately owned feed-processing manufacturer in Chengdu (a shareholder company). When this firm set up a subsidiary in Butuo, he was appointed as the director. However, he perceived this to be a transitional post because his goal was—as it had been before—to own his own company. Originally, the Butuo subsidiary plant was to have been situated in Yuexi County (also in Liangshan Prefecture), but the prefectural authorities convinced the company management that the raw materials and manufacturing conditions were optimal in Butuo and that special privileges were granted to private companies under the local preferential policy framework there. However, L. reported that not only were the promised conditions never realized, there were also no qualified local workers in Butuo; the local cadres had only alcohol on their minds and the county administration was incompetent as far as supporting the economy was concerned. Consequently, the feed-processing company was intent on moving its plant as soon as possible.
Z. (Han), Yanyuan County
Z. was 46 years old when we interviewed him in 2000. After attending primary school he had become an employee in Yanyuan County's Bureau for Goods and Materials and held temporary positions in various companies after that. Finally, he became a purchaser for a state-owned firm, from which he took an unpaid sabbatical in 1986 in order to lease an apple farm. With the resultant income, he purchased a truck and, in 1987, founded a private transport company for which he was the driver. He opened a small restaurant in Xichang but because it was so successful, the property owner terminated his lease and took the business away from him. He once again purchased a large truck and ran a long-distance transport business for three years until 1996, when he purchased a taxi and began working as a taxi driver, employing other drivers once he had the money. In 1998, one of his drivers was involved in a fatal accident and Z. had to pay 10,000 yuan for the costs of his funeral. He did not have enough money to purchase a new vehicle and opened a new restaurant in Xichang instead.
His main reason for starting another business was to pay for his children's education. During the day, he worked in his restaurant; in the evening, he ran a barbecue stand outside a hospital. This was an extremely difficult period for Z.; he worked until three in the morning and slept only four hours every night. When Z.'s father fell ill in 1998, Z.'s wife returned to Yanyuan to take care of him. Z. was unable to carry out all the restaurant work by himself and started buying and selling apples instead. However, he lost money in this endeavor, and when his father's condition deteriorated, Z. returned to Yanyuan, too.
After his father's death, Z. founded a new restaurant in Yanyuan where he earned more than 200,000 yuan per year. Again, the firm that had rented the property to him became envious of his success and took back the property. In January 2000, he moved to the island of Hainan, where he purchased a restaurant for 135,000 yuan and began to offer Sichuan-style cuisine. But because his wife wished to return to Yanyuan, he relented and bought a large building there in which they set up restaurants, massage salons, karaoke, and a dance hall. A relative now runs the restaurant on Hainan. Z.'s biggest problem, he declared, is that he did not drink or smoke, which continually creates difficulties between him and his guests.
CHARACTERISTICS AND MOTIVATIONS
These examples show that entrepreneurs seldom have one primary motivation for becoming self-employed. More often than not, different factors determine a person's motivation at different periods of his or her life. However, the examples illustrate three general characteristics that apply to either the Nuosu entrepreneurs or the Han entrepreneurs, or to both. Most of the Han depend on some form of education or technical experience, whereas most of the Nuosu do not. Except for those pursuing traditional family handicrafts, only a few entrepreneurs are interested in or even have a particular skill; they are primarily interested in business. The businesses themselves are often very short-lived. We thus get the strong impression that most of the entrepreneurs are simply interested in business in general, not in a particular kind of business.
Life Goals
Do Nuosu and Han entrepreneurs differ from each other in their life goals? In general, both ethnic groups are highly motivated by family and social considerations. Table 4.8 shows striking similarities, except in areas regarding improved living conditions for Nuosu (closely related to increased income and improved standard of living) and being a role model in society, which are privileged more by Nuosu than by Han. These exceptions are not surprising given that Nuosu are embedded in their local society whereas many Han have migrated from other areas. Although every single entrepreneur agreed that it was important to contribute to the development of society, this was less marked amongst Han entrepreneurs. To be "social role models" or to contribute to the prosperity of the local people was much less important to the Han. Compared to only 8.6 percent of the Yi, 21.4 percent of the Han claimed that being a social role model was not so important to them. There are a few reasons for this discrepancy. The Yi are far more embedded and involved in the local social relations than the Han, whose roots are not in the Liangshan area. Another hypothesis is that the socially oriented values of the Party correspond more closely to the traditional values of the Yi. To some extent Han entrepreneurs find themselves in surroundings in which they feel alien and isolated; it is not really their society. Due to their life situations, they are perhaps more socially frustrated. On the other hand it may be that the combination of economic processes of development and their being outsiders among the local people causes the Han entrepreneurs to strive harder toward their individual life goals than the Yi.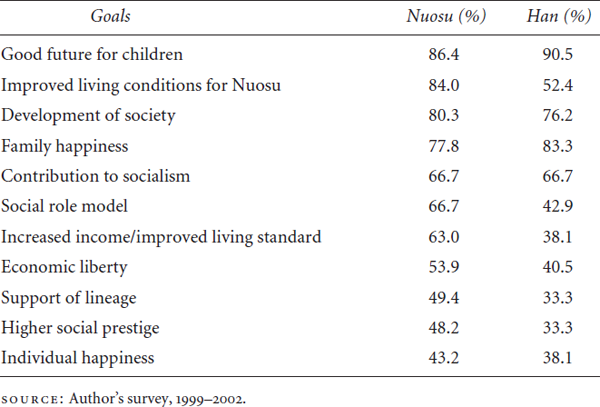 Both Nuosu and Han entrepreneurs attach a similar significance to their children's future. However, the seriousness with which Nuosu entrepreneurs treat family and clan is decreasing (see table 4.9). For the time being, this change may be evident only in terms of a decrease in family or clan consciousness. However, at least 19.8 percent of the Nuosu were of the opinion that it was not very important to foster their clan.
On the other hand, social awareness was relatively high among both groups of entrepreneurs. Not a single entrepreneur said that it was unimportant to contribute to the development of society. Yet, in some respects, the desire to contribute to society was less marked amongst Han entrepreneurs. It was much less important to Han to be "social role models" or to contribute to the local people's prosperity. This is related to the fact that society in the form of the local community plays a less dominant role for the Han; Nuosu are far more embedded and involved in local, i.e., Nuosu societal relations than Han whose roots are not in the Liangshan area. This is reflected by the fact that 21.4 percent of the Han but only 8.6 percent of the Nuosu agreed with the statement that it was not very important to be a social role model.
Another hypothesis is that the socially oriented values of the Communist Party correspond more closely to Nuosu traditional values. In Liangshan, Han entrepreneurs find themselves in alien and isolated surroundings that are not directly part of "their" society and are perhaps more socially frustrated. On the other hand, it may be that the combination of being outsiders and the force of economic development processes causes the Han entrepreneurs to strive harder for their individual life goals than the Nuosu.
The emphasis on morality and on maintaining collective values and obligations within Nuosu society may also influence Nuosu personal goals, the means people choose to achieve these goals, and social reference. Prioritizing collective goals affects the individual Nuosu society members' targets and top priorities. Our survey responses reflect a preference for collective and social targets.
However, there is arguably another reason why Nuosu prefer collective goals: Communist Party membership. The percentage of Party members among the surveyed Nuosu entrepreneurs is much higher than among their Han counterparts (Nuosu 44.4%, Han 26.2%). It is not surprising to find a higher percentage of Party members among Nuosu entrepreneurs; Han immigrants only seldom become Party members, and a relatively large number of local Nuosu Party cadres are in a position to choose the path of self-employment.
More than two-thirds of the respondents in both groups expressed a desire to "contribute to socialism." This is considered an important life goal with a symbolic function; our inquiries established that socialism and China are synonymous for many people. One entrepreneur said that it was very important to him to contribute to the development of socialism "because I am Chinese." The Party's propagandistic attempts to identify the political system with the interests of the Chinese people appear to have had some impact. Criticism of the state, the Party, or the system is correspondingly evaluated as anti-national, and thus anti-Chinese. This propaganda has had an equal impact on Nuosu and Han.
Increasing income and improving living standards is of greater significance for Nuosu entrepreneurs (63%) than for their Han counterparts (38.1%). Similarly, higher social prestige was also more important for Nuosu (48.2%) than for Han (33.3%). For poorer Nuosu, entrepreneurship is a highly significant way to climb up the economic and the social ladder. Furthermore, given that Nuosu as a whole enjoy less social prestige than Han do, entrepreneurship might also assist them in improving their position within China's scale of ethnic hierarchy.
Interestingly, more than 40 percent of the Nuosu and almost 40 percent of the Han interviewed believed individual happiness to be an important goal in life, and only between 14 percent and 15 percent (Nuosu and Han, respectively) stated that it was not important to them. This is a significant indication of a certain individualism among both Nuosu and Han.
In a survey of spending priorities, both Nuosu and Han at first glance appear to have similar goals (table 4.9). Individual lifestyle-related desires are not very important. Instead, the responses show that family, company, and social factors are more significant. However, for Han, the wish to invest a larger sum of money in their own companies was at the top of the list, whereas Nuosu would rather put money into financing their children's education. The second most important goal for Nuosu entrepreneurs was to invest in their own companies whereas for Han, the second most important goal was to provide for their children's education.
The groups' responses were similar regarding social purposes, but more than twice as many Nuosu as Han would invest their money to improve the living conditions of local Nuosu and Han, respectively. Almost a quarter of the Han would put money into their own ongoing education, which could also be justified as serving the interests of their own firms. Overall, for both groups the preferred choices are those that benefit their immediate families and their own companies.
Attitudes toward the Market Economy
The vast majority of the entrepreneurs support the market economy and its principles. Only one entrepreneur disagreed with the statement, "a market economy fosters economic development." This is a clear indication that entrepreneurs have a positive attitude toward the market economy. One expression of this attitude is that only 2.4 percent of the surveyed Han and 7.4 percent of the Nuosu were dissatisfied with the market economy. In addition, a large percentage of both entrepreneur groups defined "economic freedom" as a "very important" life goal (Nuosu 53.1%, Han 40.5%). Only a very small percentage defined economic freedom as less important (Nuosu 7.4%, Han 7.1%).
A thoroughly positive attitude toward the market economy is apparent in table 4.10, which examines the entrepreneurs' economic beliefs.
Large majorities within both entrepreneur groups believed that disparities in income are a naturally occurring phenomenon, and they would like these disparities to be tied to their achievement, performance, and success. At the same time, almost half of the respondents perceived such disparities as transitional phenomena and not as characteristics of a market economy. In addition, more than four-fifths of the Nuosu and more than two-thirds of the Han did not see income disparities as a source of social envy; almost all rejected the view that there is a connection between wealth and illegitimate behavior. However, a larger percentage of the Han negatively evaluated some aspects of the market economy.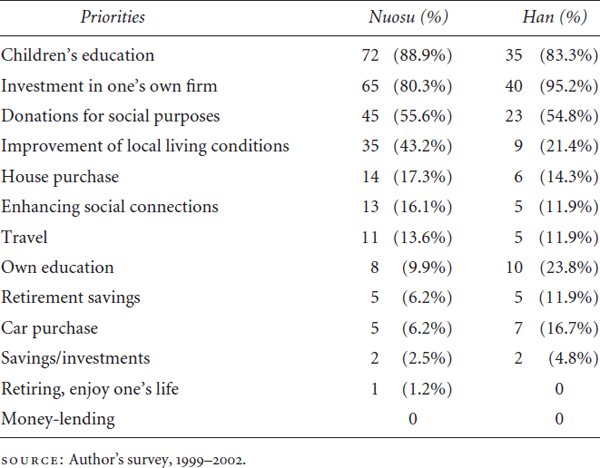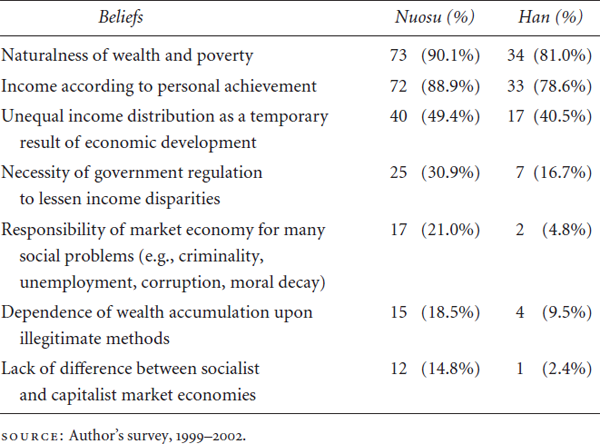 The increasing income gap was seen as a problem that could potentially cause social and political instability. A third of the Han respondents stated that differences in income can cause envy and resentment, and almost a third of the respondents (Nuosu 29.6%, Han 31%) were basically dissatisfied with the income disparities in society and with how these were continuing to become worse. Accordingly, a significant number in both ethnic groups (Han 73.8% (a majority), Nuosu 49.4%) differentiated between a "socialist," more equal and stable economy and a "capitalist," more unequal and unstable market economy. The higher percentage of Han agreeing with this statement is probably because of their higher educational level.
Although only 5 percent of Han "strongly" agreed with the statement that market economies lead to many social problems, as many as 40.5 percent found it partially true. The respective percentages among Nuosu were much higher for the first statement and comparable for the second (21.2% and 42.0%). Nearly two-thirds of the Nuosu and almost half of the Han recognized that the market economy can cause many social problems. Nevertheless, their assessment of the market economy was ambivalent; many entrepreneurs indeed wished for a market economy but not for a market society at the mercy of the free play of market forces, which could create social problems and lead to instability. Thus, it might be understandable that at least a third (Nuosu 32.1%, Han 21.4%) favored a certain degree of state control of the market economy. In fact, awareness of market economy problems appeared to be widespread.
That Nuosu seem to trust the market economy less than Han can be expected due to the clan society's different value system and the crucial role the clan plays in social security and the moral economy. The market is understood to have potentially negative affects on personal and clan relationships, and on Nuosu culture and values because it erodes and changes organizational structures and damages the natural and social environment through migration, industrialization, and environmental destruction.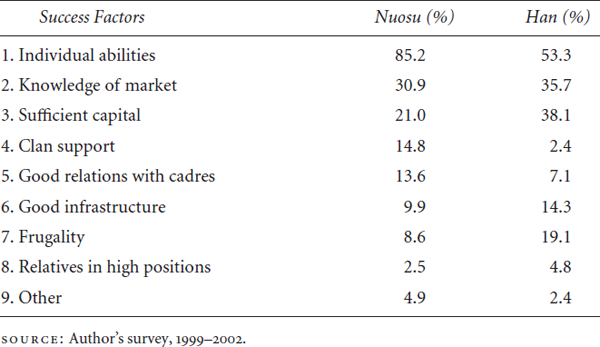 Nearly all Nuosu and 90.5 percent of the Han agreed "very strongly" or "quite strongly" that the Party should provide a model for the market economy. This attitude has two implications: on the one hand, quite a few entrepreneurs see the Party as an instrument to control and curb the market economy's negative impacts; on the other, many entrepreneurs interpret the Party providing a "model" to mean that it accepts, promotes, and develops the market economy and private entrepreneurship.
Neither the Party and its policies nor the market alone are the most important factors for commercial success; entrepreneurs consider individual skills central in determining entrepreneurial ability and social success. More Nuosu entrepreneurs than Han feel that individuals play a decisive role in their economic development, whereas Han believe much more strongly that economic parameters such as knowledge of the market, investment capital, frugality, and good infrastructure are key. These factors also play a role for Nuosu entrepreneurs but their lower educational level and confidence in their own courage, bravery, and heroism— central values in Nuosu society—may be reasons for their emphasis on individual skills and abilities.
Interestingly, table 4.11 shows that the clan is not regarded as a central factor for commercial success, by either Nuosu or Han. Instead, even though the Nuosu are strongly embedded in clan networks, they find that individual strengths and abilities have a greater influence on commercial success; the Han barely consider clan support as a factor at all. In this case, Nuosu may not consider the clan to be highly important for commercial success because entrepreneurs actually need to break through their clan bonds in some senses in order to pursue individual economic advantage. This relates back to the entrepreneur's dilemma discussed in the introduction.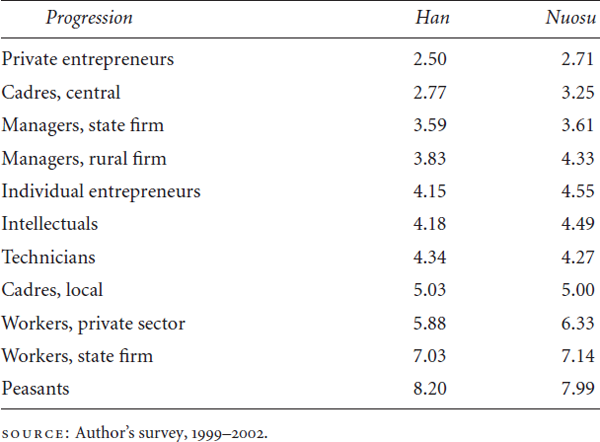 Assessment of Economic, Social, and Political Prestige
Both entrepreneur groups rated their own economic, social, and political position on a scale from 1 (high) to 10 (low) against eleven listed status groups (see tables 4.12, 4.13, and 4.14). There were only small variations in their assessment of their own economic prestige; with an average score of 2.64, both groups accorded entrepreneurs the highest prestige, followed by leading cadres in Beijing and managers of state-owned enterprises. They generally believed that cadres could not keep up with entrepreneurs in terms of income.
In social terms, the entrepreneurs placed themselves in an upper middle position: Han ranked themselves fourth and Nuosu ranked themselves fifth—this would suggest that they want to rise socially. Chinese surveys taken in the 1980s consistently show private entrepreneurs to occupy the lower third of the social stratum. They have apparently achieved upward social mobility since then, whereas small entrepreneurs (individual laborers) are still not particularly socially respected (ranked eighth in this survey). It is also interesting that Nuosu rank cadres slightly higher than Han rank them. This may be because most local cadres, other than at the central level, of course, are Nuosu, or because Nuosu generally accord government officials a higher social status.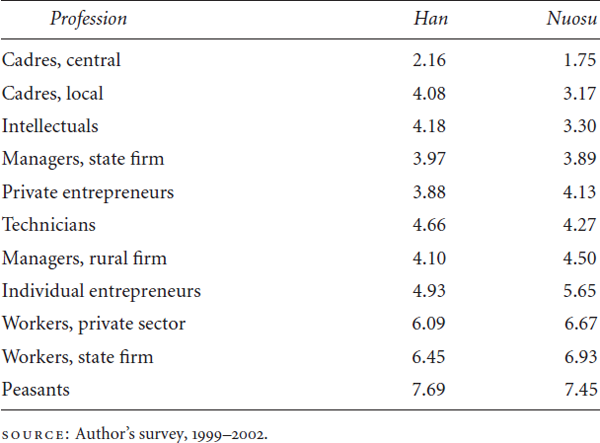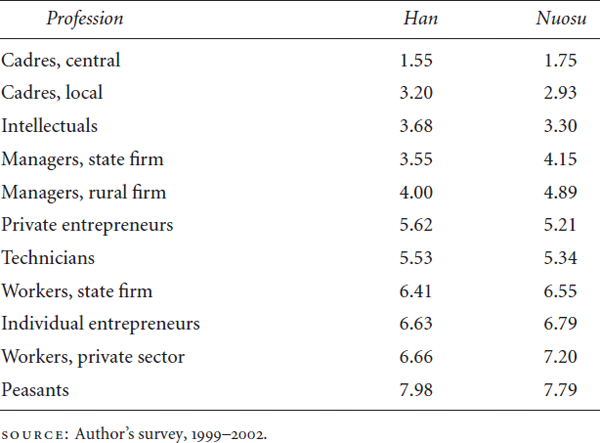 The highest social and political prestige was attributed to cadres at the central and local levels but there were differences in the ranking of local cadres' social prestige. Han ranked them fourth (at 4.08) and Nuosu ranked them second (3.17). As most of the local cadres were Nuosu, Han may have had reservations about them, considering them crude and poorly educated. Politically, the entrepreneurs ranked themselves in the lower middle stratum, which underscores their increasing prestige; Chinese surveys in the early 1990s placed entrepreneurs at the bottom of the scale for political prestige.
Economically and socially, workers in state enterprises enjoy less prestige than workers in private enterprises do. Because state companies have uncertain futures and because some parts of the private sector offer higher wages, workers in private sector firms have higher status than workers in state sector companies. The state workers who were privileged in the past are now ranked at the bottom economically, along with the peasantry. In contrast, workers in state companies ranked highly in their political prestige, even above individual entrepreneurs. Here, the former political role of workers as the "forerunners of all classes" may still have a lingering effect.
There were marked differences in the ranking of intellectuals. Socially, both groups ranked them in the middle, but Nuosu entrepreneurs ranked them third while Han ranked them sixth. Intellectuals were accorded a relatively high political rating (Nuosu ranked them third, Han fourth). Political prestige is the expression of authority, power, and control over decision making, which is concentrated in the hands of both central and local officials. Entrepreneurs perceived intellectuals as being more competent in rational decision making than other people because of their educational level and knowledge. One factor that plays a role here is that Han businessmen have always disdained intellectuals, probably because intellectuals disdained them. In addition, education has become more generally accessible throughout China, so, the prestige associated with scarcity has diminished. However, in core Nuosu areas of Liangshan, education is still a rarity and may still carry some mystique.
To summarize, entrepreneurs have gained enough self-confidence to view themselves as occupying the top socioeconomic stratum. However, both Nuosu and Han entrepreneurs perceive their own economic capital and corresponding economic position as superior to that of the other. That this phenomenon was consistent across all the surveyed counties indicates that a relatively homogenous consciousness of economic position exists among Liangshan's entrepreneurs. Private entrepreneurs also classified themselves relatively highly in social terms. Politically, however, entrepreneurs perceived themselves as having only an average or marginal influence, at least in terms of their visible participation in political life and in their ability to shape political events and circumstances.
Chinese surveys have also suggested that the prestige of private entrepreneurs is growing. A 1999 survey of 2,599 people in Han areas throughout China evaluated the prestige of 69 professions and ranked private entrepreneurs twenty-fifth on the list, with 78.6 points (where 20 was the lowest and 100 was the highest attainable score). In 1987, private entrepreneurs had received 67.6 points in an identical survey. In each case, respondents between the ages of 16 and 35 years ranked entrepreneurs the highest. In addition, in response to a question on desired careers, entrepreneurship ranked third in the 16-to-45 age group and fourth among those over 46 (Xu Xinxin 2000).