3
Private Sector Development in Nine Liangshan Counties

The development of the private economic sector is affected by local factors such as geographic location, infrastructure, institutional corruption, and the extent to which local government is able to assist private enterprise. Despite innate county-to-county differences arising from these factors, as well as differences among counties in categorizing and recording business statistics, we can discern the overall forces working for and against entrepreneurship in Liangshan by comparing data from different counties.
THE COUNTIES SURVEYED
Jinyang County: An Example of Poverty
In many respects, the situation in Jinyang County is similar to that of other counties in Liangshan. By national standards in 2001–2002, a county with an average annual income of less than 1,000 yuan was classified as a "poverty county." Founded in 1952 and with an average annual income of 587 yuan per capita per year (Jinyang xianzhi 2000), Jinyang is one of the poorest counties in the prefecture. In 2002, more than three-quarters of the county's population were Yi (77.3%), and between 70 percent and 80 percent of the people live in the mountains, which rise to over 4,000 m.
Agriculture is the dominant economic sector in Jinyang, employing 95.7 percent of the population, but 90 percent of the land suitable for cultivation is in steep mountainous regions with poor soil quality, resulting in low crop yields. The mountainous areas lack adequate meadow pastures for animal husbandry and cattle stocks increase very slowly. Attempts at reforestation have proven difficult.
In 2001, 25 percent of the townships and 80 percent of the villages were not yet connected to the road network, and 30 percent of the townships and 65 percent of the villages did not have electricity. Very few townships (15%) and villages (only 5%) were connected to telecommunication networks. However, the county is rich in mineral resources; 54 mineral deposits have been discovered here and 20 of them are already being exploited. On the other hand, there is almost no industry. The majority of the rural workforce is illiterate and does not understand Han Chinese, which impedes the spread of technical knowledge.
Jinyang was classified as a poverty county at the provincial level in 1986 and at the national level in 1988. According to the county administration, both central and provincial governments have provided Jinyang with considerable resources under the auspices of a national program against poverty (1994–2000). In 1993, 85,220 people, or about 70 percent of the predominantly Nuosu population, lived below the subsistence level, i.e., in absolute poverty, with less than 500 yuan cash income and less than 400 kg grain per capita per year. This number was reduced to 23,600 (about 17% of the population) in 2000, but increased again to 38,000 in 2002 (28.5% of the rural population). In the late 1990s, crop failures caused by natural disasters or just bad weather conditions led to an increase in the number of people living below the subsistence level. In 2000, the poverty line was redefined by the central government to rest at an annual per capita income of less than 1,000 yuan; by these standards, 93 percent of the population lived below the poverty line in 2000.
The state of the educational system reflects the conditions of poverty in Jinyang; in 2002, only a few of the county's 30 townships had a secondary school. The only senior secondary school was located in the county town, which meant that few children from the surrounding rural areas were able to attend. Children whose families live far away from school must pay room and board in addition to tuition fees, which is one cause of low attendance. According to the Party Secretary in Jinyang, 85 percent of the families cannot pay the school fees out of their own incomes. In rural areas, the school buildings are in such need of repairs that they are no longer usable for educational purposes.
The healthcare system is hardly in a better condition. The cooperative medical service system, in which every village member pays a small sum into a healthcare fund, fell apart in the 1980s; since then, most trained medical personnel have left the county, and most of the township clinics have closed down. By 2002, there were no Normal University–certified physicians left in the entire county, and only a fifth of the villages had basic healthcare provisions (injections, basic medicines, measuring blood pressure, etc.). The costs of treatment and medication have become so high that few can afford to visit a doctor. As a result, bimo and suni have become the most important medical care providers, but they are unable to do much against commonly occurring epidemics such as cholera.1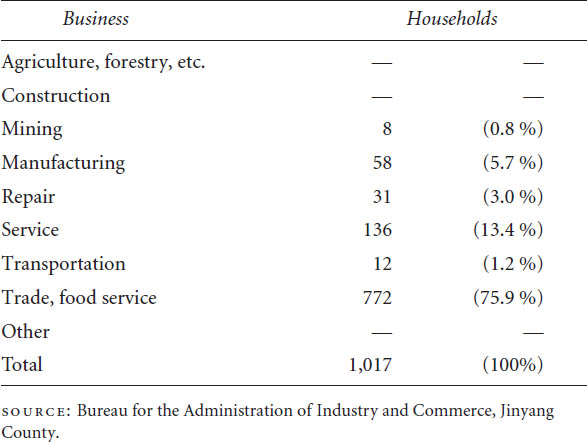 A large-scale national program started in the 1990s to combat poverty intends to eliminate extreme poverty by the year 2010. Among other things, the program will implement measures to renew villages by providing new housing with access to electricity and drinking water, resettle residents from areas with very poor social conditions into better areas, and develop educational and healthcare systems. Jinyang is one of the 592 poverty counties nationwide and one of 11 in Liangshan Prefecture slated to receive additional funding from the central and provincial governments (see Jinyang xian renmin zhengfu 2001).
In 1980, there was only one registered individual company in Jinyang; however, by mid-2002, due to the campaign to facilitate the process of registering enterprises, there were 1,017 businesses, with a workforce of 1,765 people. Table 3.1 shows the distribution of businesses in Jinyang.
As in all counties, the tertiary sector (trade, service industries) dominates private entrepreneurship in Jinyang. Of the employees, 59 percent are Han and 41 percent are Yi. Table 3.2 contains the educational level of the individual company owners.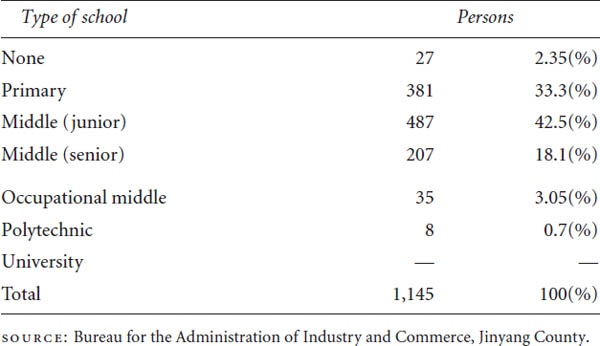 From table 3.2 we see that the majority of Yi individual company owners have attended only primary or junior secondary school, whereas Han typically attend junior or senior secondary school.
There were only three large companies in Jinyang County, with a total of 115 employees; a company for processing raw materials, a cement factory, and a large restaurant—the owners of all three were Han.
The Bureau for the Administration of Industry and Commerce in Jinyang stated that because many of them were not registered, the actual number of companies was higher than recorded, and our survey in Jinyang confirmed this. Moreover, we were informed that most of the rural firms registered as collectively owned were actually private companies. There were no state companies.
In 2001, the county revenue was 7.27 million yuan (about US$900,000)—the highest in county history—and 63.7 percent of it came from the private sector. Officially, the county administration has a preferential policy toward nonlocal investors, including tax reductions and/or exemptions as well as discretionary fee payments. The policy expressly prohibits imposing additional government charges on external (Han) investors,2 but Han entrepreneurs in Jinyang complain about the authoritarian assessment of taxes and fees. We were told that Han from other areas have to pay significantly higher taxes and charges than local Yi. But even Yi, irrespective of where they come from, complain about taxes and charges; entrepreneurs we spoke to in Jinyang believe that the preferential policy is not operative.
Zhaojue County: The Social Impact of Poverty
Zhaojue became a county town in 1910, at the end of the Qing era.3 It is located 2,143 m above sea level, and two-thirds of Zhaojue County lies at elevations above 2,500 m. Copper, iron ore, coal, and limestone are among the ten most important deposits of raw materials found here. The agricultural areas are mostly on steep slopes and extensive deforestation has brought about dramatic environmental and ecological damage, including soil erosion, flooding, and landslides.
In the 1990s, 34.9 percent of the county officials, 40 percent of company employees, and 97.7 percent of the teachers in Zhaojue were Han. The four most important companies also employed between 61.7 percent and 98 percent Han (Zhaojue xian Yizu quan 1999: 38).
In 1979, when Xichang District was merged into Liangshan Prefecture, the prefectural capital was relocated from Zhaojue to Xichang city, where the population is mainly Han. Since then, state investment has mainly focused on the catchment area of Xichang, which is also mostly populated by Han; Zhaojue County has seen little increase in state investment. In the 1980s and early 1990s alone, over a thousand trained personnel emigrated from Zhaojue. Although 95 percent of Zhaojue's population is Yi,4 of the 80 people who passed the higher education entrance examination between 1992 and 1994 not one was Yi. Few Yi families can afford to pay the secondary school fees, and secondary school attendance is a prerequisite for the general university entrance exams. Also, jobs for school dropouts in this county are few and far between.
Zhaojue counts among the poorest counties in China. An exodus of companies and personnel accompanied the transfer of administrative functions to Xichang, which in turn led to a marked drop in accrued county income and a reduction in state subsidies. The number of jobs also dropped dramatically, and a stream of young people left Zhaojue to find work. In 1992, 2,000–3,000 Yi from Zhaojue, aged 18–30 years, were long-term residents in other places. Most had had no formal education, and 80 percent of them were drug-dependent. Many lived off street crime and train robbery (from loaded cargo trains or passenger trains) or from petty theft and robbery in the larger cities of Sichuan and Yunnan (Zhaojue xian Yizu quan 1999: 140–41).
To make matters worse, drug dependency and HIV infections (as well as full-blown AIDS) have increasingly spread in Zhaojue and elsewhere.5 A 1995 study suggested that Zhaojue had become the largest center for narcotics traffic and drug dependency in Liangshan. At that time, 2,846 people in Zhaojue were thought to consume drugs (heroin and opium), including 1.4 percent of the population aged 20–30 years. Drug dependency was widespread even among the officials; 106 cadres, including 42 county-level officials, were heroin users.6 In addition, many young women began to work in the sex industry.7
In Chengdu and Kunming, the provincial capitals of Sichuan and Yunnan respectively, criminal gangs from Zhaojue have become a problem for public safety.8 As a result, Zhaojue County has acquired a bad reputation, and people from Zhaojue have difficulty finding jobs outside the county; this has also negatively influenced investment in Zhaojue.
Ma Linying, a Yi scholar researching the counties most affected by drug consumption, argues that only very few people are aware that they are breaking the law by growing, possessing, consuming, and selling illegal drugs. She suggests that in Zhaojue, people are unfamiliar with the state laws against drugs (Ma Linying 1999: 92). In fact, local people simply regard selling drugs a profitable business activity and argue that, after all, the state promotes individual business activities. Consequently, many illegal substances are openly offered and sold on the official market. Some of these substances are thought to be cure-all medications against "one hundred illnesses"; they are also attributed with the power to protect people against disasters. It has become a status symbol to give these substances as gifts, and they are highly valued for consumption on ritual occasions such as marriages and funeral wakes (ibid.; see also Ma Linying 2000). Widespread poverty and lack of employment are the primary reasons for these social problems. Agricultural activity is limited, and there are few jobs in industry or in the service sector.
Questions of ethnic identity are another cause of the social problems. Social research findings suggest that violent juvenile crime is caused by problems associated with social recognition. Both the victims' fear during the crime and the public attention generated by it create something akin to recognition or respect, even if it is in a negative sense, and this serves to acknowledge and define the perpetrator's identity. Although this method of searching for an identity is an unconscious process, the theory appears to be applicable in the case of juvenile crime in Zhaojue.
In the late 1990s, religious sects became particularly influential in Zhaojue County, a phenomenon that is also linked to the social problems in the area. In 1996, a chiliastic movement organized by a charismatic leader (Ch: mentuhui) spread quickly in Zhaojue; its followers were apparently waiting for the end of the world. The movement became active in 24 out of 47 townships in the county and infiltrated township and village leadership as well. Although massive official state intervention appears to have been successful in combating the phenomenon, the underlying social causes have not been removed.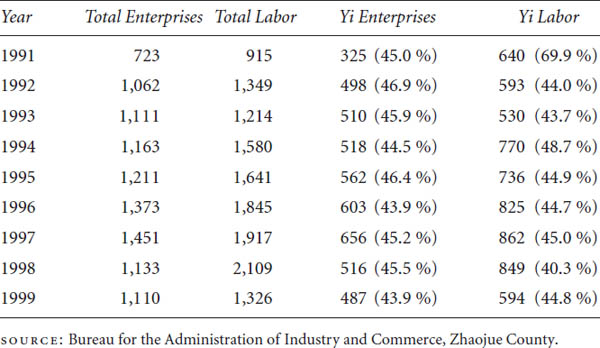 The private economic sector in Zhaojue is also underdeveloped; the private companies that do exist are mostly small and offer few jobs. According to the deputy chair of the Chamber of Commerce, only one out of the seven largest entrepreneurs in Zhaojue was Yi (the owner of a phosphate factory). Of the 1,483 individual firms, Yi owned slightly over 50 percent. The Chamber of Commerce places the blame for the poor investment climate and the county's poor reputation on the low number of private companies. One county-level cadre who preferred to remain anonymous remarked that "the only people who invest here are those who have evaded taxes elsewhere or have made themselves liable to prosecution in some other way." The few people who finish secondary school attempt to leave Zhaojue. The same local (Han) entrepreneur declared, "Hardly any Yi workers have a school education, and most of the local Han only have a primary school education."
The development of the private sector in Zhaojue is represented in tables 3.3 and 3.4. The tertiary sector dominates in Zhaojue as it does elsewhere. Entrepreneurs complain that while there are tax reductions and exemptions for investors from outside the county, many local government departments levy extremely high charges against locals (a problem that I shall address later in this work).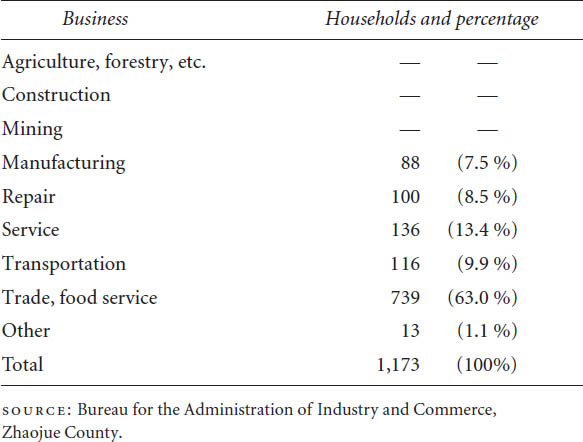 Butuo County: A Weak Private Sector
Butuo County was founded in 1955; the county town itself is situated at more than 2,000 m above sea level.9 A leading Nuosu county official described Butuo by remarking that "the traces of a slave-owning society are still relatively strong here."10 He was referring to the poverty, the low level of industrialization, and the major role of the clans in organizing social life as well as the common clashes among them. According to this functionary, the main problem for Yi in Butuo was finding sufficient nutrition and clothing. Market-oriented thinking amongst the Nuosu is considered to be low, as illustrated by the comment, "If a Han asked to buy a chicken from a Yi, the Yi wouldn't agree to sell it to him. After all, why would he sell something he owns?" As a peculiarity of the Nuosu in Butuo, the functionary mentioned that far more animals are slaughtered for funeral wakes in Butuo than in other counties (as a continuation of traditional behavior), and that the local Yi are still more "courageous" (i.e., traditionally minded) than elsewhere. Also, local Nuosu seem to possess large amounts of silver in the form of jewelry passed down through the generations, another sign of ongoing traditions.
Due to the mountainous terrain, agriculture is limited and animal husbandry (of sheep and goats) constitutes the dominant land use. The local businesses are mostly run by Han from outside the county; in 2001, 70–80 percent of the individual firms in Butuo were owned by non-local Han. In 2000, the average annual cash income per capita of the peasant population was 428 yuan (about US$52), which ranks Butuo's average income as the third lowest in the prefecture.
In 2000, the county's financial income was 10 million yuan (US$1.22 million), of which 30 percent came from the private sector. All the state industrial manufacturing firms (i.e., firms owned by the county), including leather processing, spirits, and sugar manufacturing firms, had closed down by 2000, and collective rural enterprises (Ch: xiangzhen qiye) had never existed. A former employee of the spirits factory told us that in the final days before the company closed down, they worked by candlelight because the company was no longer able to pay its electricity bills.
During our visit to the county town, we observed groups of Nuosu men sitting around on the streets all day, drinking and playing cards, probably as a consequence of the lack of jobs in the county. The morning street market is mostly staffed by well-dressed women who hike down from the mountains carrying baskets full of agricultural products on their backs. A Han entrepreneur declared that the Yi here were even "worse" than elsewhere, and the investment climate was "terrible"—"The local cadres do nothing but drink." He said his company was shortly going to relocate to Xichang.11
By the end of 2001, Butuo County officially had four private firms, with 59 employees, but it was locally believed that there were another three unregistered firms. In previous years, too, the number of registered firms had fluctuated between three and four. At the end of 2000, there were 586 individual laborers (owners of small businesses, 450 of them in the county town) and 838 employees (662 in the county town). These figures demonstrate that non-agrarian economic life was concentrated in the very small county town and there were still very few individual firms and no private companies in other parts of the county.
Table 3.5 shows an unmistakable drop in individual enterprises in Butuo after 1998 and slight increases in 2000 and 2001; the numbers dropped markedly especially in the manufacturing, transport, and trade sectors. There is no explicit explanation for these changes but 1998 was clearly a year of economic crisis more generally, because the average income fell in many other counties as well. Similar to Zhaojue, Butuo has become a center for intravenous drug use, drug trafficking, and HIV transmission. In 2001, officials estimated that up to 20 deaths each year were caused by heroin overdose and that hundreds of residents had HIV (Rosenthal 2001).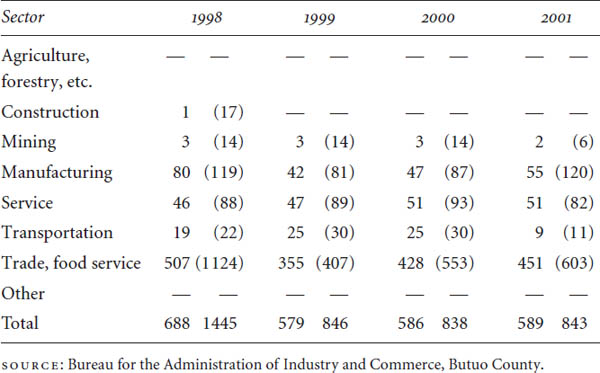 Meigu County: The Rapid Development of a Private Economy
Meigu County was established in 1952 and the county town lies about 2,000 m above sea level.12 Meigu is considered to be the center of Yi culture and some scholars call it the Mecca (Ch: Maijia) of the Yi or the "homeland of bimo culture" (Ch: bimo wenhua zhixiang). About 8,400 bimo live in Meigu and constitute approximately 4 percent of the population.13 With an average per capita annual income of 917 yuan, Meigu is included among the poverty counties but the private sector here is relatively well developed. At the end of 2001, there were 920 registered individual firms, with 1,140 workers, and nine private companies, with 1,232 employees.
At the end of 2000, 14 firms, with 798 employees were registered at the Bureau for the Administration of Rural Enterprises in Meigu, but in September 2001, the Bureau for the Administration of Industry and Commerce recorded nine companies, with 1,232 employees. The Chamber of Commerce (Ch: shanghui) in Meigu provided a list of 23 firms, of which 17 were Yi-owned companies. It became clear during our survey that the number of existing firms was significantly higher than the number of registered firms, and this was due to a few different reasons. First, the differences among the statistics reported by different branches of the local government (tables 3.6 and 3.7) illustrate the difficulty of collecting and working with official data in China. For example, in table 3.6, the number of individual enterprises remains constant for 1999 and 2000, and the number of private enterprises remains constant for 1996 and 1997 as well as for 1999 and 2000; it is highly unlikely that the reported figures are precise.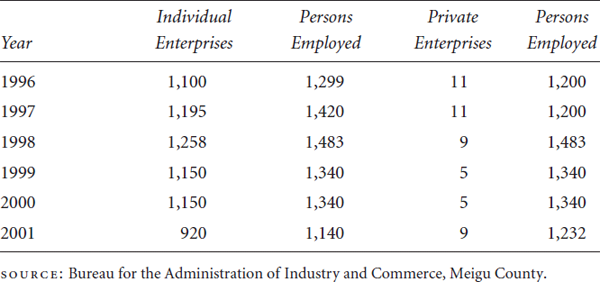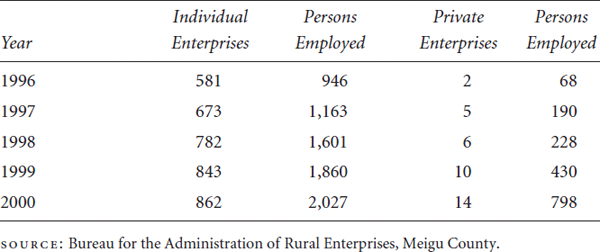 Second, according to the Bureau for the Administration of Industry and Commerce, there was a sharp drop in the figures for the private sector in the first half of 2001. The Bureau explained this drop by saying that some entrepreneurs who were originally from outside Meigu had returned to their home counties. However, when more than a fifth of the entrepreneurs suddenly emigrate, there must be other factors at work. Our conversations with the entrepreneurs revealed that new forestry regulations forbidding private tree harvesting had caused a series of small private firms to close down, affecting timber trade and processing. The number of mines also dropped from 15 in the year 2000 to only one in September 2001. Mine closure was enforced after an official survey showed that numerous mines did not meet the new safety regulation standards. In addition, the number of firms in the manufacturing industry fell from 91 to 15, and in the trade and catering sector there was a decrease from 876 to 738 firms. Since the trade and service industries revolve around the dominant timber and mining sectors, decreases in trade and services are related to trends in timber and mining sectors. Shortages in electricity and capital also factor into the difficulties facing Meigu entrepreneurs.
Nevertheless, there is an alternative explanation for the decrease in the number of individual and private enterprises. In 1998, the Meigu Party Committee published a document on the development of "rural firms," giving only marginal attention to the private sector, which includes a portion of the rural firms (Zhonggong Meigu xianwei wenjian 1998). The document stated that it was necessary to strengthen the "cooperative system of shares with all possible force." Local government, companies, and individuals (including party and government cadres) were encouraged to acquire shares in such cooperatives, and shares could also be purchased in the form of real estate. The document declared that this would allow many firms to be classified as collectives rather than as private firms; and this would thereby have reduced the number of private firms.
The Nuosu chairman of the Federation of Industry and Commerce (the association for entrepreneurs) stated that he was aware of only six large private entrepreneurs in Meigu. Two of them, a phosphate fertilizer producer and a department store, had declared bankruptcy. The other entrepreneurs included owners of two construction firms with 54 and 65 employees each, a food factory with 20 staff, and a phosphate fertilizer factory employing 12. Five of the entrepreneurs were Han from outside the county; only one was a Yi from Meigu.
In contrast, the Bureau for the Administration of Rural Enterprises supplied us with the names and addresses of 23 private companies, 9 of which were owned by Han and 14 by Yi. However, only 13 of the 21 entrepreneurs we interviewed were on this list. Thus, the number of private companies actually in existence can safely be assumed to be significantly higher than the number reported; we may safely say that there are at least 30 of them.
While the Bureau for the Administration of Industry and Commerce reported 876 firms and 2,825 employees in the entire private sector, the Bureau for the Administration of Rural Enterprises reported 903 firms and 2,700 employees for the first half of 2001. The disparity is due to the fact that the latter only registers firms owned by entrepreneurs with rural residence permits (Ch: hukou). According to this office, no state or collective companies exist in the rural areas of Meigu. However, during the course of our conversation it became clear that the director of this office had difficulties separating the various forms of ownership from each other.
Furthermore, some private companies may be unregistered because the State Council permits entrepreneurs in ethnic minority areas to wait to apply for a business license until after a one- or two-year start-up and trial period. In contrast to other counties, Meigu County actually applies this policy. The county administration's flexible treatment of the private sector, especially the locals, may also be a reason why there were considerably more private entrepreneurs in Meigu than in other counties. Similar to other counties, Meigu grants investors advantages (lower charges for real estate and electricity, and tax reductions). In fact, the County Party Committee explicitly requires the county administration to provide concrete support and guidance to individuals with founding and running rural firms (Zhonggong Meigu xianwei wenjian 1998).
However, the chair of the Federation of Industry and Commerce complains that there are too few tax reductions for private entrepreneurs. The entrepreneurs also criticize the county administration, claiming that it is commonly not able to pay its bills. Apparently, the county administration supports and favors local Yi entrepreneurs over Han entrepreneurs from out of the county. If and when privileges such as tax advantages are granted, they go to Yi rather than to Han entrepreneurs. In Meigu as in other counties, most of the larger private entrepreneurs are Han from outside the county. According to the chairman of the Federation of Industry and Commerce, around 40 percent of individual firm owners were Han who were not born in Meigu. In the county town itself, 46 of the 220 (i.e., 20.9%) individual firm owners were Yi. In contrast, the Bureau for the Administration of Rural Enterprises stated that in 2000, 4 of the 14 private entrepreneurs were Yi (28.6%) and that in the rural areas, Yi made up 92.7 percent of individual firm owners. Han were concentrated in the county town and in larger townships, and Yi in rural areas. In 1999, the tax income from the private sector was 2.35 million yuan, which was 32.5 percent of Meigu's total tax revenue of about 7.24 million yuan.
All in all, policies regarding private entrepreneurship in Meigu are more positive than in most other counties. Despite many problems, Meigu apparently has understood how to promote the private sector in rural areas and how to utilize this sector for combating poverty. Accordingly, the business development plan for the county includes support for the "non-state," that is, the private, sector (Minzu October 2002: 47). The county government, for instance, granted private companies a series of fiscal advantages and advisory services; second, there was a specific county plan for the long-term development and consolidation of the private sector.
Is there a relationship between the strength of Meigu's traditional Nuosu culture—as evident in clan strength and religious traditions—and Meigu's success and relative prosperity compared to Zhaojue, Butuo, and Jinyang? According to the local people, drug addiction and crime are not as rampant in Meigu as in many other counties, and it is arguable that a comparatively intact culture contributes to the stability of local Nuosu communities. The locals in Meigu, including officials and entrepreneurs, appear to be more proud of traditional Nuosu culture than people in counties with a high percentage of Han, such as Ganluo or Mianning, or where local traditions have been eliminated by political movements, such as in Zhaojue, the former prefectural capital, where local traditions were strongly criticized and put under greater pressure than in other counties. The simultaneous influx of Han officials and experts into Zhaojue might have further contributed to a loss of pride in local Nuosu culture. In contrast, local culture is explicitly promoted in Meigu; for example, county government regulations require new buildings to be built in the Yi style (with specific paintings, roofs, and roof joist construction). The maintenance of traditions thus appears to create more stable communities and to foster more stable development processes.
Ganluo County: Mining and Exploitative Cadres
Ganluo County was first established in 1956. Because of its rich mineral deposits, mining plays an important role in the county's economy. Ganluo is also connected to the railway network via the line between Chengdu and Kunming.14
In Ganluo there were officially only "town and township enterprises" (Ch: xiangzhen qiye); no private companies were recorded at the time of our study. However, according to the Nuosu head of Ganluo's Chamber of Commerce (Ch: shanghui), all enterprises in the county were actually privately owned. There were two reasons for the classification of private companies as xiangzhen enterprises: the majority of the private firms operated in the mining sector, and the state prohibits private companies in the mining business whereas xiangzhen enterprises are permitted to mine. Since there were no more state companies in Ganluo and private firms represented the main source of income, the county administration allowed all private companies to be classified as xiangzhen companies. This placed them under the administrative jurisdiction of the bureau for town and township enterprises (Ch: xiangzhen qiye guanli ju). Another reason for the change in classification was that Ganluo County policies promoted and gave preference to xiangzhen enterprises over private enterprises, and it was therefore advantageous for entrepreneurs to be classified as xiangzhen companies, even if they were then subject to stricter controls by the authorities.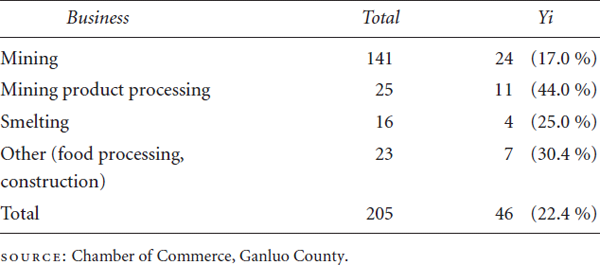 The Ganluo Chamber of Commerce could only impart information about member companies, and apparently almost all large private companies were members. The smaller, individual laborers came under the jurisdiction of the Bureau for the Administration of Industry and Commerce.
According to the Ganluo Chamber of Commerce, there were 179 larger private firms, with 3,624 staff in Ganluo at the end of 1998. The Bureau for the Administration of Industry and Commerce claims that the number of firms and employees had increased continually since 1989. According to the Bureau for the Administration of Industry and Commerce, in 1999, the individual sector was said to comprise 3,387 self-employed people, with 3,620 staff, mostly in trade (60.4%), mining and manufacturing (13.3%), and catering (8.8%). Table 3.8 presents the 1999 distribution of entrepreneurs according to business types and ethnic groups.
Ganluo contains major deposits of lead, zinc, silver, fluorite, copper, iron ore, and bauxite, as well as various nonmetallic minerals such as gypsum, magnesium carbonate, sulfur, aluminum silicate, arsenic ore (a red pigment), and phosphorus. Mining and associated spheres are economically dominant here, while the proportion of other industries is relatively small. Ganluo thus has a very one-sided sector structure.
The Yi population of Ganluo county town possesses a markedly higher level of education compared to Yi in other county towns because Ganluo has had a school system since before the founding of the People's Republic. Thus, it was surprising to find that the percentage of companies owned by Yi entrepreneurs was smaller than the percentage of Yi within the population; although Yi made up 65 percent of the population, only 22 percent of the entrepreneurs were Yi.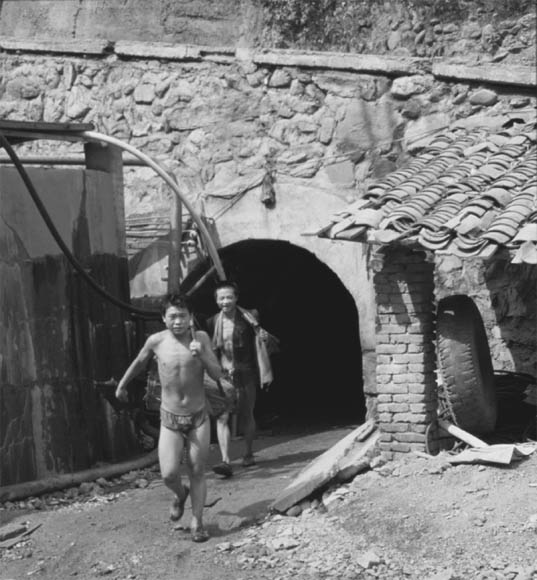 The newspaper Liangshan Daily reported the closure of illegal mines in Ganluo County a few years ago (Liangshan Ribao, 20 August 2001); these mines usually did not follow the minimum safety regulations, leading to serious accidents. Some entrepreneurs will take over such mines in order to quickly accumulate capital, which they use to set up new companies in "safer" sectors. Such entrepreneurs follow a pattern similar to the "cut-and-run" entrepreneurism practiced elsewhere in China—after rapidly making short-term profits in one enterprise, they move on to new enterprises.
However, the costs of taking over these mines are very high, and to compensate the new owner for these costs, the county administration gives these companies a tax exemption for three years. Such mining serves only individual and short-term interests; it destroys the environment, ruins the landscape, and wastes resources. Quite a few of these factories pollute and even poison the environment and the nearby arable agricultural land. Moreover, some mines have unsatisfactory working conditions; for example, young workers in lead mines were found working only in swimming trunks without any form of protection.
In the Ganluo county town, there is an Office for the Development of the Non-State Economy, i.e., the private sector (CH: fazhan feigong youzhi bangongshi). This office was always closed. One look inside through the windows revealed that the development of this sector was not receiving much attention. Lying about on the desk inside were tiles used in majiang, the popular Chinese gambling game better known as Mah-jong in the West; the floor was covered with empty liquor bottles and cigarette packets.
The biggest private entrepreneur in the county was the brother of the director of the Bureau for the Administration of Rural Enterprises; the deputy director of this Bureau was also a major private entrepreneur. The direct connection between enterprises and the administrative authorities is unmistakable. Notwithstanding such relations, entrepreneurs have their own set of complaints against the administration.
The greatest complaint from entrepreneurs concerns the exploitative system of levying taxes (there are at least twenty types of charges), which has caused many to leave the county. Entrepreneurs have even been required to "donate" money to the county government to pay the wages of the local cadres. Also, the local government pays no attention to the private entrepreneurs' business concerns. A Han entrepreneur observed, "When my company is doing poorly, the government doesn't pay any attention. When it's doing well, they pay a great deal of attention!" If a company is prospering, payments and "gifts" must be made on a regular basis, and officials regularly borrow large sums of money from the entrepreneurs without paying them back. To take legal action is considered a waste of time. "If we did that," declared a Yi entrepreneur, "we would be finished; we would have to fear the revenge of the local cadres. Besides, the courts don't take on civil law cases."15 A leading Han member of the Chamber of Commerce stated, "The only profitable sector here is mining. For entrepreneurs in other sectors, the circumstances are extremely difficult. The officials cause problems everywhere; there are too many taxes and charges. The bureaucracy interferes everywhere and skims off part of the profits for themselves. There are practically no possibilities for development."16
Entrepreneurs also develop strategies for circumventing some of these exploitative measures, for example, by evading taxes. One particular tax evasion tactic is conspicuously widespread in this county as well as in others—companies are declared to be "firms for the disabled" in order to exempt them from tax payments. Most of these firms, however, employ disabled people on a nominal basis and pay them wages without actually giving them any work to do.
Reports of criminal gangs who attack mines and rob their employees underscore the fact that public security is also a great problem. One newspaper report counted at least forty recorded cases of this kind in Ganluo County in recent years (Minzu August 2002: 22–23).
Mianning County: Successes and Burdens
Mianning County has existed since the first century BC and has been called Mianning since 1729 (Mianning xianzhi 1994). In 1998, there were 4,785 individual firm owners, with 5,395 registered employees. In contrast to the previous year, the number of small entrepreneurs decreased by 12.7 percent in 1998 (from 697 to 608), and the number of employees in small firms went down by 20 percent, from 6,735 to 5,388. As in most other counties, the Asian Crisis, a general economic lull, and a chronic shortage of capital forced countless small entrepreneurs to go out of business. In 1999, the number of small (individual) firms increased to 4,937, with 5,564 staff; they were divided among various businesses as shown in table 3.9.
The transportation sector in Mianning is particularly strong because of the relatively good links and proximity to the road and railway networks; the strong mining industry, which requires significant logistical infrastructure in the form of transportation; and Mianning's proximity to areas of sightseeing interest. China's major spaceflight center is located in Mianning County (though everyone refers to it as being located in Xichang), a fact that has led to the construction of modern roads connecting Mianning with Xichang, and one of Mianning's major townships is also directly connected to the newly constructed freeway between Mianning and Xichang. All these conditions provide a favorable climate and the required infrastructure for private entrepreneurs. And yet, in the individual sector in 1999, less than a quarter of the firms were owned by Yi.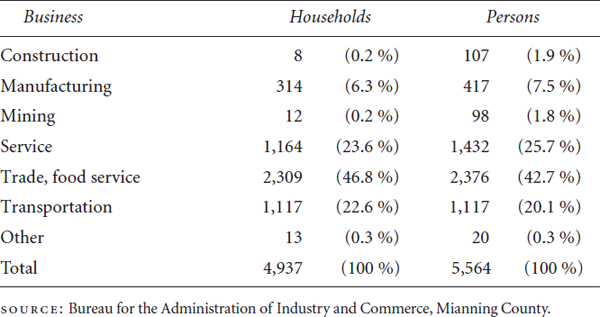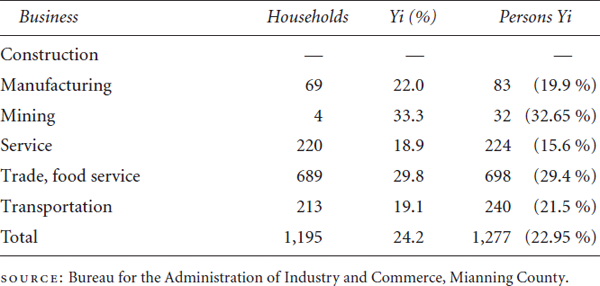 In Mianning as in Ganluo, the Bureau for the Administration of Rural Enterprises produced different figures from those produced by the Bureau for the Administration of Industry and Commerce, reporting 5,414 rural individual and private firms, with 15,510 employees, in 1998. Also in 1998, the Bureau for the Administration of Rural Enterprises reported 59 registered private companies, with 2,039 employees. This figure grew to 77 firms, with 2,468 staff, by June 1999. Table 3.11 shows the breakdown according to lines of business.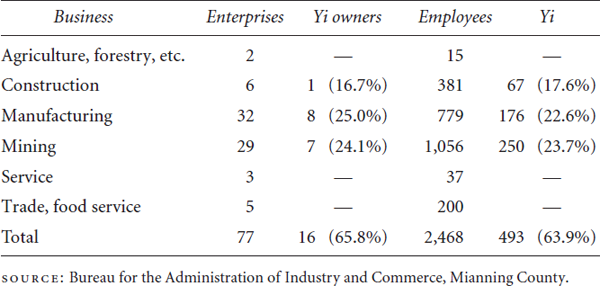 In Mianning, as in other counties, mining and related lines of business predominate over the larger private sector, and Yi are proportionally underrepresented not only among entrepreneurs but also among the staff. As in Ganluo, entrepreneurs complain about excessive taxes and other charges, albeit to a lesser extent; here too, the authorities pay their bills either late or not at all.
Even officials complain that the investment climate and environment is poor, adding that they would not advise anyone to invest here. The county and township cadres' practice of forcefully charging fees has been copied at the village level, as was observed first-hand in a number of villages. In one village, the village population blocked the road and demanded a "transit toll" from every car traveling through. In another village, the street conditions were so poor (possibly created as such deliberately) that village residents waited at the roadside with shovels, hoes, and other tools and charged the travelers a fee for the service of getting cars out of the mud. This method of obtaining extra income is reminiscent of circumstances here up until the 1950s, when, on the way from Xichang to Zhaojue (a distance of about 100 km), Han had to pay "protection money" in order to travel without hindrance.
Puge County: An Emphasis on Tourism Development
Puge County was established in 1952 (Puge xianzhi 1992) and officially dubbed itself a "tourism county" (Ch: lüyou xian) in 2001, with a focus on developing the tourism industry in Puge. A large square was built above the county town, and plans were developed to build an adjacent modern hotel. The idea was that tourists from other parts of China and abroad would come here every year to celebrate the annual torch festival. In addition, Luojing Mountain (Luojingshan) was to be developed for tourists by building an artificial temple, pagodas, and pavilions on it. A modern hotel not far from the county town was only sparsely filled during our stay.
These plans for expanding tourism were built on the hope that tourists could be attracted to Puge from nearby Mount Emei (Emeishan), which traditionally is one of Sichuan's main tourist attractions. However, Mount Emei has been progressively developed over a considerable period of time and is a well-known religious center with historic sights whereas in Puge, a brand-new tourist infrastructure needs to be built. A new tourist amusement park there consists of some benches, a restaurant, many colorful little flags, and a handful of shrubs, and is anything but attractive to tourists. The "focus on tourism" in the county's development plans had already led to the neglect of the private sector, which consequently is in a bleak state.
In an attempt to obtain information on entrepreneurism in Puge, we sought out the head of the Bureau for the Administration of Industry and Commerce, a Han. We encountered him in an inebriated state during working hours at a private restaurant in a township not far from the county town, where he was drinking with some of his colleagues. He promised to organize some information for our research, but nothing came of it. In the afternoon, we encountered him once again getting drunk in the amusement park, this time in the company of the local police chief and a young female colleague from Mianning County, with whom he flirted excitedly. He invited us to have dinner with him and, because he was drunk, he kept spilling alcohol on us and also demanding aggressively that we drink with him. We left, saying we were tired and not feeling well. He consequently excused himself for the following few days and let it be known that his department did not possess any data concerning the private sector. Thus, no statistics were obtained from the Bureau for the Administration of Industry and Commerce in Puge.
As in other counties, Puge's economy dropped dramatically in 1998 and had not recovered by the time we visited in 2001 (see table 3.12). The deputy director of the Bureau for the Administration of Rural Enterprises stated that of the 1,600 registered individual firms only 400 were actually still in business. Of the nine larger private firms, two had recently closed their doors, so that now there were only seven. Only one of the seven owners was Yi although, in 2001, 31.9 percent of the individual laborers were Yi. Here too, numerous entrepreneurs felt themselves to be disadvantaged and complained that officials and local governments did not pay their bills.

Yanyuan County: The Perils of Monoculture
Yanyuan has borne its current name since 1728 and is a county of very old standing (Yanyuan xianzhi 2000). Among other things, it is known for Lugu Lake, home to the Mosuo people, who are famed for their matriarchal society. Half of the lake belongs to Yanyuan County; the other half lies in Yunnan Province.
About one-half of Yanyuan's agricultural population is Han, and apple growing is the primary cash-earning agricultural activity, though there is more land in rice, buckwheat, and potatoes than in apple orchards. As a result of a fall in apple prices, the county tax revenue decreased dramatically in the late 1990s; the tax revenue in 1999 was 3 million yuan less than in 1998, and for months at a time, the civil servants' salaries could not be paid. The prohibition of private timber harvesting and a mining crisis resulting from the larger Asian economic crisis were also partly responsible for the drop in income.
A local Yi functionary reported that in 1937, Yanyuan employed 70 civil servants for 80,000 inhabitants, or one civil servant per 1,143 people. In the year 2000, the county employed 7,000 cadres for a population of 312,000, or one cadre for every 44.5 people. The cadres' pay swallows up practically the entire county's income! Consequently, the township schools are in a poor state and school attendance is extremely low (about 30%, though official statistics show over 96% enrolled), because many parents cannot afford to pay the high fees for schools.
In Yanyuan, both Yi and Han entrepreneurship are not well developed. There is a large gray area of statistically unrecorded but entrepreneurially active people, who, because of the favorable conditions for agriculture and unfavorable conditions for industry due to poor roads, primarily work in the agricultural sector. However, these occupations can certainly be classified within the scope of private entrepreneurship.
Many agricultural entrepreneurs complain about low market prices, high taxes and levies, as well as the chronic state of disrepair of the roads, which contributes to poor apple sales. Mines are among the county's main revenue sources, and the county administration has allocated a fixed tax rate for mining, which entrepreneurs have to pay even if, according to a county cadre, they have to take out a bank loan to do so. Many entrepreneurs also complain about the shortsightedness of local policies: as soon as a small company is founded, the local government pounces on the entrepreneur and demands high payments. A study carried out by the Bureau for the Administration of Industry and Commerce in 2000 confirmed this.
The structure of the economic sectors is extremely one-sided as it is primarily based on apple growing and mining. However, in 2000, even apple processing was underdeveloped. According to official figures, there were 16 private firms in 1999, with 475 employees, and 2,010 individual firms, with 2,661 staff. In 2000, due to the crisis in the apple market and in mining, and the closure of private timber firms, the number of private firms decreased to 12 (-25% change) and the number of employees decreased by 35.2 percent, while the number of individual firms decreased by 24 percent, to 1,528, and the number of employees fell by 18.9 percent.
Xide County
Xide County was founded in 1952 (Xide xianzhi 1992). The county retains 6,000 officials to administrate a population of 134,500 (1992: 2,209; and information received from the Statistical Bureau of Xide County on 18 August 2002), and at the time of our research, about 60 percent of the tax income came from the private sector. Additional data were not available for Xide.
COUNTY COMPARISONS
Because different counties have different ways of categorizing and recording business statistics, the data they provided on private enterprises are not easily comparable. Ganluo is a classic example: officially, no private enterprises exist here because they have been reclassified by the local authorities as township enterprises. Different county authorities, such as the Bureau for the Administration of Industry and Commerce and the Bureau for the Administration of Rural Enterprises, provide widely differing statistics. Despite such disparities, we have included the data in our analysis, not as an accurate representation of reality but as a depiction of general trends in the development of the private sector.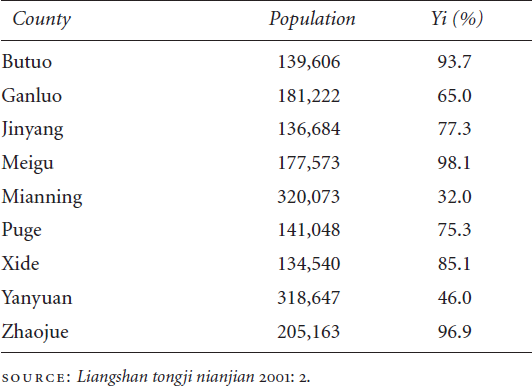 The number of private companies in Ganluo was greater than the number in Mianning, despite Ganluo County's significantly smaller population. This is because of Ganluo's superior transport connections via road and rail networks. However, the percentage of Nuosu-owned companies in both areas was less than the corresponding population percentage of Nuosu.
In Zhaojue, Yanyuan, Butuo, Puge, Xide, and Jinyang, the private sector is underdeveloped, and the majority of private business owners are Han from other counties inside or outside Liangshan. In 2001, the private sector was in a state of crisis in most counties. The number of private companies in Zhaojue had decreased fourfold compared to the year before, and in the first half of 2000, the tax revenue from the private sector had declined by 18.5 percent. By the end of 2000, the number of private and individual companies in Yanyuan had decreased as well. However, in Yanyuan, the uneven sector structure (with a concentration on growing fruit), the decline in fruit prices, and the poor transport connections may have been responsible for the decrease. Nuosu and Han entrepreneurship are also not well developed in this set of counties. In Yanyuan however, unlike in Zhaojue, Butuo, Jinyang, Xide, and Puge, there is a stratum of agricultural entrepreneurs.
The situation in Meigu is different from that in other counties. Until the 1990s, it was one of the poorest counties in Liangshan; however, what makes Meigu different is that, unlike in some other counties, the county government did not siphon off profits from the entrepreneurs in the form of taxes and financial contributions in the interest of developing the private sector. As a result, entrepreneurism in Meigu developed astonishingly well although the local authorities acknowledge that many firms remain unregistered or are misregistered as township- or village-owned companies in order to more rapidly further local development. In Meigu, clan strength, pride in a strong traditional culture, and the stability of local communities may also be significant stimuli for local development.
Because there are few private companies in Zhaojue, there is no clear classification of different business areas within the private sector. In Yanyuan, where the economic focus is on growing apples, many companies are involved in apple cultivation or transport. The crisis in the apple market has apparently had a negative effect on the private sector there. Partly in order to mitigate the effects of the crisis, almost all companies involved in apple growing in Yanyuan are also linked with other sectors such as growing other types of fruit, cattle rearing, transport of people and cargo, and grain processing.
The situations in Ganluo and Mianning are also different from those in other counties, primarily because the business structure in these two counties is concentrated in one area. Because of the potential for rapidly making large profits, the majority of companies either process raw materials or mine. With the exception of mining, there are few processing industries in these counties that are adapted to local conditions, such as the processing of agricultural or animal products. In contrast, in Butuo, Puge, Xide, and Jinyang, due to the low numbers of enterprises, there is no discernible business structure. Puge is different from the others, however, because its government is focusing on developing tourism and appears to be fundamentally neglecting the development of the private sector. In Meigu, there is a broad spectrum of businesses, and the mining and manufacturing industries form one of several foci.
Many entrepreneurs in Ganluo wish to leave the county. The majority of Han and Nuosu company owners feels that the investment conditions are poor partly because of infrastructure weaknesses but mainly because of excessive taxes and necessary contributions to the government. In Ganluo, entrepreneurs in the mining sector report that they pay almost 50 percent of their turnover in taxes and contributions, and they are squeezed for more money by local cadres as well. There is both corruption (extorting "donations," protection money, or "credits") and crime (theft and robbery). In addition, especially in Ganluo, the companies are subject to fixed production rates and standards for each class of company size specified under the county plan. If the county government is unable to pay the (party) officials' salaries and bonuses, companies are required to make payments toward these salaries; in total, the firms make over 20 different types of payments. Companies with a greater profit margin purchase real estate or establish branches in Chengdu or, at least, in Xichang, in order to have an option for relocation if necessary.
Local entrepreneurs and officials stated that, given that the situation was otherwise advantageous in terms of available county resources, the inferior conditions of the administrative and social frameworks were the main reason for the lack of non-local and foreign investment. Their assessment was significantly more negative in Ganluo, Zhaojue, Yanyuan, Butuo, Puge, and Xide than in Mianning and Meigu. Another core problem in all counties is the entrepreneurs' inability to obtain local credit. The likelihood of being able to get credit from outside the region is higher, but only through social connections (Ch: guanxi), and it is generally obtained at exorbitant interest rates.
The private sector appears at present to be the only profitable sector. Because it is the primary source of revenue for some counties, the county administrations exert heavy pressure on private companies, especially as the few remaining state-owned companies are on the verge of bankruptcy. In counties where the private sector has not developed or is in crisis, there is a high level of poverty, and the county administration is sometimes not able to pay the cadres' salaries. In 1999, a considerable portion of the companies we visited had temporarily ceased production due to the Asian Crisis, the decline (both inland and abroad) in demand for raw materials, falling prices, and a lack of access to credit.
Problems Facing Private Sector Development
As I have pointed out, all the counties we surveyed faced similar problems. An official report discussed at the Zhaojue Political Consultative Conference in August 1998 listed six core issues facing the private sector in Zhaojue County.
Interference by local cadres. Local cadres, who think poorly of the private sector and do not understand the importance of the private sector to the "socialist market economy," implement policies designed to "frighten off capital" (Ch: kongzizheng) and otherwise try to hinder the development of the private sector because they perceive it as antisocialist. The local cadres insinuate that individual and private entrepreneurs are guilty of copyright violations, tax evasion, and fraud, as well as a slovenly lifestyle (excessive eating and drinking, visiting prostitutes, and gambling).
Arbitrary fees. The local authorities do not seriously fight against the phenomenon of "threefold arbitrariness" (Ch: san luan), i.e., officials arbitrarily demand fee, taxes, and donations from entrepreneurs. Arbitrary charges, fines, and compulsory payments are levied against private companies, including forced work, forced sharing of costs, and compulsory contributions to the government (Ch: tanpai). The Zhaojue report named 22 types of payment collected by the government that are not part of the state's fiscal and levy systems. For example, a watchmaker spent 399.52 yuan in official taxes and fees, and 586 yuan in illegal charges in one year, and the owner of a department store was forced to pay over 20 such charges. People are forced to subscribe to magazines and newspapers published by the Party or by a government office even if they are illiterate and cannot read them.
High taxes. Another core problem is that fiscal advantages granted to the private sector are cancelled out by the many fees. For example, citizens complain that Zhaojue's taxes and charges are higher than in other counties in the prefecture. The authorities borrow large sums of money from entrepreneurs without repaying them and often do not pay their bills. In addition, preferential policies toward the private sector are not being implemented; this is true generally but particularly as mentioned in the Zhaojue report. Many companies collapse because they do not receive the credit they were promised. Each of the 20 to 30 official departments in a county requires a number of permits for activities under its jurisdiction, and they continuously conduct so-called inspections and investigations. However, these authorities only extract income; not a single government department offers any kind of consultation or other services. There is no ultimate authority with the power to control and coordinate or discipline the different departments. The private sector entrepreneurs complain that they are being treated as "third-class citizens" (Ch: sandeng gongmin). The official preferential policy toward the private sector stipulates that investors from other areas may turn their rural residence permits (Ch: hukou) into urban hukou if they contribute at least 5,000 yuan annually to the county financial revenue, but at the time of the report, there had not been a single case of such a transaction.
Discrimination against outsiders. Over half of the individual and private entrepreneurs are from outside Liangshan and depend on local and regional infrastructure and an adequate supply of operating capital and other necessary materials. However, the infrastructure urgently needs improvement, which puts these entrepreneurs at risk. Their personal security is also at risk; they are frequently the victims of physical attacks, vandalism, or even of organized gangs involved in large-scale theft and fraud. They are also seriously discriminated against in official dispute resolution processes and seldom receive fair treatment.
Need for education. The development of the private sector is also limited by the low level of education among entrepreneurs. Over 40 percent of the individual and private entrepreneurs in Zhaojue County, for example, are either illiterate or only semi-literate. Because they do not understand state and party policies toward the private sector, they worry about potentially unfavorable political changes.17 Officials and entrepreneurs from other counties confirmed that these same problems, discussed in the Zhaojue Political Consultative Conference report, exist in their counties as well, and that in almost all the counties, preferential policies toward the private sector are not being implemented.
Government exploitation. Entrepreneurs often state that government officials and departments do not compensate them for their goods and services, and that it is difficult to collect outstanding debts because the cadres respond with repressive measures or threats to boycott the companies. Government officials or departments borrow money and repay their debts either very slowly or not at all, which, in some cases, has driven entrepreneurs into financial ruin. For example, many Nuosu timber entrepreneurs in Meigu County report that the local, state-owned timber harvesting company borrowed 3.25 million yuan from them early in the 1990s, with the agreement to repay the sum by 1995. Neither interest nor repayment had been made at the time of our survey in September 2001. Although a number of complaints were filed with the relevant prefectural and provincial offices and a joint letter was written to the deputy governor of the prefecture, the problem was never addressed. The deputy governor responded by referring the case back to Meigu County with instructions to resolve the issue. Consequently, the entrepreneurs were no longer able to pay their employees' wages and the employees reacted violently by taking away the entrepreneurs' cattle and other property.
In Ganluo, an entrepreneur who was in the business of processing mineral resources complained that a small conflict between his wife and the county party secretary had resulted in his company being closed down in retaliation, on the grounds that it was polluting the environment.
There is also ethnic discrimination against entrepreneurs. An investigative report in 2001 revealed that in the Han areas of Liangshan, Nuosu entrepreneurs were disadvantaged in relation to Han entrepreneurs when competing for public sector contracts or for governmental leasing contracts. In one case, a Nuosu entrepreneur subleased fallow land to grow fruit in a township belonging to the city of Xichang and the lease was certified by a notary; local Han officials intervened, however, and declared the contract invalid, saying, "Land can not be subleased to Yi."
In a different township, a Nuosu who had leased a pond for fish farming was harassed by local cadres for so long that he abandoned his farming plans. In Chuanxing township in Xichang District, the Nuosu Party Secretary was beaten to death in a brutal confrontation over land rights between Nuosu peasants who did not want to give up their land and Han who wanted to exploit the area commercially; another Nuosu was beaten to death afterwards at the local police station. In Leibo County, a Nuosu construction entrepreneur had already begun construction of a new bridge when, for no apparent reason, his contract was taken away and given to a Han entrepreneur from outside the county. Construction projects are generally granted to (Han) construction entrepreneurs from other areas, who bring in their own staff, and public companies in Han areas as a rule only employ Han. The Zhaojue Political Consultative Conference report also described numerous cases in which Han entrepreneurs overcharged Nuosu villages for their services or otherwise cheated them (Hou 2001: 128–29).
Han entrepreneurs, on the other hand, complain about discrimination against them by Nuosu cadres. In Jinyang County, for instance, despite the preferential policy for private entrepreneurs, one Han entrepreneur was forced to pay 50 percent higher taxes than the locals. He noted that many local cadres own their own businesses and/or firms and pay fewer taxes because of their connections within the bureaucracy.18 Because stipulated tax quotas have to be met, higher taxes are demanded from non-locals who have no guanxi (connections) in the area, and these are mostly Han. The administrative fees normally charged by the local Bureau for the Administration of Industry and Commerce (50 yuan per month) are twice as much for people from outside the area (100 yuan). The Han entrepreneur cited above also told us that he had recently been obliged to contribute 300 yuan to rebuild a power plant. This charge was levied on every private shop owner, and those who refused to pay had their electricity cut off. Over 40 such arbitrary fees are collected in Jinyang, including the "administrative per capita fee" (Ch: rentou guanlifei) and the "residence fee for non-locals with a provisional residence"—most of these fees are illegally charged. The Han entrepreneur said that he had made these cases known to journalists from outside the area but so far there had been no measurable improvement.
Two significant trends should be noted here. First of all, the report issued by the Political Consultative Conference in Zhaojue reveals that official arbitrariness and attitudes are openly condemned in even smaller county towns in which it was assumed that the political elite (the local leadership, consisting of primarily Nuosu but also some Han cadres) would attempt to prohibit negative reporting. Such complaints should be understood as a direct criticism of the failure of the county's political leadership to change such intolerable circumstances. Also, a fragmentation of power has taken place within the counties. This is apparently tolerated by the county leadership, as is the direct criticism of the leadership.
The writer of the Political Consultative Conference report was not only the chairperson of the Zhaojue Chamber of Commerce (Ch: shanghui) and the director of the United Front Department of the county Party Committee, he was also the deputy chair of the Political Consultative Conference. Without the approval of the local Party board, he could not have written such a blunt report for a committee as important as the Political Consultative Conference. During an interview with us, he openly complained about the problems regarding the private sector and made it clear that, as chairman of the Chamber of Commerce, he felt obliged to present the problems as they really were and to try to find solutions. His endeavors were facilitated by the fact that Zhaojue county leadership hoped that the private sector would be the vehicle for developing the local economy, but had experienced difficulties implementing the process. Some prefectural officials were fundamentally sympathetic to such frank reporting and were able to exert pressure on the counties to aid his efforts.
The Zhaojue Political Consultative Conference report also suggested concrete strategies for solving the core problems facing private entrepreneurs. The United Front Department leadership should distribute a copy of the legal provisions, the political guidelines, and the preferential measures in written form to all government departments, officials, and private entrepreneurs in the county. Training courses in implementing these guidelines should be held to reinforce their effectiveness. Also, fees and cost sharing arrangements proposed by higher government departments should be made publicly known.
Another solution was for people in the private sector to obtain registration cards on which all payments could be recorded and which would provide information on legitimate tax and levy payments; thus, entrepreneurs could refuse demands for payment of fees not listed on the card and an official receipt should be issued for every payment made. The report also recommended opening a new center with exclusive jurisdiction over collecting fees and noted that justice and security organs should be required to protect the entrepreneur's rights, and crimes against entrepreneurs should be investigated without delay. The report called for implementing and expanding the scope of the preferential policies, as well as for enforcing their implementation. These measures were partially met within two years of drawing up the Political Consultative Conference report but local cadres were able to circumvent the stipulations regarding illegitimate charges by demanding "voluntary donations" in the form of money or material goods.
Some entrepreneurs have turned to higher authorities or to the press, and a few have even chosen to address their problems through the legal system. Entrepreneurs of both ethnic groups no longer simply accept unjust treatment; they are beginning to defend themselves publicly against injustices. They are not only willing to describe such issues in detail to foreign researchers such as ourselves, but they have also urged us to make their cases known in Beijing or even abroad.
This chapter has concentrated on factors that impair the development of the private sector. While some limitations are due to the corrupt institutional context, general geographic difficulties and infrastructural difficulties for enterprises in Liangshan also significantly hinder development.
The private sector in Liangshan is crucial for economic as well as social development. Although the development of this sector is different in each county, there is no alternative for developing Liangshan Prefecture as a whole. There is still a lot of potential for improvement: entrepreneurism among Nuosu is still underdeveloped, and more Nuosu entrepreneurs are undoubtedly necessary to create employment outside the agricultural sector, though this is less an economic issue than a social and political concern. Private sector development has proven to be the key to economic growth as well as a crucial factor for ethnic prosperity and harmonious ethnic relationships.
Thus, in summary, while county governments play a crucial role in providing the necessary context for development, entrepreneurship fosters a basic change in the role of the local state. Instead of operating county-owned state enterprises, the state becomes a developer that nurtures and assists private enterprises. Liangshan counties vary radically in the extent to which their entrepreneurial goals has been achieved. For example, the local government in Meigu has been much more focused on its role as a developer of private entrepreneurship than the government in Puge, where county authorities have remained stuck in the role of a local entrepreneur. Whether Liangshan as a whole can achieve economic success will depend on the ability of local government institutions to assist private local enterprises.