1
Nuosu Traditional Culture and Social Change

According to official Chinese historiography, traditional Nuosu social structure was based on a two-class system comprising the "Black Yi" (N: nuoho), including nobility as well as land and slave owners, and a slave class encompassing three graded castes, known in Nuosu as quho, mgajie, and gaxy. The uppermost slave caste, quho, which comprised members of Yi clans, and those mgajie who also belonged to Yi clans represented the "White Yi." All individuals belonging to the three slave castes were considered their Nuosu masters' personal property. However, quho and some mgajie were allowed to own land and slaves, and are, therefore, more appropriately described as dependents of the Black Yi, whereas the gaxy were a more traditionally slavelike caste.
The official classification of Nuosu society as a slave-owning society is based on Stalin's "doctrine of socioeconomic formations" (see below) and is problematic for multiple reasons: the so-called slaves possessed their own so-called slaves, and members of the lower slave castes could rise to a higher caste. Also, the Nuosu understanding of their society is different from the Communist Party's understanding of social structures (see Hill 2001: 1035; Pan Jiao 1997: 108, 117). Among the Nuosu, strict segregation rules based on consanguinity (sharing common ancestors) separated the various classes and castes from each other; marriage between individuals belonging to different strata was prohibited. Although both class and caste existed in traditional Liangshan society, they neither coincided nor functioned in the same way; for example, it was possible to rise or fall in class status, but difficult to change caste, albeit members of the lower slave castes under certain conditions could rise to a higher caste.
Every clan occupied a defined territory. Farmland was essentially family private property, though it was never really a commodity, whereas forests, pastures, and uncultivated land were jointly owned clan property. Clan members were bound by duty to assist each other and the clan functioned as a protective organization for its members. People with a Yi genealogy who were not Black Nuosu were members of White Nuosu clans, which were dependent on Black Nuosu clans. From the standpoint of European social history, quho and mgajie could be defined as "serfs," since they farmed land independently for their subsistence, rather than being provided with subsistence in return for non-free labor, as did gaxy, the true slaves. It is also important that gaxy and mgajie were not permanent statuses; though movement from gaxy to mgajie was more common, there was also some movement in the other direction.
Controversies over clan members' rights and interests were often settled by force, resulting in frequent clan feuds. Such feuds broke out for various reasons such as when somebody was murdered by a member of another clan and the murderer refused to pay compensation, when there was a robbery, or when a member of one clan was offended by a member of another clan. Because almost every clan had disputes with other clans, there was no sense of ethnic unity among the Liangshan Nuosu. If occasionally two or three clans allied with one another (in most cases, against Han attacks), the alliances were usually short-lived and would break apart when the immediate goal(s) had been achieved. When clans came together, it was often through affinal alliances.1
Though traditional social structures undoubtedly affected economic activity, being classified as a wealthy person (N: suyy) was not related to a particular class status; even mgajie could occasionally be suyy if they owned slaves.2 There was also a lot of economic mobility, especially after the influx of silver from the opium trade in the twentieth century.
INTEGRATION INTO THE SOCIALIST PROJECT
In the early 1950s, the Communist Party did not interfere with conditions in minority areas, in marked contrast to Han regions, where the Party expropriated the property of large landowners and distributed the land amongst the peasantry. Obviously, the CCP and the government preferred to avoid exacerbating already existing conflicts with non-Han populations and among ethnic nations. In Yi areas, comprehensive reforms came into effect as late as 1956–1957, when the slave system was abolished and Beijing attempted to integrate the Yi into the socialist polity and society.
In the 1950s, the central government attempted to integrate and homogenize different ethnic groups by classifying them into "nationalities" (Ch: minzu) for which new names were arbitrarily created. According to Stevan Harrell, there is a threefold pattern of ethnic classification in China: ethnohistory, which is a scholarly discourse of the history of an ethnic group or an area; a state discourse of ethnic classification, which is the basis for official classification by Chinese authorities; and ethnic identity, which is the perception of one's own ethnicity (Harrell 1995a: 98). Names such as Yi are part of the state discourse of ethnic categorization; different groups that did not previously perceive themselves to be part of a unified ethnic group were classified under one officially recognized nationality or identity and the groups' own names for themselves were usually ignored. According to Nicholas Tapp, this classification of ethnic groups (Ch: minzu shibie) resembles "one of the great colonizing missions of the twentieth century, a huge internal 'self-Orientalizing' mission, designed to homogenize and reify internal cultural differences in the service of a particular kind of . . . cultural nationalism" (Tapp 2002: 65).3
The more than 50 groups lumped together as Yi did not perceive themselves as a unified ethnic group at the time of the state classification project, and even at the beginning of the twenty-first century, discrepancies exist between the state categorization and genuine self-understanding of identity. For example the Yala in southern Sichuan Province do not see themselves as Yi, speak a completely different language than the neighboring Nuosu Yi, and fundamentally reject marriage with members of the Nuosu (Harrell 1998: 1–2). Other groups, such as the Sani in northern Yunnan, have tried to withdraw from Yi nationality and establish themselves as an independent nationality. As the state retreats from many social domains, there are likely to be other consequences of the contradiction between objective (state) classification and subjective feelings of belonging. However, like other newly created nationalities, the Yi have increasingly begun to identify with the grouping implied by the new name. This conforms with Benedict Anderson's hypothesis that nationalities always represent imaginary constructs (imagined political communities).4
Although the initial gradual attempts to change Nuosu society in the early 1950s were quite successful, the radicalization of that process after 1956 provoked massive resistance; during the so-called Democratic Reforms (1956–1957), the traditional Nuosu power structure was eliminated. An armed uprising between 1956 and 1958 continued into the early 1960s in the form of a guerilla war against the official mission of eliminating the "reactionary, slave-holding society." Bimo and suni (shamans occupying a lower social position than bimo) activities were classified as "superstitious" and prohibited, and their practice led to harassment. In these times of political radicalization, bimo and suni were designated as "charlatans" and "class enemies" and were made direct targets of political persecution.
During the "Great Leap Forward" (1958–1960) the Chinese state pursued a policy of forced assimilation. The erroneous assumption that this was the final hour of the diverse ethnic groups accompanied the mistaken belief that communism, as a synonym for an ideal future arising out of socialism, was imminent. The so-called fusion of the nationalities brought about restrictions and even bans on many aspects of Nuosu life, including the use of the Nuosu language and script, cultivation of Nuosu literature, and the practice of Nuosu rites, customs, and religion. Ethnic social structures were also eliminated, and Nuosu religious practitioners and members of the former ruling strata were sentenced to forced physical labor. The most extreme forced assimilation and national oppression occurred during the Cultural Revolution (1966–1976) in the form of physical destruction and cultural annihilation. Nuosu today still remember this traumatic experience.5
For most Nuosu people, political campaigns and movements were phenomena that did not concern their immediate spheres of living. A Nuosu cadre explained:
In the 50s, the Party told us, Gao Gang and Rao Shushi were bad guys and should be criticized; in the 60s Liu Shaoqi had to be criticized. Lin Biao, the deputy of Mao was at first magnificent, then an evil-doer. We even had to criticize Confucius. All those people were Han and we didn't know if they were good or bad; they had nothing to do with us.6
At the beginning of the 1980s, the Chinese leadership saw itself forced into a more moderate policy both because of discontent in non-Han areas and because of an interest in the economic development and modernization of these regions. The results of the Cultural Revolution had made it clear that the integration of non-Han people would be achieved—if at all—not by force, but through measures that were based on a broad consensus. The Constitution of 1982 improved the status of minorities, and the 1984 Autonomy Law formally extended to them the most far-reaching freedoms since the founding of the People's Republic: decisions and directives of higher bodies that did not reflect or recognize the conditions within the autonomous region no longer had to be carried out, although only as long as the higher bodies gave their permission! The autonomous regions' leading cadres were required to be members of the autonomous nationality they represented, and the autonomous areas received a larger package of rights in respect to planning, economic development, protection and exploitation of resources, foreign trade, education, finance, public health, and in other sectors.
However, most of the Autonomy Law's clauses are so vaguely worded that they can not be implemented. It is a soft law for setting state policy goals and it provides no reference to an effective system for protecting autonomy. There are no legal measures to enforce the implementation of this law, and, not surprisingly, people complain that local authorities do not respect the Autonomy Law. This piece of legislation does not address minority leaders' demands for far-reaching and genuine autonomy.
In recent years, there has been some academic discussion concerning more extensive rights and greater political participation by ethnic minorities. The discussion initially concentrated on the defects of the Autonomy Law and established an urgent need for revision. Some of the participating scholars argued that the Autonomy Law had not had significant effects because its specifications were not legally binding and neither the authorities in the autonomous regions nor their superiors acted in accordance with them. According to one scholar, the administration of nationalities' affairs should be defined in legal terms and unambiguous laws for particular spheres (economics, education, financial administration, control of resources, scripts and languages, culture, religion, and ethnic customs) needed to be passed and implemented through formal institutions (Wu Zongjin 1998: 2ff.; Song 1998). Other scholars say that legal institutions and administrative laws should be established to penalize breaches of the Autonomy Law (Yue and Yuan 1998; Chen Lipeng 1998). The autonomous regions have begun to demand laws similar to those applied to special economic zones, as these appear to be much more effective than the autonomy laws.7
Other scholars pushed for a greater degree of political participation through the expansion of self-administration laws (see Zhou Ping 1997), arguing that the conditions were not yet favorable for the development of a state under rule of law. However, they saw progress in the fact that, although unenforced, the hegemonic state's activities did have legal boundaries and a revision to the Autonomy Law was passed in 2001 although it has not brought about appreciable changes.8 In fact, the People's Congresses did strengthen the ability of the autonomous regions' parliaments to approve and make decisions. However, the parliaments were supposed to obtain even greater decision-making privileges, for example the power to establish local regulations and laws, as well as local development policies, or to site industrial development. Again, this draft is a soft law without specific legal mechanisms for implementation.9
An existing, limited affirmative action policy toward non-Han ethnic groups that resulted in special laws for minorities being passed in the 1950s and in the 1980s recognizes different ethnic groups' existence, prohibits discrimination, provides aid to minority areas, guarantees special representation, allocates special benefits regarding population policy and university entrance examinations, and provides the freedom to choose an ethnic identity. However, these affirmative action policies are not always implemented and often do not achieve their aims.
Autonomy is not only related to political decisions but also to economic strength. China's recent development demonstrates that genuine self-administration rights require an economic foundation. The bigger the economy of a region, the greater its maneuvering room or independence vis-à-vis the center. Correspondingly, the more dependent a region is on the center, in this case the province, the smaller its maneuvering room. Thus, economic growth in the private sector could enhance autonomous rights.
THE REVITALIZATION OF TRADITIONAL INSTITUTIONS
The reform process has not led to acculturation or cultural homogenization; instead, the partial withdrawal of the state has brought about a resurgence of local traditions because in periods of rapid social change, people turn to their own traditions in order to maintain their identity as a group. For example, despite three "marriage reforms," Nuosu in Liangshan mostly still marry within their own caste, although the caste system was officially eliminated in 1957 and its material basis (land and dependent castes) was also abolished (see Baqie Rihuo 1998: 9–10). There are many other examples of the renewal of traditional practices, for instance, the resurgence of clan activities and customary law as well as a renewal of bimo activity; in fact, local religious systems have been revitalized everywhere. Nowadays shamans as well as traditional priests and healers enjoy a growing popularity in rural as well as urban areas.
The bimo are socially prestigious priests and healers in Nuosu society. Along with the centuries old Yi script, bimo are considered the Yi's most important carriers of identity and symbols of undiluted Yi cultural tradition (see Gaha Shizhe 1998; Wugashinuimo Louwu 1998: 38–39). Yi scholars nowadays view the bimo not only as "traditionalists" but also as intellectuals, philosophers, and persons with a "higher morality," which is in direct contrast to their state classification as "superstitious" figures and protagonists of a primitive religion. The Yi scholar Bamo Ayi argued at the Second International Conference on Yi Studies in Trier, Germany (June 1998), that bimo are characterized by their "love for their profession" and a belief in equality (since they are active on behalf of people from all classes and castes). They keep to all rules and laws, are hard working, love the truth, possess a high level of morality, and struggle against corruption (see Bamo 1997, 1998). She contrasted this ideal image with the decade-long state propaganda against the banned bimo; a Chinese participant at the conference commented in response that bimo would be "ideal candidates for the Communist Party."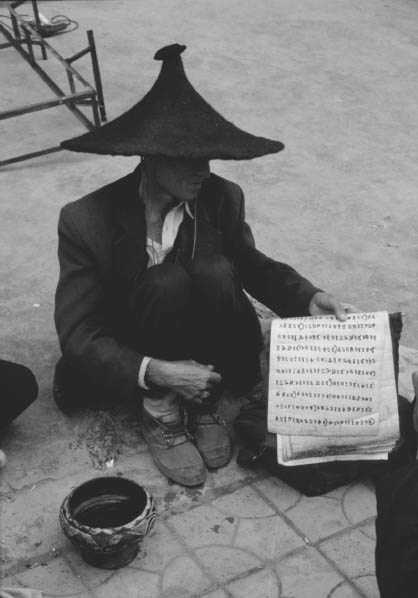 According to the journal Minzu, the influence of traditional religion and religious sects among the Yi has also grown enormously in recent years. In the 1990s, in addition to the increase in traditional religious phenomena, chiliastic movements and sects organized by charismatic leaders (Ch: mentuhui) also gained popularity. While waiting for the end of the world, these sects were busy infiltrating party organizations and increasing their access to party and mass organizations in rural areas and their control of village-, township-, and county-level elections (Shen Jun 1997: 35; see also Baqie Rihuo 1998: 8–9). As we noted earlier, such movements surface during periods of rapid social change, when traditional norms and relationships are eroding. A utopian, eschatological, and egalitarian idealism is created to counter symptoms of social disintegration and decay and anxieties about social and ethnic threats, and such religious groups are a means to cope with widespread insecurity.
One evasive strategy against the threatening processes of social transformation is the migration of families, clans, and social groups into areas of retreat (mountains, forests) in order to continue their way of life undisturbed; the reemergence of traditional culture carriers and their training as bimo or shamans represents another strategy of resistance. Amongst the Nuosu, particularly in the core areas, where Yi constitute 60 percent or more of the population, increasing numbers of young men have chosen to be trained as suni (shamans) or bimo, the traditional scholars of the script, whose duties include healing and escorting souls (to the land of the ancestors). Although this is partly due to local unemployment, which particularly affects ethnic minorities, more importantly, pride and an unaffected intellectual interest play a major role in this trend. A smart, studious boy in Meigu has a much better chance of becoming a bimo than of passing the entrance exams for admission to Sichuan University. An apprenticeship as a bimo includes training in a number of practical skills in the medical, religious, and cultural domains, acquiring knowledge of Yi history and culture, and learning the Yi script. Bimo possess a high level of prestige in Nuosu society and bridge gaps in the official health and educational network. The return of this formerly persecuted profession to society can be interpreted as a sign of growing ethnicity and a reaction to modernization pressures perceived to be exerted by the Han.
Since the 1980s, bimo have been allowed to practice their activities as a paying profession. A training system now exists to connect young people from traditional bimo families with the experience of their forebears; bimo have once more become part of Nuosu everyday life and are respected by cadres and ordinary people alike. However, the reinstitution of bimo was not merely due to a friendly political climate; at the beginning of the 1980s, the collapse of the healthcare network had already led to a resurgence in bimo and suni activities and, according to local officials, by the late 1990s, there were more than 6,000 active bimo in Meigu County alone. Given the general lack of funds for increasingly expensive medical services, bimo and suni were the only trained professionals in a position to fill the healthcare gaps.
However, it would be a mistake to attribute the revitalization of the bimo tradition and bimos' renewed prestige solely to deficiencies in the healthcare system or an increase in religious interest. In societies with high levels of illiteracy, magicians often function as guardians of knowledge and, within Nuosu society, bimo assume the function of intellectuals because of their knowledge and experience. Further, in a rapidly changing world, where change is often perceived as a threat, people cultivate a nostalgia for the past in order to protect and maintain their identity. Religion also assumes a central role in unpredictable social, economic, and cultural environments that call people's identity into question. Thus, the faster the processes of social change and the more unpredictable the environment, the stronger the need to hold on to traditions and religion. Turning to the bimo for guidance helps the Nuosu master the changing everyday world and preserve their ethnic identity.
CHALLENGING OFFICIAL CLASSIFICATIONS
The Communist Party's historical interpretation and classification of traditional Yi society as slave-owning and caste-defined have been challenged in recent years not only by Yi academics but also by Yi cadres and entrepreneurs. In the official state history, the Yi are recorded as the only slaveowner society in China that existed until the 1950s, which assigns the Yi to a relatively low status in the hierarchy of nationalities. This classification attempts to verify the Stalinist historical concept of social hierarchy10 and promotes the perception of China as a nation of nationalities representing different stages of economic, social, cultural, and political development, with the Han at the pinnacle. This analysis, therefore, provides the Han with a justification for historical activities targeted at raising ethnic minority societies to the level of Han society. Thus, equality is brought to various ethnic groups in the name of modern socialist theory. He Baogang and Guo Yingjie argue that in China, history has become "a branch of ideology and a component of the new Chinese national identity" (2000: 95). In this context, the Yi scholar challenges not only the official historiography but also Han dominance and the view of history on which it is based, especially the concept of social hierarchy.
In its role as the guardian of all people living within China's borders, the Communist Party has taken over the role of "civilizing" the minorities, historically performed by China's rulers. The Party decides which customs are progressive and serve the interests of the people, and which customs to abolish. The minorities belonging to "lower" stages of development must strive to catch up with the Han who stand at the top of the social hierarchy, and the policies and means for catching up are determined by the Han. Needless to say, such determinations render impossible any notion of equality between the minorities and the Han.
A statement made by Yi scholars at the Second International Conference on Yi Studies is worth noting in this context. They argued that there was no unified Yi history, only differing historiographies. The official historiography, which casts traditional Yi society as cruel and slave-owning, is in stark contrast to numerous, unpublished Yi historiographies, which regard their traditional society as ordered and harmonious.11 The Nuosu scholar Mgebbu Lunzy (Ma Erzi) fundamentally questioned the official view by pointing out that the term "slave" is unknown in the Nuosu language and that Nuosu terms take their meanings from the context. Moreover, Mgebbu argued, "slavery" was primarily a social institution intended to integrate non-Yi into Yi society and less of an economic institution. Both members of non-Han ethnic nations and Western scholars are now increasingly questioning the Stalinist conception of history as well as official Chinese State historiography. According to Ann Maxwell Hill, Yi society was a society with slaves, but not a slave society, as there is "not sufficient evidence that the economic and political mainstay of elite status was based on slave production." Nor was it a caste society in the strict sense of this term, as transitions into the upper or lower strata were possible (Hill 2001: 1040). Questioning the dominant discourse can be seen as minority members' resistance against the state and against the politics of hierarchizing ethnic minorities.
We could describe the development of state historiographies by using Paulo Freire's term "cultural invasions," which defines the phenomenon of a dominant group invading another culture, imposing its worldview on the invaded people, and blocking possibilities for that culture's expression and creativity. Cultural invasions, argues Freire, are always accompanied by force; the invaded people face the loss of their culture and individuality. In these processes, the invaders are the subjects and the invaded people the objects. The invaders form, select, and act; the invaded people are formed, and must follow or react while under the illusion of acting or being active (Freire 1971: 178–79).
The concept of a hierarchy of ethnic groups according to their historical development approves of and perpetuates inequality and state tutelage. The philosopher Michael Walzer has pointed out that the idea of a cultural hierarchy always poses a threat for the people whose culture is being devalued. According to him, hierarchies are never "innocent" because they tend to be accompanied by a policy of discrimination (Walzer 1996: 186). The classification as inferior is an obstacle for autonomy or self-administration because "inferior" cultures are seen as incapable of handling their affairs and administering themselves.
DEVIANCE AS A FORM OF SOCIAL PROTEST
In the major southwestern cities of Chengdu and Kunming, unemployed Yi and Tibetan migrants have formed gangs and divided the cities into individual territories (Lai and Mujie 1996: 66–72). Poverty, unemployment, and lack of educational opportunities have driven many young Yi migrants into the cities, where they have ended up using or becoming addicted to drugs, including opiates, and many of these young people attempt to survive by stealing. Yi scholars maintain that members of Yi gangs feel that stealing from Han is an eminent or "glorious" (Ch: guangrongde) achievement.12 In contrast, theft from Yi people is taboo. For example, if pickpockets on a train find out that they have stolen from Yi, they will sometimes return the stolen items and excuse themselves, or, on occasion, even pay compensation.
Increasing thefts by Yi have resulted in the Chengdu urban security authorities passing an "internal" order to the effect that Yi could no longer be accommodated in hotels and guesthouses in the city. According to numerous cadres and entrepreneurs, this impinges not only on migrants but also on travelers, cadres, entrepreneurs, artists, and scholars. While the security authorities dispute the existence of such a regulation, that it exists is confirmed by the fact that Yi are no longer able to find accommodation in hotels in Chengdu, and they have also been subject to open insults, discrimination, and even physical assault. Most of the Yi in Chengdu originate from Zhaojue County, the former capital of Liangshan Prefecture, and their migration is due to Zhaojue's economic and social problems, which will be further discussed in chapter 3.
Especially among young people, deviant behavior and criminal activity are on the rise, including crimes involving property and human trafficking as well as murder and robbery. There is a widespread phenomenon of theft that causes damage to water and energy infrastructure and to train tracks or electricity pylons. Organized crime is a separate issue altogether. Violent inter-ethnic and intra-ethnic clashes (clan feuds) have also increased over rights to land and water. The probable causes of criminal activity include lack of employment possibilities, lack of access to education, poverty, and backwardness in many counties. Crime also flourishes in environments characterized by processes of social disintegration, unemployment, and erosion of public values. An article published by the South-Central Institute for Nationalities calls the state's main defensive measure against these trends hard strike (Ch: yan da), i.e., the use of rigid police measures in a nationwide campaign. As in the past, state authorities have not discussed prevention measures (Zhou Xinhua and Xia 1995: 30ff.).
The material causes of such criminal behavior are obvious. Disparities in income, standards of living, and quality of life between Han areas and rural minority areas continue to increase, and many traditional minority homeland areas are among the poorest regions in China. Ties within local ethnic communities are loosening, traditional values are decaying, and there is widespread dissatisfaction with the living conditions in rural minority areas. To many young people, criminal behavior appears to be the only opportunity to escape from the pervasive hopelessness and poverty. Thus, criminal behavior in traditional minority areas should be understood as a form of ethnic protest against this condition of hopelessness and the perception of being second-class citizens. Such behavior may also be the continuation of an anti-Han attitude, based on the former practice of "slave-raiding" and passed down through families and clans; young Yi may not be able to take Han as slaves anymore but they can steal from them and destroy their property. The rise of alcoholism and drug dependence among young people also appears to be a serious problem.13 In Liangshan, Yi teachers have founded "voluntary information teams against drugs" in order to "save their nationality"14 And Yi intellectuals and local and international NGOs have become active in the anti-drugs effort as well.
As I have indicated earlier, such anomie emerges when the collective consciousness of a society is weakened and traditional moral convictions erode. This is particularly the case in periods of rapid social and economic change, when moral safeguards do not keep pace with increasing social differentiation. Anomie is one consequence of the discrepancy between culture-specific goals and the socially determined distribution of legitimate means available for achieving those goals; the other consequence is conformity and acceptance (see Durkheim 1992: 500ff.; Merton 1957). Yi cadres, entrepreneurs, and intellectuals have formally and informally inserted themselves in the People's Congresses and People's Consultative Conferences in order to further local economic development and generate employment, as well as to maintain their culture. Members of different ethnic groups have strengthened their voices by forming coalitions within these institutions to promote their interests, such as improving the school system or obtaining subsidies and investments.