INTRODUCTION
From 2006 to 2007, a billboard declaring, "Develop Rural Tourism, Build a New Socialist Countryside" (Fazhan xiangcun lüyou, jianshe shehui zhuyi xin nongcun), stood on the side of the Gui Xin highway—a smooth, recently constructed four-lane highway linking Guiyang, the capital of Guizhou, to cities in the southeastern prefectures and beyond (figure I.1). The slogans would have been familiar to anyone following the news in China: the placement of this particular billboard was clearly timed with the new state policies for rural development announced in early 2006. The Chinese government had revealed plans to build a New Socialist Countryside as a part of the 11th Five Year Plan (2006–2010), with a renewed emphasis on policies that would help rural people and communities to take part in, and benefit from, China's rapid modernization.1 At the same time, 2006 was deemed the year of "China Rural Tourism" (Zhongguo xiangcun you) by the China National Tourism Administration (CNTA), thus firmly situating tourism within new national priorities (Xinhua 2005).
Such slogans promoting rural development and national progress are common across China, whether plastered on signs in characters large enough to read from passing vehicles or painted on the sides of buildings, houses, or schools. As a literal extension of the rural landscape, a billboard like this was a visible, material sign of the times. In the southeastern corner of Guizhou, where this particular billboard stood, the ambition was to integrate the region's participation in the New Socialist Countryside policies with the development of rural tourism. Attracting tourists to the area was not a new idea.2 Billboards lining highways and roads in rural Guizhou before 2006 also advertised particular regions, with the dual goal of attracting both tourists and investors (figure I.2). Therefore, while the promotion of rural tourism development in 2006 was not entirely new to the area, the deliberate, heavily publicized incorporation of tourism into larger programs for building a New Socialist Countryside gave rural tourism an even brighter patina of doing something not only for the rural communities involved but also for the nation as a whole.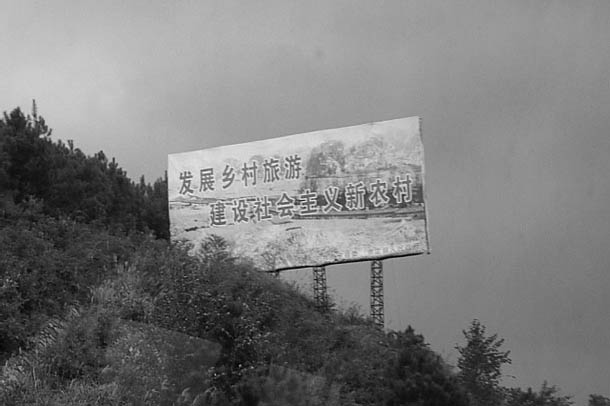 In reality, the national designation of 2006 as the year of China Rural Tourism was a way for policy to "catch up" with tourism trends in China. At stake in bringing rural tourism together with rural development was both the relative success or failure of a New Socialist Countryside as well as an affirmation of the state's expectations for what rural China could contribute to the modernizing nation. The campaign to build a New Socialist Countryside together with the China Rural Tourism year suggested a concerted effort to reconceptualize the relationship between rural and urban regions in China. Rural tourism was lauded by the CNTA as an ideally balanced socioeconomic formula that could increase rural incomes while simultaneously boosting urban leisure. It would help establish the role of tourism in building a New Socialist Countryside, and it would provide new destinations for domestic tourism for urban residents who needed relief from the stresses of modern city living (CNTA 2007, 93). But what were the assumptions and expectations suggested in this straightforward association between rural tourism and rural development? What would it mean to develop rural tourism and build a New Socialist Countryside? Who were these billboards really addressing, and more important, who was supposed to actually do these things?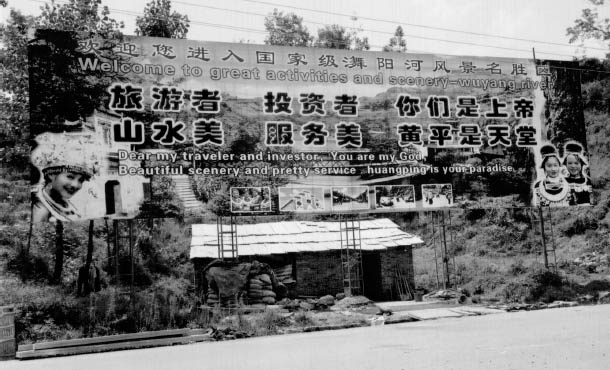 DOING TOURISM
:
REGIMES OF LABOR AND LEISURE
The photographs of the billboards in figures I.1 and I.2 were taken near Upper Jidao, an ethnic Miao village in southeastern Guizhou, where provincial government officials, including the tourism bureau, have promoted tourism development as a means of alleviating rural poverty since the early 2000s. These plans were developed with the knowledge of how tourism in other ethnic minority regions of China, including the ethnic Zhuang village of Ping'an in neighboring Guangxi, which had started its own tourism industry more than a decade earlier, had benefited local economies and communities by providing opportunities for rural ethnic minority households to earn cash incomes closer to home. The corollary that such development could promote local and national awareness about ethnic minority cultural traditions while also stimulating a desire to preserve and protect ethnic heritage was touted as a significant reason for promoting tourism as development in such areas. The question of how to do all of these things remained unanswered, however. For villagers in Upper Jidao and Ping'an, the two communities studied in this book, tourism development has been experienced and understood by village residents as "doing tourism" (gao lüyou), which involves an ever growing number of expectations, ambitions, and logistics.
Village residents talked about tourism as an active experience, as a process in which they clearly saw themselves playing a part (no matter how big or small). Their reflections on doing tourism should be understood as a critical means of asserting their own agency in the building and maintenance of their villages as desirable, consumable tourism destinations. Understanding how tourism is "done" in rural ethnic minority villages like Upper Jidao and Ping'an exposes the odd configuration of labor and leisure that creates and sustains tourism in China. To succeed, village residents have to comprehend not only what constitutes leisure for the relatively new and rapidly expanding domestic tourism market, but they also need to create ways to translate this concept of leisure into profitable and desirable forms of labor for themselves. For those individuals and communities who continue to be directly affected by tourism and rural development programs, the policies and politics of rural tourism reach deeply into notions of belonging and community, values and understandings of rural and urban as categories of place and subjectivity, the social impact of mobility in postreform China, and, of special importance in Ping'an and Upper Jidao, the consequences of being seen as rural ethnic minorities in contemporary Chinese society.
The experience of tourism for village residents extends beyond short-lived, momentary encounters with tourists to encompass learning how to be distinctly modern as rural and ethnic Chinese subjects. Tourism as a practice allows the ethnic minority residents to claim belonging in processes of national modernization, while reconfiguring the contemporary value of ethnic distinctiveness. The commodification and mediatization of ethnic and rural identities reveals a politics of appearance at work in this complex of labor and leisure, a politics in which an overriding concern with looking good encompasses the range of complicated and often contradictory developmental impulses in China's domestic modernization policies. Under these conditions, identity becomes increasingly contingent upon processes of visuality, involving not only how people and places are seen by others but also how people prepare themselves (and their home villages) to be seen. Residents of Ping'an and Upper Jidao are very concerned with finding the appropriate and most desirable ways to present themselves and their village environments (including architecture and the surrounding landscape) to tourists. Indeed, visuality is especially significant and consequential in tourism, and the work of "looking good" doubles onto individual senses of self, subjectivity, and shared cultural characteristics. Furthermore, the role of rural ethnic minority villagers in national programs for development through tourism is conditioned by shared understandings of why tourism is desirable, who should be a tourist, and who should be the "toured."
Rural tourism development, as the CNTA and other government bodies readily explain, could help to reverse the recent trend of rural-to-urban migration. But tourism travel illuminates another side of the myriad forces propelling internal migration in China. Tourism provides an analytical counterpoint for understanding rural-to-urban migration; it encapsulates a context in which to examine how mobility itself can be rendered both socially meaningful and politically suspect. In a country that has aimed to control the movement of its population through the household registration system (hukou; see Chan and Zhang 1999; F. Wang 2005), tourism travel within China has been nonetheless underexplored in terms of its discursive effects on the social significance of mobility domestically and among the overseas Chinese diaspora.3 Statistics on internal migration and domestic tourism attest to the sheer enormity of how mobility in China has become part and parcel of everyday life. In 2003, the number of people not registered in their place of residence in China was 140 million, and 114 million individuals "participated in internal migration" (Huang and Zhan 2005, 2). Comparatively, in 2004, there were 1.1 billion domestic tourist trips taken in China, totaling 84.8 percent of the population (CNTA 2007) and increasing to more than 1.4 billion tourist trips taken in 2006 (CNTA 2008a).4 By 2010, the official population of China was 1.34 billion. The number of internal migrants, or rural workers (nongmin gong), in China that year was 252 million, and the number of domestic tourism trips taken in the country reached 2.1 billion.5
Residents of rural ethnic minority villages like Ping'an and Upper Jidao have come to negotiate with tourism and migration as elements of their livelihoods and life experiences; in their everyday musings on what tourists might want to buy or where they themselves might like to visit, mobility is part of their participation in contemporary Chinese society. In such touristed places, being mobile and being seen are integral to local senses of belonging and opportunity; mobility and visuality, as social processes, deeply shape the contested meanings of travel for those whose lives and livelihoods are most at stake in the tourism industries and for whom migration away from the village remains a very real, very imaginable, alternative for achieving some economic stability. By interrogating the social and political arenas in which rural tourism has been promoted, the unacknowledged frictions embedded in the relationship between mobility and modernity are rendered more apparent. Ultimately, tourism has been made meaningful by village residents as a chance to transform their homes into better places to visit and ideally into better places to live.
This book is a portrait of the relationships between tourism, politics, and representation in an era when the freedom of movement has been declared a universal human right by the United Nations (Article 13).6 In Ping'an and Upper Jidao, being seen and being mobile are deeply intertwined with how individuals perceive their life chances, but any opportunities that emerge remain in tension with national narratives of progress and development. Doing tourism has become a way for these communities and individuals to make sense of their contemporary contexts and to imagine future prospects. By examining, ethnographically, the regimes of labor and leisure in these two rural ethnic minority villages, it is thus possible to recognize the risks and opportunities emerging as China grapples with its rapid transformations and seemingly untold potential. I call this context a landscape of travel.
UNDERSTANDING A LANDSCAPE OF TRAVEL
To fully comprehend the extent of what doing tourism entails as well as to acknowledge that tourism is much more than building roads, serving meals, and greeting tourists, there is a need to understand how all of these activities take place under particular material and imagined circumstances. The transformations occurring in rural ethnic China are embedded in a landscape of travel, where mobility and visuality as social processes have come to frame the opportunities, possibilities, and meanings of tourism for village residents. It is within this landscape where tourists and village residents meet, where one person's leisure becomes another person's labor, and where imaginations and desires materialize as very real experiences. After all, for residents of Ping'an and Upper Jidao, mobility and visuality are daily tasks to be reckoned with; they constitute such mundane activities as sweeping village paths or making sure to be at the parking lot in time to meet the first tour bus of the day. Although the physical landscape around a village is largely experienced visually by tourists, this is a deeply and often troublesome physical matter for village residents who are expected to perform the labor necessary to maintain an appropriately rustic, rural appearance to their villages and fields and to imagine (and try to visualize) what else might appeal to potential tourists.
However, a landscape of travel is more than just the effects of tourism on the land and its people; this conceptual framework casts a wider gaze onto the multiple forms of and reasons for travel in China. Tourism is not just leisure, and travel should be engaged with as discourse, as constituent of subject formation, and as life opportunity. For village residents, tourism was merely one of many forms of mobility, and by extension possibilities, with which they lived. Thus a landscape of travel is not entirely the same as what has been called tourism landscapes by Claudio Minca and Tim Oakes (2006) or touristed landscapes by Carolyn Cartier and Alan A. Lew (2005). Tourism landscapes, following Minca and Oakes, are conceptualized with a greater emphasis on the subjectivity of the tourist; the concept of touristed landscapes, as described by Cartier (2005, 3), "concerns the possibilities of landscapes as toured and lived, places visited by their own residents, the dialectic of moving in and out of 'being a tourist.'" The latter concept extends landscape to include not only tourists but also all others present at the site of tourism, but I seek here to draw attention to how multiple forms of mobility overlap with one another, beyond the limits of a touristed place. More important, by not focusing on the mobility of tourists, this serves as a reminder that the agency and subjectivities of those who live in touristed places may not necessarily have much to do with the idea of "being a tourist" but they do figure prominently into what tourism means.
A landscape of travel is an ethnographic effort to take seriously how travel influences individual understandings of opportunity and identity; how rural ethnic villages undergo material, structural alterations to better suit tourism and achieve ideal modern, sanitized living conditions; and how village residents learn to be touristic in order to successfully build their village-based tourism industries to attract potential visitors. The seductiveness of rural ethnic villages in China is rooted in the circuits of a (trans)national nostalgia for a landscape that appears to embody, nourish, and sustain a more fundamental relationship between nature and human society. This desire for a particular form of romantic rurality drives political and social calls for international rural development, economic rationalizations of global and domestic tourism, and cultural celebrations of "national" ethnic diversity and the subsequent mainstreaming of minority identities. The resulting landscape is constructed to be generic enough and specific enough to satisfy the foreign tourist's desires for the exotic, the national urban dwellers' longing for a "simpler life," the regional day-tripper's need for a brief escape, and even the village residents' aspirations for a place in modern China.
As a framework for conceptualizing the everyday experience of tourism, a landscape of travel therefore encompasses the physical and material transformations brought about by tourism development in villages and also the social changes and cultural politics of leisure, labor, and identity in China today. In employing landscape as an analytical device, landscape should be understood as both a literal component of the tourism experience (in terms of tourists coming to a village to look at the rural landscape) and a means for understanding the terrain of experiences, including migration, embedded in this ethnographic moment of tourism growth in China's ethnic minority villages.7 At the heart of landscape's complexity is the tension between landscape as a material form and landscape as a process. This illuminates precisely how and why landscapes can become so contested; landscapes are shaped and made meaningful through human intervention, whether directly through agriculture or symbolically through stories and interpretation, and yet landscapes are most frequently approached and apprehended as static sights (perhaps best exemplified by the popularity of "landscape photography"). But the apparent stability of a landscape is deceptive, and, as Denis Cosgrove (2006, 56–57) has argued, "it is thus a simple and predictable step from promoting the pictorial or scenic qualities of specific regions as embodying essential qualities of a nation's territory and people, to seeking to fix their origins and preserve and protect them from change."
The relationship between land and human is equally obscured and revealed in a landscape; landscape is both a "field" of social action and agency (following Bourdieu 1977) and an already existing plane of possibilities and relationships embodied in the copresence of people and the land. Therefore, a primary goal in utilizing landscape as a framework for understanding travel is to develop a more comprehensive perspective on the complex, intersecting, and overlapping dynamics of tourism. Landscapes are a symbolic and physical manifestation of the perceived relationships between actuality (lived experiences) and potentiality (expected, or imagined, possibilities; Hirsch 1995, 5). To negotiate between actuality and potentiality thus places emphasis on analyzing landscape as "a means of conceptual ordering that stresses relations . . . acting so as to encompass rather than exclude" (Tilley 1994, 34) and makes it possible to recognize the structural forces at work in a phenomenon such as tourism and the spaces for agency and subject formation within these conditions.
There are multiple forces embedded in any sociopolitical context; Arjun Appadurai's oft-cited model of "scapes" that shape global cultural flows has been influential in highlighting the disjunctures of modern life.8 He contends that "these [scapes] are not objectively given relations that look the same from every angle of vision but, rather, that they are deeply perspectival constructs, inflected by the historical, linguistic, and political situatedness of different sorts of actors" (Appadurai 1996, 33). Amid these disjunctures, however, mobility is one underlying constant in this formulation, as Louisa Schein has argued. She writes: "[Appadurai's] emphasis is on the mobility—of persons and of signs—effected through these contemporary modes and hence on the varied interconnections between peoples and spaces rather than their homogenous unities. His key point is not that people live increasingly similar lives under modernity but, rather, that they can imagine—and sometimes actualize—more and more different lives through the potentials of media consumption and geographic mobility" (Schein 1999, 362–63). Schein offers an important reminder that despite all of the apparent connections made possible in modernity, the consequences may be increased differences and scatter.
For those involved in village-based tourism development—from tourists to tour guides, government officials, consultants, and village residents—tourism and landscapes indeed look different from various perspectives. For example, in analyzing landscapes as an intersection of social relations in Norway, "rural tourism can be seen as an arena where landscape views and perceptions are negotiated between farmers and tourists" (Daugstad 2008, 404). Farmers, in Karoline Daugstad's study, viewed the landscape in terms of economic restructuring; tourists saw the landscape in terms of a romantic, nostalgic external view based on visual qualities as seen from a distance. In tourism development in northern Thailand, the "landscaping" of the rural becomes a cultural process of constructing a desirable, attractive, and pleasurable "Other": "Under the influence of an idyllic, traditionalist and nostalgic vision of the countryside, rural spaces [in Thailand] have been reinvented and transformed into appealing visual and conceptual archetypes which sustain discourses on national identity and history. Such 'landscaping' processes are qualitatively different from those which occurred at the end of the nineteenth century: while cultural difference was at that time encountered, it is now sought after; while it was equated with backwardness and danger, it is now considered as something picturesque and pleasurable" (Evrard and Leepreecha 2009, 245). Landscape in this sense suggests an ongoing process of control and mastery of rural areas and the people who live there, for the sake of the landscaper's or the tourist's (visual) pleasure and enjoyment.9 The construction of a landscape is grounded in the matrix of social expectations it contains and the processes by which these ideas are rendered as socially acceptable ideas and dominant discourses. This approach to landscape tacks back and forth between the general and the particular, the imagined and the real, the similar and the different.
Moreover, through its very materiality, landscape is inextricably tied to images and representations of the land and human experiences of it. Given that the English word "landscape" was first introduced by painters in the late sixteenth century, "what came to be seen as landscape was recognized as such because it reminded the viewer of a painted landscape" (Hirsch 1995, 2). The idea of landscape shifts between the representational ideal of the painted landscape and the reality of the lived experience, thus allowing for the simultaneous consideration of social relations and mobility (Appadurai 1996 and Ingold 1993) and of imagery and visuality (Cosgrove 1984 and Mitchell 2002).10 The power of landscape, as a representational form, demands attention to particular ways of seeing and how the act of seeing engages with and engenders structures of power. W.J.T Mitchell (2005, 337) glosses visuality as "practices of seeing the world and especially of seeing other people." The distinctions between vision and visuality are important in establishing a fundamental understanding of how the processes of seeing affect what is seen.
Examining vision as a social process allows for exploring how certain visions become more socially and politically significant than others. In other words, "the difference between the terms [vision and visuality] signals a difference within the visual—between the mechanism of sight and its historical techniques, between the datum of vision and its discursive determinations—a difference, many differences, among how we see, how we are able, allowed, or made to see, and how we see this seeing or the unseen therein" (Foster 1988, ix). The significance of understanding vision and visuality in modernity, which is "resolutely ocularcentric," as the art historian Martin Jay (1988, 3) has argued, cannot be overlooked.11 After all, if the term "landscape" stems from pictorial practices of representation—namely, landscape paintings—then landscapes are by definition subjectively experienced through techniques of observation (following Crary 1990). In this way, landscapes are created and made meaningful through visual practices and processes of seeing and, in the case of tourism villages, of literally creating the proper, desired countryside and inhabitants to be seen.
Images of landscapes straddle the real and virtual; they gain efficacy and discursive power by virtue of their connection to "real" spaces, which then are perceived as natural and given. The supposed naturalness of landscape imagery effectively masks the inequalities, imbalances, and tensions existent in the very relationships engendered by the process of visual representation. As W.J.T. Mitchell (2002, 1–2) reminds us, it is important not to underestimate how landscape "is an instrument of cultural power, perhaps even an agent of power that is (or frequently represents itself as) independent of human intentions. Landscape as a cultural medium thus has a double role with respect to something like ideology: it naturalizes a cultural and social construction, representing an artificial world as if it were simply given and inevitable. . . . Thus, landscape always greets us as space, as environment, as that within which 'we' find—or lose—ourselves."12 The politics of appearance are encapsulated in landscapes and imagery, and the often virulent debates over who could, or should, control the literal look of a tourism village—whether it should be government officials, the village residents themselves, or the media—reveal deeper issues at stake in terms of political power, social relations, and perceived economic opportunities.
By taking into consideration how landscape offers a conceptual framework for tracing social relations, a landscape of travel illuminates the complex networks of ambitions, expectations, and opportunities that are shaping transformations in toured places like Ping'an and Upper Jidao. This approach extends the idea of tourism as the "sacred journey" (Graburn 1989 [1977]). Drawing on Emile Durkheim (1912) and Edmund Leach (1961), Nelson Graburn (1989 [1977], 24–25) has argued that for tourists, touristic experiences take place within a structural formation of tourism and work that is constituted by opposing ends of the sacred (tourism, the nonordinary experience) and the profane (work, or the ordinary everyday). People move through phases of the sacred (tourism) and the profane (work) throughout their lifetimes, sometimes being tourists and sometimes not. As a result, Graburn has asserted, tourism should be understood as an integral part of life experience rather than as an anomaly.13
Pushing these ideas beyond tourists to the people who are the toured, the residents of destinations, it is crucial to recognize that tourism has not been an "added-value" project onto a presumably stable "everyday" village life. Destination communities should not be analyzed in simplistic binary terms of "before" or "after" tourism because neither the communities nor the tourism experiences in these communities are static. Rather, tourism is incorporated into narratives of past experiences, current livelihoods, and future aspirations for village residents, just as tourism is made meaningful for tourists over the course of a lifetime. There is one major difference, however; for the residents of tourist villages, experiencing tourism at home (as the toured, or as hosts) comprises the profane, the mundane everyday experience of work. The sacred, or nonordinary experience, for these village residents is actually the imagination and fulfillment of a "life worth living" (a key function of tourism in Graburn's formula (1989 [1977], 26) through the symbolic, social, economic, and political shifts brought about by being a tourism destination—which sometimes also included the possibility of imagining being a tourist (Harrison 2003) rather than doing tourism, once enough money was earned.
MOBILITY AND VISUALITY IN PING
'
AN
AND UPPER JIDAO
In many ways, mobility and visuality are as deeply implicated in the experience of tourism for the residents of tourism villages as they are for the tourist.14 For residents of rural tourism villages in China, tourism and migration have become ways of envisioning and mediating current circumstances. Concurrent surges in domestic urban-to-rural tourism and in internal rural-to-urban migration since the early 1990s attest to the point that mobility is constitutive of rural social lives rather than a "disruption" to an otherwise stable, static condition (Greenblatt et al. 2009). Tourism and migration are integrated into personal expectations and ambitions for rural tourism village residents and raise new questions about the sociopolitical force of imagining being able to travel. But in many rural tourism development programs, the unspoken expectation is that village residents will stop being mobile in order to participate in local tourism industries. Indeed, the entire purpose of rural tourism development often seems centered on stopping, or slowing, the "flow" of rural-to-urban laborers and migrants. Thus mobility becomes a socially ordered concept of opportunity for the villagers who are valued by the nation-state and by domestic and international tourists for their potential immobility. This discursive value of mobility hints at much larger issues of the sociopolitical differences between and attributes of being rural or being urban, being culturally mainstream or ethnically a minority, and being rich or being poor.
Visuality is likewise as significant as mobility in the lives and livelihoods of tourism village residents. While practices of seeing are deeply rooted in tourism and the commonplace activity of sightseeing (Adler 1989 and Urry 2002b [1990]) reflects "modern ocularcentrism" (Jay 1988) precisely because of the value placed on "seeing it for yourself," the labor involved in creating a sight to be seen often goes unnoticed. The close-knit relationship between visual experiences, everyday life, and dominant ideologies is embedded in what I call the politics of appearance; one means of understanding this has been to focus on the visual economy of touristic images and representations.15 However, an even more significant aspect of the politics of appearance in tourism development is the work, discursive and material, involved in creating representative landscapes, experiences, and appearances for tourism. These are the images and surfaces created specifically for visual consumption by tourists and, in an era of ever increasing media outlets and forms, they play a critical role in how places are made suitable for development into tourist attractions. Such features promise to communicate knowledge and meaning visually, and to that end, tourism village residents (among others) debate and work to create and maintain an appropriate appearance.
This approach to understanding the impact and efficacy of visual images, following Deborah Poole (1997, 7), "stress[es] simultaneously the material and social nature of both vision and representation," where "relationships of referral and exchange among images themselves, and the social and discursive relations connecting image-makers and consumers" come together to be understood as an "image world." Examining the image world of Ping'an and Upper Jidao thus includes consideration of a range of materialities and technologies—from photographs to architecture to clothing—in order to demonstrate how the visual economy of tourism moves not only among potential tourists but also among those who work in tourism. Through the labor and imagination of tourism workers, the visual environments and experiences of tourism are produced. But whereas visual economy, in Poole's usage, depends in large part upon the existence of material images that physically move in circulation, the visuality of tourism includes the opinions and decisions involved in putting together a view, a scene, or a landscape that has the potential to exude a meaningful representativeness when made into a material image, such as a souvenir print or photograph. For those doing tourism, their attention remains focused on how to look good for tourists, an act that reveals complex processes of exchange, relations, and consumption embedded within the production of these good-looking villages.16
Proposed programs for rural tourism development in Ping'an and Upper Jidao almost always begin with and include a significant amount of work directed at improving the "look" of the villages, referencing the visual features that can be immediately seen from the roadside or parking lot, with the primary goal of looking good as a tourism destination. This bias toward visual experience in tourism—especially in these places that promote sightseeing and ethnic culture as their main tourist attractions—has led to a heightened attention to the construction and maintenance of photographic opportunities and visually recognizable differences. Certain visual motifs and practices are considered expedient to the success of a village; these visual expediencies draw on a complex of expectations, beliefs, and representational strategies that are visually rendered in tourism development and that, as a result, shape understandings of place and identity. The visual expediencies of tourism in rural ethnic villages include such elements as local styles of architecture, ethnic dress, agricultural features like terraced fields, natural décor, as well as general cleanliness and tidiness in public spaces. All of these things have to look good, not only outwardly for national or regional media such as television programs, magazines, and travel guides, but also to express the appropriate notions of "home" and hospitality. The idea of "looking good" has extended inwardly into notions of individual character, civilized (wenming) behavior, and modern attitudes. Indeed, village residents are exhorted to "look good," not just for the sake of tourists but for their own futures as well.
The question of the "look" of a tourism village is also where a number of conflicts have risen in relation to the effects of development, progress, and growth that might damage the "visual impact" of a destination. "Looking good" is crucial to tourism planning, and there is no shortage of information and approaches from the field of landscape architecture on how to create the greatest visual impact.17 According to the Landscape Institute, a U.K.–based professional organization for landscape architects, the visual impact of a landscape is the product of its visual effect and visual amenity; the assessment of visual impact is frequently a core feature of development programs and policies.18 In the Strategic Environmental Assessment Study on tourism development in Guizhou published as part of a World Bank project for the province, landscape and visual impact in rural tourism villages are directly addressed in terms of potential positive and negative effects on the tourist experience (World Bank 2007, 47–48). The architectural styles of homes, restaurants, and shops in tourism villages are considered for their compatibility with ideal forms of heritage tourism, and highways and road construction or upgrades are specifically cited as potentially "detract[ing] from the visual amenity of tourist sites" (ibid., 47). The implicit suggestion is that tourism destinations are not meant to reveal their fundamental dependence, or reliance, on transport and mobility. Roads might suggest that not only can tourists travel into these otherwise "traditional" destinations, but the residents of these destinations might actually be able to travel out of these places as well.19 However contradictory, it is perhaps unsurprising that in the discourse of heritage preservation, the removal or avoidance of the trappings of mobility is considered desirable and preferable in the ideal visuality of rural tourism.
By approaching visuality as a social process, it becomes apparent that being seen is not merely a passive, inherently given condition of tourism. Rather, when considering the consequences of tourism on village architecture, vernacular rural landscapes, and the bodies of the village residents themselves, being seen is an active, productive process that makes identity meaningful in certain ways and communicates these notions through visual means. Identity becomes tied up in the dual nature of tourism as an act of movement and an act of seeing, where travel and image intersect in the formation of socially recognizable subjectivities. In Ping'an and Upper Jidao, one's cultural and social identities are molded by existing discourses and new, local ways of imagining being ethnic and being rural. Current practices and recent histories of image-making, media production, and tourist photography of ethnic minorities continue to inform and contribute to the construction of meaningful identities for these communities. The close study of the relationship between visual images and tourism in China thus sheds new light on how categories such as "ethnic minority" and "rural" have been woven into the fabric of the contemporary Chinese nation through tourism for the purposes of socioeconomic development. John L. Comaroff and Jean Comaroff (2009, 38; italics in original) have dubbed this process as "Ethnicity, Inc.," where in their formula "ethnicity" is taken as "the equation ethnicity = culture + identity," which "interpolates itself into the domain of capital, thus constituting the Inc." Tourism is just one way in which ethnicity, or as they put it, "identity-as-difference," comes to accrue base material value toward the accumulation of wealth and prestige.
Because appearances are posited as central to tourism success, the onus of visual representation falls upon village residents to look, and to appear, ethnic and rural. In these instances, being seen is politically and materially important. As the Chinese national government attempts to stem rural-to-urban migration by promoting urban to rural tourism, it is becoming increasingly possible to literally see how the rural has been reconceived, represented, and reimaged as a desirable place for urbanites to visit and for rural villagers to stay. In this landscape of travel, the visual sensuousness of landscape and the mobile sensibility of travel are intertwined with village transformations and individual aspirations. Changes to the look of a particular landscape suggest major changes occurring at larger national levels (Lewis 1979, 21), and an ethnographic approach to this landscape allows for the exploration of the wholeness of a phenomenon (such as national programs for tourism development) and of particular issues of relatedness occurring within that contextual whole (such as intravillage conflicts and contests over the consequences of tourism growth).
By participating in a mainstream activity such as tourism, rural ethnic minority villagers have been learning to imagine and to place themselves in the whole of China—economically, socially, and politically. At the same time, however, they need to find ways of promoting their villages' own distinctiveness within the national tourism market, and the histories of tourism development shed light on how these villages have come to their specific forms as rural ethnic tourism destinations. For village residents, successfully doing tourism in Ping'an and Upper Jidao means referencing shared national ideas of what it means to be a rural ethnic minority in contemporary China and finding ways to represent and to sell these qualities to incoming tourists.