CHAPTER 2
PEASANT FAMILY HAPPINESS
For a few years, the phrase nong jia le seemed to appear everywhere I went in China. In March 2006, on my first visit to Upper Jidao, a handful of houses had the three-character phrase printed on woven bamboo plates that were hung above doorways. Under each of the Chinese characters of nong

, jia

, and le

was written "farm," "-er," and "inn" (figure 2.1). Ostensibly, I later learned from Teacher Pan, the families whose houses displayed these signs had agreed to, or at least expressed interest in, hosting tourists who came to the village. I only ever saw one of these households hosting any tourists, largely facilitated by the fact that their home was located directly above the parking lot, which was also the village basketball court. "Hosting," in Upper Jidao, meant providing a meal or even just a cup of tea and a place to sit down; at the time, there were no tourist facilities in the village. These efforts at nong jia le were modeled on nearby established tourism villages—in particular, Upper Langde (Oakes 2011, 29), where the Leishan county government had provided carved wooden plaques that read Miao

jia

le

(

is the character for the Miao ethnic group) for households engaged in providing rooms and meals to tourists.
In the following years, I stayed overnight at a nong jia le guesthouse in Jiankou village, Huairou county, north of Beijing; spent time with friends in Ping'an whose new guesthouse was called Nong Jia Le in Chinese and Peasant Family Happy in English; spied small restaurants named Nong Jia Le in towns and cities across Guangxi and Guizhou; and enjoyed a postconference dinner at a three-story restaurant in Hefei, the capital of Anhui, also called Nong Jia Le.1 During that particular evening in Hefei, I wondered what the people in Upper Jidao and Ping'an would have thought of this rural-themed restaurant. Would it have been rural enough for them? The interior was predictably decorated, with a few displays of wooden farm tools in the lobby, tables and chairs made of bamboo and woven reeds, and blue and white batiks serving as tablecloths and wall decorations. This was rural tourism, inside out—a taste of the country in the city. What Ping'an and Upper Jidao were striving for, however, was rural tourism that could bring the city to the countryside.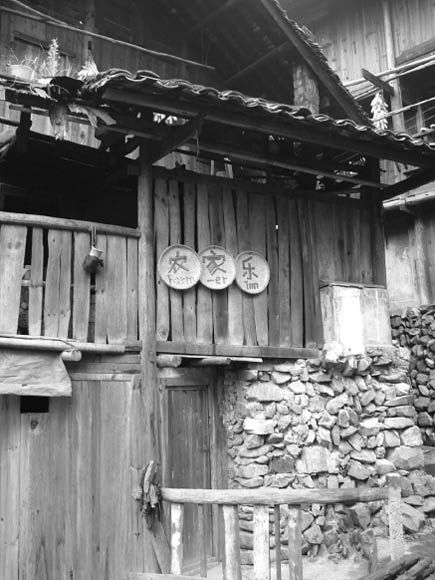 In addition to serving as the name of a family guesthouse or a restaurant, nong jia le, which I translate as "peasant family happiness," was the phrase used in both Ping'an and Upper Jidao by residents when they would describe the business of running guesthouses and restaurants.2 The phrase was oftentimes used interchangeably with "doing tourism"—villagers would talk about doing nong jia le as a way of explaining what possibilities they saw for participating in tourism development. For the village residents, nong jia le simply meant they would establish and operate their own guesthouses and restaurants. At a broader, national level, nong jia le has become a catchphrase for any and all types of "rural" tourism experiences throughout China, typically focused around eating locally grown foods and participating in other agricultural activities that could take place in a village.
Throughout the 2000s, the growth of domestic tourism in China occurred alongside, and in conjunction with, multiple campaigns for rural socioeconomic development, civilized tourism, and the promotion of rural tourism under the moniker of nong jia le. All of these campaigns merged together in 2006 as part of the national policy to build a New Socialist Countryside—a key component of the 11th Five Year Plan (2006–10). The theming of 2006 as the year of China Rural Tourism indicated a renewed energy and attention from the national government on strengthening and promoting the relationship between rural development and rural tourism. But these campaigns were only the latest iterations of previous efforts, including the campaign to Open Up the West (Xibu Da Kaifa) begun in 2000, and rural ethnic tourism had already been promoted as an opportunity for socioeconomic development in rural ethnic regions, particularly in Guizhou and Yunnan, in the 1990s (Donaldson 2007, Oakes 1998, and Schein 2000).
The development of rural tourism in ethnic minority communities during the postreform era has drawn on a set of historical state policies and shared social discourses that continue to characterize the nation's rural ethnic minorities for tourists, government officials, and village residents alike. Communist-era documentary and feature films about ethnic minorities established particular visual representations of peoples in ways that highlighted how ethnicity was to be known visually and that tied ethnic identity firmly to strategies of visual recognition and, by extension, to tourist imaginations that persist to this day. These ideas about ethnic identity and culture, further codified and communicated in official government reports, scholarly publications, and media representations, now exist in dialogue with the expectations and experiences of what it means to be ethnic and to do tourism in Ping'an and Upper Jidao. Moreover, the designation of Ping'an and Upper Jidao as rural ethnic minority communities intensifies justifications for the need to develop these places and renders the villages and landscapes even more exotic and interesting as sights within the nation. To that end, in the first decade of the twenty-first century, the Chinese state has again turned its attention to the growing income gap within the national population and the often violent eruptions of social unrest, which frequently (though not exclusively) occur in less-urbanized, less-developed regions of the country.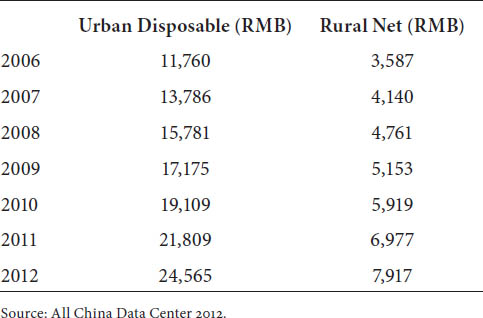 National statistics on average incomes in urban and rural regions in the 2000s reveal a widening economic chasm and are sometimes used as statistical evidence for why tourism should be promoted in rural areas as a means of poverty alleviation (table 2.1). Although these numbers offer a simplistic, binary view of the Chinese population divided upon only one axis (the rural-urban divide), they are useful in understanding how and why development efforts have been targeted at "the countryside" and at speeding up processes of urbanization (chengshi hua) in rural areas. This has been achieved partly through the resettlement of rural communities in newly built, mixed-use housing complexes closer to main roads and transportation. Urban annual per capita incomes are calculated in terms of annual disposable income, meaning the total household income plus a subsidy for keeping a household diary minus income tax and personal contributions to social security. Rural annual per capita income is the net amount, meaning the total income plus the participation subsidy and gifts from nonrural relatives minus taxes and fees, household operating expenses, and depreciation of durable goods.3

More specifically, in the regions where Ping'an and Upper Jidao are located (including province, municipality, and/or county), the urban-rural income gap is notable in two respects: first, for the relatively lower incomes overall in Guangxi and Guizhou, as compared to 2006 national figures, and second, for the disparity between rural and urban incomes within each region. Table 2.2 provides 2006 data from Guangxi, Guilin municipality, and Longsheng county (where Ping'an village is located). Table 2.3 provides 2006 data from Guizhou, including provincial averages and statistics from Kaili municipality (where Upper Jidao village is located). While both urban and rural per capita annual incomes in Guangxi and Guizhou were below the national average in 2006, the differences between urban and rural incomes within Guangxi (¥7,128) and Guizhou (¥7,132) are relatively similar to the difference between national per capita urban and rural incomes (¥8,173).4
China's efforts in the mid-2000s to build a New Socialist Countryside where nong jia le could flourish indicated that tourism was not only seen as an economic force, but that these policies also harbored intentions and ambitions beyond the purely financial. In these years, domestic tourism numbers and revenue began to overshadow in-bound, international tourist figures; media reports predicted the Chinese domestic tourism market was the fastest growing such market in the world (Wang Yongchang 2006). In 2007, domestic tourism expenditures in China comprised about 70 percent of total tourism revenue. The rapid increase in numbers of Chinese tourists, both at home and abroad, prompted numerous popular mass media and online reports about the negative effects of tourism on domestic transport networks and on the environment. There were also well-publicized complaints about unseemly tourist behavior.

To address these concerns, tourism was transformed into social policy in a national campaign to create "civilized" tourism (wenming lüyou, see Chio 2010). While the campaign was intended as part of a larger "civilized behavior" promotion in the years before the 2008 Beijing Olympics and the 2010 Shanghai Expo, the impetus for the civilized tourism campaign was rooted in the increasing number of reports of "bad behavior" committed by Chinese tourists abroad.5 This campaign drew specifically on the Chinese concept of suzhi (quality), which has been commonly represented by the contrast between rural migrant workers and the idealized middle-class urban individual. Tourism was specifically invoked as a viable means of promoting economic and social progress, the former for rural Chinese and the latter for both rural and urban Chinese. Thus the attention paid to domestic tourists and tourism in 2006 effectively directed the focus of tourism onto discourses of development and state contributions to strengthen national unity.6
Nevertheless, for the village communities that receive tourists, the distinction between domestic and foreign tourists matters relatively little. What is infinitely more important is how they can harness the potential of tourism and travel to improve upon their own life conditions and prospects. Doing tourism involves much more than being a tourist; it is a process of negotiation with politics, policies, and shared social practices. My anthropological analysis of tourism thus contends with preexisting understandings and structures of travel within China.7 Tourism and mobility more broadly must be approached not only from the subject position of the tourist, but also through the various policies and changes that have affected the lives of those who are in the business of doing tourism.8
DOMESTIC TOURISM IN CHINA
Historically, travel for pleasure in China was limited to wealthy classes of the ruling elite, and for others, travel was typically for purposes of wage-earning in urban centers or religious pilgrimage (Gang Xu 1999). The latter was greatly limited, and essentially forbidden, on ideological grounds from the early 1950s to the mid-1970s, while wage migration was intentionally hindered through the establishment of the hukou (household registration) system in the late 1950s (ibid., 72–73). A complex bureaucratic system intended to concentrate development in urban areas while continuing the productivity of rural agricultural regions, the hukou system categorized individuals both by place of residence and means of production, categorized as either agricultural (nongye) or nonagricultural (fei nongye).9 The net effect of the hukou system, coupled with the state-led sociopolitical mass movements of the Great Leap Forward (1958–60) and later the Cultural Revolution (1966–76), meant that leisure and pleasure travel were hardly imaginable, let alone feasible, for the vast majority of Chinese people.
While contemporary nostalgia for rurality has led to some depictions of the "sent-down" or "rusticated" youth movement (zhishi qingnian) from the late 1950s to mid-1970s as infused with a pretouristic golden glow of discovery and enjoyment, in the early years of reform and opening from the late 1970s into the 1980s, domestic tourism was openly discouraged in government policy.10 According to Gang Xu (1999, 73), drawing on R. Tang (1990, 144), "in the early years of the 1980s, policymakers still squarely insisted . . . that 'it is temporarily not suitable to promote domestic tourism.' Obviously, the primary interest of the Chinese government in tourism promotion was to earn hard currency. Plagued by dozens of problems in the tourist supply system, especially the over-loaded transportation infrastructure, most tourism planners held that, for the sake of international tourism, domestic tourism should be controlled." This attention to international inbound tourists was led by the Chinese state's intention, beginning in the 1970s, to harness foreign tourism as a means of increasing foreign direct investments and foreign currency reserves, which served as the main incentive for including tourism in national economic development policies (Ghimire and Zhou 2001, 86–87; Gang Xu 1999, 18–22). One of the first Chinese cities to be opened to international tourism, in 1973, was Guilin, less than one hundred kilometers from Ping'an.
As a result, "domestic tourism in China was virtually induced by market demand" rather than by direct state intervention (Ghimire and Zhou 2001, 97), and early rural tourism developments were "spontaneous," emerging out of villages conveniently located near major sites of national significance and the implementation of the "household responsibility system" (geti hu) that allowed farmers to pursue nonagricultural, income-generative activities (Gao, Huang, and Huang 2009, 3). Tourism as an industry was first addressed in a 1984–85 policy document that set out an initial framework for private and state-run investments in tourism development and management, and in 1987, the "first national conference on domestic tourism" was held in Tianjin (Gang Xu 1999, 25 and 75). Tourism (here meaning both international arrivals and domestic travels) was formally identified as an industry in the 8th Five Year Plan, which prompted policy changes at a structural level. Nevertheless, the state prioritized international arrivals, although by the early 1990s, scholars began to take stock of the domestic tourism industry as more than an economically beneficial side-project to the supposedly more important international tourism market to China.11
Beginning in 1993, the central government took concrete steps toward the better regulation and management of domestic tourism, including the establishment of an "insurance deposit" by travel agencies to guard against potential complaints and claims, improving public security at major tourist sites, restructuring tourist prices, improvements to infrastructure and sanitation, and environmental protection measures (Ghimire and Zhou 2001, 97–98).12 This increased attention to the business side of domestic tourism came about after June 1989, when international tourist arrivals to China dropped steeply after the student protests and violent government response on Tiananmen Square in Beijing, compelling "large state-owned travel services to engage actively in domestic tourism" (ibid., 96).
Local provincial governments quickly realized the potential of tourism as a part of national calls for rural poverty alleviation. Various efforts emerged to create policies to address poverty alleviation and modernization through rural tourism in the 1990s in Guizhou, Hebei, Sichuan, and Yunnan (Gao, Huang, and Huang 2009, 3; and Oakes 1998, 125–30). Nationally, additional structural reorganizations included the establishment of the five-day working week on May 1, 1995. The Chinese government deemed tourism a new key growth area of the economy in 1998 and introduced the Golden Weeks in October 1999 (Nyíri 2010, 61–62). The Golden Weeks were three week-long national holidays, encompassing one week each at Spring Festival (Lunar New Year), International Labor Day (May 1), and National Day (October 1). These weeks provided for three days of paid holiday or time off, and the remaining two working days of the week were rearranged to the weekends immediately before or after, to create five full nonwork days.
The Golden Weeks were essential for the success of tourism for Ping'an and Upper Jidao because of the villages' distance from major cities and transport hubs. Both Ping'an and Upper Jidao are a two- to three-hour drive from the nearest airport, in the cities of Guilin and Guiyang respectively; flights from Beijing or Shanghai to these airports take around two to three hours. Even with a flight and direct private transportation to the villages, travel takes at least half a day and can be quite expensive. Most domestic travelers I met preferred to visit these villages as part of a longer package tour of the region to make the most economical trip (typically by flying to the region and then traveling to a number of sites by tour bus for five to seven days). The Golden Weeks allowed more domestic tourists to undertake longer trips farther away from their places of residence, but because these holiday periods were national, they created enormous seasonal demands on transport systems (air, rail, and highways), hotels, and other related industries. In response, the state revised the Golden Week holidays in late 2007, and beginning in 2008, the May 1 holiday was shortened to just one day before or after a weekend, while the National Day and Spring Festival holiday weeks were left as before. To compensate, the national government established additional one-day holidays for the traditional Chinese festivals of Tomb-Sweeping Day (Qingming Jie, in the early spring), Dragon's Boat Festival (Duanwu Jie, in late spring/early summer), and Mid-Autumn Festival (Zhongqiu Jie, in autumn). At the time, the impact of this change to the national holiday schedule on village tourism businesses was a matter of great concern for residents of Ping'an and Upper Jidao, whose businesses depended largely upon the ability and willingness of tourists from Beijing, Guangzhou, Shanghai, and other major cities to take a full week off for leisure travel.
Despite the revisions to the national holiday schedule, domestic tourism numbers continue to increase steadily. Statistically, domestic tourists now far outpace and outspend international tourists coming to China; in 2006, there were 124.94 million foreign tourist arrivals (including tourists from Hong Kong, Macau, and Taiwan), as compared to 1.394 billion domestic tourist trips. Similar to how the numbers of incoming foreign tourists are calculated based on arrival numbers at ports of entry (i.e., airports and land crossings), Chinese tourism authorities calculate the number of domestic tourists based on ticket sales at official tourism destinations or scenic areas (Nyíri 2010, 62). In 2008, just during the October 1 National Day Golden Week, the China National Tourism Administration (CNTA) estimated there were 178 million tourist trips taken, a 22 percent increase over the same period in the previous year (CNTA 2008c). As for tourism revenue, according to CNTA figures, foreign tourism revenue in 2006 was US$33.949 billion, compared to the domestic tourism revenue of ¥622.97 billion, or approximately US$78.8 billion. The dramatic growth and strength of domestic tourism in China over the 2006–10 period thus reflects and explains, in part, increased government attention to tourism and its effects, both positive and negative (table 2.4).
A closer look at the statistics on domestic tourism, however, illuminates the vastness and persistence of economic inequality in China in the 2000s. According to the National Bureau of Statistics of China (NBS), the total population of China at the end of 2006 was 1.314 billion, of which 582 million (44 percent) were registered urban residents and 731 million (56 percent) were rural residents (NBS 2011). The year 2006 was the first in which the number of domestic tourism trips taken exceeded the total population of the country; official statistics state that there were 1.394 billion domestic travel trips taken that year. This number increased to 1.610 billion domestic trips in 2007, or on average 1.2 trips per person. In practice, of course, this figure indicates that many people may have taken multiple tourist trips while others, presumably, may not have taken any at all. These figures should be regarded with some degree of critical distance; within the categories of urban and rural populations there are significant differences between income levels and travel habits. Rural populations in China can include peri-urban, or suburban, communities close to such major metropolitan commercial centers as Beijing or Guangzhou, where incomes may be substantially higher than in the largely nonindustrialized regions of Guizhou and Guangxi where I conducted fieldwork. These tourism statistics, taken from official sources, do not acknowledge the spectrum within each population group.

Table 2.5 disaggregates domestic tourism statistics from 2005 to 2010 for the country as a whole and according to urban/rural population categories as reported by the NBS.13 For a clearer sense of these numbers in relation to total national population, table 2.6 provides an extract of the 2007 statistics on population, domestic tourism trips taken, and average per capita spending by tourists, defined as urban or rural in the reported figures. Urbanites outspent their rural counterparts by about ¥685, or three times more, per trip in 2007; indeed, urban tourists that year spent ¥131 more than the urban average from 2006 (¥766.4). Rural tourists, however, were much more frugal, spending on average a mere ¥0.6 more per trip in 2007 than in 2006. For further comparison, table 2.7 presents national and regional data on tourism visits between the country, Guangxi, and Guizhou. Guangxi receives far more tourists (both domestic and international) than Guizhou, largely because of Guangxi's earlier involvement in the tourism industry with the historically famous city of Guilin and later the popular "backpacker" destination, Yangshuo (Oakes 1998, 48–49).



Tourism statistics alone cannot reveal the myriad problems faced by rural communities, which by no means are all the same, but tables 2.5 and 2.6 show a continued economic divide between urban and rural populations in China in terms of tourist expenditures. Granted, in the 2000s, more and more rural and urban Chinese were taking more leisure trips. Yet the problem of rural poverty and the uneven pace of development in rural regions remained unresolved. In terms of income, the gulf between urban and rural Chinese was stark: in 2006, the per capita urban disposable income was ¥11,760, as compared to a per capita rural net income of just ¥3,587 (see table 2.1). Of course, within rural regions and even within villages (as my own data from Ping'an and Upper Jidao showed), there was a range of incomes and relative senses of wealth or need. These imbalances were meant to be addressed in 2006 through a multipronged effort to expand the possibilities of rural tourism as a contributor to socioeconomic growth, to enact further rural development policies, and to rebrand and promote rural areas as a valuable, worthy, and ultimately pleasurable part of the modern Chinese nation.
A NEW COUNTRYSIDE
The convergence of three national initiatives in 2006 marked tourism—domestic tourism in particular—as a recognized, valuable avenue for rural socioeconomic progress and development. Together with the growing popularity of nong jia le as a type of tourism experience, the nexus of concerns exhibited in CNTA's China Rural Tourism theme, the campaign to build a New Socialist Countryside, and the concomitant public campaign for civilized tourism all pointed toward changing ideas about leisure, imaginations of the future, and uses of the past in contemporary China. The social, political, and economic issues at stake, as suggested in these various programs, ranged from alleviating rural poverty to disciplining one's behaviors as a tourist to celebrating the pleasures of rural life. Plans for using tourism development as a means toward rural economic growth and modernization were under way well before 2006.14 But significantly, the prominence of rural tourism in national campaigns in 2006 marked a particular moment of attention paid to the potential capacity of rural and ethnic minority communities to contribute to the nation's overall well-being. The push of rural development programs went far beyond material improvements to offer new discourses of rural subjectivity and ways of imagining and contributing to Chinese modernity.
The campaign to build a New Socialist Countryside, introduced in late 2005 and officially begun in spring 2006, had its precedents in recurring attempts by the Chinese government to address rural problems. This extends as far back as Mao Zedong's call for a Communist revolution in his 1927 report on conditions of rural life in Hunan (Mao Z. 1975). At the heart of these problems over the decades has been the question of rural subjectivity, or the significance of rural Chinese to modern Communist China's political, social, and economic narratives of nationhood and progress. Indeed, "the 'peasant' construction of the countryside built cultural and ideological legitimacy for Mao Zedong's political and organizational revolution" (Hayford 1998, 150–51). This effectively created the image of an older, undesirable society that had to be rejected and transformed through discourses of turning farmers into peasants, tradition into feudalism, and customs and religion into superstition (Cohen 1993, 154; see also Chu 2010, 63–69; and Kipnis 1995).15 The vision and state-authorized classification of Chinese peasants (nongmin), who are seen as at odds with unforgiving nature and burdened by their unequal status in relation to landowning classes, justified the role of the Communist Party in the nation-state.16 Similar to the Ethnic Classification Project, this vision provided a structure within which the government could do the work of governing its population.17 The hukou system was one such national policy that created distinctions between populations, creating "a veritable paper barrier" between rural and urban areas and limiting the mobility and opportunities of state-classified peasants (Chu 2010, 64).18
In the postreform era, rural underdevelopment has been frequently glossed as the "three rural problems" (san nong wenti): agriculture (nongye), peasants (nongmin), and villages (nongcun).19 As China's domestic and regional economies have diversified, however, rural residents are no longer bound to agricultural labor and engage in an increasingly wide range of income-generating activities, even while they may continue to hold land-use rights and produce food for their own consumption. Some may be large-scale farm owners or migrant farm laborers (Zhang and Donaldson 2010); others, such as the guesthouse owners and restaurateurs in Ping'an who are still classified as rural, may run their own businesses that are only tangentially related to agricultural labor but remain dependent upon certain administrative and historical conditions (such as inherited family land) to exist. Nevertheless, despite these realities, the category of the Chinese peasant persists to this day, particularly within contemporary development and modernization plans including rural tourism.20
The 2000 campaign Open Up the West (Xibu Da Kaifa) set the stage for many of the policies and programs that followed in 2006. According to David Goodman (2004, 3), "the stated goal was the development of the interior and western regions of the PRC, in distinct contrast to the emphasis of regional development policy since 1978 that had favored its eastern and southern parts." Both Guizhou and Guangxi were included, the rhetoric of which suggested that "the west" was bounded and characterized by "economic underdevelopment, a lack of economic infrastructure and large number of minority nationalities, as well as being in the far interior of the land mass" (ibid., 6). Guangxi, of course, actually has a southern coastline, and as Goodman points out, the sheer range of areas and situations covered by the general designation of "the West" discursively elides the many significant differences between these administrative units and cultural regions.21 This campaign, like the New Socialist Countryside campaign to come later, had a basic double aim: to increase opportunities for rural residents in rural places (thereby ideally reversing the flow of internal migrants from the western interior regions to the eastern coastal cities) and to rewrite the discourse of "going West" in terms of contributing to a positive, desirable pioneering spirit and activist sensibility (ibid., 13).
The campaign to Open Up the West drew the attention of many Chinese scholars to the potential of tourism in rural western China as a means of socioeconomic development.22 Rural tourism could address and solve the "three rural problems" of agriculture, the peasant, and the village by developing the "nonagricultural" possibilities in rural regions, including specialty products, service and hospitality, and small businesses—all in service of rural tourism (Yang and Hui 2005, 52). The region designated as "the West" in the campaign included all five ethnic autonomous regions—a designation that implicitly collapsed, to an extent, ethnic minority identity with socioeconomic underdevelopment.23 Furthermore, ethnic minorities make up two-thirds of the total population of the western regions, and of the fifty-five officially recognized ethnic minority groups in China, forty-nine of these ethnic groups reside primarily in the region designed "the West." All of this corroborated a general perspective that rural tourism could be beneficial and viable in these areas by emphasizing folk ethnic traditions as tourism resources (ibid., 51).
The justification for promoting tourism in rural ethnic minority regions thus illuminated the assumption that tourism as development could perform a double duty in China by addressing a range of socioeconomic problems attributed to both rural and ethnic communities.24 New economic opportunities could also combat the "small farmer mentality" by regulating and regularizing rural economies. The idea of a "small farmer mentality" was commonly associated with notions of subsistence, or semisubsistence, modes of production which were, as Tim Oakes (1998, 148) has written, "thought to prevent modernization as [the subsistence farmers] persist in their ways of self-sufficiency and ad hoc participation in local markets." Furthermore, this mentality was perceived to mean that "such peasants are not sufficiently entrepreneurial" (ibid.). Suggestions on how to use rural tourism in the development of western China as a new form of business opportunity therefore implicitly addressed not only economic underdevelopment but also a perceived social and psychological lack of progress.
Another parallel arena of state-promoted social development has been the public campaign to increase the "quality" (suzhi) of the Chinese population.25 Contemporary discourses of suzhi were first linked to notions of population quality (renkou suzhi) from the early years of economic reforms in the mid- to late 1970s, which in turn were reevoked in the 1980s to spur development and progress at a national scale by changing population discourse from issues of quantity (manifest in birth restrictions) to quality (Anagnost 2004). Rural regions were specifically marked as "low quality" in an effort to explain poverty and the slow pace of modernization in these areas; gradually, however, ideas of population quality were taken up "more broadly as a general explanation for everything that held the Chinese nation back from achieving its rightful place in the world" (ibid., 190). Throughout the 1980s and early 1990s, in this era of rapid privatization and economic growth, suzhi became a positive attribute associated with the new ideal type of the rising middle-class, urban Chinese individual. From representing an apparent lack of progress in the body of the Chinese nation, suzhi was now taken as a personal characteristic of high-achieving individuals within Chinese society. Suzhi discourse gained common acceptance as a reflection of the relationship between "two figures: the body of the rural migrant, which exemplifies suzhi in its apparent absence, and the body of the urban, middle-class only child, which is fetishized as a site for the accumulation of the very dimensions of suzhi wanting in its 'other'" (ibid., 190).26
Within this context the campaign to build a New Socialist Countryside took shape as a key component of the 11th Five Year Plan from 2006 to 2010. Paired with two core concepts promoted in this plan—namely "scientific development" (kexue fazhan) and "harmonious society" (hexie shehui)—this campaign explicitly sought to address and improve social and economic aspects of rural lives through five areas: enhanced production, higher living standards, a healthy and stable lifestyle, neat and clean villages, and democratic town and village management (Su 2009, 121).27 Notably, within these five areas, only two are directly targeted at economic goals—enhanced production and higher living standards. "Enhanced production" meant an increased focus on modernizing agricultural technologies to achieve higher yields and, importantly, greater food security for the nation as a whole. Higher living standards were to be achieved through higher rural incomes, by increasing rural productivity and access to markets but also through increased social security programs and educational opportunities. In Upper Jidao, for example, throughout 2006 and 2007, villagers often mentioned to me the elimination of previously mandatory school fees at the primary level, the end of the rural agricultural tax, and the newly introduced cooperative rural health insurance scheme as beneficial recent changes. Of course, residents also noted local corruption, the lack of more modern infrastructure (in particular, outdated water and sewage systems in the village), and overall low incomes and resultant pressures to seek wage labor far away from home as ongoing struggles in their daily lives.
Less overtly discussed in the village, and yet widely present in public media discourse, were the remaining three areas of the campaign that focused on social development: a healthy and stable lifestyle, neat and clean villages, and democratic management. Indeed, the theme of cleaner and neater-looking rural places became a cornerstone of the visual representation of a New Socialist Countryside. As David Bray (2012) has shown, the planning and ostensible "urbanization" of one community in Jiangsu, Qinglong (an administrative village southeast of Nanjing), as part of the New Socialist Countryside program began with efforts to clean up and modernize the built environment in 2006. In Qinglong, village leadership implemented the "six clean-ups and six set-ups" (liu qing liu jian), which included cleaning up rubbish, manure, straw, waterways, industrial pollution, and chaotic construction practices. By mid-2007, "Qinglong leaders were able to report . . . [that] the former 'dirty, chaotic, and backward' local environment had been given a 'new look'" (ibid., 12). Many villages underwent extensive rebuilding and reconstruction efforts, tearing down existing residences and buildings to construct new units that looked more modern (Lora-Wainwright 2012 and Oakes 2011), and entire village communities were moved into newly planned residential areas (Bray 2012 and Guo Henqi dir. 2010). Many of these developments were perceived as mere vanity projects, however, and duly criticized by government officials as such (Wu N. 2007).28 The implementation of a new urban-rural planning law in 2008 thus aimed to increase rural urbanization and to better oversee the ways in which rural buildings and spaces were being transformed, physically, under the guise of development.29
Tourism, conceived as a means of development, provided villages and government offices with a ready-made agenda that could encompass the three goals of income generation, "tidying up" village spaces, and social progress. But as Oakes (2011, 28) has pointed out in an overview of the New Socialist Countryside transformations in Guizhou, "village based beautification assumes an urban-based aesthetic eye," and, as a result, "the problem lies in an urban aesthetic that reinvents the villages as a repository of soon-to-be-lost heritage" and not necessarily as a productive space for wage-earning, let alone farming or food-raising.30 The conceptual connection between space and subjectivity is apparent: cleaner, neater, and more modern living spaces could create civilized, higher-quality people. Upper Jidao was "planned" for tourism by various government construction bureaus from the township (Sankeshu), to the municipality (Kaili), to the province (Guizhou). Changes laid out in the 2006 New Socialist Countryside plans for Upper Jidao included building a new decorative "wind and rain" bridge (fengyu qiao) into the village, a common-use garbage incineration area, a bigger "song and dance" space (tiao ge chang), and a tourist reception office (jie dai shi).31 In 2007, funds were provided to build single-purpose pens behind the village's central residential area to house pigs and oxen instead of raising them directly underneath a household's living space (something noted also in Bray 2012 in Jiangsu and in Oakes 2011 in another village in Guizhou), in the name of cleanliness and comfort. Ping'an had already implemented a similar rule in the early 2000s that required pigs and oxen to be kept in pens separate from houses. But in Upper Jidao this particular change was met with some resistance, as many older village residents were unhappy at having to carry heavy buckets of slop and bundles of hay across the village, multiple times a day, to feed their animals. While some of the new pens were eventually used, other families continued to raise animals underneath their homes.
A NEW
(
CIVILIZED
)
TOURISM
Travel and travel experiences were another component of the pursuit to create "high quality" Chinese subjects, even before the New Socialist Countryside campaign; as part of Open Up the West, for instance, "the rural population was encouraged to acquire new skills and a more modern mentality by migrating to cities" (Nyíri 2010, 84). Likewise, tourism was viewed as a positive contribution to improving suzhi; parents in the city of Kunming, Yunnan, invested in summer travel opportunities for their children in an explicit effort to raise the suzhi of their sons and daughters (Kuan 2008). The contribution of tourism to increasing collective national levels of suzhi was evoked further in other state plans and projects.
Analyzing the competing visions for development and nature tourism along the Altai Road, which crosses the China-Russia border, Pál Nyíri and Joana Breidenbach (2008) have argued that for China, nature tourism in this region fit into current discourses of travel, suzhi, and the general uplifting of China's "spiritual civilization." "The state-driven tourism boom has not only been a major tool of increasing domestic consumption," write Nyíri and Breidenbach, "it also fits into the Chinese state's use of tourism development as a tool of both 'material and spiritual civilization' that should strengthen national pride and 'raise the quality' of the rural population and especially of ethnic minorities" (ibid., 131). The appeal of tourism to the Chinese state and Chinese tourists in the postreform era echoes what Anne Gorsuch (2003) has called a "ritual of reassurance" in the context of the late–Stalinist era tourism in the Soviet Union.32 There, tourism "offered a means of producing socialist-minded citizens focused internally on the advantages of the Soviet system. It may also have been a ritual of reassurance for Soviet citizens in so far as tourism offered hope that life post-war would be an improvement on what they had thus far endured" (ibid., 785). Certainly for many domestic Chinese tourists I met, as well as for the villagers in Ping'an and Upper Jidao, the new opportunities for tourism and leisure were seen as proof that life conditions were much improved now as compared to thirty or even twenty years ago.
Increased mobility across the nation also has brought more and more diverse communities in contact with one another, and yet migrant workers continue to be regarded frequently as "low quality," despite the supposed modernizing influence of mobility and travel. But the emergence in the early 2000s of reports and stories of the "ugly Chinese tourist" both domestically and abroad put a damper on this new positive association between travel, individual quality, and potential (Chio 2010). The China Central Spiritual Civilization Steering Committee33 took this matter of unattractive tourist behaviors very seriously, issuing a document in August 2006 entitled, "Plan to Raise the Civilized Tourism Quality of Chinese Tourists" ("Tisheng Zhongguo gongmin lüyou wenming suzhi xingdong jihua") (CNTA and Zhongguo Wenming Xie 2006). Furthermore, the Spiritual Civilization Steering Committee and the CNTA jointly issued a call for stories and submissions on "uncivilized tourist behavior" (the article subtitle read: "Zhongguo gongmin lüyou bu wenming xingwei biaoxian") and "suggestions for quality tourist behavior" ("Tisheng Zhongguo gongmin lüyou wenming suzhi jianyi"); by September, they reported having received more than thirty thousand entries and three million hits (Zhongguo Wenming Wang 2006c).
An article from the Beijing Youth Daily newspaper, published in September 2006, ran the headline "How Do Foreigners View Chinese Tourists?" and recounted the unbecoming antics of Chinese tourists as reported in Thai, Malaysian, and American media outlets (Zhongguo Wenming Wang 2006a). Amid much publicity and attention from both domestic and international news outlets (Macartney 2006, Xinhua News 2006a and 2006b, and Zhang R. 2006), specific guidelines for tourist behavior were published as booklets and posters. These guidelines were made public on October 2, 2006, during the October 1 National Day Golden Week holiday. One set addressed issues for outbound Chinese tourists (traveling internationally) and another set of guidelines was directed at domestic Chinese tourists.34 Travel agencies were responsible for giving each of their tourists the appropriate guidelines before commencing a tour, and posters with the guidelines were displayed as late as 2008 in airports, airline ticketing offices, and other relevant travel industry locations.
According to the guidelines, civilized quality improvements in tourists could be made through small changes to everyday behaviors; among other regulations, outbound Chinese tourists were reminded to "be polite and respectful," "wear appropriate clothes and don't spit," "let women and the elderly go first," and to "be quiet while eating" (Zhongguo Wenming Wang 2006b). For domestic tourists, the guidelines included an emphasis on environmental protection and admonishments against littering and spitting, as well as reminders to protect ancient heritage objects, respect religious traditions, and not to insist on taking pictures with foreign tourists (ibid.). According to an article in a Beijing newspaper, tourism—and by extension the "quality" of Chinese tourists—was matter of image management and represented the quality of individuals and of the nation as a whole. Therefore, only when domestic tourists were civilized would outbound tourists also be civilized (Xin Jing Bao 2006).
This push to civilize the tourist thus coincided with the deployment of tourism to civilize the toured in China following the joint proclamation of the China Rural Tourism year and the beginning of the national New Socialist Countryside campaign. The theme of China Rural Tourism was to establish, according to its slogan, "new villages, new tourism, new experiences, new customs" (xin nongcun, xin lüyou, xin tiyan, xin fengxiang). Numerous reports and scholarly articles published around this time proclaimed with great insistence the positive role of rural tourism within the larger challenge to build a New Socialist Countryside.35 In a widely circulated article written by the CNTA director Shao Qiwei, the relationship between the year of China Rural Tourism and the national campaign to build a New Socialist Countryside is extolled for its multiple advantages for both tourists and rural people (Shao 2007).36 Titled "Develop Rural Tourism, Promote Building a New Countryside," Shao makes explicit in his argument that the role of rural tourism development is not only to increase the types of work and income-generating activities possible in rural areas, but also to contribute to the improvement of rural suzhi. The key strategy behind rural tourism and rural development, Shao writes, is to "use tourism to help peasants" (yi you zhu nong). He lists five specific ways in which rural tourism contributes to positive development. Besides assisting in the creation of rural products for sale and the improvement of rural livelihoods, Shao explains in his third point that rural tourism "benefits the raising of rural people's quality and countryside civilization." Increasing "civilization" in the countryside, Shao continues, includes the introduction of new ideas and concepts from the city, better education, learning to speak standard Chinese and foreign languages, and learning to use computers. All of these specific features of "civilization," Shao concludes, will benefit the suzhi of rural residents.
Shao (ibid.) also stresses the need for local governments to incorporate rural tourism development directly into their own programs and the importance of increasing opportunities for rural residents in rural areas, evoking the Chinese slogan "leave the fields without leaving the countryside" (li tu bu li xiang). To make the shift from agriculture and subsistence farming to enterprise, rural people must incorporate the charm and soul of rural traditions and livelihoods into their tourism efforts, Shao writes. Although rural tourism can be a part of the new countryside, he continues, it should not "be that as a result of development, the new villages are built without agriculture, vernacular architecture, peasants, or (other) unique characteristics" (ibid.). He emphasizes the necessity of adequate governing structures in rural tourism and of paying attention to local opinions; while community participation should be encouraged, rural residents cannot be forced to do tourism, he notes.
PEASANT FAMILY HAPPINESS
How, exactly, were rural communities supposed to do tourism in this case? The business model called nong jia le is generally associated with spending leisure time in a village household, usually a family home or guesthouse, eating locally produced "simple" foods, possibly engaging in agricultural activities such as harvesting fruit, and perhaps staying overnight. By one account, nong jia le first emerged in 1987 in the village of Long Quan Feng outside Chengdu, Sichuan, although the phrase has also been used for holiday villages near Beijing, Shanghai, and other larger cities (Yang Y. 2007, 1). In ethnic minority regions, the first character, nong, is often changed to the ethnic name of the particular community.37 The capacity of the phrase to be rewritten or revised to accommodate different ethnic names points to the centrality of the body of a rural, and/or ethnic, person as the provider of the experience for tourists. It is therefore critical to acknowledge that nong jia le, as it has been envisioned to take place in rural villages in China, anticipates and indeed demands the participation of rural people in this touristic encounter.
The emphasis of nong jia le tourism is on the experience of rural life: through enjoying the proverbial fruits of farm labor and through the provision of the romantically uncomplicated, unassuming pleasures of the idealized countryside. In this way, nong jia le tourism relies upon the discursive category of the Chinese peasant, which operates here in a cultural mode as the ultimate "Other" to the modern Chinese citizen.38 Beyond the commercialized desirability of a rural experience for potential tourists in contemporary postreform China, as a concept and a commodity, nong jia le also deliberately and self-consciously ignores the increasing diversification of rural livelihoods and economies in favor of a timeless, stable rural folksiness that exists in contrast to the existential whirlwind of the city (Williams 1975).39 Nong jia le thus promises an experience of the happiness of peasant family life, and this experience dominates nong jia le advertisements and promotions. For village residents, however, the intersection of peasant discourse with nong jia le tourism opportunities has resulted in "tourism entrepreneurship [becoming] an entanglement of a moral and a capitalist economy," as Hazel Tucker (2010, 928) has shown for "peasant-entrepreneurs" in a Turkish destination.
As a business model for private enterprise, nong jia le arguably could be integrated into the policy of "using tourism to help peasants"; the national agricultural bureau published a handbook on how to run a nong jia le business, which gave detailed instructions on the elements of such endeavors, such as how to set prices, how to publicize businesses, and how to be proper hosts (Yang Y. 2007). According to the handbook, nong jia le businesses are characterized by low overhead costs and rapid returns on investments. The model emphasizes participation (from both village residents and tourists) and celebrates the rural, agricultural, and traditional cultures. In chapter 1 of the manual, the character nong is discussed in relation to its role in nong jia le businesses. The book explains that nong jia le is based on agriculture, village and rural materials, and rural sightseeing, in which the village itself provides the resources for tourism development (ibid., 3). But perhaps even more important than a village's rural environment is the role of rural familial affect (nongjia qinqing) in building successful rural tourism (ibid., 4). The invocation of affect, and kin affect no less, serves to acknowledge the significance of rural people in China's development and utilizes the category of "the rural" to justify particular policies and programs, shifting the significance of what is rural from the economy (and modes of production) to the realm of sociality and interpersonal relations. Indeed, the true goal of nong jia le is "to make the guest a family relation" (ba keren dang qinren) by stressing that even though the tourist is a consumer, the service provided should be at the level of the familial. This is how rural people are to participate in the modernizing effects of tourism—namely, by sharing their social identities as peasants in ways that bring tourists into the fold; the guide emphasizes that through "personable, familial service, guests will experience a feeling of 'coming home'" (ibid., 4).
Chapter 2 of the manual details the concepts and methods related to the development of tourism resources, first by outlining the different types of cultural tourism resources that exist, including landscape, water, animals, architectural/historic, relaxation/activity-based, and shopping experiences (ibid., 18). Opening the market for tourism requires a comprehensive understanding of the tourist desires and the available resources, and for nong jia le businesses, the manual stresses that potential owners must consider such factors as safety, low overhead, environmental protection, and the potential for tourist participation. After all, the handbook instructs, "nong jia le tourism products should consider the ability for tourists to experience, to see with their own eyes, to use their own hands, to both play and work" (ibid., 29). As an experiential trope, the idea of participation thus creates the opportunity for rural communities to contribute to national development and for (presumably) urban tourists to cope with the stresses of modernity. Both groups, of course, would in turn raise their respective suzhi levels as productive Chinese citizens.
In an article entitled "Philosophical Thoughts on the Era of Nong Jia Le," Lin Hesheng (2007) muses over the potential negative effects of nong jia le enterprises on rural people. Recalling an anecdote about a seeing a nong jia le business owner who grew organic produce only for consumption by his family and served chemically fertilized vegetables to tourists, Lin asks, rhetorically, if this state of affairs had been brought about by the city tourists or by the corruption of rural peasants (ibid., 89). Using nong jia le as a conceptual fulcrum to consider the social and psychological effects of modernization and development, Lin nevertheless voices his support for the positive potential of this industry but concludes with a call for a "postmodern" form of nong jia le—one where the urban tourists can enjoy the countryside, but the rural hosts participate not only for economic profit but also out of their own enjoyment of this type of business and lifestyle (ibid., 90), thus rendering the subjectivity of the rural hosts completely in line with modern, developed, and effectively urban perspectives on labor, leisure, and mobility. Indeed, national government plans for rural tourism extended well beyond the year of China Rural Tourism, presumably in pursuit of precisely such goals for the social development of rural people. In 2007, the CNTA signed an agreement with the Ministry of Agriculture "to jointly promote rural tourism development and the construction of new socialist rural communities" (Gao, Huang, and Huang 2009, 443).
Such policies aimed at rural communities were never to be just about the money: tourism in China was bound tightly with explicit attempts to construct a new Chinese countryside, a new Chinese tourist, and a new rural Chinese subject. In this way, contemporary tourism in rural China has made claims on the rural as a social identity, whether by commercializing a shared nostalgia for rural lifeways or, in many regions, by highlighting ethnic minority traditions as a valuable resource in creating and sustaining the appeal of tourism to these areas. Tourism should be able to perform a double duty: as an effort to increase rural incomes and also to raise the suzhi of ethnic minorities by modernizing them through tourism as development.
To participate in these efforts, however, residents of tourism villages like Upper Jidao and Ping'an were expected to look, perform, and behave like their counterparts in urban ethnic theme parks, only in a rural setting that would, in theory, make the experience of meeting an ethnic minority and watching an ethnic performance even more authentic. For both villages, rurality and ethnicity were equally promoted as attractions. Nevertheless, most residents I spoke with emphasized that their less-developed socioeconomic status as compared with the domestic and foreign tourists they encountered was a result of their rural location in relation to China's rapid growth in urban centers along the southern and eastern coasts, and not a consequence of their ethnicity. Upper Jidao and Ping'an residents were proud of their ethnic identities and cultural traditions, even or perhaps especially in the contemporary Chinese marketplace that encourages certain ways of appropriately producing and consuming ethnic difference (McCarthy 2009). In the case of these two villages, because they were promoted as ethnic and rural tourism destinations, village residents felt a particularly strong connection to making tourism succeed since they were literally being asked to sell themselves in the postreform tourism marketplace. Therefore, residents had to reconcile with the current benefits and disadvantages of being different, ethnically and rurally, or as Sara Friedman (2006) has dubbed it in her study of the "Hui'an woman" in rural Fujian, the "power of difference." Understanding the power of difference in China is crucial for unpacking how tourism as development has become meaningful for village residents, and the history and conditions of difference in China, between ethnic minorities and the majority, between rural and urban, have affected not only how Chinese travel but also why and who travels at all.
The synergistic effects of national policies on and mainstream discourses of the rural and the ethnic in contemporary China informed the everyday experiences of communities and individuals living in rural ethnic tourism destinations and shaped the ways in which village residents could envision their own roles and participation in doing tourism. A select number of residents in Upper Jidao learned what tourism meant partially by attending internationally funded training workshops on tourism and heritage preservation and hosting visiting World Bank consultants and experts. Villagers in Ping'an reacted and responded to changing demands and expectations from tourists, as well as to the influx of outside entrepreneurs, government officials, and investors. Yet at a more immediate, personal level of experience and reflection, residents in both Upper Jidao and Ping'an increasingly drew upon their own travel experiences and their opinions about tourism as gleaned from media sources and personal encounters. For most villagers, their previous travels were undertaken as migrant laborers, in search of income and wages by working as laborers in factories, farms, and construction sites around the country. Their stories, told in chapter 3, thus mapped the myriad paths, opportunities, and desires over time and for diverse reasons of a landscape of travel that influenced why tourism was significant, what they envisioned they could do in tourism, and perhaps most important, what tourism might eventually do for them.