CHAPTER 1
SIMILAR, WITH MINOR DIFFERENCES
"Doing tourism" in Ping'an and Upper Jidao entails pragmatic and discursive understandings of both being an ethnic minority and being rural in China today.1 After all, the potential success of tourism in these communities rests upon their ability to turn a profit from the tourist's experience of encountering ethnic difference in a visually and physically distinctive rural landscape. While similarities between many ethnic tourism destinations around the world speak to the standardizing effects of tourism as a commercial enterprise, studies of ethnic tourism often emphasize the role of national government policies and programs that direct and regulate ethnic encounters. This regulatory feature of ethnic tourism points to contestations over the governance of ethnic identity in contemporary nation-states, including China. For village residents who must do tourism, their identities as ethnic and rural are more than performative roles to be enacted in the presence of tourists; these subjectivities provide a moral understanding of the changes and conflicts experienced in each community over the past decades of socioeconomic transformation.
HAVE YOU LOST YOUR ETHNIC IDENTITY
?
It took me a few months in Ping'an to work up the nerve to approach Lao, one of the elder leaders of the village, for an interview. Everyone said I needed to speak with him to get the whole story on how tourism started in the village. I was worried about not being taken seriously by someone so well respected within the village, even though I knew his family fairly well. Trained as a doctor, Lao was a Party cadre and had been privy to the first discussions on tourism in Ping'an in the late 1970s. He opened the village's second guesthouse, named Li Qing after his two daughters, in the early 1990s. By the mid-2000s, Li Qing was a veritable brand-name enterprise by Ping'an standards, with three guesthouses and a steady stream of foreign and domestic customers.
The first time I asked Lao if he was willing to be interviewed, he said yes but he was busy that day; he suggested that I find him another time. Meanwhile, without my prompting, he wrote out the history of the village's tourism development for me, and when I returned to interview him, he read the document aloud and I asked questions to clarify certain points.2 When he reached the end, I asked what he thought about the future of tourism in the village. Lao pointed out four problems that needed to be addressed: more equitable monetary compensation for villagers who worked on maintaining the terraced fields; more public infrastructure, such as village paths and toilets for tourists; better management of water resources; and treating tourists with greater respect. On this last point, Lao said that the Zhuang used to be known for their hospitality, generosity, and cleanliness, but over time, as a result of tourism, these "special characteristics" (tese) of the Zhuang were fading fast. This prompted me to ask, as I had started to do jokingly with some of my friends in the village, if Lao thought that the villagers had stopped "being Zhuang" as a result of tourism in Ping'an. Many scholars, journalists, and tourists write about this idea, I added—namely, that tourism is causing people to lose their ethnic identity. Did he agree? Without a moment's pause, Lao responded, "No."
He elaborated on his point a few days later, when I went back to his house to pick up a copy of his history of tourism development in Ping'an. He was at home with his wife and one of his grandsons. (During the week, Lao's wife and grandson lived in the county seat, Longsheng, so that the grandchildren could attend primary school in town. They were back in Ping'an for a weekend visit.) Lao handed me a carefully rewritten copy of his account, and I looked through it. Then, Lao suddenly added that he had thought of something that had really changed in village life and affected their "folk customs" (minsu) since tourism had begun twenty-five years ago: the environment and sanitation in the village were much, much worse now than before, he declared.
Before a lot of tourism, Lao continued, the surroundings and the water in the village were "very lovely, very nice," but with "development, and doing tourism, the garbage hasn't been taken care of—the water in the ravines, streams . . . now you don't even dare to wash your hands or feet [in that water]; the environment is really bad." This was a matter of custom, he added, because the environment's decline directly affected the life and the look of the village. "The original atmosphere, the original appearance [yuanfeng yuanmao] of the village has changed," and he put part of the blame for this squarely on the villagers themselves. "The people's habits are bad—human waste, sewage, animal waste, everything is dumped in the ravine" to flow down the mountainside to the river below. I suggested that perhaps it was the numbers of tourists who were contributing to the environmental problems, but Lao disagreed. To him, the problems of sanitation and the decline of the environment in Ping'an were the problems of the people who lived in Ping'an. The inference was clear: for the Zhuang, his community, to neglect the environment was a crisis rooted in the core of their consciousness as a people. To be Zhuang, Lao implied, was to take pride in the environment and thus to maintain its cleanliness; the degradation of the latter, therefore, was an indication of the decline of Zhuang identity itself. This was a comment not only on individual behavior and bad decisions; this was a matter of their collective, shared identity as a part of the Zhuang ethnic group.
My initial surprise at the apparent disconnect between the changes Lao associated with ethnic identity in the village and what I assumed to be "ethnic" reveals both the wide applicability of the term "ethnic" to describe myriad human behaviors and attributes and the specificity and the seriousness of these claims. When I joked about "losing your ethnic identity" with others in Ping'an, the only concrete aspect of Zhuang life that we usually agreed was being "lost" was knowledge of the Zhuang language among younger generations. The children now spoke standard Chinese (Mandarin, putonghua) in school and in their interactions with tourists; some children even preferred to use standard Chinese instead of the local, regional dialect (called Guilinhua, named after the nearest major city).3 Historically, language provided a recognized "boundary" (following Barth 1969) between the ethnic identities of the tourists (who generally were not Zhuang or did not know the northern dialect of Zhuang spoken in Ping'an) and the village residents.4 How was sanitation and the treatment of wastewater somehow also an ethnic characteristic, or at least tied to local senses of collective community and belonging, as Lao seemed to suggest?
Ethnic tourism has been defined as a type of tourism "marketed to the public in terms of the 'quaint' customs of indigenous and often exotic peoples . . . [including] visits to native homes and villages, observation of dances and ceremonies, and shopping for primitive wares and curios" (Smith 1989 [1977], 4). "As long as the flow of visitors is sporadic and small," Valene Smith (ibid., 4) has written, "host-guest impact is minimal." However, Ping'an received more than two hundred thousand visitors in 2006, and by resident reports the numbers have continued to increase since; for a village of approximately 850 regular residents, the impact of this many tourists can hardly be minimal. Lao's concern over the environment in Ping'an tied his worries about the effects of environmental degradation to the material, cultural lives of village residents and to the ways in which the Zhuang would be perceived by national and international visitors. In his assessment, the problems boiled down to ethnicity. He was proud of being Zhuang but disappointed in the community's behavior that reflected poorly on their collective identity. After all, Ping'an was a Zhuang village—it said so in all of the tourism brochures and on a sign at the entrance to the village. Beyond the importance of maintaining pride in one's own community, even more pressing at the time was the fact that in response to greater market competition from other tourism villages in the region, Ping'an residents themselves were actively trying to make the place more "ethnic" for tourists.
Lao's perspective on Zhuang ethnicity revealed both a local understanding of ethnic identity that diverged from dominant national discourses of ethnic minorities (shaoshu minzu) and a cautious eye to the demands and requirements of the current politics of tourism and development. "Sanitation" and "cleanliness" are keywords of rural tourism and rural development more generally, and by linking Zhuang identity to the imperative to be clean, Lao in turn reaffirmed the significance of Zhuang ethnicity to both a personal, subjective sense of self and belonging to this place and to the broader imperatives of the national tourism marketplace. The codification of ethnicity in contemporary postreform China, particularly in cultural productions and place-based naming strategies, has marked the ethnic as a particular type of commodified characteristic within the greater national narrative of China's development since the establishment of the People's Republic in 1949.5 These techniques and stereotypes are fully exploited in tourism today.
MAKING
SHAOSHU MINZU
While studies of tourism often emphasize the appeal of the ethnic "Other" as a factor in tourist motivations, the institutional state history of ethnic classification and minority identity in China requires a closer examination of the relationships between ethnicity and national modernization policies (Sautman 1999), how the state has constructed ethnic difference, and how these relate to the ways ethnicity is used in Chinese tourism. Two interlocking aspects of ethnic identity construction and representation frame the circumstances now faced by rural ethnic tourism villages. First, early discourses of non-Chinese populations within the Chinese imperial imagination informed modern nationalist sentiments in China, most notably during the establishment of the Republican government in the early twentieth century. Second, the Ethnic Classification project (minzu shibie) of the 1950s and 1960s began the process of formally determining the number, boundaries, and characteristics of the ethnic minority groups recognized by the Chinese Communist state.6 The inherent difficulty of such a project, and the complexities involved in determining a finite number of ethnicities, are visually illustrated in documentary and feature films of the 1950s and 1960s that depict ethnic minorities. In these films, ethnicity was made visually knowable and recognizable, as the country's forward-looking development was rendered into visual narrative form. This emphasis on the visible evidence of ethnicity and modernization has left lingering traces on how tourism development in rural ethnic minority regions is expected to unfold and ultimately succeed.
Concern over, or at least an expressed interest in, the non-Chinese populations at the borders of the Chinese empire has been recorded since as early as the first century BCE, in the Records of the Historian, by Sima Qian (Harrell 2001, 36). The mythology of barbarian tribes occupying the empire's edges and borderlands was also a feature of a Confucian worldview (Dikötter 1992, 2–7). Notions of classification and identification already existed in imperial records, and embedded in these writings were politically driven ideas of barbarian populations as capable of being "transformed" or becoming "Chinese" (hanhua) (Dikötter 1992 and Leibold 2007).7 Visual representations were significant as a tool for classifying and knowing difference. Ethnological reporting in the Ming and Qing dynasties generally appeared in one of two genre forms: gazetteer accounts or pictorial descriptions, such as the "Miao Albums."8
During the late Qing dynasty, the growing presence and activities of Western missionaries in China also contributed to conceptualizations of race, drawn from Western theories of racial types.9 In southwestern China especially, Western missionaries working in Guizhou and Yunnan recorded their own tribal classifications of the local populations (see Clarke 1911) while adding to local understandings of group identity during this tumultuous period of imperial decline and revolution (Cheung 1995 and Swain 1995). The effects of these discursive changes were extensive and deep. By the late nineteenth century, challenges to the Qing empire increasingly began to be formulated in racialized terms.10 The term minzu first appeared in China around 1895, as a Chinese pronunciation of the Japanese minzoku. Minzu was first used to refer to the majority Han people, as opposed all other minority groups, and later, by extension, to the notion of a Han nation-state in the Republican era (Y. Zhang 1997, 76), glossed by Sun Yat-sen's principle of nationalism (minzu zhuyi).11
Minzu zhuyi was an inclusive discourse of racial amalgamation, small in scale yet large in scope, in which, according to Sun Yat-sen, the new Chinese Republic would unite the Han, Manchu, Mongol, Hui, and Tibetan territories, subsequently uniting these five races into a single people (Leibold 2007, 38). Not surprisingly, these five races were associated with the territorial boundaries of the new Chinese Republic. As a result, discourses of minzu shifted from relating to notions of the nation-state, in the political sense of autonomous rule and governance, to concepts of ethnicity and identity, rooted in shared social traits and histories (Y. Zhang 1997, 76). These pre-Communist strategies of knowing and classifying ethnic difference in the modern Chinese nation-state deeply informed the policies of the early Chinese Communist government (Harrell 2001, 37; and Mullaney 2004a and 2011).
The Chinese Communist Party was concerned with ensuring the unity of the nation while representing the new nation-state as one founded on the will of people. The granting of autonomy to regions inhabited by ethnic minorities—a decision included in Communist policies before the People's Republic of China was formally established in October 1949—meant only that "in regions where one ethnic group exercised autonomy, a member of that group should head the [local] government" (Mackerras 2004, 304–5; see also Heberer 1989). By 1953, the plan to develop People's Congresses at national, provincial, county, and local levels with one representative from each minority group in the National People's Congress meant that a limited number of minority groups was needed to construct the congress. However, censuses taken between 1953 and 1954 under an original policy that allowed groups to self-identity and self-name produced more than four hundred different ethnic group names nationwide (Fei 1981, 64; and Schein 2000, 81).12
To determine a more manageable number, at least in terms of the composition of the National People's Congress, linguists and social science researchers were commissioned to identify and classify the various ethnic minority groups within China's political borders in the campaign known as the Ethnic Classification project. The 1956 text of the drafted policy on national minorities and the "national question" (Moseley 1966) revealed the careful and deliberate movements of the young Chinese Communist Party government toward shifting the significance of minzu from nationality, and its possible corollary of nationhood for minority groups within China, toward the classification of these groups as "minority nationalities," or ethnic minorities. The 1950s Ethnic Classification project therefore had the effect of relegating minzu to the status of ethnic minorities in order to assert the political legitimacy of the new government over minority populations (Tapp 2012). It also sparked ongoing debates over the definition of the term "nationality" with regard to the unity of the Chinese state, which was perceived as a national body (Cai 1987 and Wang Lei 1983).
Although this project was new in the sense that it was justified and undertaken as a part of the Communist government's effort to establish its organizing structures and governing principles, these classifications were conceptually linked to earlier ideas of sociocultural difference and imaginations of the new sociopolitical order.13 The Zhuang ethnic group provides a particularly illuminating example of ethnic classification as ethnic creation (Kaup 2000). Despite relatively low numbers of people declaring themselves to be Zhuang in the first census of 1953, the number of individuals identifying as Zhuang steadily increased over the ensuing decades at a rate of about 1.5 percent annually (ibid., 91). This change was in large part spurred by the political establishment of the Guangxi Zhuang Autonomous Region in 1958, the country's first autonomous region, and the attendant perceived benefits of this political identity, particularly in contrast to the neighboring provinces of Guizhou and Yunnan.
Researchers working in the Ethnic Classification project drew upon Stalin's 1913 four "common criteria" for the identification of nations—namely, a common language, a common territory, a common mode of economic production, and a common culture or psychological makeup (Gladney 1996, 66–67; Mullaney 2004b, 200; and Schein 2000, 83)—in order to identify groups and assign each group to a notched rank on a scale of human social development. This scale was based on a schema of the evolution of human history and social progress developed by Lewis Henry Morgan (1963 [1877]).14 The entrenchment of these ideas of social evolution and economic production in the pursuit of socialism resulted in ethnic groups being assigned to one of five economic production types—primitive, slave, feudal, capitalist, and socialist—with the assumption that the Han ethnic majority was in a state of late feudalism (Schein 2000, 83). Thus the Ethnic Classification project was not only intended to reduce the four hundred self-identified ethnic groups into a more manageable number by emphasizing similarities but also to position the officially recognized groups along a unidirectional scale of social progress and development, under the guidance of the Chinese Communist Party.
VISUALIZING ETHNICITY
The codification of ethnic difference in China was the result of careful action and policy; studies of these newly classified groups were published as government reports, scholarly studies, and documentary films. The films were intended to form a comprehensive visual record of all official ethnic minority groups, and they reveal much about the intersection of politics, science, and art at the time (Krüger 2003).15 These films created and shaped the visually recognizable ethnic characteristics that still dominate media representations today. Production began in 1957, when film crews operating under the orders of the central government and with support from provincial nationalities institutes traveled to ethnic minority areas. The project was terminated at the onset of the Cultural Revolution in 1966, although a few films were later completed and released in 1976.16
These films not only contributed to the classification of ethnic groups in China, but they also contributed to the classification of knowledge about ethnicity. The production of the films brought into question fundamental concerns over science, authenticity, aesthetics, politics, and what constitutes "documentary" (Alexander 2005). In 1961, in the middle of the film production period, a series of evaluation forums took place during which the relevant teams and scholars involved with the films debated the distinctions between "general documentary films," "popular science films," and "scientific documentary films." During this same period, fictional, narrative "minority films" (shaoshu minzu dianying) were also made by central film agencies, thus necessitating that the films of the Ethnic Classification project be distinguished as scientific documents lest they be confused with their fictional counterparts. The classification project films were ultimately categorized as "scientific documentary films" and were intended to be understood as depictions of the social and cultural lives of ethnic minority groups in their "original" state before liberation by the Communist Party. While representing the livelihoods, religious beliefs, and social structures of specific ethnic groups, voice-over narratives in the films were highly critical of these practices and typically concluded with statements about the bright futures awaiting these ethnic groups as a result of Communist liberation. According to an official abstract issued by the present-day Institute for Nationality Studies, these films were explicitly not to address post-1949 conditions. The statement declared: "It should be confirmed that scientific documentaries are to record the social aspects before Liberation. . . . To reflect the new social aspects after Liberation is a task of documentary films and feature films and other kinds of films, and not of scientific documentaries" (Krüger 2003, Appendix 1, 44).
According to Karsten Krüger (ibid., Appendix), who has assembled a range of interviews with some of the filmmakers involved in the production of these scientific documentaries, reports, and transcribed discussions about the films, reenactments were used in the films to represent life conditions before 1949, but any possible contradictions between the use of reenacted scenes and the production of these scientific films as authentic documents were cast aside because ethnographers and researchers were involved in the actual production process, bestowing scientific validity to the films' content. Scripts were written and approved by the ethnographers and film studios before any shooting took place. Teams of cameramen and sound recorders worked with ethnographers, and every film project was subjected to extensive external editing and review from the beginning to the end.
After 1961, directors had to come up with a shooting outline, essentially a visualization of the entire film, before any actual filming could occur. Most productions were proofed twice, once as a rough edit and once again after the final cut. Changes could be asked for during either of these phases. Those doing the proofing were experts, scientists and other high-level leaders at the studios and institutes. These classification films were envisioned only for scholarly audiences; they were distributed to universities, institutes, and museums in the areas where the films had been produced and kept centrally at the Institute for Nationality Studies in Beijing. Universities and research groups with scientific and educational purposes could borrow the films (for example, for classes on Marxism-Leninism and ethnology, and courses on attaining a socialist society). Ostensibly the scholarly audiences for which the films were intended would be able to "see past" the reenacted scenes and therefore be capable of accepting and analyzing the films as wholly authentic representations of ethnic minority livelihoods before 1949. The films were not shown publicly to a general audience, and until 1988 they were not screened outside of China.17
The limited distribution of the Ethnic Classification films belies the broader context of film production in the early decades of the Chinese Communist government. At this time, as today, film studios were extremely active due to a belief in the potential of film to serve national purposes. Although a majority of the films produced during the early Communist period dealt with such common socialist themes as the proletariat struggle against oppressive bourgeoisie, land reform, and military might, by 1955 there was also a noticeable number of "minority films" featuring ethnic minority themes and actors (see Li Zhuangming 1997). The coincidence of the ethnographic film project and of the "minority film" genre of feature films should not be overlooked. Approximately twenty minority films were made in the 1950s, and another twenty in the first half of the 1960s (Y. Zhang 1997, 79–81). For example, Five Golden Flowers (Wuduo Jinhua, directed by Wang Jiayi)—a film about socialist modernization, agricultural collectivization, and women's liberation among the Bai of Yunnan—was released in 1959 (Notar 2006, 47).18
Another popular film from this era is Third Sister Liu (Liu San Jie, directed by Su Li, released in 1960), which is about a Zhuang woman who seeks liberation from oppressive landlords. Despite the relatively small percentage of actual ethnic minority peoples in China, their role in Chinese cinema was important for the national agenda; minority feature films "purported to show the way of life of these minority peoples, and their enthusiasm for socialism, [and] contributed to the policy of national integration" (Clark 1987, 19). Paradoxically, these minority films were often celebrated for their commitment to promoting a distinct Chinese "national style" (minzu fengge), where "the outcome of locating 'national style' in ethnic cultural practices was never a restoration of 'minority' cultures to 'majority' status, but always a legitimation of minority peoples as part of the 'solidarity' of the Chinese nation" (Y. Zhang 1997, 79–80; see also Gladney 1994).19
The production of scientific documentary and minority feature films in the early years of Communist China has had a noticeable impact on contemporary constructions of ethnic minority identity and continues to legitimate Han cultural and political hegemony. Thus, when considered alongside the minority films genre, the authenticity of the scientific documentaries of the Ethnic Classification Project, which used reenactments to visualize ethnicity and render ethnic difference knowable, is located precisely in the fact that ethnography at this time was in the service of the Communist Party—the films are quite reasonably authentic Communist ethnographies.20 The visual images and socialist narratives of ethnic minority groups presented in scientific films were produced and circulated alongside a broader trend in "images of minorities" that "melded surface features of minority customs with various socialist agendas" (Schein 2000, 87), such as pictorial illustrations of ethnic peoples engaged in political or militaristic activities or, as in feature films like Five Golden Flowers, Bai ethnics celebrating their socialist liberation.21
ETHNIC BORDERS AND BOUNDARIES
Although the Ethnic Classification project formally began in the 1950s, the work of classifying China's ethnic groups did not conclude until the early 1980s, when fifty-six ethnicities were officially recognized (including fifty-five ethnic minorities and the majority Han ethnic group). The project spanned a number of decades and discursive modes depending on the political exigencies of each era, which Louisa Schein (2000, 80–99) has defined as the years 1949–57 (the original census and classifications), 1958–76, and the 1980s–90s. Ethnic distinctiveness was "leveled" during the Cultural Revolution (1967–76) in favor of socialist unity, Schein (ibid., 86) argues, a move that began to redraw the borders and boundaries of what constituted acceptable and unacceptable differences. In the postreform years, the ways in which ethnicity and ethnic identities are understood and experienced have continued to shift according to current social and political conditions.
A collective effect of the Ethnic Classification project was to define the boundaries and borders of ethnic identity (see Barth 1969). Some groups were distinguished from each other and assigned different names to concretize differences, while some self-identified groups were brought together on the basis on apparent linguistic or shared social similarities (though, as the Zhuang exemplify, this was politically motivated from above and below). The classification of ethnic groups relegated each group's socioeconomic conditions to a place along a continuum of development, based on Marxist-Leninist formulations of class and labor, thus linking all ethnic groups into a singular historical narrative of socialist progress. This classification was intended to assist in the direct intervention by government policies for the purposes of socioeconomic reform. For many ethnic groups, the classifications were quite new; the Miao, in particular, are noted as an example of a single-name group comprising communities who speak mutually unintelligible languages and are spread over enormous distances, from Hunan to Guizhou to Yunnan and even across the border to Laos and Thailand.22 What bound together various individuals within a defined ethnic minority group was a more abstract and broader notion of culture and ethnicity that could extend across huge swaths of physical land and geography. This formulation of ethnicity did not need to reflect actual lived networks of exchange and social interaction, but it did provide a useful category for political organization and structures by the central Chinese state, as well as new areas of study for contemporary scholars both in China and abroad.23
Of course, it was not only the minority groups who were affected by ethnic classification. Certain preferential policies directed at ethnic minorities boosted the number of self-identified Zhuang in the early years of the Communist regime, while in more recent cases some Han have shown a preference toward marrying Hui Muslims to access rights and privileges for themselves and their families, despite ongoing public criticisms of the perceived government favoritism shown toward minorities (Gladney 1996, xv–xvi). How ethnicity is deployed as a category potentially affects all social and political relations; indeed, being ethnic as a "way of being" (Harrell 2001) illuminates the integral role of and interrelations between the Chinese state, its official history, and concepts of ethnicity. For instance, Susan Blum's work (2001) has recontextualized ethnicity in China by taking into account majority views of various minority groups. Examining the language used by the Han to speak about ethnic minorities, Blum (ibid., 13) invokes the idea of "portraits" to emphasize the selectivity of representations of difference.24 She presents four "prototypes" of otherness at work in Yunnan: the fetishized ethnic other (represented by the Dai), the resistant, disliked ethnic other (represented by the Wa, Zang/Tibetan, and Hui), the colorful, harmless ethnic other (the Naxi and the Yi), and the "almost-us" (meaning almost Han: the Bai). Such typologies often reveal more about those in charge of creating the prototypes than those included within them, of course; "the minority nationalities help the Han to see themselves" (ibid., 176). However, although "minority nationalities in general are often lumped together, in distinction to the Han . . . it is clear upon inquiry that some are more distinct than others" (ibid.).
It is neither sufficient to simply accept the boundaries of difference as posited by dominant perspectives, nor to refuse entirely the structures that guide and inform ethnic identity constructions in China today. The changes and attributes ascribed onto ethnic identity in China are reflective of mainstream Chinese social imaginaries, and they in turn hold meaning for the communities involved. These latter significances may be contested or made complicated by local contexts, as suggested earlier in this chapter in Lao's story on cleanliness and Zhuang identity. In another example, "the Miao . . . have embraced some of these [external] definitions in a dialogic accommodation with the modes by which they were typified," and therefore "the defining of the Miao is not reducible to a form of knowledge/power in which external agents script and draw the boundaries of Miao identity for them" (Schein 2000, 62). A number of characteristics attributed to Miao culture and customs are often raised by Miao themselves, including the lusheng (a bamboo reed instrument), drinking, song, attire, and conventions of sociality (including "highly codified norms of reciprocity, offering food with bare hands and drink with two hands, improvised singing back and forth between host and guest, and copious amounts of drinking" [ibid., 63]).25
These internal typologies of Miao identity work alongside external definitions, sometimes coinciding and sometimes not. The tension between the multiple possible meanings of "being Miao" render the group name, Miao, a "composite sign" (Rack 2005, 62–65), where the ethnic way of being Miao can simultaneously operate as a referent both to the nation (and national unity) and to local distinctiveness. In Mary Rack's research, she found that a regional university in western Hunan highlighted images of the Miao in its official publicity campaigns, as the university was located in the capital city of West Hunan Miao and Tujia Autonomous Prefecture. These "images of the Miao were both an attraction in themselves and an indication of the role of the university in the development of the region" (ibid., 63–64) and, by extension, the role of the university in acting in conjunction with national agendas and imperatives. That said, Rack (ibid., 66) adds, it is important to recognize and acknowledge that such representations and references to ethnic identity can be just as frequently ignored instead of interpreted. The effectiveness of ethnic identity as a composite sign is reflected in how ethnic difference becomes identified as a resource for tourism development, as both a marker of what is to be valued in a tourism destination and of associated conditions and differences that the central state is poised to address through development. This occurs in a manner not dissimilar to the scientific films of the Ethnic Classification period that represented ethnic difference within a narrative of progress under the leadership of the government. The key objective is to restrict ethnic identity into a series of bounded, limited features ("special characteristics") that can either be transformed, if needed, or celebrated—or both.
The boundaries and borders of what could or would be acceptable as ethnic are mutually maintained, internally and externally, as a process of negotiation between national, mainstream, local, and individual imaginations and aspirations. When being ethnic becomes a part of doing tourism, how this is actually achieved refers back to and relies upon existing forms and categories of ethnic identity. In Ping'an and Upper Jidao, the need to be distinctive and to adhere to certain expected characteristics of ethnic difference is deeply internalized into local perspectives on doing tourism. Tourism, development, and ethnicity are thus wound up in overlapping relations of understanding how identities are forged and what opportunities are imaginable in China today.
THE ETHNIC IN TOURISM
If ethnic identity is seen as the result of negotiations over the perceived limits and boundaries of sociocultural difference, then the process of creating meaningful ethnic experiences for tourists always runs up against the possibility of disappointment. Jing Li has recounted a case of ethnic tourism blues: a young, male, non-Dai tourist returned to a Dai ethnic tourism village in Xishuangbanna, Yunnan, in search of the local "Dai bride" he had met previously. To his dismay, he learned that the "bride" was doubly false—she was not in fact Dai, and she was not actually going to marry him. This story became a joke among the local women who run tourism businesses. Li concludes by suggesting that "the distance between regret and laughter [in this anecdote] reveals processes of fantasizing the Other by consumers and the simultaneous deconstruction of these fantasies by hosts" (Jing Li 2003, 52). Indeed, it is precisely this "distance between regret and laughter" that characterizes ethnic tourism encounters, which rely upon inherent discrepancies, deceptions (playful or serious), and deliberate attempts to mold the interaction for the mutual satisfaction of all parties involved.26
Authenticity in tourism is paradoxical, and this paradox is experienced in senses of disappointment (Oakes 2006a). In ethnic tourism, the notion of encountering an authentic, exotic ethnic is impossible; the "Heisenberg effect is inevitable. The search for the exotic is self-defeating because of the overwhelming influence of the observer on the observed" (van den Berghe and Keyes 1984, 345–46). Nevertheless, as suggested earlier among some Miao who adopted with pride certain features of dominant, mainstream characterizations of Miao ethnicity, the ethnic other in tourism often must self-consciously construct and maintain an ethnic boundary so as to sustain tourism activities, often in conjunction with a middleman travel guide (ibid., 347).27
Ethnic tourism has always been involved in and dependent upon strategies of representation; it is "the marketing of tourist attractions based on an indigenous population's way of life" (Swain 1989 [1977], 85). What drives ethnic tourism are the connections between fantasy and reality enacted between village residents and tourists at the borders or "contact zones" (Clifford 1997 and Pratt 2008 [1992]) of tourism destinations, which are made visible and tangible in the village through material means. The exotic ethnic other becomes a carrying vessel for the resolution of these tensions in a popular, positive format that celebrates difference as a form of entertainment and enlightenment. As Li Yang and Geoffrey Wall (2009, 560) have argued: "With the broad integration of ethnicity into tourism worldwide, the representation, consumption, and experience of ethnicity have become fashionable. 'Ethnic' has become a popular tourist icon, consumed and produced locally and afar, from ethnic restaurants, neighborhoods, and markets to ethnic museums, theme parks, and tourist villages." As an icon of otherness, the ethnic in tourism straddles discursive conceptualizations of nature and culture (Cohen 2001), past and present, but ethnic boundaries require constant negotiation and production, however, by both the tourist and the toured. For example, in Indigenous performances on Wala Island, Vanuatu, "a good performance of the show is not simply to please tourists, and for them to evaluate. It is a dialogic encounter which is as much about self-worth and self-evaluation" for the local performers as well (Tilley 1997, 84). The dynamics of tourism encounters thus produce "touristic culture," in which the multiplicity of meanings made possible by ethnic boundary maintenance allows for identity to become newly significant in varied ways.28
Ethnic tourism is often folded into more encompassing narratives of heritage, nationhood, and belonging, and both heritage and ethnic tourism tend to be located in rural peripheries that are perceived as far away (in time and space) from the modern urban center.29 Indeed, the gulf between the past and the present prompts tourists to seek authentic experiences in other places, through other people.30 Thus the rural, the ethnic, and notions of heritage draw upon familiar modernist binaries of traditional/modern, authentic/fake, real/copy in tourist experiences shaped by nostalgia and longing. Nostalgia marks the regret of the forlorn groom in Xishuangbanna, and it is nostalgia, of a different order, that links the environmental problems of Ping'an with Zhuang ethnic identity for a village elder like Lao. Nostalgia provides a meaningful connection between the search for authenticity, the marketing of ethnic otherness as an enjoyable experience, and the rural as past and urban as future.31 And while different types of nostalgia can be defined in relation to varied perspectives on tourism, nostalgic longings are central to the pursuit of authentic experiences in modernity (Graburn 1995, 167)—an authenticity that is displaced both physically (onto an "Other," whose culture and society are not like that of the modern person) and temporally (onto a pastoral past of "simpler" times) by the modern subject.32
Nostalgia is not merely a passive sort of longing but an active engagement with the world.33 It is inherently social, and shared, which makes nostalgia all the more ripe for exploitation in the marketing of ethnic tourism; it is the result of a collective recognition of a temporal "break" between present and past conditions. This type of memory of the past is a memory "transformed by its passage through history" (Nora 1989, 13) and a form of remembering that moves history, and habitus, into the realm of heritage (Kirshenblatt-Gimblett 2006). In ethnic tourism, those who do the work of tourism bear the burden of producing consumable signs of ethnic difference that can then be experienced as nostalgic by tourists, exemplified in "traditional" performances, "local" handicrafts (Graburn, ed. 1976), or even a rural landscape. The souvenir, in particular, can be read instantly as a tangible, visible, present thing that is a trace of what is recognizably (and regrettably) no longer present, just as photography and photographs have also been understood.34
Nostalgia can also exacerbate social tensions when it takes the form of a national heritage that is celebrated in and through the representation of ethnic minorities who may become "fixed" in a timeless, unchanging state as the object of nostalgic longings.35 As a technology of cultural representation, ethnic tourism relies upon these yearnings of nostalgia that become mediated through icons of the ethnic. But the form and content of an ethnic icon are never completely open for interpretation. The specific "ethnic options" available in tourism illuminate the often contentious relationships between tourism, ethnicity, and the state.36 Ethnic options are "manifestations of ethnicity that arise from a complex process of symbolic construction" involving multiple social actors, from local communities and tourism industries to the government representatives (Wood 1997, 19). It is possible that new ethnic options may emerge from the confrontation of competing discourses and agendas (Cohen 2001, 42), but the structures of power that determine and enable a particular bounded set of options, of ways of being appropriately different, are rarely challenged. In this way, ethnic tourism is often promoted in multiethnic states precisely for the purposes of fostering social cohesion and national unity through the guise of celebrating a common national heritage, at a super-structural level above and beyond the recognition of difference. The ethnic theme park, in particular, offers an ideal controlled space for the construction of appropriate national narratives of diversity and unity and the consumption of this knowledge in an entertaining environment.37
The theme park model for ethnic tourism was adopted in China in the late 1980s and early 1990s, and some of the country's more well-known ethnic theme parks include the China Folk Cultures Village (FCV) in Shenzhen, the Ethnic Culture Village in Beijing, the Yunnan Folk Culture Village in Kunming, and the Xishuangbanna National Minority Park in Jinghong.38 Each park is spatially organized by ethnic group; in each, a number of the fifty-six officially recognized ethnic groups in China are presented through life-sized model village displays, usually centered around a typical village house that tourists can enter and walk through, and each village contains a space for scheduled performances.39 The villages in the parks are staffed by young men and women, often recruited from corresponding ethnic minority communities across the country, and in many parks, native architects were hired to design and build the villages. To further emphasize the authenticity of the theme park village structures, some houses include photographs taken by researchers from central institutes and universities who have visited the regions.40
In these parks, the ethnic options available are exactly, and only, those made possible in official government classifications. But, as Tim Oakes (2006b, 181, following Hitchcock, Stanley, and Chung 1997) has written about the FCV in Shenzhen, "there is much more to FCV than this display of official nationality ideology. FCV offers a display of a more timeless and authentic multinationalism in which replication of specific styles and forms becomes an important principle in and of itself." The timelessness of the ethnic options in the Chinese parks reinforces both national ideologies of the linear progression of sociocultural groups toward an ideal socialist end, but also the authority and unquestionable unity of the Chinese nation-state with all of its diverse constituent parts. The styles and visible forms of ethnic identity in the parks reduces the "ethnic options" of identity in China to precisely those on display, codifying not only the names of these groups but also the characteristics associated with each ethnic identity.
In addition to providing a visual reflection of Chinese domestic politics and an idealized nationalism, the technologies of display at work in the ethnic theme park exemplify what has been called "Chinese Style Tourism"—a particular mode of experiencing tourism that weaves together landscape, architecture, and performance (Stanley 1998, 65). The intended effect of "Chinese Style Tourism" is a "form of ethnographic realism: the visitor is invited not only to inspect but to enter the theatrical sense of the occasion" (ibid., 65). In turn, it is unsurprising that already existing ethnic villages throughout China have adopted a "Chinese Style Tourism" ethnic theme park model in their own local efforts. "The village as theme park" (Oakes 2006b) model potently and poignantly integrates landscape, architecture, and performance into the three-dimensionality of everyday life itself. Places such as the Manchunman Dai village in Xishuangbanna, Yunnan, and Huashishao, Guizhou, in fact have deliberately modeled their own village tourism industries after the FCV (ibid., 167).41 The notion of the village-as-ethnic tourism destination is both holistic, in that this model attempts to frame and include everything about village life as worthwhile for the tourism experience, and selective, by determining which features of the village should be highlighted.
The ways of doing tourism in Ping'an and Upper Jidao villages fall in line with this general formula of "village as theme park" through landscape, architecture, and performance, although the emphasis differs in each place. As relatively self-contained spaces, these two villages are advertised as places to see, experience, and enjoy an ethnic encounter through a variety of activities, such as watching a song-and-dance performance, gazing at the landscape, eating a meal cooked by a local resident, staying overnight in a local family's home, or, better yet, all of the above. For tourists, everything about the experience of being in one of these villages is coated with the veneer of "being ethnic" simply by virtue of being there in the village. Advertised names of the villages contain an ethnic moniker, such as "Jidao Miao Village" and "Ping'an Zhuang Minority Terraced Fields Scenic Area," to further emphasize the "ethnic-ness" of these places.
The categorization of tourism as ethnic, heritage, cultural, rural, or otherwise is, on the one hand, merely an academic convenience. Ping'an, for instance, has been variously analyzed as an ethnic tourism destination (Luo 2006a, 34) and an "agro-tourism" site (Gao, Huang, and Huang 2009, 6).42 Although the exact differences between ethnic tourism and agro-tourism might be inconsequential for most tourists, they matter quite a lot in the livelihoods of those involved in maintaining, and seeking benefit from, the tourism industries. Advertising ethnic tourism to a village places the onus of representation and display on the people themselves, whereas "agro-tourism" shifts the focus of attention onto the land and landscape maintenance. However, as Lao's comment at the outset of this chapter about being Zhuang in Ping'an suggested, to him, both the land and the people were implicated in their community's identity and tourism prospects. The "ethnic" in tourism is therefore as singular as the person or object on display and as all-encompassing as the entire village scene and surroundings.
But the fundamental motivations for doing tourism in Ping'an and Upper Jidao have less to do with ethnicity and more to do with economics; tourism development in these villages has been intended to alleviate poverty, which is often associated with being both rural and an ethnic minority.43 The discursive links between the ethnic, the rural, and the poor continue to frame and structure the tourism efforts in each place. Ping'an village began its engagement with tourists and tourism as early as the late 1970s, starting with local involvement and investments by village leaders such as Lao who largely viewed the developments as a means of earning some income to supplement agricultural and other labor. Upper Jidao, conversely, was brought into provincial-level plans for tourism development in the early 2000s, under the dual goals of poverty alleviation and heritage preservation. The persistence of dominant discourses of ethnic minority difference and rural underdevelopment, however, continue to underscore and, to a large extent, define how village residents have been doing tourism in postreform China.44
A TALE OF TWO VILLAGES
Ping'an, Guangxi Zhuang Autonomous Region
Ping'an village is located in the northern part of Guangxi, in the Longsheng Multiethnic Autonomous County, and is administratively located within the prefectural level city of Guilin. Although the Zhuang are the numerically largest recognized ethnic minority group in China with a total population of about sixteen million concentrated in Guangxi and neighboring Yunnan, Longsheng is a multiethnic autonomous county with communities of Zhuang, Yao, Miao, Dong, and Han. Major industries in Longsheng are talc, timber, and tourism; tourism destinations in the county include the national "AAAA" rated Guilin Longji Terraced Fields Scenic Area (shortened here to Longji Scenic Area), where Ping'an is located, a hot springs resort and vacation village, and Silver Water Dong minority village (Yinshui Dongzhai).45
The Longji Scenic Area is comprised of a number of villages, four of which are the most frequently advertised and visited: Ping'an Zhuang Terraced Fields Scenic Spot (Ping'an Zhuangzu Titian Guanjingqu), Jinkeng Red Yao Terraced Fields Scenic Spot (Jinkeng Hong Yao Titian Guanjingqu), Longji Old Zhuang Village Cultural Terraced Fields Scenic Spot (Longji Gu Zhuang Titian Wenhua Guanjingqu), and Huanglo Yao Village (Huangluo Yao Zhai).46 The Longji Scenic Area is about ninety kilometers from Guilin and frequent bus connections link Guilin and Longsheng. According to local tour guides in Ping'an, the village population is around 850, divided into 180 households.47 In addition to the resident population, there were an estimated 50 to 100 nonlocal full-time residents in the village, including restaurant owners, hotel managers, and other employees hired from outside regions who were living and working in Ping'an.
This account of tourism development in Ping'an is drawn from a variety of sources, including Lao's written history (completed in May 2007); scholarly studies conducted by Chinese scholars on Ping'an; pamphlets, brochures, and the website from the management company for the Longji Scenic Area (figures 1.1 and 1.2); websites from area tour agencies; interviews with the scenic area company managers; and conversations with village residents.48 Because of its long engagement with tourism, Ping'an is frequently studied by Chinese academics, although the village has received significantly less attention from foreign scholars (with the notable exception of Turner 2010).
Tourism to Ping'an and to the Longji Scenic Area as a whole is largely based on sightseeing and photographing the terraced fields that have been constructed out of the mountainsides around the villages in the region. The construction of the terraced fields surrounding Ping'an began during the Yuan dynasty (1271–1368) and was completed during the Qing dynasty (1644–1911). During the first two decades of Communist rule post-1949, the village was divided into eight subunits (based on preexisting kin groups), and land was collectivized. Some village residents recalled trying to achieve two rice harvests annually during the Cultural Revolution, a project that failed.49 According to Lao, the first visitor to come to Ping'an and grasp at the potential for tourism to the village was a government official from the Longsheng county propaganda department who took photographs of the terraced fields and the village in the spring of 1976. Three of these photographs were published in the Guangxi Daily, and the same official returned later that year with more government representatives from the municipality. Three articles about Ping'an and more photographs were subsequently published in the same newspaper, and Lao regarded these visitors as the first three tourists in Ping'an. By the spring of 1977, more people came to photograph the terraced fields, and the first three foreign tourists arrived in 1978.50 A popular phrase used nowadays to describe the terraces—"Longji terraces are unique under the heavens" (Longji titian tianxia yi jue)—was coined by one of the foreign visitors, Lao said.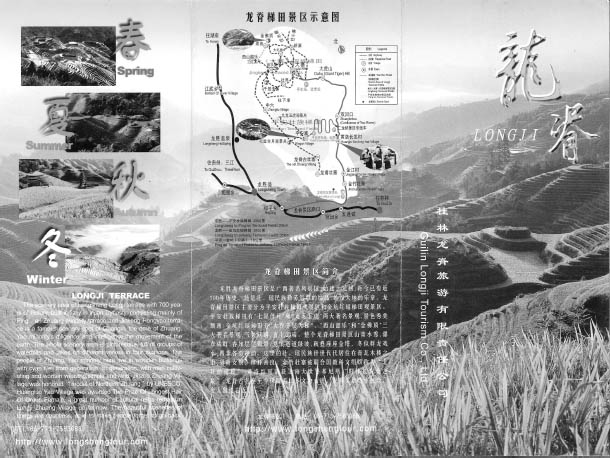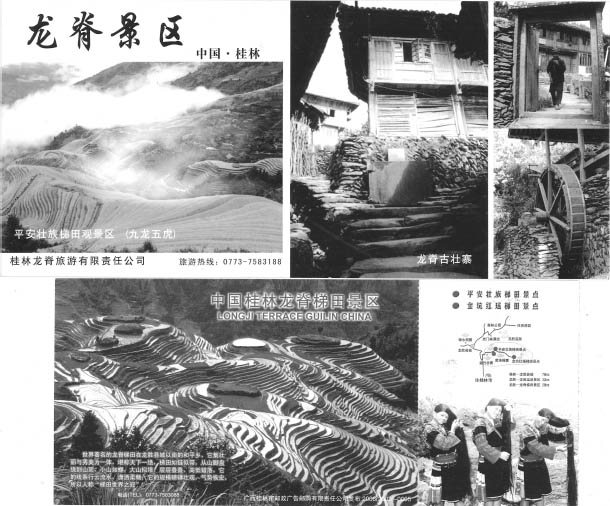 He had been privy to these early visits because of his status in the village as a doctor and as a Party cadre. Occupying a higher-status position within local political spheres, the village cadres in Ping'an were "tipped off" to tourism plans by the government early on. According to Wen Tong (2002, 27), as representatives of the Party and the government, village cadres were also personally more open to new ideas and regularly attended local government meetings at the county and township levels, where they learned about the importance of tourism and the county government's burgeoning priorities in building tourism industries.51 The village secretary built the first guesthouse in the early 1980s offering twelve beds—when there were more tourists, Lao said, they would simply sleep in local homes. At the time, there were no roads into the village, so travel to Ping'an from Longsheng involved a bus ride to Huangluo and then a hike up into the mountains; staying overnight was necessary. In 1983, an official from the Longsheng propaganda department published an article in the Guangxi Daily titled "Mountain People Also Use Foreign Money," marveling over how Ping'an had become a desirable destination for foreign tourists and how quickly village residents had picked up on the economic benefits of tourism.52
In the early years, photography was the primary tourist activity in the village. Most of the tourists came to photograph the fields in the height of the spring and early summer, when the terraces are flooded with water prior to transplanting rice seedlings. Many of these tourist-photographers sent copies of their pictures back to families in the village, and nowadays these images (or copies of the originals) are often displayed inside guesthouses and homes. The aesthetic potential of the terraces for photography continues to drive tourism in Ping'an today. Village residents say that many visitors are drawn to Ping'an by the photographs they have seen elsewhere, desiring to re-create the photographic experience through their tourism encounter, and fulfilling what John Urry (2002b [1990], 140) has called the "hermeneutic circle" of tourism, photography, and "the tourist gaze."53 From the perspective of residents, photography brought tourism to Ping'an by motivating photographers to visit the village repeatedly to achieve that perfect picture. Villagers, even nowadays, will offer to take tourists to the place where "that picture was made," referencing existing postcards or other widely circulated images of the terraces.54 According to Xu Ganli (2005, 197) and corroborated in my own conversations with residents, the terraced fields were never explicitly valued by the villagers for their aesthetic appeal; indeed, villagers said that they did not "see" the beauty in the terraces until they saw the photographs taken by tourists. Only after photography and tourism was the value of the terraces as images introduced into the consciousness of village residents. In discussions with villagers about the beauty of the terraces, people agreed that the terraces were often considered undesirable because for farmers, terraced fields are much difficult and tiring to work. Accessing some fields frequently involves a long uphill hike, and many fields are too narrow for oxen to plow.
Through the 1980s and early 1990s, the economic impact of tourism was relatively minimal but not unnoticed—in this period, many villagers worked manual labor or other jobs elsewhere, but with increased remittances, households gradually had more money to invest in remodeling their homes into hotels (Wen 2002, 27). Lao built his Li Qing guesthouse, the second family-run guesthouse in the village, in the early 1990s. In 1994, the Longsheng government held a regional conference about tourism development. This meeting coincided with the first wave of national attention to tourism's potential contribution to local economies and poverty alleviation in rural areas (see chapter 2). Yet in 1994, there was still no road to Ping'an. As tourist arrivals steadily increased, the county began discussing plans to build a road directly to the base of Ping'an in the fall of 1995; around the same time, villagers in Ping'an began organizing the sale of entry tickets, charging domestic Chinese tourists ¥3 and foreign tourists ¥5. Construction on the road to Ping'an began in the fall of 1997; the county government provided funds to build the first 3 kilometers, and the villagers contributed labor to complete the final stretch of about 1.5 kilometers. In 1998, as the road was finished, the county government restructured its tourism enterprises, creating the Longsheng Tourism Development Company as a separate business enterprise from the Longsheng Tourism Bureau, which remained a branch of the county government. The newly formed company took over the day-to-day management of and ticket sales to Ping'an. According to Wen (2002, 27), between 1997 and 1998, three more family-run guesthouses opened in Ping'an.
The year 2001 was a watershed for Ping'an: the Longsheng Tourism Bureau created the Longji Terraced Fields Scenic Area, which encompassed Ping'an and other villages in the area, and sold a 60 percent majority share of the Longsheng Tourism Development Company to the privately run Guilin Tourism Company Ltd. This Guilin-based investment company in turn established the Guilin Longsheng Hot Springs Tourism Company Ltd., which at the time managed both the Longji Scenic Area and the nearby hot springs resort. Ticket sales were now handled by the Guilin Tourism Company, whose branch office in charge of the Longji Scenic Area is referred to as the Guilin Longji Tourism Company Ltd. The daily operations of the previous Longsheng Tourism Development Company were devolved into a local management office for the newly created scenic area, which was tasked with overseeing relations between the management company and villages, as well as working with the government tourism bureau on such logistical issues as public transport, toilets, and other facilities in each village scenic spot. A large fire broke out in one section of the village in 2001, damaging nearly twenty houses beyond repair and spurring many village residents to rebuild their homes as guesthouses in light of an anticipated rapid growth in tourism. Also in 2001, the Longji Scenic Area was deemed one of Guangxi's twenty "Grade A" tourism sites.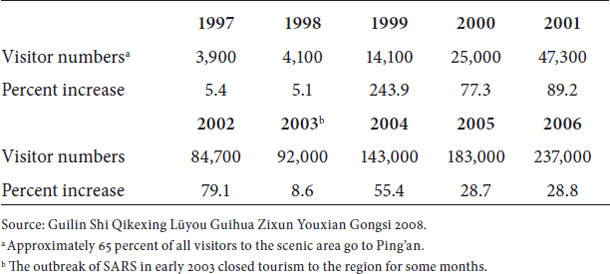 The approach to tourism development and management in Ping'an from the 1990s on reflects a persistent belief that the primary attraction for tourists would be the terraced fields, and all maps, brochures, and other promotional materials featured the terraces prominently. But charging an entry fee to a tourism scenic area named for the terraced fields implied that the price paid was for the privilege of seeing the terraces and reinforced the centrality of the fields, rather than the village, to tourism. This approach has had serious ramifications for Ping'an. Individual entry tickets to the Longji Scenic Area cost ¥20–30 in the early 2000s, ¥50 in the mid-2000s, and ¥80 in 2012.55 Visitor numbers to Ping'an skyrocketed with the completion of the road in 1998 and the investment of the Guilin Tourism Company, whose connections with the larger tourism market in Guilin allowed for increased promotion of the region more widely (table 1.1). When the local Longsheng government company took over tickets sales in 1998, a set amount from the annual profits was allotted for distribution to village residents (table 1.2).56 This amount increased with the entry of the Guilin-based investors, but nonetheless conflicts over the amount received by the village from the ticket sales hampered relations between the company, the county government, and the village. Individual village residents who had contributed either labor or land to help build the road to Ping'an in 1997 were allotted a certain number of workpoints, which were then calculated into individual shares of the profits from ticket sales. Nevertheless, most villagers still consider their cut to be an unequal, unfair share of the total profits from tickets.
Year

Amount Received
by Ping'an (in RMB)

1998

15,000

1999

25,000

2000

30,000

2001

150,000

2002

150,000

2003

150,000

2004

350,000
Source: Data compiled from my interview with Lao and figures stated in Huang H. 2006.
The distribution of profits from ticket sales has been an ongoing source of tension between Ping'an residents, the company, and the county government; in fact, most people typically did not distinguish between the tourism company and the government and instead referred to them both as a single entity. From the perspective of the Ping'an residents, the tourism company and the government were sharing the profits from the Longji Scenic Area and leaving little for the village residents. The original agreement between the company, the government, and the village in 2001 was that Ping'an would receive ¥150,000 a year to be divided among residents, the county government would receive 6 percent of total profits, and the remainder would go to the company and shareholders (Huang H. 2006, 70). Villagers in Ping'an realized quickly that ¥150,000 was quite a small percentage of the total earnings from ticket sales, and a protest ensued in 2002 between the village and the company. Ping'an residents told me that they felt "sold out" to the Guilin-based company, that they had had no idea of the negotiations between the Longsheng tourism bureau, the local company (which they perceived as essentially a for-profit extension of the tourism bureau), and the new investors. The result was that the amount allotted to Ping'an was raised to ¥350,000 in 2004. Another argument over profit-sharing erupted in 2005 between the villagers and the company, this time involving a blockade of the village entrance and, according to village accounts, the arrest of a few men who protested at the main entrance to the scenic area.
All of these arguments, from the perspective of village residents, revolved more fundamentally around the issue of the terraced fields, the primary attraction for tourists. Two viewpoints (guanjing tai) are located within the scenic spot, and flat viewing areas were built at these points on the slopes above the village itself, for tourists to gaze upon the terraced fields: viewpoint 1 looks down over the Nine Dragons and Five Tigers (Jiu Long Wu Hu) view and viewpoint 2 onto the view known as Seven Stars with Moon (Qi Xing Ban Yue). Both names refer to the shape of the fields, as seen from the respective viewpoints. Tourists come to the region, Ping'an residents argued, to see these terraced fields, but the labor villagers expended in maintaining the fields was grossly undercompensated by the company and the government. After all, most families in the village no longer relied upon cultivating the fields for their everyday consumption needs, but terraced fields require constant upkeep and maintenance, residents stressed to me, and only they knew how to take care of the land. In effect, the company, the local government, and outside entrepreneurs opening businesses in the village were making money as a result of the labor of the villagers. The villagers kept the terraces attractive as a worthy sightseeing destination, but the company, the local government, and outside entrepreneurs were not properly compensating the villagers for their work.
This emphasis on photographing the terraced fields as the primary tourist activity in Ping'an overlooked the villagers—the focus on landscape and photography in the village's tourism activities minimized the presence of the villagers who maintained the terraces every year. The terraced fields were considered most attractive when they were flooded with water in late spring. Dry fields (used for growing vegetables and other crops) were less attractive, photographically speaking, because they did not reflect light or provide visual contrast as dramatically as the flooded fields. As tourism became increasingly central to household economies, the village residents' actions reinforced the centrality of the terraces. Residents gradually focused their attention to the fields that were a part of the named views. The terraces not within the visual scope of the two main viewpoints were neglected, left uncultivated, and sometimes left to collapse. During the spring and early summers, when photography tours were most frequent because of the water in the terraces, residents typically first worked the fields within the two main viewpoints, only later turning to the remaining fields as needed.
In 2007, villagers told me that they were now demanding 7 percent of the total profits from ticket sales, but the tourism company would not agree to the increase. One resident who was also a Party cadre and had been involved in many of the conversations commented obliquely that the company should realize the villagers weren't stupid; they could do the arithmetic to figure out that ¥350,000 was a minuscule portion of the money earned from tickets. A manager within the company explained that the villagers didn't realize how much the company had originally invested in 2001; even with the ticket sales as high as they were, the manager told me, the company was still not earning enough to make up for the initial investments. There was some discussion among villagers in 2007 of the Longsheng government buying "back" the majority share, but these claims were unsubstantiated. By 2011, the company agreed to pay 7 percent of the ticket sales to Ping'an, but this was calculated based off of the discounted "group ticket" sale price of ¥40 a ticket rather than the individual price of ¥80, which meant that the village received ¥2.8 per ticket sold. This amount was further limited by the number of tickets/tourists counted at the entry gate to Ping'an, where tickets must be presented, so that tourists who did not visit Ping'an would not be included in the sum total of allocated funds to the village.
Within Ping'an, the company and government bureaus did not run the majority of village businesses, which consisted of guesthouses, restaurants, and shops. There were, however, a number of hotels and restaurants in Ping'an opened by individuals affiliated with the county government tourism bureau and other tourism business in Guilin, and these establishments were usually much bigger, more modern, and busier than locally owned ones. Indeed, it has been suggested that the role of government officials in private businesses in Ping'an lay at the root of many confrontations between the villagers and the government and company representatives, because the latter were perceived as not only earning money from the scenic area's ticket sales but also invested in profit-making enterprises in the village (Huang H. 2006, 70).
Officials who were aware early on of the plans to create the two viewpoints and paths through the village shared this knowledge with their friends and relatives. In turn, these individuals began negotiating for land-use rights at the most potentially valuable sections of the village based on their privileged knowledge of the plans before the viewpoints and paths were constructed. The construction of the platforms were planned to direct tourists toward viewpoint 2, overlooking the Seven Stars with Moon landscape, by building a wider walking path from the parking lot through the village to this viewpoint; some of the biggest and most modern hotels owned by nonlocals are along this path. Village residents came to believe that the slower development of the other sections of the village—namely, those closer to viewpoint 1—was a direct result of these same government individuals not wanting to create competition with their own businesses. One of the most successful and earliest large hotels in the village, Ping'an Hotel (Ping'an Jiu Dian), opened in 2002 and is located right alongside the path to viewpoint 2. Unlike the family-run guesthouses, this hotel was opened by a woman who had previously worked for the Longsheng Tourism Bureau, and it was the first to feature en suite bathrooms.
Despite increasing investments by outside individuals, the majority of guesthouses and restaurants in Ping'an are family-run, or family-owned, although these are significantly smaller in size and scale than those opened by nonvillage residents. Some villagers have also opened shops selling drinks, souvenirs, daily household goods (such as oil, crackers, rice, noodles, and sandals), and, more recently, fresh vegetables and meat brought in from wholesale markets in Longsheng and Guilin. The other work in tourism for village residents begins at the village parking lot near the ticket office, where all tourists are dropped off. Here, sedan chair carriers (two per chair and usually men) offer rides for tourists up to the viewpoints, and porters (usually but not always women) offer to carry luggage and supplies up to the hotels and restaurants. Men and women also offer to guide tourists to their hotels and restaurants or to take them on longer walks in and around the village. The guides, porters, and sedan chair carriers have been divided according to a system of three groups (loosely based on the units created during collectivization, which were themselves based on lineages) lettered A, B, and C, rotating every three days. Only those within a given group on their given day are allowed to wait at the parking lot and to solicit tourists (la ke).
In 2007, the system was further streamlined to enforce a strict numerical order within each group. This was developed after a group of village cadres went on a study tour to Zhangjiajie, a national forest park in Hunan, sponsored by the tourism company—Zhangjiajie was known for having very well-organized tourism and sedan chairs carriers. In May 2007, a new management office was opened at the entrance gate to Ping'an, opposite from the ticket booth. Staffed by representatives of the village leadership committee (cunweiyuan hui), this office oversaw the daily order of sedan chair carriers and porters at the parking lot. Sedan chair carriers and porters were individually numbered, and each set of chair carriers or each porter had to wait for their turn. Previously, villagers and management employees told me, people would be so frantic to solicit a customer that they would undercut each other's prices and fights often broke out between village residents. Official prices for luggage porters and sedan chairs were listed on a board at the parking lot, although bargaining was still commonplace.
Incomes in the village have increased alongside the growth in tourist visits; according to one study, prior to tourism (no specific year is given), annual household incomes were approximately ¥4,000; after tourism, most households earned between ¥10,000 and ¥30,000 annually (Huang H. 2006). Similar amounts are reported in the research of Sha Yao, Wu Zongjun, and Wang Xulian (2007); these authors found that 61.7 percent of those surveyed reported per capita annual incomes of ¥2,000 (or, in an average family of five to six, ¥10,000 to ¥12,000 a year).57 In my survey of fifty households in Ping'an completed in 2007, reported average annual household incomes hovered between ¥10,000 and ¥20,000, but a number of households did report significantly greater net incomes (table 1.3). One young woman used a traditional Chinese saying to describe the rising incomes in Ping'an: one generation plants the trees in whose shade another generation rests (qian ren zai shu, hou dai qing liang). After all, their ancestors had built the terraced fields and now the current generation of villagers could live off the labor of their forefathers, through tourism of the terraced fields. Of course, many households were in debt to friends and relatives, as well as to local credit cooperatives, because they had borrowed money to build their guesthouses, so much of the money earned was used to pay back loans. The cost of building and equipping an average-sized hotel to sleep thirty to forty, with modern facilities (usually a mix of en suite and shared bathrooms), was estimated to be anywhere between ¥200,000 and ¥500,000 in 2007.
| | |
| --- | --- |
| Reported Annual Household Income (RMB) | Number of Households (50 total) |
| Less than 10,000 | 7 |
| 10,000–19,999 | 20 |
| 20,000–29,999 | 11 |
| 30,000–39,999 | 4 |
| 40,000–49,999 | 2 |
| 50,000–69,999 | 2 |
| 70,000–99,999 | 2 |
| More than 100,000 | 2 |
Source: Household survey by author, 2007.
In terms of living standards and incomes, tourism to Ping'an had been unquestionably beneficial for villagers overall. Relatively few people migrated out to find work by the mid-2000s, and during busy tourism seasons, many families in Ping'an hired friends and relatives from other villages to help out both in the fields and in their businesses. New hotels and shops cropped up on a regular basis; in April 2007, Ping'an had eighty-two hotels, the majority owned and run by villagers, although as noted before, a number of large, more well-equipped hotels had been built by individuals from Guilin, Beijing, and even the United States. About half of the 180 households in Ping'an were directly engaged in the tourism businesses in their own homes, but there were many more individual villagers working as porters, sedan chair carriers, guides, and shopkeepers or simply earning rental income from the lease of their homes to others. Renovations on existing hotels occurred constantly as well, as families sought to "catch up" to the latest designs and tourists' requirements (which in this period meant providing en suite bathrooms and air-conditioning and heating units). Hotels in Ping'an were modernizing so quickly, however, that by 2010, many village residents told me that they no longer bothered to run their family guesthouses because, given the option of an en suite, climate-controlled room in a large, well-appointed hotel, the majority of tourists simply wouldn't stay in a village home. The number of non–locally run restaurants in the village also grew in the late 2000s; by 2012, many families rented out one floor of their homes as restaurant spaces for outside entrepreneurs to run.
To an extent, the situation in Ping'an exemplified and supported the idea that being successful in tourism is not being mobile; fewer and fewer residents felt pressured to migrate out of the village to earn an income. This belief in "staying put" as a marker of achievement permeated throughout development programs in rural China. However, the idea that successful tourism development can be equated to an opportunity to stay in one's home posits mobility in a negative light and correlates almost too neatly with the notion of migration-for-work as undesirable or dangerous to society. For all of its economic success, the problem of tourism in Ping'an boiled down to a changing relationship between the land and the people. Tourists came to look at and to photograph the terraced fields, but this landscape required the constant effort and work of village residents to remain attractive. Yet the land itself did not directly generate an income for the village residents; residents needed tourists to spend money in their guesthouses, shops, and restaurants to really profit from tourism.
Although villagers continued to plant and grow crops in their fields, for the families engaged in tourism businesses, these harvests only supplemented the food they purchased from local markets and vendors. Very few tourists were satisfied with the selection of locally grown produce, and to maintain a greater variety in their restaurants, most villagers either purchased their meats, vegetables, and rice directly from markets in Longsheng and Guilin or bought them from village residents who, in turn, shuttled between wholesale markets and the village with goods. With chicken, for instance, the vast majority of live chickens slaughtered in the village had not been raised in the village, although all restaurants advertised them as local chickens (tuji). The same "white lie" existed for many other dishes served as local specialties, including bamboo rice (zhutong fan: sticky rice, dried fruit, and smoked pork cooked in bamboo), which was introduced to the village after some residents noticed how popular it was with tourists at the Longsheng hot springs. That said, when asked about the invention of bamboo rice as a local, Zhuang specialty, village residents were quick to explain to me that they had always known how to cook bamboo rice—they had just never thought of selling it to tourists.
Ping'an residents have gone through an enormous psychological shift in the past thirty years. From being called poor and backward in the discourse of Chinese national development in the 1960s and 1970s, by the 1980s and 1990s, the village was celebrated for its authentic ethnic customs and pure natural environment, which became the base of its tourism industry (Xu Ganli 2005, 197–98). The very features of the village itself—from the terraced fields to the wooden houses to the bamboo forests—took on new, cultural values in tourism, and villagers learned to adopt and embrace these ideas. This was a double value—life in the village became valuable as an example of minority culture within mainstream China and as a product in the marketplace with a price tag. These changing standards were further reinforced by the continued influx of outsiders into the village, who also wanted to profit from Ping'an's success. But the rapid increase in tourist arrivals and residents in the village prompted new problems, such as with waste management, as Lao pointed out. Other ongoing concerns in the village included persistent water shortages during busy seasons that affected not only household use in hotels and restaurants but also the amount of water available for flooding the terraces; fires due to shoddy electrical wiring and the increasing number of propane tanks used with water heaters and gas stoves; disputes between residents and tour guides demanding commissions from local businesses; and ongoing debates over who would do the work of maintaining the terraced fields and how much the village would receive from ticket sales.58
Some residents suggested, as one possible solution, that Ping'an should turn itself into more of an ethnic tourism destination. To "ethnicize" tourism in the village meant that tourists would no longer just come to look at the terraces—an activity from which the village residents earned very little. Rather, tourists would come to enjoy the Zhuang, which could bring the people of Ping'an back into the picture. The trickle-down income from ticket sales was hardly lucrative for village residents, with families reporting to receive no more than 200 RMB per person per year as their share. One concrete move to increase the "ethnic-ness" of the village was to call the entire village area the Ping'an Zhuang Terraced Fields Scenic Spot, which was printed on a banner at the entrance gate. The potential effect of this renaming was to shift the emphasis of the village experience away from the land and onto the residents. "Ethnicizing" the terraces and the village was important for two reasons: first, some tourists didn't realize that Ping'an was a Zhuang village; and second, it would help maintain their competitiveness and attractiveness in relation to other villages in the Longji Scenic Area.
Before coming to Ping'an, many of the tour groups first stopped at Huangluo, an ethnic Yao village along the river, where they would watch a performance by Yao women. Many Yao women from Huangluo and neighboring Zhongliu village also came to Ping'an to sell souvenirs, wearing their ethnic dress (consisting of a black pleated skirt, pink or red embroidered wrap top, with their hair tied in a prominent topknot and covered with an embroidered black cloth square), which was distinct from what the Zhuang women in Ping'an wore. As a result, some tourists believed Ping'an was a Yao village, not Zhuang. Specifically ethnic tourism activities in Ping'an were therefore envisaged as a way to increase the range of income-generating opportunities in the village; many Ping'an residents thought they could do more folk dance performances to attract tourists (see Turner 2010). There was a group of women who could be hired for a folk performance (costing between ¥200 and ¥400), and in 2009 a Longsheng-based performance director brought his show to the village, although it was ultimately unsuccessful.59 In 2012, competition intensified even further when Longji village, next to Ping'an, was officially opened to tourism and in the process of total transformation, complete with new roads, a museum of Zhuang folk culture, special exhibits and signage throughout the village, and, eventually, electric carts to shuttle tourists between sights (see Chio 2013).
Upper Jidao, Guizhou
In Guizhou, ethnicity was at the forefront of the plans for rural tourism development that had been introduced in the early 2000s, spurred on by the relative success of ethnic Miao tourism villages in the province. Upper Langde, for example, had been recognized by Guizhou provincial authorities in 1985 as an "open-air museum," and Nanhua had been developed into a tourism village with municipal funds from Kaili (a county-level city) in 1997 as a competitor to Upper Langde.60 My field site, Upper Jidao village, is located along the same highway connecting Upper Langde (two kilometers away) and Nanhua (four kilometers away), in Guizhou's southeastern Qiandongnan Miao and Dong Autonomous Prefecture. Xijiang, another popular and well-known ethnic Miao tourism destination (redeveloped and reopened in 2008) is also close, about twenty kilometers from Upper Jidao. In the local context of these well-established and heavily promoted tourism villages, Upper Jidao was expected to benefit from the existing tourism market (see Cheung 1996, Oakes 1998, and Schein 2000) and to create something new and different for the marketplace, under the guidance of the Guizhou Tourism Bureau and with financial support from a World Bank project loan that was approved in 2009.
Upper Jidao is a natural village (ziran cun) and a part of the administrative village (xingzheng cun) of Jidao that includes the natural village of Lower Jidao.61 The two are linked by a concrete road. In 2006, Upper and Lower Jidao together had a total of 243 households and 1,160 residents (Kaili Shi Fupin Kaifa Bangongshi 2006, 1). But Upper Jidao makes up less than half of the total population, with 105 households and just more than 400 people, although village residents said the actual number of people living in the village was usually between 250 and 300.62 As a tourism destination, the village is often referred to as Jidao Miao Village (Jidao Miao Zhai), although as of this writing, all of the tourism developments and activities occur in Upper Jidao as a result of decisions made by government officials and consultants in the early 2000s to focus tourism on Upper Jidao and not Lower Jidao. To that end, there is often no mention of the difference, spatial or otherwise, between Upper and Lower Jidao in World Bank publications; in some documents what is referred to as simply "Jidao" is listed to have 403 residents (see World Bank 2008, 18), which can only be the population of Upper Jidao.63
Average reported incomes in Jidao (including migrant remittances) have hovered around ¥2,000 per household (World Bank 2008 and 2011), or, more precisely, the average annual per capita income for the majority of households in the mid-2000s was about ¥1,100 (Kaili Shi Fupin Kaifa Bangongshi 2006, 2). In my survey of forty-five households in Upper Jidao from 2006 to 2007, the majority of households reported an annual income of less than ¥3,000 (including remittances; table 1.4). The higher household incomes included those who received retirement salaries and those with professional training (including a teacher, a village clinician, and individuals engaged in carpentry, livestock sales, and construction). Because of extensive out-migration, households in Upper Jidao were fairly small at the time, averaging around three to four people; in the mid-2000s, approximately 38 percent of the population in Upper Jidao had migrated out (World Bank 2008, 21). The stated goal in the village's 11th Five Year Plan was to raise average village per capita annual incomes to ¥3,500, with 40 percent of this income to be derived from tourism (Kaili Shi Fupin Kaifa Bangongshi 2006, 5). According to the project agreement document prepared by the International Bank for Reconstruction and Development (the World Bank unit involved in the loan project) and Guizhou provincial authorities, the target average per capita income for 2014 in Jidao (Upper or Lower is not specified) is ¥2,240 (World Bank 2009, 12).
| | |
| --- | --- |
| Annual Household Income (RMB) | Number of Households (45 Surveyed) |
| Less than 1,000 | 8 |
| 1,000–1,999 | 7 |
| 2,000–2,999 | 12 |
| More than 3,000 | 17* |
| No response | 1 |
Source: Author survey, 2006–2007.
*(Ten reported incomes were more than 7,000)
Tourism development in Upper Jidao began in 2002, when the village was selected to be a part of the Bala River Demonstration Project for Rural Tourism, a provincial program for poverty alleviation through tourism development (figure 1.3). Tourism to the Bala River area was intended to capitalize on the ethnic minority customs and crafts of the region's Miao population through the development of handicrafts for sale, cultural performances, and general rural sightseeing. The Bala River project included seven villages, among them Nanhua and Upper Langde. Three of these villages fall within the administration of Kaili and four within neighboring Leishan county, a fact that complicated the execution of the program as local governments competed against each other for tourists and tourism profits.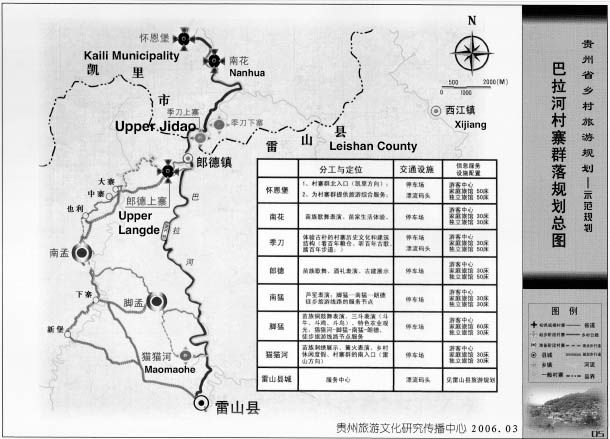 Since 2002, the push to turn Upper Jidao into an ethnic tourism destination has involved a number of different organizations and companies, both international and domestic. My account of Upper Jidao's engagement with tourism development is culled from a number of sources, including publicly available World Bank publications, interviews with government officials and NGO directors, discussions with village leaders, published newspaper articles in the Chinese and international press, published conference proceedings, local government documents and reports, and information posted on the websites of relevant groups, funders, and organizations. The attention paid to tourism, ethnic cultural heritage, and rural development by the central Chinese state, provincial governments, and international development agencies has also motivated a wide range of Chinese academic research on such issues, especially in Guizhou.64
At a provincial level, the goal was (and continues to be) to expand upon the existing rural tourism industry to address problems of persistent rural poverty and concerns over heritage loss. With a seed grant of US$360,000 from the World Bank, the first project in 2002 aimed to produce a Tourism Development Master Plan for Guizhou and was implemented by the World Tourism Organization, a United Nations agency (UNWTO), and the Ireland International Tourism Company, who won the project bid. Together with the China National Tourism Administration (CNTA) and the Guizhou Tourism Bureau, these agencies invited tourism experts from around the world to help create a twenty-year tourism development scheme for the province. The Bala River Demonstration Project for Rural Tourism (see figure 1.3) was one outcome of this project. According to the UNWTO (2003), "It is believed that the development of the villages surrounding the river valley, will play an integral part in attracting tourists and improving the quality of life for the local inhabitants. . . . With a population of approximately 400–500 people in each of these villages and an estimated activity rate [or participation rate] within a single village to be of the order of 50 per cent or greater, it is expected that each village has at least 200 employment opportunities." The project acknowledged drawing on the experiences of existing tourism villages like Upper Langde and Nanhua. The other five villages included in this demonstration project were Huai'enbao (a former Qing dynasty fortress village originally built by Han migrants to the region), Upper Jidao, Jiaomeng, Nanmeng, and Maomaohe.65
With the seed funding, the Irish consultancy firm and provincial government officials evaluated the potential of rural tourism in the selected villages and developed a set of principal objectives. These included the development of tourism as a key economic growth sector, sustainability, increases to revenue and cash incomes, and more effective branding of Guizhou as a cultural and environmental tourism destination (UNWTO 2003). In October 2004 an international forum on rural tourism was held in Guiyang, the provincial capital, during which a number of invited consultants and experts went on an evaluation and study tour to some of the demonstration projects throughout the province, including the Bala River region (Yang S., ed. 2005). This initial evaluation program was further bolstered by a grant of NZ$500,000 from New Zealand's International Aid and Development Agency (NZAID) for a project titled "Community-Based Cultural Heritage Tourism Systems," which was executed by a New Zealand consultancy firm called Performance Excellence Ltd. (Zhang X. 2005), with the cooperation of the Guizhou Tourism Bureau. This project ran from March 2004 through April 2006 with the goal of implementing a community-centered, regional network of village-based tourism associations between the seven Bala River villages. Again, the focus was to create practical methods for diversifying tourism in the area and to alleviate rural poverty (Zhang X. 2005). The key individuals implementing the program in Guizhou included Bill Rout, a sociologist from New Zealand, and Zhang Xiaosong, who has held multiple positions as dean of the School of International Tourism and Culture at Guizhou Normal University, director of the Guizhou Provincial Center for Tourism Research and Public Outreach (established in 2004 as a unit of the Guizhou Tourism Bureau) and as a committee member of the Guizhou Political Consultative Conference. Zhang Xiaosong has played a significant role in mediating and directing tourism plans in the Bala River region, and in 2006, she established the Guizhou Rural Tourism Development Center.
According to reports written by Zhang Xiaosong (2005) and Li Zaiyong (2005), then the vice-governor of Qiandongnan prefecture, the 2004–06 community-based tourism development program sought to construct a management system for monitoring, controlling, and evaluating tourism at the village level. As one of the first parts of this training program, representatives from each village and a selection of government officials went on a study tour in spring 2004, traveling to other ethnic tourism sites in Guizhou as well as to Ping'an in Guangxi. Two residents of Upper Jidao and three from Lower Jidao went on this trip. The purpose of this tour was to allow villagers to experience rural tourism, to study rural tourism businesses such as family-run guesthouses, and to gain new perspectives on how to do the work of tourism.66
The NZAID-funded community-based tourism project developed a series of workshops to promote "self-enlightenment" (Zhang X. 2005, 17) among the villagers, who discussed their resources, opinions, and experiences to develop workable approaches to tourism management in their home villages. Tourism associations (lüyou xiehui) were created in each of the seven Bala River Demonstration Project villages, and women in particular were encouraged to create their own associations to solidify their role and participation in the tourism industries. Representatives from these associations held meetings with each other, where they were to share information about issues such as sanitation, cooperation, and leadership strategies. In a published report on these workshops, Zhang Xiaosong notes that the tourism association in Upper Jidao was particularly creative and efficient in using the ten tons of cement provided to each village as part of the program for the repair and construction of village paths by creating cobblestone walkways and a performance space. Through the ingenuity of the villagers in combining cement with the aesthetically more attractive stones, Zhang wrote, in Upper Jidao "an ancient yet civilized village was appearing before your eyes" (Zhang X. 2005, 18). The basic goal was to make the villagers the "owners" of their tourism industries. Other responsibilities, such as keeping statistics on the number of tourist visits and using transparent accounting methods for recording tourism incomes, were stressed.
The end of this funding program in 2006 marked the beginning of the economic and industry-building phase of rural tourism development in Guizhou, coinciding with the declaration of the China Rural Tourism year and the start of the 11th Five Year Plan, with the focus on building a New Socialist Countryside. By spring 2006, plans were well under way in Upper Jidao. Zhang Xiaosong, with the support of the Guizhou Tourism Bureau, negotiated an agreement for a private firm, the Guizhou Shan Li Tourism Development Company, to finance infrastructural improvements in the Bala River region and the Libo National Nature Reserve tourism region, another designated tourism development area.67 One of Shan Li's projects would be the construction of high-end hotels in both regions, and Upper Jidao was selected as the location for the Bala River hotel.68 The relationship between the Guizhou government, village associations, and Shan Li was viewed as a mutually beneficial arrangement, where Shan Li leased land use rights from the village for twenty years to build and start up the hotel.
According to a report by the general manager of Shan Li, Zhang Tan, 10 percent of annual profits would be split equally between the village tourism association and a "workstation" in the village for experts and researchers, and another 10 percent would go directly into cultural and environmental protection efforts in the village. It was anticipated in such an arrangement that the initial investment would be paid off in fifteen years, and after twenty years, the entire business would be given back to the village (Zhang T. 2008, 182). In Upper Jidao, land was selected for the hotel and initial contracts for land use rights were arranged. According to Zhang Xiaosong in 2006, she envisioned the hotel to primarily attract wealthy foreign tourists, with rooms priced around ¥200 or more a night.69 She emphasized that the desire for a hotel in the village, instead of family guesthouses, had also been expressed by Upper Jidao residents, where male and female visitors stayed in separate rooms, if not separate homes, even if married. This cultural norm, they realized, would not suit tourists.
Activities around rural tourism promotion and development flourished at the national and provincial level in this period; another major international conference on rural tourism was held in Guiyang in September 2006, organized in conjunction with the World Bank and UNWTO, with another study tour arranged for conference participants. Unfortunately for Upper Jidao, although the original itinerary for this conference included a stop in their village, construction on a parking lot and other transport infrastructure had not yet begun, and the conference tour bypassed them for the more accessible village of Upper Langde. Foreign press coverage on rural tourism in Guizhou increased over this year and the next; an article about the Bala River region was published in the Wall Street Journal (Sesser and Fong 2006), and Upper Jidao was featured in a Reuters report on the New Socialist Countryside program (Blanchard 2007).70 The Guizhou Tourism Board published a Guizhou Provincial Rural Tourism Development Plan in June 2006, which was approved by the CNTA (Guizhou Tourism Bureau 2006), in anticipation of a larger application for World Bank funding. In the 2006 Guizhou provincial plan, the original Bala River Demonstration Project from 2002 was renamed the Bala River Miao Minority Village Community, and Upper Jidao was again identified as a "demonstration village" (ibid., 40–41). The Guizhou provincial government eventually submitted an application to the World Bank for US$60 million to fund a broader project titled "Guizhou Cultural and Natural Heritage Protection and Development Program" (which was approved in May 2009).
A New Socialist Countryside development program for Jidao (both Upper and Lower villages) was concurrently produced by the regional governments of Kaili and Sankeshu township in May 2006; this program outlined a variety of infrastructure, construction, and sanitation projects to be undertaken during the 11th Five Year Plan, much of it directed at improving the village's prospects as a tourism destination. This included building a new bridge directly into Upper Jidao, creating a larger performance space, and constructing a cultural center in Upper Jidao (Kaili Shi Fupin Kaifa Bangongshi 2006). Allocated funds totaled more than ¥8 million, with nearly ¥4 million coming as aid from the wealthy eastern city of Ningbo. According to village leaders in Upper Jidao, Jidao as a whole would receive ¥500,000 a year for projects that they would be responsible for executing, such as paving roads and improving water lines. Of these funds, 80 percent (¥400,000) was allocated to tourism-related projects in Upper Jidao specifically, such as for building a cultural center, while Lower Jidao received less aid because, ostensibly, it was not considered a major part of tourism-related development that was intended to be the central project in the village.71
As part of the preparations for the larger, provincial World Bank loan application, a social assessment report on the state of Indigenous and local peoples included in the project was completed in 2008 by the Center for Ethnic and Folk Literature and Arts Development (a unit within the national Ministry of Culture) with the Guizhou Provincial Center for Tourism Research and Public Outreach (World Bank 2008). In this particular document, the authors address in detail the anticipated expenditures and components of the project. Upper Jidao is identified as a village for tourism development and cultural heritage preservation, focusing on the well-preserved songs, dances, and old houses (ibid., 40). Moreover, the process of making Upper Jidao into a tourism destination is noted to require not only infrastructure but also the creation of appropriate ethnic Miao song-and-dance performances. This model of tourism was precisely the idea of "the village as theme park" and had already been popularized in Upper Langde and Nanhua, which both offered choreographed shows for tourists.
Unlike in Ping'an, where the "content" of its tourism was primarily the landscape, from the beginning Upper Jidao was being developed as an ethnic tourism site. Thus village residents have continually needed to find ways to display their ethnicity. As early as 2004, plans for tourism in Upper Jidao included creating various groups that would each practice and prepare a particular Miao traditional performance. There was one group for singing traditional "love songs" (qing ge, typically a call-and-response performance between men and women, although they practiced separately out of propriety), a group of men who practiced playing the lusheng, a group of women who practiced lusheng dances, and a group of older men and women who practiced "ancient songs" (gu ge, also in the call-and-response style, retelling stories with a moral lesson). Group practices were originally scheduled to occur every other day, but in 2006, villagers said without many tourists to perform to, there was no reason to practice so frequently. Inspiration and influences for these performances were drawn from a range of sources. For example, the "love song" group watched locally produced video recordings of other Miao villagers performing the same genre for ideas on how to sing, what to sing about, and how to dress.72 In 2007, the Kaili municipal government hired a professional dance troupe to teach the villagers a more professionalized song-and-dance performance.
The internal leadership structure and tourism organization in Upper Jidao was complex yet straightforward. As a result of the training sessions from 2004 to 2006, Upper Jidao, like the other six Bala River region villages, created a village tourism association that included two women's representatives (required by the program) and also Teacher Pan, who was not an elected village subcommittee member but had been involved with tourism projects from the beginning. The rest of the tourism association was comprised of the six or seven elected members of the village subcommittee members (xiaozu). When I inquired about this overlap between the elected village subcommittee and the tourism association, they simply said that there weren't enough people in the village to have two separate committees and that because the subcommittee members were already elected to be leaders, it made sense that they should also be in charge of tourism. This meant, however, that every year the subcommittee and the tourism association might change members, as new people were elected or others left the village. As a result, those who stayed in Upper Jidao bore the burden of carrying plans forward each year—namely, Teacher Pan and a woman named Qin. Both were educated, fluent speakers of standard Chinese (Mandarin), who also, as some villagers mentioned, had steady incomes, so neither Teacher Pan nor Qin needed to worry about making money and could instead give some of their time to the tourism association.73 Teacher Pan received a monthly retirement stipend, having served for many years as the principal of the local middle school in Paile village; Qin was married to a schoolteacher from Upper Jidao who taught at the school in Nanhua. Qin ran the village clinic, which she regarded as her primary occupation even though the work carried no wage, only minimal compensation. She was also the village's unofficial tour guide and usually the first called upon by tour agencies and government officials to greet and host visiting groups.
Teacher Pan was a central figure in Upper Jidao's tourism plans, although he was never elected to the village subcommittee. Rather, local government officials, including Zhang Xiaosong, had approached him directly to assist with the tourism development in Upper Jidao because of his previous leadership experiences. In effect, he became the de facto director of tourism in the village, serving as the coordinator and negotiator for tour groups that wanted to visit (and hosting researchers like me in his home). Like Teacher Pan, Qin was more educated than her village peers, having completed postsecondary studies in nursing at a polytechnic school in Kaili. She spoke standard Chinese with ease, and she seemed to genuinely enjoy being involved in tourism development. All of the participation in tourism was strictly voluntary, although Teacher Pan was frequently chosen as the village representative for study tours (to Ping'an in 2004 and to Yunnan in 2007). Qin, along with ten other young adults from Upper Jidao, participated in a tourism training program at Guizhou University in the summer of 2006. Upon their return, however, most participants said it was not an especially interesting experience. Both Qin and Teacher Pan were frequently called upon to speak to media reporters and officials about the village, appearing on domestic television programs broadcast on Shanghai TV and on CCTV 9, the state-run English-language station. Tour guides and government representatives tended to engage with these two first when discussing tourism plans, thus bypassing the elected village leadership subcommittee members. When I asked them about their role in the village's affairs, both Teacher Pan and Qin agreed that they felt it was their obligation to help the village as best as they could. And yet, for Qin particularly, her responsibilities in tourism sometimes conflicted with her own aspirations to further her medical training.
Ongoing beautification projects in the village were initiated to make the place look more inviting and to look more like a rural ethnic tourism destination. Concrete and cement walls were covered with wooden planks, glass windows were covered with decorative wooden frames, trash cans were made out of straw baskets (later, ceramic pickling vats wrapped in straw were used as trash cans), and a large wooden gate was raised at the village entrance along the main highway passing through the Bala River region. Signs on the highway announced "Jidao Miao Village," indicating its status as a worthy tourist destination and marking the village as an ethnic minority community; large color posters advertising events were periodically raised next to the road (figure 1.4). A new parking lot was built in 2010 along the newly constructed highway, further announcing the village as a tourism destination (see figure 5.6).
Given all of the attention paid to tourism and the village from 2002 on, from the perspective of the residents of Upper Jidao, it seemed like everyone—locally, regionally, nationally, and internationally—wanted them to do tourism and to do it well. At first, enthusiasm for tourism was high, and a number of young adults who had migrated returned to the village around 2004 in the hopes of participating in the new industry. By the time of my research in 2006, though, the fever for tourism had waned somewhat. There simply weren't that many tourists coming to Upper Jidao; between the few tour groups that did pass through and a smattering of independent tourists, village leaders estimated approximately two thousand tourists in all of 2006. Part of the problem was infrastructure; without a wide, stable bridge and road that could support a large tour bus, many potential tourists and tour guides simply passed by without stopping. The seven Bala River region villages did not cooperate with each other as the NZAID-funded workshops had hoped. Instead, the villages viewed each other as competitors not collaborators.
A lack of coordination between the county-level governments in Kaili and Leishan meant that there was no single central clearinghouse for tourist information on the Bala River region; each government only assisted the villages in its own administrative region. Within Jidao village, the decision to focus on Upper Jidao for tourism was met with dismay from the residents of Lower Jidao. By the end of 2006, the Shan Li hotel project in Upper Jidao had stalled and was abandoned before construction even began. During a visit to Upper Jidao in December 2006, Zhang Xiaosong was asked directly by the members of the tourism association what had happened to Shan Li. Her response was simply that it was not the right project for this place. Later, Teacher Pan explained to me that the Jidao village Party Secretary, who was from Lower Jidao, had written a letter to a provincial-level official in 2006, complaining about the unequal allocation of development funds and resources in the village. This had caused enough of a stir at the provincial level, Teacher Pan surmised, to prompt the Guizhou Tourism Bureau and Shan Li to back off from their original plan to build a hotel in Upper Jidao.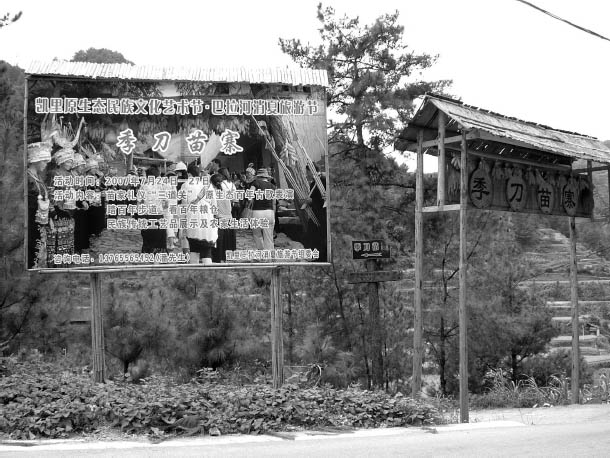 But over time, despite the slow start, things did progress, albeit haltingly. Tour guides seeking new destinations started bringing tourists to the village in 2007. This was evidenced not only by the villagers' accounts but also by the increased presence of photographs of Upper Jidao on travel blogs and photo-sharing websites. Media publicity increased: Japan Airlines's in-flight magazine published a special issue on Guizhou in 2007 with a multipage color spread on Upper Jidao; the Chinese version of the fashion magazine Marie Claire published a long story on women's embroidery in Upper Jidao in December 2011. In July 2008, with the money from the New Socialist Countryside program, Upper Jidao built a new, larger performance space, a new cultural center (also used for meetings), and could now organize performances for tour groups (figure 1.5). All village residents could (and most would) dress in their festival attire before the arrival of a tour group and set up tables for welcoming tourists with rice liquor. Once the tourists entered the village, young men and women performed a series of songs, dances, and lusheng playing. The "ancient songs" group of older men and women were also part of the performance. They charged the visiting tour groups anywhere between ¥400 and ¥800 per reception-performance, depending on how well Teacher Pan negotiated. After deducting for the costs of alcohol and any food served to the tourists, those who performed and helped with the organization earned at most ¥5–¥7 each. The money was viewed not as a source of significant income, because it was practically negligible, but more as shared outcome to the years of preparation and organization.
After the Shan Li hotel plans fell through, another developer, introduced by the Kaili municipal government, came to Upper Jidao with plans to build a new hotel using funds obtained by the Guizhou Tourism Bureau directly from the CNTA. Again, land use rights were arranged, contracts were signed, and this time construction began. However, by summer 2008, the hotel's construction was at a standstill. In March 2010, the hotel's wooden frame was complete but lacked windows, fittings, and internal wiring; Teacher Pan said he had no idea when it would be finished. The developer had been evasive during their last conversation, Teacher Pan added.74 Zhang Xiaosong's organization, Chain Reaction (founded as part of the Guizhou Rural Tourism Development Center), started a handicrafts training program in 2008 for the women's association of Upper Jidao to both preserve the craft and to create a new source of income.75 Older women, with the skilled knowledge to embroider elaborate designs, were to teach embroidery to the younger women, many of whom had little experience with the craft. Qin was put in charge of the group, organizing nighttime meetings, managing the funds, and collecting finished pieces.
The women's association was provided with fabric, thread, and needles, and they were given color copies of embroidery designs taken from books that the development center's collaborators thought would be marketable. This project was largely funded through the personal efforts of Zhang Xiaosong and a Hong Kong–based philanthropist, who provided funding to purchase supplies.76 In my conversations in 2008 with the women in Upper Jidao about this project, many said that the designs and embroidery styles they were given to practice were entirely new to them; some women were afraid of doing a bad job and thus reluctant to participate. Others were unhappy or disappointed when their works were not deemed good enough to sell or not selected for recognition; gradually some women stopped participating. The project did not cease entirely, however, and by 2012 the lower level of the village cultural center had been turned into a small exhibition space, holding some of the embroidered pieces and a copy of the 2011 Marie Claire issue, while the better works were framed and gifted by the organization to visiting dignitaries including, in 2010, the president of the World Bank, Robert Zoellick.77 As I observed their meetings and spoke with Qin about this project, I realized that the village women were not practicing old forms of embroidery so much as learning new methods and designs for doing it. This seemed a fitting way of understanding tourism in Upper Jidao more generally: in the guise of cultural preservation and doing the work of tourism, the villagers spent the past decade learning new ways of how to be ethnic.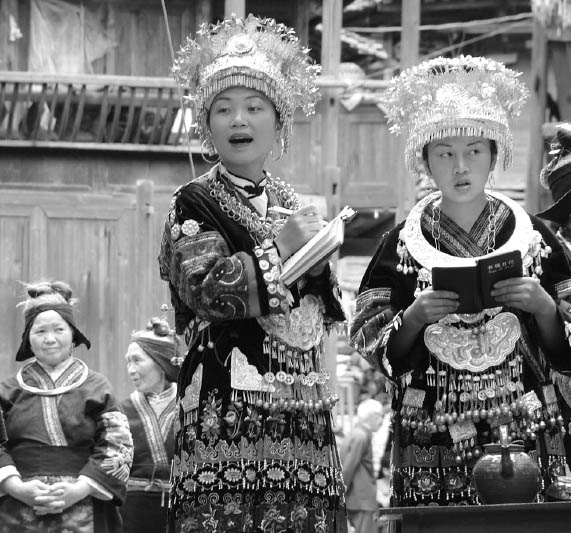 SIMILAR, WITH MINOR DIFFERENCES
Looking at these histories of tourism in Ping'an and Upper Jidao, there is an implicit tendency to compare the experiences of both villages. Their experiences could also be taken as different "stages" within a singular tourism development process, where Ping'an could serve as a mature example and Upper Jidao as a young, inexperienced newcomer. Indeed, village residents in both places often commented that they wanted to see other tourism villages in order to learn how other rural ethnic minority communities were doing tourism. But given the sometimes subtle, sometimes obvious differences in government participation, funding, local politics, social and cultural norms, and economic options available in Ping'an and Upper Jidao, what these villages were experiencing was simultaneously familiar to other rural ethnic tourism destinations and unique to their own circumstances. Teacher Pan assessed the situations in Ping'an and Upper Jidao with a Chinese saying: similar, with minor differences (da tong xiao yi). Having visited Ping'an before as part of the provincial-level study tour in 2004, and again in 2007 at my invitation, Teacher Pan did not see the need to differentiate between the two villages; rather, he suggested that I concentrate on their similarities.
Instead of focusing so intently on the differences between the villages and, by extension, the classification of each village's tourism as a stage of development, exploring the similarities illuminates the deeper and broader issues at stake in doing tourism while acknowledging the myriad contextual differences. Understanding the impetus for villagers in Ping'an and Upper Jidao to learn how to be more ethnic for the tourism market opens up the question of how they were also learning how to be rural in particularly touristic ways. For Ping'an and Upper Jidao, this meant producing (or reproducing) themselves as rural ethnic sites for tourist consumption. The national agenda for rural development encapsulated in the campaign to build a New Socialist Countryside explicitly called upon rural Chinese to learn to be rural and to modernize at the same time. For both villages, how they were expected to do so in practice also drew upon the recent history of tourism in postreform China as well as discourses about rural livelihoods and subjectivities in order to justify national policies and proposed changes.