CHAPTER 5
THE ABILITY TO BE DIFFERENT
Socialities and Subjectivities
Doing tourism in Ping'an and Upper Jidao involved not only visible modifications, such as changing one's clothes or renovating houses to cater to perceived tourist desires, but also transformations in socialities and individual subjectivities of village residents, migrant or local. As the previous chapters have shown, rural ethnic tourism pivots around more than just the relationship between "hosts and guests" (Smith ed. 1989 [1977]) or "tourist-tourate" (Ness 2003), which are the binaries commonly evoked as analytical frames for understanding tourism. Rather, it is vital to map how tourism villages are embedded in intervillage and intravillage networks shaped by myriad connections of kinship, politics, shared histories, and economics. In both Ping'an and Upper Jidao, as tourism has become more and more entrenched in local experiences, a range of unintended social and political consequences has emerged that deeply affects local lives and livelihoods. These consequences have often been made known through instances of physical violence and frustration.
SABOTAGE STORY NO
. 1:
UPPER JIDAO
, 2006
On the morning of October 2, 2006, around 7:30 A.M., Chun, the village subcommittee leader that year, made an announcement from his house, which shared a wall with Teacher Pan's home where I lived. Using a bullhorn, Chun hollered: "Announcement! Announcement! (Tongzhi! Tongzhi!)" The announcements were always made in Miao, and I could only understand the few standard Chinese (Mandarin) terms occasionally interspersed within, such as "tourist (youke)." At breakfast later, I asked Teacher Pan what Chun had said, and he explained that the village had been preparing for a week to host an anticipated onslaught of tourists during the October 1 National Day Golden Week. There had been announcements nearly every day to remind the men in the lusheng performance group to practice in the evenings, to reiterate the importance of keeping the village clean and litter-free (which included not hanging laundry in view from the paths or laying it out on the riverbank, a common practice during the sunny and dry autumn), and generally to exhort villagers to maintain a positive, friendly, and accommodating outlook toward the expected visitors.1 This morning's announcement was a reminder to village residents about tidiness and, Teacher Pan added, about clearing the road into Upper Jidao. Someone had piled a number of concrete cinder blocks and other materials on the road into Upper Jidao during the night, preventing any cars from entering village. The road leading into Lower Jidao had not been affected. Teacher Pan, in his usual no-nonsense way, made no suggestion as to who might have done this.
Two weeks later, while conducting a household survey with a fifty-five-year-old woman in Upper Jidao, I received a more candid assessment of these events. Three middle-school-aged girls from the village were present during the survey, and together the five of us shared a conversation on tourism in Upper Jidao. When I asked for their thoughts on the potential negative consequences of tourism development, one of the girls quickly responded, "Lower Jidao is against tourism; they came and ruined the road." "They," meaning people from Lower Jidao, the girls declared, had also slashed the sign on the main highway that advertised the 2006 China Kaili International Lusheng Festival that had taken place in July (figure 5.1).2 The older woman concurred, saying that the "relationship was never very good [between Upper and Lower Jidao]" and that tourism development in Upper Jidao had exacerbated preexisting tensions. Teacher Pan's earlier diplomatic refusal to point a finger at individuals from Lower Jidao reflected the depth of the troubles between the two villages. These isolated cases of relatively minor but very pointed physical retaliation directed at tourism-related events demonstrated the degree to which someone nearby was not in agreement with Upper Jidao's development into a tourism destination. It was only later, in 2007, that Teacher Pan eventually told me about the letter written by the Jidao village Party Secretary to the provincial government, which had effectively halted the original plans to build a hotel in Upper Jidao and signaled the ongoing tensions between the two communities.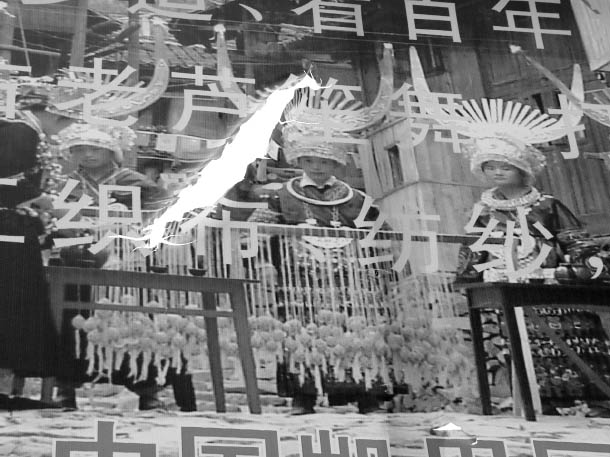 SABOTAGE STORY NO
. 2:
PING
'
AN
, 2007
While relations between the residents of Ping'an, the county government, and the management company of the Longji Scenic Area could only be described as mutually suspicious at the best of times, on occasion these tensions also manifested into material destruction. Many villagers told me of collective attempts in 2005 to stage public protests over the allocation of profits from ticket sales, which were managed by the company not the village. They first protested outside the ticket office on the road leading into the entire scenic area and later at the entrance to Ping'an, blocking the entry of any tourists into the village. The local government's response was unsurprising and swift. According to the villagers, government representatives turned away all journalists and arrested a handful of young men as an example of what might happen to other such "troublemakers." After that incident, protests by villagers against perceived inequalities and unfair conditions took a decidedly more surreptitious, though no less confrontational, form.
For example, throughout 2005 and 2006, villagers had begun constructing one-story shop fronts and restaurant stalls along the wide path leading from the parking lot into the central part of the village. Many of these spaces were then rented out to migrant entrepreneurs or run as second businesses by relatives; shopkeepers sold a familiar variety of mass-produced souvenirs, specialty teas, fruit, snacks, and sometimes products brought in from other markets (including, for a while, dried snakes and lizards supposedly bearing medicinal properties). As the buildings kept being constructed, some villagers told me they thought the rows of wooden shops along the path were ugly and distracting. Moreover, the buildings blocked the view of the lower terraced fields around the village, and, as one village resident remarked, the view was technically for everyone.
Apparently the management company also shared this village resident's opinion, and in late 2006, representatives from the company began putting pressure on villagers who had shops along the path to take down their buildings. Some residents believed that the company wanted to remove all structures in the village that were not either hotels, restaurants, residential homes, or constructed by the company (such as the toilets at the viewpoints). The stated goal was to improve upon the visual continuity of the scenic area. But this was impossible, residents said, because so many small shops were already up and the land-use rights were granted to individual households who could legally lease these rights to others. The management company didn't own the land, villagers stressed. Buildings continued to be constructed at an even more rapid rate, it seemed; one young shopkeeper said it was because villagers knew that if the buildings along the path were eventually banned, they would receive compensation for anything already constructed. Nonetheless, perhaps by way of making a point, the company sent in a couple of men to forcibly take down a few half-finished shops by the entrance ticket booth in early April 2007.3
The retaliation was equally quick. Overnight, the men's toilets at viewpoint number 1 were destroyed (figure 5.2). The choice of this particular site seemed deliberate: the toilets at the two village viewpoints had been built and paid for by the management company, but viewpoint number 1 was much less visited than viewpoint number 2 (where the more well-known view of Seven Stars with Moon could be seen), so the damage would have a lesser impact on tourists.4 Inside the toilet facilities at viewpoint 1, the countertops, urinals, and tile floors were broken, apparently hit with a blunt, heavy object. I asked a number of individuals in Ping'an about this incident. Everyone remained silent about the perpetrators, but most concluded that it had happened because the company had taken down the shops along the path. One feeling going around the village, a shopkeeper told me, was that if the government or company wasn't happy with the way things were changing in Ping'an, they should just get out and let the villagers go back to selling the tickets and taking care of the business themselves as they had done in the past. It was clearer than ever before that the line had been drawn in Ping'an, and that the ongoing tit for tat between village residents, the government, and the management company was far from resolution.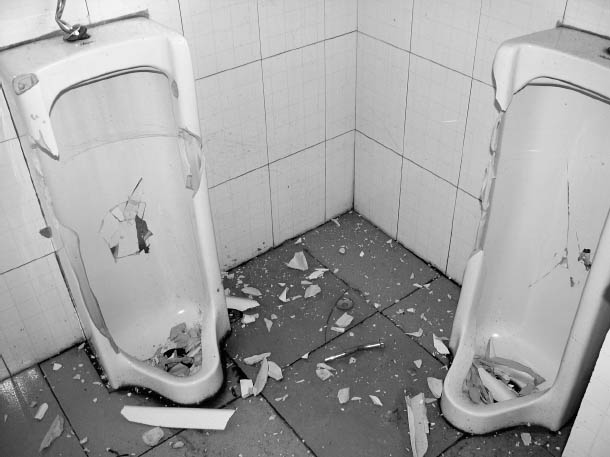 WHERE THE LINE GETS DRAWN
These anecdotes from Upper Jidao and Ping'an serve as a poignant reminder of the complex motivations, demands, expectations, and desires involved in tourism development. At the scale of everyday life in a rural village, the impact of these isolated cases was arguably more prominent than perhaps it would have been in an urban context. The past three decades of economic reform, paired with national policies for rural development in China, were experienced by residents of Ping'an and Upper Jidao in ways that reveal the pervasive uneasiness and uncertainties plaguing contemporary rural livelihoods. Outbursts of anger coupled with frustration over the slow pace of becoming a "successful" ethnic tourism destination exposed the disjointed relationship between ethnicity and economy, particularly in a country governed by strict definitions of ethnic belonging. The intersection of physical distances, socioeconomic differences, and cultural distinctiveness invoked by, and inherent in, ethnic tourism practices thus provide a focal point for understanding just how village residents negotiated with the consequences of doing tourism. The two sabotage stories suggest that these acts of willful destruction must be considered as a part of examining how discourses of tourism and travel exert pressure on, and influence change within, destination communities. In Upper Jidao, the perpetrators were perceived, by village residents at least, to be people from Lower Jidao; Upper Jidao was targeted because it had been selected to get rich first, to use the famous quotation by Deng Xiaoping from the beginning of China's reform-era economic and social policies. In Ping'an, the perpetrators were village residents, and their anger was directed at the county government and management company, who were perceived as working together to stifle and strangle local tourism profits.
The stories point to the importance of examining intervillage and intravillage relationships in tourism development. While conflicts between policy makers and community members are often examined in studies of China's domestic tourism industry, critical tourism studies more broadly continues to be primarily framed around the relationship(s) between tourists and the toured.5 The charge to decenter tourism studies from its underlying theories and concepts based on the wealthy Western tourist (as argued in Winter 2009, 317–18) should be coupled with a willingness to consider the possible blind spots of current tourism scholarship—including the division between tourism management studies research and tourism theory. In Upper Jidao, it was provincial policy that drove tourism to take on the role of a wedge, causing the Upper and Lower village communities to feel more distant from each other than ever before. The relative success of tourism in Ping'an meant that more and more parties, including regional government bureaus, were trying to find ways to profit from the industry, leading to conflicting opinions and regulations. Emotional expressions of jealousy, envy, and anger reveal the depth to which rural tourism development programs and China's plans for a New Socialist Countryside were opening old wounds and creating new disappointments while simultaneously aiming to bring these rural areas into the fold of national modernization goals.
The lines drawn between rival parties in tourism businesses and development cut across villages, counties, and provinces, as tourism was entangled in the range of imaginable possibilities for local residents. The sabotage stories from Upper Jidao and Ping'an map out the margins of the landscape of travel in which these villages are situated and how they are connected with national forces, provincial goals, and local aspirations. While domestic tourism in Ping'an and Upper Jidao was intended, in large part, to be "involved in a pacification of the relations between the center and the periphery," as Olivier Evrard and Prasit Leepreecha (2009, 245) have written about Thai domestic tourism to the northern city of Chiang Mai, there were also multiple consequences at a range of other, more local scales. The parallels between Northern Thailand and Southwest China are useful here. Drawing on scholarship about ethnic minority communities in China, Evrard and Leepreecha (ibid., 245) have argued that as a result of domestic Thai tourism to the north of Thailand, "the Northern Thai turned themselves into objects of desire for mobile urban dwellers and at the same time also enacted the same process towards their own margins, the so-called 'Hill Tribes' (cao khao)." The effects of tourism, they argue, thus changed relations in the North between the Northern Thai and the "Hill Tribes," as well as between the Northern Thai and their mainstream urban counterparts to the south.
Similarly, just as tourism villages like Ping'an and Upper Jidao had to develop and maintain ways of looking different from mainstream majority urban Chinese and foreigners to appeal to these tourists, individuals in each place also had to contend with transformations in their relationships with other residents, migrants, nearby villages, and local government and business entities. The landscape of travel, therefore, encompassed the physical distances traveled by tourists and migrants, the socioeconomic differences evoked as part of development programs or experienced within a village, and the forms of cultural distinctiveness demanded of tourism villages as a part of their potential success as destinations. All of these, ultimately, contributed to undulating waves of connection and separation at multiple scales—from the national center to the periphery, between villages in a particular region, and among households and businesses in a village. The tensions resulting from tourism development thus outline how communities and individuals are increasingly alienated (or differentiated) from one another, but also how their lives and livelihoods are evermore interconnected, interdependent, and lived in response to each other. In these changing relationships, the conceptual figure of "the tourist" plays an influential role in everyday village social relations.
At the scale of the local, conditions in Ping'an and Upper Jidao exemplified two differing dynamics that were set in motion by rural tourism development. In Ping'an, more and more outsiders were drawn to the village, in a centripetal force, thereby challenging local claims to belonging, profits, and knowledge. Conversely, in Upper Jidao, village leaders and regional government officials were driven to construct more apparent and more obvious differences between villages in the Bala River Demonstration Project, arguably creating a centrifugal effect in the region. Villages in the area tried to create symbolic distances between each other to distinguish themselves from their neighbors and to satisfy a presumed tourist need for recognizable, consumable differences, but not without negative consequences as the case between Upper and Lower Jidao shows. Such attempts are part of the "touristic cultures" of places where tourism is everyday life, and these new systems of values and expectations are logical, functional, and meaningful on their own terms (e.g., Cohen 2001, 41–43; and Picard 1996).
At a national level, the goal of tourism as development has been to decrease the economic differences between rural and urban populations, but paradoxically at the local level, the unequal distribution of development funds and different strategies of income generation have increased the socioeconomic distances between neighbors and villages. Thus what was transformed included not only the different products offered in tourism to satiate the supposedly ravenous appetite of tourists for something "other" than their quotidian lives, but also the ideas and discourses about the usefulness and meanings of things such as land, people, and ethnic identity. These shifting concepts created new connections and power relations, and the systems of meaning generated in Ping'an's and Upper Jidao's tourism illuminate the socialities and subjectivities that have become valued, and devalued, in contemporary China.
DISTANCES AND DIFFERENCES
Tourism does not merely create hard and fast differences in the name of diversifying tourist experiences; indeed, the differences (ethnic, economic, social, and political) so often invoked in understanding tourism might be better understood as distances, where the lines that are drawn (between Upper and Lower Jidao, for instance, or Ping'an and the Longji Scenic Area management company) symbolize increasing disparities as well as ongoing acknowledgments of mutual reliance and dependencies.6 Situations or contexts that may be more easily brushed aside as simply "different" actually reveal more complicated truths when these circumstances are considered as distant from one another, but not altogether unrelated. After all, distances separate and connect, while differences are often perceived as absolute. In tourism studies, the importance of difference has been well studied.7 For tourists, tourism is a contemporary practice that engages, maintains, and produces differences through promoting travel across great physical distances. It appeals to the discovery of societies that are temporally or culturally distinctive from the tourist, such as through the trope of the "primitive" (N. Wang 2001, vii).
In China, as elsewhere of course, even as tourism promotions emphasize the appeal of traveling to distant, far-flung destinations, with improved roads, new airports, and competing transport companies, people in China are moving closer to one another more frequently and meeting in more of what James Clifford (1997), drawing on the work of Mary Louise Pratt (2008 [1992]), has called "contact zones." For Clifford (1997, 192; italics in original), museums are contact zones because their organizing structure as collections reflect "an ongoing historical, political, moral relationship—a power-charged set of exchanges, of push and pull." Likewise, tourism villages can be considered as contact zones, highlighting the need to analyze the relationships enacted by the copresence, following Pratt (ibid., 6), of tourists, village residents, and other stakeholders in the tourism enterprise. Moreover, this framework enhances the understanding of the organizing structures and principles of tourism at work in contemporary China.
But while actual travel times have decreased in China because of advances in modern transport, the two sabotage stories make clear that some types of distance are increasing.8 The experience of shortening physical distances as a result of modern transport can inversely prompt the expansion of perceived socioeconomic and cultural distances between groups and communities, as the exotic and different become known and categorized as such. This may be one consequence of what Arjun Appadurai (1996, 70–71) has called the "cultural economy of distance" created by spatio-temporal processes of seasonal consumption that emerge from "the driving force of merchants, trade, and commodities, especially of the luxury variety." Rural tourism development has been ideally conceived as equal parts leisure and labor, desired by urban and rural Chinese, respectively. It is possible, then, to conceive of the simultaneous expansion and shortening of distances in China as the result of ongoing processes of mobility as a consumption practice in which tourism allows some to consume more of the nation, while others seek to become consumers (and tourists) through their efforts in producing the consumed experience. Such consumption practices necessarily are intended to assert both belonging to a particular group and social distinction from others, but the real effects of mobility as a consumption practice are much more unequal and stratified.
In tourism villages like Ping'an and Upper Jidao, the figure of "the tourist" comes to assume the role of the consumer, and all village activities are ideally intended to satisfy the needs and wants of this particular subject. Who is the tourist, however, and how does she or he figure conceptually into village social relations and socialities? Although village residents in both Ping'an and Upper Jidao recognized differences in desires, preferences, and behaviors between domestic Chinese and foreign tourists, at certain practical levels, they also regarded all tourists as the same—as potential consumers. It mattered less, in the big picture, whether the tourists who arrived were foreign or domestic and more simply that the tourist kept coming, day after day. The permanent presence of tourists, ultimately, was the sought-after goal, and in this way, the figure of the tourist is conceptually akin to the idea of "the stranger" as conceived by Georg Simmel (1950) in his oft-cited essay.9 Simmel (ibid., 402) wrote that "the stranger is thus being discussed here, not in the sense often touched upon in the past, as the wanderer who comes today and goes tomorrow, but rather as the person who comes today and stays tomorrow."
From the individual tourist's perspective, she or he is more like the wanderer, coming one day and leaving the next. But from the perspective of tourism village residents and other stakeholders in the business of receiving tourists, Simmel's stranger is precisely the ideal archetype of the tourist as someone who comes and stays. The tourism industry is concerned with the tourist, counted and calculated in terms of arrivals. According to Sally Ann Ness (2003, 23): "From the industry's point of view, arrival is the single most important act of consumption, prerequisite for all subsequent acts. A tourist is generally classified as an 'arrival' in the discourse of the industry. A single person becomes a series of arrivals on a tour as he or she moves to new destinations in the matrix. The act disfigures the individual, in rhetoric if not in fact. The thing done displaces the being." Or, in other words, what matters in tourism is not necessarily who is on tour but simply that the tourist arrives. In this way, Simmel's conceptualization of the stranger as someone who comes today and stays tomorrow illuminates the notion of the tourist as an arrival; as a subject, the tourist comes to a place and with this arrival, the receiving location changes in expectation and anticipation of the continuous presence of these, and future, tourists.
The stranger, Simmel (1950, 403) suggested further, is both near and distant to the host society as a result of being placed in a restricted position limited to "intermediary trade . . . [or] pure finance." Fixed in his wandering to be purposeful only as an economic go-between, the stranger formalizes a relationship with the group as "being inorganically [unnaturally] appended to it . . . yet an organic [necessary] member of (it)" (ibid., 408). The economic value of the stranger also sheds light on the figure of the tourist. The stranger's mobility, the ability to be near and distant, creates a relationship of closeness and distance, or copresence, not just between the stranger and the host community but also in relationships between host community members, who may come to question their own closeness to each other. Simmel (ibid., 406) wrote: "The stranger is close to us, insofar as we feel between him and ourselves common features of national, social, occupational, or generally human nature. He is far from us, insofar as these common features extend beyond him or us, and connect us only because they connect a great many people." It is precisely these expectations and potentialities made possible by the simultaneous relationships of nearness and distance that characterize the socioeconomic, ethnic, and political differences so often evoked in tourism.
Three types of distance are at work in motivating, and mobilizing, tourists: distance in time (suggesting evolutionary, linear time and progress), distance in space (which is often apprehended visually in the built environment), and distance in culture (including categories of the exotic, the unusual, or even the unexpected) (N. Wang 2001, vii). These distances serve as hurdles for the tourist to overcome, to embrace, and to evoke, and they validate the experience of travel as something sufficiently different from the quotidian, as in effect a "sacred journey" (Graburn 1989 [1977]). The consequences of these types of distances for destination communities like Ping'an and Upper Jidao, however, is that village residents and other stakeholders must address, satisfy, and perpetuate these ideals. The "distancing work" demanded of tourism holds immense consequences for the relationships between residents, villages, and management or political bodies involved in tourism development. To fully comprehend the "economic, social and cultural organization of distance" (Urry 2007, 46) in tourism, it is necessary to understand the ethnographic, everyday substrate of distances—not only between the tourist and the host but also how host communities such as Ping'an and Upper Jidao are negotiating the new forms of closeness and nearness brought about by tourism. Who is present in the villages, and who is absent? What happens when tourists regularly visit one village but not another just down the road?
Intense local-local tensions in Upper Jidao and Ping'an are apparent in the two sabotage stories; these conflicts reflect ongoing social and economic transformations in these years of increased mobility for villagers and for (potential) tourists alike. The tourist, in the role of the bearer of economic growth, comes to figure in both stories as the harbinger of modernization and progress. And yet, the undesired, unintended consequences of tourism are equally a sign of the times. The distance from the potential riches of tourism felt by residents of Lower Jidao (expressed through small acts of rage and retaliation against Upper Jidao) exemplify the "distancing" effect of state policies and programs that target one, or just a handful, of villages in a given region. Conversely, the second sabotage story illustrates the uncomfortable nearness of the county government and the management company in the Longji Scenic Area as perceived by residents of Ping'an village. The prickly relations between the village and the government-company complex were made manifest in an outburst of destructive acts on company property, yet it was precisely Ping'an's success in tourism that created the centripetal force that drew more and more entrepreneurs to the village. Ultimately, by closely analyzing the distances and differences in Ping'an and Upper Jidao, it becomes possible, and necessary, to reconceptualize understandings of how doing tourism (as development, as leisure, and as work) not only brings individuals in contact with one another but also constructs, divides, and differentiates between communities in accordance with supposed tourist demands and actual economic realities.
PING
'
AN
:
COMPETITION IN CONTACT ZONES
Conflicts in Ping'an were rooted in complicated layers of social inequalities and corresponding feelings of envy and discontent, spurred by competition and changing resident perceptions of what constituted progress, wealth, or poverty. In general, the tensions described by Ping'an residents fell into three categories. First, there was the distance between tourists and local residents, which was economic but also sociopolitical in terms of education, access to resources, and status. Second, there was a perceived distance between neighboring households pitted in competition against one another and with incoming entrepreneurs from other cities and towns, major metropolitan areas, and even from the United States. Third, there were distances between the villages in the scenic area where tourism was unevenly distributed. Whereas there was relatively little that village residents could do about their status vis-à-vis tourists, they were actively worried about and engaged in trying to overcome the distances between themselves and their competitors in the village and the area more broadly.
At the core of these concerns was the fact that the net success of tourism in Ping'an was by and large centripetal, drawing potential competitors into the village, from minority models to hotel owners and restaurateurs from across the country and overseas. More and more tourists were coming to Ping'an as well, further thickening the "copresence" of these myriad stakeholders in tourism. The increased proximity of all these parties added to the unease, uncertainty, and dissatisfaction among village residents regarding the management and experience of tourism in Ping'an. Simultaneously, the entrenchment of local livelihoods into the tourism industry solidified the reliance of these households and businesses on the permanence of tourism and tourists. In the summer of 2008, when foreign and domestic tourist numbers to Ping'an dropped (as they did across the country because of the rippling effects of the May earthquake in Sichuan and the summer Olympic Games in Beijing), many Ping'an residents took advantage of the unexpectedly slow traffic in tourists to begin new construction projects for hotels, restaurants, and shops. Most residents I asked no longer considered it feasible not to be engaged in doing tourism.
In numerous household surveys, respondents pointed out that tourism had brought about the negative social consequence of greater wealth disparities between families in the village and that although the vast majority of residents did participate in some way in tourism, the distribution of wealth was highly unequal. Families who could afford to build hotels and guesthouses did so; families whose land was located farther from the viewpoints or designated paths or who did not have enough resources to obtain a loan to invest in materials and labor to construct bigger guesthouses were consigned to small sales, carrying luggage or sedan chairs, or working for wages as staff at another business. The thirty-year-old female owner of the hotel popular with photography groups from Guangzhou and, at the time, the head of a performance group, assessed the situation in plain terms, saying, "Now that there's tourism, everyone is in competition with each other, right?" Another twenty-eight-year-old man, who along with his wife ran one of the Li Qing guesthouses started by Lao, one of the village elders, explained it this way: "Some have gotten rich," he said, "and there's a bit of selfishness; it's very difficult to manage this—everyone thinks about themselves, and no one thinks about everyone." The inference was that the sense of community had been dispersed by a feeling of estrangement from each other because of competition in the tourism industry.
A younger local hotel owner, Bo, echoed these sentiments but went even further one evening over dinner. He said that the selfishness of villagers extended to their perspectives on management and control—village residents neither paid much attention to each other's concerns nor heeded the rules and regulations of the management company and government construction office. Bo had returned to Ping'an to open a guesthouse after studying English at Guangxi Normal University in Guilin, and he said he had tried to generate a communal effort toward improving village infrastructure. "I want to invest a little money [into village projects]," he explained, "but it can't be that I do something helpful and no one is there to support me, and in fact, [they] still talk about you behind your back." Bo added that "no one is willing to stand up" and discuss these problems openly. In fact, in 2008 he tried to organize some of the young adults in the village to create their own volunteer work group (yiwu gongzuo fuwu dui) to counteract what he saw as the inefficiencies of the official village leadership. He admitted that he had the time to organize this group because his hotel had burned to the ground that past winter, leaving only the concrete walls of the kitchen and bathrooms standing. Bo had been away when the fire happened and did not think it would be possible to find enough money to rebuild.
Mr. Chou, an investor from Shenzhen who was funding a new hotel in the village, was at dinner with Bo and me that evening. Hearing Bo's comment about the volunteer group, Mr. Chou opined that what really mattered in Ping'an was that the younger generation, like Bo, would continue to work the terraces, insinuating that Bo's idea for a village volunteer work group was ill-conceived. Good-looking terraced fields were arguably the foundation of future success for Mr. Chou and his hotel business. Bo retorted that others could be hired to do the manual agricultural labor of maintaining the terraced fields; what matter for him, as someone born and raised in the village (tusheng tuzhang), was the loss of village social unity and the protection of their tourism profits. Bo added that he had never worked the terraces anyway; his generation was the first to be raised almost entirely on profits from tourism, not agricultural labor. The line was drawn, clearly, in this conversation between Bo, a local Ping'an resident, and Mr. Chou, an outsider in Ping'an, each with a particular investment in the tourism industry and each with his own sense of purpose. Whereas Bo viewed himself as similar to Mr. Chou in his shared concern over tourism in Ping'an, Mr. Chou's comment suggested that from his perspective, the village residents were really not part of the tourism business in Ping'an; instead, they were mostly useful for keeping the attraction—namely, the terraced fields and the village itself—looking good.
Like Bo, other Ping'an residents framed their comments around the socioeconomic tensions that had an impact on their community, their opportunities, and their assessments of what constituted a good life. Mr. Chou was only one of the many investors who had come from other parts of China to profit from the tourism industry in Ping'an. The village of Ping'an was a social and economic hub; residents of other villages within the Longji Scenic Area came to Ping'an to work as agricultural laborers, shopkeepers, and hotel staff. Indeed, the village of Longji, just a half hour away on foot from Ping'an, served as a reminder to Ping'an residents of just how far they had come. Longji was linked by kinship to Ping'an through generations of intermarriage, but prior to 2011 the village had little in the way of tourism infrastructure, let alone tourists. According to residents in both Ping'an and Longji, the latter village had chosen not to give up its land for road construction in the mid-1990s; as a result, it remained less accessible and far less visited than Ping'an. As the scenic area developed during the 2000s, Longji became referred to as Longji Ancient Zhuang Village (Longji Gu Zhuang Zhai) in signs and in everyday speech—a fitting descriptor that emphasized the relative modernity of Ping'an next door. The rise of tourism in Ping'an had expanded the gulf between these two villages to the point whereby one village was by name relegated to the past, while its neighbor faced the new future of the Chinese countryside.
Despite their geographic proximity, the economic and material differences between Longji and Ping'an were stark; up until late 2011, there were no gift shops, no Internet cafes, and no substantial tourism jobs in Longji. Yuan, one of the minority models who posed with tourists in Ping'an, was from Longji village and had come to work in Ping'an after she had completed her compulsory education through middle school. Yuan's mother also worked in Ping'an at a family guesthouse. While differences and disparities in incomes and wealth jarred relationships in Ping'an and engendered feelings of discontent and envy between households, relations between Longji and Ping'an villages were much more clear-cut and well-defined, with everyone in unanimous agreement that Longji was very far from Ping'an: developmentally, materially, and economically. Attempts to promote tourism to Longji village emerged in fits and starts; in the summer of 2008, construction began on a direct road to Longji from the main scenic area road, and there was talk of an outside investor turning the entire village into an "ecomuseum" (shengtai bowuguan), loosely following the model of village-based ecomuseums in Guizhou funded by the Norwegian government.10
By 2011, Longji was deemed an official "scenic spot" within the Longji Scenic Area and renamed as the Longji Old Village Cultural Terraced Fields Scenic Spot (Longji Gu Zhuang Titian Wenhua Guanjingqu) (see Chio 2013).11 Its touristic transformation was complete with a parking lot and entry ticket gate, financed largely through the efforts of a local Longsheng county government official. Other changes to Longji village included the construction of two viewpoints above the village proper, as well as directional signs throughout the village pointing toward the parking lot, an ecological museum (housed in the former school), a water wheel and mill, and "the oldest home in Longji," which was labeled a "Cultural Model Home of Longji Ecomuseum." In the home, farm tools and other material objects were labeled and displayed for tourists to examine, and tour groups were hosted by a local woman, who would prepare oil tea in advance of their arrival. Actual tourist visits were still relatively low, however, compared to Ping'an, according to a few shopkeepers in Longji who sold water and other snacks at one of the viewpoints, but they were hopeful that over time the village would become a popular attraction in its own right. The heavy emphasis on Zhuang culture and traditional lifeways in Longji village was intended to mark this village's difference from its more well-known and more modern neighbor Ping'an.
Another visual reminder of the opportunities in Ping'an were the ethnic Yao women who came every morning from the neighboring villages of Zhongliu and Huangluo, which were also within the Longji Scenic Area. They wore black pleated skirts, red or pink shirts, and their long hair wrapped in a topknot covered with an embroidered black cloth square. These women sold souvenirs, posed for photographs, performed folk songs on request, and would offer to take tourists on hikes through the mountains to other villages, including Dazhai (which was located in the Jinkeng Red Yao Terraced Fields Scenic Spot, another main scenic spot within the Longji Scenic Area). Other residents from Longji, Zhongliu, Dazhai, and neighboring villages would come to Ping'an on occasion to sell goods such as tea, bamboo shoots, pork, and beef to guesthouses, restaurants, and tourists. Ping'an was the region's biggest market, given the number of hotels, tourists, and higher amounts of disposable income among its residents. Relations between the Yao communities in the scenic region and the Zhuang in Ping'an were generally sympathetic but not entirely welcoming; the naming of the scenic spots as Zhuang terraced fields in Ping'an and Yao terraced fields around the village of Dazhai is only one reminder of how important clear ethnic distinctions are to tourism. Separate ethnic designations of what are essentially similar systems of terraced fields suggests that in the competitive tourism economy, any and every difference is potentially valuable.
As stated earlier, it was not only area locals who moved to Ping'an for economic opportunities; a number of entrepreneurs from other parts of Guangxi (such as Longsheng, Guilin, Yangshuo) and from farther places like Beijing, Shenzhen, and even Seattle were a noticeable presence in the village. The increasing arrival of people, from tourists to migrant workers and investors (who are migratory in their own way), exacerbated competition and senses of a growing sociopolitical gulf between all of these stakeholders in the tourism enterprise. One notable case was a Chinese-American travel agency owner and professional photographer based in Seattle who opened a luxury hotel in 2007. Until this point, the most expensive rooms in the village cost, at most, ¥300 a night during the high season (the Golden Weeks) and less during the rest of the year, but the new hotel reported its prices at around ¥2,000 or more per room (inclusive of meals). Many village residents were curious to see exactly how a hotel room could cost so much, but unfortunately for the people of Ping'an, the hotel came complete with a locked front gate, accessible only by buzzer, security cameras, and a raised construction that allowed guests inside a sweeping view of the terraced fields but those outside only a glimpse at the stone railing around the elevated balcony (figure 5.3).12
The construction of the hotel reflected, perhaps, a desire to achieve visual, photographic domination over the landscape. Much like how the "starchitecture" of pre-Olympics Beijing was constructed to be seen from above, through a mediating lens, in Ping'an many hotels and balconies, including the photography booths, literally placed tourists above the landscape, which could then be viewed as static and subordinate. In effect, "such photographic practices [of landscape] thus demonstrate how the environment is to be viewed, as dominated by humans and subject to their mastery" (Urry 2000, 87). These spaces only reinforced an ongoing problem, however: village residents felt excluded from the celebration of their landscape, which they considered the product of their ingenuity and labor. The photographic "domination" of the landscape in Ping'an by the gated balcony of a hotel owned by an outsider to the village suggested yet another external exertion of power over the community. Within a few months of this hotel's opening, villagers remarked to me that no one except the staff (at first only one of whom was a local woman, hired as a cleaner) and guests could enter. The villagers who were hired as porters to carry luggage up from the parking lot were allowed only as far as the front door. This total exclusion from the hotel space was new to the village residents. Family-run guesthouses were more typically a semiporous border zone between the public and the private, the home and the hotel; the tourist's dining room often also served as a family living room. Friends and relatives would relax, chat, watch TV, and otherwise use their hotel and restaurant spaces whenever tourists were not around, although it was tacitly agreed that when tourists were present, village residents would move out of the center of a room, either to one side or go outside. The physical distance created by the new luxury hotel's construction reinforced for the villagers the socioeconomic differences between them, the tourists, and the nonlocal business entrepreneurs who came to Ping'an.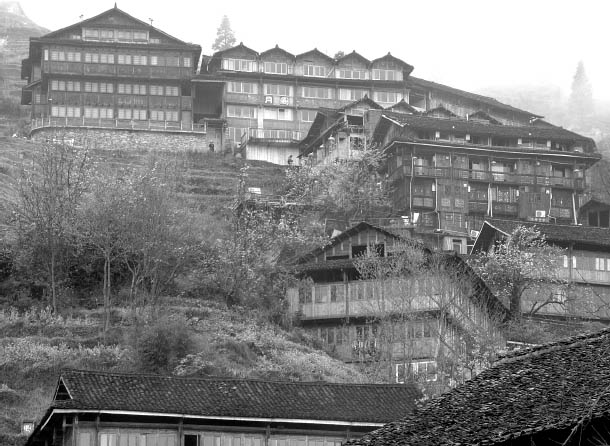 By offering such an exclusive secluded space for tourists who wanted to "get away from it all" within a village as densely populated yet geographically small as Ping'an, the inference was that perhaps Ping'an, the terraced fields, and rural Zhuang minority life were best experienced from a distance, from an elevated, walled-off balcony. As a symbol of power, the balcony and the hotel reinforced the social inequalities of tourism. The visuality of the balcony can be traced back to mid-nineteenth-century Britain, and perhaps not entirely coincidentally with the rise of the European Grand Tour and modern tourism, when "the upper class . . . [stood] visibly on their balconies and [overlooked] the 'other.' The balcony took on special significance in nineteenth-century life and literature as the place from which one could gaze but not be touched, could participate in the crowd yet be separate from it. . . . According to [Walter] Benjamin the balcony demonstrates superiority over the crowd, as the observer 'scrutinizes the throng' [1969, 173]" (Urry 2000, 94–95). In Ping'an, the balcony had a recent history and was a relatively new feature of tourism in the village. This luxury hotel's balcony was unique in its exclusivity and position in the village, but many other hotels in Ping'an also had balconies by 2008 (figure 5.4). Indeed, by this time, having a balcony for guest use was considered a necessary element of a successful hotel-restaurant business.
While most houses in Ping'an traditionally included a flat outdoor space (usually made of bamboo poles strapped together and propped against the roof or side of the house) for drying foods and doing other chores, the first balcony for tourists was built in the late 1990s by Ying, the owner-manager of the original Li Qing guesthouse, who was one of Lao's sons-in-law. Ying explained that he decided to try to build a balcony outside the guesthouse after seeing how popular they were with foreign tourists in Yangshuo; however, as the Li Qing guesthouse was perched over a steep slope, he had trouble at first with designing a balcony out of wood that would be structurally sound but still maintain the look of the village. Eventually, Ying devised a way to use steel rebar and concrete to construct supports for the balcony and then wrapped the concrete pillars with wooden planks to cover up the original material. When the balcony was complete, he said, income at the Li Qing guesthouse nearly doubled in one year.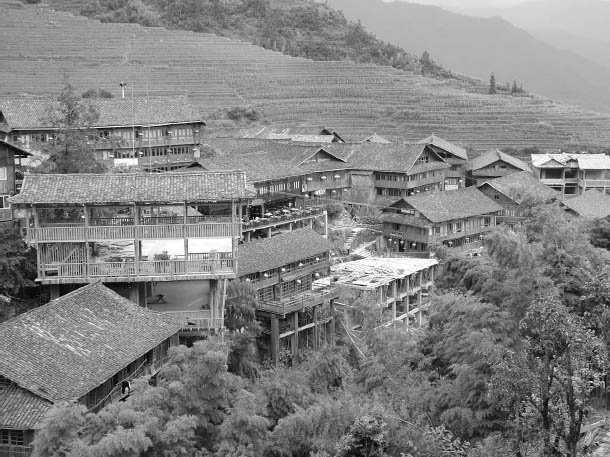 By 2008, almost every new hotel-restaurant construction project included a balcony, if not for general shared use then for private guest use directly attached to guestrooms. Families who were building new guesthouses would often first build a large, flat space over the hillside's steep slopes if they didn't have a wide enough plot of land to use as the foundation (see figure 5.4; the large unfinished concrete surface in the middle right of the image is one such newly constructed flat space). The idea would be to first use the flat, open balcony as an outdoor restaurant and then, when they had enough money, to build a hotel on top. The balcony was a fitting architectural manifestation of how Ping'an should be experienced, touristically, since the village's main attraction was looking at (and more precisely looking down upon) the terraced fields. This type of sightseeing tied a particular behavior to notions of how the land should be experienced and consumed: visually.13 Therefore, construction projects in Ping'an centered on how to make the experience of looking more enjoyable for tourists and profitable for business owners. The outdoor balcony restaurant and private balconies attached to guestrooms were obvious solutions, where tourists could enjoy the view while also spending money. Just as guesthouses were often also living spaces for village residents, when there were no tourists present, most balconies were also public-private spaces for playing cards, eating meals, and even hula-hooping. But with the increase in more professionally run hotels and guesthouses, usually started by experienced entrepreneurs from other places, some balconies were gradually regulated to be for tourist use only. The luxury hotel balcony, gated off from the village paths and raised above eye level, marked the limits of the "contact zone" in Ping'an, where the "thick co-presence" (Urry 2002a, 259) of tourists and locals, residents and outsiders, even neighbor and neighbor, was wearing quite thin.
UPPER JIDAO
:
FINDING SPECIAL CHARACTERISTICS
The situation in Upper Jidao was equally tense and rife with unmet expectations and frustrations, though around different issues. Unlike in Ping'an, instead of a process of in-migration from neighboring regions and villages, the residents of neighboring Lower Jidao simply seemed to be left out of Upper Jidao's developments. Indeed, provincial-level government plans and funding specifically targeted Upper Jidao as the tourism destination. From conception these projects, including the World Bank's eventual Guizhou Cultural and Natural Heritage Protection and Development Program, aimed at separating selected villages according to certain features and characteristics. But they effectively left out, or left behind, the other villages and communities in the area. In the Rural Tourism Plan, 2006–2020, published by the Guizhou Tourism Bureau (2006, 41), a "control plan" for tourism in Upper Jidao outlined specific aspects of intended development, including the protection of natural resources, construction of infrastructure, and marketing of tourism products.
Mention of Lower Jidao was made in passing within the document, which gives only brief acknowledgment to the existence of Lower Jidao when reporting village population: "The village is divided into two parts: Jidao Upper Village and Jidao Lower Village. The total population of the village [here referring to Upper and Lower Jidao] is up to 1,037, including 220 families, all of which are Miao minority" (ibid., 41). The description of the control plan continues by outlining the various components of the changes to be made in Upper Jidao. In every provincial-level government publication on tourism in the Bala River region I obtained, only Upper Jidao village is mentioned in the development plans, and often Lower Jidao is simply left off the map. Some documents referred to Upper Jidao as "Jidao village," altogether ignoring the existence of Lower Jidao, or simply by the destination name "Jidao Miao Village," which lumped them together but did not acknowledge how funding or plans were allocated.
The problems of selecting one village out of many for tourism development was not unnoticed by government officials; Xiao Qianhui (2005, 213), Party Secretary and director of the newspaper office for China Tourism News, said in a paper given at the 2004 International Forum on Guizhou Rural Tourism (later published in the forum proceedings) that while "there may be over 10,000 natural villages in Qiandongnan Prefecture; yet there may be only 50 out of them that would have the conditions to develop rural tourism, which is a very small number among them. . . . When rural tourism grows vigorously in Nanhua Village, how about the other over 9000 villages?" His proposed solution was to implement a "division of labor"—to allow for and facilitate the migration of villagers from one village to another "to be their assistants, actors, logistic service base for providing farm productions and the like for the front-line villages" (ibid., 214). This is precisely what happened, somewhat organically, in Ping'an over time. After all, Xiao continued, many young people from the popular tourism village of Upper Langde migrated to urban centers like Beijing, Guiyang, and Shenzhen for work (and "such a migration is a normal phenomenon," he noted), leaving behind a tourism destination without a "backbone performing team" (i.e., only the elderly and infirm are left). Xiao suggested simply inviting other villagers from Nanmeng or other nearby communities to perform and share in the profits (ibid., 214).
For tourism villages with a "permanent presence" of tourists like Ping'an, the in-migration of potential employees was possible because as established destinations, these villages could reasonably expect tourist arrivals. For Upper Jidao, however, because it was just beginning to participate in tourism and had yet to really earn any profits from it, the notion of sharing labor and earnings with any other village was counterintuitive, to say the least. The net result was a doubling of the social tensions in Upper Jidao: first, to mitigate, to some extent, the unhappiness of their neighbors (in many cases, their relations) in Lower Jidao lest this anger and resentment cause more damage to their own tourism; and second, to continually strive to be different from the other villages earmarked as tourism destinations along the Bala River. Since Upper Jidao is extremely close to the most popular and well-known tourism villages in the region, if not in the entire province (Upper Langde, Xijiang, and Nanhua), this physical nearness had to be combated with the creation of greater differences from the tourist attractions offered in these well-known villages.14 Moreover, after 2008, their greatest competition came from Xijiang, which is not in the Bala River area. Xijiang, technically a township, had been redeveloped with provincial and county funds into a scenic area, and was now managed and run by a tourism development company in conjunction with government offices; it has since obtained a national "AAAA" rating as a tourism region.15 With Xijiang on the map, so to speak, tourists simply went there and no longer passed through the Bala River area, villagers said.
As I learned through my household survey in Upper Jidao in 2006, villagers overwhelmingly agreed that they were interested in doing tourism as a source of income and wages. When it came to what kind of tourism activities they considered best or most suitable to them, people expressed a sincere desire to be different from Upper Langde and Nanhua, both of which relied upon prearranged dance performances and charged flat fees of ¥300 to ¥800 to tour groups who booked shows in advance. Upper Jidao should not become a song-and-dance village like Upper Langde or Nanhua, I was told repeatedly, because there was no need for another such attraction in the Bala River area. The 2006 village subcommittee head of Upper Jidao, Chun, summarized the situation in more proactive terms: what they needed to do, he said, was "get out the special characteristics" of Upper Jidao (ba tese gao chulai). "When other villages are a step ahead [of us]," he added, "we're behind them; [therefore] we can't follow the old road, and instead we need to find our own special characteristics." This feeling of the need to be different was pervasive throughout tourism development programs but especially in the marketing of rural ethnic places for tourism.
This ability to be different, or characteristically special, was emphasized early on in the original plans for the Bala River Demonstration Project for Rural Tourism. According to a paper prepared for the 2004 International Forum on Guizhou Rural Tourism by the (then) vice governor for Qiandongnan, Li Zaiyong, the Bala River project delineated very specific, differing tourism "characteristics" for each of the seven villages involved (Li Zaiyong 2005). Table 5.1 is adapted from the published version of his paper (note that Jidao and Langde in the table refer to the upper villages of each, respectively). According to Li Zaiyong (ibid., 185), the principles behind this table included "seeking differences from the same group of tourism attractions; demonstrating special features through comparison; and pinpointing the key points through selection." The purpose of creating a table like this one was therefore to explicitly make these seven villages be more different from each other.
Table 5.1 is a visual reminder of how villages were to draw lines between and keep their distance from each other. An interview with Wang Qiao, Party Secretary of the Kaili Municipal Tourism Bureau in 2006, revealed a similar approach to tourism development; Wang repeatedly emphasized to me that the Bala River villages must not be the same. Even national-level tourism officials pointed out the "problems" of sameness. In his paper given at the 2004 International Forum on Guizhou Rural Tourism and published in the forum proceedings, Xiao Qianhui (2005, 212), from China Tourism News, described the situation as follows: "When we came in Guizhou, we found there were too many common points existing between different ethnic villages and different ethnic groups here. Only the professionals could see where the differences [were] between them; yet it was difficult for the ordinary tourists to find the differences between them. . . . The greatest threat in our rural tourism would be the sameness in a thousand villages. If all the villages should have the same face, it is unnecessary for tourists to visit them one by one."
Being recognizably the same as your neighbors becomes a burden within the tourism worldview, where the perpetual search for difference, between tourist and toured, or this tourist village and that one down the road, necessitates a distancing of self from the others. But finding and developing the necessary differences between these villages was easier said than done; an official from Maomaohe village reported in 2006 that tourism to his village had decreased since 2002. When asked why, he said it was because promoting seven tourism villages was too much—"We are all the same," the official exclaimed, "so why would any tourist go to seven of the same places? Historically, socially, culturally, we are all the same Miao!"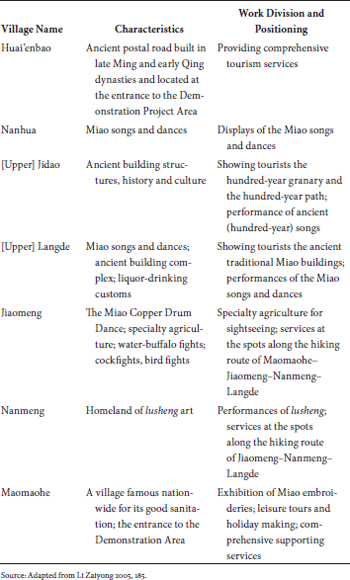 The vision of tourism development proposed by government tourism bureaus and consultants required that the villages along the Bala River, considered by scholars and residents of the region to be cut of the same Miao ethnic minority cloth, now had to create differences not only between themselves and mainstream Han society but also between each other as well. This problem of "sameness" was not unique to China, of course, and potential solutions have been created in other rural tourism programs, such as the One Village One Product movement that originated in Japan.16 This approach focused on creating one specialty product per village to encourage tourists to visit multiple villages, thus expanding the tourism map by creating consumable differences between villages. The economic success of this project in certain regions of Japan is well-documented on the program's website. Particularly in Asian tourism contexts, the "one village, one product" model fits within already existing ideas about the desirability of local specialties and gift-giving (Graburn 1983).
Chinese tourism promotions and marketing were awash in the language of special characteristics (tese) and special products (techan). In 2006, the Guiyang-based Highland Research Institute (Gaodi Yanjiu Suo) funded seven villages in Qiandongnan, including Upper Jidao, to create their own special products as part of a program to develop local economies and promote local goods in regional marketplaces. Some villages used the ¥10,000 grant to improve upon and advertise a product they were already known for, such as paper-making in Shiban village. Others, like Upper Jidao, used the funds to purchase new items, in this case multiple large lusheng for use in their tourism performances. Chinese domestic tourists visiting both Upper Jidao and Ping'an frequently asked for special products, especially foods, so villagers also developed standard replies to these inquiries. In Upper Jidao, the local specialty was sour-soup fish (suantang yu, a tomato-based fish hotpot); the sour-soup flavor was widely associated with the Miao ethnic group, to the point where even the international fast-food chain KFC once offered a Miao Mountain Sour Soup Double Chicken Burger (figure 5.5).17 In Ping'an, the foods named by residents as local specialties included bamboo rice and smoked pork. In both villages, the local alcoholic brew was also evoked as a specialty. In Upper Jidao, it was distilled from rice or corn; in Ping'an, it was usually made from sweet potatoes, and many families also made their own sweet rice wine.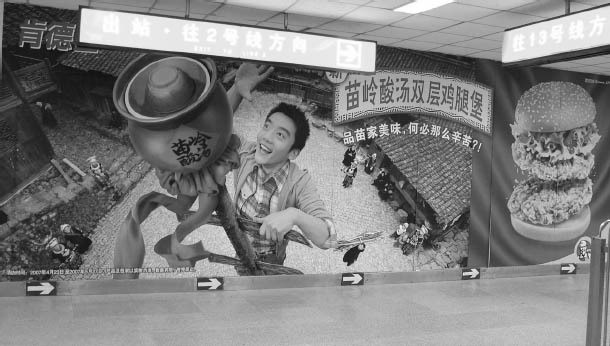 In general, Upper Jidao needed to offer something different from the other tourist villages nearby, but it also needed to adopt certain features to meet and fulfill expected tourist demands. As a result, villagers struggled with the double-edged sword of sameness: while wanting to differentiate their own attractions from the similar Miao cultural performances and festival attire in nearby villages, the village also needed to look more like a "real" tourist village to attract more tourists. Tourists arriving in Upper Jidao sometimes complained that they couldn't see what was so unique about the place—a complaint that led to the occasional refusal of tourists to pay entrance fees or to stay for a meal. The village needed more obvious, familiar elements to explicitly signal to tourists that this was a place that could be visited. Even as some plans detailed how Upper Jidao would be different, village residents were nevertheless encouraged to practice and prepare folk song-and-dance performances, despite the fact that such shows were already commonly offered in Upper Langde and Nanhua. These performances, in effect, made Upper Jidao into a real tourism village. Residents of Upper Jidao often emphasized that their shows were different, however, because they included "ancient songs" (gu ge) performed by elderly village residents. This was partly the result of out-migration and a lack of younger adults in the village, but this circumstance was reshaped as an advantage in the current tourism market. Ultimately, Upper Jidao sought to be similar enough to existing tourism models to participate in the industry but unique enough to offer a slightly different experience.
The selected Bala River villages also had to be immediately recognizable visually as destinations. To start, the provincial and municipal governments erected matching road signs on the highway through the region and placed wooden placards at the entrance to each village to visually brand the Bala River region as a tourism destination. Because the original road into Jidao was tucked in a bend, however, residents worried that the village would be missed. Thus they increased the number of signs on the highway (see figure 1.4). When the highway was rebuilt in 2008 and 2009, new decorated parking lots were built as a part of the entrances to the tourism villages in the Bala River area that fell within Kaili municipality; these visually similar areas signaled even more strongly to passing traffic that these particular villages were worth visiting (figure 5.6).
There were other visual elements, or recognizable architectural styles and structures that indicated the presence of a village for tourism in Guizhou.18 These included wind-and-rain bridges (fengyu qiao, which Nanhua and Upper Langde both had), an arched entryway into the village (zhaimen; at first, one was constructed only at the entrance to Upper Jidao by the riverside and was not visible from the highway), a large dancing ground for lusheng performances (the original space was renovated in 2004; in 2006 and 2007, additional fields were appropriated for the construction of a larger one that was completed in 2008), a parking lot, and a village museum. Much of the money from the New Socialist Countryside program and development funds from Ningbo were spent on building these features in Upper Jidao. The new, larger performance space came first, and the village museum/cultural center shortly thereafter. But by the summer of 2008, tensions between Upper Jidao and Lower Jidao had worsened, spurred on by the increased number of tour groups visiting Upper Jidao. One woman from Upper Jidao told me that she had heard rumors about leaders from Lower Jidao renting a digger to start construction on their own performance ground in their village to compete with Upper Jidao.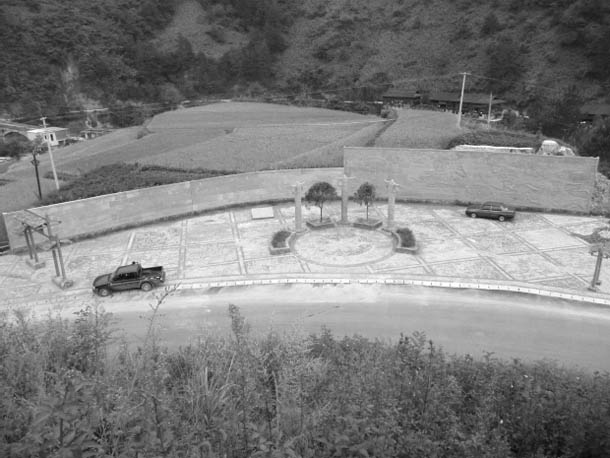 Nonetheless, the plans and ideas imagined for Upper Jidao went even further than a museum and performance space. As early as 2006, my host in Upper Jidao, Teacher Pan, envisioned "rafting on the river, covered huts on the riverbank, and also more things for sale in the village along a commercial street, or small bars and shops, so when tourists arrive and are thirsty or tired, they can have a cup of tea." He declared that a tourist village needed "something to look at, something to buy, and something to be entertained by" for the tourist, with the ideal end result that "villagers can have some income." Tourism to Upper Jidao was not entirely focused on landscape appreciation, as in Ping'an, because its landscape was by and large no different than that surrounding every other village along the Bala River. Therefore, Upper Jidao would have to develop its own products to address tourist expectations, who hoped to see and enjoy a rural ethnic Miao cultural environment—but in ways different from how Miao cultural life could be seen and enjoyed in nearby villages like Nanhua or Upper Langde.
Upper Jidao was still going to be a Miao village for tourists, just with different activities and "special characteristics" to demonstrate its Miao identity. The work chart (see table 5.1) of characteristics and divisions planned for the area was intended create these specific differences, while suggesting that these seven villages were all worth a visit. After the redevelopment and opening of the Xijiang Thousand Households Miao Village in 2008, however, tourist numbers to the Bala River region villages dropped significantly, to the point that by 2012, one Upper Jidao resident who taught in the elementary school in Nanhua said that Nanhua had stopped doing tourism almost entirely. Tourist numbers to Upper Jidao had also declined by 2012, although because of the influx of funds from the World Bank project and from private donors, there were still a number of construction projects ongoing in the village, including the building of additional guestrooms in local homes and a new parking lot, and the creation of an exhibition of embroidery inside the cultural center. A very large, multistory building was also under construction in Lower Jidao along the riverside in 2012, which some Upper Jidao residents surmised would be turned into a hotel.
Being a recognizable part of a recognized ethnic minority group remains important for political representation in a centralized state system that maintains an exact count and decisive role in naming the nation's constituent ethnic communities. On the ground, however, tourism development and maintenance requires a negotiation of difference. The residents of Upper Jidao and Ping'an are officially acknowledged by the state as ethnic minorities, and the cultural traditions of each village are promoted as part of the tourism experience in each place. Ethnic and rural identity thus becomes an integral component of how differences are produced in tourism, ostensibly for the economic benefit of the destination communities. For Ping'an and Upper Jidao, tourism has brought not only new enterprises and economies but also new ways of thinking about community, belonging, and the future. In Ping'an, tourism and its relative success has introduced psychological distances between families, neighbors, and other stakeholders crowded into the village's tourism industry; in Upper Jidao, however, the tensions with Lower Jidao and the emphasis on creating differences between villages has demonstrated that a certain kind of distance is necessary for tourism development. Nevertheless, because of tourism, both of these communities are evermore interlinked and interdependent with their neighboring villages by virtue of being destinations. As villagers expressed a sense of distance from their neighbors or their ethnic communities, these perceived distances continued to impart very real implications for village socialities and subjectivities.
KEEPING YOUR DISTANCE
Rural ethnic tourism in China revolves around three primary axes of difference: rural-urban, ethnic minority–mainstream majority, and poor-rich. These binaries were experienced and expressed in various ways as they came to bear on local, regional, and national relationships between individual, community, and ethnic identities within and beyond Ping'an and Upper Jidao. Of course, these binaries of socioeconomic difference are not unique to China, but they have been increasingly adopted for promoting tourism and rural development, and more often than not, at the same time. In the discursive construction of what constituted development and progress in China, extending Louisa Schein's concept of "internal orientalism," rural, poor, and ethnic minority existed at one end of the apparent one-way street toward urban, rich, and mainstream. Indeed, as the examples of Upper Jidao and Ping'an show, the process of tourism as development functioned to mainstream the ethnic minority, not to erase or eliminate ethnic distinctiveness but rather to render it into popular, nationally shared forms and variations (such as sour soup–flavored dishes and standard expectations of rural vernacular architecture).
This distancing of populations (rural-urban, minority-mainstream, poor-rich) within the scope of the nation also affects tourist behaviors and the perception of tourists by destination community residents. In Joan Laxson's (1991) study of tourist opinions at Native American sites in the U.S. Southwest, she found that rather than being a contact zone across differences, museum and other public cultural performances became ways for tourists to reinforce their original ideas and beliefs about Native Americans. Some tourists were well aware of the differences between themselves and Native cultures and admitted to feeling more comfortable at a distance: a young woman at the Pueblo Cultural Center in Albuquerque, New Mexico, told her: "The only way I feel comfortable learning about it (Pueblo culture) or knowing about it is through something like (novels by Tony Hillerman). Something that lets you keep your distance" (Laxson 1991, 367). Distance becomes a desired aspect of consumption for this tourist, much as the popularity of balconies in Ping'an allows tourists to "control" the land through possession of a privileged viewing position. Other tourists might feel more comfortable "looking at, buying, and being entertained by" rural ethnic minority life through a front-row seat at the edge of a performance ground (to evoke Teacher Pan's formula). In response, given the concerns of village residents in Upper Jidao over being able to provide an appropriate and satisfactory experience for tourists, they were worried about not being different enough to fulfill tourist desires.
Whether it was people in Ping'an talking about who was responsible for the maintenance of the terraced fields or government officials and residents in the Bala River region wondering how to increase tourist flows to all seven villages, their comments reflect a shift in senses of identity, community, and connectedness among rural ethnic minority populations in China. This shift is part of a more fundamental transformation of how differences are being experienced and categorized in meaningful ways. The logic of this shift reveals the underlying assumptions of projects such as the work chart for the Bala River villages (see table 5.1) and the insistence of Ping'an residents on their need to become more ethnic in light of competition from their neighbors (see chapter 1). But this means of rationalizing difference into a handful of tourist activities or naming strategies in order to create distinctions illuminates how differences become instrumentalized within certain forms and assertions of power. By systematically organizing differences and labeling them as such, in a method not unlike that of natural history (Pratt 2008 [1992], 24–36), differences themselves became naturalized as universal types and forms, rather than as cultural or historically contingent.19 In this way, Upper Jidao becomes the village of Miao ancient songs; Ping'an becomes the village of Zhuang terraced fields.
Ethnic identity is malleable to the politics and, increasingly, to the economics of an era. During China's Ethnic Classification project of the 1950s and 1960s, the purpose of distinguishing between ethnic minority groups was to reduce difference into a finite number of governable groups with the goal of integrating all into a seamless map of national progress and social development. Nowadays, however, differences (visual differences in particular) are invoked to keep ethnic communities apart for purposes of economic growth via tourism. For tourism purposes, once the basic fact of difference is established along ethnic lines and usually through naming, the "repertoire" or "options" (Bunten 2008, Waters 1990, and Wood 1998) available in these cultural and ethnic identities gradually became "filled up" with meaning through very material means, such as architecture, performance, clothing, and landscape. Ultimately, the desired end result is that the "Other" in tourism—village residents—is supposed to be somewhat close to the tourist (by leading a modern life through the successful execution of national development programs and able to provide acceptable eating and sleeping conditions to tourists) but distant enough to render culture and customs into acceptable varieties of song-and-dance performances, a few "local" flavors at dinner, and traditional handicrafts.
Domestic tourism in China continues to seek out and codify the internal "Other" to expand tourism industries and opportunities. For tourism village residents, the process of doing tourism was also a process of being able to be different in ways appropriate to national discourses about tourism, belonging, and identity. More than just development, this is a project in understanding how and why tourists come to a rural ethnic minority village and in negotiating what happens when tourism comes to one or two villages but perhaps not to others. The sensation of the distances between communities increases as a result of concrete social, economic, and political changes while these very communities are simultaneously becoming more and more interdependent on one another for economic growth and social progress. In both Ping'an and Upper Jidao, socioeconomic development meant increased opportunities to not stay in one's natal village, or at least to imagine a life elsewhere in China. With this, the ability to be mobile took on increasingly significant resonances in terms of productive labor (as a migrant worker) and consumption (as a tourist).
In Upper Jidao and Ping'an, "the cultural economy of distance" (Appadurai 1996, 71) traded socialist narratives of unidirectional social progress and development for an ethnic identity that could be enjoyed, shared cultural traits for consumable local specialties, and income-earning opportunities for the imagination of a life that would allow for leisure travel. The transformations taking place in Ping'an and Upper Jidao were not only internal. Incidents of sabotage raised questions of competition, unmet expectations, jealousy, and disappointment that involved stakeholders from the village to the nation. The significance of tracing these relationships beyond the limits of the village is apparent. For tourism to succeed in Ping'an and Upper Jidao, these villages depend upon provincial and national funds, support, and infrastructure. If these tourism industries are to fail, it would also be through the combined failure of the many parties involved.
By understanding the interaction between physical distances, socioeconomic disparities, and cultural distinctiveness, the desire for difference in tourism—or as one travel magazine editor in Beijing put it, "tourism that can be different" (chayi xing de lüyou)—translates into the ability to be different on the part of tourism village residents. Whereas tourism in Ping'an drew increased numbers of "outsiders" into the village's socioeconomic sphere, thereby forcing all parties to take stock of how to distinguish themselves, Upper Jidao struggled to establish its purpose within the forces of rural ethnic tourism plans and discourses that demanded difference. Both sets of circumstances strained social and personal relations, and the resultant changes were noticeably manifest in visual practices in each village. Hotel and restaurant owners in Ping'an competed to lure tourists with the best views via balconies, while officials and leaders in Upper Jidao, Kaili, and Guizhou planned and constructed new facilities to make the village look more like a tourist destination while trying to imagine a different way to attract tourists. The distances and differences at play in these villages provide the guiding outlines of the landscape of travel in China today, which above all is about the connectivity of these communities to national goals of progress and modernization.