CONCLUSION
In June 2007, I invited the members of the Upper Jidao Tourism Association to visit Ping'an; it would be a second trip to the Longji Scenic Area for Teacher Pan and Fa, and the first for the other association members. Through this trip, I came to fully realize how complicated tourism is as a lived practice. As I spent time with the Upper Jidao residents in Ping'an, listening to their observations and taking note of their questions, I saw how doing tourism was reconfiguring the social, cultural, and political values of being ethnic and being rural for them. Participation in tourism had become not only a new means of earning an income, but another way of taking part in the construction and creation of one's own modern identity. Of course, this process has not been without problems.
National campaigns to Open Up the West and to build a New Socialist Countryside articulate current discourses of rural socioeconomic development and national unity among (and between) the country's officially recognized ethnic groups. Beyond national cohesion, however, these programs also have sought to transform individual subjectivities, most noticeably in the push for a "quality population" (suzhi renkou) and "civilized tourism" (wenming lüyou). They tapped into, and drew upon for justification, shared, dominant discourses on mobility, where domestic migrants are disparaged and domestic tourists are desirable.1 These policies have had the effect of encouraging rural ethnic Chinese people to learn how to be rural and how to be ethnic in very specific ways. My analysis in this book has focused on how various discourses and experiences of learning to be rural and ethnic have been negotiated through the accumulation and communication of visual knowledge, resulting in a particular politics of appearance at work in tourism villages. Thus tourism has become the actual context in which learned identities are displayed, performed, and commodified for economic gain and personal growth.
By exploring the effects of mobility and visuality across scales—from the personal to the public and from the village to the nation—being mobile and being seen are clearly shown to be integral to local understandings of the perils and possibilities latent in tourism. But as a lived experience, tourism is a messy business in which individual aspirations may collide with communal plans. Undulating tensions between collective ambitions for rural tourism and individual goals for a life worth living punctuated the often fraught relationships between the myriad stakeholders involved. Tourism development programs such as those undertaken in Upper Jidao depended upon the assumption that a village could, and would, work together as a cohesive social, political, and economic unit. Perhaps out of practicality, these plans frequently overlooked the range of individual opinions, perspectives, desires, and interests that exist in any one village. Admittedly, as the history of tourism in Ping'an demonstrates, once tourism becomes a steady and predictable source of income, most families and households will choose to participate in the industry, but not without exacerbating some, and sometimes new, inequalities. The landscape of travel in which these village communities seek out their place in contemporary China has been continually outlined by the negotiation of opportunities and ambitions by individuals and within social collectivities.
The study tour I organized in 2007 illustrated in real time the complexities of tourism in rural ethnic China. I offered to pay for the members of the Upper Jidao Tourism Association to visit Ping'an. Here, my role as a foreign ethnographer shifted from being an active participant-observer to a proactive initiator. After months of seeing "the other" village in my video footage (Chio 2011a), I hoped that some residents of Upper Jidao and Ping'an would finally get to meet each other in person and discuss tourism in face-to-face conversation. I imagined the trip would include a significant amount of interaction between villagers, without the agenda of an international development program, consultants, or government officials.
Much of what I anticipated never came to light. In the end, the short two-day trip showed me how mobility, visuality, and the learning curve of tourism are deeply complicated in Ping'an and Upper Jidao. Residents of both villages are juggling the expectations for better tourism posed by government and industry stakeholders alongside their own aspirations for better lives. After the trip, I began to better comprehend how mobility and immobility are two sides of the same coin, how ethnicity can be simultaneously creative and formulaic, and how tourism is always both sacred and profane. Indeed, the trip forced me to remember that from the perspective of the villagers, it was the potential of tourism to improve upon their everyday, normal, and ordinary lives that mattered the most.
YOUR MOBILITY DEFEATS YOUR TOURISM
My idea to invite people from Upper Jidao on a trip to Ping'an was hardly new, given that Teacher Pan and Fa had both gone on a government-sponsored study trip in 2004, which had included a stop in Ping'an.2 Sharing my video footage from Ping'an with residents of Upper Jidao only increased our mutual enthusiasm for another study trip. In spring 2007, I told Fu, that year's village subcommittee leader and the head of the tourism association, that I would provide ¥4,000 for transport, lodging, food, and incidental costs for the trip. A manager in the Longji Scenic Area management company generously agreed to waive the entry ticket fees for the group. Fu arranged for a driver and a van. Everyone in the tourism association was enthusiastic and excited about the trip, Fu assured me.
The first problem was with scheduling. It had been a very busy year for Upper Jidao, as the village was at the center of a number of government projects, including the ongoing provincial rural tourism plans and the concurrent New Socialist Countryside development program. Upper Jidao was also involved with a rural development NGO that held occasional retreats and conferences for village representatives. Individual opportunities and obligations placed additional demands on residents. Qin, the most active female member of the tourism association and the village clinician, had been offered an office job with a company that sold the flavor base for "Miao" sour-soup fish hotpot. This would give her the chance to live in Kaili, where she had lived as a child and teenager and where her mother still resided. Qin left Upper Jidao with her daughter in March 2007, thinking it would be a good way for her daughter to attend preschool and for her to save a bit of money. We talked on the phone occasionally, and I asked her about the job and living in the city again. The work was fine, if a bit boring, Qin opined; she mostly just answered the phone. Her daughter was doing well in preschool, but Qin claimed she wasn't saving much money at all since there were too many things to buy in Kaili.
In addition, Qin said, people in the village kept calling her back. Like many young adults in rural communities, she desired more than what a village livelihood could provide. But her education and communication skills, developed largely because she'd grown up and gone to school in Kaili, were now her greatest assets to the village. Everyone in Upper Jidao village relied on her when tour groups or government officials requested a local tour guide. Over the May 1 Golden Week holiday that year, she recalled, she was told to return to the village; one tour guide specifically requested Qin to show a group around, adding that if Qin wasn't there, the group would not come. Since Kaili was only about forty minutes away from Upper Jidao by public bus, Qin felt obliged to return as often as possible, even though the travel back and forth disrupted her office job. Another time, she said, someone called Teacher Pan to say that a group of tourists was going to visit the village and wanted a local guide, but Teacher Pan was in Guiyang attending another meeting. So Teacher Pan called Qin; she was in Kaili but Teacher Pan nonetheless told her to return to the village to "take care of it," she said.
Qin and Teacher Pan were always in the middle of arrangements for tourists coming to Upper Jidao. Their absence from the village simply did not figure into the tourism plans from the perspective of tour agencies and local government officials. By late May 2007, Qin told me that she was thinking about quitting her job in Kaili and moving back to the village, but her boss wanted her to stay and offered her a raise of somewhere between ¥300 and ¥500, on top of her ¥800 monthly salary, meals, and housing. The village women begged her to return, she added, saying they needed her to be a tour guide and to resume her services as the village clinician. Some women in the village had said, "Don't leave, we need you for shots, and for tourism; we'll tie you up and not let you go," Qin recalled, laughing.
After this conversation with Qin, I realized that for the residents of Upper Jidao, their mobility was defeating their tourism. The increased ability, and desire, among residents to leave was a problem in sustaining village tourism. To be fair, both Qin and Teacher Pan had gained their abilities to do the work of tourism through their extensive experiences outside of the village. They both had "seen the world." But now, if they weren't "there" in the village, the ability of the entire village to do tourism suffered because the current arrangements depended heavily upon just a few individuals. If Teacher Pan was in Guiyang at a conference, Qin in Kaili at her job, Fu (the village subcommittee leader in 2007) in the township at a government meeting, who was left to do tourism? When tour guides wanted to bring groups to the village or government officials were showing off the village as a successful demonstration project to visiting delegates and consultants, they would contact Teacher Pan a day or two in advance to arrange their visit. This advance notice was more convenient for both the village residents and the visitors; Teacher Pan would organize a few people to be prepared on the given day (such as Qin to guide the tourists, a few women to wear Miao festival dress, and perhaps a meal to be served in someone's home), and the visitors could then be certain of having a more satisfying experience in the village through an encounter with local hosts. As was implied by the tour guide who threatened to not bring a group if Qin could not guide them, only certain individuals within the village were considered suitable for certain tasks. Neither Qin nor Teacher Pan wanted to disappoint the tourists, the guides, or the other village residents, who in turn accepted these separate roles as the status quo. In the way that these arrangements were made, the expectation was that rural villagers were simply always "there." All of the programs and plans for tourism development rested on a fundamental assumption of rural immobility; Teacher Pan, Fu, and Qin were never expected to actually go anywhere.
If it was difficult to find the right people in Upper Jidao, it was nearly impossible to find a few days during which the entire tourism association was available for a trip to Ping'an. I hadn't expected such scheduling conflicts, and I humbly realized that I also attributed immobility to the village residents by assuming that it would be fairly straightforward for them to find time for the trip. Fu and I traded dates constantly. Fu was often at local government meetings or in other villages installing satellite dishes and telephone lines for his day job with China Telecom. Teacher Pan frequently was called to meetings with the tourism bureau in Kaili or Guiyang. Qin had not yet decided if she would stay in Kaili or return to the village and kept to her scheduled work hours in the office. By mid-June, we still had not settled on a date. In a state of minor desperation, I called everyone I knew from Upper Jidao on June 19 and suggested meeting in Ping'an in two days. I left messages for Fu and Teacher Pan; in the evening, Fu returned my call and said he would check the dates with the others. Teacher Pan said that he and Qin needed to be in Guiyang by June 24 for a meeting with the NGO but otherwise were free. If the others could come, it would be a short two-day trip to Ping'an.
On the morning of June 20, Fu called and confirmed that everyone would be able to make it. There were a few more people than expected, he said—about eleven instead of six or seven. Was that okay? I agreed, knowing that the question was more of a statement anyway. Fu sent a text message to me around 8:30 A.M. on the morning of June 21; they were on their way, having left Upper Jidao by hired van at 6 A.M. I exchanged multiple text messages with Fu and with the supervisor at the scenic area management company to arrange for the group's entry to the region. I began making arrangements for rooms in the guesthouse where I stayed, for dinner that evening with the guesthouse family, and for another dinner the following evening with a few members of the Ping'an village committee. The people I spoke with about joining the Upper Jidao Tourism Association for a meal were all individuals who knew about my research; I envisioned a few interesting conversations between the groups. What I had perhaps not wanted to admit to myself was that the people from either village might not be that interested in talking to each other.
The group from Upper Jidao arrived around 8:30 P.M. on June 21, exhausted from their fourteen-hour drive across two provincial borders (having taken a wrong turn into Hunan), with little luggage but two lusheng. As we walked up the dark path from the parking lot to the guesthouse, Jian, the father of the family who owned the place and whom I knew quite well, declined to join us for dinner, saying he had been invited elsewhere. Jian's sons showed the group their rooms, and we proceeded to dinner in the small restaurant run by the family a few steps away. Disappointed at Jian's absence and my failure to make more of an effort to include him, I concentrated on the meal, which did not impress the visitors from Upper Jidao. The chicken hotpot and bamboo chicken weren't very flavorful, Qin confessed, and the "wild vegetables" (yecai), promoted as a local specialty in Ping'an, was what they fed to pigs (zhucao) in Upper Jidao, she whispered.3 The men found the local liquor, distilled from sweet potatoes, to be far too weak for their taste and asked to buy a few bottles of commercial Erguotou (a common brand of liquor) instead.
Su, the girlfriend of Jian's eldest son, had prepared the meal and stayed to chat. When I asked her where the rest of the family was, she said perhaps they felt too embarrassed, or simply out of place, to join. Jian's two sons did appear as the meal ended, and I tried to direct Teacher Pan's and Fu's questions about Ping'an to them. Qin asked me how much a meal like this cost, and I replied around ¥200. Shocked, Qin said she couldn't imagine a meal like this costing that much. In Upper Jidao, she mused, for ¥200 you would be served chicken, homemade sausage, smoked pork, fish if available, scrambled eggs, plus cabbage and spinach. Rice and liquor were also included, she added, not charged separately like in Ping'an. Later, Qin and Teacher Pan asked Su about the souvenirs she sold at the side of the restaurant. The various training programs and meetings held in Guizhou about rural tourism always emphasized the importance of selling handmade, locally crafted items. Teacher Pan asked Su if the things she sold were handmade. She replied, evasively, that some were, but some were not. It was nice to have handmade products to display, Su continued, but they were harder to sell because handmade goods were too expensive for most tourists—a problem that Upper Jidao had also encountered.4
Before turning in for the night, I chatted with Qin about her first impressions of Ping'an. She was a bit disappointed, she admitted. Here, Qin said, they "really know how to make money" (hen hui zhuan qian). Besides the overpriced food, she explained, the bathrooms in this particular guesthouse lacked sinks or buckets for collecting water, the water from the tap was a bit musty, although the price of the room (about ¥20 per person) seemed fair to her. I tried to explain that this was a more basic family-owned guesthouse; tomorrow we would walk past some of the higher-end, more modern hotels. I asked Fu for his opinion of Ping'an thus far, and he said what I had surmised. The food was passable (mama huhu) but not great, and the portions were quite small. The weakness of the alcohol, however, he realized was a good thing—it meant that more people might be willing to try it, especially the sweet rice wine, because it wasn't so potent. Since the businesses here charged for alcohol separately, he reasoned, the more people who drank, and the more they drank, the more money a restaurant could make from selling it.
THE ECONOMICS OF BEING ETHNIC
The next day started promptly. By 7 A.M., everyone was awake and ready for breakfast. Su had also gotten up early to prepare breakfast for the group: stir-fried rice noodles and oil tea, a concoction of green tea leaves stir-fried in oil, then steeped in water and poured over puffed rice. Fu offered to cook the rice noodles, partly I suspected because of his dissatisfaction with the food from the previous night but also because of his own personal interest in cooking. No one from Upper Jidao had ever tasted oil tea before, a dish commonly advertised in the village as a local specialty, and the verdict was not positive. Reluctant to offend Su, their hosts, and me, the men spoke in Miao to each other. When I asked directly what they thought of it, Teacher Pan hesitantly answered: "They say the tea is too bitter."
After breakfast, we headed off toward viewpoint 2 to see the landscape known as Seven Stars and Moon. The morning was already clear and sunny, indicating a very hot afternoon to come. As we walked through the village, we passed the guesthouse where I'd arranged for dinner that evening. It was the home of an extended family whom I'd gotten to know quite well, and who were related to the women's representative of the Ping'an village committee. I confirmed with them that a few members of the village committee, including perhaps the village leader, would join us for dinner. I added that the group from Upper Jidao had brought along two lusheng and might even be willing to perform, in hopes of increasing the village committee's motivation to stop by. Other villagers in Ping'an had seen the lusheng the previous night, and throughout the day many people stopped to ask if the group from Upper Jidao would give a performance. I replied it was up to them; a performance was not scheduled into the visit, but they must have decided to bring the instruments along for a reason.
While we walked, Teacher Pan and Fu paid close attention to the houses and architecture in Ping'an, finding the general "look" of the village acceptable. Qin pointed out that there was less visible concrete in Ping'an than in some of the other tourist villages near Upper Jidao, and we examined the ways in which the concrete hotels were covered in wooden planks. She added that as they'd driven into the area yesterday afternoon, she had not thought much of the villages they passed on the road because they looked shabby and not particularly attractive, so she was impressed by how big and modern the hotels in Ping'an were. Then she mentioned that she was no longer going to Guiyang for the NGO meeting right after this trip; instead, Teacher Pan and Fu had enrolled Qin in a two-week-long training program for tour guides in Kaili organized by the prefectural government, which was taking place at the same time.
When we reached the photo booth, where the minority models I knew worked, we paused for a bit to admire the terraced fields and take pictures. The models were getting dressed and made up for the day, and when Qin realized what they were there for, she asked them if they didn't feel embarrassed (buhao yisi) when charging tourists to pose with them for photographs. The models replied by asking, rhetorically, how anyone could possibly feel embarrassed by work. Qin marveled to me at how openly commercialized tourism work in Ping'an really was. She said to the models that she should learn how to make money when photographed, since tour guides frequently asked her to pose. Once, she recalled, a tour guide had come to Upper Jidao with a group and asked her to put on Miao festival attire so the tourists could take pictures. The guide offered to pay, but Qin was quite busy that day and didn't really want to do it—however, she felt obligated and agreed anyway. Afterward, Qin said, the guide handed her ¥10, which she felt was so little for the amount of effort and time she'd expended that she didn't want the money after all.
Realizing that Qin and the others from Upper Jidao were ethnically Miao, Yuan, the model who wore a stylized Miao costume, asked Qin questions about Miao customs. Yuan wanted more information so that she could give better descriptions of Miao culture to tourists who asked her questions. Qin animatedly began describing traditional festivals, such as Miao New Year, and styles of dress as I had heard her do before for tourists in Upper Jidao. If Qin felt any sense of surprise by the fact that she was describing her own cultural traditions to a non-Miao woman whose job it was to pose in a stylized Miao costume, she did not express it. In fact, I realized while listening to Qin describe being Miao to these models that truly there was nothing special at all about looking, posing, or appearing to be ethnic in this configuration of tourism, ethnicity, and economy. Qin was learning from the models how to better commercialize her work in tourism, as the models learned from her how to be more ethnic.
The rest of the group milled around the photo booth area, and the owners of the booth were quick to suggest that we take a group photograph with the models. Teacher Pan and Fu hesitated, and I offered to buy photographs for each member of the group as a souvenir (figure C.1). Afterward, some of the men decided to pose individually with a few of the models as well. I watched as the residents of Upper Jidao became tourists—sightseeing, enjoying the view, taking pictures, and joking with each other about their pictures. Fu had borrowed a digital camera from his brother for the trip, and Teacher Pan had brought along a point-and-shoot film camera I'd given him early on in my fieldwork as a thank-you present.
Once our photos were taken, we continued on to the top of viewpoint 2, where Fu and Teacher Pan glanced at the range of souvenirs for sale (postcards, photo books, key rings, snacks, and other trinkets), before leading the group along the path connecting viewpoints 1 and 2. The path wound between and above the terraced fields, and Qin commented this kind of walking through fields must be what tourism consultants meant by "real" ecological tourism (shengtai lüyou). In Upper Jidao, the local government tourism bureau, with funding from the province, had erected a few wooden signs that read, in English and Chinese, "Ecological Path" (shengtai budao) along the farmer paths above the village to encourage tourists to explore the hillsides. There had also been talk of creating walking trails between all seven villages in the Bala River tourism zone, and by 2012 one path between Nanhua and Lower Jidao was nearly complete. For Qin, this walk in the fields around Ping'an village was her first real experience of what constituted an "ecological" tourist activity.
Before long, a group of Yao women from the nearby village of Zhongliu passed us; they were on their way to Ping'an for the day. When I explained that these women had walked about an hour and half to get to Ping'an, Qin asked, "Why do they come here?" I could only reply, "To make money." Teacher Pan, Fu, and the others reached viewpoint 1 first and waited there for Qin and me to catch up. As it was close to 11 A.M., when the majority of tourists on day tours from Guilin typically arrive in Ping'an, a number of other Yao women were also at viewpoint 1 waiting for tourists. They recognized me and suggested that I pay for a performance for my friends; they would unravel their long hair and sing a few traditional folk songs, they said. I agreed after negotiating on the price. The women lined up in a row and began explaining how the Yao valued long hair on women, cutting it only once as a woman approaches marriage (around eighteen, these women said) and often keeping it covered until marriage. I wondered how interesting this was to the group from Upper Jidao, where women also typically kept long hair and would also wind it up into a topknot for special occasions (though, of course, the types and styles of head coverings, as well as the techniques for securing the hair, were different). But a show was a show, and the Yao women's performance was punctuated by the Upper Jidao group, as individual men posed for pictures behind the Yao women (figure C.2).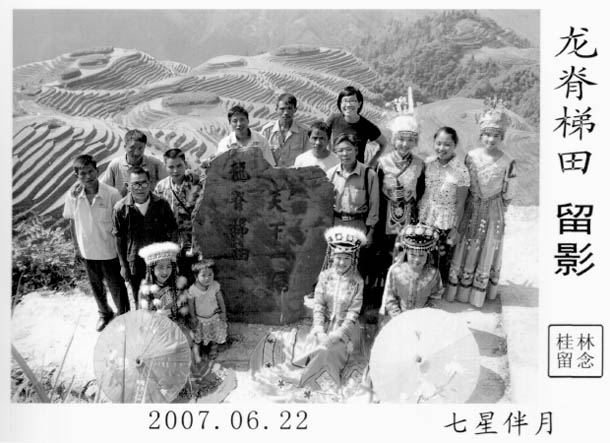 When the Yao women began to sing traditional folk songs (shan ge, literally "mountain songs"), some of the men from Upper Jidao lined up opposite them and responded to the Yao songs with their own Miao ones. Call-and-response singing (dui ge) is frequently attributed to traditional ethnic minority courtship practices in southwestern China, and it is commonly performed in ethnic shows and films. Part of the preparations for tourism in Upper Jidao included organizing groups of men and women to practice and perform call-and-response singing for tourists in the forms of courtship songs (qing ge) and "ancient songs" (gu ge). It was a moment of parallel ethnic forms meeting face to face. Both the Yao women and the Miao men knew that such songs were evoked in the mainstream media as representative parts of their own traditional practices; they knew how the performance of these songs was valued in tourist experiences; and they knew that they were each singing in languages and styles unfamiliar to the other (figure C.3). Nevertheless, "being ethnic" in this touristic context became a total sensory experience for everyone involved—"ethnicity" here was entertaining and deeply personal, as each group drew upon its own practices and skills to participate in the encounter.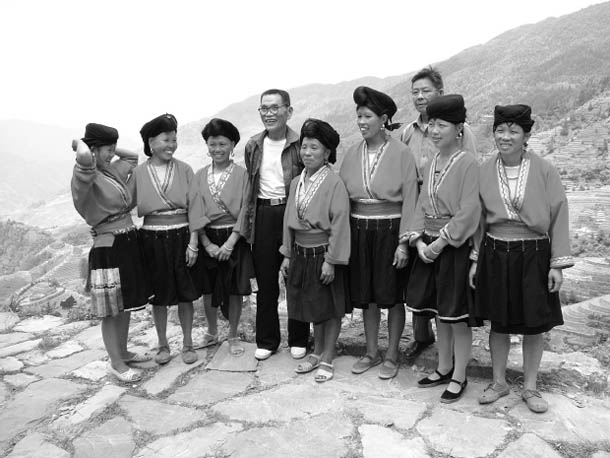 As we chatted with each other at viewpoint 1, the men from Upper Jidao jokingly referenced familiar storylines of love and sex in their conversations with the Yao women—from winking at the notion of women not being allowed to "show their hair" to asking if Yao young men were allowed to "visit" young women at home, in an allusion to another well-known ethnic stereotype of "free" love among some minorities in China, such as the Mosuo, or Na, of Yunnan (Walsh 2001 and 2005). The joviality from both sides was reminiscent of the "sweet talk" of the models. But unlike the models whose interactions with tourists are decidedly, and deliberately, unbalanced and unequal, in this instance I wondered if the performances of the Yao women and of the Miao men somehow could cancel out the staged nature of their encounter. These men seemed quite pleased to be able to contribute something to the performance, just as they had perhaps thought that they could do by bringing a few lusheng with them to Ping'an. They were not simply performing ethnicity but in fact anticipating and planning ahead for how they could, and would, be ethnic in Ping'an. Singing with the Yao women and carrying two lusheng in case they might perform were ways for the group from Upper Jidao to be a part of the economy of being ethnic in tourism, whether it was in their home village or another tourism destination.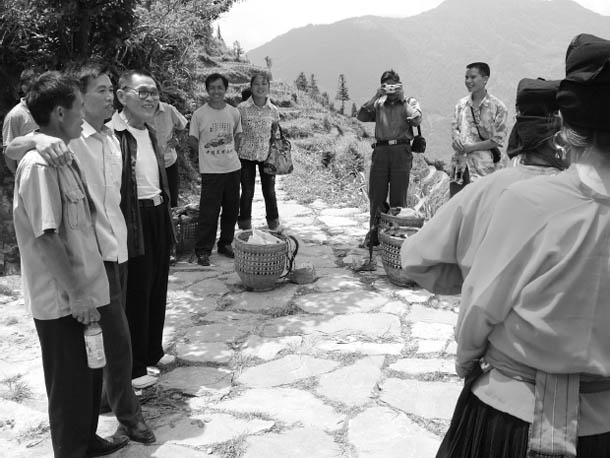 It was past noon when we returned to the village, and I went with Fu to find a place that could prepare lunch for us. I wanted to eat somewhere run by another local, Ping'an family, but because I hadn't arranged anything in advance, the guesthouse we ended up at was overwhelmed by our order to feed eleven people. It was a long and tedious wait lasting well over an hour. We sat down to eat shortly after 2 P.M., with Fu and the others frustrated from hunger but also cognizant of the amount of work required to feed a group of hungry tourists. Qin and I discussed why prices for food surprised her—costs were high here due to overhead (such as having a space large enough for a restaurant and purchasing furniture, dishes, and disposable chopsticks). Combined with relatively low volume per household (most family guesthouses, I explained, served at most one or two groups of tourists a day), the simple reality was that for the residents of Ping'an, tourism was difficult to manage and sustain at a household level. It wasn't worth it to keep a lot of fresh food on hand, if you weren't certain you would have tourists on any given day. As a result, if a group of tourists did arrive (as we did on this day), it was difficult to prepare everything in a reasonable amount of time. During lunch and dinner time, guesthouse owners often ran to their neighbors to borrow (or buy) food to serve to guests—an extra pot of rice, a chicken, tofu, or even just some vegetables. Some families had begun making and selling bamboo rice for other restaurants in the village. The constant uncertainty, as well as the ebb and flow of tourists, reinforced for Qin what she knew already: it would be nearly impossible to hold a salaried job and run a tourism-related business or, in her case, to always be available as a tour guide. In Ping'an, the prices are higher than in Upper Jidao, I continued, because here they calculated the cost of the materials and their time into the amounts. In Upper Jidao, the cost of the food and beverages consumed by tourists thus far was seen as relatively minor and insignificant because in Upper Jidao they generally only served what foods they had available in the village. Guesthouses and restaurants in Ping'an, however, regularly purchased meat and vegetables, and by 2012 a number of small shops in the village sold foods brought in from wholesale markets in Longsheng and Guilin, to provide a greater variety of dishes to tourists.
The food at lunch was disappointing again, and I wondered if the Upper Jidao group would leave thinking that the food in Ping'an was simply inedible. I suggested, half-heartedly, that perhaps we should wander around the village a bit more, but the heat and the early start left us all feeling sluggish and unmotivated. We returned to our guesthouse to rest, and around 5:30 P.M., three of the models came over to drop off the printed, laminated group photographs we'd taken earlier that morning. They asked to see Miao clothes, some of which Qin had brought with her. The models' keen interest in learning more about Miao culture was contagious. For them, knowing more about the people represented by the ethnic costumes they wore would be good for their business, which, after all, relied on sweet talk and being able to be what tourists saw. For the group from Upper Jidao, the models' interest in Miao cultural traditions reinforced their confidence in being interesting and desirable for tourism.
Qin described the Miao New Year festival, explaining how the women sew silver adornments onto the fabric of the jackets worn as a part of the festival attire, men play lusheng, and the whole village gathers to dance during the three days of celebration. Without missing a beat, the men who had brought lusheng to Ping'an and who were known as talented lusheng musicians pushed aside the table they were using to play cards and proceeded to demonstrate lusheng dancing. Their transformation was astonishing: they went from quietly smoking and playing cards to being light-on-their-feet lusheng musicians and dancers. The second floor of the guesthouse became a stage as the men played and the models tried to emulate their footwork (figure C.4).
The piercing sound of the lusheng drew Jian's sons upstairs. One of Jian's sons began explaining construction techniques to Fu, who asked how the guesthouses were built to accommodate so many guestrooms upstairs. The son said that the actual frame of the house was altered to allow for additional walls and rooms to be built on the upper floor. Fu wanted to learn more about architecture and construction because two of the biggest projects happening in Upper Jidao at the time included a cultural center that would also provide some office space, as well as renewed plans to build a hotel in the village (which ultimately was not completed), supported by funds obtained from the China National Tourism Administration (CNTA) by the former director of the Guizhou Tourism Bureau. They discussed the high cost of such materials as wood, furniture, and bedding for guestrooms. When it was time for dinner, I reminded the group that we were eating with some of the local leadership from Ping'an. Before dinner, Qin decided to change into her Miao clothes and put her hair up in a topknot with a flower. Then we trooped off to the other guesthouse where I had arranged for the meal.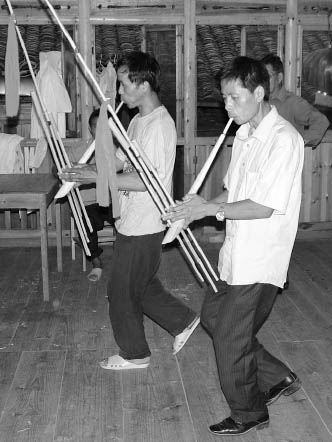 "
WHERE ARE YOU
?"
Earlier that afternoon, I had gone to replace my order of "wild vegetables" at dinner with cabbage and other greens, having seen the reaction of the Upper Jidao group to the dish the previous night. When we arrived for dinner, three tables were set and the food nearly ready; this particular family frequently took in large tour groups and ran a very well-organized operation.5 But the only people present were the guesthouse family members. Seeing the women's representative from the village committee, I asked her where the other committee members were—perhaps they were on their way? She replied, half-apologetically but in a matter-of-fact tone, that they were not coming; she would represent the entire committee. Disappointed, I pressed her for a reason, thinking that I could still go out and personally ask individual committee members to come over, even just for a short while. She responded in vague terms that the committee was dining with the management company. I offered to wait, if they were finishing up a meeting, and finally she stated in no uncertain terms that no one else was coming. They weren't going to have dinner here, nor were they going to stop by later to meet the group from Upper Jidao; they had other plans, she said. It wasn't necessarily to be interpreted as a deliberate slight to me or the Upper Jidao group, but more so the simple fact that when it came to priorities for the Ping'an village leadership, the tourism association from Upper Jidao and I were less important than the scenic area's management company. Embarrassed, I told Teacher Pan and Fu that the committee members would not be joining us. Since there was plenty of food, I invited the family running the guesthouse as well as the restaurant entrepreneur from Henan, who leased the lower floor of the house and ran a large restaurant there, to join us.
Despite my own frustrations, the conversation between the Upper Jidao group and the guesthouse owners was lively and spirited. Everyone toasted each other's success in tourism and talked about how to make tourism work in a village. Fu was particularly enthusiastic, first because the food was finally to his liking but also because the atmosphere was talkative and engaged. Toward the end of the meal, Teacher Pan's cell phone rang, and he answered—it was someone from the Kaili Tourism Bureau calling to make sure that the tourism association would be back in Upper Jidao tomorrow. After he hung up, Teacher Pan said that an official from the bureau had called in the afternoon as well and had been shocked to learn that no one, or more specifically no one from the tourism association, was in Upper Jidao. Everyone was here in Ping'an.
The tourism bureau planned to bring a group of Japanese tourism consultants to a number of demonstration villages tomorrow and had called Teacher Pan in the afternoon as a courtesy to tell him to be prepared for their arrival the following day. Fu interrupted Teacher Pan, chuckling, and said that the conversation Teacher Pan had had was farcical. "Where are you?" the official had asked Teacher Pan. Teacher Pan had replied, "I'm in Guangxi." "What about Fu?" they had asked. "He's also in Guangxi." "What about Qin?" the official had countered. "She's here with us too," Teacher Pan had responded. Fu doubled over with laughter as he exclaimed: "Every single village leader [from Upper Jidao] is out of the village right now!" The tourism bureau of Kaili did not find this at all amusing and demanded that they, the villagers, figure out a solution. Teacher Pan had no choice but to promise to be in Upper Jidao by the evening of the next day to meet the consultants. It meant that they would have a very early start to their long journey back tomorrow.
Most of the group from Upper Jidao returned to our guesthouse after they finished eating; only Teacher Pan, Fu, Qin, and I stayed behind. When the others had left, Fu turned to me and said that some of the others from the tourism association "didn't know how to ask questions" as he put it, but the experience of being here in Ping'an was still good for them, even if they were quiet and kept to themselves. Fu knew I was disappointed at the lack of interaction between the group from Upper Jidao and residents in Ping'an, and he was trying to reassure me of the trip's overall value to them. We eventually headed back to our rooms, where we talked briefly with Jian's family. Qin wanted to purchase some souvenirs and asked Su to show her what was available. Fu and I settled up payments and receipts; because I'd paid for the meals and rooms in Ping'an, I gave him what he owed the driver, as well as money for meals on the road. When I went to bed, exhausted, the men were playing cards and smoking.
Everyone woke up early the next morning, and by 6 A.M. the group was at the parking lot, getting settled into the van for the long drive back to Upper Jidao. Qin called me a few days later to say that the tour guide training program in Kaili was going well and that many of the instructors had also visited Ping'an before, so they had a lot to talk about. She had so many questions to ask now that she had experienced what tourism was like in Ping'an, she said. The trainees would take a certification exam in two weeks, and afterward she wanted to teach some of the other women in Upper Jidao how to be guides.
THE TOURISM LEARNING CURVE
The abrupt end to Upper Jidao's study tour in Ping'an was, in retrospect, quite fitting to the circumstances faced by the tourism association in 2007. They were busy—busy attending meetings about tourism, busy working out plans and budgets for tourism, busy being trained and taught about tourism, and busy demonstrating to government officials and policy makers how the village residents were doing tourism. Qin's enthusiasm for the tour guide training program in Kaili partially reassured me that the trip hadn't been a total waste of time and effort for the eleven people who had ridden in a van for nearly twenty-five hours to visit Ping'an for just thirty-six hours. Nevertheless, I wondered what they had learned, and I worried that the people in Ping'an would consider the whole thing no more, and no less, than any other group of tourists stopping by to take a photograph of the terraces and eat a meal or two.
After all, could doing tourism really be learned? What would one study if one wanted to study how to do tourism? Qin had honed in on the pricing mechanisms at work in Ping'an—on how every single item or service was calculated in terms of costs and benefits. Fu wanted to learn how to build guesthouses that still resembled "wooden houses" but could accommodate more rooms. But, somehow, their hurried departure from Ping'an left me feeling unconvinced that learning all of these things could make tourism work in Upper Jidao. Surely, I thought, what Upper Jidao needed was more basic infrastructure, such as a sewage system, hot water heaters, and a bridge structurally sound enough to hold the weight of a tour bus. My skepticism nagged at me. Learning how to price souvenir handicrafts they didn't have, build rooms for tourists who didn't stay the night, or prepare for meetings with consultants who didn't know what life was like in the village could hardly be useful at this point.
However, from the conversations I had with Qin, Teacher Pan, and Fu after the study tour, I understood that what stayed with them about their trip to Ping'an was the experience of seeing people do tourism in ways that were somewhat different from what they had been told about and practiced in Upper Jidao. Many aspects of tourism that had been planned for Upper Jidao existed in Ping'an, such as posing for photographs, performances, and preparing meals. That said, everything in Ping'an differed slightly from what Upper Jidao was expecting. People in Ping'an didn't work together as a village; rather, it was each family, and each business owner, for themselves. Qin's attention to the differences between what she experienced in a tourism village like Ping'an and what she expected from tourism in Upper Jidao made me aware of the fact that tourism was no longer just something that happened when tourists arrived; instead, it was something to be actively created and constructed. Thus, my study of Upper Jidao and Ping'an has focused the various ways in which tourism is done and understood—from individual stories of migration and return, to the efforts expended on making a village "look good," to the unintended conflicts that arise throughout the process. All these are happening during a moment in contemporary, postreform China in which ethnic differences are continually made over as reassuringly familiar forms, leisure and travel are considered a part of raising the quality of the Chinese people, and rural development is envisaged as a critical component of the nation's future.
As the study tour made clear, tourism is a messy business—for Upper Jidao and Ping'an, their tourisms fundamentally rested upon a commonly assumed structure of urban mobility and rural immobility. When the entire tourism association for Upper Jidao was away, they were told to hurry back to be there for the visitors, who wanted to have a full experience of "being there" in the village with villagers. Rural ethnic tourism thusly conceived could not function if rural people continued to be mobile; that was why, from the national and provincial governments' perspectives, tourism was intended to increase wage-earning opportunities in rural villages so that rural people would stop leaving their home villages. In this kind of tourism, mobility depended upon immobility; having tourists travel to a village meant village residents could not, or should not, travel away. But in this formula lay an inherent contradiction, because as these villages modernized and developed along the lines espoused by the state, the residents found and desired more chances to travel. Mobility was ordered by these opportunities and logics, and it was through these imagined possibilities of who could and could not travel, and for what reasons, that certain structures of belonging and opportunity took shape and were made meaningful.
When examining the constituent parts of tourism, it is crucial to understand that for the residents of these villages, their experiences in the mainstream economies of tourism reach beyond the momentary encounter with tourists to encompass learning how to be distinctly modern as rural and ethnic subjects in contemporary China. This was a part of their own experiences in travel, their mobility in other words, but also their engagement with the visual practices of tourism. Visuality becomes not only learning how to recognize what "looks good" but also a process of determining the limits and range of the value of ethnicity and identity. When ethnic identities are literally worn on one's sleeve, it is vital to take seriously the process by which visual knowledge is communicated and translated into ideas, stereotypes, and expectations. New configurations of belonging emerge when ethnicity is mainstreamed into familiar types that are easily reproducible in tourism marketing and promotions. New senses of cultural ownership and pride may come to shape new ways of being, and looking, ethnic. More critical ethnography needs to be done on the efficacy of the visual and the politics of appearance in preempting, prompting, and promoting social change. An analytical focus on mobility and visuality thus unravels the tangled knot of economic imperatives, social aspirations, and cultural celebrations of ethnic tourism that is implicated in the lives and livelihoods of rural ethnic minority Chinese villagers.
Indeed, village residents made tourism meaningful to themselves because of its potential to transform their everyday, ordinary lives and livelihoods. In 2012, tourism in Ping'an was as strong as ever, to the point where more and more local families were leasing out their guesthouses and restaurants to outside entrepreneurs or building bigger, more modern hotels. The building boom was partly the result of a county-level directive to build a series of concrete houses throughout the village as a means of fire prevention, in response to a fire that had broken out in the center of the village in September 2010.6 Fortunately, that fire caused no injuries to people, but it was enough to convince villagers and the county government that something had to be done. The density of buildings in Ping'an, coupled with increasing use of and demand for hot water, electricity, and propane (for cooking and on-demand hot water), meant that the risk of another fire was extremely high. The county sketched a plan to take down a number of older wooden houses in the center of the village, to be replaced with concrete ones, and provided some financial support to families to complete these constructions. The family I always lived with in the village was one such household who received some financial assistance. With the support, they finished five new en suite guestrooms on the bottom level of a large concrete structure, and I was the first guest to stay overnight. Amusingly, the rest of the building was unfinished; the rooms were on the first level, above which was a tile and concrete area used as a restaurant. Although a third story had been built (providing a ceiling for the restaurant), the top level was entirely exposed, without walls or a roof. But the family had invested so much money in their new building that they had to continue serving meals and offering rooms to tourists in the unfinished building in hopes of saving enough to complete the top floor. Car ownership, which was practically nonexistent during the early 2000s, was now common in 2012, and for the first time, instead of waiting for the public bus, I negotiated a ride with a local family when I needed to leave the village.
In Upper Jidao, the village was again under construction in 2012, but this time with funds from the World Bank project. Tensions between Upper Jidao and Lower Jidao had been somewhat overshadowed by other uneasy situations within Upper Jidao: through a private donor, money and furnishings had been provided to two households in the village to build guestrooms. Qin's new house was thus designed to suit her dual roles in the village, as clinician and tour guide. The ground floor was given over to her clinic, with a separate room for storing medicines, a computer and printer for keeping track of village residents' cooperative health insurance dues and benefits, and a third room intended as an examination room. The middle level was her living space, with the kitchen, living room, a modern bathroom with indoor plumbing and hot water, and bedrooms. The top floor featured six double rooms, plus a large bathroom with a flushing toilet and shower stall. In 2011 she began hosting overnight tourists, many of whom were American students introduced to Upper Jidao through Zhang Xiaosong, who had coordinated many of the early efforts to develop tourism throughout rural Guizhou and was now based at Guizhou Normal University. Qin's home was even more frequently visited by an ever expanding network of friends and relatives—often friends of friends or colleagues of friends of friends from Kaili—who had heard that she was now running a nong jia le and who would, Qin complained, simply show up on short notice and expect to be treated to a meal. When I asked if they paid, as tourists at a nong jia le are expected to do, she simply sighed and said she wouldn't feel right asking friends to pay.
The other family who received money to build guestrooms in their house worked much more slowly and had yet to complete their rooms in mid-2012. It took time, they said, and they had to do all of the construction work themselves. There were a number of personal and communal concerns and disputes circulating in the background—from envy at the relative success of Qin's guestrooms (and the money that she was presumed to be making from hosting foreign tourists) to exasperation over the overall lack of tourists coming to the village (and thus the reluctance of some villagers to do more tourism) to the pressing, quotidian need for sources of income. Although community participation was lauded as a key component of the development programs since 2002, many village residents were averse to investing their time and labor into something that did not necessarily address their immediate economic and family situations. Tourism had noticeably waned in recent years, with the redevelopment of Xijiang nearby, and many of the village leadership I knew in 2007 had left Upper Jidao or stopped doing tourism by 2012. Fu now lived in Kaili, selling construction materials, Fa, who had been involved with tourism in the mid-2000s after he returned to the village, was busy growing and selling vegetables for local markets, and Teacher Pan had stepped out of tourism work entirely. Nevertheless, the World Bank project was pushed forward, funding continued to arrive, and village paths were dug up to lay pipes for a more integrated sewage system, a new parking lot was under construction by the riverside, and computer-generated images circulated of the new fanciful wooden decorative coverings that each house would receive to make the village look even better for tourists.7
In sum, this ethnography of Ping'an and Upper Jidao villages is a study of the learning curve of tourism, in which the end goal of tourism is to construct not only a better place to tour but also, and more important, a better place to live. This objective aligns with the discourses of economic development and poverty alleviation espoused in tourism plans promoted by local, provincial, and national governments, international agencies, and academics alike. But in practice, from the perspective of village residents, tourism has been about much more than just economic development. Their understandings of tourism reached deeply into their senses of belonging and opportunity, and in turn, it was through tourism that these communities found ways of asserting, and contesting, their place in contemporary China. I have argued for the necessity of situating tourism within the complex of relationships imaginable and possible in China today—what I call a landscape of travel. Entangled in tourism are intricate interdependencies between ethnicity, imagery, economy, and travel that shape contemporary rural social lives and livelihoods. It is precisely this complicated mess of obligations, relations, and expectations that rendered the study trip to Ping'an somewhat disappointing, yet ultimately revealing, to me. I had hoped that the group from Upper Jidao could simply learn by experiencing tourism in Ping'an, but I realized that this was to be a long process of learning by doing.
The work of tourism in villages such as Ping'an and Upper Jidao is clearly not yet done. Future research must contend with the social effects and consequences of tourism policies, especially in terms of village resident grievances. Only by breaking apart the host-guest divide in tourism theory and acknowledging that the relationship between the tourist and the toured may be only one of many relationships affecting destination communities, does an ethnography of touristed villages like Ping'an and Upper Jidao contribute to a more contextually rich and theoretically sophisticated understanding of these places where travel is both labor and leisure.