•
In Evening got opposite Roseau when several Boats came on board of us having the principal Gentlemen in the Island. . . In landing we went on board the Africa, a Negro [slave] ship. We saw Boys & Girls dance & sing keeping time with their open hands striking each other—while a male got a sword in his hand & he made a number of curious movements with it looking frequently to his own limbs & wriggling with his back side. One female began [a] song [and] all joined the chorus—much in a way in highlands in their own native dialect. The children have necklaces of beads on wrists & necks.
—Journal of Jonathan Troup, May 11, 1789
JONATHAN TROUP ARRIVED OFF the coast of Roseau, onboard The Duchess of Portland. Troup was recruited to practice medicine among sixteen "Mullato, French and English" physicians in Dominica after he received his medical training at Marischal College in Aberdeen in 1788.1 New to the Caribbean, and in search of his fortune, Troup spent the next year documenting his practice, taking histories of various patients, describing maladies, and detailing ingredients of the remedies he prescribed. His prose is inconsistent, containing incomplete sentences, half-written words, unfinished thoughts, and descriptive tangents. Topics include people, weather, diseases, terrain, and livestock, and how they played an active role on the island. Quickly drawn sketches of town scenes and the material culture that Dominica's residents used accompany some of these descriptions (figure 1.1). Historians have discussed how his manuscript is inflected with tones of sexual violence that pervaded colonial society, including accounts of Troup's own interactions.2 Also important were the social lives of people on the island. The list of actors who play pivotal roles in his descriptions of everyday life includes estate managers, plantation proprietors, doctors, people classified as "free colored," Africans classified as slaves, and both free and enslaved skilled tradesmen. This last group is described most prominently in Troup's account, which documents his observation of their social lives, language celebrations, and trials as he treated their maladies.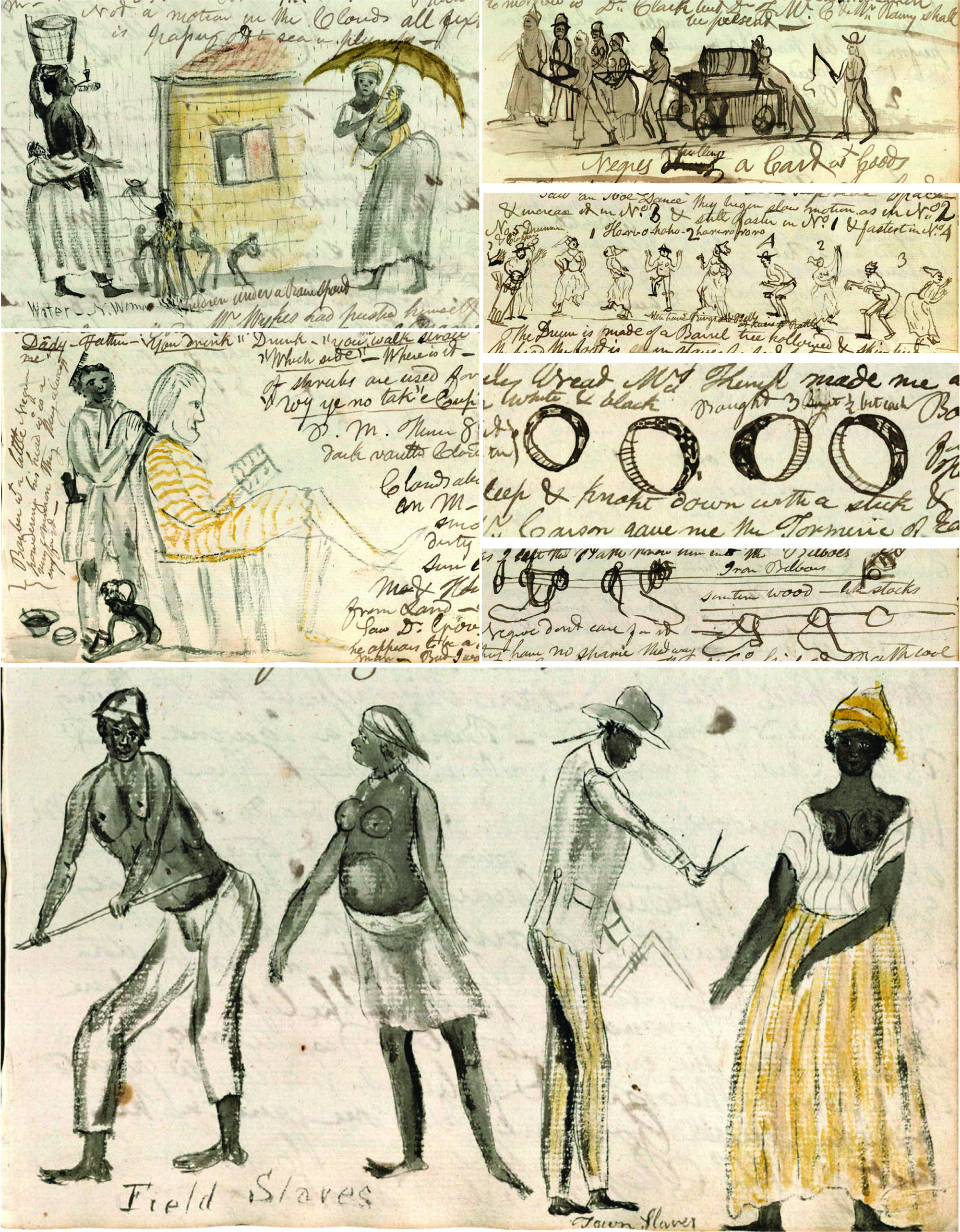 What Troup documented as he wrote about his walk across the slave ship Africa was one node in a global commodity chain that was not legible from his vantage point.3 While Troup knew that the children were captured in Africa and brought to the Americas, he probably did not know that nearly 80,000 people had been brought to Dominica by May 1789, nor that nearly 30,000 would follow.4 As a student at Marischal College, he might have been introduced to Adam Smith's critique of slavery as inefficient.5 While some of the 103,000 people who arrived in Dominica were transshipped to other islands, colonies, or nations, he would not know which of those he had described would be purchased and put to work in this new West Indian colony. The number of written accounts documenting immediate experiences of the enslaved was limited. There were notable exceptions in the eighteenth century, including Phillis Wheatley, Olaudah Equiano, and Ignatius Sancho. Given their centrality to debates surrounding slavery and abolition, and Troup's uncritical musings, he most likely did not read them.6
In documenting slavery's material record, Troup also became part of it. There was a world of events yet to take place. The French revolution would continue for ten more years, during which the slaves in Guadeloupe would be freed briefly and the Béké of Martinique would choose to align themselves with Britain to avoid emancipating their slaves. The Haitian Revolution was still two years away. Its beginnings and aftermath would see a flood of French planters immigrating to Dominica to escape violence and establish coffee estates. Also in 1791, the "New Year's Day Revolt" would ensue in the southeastern parish of Dominica, shaking the confidence of the planting class. While the numbers of Africans imported to the island were decreasing by 1789, the slave trade would continue for another eighteen years. The institution of legalized slavery would continue for another forty-five years. This would be followed by eight years of apprenticeship. Troup could not have seen these events coming.
This chapter maps slavery's material record as an archaeological problem and an assemblage of predicaments. It introduces the cast of archaeological characters, who, when mapped in relationship to one another, reveal details of enslaved laborers' lives, their priorities and predicaments, during agrarian transition. I build on historical archaeology, while using a more social approach to probe more deeply into the lives of differentially positioned subjects to show how their ecological priorities shaped how slavery worked in practice.7 For hundreds of landowners, the promise of colonization—that it would provide a pathway from merchant to landed gentry, from provincial port town to metropolitan elite, from shop to manor house—had proved to be a mirage. For the thousands of enslaved laborers, the violence (slow or otherwise) of colonizing discourses would provide a harsh reality in which any such social, economic, or geographic mobility came with its risks and costs.
Enslavement
During Troup's life, livelihoods in much of the world were shaped by slavery's material record. Take, for example, the different people and industries required to produce a hogshead of sugar or a barrel of molasses, a task at which many of the Africans described in the above passage would be put to work. One quickly begins to realize that many people contributed to the production. Some might seem relatively obvious—there were enslaved laborers who cultivated the fields, boiled the sugar, built the houses, made the barrels, and cared for the sick and young. Others might not be so obvious. There were the miners in Sweden, Finland, Russia, Cornwall, or Wales who dug for the iron and coal used to make the cane bills and hoes in Atlantic port cities of Britain and France.8 There were the sailors who gathered salt used to preserve the cod and herring fished out of the North Atlantic.9 There were the enslaved laborers on farms in North America growing barley, wheat, and maize used as rations and feed in the colony.10 Wage laborers in iron foundries in Liverpool and London would cast the rollers and kettles necessary for crushing sugar cane and boiling its juice into a concentrated slurry.11 Massive potteries in the French and English Caribbean had to be built to manufacture the necessary vessels that refined the boiled slurry into sugar and molasses.12
Despite this complex and densely networked world, few have stopped to consider what is distinctive about slavery's material record. Fewer still have considered this record as part of a larger ecology of things. As a social problem to be studied, slavery has the appearance of a transhistorical institution and invites comparison across times and spaces, but its workings are best understood at a particular conjuncture.13 As a historical problem, the term "slavery" introduces anachronisms and obscuring processes for which the term has become a shorthand, including captivity, human trafficking, domination, violence, displacement, and impoverishment.14 As an archaeological problem, slavery's "relative social/economic status or rank can be defined archaeologically . . . legal or imposed status cannot."15
The formation of slavery's material record has been a central concern in the archaeology of "the modern world," where debates have centered on whether traditional ways of doing things and the meanings attached to them were replaced by customs and practices introduced through slavery.16 These are questions with political consequence. Many scholars have argued that the totalizing nature of the institution imposed new material practices and spatial regimes that pervaded everyday life through violence, captivity, and alienation.17 Some scholars focus on the violence and alienation associated with captivity, charting what is lost as material repertoires change among enslaved over time.18 Other scholars document what is retained despite violence and alienation in captivity.19 Still others argue that enslaved people of African descent, especially plantation workers, whose control over their everyday life gave them some autonomy, were a radical force for change.20 These are important debates, but the figures who populate them can be static, and their proponents too hopeful about what the archaeological record might reveal.
As one piece of archaeological evidence that might provide novel insight into the problem of slavery, human remains can reveal the origins of a person, their conditions of labor, and, through associated goods, what the community thought of them.21 Human remains related to Atlantic slavery have shown the effects of the slow violence of malnutrition, repeated trauma, captivity, and intense and repetitive labor.22 Unfortunately, mortuary practices remain the most elusive archaeological phenomenon in the Caribbean.23 In comparison to the estimated 4.1 million bodies inserted into the island chain, the number of human burials uncovered is relatively small. Archaeologists, not for want of looking, have been able to document only ca. 130 skeletons of deceased slaves between the islands of Barbados, Jamaica, Guadeloupe, Montserrat, and St. Martin.24 In Dominica, no human remains have been found in archaeological contexts associated with slave life, yet questions of belonging attached to death and its memorialization are no less important.
Vincent Brown, in analyzing the social lives of enslaved Africans in Jamaica, has called for a shift in perspective "from seeing slavery as a condition, to viewing enslavement as a predicament."25 To use the laws produced by a plantocracy as ethnographic detail to understand slavery conflates slaveholder ideology with the world of meaning produced in enslaved and non-enslaved households alike.26 Drawing on Brown's insights, I suggest that three predicaments framed everyday life in Dominica: security, mobility, and belonging. Contemporary laws threatened the security of marginalized peoples living with violence—immediate or slow. Slaves were discouraged from traveling from one parish to the next because planters did not trust them; yet mobility was necessary for survival and to forge belonging. For enslaved people and other marginalized individuals, to travel to another valley was to risk brutal corporeal punishment at best, and cruel capital punishment at worst.
One of the significant departures in this book is to change the locations in which the predicaments of slavery are studied. A large body of scholarship in history, sociology, and anthropology suggests that provision grounds, located in the interstices of plantations, were important places in the social lives of the enslaved.27 This literature has shown that slaves developed expertise in agronomy, financial planning, and capital management in these provision grounds.28 Decisions regarding the feasibility and conditions required to grow certain plants, which crops might produce the most surplus to sell in the local market, and what to do with the cash obtained from such sales, required a mastery of local soils and crops, strategies of management, and anticipation of demand.29 A spatial counterpoint to the plantation, provision grounds were sites where "enslaved Africans and their descendants never ceased to pursue the politics of belonging . . . and regeneration."30 In them, the enslaved made "partisan use of the dead," burying captive Africans, regardless of regional background, to "reconstitute their social worlds wherever they landed."31
Despite the partial and limited nature of the archaeological record, as a component of slavery's material record it is amenable to mapping. Mapping involves locating in space and time objects that reveal the permeabilities between humans and nonhumans, ecologies and political entities.32 The archaeological and archival research conducted for this book through repeated field seasons between 2007 and 2017 reveals different ambitions in the archival record and the built landscape, along with the responses of ordinary people in the material record of everyday life. While selective accounting on the part of literate and powerful populations did not record the specific challenges enslaved people faced on a daily basis, the archaeological record does represent an accumulation of solutions developed by enslaved people over many years.
Mapping compels the archaeologist to scrutinize the substantive nature of people's material worlds and the schematic frameworks that must be applied to make sense of those worlds.33 It does so by asking four interrelated questions. First, there is a question of ubiquity. What elements of the past are visible in the archaeological record and why? Second is a question of relation. What systems of the world are carried within each object documented in archaeological survey, testing, and excavation? Third is a question of volume. Because those systems were not prefigured, we have to ask how objects found helped fashion those worlds. Finally, a question of bias. One of archaeology's principal concerns is the present absence—that is, seeing things that are there that shouldn't be there, or identifying places where we should locate things and do not. We should ask, then, which systems of the world are more visible than others and why?
The disjuncture between the written and material worlds was integral to the creation of new problems—resource scarcity, provisioning, and soil loss, to name a few. Analysis of written and material sources of information discloses unexpected actions, decisions, and investments on the part of planters. For example, when I first visited Bois Cotlette, a "typical" coffee estate, in 2008, I was surprised to find a windmill and a sugar factory built during the estate's most productive years of coffee cultivation (1770s–1820s). I was even more astonished to learn that this was not the first sugar factory built on the estate. The estate, according to nineteenth-century almanacs, had never produced sugar in significant quantities, yet here was evidence of not only experimentation but doubling down on an investment with a crop that experience had shown to be ill suited for the land. At the time, I couldn't decipher how the lives and livelihoods of enslaved laborers were transformed by enterprises that never amounted to much.
Predicament
To analyze is to break down a problem, such as slavery, into predicaments. Predicaments are everyday concerns that marginalized people have to resolve.34 These difficulties, and how people resolve them, shape peoples' lives in material and discernible ways. The analytic of the predicament allows exploration of how each detail sets the conditions of possibility for other details, in changing configurations. Archaeological details such as material, function, location, and concentration of things enable an examination of the "nature" of a person's surroundings. Ecological details, such as the plants present, the quality of the soil, the amount of rain, the presence of vermin, and the steepness of slopes, also shaped the lives and livelihoods of marginalized people who lived in Dominica. Customary practices and legal regulations could dictate where one could travel, on which land one could and must work, what one could have, and what one could own. While difficult to infer from the documentary and archaeological record, details such as social restrictions, values attached to particular places or invisible lines, and dispositions to how one should make a living also made a difference in individual lives and experiences.
To adopt predicament as an explanatory framework is to counterbalance the language of calculation or people acting on environments. It articulates Marxist critic Raymond Williams's discussion of the lived experience of society as it takes shape in the present moment, with "all the known complexities, the experienced tensions, shifts, and uncertainties, the intricate forms of unevenness and confusion."35 Great weight is given to a historically small group of people, like Jonathan Troup, who documented their experiences in parliamentary testimonies, unpublished physicians' notes, published political tracts, and natural history texts. Some of the writers speak in detail about their visions and plans for a colonial Dominica. Others offer on-the-ground commentary. The value of the small group of participants who left behind a documentary record also rests in their observations about everyday life. In transcribing these documents, I sometimes corrected spelling and punctuation, or finished thoughts (in brackets) with what I imagine the topic or subject of a sentence might be. They document slave lives and livelihoods, the antagonisms and solidarities of colonial subjects, and the use of material culture. For example, Troup's journal, like those of other poor whites and mid-level managers like Thomas Thistlewood, provides informative, if cursory, descriptions of the conditions of slavery and the lives of enslaved laborers during a critical juncture in the history of the Atlantic world.36
The priorities of imperial agents and colonial subjects invite us to examine how environmental policies and actions shape subjects. Agricultural intensification, actualized by labor on Nature's Island, created everyday hardships, and these were negotiated in everyday uses and conceptualizations of water. West Indian slaves and planters lived in a diverse tropical setting with different patches of soils supporting an abundance of floral and faunal species. Some soils in the Caribbean more readily accommodated Europeans' desires to grow commodities for export. Others did not yield. Because of these characteristics, the availability and potential utility of land impacted how people lived, built, and moved across the landscape. Additionally, people who lived in slave societies were particularly vulnerable to changes on the ground. Many decisions—including which trees to cut down, how to build houses, where to plant crops, and when to harvest—carried long-term implications for the health of the soil, the presence of the water table, and the people who cultivated the land.
Some predicaments evident on Dominica were put in place centuries before the French established their first farms; others were made as water mills were built and rivers diverted to feed their chases. The spatial scope varies: some of the predicaments connected the regulated villages, the fields, and the factories of Dominica to factories and farms in distant England. Others involved exchanges with next-door neighbors or workers in the next valley over. The nature of this engagement was not predictable, nor were the changes it inspired in the land. Whether elites of a parish were dominated by people who habitually spoke French or people who spoke English was the outcome of oceanic networks of investment and ambition, emerging senses of nationalism, and the movement of specific groups into the valley or up a hill. Some predicaments were shaped by more immediate concerns. Boundaries drawn on a map were hard to maintain as local practices of boundary making emerged, and the practicalities of everyday life became increasingly important for the bottom line. For Troup, the problem of slavery was a problem of disease and malady inspired by a climate he took as foreign. These were problems of the immediate that never made it into the politics of slavery and abolition in which Britain's working class engaged.
There was a crisis of slave subsistence in the last quarter of the eighteenth century.37 As the Windward Islands were divided into, more or less, two groups—one French, the other British—they did not simply co-exist side by side. Their residents were linked through a shared predicament, since the prosperity of some depended on food they could obtain from others. Colonial residents obtained food in three ways: rations purchased through merchants and chandlers in Atlantic port towns, an internal economy supported by slaves' part-time food cultivation, or some combination of the two. This predicament was uncomfortable for colonial administrators because it cut across colonial boundaries, prompted interaction between colonies, and provided infrastructure to forge belonging between people. The predicament was dangerous for those who had to cross the waters illegally.
Colonizing narratives stressed economies of scale and efficiency in production in plantation colonies. While a ration system inhibited the accumulation of capital, it linked technical efficiency with the amount of land and labor devoted to commodity cultivation. Planters provided clothes, household goods, and rations grown and processed for the express purpose of outfitting slaves.38 Take, for example, the Ordinaire. In Guadeloupe and Martinique, Article 22 of the Code Noir obliged planters to provide two pounds of salt beef or twenty-three pounds of fish, and six pounds of cassava flour or seven and a half pounds of cassava. Yearly, enslaved laborers would receive two changes of clothes.39 Some of the farms that provisioned the Ordinaire could be found in North American colonies, others in Martinique itself. Colonies also relied on their own "internal" economy. Planters allocated land and time for enslaved laborers to cultivate crops, raise animals, harvest fish, and hunt for food. The enslaved would be expected to purchase household goods by selling surplus agricultural goods through legally sanctioned Sunday markets.40 The time allocated to working provision grounds varied. In most cases, these approaches were not mutually exclusive. In Jamaica, Sunday and every other Saturday were considered "free time," but less time was allowed during peak labor periods such as harvesting sugar or weeding fields. In theory, both models increased the efficiency of plantations and helped manage labor.41
Reducing the cost of providing for enslaved laborers and curtailing the flow of capital to neighboring colonies enabled some colonies to prosper. In Martinique, many planters did not adhere to the Ordinaire, opting instead for what was called the Brazilian system.42 Between 1700 and 1800, the number of slaves increased dramatically as more land was devoted to sugar cultivation. Enslaved people developed multiple strategies, including hiring out their labor on Sundays (mostly men) and growing provisions to sell on the street market.43 Despite metropolitan endorsement of the ration system and attempts to limit self-provisioning, eighteenth-century planters rarely followed these guidelines.44 Their livelihoods changed very little when local councils passed ordinances that encouraged planters to cultivate land for slave subsistence six times between 1708 and 1751.45 Household refuse recovered from regimented villages where enslaved laborers lived speak to this combination of strategies. For example, in Guadeloupe and in Martinique where the Ordinaire was in effect, dietary remains, including butchered animal bone and locally made goods, indicate that slaves supplemented their rations through proceeds gained in hunting, fishing, subsistence and cash-crop cultivation, or craft production.46 These assemblages also show that the economic networks that circulated these goods extended beyond the confines of their respective shores.47
Reducing such costs could also make colonies vulnerable. Warfare could increase the coffers of colonial merchants but could interfere with trade. During the American Revolution in 1776, slaves living in Barbados faced one such crisis. Planters in Barbados relied on imported foodstuffs including maize, fresh and salt fish, and ground provisions intercropped with sugar cane. That same year, increased unrest among slaves in Barbados, including a crushed insurrection, brought the imposition of martial law. In addition to the increased troops requiring food, there was also a drought, making subsistence strategies even more precarious. Fearing rebellion, planters prepared for slaves' subsistence in St. Kitts, Antigua, and the Windward Islands, raising the costs of imported foodstuffs like rice and guinea corn. It would be a mistake to think that details such as natural disasters and political unrest impacted lives and livelihoods only in the islands where they were reported.
During hurricane season, food scarcities intensified for ordinary people, demanding on-the-ground alterations to food systems. Heavy rains and winds could blow down trees or wash away fields. On October 10, 1780, a hurricane made landfall in Barbados, killing 2,033 enslaved Africans and 6,000 cattle. One year later, the number of deaths rose to 5,022.48 The importance of regional food networks increased as a series of hurricanes and earthquakes reduced the amount of locally grown provisions available to enslaved laborers. At one estate, income declined to 20 percent while costs to feed the slaves increased by 124 percent, causing the owner to lose £1,130.49 While it would be easy to describe such death and destruction as the result of natural disasters, the disaster itself is a social construction whose ultimate outcomes relate to vulnerability and risk as well as to hazards. The severe consequences of events such as the Barbados hurricane of 1780 followed directly upon the precarious nature of provisioning that evolved in the Caribbean.
In Dominica, which was perceived to have abundant land, crises also emerged. Before colonization, Dominica was a breadbasket for surrounding islands. It was during metropolitan attempts to limit self-provisioning in Martinique that farms discussed in the previous chapter were established in Soufriere. In the years immediately following the American Revolution, planters and merchants complained of desperate need for supplies to provision loyalists and their slaves who had been relocated to the island.50 The loss of direct trade with North America forced merchants and planters to look to neighboring islands for provisions and lumber—items that the island putatively had in abundance. Colonial merchants, to supply the planters, sent large sums of money to the French West Indies to purchase lumber and provisions—a tactic fraught with problems. Governor John Orde of Dominica summed up the dilemma of the planters: "the difficulties they labour under, in now procuring those supplies with which they formerly abounded, are sensibly felt."51 Intercoastal trade, which had been historically important in Dominica's economy and gained heightened significance in the wake of such shortfalls, prompted a series of complaints on the part of then-Governor Orde to the Board of Trade about such clandestine transactions.52
Enslaved laborers supplied a significant quantity of food staples consumed in the port towns: Portsmouth and Roseau. This food system developed out of the complicated network of provision grounds, slave gardens, and maroon activities. In 1799, the Dominica Assembly renewed the 1775 Slave Act. A commentary authored by the president of the Dominica Assembly accompanied this act when it was presented to the British Parliament. Enslaved laborers, it explained, grew "abundant quantities of yams, plantains, bananas, cassada [cassava], eddoes, potatoes, occraes, Indian corn, cale, pigeon pease, and several species of beans, and pine apples" in provision grounds in mountain woodlands. Many of these are fairly resilient crops that are relatively easy to grow. According to the governor, produce from these gardens would allow the enslaved to "purchase hogs, goats, and fowls, from the produce of their gardens."53 Evidence from other islands suggests that food was not limited to these starches. In Dominica, the most popular starches were root crops and cereals like guinea corn, Indian corn, and "mountain rice."54
In contrast to provision ground produce, workers grew "many kinds of European garden stuff such as cabbages, carrots, turnips, beet root, lettuce, asparagus, artichoke, radish, cucumber, cellery, and herbs of all sorts, besides tropical fruits" in gardens near their houses.55 These crops require much greater care and fetched a premium on Dominican street markets. The owners of an excess supply often sold them at local markets. A 1789 report submitted to the House of Lords described the colonies in the Caribbean with special attention to conditions of the enslaved. It stated, "if they cultivate them [gardens] industriously, they may not only feed and clothe themselves comfortably, . . . and usually acquires a property of from 10 to 50 £."56 The origin of that excess, however, could be a complicated set of relations. The material qualities of vegetable matter are relevant here. Herbaceous plants would rot if not quickly used. Tubers, such as tania, dasheen, and cassava, were more durable but would rot eventually. All were subject to the appetites of domesticated and wild animals such as goats and pigs. By the turn of the nineteenth century, colonial codes had accounted for the manufacture and sale of marketable goods by enslaved laborers; these codes merely legitimized commercial acts already in practice.
Of contemporary discussions of trade and subsistence through Dominica's markets, Troup's descriptions, though brief, are perhaps the most revealing. In notes that I transcribed, I documented thirty-nine transactions made by Troup at a local market first in Roseau and then in Portsmouth. For the most part, Troup's transactions were ordinary, including clothing and foodstuffs. Early on in his visit, he purchased a parasol, "of a French make from Martinique at five dollars."57 Because the goods had to cross borders, they cost a bit more. In addition to parasols, and other costly items, such markets also afforded him the ability to procure supplies for his practice, including precursors for medicine such as sulfur stones, three good lancets for a quarter of a dollar, and items more particular to his professional ambitions.58 That same market day he purchased an owl that "was found on a tree asleep & knocked down with a stick & killed in [the] woods" for a "bit and a half."59 A bit was one eighth of a Spanish dollar. The previous month he purchased the remains of a horse partially digested in the stomach of a shark.60
That said, the market was dominated by foodstuffs. Troup described an August visit to the market where he purchased guava jelly, tanias, a large pineapple, pigeon peas, picked peas, limes, and a crab. His delight with the variety of available foods is apparent in the text. He also remarked on the cost: "in a word the vegetables are pretty cheap considering the price of other articles."61 These goods were only available seasonally. Later that month, he complained after one dinner, "The Peas at the table—2 bits for a quart in the pod—at home ½ penny."62 In February, during the dry season, Troup remarks, "Bought a bit of Irish potatoes (10 small ones). Bought the last of sweet potatoes (40 large ones)."63 By March, Troup had begun to live in Fort Shirley near Portsmouth. His rations per month were 3.4 lbs of pork, 1½ lbs of butter, 1½ lbs of peas, 1 quart of rice, and 3 pints of rum. In March, tired of the food at the mess, Troup left dinner and sent "a Negroe to town with Pork to see and procure for me vegetables and fish."64 The person he sent was most likely a huckster attached to the fort.
The transaction Troup commissioned is also telling. While we will not know who was transacting the exchange, it is safe to assume that both the fish and the vegetables were harvested locally by enslaved laborers. That they were being sold on the market also suggests that these items constituted a surplus for those who were selling them. It also indicates that meat, salted or fresh, from domesticated animals had a higher premium. For example, Troup complained about the cost of lard due to excise taxes: "Spanish cattle for lard at 2 dollars & 2 ½ a piece. It will not sell less than 24 from the schooner because the duty takes greatly from the profit."65 This cost was particularly burdensome for enslaved laborers. The animals they raised—hogs, chicken, and goats—were not necessarily for protein. Instead, they had household tasks: chickens laid eggs, goats provided milk, and pigs ate the detritus of everyday life. Butchering one of the animals would not have been done lightly.
Fish and wild game, as in other parts of the Atlantic world, provided a significant amount of dietary protein.66 Troup described the popularity of crapeaux or the giant ditch frog (Leptodactylus fallax).67 Sometimes called mountain chicken in Dominica, this large amphibian is found in the woodlands near streams and springs in elevations up to 400 meters. Although well camouflaged, these animals were relatively easy to hunt as they stood still for long periods. In addition to the giant ditch frog, agoutis, possum, lizards, wild boar, and goat were animals that were hunted in the landscape.
Fish was an important part of island diets. Fish could have been caught by the effort of individuals or small teams using lines and small nets. Fishing could have also employed large groups. Troup witnessed the netting of fish by a team of fisherman. He states, "I Saw as large a net spread . . . opposite Woodbridge . . . and a boat at each or canoe with another who throws stones—it is widely spread while twelve Negroes on shore draw it in in this Circular direction."68 One of the jobs assigned on plantations was that of fisherman. They were responsible for capturing fish to supplement the proteins provided in the ration.69 Accounts like this allow us to think about the coordinated effort that went into supplying the markets with fresh fish. That coordination might have been among free people of African descent, but more likely it was among fishers who worked on different plantations. Importantly, fisherman tended to have access to small watercraft, which they could take out to sea, and, perhaps, across borders. Mobility was, therefore, embedded in the internal market system upon which island plantations relied.
Small, seemingly modest events can create devastating effects for lives and livelihoods in places thought of as disconnected. Elsewhere a colleague and I have described these events as "ripples that drown," a phrase borrowed from Ó Gráda's discussion of famine, death, hunger created by British imperial policy in India.70 As a rock thrown in a pond creates ripples, intercolonial relationships were linked and dependent. On islands that lacked the kind of standing or unused land that was set aside for laborers to cultivate their food, planters and their agents imported food from elsewhere. The residents—enslaved and free, white and black—were far more reliant on intraregional food networks than regional and local networks. Without these, there was a greater likelihood for them to drown from a "ripple."
The list of details presented above is partial and dynamic, since the social, material, and political are not mutually exclusive. The prevalence of boom-bust markets and war in a matrix where political access was defined through a narrow franchise of sex, race, and landholding status meant that disease, hurricanes, and earthquakes had uneven political implications. Predicaments are shifting and dynamic, but they are not random. Instead, they are influenced by historical context and the decisions of multiple (sometimes spatially or temporally remote) actors. Every detail has an individual yet connected history. A predicament is a tangling of these histories, in some cases deliberately, in other cases unintentionally. In all instances, predicaments have consequences. Importantly, the details that make up a predicament can be mapped.
The details of subsistence provoke questions that should seem simple enough to answer: who got what, where they got it, and what they did with it. But because texts don't treat slave life with the same kind of granularity as does the archaeological record, they limit the maps that can be made. Details of subsistence are material and retrievable, if only partially, from the archaeological record. By bringing together material objects with site mapping, archival documentation, and visual representations, I examine a series of cultural acts that had ramifications for survival, reproduction of social power and privilege, and ritual life. The mundane recognition that master and slave households contained different kinds of commodities becomes a history of how materials traveled across oceans, were filled with fluids, sold in markets, carried back and forth to freshwater stations, and poured from at the table. Artifacts render the labor of hauling, pouring, cleaning, and distributing (or refusing to distribute) legible on human bodies.
Assemblages
The image of plantations has become familiar through popular media. For some, it indexes a violent and traumatic past. For others, it is a site for monumental stately architecture, the aesthetics of manicured fields, and the possibilities for self-sufficiency. The realities of everyday life, however, cannot be reduced to the spectacle of corporal punishment, or the whitewashed landscape in which it happened. Among the distinctive forms of evidence regarding plantations is the name: depending on the context, West Indians used the terms "estate," "plantation," or "habitation" to refer to the dispersed agricultural settlements where intensified agriculture took place. While the plantation has been called a "factory in the field," plantations were not always seen as distinct, nor were they treated differently, from colonies.71
To this point, the Oxford English Dictionary includes thirteen different definitions of the term "plantation." In all of these definitions, creating a plantation entails either the act of cultivating, the act of colonizing, or the act of establishing an institution. The popularity of these definitions has varied between the fifteenth and twentieth centuries. If one were to use "plantation" in the fifteenth century, for example, one most likely meant an institution. In the seventeenth century, one most likely meant a colony. In the nineteenth century, one most likely referred to an agricultural practice. "Plantation" as used in the eighteenth century implied a combination of all three.
The main difference between a plantation and a farm is shifting cultivation techniques: opening up new plots of land from woodlands and leaving old plots to go fallow and graze. In plantations, people lived in concentrated hamlets rather than scattered throughout the landscape. While they produced an enormous amount of capital, subsistence was not always guaranteed. When people visited the island for the first time and documented their experiences, they did not meet anyone who pontificated on the benefits of these arrangements. What they described instead was a collection of acts, relationships, dispositions, and objects of belonging. In short, they described the assemblages that composed the plantations.
I map predicaments through the lens of "assemblage geographies."72 Geographers, philosophers, anthropologists, and others have adopted "assemblage" to refashion traditional objects of discussion (e.g., bodies, things, spaces) as networks of ideas and matter rendered socially. Some, for example, have recuperated Marx's ecological priorities by discussing society's metabolic assemblages. The past 500 years have witnessed an increasingly globalized rift where frontiers are sites where some problematic (e.g., the distinction between humans and nature) is resolved.73 Here, tropes of alienation, accumulation, and dispossession attend to ecological crises that frame capitalism's different engagements.
Others have focused on the genealogy of assemblages, where "ideas and technology were not 'pure' forms brought to bear on a messy world of reality," but, "emerged from the mixture and were manufactured in the process themselves."74 Building on this, I use "waterways" to put into conversation the historical subjects acting through particular conjunctures with an archaeological record created and shaped by different generations in particular ecological contexts. Although limited in the way that it can attend to "history at one point in time,"75 by considering the assemblage as an accumulation of decisions materialized over time, we begin to see the predicaments that shaped people's lives and livelihoods most directly. In short, assemblages can tell us what is most important in people's lives, assuming we have a sample that is reflective of those decisions.
Still others insist that humans exist in a world partially constituted of and by objects where "beings do not preexist their relating."76 By studying the assemblages of matter we call "objects," we can consider cultural and political acts of making categories.77 Assemblages are composed of a constellation of elements where the relationships of those parts are neither stable nor fixed, and the relatings are more than the sum of their parts.78 Such an approach works well with archaeology, especially as it relates to climate, as it translates these elements into "details" that can be mapped on the ground. Climate, for example, can be defined as "constituted by the interrelationships and dependencies among a multitude of different materials, things, and organisms."79
Indeed, environmental anthropologists have begun to recognize the value of examining slavery's environmental subjects, noting the "devastating transformation of diverse kinds of human-tended farms, pastures, and forests into extractive and enclosed plantations, relying on slave labor and other forms of exploited, alienated, and usually spatially transported labor."80 Farms as an assemblage of plants, people, technologies, and animals became increasingly valued for their global relations, rather than more intimate ones. Gardens maintained by slaves were a "biotic," political, and social refuge.81 These refuges are spaces where "those species wiped out elsewhere" by disturbances, including the last interglacial period, "continued to thrive."82 We can extend the latent potential of these spaces for "reworlding."
The questions posed by many archaeologists about the biases that inform the record we study can be added to this list. The durability of goods limits the visibility of past actions—we will find an estate house made out of stone more readily than a Kalinago carbet made from red cedar and gommier. The record is also affected by the questions that the excavating scholar finds worthwhile. Scholars have productively addressed the incompleteness of assemblages, whether one is talking about the site formation process, the inability of a conceptual apparatus to confront difference and variation, how the differential preservation of materials is linked to inequality, or what assemblages conceal.83 By considering what is missing from the assemblages, archaeologists have brought about an ordered set of questions to some very messy and fragmentary data.
To understand the predicaments brought about and resolved in the wake of the sugar revolution, I consider assemblages of buildings scattered through the uplands of Soufriere and the lowlands of Portsmouth, two enclaves of Dominica (maps I.3 and I.4). Using the analytic of the assemblage, I detail where such structures were located, not just in relationship with each other, but in connection to other elements in the landscape such as soil, water, and woodlands. Constructing past landscapes always requires a bit of inference for archaeologists, but in this case such deductions are informed by evidence from repeated visits between 2010 and 2017 and by the work of others.84 I also examine the assemblage of networks that frame the social relations of the plantations. Networks are helpful ways to map particular geographies, in that they enable us to explore the systems of the world carried within each object. As such, networks have the potential of providing a different map—one informed by the spatial practices of marginalized people. The maps generated by these networks are not incorrect, but they are incomplete.
To provide a fuller accounting of predicaments and their resolution, one must attend to questions of volume within those networks. While our knowledge of the exact quantity of goods or ideas circulated through these networks will always be partial, comparing different types of evidence that speak to these networks—including refuse pits and customs accounts—can help us understand what we might be missing. The final assemblage I examine is that of the household. Households are notoriously mercurial archaeological subjects. Family, professional, and life histories, among other elements, cannot be assumed based on co-residence. Similarly, objects recovered from households and their associated yards do not represent in a one-to-one fashion the material worlds of those who lived there. These difficulties notwithstanding, houses are at the interface of political economy and the environment; as such, they produce key information about the predicaments of slavery.
One of the key predicaments faced by households in colonial Dominica was the scarcity of water. Household assemblages provide insights into Dominica's waterways, created by the enslaved to resolve the issue of scarcity they had to negotiate to live. Water has received considerable attention in recent years. Environmental resources are limited, and with neoliberal governance, public control over water is vulnerable to market inefficiencies. As a result, municipal governments and development agencies no longer consider substantive approaches to the land as viable possibilities. They instead promote optimistic, technological fixes, based on the assumption that rationalization will benefit everyone in the end. These questions have critical political stakes. Historical archaeology is well positioned to contribute to understanding the intimate implications of agricultural systems, tropical adaptations, deforestation, and climate change. For example, many rural areas in the colonial Americas, particularly those found among Caribbean sugar colonies, used a diverse set of strategies to integrate farming, trade, and settlement into an interdependent landscape. Slavery's material record often speaks to the struggles of transforming manifold soils into arable land and to the administrative process of refashioning diverse peoples into colonial subjects.
The emergence of new waterways governed by global markets was avoidable. On many islands, land was corporately controlled by families. The land was assigned to one family member or another in response to administrative pressures but was not necessarily treated as their property by the members themselves. Similarly, cash crops are grown in any number of land and labor arrangements. Today, land and labor may be organized along idioms of kinship on small farms, through mechanized and wage labor on industrial plantations, or a system of sharecropping. Each of these might lead to different relations to land and to the care with which labor stewards its resources. Under conditions in which economies of scale are not as much of a concern, they might use the resources, but they do not need to use those resources "efficiently" to sustain themselves or reproduce their relation with the land. Arising through some predicaments, and not others, such developments carry far-reaching consequences for people whose livelihoods depended on others' labor (a mill worker or slave), but who may never have met them face-to-face.
Planters had to squeeze resources from machines, humans, and the earth, each of which had a cost and a breaking point. Enslaved men and women salvaged usable water out of dirt, soaked gourds in it to fashion vessels, and sought refuge from its floods. We imagine the households of Dominica also nestled against rainstorms and withstanding, or not, winds and landslides. Water was a danger in its abundance, too. Ultimately, the relationships with and through water, what I call "waterways" in this book, were forged to meet these predicaments. My use of waterways builds on the work of cultural anthropologists and geographers to incorporate the archaeological record in the analysis of people's relationships with and through water.85 They are a preservation of lifeways, ritual, physical need, and satisfaction, providing evidence of a life outside of and above slavery. Waterways are a starting point for understanding the weaving of nature and culture, capturing social, political, and environmental processes.86 Waterways remind us of deprivations but also shared meals and libations and the reproduction of slavery's calculus in a variety of realms.
Research in Practice
The archaeological record is part of the set of predicaments it embodies, sometimes as a repercussion of predicaments felt in far-away places, but more often as an active set of processes encompassed in the related predicaments. As with most, the archaeological sites that inform this study, including the landscape, the buildings, and the detritus, have developed slowly. Changes in soil accumulation can signal changes in land use. The surface scatters of household furnishings and buried detritus allow us to infer the location of activities. Some of these activities took place in spots expected by witnesses' statements. Others did not. Attributes of the materials recovered from these deposits—sometimes including details invisible to the naked eye—allow us to tell a more complete story about how these fragments were found in a specific location. Coordination of fragmentary materials and documents in an eighteenth- and nineteenth-century landscape allows us to identify and understand intersecting predicaments.
My involvement in Dominica began in 2005, when I joined Ken Kelly to conduct postdoctoral research sponsored by Direction Régionale des Affaires Culturelles (DRAC) in Guadeloupe. The goal was to map, collect, and analyze pottery we believed to have been made in the Caribbean between 1700 and 1900. Using sources including a cadastral map produced in the 1780s, a dissertation written by a St. Lucian archaeologist working on Martinique, and site reports and surveys completed by staff members at Institut de recherches archéologiques préventives (INRAP) in Guadeloupe, we identified, mapped, and described potteries, plantations, and colonial settlements throughout Martinique, Guadeloupe, and St. Martin. We focused on islands where French was spoken, either as an administrative language or habitually as part of Creole. At the time, a visit to Dominica was preliminary, potentially never to go back, but rather to fill in a sampling strategy so that we could complete a map of ceramics people used in the Lesser Antilles. But I kept going back.
Beginning in 2009, I started a systematic research project, the Archaeological Survey of Colonial Dominica (ASCD). The goal of this eight-week intensive archaeological survey was to identify and record discrete archaeological components associated with the transfer from French to British imperial control in 1763. This research was proposed to be a first step in a larger project to identify common characteristics and substantive differences between Atlantic-era empires in the Caribbean (including Spain, Britain, France, and the Netherlands) and compare them with the imperial strategies more commonly described archaeologically (i.e., Aztec, Inca, and Roman empires). By looking at the organization of space and economic networks represented in material remains, I hoped to examine how colonial empires "administered diversity." It built on my previous research in Jamaica, which sought to identify and explain how colonial settlers and slaves relied on local and global economic networks to provision themselves during the eighteenth century.87 I was also hoping to continue the research Ken Kelly and I had started and explore the contours of trade and how it changed over time.88
The research was informed by the geography of the island—both past and present. In his book Peasants and Capital, Michel-Rolph Trouillot describes Dominica as a "patchwork of enclaves," where, until recently, different communities in the northern, southern, and eastern parishes were relatively isolated from each other, each producing separate cultural trajectories.89 I focused on two enclaves, Portsmouth and Soufriere. Soufriere contains some of the oldest French settlements on the island. Access to Soufriere was mostly by canoe until 1968, when a long and precarious road was built connecting Soufriere to the capital, Roseau. While proximate along the southeastern and southwestern coasts, the rugged terrain, steep slopes, and narrow coastlines made Soufriere an island unto itself. At certain points in its history, Soufriere was a "spatial beyond the state" throughout nominal French control in Dominica.90 Portsmouth, located in the northwest of the island, is the second largest city in Dominica, laid out only after the British annexed the island from the French in 1763. Because of the natural harbor, residents of the enclave have always had easy access to regional and global trade networks. Creole was spoken in both enclaves, though habitually so only in Soufriere.
I use the case of these two enclaves to focus on the people, forced or otherwise, who made Dominica their home. These enclaves afford a broad coverage of Dominica, not only regarding history but also concerning the predicaments inhabitants faced. One such predicament was water insecurity. The people in Soufriere, for example, had far less access to water than people in Portsmouth (Grande Anse) (table 1.1).
The willingness of people to work with me and patiently guide me through the investigation also conditioned the research. There was and is little cultural heritage infrastructure on the island. Existing infrastructure came from the free time and effort of a few individuals, one of whom is Lennox Honychurch. Former radio personality, senator, and professor, he did the job that would employ four or five people in most governments, facilitating the research of anthropologists, botanists, zoologists, volcanologists, and archaeologists. I was lucky to know him, especially because during his doctorate in anthropology, he focused on the ethnohistory and archaeology of the island. Honychurch was instrumental in leading me to certain documents in the archive, suggesting a particular lead, and assisting with my research design.
Many people, from Dominica and beyond, assisted me with excavation. Part of building a heritage infrastructure meant training a local team in excavation techniques, site documentation, and site management. I did not do this work myself. I relied on the help of Edward Thomas, a village council chair, and Michael Sanford, a Kalinago estate caretaker. Both had worked extensively with archaeologists in previous years. As such, I had to organize the workday and seasons around their ability to contribute. In some cases, it meant starting earlier than some student volunteers were used to, or working later in the day than I would have liked. As a result, we got to see sites and landscapes at different times of the day. Contrasts in soil are highlighted as the sun rises and sets. The temporality of excavation attuned us to environmental conditions and how they affected archaeological visibility of the objects of our study.
Following what has become common practice in archaeological survey, I visited each of the enclaves—by myself, with Honychurch, or sometimes with the whole team—always after obtaining permission from the landowner. Honychurch and team members assisted me greatly in these moments. I relied on their goodwill and people's knowledge of them to vouch for me. At first, some of the landowners or community members were hesitant to grant me access. They worried that I was interested in purchasing the land, prospecting for minerals, or assessing the land's "real" value for the government. Typically, people told me that there was nothing of interest, or feigned interest and never got back in touch. Several landowners told me about another archaeological team interested in doing work in the area and how they found no evidence of a village—though we were standing on a scatter of artifacts from the eighteenth century. I respected their wishes and only worked with those landowners who would allow me on their land. I was polite but stubborn, with every return visit asking if I might walk the property. After a while, most landowners consented and left us to our walks.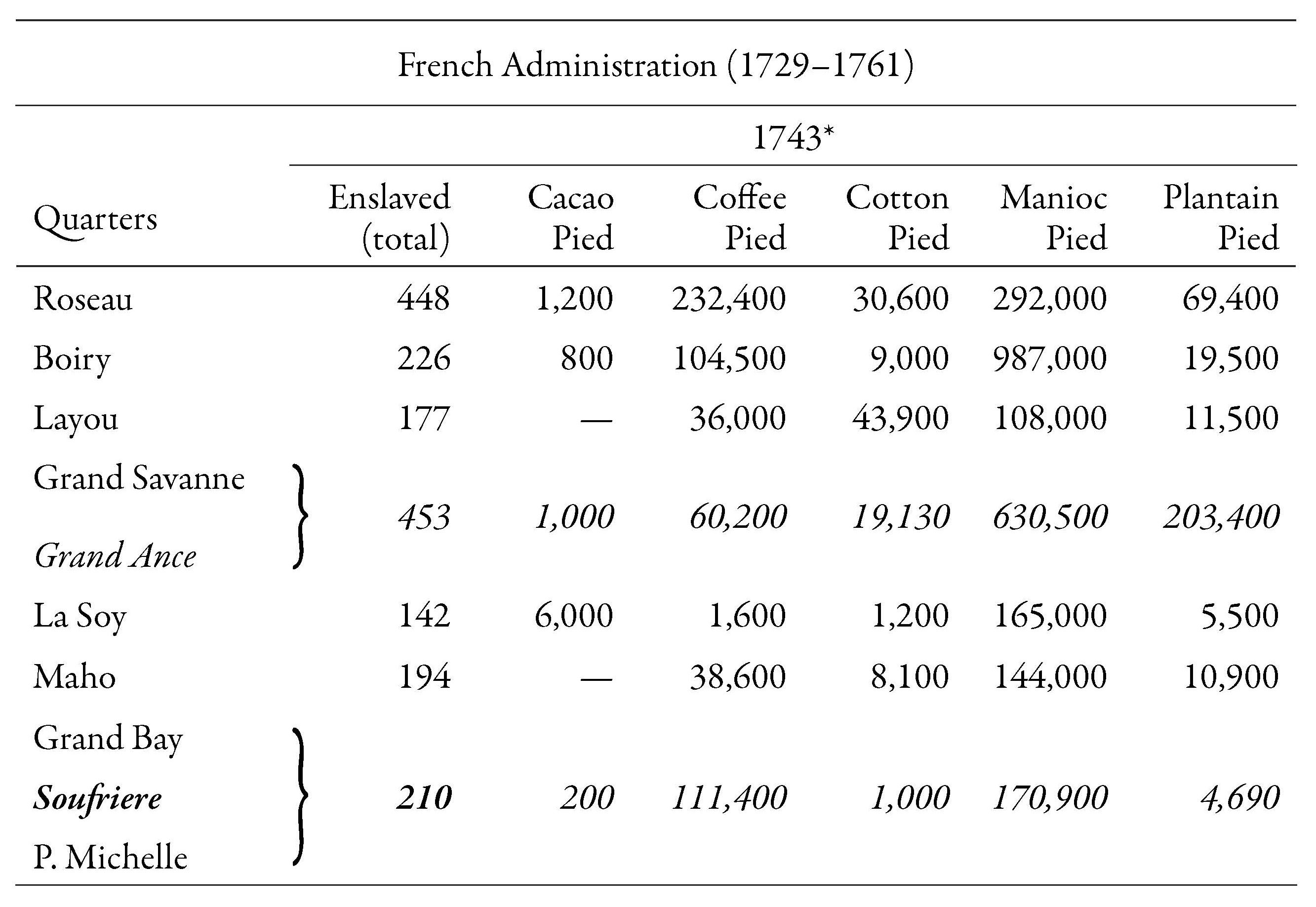 In the following years, I followed what is called a multistage research design, increasing in intensity from pedestrian survey to test excavations to the excavation of houses and their yards. Since variation in construction practices, settlement location, and intensities of occupation can create differential preservation of features of plantation sites, some settlement components can comprise "off-site" (slave villages) and "non-site" (provision grounds) deposits. In 2010, eight of us walked transects, that is, straight lines up hills, through brambles, and down slopes at set intervals. Team members on either end maintained the cardinal directions of the survey using a compass. This straight line often wound up being theoretical. Depending on ground visibility, forestation and topography, the intervals had to vary as we brushed aside leaf matter to see if there were any artifacts on the surface. Surface survey proceeded to identify evidence of foundations associated with the plantation complex, house platforms, agricultural terraces, known exotic fruit trees, and artifact scatter. Ruins of factories or estate houses could, in some cases, be easily discerned, and in other cases presented a challenge. Fast-growing ficus trees blanketed some structures, including factories and windmills. People, over time, often used rubble for agricultural terraces, nearby house platforms, or new enterprises, wishing to take advantage of a burgeoning tourist industry. Development in the twentieth century also meant that entire villages and estates were destroyed, with only a few subtle clues to signal their past presence. Of all the artifacts, the class most clearly identifiable on the surface on plantation settlements was bottle glass. Regional surveys conducted throughout the Caribbean have come across similar challenges.91 While not unique, Dominica, perhaps because of its terrain, most prominently highlights these predicaments.
Climate also shaped my research design. While I did have a chance to visit the island during each of the major seasons, I spent most of my time on the island between January and July. Different times of the year offer distinct advantages and disadvantages for archaeological research. The dry season meant much better visibility on the ground—but it also meant hard soil and a constant need for fresh drinking water and shade for the team. The wet season carried risks. Diseases are part of the yearly cycle, and between 2010 and 2017 there were outbreaks of Zika and Dengue fever. Beyond this, there was the general discomfort that accompanies the humid and heavy air of low-pressure systems approaching the island. These conditions meant that some elements of archaeological research could take place during the dry season while others were best accomplished at the onset of the wet season. During our time there, an earthen natural dam that contained a highland body of water called Miracle Lake burst during a tropical storm, flooding the Layou Valley. Tropical storm Erica devastated the village of Edward Thomas, the Dominican archaeologist who helped organize the research team and plan the excavations. Two years later—in 2017, when excavations were done—Soufriere was devastated by Hurricane Maria. Homes were destroyed and livelihoods were threatened—including those who worked on the ASCD, exposing many to the predicaments I discuss in this book.
Over the years, my eyes came to be more familiar with the vegetation—especially the kinds that often grow where humans once lived. At the same time, members of the team who had never looked for sites before came to recognize the difference between a glass bottle made in the eighteenth century and one that a local farmer carried into the field just a couple weeks ago. We had yet to understand, however, what was happening under the surface. On Dominica, laborer households were identifiable by the presence of platforms using a complex of terraces to level the steep slope of the land. If more recent agriculture made such terraces challenging to see, artifact scatters, including the bottle glass described above, were a clear indication.
Figuring out how these villages looked (including where they were located in relation to more visible structures), how they were organized, how many houses were there, and the age of those houses, required a series of techniques that I could not accomplish by myself. To answer such questions, archaeologists have traditionally relied on evenly placed test pits no larger than a half meter in circumference. By recording the absences and presences of artifacts, we began to develop a pointillist impression of the village shape. Test excavations also established a chronology for the plantation settlement. To map anomalies, we used other techniques, borrowed from geophysics, that record differences in the level of moisture or changes in the magnetic field. Theoretically, if enough anomalies make geometric patterns, we can infer the presence of architecture. Utilizing both strategies, we more clearly understood that within the past three hundred years, the enclaves around both Soufriere and Portsmouth underwent enormous modifications in the land. In some areas, soil layers dating to the eighteenth century could go so deep that excavators were physically unable to dig to the bottom. In other areas, such contexts could be reached after only 20 centimeters of testing. Where soils contained materials from people living in Dominica before 1700, the strata tended to be relatively deep, but not always.
On some sites in the Caribbean, soil accumulates at a snail's pace. Dry conditions, shallow soil horizons, or low topography have led to some conditions where thousand-year-old sites could appear a few millimeters under the surface.92 This is not the case in Dominica, where soil accumulation can occur at dizzying rates. In years where the dry season and the wet season were extreme, a particular set of circumstances could arise in which soil would lose its ability both to retain water and to anchor to underlying sediments. In such cases, landslides or increased sedimentation can occur. The differences in pre- and post-1700s stratigraphic soil depths were directly influenced by changing land use. Deforestation exacerbated these conditions. When high convection rainfall hits during tropical storms and hurricanes, soils can destabilize and slide. New residents often repurposed old village sites to create new villages. In some cases, agricultural activities that plowed the earth meant communities that were once home to two to three hundred people were practically invisible on the surface.
By the end of archaeological testing, we had examined the layout of five villages: two in Portsmouth and three in Soufriere. We made preliminary assessments about the location of houses, and ventured forward with household excavations. The team successfully identified a rich archaeological record from residences representing occupations both before and after this agricultural transition. Among these five estates, we excavated areas associated with twenty houses. This record included evidence of architecture such as iron nails, postholes, and foundation materials. The record also has evidence of diet and changes in procuring food. The team recovered a rich collection of plant remains. This evidence was retrieved from garbage middens, cooking hearths, and living surfaces in the yards.
To locate relevant sources, I relied heavily on published work, including secondary sources that included transcriptions or interpretations of documents. Archival research in Dominica is indebted to the work of Lennox Honychurch for his examination and organization of the archives into a form more readily usable by scholars. Polly Pattullo compiled rebels' testimonies recorded during trials in the aftermath of a maroon war in Dominica. These testimonies are some of the few firsthand accounts of enslaved life on the island.93 Her work also includes the accumulated historiography and anthropology of the island. Travel writers and anthropologists in the late nineteenth and early twentieth centuries described language, folk histories, and material culture of island folk, including Kalinago and Dominicans of African descent.94 Archaeologists who gathered environmental data to interpret a pre-Columbian past, environmental scientists wishing to understand the affordances of the landscape better, and earth scientists who attempt to describe the complex evolution of island geographies conducted research in the last two decades that assists in the contextualization and interpretation of the archaeological record.95
Some interrelated factors hinder scholarship on slavery and slave life in Dominica. In part, the archive is dispersed across Antigua, Dominica, Grenada, Barbados, Guadeloupe, Martinique, Metropolitan France, the United States, and Britain due to a complex political history in which the island was only formally colonized in the second half of the eighteenth century. Before the island's annexation by the British in 1763, there was just a light French bureaucratic presence in Roseau, the seat of Dominica's commandant beginning in 1727.96 Archives nationales d'outre-mer (ANOM) in Aix-en-Provence serves as the principal archive of interest for any scholarship during the French occupation. Subsequently, the island passed between British and French control twice, leading to a patchy archival trail in metropolitan France and Britain. Between 1763 and 1787, enumerations, maps, petitions, and laws related specifically to Dominica are located in Martinique and Guadeloupe.97 Additionally, at different points in its British colonial past, Dominica was variably administered as an independent colony, as part of the Leeward Islands Colony, and as part of the Windward Islands Colony.98 As such, relevant sources about the political and social history of the island can be found in Jamaica, Antigua, Barbados, and Grenada, in addition to the UK's National Archives (BNA) and Dominica.99
The conditions of the archives also hinder historical scholarship. Dominica's National Archives (DNA) is located on the third floor on Kennedy Street, in between Bath Road and Queen Street, a location much affected by various factors, notably environmental conditions. The flooding of the public records vault in 1979, after Hurricane David, and the June 1979 destruction of the Land Registry in the Old Court House by arson, have left many incomplete folios, damaged documents, and illegible manuscripts.100 For example, of the 158 Deed Books, 6 were "fragmented," 24 in "poor" condition, 120 in "fair" condition, and 2 in "good" condition. Most (29) of the manuscripts described in poor and fragmented condition date between 1763 and 1829. In short, poor curation and document handling destabilized many papers and led to a particularly critical absence in the documentary record—especially as compared with larger, more extensively studied islands such as Barbados and Jamaica.
Perhaps most helpful here are administrative documents in circulation, such as testimonies, laws, and minutes taken on the island, in the region or across the Atlantic—for example, the Parliamentary debates related to the cessation of the slave trade, which began 1787. At the same time, enslaved Africans played a role in abolition with regular and persistent resistance. The debates can be mapped through the Parliamentary Papers published by the Irish University Press.101 Either through circulated letters or in direct testimony, planters appeared and described the conditions of plantations in the West Indian colonies. We also tracked official correspondence, including testimonies of Dominican planters, who testified in both French and English, which led up to the 1799 renewal of a slave amelioration act. In these deliberations, we can glimpse some of the distances between imperial designs of this island colony and its everyday life.
The thing I did not expect to see was that people's livelihoods increasingly depended on island-based resources as they became increasingly engaged in the global economy. Before the transition to sugar, colonists and slaves made use of many goods and foodstuffs from the island and beyond. After the agricultural transformation, slaves and colonists used a higher number of species of fish and local game as food. This shift meant that matter required for the everyday life of all actors, plantations, land, animals, and humans became more important and precious. The record also included evidence of economic activities. Trade goods—including pottery, coins, and other small finds—recovered from the gardens and yards immediately surrounding each of the houses speak to some of the market activities in which slaves were involved. These remains indicate how slaves were integrated with global markets as consumers. They also talk to poorly documented, locally organized, informal commercial networks. While preliminary, results seem to indicate two critical trends after the introduction of sugar. First, informal relationships with neighboring French Martinique continued and possibly intensified after the annexation of the island by Britain. It also indicated an increased difference between houses on the estates.
Comparing Waterscapes in Two Dominican Enclaves
To compare waterscapes is to document how slavery worked through the environment it created (map 1.1). Waterscape generally refers to the interface between land and water from the vantage point of humans. In 1763, this waterscape changed for all of the residents of Dominica. The United Kingdom annexed Dominica, encouraged monoculture plantations (coffee and sugar), and committed the island to a "sugar revolution." The "sugar revolution" as a crop boom can be defined through a number of dimensions. Landowners shifted their diverse agricultural base to monoculture, while labor was increasingly defined through idioms of property, made up of people who lived in denser settlements and most often racialized as black. These new arrangements with labor, land, and things were put in place to produce more wealth out of a single acre of land than previous crops, such as cotton, cocoa, and foodstuffs.102
Despite the "ongoingness" of people's relationships with and through water, it is important to document how Dominica's waterscape varied from one place to the next. Dominica, relative to other territories in the British Empire, was environmentally, socially, and economically diverse. Despite being a "wet island" (some parts receive 9,000 millimeters of rain per year), some areas contain little surface water and receive far less rain (1,800 millimeters per year). The dry season (ca. January/February to May/June) creates a "green desert" where temperatures rise. The island can be divided into lowlands (23 percent), hilly uplands (27 percent), and mountainous highlands (50 percent) (table 1.2). Dominica's soils also vary significantly, but six types dominate: young soil, protosol, kandoid latosol, smectoid clay, allophanoid latosol, and alluvium.103 Each has different potential to retain water, hold nutrients, and stabilize the land. These soils are not static. The mineral composition, drainage, and growth stability of the topsoil is informed by the subsoil. Likewise, the subsoil borrows organics and water from the topsoil that can, in turn, help recharge aquifers. This diversity is readily expressed in the two enclaves I studied.
Agricultural intensification in the eighteenth century was an ambiguous assemblage of local traditions and trajectories; different ventures of political, economic, and technological expansion; uneven potentiality of particular crops; and local engagements with water. The research for this book concentrated on comparing material practices in two regions constrained by mountainous topography and varied links to neighboring islands.104 Portsmouth and Soufriere afford different potentialities and provide a means to examine how the imposition of new agricultural regimes affected the everyday life of enslaved laborers and free settlers (map 1.2). While these two enclaves differed in multiple ways significant to this study, key contrasts are: the birthplace of the residents and their inferred status, landscape modification and its effects on the land and its resources, the hydrosocial nature of trade through material circulations, and everyday conceptualizations and uses of water in households. Portsmouth was dominated by immigrant English settlers and enslaved Africans, both new to the Caribbean and Dominica, living in an environment with flat plains, year-round rivers, and rich alluvial soils. Soufriere was dominated by Creoles, many from neighboring islands (both enslaved and free people), living in a dry and mountainous environment with poor soils (map 1.3).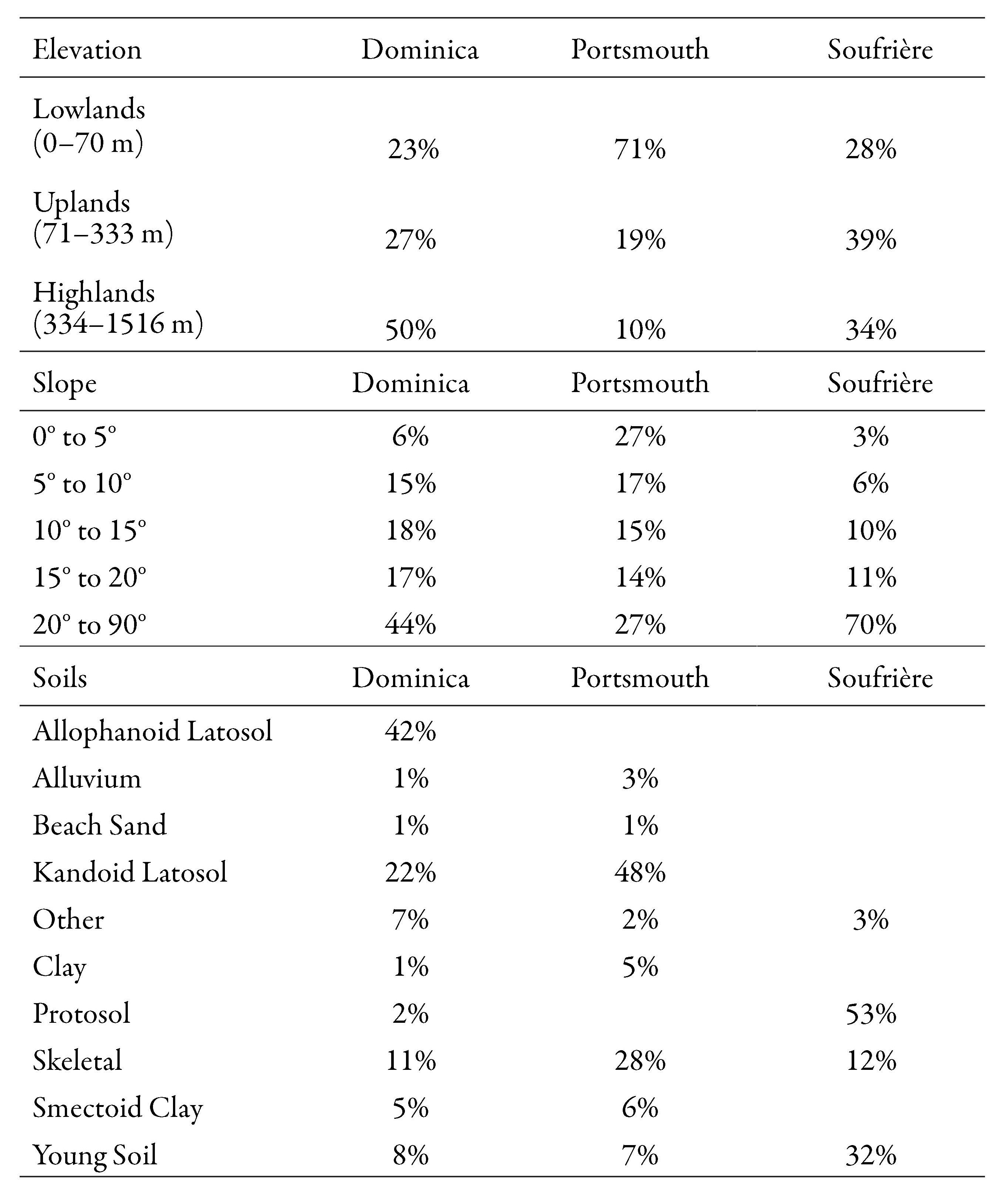 Between Portsmouth and Soufriere, the land varies considerably. Soufriere's enclave contains dispersed agricultural soil and limited groundwater. Soufriere's waterscape includes little in the way of surface and groundwater. The land is nearly evenly divided between lowlands, uplands, and mountains. It is remarkably hilly, with 70 percent of the land on a twenty-degree slope or higher. In 1978, the land was either under cultivation (60 percent), constituted of disturbed submontane forest, or "other." "Other," in this case, includes town settlements and sulfur springs. There is one perennial river, five drainages with wet season creeks, and three freshwater springs. A combination of freshwater and sulfur springs feeds the river, making it difficult to drink, especially in the dry season. For most estates, freshwater springs were close to two kilometers from their respective villages, with an ascent as high as 500 meters. Cisterns commissioned by and for planters dot this landscape. Transportation of water from other enclaves, or properties, was hindered by very steep topography and legal codes restricting unfettered movement of slaves. This created a predicament that needed to be negotiated. Soufriere's soils are shallow and relatively young, including protosol, young soil, skeletal soil, and Soufriere (sulfur-rich) soil. These soils are usually shallow and prone to erosion. They are, however, excellent soils in which to grow foodstuffs. These soils contain rich nutrients, including phosphorous, and drain well. As such, with sufficient rain, they have the potential to be fertile.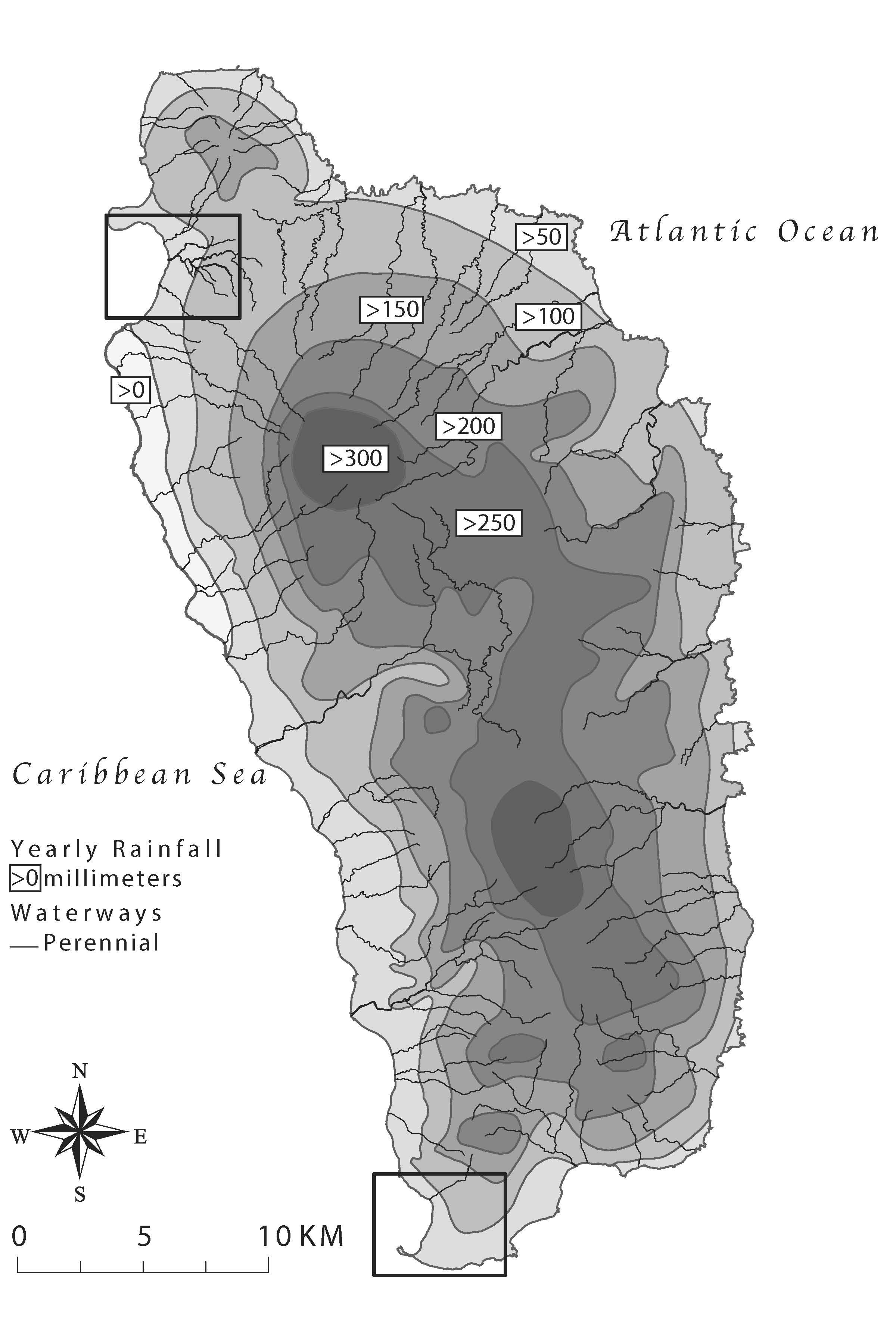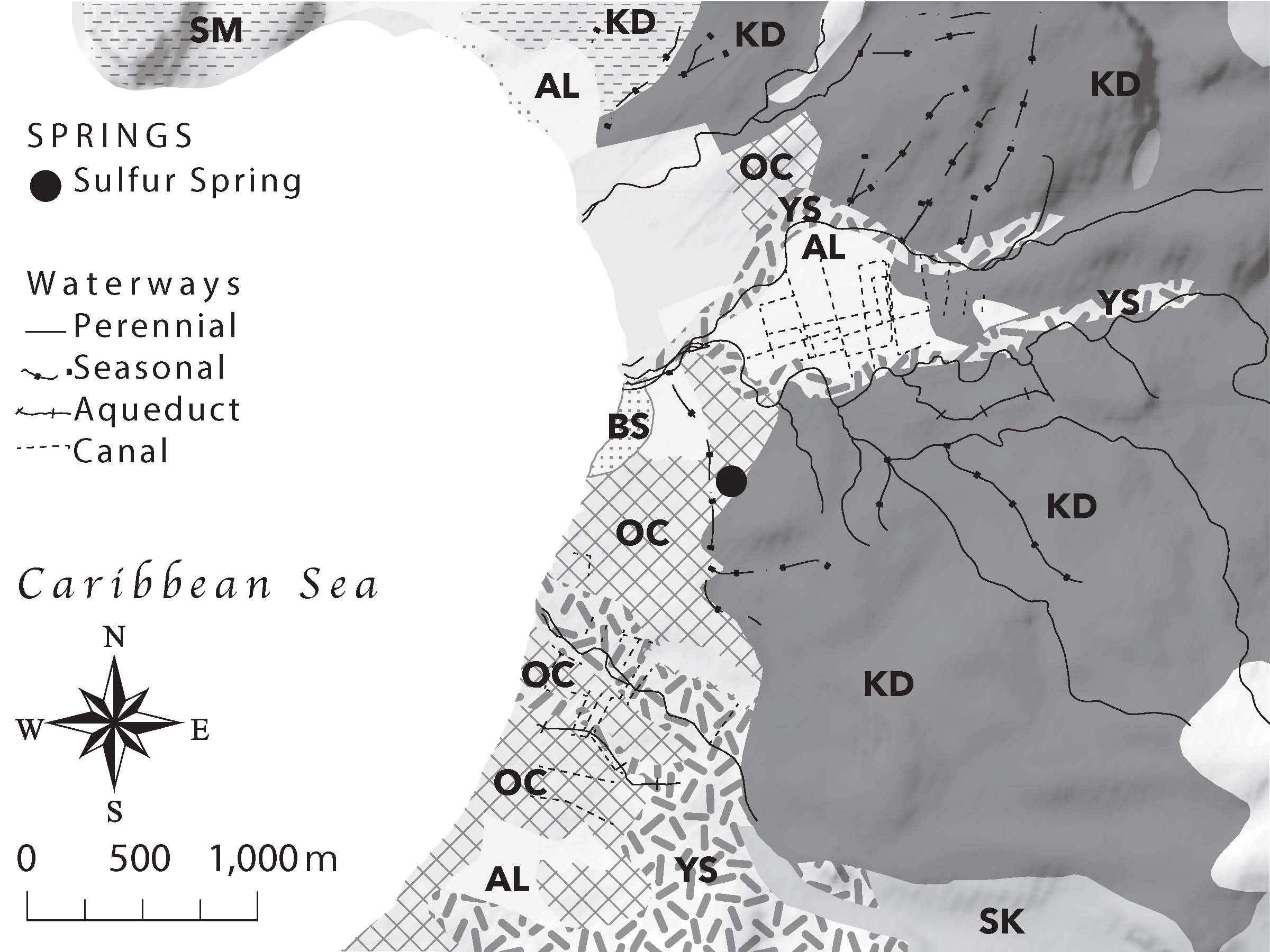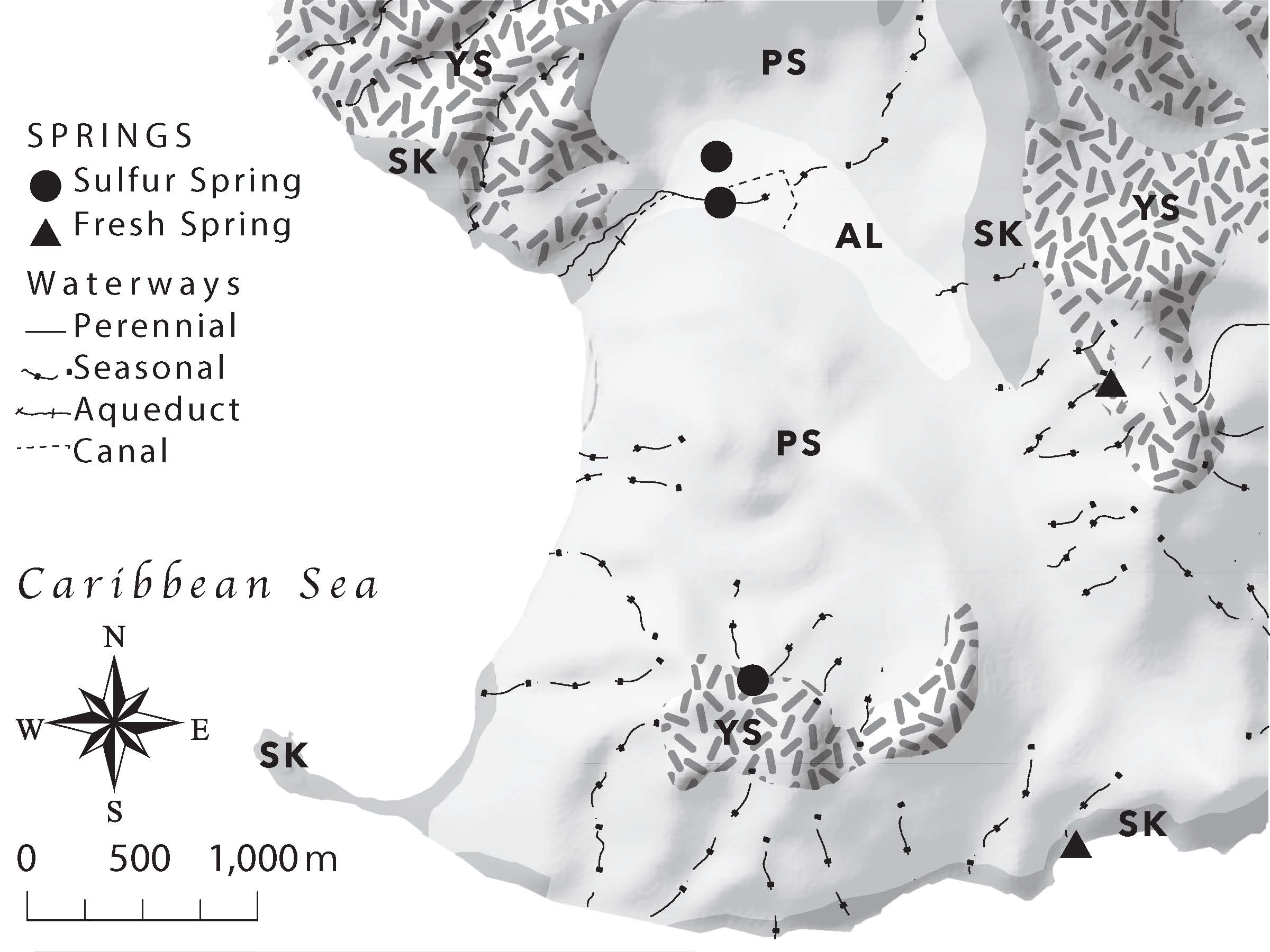 Portsmouth's enclave contains rich agricultural soil and abundant freshwater sources. Most of Portsmouth is low-lying and relatively flat. Today, most of the land is devoted to active cultivation (approximately 60 percent), or comprises submontane rainforest (25 percent), urban development (10 percent), or mangrove swamp (15 percent). Groundwater is plentiful, with a number of freshwater and sulfur springs. Three river-systems with tributaries feed fields and people within the enclave. In the wet season, rivers agitate sediment, while during the dry season they can become murky, creating pools of stagnant water. Rivers were diverted to create aqueducts that fed small reservoirs to control water flow to millraces and to water mills to crush sugar. Most villages were less than 500 meters from these reservoirs and races. The land in this enclave contains alluvium, smectoid soil, and kandoid latosol. Water drains poorly through these latter two soils, and the natural fertility of the soil is low. The combination of a shallow soil that is susceptible to hardening during the dry season with poor water drainage during the wet season means that erosion is a constant threat. They are, however, well structured soils and have good water- and fertilizer-handling capacity. Importantly, this soil is good for growing sugar cane, but only when fertilized.
This diversity is important because it speaks to the amount of land, the type of soils available, and how people conceptualized their potentials for export and subsistence agriculture in the eighteenth century.105 Different environmental and landscape conditions favored certain export crops. The uplands and highlands favored coffee, and forests favored cocoa, while sunny and well-drained areas were preferred for sugar.106 Certain crops, like plantains, cotton, indigo, and tobacco, were more flexible and often constituted a first stage in plantation development.107 Other crops, including coffee and sugar, were far more particular about soil conditions and the amount of water they would need to thrive. The soils interacted with these biomes in important ways. The lowlands of Portsmouth required fertilizer and drainage to cultivate sugar. The uplands of Soufriere required methods to stabilize the soil and retain its moisture content to grow coffee and sugar. Ultimately, some soils in Dominica more readily accommodated the desires of Europeans to grow commodities for export. Others could not bear them. Both were subject to the attention of plantation owners to bend the soil to the purpose of sugar.
This diversity is also important because it speaks to the different predicaments of water abundance and scarcity that new residents (enslaved and freed) would face when sugar was introduced. Plantation settlements and houseyards were our units of observation. Plantations are often defined, functionally, in terms of what they produced and how they served as a social institution.108 Houseyards are often defined descriptively, containing houses and the small gardens attached to them. As I will describe in the next chapter, they both constitute an assemblage. Sidney Mintz, for example, defines a houseyard, "as a setting for daily activity" where "decisions are made, food is prepared and eaten, the household group—whatever its composition—sleeps and socializes, children are conceived and born, death is ceremonialized."109 As an archaeological deposit, they offer a readily comparable set of information that allows us to determine substantive differences and similarities in material practices during the "sugar revolution."
Conclusion
In small-island colonial contexts it is easy to imagine a homogenous past. But given the intensity of interaction that accompanied the agrarian transition on small islands, the past becomes politically and economically complex. The sugar revolution created predicaments throughout the island in different ways. The two enclaves profiled here reveal differences in landscape transformation and water scarcity, the hydrosociality of trade and mobility, and material dispositions of residents and the politics of belonging. These reflect the varying degrees to which the sugar revolution brought about competing agendas of production and reproduction. The recovered evidence begs the question: given the same economic and political constraints, do waterways of laborers living on estates in different "waterscapes" look the same?