•
Dr. Fillan gave Mr. Andrew Smith Priestley's reputed machine for impregnating waters—He appears to think very much of it but very little of its application.
—Journal of Jonathan Troup, August 3, 1789
IN TROUP'S FIRST FEW weeks, Dominica looked as though it was a colonial venture with a stable society (figure 2.1), functioning without threat of insolvency, whose populace thrived in the lush environment. The mountain forests, the bustling port town on the water's edge, and the orderly plantation fields between the two were misleading. Morning rains that fell almost like clockwork had given him the mistaken impression that water was everywhere. Water was not always abundant, and for those who did not own land its access was not guaranteed. Precipitation could vary significantly. The leeward slopes, just north of Roseau, were in rain shadow for most of the year. Groundwater also varied in quality. Wells dug close to the shoreline could become brackish in high tide, and many springs on the geologically active island were hot and contained elements of the earth that made it less than palatable. Surface water found in rivers and ponds could also vary. While the island is the putative home to 365 rivers, only one of those rivers, fed by sulfur springs, flows in the Parish of St. Mark. In Dominica, there were many types of water.
Water, a kind of material, mattered for those forced to enact the plans of English-speaking elites in eighteenth-century Dominica. In the above passage, Troup and his colleague Mr. Kemp are excited about a new instrument devised by Joseph Priestley, who was one of the preeminent chemists of the time. In his book, Directions for Impregnating Water with Fixed Air, Priestley provides a detailed account of how to add bubbles to water. As a physician, Troup was familiar with the book and its findings. While instructing the reader on the art of making carbonated water, it also described qualities of water and how those qualities could be changed. In the appendix, for example, Priestley describes a "decoction of a Peruvian bark," most likely the same used in quinine, to alleviate the symptoms of "fever, loose stool, and immoderate thirst."1 What this book makes clear is that water was not just a natural substance. It could be crafted in a way that could transform its qualities. That said, people had been crafting water for years before Priestley came to the scene.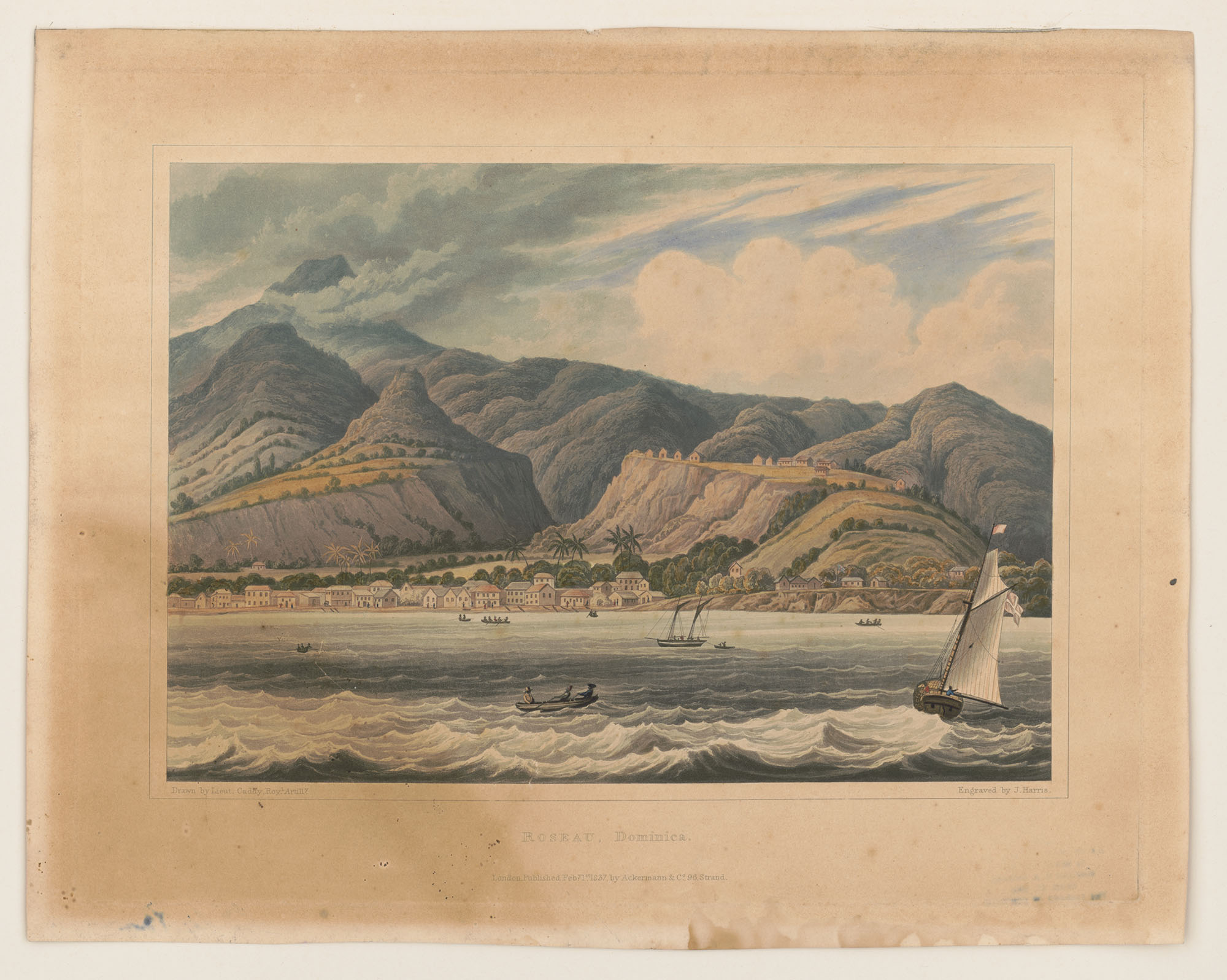 Water was both fluid and entangled with the environment, and was a key predicament of slavery. In the context of eighteenth-century slave colonies, people living on plantations were often challenged to obtain water to drink, irrigate their gardens, wash themselves, and cook their food. Some of their creative methods to get water were passed from one generation to the next. Others were borrowed from strangers whom they met for the first time in the Caribbean. Still others were improvised by undocumented inventors struggling to resolve the predicaments they faced in everyday life. These waterways stretch back in time, before the poorly documented date when strangers from across the ocean met on this island. They extend out to the cultural attitudes that people held on those distant shores from which the strangers came. They anchor down immediate and concrete, such as where precipitation and soil conditions inform the availability of groundwater for cultivation, and metabolic and household needs. They gesture inward to the nearby and particular concerns that informed how strangers dealt with each other when they met face to face. The emergent waterways variously inscribed themselves into the landscape, household assemblages, and the way people talked about them.