RESISTANCE
IN JULY 1946 THE CHAIRMAN OF THE PROVINCE'S UNDERGROUND COMMUNIST organization, Nguyễn Chí Thanh, said the following as he left the province to lead a newly formed Việt Minh tactical area covering six provinces in north central Vietnam: "Stick with the people, for we only have the organization of the people to fight the enemy. Jungles, war zones are necessary, but the deciding factor will be people's organizations that can fight the enemy in their own villages."1 Through a deal negotiated by Hồ Chí Minh in France, French soldiers replaced Chinese Nationalist troops in Huế on March 6. From their arival, they worked with anticommunist Vietnamese to hunt down people like Thanh who narrowly escaped. In the four months that followed, he established a tactical zone (khu chiến thuật) in the hills for comrades and their families who had escaped the counterrevolutionary sweeps in Huế. As he prepared to walk west into the mountains, he spoke with his comrades, reiterating the vital need to maintain personal underground networks inside the cities, bases, and villages. This was a pivotal moment for the Vietnamese revolution. A radical political organization led by students and political elites in Annam's schools, coastal villages, and imperial towns had hastily formed military and political organizations. Anticipating a French military invasion by sea, they prepared defenses around Huế but set their sights on the hills. Few of Thanh's comrades had likely ever ventured past the hills fringing their ancestral villages, and only a handful spoke Katu, Bru, Lao, or other languages of the people in highland communities along the trails.2 Thanh accepted the nomination as chairman of Tactical Interzone IV (Liên khu chiến thuật IV), an area that included a formidable terrain populated by several dozen ethnolinguistic groups from Hải Vân Pass south of Huế past Ngang Pass and north to Thanh Hóa.3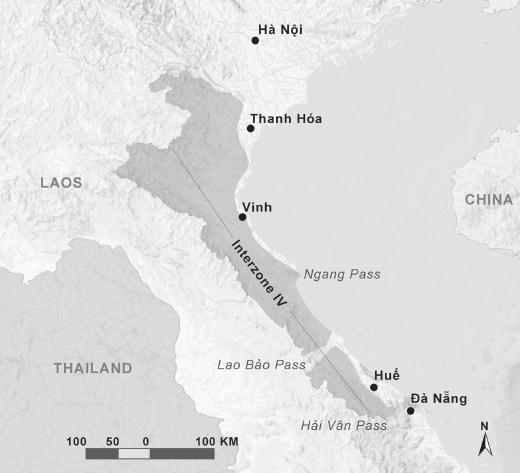 While this image of du thượng (going to the mountains) has lent itself to many romantic and patriotic portrayals in Vietnamese stories, songs, and films, Thanh's primary aim in this speech was not to glorify those who were volunteering but to remind them that their struggle depended on family ties and clandestine networks on the coast. Many loved ones would stay behind in ancestral villages, facing counterrevolutionary groups sure to label them as sympathizers. The political landscape in Huế was chaotic too. There was no longer an imperial government to provide cover for nationalists. Emperor Bảo Đại abdicated and joined the Việt Minh in 1945; when the first French troops moved into Huế in March 1946, he left Hà Nội for China and took up residence in Hong Kong.4 New coalitions of anticommunist nationalists, some affiliated with the former Japanese-backed government and others with the French, worked to root out communist sympathizers.
In terms of militarization, invading French troops violently reoccupied the airfields, cities, and ports while they posted allied Vietnamese soldiers in the hills. Việt Minh military and political units established tactical zones and networks in the mountains, and they fought French forces in the hills and almost to the edges of Highway 1 (see figure 3.1). As the war evolved from an anticolonial struggle in 1947 to a global cold war in the early 1950s, these ancient battlefields along the Inner Road became part of a more global front.
This chapter follows that evolving struggle but with more of a focus on how it played out in the landscapes around Huế than on the larger political history of the war. The unique histories and ecologies of these places shaped Việt Minh and French experiences as wartime victories and defeats produced new heroic and tragic places.
DU THƯỢNG
While the Việt Minh "zone" in Huế and much of Vietnam became associated with hideouts in the mountains, its military origins after 1945 began on the Inner Road. North of the sixteenth parallel, the Chinese Nationalist general in charge of the postwar occupation, General Lu Han, refused to rearm the French. Instead, he permitted Hồ Chí Minh and his Việt Minh government to build a "self-defense" force.5 Especially in Hà Nội and Huế, Việt Minh military leaders set to work training military officers, building regimental commands, and training infantry soldiers. This twist in the postwar occupation was not without pitfalls, however; communist leaders viewed the plan as an American "imperialist plot" lurking behind the banner of the Allies to arm noncommunist groups. Vietnamese Nationalist Party militias affiliated with the Chinese Nationalist army arrived in Huế with five thousand Chinese soldiers in September 1945. They competed with communists while taking part in the military training. Vietnamese Nationalist Party (Việt Nam Quốc Dân Đảng) partisans used their connections to the Chinese to create shared power arrangements with communist Việt Minh leaders in many villages.6
Amid these global arrangements and internal struggles, Việt Minh authority in the narrow territory of central Vietnam was precarious. While Việt Minh leaders were still in control of the civil government following the nation's first popular election on January 6, 1946, they had to contend with many practical difficulties at all levels, especially issues of finance and military preparedness. Hồ Chí Minh urged the new government to fight "three enemies": famine, fire, and foreign invaders. The new government organized "gold weeks" to take contributions from citizens and rapidly build up the coffers. In Dạ Lê two women from poor families donated their wedding earrings and urged other women to contribute. In many rural families, a woman's gold jewelry amounted to her life savings.7 The government also relied on trading companies and smuggling networks to bring in commerce by sea. In Huế a branch of the Việt Thầng Trading Company managed imports and exports for the Việt Minh primarily via the Chinese port at Beihai. Even before Chinese communists took over the port in 1949, Chinese Nationalist merchants participated in this trade, reselling supplies from the huge stockpiles of World War II weapons. Việt Minh groups used secret radio communications with the seaborne junks to arrange landings and transshipment to the hills.8
The power-sharing arrangements between the communist-led Việt Minh and the Vietnamese Nationalist Party frayed after just eight months when a provisional agreement and cease-fire signed by France and Vietnam on March 6, 1946, resulted in the removal of the Chinese and the arrival (in secret) of a small but heavily armed French military detachment in the former French quarter in Huế. French forces under General Philippe Leclerc had violently retaken port cities south of Đà Nẵng and moved up the Mekong River into southern Laos.
The Việt Minh used the opportunity, however, to purge Vietnamese nationalists and began a crash program to build their army.9 Over eight hundred French soldiers had driven through the Lao Bảo pass and into Huế to occupy the southern bank of the Perfume River and heavily armed posts inside it such as the Morin Hotel, Quốc Học high school, and the former RSA offices. Once settled in the European quarter, they faced across the river the imposing walls of the nineteenth-century citadel with the Việt Minh's red flag with gold star flying overhead.10 Several hundred more troops, mostly soldiers recruited from French Africa, moved into the airbase and training grounds at Phú Bài. A much larger force gathered offshore and in base compounds near Đà Nẵng.11
Việt Minh leaders on the central coast began preparations for a French offensive. They evacuated their newly formed Trần Cao Vân Regiment from Phú Bài into the hills. Only the regiment's Eighteenth Battalion stayed to patrol the perimeter of the base in the hills of Vùng Phèn.12 French soldiers, mostly European officers commanding colonial African recruits, spent the summer amassing supplies at the airfield and constructing a ring of blockhouses with machine guns on the perimeter. They fired on anyone who ventured into the grassy perimeters; one memoir tells the story of a small child who wandered into the perimeter zone and was shredded to pieces by the guns.13
Contrary to French and other foreign representations of the Việt Minh as a jungle-based insurgency, the military forces that dug defensive works and prepared for a French invasion strove to maintain an organization deeply embedded in the ancestral villages of the Inner Road. Besides an underground network of runners and supporters, the Việt Minh relied on radio to connect its military units and also to broadcast to popular audiences. Radio linked up what historian Christopher Goscha calls an "archipelago space," a network of "forest villages" and provincial military commands as well as listeners. It broadcast from the cities before the French invasion, and after the invasion it broadcast from remote sites, even from stations in China, Laos, Thailand, and Burma.14 Hồ Chí Minh readily understood the power of radio to project his party's claims to territory that had never—in colonial or precolonial times—been fully integrated.15 While radio broadcasts played educational and patriotic programs, soldiers and partisans worked to educate themselves whether acquiring basic literacy or studying military texts. One newspaper in Huế, Chiến Sĩ (Fighter), circulated daily articles on military affairs ranging from practical defensive concerns to more philosophical topics such as Sun Tzu's Art of War.16
The keys to maintaining these logistical and political links between the highlands and the coast were a string of fortified hamlets in the foothills called tactical zones. Each tactical zone was located along one of the smaller east-west rivers running from the highlands to the sea, and most were situated in transitional spaces where bare hills gave way to forests and ethnic-Việt communities gave way to highlander ones. The first bases in Thừa Thiên–Huế Province were at Khe Trái and Hòa Mỹ, villages just west of Huế. Both had the advantage of being located within protected valleys but close enough to reach Huế in a day. The flow of information, persons, and materials followed the rivers and ridge lines through this landscape. In winter 1947 the Việt Minh added two more tactical zones at Dương Hòa and then Nam Đông, hamlets located farther upstream and beyond the reach of French forces (figure 3.2).17
Fighting between Việt Minh and French forces began on December 19, 1946, in Hải Phòng, and a destructive French naval invasion at Huế commenced one month later, spurring thousands of young people to retreat from lowland defenses to the tactical zones. In the months leading up to the invasion, the Việt Minh urged its followers to dig tunnels, trenches, and barricades. In the city of Huế and in nearby villages, several thousand youths dug defensive positions with barricades, bomb shelters, and tunnels. Upon receiving word about the fighting at Hải Phòng, Việt Minh units blew all of the bridges to Huế along Highway 1. Việt Minh troops in Huế attacked the eight hundred outnumbered but well-armed French troops in the Morin Hotel and other government buildings in the French quarter, inflicting heavy casualties.18
Unlike the naval assault in 1883, this military landing met fierce resistance from the landing beaches to the streets of Huế. Launched just five days before the start of the Lunar New Year, this 1947 Tết offensive resulted in high numbers of civilian casualties and left sections of the town in ruins. French marines, most of them from French Africa, brought naval artillery and heavier weapons against the more lightly armed but dug-in Việt Minh. Việt Minh forces had governed Huế for a time after the August Revolution, and even after the return of French soldiers in 1946, they commanded a military regiment and enjoyed strong support in the villages. Their units engaged French forces invading by sea at two inlets, Tư Hiền and Thuận An (figure 3.2). French forces landed on the beachheads and took high casualties. One group, a few thousand troops with armored cars loaded on American-made military landing craft, unloaded at the banks of the lagoon at Truồi within a few hundred meters of Highway 1. The other group landed at Thuận An beach with armored vehicles to attack Huế from the north. In contrast to the French naval landing in 1883, French forces in 1947 met sustained resistance from the beaches to the city. The southern group required nineteen days to travel thirty kilometers along Highway 1 from Truồi before meeting the other group that reached Huế only two days earlier. From Huế and Phú Bài, French forces spent the next month reoccupying key military installations, finding them emptied with all supplies removed.19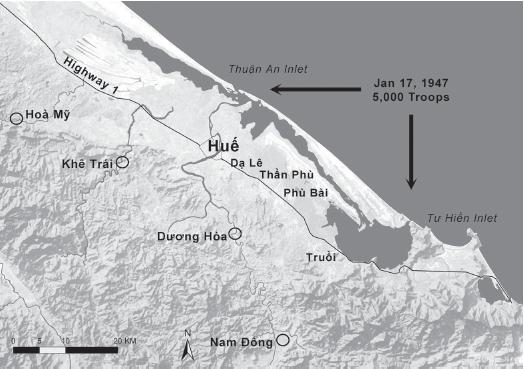 As the French troops secured positions along Highway 1, they destroyed a number of village communal houses such as at Dạ Lê and Phù Bài and set up command posts at some of the region's most historic sites. One the most symbolic was the Nam Giao Pavilion on the southern edge of Huế. Nam Giao included pine groves and a pavilion that hosted the annual rites the emperor performed to bring prosperity and good harvests to the kingdom. The profaning of the site with French troops and military equipment gave a clear visual sign of the French position vis-à-vis the recently abdicated head of state, Bảo Đại. On the edge of the French quarter in the deforested spaces of Nam Giao, the French military established its Nord Annam–Huế Sector command.20
After French forces broke the Việt Minh defense, Việt Minh units retreated to the tactical zones. Over the next several years, this move uphill (du thượng) facilitated profound territorial and personal transformations, especially for thousands of Vietnamese youths. The political and military leaders of the Việt Minh had regrouped with their families at Hòa Mỹ for more than a year, since March 1946. The Trần Cao Vân Regiment's three battalions retreated here and formed a company of commandos to operate guerrilla missions into Huế.21 After the French invasion, in summer 1947 more army units and larger communities of soldiers and their families continued the exodus, expanding tunnel networks into the mountains and digging bunkers and underground caches. The province committee aniticipated that French occupation forces would force youths in the lowlands to serve with the occupation military, so it built the tactical zones as spaces for removing young men from their mid-teens to late thirties from villages along Highway 1. They established routes of communication—trails and secret codes—to guide youth volunteers into the war zones, opening paths for escape and for guerrilla teams to return.22
While most histories focus on the tactical elements of these zones, a Hương Thủy District history of the resistance captures some glimpses of the tolls on families in occupied villages whose sons and daughters had "gone uphill." Resistance zones were difficult places to survive, even without enemy attacks. Mosquitoes carried malaria, and Việt Minh field hospitals were lucky to have quinine as a preventive medicine. Young women with limited training as nurses regularly risked search, detention, and torture for carrying medicine from towns such as Huế into rebel areas. One doctor left a prosperous practice in Huế to carry medical supplies to manage a field hospital at the Khe Trái base.23 The tactical zones fostered deep emotional connections linking people from different lowland villages with each camp. A district history describes this yearning for relatives: "The tactical zone was a place of much longing, excitement for reunions and deep compassion, here was a basis for understanding the preciousness of life…. In the afternoon, the people of Phú Vàng and Hương Thủy Districts looked from their homes in the countryside to the tactical zones in the distant mountains, remembering those working there in service, transport, communication, logistics, remembering their first trips into the tactical zones."24 As the resistance continued for seven years, these emotional ties and the traffic in and out of the region helped forge new trails and webs of local networks through which the Việt Minh national vision extended across more of the central coast's rugged terrain.
By 1948 this web of trails had not only greatly expanded in east-west, lowland-highland directions but had also added many north-south links paralleling the Inner Road in the foothills and highlands. A history of the trails in Bình Trị Thiên notes that by late 1948, the Việt Minh had established three main north-south corridors for nationwide travel. In those early years of the resistance, the trails connecting tactical zones such as Hòa Mỹ were the preferred routes for soldiers moving north to the main battlefronts. In those early years, tactical zones in the highlands were more limited, and paths running along the border with Laos were less used. Finally, a third, coastal network of paths passed through safe houses and hiding areas in lowland villages and cities, a sort of underground railroad that connected to parts of actual railroad in Việt Minh–controlled provinces south of Đà Nẵng.25
Going uphill for the Việt Minh also meant going off the map, at least in terms of topographic maps. That "uphill" areas were generally not mapped was partly a reflection of the rugged terrain that had challenged French surveyors on the ground and in the air. The lack of roads, bridges, and buildings in the highlands precluded surveyors from laying geodetic benchmarks that allowed accurate measurements of distance and elevation. The steep irregular slopes, many of them covered in canopies of trees, made the geometric correction (orthorectification) of air photos almost impossible. The lack of good maps of Việt Minh strategic zones and trails meant that French military intelligence teams had more difficulty communicating coordinates for artillery or aerial bombing.
For Việt Minh forces, communicating positions by place-name, ridge, and river helped keep their location more hidden in the grid-space of aerial maps. This topological mapping of highland terrain also reflected the fact that most of the thousands of youths who left for the highlands had likely never seen a topographic map, much less read one. The association of tactical zones to mountain-river intersections was an expression of a traditional Vietnamese way of organizing the landscape. Atlases (such as the 1832 atlas discussed in chapter 1) recorded names for mountain peaks and rivers to aid coastal navigation and travel (usually on or along water) into the interior. Gazetteers and province geographies likewise began with a section titled "Mountains and Rivers" (núi sông). This traditional juxtaposition of rivers and mountains reflected not only a practical need for helping someone orient themselves but also a long-standing tradition of geomancy or feng shui (phong thủy, wind and water). Feng shui is a traditional science used to help individuals orient homes, businesses, and fields in propitious locations with respect to winds, possible floods, and less tangible flows—good air, abundant money, or good health. A core principal is that invisible "dragon lines" run through the spines of mountains and rivers, tracing paths of energy flows (chi). Although only a few individuals were experts in geomancy, most people were at least familiar with this system of orienteering.26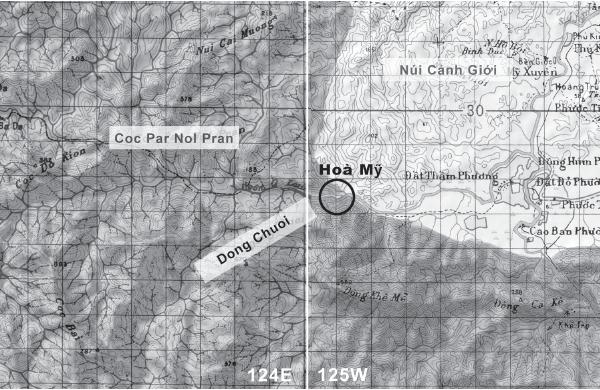 Figure 3.3, an excerpt from two 1952 French map sheets of the Hòa Mỹ area, shows the area's location at a nexus of topographic, environmental, and cultural borders. The finer isoclines in the open hills (white background) are matched with a finer orthography of place-names. Diacritics are included for Vietnamese place-names such as Núi Cảnh Giới (Boundary Mountain). West of Hòa Mỹ, as the elevation and slope increase, the level of detail decreases. Pen widths detailing streams and rivers are wider, less precise, and the names of higher, forested ridges shift to non-Vietnamese place-names such as Coc Par Nol Pran (possibly a Katuic name) and Động Chuối (Banana Ridge, but using the term "động" to denote a non-Việt community). Like the use of mountain peaks and rivers as an aid for surface navigation, use of these non-Việt place-names signed the movement into non-Việt cultural spaces. A recent province history of the tactical zones continues this more familiar style of description, noting that Hòa Mỹ was "situated between the Ô Lâu–Rào Quao Rivers and the forested ridge and foothills of Động Chuối."27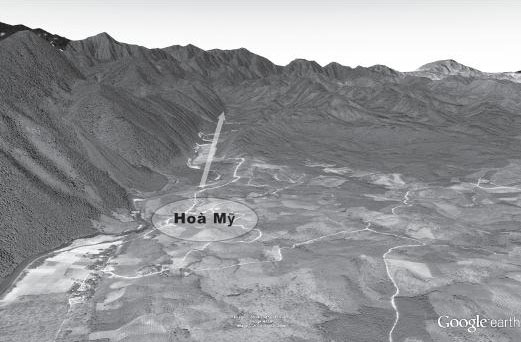 In figure 3.4, a reconstructed oblique view of the Hòa Mỹ base area and the mountains behind it gives a more embodied sense of the space as this terrestrial gateway into Interzone IV. Việt Minh troops and area populations spent months carving tunnels, trenches, and protective barricades along the steep slopes of Động Chuối. This surface view also suggests how Việt Minh control of the highlands presented insurmountable challenges to French forces. The first French military offensive against the Hòa Mỹ base started on May 7, 1948, when three airplanes commenced a bombing attack followed by paratroopers landing along the dirt roads and bare hills. Infantry units, mostly composed of African soldiers, marched in by road from Highway 1. The offensive included a battalion of African soldiers, two battalions of Franco-Vietnamese troops, two artillery battalions, and thirteen armored personnel carriers. It lasted for sixteen days, but the French forces could not push past Hòa Mỹ into the mountains. Việt Minh units remained entrenched in rock bunkers carved into the higher slopes, sending artillery shells down into the valley.28
As the French airborne attacks intensified, the Việt Minh moved further into the highlands, forging new networks and, more significantly, integrating non-Việt highlanders into their networked nation. Nam Đông tactical zone (figure 3.5), located at the headwaters of the Perfume River (Sông Tả Trạch), was fifty kilometers south of Huế. In spatial and cartographic terms, it lay on the edge of mapped territory; in ethnic terms, it was a different world before 1947. In the old map of Dutreuil du Rhins, this was the blank space on the map, "inhabited by savages." Limited colonial ethnographic essays on the local Katu (Cơ Tu) people described them as headhunters who engaged in "blood raids" against outsiders.29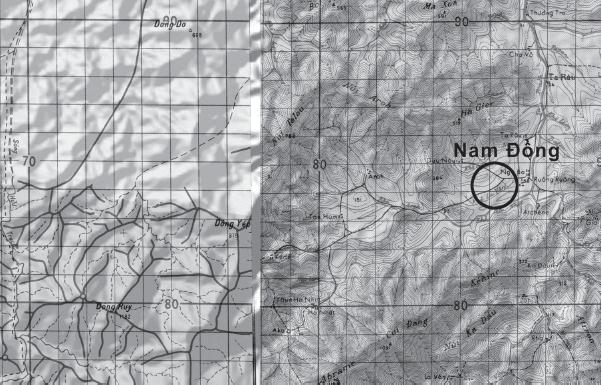 Việt Minh organizing in this valley began after the French amphibious invasion of Truồi in February 1947. Several thousand Việt Minh partisans in coastal Phú Lộc District retreated here from the slopes of Truồi Mountain as French forces broke their defenses. A party history of this mountainous backcountry notes that Việt Minh bases provided vital east-west connections to north-south traffic on the Lao border. Việt Minh development projects here began with expanding rice fields and creating camps at Nam Đông. The official history reports that they aimed to educate their indigenous comrades (in Vietnamese) who were "100% illiterate." Besides opening literacy classes for the Katu people, the Interzone IV government promptly abolished all of the debts highlanders might have accrued before 1947, thus "liberating" them to support the Việt Minh effort. French forces mounted a large attack on Nam Đông in April 1949, but Việt Minh troops with Katu partisans repelled them. They held the region uncontested for the rest of the conflict.30
LAYERED SOVEREIGNTY ON THE INNER ROAD
While Việt Minh partisans in these deeper mountainous zones encountered little military opposition to inland expansion, the situation in lowland villages such as Phù Bài and Dạ Lê was troubled by multiple competing authorities. From August 1945 Việt Minh national guard (tự vệ) units helped foster development of the first postcolonial government, confirmed in a popular election in January 1946. Nationalist Party groups played a role in this early state-building process, too, protected by allies in the Nationalist Chinese military occupation. In February 1947 when French expeditionary forces launched the military invasion to reoccupy Huế, they violently attacked Việt Minh military defenses and prominent cultural sites under Việt Minh control. At Phù Bài on February 5, French forces razed the main communal house, ostensibly to prevent Việt Minh troops from sheltering there. Two days later they occupied the communal house and roadside pagodas at Dạ Lê and Thanh Thủy Thượng.31
From this violent start to France's military occupation, the French position vis-à-vis allied Vietnamese groups was fraught with problems too. Expeditionary troops aided by allied Vietnamese tracked down Việt Minh political and military leaders who had not escaped to the war zones. Through 1947 and 1948, Franco-Vietnamese forces detained, tortured, and executed these prisoners. The French military command and a hastily assembled Central Vietnam Governing Committee aimed to "pacify" village populations and cut them off from the Việt Minh mountain bases.32 The pacification strategy, ostensibly led by noncommunist Vietnamese groups, was at all levels undermined by French reluctance to cede sovereign control. Conflicts over the extent of Vietnamese versus French control of internal affairs arose at every level from village disputes to international diplomacy. France sent a new high commissioner of Indochina, Émile Bollaert, to negotiate with Hồ Chí Minh in March 1947. American diplomatic cables from the period remarked extensively on the French "quandary" in relying on former Emperor Bảo Đại as a Vietnamese head of state. The former emperor retained an official title in the Việt Minh government and resided in Hong Kong with an entourage of supporters. Many noncommunist nationalists and Huế-area Catholics, especially South Vietnam's future president Ngô Đình Diệm, expressed strong opposition to the return of the monarch.33
Bollaert tabled the Bảo Đại issue and named a prominent Huế Catholic and monarchist, Trần Văn Lý, as head of the Central Vietnam Governing Committee. Lý had been trained as a civil servant in the old colonial system, and he maintained muted nationalist aspirations. Unlike vehemently anti-French Catholics such as Diệm, Lý held a modicum of respect in central Vietnamese political circles and was willing to work under French commanders.34 As an advisory governor of Central Vietnam (Trung Việt) with limited powers, Lý carried out one of Bollaert's key directives, establishing a national guard with the task of shoring up security in the upper villages to prevent Việt Minh commandos from ambushing convoys on the highway. He directed a hastily assembled network of village and district chiefs in 462 "controlled" villages to recruit youths for this paramilitary force, the Việt Binh Đoàn (VBD). This would-be army built eighty-four forts and dozens of watchtowers along Highway 1. The expeditionary forces called especially European units, camped in heavily fortified bases at Nam Giao Pavilion, at the Morin Hotel in the French quarter, and at airfields such as the one at Phú Bài. They assigned expeditionary troops, French Africans and several battalions of former Nazi soldiers, to camps along the highway; then they ordered the lightly armed, largely untested Việt Binh Đoàn to guard the hilly frontier with the interzone.35
This geographical split in military areas, VBD troops in the hills and French forces along Highway 1, produced deep rifts between Vietnamese and foreign troops. French forces were frequently caught in Việt Minh roadside ambushes, where commandos set explosive devices or opened fire on passing trucks. Upon being hit, the French troops retaliated against local villagers, whom they called nhà quê (peasants). Việt Minh commandos retreated, in many cases exposing relatives of VBD troops to French reprisal. A common story in such lowland villages as Dạ Lê described a husband or son returning from guard duty at a watch post on the hill to find a member of his family wounded or dead from the fighting. One governing committee report in 1949 concluded: "If the French troops continue their policy of pacification by terror, there will come a day of no return for repairing the Franco-Vietnamese problem. The withdrawal of French troops to their bases seems to be the only possible remedy."36
Such reports highlighted a critical weakness in the French approach and counterinsurgency more generally. At the heart of the governing committee's complaint was the issue of sovereignty and French extraterritoriality, especially in the villages and on the streets of Huế. As in the colonial days, French agents and troops could not be prosecuted by local courts; they operated outside Vietnamese law. The long-feared secret police from the colonial era, the Sûreté Federale (internal security forces), apprehended and interrogated Vietnamese suspects irregardless of their affiliation with the allied government and without the Vietnamese authority's knowledge.37
Even after the victory of Mao's Chinese Communist forces in China in October 1949 and the French decision to bring back Emperor Bảo Đại as a head of state, officials in the post-1950 Associated State of Vietnam (ASV) highlighted the vicious bind that they and "ralliers" (people who left the Việt Minh) faced. They had to protect their community from Việt Minh reprisal as well as French military and secret police attacks. The ASV had no legal basis to protect individuals, especially ralliers, from French military attacks or detentions.38 Even as he returned to Vietnam, Bảo Đại refused to denounce the Việt Minh given the "treason-provoking" behavior of the French. On his return to Vietnam in June 1949, he laid a palm branch at a tomb dedicated to Vietnamese killed by the 1946 French bombardments in Hải Phòng. Members of his entourage openly talked about the Việt Minh guerillas who fought the French there as "our heroes."39 Even high-level French military leaders such as Army Chief Georges Revers understood this double bind. He advocated giving full independence to Bảo Đại and turning the war over to the Vietnamese national army; however, political opponents leaked his report with these recommendations, and Revers was sacked.40
Even on the ground, French military forces were internally divided about the war, often along ethnic and national-origin lines. A handful of European officers commanded mostly African units coming from Senegal, Tunisia, Algeria, and Morocco, all countries undergoing their own independence crises. The overwhelming burden of advancing French military aims in central Vietnam was borne by Africans. On the central coast in the Nord Annam Secteur, only the Second Foreign Legion Regiment, a group that included former Nazi soldiers, was made up of mostly Europeans; the unit was stationed south of Đà Nẵng at the southern limit of French control, Hội An. Close to Huế an assortment of European tank squadrons, artillery batteries, communications companies, and combat engineers operated in the vicinity of Nam Giao.41 Throughout most of the French military occupation on the central coast, the area under Franco-Vietnamese control hugged Highway 1, creating an intensely volatile zone where VBD forces faced attacks from the Việt Minh zones and retaliation from French units behind them (figure 3.6). North and south of this string of highway, the Việt Minh–controlled most of the land from the mountains to the coast.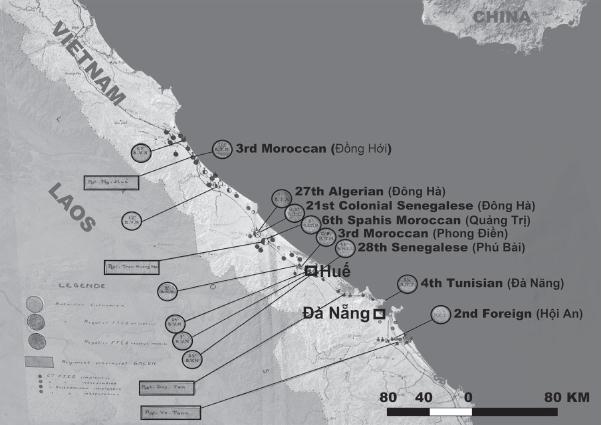 At a closer scale, the occupied zone did not cover all of the coastal areas, either. A sketch map of Việt Minh zones (plate 1) produced by the French in 1952 shows zones of dunes, swamps and coastal estuaries also under Việt Minh control. Large coastal and estuary areas just a few kilometers north of Huế were described as "non-controlled," too. French forces were thus limited not only by the friction of climbing hills but also that posed by moving across brackish, shallow estuaries and dunes.42 Isolated by the mountains and long stretches of coastline, the occupied zone was part of a struggling late colonial archipelago state. Supplies reached the French by ship from Đà Nẵng or by air, and the "controlled zone" extended just a few hundred yards from Highway 1 in many places.
For African troops, proximity to Việt Minh zones often carried deeper political challenges, as Việt Minh propaganda highlighted that many of their countrymen in Morocco, Senegal, and especially Algeria were also waging resistance struggles. Resistance supporters circulated missives in Arabic and French aimed to win the hearts and minds of African and Arab "brothers." One flyer obtained by French security services read:
FREEDOM IS MY LIFE—IT IS ALSO MY CHILD'S—O INDEPENDENCE!
ARAB: Know that a jihad has been declared against the France that oppresses us all. Whoever wants to fight for independence knows that he will fight under the Independence banner.
Listen! In the CONBAN [Cao Bằng] region of Vietnam, [Việt Minh] veterans have won a great success in a very short time. From 01 / 11 / 49 to 10 / 12 / 49 they made 9 operations. Losses on the French side included: 112 killed, 17 wounded, 63 prisoners. The recovered materials included: 1 mortar, 9 machine guns, 7 submachine guns, 181 British and American rifles, a portable radio, etc.
I FIGHT FOR MY COUNTRY AND INDEPENDENCE WHILE YOURS IS BEING SOLD OUT—YOUR SOUL WILL BE LOST43
While all sides in the conflict produced propaganda, flyers such as this struck at the heart of French African troops' "motivation" to fight in Indochina. Like the VBD troops, they were caught in the middle of competing military logics.
The actions of African troops in the hills, especially a group of commandos from Morocco, often triggered sectarian conflicts in a region where Vietnamese Catholics were a powerful minority. In an effort to stem the flow of rice, medicine, and information into the mountains, French commanders outsourced this local counterinsurgency campaign to a distinguished unit of Moroccan light infantry unit, the Ninth Tabor. The "goums" had attracted international attention in World War II for breaking the Nazis' southern defenses in the Italian mountains. The word tabor came from Turkish for battalion, and the word goum was a Maghrebi Arabic word meaning people.44 The goumiers were troops recruited from different tribes and castes but mostly from Berber-speaking peoples of the Atlas Mountains.45 The Ninth Tabor set up a headquarters at the Nam Giao Pavilion in early 1952 with the mission to destroy underground Việt Minh networks in the hills. Working outward from Nam Giao, they established fortified posts in villages and along roads by cutting down bamboo hedges, cutting and burning large brush and felling large trees. They established sniper positions on the denuded hills, and they used common tactics of intimidation at checkpoints to interrupt day-to-day movements of people on roads and footpaths.
These actions caused obvious friction with villagers and the VBD, but they also triggered widespread protests as the goums targeted religious clergy, detaining them and raiding their churches and pagodas. The French sector commander in Huế justified this tactic with the goums as a last-ditch campaign called the Battle of Rice to more strictly regulate movement of rice postharvest. The goums were to be the model for training Vietnamese paramilitary groups.46 The campaign escalated arrests as troops removed stores of rice from religious centers and individual households. Under new draconian rules, villagers on the central coast were permitted to store no more than ten kilograms of rice on their property. All other rice was required to be shipped to a government-controlled silo. Transporting rice in quantities greater than a few kilograms required signed papers from zone military authorities.47
If previous episodes of violence had not turned people in the lowlands against the French, the Battle of Rice triggered widespread protests and defections. Most important for the ASV, many prominent Buddhist and Catholic leaders threatened to turn on the French after a series of conflicts, especially with goum units near the base at Nam Giao. On an adjacent hill was one of the region's largest Catholic seminaries, Thiên An. Priests there traveled to rural congregations throughout the region, and they frequently traveled across the borders into Việt Minh–controlled areas to conduct services and perform rites, especially last rites. The goums not only harassed the priests crossing the frontier but also raided the seminary, removing rice and other foodstuffs donated to feed the poor.
The father superior of the seminary wrote to the ASV government, to Bảo Đại, and to the French sector commander posted at Nam Giao highlighting the dire situation. Catholic and Buddhist congregations were furious that the all-Muslim goums were not only taking rice in the seminary and several large Buddhist pagodas but looting the facilities and desecrating them. Both the seminary and the pagodas had traditionally stored rice on their properties to feed large numbers of people on holy days and to provide free food to the poor. The father superior, a man closely allied with such anti-French Catholics as Ngô Đình Diệm, echoed the sentiments of VBD commanders who suggested that this repression of local populations sounded a death knell for the ASV.48
Besides these deep disruptions in the cultural lives of people in the central coast, increased raids and use of American-supplied weapons by 1952 had an equally devastating effect on the natural and cultural landscapes of the central coast. Nowhere was this impact more visible to Vietnamese and French as at Nam Giao Pavilion (figure 3.7) The Nord Annam–Huế Sector headquarters was located on the approach to the imperial site next to the Ninth Tabor base. The rectangular plot of the Nam Giao Pavilion was completely denuded of the pines that shaded it. French forces used the level platform for surveillance of the surrounding hills, and they dug bunkers for munitions underneath the concrete platform. While these actions might not have disturbed Huế residents who had grown up with decimated pine groves in the hills, the presence of French and Moroccan camps on top of the surrounding cemetery surely caused some alarm. This cemetery, close to the city and imperial sites, was a burial ground for many elite families.49
In the hills south of Huế, the four main military posts followed a logic of terrain—open sites with good views—and a logic of past militarization. Besides the bases at Nam Giao, French forces occupied two of the military areas, Dạ Lê Thượng and Vùng Phèn, left by the Japanese. The French commander at the airfield ordered his Senegalese troops to set up camp across the highway at the base of a mountain with roads connecting to the airport and Dạ Lê Thượng (figure 3.8). The former leprosarium turned POW camp and Việt Minh training area was reborn in 1952 as Camp Oasis. VBD units guarded two key villages, Bang Lang and Dạ Lê Thượng.50
At hilltop posts such as Dạ Lê Thượng, the military's clearing of trees and vegetation escalated after 1952 with the arrival of more American aid and mounting French concerns about Việt Minh attacks on Highway 1. French military engineers brought bulldozers and flamethrowers from Nam Giao to village posts for brush-clearing (débroussement) campaigns.51 Concerns for security in this porous frontier meant that all trees, planted or wild, were destroyed. The fledgling tree plantations of 1943 were erased, and whitish blotches of bare clay indicated the locations of VBD posts (figure 3.9). The blackish veins in the image depict streams draining from the hills where low vegetation hugged the banks.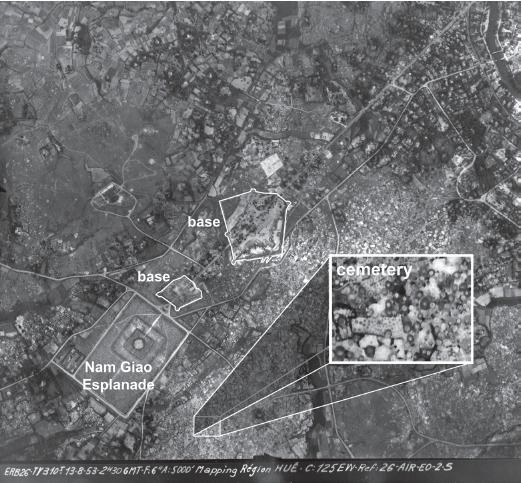 AMERICANS RETURN
New bulldozers in the hills and airplanes overhead signaled the arrival of American aid to Huế, too, a small extension of more profound shifts elsewhere in the Indochina War. As in the past, events in China played a crucial role in triggering this American return to military events. Mao Zedong's victory in 1949 put Chinese communist troops at the northern border of Indochina, providing critical rear base support to the Việt Minh. Mao's army gained full control of Hainan Island, too, putting Chinese ships and airplanes within easy striking distance of French positions in Hải Phòng and Hà Nội. The newly established People's Republic of China extended diplomatic recognition to the Democratic Republic of Vietnam in January 1950, and the United States passed legislation soon after to aid France and recognize the Associated State of Vietnam.52 At the same time that the US Congress authorized increased military intervention in Korea, it created a military assistance advisory group (MAAG) and a special technical and economic mission with offices in Sài Gòn.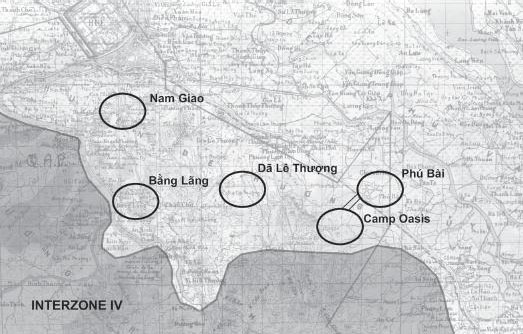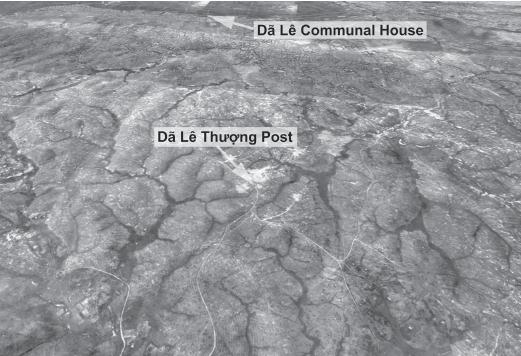 This pivotal moment, documented extensively by diplomatic historians, marked a decisive material shift for the French military.53 The first shipments arrived at Sài Gòn and Hải Phòng in early 1951 and included one hundred fighter planes, fifty bombers and air cargo transports, ground arms for thirty battalions, artillery, naval craft, and almost two thousand jeeps and six-by-six trucks.54 China responded to the American move by dramatically increasing its military aid to the Việt Minh. By 1952 the PRC had sent 40,000 rifles, 4,000 submachine guns, 450 mortars, 120 recoilless guns, 45–50 anti-aircraft guns, 30–35 field guns, millions of rounds of ammunition, and tens of thousands of grenades.55 These twin flows of military aid to the French and Việt Minh respectively accelerated in 1953 and 1954 before the Việt Minh's stunning victory over the French forces at Điện Biên Phủ.
With the increase in American aid came a rapidly enlarging group of advisers, diplomats, aid workers, journalists, and spies. Fredrik Logevall's history of the US entry into Vietnam follows two of the period's most prominent Anglophone writers, Englishman Graham Greene and French-raised, American-naturalized doctoral student Bernard Fall. They both wrote from experiences in Indochina from 1952 to 1954 in The Quiet American (1955) and Street without Joy (1961), respectively.56 Greene's The Quiet American conveyed the notion that nonlethal aid was largely a front for clandestine political actions, and Fall's Street without Joy described the precarious position of the French, especially on the central coast.
While American aid piled up at the port in Đà Nẵng, much of it did not reach the Huế area until late in 1953. The primary focus for Americans at the time was a large-scale base construction effort at Đà Nẵng. Đà Nẵng before 1950 had been a sleepy port; however, the Chinese military's expansion to Hainan Island in 1950 caused American planners to abandon construction projects slated for bases near Hà Nội. The airfield and surrounding lands in Đà Nẵng grew into an American town of sorts. The base-building campaign featured new cargo docks, new barracks for American air mechanics and support staff, dozens of munitions bunkers, and improvements to the main runways and several auxiliary airfields.57
Another important, indirect effect of the Chinese communist victory was that it pushed a fleet of American military aircraft from China into the wider region. After war ended in 1945, Claire Chennault, the head of the American Flying Tigers squadrons at Kunming, purchased several surplus airplanes to fly aid to the Chinese Nationalists. After the Nationalists' defeat, Chennault sold his small fleet to the US Central Intelligence Agency. Using a shell company called Civil Air Transport (CAT), the CIA bought the lot of airplanes for about US$1 million total and redirected the planes to support activities in Indochina. The old mix of Chinese, American, and European pilots continued flying CAT's scheduled passenger flights via Taiwan as well as military charters to Indochina. This resurrected airline provided Americans and their French allies with quasi-commercial service to such cities as Huế, Đà Lạt, Quảng Trị, and Đà Nẵng. CAT, later made famous in the movie Air America (1990), was emblematic of the ad-hoc nature of early American involvement. Most of CAT's pilots and its fleet of DC-3 aircraft had logged thousands of hours in the air over China, Korea, Japan, and Taiwan before arriving at airfields such as Phú Bài.58
By 1952 this air-hopping cast of American advisers oversaw the delivery of a relative flood of military equipment to Vietnam. Many US aid workers, like Pyle in Greene's novel The Quiet American, worked clandestinely for the CIA. They dropped in from place to place in Indochina along with US military advisers, journalists, and French officials. While novels such as The Quiet American portray the American aid workers as naïve and dangerous, archival records from the US mission in Sài Gòn suggest that the Americans' first order of business was simply to figure how to get from one place to another. One of the first Americans to visit Huế was a public health officer, Dr. Clifford H. Jope. Tasked with visiting hospitals on the central coast and the highlands, he found it near impossible to reach half of the towns. He wrote in October 1951 of his repeated frustrations reaching hospitals due to a lack of reliable air transport and airfields. Planes frequently canceled stops at Phú Bài, and for more distant locations such as Quảng Trị, access by CAT's larger DC-3 was impossible. Jope asked for a smaller plane to reach remote sites, and he provided the table shown in figure 3.10 to emphasize the poor state of the airfields.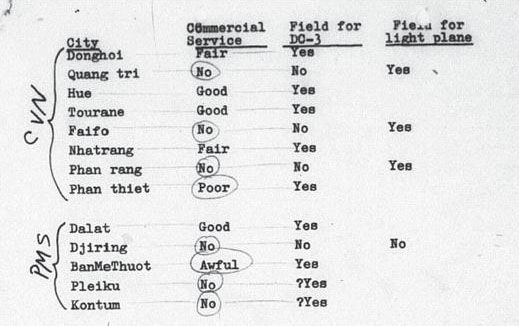 As the war continued to worsen for French forces in 1953, the American presence in the air increased. A steadily increasing supply of planes and pilots meant more air traffic, development of runways, and more support for aerial photography. Surplus American World War II–era photoreconnaissance planes—B-26s with Fairchild K-17 cameras—generated in 1952–53 a new wave of air photography on the central coast.59 While French military commanders managed the air photography effort, pilot logs in Huế show that the community of pilots and photography technicians included many non-French: Americans, Englishmen, Chinese, Indians, Norwegians, and Swedes. French military commanders tracked their circulation through the military zone and paid special attention to their flights given concerns about planes flying over the interzone.60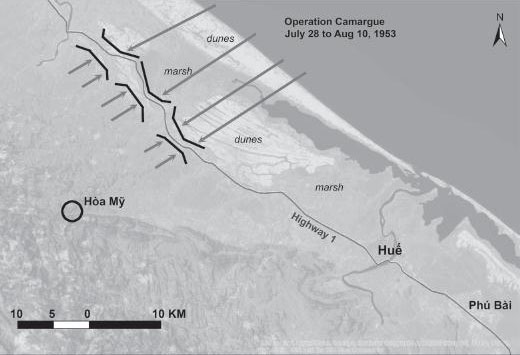 VISILITY AND INVISILITY
Despite this influx of eyes in the sky, little changed on the ground with respect to the boundaries of occupied zones along Highway 1. Although the bulldozers cleared hilltops and aerial photography missions helped to map new areas, French forces were unable to clear and hold frontier zones such as Hòa Mỹ or even coastal areas just a few kilometers north of Huế. In 1953 the French command launched an unprecedented airborne assault on the marshes and dunes, using American aircraft and an element of surprise to surround a Việt Minh regiment, the Ninety-Fifth, alleged to be camped there. Bernard J. Fall's account of Operation Camargue, one of the largest French operations in the war, highlighted the continued inability of French and allied forces to even see their opponents. The combined air, land, and sea invasion involved over thirty batallions (approximately fifteen thousand troops) landing on all sides of the area of dunes, backswamps, canals, and arroyos. Mechanized battalions of Spahis (French recruits from Morocco), Algerian infantry, ex-Nazi legionnaires, paratroopers, and amphibious units moved north on Highway 1 to prevent Việt Minh forces from retreating hillward (figure 3.11). Fall reported that the invasion resulted for the Việt Minh in 182 dead and 387 prisoners while costing the French 17 dead and 100 wounded. However, the bulk of the Ninety-Fifth Regiment's forces escaped at night via a maze of canals and established trenches hidden by bamboo hedgerows.61
Fall's account of the follow-up occupation of this region by Vietnamese allies highlights the failure of the French forces to connect not only with the complex landscape and ecology but also with the relatively invisible social networks binding Vietnamese people living in these zones. Fall recounts a conversation between two French batallion commanders after the operation:
"Funny," said Major Derrieu from the 6th Spahis, watching some of the new [Vietnamese] administrators in the village of Dong-Qué, they just never seem to succeed in striking the right note with the population. Either they come in and try to apologize for the mess we've just made with our planes or tanks; or they swagger and threaten the farmers as if they were enemy nationals which—let's face it—they are in so many cases. "That may be so," said young Lieutenant Dujardin, standing on the shady side of his M-24 [tank], "but I wouldn't care to be in his shoes tonight, when we pull out. He's going to stay right here in the house which the Commie commander still occupied yesterday, all by himself with the other four guys of his administrative team, with the nearest post three hundred yards away. Hell, I'll bet he won't even sleep here but sleep in the post anyway."62
Comparing this observation by French officers to Nguyễn Chí Thanh's quote at the beginning of this chapter about the strength of people fighting in their own territory, what both have in common is a ready apprehension of the centrality of human-based networks before, during, and especially after a major military action.
While French forces were repeatedly successful at violent insertions to occupy stretches of the central Vietnamese countryside, they lacked an ability to structure new village-level organizations in occupied zones. The French command's reluctance to transfer authority to the ASV or military leadership to the VBD highlighted the double bind that noncommunist Vietnamese groups found themselves in, between the French and the Việt Minh.
What led majorities of elected representatives in the deliberative bodies of France and the United States to continue this war was not a lack of knowledge on the ground but an overwhelming faith in their global, aerial perspective. For most Americans and French, Indochina was one space among many in a shifting global array of communist, noncommunist, allied, and nonallied spaces. The local concerns of VBD commanders or administrators were subsumed within this larger, air-global set of concerns. Friction within such spaces as the central Vietnamese coast was inevitable, but French and American advocates of counterinsurgency continued to believe that sufficient clearing of these spaces might ultimately open them to new social and spatial possibilities, integration into an expanding global network of commerce.