CHAPTER 3
A Routine Discovery

THE PRACTICE OF PLACE AND THE OPENING OF THE YADING NATURE RESERVE
Travis Klingberg
Should any outsider now venture into Konka land
he would be robbed and then slain.
—JOSEPH ROCK, "KONKA RISUMGONGBA, HOLY MOUNTAIN OF THE OUTLAWS"
Here is the idealized heaven city dwellers seek,
the last pure land on the blue earth.
—SHENGDI: DAOCHENG YADING (HOLY LAND: DAOCHENG YADING), YADING NATURE RESERVE PROMOTIONAL VIDEO
WHEN I first visited Yading in 1999, I was neither robbed nor slain. On the contrary, when I set out from the trailhead, a man helped me into the saddle of his horse and placed his young child in front of me to hold until we arrived at his home, where he would deliver her before guiding me toward the sacred peaks of the Konka Risumgongba. In 1931, the American botanist Joseph Rock described this terrain as the domain of outlaw lamas and bandit pilgrims. Today, it is the centerpiece of the Yading Nature Reserve (Yading Ziran Baohuqu) (see map 1, B), a national reserve that has become a popular tourism destination. Yading remains a place of religious significance for local Tibetan residents and pilgrims, who annually circumambulate its mountain peaks. And since the mid-1990s, it has become a place of national significance, a place that has embodied the desires of a newly mobile nation in search of leisure.
Joseph Rock was by his own account the first foreigner to visit the Konka Risumgongba, a mountain range in southwestern Sichuan close to the border with Yunnan.1 He called the area an unknown land, a claim that helped cultivate a new professional identity. Rock had come to consider himself an explorer and geographer; his lifelong work collecting botanical and zoological specimens was a side interest on this trip, while photography took on a central role. Rock wrote of the Konka Risumgongba, "[I]t is to the credit of [the National Geographic Society] that this terra incognita has become geographically known and its unsurpassed scenery pictured not only in black and white, but also in natural-color photographs" (1931, 4). Over the past twenty years, these photographs and the story of their making have been woven into the cultural history of Yading. Rock's legacy has been retained not only in the ways his writing and photographs have been utilized as a resource for tourism development but also in the ways his discovery of Yading is repeated through ongoing routines of tourism.
Each fall after a steady increase in tourism over the summer, Yading is crowded with tens of thousands of visitors, mostly Han from cities across the country arriving with cameras and the desire to view the scenery (kan fengjing). With eyes and optics trained again and again—year after year—on the peaks, it is tempting to interpret the tourism boom in Yading as the consumption of a place through the production and reproduction of photographic images. Interpreted in this way, Rock could be seen as an image-making pioneer (Balm and Holcomb 2003) whose photographs catalyzed the commercialization and commodification of Yading. However, Rock is not the only person to have discovered Yading. Other photographers and botanists discovered the area again decades later, and tourists visiting the reserve today repeat the discovery of Yading on an even larger scale. As Yading has been transformed into a nature destination—a protected area that is, or seeks to be, a star-rated tourism site2—increasing numbers of Chinese have discovered Yading through seeing, photographing, and walking the reserve, practices that mirror the ways Rock worked out his own tenuous place in the Konka Risumgongba.
Through increased tourism, Yading has been drawn into a national travel routine, a collectively shared set of practices that continually generates knowledge about the reserve. This knowledge is generated in part through inscribing practices (Connerton 1989, 73), ways that knowledge is codified in texts and images or even built into the landscape. Photography is a particularly powerful practice of inscription, especially in bringing distant and unfamiliar places close.3 However, the tourist in Yading is engaged in more than the pursuit and creation of visual images. In negotiating mountain topography, weather, long travel distances, and a range of social interactions among local Tibetans, service industry staff, and other travelers, the tourist comes to know Yading in ways that remain embodied and uninscribed. Such knowledge about Yading is generated through incorporating practices, ways of knowing the world and our place in it that are remembered in the body itself (Casey 2000; Connerton 1989, 72).
As domestic tourism has grown, travel within China by Chinese has become a national routine, an ordinary activity that, when repeated on a national scale, has become a constitutive part of the production of geographic knowledge in China. While inscribing practices are often emphasized in studies of knowledge production, knowledge of place nearly always springs from bodily actions and from knowledge "sedimented" in the body (Connerton 1989, 78–79). Although the bodily practices that go into photography have been studied in the past (see Crang 1997; Yasue and Murakami 2011), the body has often been taken as a vehicle for the production of visual images (inscribed knowledge), while the ways the body itself comes to know place through picture-making practices (incorporated knowledge) have been ignored. Photography not only is a means of representing a place but is itself a bodily practice of knowing place.
In their desire to see a natural and unknown place, tourists enact ways of experiencing the Konka Risumgongba established long before Yading was planned and developed for tourism. Yading has been discovered repeatedly, many times over, through practices of photography that generate and sustain the knowledge of Yading as a shared experience. The following exploration stories show how the discovery of Yading has become routine, that its opening as a tourism destination is not simply the end stage in a process of commercialization and commodification but an ongoing practice of place, a socially binding experience that has been influential in remaking local and regional geographies. Indeed, the shangrilazation of the Sino-Tibetan borderlands has unfolded in this way, through both the representation and commodification of place and the sustained bodily practice of place. And as individual desires to explore have been repeated on a national scale, the collective practice of tourism has had an expanding role in remaking China's national geography, especially as urban Chinese have discovered the nation on their own through independent tourism.4 Yading's ten-year rise to national fame as one of China's most beautiful places could not have happened simply by its being represented and promoted as such. It required repeated discoveries, beginning with Rock and continuing through the explorations of growing numbers of Chinese tourists.
EXPLORATION I
In the winter of 1923, from a trail in the neighboring kingdom of Muli, Joseph Rock got his first view of the Konka Risumgongba. He looked directly west across Konkaling, the southern part of what is now Daocheng, a narrow, 160-kilometer-long county angled toward Yunnan that drops 2,700 meters in elevation between its northern extreme and its southern border (SDXBW 1997, 60). Rock waited five years for the opportunity to travel to the "faraway conglomeration of snow peaks" (1931, 3), and in late spring 1928, as he set out on his expedition, he took what could be the first image ever made of the range (fig. 3.1). From this vantage, the peaks rise on the horizon like the petals of a lotus, the geological incarnation of the Buddha's three protector bodhisattvas. From south to north, Rock saw Jambeyang (Manjusri), the bodhisattva of wisdom; Shenrezig (Avaloketisvara), the bodhisattva of compassion; and Chanadordje (Vajrapani), the bodhisattva of power.5
This unknown region was actually infamous. Konkaling's fame grew over the first decades of the twentieth century, beginning around the time the British asserted a geopolitically destabilizing presence in Tibet in 1904. It was known for its bandits and raiders, who had attacked major settlements in every direction, as far as Liangshan to the east, Lijiang to the south, Zhongdian to the west, and Ganzi to the north. The militarization of the area by the Qing precipitated the bloody siege of the Sangpiling monastery in nearby Xiangcheng by Zhao Erfeng in 1906; Konkaling's monastery was destroyed in the preceding months as Zhao's troops moved in from Litang (Sperling 1976, 17; van Spengen 2002, 12). Konkaling was cut off from what little trade passed through the area (see Booz 2011) and, in the aftermath of war, descended deeper into a lawless period, when "brigandage developed into larger-scale banditry . . . [after Qing forces] burned entire villages, crops, and livestock, and plundered, meaning starvation" (van Spengen 2002, 17). As inspiring as Rock's first panoramic glimpse of the Konka Risumgongba was, the place itself had been broken by war.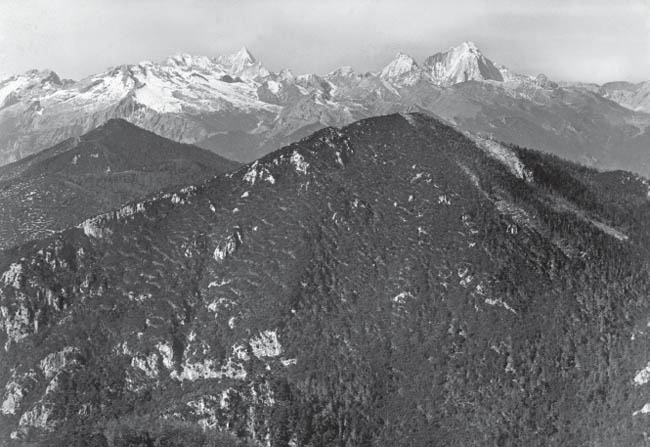 Rock finally made it to the mountains in 1928, setting out from Muli with the assurance that his party would not be harmed while circumambulating the peaks. As he entered Konkaling, his concerns turned to the practical. He had trouble developing photographic plates in the field and keeping his reluctant party pointed in the right direction. Rock also faced the challenges of high alpine travel:
We crossed the Yaka Pass [below Chanadordje] under torrential downpours. There was no trail, and the ground was littered with slabs of schists over which the water rushed in torrents, depositing everywhere a slippery gray mud . . . difficult enough in good weather, but in a terrific hail and rain storm, with a howling gale driving the icy pellets into one's face and making one gasp for breath in this rarefied atmosphere, it [was] doubly disagreeable. (1931, 46–47)
The party camped at high elevations, "often disturbed by the thundering noise of falling blocks of ice, dropping and sliding from the heights above" (ibid., 50). Near the end of his circuit, Rock stayed at the Tsengu Gomba,6 a small monastery at the meeting point of two glaciated valleys. The area provided good views of Shenrezig, but as for the monastery, Rock minced no words: "There was nothing beautiful whatever, only filth and evil smells. . . . [M]y nose and throat were irritated by ammonia-like odors from the surrounding stables" (ibid., 61). The place Rock felt so drawn to seemed, on one hand, disagreeable. But as he left the main valley, on one of his last mornings of the trip, he recorded one moment more precisely than any other: at 4:30 A.M. on June 26, 1928, at 4,815 meters and 4.4 degrees Celsius, he wrote, "I rose and stepped into the cold, gray morn. In a cloudless sky before me rose the peerless pyramid of Jambeyang, the finest mountain my eyes ever beheld" (ibid., 64). The climax of Rock's story comes at the end of sixty-five National Geographic pages in a moment of seeing that, while it seemed to transcend the difficulty, danger, and filth of the trip, had in actuality been born of them.
While it is tempting to read Rock's journey as an extension of a Western geopolitical gaze, akin to Halford Mackinder's views from Mount Kenya in 1899 (Ó Tuathail 1996) or Maxime du Camp's photographs of Egypt in the 1850s (Joan Schwartz 1996), Rock's written account of his trip reveals his deep engagement with—his implacement in (Casey 1996)—the social world of the Sino-Tibetan borderlands of Sichuan. An important account of Rock's explorations in the 1920s argues that his "archival practice . . . has much to teach us about how, as walking, mark-making, image-making human beings, we draw the earth into our social lives. . . . Seeing and being seen made Rock aware of his deep involvement in the flesh of the world—and its viscera, its filth" (Mueggler 2011, 152, 161). Throughout his travels, and as shown by his experience in Konkaling, Rock often put himself in visceral contact with the lives and circumstances of the southwestern frontier, a world he found both compelling and unbearable (ibid., 159). While Rock was unavoidably part of an American project of picturing the world (see Lutz and Collins 1993), his work as a botanist and a photographer also provided him a means of coming to terms with the world. The underlying subject of his 1931 article is not the "objective" facts about the mountains (Rock was a terrible surveyor and cartographer [see Mueggler 2011, 211]) but the social and political world of Konkaling, and Rock's ability to get in and out of there alive. In other words, what became geographically known about the Konka Risumgongba was deeply intertwined with the story of Rock's place in it.
I heard repeatedly from Yading reserve staff, village residents, and tourists that Rock "discovered" (faxian) Yading. This was also confirmed by a county-produced, Chinese-language guidebook for sale at the tourist center titled Discover Yading (Faxian Yading), an extended retelling of Rock's National Geographic article, including the account of his morning view of Jambeyang (Xiao 2006, 52–53). The narrative that Yading was discovered by Rock is compelling—it's a good story, after all. And yet to jump straight back to a single discovery in 1928 is to skip over the other ways Yading has been discovered and to miss entirely the ways that discovering Yading has become a routine today. While the establishment of Yading made strategic use of Rock's legacy of discovery, it would not have happened as it did, and become nationally significant when it did, without the travels of contemporary explorers, whose own embodied practices echo the ways Rock made his place in Konkaling.
EXPLORATION II
Konkaling's tumultuous early twentieth century had calmed by the 1940s (Qin 2007), when China was emerging from war with Japan and fighting a civil war that would put the Communists in power in 1949. However, life in Konkaling remained difficult. Nearly all major settlements in the region lie above 3,650 meters in elevation, and livelihoods based on animal husbandry and subsistence agriculture were often disrupted by hailstorms, droughts, earthquakes, and other natural disasters (SDXBW 1997, 7–26). Additionally, as the Communist Party asserted its presence in the area, it would precipitate new traumas, from early 1950s campaigns to collectivize agriculture (Shakya 1999, 138–40) to the Cultural Revolution campaigns that would lead once again to the destruction of the Konkaling monastery. Communism would be the third state project in less than fifty years to attempt to control the area, and it would persist in setting up a government infrastructure more extensive than that of its predecessors. The state's most transformative change would come many years later through economic reform, which would open Daocheng County to the outside world. The local state would eventually turn the area's hardship into cultural history and transform the Konka Risumgongba into the Yading Nature Reserve, the main attraction in a new tourism economy. These changes were aided by new botanical and photographic explorations of Konkaling, which would help stir national interest in seeing the area firsthand.
In 1973, Yin Kaipu, a botanist at the Chengdu Institute of Biology, traveled to Daocheng County to survey plant distributions in Yading.7 Yin had been making botanical surveys in western Sichuan since 1961 and had studied the work of the English botanist Ernest Henry Wilson, who had worked in Sichuan at the turn of the twentieth century (see Glover 2011). Beginning in the late 1920s, more than two decades after Wilson's first explorations and contemporaneous with Rock, the Nationalist government undertook a national project to improve knowledge of China's frontiers (Chen Zhihong 2008). The spirit of this project would continue under the Communists, and teams of state-affiliated scientists began traveling the country's borderlands in the 1950s to survey and classify ethnic groups, topography, flora, and fauna. This was also a time when nature was exploited for national development, with forests being one of China's most important resources, economically valuable for raw materials and ecologically valuable for soil and water conservation (Harkness 1998). Extensive logging would be a consequence of industrialization throughout the country and would become pronounced in eastern Tibet in the 1970s. Yin made repeated trips to northern Sichuan's Jiuzhaigou valley in the 1970s and, having seen firsthand the impact of logging in the area, reported the problem to the central government in the summer of 1978. Within four months, Jiuzhaigou, with its extensive system of lakes and waterfalls, was designated a national nature reserve.
In 1982, Yin returned to Daocheng and heard that the area around Yading was also threatened by logging. His reaction to the news was similar to his response to the problem in Jiuzhaigou. At a scientific conference that fall, Yin proposed establishing a new nature reserve around the Little Gonggashan (Xiao Gonggashan), a reference to the Konka Risumgongba that called to mind the taller and better-known Gonggashan (Minya Konka) northeast of Daocheng. He suggested "Yading" as the name for the new reserve, a transliteration of the Tibetan name of the only village in the central Konka Risumgongba valley. The Yading Nature Reserve would become a part of Sichuan's conservation plans as early as 1985, though it would be ten more years before the reserve was formally established.
Inspired as it was by Wilson's work, Yin Kaipu's interest in establishing nature reserves was not simply born of his library and archival research. In his youth, Yin never imagined being a botanist and came to it only when assigned to a government position at the age of eighteen. He would travel widely in the foothills and ranges that a generation of foreign botanists had explored, walking long days over rough terrain and enduring food shortages. Of botany, he said, "[I]t was very boring work. We did the same thing day after day, month after month, year after year. Unless you loved botany and science, you wouldn't do it" (Morell and Wolkoff 2005). It was through this repetition, over decades of exploring Sichuan, that Yin worked out his own way of being in the world, finding his place in the mountains of Sichuan and in the history of botanical exploration. His work is, of course, embedded in and legitimated by a state geographic knowledge project, a positivist undertaking that has spanned the better part of a century, across two national governments, and had a significant impact on governance in China, from ethnic classification and the question of ethnic autonomy (Mullaney 2010) to conservation and the question of land use, in which Yin himself has been directly engaged. And yet, like Rock's before him, Yin's work required a bodily engagement in the world, a practice that, to borrow a phrase, drew the earth into his social life. "When I'm walking where Wilson walked," Yin said, "I have a great sense of peace" (Morell and Wolkoff 2005). It is unlikely that Yin would end up having a hand in the establishment of twenty nature reserves in Sichuan had he not first come to value those lands himself through his own practice of place.
Around the time Yin first surveyed Yading, Chengdu-born Lü Linglong had been sent down to work in Liangshan Prefecture, an autonomous ethnic region in southwestern Sichuan.8 Through the 1970s, Lü worked as a blacksmith on railway construction projects in Chongqing and later in Xinjiang, but when China's higher education system resumed after the Cultural Revolution, he was able to participate in a short-term course in photography in Beijing. He began traveling more extensively on his own in remote parts of Sichuan in the 1980s, spurred by his interest in photography and his experience in the mountains among China's ethnic minorities. As Lü explored western Sichuan in 1982, he arrived in Daocheng unaware of the three sacred peaks 160 kilometers to the south; he departed vowing to return someday to see them but waited more than a decade for the chance.
In 1994, Yin Kaipu and the Chengdu Institute of Biology organized a survey of Daocheng with a team of Chinese, English, and American scientists. Their consultations with the local government would be part of a renewed plan to finally, and formally, establish a nature reserve. As part of the plan to open the reserve, the local government sought to promote the area by producing a photo book of the county's natural scenery. In 1995, the local government hosted Lü in Daocheng as the project's photographer. While Lü was not the only one to photograph Yading in this period, his early involvement with the local government, and his subsequent photographs of the reserve—published in Chinese National Geography magazine and elsewhere—would become widely known and contribute to his fame as a photographer of China's western region.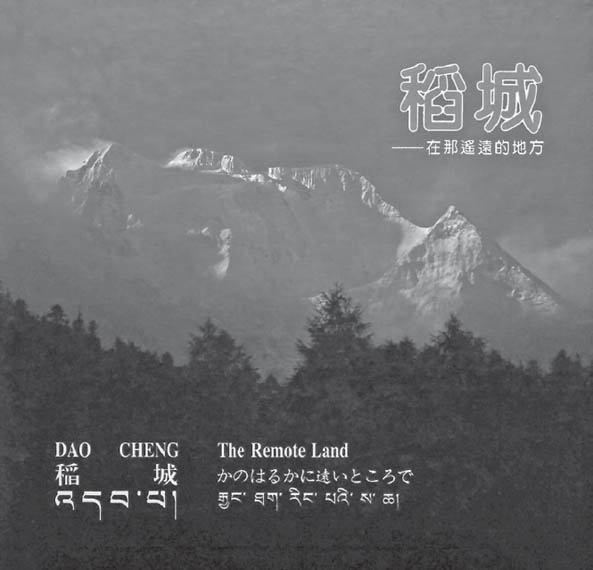 Yin's interest in forest protection and Lü's photographic work were drawn even more closely together in 1996. In March, the Daocheng County government officially established the Yading Nature Reserve, and in April, Lü's first monograph, Daocheng: The Remote Land, was published (fig. 3.2). The Yading Nature Reserve covers roughly one-fifth of Daocheng County, about 1,350 square kilometers altogether (SDXBW 2009, 3, 30), well over twice the size in total area of Jiuzhaigou (HBB 2009, 102–8). Rivaling Jiuzhaigou in natural beauty, Yading rapidly gained the attention of higher government offices. Within a year of its establishment, Yading was approved as a province-level reserve, and in 2001 it was approved as a national-level reserve. Tourism and conservation had converged on Yading simultaneously, and the opening of the reserve would from its earliest moment be the opening of a nature destination. When proposing the reserve in 1982, Yin Kaipu had mentioned that the ecotourism development under way in Jiuzhaigou was a model for balancing conservation with poverty alleviation. With the coming boom in domestic tourism in the 1990s, the balance struck there between conservation and tourism development would become a model for other reserves and parks (see ch. 4 in this volume). By 1995, the Daocheng County government had already turned to tourism as a breakthrough point (tupokou) for local economic development (SDXBW 2009, 271). It was a small jump to connect the protected charismatic mountain scenery with the cultural economy of tourism booming in other parts of China (see Oakes 1998).
The county leaders who had invited Lü to Daocheng wrote the foreword to his book. While not explicitly writing in their official capacity, they began in an official style with the hard facts—latitude and longitude, elevation, and relative distances—and ended with a flourish: "Daocheng is a pretty country maiden who has been staying at her boudoir and unknown to the outside world. Its heavenly natural scenery, simple and unsophisticated customs, and mystical primitive human landscapes, having broken through the barriers of time and space, shine with charm and enchantment which have attracted photographers, whose artistic pictures present its beauty and charm before us" (Lü and Wang 1996, 4–5). This stretched metaphors of opening and discovery far beyond anything Rock wrote about the place, and yet it echoed the theme of seeing unknown territory. Lü's nature photography of Daocheng County was presented as both the debut of a new place and a call to action to protect nature by getting out to see it. The book was dedicated "To those who love the nature," and the facing page was printed with a map of southwest Sichuan showing roads and driving distances from major cities. The new Yading Nature Reserve appeared as prominently as the provincial capital, Chengdu, and the famed Emei Mountain, an early sign that Yading was being positioned in a new geography.
Lü's photos would be used alongside Rock's in official publications and promotional material. However, as with Rock's, there is more to Lü's photography than the production and circulation of the photographs themselves. When I asked Lü what he did during his sent-down years, he instinctively made the hammering motions of a blacksmith at a forge. His answer lay not only in his mind but also in the arms that carried their own memory of that labor. He spoke of the extreme conditions of those years as a personal "tempering." Lü had grown up in the city, and knew his place there, but his interest in the world outside (chengshi yiwai) grew from his time in the countryside. He said, "My whole life I've been interested in things I'm unfamiliar with, and photography has been my tool. Travel and photography are basically one and the same. . . . They are inseparable." At sixty, Lü continues to travel across western China photographing some of the world's most rugged terrain. His work has been important in representing western China as a region worth valuing, protecting, and exploring. It has also long been a way for him to make his own place in that world.
EXPLORATION III
When Yading was established in 1996, visiting the reserve involved a 24-kilometer trek that climbed more than 1.5 kilometers in elevation to its high lakes at 4,570 meters. Yading's rugged terrain is both its main attraction and its biggest obstacle to tourism development. This basic fact runs through Daocheng's first tourism master plan, created after a county-level decision in 1999 to speed tourism development. The plan referred to Yading as a scenic spot (jingqu, jingdian) (see Nyíri 2006), a reference to the part of the reserve to be developed for tourism, roughly matching the area that Rock had explored. The plan ranked the county's five main scenic areas on a standardized scale; Yading was given nine out of ten points for notoriety, ten of ten for uniqueness, and twenty-four of twenty-five for sightseeing value—a 90 percent score altogether, making it an AAAA tourism site in the planners' eyes.9
The tourism master plan referenced the need to protect Yading's natural environment, calling for the construction of boardwalks to minimize the trail damage from tourists (DZSL 2001, 76). This strategy, implemented in many nature destinations, found early, influential success in the Jiuzhaigou valley. The Yading plan also called for the closure of long sections of the pilgrimage route to horse trekking, a move that would in subsequent years threaten the tourism income for some local residents and cause at least one violent confrontation with the authorities.10 While the plan acknowledged tourism's ability to help alleviate poverty, its concrete objectives targeted tourist bodies: how to increase the number of "person-visits," how to transport tourists to and through the reserve, how to house and feed them, how to manage their waste, and how to attend to their medical needs. The plan envisioned the tourist experience as a one-day visit for tour groups (90 percent of expected visitors) and a two-day visit for independent tourists, who could stay in one of the tent camps set up within the reserve. While the plan had projected 350,000 visitors annually by 2010, 92,000 made the trip that year, most traveling independently of a guided tour group. In the years following the introduction of the plan, even as mass tourism failed to take hold, the reserve continued to take steps to prepare for greater numbers. A 9.6-kilometer concrete road serviced by a fleet of gas-powered carts was built within the scenic area, and a thirty-two-kilometer improved road linked the tourist center to Yading Village.
I shared a ride into the reserve one day with Yinghua,11 a young woman from Shanghai who had negotiated a few weeks' leave from work to travel. Along the high, winding road, we stopped at a turn that presents visitors with their first full view of Shenrezig and Chanadordje. It is a turn that usually resulted in a synchronized "Wah!" from bus passengers and a clamoring rush of bodies and cameras to one side of the vehicle. At peak times, the viewing platform along the road was crowded with vehicles and tourists. When Yinghua stepped to the edge of the turnout, she took a single photo with her phone and then quietly took in the view. It was a moment that stood out among the usual frenzy of group photos, individual photos, self-portraits, shots of jumping in the air or standing akimbo, and the occasional guttural yell into the valley by a male tourist announcing his presence. In being so easygoing about photography, Yinghua seemed out of place.
The following morning, I walked with Yinghua to the Tsengu Gomba—recently rebuilt for the first time since the Cultural Revolution—and then farther up the valley to a lakeside viewing platform positioned for iconic views of Shenrezig. She never seemed eager to photograph Yading, and at two spots where most tourists stopped to take photos, she put on headphones and sang softly to herself. Yinghua had already seen much of Sichuan, Tibet, and Xinjiang before her visit to Yading. In 2007, after the death of her father, she resigned from work and took a solo journey across China. She visited Lhasa, circumambulated Mount Kailash with Indian pilgrims, and continued on to Xinjiang. Once back at her desk job in Shanghai, Yinghua made a slideshow of her trip to share with friends titled "Walking alone in the world—2007 Sichuan travels." The slideshow began with a map of western China, with red stars marking "My footprints"; though she traveled without a camera, the presentation was full of photos collected from acquaintances she made along the way.
The fact that Yinghua was less concerned with taking photographs than many other tourists highlights the ways that many of the bodily practices that go into photography are the same practices required just to be there. This is particularly clear in a place like Yading, where even with improved trails and motorized shuttles, visiting the reserve is an unavoidably physical event. I occasionally heard tourists say that they came to Yading to "taste a little bitterness" (chi yidian ku), to experience a manageable kind of difficulty typically absent from urban life. For most tourists, seeing the high lakes in Yading requires a hard uphill climb, nearly always over the same mud and schist that Rock described. Hail and rain are frequent, especially in the monsoon months. As with Rock's climactic view of Jambeyang, enduring a reasonable amount of hardship is often what makes a moment of seeing possible in Yading, be it the joy of seeing a mountain peak shining in the morning sun or the disappointment of seeing only rain and mist after traveling so far.
"Seeing" Yading is a practice of place, a bodily engagement with the physical and social world of a specific time and location, and Yinghua's experience highlights the ways that photography cannot be reduced to photographs. The growing popularity of photography and travel has made this fact even more apparent. As digital cameras have progressively become less expensive and put cameras close at hand for nearly everyone who can afford to travel in China, the practice of popular photography has changed. Full-color screens make photographs instantly available to tourists while they are still in the place being represented and still engaged with the people within the frame (Larsen 2008). This enables immediate social interaction, with photography taking on the role of a "collective technology, a resource for 'face-to-face' sociality" (Scifo 2005). The repetition of photography in Yading is not only about the individual search to capture an iconic image—the inscribing practice—but is also a socially embedded practice of incorporation. Photography is not only about the image itself but also about the range of social practices that travelers employ in making their own place (see Larsen 2006).
The high elevation, steep terrain, mercurial weather conditions, and long walking distances in Yading, on top of altitude-related disruptions to sleep and appetite, make it nearly impossible to essentialize the tourist in Yading as a picturing, gazing subject. The critique of the tourist gaze (Urry 2002) has been a recurring theme in tourism studies,12 though the recent turn to embodiment (Crouch, Aronsson, and Wahlstrom 2001) raises questions of its own, such as what role representation continues to play if all practice is embodied, or how evanescent practices in place are related to enduring aspects of social and cultural life (Cresswell 2012). Many would likely agree that "geographical representations—in the form of maps, texts and pictorial images of various kinds—and the look of landscapes themselves are not merely traces or sources. . . . They are active, constitutive elements in shaping social and spatial practices and the environments we occupy" (Cosgrove 2008, 15). It is clear there is some kind of important relationship between representation and practice, but in what specific ways? Clarifying the relationship between inscribing and incorporating practices is a compelling way to frame an answer, since it asserts that what we know cognitively about place is nearly always connected in some way to our own or others' bodily practices in place. To focus only on the representational power of photography to inscribe knowledge of a place would be to ignore the ways that these representations are closely tied to shared bodily memories of being in place. As bodily encounters of Yading are repeated among a growing population of Chinese, photographs of Yading become more than abstract displays of beautiful scenery; they become full with the shared knowledge of being there.
KNOWING SHANGRILA, KNOWING THE NATION
The timing of Yading's opening was fortuitous. While the reserve rose in official status in the first few years after its establishment, little changed in the way of tourism. This changed with the county's plan to speed tourism development after the 1999 announcement of the Great Western Development strategy, which would begin affecting Daocheng almost immediately. Daocheng County was one of the last areas in China to open up to the outside world (duiwai kaifang) (Kang 2005), and while the Great Western Development strategy didn't explicitly focus on tourism development, once its demands were translated into action at the local level, tourism development often became a strategy for realizing project goals. The Daocheng County tourism plan made this link explicit (DZSL 2001, i). The Great Western Development strategy was an enormous undertaking, targeting a newly defined geographic region, well over half of China's total landmass. Coming at the end of a decade of socioeconomic change, the program both reflected and cued a new national interest in the west. The decade to follow would be a boom time in domestic tourism and would locate national desires out west. And the early years of the first decade of the 2000s would bring the boom to Yading, just in time for a socioeconomic tipping point in urban areas that would make tourism and photography a normal part of life.
There is perhaps no better indicator of the national desire to explore western China than the ways Shangrila became synonymous with tourism and development. In 2001, Yunnan would establish the first Shangrila, beginning with an administrative name change and subsequently with a place-making project that inscribed an "authentic" Tibetan culture in Zhongdian (Tib. Gyalthang) (Kolås 2008), a traditionally Tibetan town in the northwest of the province. Other areas in eastern Tibet would compete for the Shangrila name, Daocheng County among the most prominent. A few months after Shangrila was officially established in Yunnan, Sichuan approved the renaming of Riwa Township, where the Yading tourist center and management offices are located, to Shangrila Township.13 The following years were a chaotic time, as the branding and placemaking of Shangrila proceeded in multiple sites at once (see map 2). But by 2003, Shangrila had been incorporated into a regional tourism and conservation project (see also ch. 4 in this volume) that targeted yet another Shangrila, the Greater Shangrila Ecotourism Zone (Da Xianggelila Shengtailüyou Qu) (see map 1), an interprovincial region focusing on tourism development that reflects an approach to regional development that echoes the Great Western Development strategy.
By turning much of eastern Tibet into Shangrila, the central government and participating provincial-level governments sidestepped the immediate concern of who could claim the Shangrila name. But Greater Shangrila also offered a chance to stimulate tourism and would be one of the main national tourism development priorities in China's Eleventh Five-Year Plan. Facing declining tourism in 2003 because of the SARS crisis, Sichuan held its first annual tourism development congress in late August,14 which included a keynote address by the provincial party secretary, Zhang Xuezhong. Zhang said, "We must quicken the opening of a western tourism loop, extending China's Shangrila Ecotourism Zone to include Daocheng Yading, which will become one of Sichuan's tourism bright spots [liang dian]" (SDXBW 2009, 271). He added, "In the north there is Jiuzhaigou and Huanglong, in the center there is the Giant Panda, and in the south there is Daocheng Yading." Tourism growth in Yading began to accelerate after this point, as it was positioned as a more important tourism resource for Sichuan and a prime location at the heart of Greater Shangrila.
Joseph Rock's legacy became integral to Yading partly because his exploration of the area provided a direct connection to the Shangrila story. The Daocheng County annals explain that the English writer James Hilton created the Shangrila idea for his book Lost Horizon after consulting Rock's research in Tibetan areas (SDXBW 2009, 40). While a direct link between Rock and Hilton has yet to be clearly established—and the Shangrila monastery in Lost Horizon could not be more different from the Tsengu Gomba of the 1920s—there are elements in the book that invite comparisons to Rock's work. Hilton's Shangrila was an enjoyable, though discomfiting, place that depended on the outside world for its luxuries even as it fought to maintain its distance. And there are moments when Hugh Conway, the main character, gazes at the sensational, pyramidal peak of Karakal, bringing to mind the climax of Rock's journey to Konkaling. Rock's explorations provided Daocheng County with a strategic heritage resource in its claim to be Shangrila, an "authentic" piece of Konkaling history that could be reinscribed as part of the new nature reserve and the new regional geography.
The ordering of China's southwestern geography by tourism, conservation, and the Shangrila brand unfolded through local and regional placemaking projects undertaken by state and private enterprises. The shangrilazation of eastern Tibet has made it increasingly governable (Rose 1999), as state thinking about culture, nature, and leisure has been territorialized through the establishment of Shangrila. However, the power of Shangrila as a placemaking strategy arose not simply from the state inscribing the name but rather from the fact that it could attract tourists whose bodily presence is the foundation of the tourism economy. Tourists, after all, are the desirable subjects of tourism development planning and are embedded in its grid of discipline (Certeau 1984, xiv), its techniques of encouraging and discouraging specific tourist behaviors. More generally, the Chinese state has worked to make domestic tourism an exemplary form of consumption (Klingberg and Oakes 2012), an increasingly ordinary part of social life, and a vital part of the economy. The success of many placemaking projects throughout southwestern China depends on keeping tourist bodies in motion.
The prospect of ever-greater numbers of tourists exploring the Sino-Tibetan borderlands recalls a classic argument about tourists as explorers: "Paradoxically, . . . [the explorer] serves as a spearhead of mass tourism; as he discovers new places of interest, he opens the way for more commercialized forms of tourism. . . . His experiences and opinions serve as indicators to other, less adventurous tourists to move into the area. As more and more of these move in, the tourist establishment gradually takes over. Thus, partly through the unwitting help of the explorer, the scope of the system expands" (Cohen 1972, 175). This perspective on the exploration of tourists tracks with the idea of a "first locator" in the photographic discovery of a place (Balm and Holcomb 2003, 160). These arguments portray exploration as a linear process, leading from unknown to known, and from an "authentic" state to a commercialized copy (see Oakes 2006). Many Chinese, already having experienced expert-organized group tourism, are seeking more out of travel than mass tourism can provide and turn to self-organized trips. There are many precipitating factors for this, ranging from higher disposable income, to private car ownership, to the large amount of up-to-date travel information available on the Internet. But the new interest in independent forms of tourism in China should not be mistaken as a kind of freedom from the institutional tourism industry. After all, the establishment of a mass domestic tourism industry beginning in the early 1990s made the boom in independent travel possible. Nor should independent tourism be mistaken as a politically unencumbered leisure practice, particularly in the contemporary context of the Sino-Tibetan borderlands. Instead, as domestic tourism—independent tourism in particular—has taken on elements of exploration in contemporary China, it must be taken as an important practice in itself instead of being reduced to a functional role in a larger system.
The repeated discovery of Yading by tourists is inevitably embedded in a placemaking project that commodifies nature, often to the detriment of local livelihoods and identity. The discovery of Yading is also embedded in the ecological state's national priorities of conservation, which have always been closely tied to other political, economic, and social goals. Conservation and tourism, for example, were never separate, or even necessarily conflicting, goals in Yading. And for protected areas established in China after the mid-1980s—that is, most of them—the example of tourism development in Jiuzhaigou looms large, as it was the first case of conservation becoming economically productive and profitable. Finally, the discovery of Yading is embedded in a global conservation project, as it was designated a United Nations Educational, Scientific and Cultural Organization (UNESCO) Man and Biosphere site in 2003.
While the state has up to now been the primary placemaking agent in Yading, it is the repeated explorations of domestic tourists—and the socially binding memory of those travels—that has fueled Yading's ten-year transformation from a relatively unknown nature reserve to an integral part of new regional, national, and international geographies. In traveling on their own across long distances, dealing with weather and elevation, and in seeing, photographing, and walking through Yading, tourists enact ways of knowing that came long before the reserve was built up for tourism. Yading Village became a center for tourist lodging because villagers opened their homes, not because a tourism master plan demanded it. The tent camps within the reserve were set up out of necessity, since without roads, a trek through the protected area would take days. The major trails in Yading follow the pilgrimage route that has been traveled for perhaps as long as three hundred years. The master tourism plan for the reserve begun in 1999 was in many ways a description of what already existed in the area.
Yading has been inscribed in new regional geographies, as Sichuan's Shangrila and as part of the Greater Shangrila Ecotourism Zone, though these new geographies have become powerful and permanent only to the extent that they are lived out and practiced. The notion of discovering and exploring Shangrila has not only provided the basis for a regional tourism economy but heightened domestic travel's role as a way of knowing China's geography. Mirroring the rural-to-urban movement of migrant labor, urban Chinese have become interested in rural and remote areas. And as urban—and industrial—China has been incorporated in rural migrant bodies over the past thirty years, so too has "the rest" of China begun to be incorporated into its urban bodies as domestic tourism has boomed.
The practice of place is always both to experience place according to plan and to make a place of one's own. Joseph Rock's exploration of Konkaling was both a part of a Western project to know China and a part of the way he found his own place in China. Yin Kaipu and Lü Linglong's surveys of Daocheng were integral parts of making that remote region known to the nation, just as they were important in working out each man's own place in Sichuan. Yinghua's travels to Daocheng and beyond were a part of the rising tide of tourism in China's remote west and a part of making her own social world. Over the years, the embodied practice of seeing Yading has become an ongoing social practice, repeated by Chinese tens of thousands of times a year. Yading has become a part of the national imagination because it has become a routine discovery, being geographically known not only through its representation but also through sustained bodily practices that layer new knowledge of a nation in the bodies of its travelers.
CHAPTER
3.
A ROUTINE DISCOVERY
Epigraphs from Rock 1931, 14; and DXDZ 2004.
1The area is known in Tibetan as "the Snow Mountains" (Wyl. Gangs dkar ri bo) and transliterated in Chinese as Gongga Ri'e. Rock acknowledged that other foreigners had visited the lowland areas of Konkaling but maintained that he was the first to have explored the mountain range (1931, 30).
2More than seven ministries manage China's protected areas; three out of four protected areas are managed by the Ministry of Forestry. National star ratings for tourism sites are regulated by the National Tourism Administration.
3Examples of this power can be found in Schwartz 1996, Balm and Holcomb 2003 and Crang 1997.
4Independent tourism has been called "informal" or "noninstitutional" tourism in English, though "independent" is closer to the Chinese term zizhu lüyou, which is more literally translated as "DIY (do-it-yourself) tourism."
5The Tibetan names of the peaks are transliterated phonetically in Chinese as Yangmaiyong, Xiannairi, and Xianuoduoji. I retain Rock's (1931) romanization for consistency.
6Tsengu Gomba is usually transliterated in Chinese as Gongga Chonggu but is more commonly known as Chonggu Si.
7This and what follows are from Yin 2010 and Yin 2003.
8The following quotes are from interviews with the author in 2010 and 2012.
9High ratings—up to five As—are valuable in attracting tourists as well as outside investment, though Yading has yet to be officially rated by the National Tourism Administration.
10As this chapter went to press, road access into the main valley was extended to cover the last major horse trail in the park. The days of significant local income generation by horse guides (mafu) are coming to an end.
11Yinghua is a pseudonym.
12Larsen (2008), Crouch and Desforges (2003), and MacCannell (2001) each offer differing critiques of Urry (2002).
13Shangrila in Yunnan is a county (xian). Shangrila in Sichuan was originally a township (xiang) and has recently been upgraded to a town (zhen).
14See "Diyi miao sichuan lüyou fazhan dahui," http://www.ls666.com/html/News_Center/LS_News/2008–02/16/082162225948K1GECKJ6AJJJKDGD48.html (accessed July 19, 2012).