CHAPTER 7
Constructing and Deconstructing the Commons

CATERPILLAR FUNGUS GOVERNANCE IN DEVELOPING YUNNAN
Michelle Olsgard Stewart
EACH year, thousands of Tibetans climb to the high alpine grasslands of the Tibetan Plateau in search of the rare parasitic fungus Ophiocordyceps sinensis, commonly known as "caterpillar fungus" (Ch. dongchong xia-cao). Caterpillar fungus is one of the most expensive and valued traditional Chinese medicines, which has made it a choice gift for Chinese government officials from wealthy businessmen in China's unique guanxi economy. The gift economy is not inconsequential: commonly exchanged fifty-gram gift box sets sell in traditional Chinese medicine stores for US$800–1,000, equivalent to the rural per capita income of Chinese citizens in 2010 according to the Chinese Bureau of Statistics.1 Though caterpillar fungus harvesters see but a fraction of the profits from the fungus, most earn 50–80 percent of their annual household cash income by collecting it during its fruiting season from May to July. Caterpillar fungus collecting areas grow increasingly crowded each year. In response, harvesters (re)produce rules and practices governing access to and control over these resources.
Drawing together field-based observations from two caterpillar fungus collecting areas in northwest Yunnan from 2007 to 2011, this chapter examines local caterpillar fungus governance. Juxtaposing the governance arrangements between these case studies highlights not only the existence of strong village-level caterpillar fungus governance arrangements in some areas, which have not been described to date, but also the ways in which both local and nonlocal power relations and structures significantly shape governance realities in different areas.
The political ecology approach to natural resource governance and tenure employed here is concerned with how property rights at various scales (e.g., the state, community, household) influence access to resources and land, and what kinds of human-environmental outcomes are produced through these claims on resources (Neumann 2005, 102). Property rights are not only rules or institutions that structure human interaction and use of resources (Ostrom 1990) but also political processes and the "expression of the social relations of production, forged in specific places in specific political-economic contexts and embedded in locally generated meanings of land and resources" (Neumann 2005, 104). Political ecology is useful here for its analytical insistence on exploring the ways in which situated histories, political economy, human-environmental interactions, subjectivities, and scale simultaneously produce environmental governance realities in contemporary caterpillar fungus collection areas. An open reading of governance that is grounded in political ecology and science and technology studies suggests a shift away from "biologizing" frameworks of resource governance, toward more explicit attention to how and why context and social relations matter in governance.
CATERPILLAR FUNGUS PRODUCTION AND GOVERNANCE CHARACTERISTICS
Caterpillar fungus is a flask fungus that parasitizes the root-boring larvae of several ghost moth species endemic to the Tibetan Plateau (Wang and Yao 2011). The literal translation of its name in Tibetan (Tib. yartsa gunbu; Wyl. dbyar rtswa dgun 'bu), "summer-grass winter-worm," reflects the indigenous knowledge of its annual life cycle and varied morphological stages. As soon as fungal spores attach to and intrude into their subterranean larva host—likely in late summer—the fungal mycelia grow within the larva and ingest its vital organs and tissues throughout the winter ("winter worm").2 In the early spring, the fungal fruiting body, or stroma, grows from the head of the larva as a hornlike structure that is anchored vertically in the top five centimeters of the soil (figs. 7.1, 7.2). The stroma is visible to harvesters as a blade of grass in the high alpine grasslands during its fruiting season from May to July each year ("summer grass"). The timing and duration of the fungal fruiting season vary based on moisture and temperature conditions that range, depending on geography (e.g., elevation, slope, and aspect), climate, and weather events. The Tibetan Plateau, which has characteristics of a non-equilibrium rangeland ecosystem, exhibits high interannual variability in its climate; caterpillar fungus growth and reproduction is subject to this variability.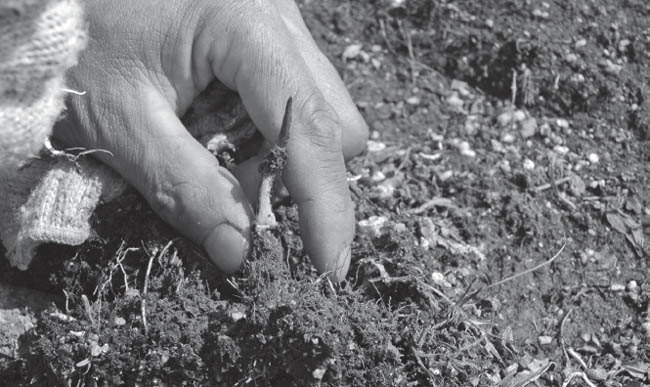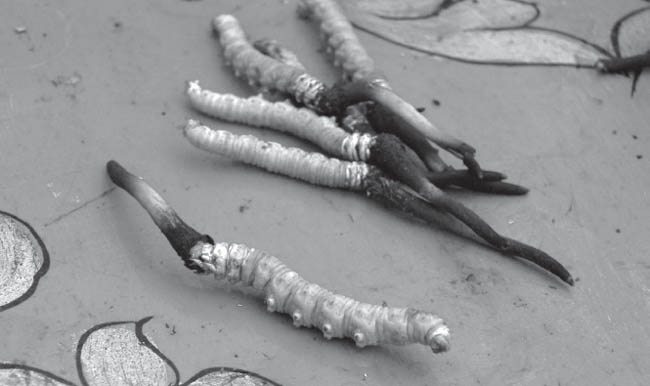 Much biological and ecological knowledge of caterpillar fungus reproduction and growth patterns is lacking. As a parasite, caterpillar fungus likely exhibits predator-prey population fluctuations, which makes interannual variability difficult to interpret due to lack of baseline understanding of fungus and larvae populations and how the two populations vary in relation to each other. Tibetans have been harvesting caterpillar fungus for hundreds of years, a factor that adds another long-term relationship into caterpillar fungus's population fluctuation. The majority of caterpillar fungus harvesting pressure occurs before sexual reproduction (see Stewart 2009); however, it remains unclear whether this pattern of harvesting affects future resource viability.3
These gaps in scientific understanding have to date precluded the development of sustainable resource management guidelines characteristic of most Western conservation approaches, which also form the basis of most conservation and resource management efforts in the Sino-Tibetan borderlands today: prescriptions for securing "sustainable yields." In the U.S. Pacific Northwest, matsutake research and management have focused on resource yield assessments and implicit comparisons between resource conditions under harvesting and hypothetical "pristine" natures where humans do not disturb the resource at all (Tsing and Satuska 2008, 248). Basing conservation ideals and interventions on unrealistic or inaccurate ecological baselines can produce unintended social and environmental consequences (Fairhead and Leach 1996; Schroeder 1997; Neumann 1997). Sustainable yield assessments that fail to adequately account for matsutake's long history of harvesting and high interannual variability in growth can interpret resource abundance fluctuations inaccurately as indicators only of harvest-induced impacts. Instead, a more appropriate approach for matsutake science is to take anthropogenic forests, rather than an idyllic norm, as a starting point (Tsing and Satsuka 2008). This suggests attention to the positioned or "partial" (Haraway 1988) nature of all knowledges, and how "Western scientific" knowledge is but one of many kinds of expertise that could be mobilized in efforts to understand human-resource relationships. While "Western scientific" knowledge is often privileged in many international development and conservation schemes, including in contemporary China, there is a critical need for researchers and practitioners to examine the assumptions underpinning their research design, conduct, and goals, in order to most accurately interpret and examine the contextual specificities of different resource polities.4 To date, most conservation-focused caterpillar fungus studies have employed a "sustainable yields" approach to frame and examine harvester-fungus interactions (Shrestha and Bawa 2013; Cannon et al. 2009); this has in some cases produced misleading truth claims about fungal population trends. For example, a recent claim that a "drastic decline" in Nepal's caterpillar fungus populations in 2012 was due to trade-induced overexploitation was based on quantitative data showing a per capita decrease in the amount of collected and traded caterpillar fungus (Shrestha and Bawa 2013). These findings were not analyzed in conjunction with the social and political relations of production—the increased number of harvesters, varied harvesting skills, and patchy fungal distribution—which would influence the amount of caterpillar fungus a harvester finds in a day or a harvesting season and render per capita declines in and of themselves an inaccurate indicator of fungal population trends.
Situated within a sustainable yield framework, most caterpillar fungus conservation research to date suggests that the lack of ecological baseline data on the abundance and distribution of caterpillar fungus in unharvested "pristine" grasslands is the primary impediment to the production of sustainable management guidelines.5 Despite the problems this knowledge gap poses for conservation science, Tibetan caterpillar fungus harvesting communities in Yunnan have begun developing caterpillar fungus governance arrangements even in the presence of biological and ecological uncertainties. How is it that two approaches to governance are at such different stages in their development if they are addressing the same set of relationships between harvesters and caterpillar fungus resources? How might their discrepancies illustrate different ideas of what "environmental governance" is and what it should be?
Research examining resource governance in the Yukon sheds light on these questions. Contrary to the agricultural metaphors that permeate wildlife management research and science, which assume that wildlife are an annual "crop" of animals that can be managed and controlled, Kluane First Nations hunters do not subscribe to the idea that they control the animals they hunt. Instead, for them, wildlife management—hunting—is about the maintenance and management of social relations both among humans and between humans and animals (Nadasdy 2011, 142). For Kluane people, hunting is associated with many culturally significant rituals and norms, which makes the practice more meaningful than just an act of "management." In the words of a hunter who was reacting against the agricultural metaphor of "managing" wildlife in a wildlife management meeting, "Animals manage themselves; they make their own decisions about when to reproduce and where to go, decisions that are quite independent of any human desires. Wildlife management . . . is not about managing animals; it is about managing people" (ibid.).
These two approaches to wildlife management differ in their ideas of governance as management of nature versus management of people. For the Kluane, governance in hunting is inherently about relationships with both people and nonhuman nature because it is about the managing of social relations. Like hunting, harvesting caterpillar fungus is an "organizing principle governing social relations" (Nadasdy 2011, 142), and managing the resource is inherently about managing people. The social relations of governance are produced not only between harvesters and villages, and through the practice of harvesting, but also in relation to situated histories and political economic contexts.
GOVERNANCE AND DEVELOPMENT: COMPARISONS BETWEEN DONGWA AND SHUSONG
Dongwa Township and Shusong Village are located in Yunnan's Diqing Tibetan Autonomous Prefecture (see map 1, D), a region recently described as a model among China's "many Tibets" for its successful achievement of economic growth and social stability over the past decade (Hillman 2010). Diqing is a region experiencing rapid development transitions related to China's Great Western Development strategy, which seeks to equilibrate economic conditions in China's lagging west and those in its booming eastern seaboard (Goodman 2004a), in part by taking advantage of the west's unique opportunities for tourism-based industry.
Diqing's geographic and cultural diversity have made tourism a viable option for generating prefectural revenue since the mid-1990s, and even before the logging ban of 1998, the Diqing prefectural government was exploring alternatives to its timber-focused revenue.6 Nature- and culture-based tourism was an especially feasible option for Diqing's growth model given the established, successful tourism traffic that was already flocking to the nearby towns of Lijiang and Dali (Hillman 2010). Through a combination of state-based investments, subsidies, grants, and soft loans from provincial authorities, as well as the remarkable place branding in the renaming of Zhongdian as Shangrila, Diqing gradually made tourism a primary source of regional gross domestic product (GDP). By 2007, approximately ¥3.2 billion of Diqing's regional GDP of ¥4.4 billion was tourism-based (ibid., 274).
State investments in most Tibetan areas have concentrated on infrastructure projects and state administration, which generally benefit minority elites with access to state jobs and the droves of migrant laborers seeking construction, tailoring, food production, or other service jobs (Fischer 2005; Hillman 2008). These kinds of technological and industry-focused investments produce highly heterogeneous landscapes, where some communities and places are subject to rapid transformations while others are not. Though Diqing's tourism-led development strategy is said to deliver more inclusive growth than most other models in which there are only fiscal transfers from above,7 it still fails to directly provide new labor opportunities to the majority of rural Tibetans,8 who are either too remote to access new job markets or simply lack the skills to be considered for them (Hillman 2008). In addition to labor opportunities, processes of market liberalization and tourism produce variegated landscapes, human-environmental relationships, and patterns of local ownership and access to resources.
Dongwa and Shusong are positioned differently in their relationships to the rapid tourism-based development transformations taking place in the region. In particular, they differ in their proximity and involvement in the expansion of the "hardware" of shangrilazation, its road networks, air travel, hydropower generation, and telecommunications systems. On the one hand, Shusong Village and its caterpillar fungus collecting areas are located immediately alongside National Highway 214 (Guodao 214), the major road connecting Shangrila to Deqin, and thus the village is subject to many influences and processes associated with a major project for its expansion. Shusong's shangrilazation process draws attention to both the concessions local communities and their environments have to make in order to enable the road network to take form and the opportunities that arise. Dongwa, on the other hand, is not located next to a major "hardware" development project like Highway 214 and is physically removed from the major Shangrila-Deqin tourism-based development corridor. However, this does not mean that villages like Dongwa remain insulated from the transformations that are constitutive of Yunnan as it undergoes shangrilazation. The rising caterpillar fungus market and local efforts to govern the resource in reaction to it are but some of the many shifts associated with the rise of tourism-based development in the region. The case studies of caterpillar fungus governance arrangements in Dongwa, and the disbanding of such arrangements in Shusong, demonstrate how uneven power relations between villages and the state play a major role in the construction and deconstruction of the caterpillar fungus commons in northwest Yunnan.
Dongwa: "Villagers Own the Mountains"
Villagers own the mountains; they decide how much they will benefit from them, and they come up with their own rules.
—Dongwa Township government official, June 2011
The rules were created [by the administrative village] to show people that the mountains belong to them, and all resources on the mountains are theirs. And if others are going to use their resources, they need to benefit from them. The villages, not the township government, made the rules,. The mountains are village-owned, so village-managed.
—Elderly male caterpillar fungus harvester from Dongwa, June 2011
The two quotes above describe Dongwa's caterpillar fungus collecting areas as village-owned, a tenure arrangement with its roots in China's pastoral reforms of the 1980s. During that time, the government disbanded the commune system and replaced it with the household responsibility system. Households were granted greater autonomy in managing their farms, livestock was privatized and distributed to households, and livestock-production marketing channels were liberalized, which enabled households to profit from their decreased-quota surpluses. Grassland parcels—some of which are now valued primarily as caterpillar fungus collecting areas—were generally allocated to the administrative or natural village and occasionally to small groups of kin-related households. The size of pastures allocated to different groups and villages was determined based on the number of livestock distributed per household (infants, children, seniors, and adults counted equally as household members) (Banks et al. 2003; Bauer 2005).
This initial partitioning of grasslands and livestock continues to evolve through changing legal and regulatory frameworks but generally still features the following: all grasslands continue to be owned by the state or the collective, where the term "collective" is generally interpreted as the administrative or natural village; long-term use rights (generally fifty-year terms) are assigned to individual households via grassland-use certificates and contracts; and stocking rates are supposed to be assigned based on the area and seasonal type of the pasture (Banks et al. 2003). In many parts of the Tibetan Plateau, household use rights to pasture have been formalized, and winter (only rarely summer) pasture is sometimes leased to other households for livestock grazing (Yeh and Gaerrang 2011) and caterpillar fungus collecting (Yeh and Lama 2013). In Yunnan, caterpillar fungus collecting areas are in summer pastures, which entire administrative villages use in common for grazing (Banks et al. 2003).
Dongwa Township (see map 2) consists of five administrative villages, each of which has approximately twelve natural villages within its territory. While this chapter draws from research conducted across several natural villages in Dongwa Township, these villages are collectively referred to here as Dongwa. At the time of the reforms, commune work teams and production brigades were dissolved and reorganized into smaller units that better matched the scale at which livelihood actions had been organized before the 1950s. The administrative levels of the collective era—the commune, production brigade, and production team—generally became the township, administrative village, and villager small group, which in this area is also a natural village, respectively (Bauer 2005, 56; Ho 2001). When pastures were distributed in Dongwa Township during the reforms, the five administrative villages were apportioned pastures and thus collective claims to caterpillar fungus harvesting areas.
After the caterpillar fungus economy began to grow rapidly during the late 1990s, the natural villages requested an intervillage meeting for creating rules of equal access to the township's collecting areas. One administrative village, for example, did not have caterpillar fungus in its pastures and thus had to make arrangements so that its residents would have the same income opportunities as other township residents. Over time, a system of fees was developed to allow all Dongwa harvesters the opportunity to collect caterpillar fungus, but fees varied according to the harvesters' village of origin—whether someone was from the administrative village that owned the harvesting area, outside the administrative village but from Dongwa Township, or outside the township. In 2009, residents from the administrative village that owned the harvesting area did not pay a fee to collect caterpillar fungus, and fees were in the range of ¥100–300 for Dongwa Township residents and ¥700–1,000 for nonresidents. People who marry out of their village can return to their home-village collecting areas to harvest (without a fee if they are from the village that owns a given harvesting area), but their spouses and children have to pay the fee associated with their own village of origin.
The amount of the fee is continuously negotiated. One natural village leader said in 2009 that there were discussions to set the Dongwa resident fee at ¥400 but that the villagers decided on ¥300 because they didn't want the fee to be too high for township residents. In 2011, the Dongwa residents' fee had gone up to ¥400–500 and was ¥1,000 for nonresidents. The fees are determined by the village that owns a particular harvesting area at meetings that are usually held in the harvesting camps at the onset of the season. One female harvester said that the 2011 meeting for her village was quite lively when they were determining fees for nonresidents; some argued that the price should be higher, while others thought it should be lower. Some of the contention around the nonresidents' fee is attributed to the perspective that non-Dongwa harvesters don't have the same sense of respect and care for their shared resources. During a group interview in one of Dongwa's harvesting areas in 2011, one elderly male harvester said that non-Dongwa harvesters (Ch. waidiren) destroy the land and discard garbage when they collect caterpillar fungus, so it is fitting that they have to pay a high fee. His explanation not only illustrates the strength of Dongwa village-ownership claims over its caterpillar fungus harvesting areas—they can exclude or include other users on their own terms—but also reflects the collision of values and practices that accompanies the rise of the caterpillar fungus economy. Village leaders claim that the collected harvesting fees are distributed across the households of the village that owns a given harvesting areas.9
The harvesting fee is generally collected one-third of the way through the harvesting season in Dongwa, which allows harvesters the opportunity to earn income so that they can pay the fee. Harvesters must pay even if they do not find caterpillar fungus.. When fees are due, the administrative village leader and other village-level officials gather at a designated area—the convergence of trails heading up to the high collecting pastures in Dongwa—where they collect fees and record names in a ledger. Harvesters and village leaders monitor and enforce payments collectively (for a similar practice with livestock resources, see Banks et al. 2003); however, there are no rigid sanctions and methods for punishing those who do not pay. One village leader explained in 2009 that some people occasionally run away on the designated payday but that it is very hard to run away without consequences because it will be "hard to come back the next year." When asked how he knew who ran and who didn't, he explained that they all know one another, that the rule is not that strict, and that those who leave without paying are not followed in order to obtain their fees. The choice to not enforce the collection of fees suggests that in Dongwa, the caterpillar fungus market has not become disembedded from its social relations (Polanyi 2001 [1944]). This contrasts with recent studies of livestock- and pasture-contracting in Qinghai, where high prices and exploitation of price differences suggest a deepening of calculative logics and the disembedding of the market from social relations (Yeh and Gaerrang 2011, 169). While Dongwa's harvesting fee is relatively high, the fluidity of the approach to its enforcement suggests the central place of social relations in exchange.
Shusong: Transitions in Home, Land, and Caterpillar Fungus Governance
Contrary to Dongwa and its strong village control over caterpillar fungus resources, Shusong currently exhibits weakened and fuzzy control over its collecting areas. Shusong (see map 2) is an administrative village in Benzilan Township, which includes within its administrative territory approximately thirteen natural villages, referred to collectively here as Shusong. When I first visited Shusong in 2007 and 2009, its caterpillar fungus governance arrangements were some of the clearest and most detailed in my case studies. When I returned in 2011, however, most of the earlier rules of membership and exclusion had eroded. While governance arrangements and rules are not rigid and fixed (Peluso 1992; Fortmann 1995), the political economic context, histories, and multi-scalar interactions—between Shusong villagers, White Horse Snow Mountain (Baimaxueshan) Nature Reserve, and the Chinese state—coproduce local claims of authority over place and resources. Shusong harvesters must negotiate not only intervillage interests through their governance arrangements, as is the case as well in Dongwa, but also the interests and highly uneven power structures associated with the nature reserve and Chinese development infrastructure.
Shusong's caterpillar fungus harvesting areas lie entirely within White Horse Snow Mountain Nature Reserve, which comanages all resources within the reserve boundaries according to different zones of use (Weckerle et al. 2010). The reserve was established in 1983 to protect the Yunnan snub-nosed monkey, and it has had conflictual relationships with local residents since its formation because of its authority to regulate social activities within reserve boundaries. The major conservation organizations World Wide Fund for Nature and the Nature Conservancy, as well as conservation scientists, have had long-standing relationships with the reserve, which has introduced an additional set of power relations and control over the resources. In 2009, reserve managers granted conservation scientists research permission to collect caterpillar fungus samples from within Shusong Village harvesting areas, but rather than negotiating access to caterpillar fungus with residents of Shusong, the scientists hired a non-Shusong harvester to collect the samples and did not offer any compensation. This encounter not only excluded Shusong residents from caterpillar fungus conservation negotiations and decisions but placed the burden of conservation science on the village by drawing from its shared fungal resources without compensation.
Before 2007, Shusong administrative village developed clear rules of exclusion for all non-Shusong harvesters. In contrast to Dongwa, Shusong villagers considered even township residents to be "outsiders," and there was no system of fees in place to allow other villagers access to the collecting grounds. To make sure outsiders were excluded, Shusong created a formal monitoring system in 2006, a year in which fifty to sixty non-Shusong harvesters came to the area to collect. In 2007, the village paid twenty-four monitors to watch for outsiders, and they were not allowed to collect caterpillar fungus while they were monitoring. The village leader said in 2007 that a few harvesters from the township had come to Shusong's collecting area that year but the monitoring system had greatly limited the number of outsiders. Shusong harvesters themselves pay approximately ¥20 each for the season's monitors (also noted in Weckerle et al. 2010), which contrasts with the village's monitoring system for matsutake, which pays monitors with fees collected from buyers at Shusong's matsutake market.10 According to Shusong's assistant village leader when interviewed in 2007, Shusong villagers initiated the rules excluding outsiders because they thought that outsiders, unlike locals, did not care for the environment, digging and leaving large holes while collecting caterpillar fungus, whereas Shusong harvesters always fill in the holes afterward.
In contrast to Dongwa, Shusong implemented a set of rules related to its harvesting camps, which included the following stipulations: harvesters' tents had to be alongside Highway 214, harvesters were not allowed to cut down trees around their camps for use in constructing their tents or for fuel, rubbish was not to be left lying around the camps, and there were not to be any fires in the forests. Since Shusong's camps are located within White Horse Snow Mountain Nature Reserve and along Highway 214—camps are visible from tour buses, for example—it is no surprise that these rules can be traced back to the reserve. According to reserve staff in Deqin, the harvesting camp rules were created to make sure that harvesters are not harming the environment around their camps, and reserve staff travel to the camps several times each year to monitor compliance.
The rules governing access to caterpillar fungus and Shusong's harvesting camps had persisted from their implementation through 2009, but by 2011, the rules excluding non-Shusong harvesters and the use of monitors were no longer in effect. Making sense of these erasures requires a fuller explanation of the environmental and social transformations that were taking place and their effects on the daily lives of harvesters during that time as a result of tourism-based state development interventions. In 2010, the expansion project for Highway 214 was set in motion, and by 2011, the material effects of construction in Shusong Village and its harvesting areas were indisputable. There were piles of construction rubble and debris along and on the road stretching from Shangrila to Deqin, dirt slides of up to one kilometer running downslope from the freshly scored mountains, and dust and noise filling the air as excavators, levelers, and grinders worked around the clock. Dynamite explosions could often be heard in the background during my 2011 interviews in the harvesting camps.
The material transformations associated with the Highway 214 project were immediately evident in Shusong, but the effects of its construction on the social lives of villagers and harvesters were only gradually unveiled through conversations. In previous years, Dongwa and Shusong harvesters generally described a slight increase over time in the number of harvesters as more households sent more members up to harvest. Thus, when I asked a female harvester in the camp about her perspective on the number of harvesters in 2011, I expected her to reply that there were about three hundred to four hundred people harvesting that year, given my figures for 2007 and 2009. To my surprise, her response was quite different:
Last year there were 400 people in this area, but this year there are 100 to 150 people. This is because the road is being built and affects the houses and fields it has to pass through. If the road passes through a particular family's house or farming plot, the government compensates the family so that they can rebuild. Those families whose houses were along the road are busy rebuilding this year, so they didn't come up to harvest.
She then launched into an unprompted narrative about Highway 214 that explained some of the many ways the expansion project and state development visions for the area have significantly transformed Shusong villagers' relationships with and sense of ownership of their lands and resources:
When the road started being built in Shusong, there were many arguments. The government did not pay Shusong villagers for the trees and saplings that the road was cutting through. Saplings are important for villagers because they can give good wood; [villagers] can sell it or make furniture. They are very good resources, but the government does not care about them or compensate villagers for them. We are much smaller than them [the state (guojia)] and can't do anything to them. They are just destroying the trees and rocks but not doing anything for the villagers. Take, for instance, the big trees on Shusong villagers' land—the government compensates villagers with ¥2,000–3,000 if the road passes through them, but this compensation is given only once, when in fact these trees are good money over time.11
Her narrative illustrates a politics of scale at work in these landscapes, where the state's vision and imaginary for the region conflicts with local claims on and meanings of a landscape. In this case, different values for the land and resources collide, and Shusong villagers are forced to settle the incongruities in monetary terms, which begs the question of whether both parties agree to their commensurability as "goods." In general, villagers are compensated ¥100,000 if the road passes through their houses and ¥30,000 per mu if the road passes through their land. While the compensation for houses is supposed to enable villagers to rebuild their homes, the land compensation is not intended to allow villagers to clear forests and rebuild their fields; instead, they are given ¥600 per year to buy vegetables and grain. According to one villager, these stipends are problematic because if they are given to household elders,12 the stipends do not transfer to the household or its new members and are discontinued when the elders pass away. This arrangement thus removes not only the land and the capacity to produce vegetables and grains for subsistence needs but also the option of procuring these foodstuffs monetarily. Displaced villagers are then subjected to further social and economic marginalization in the rapidly expanding cash-based economy of the region. Socioeconomic marginalization is most pronounced among those whose erstwhile land enables development in the region to proceed.
Villagers have not in the past assessed the value of their homes and land for the purpose of agreeing on a settled amount for exchange. An older woman from Shusong Village claimed that when it comes to road compensation fees, there are two different kinds of people: those who have the road cross their homes and ask, "Why me? I have money. I would rather be working in the field," and those who ask, "Why not me? Why don't I get money from the road crossing?" Whether or not they are compensated — and whether or not the road passes through their houses and land—all residents who are affected are dissatisfied with the compensation settlements because they did not solicit the transactions and most of them are forced to make a permanent transition away from the life they have known. In some cases, the compensation is simply inadequate: one Shusong villager who had an injured leg was compensated ¥100,000 for the road's passage through his traditional three-story home. For him, the money was not adequate for building a new house because he would have had to hire people to help with the construction.13 The man is vocal about his situation, saying that he is homeless and has nowhere to go.
Lack of uniformity in the fees and negotiation processes further complicates local frictions resulting from the compensation process. Some families have been able to negotiate higher payments, whereas others have not. According to one Shusong resident:
Other families were getting lots of money from the government through compensation because they know how to bargain. Some had received almost ¥1 million for their house, while others don't know how to bargain and didn't get enough. When the government developers were taking notes and bargaining with villagers for their houses, they would say to some, "Your house is worth ¥100,000," and the villagers would trust the government officials and accept this amount. Later, however, these people would ask their neighbors about their compensation and learn that they had earned ¥900,000.
The villagers' skill at bargaining is not what is truly problematic about these transactions, however. Bargaining for goods and services is a common practice in this region, and settling on exchange values is a deeply socialized process. In bargaining with a state official for compensation fees for one's home or land, however, the terms of engagement are not as well defined, and it is uncertain whether local villagers have the power to bargain with the state at all. For some, state interests and power preclude local negotiations in the first place: some villagers reportedly tried to refuse to let the road go through their houses and were told that they could either take the money or not but the road would go through their houses anyway. Reflecting on this, one woman explained that if the road belonged to the village, villagers could reject its expansion if the effects or costs weren't agreeable, but there is nothing the villagers can do about Highway 214 because it is for the state. In other words, local and state bargaining power are hardly symmetrical. These kinds of asymmetries illustrate the role of power in the relationships between local political struggles and state development initiatives in determining control over resources (Agrawal 1999).
Just as Highway 214 has transformed Shusong villagers' valuation of and ownership claims to their homes and land, the development of the road has reconfigured their caterpillar fungus governance arrangements in diverse ways. Prior rules of exclusion have been discontinued for several overlapping reasons. For one, the "outsiders" the Shusong villagers were monitoring have changed in both composition and number. One elderly Shusong villager, whose children were collecting caterpillar fungus for the household, said that harvesters could not chase the outsiders out anymore, and that in 2010, the village had a meeting about stopping the outsiders, but in 2011, outsiders were no longer banned. Other harvesters mentioned that the village leaders had not met with Shusong villagers at all in 2011 to talk about caterpillar fungus rules, which suggests a shift in attention toward other matters. When asked who the outsiders were, the elderly woman explained that the outsiders were the people who were building the road—they worked on the road during the day and collected caterpillar fungus at night. While harvesting caterpillar fungus at night would be nearly impossible given how difficult it is to find even during the day, her narrative illustrates the many ways in which highway expansion has invaded the social lives of Shusong residents.
As previously described, most state-led development projects across Tibetan regions benefit migrant laborers who are brought in to perform services that require certain skills (Fischer 2005; Hillman 2008; Yeh 2013). While some Shusong villagers have joined construction teams as unskilled laborers (earning ¥50–120 per day), migrant laborers work on the road in contracted sections and currently perform the majority of Highway 214 construction labor. Migrant laborers put a strain on local systems of customary rights because they utilize local resources (e.g., water and fuelwood) without necessarily knowing or abiding by the rules of use for these resources. Resource use for basic needs is perhaps locally acceptable if there is a general shared idea of equal access for subsistence needs, but collection of high-value caterpillar fungus draws attention to the ways asymmetrical power relations likely factor into the current acceptance of migrant laborers' fungus collecting.
According to Shusong's previous definition of "outsider," Highway 214 migrant laborers should be characterized as "outsiders" and excluded like all other "outsiders," such as villagers from neighboring Benzilan Township. In practice, however, this is not the case, and road laborers are not excluded because they have very different social relations with Shusong harvesters. As Highway 214 laborers, road workers are in effect appendages of the state, and the same uneven power relations that characterize Highway 214 resource and land negotiations with Shusong villagers also characterize access and control over caterpillar fungus resources. Local contestations with road workers over access to caterpillar fungus go beyond interpersonal and intervillage politics and become contestations with the state, because road workers' claims to the area are legitimized through their connection to state interventions taking place in these landscapes. While all non–Shusong villagers might be regarded as interlopers in Shusong's harvesting areas, some "outsiders" are more legitimized and less excludable than others. This observation expands our thinking on environmental governance by illustrating one of several ways local control over resources is not determined solely by the design or implementation of governance institutions but is rather enabled and constrained through social relations and the political economic context.
In addition to the ways power asymmetries contribute to the loosening of the rules of exclusion, the rapid influx of migrant laborers to the area overwhelms Shusong's earlier governance arrangements in practical ways. Previously, monitors patrolled the area for unfamiliar faces and might have discovered a handful of nonresident caterpillar fungus collectors who would then be asked to leave. The same monitoring system would now find hundreds or thousands of unfamiliar faces, and collecting caterpillar fungus is no longer the only reason people come to the area.
The discontinuation of exclusion rules is also likely attributable to a less defined and multifaceted transformation in the ways Shusong residents value caterpillar fungus and the labor associated with its collection. Though not all villagers participate in the construction of Highway 214, the unskilled labor opportunities are desirable to some, because it increases their income earning potential beyond harvesting caterpillar fungus for eight to ten hours per day. One male harvester explained that some villagers who were not finding much caterpillar fungus had decided to leave the camp early and go back to their construction jobs. The more stable income from construction is appealing for some. Not all harvesters feel the same way; in earlier interviews in Shusong in 2009, when some villagers were pursuing Deqin construction opportunities, many harvesters said that they preferred caterpillar fungus collecting to road or building construction because of the "freedom" associated with it. Some said that caterpillar fungus collecting allows one to rest when one wants to rest and eat when one wants to eat—unlike the conditions of construction work, with a foreman determining the day's schedule and supervising the workers.
Though Shusong villagers' reception of compensation fees is uneven, the injection of state funds into the region recalibrates ideas of value in palpable ways. In one harvester's words: "People are saying that if the road crosses your house, you get good money: ¥100,000. In your whole life, you will never find ¥100,000 in one day, so it is very good money." While caterpillar fungus collection has to date provided households with relatively high sums of money, the profits and labor associated with collecting are now being compared to exorbitant onetime state compensation, which, as suggested above, reconstitutes ideas of labor value and personal assessments of what one's labor, time, and effort should be worth. Most harvesters today claim to find less caterpillar fungus than they did in previous years. Combined with the overall amount of fungus available, the ability of a harvester to find caterpillar fungus is contingent on practice, patience, focus, and a personal sense that the time and effort spent searching is worth it. Narratives of decline may be interpreted in a number of ways: a decline in the overall amount of fungus, a decline in per capita collection because the number of harvesters is increasing each year, or a decline in the personal value harvesters assign to collecting as a practice. The extent to which harvesters think that the time and effort they invest in collecting caterpillar fungus is worthwhile is intimately related to its market price and how much they can earn collecting it. Harvesting caterpillar fungus requires hours if not days of searching, and if harvesters feel that these hours could otherwise be spent in more meaningful (or profitable) ways, they are more likely to perceive caterpillar fungus quantities as acutely limited.
For example, during a conversation with a group of harvesters in Shusong's camp in 2011, the most vocal of the harvesters, who had been digging caterpillar fungus for twenty years, commented that quantities are decreasing each year. Before, he said, he could find two hundred pairs of caterpillar fungus per day because there were not many harvesters, but now he could find only one pair per day.14 "In the past, you could earn lots of yuan in one day collecting caterpillar fungus—in 2008, you could earn ¥1,000 per day but only ¥300–400 per day this year." In 2008, caterpillar fungus collection was the major source of income for Shusong households, and household interviews in 2009 revealed that 50–80 percent of annual cash income was derived from collecting. These incomes are now assessed in comparison to lump-sum state compensation and wages from other labor opportunities.
Paradoxically, the sense and experience of finding fewer caterpillar fungus—with the sense of "more" being related to both historical narratives and the overall sense that the energy and time invested in searching meet with sufficient rewards—can diminish the desire to invest in governance arrangements. In the same group interview, several harvesters mentioned that in 2008–9, they had a village meeting about stopping the outsiders, but now they no longer really care about the outsiders. When asked why, they explained that "there's so little caterpillar fungus, and the outsiders can't find much because they are from Deqin." In a separate interview, a harvester similarly explained that in 2008–9, they had stopped outsiders but were not doing so in 2011. Because harvesters in 2011 found so few compared to the past, it seemed "a little strange" to stop the outsiders. According to economic logics, a decrease in supply causes an increase in value (price) when demand is constant. Thus, it would make sense for Shusong harvesters to want to tighten control over their resources if the supply is noticeably declining. Here, harvesters are paradoxically loosening control over their resources while perceiving a decline in supply and then claiming that it is "a little strange" to stop outsiders even though this was a goal of governance two years ago. Not only is the value of caterpillar fungus contextually defined and continuously shifting in relation to political economic changes in the area, but caterpillar fungus governance is also an intimate function of its social value.
The transformations in Shusong's caterpillar fungus governance arrangements from 2007 to 2011 reflect the complex ways in which local claims of ownership and access to resources are coproduced by their histories, broader political economic contexts, and geographies. While Shusong residents once exercised strong village-level ownership of their caterpillar fungus resources, these claims have recently been weakened and revised as new sets of interests, values, and power relations have been mapped onto the region. These transitions, resulting from the shangrilazation of the region, influence and rework the daily lives of residents and landscapes in uneven and materially important ways.
CONCLUSION
When the government came in, when they first started building the road, there was only a meeting with the very high leaders and they did not ask the locals if they wanted it. If they destroy the mountain, they say, "You will get a good life in the future." If they wanted them to really get a good life in the future, they would pay them every year. They say, "If the country develops, you can also develop. It's good for you—in the future you can get a good life."
—Shusong caterpillar fungus harvester, June 2011
Despite the intense flows of state capital into developing Yunnan, caterpillar fungus harvesting continues to be the most important source of income for the majority of rural, pastoral Tibetans. The critical role of caterpillar fungus in contemporary Tibetan economies and lives makes the rules of access to and exclusion from fungal resources important matters for social relations, in which the governance of resources is intimately about the governance of people.
In Dongwa, historical pasture tenure arrangements provided an important foundation for today's strong village-based rules of access and control over shared caterpillar fungus resources. This village-level resource control has continued to shift over time while remaining strong because villagers and village leaders actively maintain them through practices (e.g., village meetings) that connect governance arrangements with local social and cultural norms. Strong social relations among villagers strengthen governance arrangements because they are able to monitor harvesting areas themselves and collectors are committed to abiding by the rules of access. Though caterpillar fungus has rapidly become commoditized and is thus highly important to local household incomes, the market and governance have not become disembedded from their social relations of production but rather operate through them.
The loosening of Shusong's control over its caterpillar fungus resources illustrates the significant ways political economic context conditions the formation and persistence of environmental governance arrangements. While Shusong villagers, like those in Dongwa, previously had strong control over their shared fungal resources, local control has significantly weakened as the Highway 214 expansion project, which enables and represents the imagined future of the region as Yunnan's version of "China's Tibet," has run through Shusong Village and its collection areas. The highway has materially reconstructed the landscapes and destroyed the mountains and has also reconfigured local claims to villagers' homes and land, perceptions of the value of work and caterpillar fungus income, and the collective benefits of previous investments in governance arrangements such as monitors. These transformations in Shusong's governance arrangements illustrate how access and control over resources are not fixed and static but instead are continuously produced and negotiated through multi-scalar and highly uneven relations of power. They are political processes.
As conservation interests in caterpillar fungus governance continue to grow internationally and among Chinese conservation scientists (Cannon 2011; Shrestha 2012; Zhang Yongjie et al. 2012), the development of "environmental governance" of caterpillar fungus production areas in Diqing and elsewhere is in need of scrutiny. Scholars have recently suggested that the vagueness and malleability of environmental governance that have enabled its widespread acceptance and deployment across a range of circumstances "may be proportional to its capacity to elide or conceal critical distinctions" (Bridge and Perreault 2009, 475). Like concepts of "sustainability" and "development," environmental governance is defined by certain frameworks and sets of assumptions and truths and is mobilized in order to produce particular outcomes. When environmental governance is deployed as an intentional process or organizing concept, it is inherently about "both the social organization of decision making with respect to the environment, and the production of social order via the administration of nature" (Bridge and Perreault 2009, 477; emphasis in original). The interests of a range of actors are at stake in the governance of caterpillar fungus, and decisions about the resource—especially who makes decisions, and how and why—have significant consequences for the thousands of harvesters who rely on it for income.
As China's tourism-based developments continue to map onto Diqing and other Tibetan areas, investments in infrastructure and state administration will continue to produce uneven social and environmental outcomes. In Diqing, the expansion of one major road network closely tied to the region's shangrilazation has significantly transformed human-environment relationships, systems of value and meaning, and local access and control over resources in the areas it has traversed. Highway 214 and other expansions of development hardware throughout the region not only produce visible material transformations and destroy the mountains but also permeate and alter other important aspects of the daily lives of people, such as caterpillar fungus governance. The tensions of shangrilazation turn on collisions between Chinese state imaginaries of what the region should become and current local realities, needs, and customary arrangements. As an act of environmental governance, shangrilazation is an intentional process and organizing concept for the reciprocal production of desired social and natural orders in contemporary Yunnan.
6.
CONSTRUCTING AND DECONSTRUCTING THE COMMONS
1National Bureau of Statistics of China, http://www.stats.gov.cn/was40/gjtjj_en_detail.jsp?searchword=per+capita+income&channelid=9528&record=2 (accessed February 22, 2012).
2Mycelia are hairlike structures of the fungus that generally grow underground; with caterpillar fungus, the mycelia grow within the body of the larvae.
3Fungi have the capacity to reproduce both sexually and asexually, and it is unclear at present whether caterpillar fungi reproduce asexually before they reproduce sexually. If they do, genetic diversity might decline in high-intensity harvesting areas, but the overall abundance and distribution of caterpillar fungus at the population level would not be dramatically affected by harvesting.
4For discussions on the ways "Western scientific" knowledge is often privileged in international conservation and development interventions, see Campbell 2002; Goldman 2003; Irwin 1995; Nadasdy 2005; Tsing and Satsuka 2008.
5Shrestha and Bawa 2013; Cannon et al. 2009; Weckerle et al. 2010; Winkler 2008b.
6During the mid-1990s, timber revenues had begun to decline in Diqing due to trade liberalization and increasing competition from Southeast Asia.
7Diqing has seen a large expansion in its private sector, which accounts for half of its GDP, where tourism has created opportunities for many Tibetan small businesses and traders with options for interest-free loans (Hillman 2010, 274).
8While some households certainly do have individuals engaging directly with tourism-related opportunities in the area—working at hotels and restaurants or as drivers—this is not very common.
9A handful of individuals from some of these households said in 2009 and 2011 that their households did in fact receive a sum of money related to these fees. They did not, however, have an explicit memory of the total amount, which is curious given the proclaimed contestation of the actual fee amounts.
10During the harvesting and selling season (July to September), Shusong has a matsutake market located in its village, which consists of a row of booths along both sides of a small alley branching off Highway 214. The market was created to enable, regulate, and locate buyer-collector interactions for the time-sensitive market demands for the fungus. Each afternoon and at the end of the harvesting day at approximately five o'clock, matsutake collectors return to the village to sell their collected fungi to buyers, who rapidly transport them to Shangrila so that the fungus will reach its prime market in Japan within forty-eight hours (Yang Xuefei et al. 2008; Yeh 2000). Buyers had to pay to enter the market, with fees ranging from ¥2 per day (for those from Shusong) to ¥5 per day (for those from outside Shusong). The 2006 village records show that Shusong collected ¥3,149 from buyers in 2006, and the funds were apportioned across matsutake management (¥300), cleaning the market (¥310), rebuilding and maintaining the market (¥200), paying for two monitors (¥200 each), record keeping (¥192), and management (¥400). The monitor and management fees were for services related to Shusong's "rest days," which were initiated in 2005. Every five days, according to a predetermined schedule, all harvesters were supposed to rest, and four to five villagers were selected to monitor the rest days to make sure no one was going out to collect. The assistant village leader said that the rest days had been difficult to enforce at first, but the situation was improving in 2007 (the interview, however, took place at the beginning of the season).
11Based on my 2009 household interviews, households in Shusong earned approximately ¥2,300 per year, and the income range was ¥900–5,000, depending on the number of trees a family owned. Families sell the walnuts to buyers who use them to make walnut oil.
12I did not ascertain whether these stipends are given in perpetuity (for the lifetime of the person being given the money) or just for a certain number of years, as is more often the norm for state compensation packages.
13It remains unclear how the process of rebuilding homes fits into these compensation plans. Recipients would have to secure use rights to another plot of land in order to rebuild a home, which is made difficult by the fact that the state is presumably not allowing resettled villagers to clear forests for new land on which to build.
14When harvesters sell caterpillar fungus individuals to buyers, they sell them in pairs. This may relate to the common idea among harvesters that there is a male and a female caterpillar fungus and that when a harvester finds one, the "mate" is generally nearby. When caterpillar fungus is bought and sold among buyers and later to consumers, it is priced by its gram weight and not by individuals or pairs.